Part 29: Chapter 70 (Part 2)

Yorihime Watatsuki

Personal Skills
:
-
Takemikazuchi
: Your next attack gains "Break Accuracy Limit". Accuracy higher than 100% is converted into damage. (1 Use).
-
Ookuninushi
: For the next three turns, gains 25% HP and MP regeneration. (1 Use).
-
Ame no Uzume
: For the next three turns, weapon ranges +2 and the effects of the Shrine Maiden skill are doubled. (1 Use).
-
Amaterasu-Omikami
: Gains the "Amaterasu" MAP attack.
Spirit List
: Focus, Fury, Sense, Drive, Zeal, Soul
Reimu with a sword. She's a bit like Byakuren, in that she combines Shrine Maiden L9 with Mima's "Supreme" skill. I wish her Personal Skills had more than 1 use each, but they're not bad. The Amaterasu MAP is a decent Cyflash substitute, Takemikazuchi can theoretically get you the highest damage in the game (but probably not), and the other two are more generally useful.
If you want a second Reimu, you can't go wrong with Yorihime.

Toyohime Watatsuki

Personal Skills
:
-
Connect Mountain and Sea
: Within 7 tiles, moves any unit (enemy or ally) to any other tile. (1 Use).
-
Wave Leader Fan
: The Wave Leader Fan MAP is narrowed, but gains infinite range.
-
Lunar Immortal Peach
: Restores 50 SP to both units in a pair. (1 Use).
Spirit List
: Fury, Snipe, Luck, Accel, Triumph, Enable
I don't think I linked her music at any point in the update, so maybe check that out. It's a weird song.
Bargain bin Ideon. She's not very fast or defensive (though she does have a barrier), and she doesn't hit super hard, but she
does
have the Ideon Gun.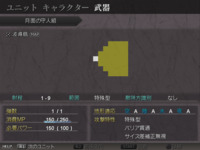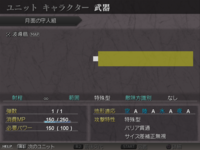 If nothing else, it's the strongest MAP in the game, although it kinda sucks you have to blow a Personal Skill to get the infinite range version. Especially since Lunar Immortal Peach is actually pretty dope.
She's basically meant to be Yorihime's backpack, and her spirit list shows it. She's one of the few units with Enable (give a unit another turn) which is pretty cool. Also, the animation on her Femto Fiber attack is fucking radical.

Raysen

Personal Skills
:
-
Full Clip
: Next attack expends all ammo to boost damage. (2 Uses).
-
Armor Piercing Ammo
: All attacks gain "Barrier Pierce".
-
Rifle Rounds
: All weapond gain +2 range.
-
Ammo Reload
: Restores all MP and Ammo. (2 Uses).
Spirit List
: Snipe, Focus, Flash, Attune, Strike, Triumph
A lunar rabbit mook. She actually has 2 frames, with one being a general-use kit, and the other being a long-range sniper kit. The latter even has the giant gun MAP from the Yorihime chase chapter.
For a 2.0 she's like, basically fine? Her Personal Skills are really good, but otherwise she's not hugely outstanding.
---
-
Raysen's Attacks
-
Toyohime's Attacks
-
Yorihime's Attacks
By the way, the fanart in this chapter is all from
the blog of this dude, Syope
.
Here's the post with (I believe) all the Meeko fanart
.
---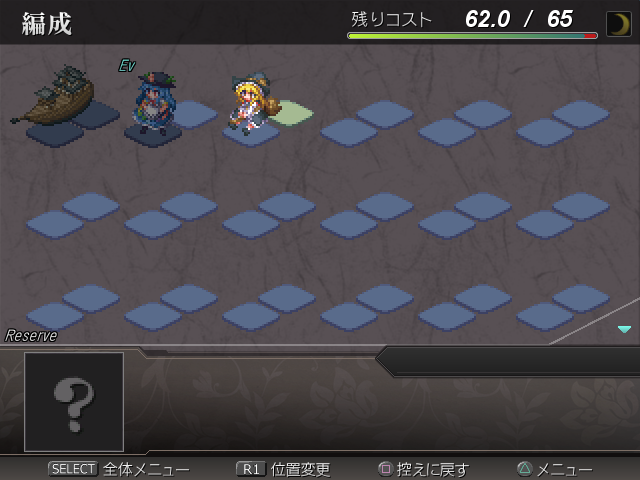 Tenshi's forced, Marisa's coming as usual. Beyond that, you've got 62.0 Cost.
1.5
Daiyousei
Sunny
Luna
Star
2.0
Elly
Kurumi
Rumia
Cirno
Koakuma
Letty
Chen
Lily White
Lunasa
Merlin
Lyrica
Wriggle
Mystia
Tewi
Medicine
Shizuha
Minoriko
Hina
Nitori
Kisume
Yamame
Parsee
Nazrin
Kogasa
Shou
Raysen
2.5
Alice
Meiling
Patchouli
Sakuya
Youmu
Keine
Reisen
Komachi
FA Nitori
Momiji
Aya
Hatate
Sanae
Iku
Rin
Satori
Koishi
Ichirin
Murasa
Shou (Pagoda)
Nue
3.0
Yumeko
Reimu
Ran
Mokou
Tenshi
Yuugi
3.5
Mima
Remilia
I am running out of these
Yukari
Suika
Eirin
Kaguya
Eiki
Kanako
Suwako
Utsuho
Byakuren
Yorihime
Toyohime
4.0
Shinki