Part 124: Thank You

content warning:
animal death
BGM: Good Night (20XX 07 23)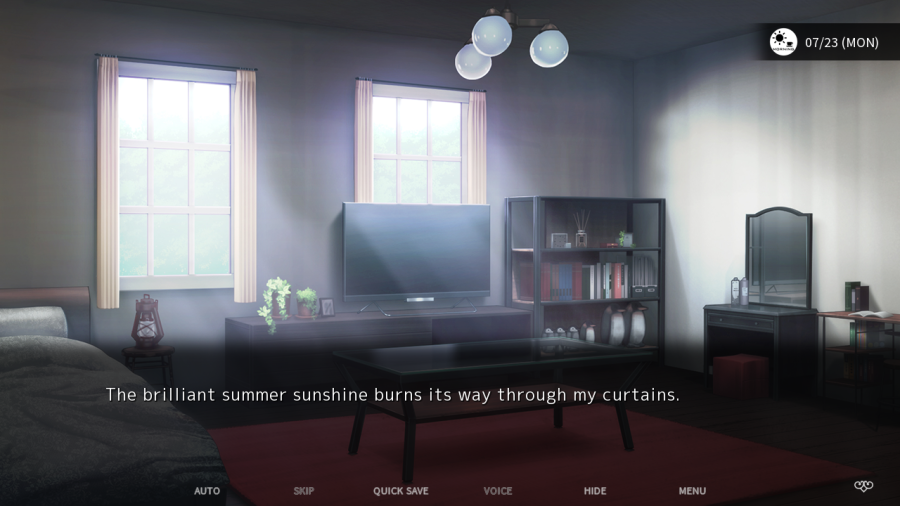 07/23 (MON), Morning
The brilliant summer sunshine burns its way through my curtains. As soon as I wake up, I can tell I'm drenched in sweat. Even the mornings are unbearably hot this time of year. I throw open my window and bask in the sudden influx of fresh air.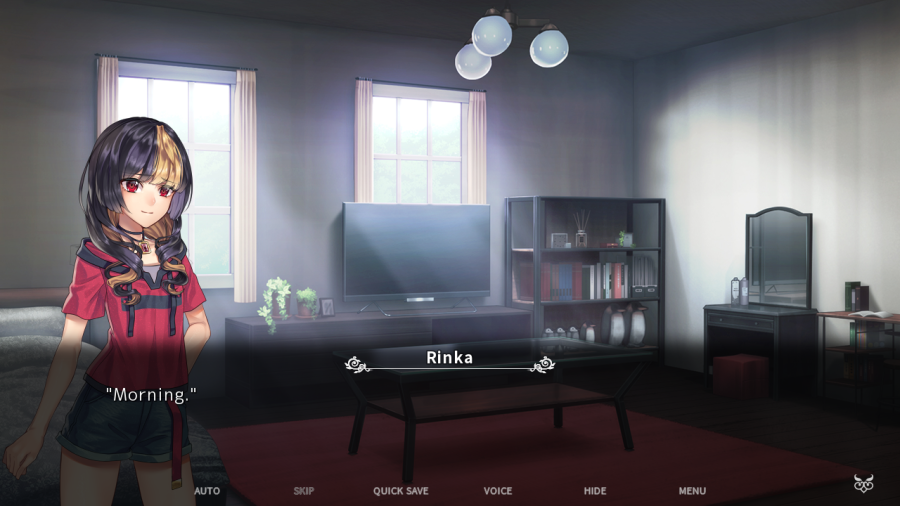 Morning.

Good morning.

G-Good morning to you both!

Ah, it's classic Naomi.

Yes. It's been a while!

Good to see you faring better.

T-Thank you...!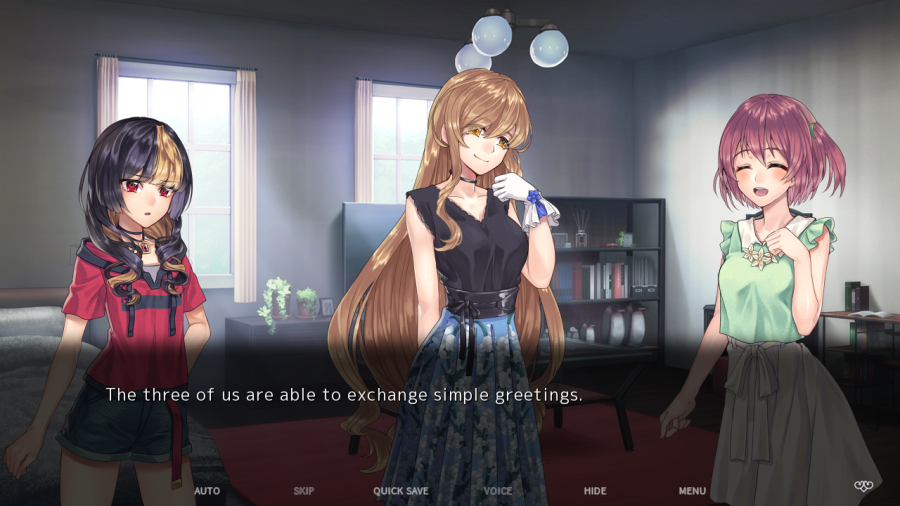 The three of us are able to exchange simple greetings. My eyes drag themselves toward my clock. It's Monday, July 23rd. The day after Divine Selection's final round. We did it. Both Miharu and I were able to survive. My excitement over that is soon interrupted as I take a good look around my room.
Yeah... Makes sense. We never really expected a big happy ending.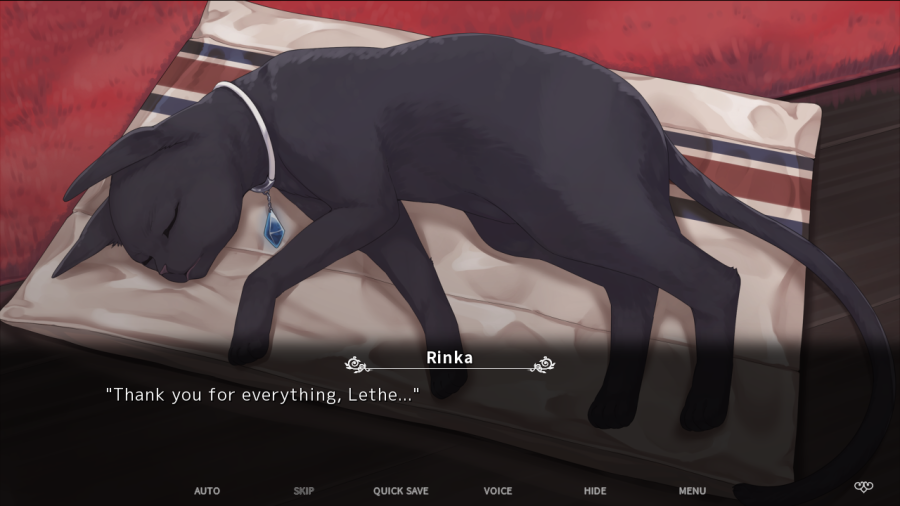 Thank you for everything, Lethe...
I express my thanks to the small corpse curled up on my bed. I'm not quite sure how things ended. But it's certain that this cat's fate is now sealed. After over one-hundred years of caring for its owner, it was finally able to pass away. Its peaceful expression in death says it all. This is the first death I've witnessed that can't be undone.

Now I understand just how determined you were.
Miharu drops to her knees in order to pet it.

I didn't know that this was his plan...
Naomi sits down, tears welling up in her eyes. Soon enough, the tears begin to stream down her face.

Do you not remember anything that happened?

I... I... hic... waah.

You two can head downstairs first. We'll talk about what happened there.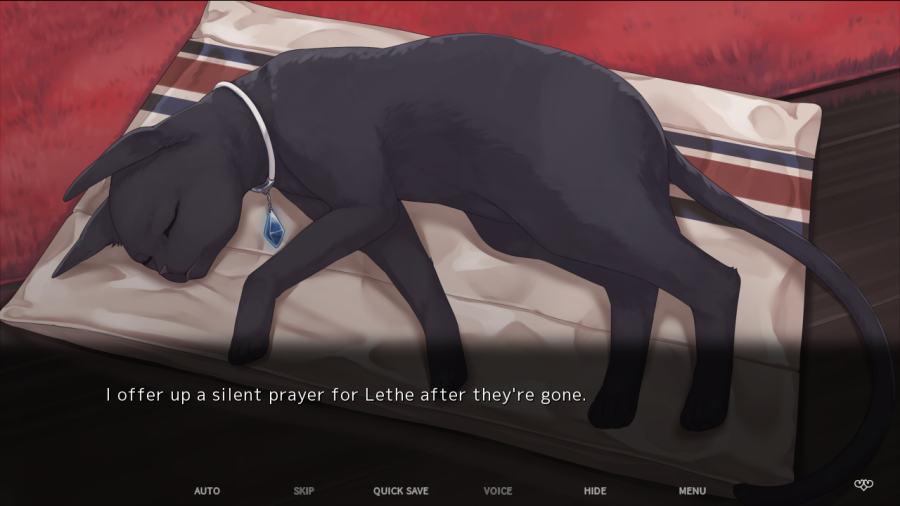 I offer up a silent prayer for Lethe after they're gone. I cry, too. It's been with me ever since I was a kid. The memories flood back, causing my tears to follow. After my tears run out, I wrap it in a blanket. I need to explain things to Miharu and Naomi.
…...
BGM: Lion House Cafe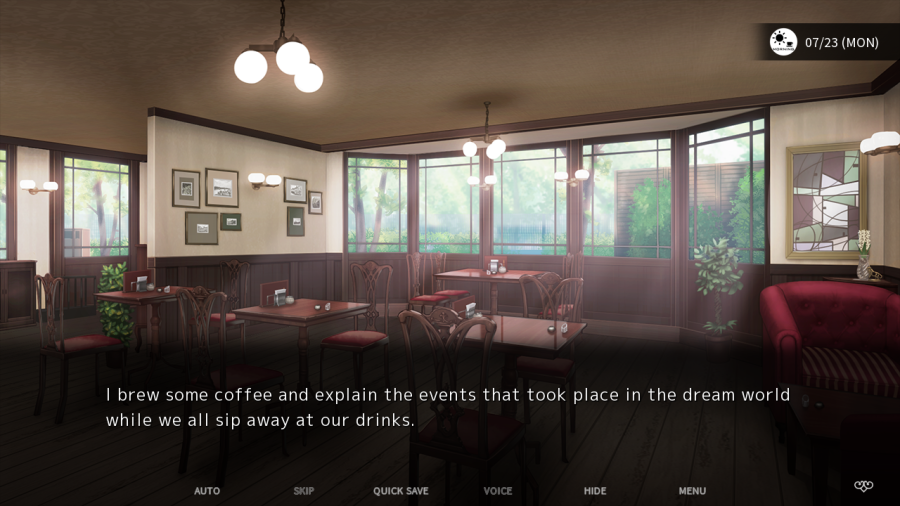 I brew some coffee and explain the events that took place in the dream world while we all sip away at our drinks. The discussion isn't a fun one. No one likes talking about goodbyes.

I can vaguely remember what happened while Dianna was inhabiting my body, but nothing about the events during the twelfth election...

How do you feel? Are your memories fine?

They are, yes. I probably don't know much about the current world's state as a result, though. All I remember is the time I spent with you.

Ahaha, sounds fine to me. We're all in the same boat, so we can rely on Mao if anything comes up.

How much do you remember, Miharu?

Everything till those black flames appeared. It feels weird to say that I blacked out within my own dream, but... that's what happened. I was here with you two when I woke up.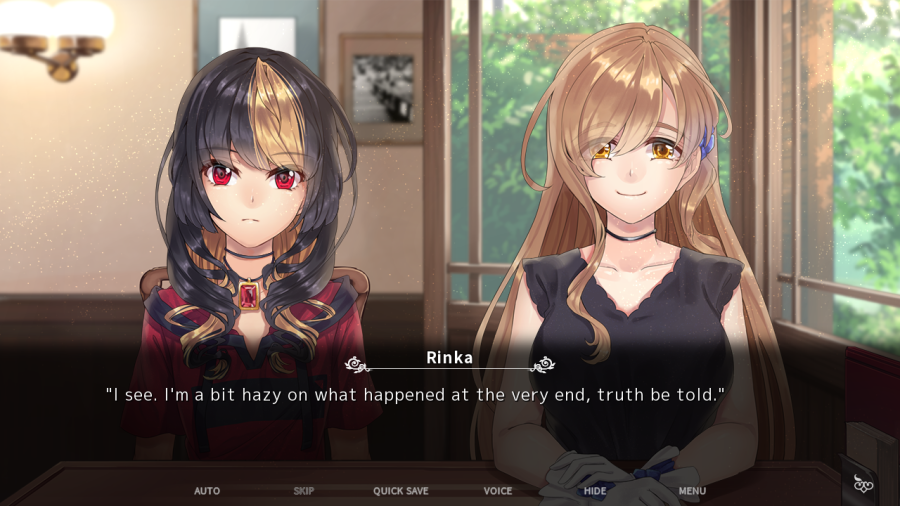 I see. I'm a bit hazy on what happened at the very end, truth be told. But I'll do my best to recount everything that happened up until this morning.
And thus begins a long, long story. It would've been shorter if I didn't have to struggle with so many fuzzy memories. Not much time has passed, but it's so hard to remember everything, considering just how much has happened. Once done, we make our way to a certain place, as instructed.
That is... …
BGM: Bonds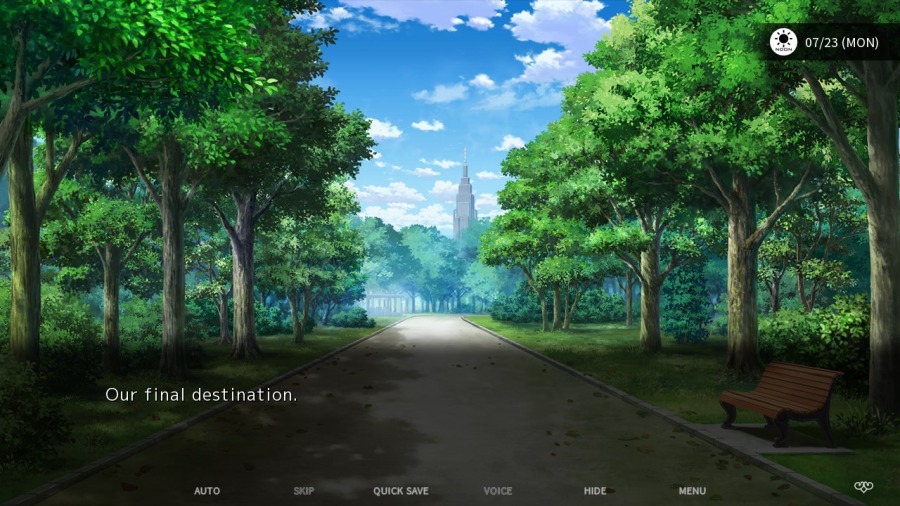 07/23 (MON), Noon
Our final destination. We came here on Saturday as well, but this time it's for a different reason.
I make sure to inform my gran about Lethe before we leave. That prompts her to say that she'll leave tonight to come home for a bit. Makes sense. She's spent even more time with it than me. I'm sure she wants to say her goodbyes. I've made a place for it to rest using a basket and some blankets. It's a bit simple, but it's the best I can manage for now. Ideally, I would've brought it along with us, but that wouldn't be appropriate. I couldn't stay behind, either. We have no choice but to come here today. That's our fate, it seems.

The weather's quite lovely today.
She's right. There isn't a cloud in the sky. The sun is as bright as ever thanks to that. Just keeping my eyes open is a struggle. But I'm fine with that, too. It's kind of like a sign that we've won. I'm not sure how far fate's role extends across the world as a whole, but at the very least, we can say we prevailed over the deaths it had planned for us.

One could say that our being alive now is fate. I think that feels like a positive spin on things.

Yeah...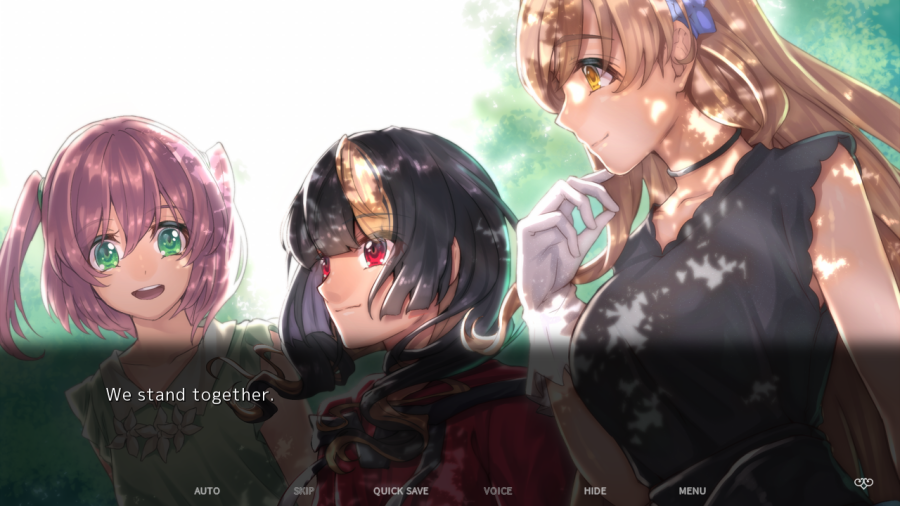 We stand together. Surrounded by a sea of green.

So many people worked to save me over the course of all this. I never once expected that I would die during it.

You're the same as us, then. We must live with the memory of our own deaths.

That's... rather frightening, haha...

Doesn't matter now. It's all in the past. What does matter, though...
I extend one hand in front of me, reaching nowhere in particular. There's no deep meaning to it. It's just a simple gesture. A number of people have entrusted their feelings and desires to me. More than I ever could have anticipated. I'm here right now. And it's all thanks to them.

...Thank you.
The only things that lay beyond me are the sun and blue sky. If anything, this all feels a bit underwhelming as the ultimate reward for living through those twelve turbulent weeks. But I don't mind.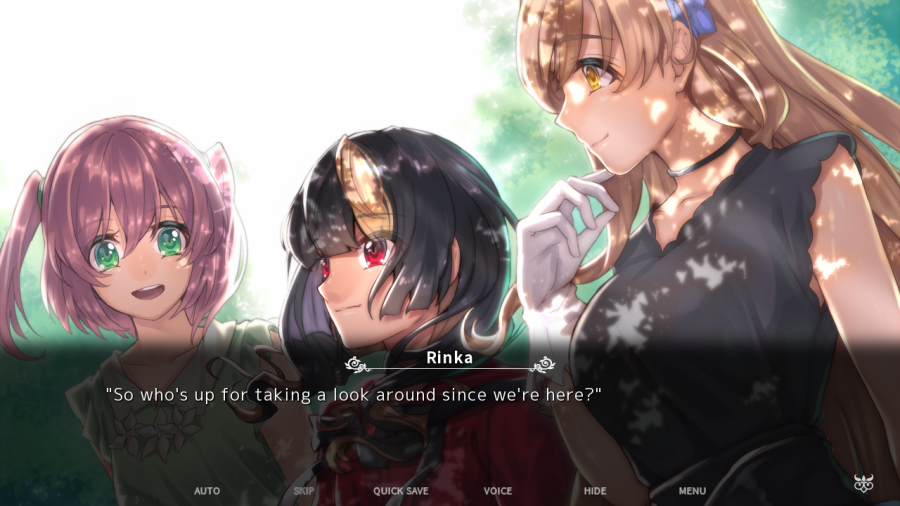 So who's up for taking a look around since we're here?

Me!

Yes, that sounds nice.
I'll gladly accept whatever's in store for me in its place.
[END WEEK TWELVE (PART B): TO THE FUTURE...]
BGM: Glass Thread