Part 54: The Archer of Divine Speed

BGM: Rain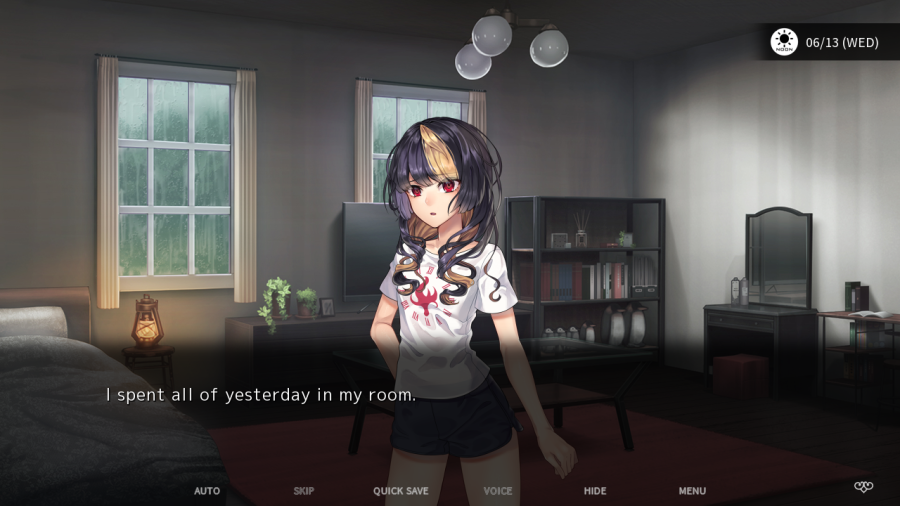 06/13 (WED), Noon
I spent all of yesterday in my room. There's no food left in the house, so I need to trudge over to the convenience store. And it's raining outside... The rainy season just started, so there will be plenty more in the days to come.
…...
BGM: Chilling With Sidekicks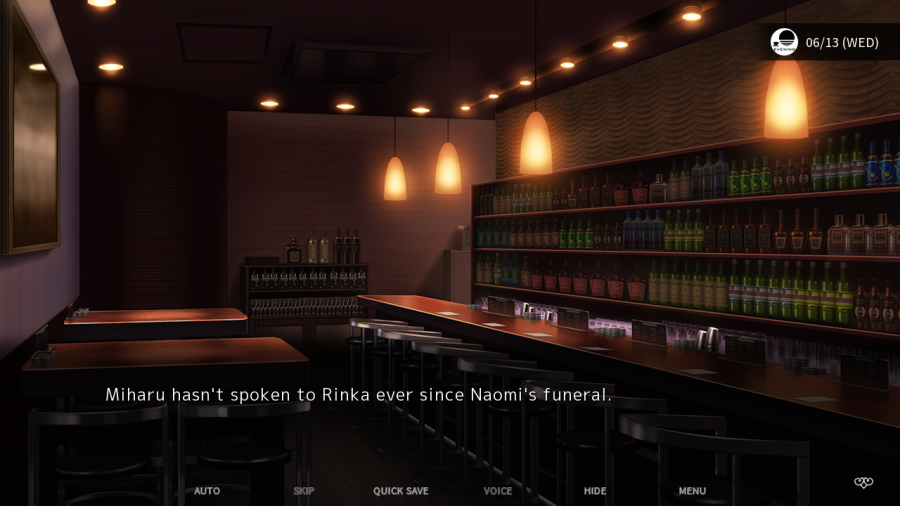 06/13 (WED), Evening
Miharu hasn't spoken to Rinka ever since Naomi's funeral. She recognizes that she lacks the ability to fill the gaping hole left in Rinka's heart. Of course she wants to spend every possible second with her, if at all possible. Simply being there isn't enough for Miharu, though. Her greatest desire involves Rinka's happiness itself. She truly believes that her actions will protect Rinka in her current state. That's why Scale's proposition was such welcome news. All four likely had their own convictions, but that's fine. It doesn't change the fact that she still considers them targets to eliminate.
One day later, Scale makes contact with Miharu. He said he would be spending some time looking into Yu's background, so she started to wonder if he had found something already. It was going a lot faster than anticipated, either way. He denied it in the dream world, but he really might be a detective. Of course, it's equally possible that he failed to find anything of note. In that case, figuring out a quick solution is the best way to go.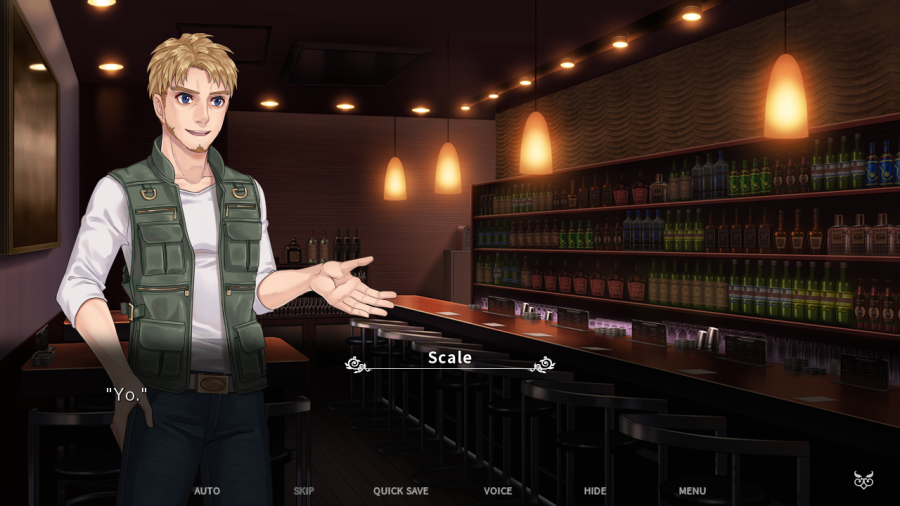 Yo.

Good timing. We were waiting for you.

Drinks're on me today.
Everyone is already drinking by the time she arrives. Miharu finds herself questioning why adults find it necessary to drink this much. She gets that these are the kind of people who need a drink to talk things out properly, though. That's why she opts to accept the offer and order some milk. They only serve espressos here, apparently, and Miharu turns down the offer. She is still hoping that the next time she drinks coffee, it will be Rinka's.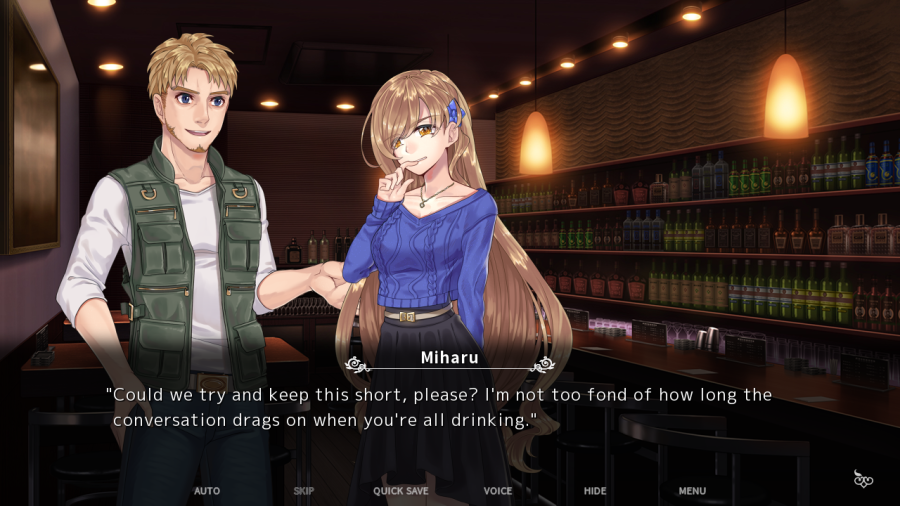 Could we try and keep this short, please? I'm not too fond of how long the conversation drags on when you're all drinking.

No mercy from you, huh? Well, not like I gathered everyone just for drinks. I bring some good news to the table, as well.

What kind of good news?

As I anticipated, plenty of journalists are looking into what that Yu kid did at your school. Gotta wonder what'll happen to all their work if we eliminate him, though. Would it change to a completely different scoop?

Who cares. Get to the point. What'd you manage to find out?
BGM: Intel Investigation Underway

Well, it seems like there's no direct connection between what happened at Amecha and the terrorist organization NULL. Doesn't make them entirely unconnected, though. There's apparently a group that shares the same ideals, they claim to be NULL's Japan branch, and they did play a part.

You said yesterday that he was affiliated with NULL in some manner. How did you find this much out in just one day?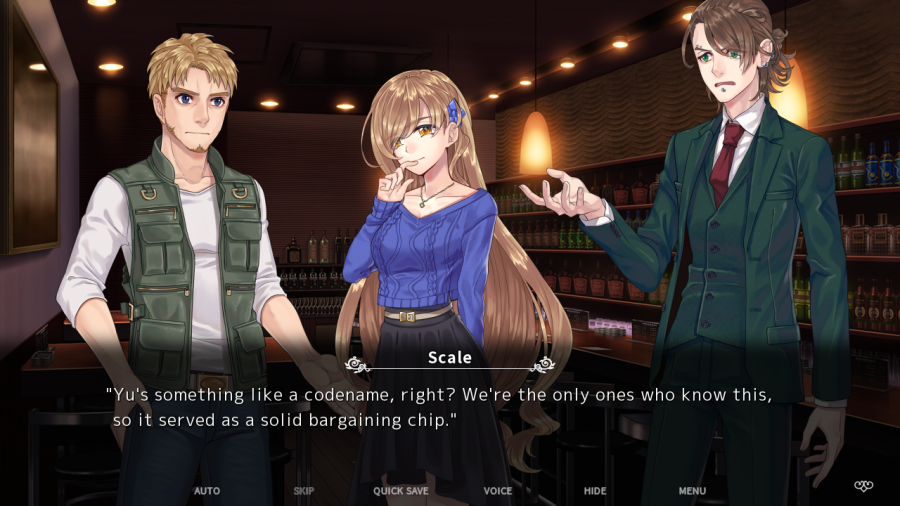 Yu's something like a codename, right? We're the only ones who know this, so it served as a solid bargaining chip.
The entire conversation has taken a toll on Miharu's sense of reality. Hearing about things like this makes her feel like she's playing a part in some fictional story.

Their ideals and goals are irrelevant. They're not directly related to Yu, either. What's important is the information about Yu himself.

So that was your idea of foreplay, huh? Might as well get to the main event now.

I still don't know much about Yu, but it seems like a young boy joined the ranks of NULL's Japan branch this spring. He's a former mercenary who was born in a warzone. Seems there's an organization in that place that would gather up orphans and raise them as child soldiers. They brought him from there.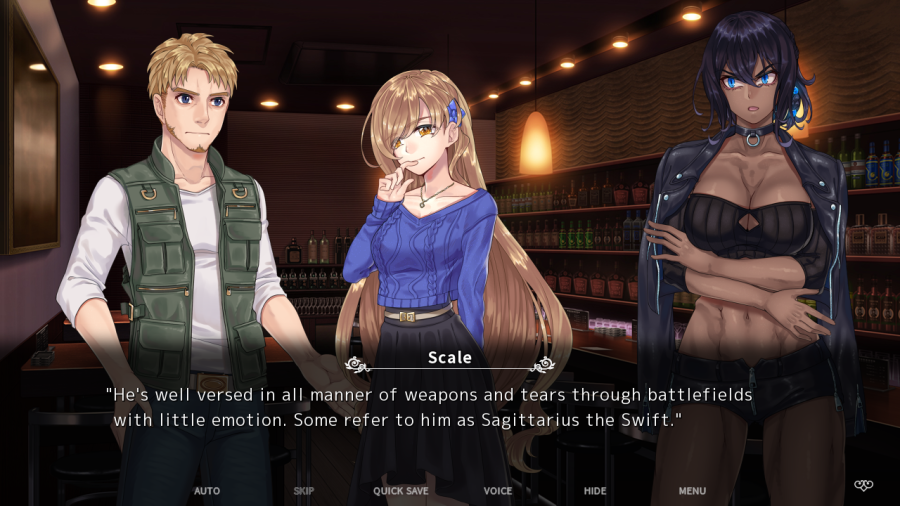 He's well versed in all manner of weapons and tears through battlefields with little emotion. Some refer to him as Sagittarius the Swift.

Now that reeks.

The kid was probably inducted to a local organization as some kind of payment... Back on topic, though. I guess he's got some kind of grudge against Japan, so he volunteered himself, or so they say. But get this. Apparently, NULL's Japan branch weren't even in the market for any new soldiers.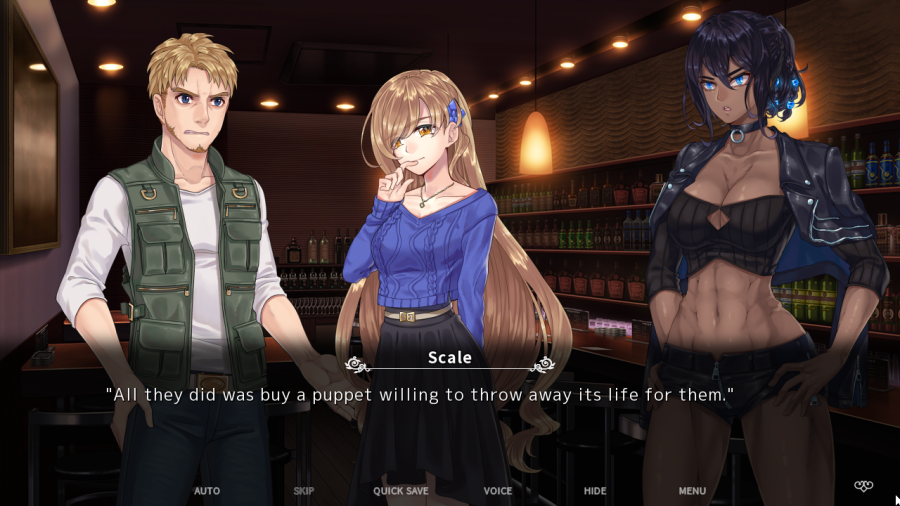 All they did was buy a puppet willing to throw away its life for them.

Where'd this info come from?

Sorry, but I'm going to keep that to myself. Don't want to risk you two chasing down my sources.

Heh. Yeah, we get it. You're in charge of info, and we're in charge of the heavy lifting, right?

That makes me question my place here.

No need, haha! It's you who got us to act in the first place. There's plenty of merit to your involvement.
Scale gives her a quick wink. It only serves to annoy Miharu, prompting her to avert her eyes with a huff.

He went for Amecha, right? Why'd he bother with a place like that?

I was going to bring that up next. Seems like the organization didn't order him to go there.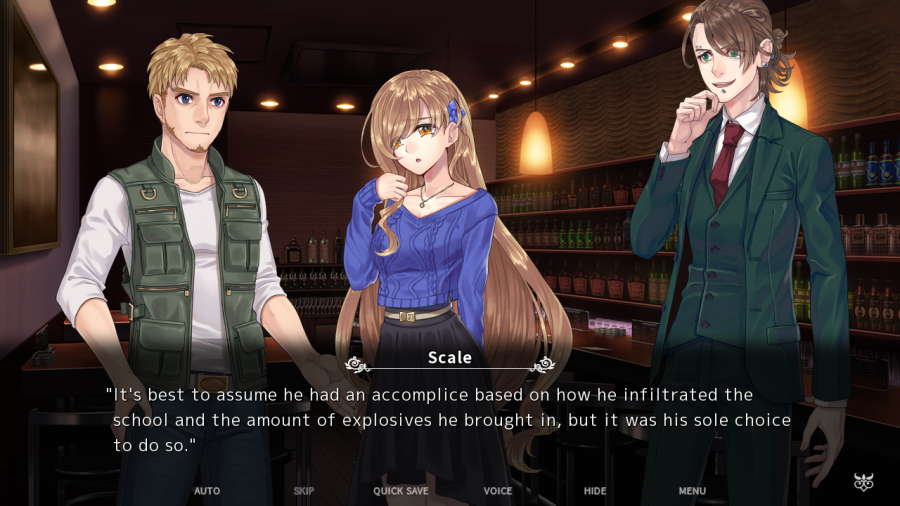 It's best to assume he had an accomplice based on how he infiltrated the school and the amount of explosives he brought in, but it was his sole choice to do so.
His infiltration method involved wearing the Amecha school uniform to blend in. While he did stand out due to his appearance, no one doubted that he was a girl. It was an act so bold that, in turn, it seemed perfectly natural.

Heh... Ain't much of an organization when your people run around and do whatever they please.

Speaking of which, there was that one case toward the end of last month. They found a suspicious object on the Yamanote line. Is that related in any way?
This was actually mentioned all the way back in Update 30; Rinka saw it on the news while she was getting ready for school that morning


Nice deduction. You should be able to figure out why there's so much info about them available by now. The reason nothing came from that is because there was a traitor in the organization. Someone volunteered to commit terrorist acts, but never followed through. Investigations into them kicked off behind the scenes thanks to that.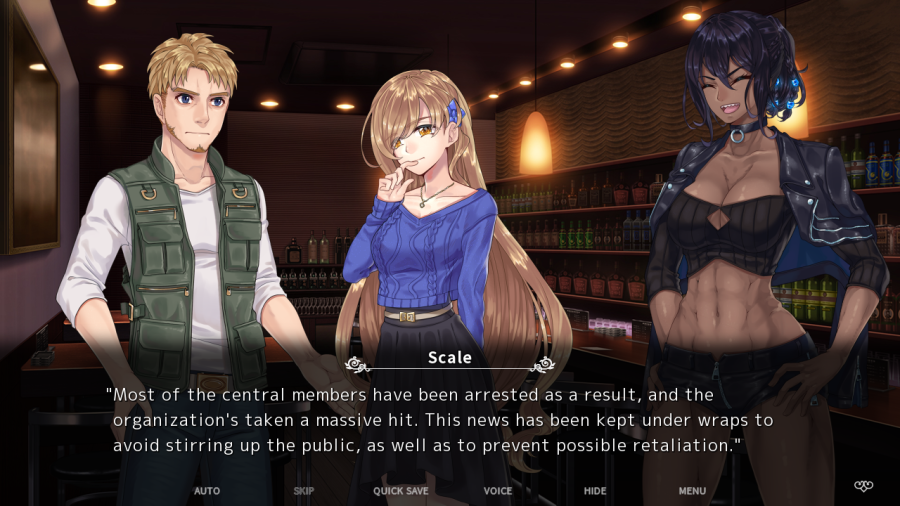 Most of the central members have been arrested as a result, and the organization's taken a massive hit. This news has been kept under wraps to avoid stirring up the public, as well as to prevent possible retaliation.

The whole debacle's damaged NULL's reputation. Not much of a surprise, though.

The organization must've reached a breaking point for a traitor to pop up, but who knows what triggered it... Seems like you're getting to the important part of your story, though.

Yup, there's more. Seems like there were plans to bomb the Yamanote line before the case I just mentioned. Said plan got delayed when the person they wanted to carry it out vanished.
Miharu can already tell where he's going with this. The nature of the conversation still feels odd, but she finds herself able to follow along well enough. Scale takes another sip of his drink before presenting his conclusion.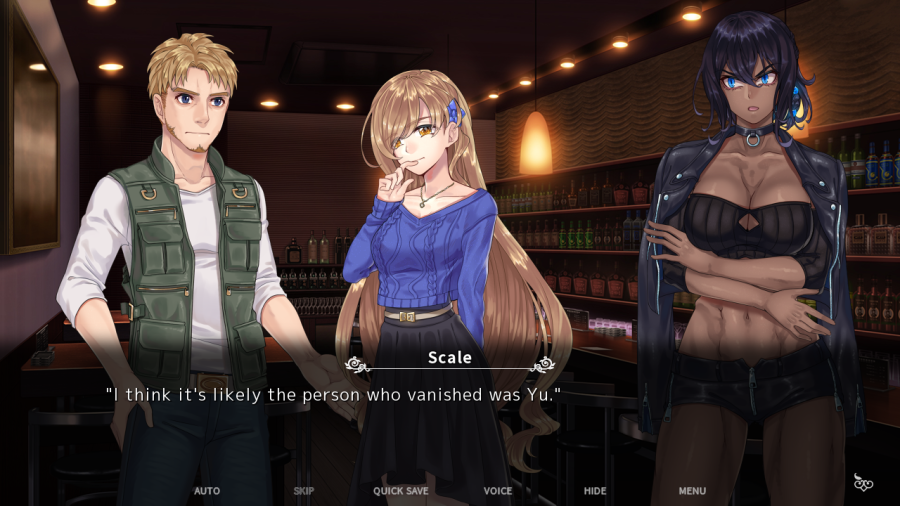 I think it's likely the person who vanished was Yu. The plan was to be carried out during the first week of May, just after Golden Week. It's no coincidence that it overlaps with the beginning of Divine Selection.

Damn. You dug up a big treasure for us, didn't ya? You even went and revealed his cause of death!

Gotta admit, I wasn't expecting him to be a suicide bomber...
Their exchange doesn't seem to make sense on the surface, but Miharu is able to place the pieces as they talk. Then again, anyone would be able to put two and two together after hearing this much.

If he blew himself up, then it only makes sense that what he did got undone, as well... I guess the explosion itself is what killed him. Either that, or the fire... Oh. There we go.
BGM: Impatience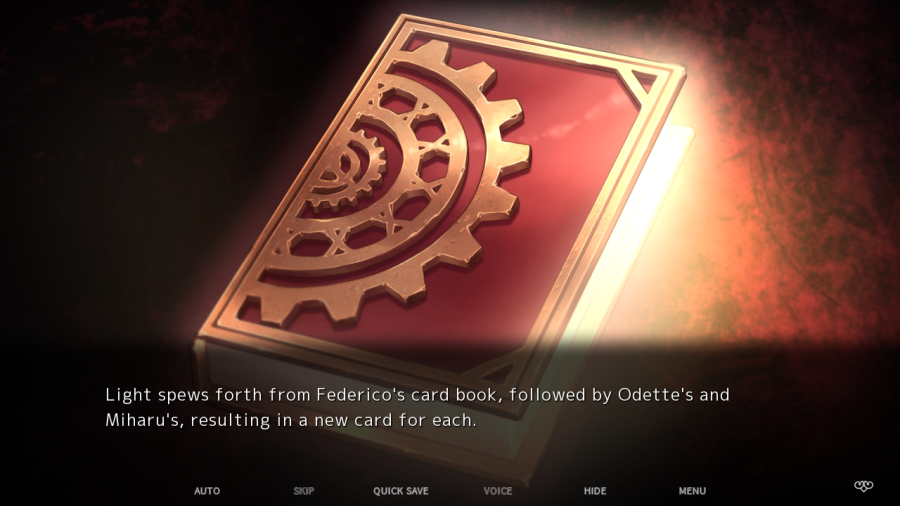 Light spews forth from Federico's card book, followed by Odette's and Miharu's, resulting in a new card for each. It has only been a single day since they began to cooperate, but they have already discovered Yu's cause of death. It is a cause for joy, but even more than that, surprise. Miharu is just as surprised as the others. Albeit not entirely for the same reasons.
Wednesday, May 2nd. The very day Miharu and Rinka, along with all the other participants, lost their lives. The day fate itself was altered. Rinka had told Miharu the general gist of what she did that day. She never mentioned her direct cause of death, but Miharu made sure to ask Naomi, who was with Rinka that day, about the details a few days later. Naomi was obviously frightened by Miharu's threatening attitude, but she did talk about her dreams where she and Rinka were caught up in a fire while on the train. Miharu feels nothing but guilt over how she treated Naomi at the time, but it's too late for that now. Regardless, Rinka's death was through suffocation. Miharu learned this after eliminating Sonya and obtaining that card. As much as it pained Miharu to imagine Rinka's death, she used that card together with what Naomi had told her to reach the conclusion that smoke from the fire caused Rinka to suffocate. However, part of her conjecture was incorrect, she now realizes.
It was no accident. Rinka was a victim of Yu's terrorist attack.
BGM: Intel Investigation Underway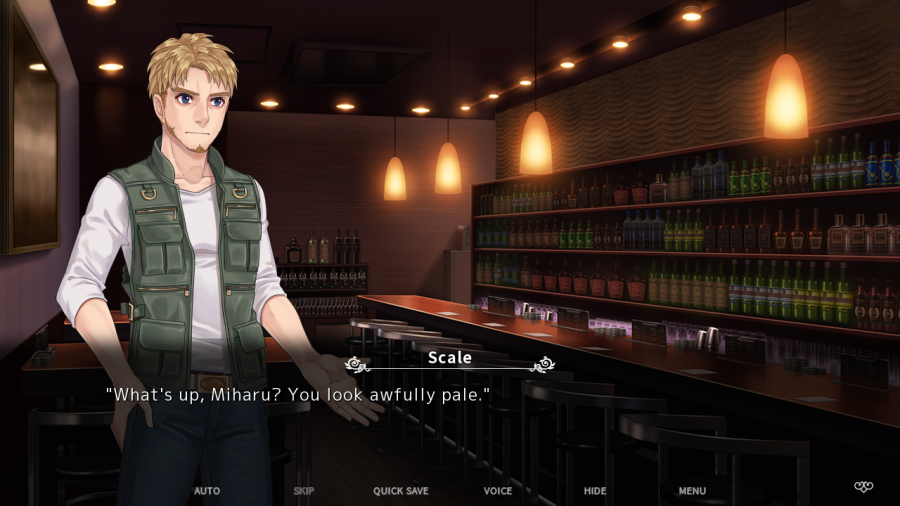 What's up, Miharu? You look awfully pale.

Sorry. I use the Yamanote line frequently, so it's hard to shake the image of people dying on it.
Miharu does all she can to maintain composure, but her expression shows hints of anger. Yu took not only Naomi's life, but Rinka's as well. She cannot forgive him for that.

I get what you mean. Lord knows what drove him to it, but the fact of the matter is that he's pure evil. We can't let someone like him run amuck. Hell, now I'm glad you had us prioritize him. Tch... I'd have all three of his cards already if the other two hadn't disappeared.

Well, the main issue now is his regret. We wouldn't have figured out his cause of death as quick as you, but it was only a matter of time before we did.

I don't have any leads on that, I'm afraid.

Then we've got two approaches. One, find someone who knows him and have them spill it. As for two...

Ugh...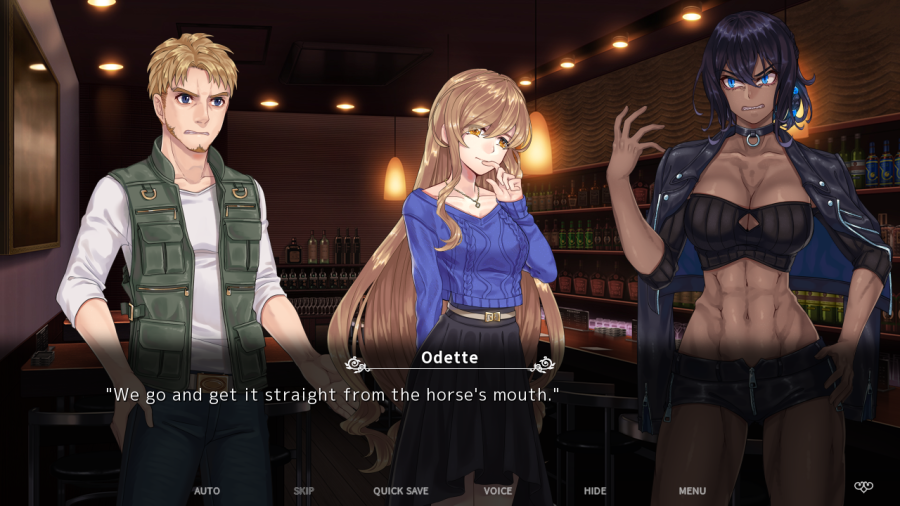 We go and get it straight from the horse's mouth.
Odette grins ear to ear before downing the remainder of her drink.
…...
BGM: Two Crossing Paths -S/I V/S-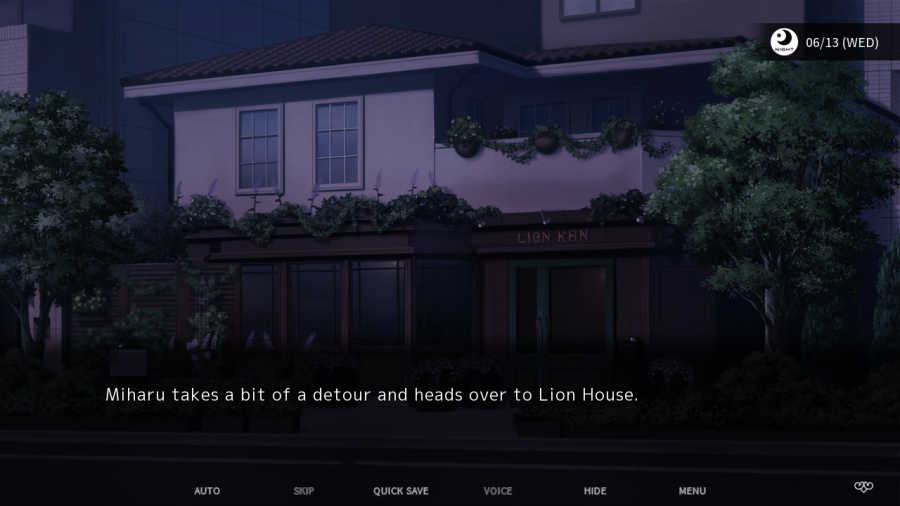 06/13 (WED), Night
Miharu takes a bit of a detour and heads over to Lion House.

I wonder what Rinka's doing...
Miharu cannot muster the courage to set foot inside. She does not want to accept that her presence alone will do nothing for Rinka. Instead, she recalls events from the bar as she gazes through a window. Scale's ability to gather information took her by surprise. All she did was reveal Yu's name, and with just that, he quickly discovered his cause of death. And just as they were at a loss in regards to his regret, Odette showed them the way. She seemed excited about the prospect of resorting to violence, too.
Miharu is well aware of how capable she is, but today she learned it means nothing when compared to their connections and experience, not to mention Odette's extraordinary physique and spirit. Her presence acted as an insurmountable wall. The prospect of her own elimination doesn't frighten Miharu, though. What frightens her is both Rinka's reaction to it happening, as well as the idea of Rinka herself being eliminated.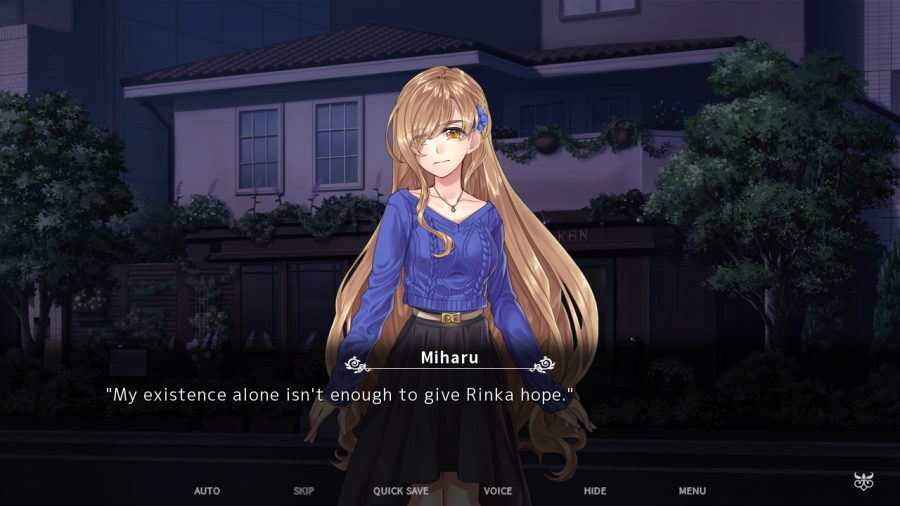 My existence alone isn't enough to give Rinka hope.
Her willingness to give in, coupled with a complete lack of faith in herself... This is the side of Miharu that she never wants anyone to see. Even so, she made a promise to herself long ago. So long as Rinka believes she's strong-hearted, she will do everything she can to live up to those expectations. No matter the cost. Fortunately, Miharu knows that both Scale and Odette are overestimating her. Perhaps it is due to the bluff she has been maintaining for years, but all she has to do is keep pretending until the lie eventually becomes the truth. She hates herself for being a liar, but she also appreciates her ability to lie for the sake of a single goal.
Indeed, she does it all for one person.
All for Rinka.
-----
Cardbook has updated.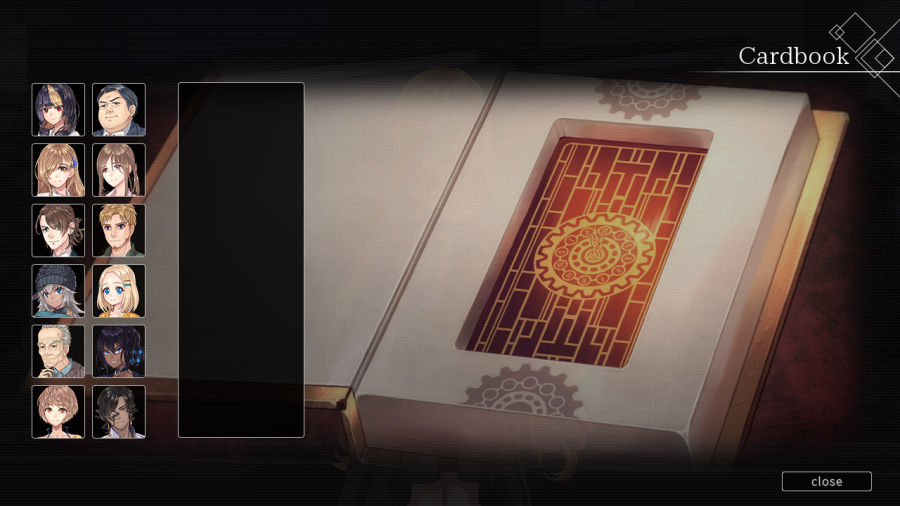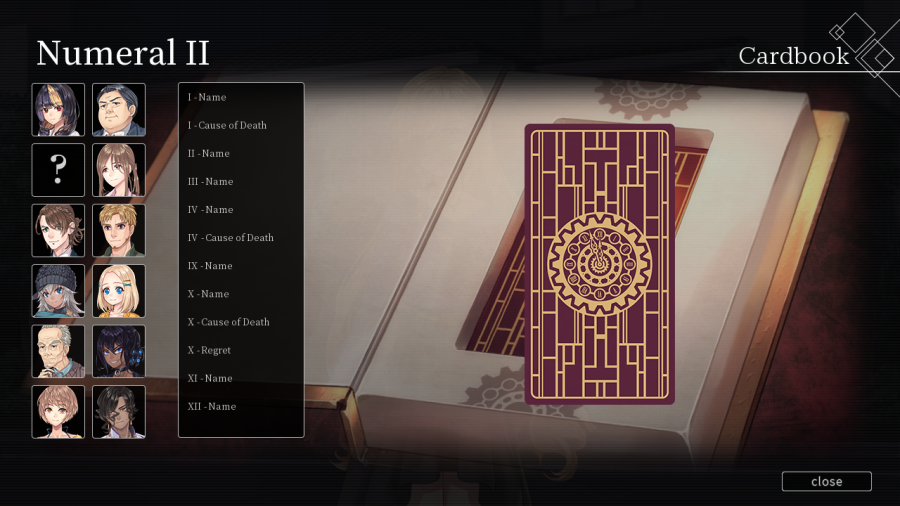 I – Name – Shishimai Rinka
I – Cause of Death – Death by Asphyxiation
II – Name – Hebinata Miharu
III – Name – Federico Carminati
IV – Name – Yu
IV – Cause of Death – Fire
IX – Name – Scale Jones
X – Name – Sofiya Priessnitz Alexeievna
X – Cause of Death – Death from Sickness
X – Regret – Seeing the World
XI – Name – Odette Malencon
XII – Name – Alan Scorpion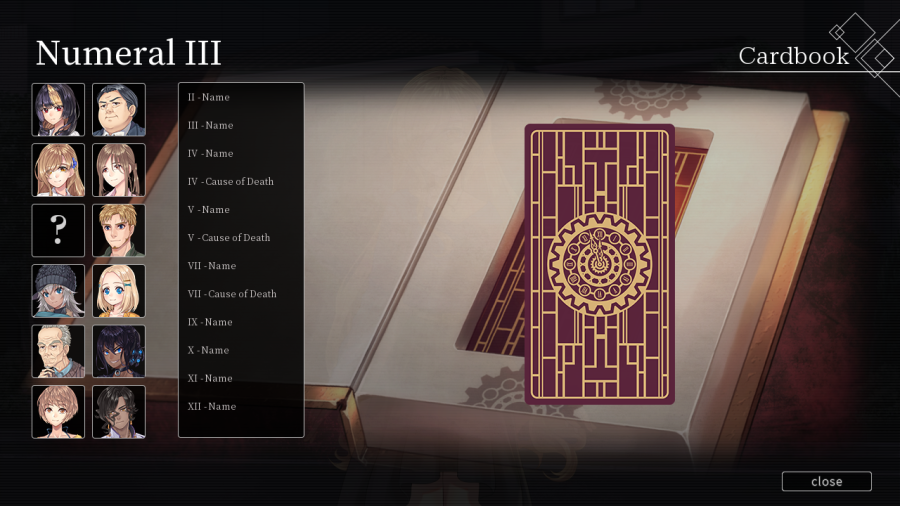 II – Name – Hebinata Miharu
III – Name – Federico Carminati
IV – Name – Yu
IV – Cause of Death – Fire
V – Name – Ushizuka Shigetsugu
V – Cause of Death – Death from Starvation
VII – Name – Ro Chanho
VII – Cause of Death - Stroke
IX – Name – Scale Jones
X – Name – Sofiya Priessnitz Alexeievna
XI – Name – Odette Malencon
XII – Name – Alan Scorpion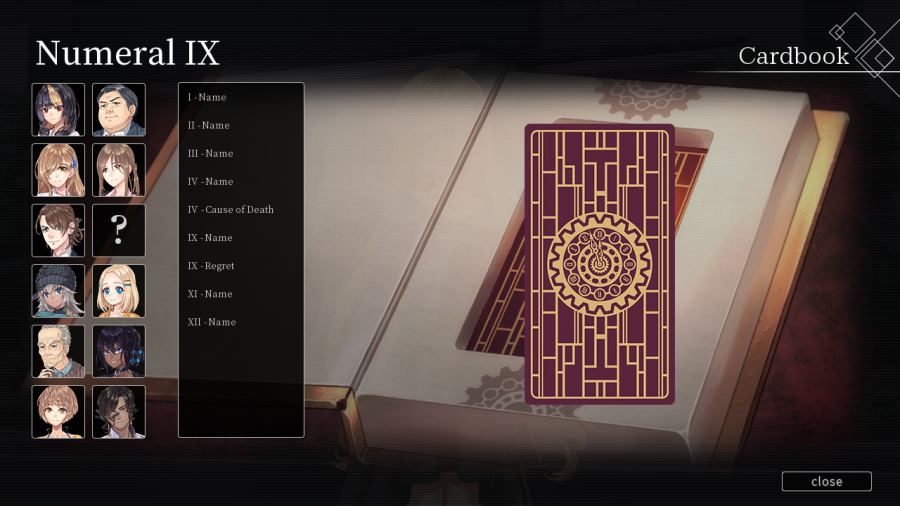 I – Name – Shishimai Rinka
II – Name – Hebinata Miharu
III – Name – Federico Carminati
IV – Name – Yu
IV – Cause of Death – Fire
IX – Name – Scale Jones
IX – Regret – Gold Medal
XI – Name – Odette Malencon
XII – Name – Alan Scorpion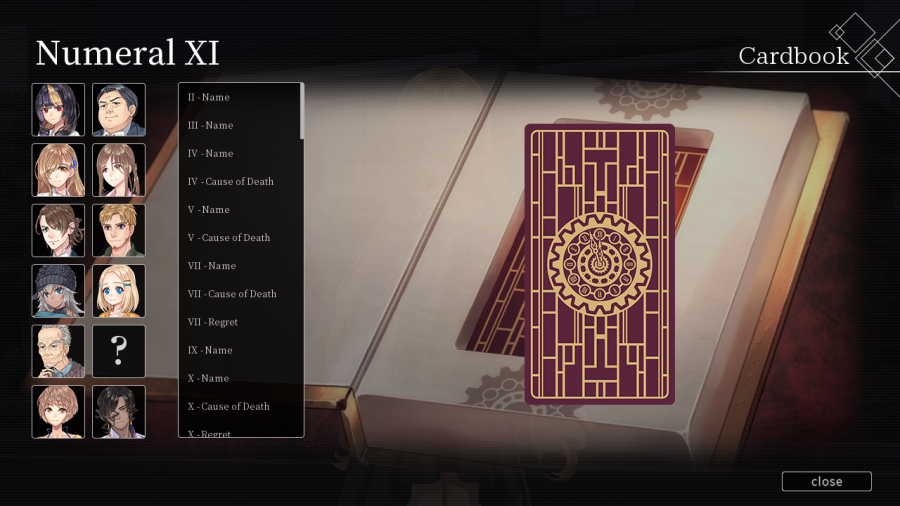 II – Name – Hebinata Miharu
III – Name – Federico Carminati
IV – Name – Yu
IV – Cause of Death – Fire
V – Name – Ushizuka Shigetsugu
V – Cause of Death – Death from Starvation
VII – Name – Ro Chanho
VII – Cause of Death – Stroke
VII – Regret - Dog
IX – Name – Scale Jones
X – Name – Sofiya Priessnitz Alexeievna
X – Cause of Death – Death from Sickness
X – Regret – Seeing the World
XI – Name – Odette Malencon
XII – Name – Alan Scorpion