Part 26: Fall of Durhua
After liberating/conquering every other nation on the continent, Marth finally arrives at the enemy capital itself and the nation of Durhua.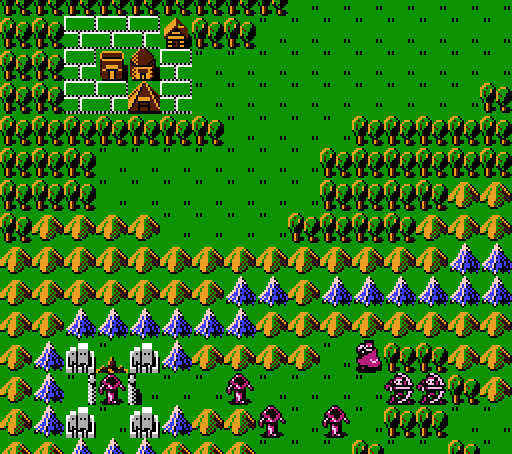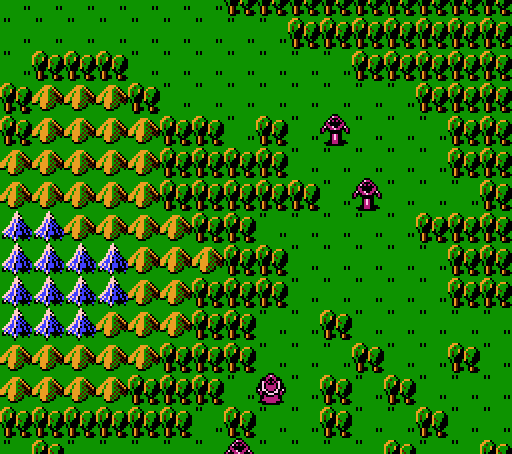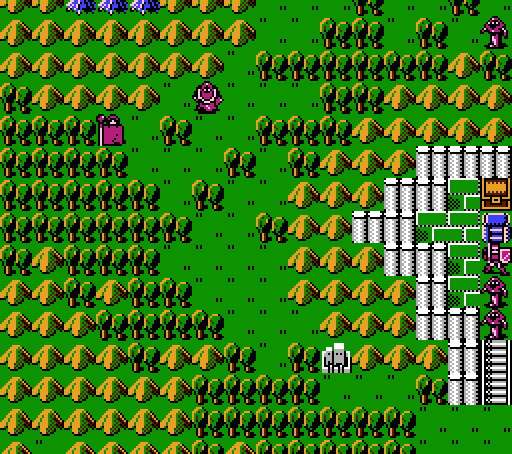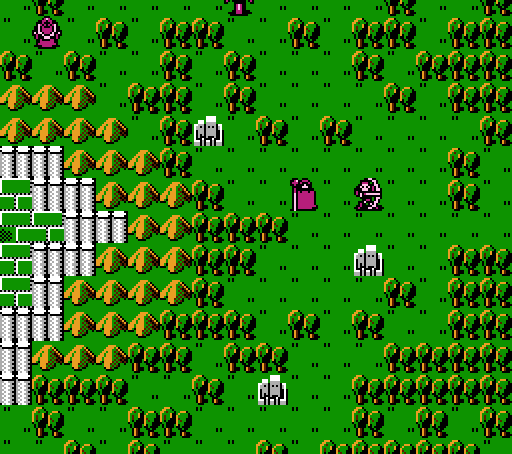 There's some interesting terrain here. We start pretty close to the castle in the northwest, with a small gap in the peaks through which to assault with a small ground force. Alternatively, we can circle around to the east, slaughter everything in our path, and hit up the mysterious temple to the south on our way. Guess which one we'll be doing.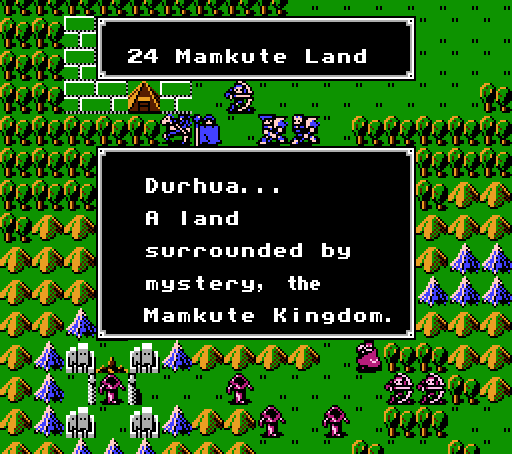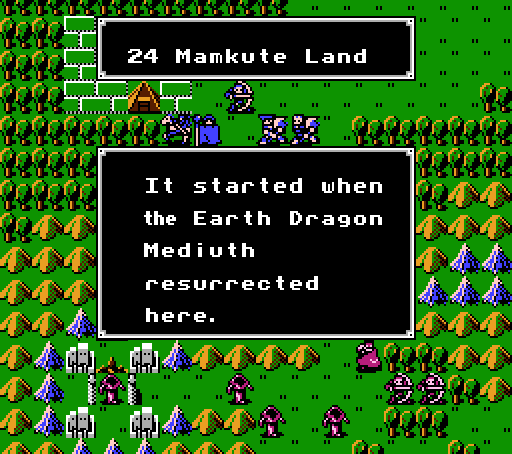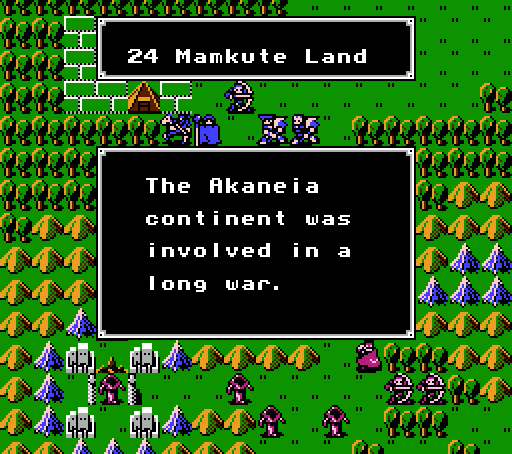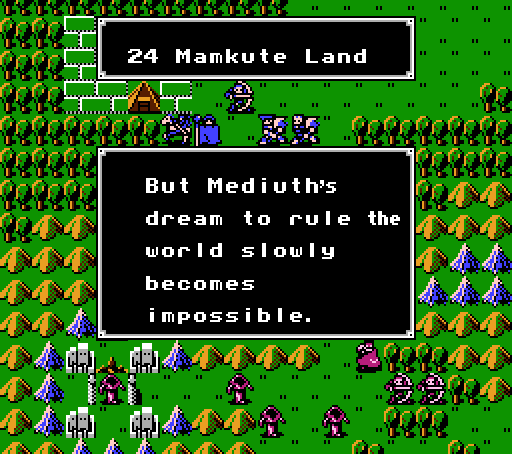 Thanks to Marth!
At this point we've basically already won the war, with armies from across the continent now coming together to finish things in Durhua.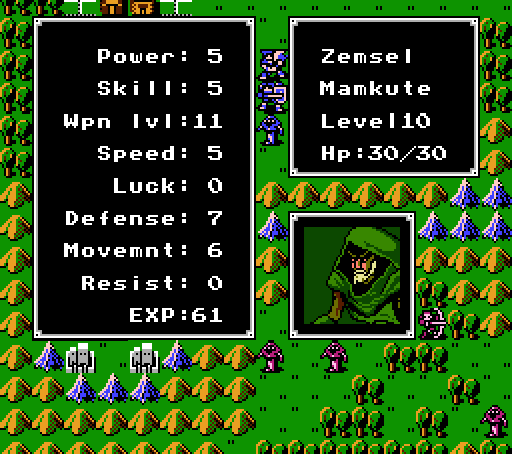 The boss here is a cheating no-name fucker. He's got another Demon (Magic) Dragonstone which gives him a total of 22 Defense and immunity to magic. His Speed is horrible though and we all have max Power at this point so he'll actually be rather easy to deal with by the time we get there.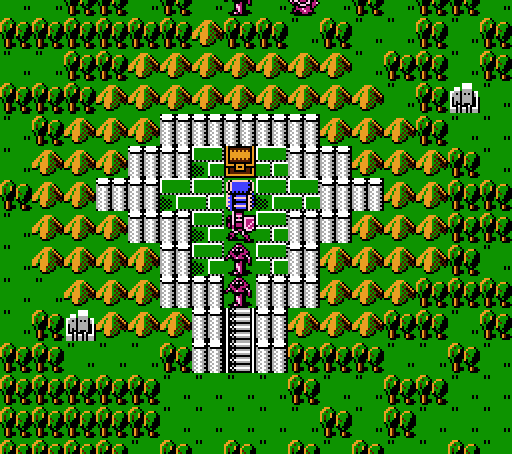 There's an altar here that'll do something special. One of the Mamkutes here has another Demon Dragonstone, which is kind of a pain. We'll have to clear this area out before we bring Ellis down here to work some magic.
Turn 1: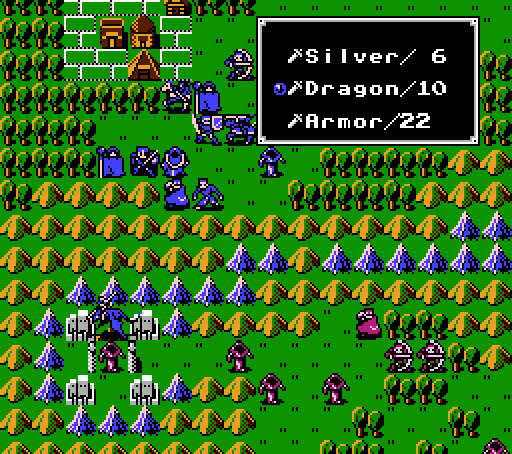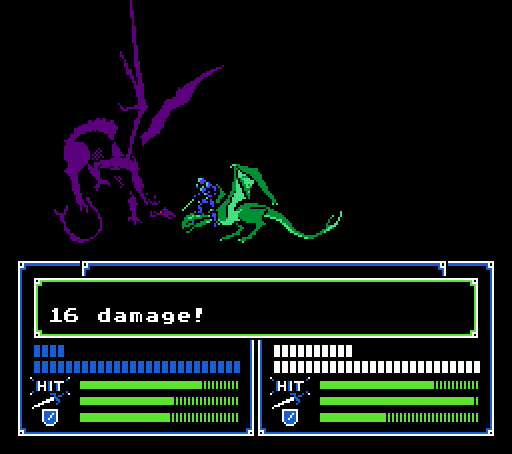 I get a little lucky with our army layout as Est starts close enough to engage the boss right away. She also has a Dragon Killer. Turn 1 and the boss is dead. If I were so inclined, I could now have Rena warp Marth over to the castle and beat the chapter right now, but what would be the fun in that?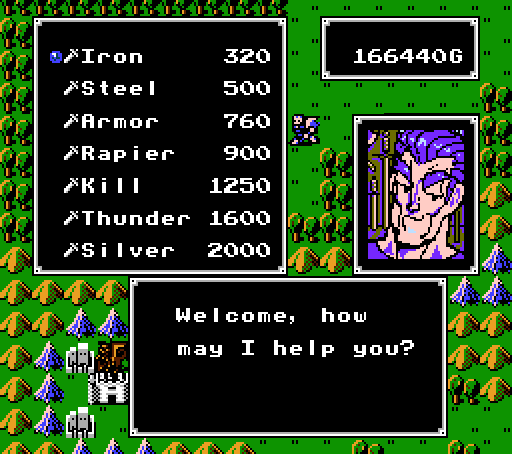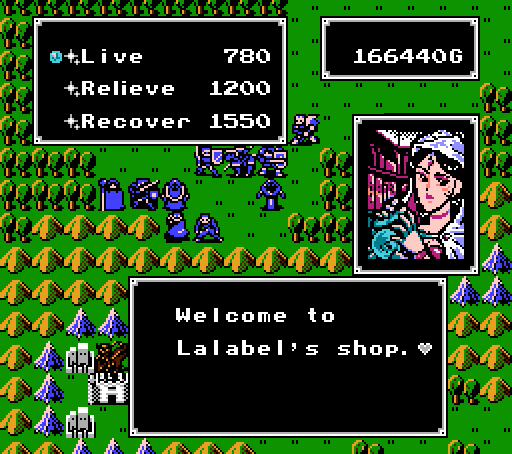 Last chance to stock up on weapons. We'll probably top off here at the end of the chapter with whatever funds we have left.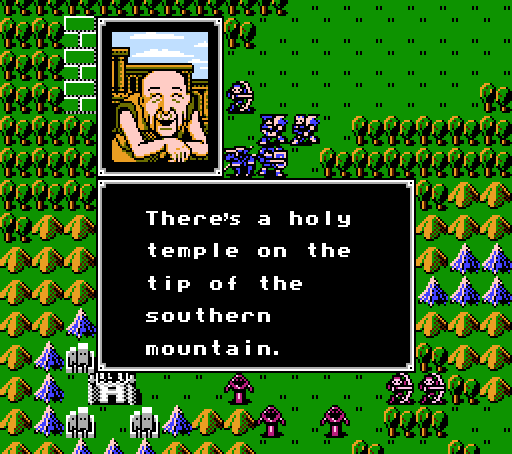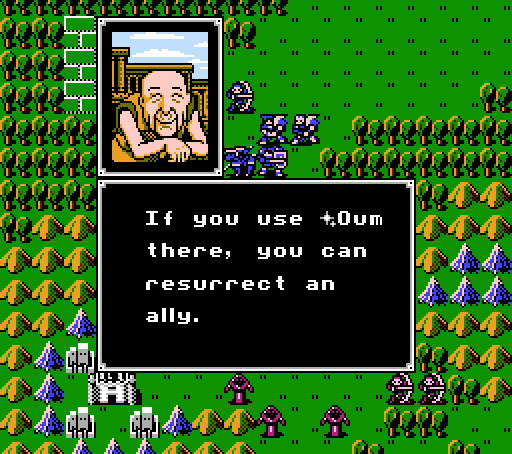 The house has somewhat vague instructions on how to use the Oum Wand, in case you already forgot what Ellis said at the end of the last chapter.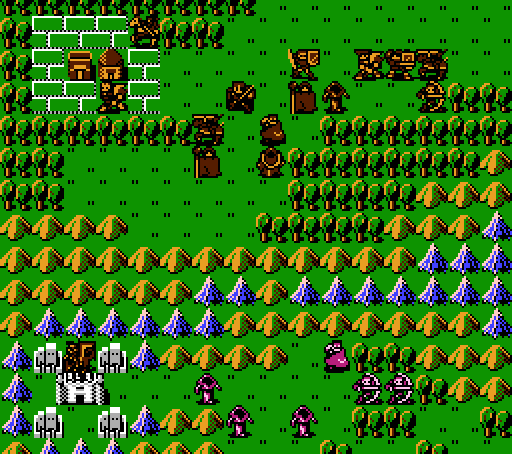 I brought Daros for some reason. He gets to hang out in town most of the chapter.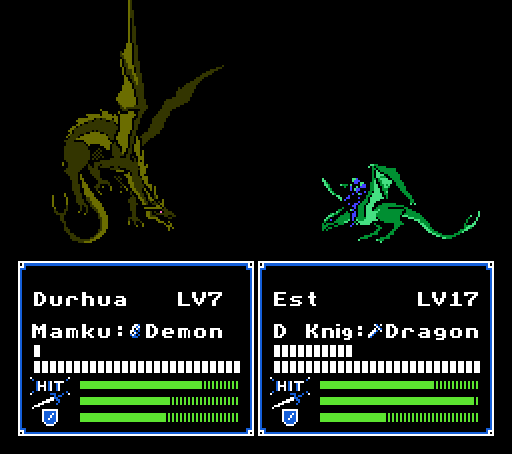 Another Demon Dragon goes after Est, and the only thing stopping her from killing this one too is the stupid Castle giving it a 30% dodge chance.
Turn 2: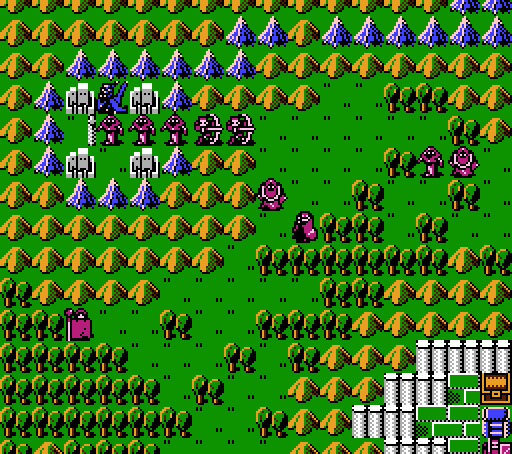 Those Snipers are actually pretty dangerous to Est with Silver Bows and triple Might (44 total Attack) so she flies down to pick off the Cleric lead the enemy army on a chase.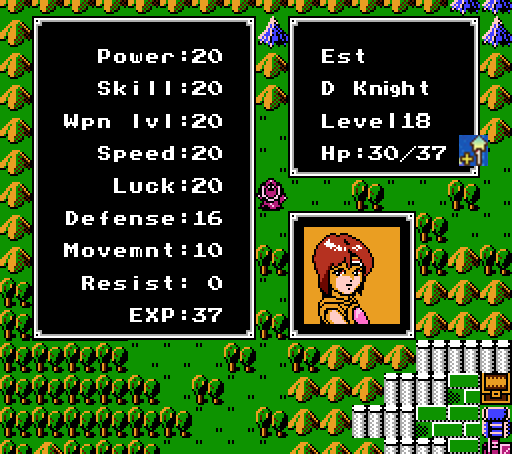 These level up screens become less and less relevant as the game moves along.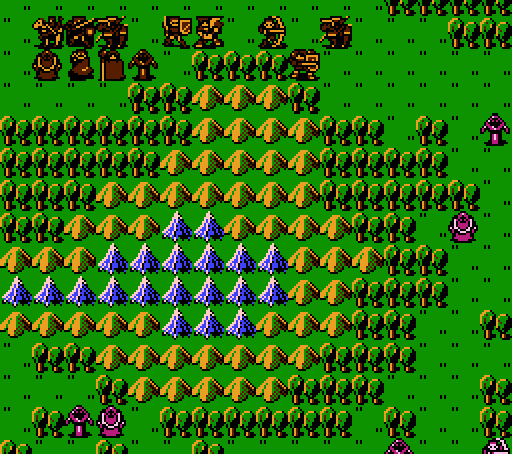 Still advancing. The layout of this chapter actually makes it feel bigger than the others, even though the map size is technically still exactly the same.
Turn 3: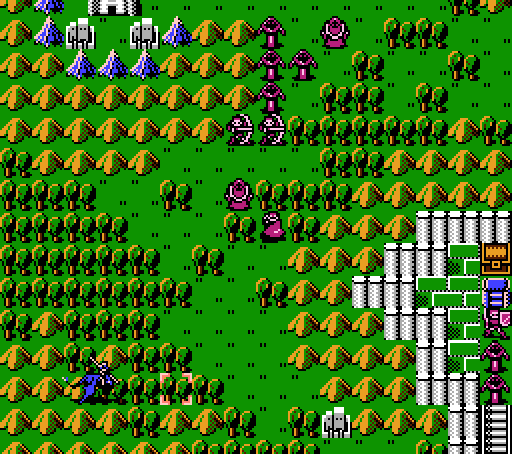 Est is being chased, but her primary mission at this point is to beat the Thief to the temple.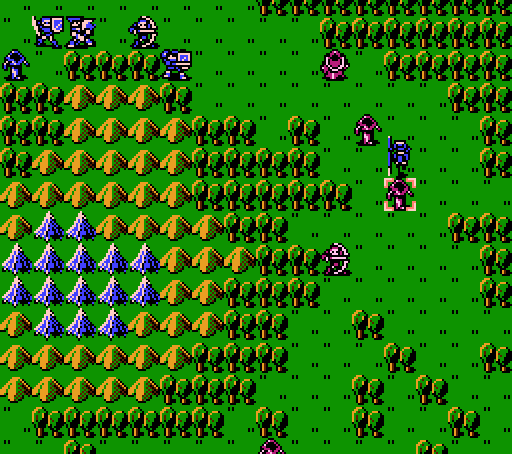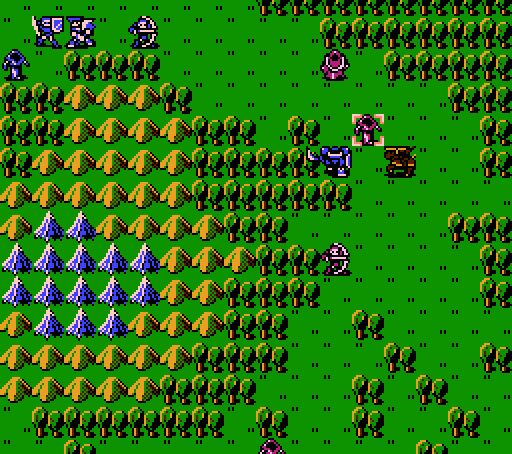 The advance elements of the two armies clash. Hardin has a Dragon Killer and Roger still has the Gradius, so it's a pretty one-sided clash.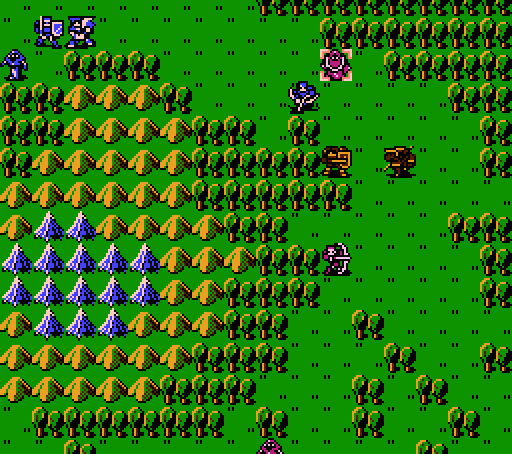 Gordon gets in on the action by taking out this Priest.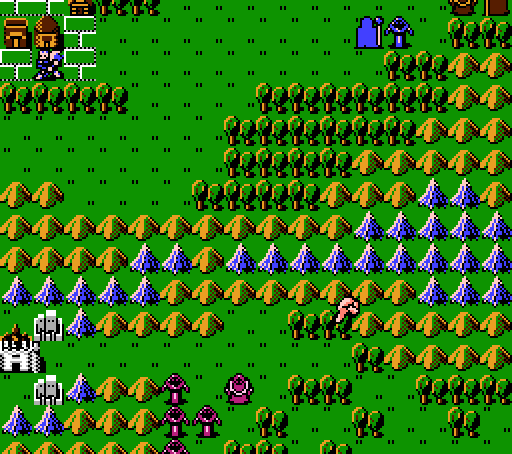 Chiki's Divine Dragonstone is effective against Mamkutes so I have Rena warp her down closer to the action (but still out of range of the Snipers).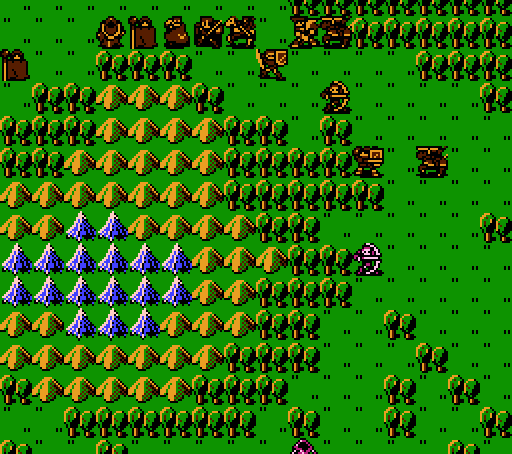 Almost around the corner, now....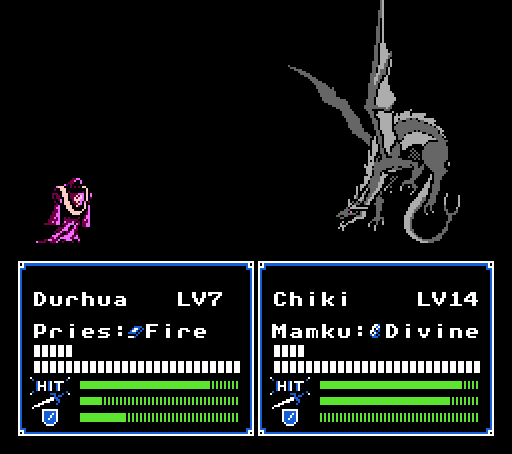 A Fire Tome? Please.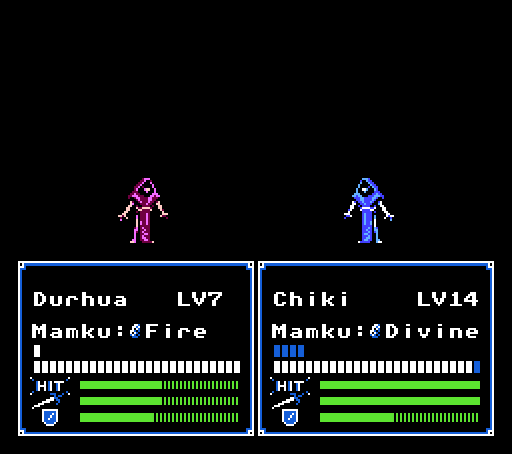 Chiki does successfully draw in a couple Mamkutes, and one-shots both of them for an empty level. The Snipers also wander towards her, leaving Est free to roam next turn.
Turn 4: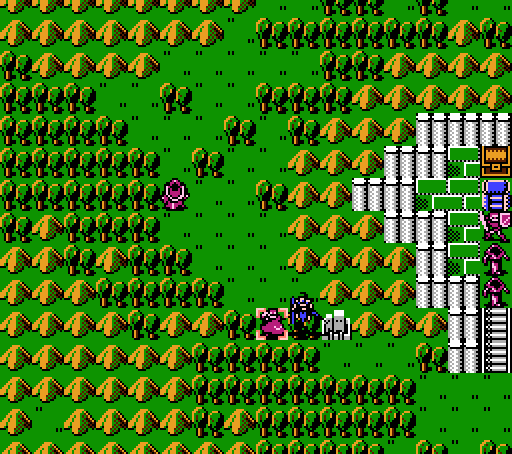 Est takes advantage of Chiki's distraction to eliminate the Thief and claim his Devil Sword for her own. We now have a 20-Luck Devil Sword Est running amok behind enemy lines.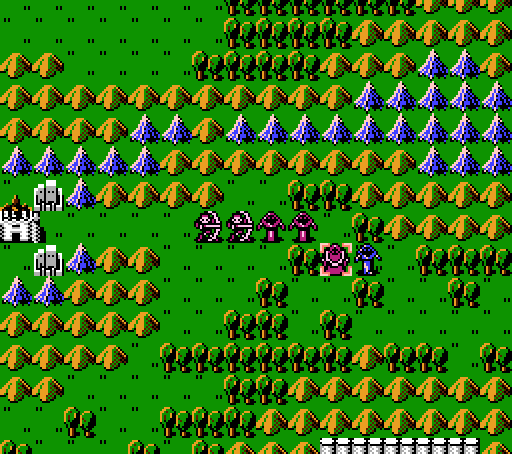 The Priest is actually a bigger threat to Chiki in terms of damage output than the Snipers, so it goes first.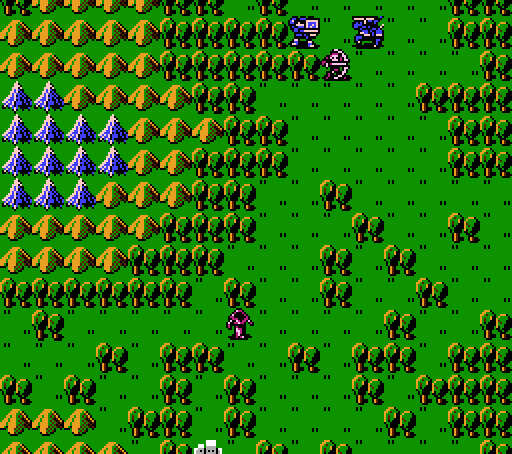 Not much going on down here. Navarre moves down to take out the Sniper, while everyone else keeps moving forward.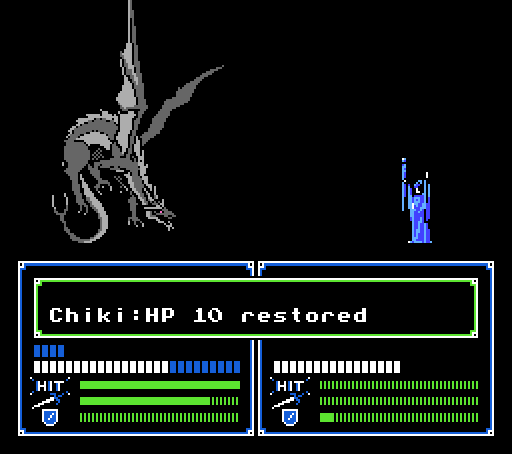 Since Clerics don't gain Exp from using their Wands, I skirt the rules a bit and have Ellis patch up Chiki from afar. For some reason Chiki felt the need to transform for the occasion.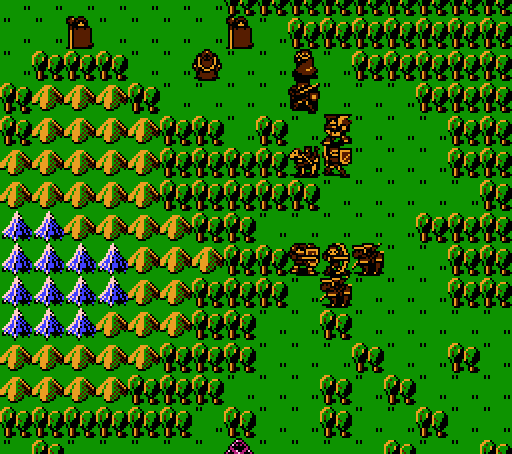 Maybe I should've given Rena the Boots way back when instead of Roger, she's always falling behind now.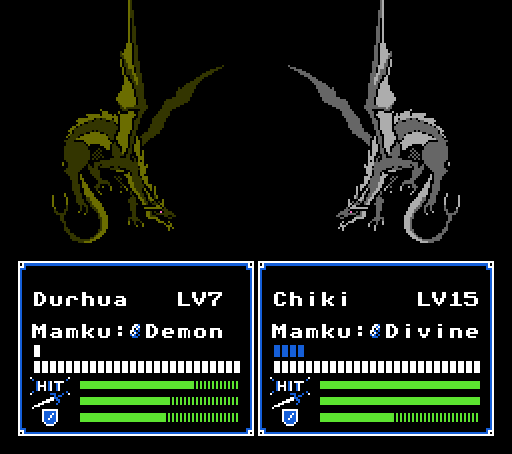 Chiki counter-kills the other two Mamkutes nearby, who each thought it would be a good idea to die in exchange for scratching her.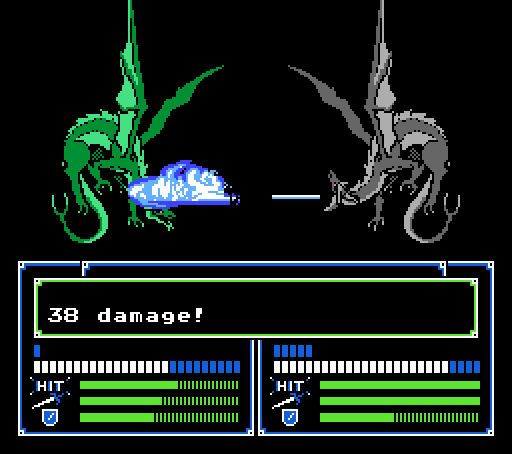 I mean, really, what other outcome were you expecting?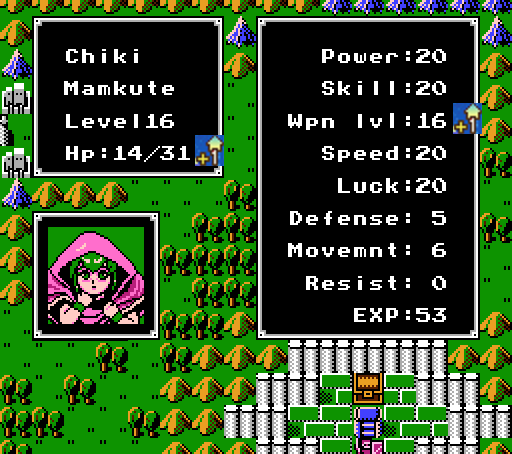 Chiki also picks up another level.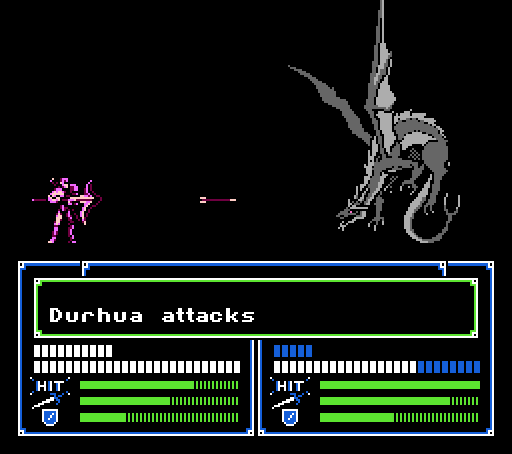 The Snipers aren't any more effective at 4 damage a piece. They would've been better off chasing after Est.
Turn 5: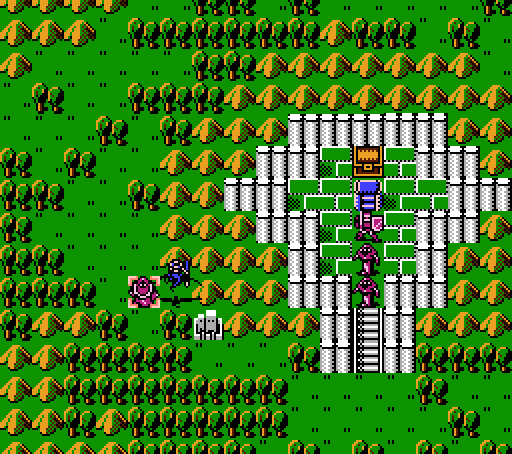 The Devil Sword is pretty heavy and the Priest here is pretty fast so instead of using her new toy, Est breaks her Silver Sword somewhere in the Priest's body instead.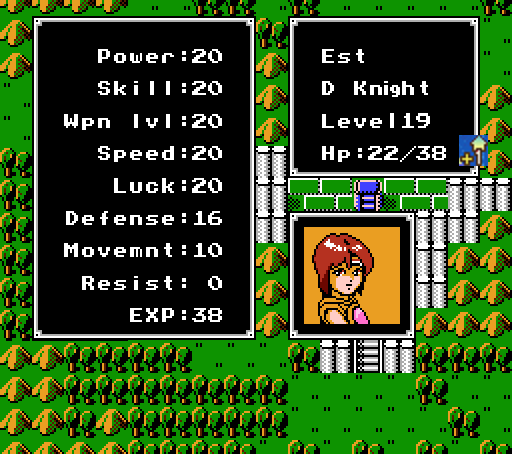 More HP for Est.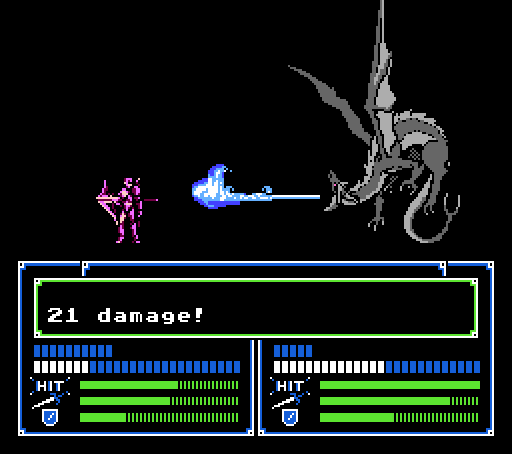 Chiki, meanwhile, shows one of the Snipers what a mistake it is do go up against a Mamkute with a Bow. Really, the game's just not designed around Mamkutes having 20 Power, so Chiki is just wrecking everything.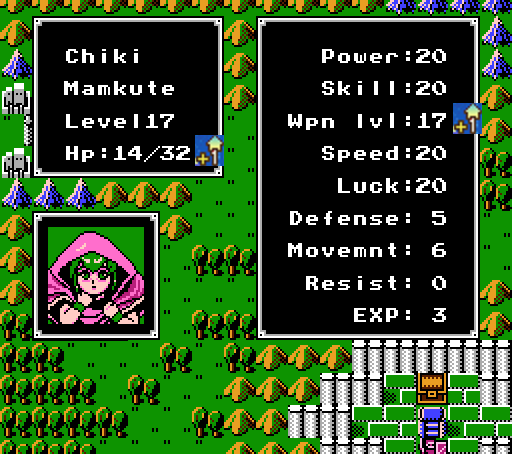 Won't be too many more of these, now.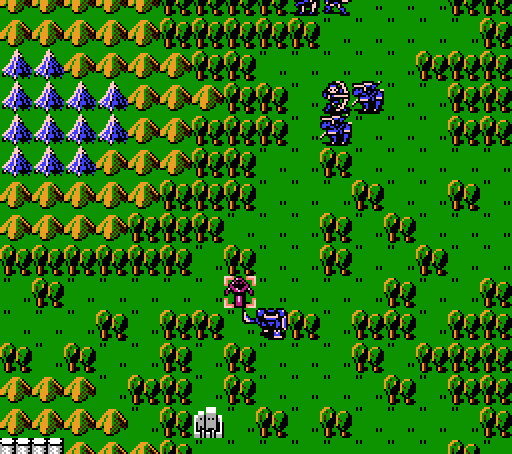 Roger puts down another stray dragon.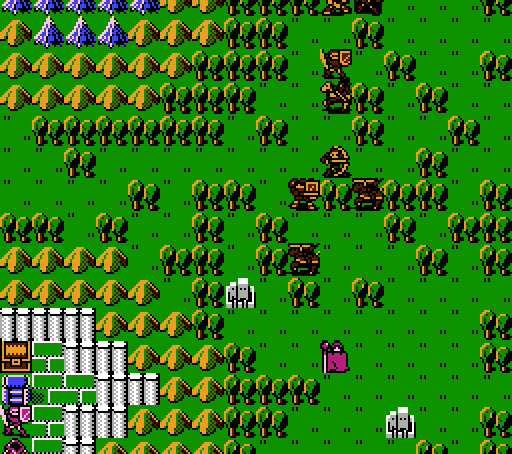 The army begins to trickle southward to join up with Est in clearing out the temple.
Turn 6: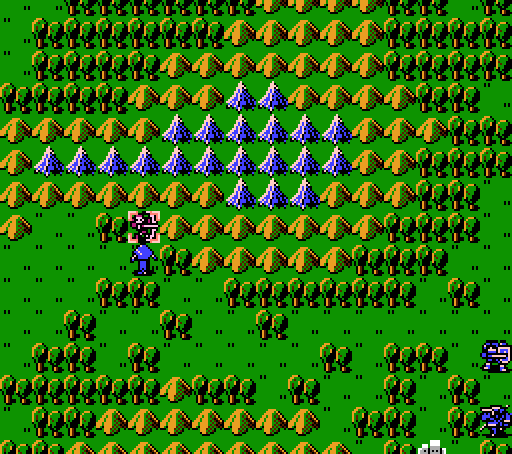 Chiki starts things off by eliminating the last Sniper.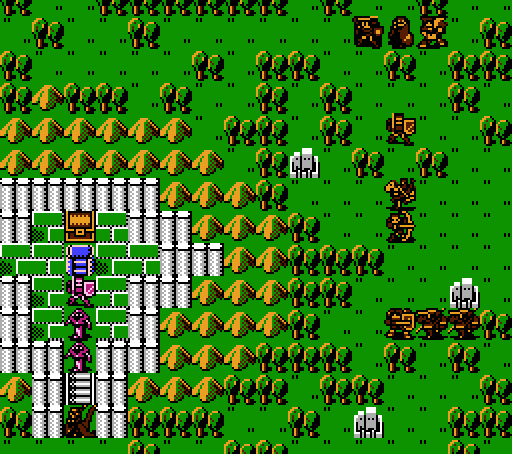 Hardin takes care of the Cleric, and Est leads the charge into the temple.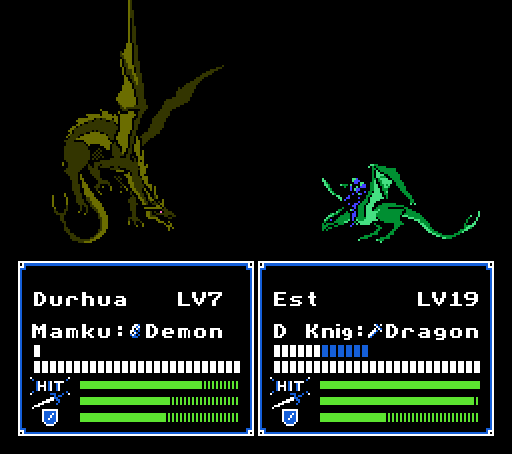 Again, not the best matchup for the Mamkutes as both kill themselves on Est.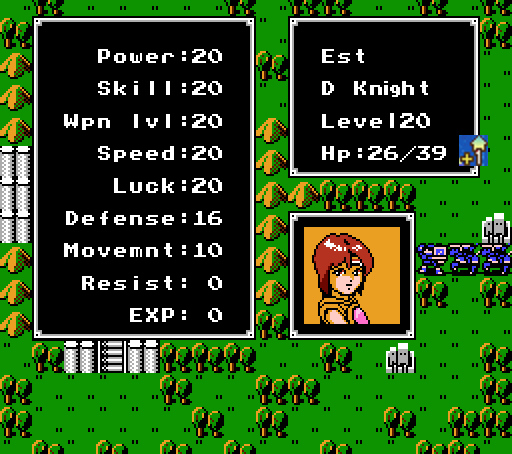 Est's final level is unremarkable.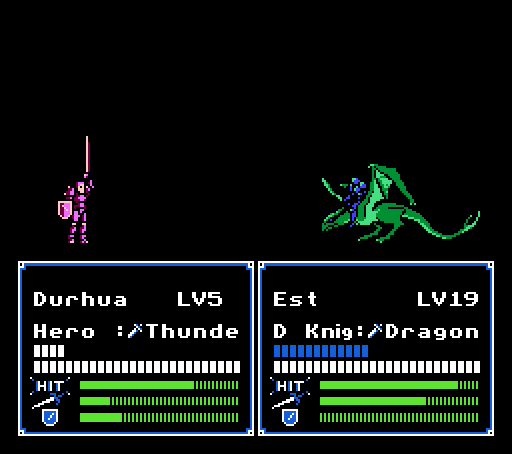 As a change of pace, the Hero has a Thunder Sword. At this point in the game, it can be a surprise in enemy hands to finish off a weakened unit but that's about it. Est just dodges it anyway.
Turn 7: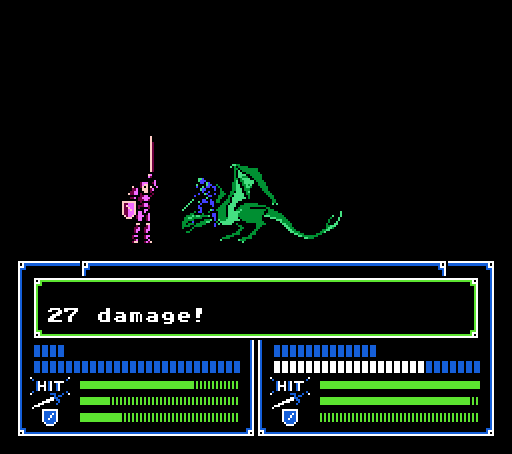 Est clears out the temple and the last remaining enemy on the map. But we're not done yet.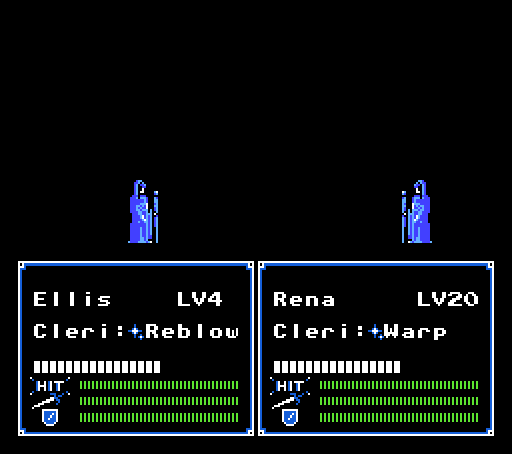 Rena uses here last use of the Warp wand to send Ellis straight to the temple.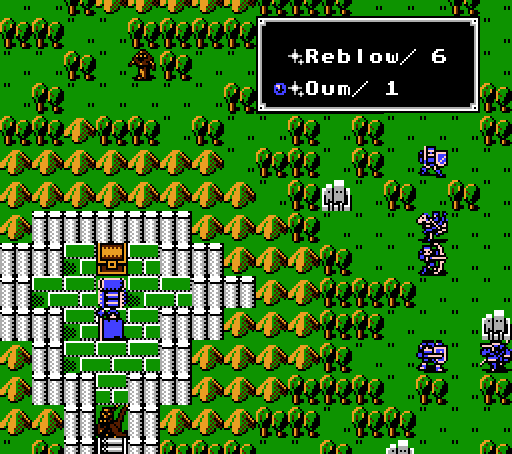 The secret to using the Oum Wand, is you have to have Ellis standing one tile below the altar in the center.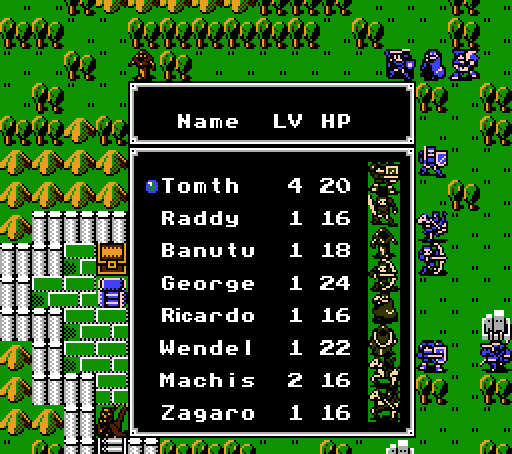 We get a list of our fallen allies. Most players probably won't have a list two full pages long like we do here.
To be perfectly honest, none of them are really worth bringing back - certainly none of them will be particularly combat-worthy.

Alternate title for this chapter: Jeigan Rides Again.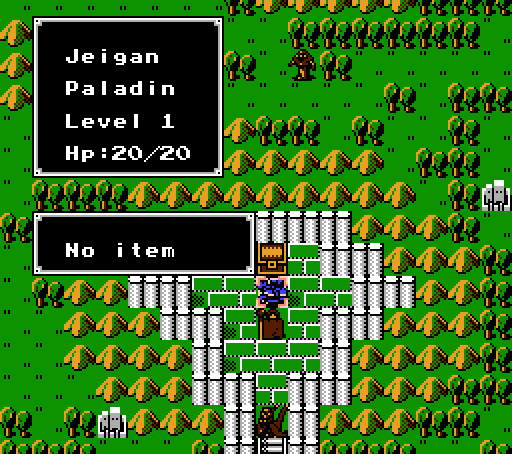 The resurrected unit appears on the altar.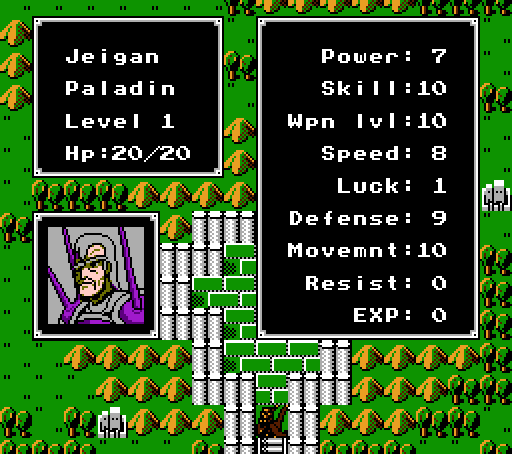 Jeigan has the same exact shitty stats from the start of the game.
Turn 8: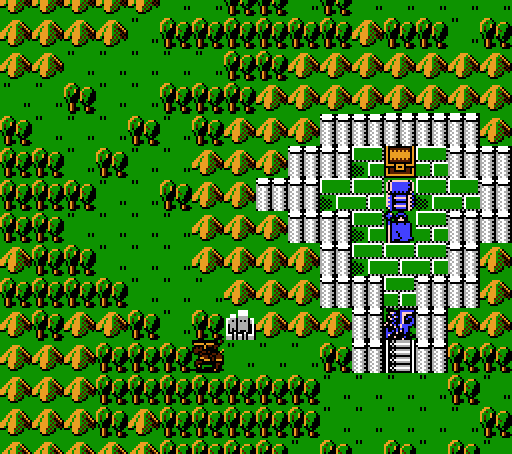 Jeigan immediately sets out for the castle, seeking to storm its walls and finally take his vengeance on Mediuth.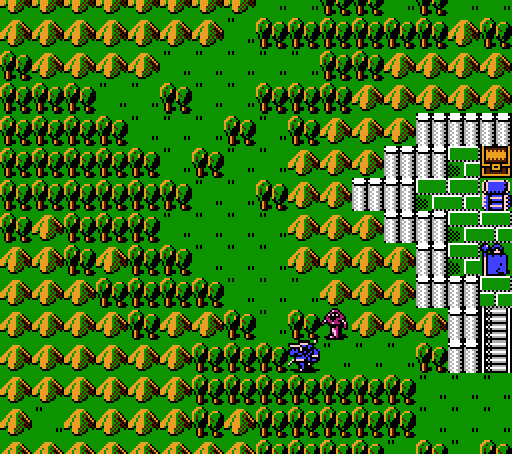 But he doesn't expect the Fire Mamkutes stationed in the nearby fortress to come streaming towards him.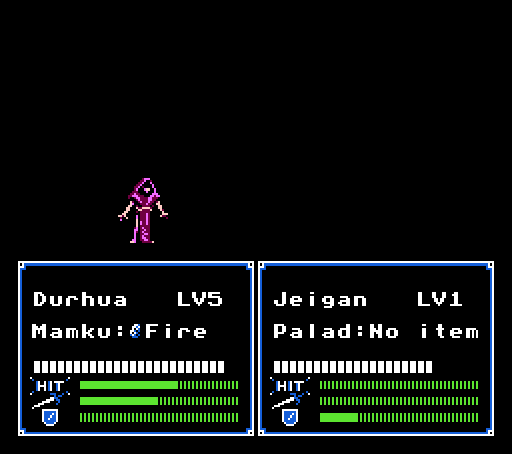 Jeigan fell back in Chapter 6. He's never seen a Mamkute before. All he sees is an old man in a robe approaching, nothing to worry about.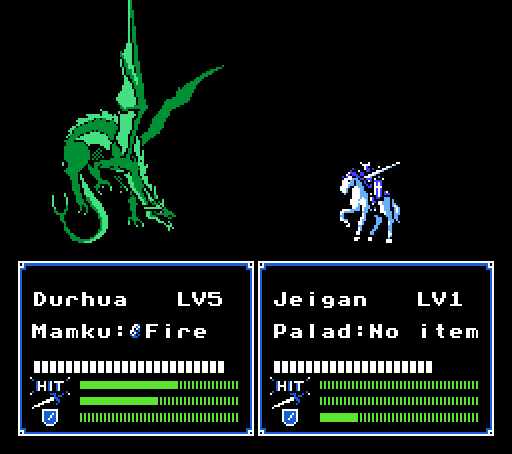 Much to his surprise, the old man transforms into a fire-breathing dragon.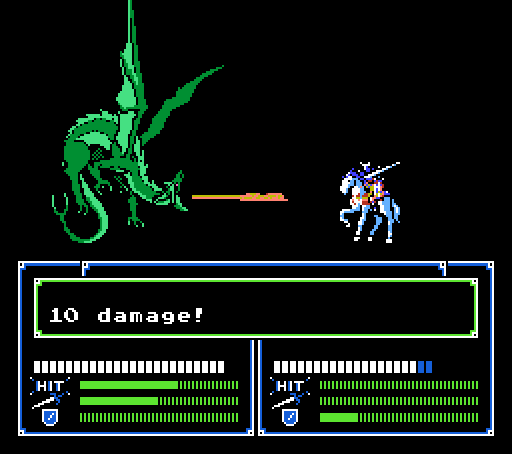 Jeigan is scorched, but is mounted and able to flee from the battle.
Turn 9: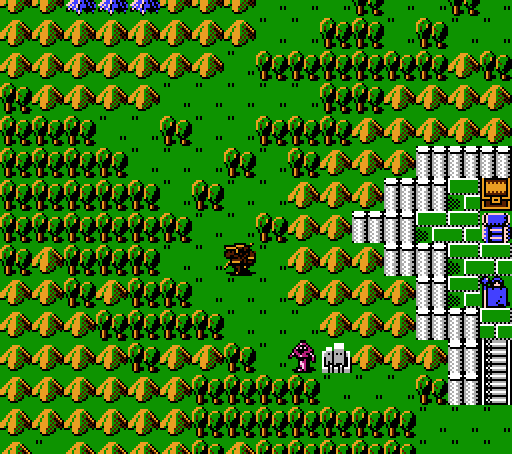 However the surrounding forests limit his ability to either ride for the castle or retreat for healing.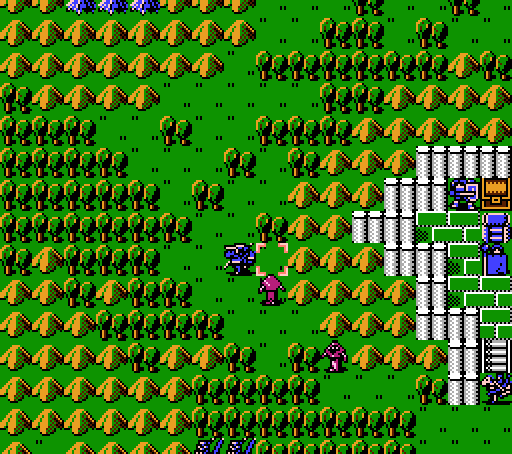 More Mamkutes give chase.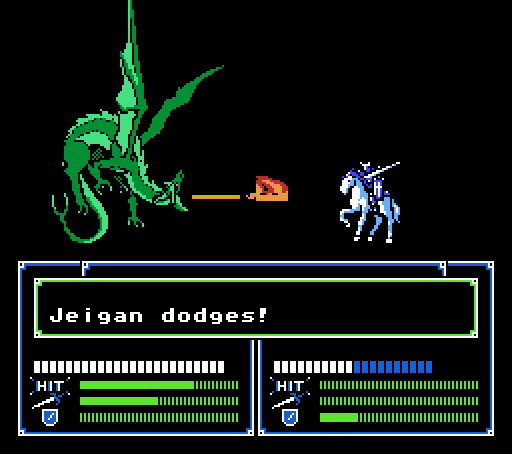 But Jeigan's age hasn't yet hindered his agility.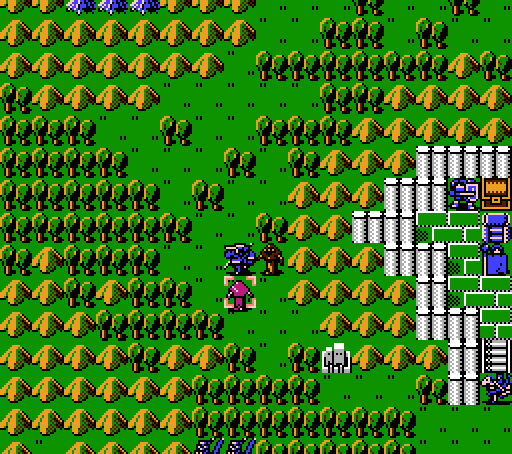 Unfortunately, he's soon surrounded.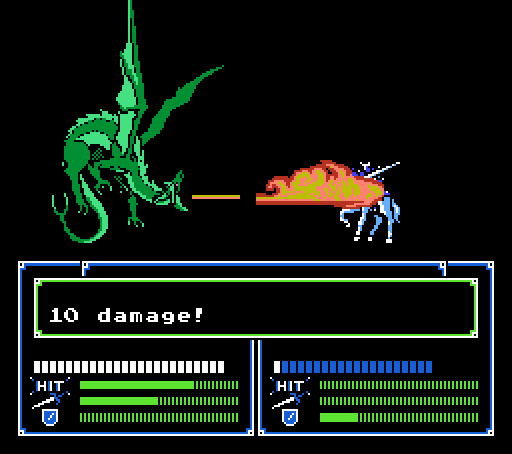 Eventually, he's left with nowhere to run, and the flames engulf him.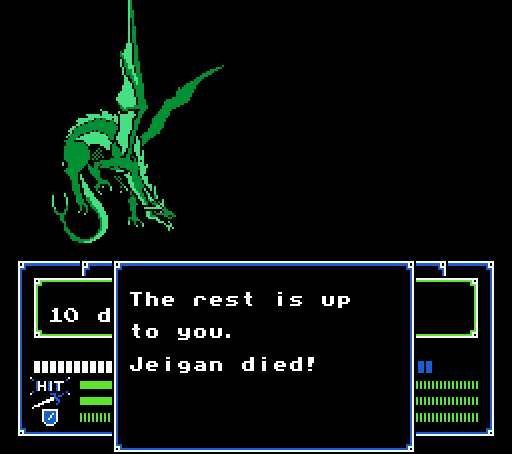 Alternate alternate title: Fall of Jeigan, the Sequel.
Turn 10: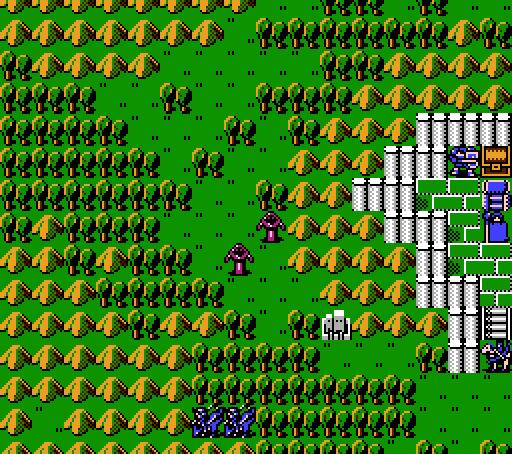 The Mamkutes are running amok, but we have more important business to attend to here.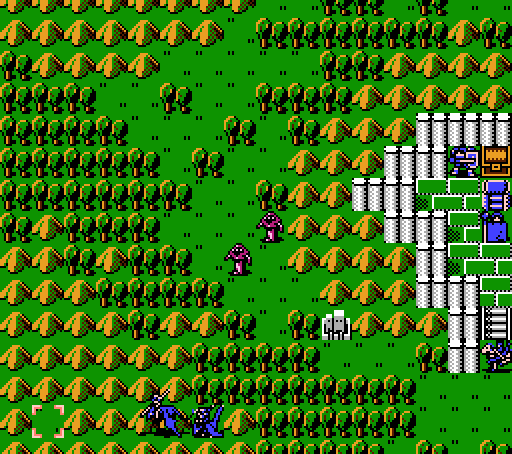 This plains tile surrounded by mountains looks awfully similar to one we saw a few chapters ago, doesn't it?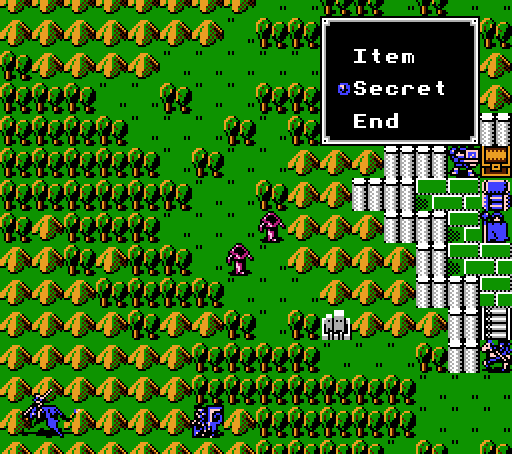 Jackpot. So far, we've had a Secret Shop way back in Chapter 17 selling us high-end Tomes and Wands, hidden behind a dead-end door. A similar Secret Shop was hidden behind another dead-end door behind the throne in Chapter 23, selling extra last-minute promotion items. But really, the most beneficial Secret Shop so far was in Chapter 22, in a plains tile surrouned by mountains, selling stat-boosters for every offensive stat. How could this Secret Shop possibly compete with that?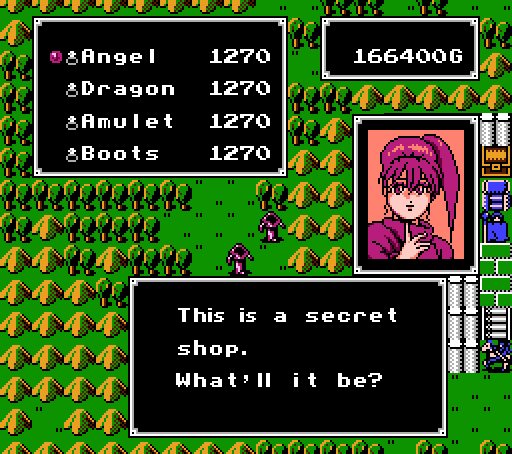 Oh. Infinite Boots for everyone. That'll do it. Max HP, Defense, and Resist for everyone will surely help, too.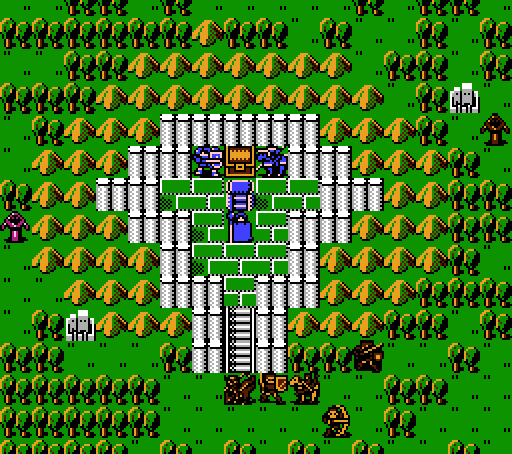 Mamkutes will keep pouring out of the forts around the temple for another 25 turns. We don't really need Exp, but we do need to hang around to exploit the Secret Shop. To conserve weapon uses, the army starts huddling inside the temple while Chiki with her infinite-use Mamkute-killer wanders the countryside murdering her kin.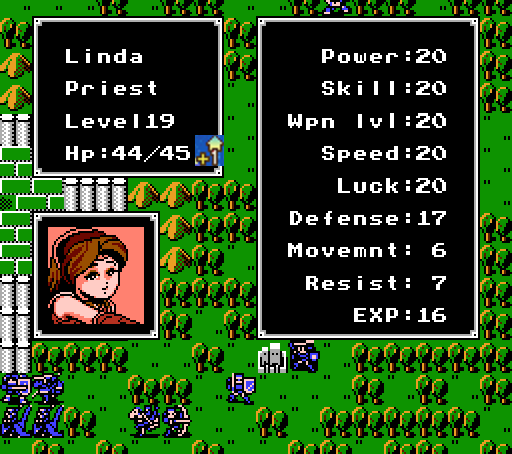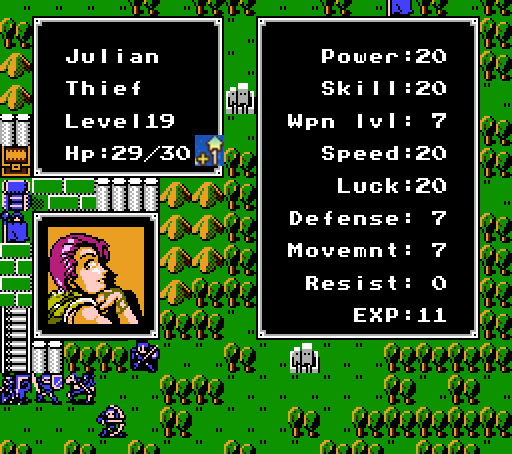 Levels really aren't going to matter for much longer.
Turns 11+: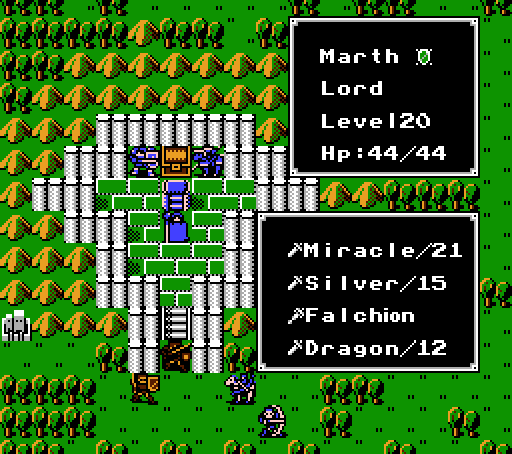 Something I don't think I've mentioned - most of the unique weapons also have a secondary use. The Partia casts MShield on the user, for example. The Falchion casts Recover on the user (full heal), giving Marth an infinite source of free healing. The Gradius does the same, but you're better off saving its limited uses for attacking.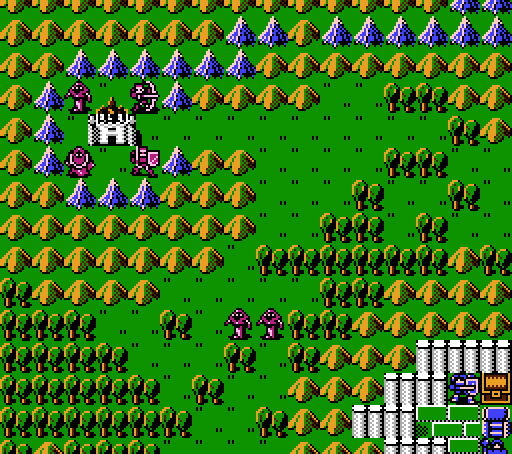 Also, as if the flood of Mamkutes weren't enough, some more reinforcements start showing up from the forts near the castle. Among them is a Level 10 Demon Mamkute that's just as strong as the boss was.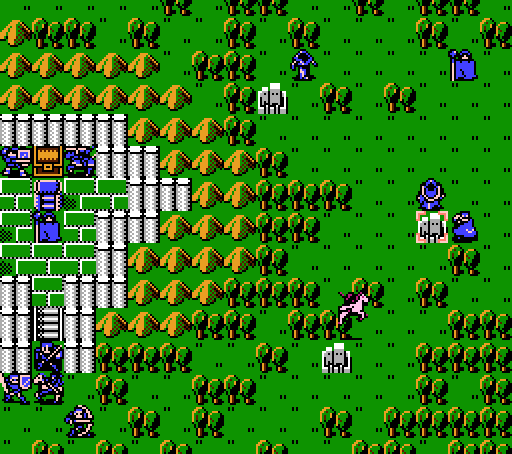 This Pegasus Knight also shows up rarely from the southeast fort here and can really fuck up your day. If you're relying on Chiki to clear out on the Mamkutes, watch out - this Pegasus Knight comes with a Dragon Killer.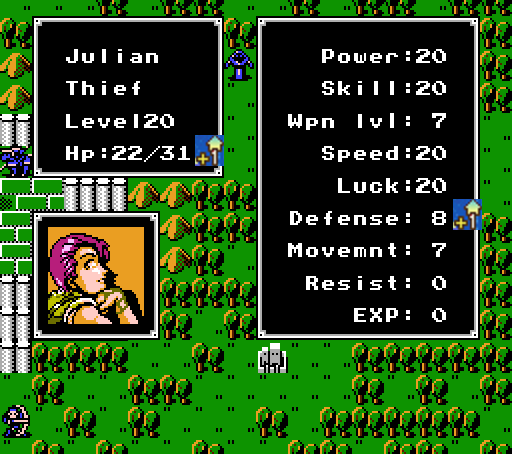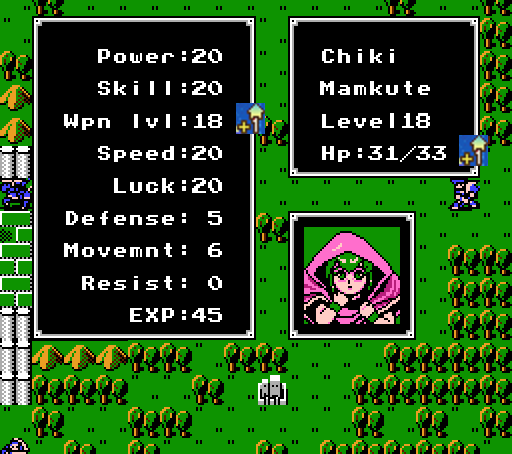 Get your fill of +1's now because we're almost out.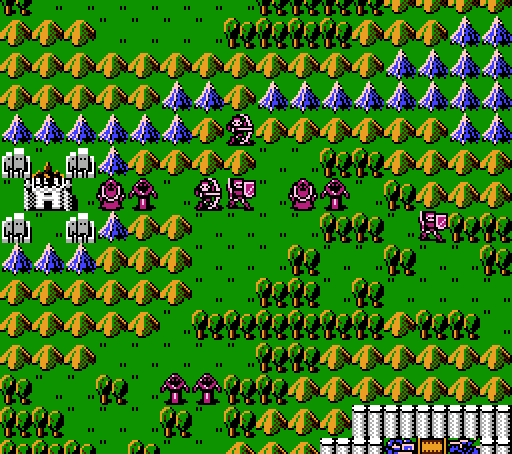 Okay, the enemy has retaken the area around the castle a bit.
Ever wonder what the Movement cap is?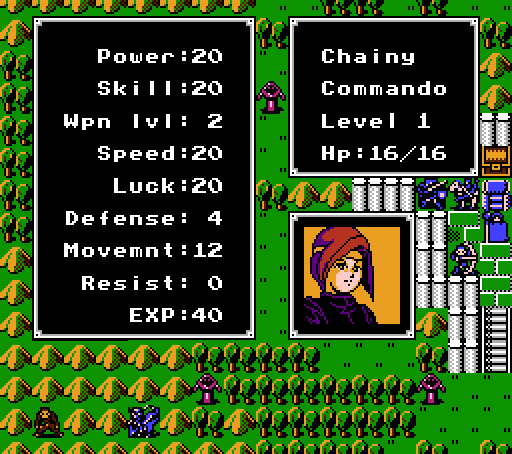 Okay, it's just 12. A little disappointing, really - I was hoping to create an army that could warp across the map and murder at will.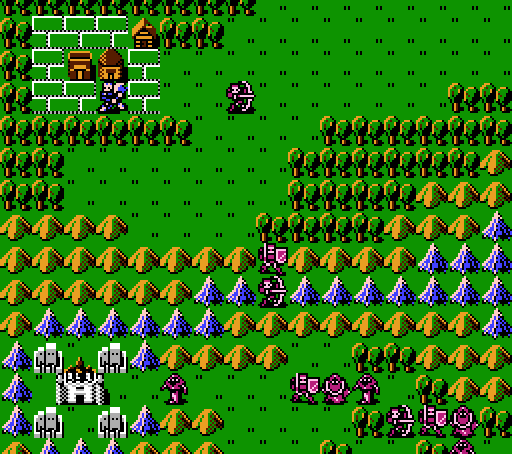 Oops, a few reinforcements have crossed the mountains and are headed for Daros. Can't have two sacrifices in one chapter, can we?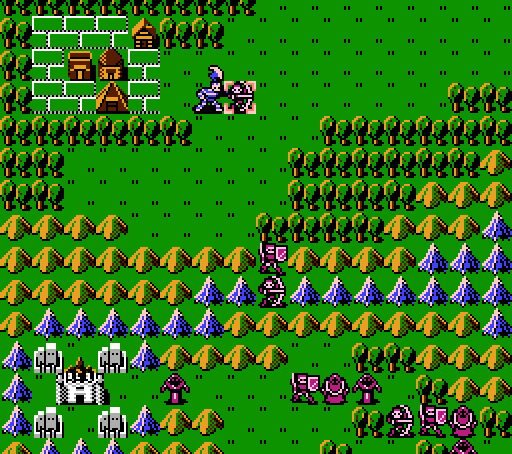 Daros sucks, but he can still handle a glorified archer, right?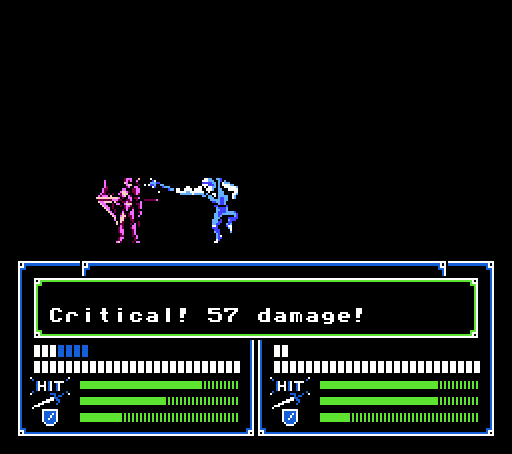 ....Looks like Daros has been taking his vitamins.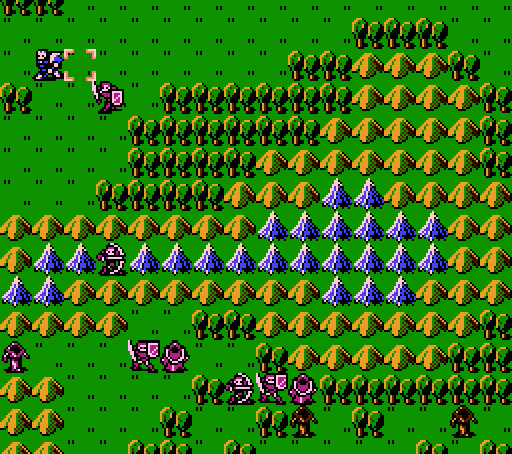 Oops, didn't think that guy was in range yet.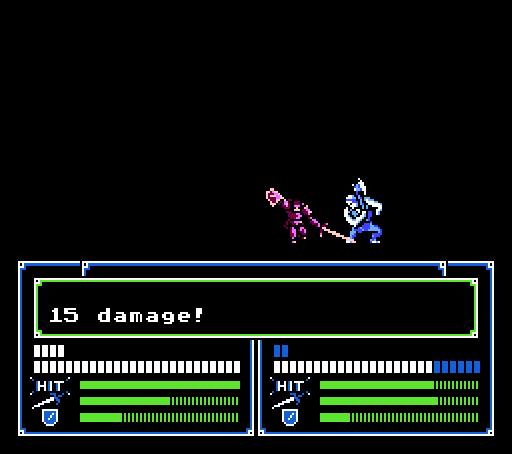 Ugh, I really don't want to reset here.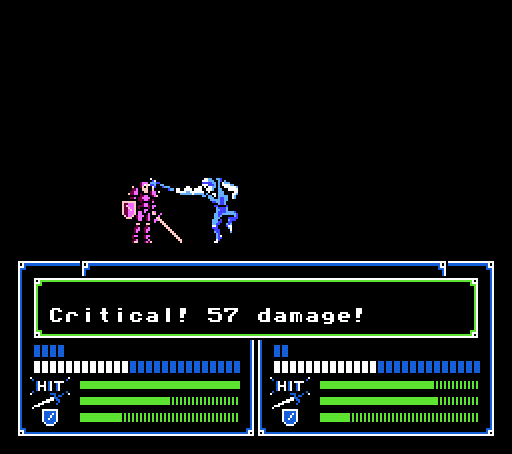 Well, then.

Meanwhile Marth is holding off a horde of Mamkutes of his own at the temple, relying on the Falchion. It's not very strong, but it has infinite uses and infinite healing power - plus a cool sparkly animation.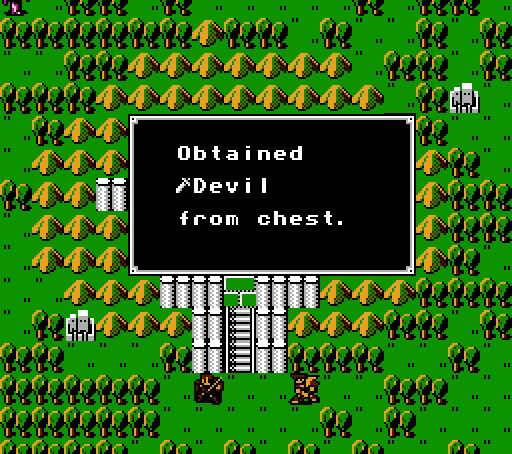 Julian eventually makes it up to the chest to get another Devil Sword. The DS remake actually did this a bit better - it put the Oum Wand in the chest rather than having Ellis just start off with it.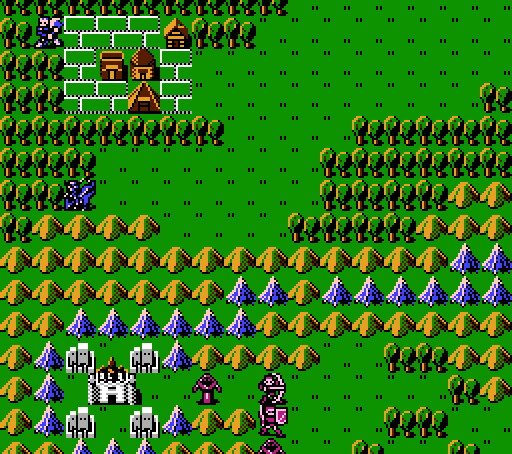 Est eventually had to fly up to rescue Daros but together they fought off a wave of Snipers and Heroes.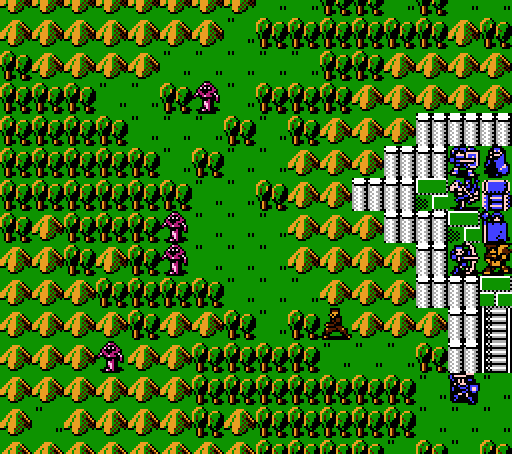 Chainy was also eventually driven away from the Secret Shop by invading Mamkutes, but was able to use his new-found capped Movement to run circles around them and get away.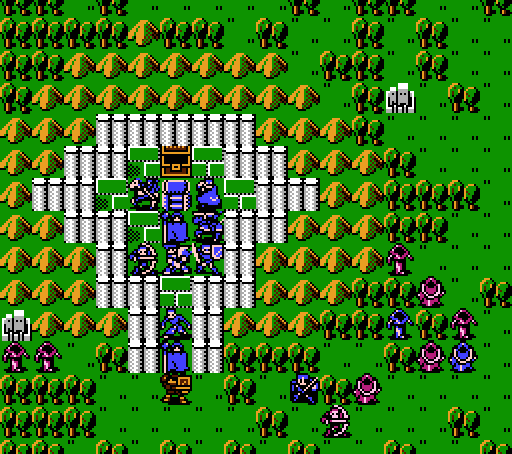 This is Turn 21. Roger is trying to hold the fort while Marth moves east to try and rescue Linda and Chiki. Gradius only has a few uses left, so let's show off the Hammerne Wand for the first time:

Well, fuck. Apparently Hammerne doesn't work on the legendary weapons.
Later that turn...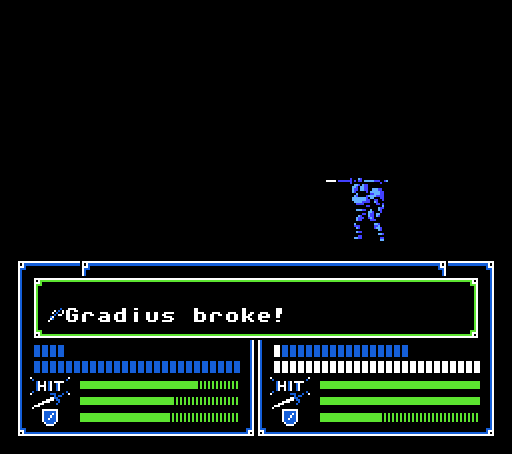 Farewell, Gradius, we hardly knew ye.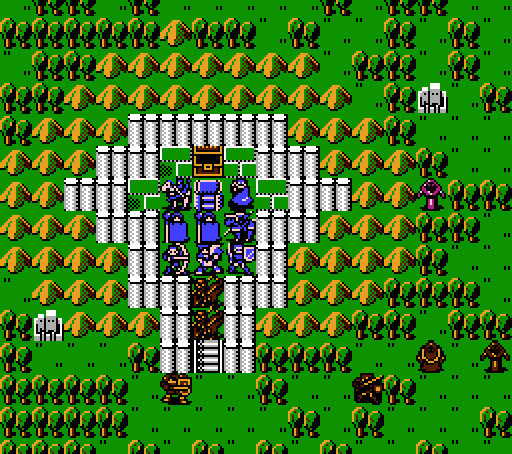 The sacrifice did help stabilize things, though. Marth fell down to just 8 HP but isn't under any threat now.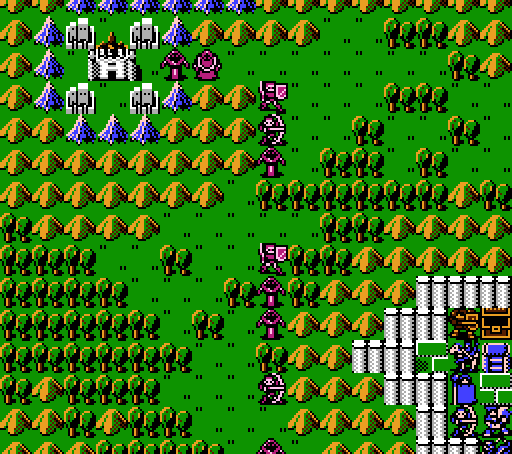 Christ, they just keep coming.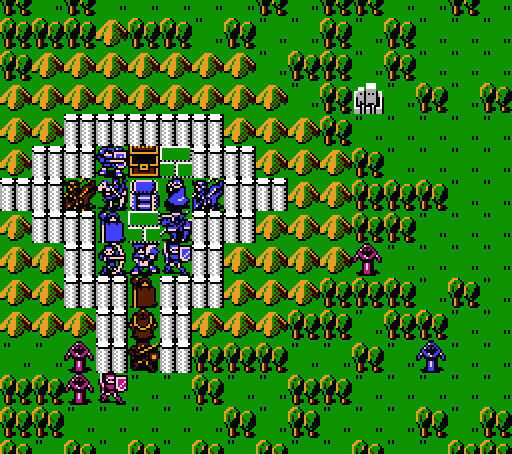 Turn 24 and we're set up pretty tight now, with Chiki blocking one fort to the east while fighting off the lesser Mamkutes.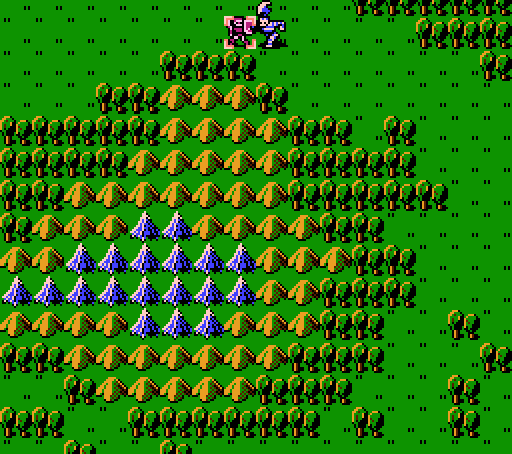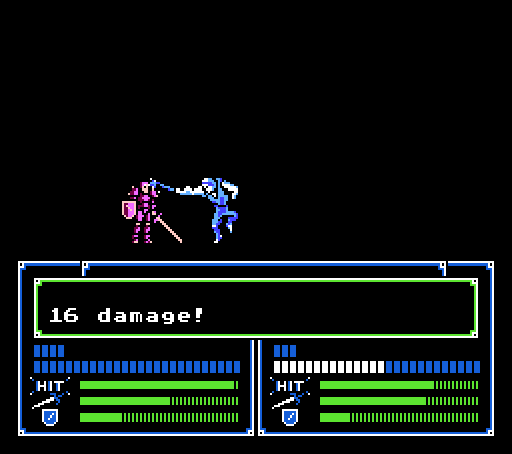 Daros turns the tables on his pursuer.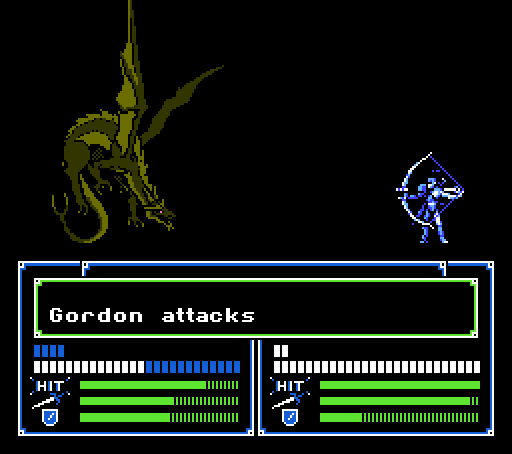 Gordon gets in on the action, finishing off a wounded Mamkute.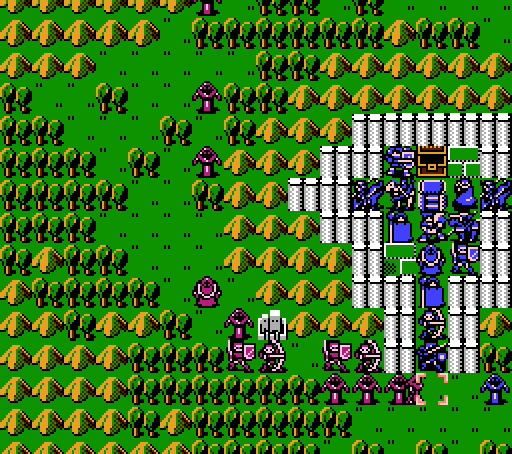 The Durhuans really want to take back the temple (and, more importantly, get to Marth).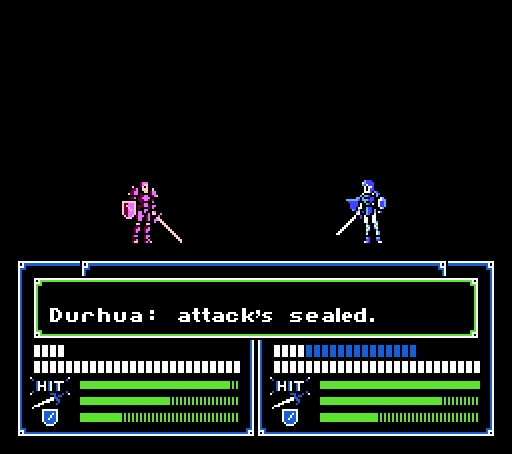 Apparently the Falchion has some other property I'm not aware of, as this Hero just has a Silver Sword but isn't allowed to attack. Hasn't stopped the Mamkutes, Snipers, or Priests, so not sure what that is.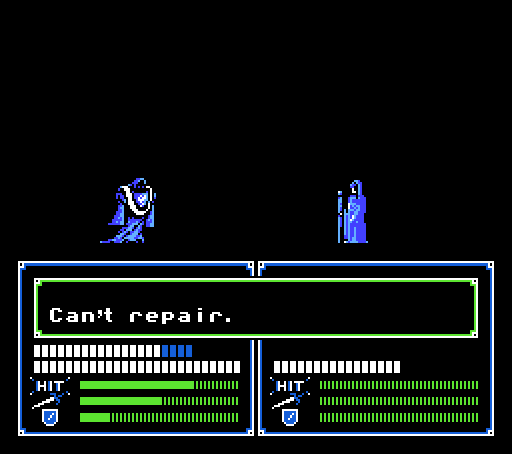 Hammerne can't repair Linda's Aura, either. I'm starting to regret being so liberal with my uses of the unique weapons.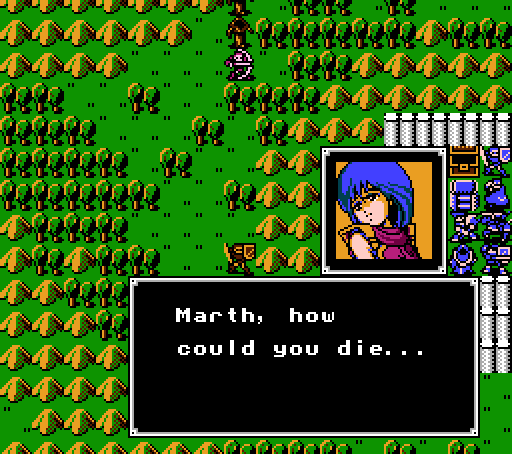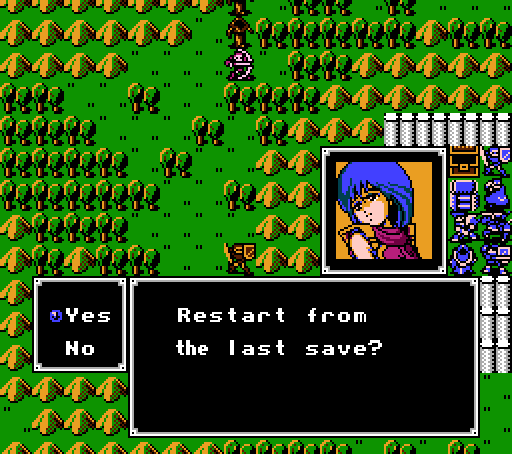 At about Turn 30, I let Marth get blind-sided by a Priest with Volcannon, who got a critical hit. Then I told the game to go fuck itself and reloaded a state from the previous turn instead of restarting the entire chapter.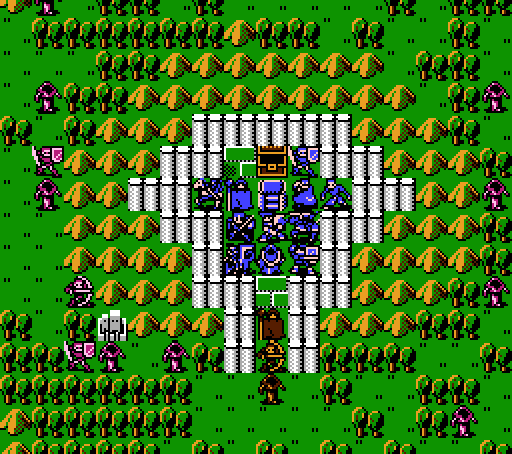 Turn 33, and Chiki has everything under control.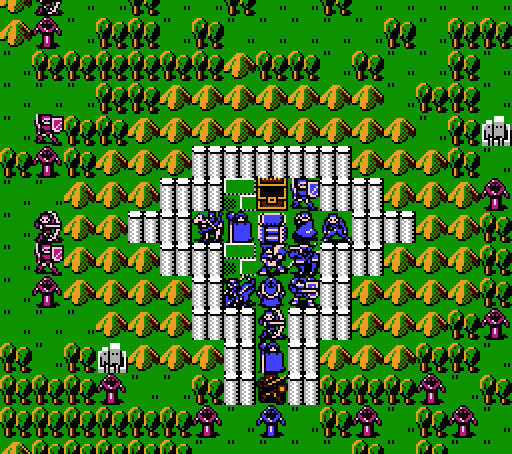 Turn 36. The reinforcements should stop coming now, but there's still a lot of enemies to get rid of before we're clear.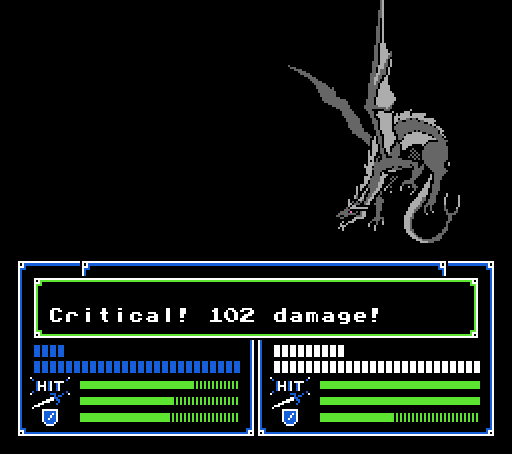 Chiki
really
doesn't have a problem with the big bad Demon Mamkutes.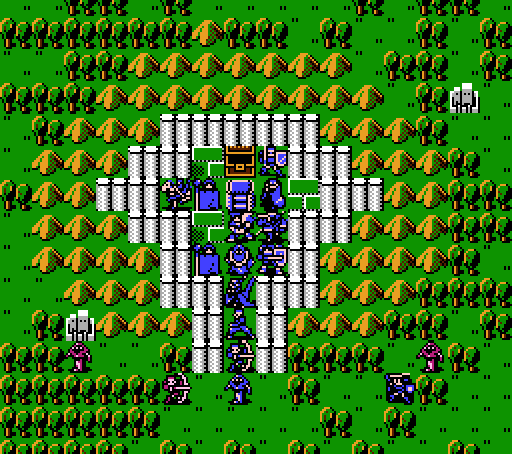 Turn 40 now, and finally we're in the clear. Gordon comes down to take out the last Sniper, Chiki heads west for the Mamkute there, and Marth finishes off the final enemy to the east. We've now cleared Durhua of all enemies, save those awaiting us in the castle.
Some 130 turns later....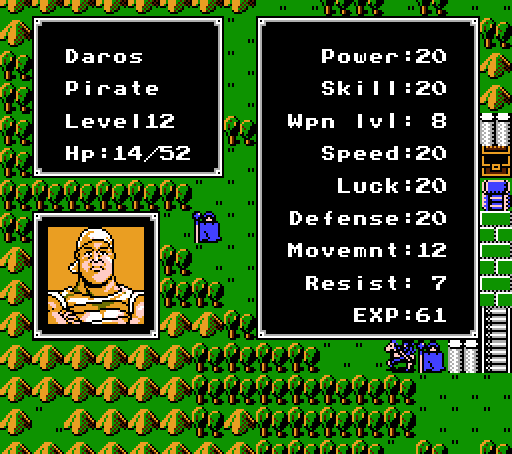 It's beautiful, isn't it? Aside from Weapon Level, every single one of our units now has capped stats across the board. Just in time for the last chapter....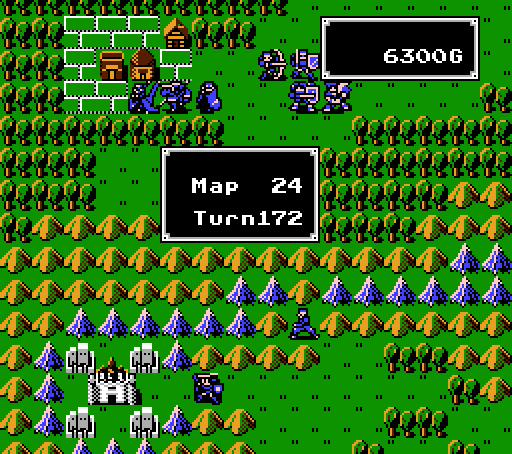 Barely enough cash to cover it all, too. The last bit of funds goes towards a few extra Silver Swords, and then we're ready to go: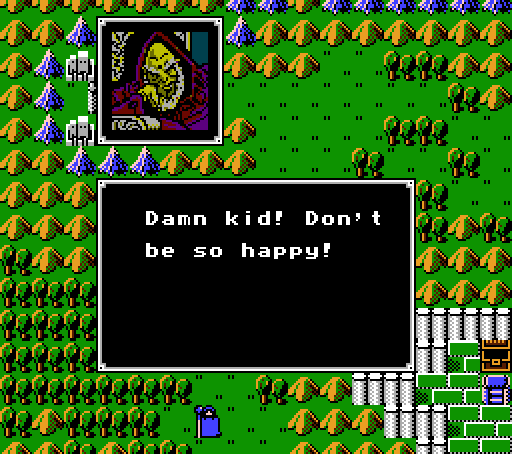 Final boss chats us up.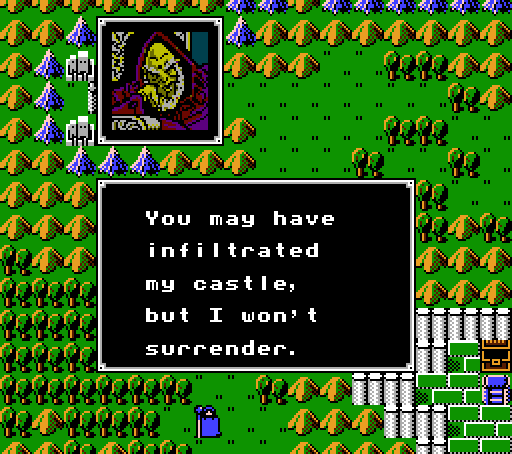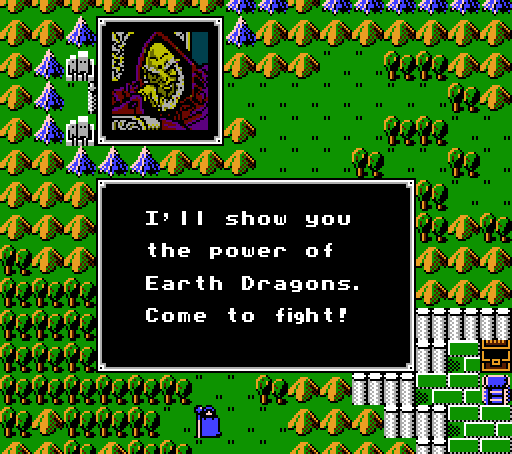 Next time: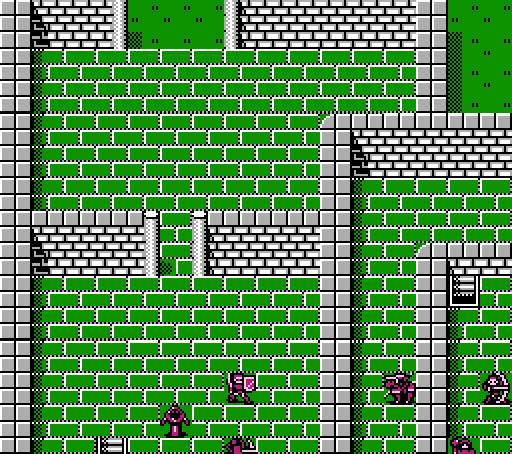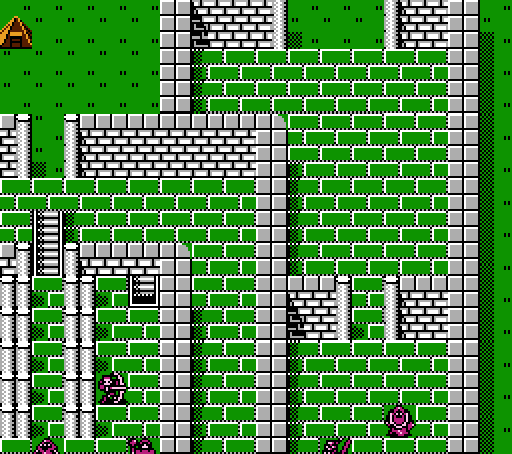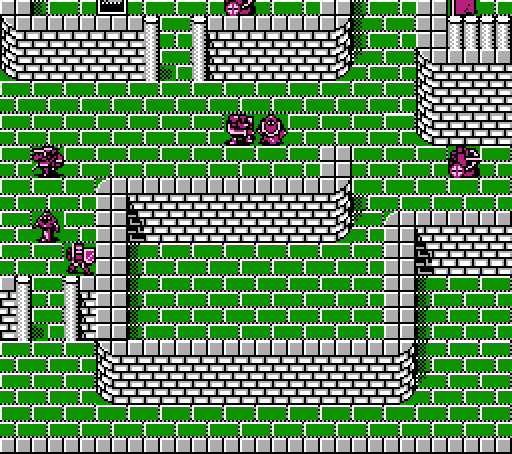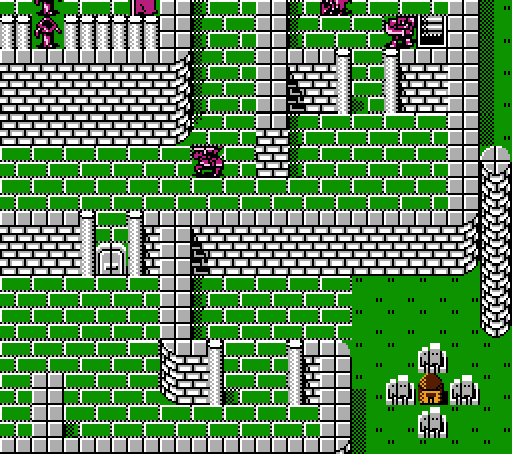 Endgame.