Part 3: Grind
Episode 2: GRIND THE SECOND
Uggghhhhh only halfway dooooone.
Ok, it's not so bad. This first update really does the bulk of the work for everything set in the office (and this is 1/3 of the whole game map, with the house and downtown being the other 2/3). We won't need to re-do those maps, and most of the physical environment is unchanging. I'll just have to link to CONVERSATIONS from here on out.
So let's tackle the old office block! This is the dregs of the company, so of course Henry works here. I hope you're ready for nostalgia, depression, and self-pity! WOOOOO

Right off the bat, this section is VERY different from the new bit - like, Silent Hill shifted world different. They didn't do an incremental upgrade here, this business kept workers in these offices until they BROKE, and now they are shifting HARD. This place is full of storage and failure. And, obviously, Henry.
1
Old block send-off party!

-
When the last of us that remain in the old block transfer to the new,
we're holding a send-off party exclusively for the old block crew!



- We'll have some drinks and to this building say our goodbyes.
There will be music and finger foods, and also a fun prize!
A message to those considering strike action

-
To those of you that are talking about strike action,
a strike doesn't work unless you're in a union or a faction!



- You will all be fired on the spot.
Your career prospects left to rot.
Don't even think about striking if you're not in the Brotherhood of Friggin' Nod
Reduced janitorial services in old block

-
As the vast majority of staff have now migrated to the new office block,
Janitorial services will be severely reduced, go to HR if you need to talk.
Building transfer procedure

-
When it's your time to move office to the new wing,
use the provided boxes for all you need to bring.



- Do not pack your computer, a new one will be provided.
The final moving date has not yet been fully decided.
Nothing so surprising here. Lame corporate events, boots coming down on faces, etc. Movin' on.
2

1

-
A colleague of mine used this desk only a few months ago.
Ever since he got promoted and moved to the new block,
he's been acting like I'm some stranger he doesn't know...
2

-
This was once a bustling and lively office,
full of young hopefuls pursuing their dreams.

They've all gone their separate ways now,
and joined up with other research teams.
Yeah,crazy how being a giant disappointment causes colleagues to distance themselves as they move on to better things. So bizarre!
Back to the main hallway...
3

-
What do you mean the sprinkler system won't be repaired?!?
I'll report this to the city inspector, so you better be prepared!



- Report it all you like, but no budget will be approved.
The legacy asbestors will do until everyone has moved.



- The very last batch of staffers should be moved to the new building soon.
This place will be empty by winter, so get on board and change your tune.



- ...



- There's ASBESTORS in these decrepit old walls!!??
That's it! I'll have to make some union calls...



- You're the scientist here, so you should have known!
I don't see why you're acting like your mind is blown...



- Now can we wrap up, and cut this conversation short please?
I try to minimize the time I spend in this corridor's breeze...
IT'S BAD TO BE HERE, AND THE COMPANY DOESN'T CARE ABOUT YOU BLINK ONCE IF YOU UNDERSTAND
4

1

-
These moving boxes have been prematurely packed.
You have to wait for your moving order first, that's a fact!
Can't you just imagine Henry going insane waiting for his new office, and policing everybody else's behavior. Of course you can.
2

-
I cannot belive I still haven't been moved to the new wing!
You can't trust the suits around here, don't believe anything!
Henry has nothing to say to this, as it might make him confront his own failures.

-
For this plant to live, it needs a room with actual sunlight.
If it stays in this windowless space, I don't think it'll be alright.
You're such a caring guy, Henry.
(Back to main Hall)
5

1

-
There was a time when banter and laughter filled this room.
As it sits empty like this, my nostalgic feelings change to gloom.



- We were all friends in here, a great way to unwind.
All the new faces in the new block are very unkind.
Bad news, Henry, they're the SAME PEOPLE. As discussed, it's just hard to stay professional colleagues with somebody who's bombing as hard as you.
2
(Door to locker room)
3

-
I remember standing at this sink frantically shaving my stubble.
It was the first time I overslept, I was so scared to get in trouble!
The first of many, many...
4

-
Someone left some towels behind,
just sitting in the damp and cold.

Safe to say they'll never be used now,
they're all covered in a whitish mold.
Might also be asbestos!

5

-
There's a very familiar smell to these old showers.
Reminds me of finishing up after many working hours.
Henry's finishing up associations are grundle.
Baaaaack to the main hallway.
6

- These old exposed lead pipes look so unattractive.
They rumble and squeak when waterflow is active.
7

More THRILLING BATHROOM ACTION
I know this seems nuts, but you all know how these games are. There's a DECENT chance that some random room is going to have the 'must have this to progress' item!
1

-
Someone has smashed both the mirrors and the sink.
Whoever did it might need to seek out a shrink.
Harris? Doris?
2

-
Half of them broken, none cleaned for countless weeks.
The revolting stench of stale piss... it absolutely reeks.
Neat. Thanks for describing it.
3

-
All other toilets are clogged to the brim.
To have to spend time in here is pretty grim...
Look man, nobody's FORCING you to be here. (Ok, I am. Tee hee!)
Back 2 the MainHall
8

Some poor background artist drew this 100% pointless room. Sorry, artist!
Back in the main hall....
9

-
These elevators have been broken for as long as I've worked here.
I've never seen anyone so much as even attempt a proper repair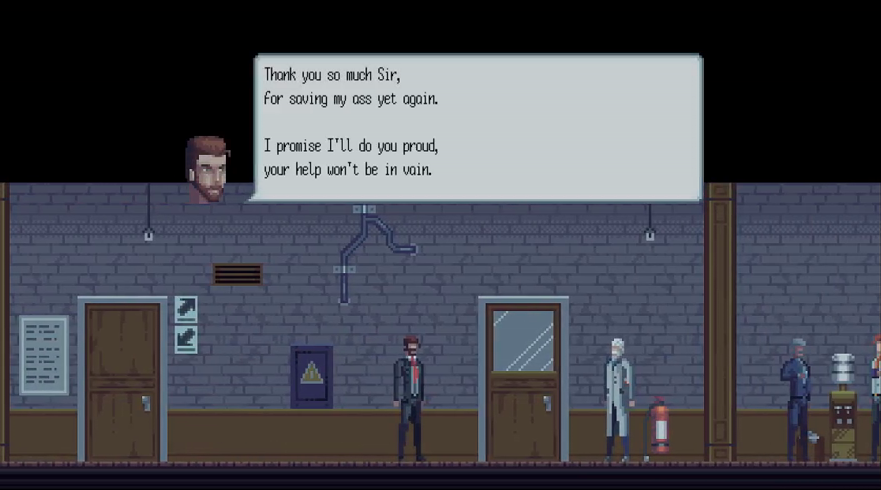 Vain with again.
But still - yeah, this guy is the only reason we have a job. Another way of saying that, is that our real job is to keep him happy while finding ways to do things of note and value.

-
It's quite alright Henry,
how is Grace doing today?

She's in my thoughts,
for her recovery I pray.

-
She was feeling fine this morning,
but I know it won't be long,

until she draws her final breath,
a sorrowful swan song.
Uh, wow. Ok first off no she WASN'T doing fine this morning,
and second off... just... kind of writing her off as already dead, huh?
Great.

-
I'm sorry my friend,
but to get back to the topic of work.

I'm afraid I've got an issue to deal with,
and err by the mail clerk.



- We've got too many test animals inbound,
and we haven't got the space.

It's against our strict protocols,
but could I store some at your "base"?



- You want to store animals in my office?
Gosh I'm not sure about that.

If the boss finds out I'm breaking protocol,
he'll beat me with a bat.



- I really wish I could help you here,
since you've always got my back.

But if I get caught just one more time,
they'll surely give me the sack.



- I see... I have to say I'm surprsied,
at your willingness to assist.

Perhaps I was wrong about you all along.
Consider yourself on the shitlist.
Awesome. That went about as well as predicted.
Look, I've played video games too. I know as well as you do that there's a decent chance this guy is going to turn out to be evil, but from HENRY'S perspective, this is the only reason he still has a job.
He's clearly able to cross the boss's wishes to keep Henry on, and PRESUMABLY would step in if there was a fight. So MAYBE refusing him isn't your best move? Henry? You MORON?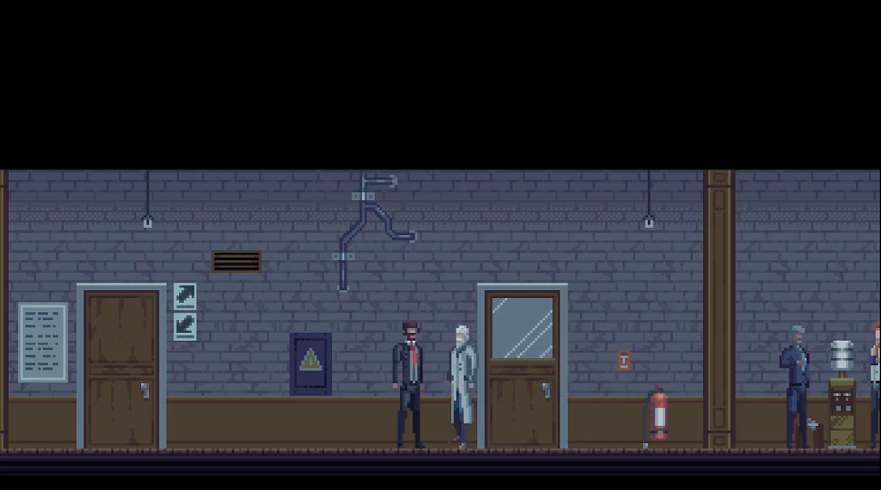 And then he just casually strolls away!
It's honestly more of a sachet, but whatever.
10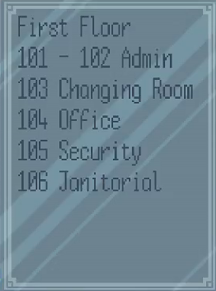 I guess Harry's office is important, if it's listed just as "OFFICE" with it's own designation? Either that or it's the crap office, and it's kind of a running joke.
11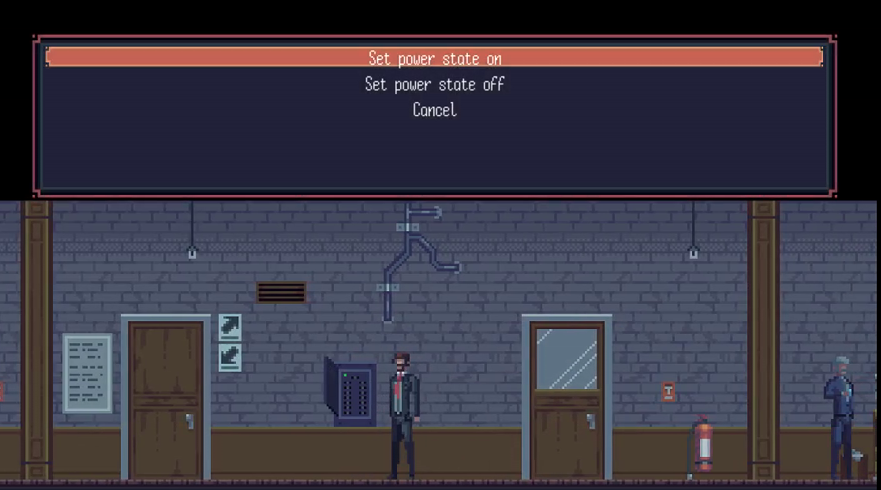 This... seems like it might be important later. Let's leave it for now (any fuse box in this wing you can interact with to get this prompt)
12
This is our office. Let's put off checking it out for now...
13

-
You hear all the rumors about the lunch lady?
Apparently her post is very suspicious and shady.
HEY DID YOU HEAR ABOUT DORIS THE LUNCH LADY I THINK SOMETHING IS OFF WITH DORIS

-
The one about when she closed down her cafe that was so endearing?
All of a sudden the neighborhood's homeless population stopped disappearing? [sic]
I mean, I'm ASSUMING that's a sic. I'm assuming that she murders people and serves them as dishes, not that her food stopped the population from disappearing.
Boy they are REALLY crowbaring Doris in as a major plot point - this has had WAY more coverage than our work drama, which is just super vague and "bad". Why animals? Why is this the first time any conflict has come up between us and the mentor? Why didn't he try to convince us, like, at all?

-
You think there is any truth to it?
Her personality sure has lots of grit.



- I wouldn't want to get on her bad side, remember that IT guy with the beard?
He complained about the soup one day then shortly after just disappeared.
BOY, ALMOST SEEMS LIKE DORIS IS BAD NEWS HUH. I mean, I know a giant amoral company doesn't care about employee welfare, but surely an employee base terrorized by a murderous chef is, if nothing else, less productive?
14

-
This door leads to Harris' office, the security room.
I'm not entering this door, it'll just be doom and gloom.
And pepper spray.
15

(numbers didn't show up, so item descriptions instead!)
Orange Bottle

- This bottle stinks really bad and has a secondhand demeanor,
with a handwritten label that says "highly corrosive cleaner".

- Do I really want to take this item and smell really foul?
Or should I leave it here and avoild my colleageues' scowl.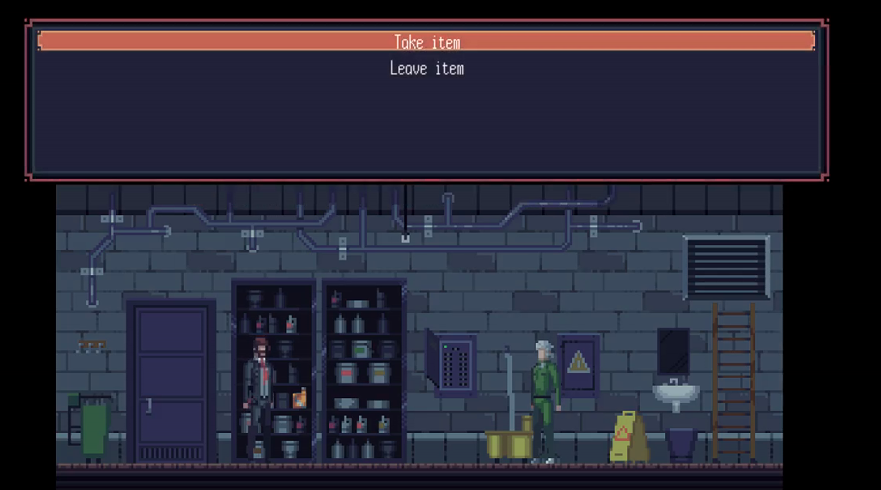 Surely, some goons will know what's right! TAKE or LEAVE?
Janitor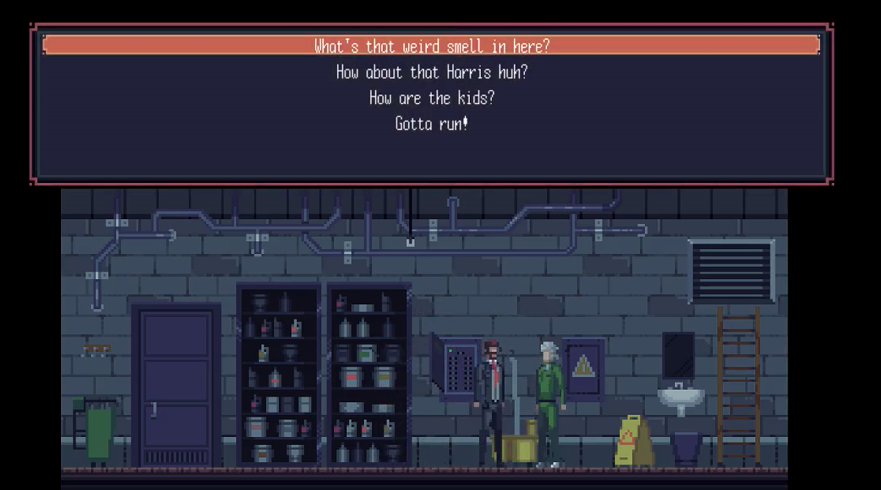 What's that weird smell in here?

-
What's that weird smell in here?
It's really burning my nose.

Makes me feel kinda lightheaded,
and tingly in my toes.



- That's the smell of my homebrew!
My own special recipe cleaning solution.

It's so corrosive it'll erode metal,
even under heavy dilution!
Why on earth would you need... you know what, never mind. You'll probably eat us if we ask.
How about that Harris huh?

-
So what's it like sharing a wall with Harris?
I'm sure it's like a magical night in Paris...



- Ha ha. Aren't you funny?
The man's disposition isn't exactly sunny.



- He keeps to himself, and that's the way I like it.
Whenever we have to interact, he always throws a fit.



- He does that with everyone,
he seems a bit unstable.

He seems like a violent type,
should come with a warning label.
HARRIS IS BAD DORIS IS BAD PASS IT ON
How are the kids?

-
How are the kids?
Doing well in college?

The two must be getting clever,
accumulating all that knowledge.



- They're doing real well,
4.0 GPAs all around.

They're as free-spirited as always,
but they know when to buckle down.
I don't remember anything about their story, but I will tell you with 100% accuracy that these kids will be dead or expelled by the end of this game.
Gotta run!

-
Gotta run and get some work done!
Hahahahahaha
Ladder

-
A fine looking ladder, made out of wood.
Looks like it's well constructed and good.
Yeah way to go on that work.
BECK TO ZE HALLVAY
16

-
This door leads outside, but it's alarmed.
If I open it, I won't escape unharmed.
This is actually untrue - the alarm isn't hooked up. It's just they don't let you go outside because you don't need to yet.
KIND OF like how you maybe shouldn't have been able to JUMP OUT THE WINDOW and shimmy along the ledge until it made sense to? Just throwing it out there.
We're taking the stairs in this wing, and it's only Basement - 3rd floor. Down first of course.

1

-
A gas canister, with its content long gone.
The label says it used to house argon.

2



- These empty containers once housed noxious flammable gas, that had been liquified.
You can tell by their red color - I had a colleague inhale some and he died.

3



- Two gas canisters that were emptied long ago.
It says here they were manufactured in Mexico.
Any science building worth its salt will tell you to keep all your flammable gasses in the basement, and to just throw the old canisters in the hallway when you're done with them. There are no rooms down here, so where did they use all these?
Henry said he can't remember the elevators ever working, so did they make somebody cart all these canisters down here? Instead of giving them to their gas supplier???
I know this is the tiniest of points, especially next to...
4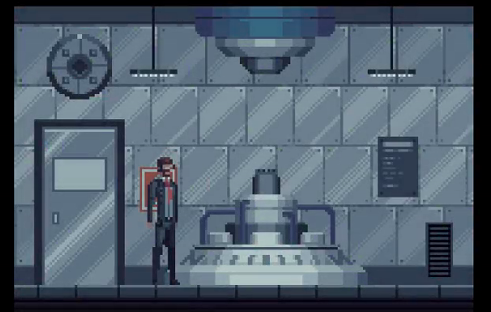 THE FLIPPING REACTOR CHAMBER
In which Henry sees zero (0) things that capture his interest. Not as exciting as a trash can with a bank receipt in it. Or a nice ladder.
No.
UP WE GO, TO FLOOR 2!

1

-
I can't get past here, the path is blocked.
If I thread [sic] this water, I'll get lethally shocked.



- I do not have the physique to jump it either.
Just walking the stairs, I have to take a breather.
We've actually already encountered the solution to this 'puzzle', and if you think 'what is the dumbest, most "peak adventure game" solution to this I can imagine', you might get it if you have adventure game brain damage. I'm literally proud to say I had to look it up.
I'm welcoming guesses. I don't even care if you DO look it up - I'm not going to be, like, IMPRESSED if you figure this out. Just concerned is all.
2

You know how the female restrooms are totally uneventful? Yeah it's both of them here. Why did you make somebody design these rooms?! I would have accepted without question that there were no bathrooms on the second floor!
3

I would have been GRATEFUL for less work! Well, at least now we know where people in the second floor of the old block of this stupid business go to do their business.
4

The crazy thing is that there ARE people to find, squirreled away in these sub-sub-sub rooms. Let's hear this critical story, that everybody probably spent a lot of time creating.
1

-
A lot of books of fiction, not at all work related.
If the boss saw this he'd probably get frustrated.
2

-
Filing cabinets filled with public relations statements and spin.
It's an archive of lies and deceit that really belongs in the bin.
You're so honest, Henry.
3

-
I never wanted to work in this field, writing novels was always my addiction!
I guess these PR statements I write all day, aren't exactly nonfiction...
See, now THIS is a can-do attitude! Find a way to make your vocation work for YOU!
Oh whatever, I know it's supposed to be sad.
Back in the main thoroughfare.......
5

- There's a bake sale next week at the pub.
Organized by our office social club.
6

Case in point for adventure game exploration. This out of the way room:
1

-
An old, but expensive looking telescope on this shelf.
It'd need a tripod, looks too heavy to use by itself...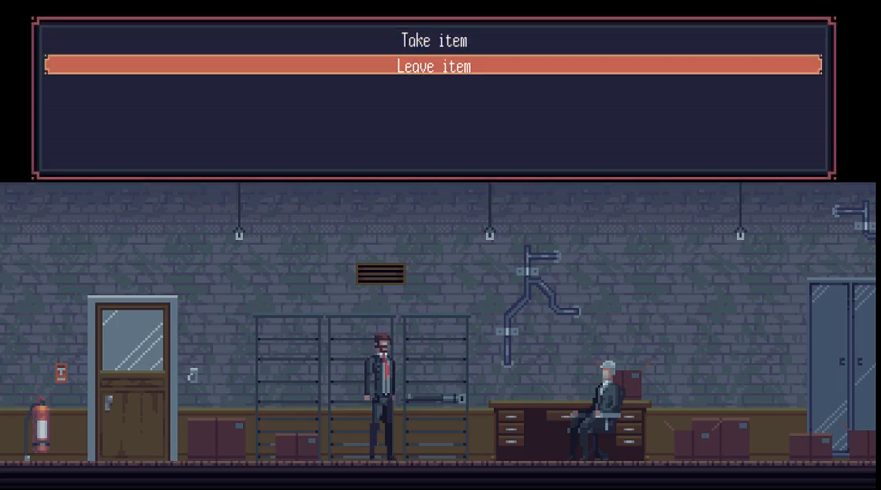 SO: do we rob this guy while he watches us? He's old and frail, so we could MAYBE take him!
2

-
They're telling me I now have to vacate.
To join the new office, and seal my fate.



- I don't want to move, I want to stay right here.
I'm waiting for someone, in this old armchair.



- My granddaughter and I used to have such fun in this old office block.
We'd wait around here until the end of the afternoon traffic gridlock.



- One day her mom calls me in terrible distress,
her husband, my son, arrested for molestation,
a crime to which he was very quick to confess.



- So she takes her daughter and moves away,
and I haven't seen her since that day...



- Now I sit here waiting, hoping my granddaughter will remember me,
and hoping she'll come back one day wanting me in her family tree.



- She had the finest blone hair,
that was straight as a die.

She really was my everything,
truly the treasure of my eye.



- I miss her so, never wanted her to go.
Well, far be it from me to tell some maudlin old guy to get a hobby but...
get a hobby, man.
Needlessly sad story? CHECK
A little squick put in just because? CHECK
Restating the same basic premise 400 times? CHIGGITY CHECK MY DUDES
At least he starts out sad, so there's a CHANCE he'll get away without further tragedy. (Ha, no.)
EXITS ARE: MAIN HALLWAY (go main hallway)
7
(Missed the screenshot from this room! Let me paint the scene for you. It's an office. A dude is at a cubicle. He's creepy, and he's plot relevant. The purple vending machine is right outside his door. Maybe plot-important things end up being purple? WHO KNOWS!)
Chemicals

-
Chemicals used to develop film on this table top.
I once tried photography but I was a bit of a flop.
Imagine that.
Creepy Computer Guy

-
Don't just barge in on a guy without knocking!
I'm gonna have to start that door locking!
There's my least-favorite sentence structure again!

-
Go away! I'm busy with work!
Come on, hop to it, don't be a jerk!
Ok, he's a creep, but like everybody else on the PLANET, he's better at what he does than Henry.
10 GOTO MAIN HALLWAY
8

-
The water in this cooler is murky,
I think plastic has started to leech.

This water probably isn't drinkable,
even if treated with a lot of bleach.
9

-
This door is locked, so I cannot get in.
I wonder what secrets are hidden within.
A mercifully quick end to this hallway.
ONE MORE TO GO! SWEET MOSES, WE'RE ALMOST THROUGH THE WOODS, MY DROOGS

1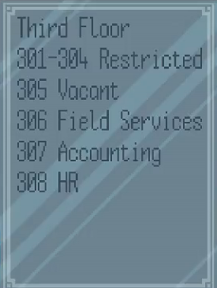 Looks fun-filled.
2

-
Says here this wing is access restricted.
With a little warning triangle depicted.
Henry, unbelievably, is bad at following directions. Hence the guard!
3

-
Hey Joe, they've got you working up here now?
Why the need for security for this wing anyhow?



- I don't ask no questions Henry, now please move along.
I'm listening to the baseball game so the day don't seem so long.
He's a good, working-class Joe is old uh... Joe. We will eventually find out what's up here, of course. Prepare to be BAFFLED why it requires a security guard!
(It requires one because this is a puzzle game, and that is IT).
4
Again, apologies, but the screenshot for this place turned out all funky.
Scene: an empty office. There is a mattress on the floor, and a bunch of boxes.
Boxes

-
Lots of boxes, but these contain clothes...
Maybe someone's home did foreclose?
Mattress

-
Someone has created a hidden sleeping space.
Did a marraige end up breaking, like a fallen vase?
Henry would be thrilled to meet this person, because his own marriage hasn't ended (because Grace doesn't have the energy to leave), so he can passive-aggressively lord that over whoever is sleeping here! Hooray!
Back in the mains:
5

1

-
Looks like some lucky bastard is moving to the new building soon.
I've been waiting to move for three years, like some foolish goon!
Even the average goon is a few steps ahead of your career trajectory, pal.
2

-
Even this old computer is much newer than mine!
Whoever had this office started after me, the swine!
Do you NEED a newer computer? Do you not have access to a company mainframe? Do you know how to operate your computer at ALL? Do you know what your job IS?
3

-
There's a bunch of comic books scattered on this shelf,
Just some kid that probably can't even look after himself...
Henry is only kind when he's dealing with somebody he considers a social inferior, or a superior who is actively being kind to him. Everybody else gets the venom.
This means he's a bad person, is what I'm saying.
Let's leave this room before Henry has a jealousy stroke and head back to the main hallway:
6

-
Lots of blank paper still sitting here,
for printers that have fallen silent.

These old machines were really loud,
they almost sounded oddly violent!
Nostalgic for, and yet afraid of, some old printers.
International man of mystery: Henry.
7

We're so close to being done. I can TASTE it.
Oh criminy this was a lot of rooms. And of course, no matter how useless, they all have to be crammed full of objects.
Somebody wrote all this! Somebody DECIDED to write all this, rather than just cutting down on space! "No", said somebody, "we need ALL these descriptions, for world building." "How else will people know that work is hard and you miss the past?"
1

-
Just some old regulatory specification notices,
and a note about the 1987 Christmas party.

Times have definately changed quite a bit.
It's encouraging female workers to dress tarty...
THINGS SURE WERE DIFFERENT IN THE PAST I GUESS!
2

-
Accounting law books of various age.
As well as a cookbook, focusing on sage.
Oh go to hell. I'm serious, take off. Kick rocks, bud.
3

-
This plant is so dried up, it's got the color of rust.
If I so much as touched it, the leaves would turn to dust.
THERE WAS ALREADY A DYING PLANT FROM BEING INDOORS TOO MUCH. WE DID THAT! WE COVERED IT! WE'RE GOOD! YOU CAN DO OTHER THINGS!
BACK. IN THE MAIN. HALL. SO. CLOSE
8

-
The green one used to hold my favorite candy.
It tasted really nice coupled with a glass of brandy.
Off-brand Skittles and a big water glass full of brandy. The Henry special. Best enjoyed while not working and growling with jealousy over your better colleagues.
9

This is it. Holy crow, this is it. The last room of the last floor (besides our office). We made it! ha ha ha we MADE IT
1

-
These old posters are falling apart.
They're talking about working smart...
Great! Fine! Of COURSE they are!
2

-
Old employment rights literature, that seems decades old.
They've got some water damage, and are covered in mold.
Pretty sure we've rhymed old with mold about 12 times at this point, chummo! But who cares! We're almost free!
3

-
These old chairs have seen better days.
The fabric is coming apart in many different ways.
Henry, I might kill you. I'll do it someday! BUT WHO CARES! IT'S OFFICE TIME! TO THE FIRST FLOOR!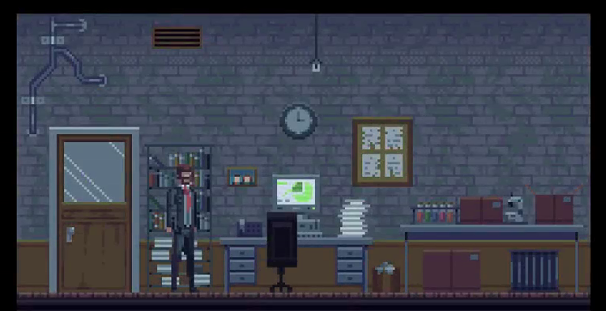 This office sucks of course. Computer, pile o' papers, light microscope, test tube rack full of colored liquids just sitting out at room temp... what looks like an animal cage under his desk, which is just HILARIOUS.
Well, what are you waiting for, Henry?!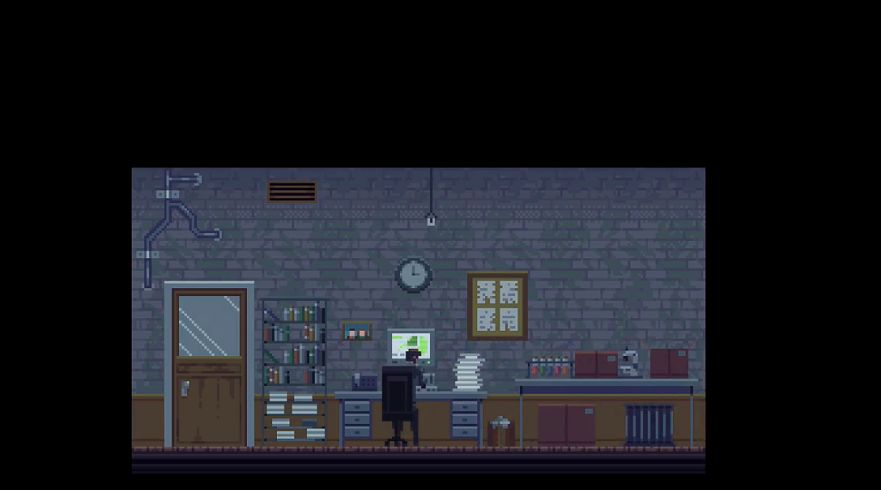 And fade. to. BLACK.
WE DID IT!
That's the largest environment in the game, folks.
Over the course of two giant updates, we managed to miss a meeting, alienate our only lifeline, and sit down at our desk.
I quite like the environmental design, it's just... WOW is there a lot of it!
The character portraits are many and varied and well done, but BOY is the characterization just... so bad! SO bad!
Notice also that there is basically zero plot at this point. Grace is sick, and our job prospects are bad.
We promised to pick up a movie for Grace that we like and she doesn't, because we are a good husband.
We, uh, also found out about somebody who is almost certainly murdering people and serving them for lunch? And just, didn't even react! Didn't care at all!
That's because we're HENRY, PROTAGONIST, and we don't give a CRAP about anything that doesn't effect us personally. We would probably try to bribe our way out of that $600 diner fee by blackmailing the insane murderess.
We... we wouldn't do that, would we.
This is as dumb as it gets, right?
R...right?
NEXT TIME: IT GETS DUMBER
Featuring:
SKULLS
FREE WALK-IN PSYCHOTHERAPY
ETERNAL BARROOM BRAWLS
AN EXTREMELY POOR UNDERSTANDING OF STRIKES
MORE SKULLS?!