Part 19: Episode XVI: Pyro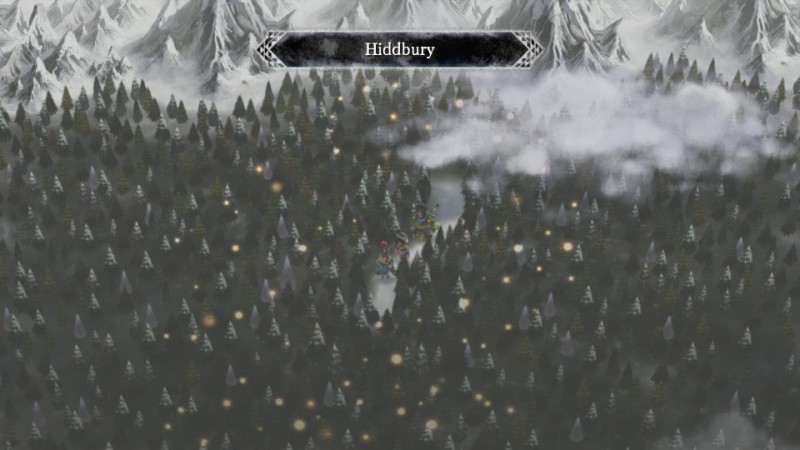 Hopefully Kir won't be ganked while we march back to Hiddbury to wrap up this chapter. Now I realize this little world map bit is so we can use a Tent before the inevitable chapter boss battle. I hate this game's lack of goddamn auto heal areas. Oh well... Let's see what's shaking in town since we left.


Music: Deadly Gamble
(I am
really
sick of this song already.)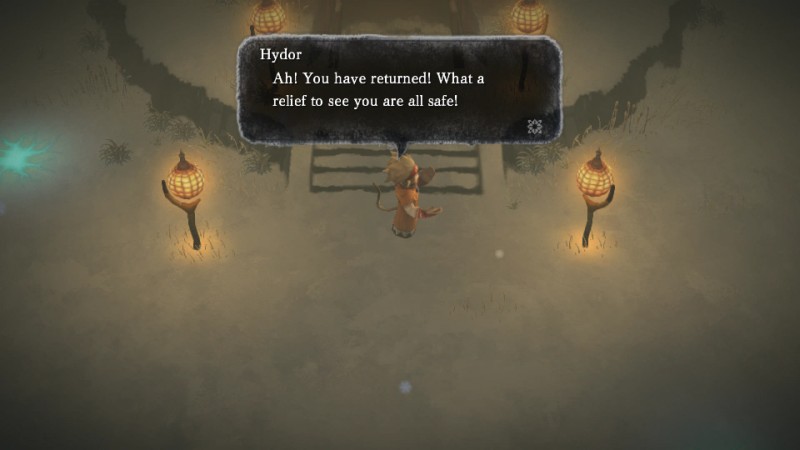 Oh hey, Hydor managed to save himself from that off-screen monster attack. Good for him considering the party seemed not to care in the slightest.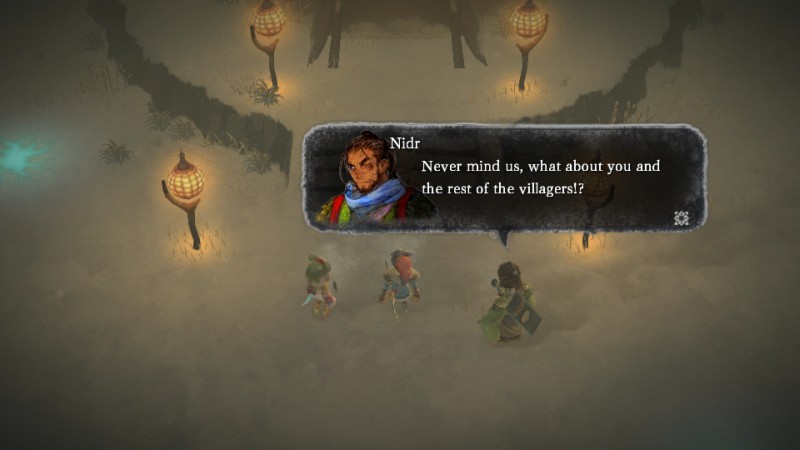 We evacuated all the villagers!

Where? I thought monsters were lying in wait outside the village now.


I... Look, don't worry yourself on our affairs... More importantly...

Where is Kir!?

He's at the Spritnite Pillar... getting back his magical energy...

I see... So he has made up his mind...

I'm pretty sure he won't explode. He seemed good...


Ah. That is a reli—wait, what?


*thumbs up*
Setsuna runs out of Hydor's house. Forget about her ailment, she's fine now...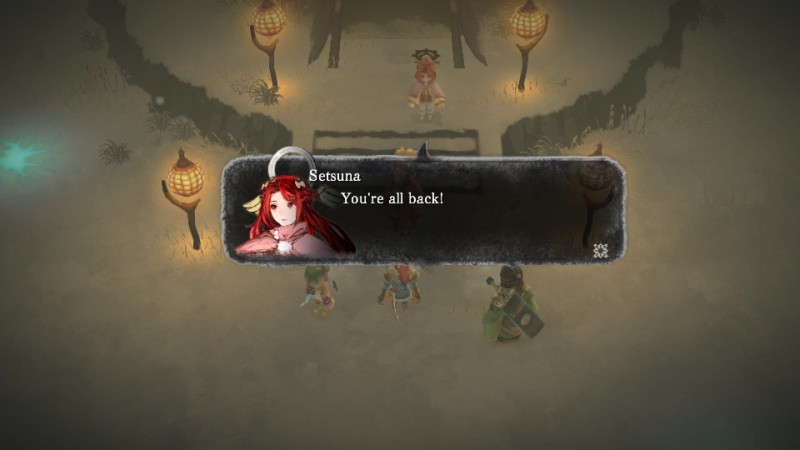 Hey! I told you to stay lyin' down!

I'm fine now! Let me help, too!

!
Watch out!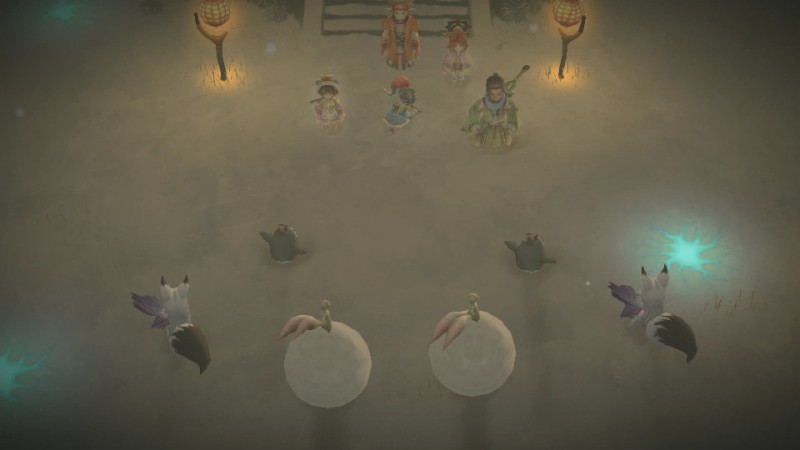 A whole gaggle of monsters has come to rumble. The image of a pair of squirrels rolling a large snowball and standing atop it in defiance is kinda hilarious to me. Doubly so with grown adults treating it as a real threat.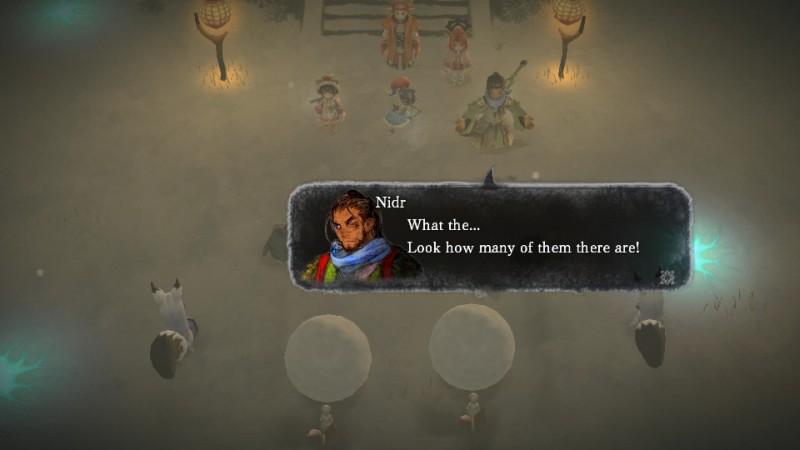 Oh geez... Look at 'em all. We might have to use Blowbeat TWICE!


Hey, that's a lotta MP.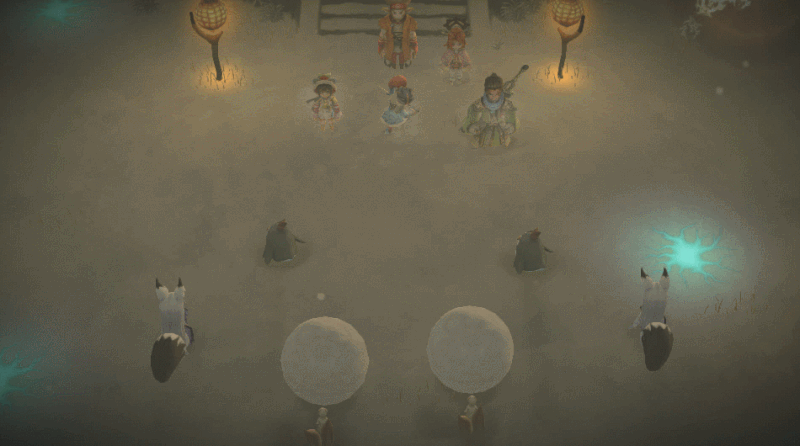 Suddenly the entire squadron of cutesy artic critters and mysterious woodland fox women are immolated in a sea of writhing hellfire. As god intended.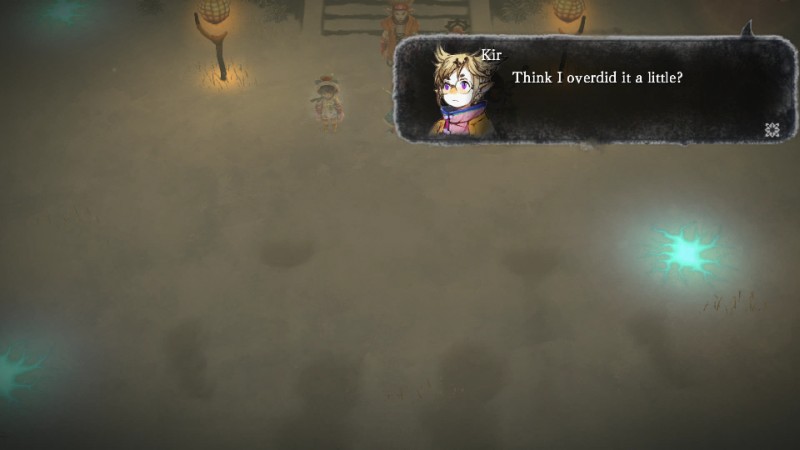 Ha! RIP.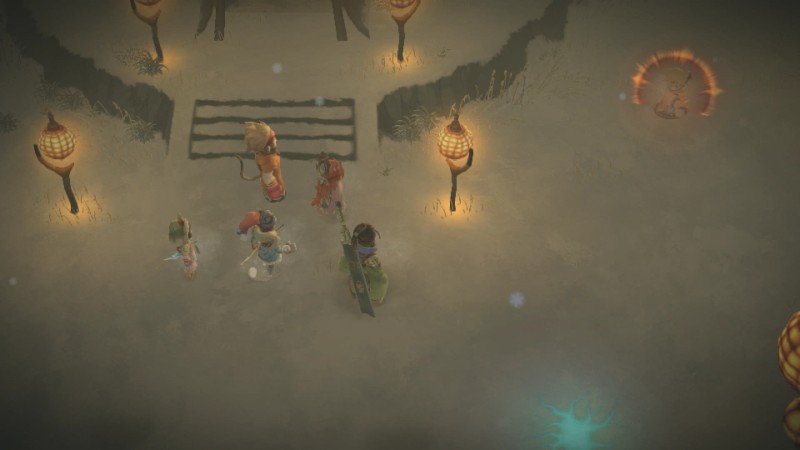 Yo, I think the little dude turned into a pyromancer.


Really, Endir? What tipped you off on that one?


Oh, miss "I'm a magic user but only in cutscenes" isn't impressed. Way to be a team player.


......

Kir!
Kir runs over...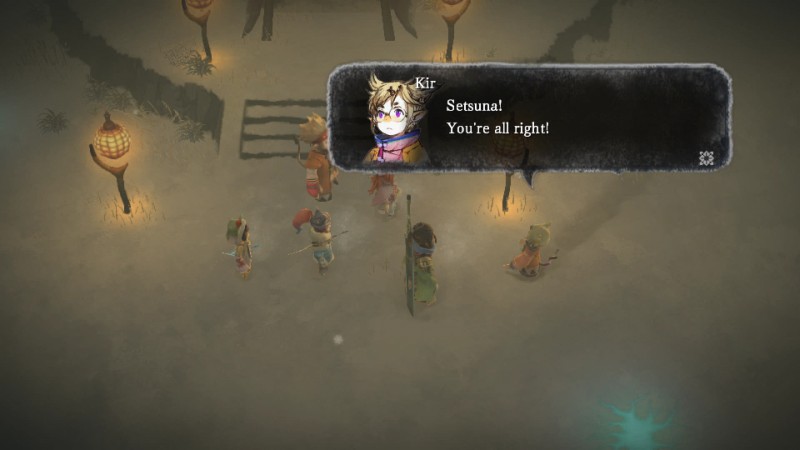 *nods*

Hydor gave me some herbs and they fixed me right up.


*vacant nod* I feel... pretty good actually...


Oh... I see... So you don't need me to... Huh...


Hmm?


Well, I mean I just went to the trouble of getting my powers back to hea—you know what? It's fine... This is all fine... Yep... Just fine.


*hundred yard stare* It's all fine...
The party's reunion is interrupted by...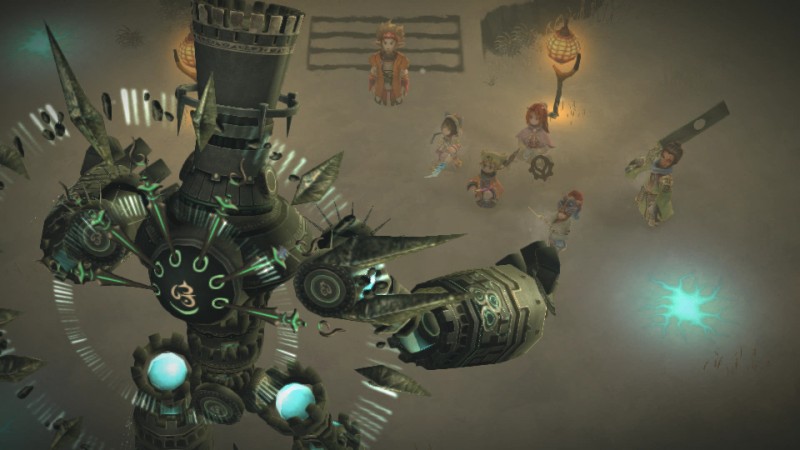 ...Holy shit, WHAT?! Who let a goddamn
mech
stroll into the village? You people really need to hire some town guards or something. This is ridiculous.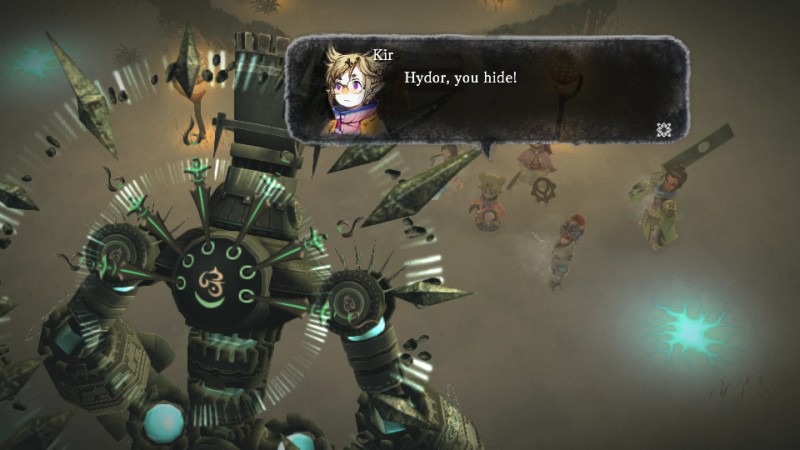 I want to see the results of the choice I made...

*nods and peaces the fuck out*

I take it we can leave the magic to you, then?

Yeah, you can take a nap if you want, old man. You're not gonna get a look in either way...

Hah! Same smart-ass as always...

You sure you're ready for this?

*shakes head* I'm not sure you understand... All I've done is return to my true self. I've got back my true power...

Yeah, that's cool and all. But you're still like twelve years old and that thing is 30 feet tall. That's a rough initiation for anyone.


I got this, alright?!


Uh-huh. Well, try not to be the overconfident guy that gets stomped on three seconds into his first battle. You don't wanna become a meme or something. That's a fate worse than death.


...Noted.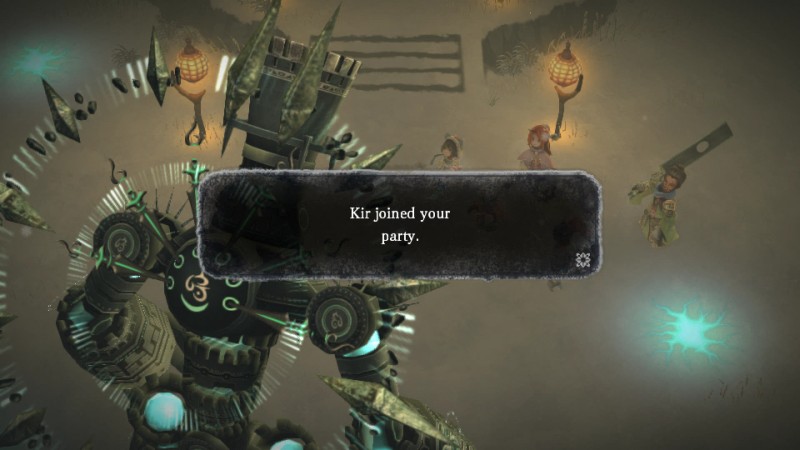 Alright, Kir has joined the party officially for realsies this time around.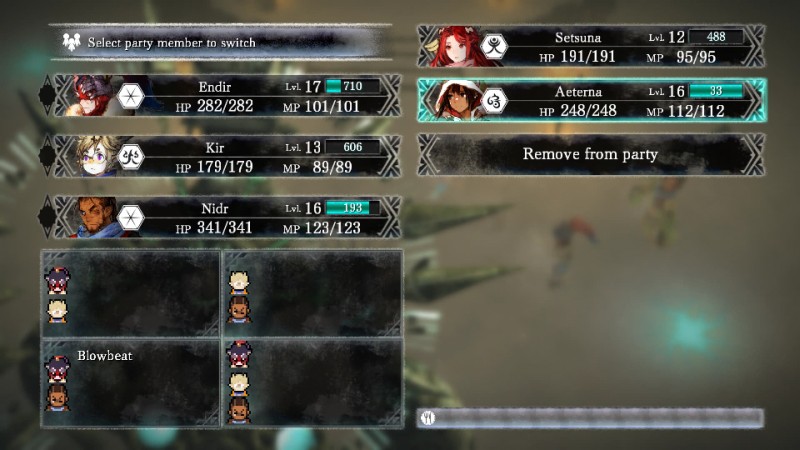 Though... Despite Kir's build up as this being his big debut and having unlocked his true power... he is
absolutely
objectively the very worst character we could bring into this battle. Even Setsuna, who has sat out the last chapter and a half while not leveling or upgrading for the last three hours, is still a better choice than Kir's factory stock basic ass for this, an actual somewhat challenging boss battle.


Music: Relentless Advance
But ehh... You know what? Let's give the kid a chance. Time to take on the chapter boss: The Timeslave. I think they just call that a salaryman in the Japanese translation.
Timeslave has a very healthy 2329 HP. I'd like to say there is some mild enemy scaling with our characters levels to account for all the weird HP totals for bosses but nope... They're completely static. It's like they keep drawing numbers out of a hat for the bosses' max health.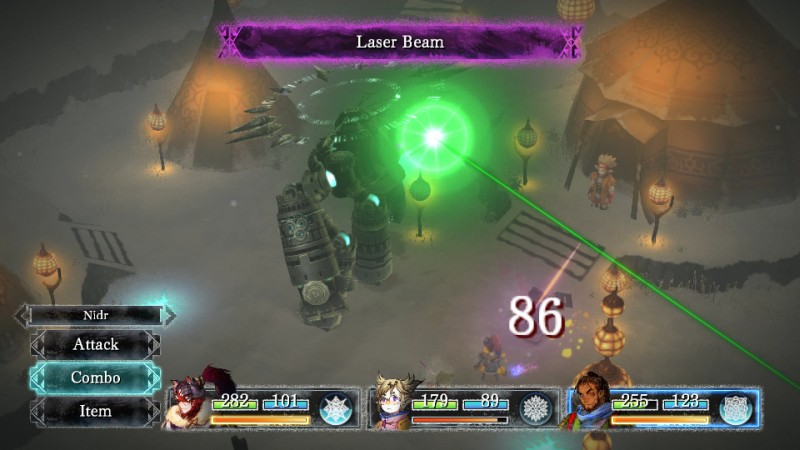 Offensively, the giant golem is no slouch. It can just shoot laser beams out of its face. No fancy attack title. It's just a laser beam. Deal with it and its 80-100 HP of damage.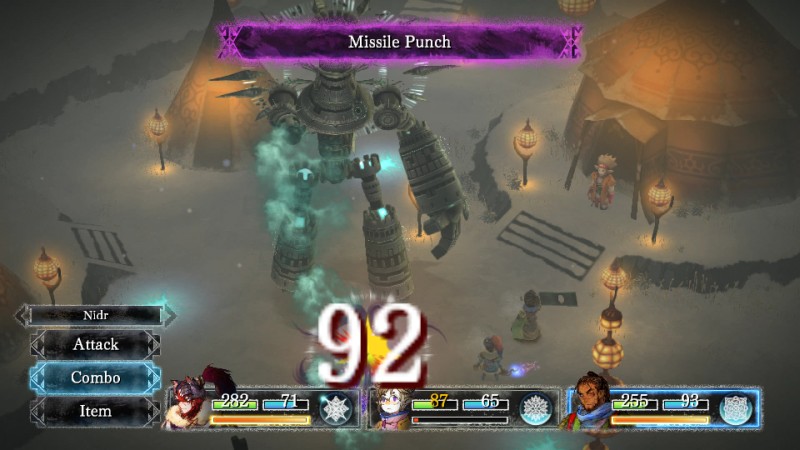 If that's not enough, it also has a missile punch which does... well... roughly the same amount of damage actually. The point is, this big boy hits hard considering two attacks are enough to ace Kir and three to take out Endir or Nidr. But they're only single target strikes, so it's manageable enough.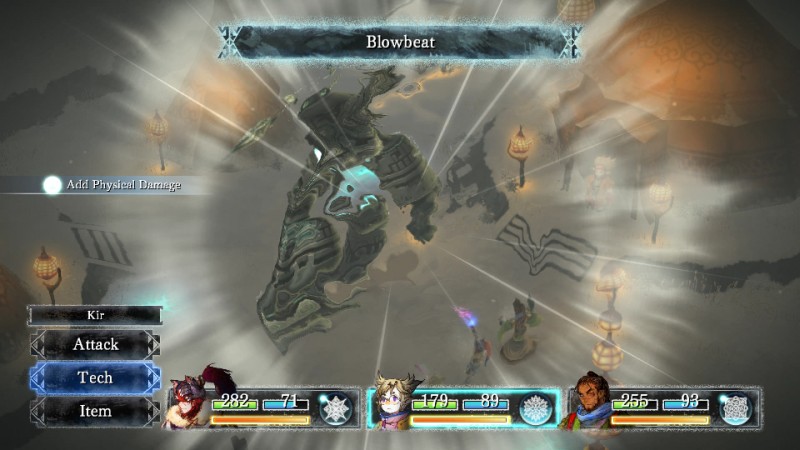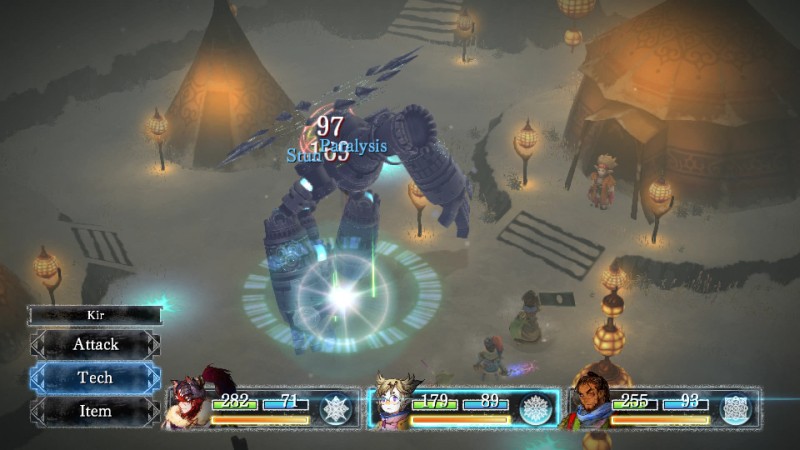 On the other hand, we could just lock this colossus down with Blowbeat or Nidr's Blunt Blow to cause paralysis and give us breathing room to go on the offensive instead of having Endir waste MP healing everyone up every few turns. What? Of course a three story stone golem can get paralyzed. Why wouldn't it?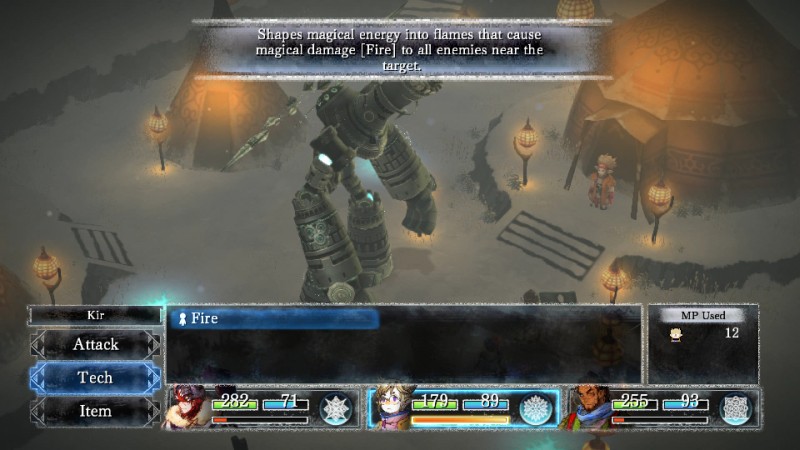 We may as well talk about our new party member, Kir. Remember that sweet fireball he did to roast all those monsters alive? Yeah... Turns out that is literally the
only
skill he earned from restoring his original innate power. Turns out you still need to train in magic (or slot the appropriate magic stone in your blinged out necklace) to perform anything beyond a Level 1 mage, you dumbass.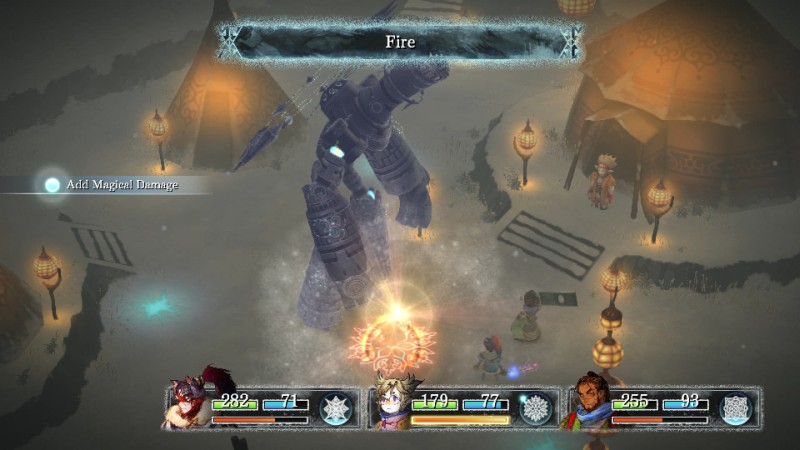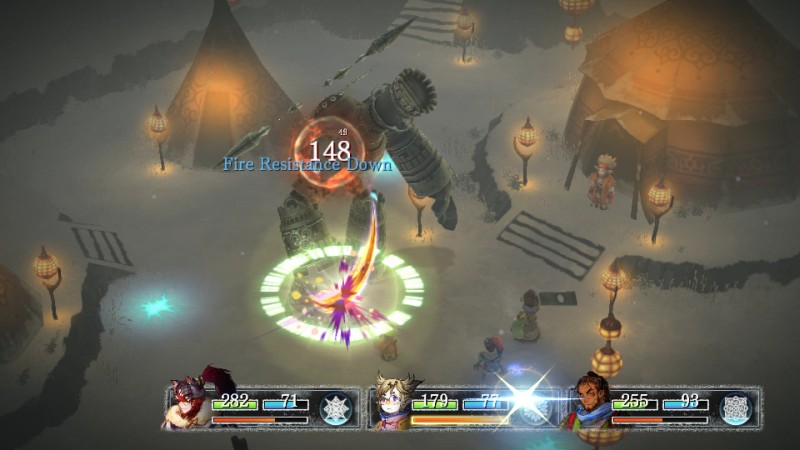 Fire does an OK amount of damage, in about the 200 HP range with Momentum buff backing it up. It's just that is all Kir can bring to the table here. Like Setsuna, Kir's physical attacks are absolutely trash.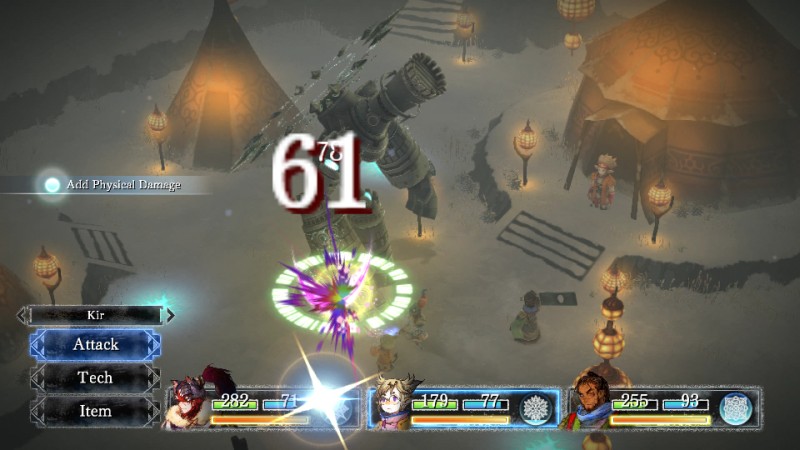 Though, I'm going to let you in on a big thing about this game in general:
All the magic oriented characters are actually garbage liabilities. There's barely any situation where a party of heavy physical hitters is less effective than having a mage or two on board. Especially since Endir's Aura covers healing for a generous portion of the game.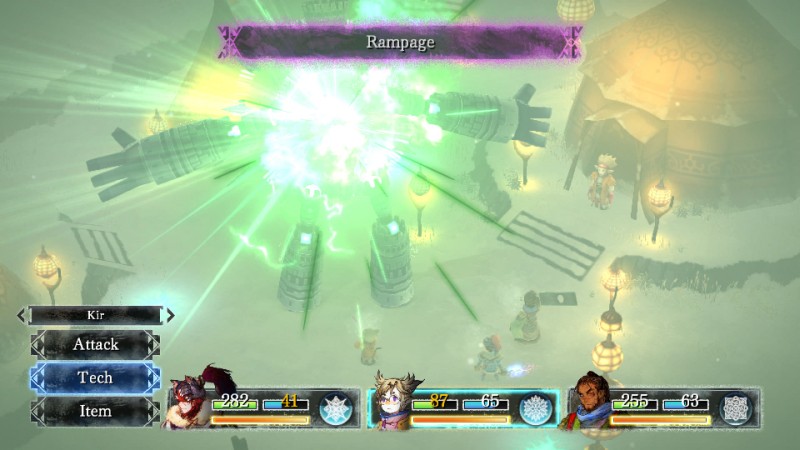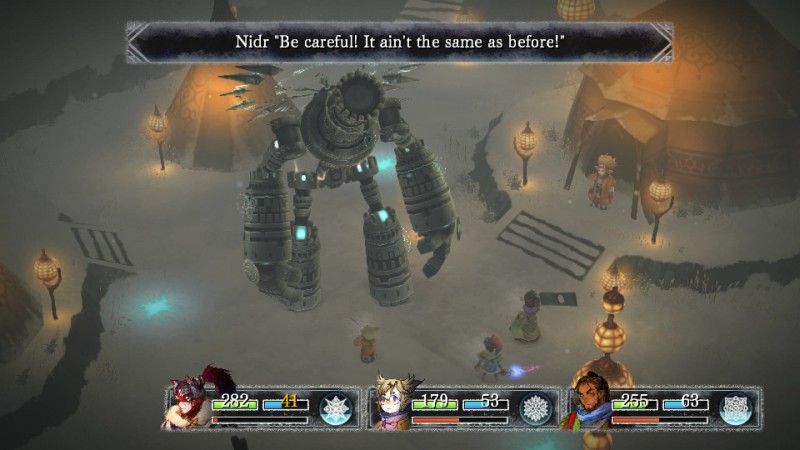 Locking down Timeslave with Paralysis and beating on it with Endir and Nidr's physicals while Kir shoots the occasional fireball is well and good. But eventually Timeslave will fall under 33% health and that whole strategy actually becomes kinda essential.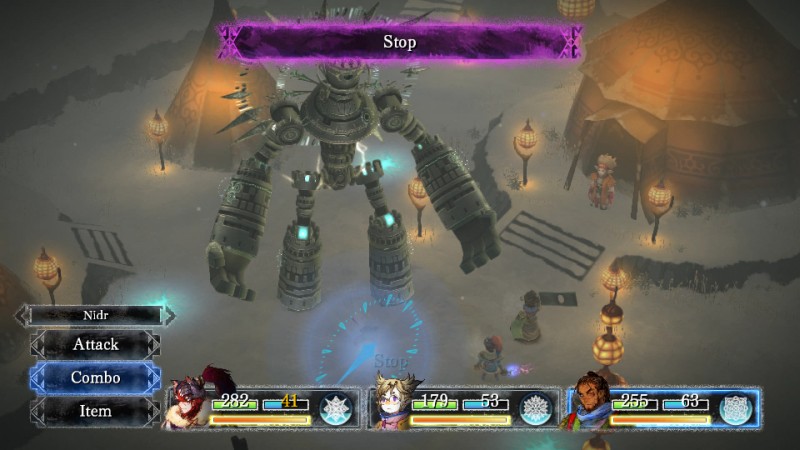 I don't think Rampage buffs any of Timeslave's stats. But... remember the whole "Timeslave" name? Well, he starts living up to that a bit by beginning to cast Stop on our party. Unlike a few status effects in this game, Stop does here exactly what it does in any other RPG. That character can no longer perform actions for about three turns worth of time.
I got pretty lucky here, because during this battle Timeslave decided to cast Stop on Kir which... yeah, not a big loss on the war effort, if we're being honest. Later on, he cast Stop on Nidr which, while it was a heavier blow it was still manageable. If Endir gets locked down, then things can start going sideways since he's kind of our healer AND he's the only method available to undo Stop with Momentum Aura.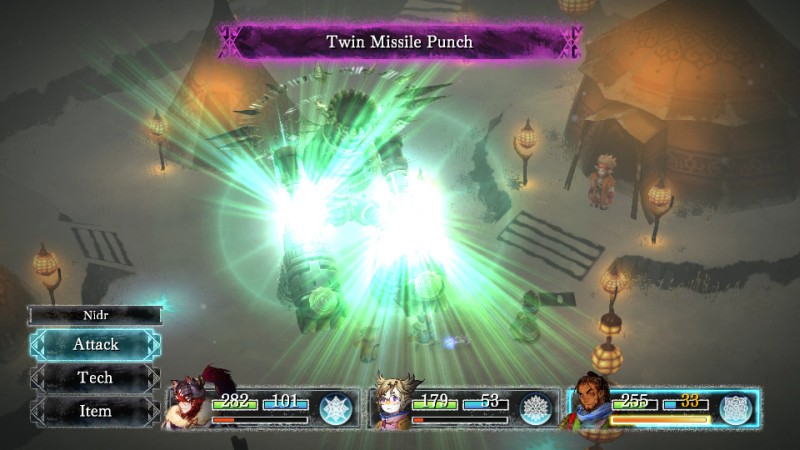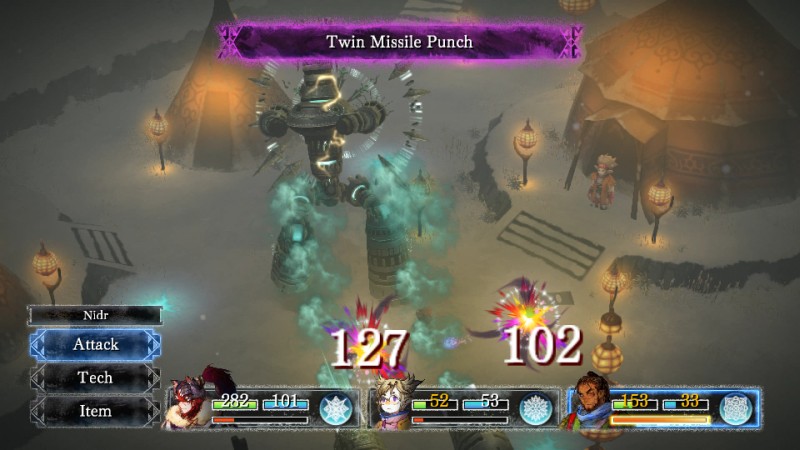 On top of stopping one of our characters dead in their tracks at a time, Timeslave has also learned to rocket punch TWO of our party members at a time. Which is why we really don't want our healer coming in here and getting locked out when the boss is dealing 100~ HP in damage to two characters at a time. And why we
definitely
want to paralyze this jerk again ASAP before he gets too carried away.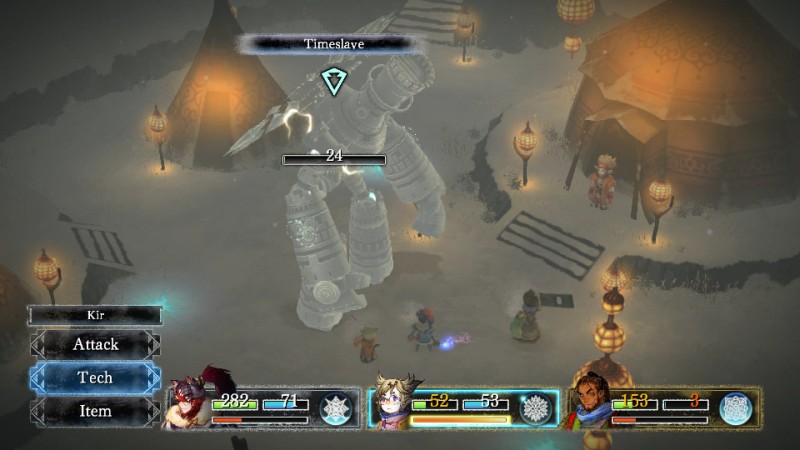 There is also one last lingering thread to this battle. When Timeslave is down to just a single blow left, it is a
REALLY
good idea to top off everyone's health before delivering the final strike. Especially, Kir's if he's in the battle.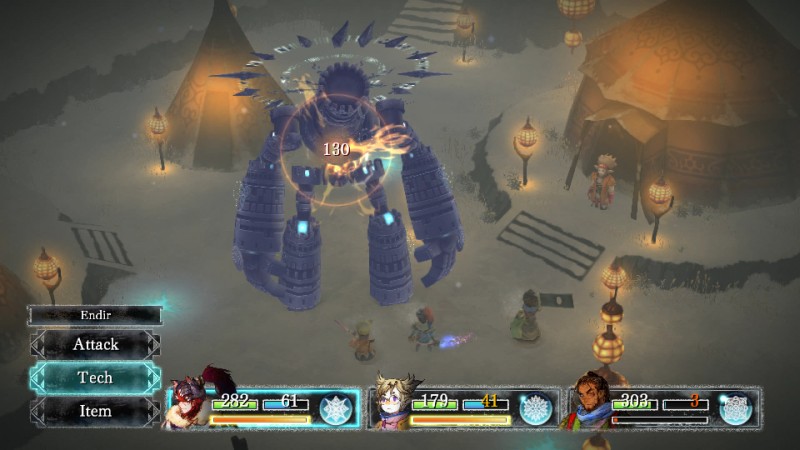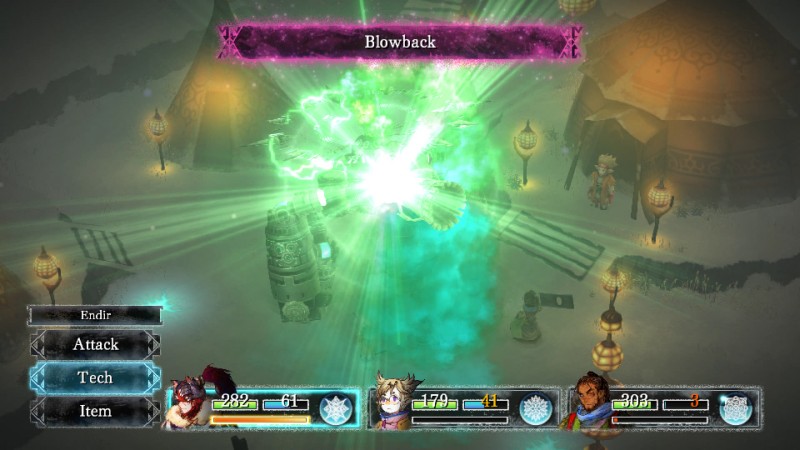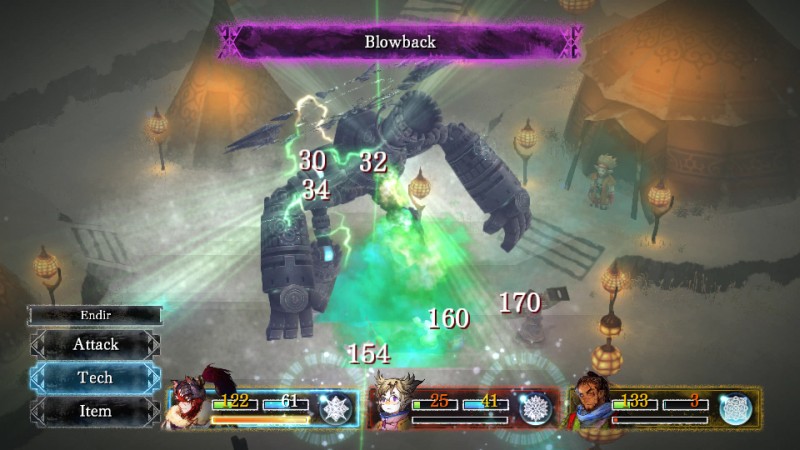 That's because Timeslave is one of those real sore loser bosses that self-destructs when they're defeated and it deals a whopping 150-175 HP of damage to the entire party. My first wipe in this game was this fucking attack going off with zero notice. I was
kinda
cheesed as that's some real bullshit to pull without warning with a boss that doesn't even have a real AOE attack otherwise.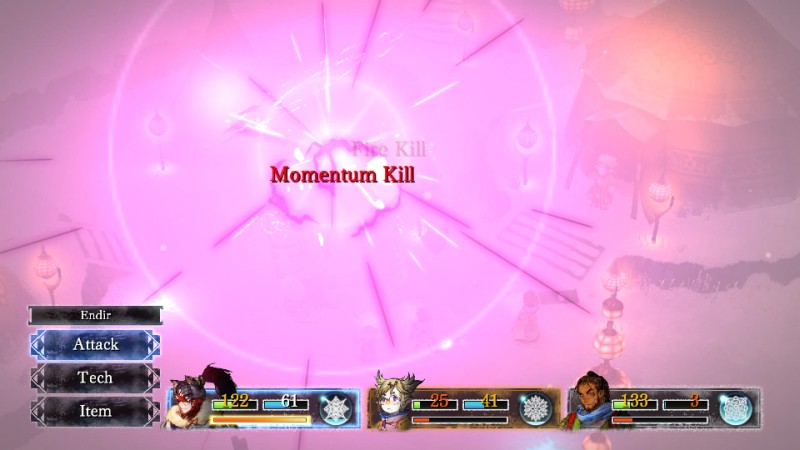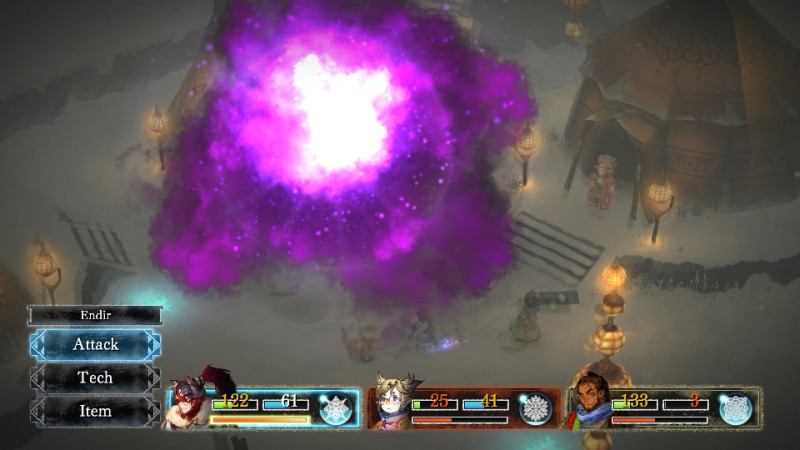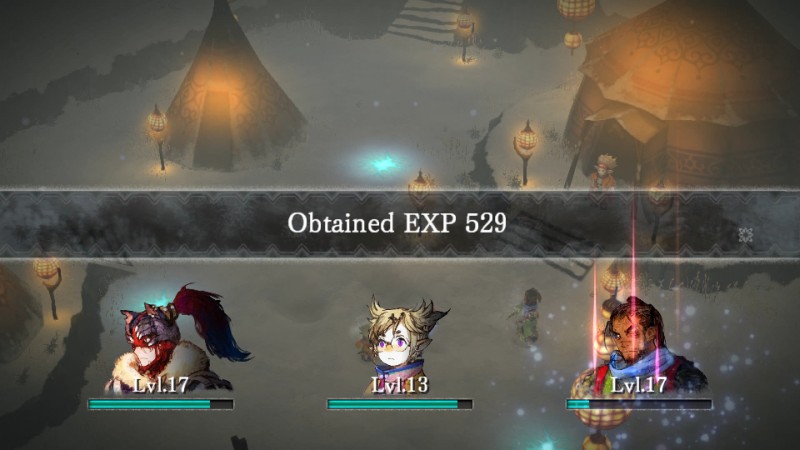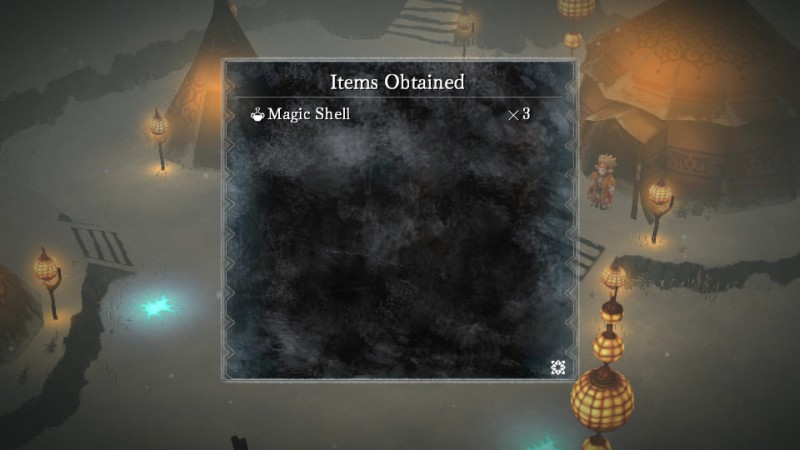 In any case, that's the Timeslave battle. Let's stuff those three magic shells into our pockets and celebrate... and perhaps discuss what in the flying hell that monstrous stone golem thing was all about? Spoilers:
We will not.


Music: Moment of Respite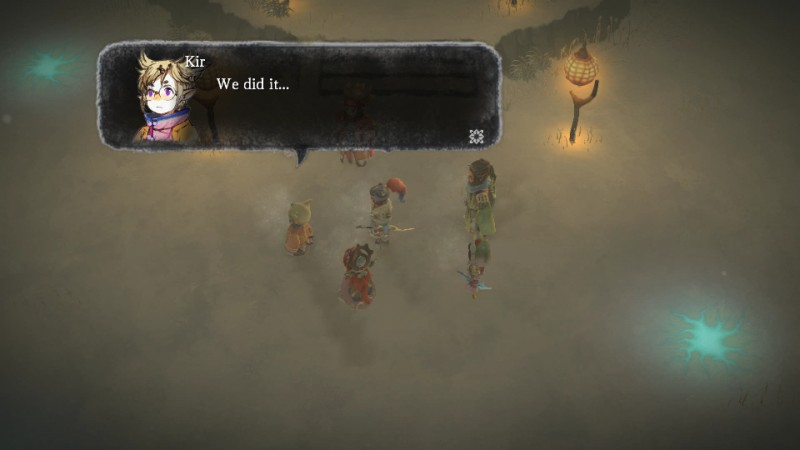 We defeated it...

......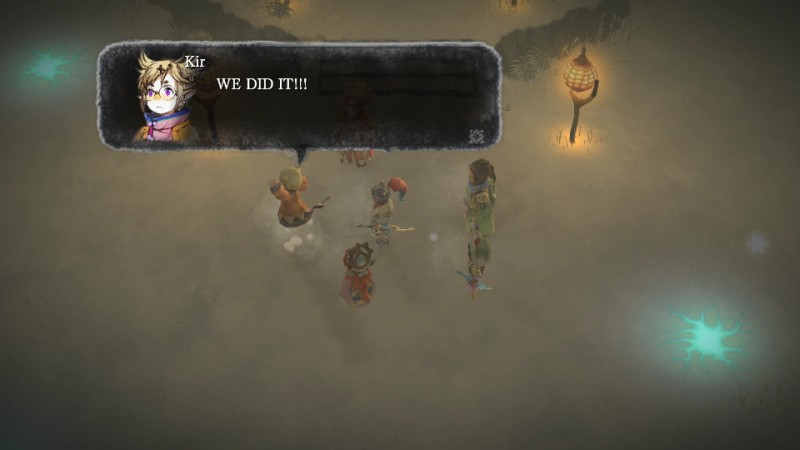 FUCK YEEEEEEEAAAAAAAAAH MOTHERFUCKEEEEEEER! IN YOUR FUCKING FAAAAAAAAACE! WOOOOOOOOOOO!


......


*ahem* I mean...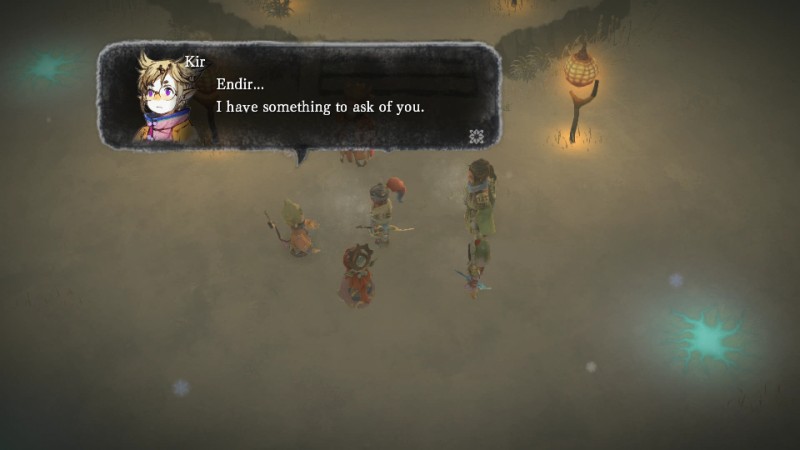 I've got a bad feeling about this...

Ha ha! Looks like you know what I'm gonna say! I'll cut to the chase, then...

I'm not fist bumping you. I don't do fist bumps. It's not my thing...


Err... No... Not that...

I'm going to come with you! I want to see it through to the end... Setsuna's journey...

......

Yeah, you should really be asking her then? I mean, obviously I'm the coolest and strongest guy here, but I'm not in charge of the party, despite the fact everyone follows behind me for some reason...

And I want to live my own life... the way I want...

You could say I want... A Full Life.


*groans* Please keep the 4th Wall in check...

*turns to Endir* Please look after Kir...

Yeah... again... Not my decision. *turns to Setsuna and shrugs*


*frowns* It's fine... I'm used to it...

Hydor...
The three kids from earlier run up...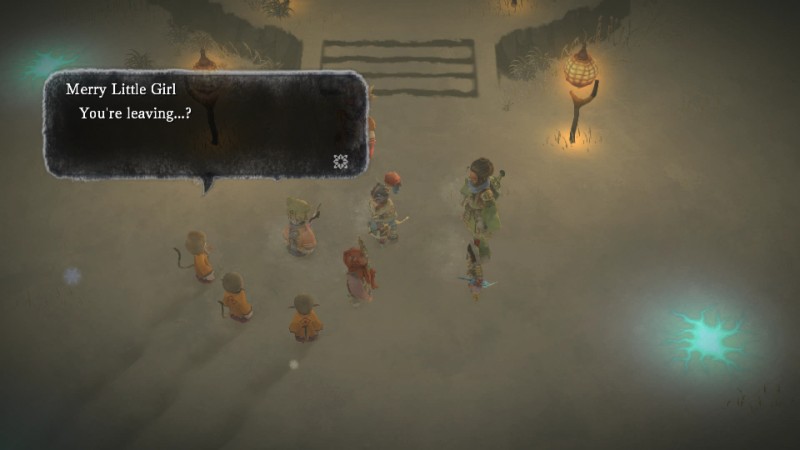 *sweats* You're leaving...?

*sweats* You're weavin'...?

It's not like I'm gonna forget all of you! I'll come back soon... and I'll bring back souvenirs!

And then pass away by the time you're old enough to drink... But we'll cross that bridge when we get to it!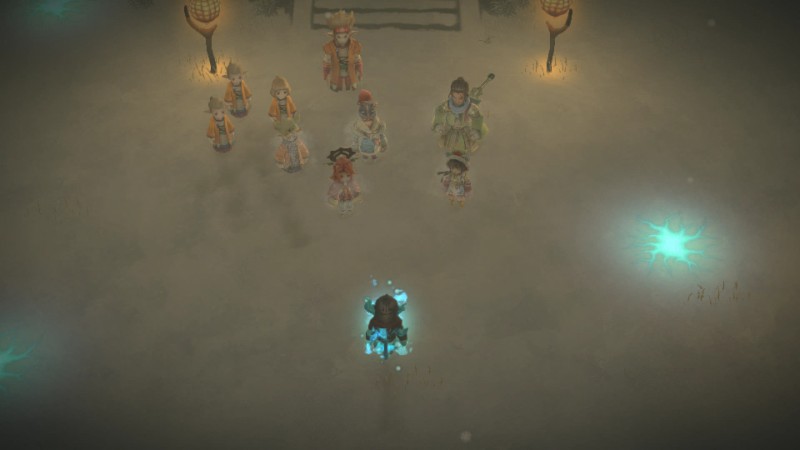 Yo, hold that thought. Someone else wants to say goodbye to Kir...


Music: Farewell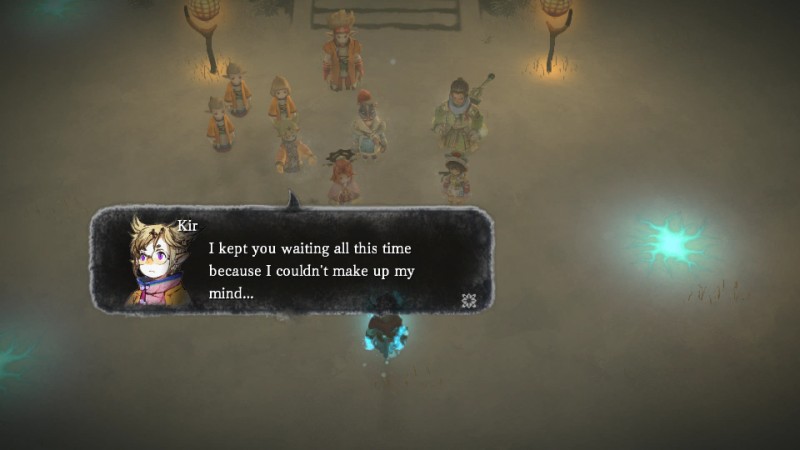 Just kinda open season on monsters and ghosts strolling into your town today, huh?


*sighs and pulls out flask* It is a troubling time...
Kir runs up to the phantom...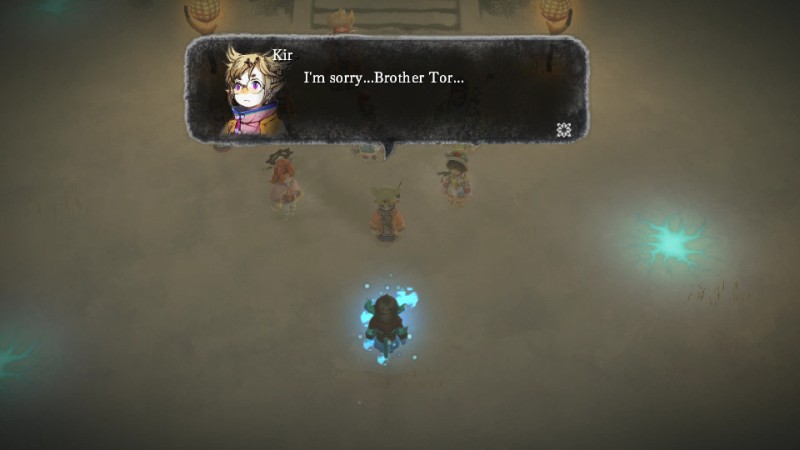 !
Tor? Your brother? The one who left the village and was never seen again?

You did not just honestly phrase that question in that manner? I'm going to pretend I failed to hear that...

*shakes head* He's not alive anymore, I know that...

......

Tor... You thought of me in your final moment, right? You wanted me to know... You wanted to tell me of your death... So your magical energy... your spirit... came back here like this... I knew it was you all along. Ever since I first saw you...

I... I found your bloodstain. You... always did follow those "Try Jumping" messages, even when you *knew* it wasn't a good idea...

Sorry to keep you waiting, Tor...

*steps towards Tor* I've finally made up my mind...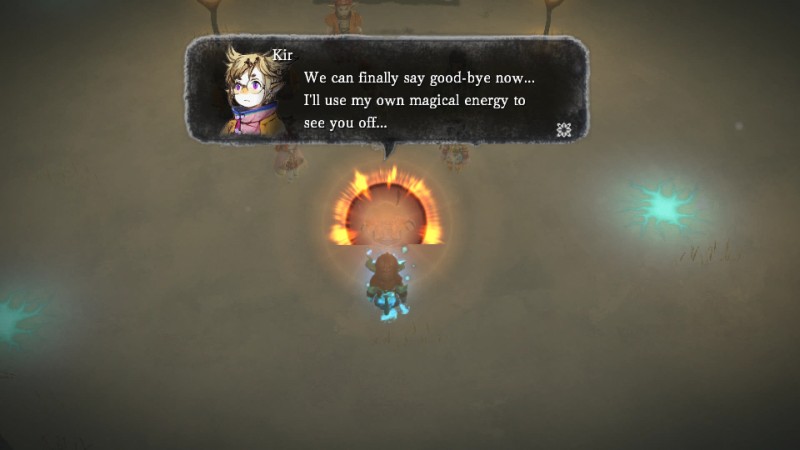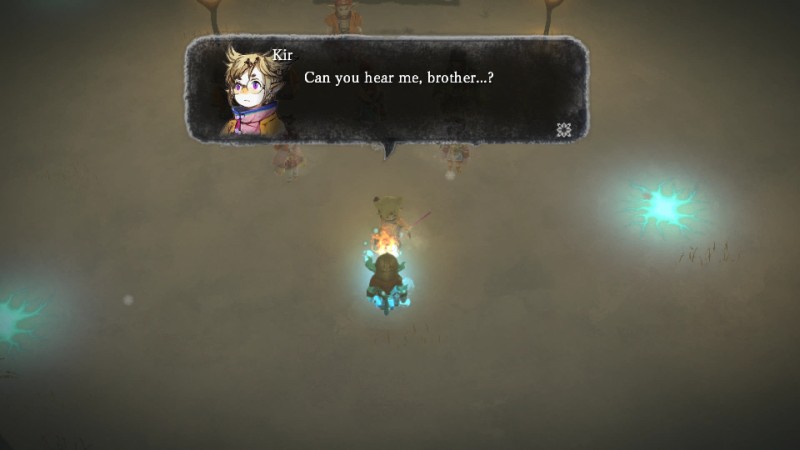 Listen...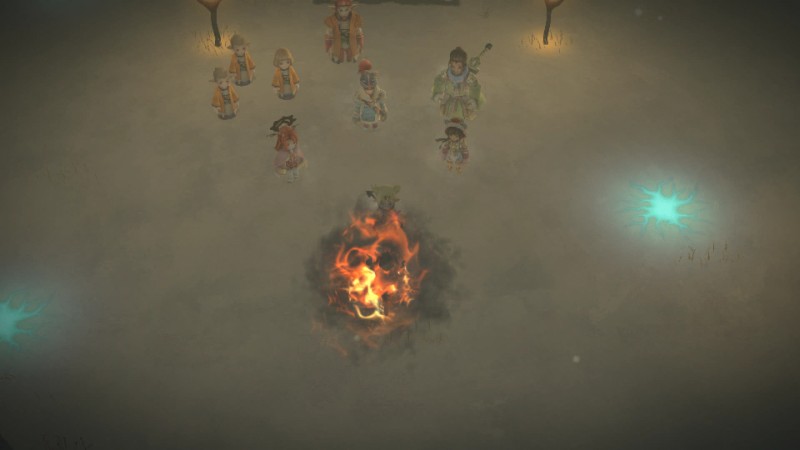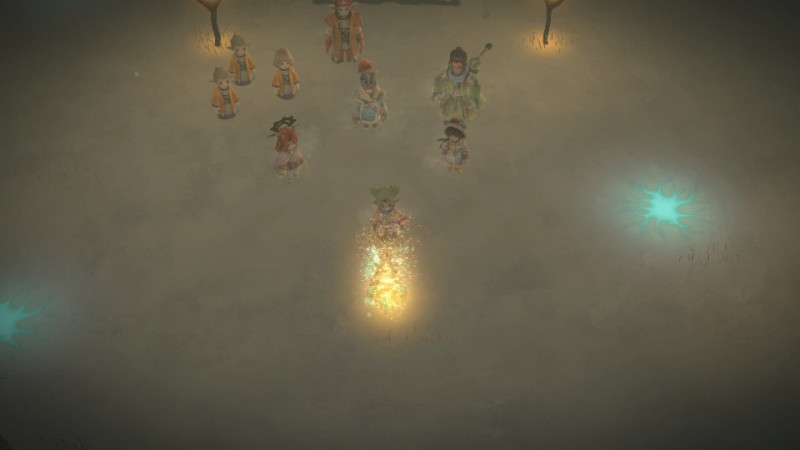 And thus in a somber farewell, Kir fucking
ROASTS THE SHIT
out of the ghost of his brother Tor. That's pretty hardcore, kiddo. But I'm pretty into the ghostbusting methodology.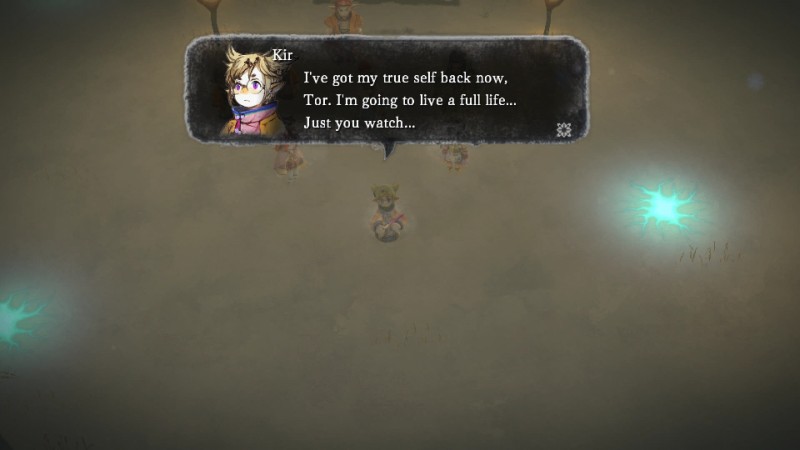 Ha! RIP.


*punches in the arm*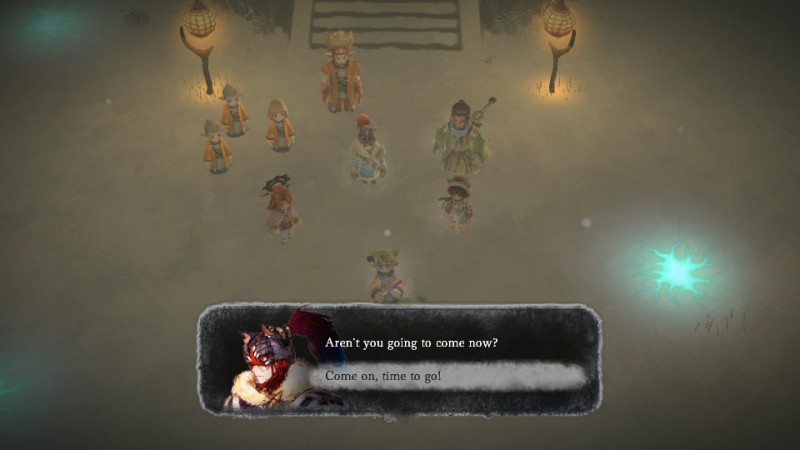 That's exactly what I was about to say...

Setsuna, are we taking this little dude? I feel like responsibility has been thrusted upon me unfairly and also I don't want to take the blame if he sets anyone on fire by mistake.

I'm glad to have you with us, Kir.


*nod*

If we head across the Twallusk Mountain, we should arrive near the Last Lands.

All right. Let's go, Kir.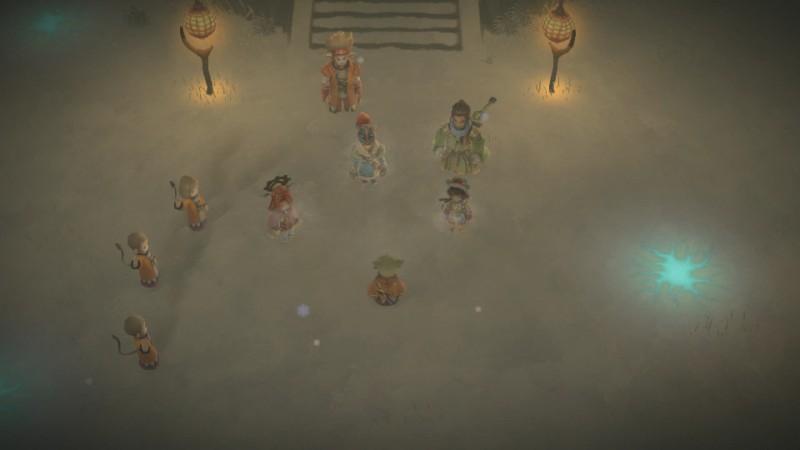 And so the youngens wave goodbye Kir as Chapter 5 draws to a close. So... I guess we taught a child how to set things on fire in this town... I'm not sure if that's an improvement or not from the previous city... Oh well! Let's mosey...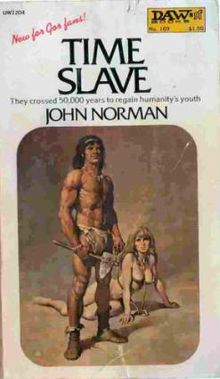 Video: Timeslave Boss Battle