Part 39: Yes, Politicians live in Volcanoes, too
I think it has become apparent that I run on
"Valve Time."
Anyways, update. And a nice meaty one, too!
Update #38: Yes, Politicians live in Volcanoes, too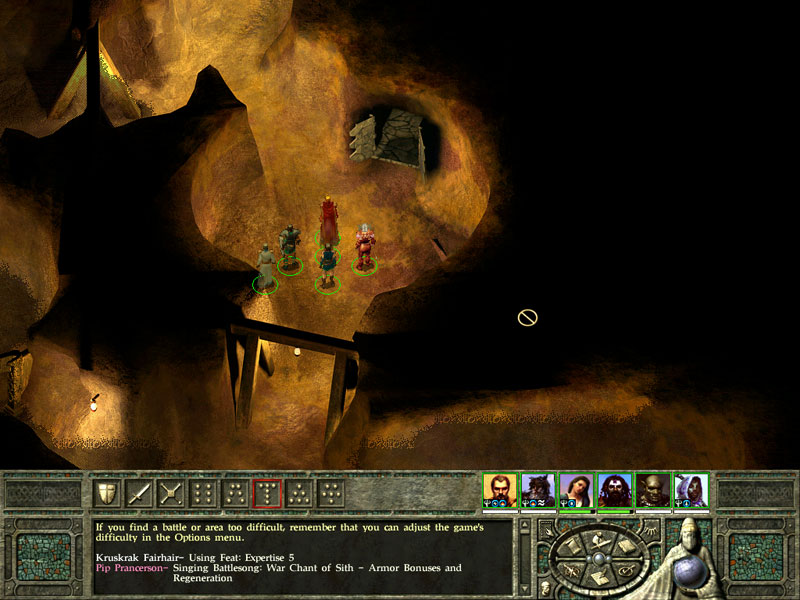 ...so, uh...

What's that, Pip?

Well...are we ever actually going to
leave
?

The part of my brain that I have control of says yes we should leave right damn now and never look back. That other part is already vaguely homesick for this place.

She raises a good point. We've killed pretty much everything here; the possibilities of this place as a resort are pretty much limitless.

Well, for what it's worth I think
next screen next screen advance the plot aghaghahg
...Um...

HUSH, little childrens! Urggzob shall lead all of you to glorious new frontiers, for Urggzob's temper is short and his axe is sharp!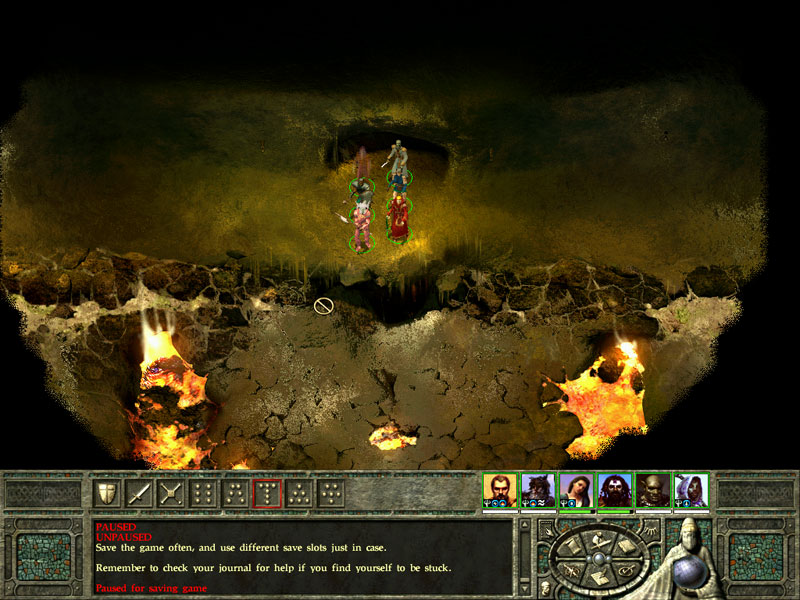 Huh. I guess this volcano is more active than they gave it credit for.

Didn't someone say that it was kept from eruption by some magical something-or-another? Did we kill them already? Because I think worrying is in order if we have.

Looks like your resort's gonna have to wait, Napalm.

Poppycock! It won't be called "Napalm Springs" for nothing!

What's, uh...what's that?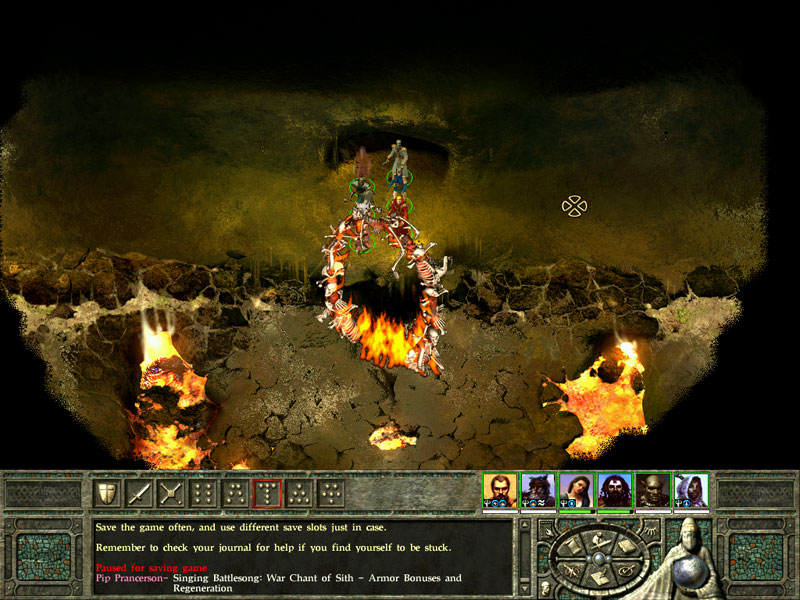 That...is some form of summoning circle. Don't know HOW, seeing as there's no summoners nearby...

The "Horrible Death Doom Bone Circle of Pain?" I think there's a song in there.

Oh lord gods above, no.

Whatever comes out, Urggzob will CRUSH!

What if it's benevolent?

Then Urggzob will
improvise!

SERIOUSLY, Pip. Put away the clavas.

Aww.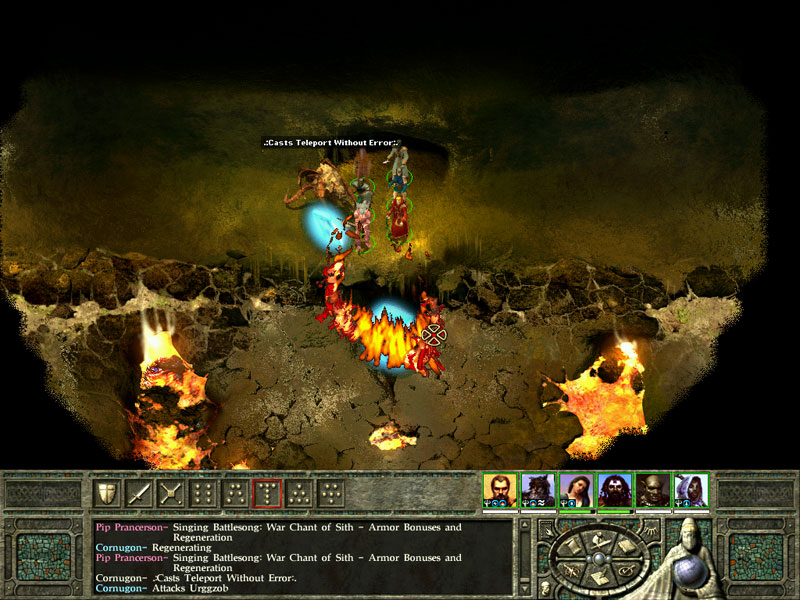 Okay, now I have a question for you spellcast-y types.

Urggzob crush!

What? Oh, go ahead, Urggzob, we're talking here. What's your question, Clobberella?

The sheer fact that this spell is called "Teleport without error" suggests that other teleport spells are just variations on "Teleport WITH error." What's that about?

It's, uh...hm. Well, see, magic isn't an exact science yet...

There are
Universities
set up for it, man. Of course it's an exact science.

Really? How can YOU cast spells, then? Please explain.

I, uh...hm. Well played, Mr. Fairhair. Well played.

You know what? Never mind. Just none of you ever teleport me ever. In fact, if you'd just stop casting spells at me at all I'd be fine with that.

But you have spell resistance, Clobby! You've got less to worry about than the rest of us!

Um, guys? Monster?

C-C-CRUSHING! Ah ha ha ha!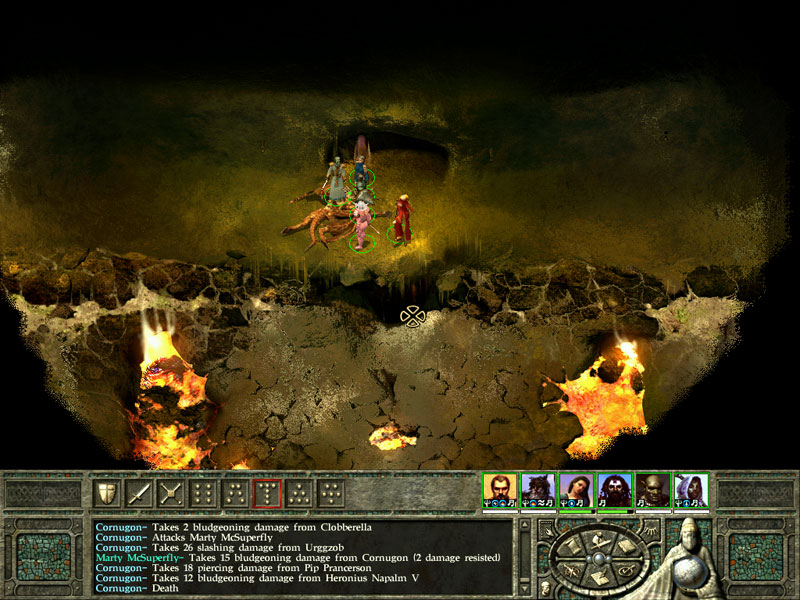 Right then. You were saying?

Nevermind. Let's just go.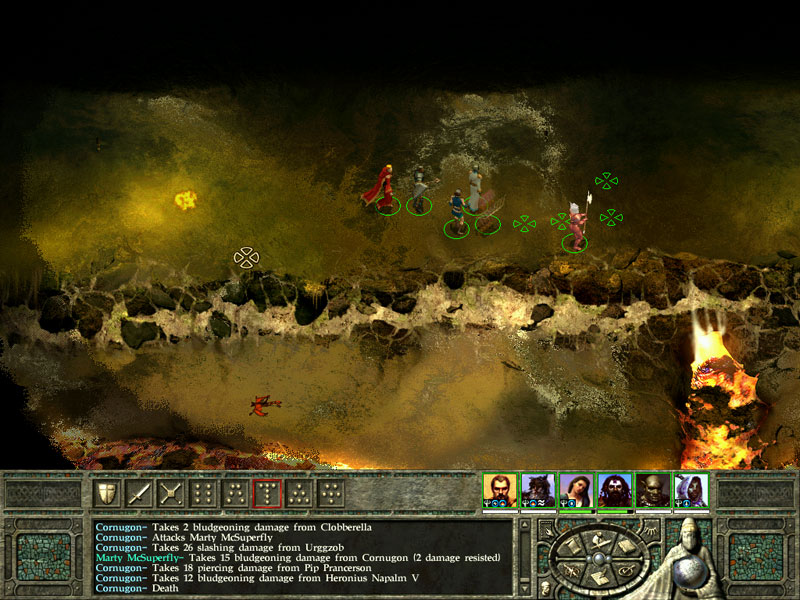 OH DAMN FIREBALLS RUN

Easy, man. It's a delayed blast. That just means it'll hover there until Clobberella goes over and triggers it.

WHAT?

You've been dodging my fireballs for MONTHS, woman. This one shouldn't be much different.

I think it's pretty. One or two could really liven a room up.

I'm never visiting your house, Pip. No offense.

Ugh, fine. You goddamn sallies.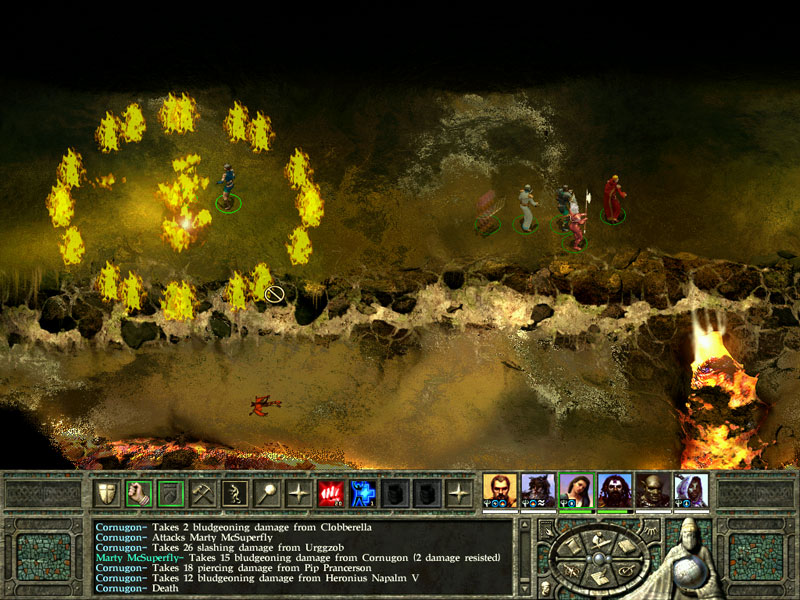 THERE. Come on.

Punch woman is full of FURY today!

They get that way when they're not cooking or raising children. Shall we?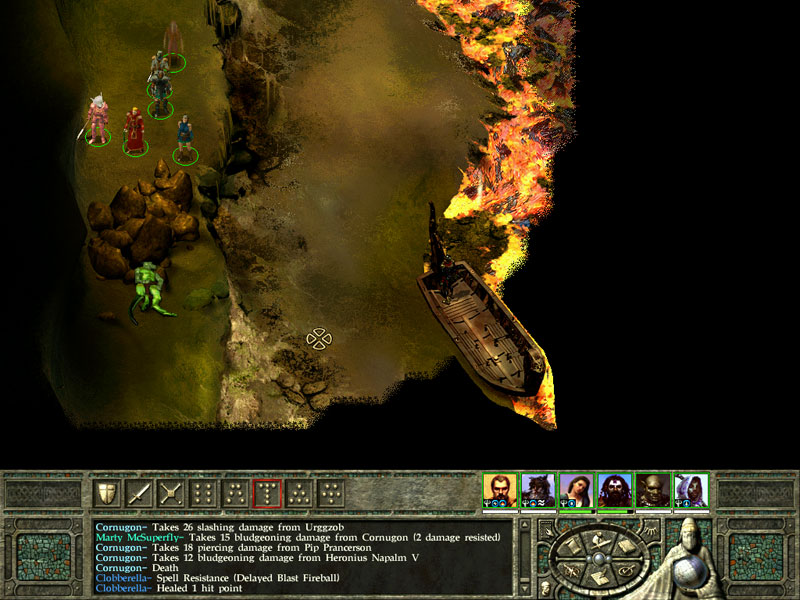 That's remarkably inconvenient.

So I set off that fireball for nothing.

Pretty much. Shall we try the other direction?

Aww, sorry Clobby. Do you want a hug?

Pip...if you hug me, I will hurl you through Napalm's chest.

I...but...

Like a javelin, Pip.

Aww.

Hee. Now Urggzob wants a set of man-javelins. For hurling through men.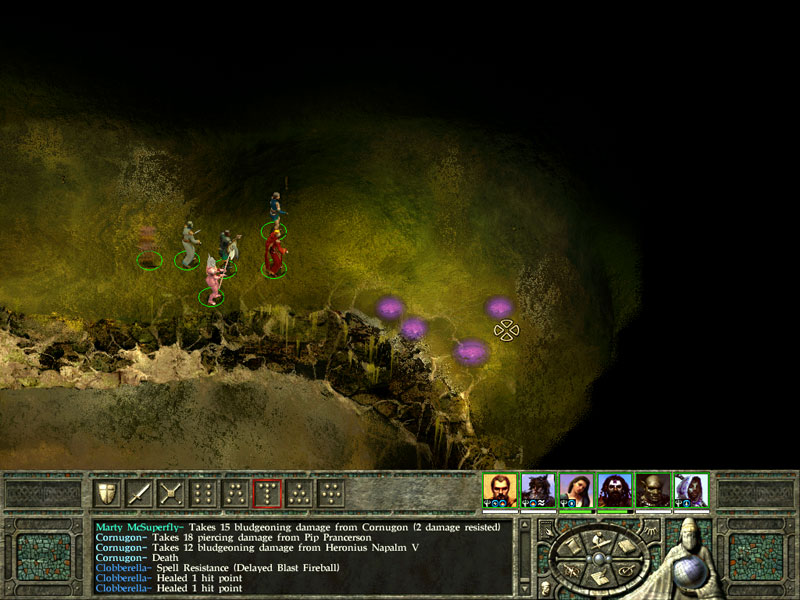 I don't get it.

What's that?

The grease spell. There's no monsters around; why is there a grease trap here?

I think a grease corridor livens up any dungeon, volcano, or fortress!

I don't care WHAT you think, Pip, this is NOT "Interior design, monster fort edition."

Hee. New toys make Urggzob grease-proof.

Ech. Lucky sod.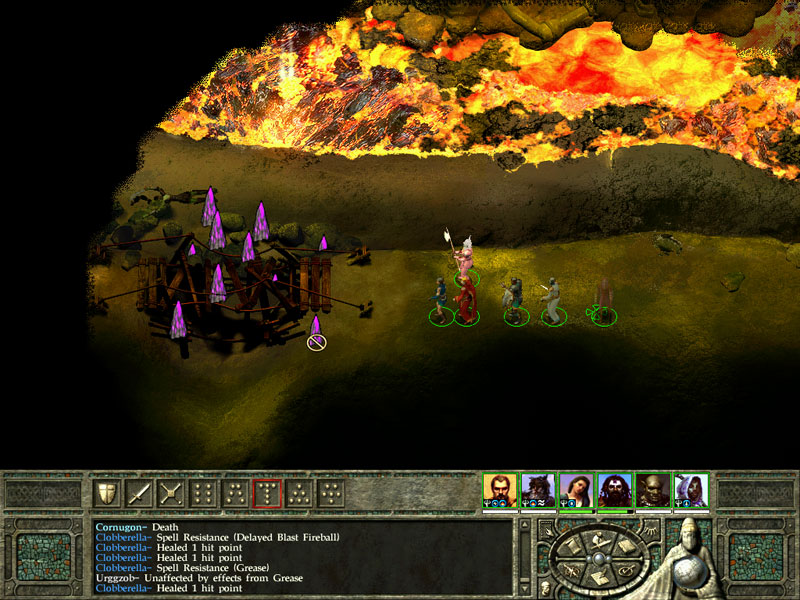 ...huh. Some bridge, eh chaps?

Urggzob is confused. Are purple daggers coming out of the earth to stab the broken bridge?

Pretty much, yeah. It looks like, though...


Just as I thought. All we need is enough rope!

Should we maybe sorta wait for the purple doom daggers to stop?

Nonsense! Enough rope!

But...the dagger-things, they'll just cut--

ENOUGH! ENOUGH ROPE! ROPE!

Is he finally having his breakdown? This is amusing.

Little wizorc is finally getting in touch with his orc half.

Give me the rope. I don't trust a wizard with rope.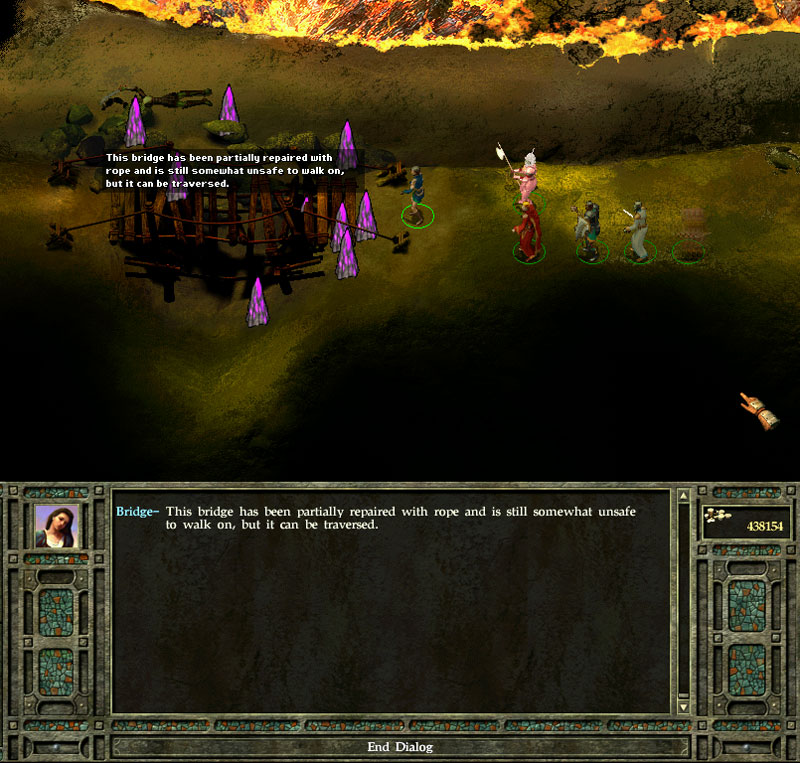 Well, that looks awful. It'll do, though.

Sorry about earlier. Don't know what came over me.

Shall we?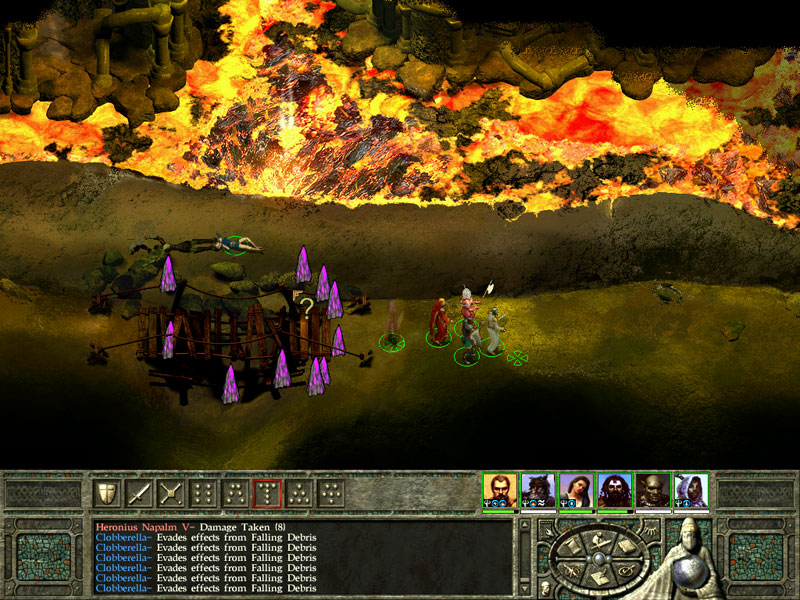 Okay, time for Plan B: Don't follow Plan A.

Perhaps we should have waited for the daggers to stop.

Is she gonna be alright?

Pip, it's a seven foot drop. She'll be fine.

I'm fine!

See?

I'll just, uh...find a way around. Hang tight.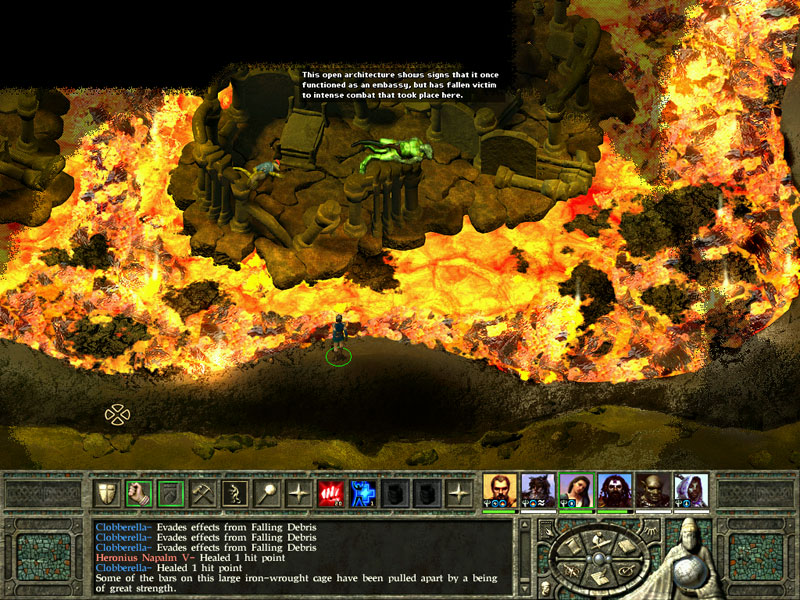 Hell, this place is in shambles. I mean...I don't imagine property value is very high on top of a lava lake, but still, this isn't helping things.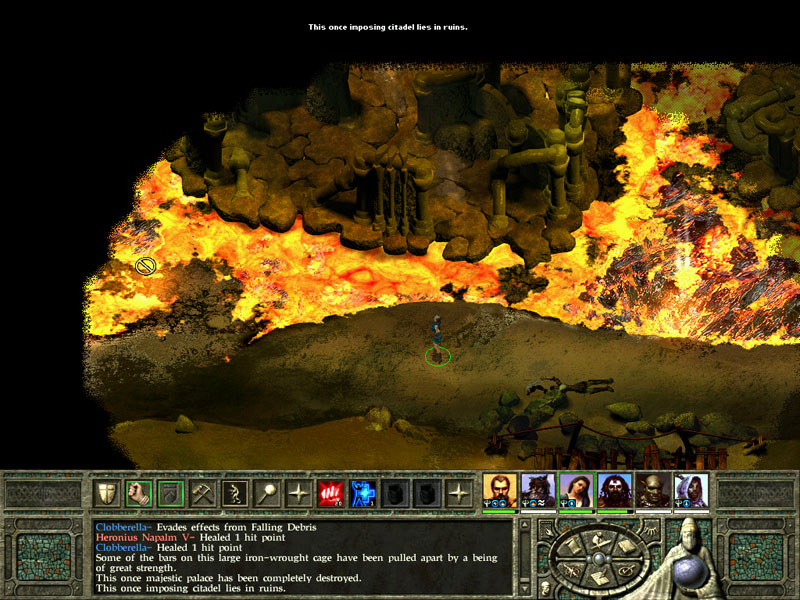 Still, I suppose it's a nice change of pace to be hot all the damn time instead of cold all the damn time. Eh? Who's that...?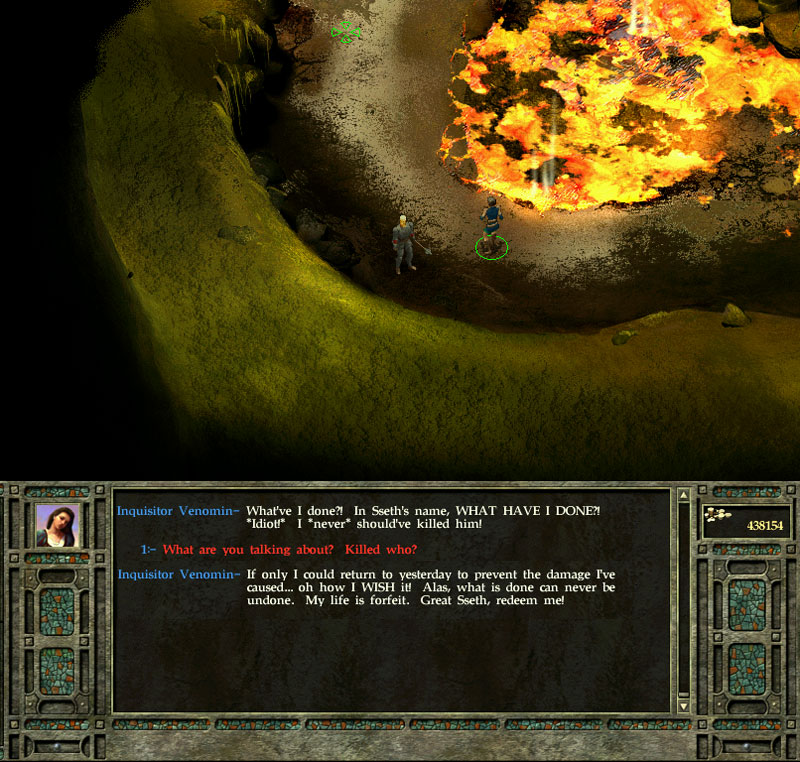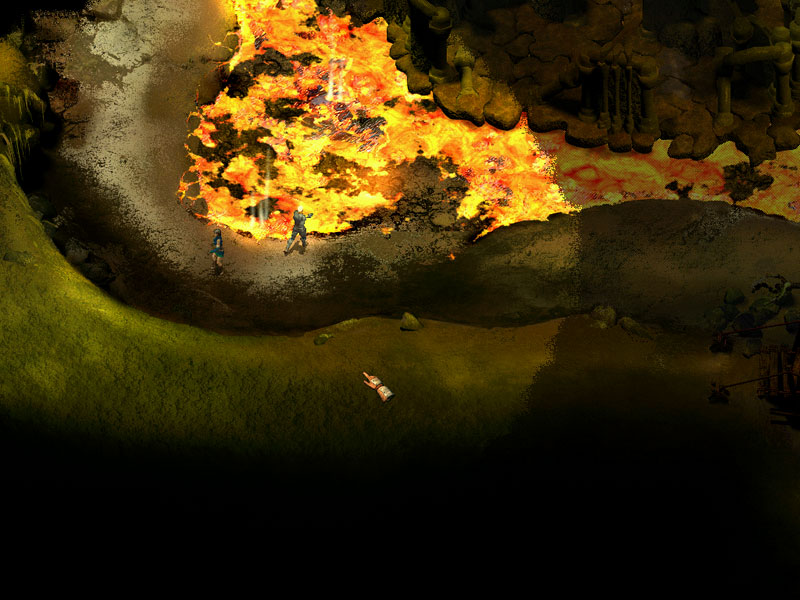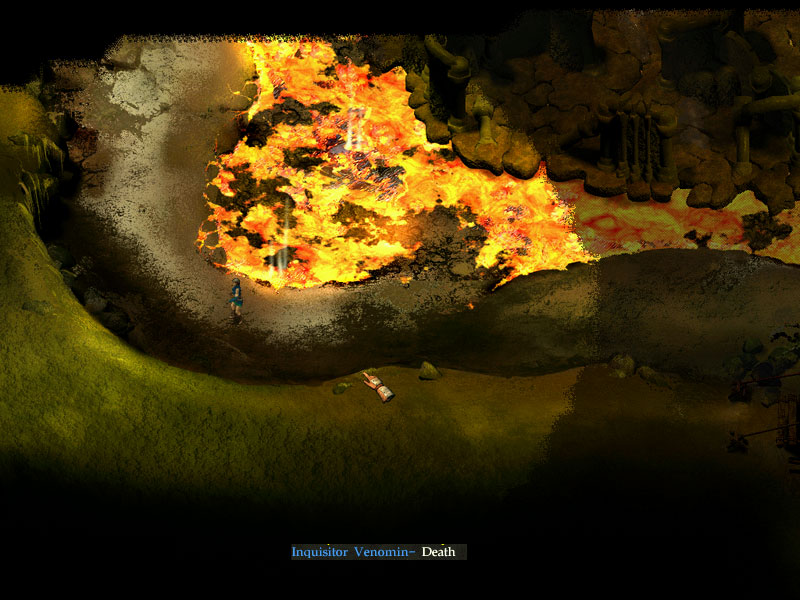 Huh. I'm really glad no one in our group has this kind of killer's remorse, because after the things we've done it would be kind of...tough to get over.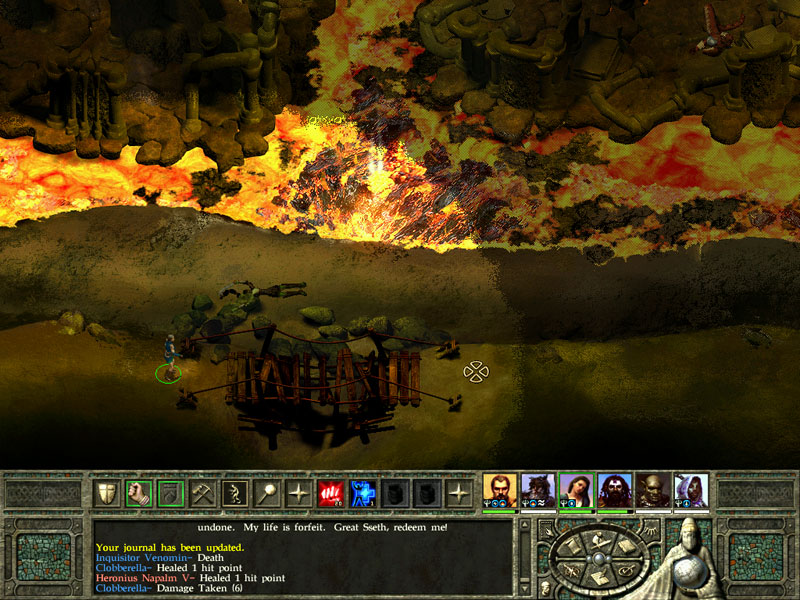 Well. Well well well. We meet again, bridge, but this time...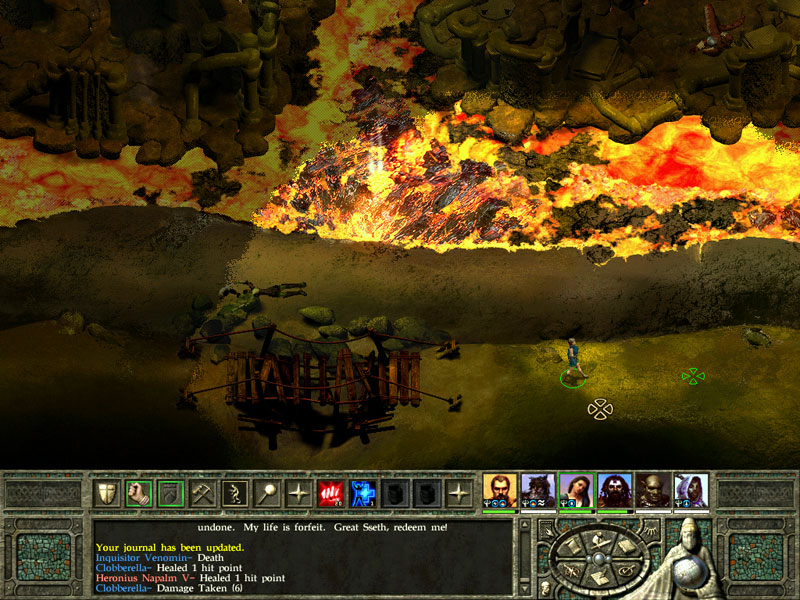 You're goddamn right I got across. Rot in hell, bridge.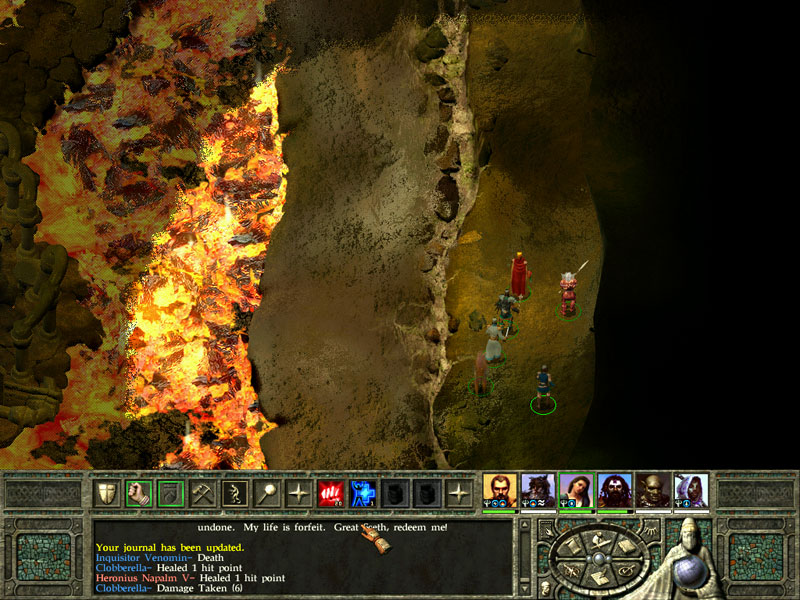 Heya Clobby! See anything fun?

A bunch of lava, some dude who killed himself IN the lava, and a bunch of torn-down buildings full of bodies. Also, we're going back for more rope.

Back...? I don't remember any in Dragon's eye that we didn't already pick up.

Back to Kuldahar, then. There's something I wanted to check out there anyhow.

That's a sixteen hour walk, woman. For something you "want to check out?"

What? Little fire man can not handle a walk? Ha ha ha!

Allow me to rephrase that: It's a sixteen hour crush-free walk.

...OUTRAGE!

Let's just go. We can sell off some of our extra swag while we're there.
And so...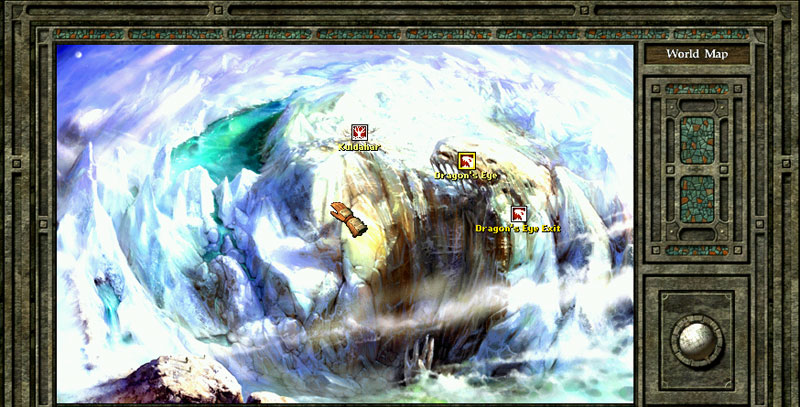 ...we go.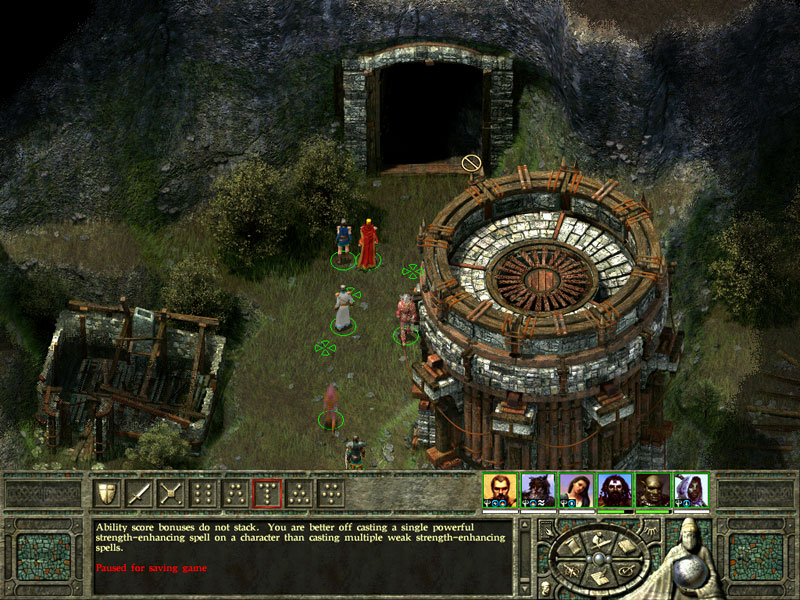 Where are we headed?

The graveyard. Gots to do some pillaging real quick.

This has to do with that amulet you found, doesn't it?

Pretty much, yeah. I recognized one of the names...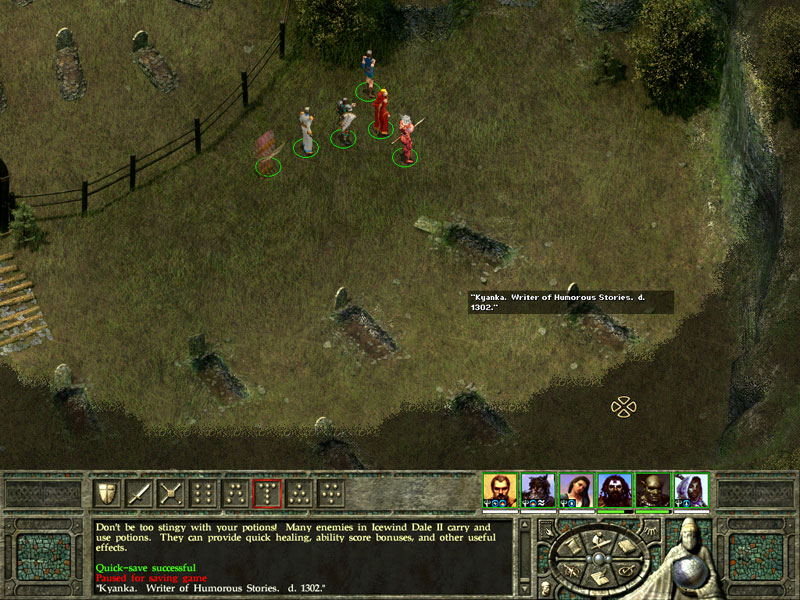 No, that's not it.

This one? That one? You know this would be easier if you TOLD us the name, woman.

Kholsa.

Found it!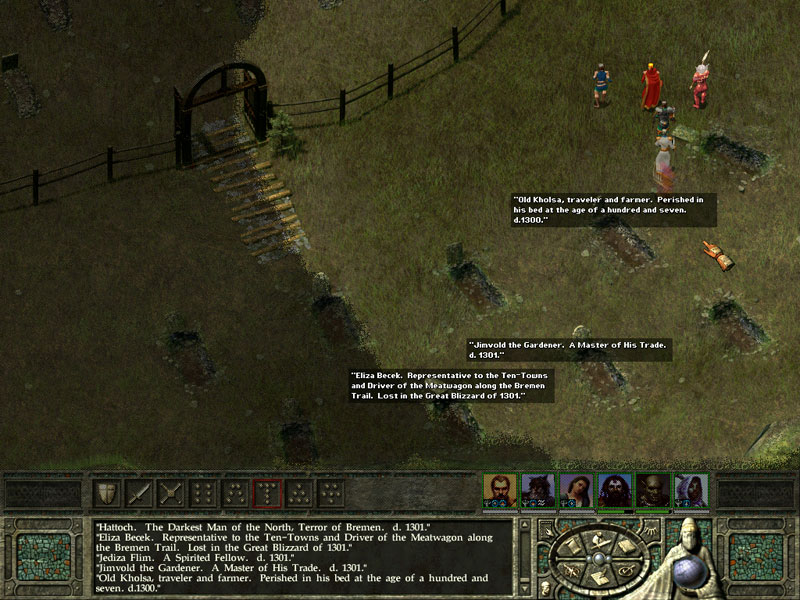 Umm...why's there a rumbling? What's going on?

This is a very...auspicious grave robbing, you know.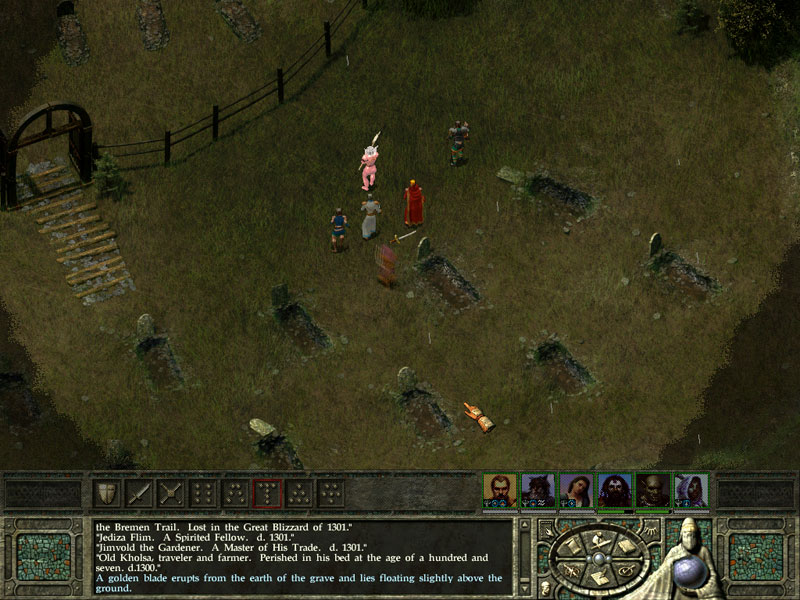 Cool, it's actually there.

Wait, a sword? This makes less sense as we go along.

And we didn't even have to dig! Yay team us!

That's "Napalm Company."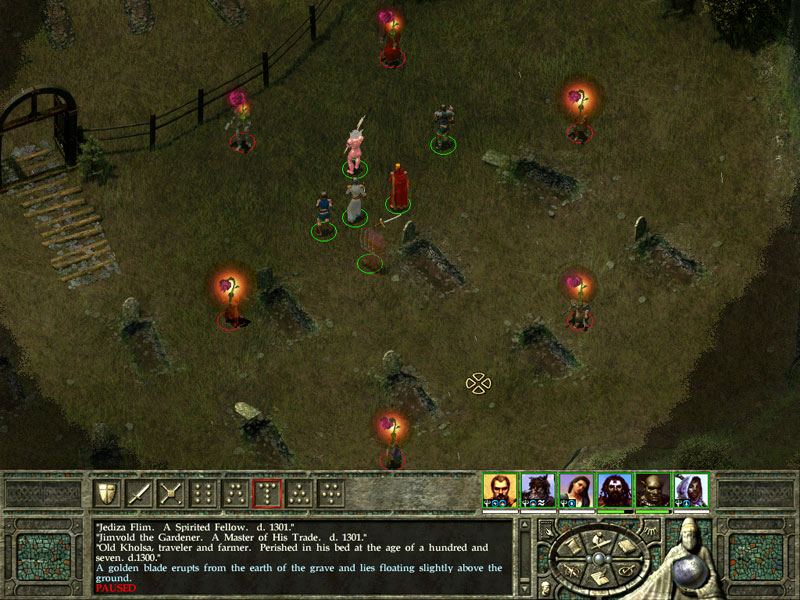 ...oh nutters. Save us, Urggzob!

Little man is not the one who will need saving once Urggzob starts CRUSHING!
Okay, time out for a sec. I'd just like to point out that this is the hardest fight in the game up to this point by a LARGE margin. To wit:
THIS
is what they can do to our party in under ten seconds. Keep that in mind as night falls on our party and the battle rages on...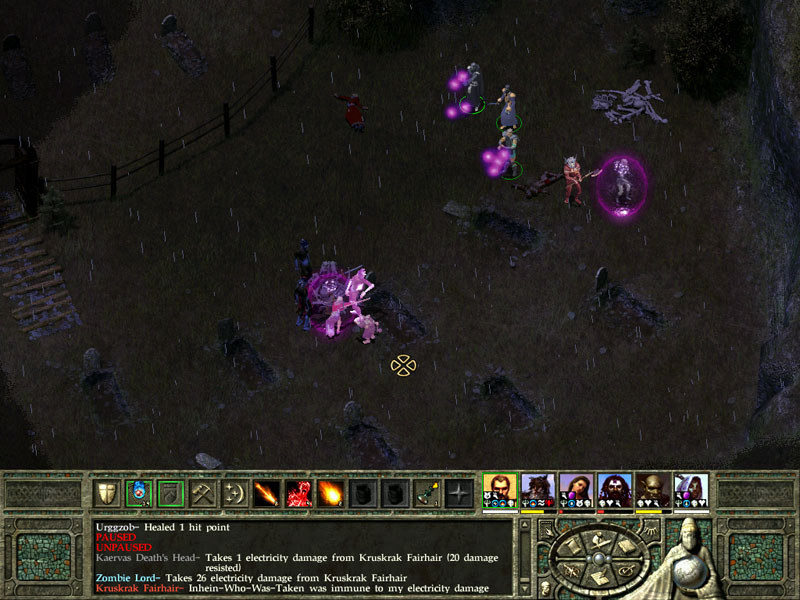 Everything's trying to get into my bubble!

Hurling fireballs as fast as I can, old bean.

Everything which can feel pain does right now. Ow ow ow.

I suppose I've seen worse ideas from this group, but this one is right up there...

Agreed! I am full of swords, hammers, arrows, and pain!

Wait...dammit, why isn't Urggzob doing anything?

Half of them are still left! Urggzob can't stop now!
But he did. That's right, halfway through the fight, Urggzob was effectively decommissioned. This did nothing to help the difficulty curve.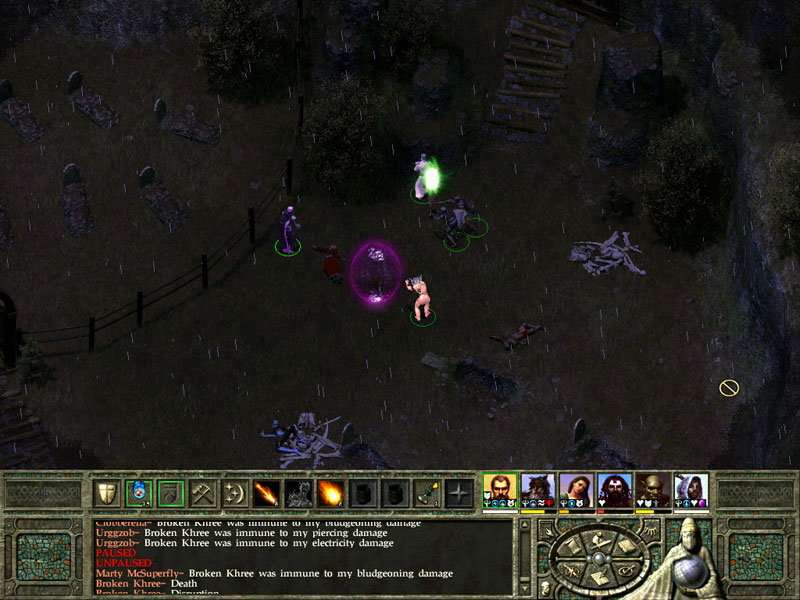 Eventually, we fought our way through them all. We cast nearly all our spells. Everyone except Pip nearly died multiple times. Kruskrak counter-dominated Urggzob to get him fighting again, but we had no control over his actions and he defaulted to his ranged weapon. Which was useless. Eventually, the only thing that won was a lucky hit from Marty with the club of disruption; since these guys were undead TECHNICALLY, the club can disrupt them. And so it did.

I...holy hells. That was insane.

It was dark and stormy, too! How delightfully dramatic!

N...no one said that we'd have to fight all them. DAMN YOU, LITTLE AMULET!

Well, chaps...at least we got a fine weapon. Let's take a look...


So, uh...none of you are Paladins. And I'm not a Paladin. I'm beginning to sense that we did something...superfluous.

Fuck you and fuck this graveyard. This sword is going on my mantle as soon as I'm home, I don't care what anyone says.

I didn't even know you had a home.

Hush, or we'll have Kruskrak put you back in the bubble.

Should we maybe not be standing so close to Urggzob while he's still under the effects of that spell?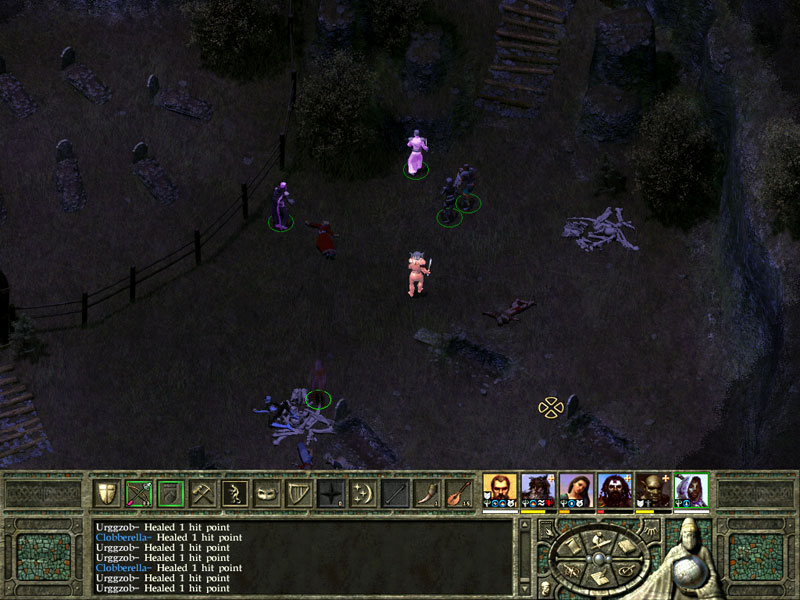 ...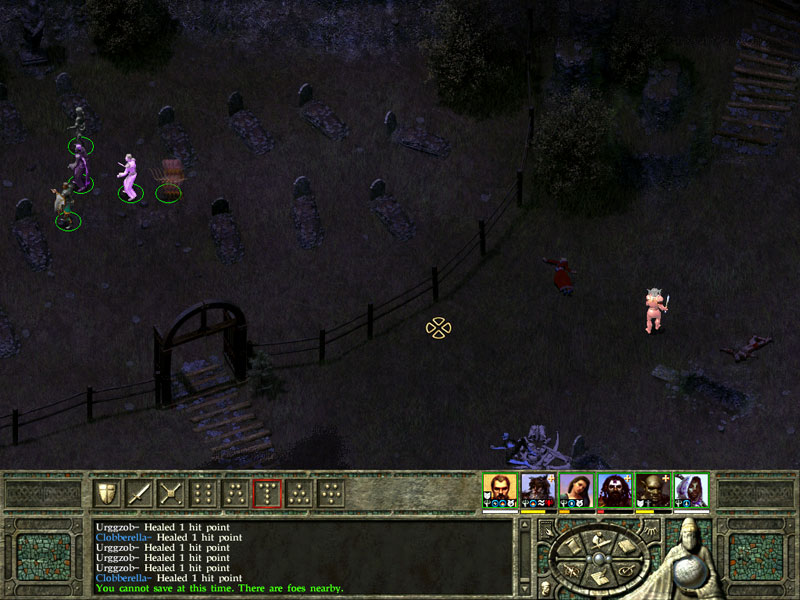 For the record, this was a terrible plan.

Can it, spicy.
Sixteen hours of travel later...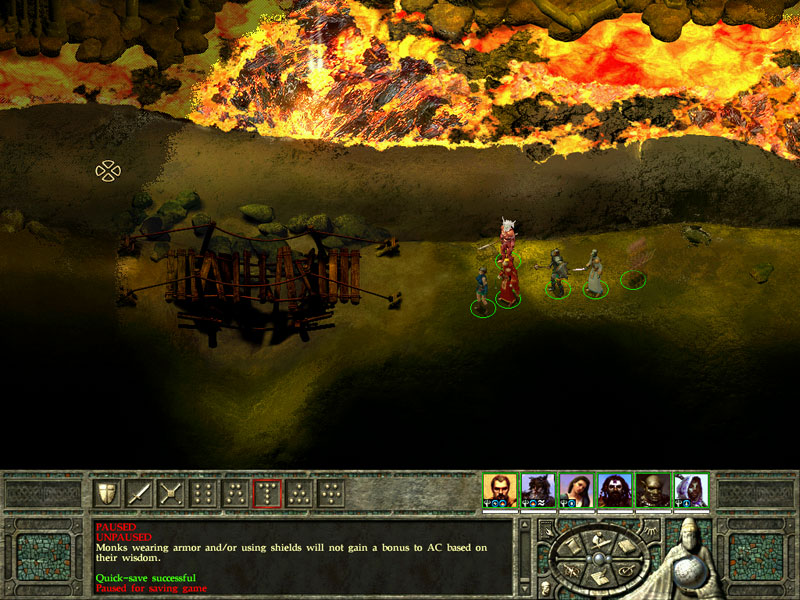 So, um...who picked up the extra rope?

...son of a BITCH. Everyone across. Don't fuggin' care. Go.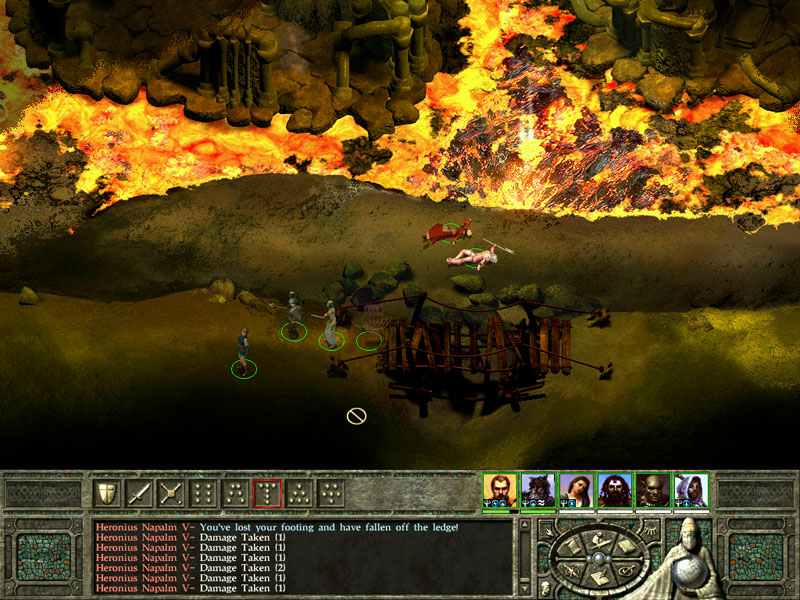 Good heavens. Should we try to--

Acceptable losses! Come on, can't stop now!

Good heavens, that was an embarassing little fall.

Urggzob has been cliffed from much higher than THAT. Was fun. Hee.

Glad you think so. I wonder how you would have liked to land in the lava.

Pssh. Takes more than lava to stop 'ol Urggzob!

Considering the odd, greasy film which covers you, that wouldn't surprise me. Let's catch up with the others.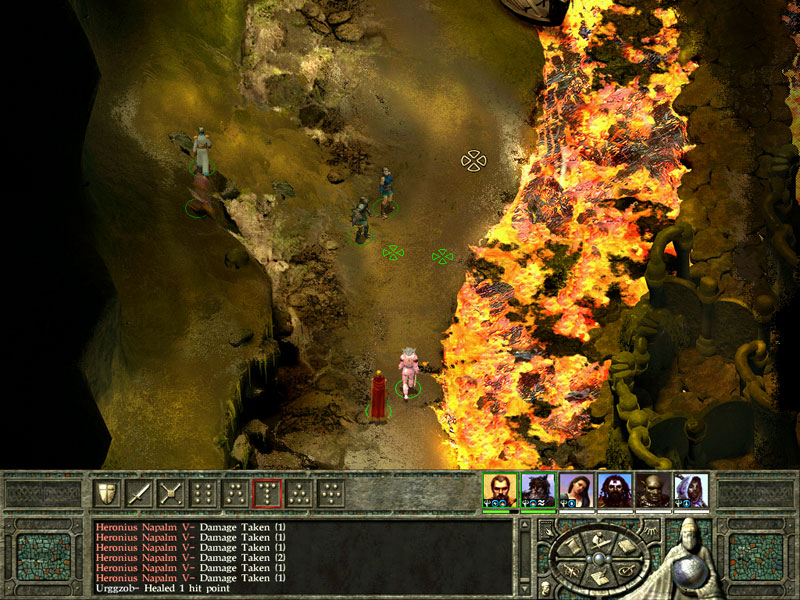 Dammit, not fast enough.

Hello again, you two.

'Ronius! You're back!

Pip, the ledge is head height. You could see me the whole time.

Strange that we can't just...y'know, hop down that. I wonder why.

Please don't start wondering about that sort of thing, Marty. Mr. Napalm, why don't you try to get us passage on that lava boat?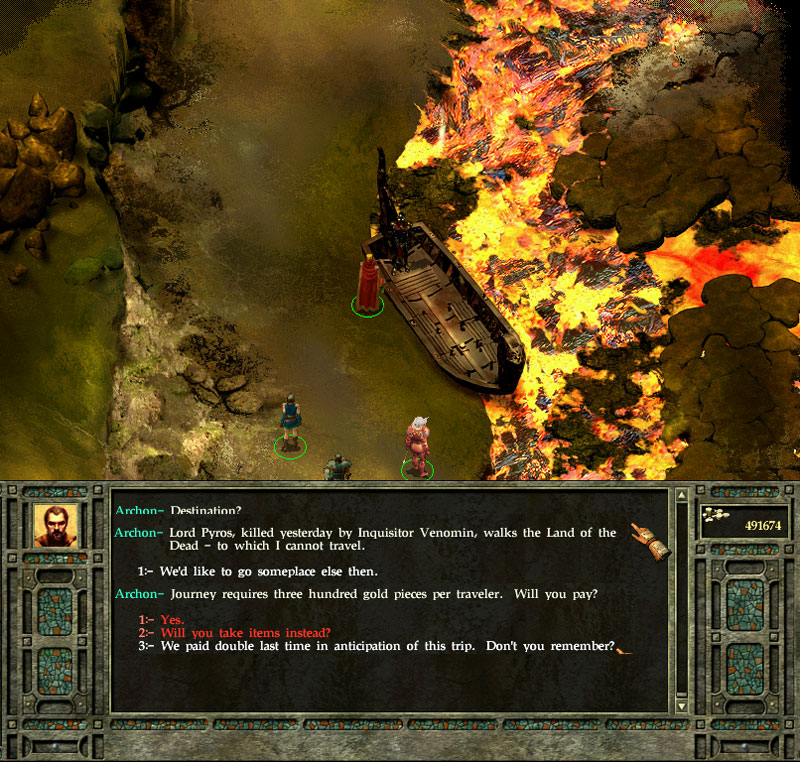 Wait a damn minute.

Hm?

Did you just swindle a skeleton ferryman in a wooden boat on a river of lava out of 1800 gold?

I did, yes. You're welcome, by the way; that would have come out of your share otherwise.

Taking the lava boat is so...
romantic
.

I fail to see the romance in a boat driven by a skeleton, but maybe that's just me.
We take the boat. When we get off, we're greeted by this...frantic fellow.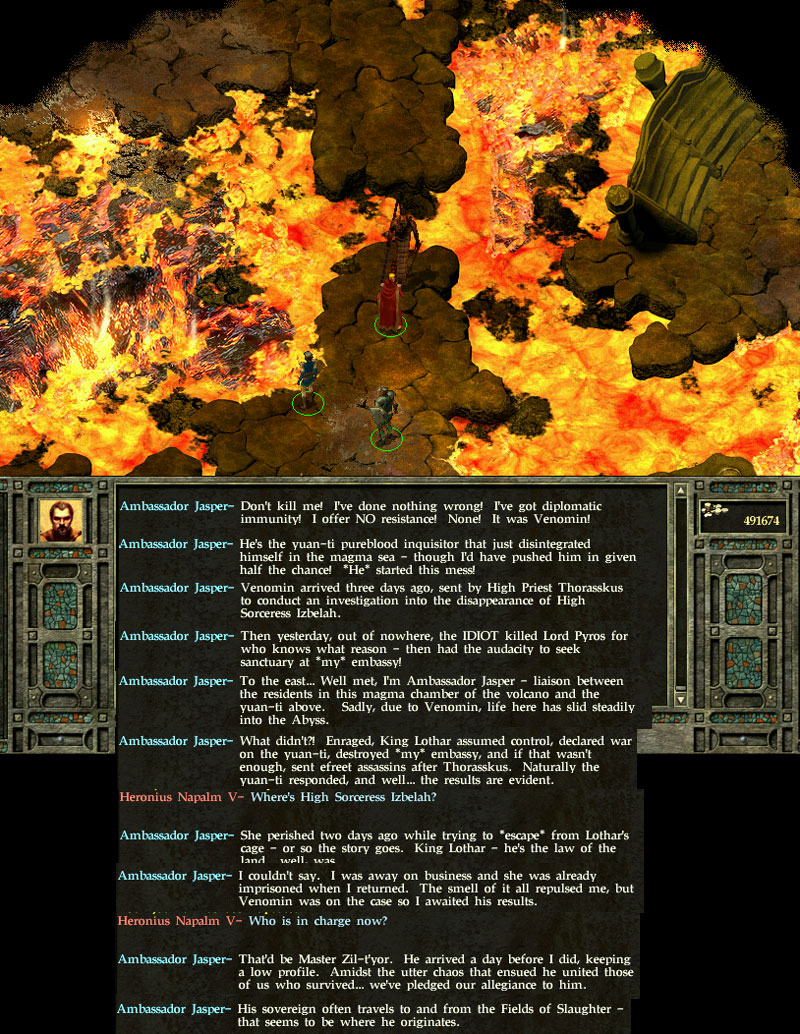 Soooo...everyone is dead?

It certainly seems that way. Well, except for Master Zil-t'yor. Sounds like he's kicking around.

Hah! Maybe Urggzob should crush his feet, so he could not do so much kicking!

Eloquent as always. Let's go give the chap a how-do-you-do before we shove off for the fields of slaughter, yes?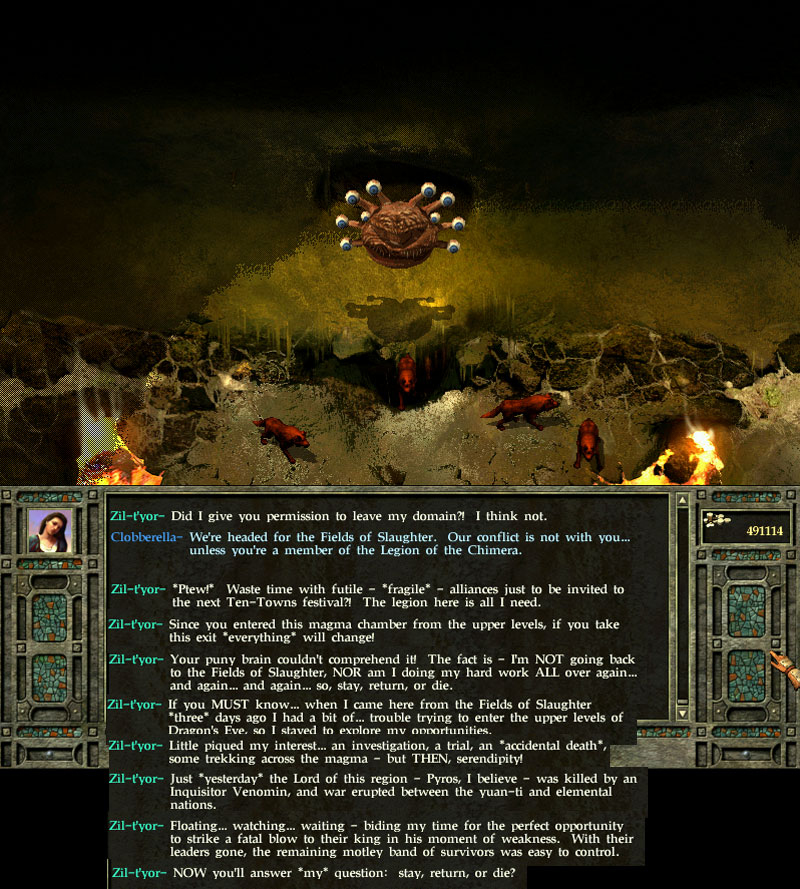 LIES! Floating thing-thing cannot kick ANYTHING!

That was a figure of speech, earlier.

So, um...yeah, a beholder. What do we do about that?

Urggzob would like to be holding his axe inside that thing's eyeballs.

Ugh. Well, let's go about it, then.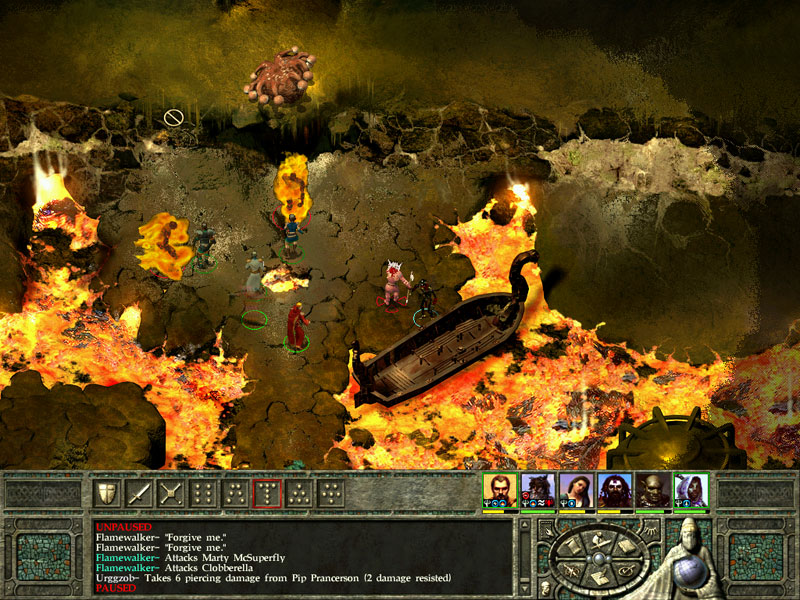 NAPALM!

What? Those guys were on fire before I got here. It's their problem, not mine.

Do not worry, little flammable men. Urggzob will put out your fire.

That was surprisingly ominous, coming from him.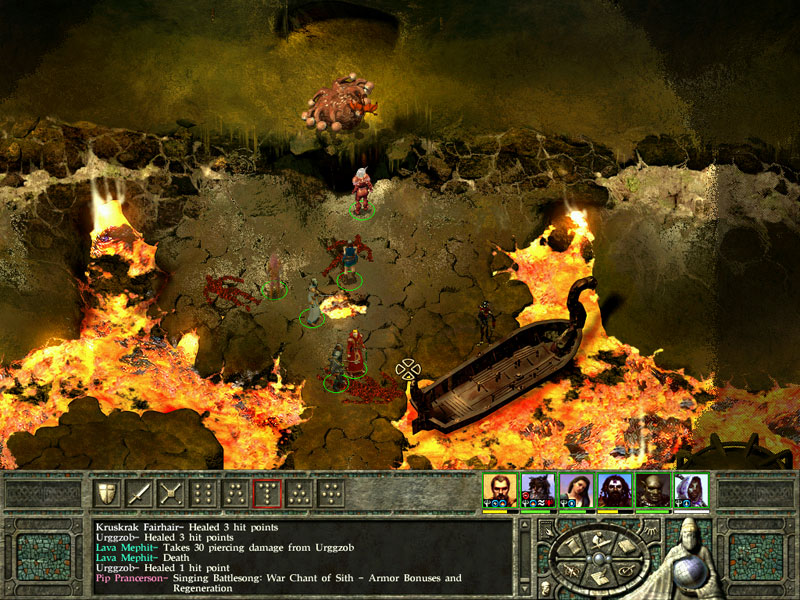 Anyways, shonky bit of business there. Shall we be off?

He said that things would be weird if we went through this lower exit...

He did, and now he's dead. See where that got him.

Impeccable logic, as always.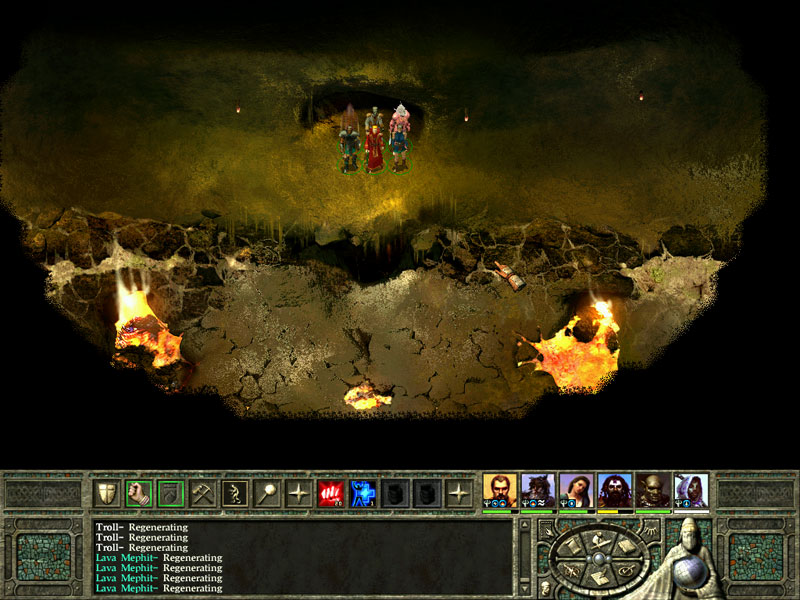 ...bloody HELL.