Part 10: IdeaSpy 2.5: Episode 3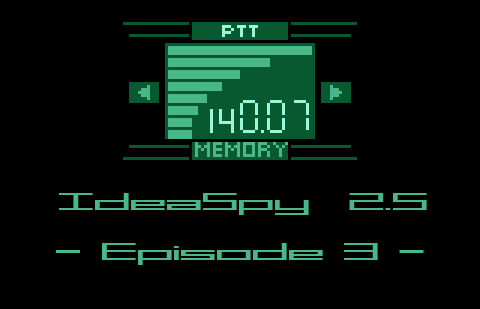 Communicator Entertainment Program "IdeaSpy 2.5 (Two-point-five)" Episode 3! <In the previous episode....> Against all odds, Two-point-five succeeds in infiltrating the junk factory run by J.E., the catalogue of conspiracies. But a shadowy figure of a woman emerges in front of him! Will Two-point-five triumph!?
*****

....Is it the enemy, Two?

I don't know. She's coming this way.
Clop, clop, clop...

Woman:
It's Two-point-five, isn't it?

How....Who're --

Don't you remember? We were at IdeaSpy Academy together. It's me, Call Now.

Call? Jeez, how many years has it been?

Don't you touch me! I haven't forgiven you yet!

You're still mad? About me buying a ton of infomercial products with your credit card?

And sending me the ton of stuff that didn't work out to me house.

Well, I thought you'd be glad to....

Oh, who do you think you're fooling! What kind of an idiot would be glad to have an 'Even-an-Elephant Storage Box?' All it is that it's bigger than an elephant!

Gosh, sounds like you were pretty out of control, Two?

I was young....

I faked being an employee of this factory. I've been waiting all this time for you just so I can get even with you!

So you must know your way around here, Call.

What if I do? You're not getting any help from me.

I love you, Call. Always have.

....What?

Help me out here.

....No way.

Nice and easy, Two, you've almost got her!
Rat-tat-tat-tat-tat!

AAAH!

WOW!

What is it, Two?

Machine gun! We're under attack!

It's the armed guards!
Rat-tat-tat-tat-tat!

Our health isn't going to get any better sticking around. Call, let's call it a truce. Show me the way into the factory, please!

The hell I will!
Rat-tat-tat-tat-tat!

We'll both get killed! Come on!

All right, all right! This way!
Rat-tat-tat-tat-tat!

Okay, 714. We're going in.

Watch yourself, Two. It's even more dangerous inside!
*****
To be continued.