Part 25: Overview
"Will it Cat?" Prowlers and Mew: Ultimeowt Edition Part 1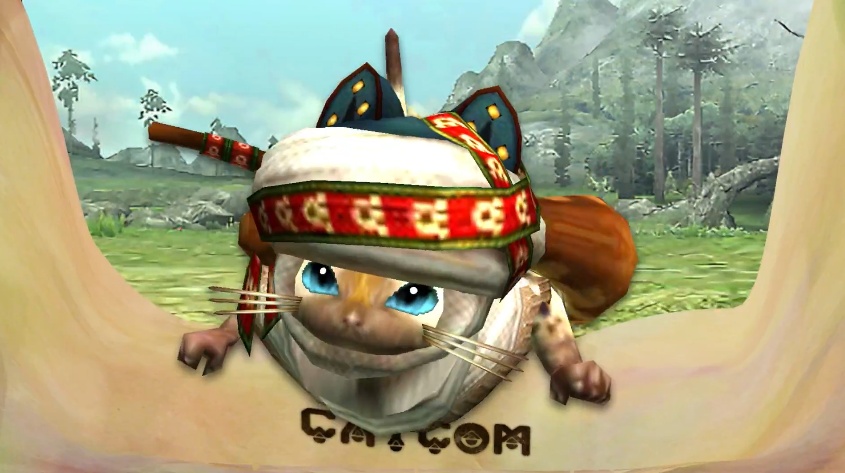 Oh boy, here we go. So, cats got a major overhaul in Generations Ultimate. Basically, all the stuff I went over before in Prowlers and Mew? Yeah, just forget all that. We're starting from scratch! We'll start with a basic overview of the
eight
support biases, and how they've changed in GenU. Let's go!
Quick note, I must give a shoutout to
Gaijinhunter
on the YouTubes. He has by far the most concise and concrete information on all things Prowler. Most of my info is aped directly from his videos. The rest of it I got from the
Prowler Compendium
on Reddit. You would NOT believe how hard it is to find good info on cats...
General Changes
There are some changes that affect all support biases. For starters, the cat level cap is increased from
50
to
99
. This carries with it: more stats, more Support Move slots, and more passive slots! Now, at Level
99
, you will have:
7
Support Move slots,
8
passive Skill slots, and
9
bars of Support Move Gauge (just gauge, or meter, for short).
Secondly, everyone gets faster meter gain across the board. This is somewhat balanced by the fact that cat stats ate a bit of a nerf compared to vanilla Generations.
Here, have some numbers: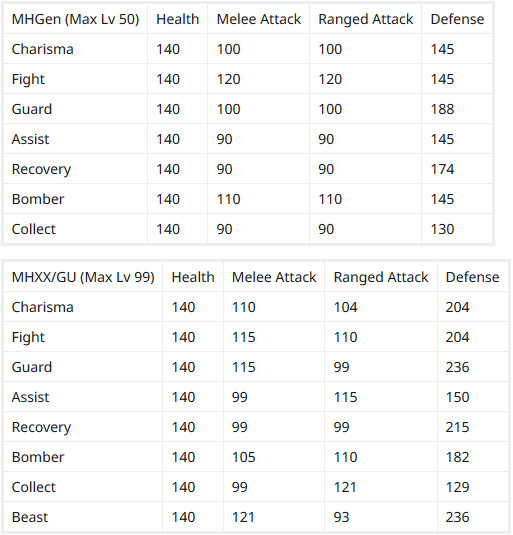 Top numbers are for vanilla Generations; bottom are for GenU. As you can see, your max stats are still (mostly) higher, but not nearly as much as you would expect with nearly doubling the level cap.
This... doesn't affect them as much as you would think. Yeah, they're not as good at speedrunning compared to human hunters, but... kinda oh well? You get such disgusting amounts of gauge, you barely notice the lowered stats. Speaking personally, I'm deep into G-rank and I have yet to even
touch
my actual human hunter yet. No problems whatsoever.
Third, all support biases get an extra teachable move and skill slot, which you can fill at the Dojo. Previously, you only got one wild card slot to fill with a move your current support bias didn't have access to (usually filled with Piercing Boomerangs or Emergency Retreat), and probably a DLC passive skill. Now, you get two extras to play with! This gives cats a lot more flexibility in their skillsets! It's a very good change.
Another new thing, both cats and human hunters can go into "SP Mode." Cats trigger this mode by doing their Support Bias' "Signature Move" i.e. the one in the top slot. For Charisma cats that would be Palico Rally; for Fighting it's Furr-ious, for example. Using any of these moves will put you and the
entire party
into SP mode. While in SP mode, cats gain Support Move gauge at an increased rate. It's handy, and helpful for your human hunting buddies as well!
Last, and absolutely not least, scouting for cats works differently now. Pay attention because this is super, DUPER important! In vanilla Generations, the cat scouts would simply draw randomly from the pool of skills, with different weights depending on Support Bias and scout location. In GenU, this got changed up. In a big way.
Now, active and passive skills are still drawn from a random pool, but they're grouped together in sets. Pitfall Purr-ison and Health Horn are in one set, for example, while Big Boomerangs is in another. When a cat is scouted, it is assigned a random pattern of skillsets, one of seven possible combinations. It's a little hard to explain, so refer to this handy-dandy infographic, which I got from fellow cat enthusiast
Gaijinhunter
: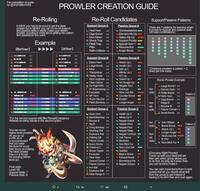 This was translated from Japanese, so some of the names are different, but it's pretty easy to figure out what skill is what. The important bit is in the top right. Those are the possible skillsets a cat can have. Just as an example, pattern 1 is ABBC. That cat could have, say, Pitfall Purr-ison(
A
), Flash Bombay(
B
), Go Fight Win(
B
), and Big Boomerangs(
C
). With me so far?
All right so here's the really important part: there is a new function at the Dojo that lets you re-roll Support Moves and Passive skills. Yes, you read that right
RE-ROLL
. This is HUGE. The one major drawback about cats in Generations was how dependent they were on RNG for their moves and skills. It could take FOREVER to scout a cat that had everything you wanted them to have. And if you were more concerned about how your cat
looked
? TOO BAD, you couldn't scout for appearance and Support Bias at the same time, only one or the other. This meant that getting an optimal cat that also looked nice was nearly impossible.
Not so anymore!
So, how it works is you can re-roll skills within the same group. Take a gander at group A, as an example. You see a cat that has Pilfer. Perhaps you would prefer that cat to have Health Horn, or a trap. You can re-roll that skill to be any other skill in that group. You could
not
re-roll Pilfer to be Big Boomerangs, because they are not in the same group. For the second active skill slot, like Demon Horn/Piercing Boomerangs, re-rolling that slot will always give you the other choice.
The take home message here is that you can simply decide what moves and skills you want your cat to have, and then scout for a cat that has the correct skill set. Then you can re-roll that cat until it has the stuff you want. It's still a bit RNG dependent, but it's SO much easier now, trust me. You can even scout a cat for appearance and wind up with an optimal cat sometime before the heat death of the universe! As usual, if you're super bored and want to make this whole process go faster, grab a pile of Kelbi Horns and do the 1* Village quest "Horns o' Plenty" over and over.
If that sounds tedious (because it is), worry not! Once you hit G-rank, or High Rank Village, you gain access to various Prowler quests that have a high chance to drop a new item: the Felyne Codex. When you use at the Dojo, you can just straight up
choose
what move or skill to re-roll to! The easiest Prowler quest to do solo is Turnabout Takedown (the Ace Attorney crossover), under the G-Rank Event Quests at the Hunter's Pub. All you have to do is beat up two generic raptors. Easy peasy.
Whew. All right, that was a lot. Let's take a gander at the changes specific to each Support Bias, shall we?
New and Improved Support Biases
First of all, there's a brand new Support Bias: the Beast Cat. These are kind of a mix of Dual Blade and Longsword, if you're familiar with human hunters. Speaking of human stuff, some of the Support Biases get an extra thing, taken from the Hunting Styles that humans get. Basically, Styles do funky things to your weapon moveset and let you do different cool stuff. Cats gain access to two of these styles: Aerial and Adept. The rest of the Support Biases also get a special extra thing, which I will discuss as we go along. Excited yet? Let's have a look...
Charisma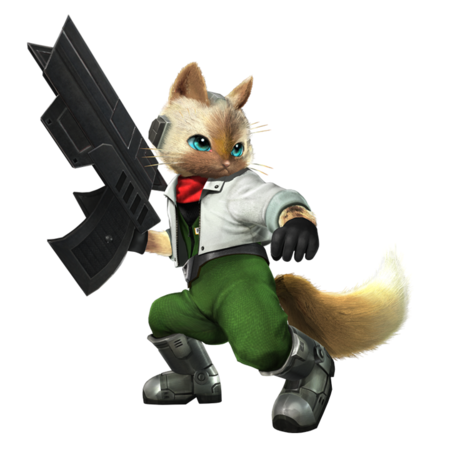 The Charisma Support Bias is the least changed from the original game. They still have balanced stats across the board, and they don't gain gauge faster by doing anything in particular. They do benefit, greatly, from the generally faster meter gain, so they're a lot better than they used to be. They're still Jack of all Trades, Master of None. If you're not sure what kind of quest you'll be tackling, it can't hurt to bring one of these guys along. They'll help with pretty much anything, but they're not a terribly good choice for a main Prowler.
The extra thing they get in GenU is an additional teachable slot. So, Charisma cats can be tutored a total of 3 Support Moves and Passive Skills at the Dojo.
Signature Support Move

Palico Rally
Gauge Cost- 2
Triggers SP mode. Raises Attack and Defense of all Prowlers and Palicoes in the party, and keeps Palicoes from slacking off for a time. On Prowlers, it also lets them perform an Aerial Style vault attack, similar to Fighting cats. However,
unlike
fighting cats, they can only do one mount strike per Vault attack. Still, it's something.
Passive Skills

Slacker Slap
Slots- 1
Unlock Condition- none
Smacking a slacking Palico keeps it from slacking off again for awhile. A Palico with this equipped will automatically scold slackers.

Last Stand
Slots- 3
Unlocks at Level 25
Increases Melee Attack by 40, Ranged Attack by 20, and Defense by 40, but
removes your acorns!
Acorns are damn handy, so it's not really worth giving that up. Plus the slot cost is fairly hefty.
Fighting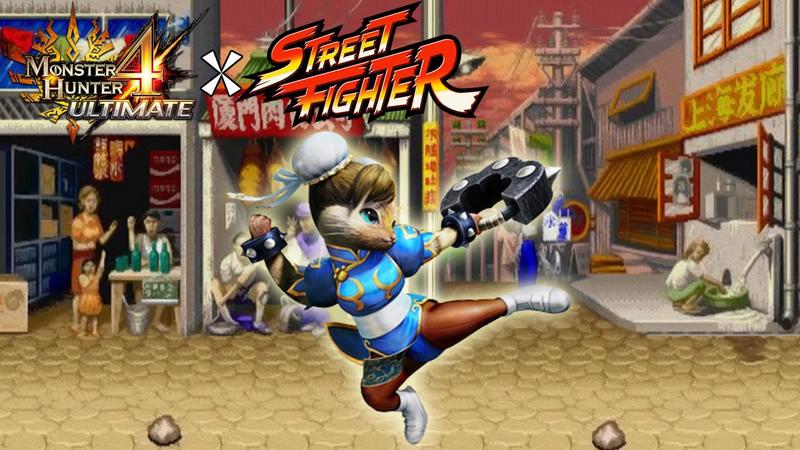 Fighting cats are one of the two melee-focused Support Biases, the other one being Beast. Unlike Beast cats, Fighting cats can also do a decent job with their boomerangs. They do above average damage in both melee and ranged, and they build their gauge fastest with melee attacks.
Fighting cats aren't the best all around cats anymore, like they used to be back in Generations, but they picked up some fun tricks! Specifically, when in Fury mode, their forward dodge changes to an Aerial Style Vault attack. Dodge into a monster (or your friends), and you kickflip into a Screw Attack, which does mounting damage every time it connects. Rodeos for days! It is utterly stupid and bonkers and I love it!
Signature Support Move

Furr-ious
Gauge Cost-
4
Triggers SP Mode and puts you in Felyne Fury mode. Reminder, Felyne Fury confers +30% Affinity, Earplugs, minor wind resist, tremor resist, faster meter gain, faster dodge and movement speed, and the melee rage combo (X+Y). So, this skill used to be garbo, as the gauge cost was too hefty to justify the buffs. Ohhhh boy is it ever not garbo anymore! Firstly, the gauge cost got bumped down from
5
to a much more reasonable
4
. Considering how quickly you get gauge now, you'll trigger this no problem! And don't forget, in addition to the buffs listed above, it also turns you into Aerial Style cat! You can machine gun those mount hits and rodeo monsters into oblivion! It is stupidly,
STUPIDLY
fun!
Second Slot Moves

Demon Horn
Gauge Cost- 2
Unlock Condition- hunt Shogun Ceanataur
Boosts the attack of the entire party for a short time. Piercing Boomerangs is still better, but if your fighting cat has this, it's not big deal. You can easily re-roll it at the Dojo.

Piercing Boomerangs
Gauge Cost- 2
Unlock Condition- hunt Nargacuga
This skill increases the number of hits your boomerangs do and makes them pierce through targets. It stacks with Big Boomerangs. This is generally the second slot skill you want to go for when using a Fighting Prowler. If you wind up with Demon Horn instead, don't worry because re-rolling is trivial. This is one half of the bread and butter for a boomerang cat. If you're building one of those, you want this and Big Boomerangs, minimum. Very important!
Fixed Passives

Attack Up (S)
Slots- 2
Unlock Condition- none
Increases melee and ranged attack by 8. This skill, and Atk Up (L), used to raise your attack by a percentage, rather than a flat number. The percentage was better. They're no longer worth the slot cost. If you want a damage boost (and you do), go with Critical Up (S) or Critical Up (L). Those still raise your Affinity by a percentage and they are stupidly good on cats.

Handicraft
Slots- 4
Unlocks at Level 25
Increases weapon sharpness by one level. Orange sharpness becomes green, green becomes blue, and so on. The slot cost is
so
not worth it. You only get so many passive slots to work with, and there are a lot of essential skills you want. Just equip a sharper weapon to begin with.
Defense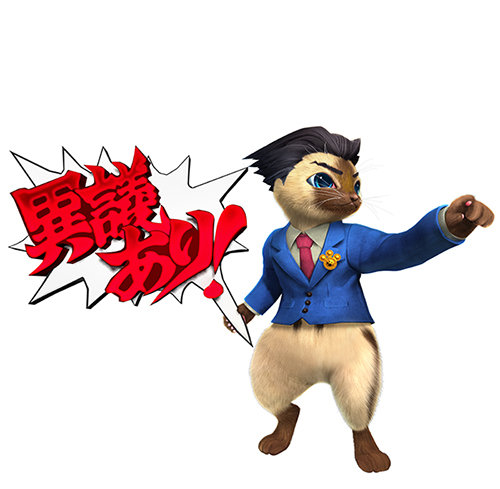 Defense cats got one
hell
of a buff in GenU. You may recall, in my original Prowlers and Mew discussion, I observed that Defense cats look good on paper and I don't know why people don't use them more. Well, boy howdy do I feel vindicated, because defense cats are utterly bonkers now! Firstly, they have the highest defense of any of the Support Biases, as you might figure. They gain gauge quicker when blocking, and strangely very nearly as quickly when hucking bombs. Need to build some meter in a hurry? Try tossing a few Mini Barrel Bombays, or Barrel Bombays. Both cost no gauge. Defense cats are slightly better at melee attacks than ranged, but I still recommend getting them Piercing and Big Boomerangs.
The extra thing Defense cats get in GenU is very, very special. They get access to half of the Adept Style: namely the Adept Block. When they block, they do a little wind up animation. If you get hit while in this wind-up, you Adept Block, which is essentially a parry. You take
no
damage, suffer
no
knockback, and you have the option to riposte. Press the X button after your parry, and you riposte with a Screw Attack. Pressing A instead will riposte with the boomerang/melee combo finisher (the one where you lunge foward with your weapon and boomerang out). Either way, if you're on point with your Adepting, Defense cats are basically immortal. Oh, did I mention you can also Adept Block monster roars? Busted? You bet it is!
Signature Support Move

Taunt
Gauge Cost- 2
As usual, activates SP mode. Taunt also draws monsters' attention towards the user. Not only that, during the entire animation,
you automatically block attacks
. Given its cheap gauge cost, there is no reason not to fire it off any time you have the meter for it, and keep your party in SP mode at all times!
Second Slot Moves

Emergency Retreat
Gauge Cost- 1
Unlock Condition- hunt Cephadrome
A very useful skill with a cheap gauge cost, Emergency Retreat makes you burrow underground, healing as much HP as a Potion, and removing any abnormal status you have. You are invincible during the entire animation, and invulnerable to damage as long as you are undergound. You can even change zones while burrowing, in case you need to heal further or take a breather to recharge your boomerangs or whatever. Be aware, though, that powerful tremors and monster roars can knock you back above ground and stun you for a bit! This used to be an essential skill for any cat you intend to run as a Prowler but, thanks to some other moves getting significant buffs, it's not as necessary anymore. It's still really good, mind!

Armor Horn
Gauge Cost- 2
Unlock Condition- hunt Daimyo Hermitaur
Boosts the party's defense for a short time. If you're running a Defense cat as a Palico buddy, rather than a Prowler, this is the skill you want to go with.
Fixed Passives

Guard (S)
Slots- 1
Unlock Condtion- none
For Prowlers, this skill reduces the knockback, and chip damage, from blocking. If equipped on your Palicoes, it makes them block more often. Considering that Defense cats build gauge faster by blocking, you want this skill equipped at all times- unless of course you're upgrading to Guard (L).

Guard Boost
Slots- 2
Unlocks at Level 20
This skill alllows you to block otherwise unblockable attacks. You should
always
have this skill equipped. It allows you to block all kinds of things that would otherwise just wreck you.
Support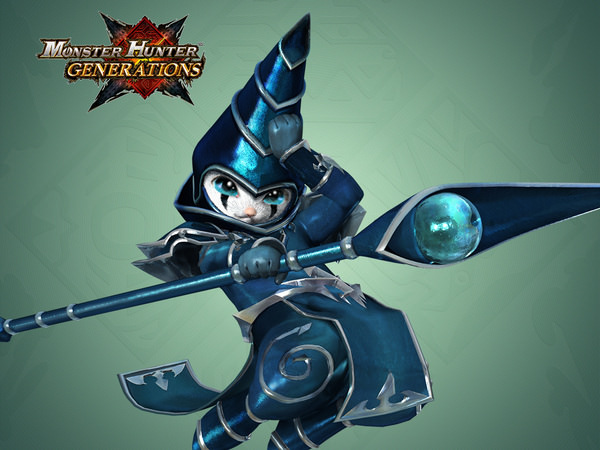 Support cats are still the only Support Bias with easy access to traps, though they are no longer the kings of ranged attacks. Their attack is below average on the melee side of things, but they do get a modest boost to boomerang attacks. This is helpful, because they build gauge at an accelerated rate when they huck 'rangs. They also get gauge surprisingly quickly by gathering, so if you need some meter in a pinch, go hit a few rocks!
The Support cat's new trick is they get a third boomerang in the standard boomerang combo. Usually, you throw two boomerangs before you lunge forward into the melee/boomerang combo finisher. Support cats can do a little wind up and huck a third 'rang before the finisher. The wind up does a bit of melee damage, and the boomerang is significantly more powerful than the other two. Charge up those 'rangs, and try to get off that third one off as much as possible! Naturally, Support cats want both Piercing and Big Boomerangs in a big way. Have one of your Fighting or Gathering cats teach them Piercing, and make sure you scout one that has access to Big. I should also point out that the final hit of the standard boomerang combo, where you lunge forward and hit with both your weapon and boomerang,
also
gets a boost from Piercing/Big Boomerangs. All the more reason to keep it up at all times!
Signature Support Move

Poison Purr-ison
Gauge Cost- 5
Sets a pitfall type trap that poisons monsters. Although this functions like a Pitfall Trap, no monsters are
completely
immune to it. You might have to fulfill a condition before you can snag a monster in it, like Nargacuga only being Pitfall-able when he's enraged, but you can use it on monsters that normally laugh at Pitfall Traps. This move also triggers SP mode, but it's less useful for such things. The gauge cost is hefy and if you're using this thing... chances are the hunt is nearly over.
However
do note that traps have other uses besides capturing monsters. You can also use them to immobilize monsters for awhile, shut down their bullshit, and get some free damage. I don't tend to use traps this way as a human, but I'm warming up to the idea of it on a cat. Prowlers get essentially infinite traps. Monsters
do
build up a tolerance to traps over time, but traps are still stupidly useful for creating opportunities to put in damage. On ANY cat you scout, consider putting a trap on it.
Second Slot Moves

Cheer Horn
Gauge Cost- 3
Unlock Condition- hunt Mizutsune
Fills a little bit of the Hunter Arte Gauge (for humans), and the Support Move Gauge (for cats) for the entire party. Only consider this move if you're sure you'll only be using this particular cat as a Palico, and not as a Prowler. Prowlers want the other variable support move, which is...

Emergency Retreat
Gauge Cost- 1
Unlock Condition- hunt Cephadrome
See Defense cat for the full description. This is still your best self-healing option and the gauge cost is relatively cheap. It's useful in many situations! On any Support Bias that gets it automatically, there's no reason not to have it. Other Support Biases might have better things to put in their extra slots, but always consider Emergency Retreat!
Fixed Passives

Monsterdar
Slots- 2
Unlocks at Level 5
This skill got a major buff from vanilla Generations! It still shows Prowlers more information about a monster on the map, as if they had the Psychic skill equipped- such as which direction it's facing, whether it sees you, or if it's asleep. Previously, this skill would
not
tell Prowlers when a monster was capturable, even though Palicoes had access to this information, and had a chance to call it out to you during battle. Now it does! The monster's icon on the map will flash when it's weak enough for capture. When equipped on your Palico buddies, they will have a chance to impart all this information to you. This skill is essential for capture quests!

Pro Trapper
Slots- 3
Unlocks at Level 10
Speeds up trap-setting and lowers the gauge cost of all traps by one. Equip this as well if you're doing a capture quest!
Healing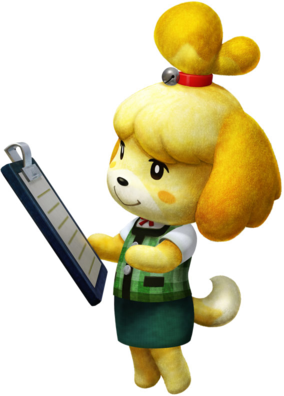 Oh boy... the heal cat. Where do I even start with this thing? Well, first of all, they do what you think they do. They keep your ass healed, so you can keep kicking ass! Not only are they top-tier Palico buddies to bring with you on hunts... you now should
strongly
consider rolling with one as your Prowler. Yes, heal cat Prowler. No, I'm not crazy. Bear with me here. Heal cats still have slightly below average attack in both melee and ranged, and above average defense, but they got some very interesting changes in how they build meter. Heal cats build gauge the fastest while gathering... and they get an absolutely disgusting amount of passive meter gain while in combat, and even faster when out of it! Basically, even if you're just running around waiting for an opening, you get
ridiculous
amounts of gauge. Taken with the variety of healing moves available to them, and their above average defense, heal cats can stay in the game pretty much forever, and keep their friends in tip top shape too! Heal cats are an
excellent
Prowler to run in multiplayer hunts.
Healing cats are so special, they actually get
two
nifty new tricks! First, they get the same third boomerang that Support cats get. Like them, the third boomerang is more powerful, and has a bit of a wind up associated with it. My recommendation? Charge those Piercing/Big Boomerangs and get RIGHT up in the monster's grill! But that's not all! When using
any
horn type support move (i.e. True Health Horn, Armor Horn and so on), if you stand still after the initial effect, you can do an extra toot on top of it. This extra toot has the same effect as an Herb Horn, so you can do a little extra healing any time you toot your horn! If you don't want to do the extra toot, just dodge out of it.
Signature Support Move

True Health Horn
Gauge Cost- 3
Mega Potion heal for the entire party, and of course activates SP mode. True Health Horn was already amazing, but GenU decreased the number of toots it does before it heals, so you can fire it off even faster!
Second Slot Moves

Armor Horn
Gauge Cost- 2
Unlock Condition- hunt Daimyo Hermitaur
Boosts the defense of the entire party for a short time. Remember, if you stand still after blowing it, you'll also restore a bit of HP!

Cheer Horn
Gauge Cost- 3
Unlock Condition- Hunt Mizutsune
Fills a bit of the Hunter Arte (for humans) or Support Move Gauge (for cats) for the entire party. Don't forget you can
also
restore a bit of health with this if you stand still after tooting! I tend to prefer Armor Horn on my Healing cats, but either option is fine.
Fixed Passives

Defense Up (S)
Slots- 1
Unlocks at Level 5
Increases defense by 10. The defense and attack boosting skills used to raise your stats by a percentage. Now it's just a flat boost. Not worth the slot cost any more! Avoid.

Horn Virtuoso
Slots- 3
Unlocks at Level 25
This is The Skill Formerly Known as Health Harmonics. It got a bit tweaked. Now it speeds up horn type support moves (so you can fire them off
even faster
) and MAY increase maximum health when using Health Horn and True Health Horn. This is actually a great change! The max health increase wasn't that great when you can get that from your pre-hunt meal anyway. On the other hand, firing off horn moves faster is super helpful. Definitely equip this!
Bombing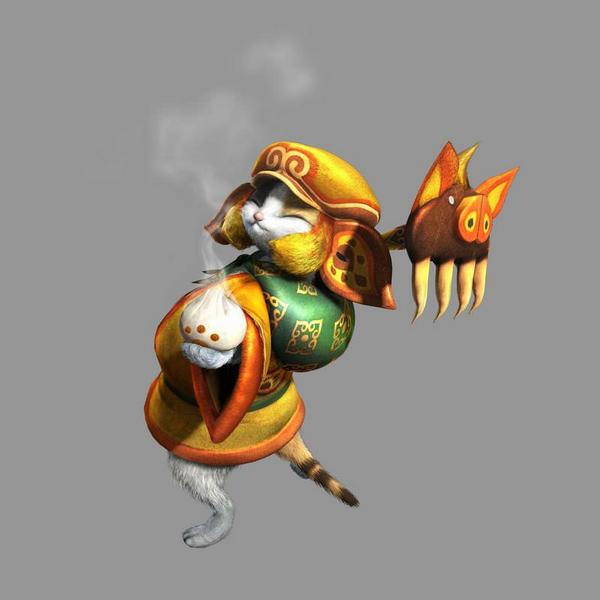 You like explosions? Good, because Bombing cats are
even better
than they were before! They still specialize in BLOWING SHIT UP, but now they do slightly below average damage in melee and above average with ranged. So, Bomb cats now make good boomerang cats! They also get a damage boost from all bomb-type moves, and they get meter the fastest from them too! Just be careful, because Bombing cats can also catch their allies in the blast. Be mindful of this if you're running a Bombing Prowler in multiplayer. Which you will want to heavily consider doing because...
Bombing cats get, as their special extra thing, the other half of the Adept Style: the Adept Dodge. Basically, dodge
into
a monster's attack at the last second, and you trigger the Adept. Not only do you ignore
all
damage from the attack, you also go into a roll, allowing you to get out of danger, and/or reposition yourself to continue beating on the monster. Oh, did I mention you also
DROP A BARREL BOMB BEHIND YOU
when Adept triggers?! Because you do! Like Adept Block, you can also Adept Dodge monster roars. Busted? Oh yes. Fun as hell? OH YEAH BABY!
Signature Support Move

Mega Barrel Bombay
Gauge Cost- 3
Welcome to Barrel Bomb L+ Town. Population: YOUR FACE! You can either throw the bomb in front of you, or dodge to drop it behind you. Either way, it does BIG DAMAGE, and as usual, this move also triggers SP mode. Your Bombing Palicoes can only use this when in Felyne Fury mode.
Second Slot Moves

Camouflage
Gauge Cost- 1
Unlock Condition- hunt Blangonga
Hide in a barrel, which drops your aggro and lets you get back up quicker if you're knocked down. It's... a skill, all right. Frankly, it's not that great, and its icon looks too similar to Barrel Bombay! I've accidentally triggered it while hunting with my friends. They didn't appreciate that the monster started ignoring me and going after them instead...

Demon Horn
Gauge Cost- 2
Unlock Condition- hunt Shogun Ceanataur
This is your better bet for the second slot skill. Fighting cats can also get this skill, but they generally want Piercing Boomerangs instead. Anyway, an attack buff to the entire party seems like it'd be more useful than Camouflage...
Fixed Passives

Heat/Bomb Res
Slots- 1
Reduces damage from bombs and negates heat and lava damage. Considering your bombs can also damage
you
, maybe equip this...

Bombay Boost
Slots- 3
Unlocks at Level 20
Increases damage of all bombing Support Moves, and boosts Blast damage. Blast causes the victim to explode after a time, dealing
massive
damage. Status attacks, and Blast in particular, are stupidly powerful on Prowlers, because of how rapid their attacks are. And just a quick note, there's a new passive skill called Extra Bomb Blasts, which makes
all
your bombs also apply Blast. Mm hmm. Equip a weapon that applies the Blast status and GO TO TOWN!
Gathering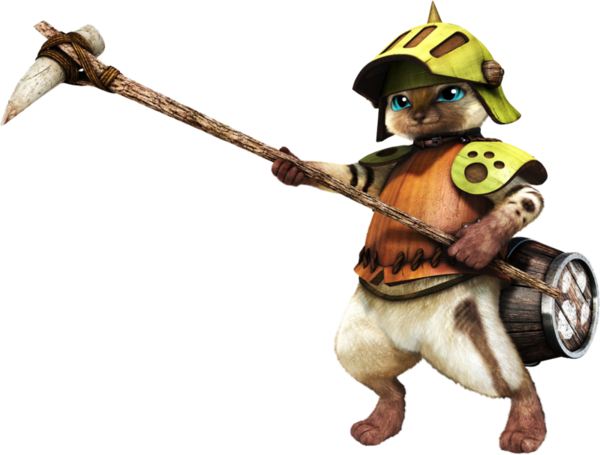 Gathering cats are another Support Bias that got one HELL of a buff in GenU! They used to not be particularly good at combat. Well... now they are. Boy howdy are they ever! In exchange for a slight drop in melee damage, Gathering cats get a
massive
bonus to ranged attacks, the highest of ANY of the Support Biases! Gathering cats are now the undisputed kings of the Piercing Big Boomerangs! They gain gauge at a slightly faster rate when flinging boomerangs, even faster when gathering, and if that wasn't enough
they get passive gauge gain whenever they're in combat
, as much as the Healing cats get! Holy. MOLY!
The extra trick Gathering cats picked up is... you might have guessed it: the third boomerang! Charge up those Piercing/Big Boomerangs and fling those 'rangs at monster's faces all day long! Remember that the final hit in the boomerang combo is
also
boosted by Piercing and Big 'rangs.
Signature Support Move

Plunderang
Gauge Cost- 4
Flings a boomerang that steals items on contact. The shiny it drops can be picked up by everyone in the party, netting them extra loot after the hunt! Naturally, it also sends the whole party into SP mode, like usual. Note that you can also combine this move with Pilfer to net
even more
loot for the entire party! Gathering cats are now top-tier Prowlers to use in multiplayer!
Second Slot Skills

Piercing Boomerangs
Gauge Cost- 2
Unlock Condition- hunt Nargacuga
What's that? You don't even have to burn an extra slot to get Gathering cats Piercing Big Boomerangs? YUP! Make sure your Gathering cats roll with this. If you scout one that doesn't have it, don't worry because re-rolling is trivial.

Camouflage
Gauge Cost- 1
Unlock Condition- hunt Blangonga
It isn't Piercing Boomerangs. Re-roll!
Fixed Passives

Gathering Pro
Slots- 1
Unlocks at Level 5
This nets Prowlers more stuff from gathering points and makes Palicoes focus on gathering. Equip this, and bring Gathering Palicoes with you, if you have an annoying gathering quest to do!

Pilfer Boost
Slots- 3
Unlocks at Level 15
Boosts the power of Plunderang and Pilfer, and lowers their gauge consumption. It's worth considering on multiplayer hunts, as you'll trigger SP mode easier with it, and net everyone extra loot. Think carefully about it, though, because the slot cost is rather hefty!
Beast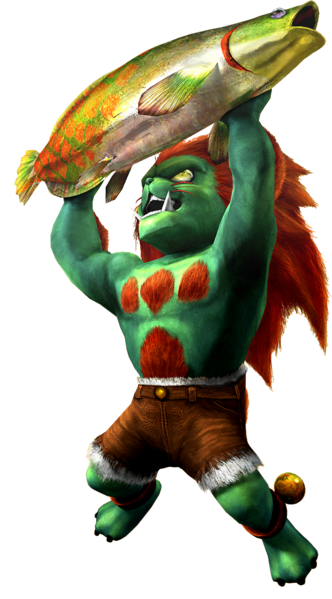 And last but not least, the brand new, never before seen Support Bias: the Beast cat! I
love
the Beast cat! They are ridiculously fun to use! Beast cats specialize in melee combat. They have
the
highest melee attack of any of the Support Biases, much higher even than the fighting cat AND they tie Defense cats for the highest defense! In exchange, they have the lowest ranged attack in the game... and they also don't give a single shit about it. As you might figure, they build meter the fastest with melee attacks, which is ALL they do.
Beast cats are the most different from any of the other Support Biases. Even with the new tricks they get, all the rest of the cats use pretty much the same moveset. Not so with Beasts! When you trigger their Signature Support Move, Release the Beast, Beast cats go into literal BEAST MODE! In this state, their moveset is completely different, and they can't even throw boomerangs anymore. They can't block, either. Instead they get a backward summersault, which you can perform up to 3 times. It's a really good evasive technique! Mechanic-wise, Beast cats behave a bit like a mix of Dual Blade and Longsword. Their attacks are
extremely
rapid, like Dual Blades, and they get different "levels" of Beast Mode when they finish a combo, kind of like Longsword. I'll explain more in-depth below, but suffice it to say, they are absolutely nuts! RIP AND TEAR!
Signature Support Move

Release the Beast
Gauge Cost- 2
Enter literal Beast Mode! While in Beast Mode, your moveset completely changes, and your weapon changes to claw gloves. You still enjoy the effects of your equipped weapon, so don't worry! When you finish your melee combo string, as long as you hit a monster at least once, you "level up" your Beast mode. You can do this a total of 3 times, gaining buffs as you go along. Protip: hit A, X, X to get to the combo finisher quicker! By default, as long as you're in Beast Mode, all of your attacks get the Mind's Eye effect, meaning they will no longer bounce off any part of a monster regardless of weapon sharpness level. This is important because you don't want your combo interrupted! At Level 1 Beast Mode, you get minor wind resist, knockback reduction, and Earplugs. Similar effects to Felyne Fury Mode. At Level 2, you get a 15% boost to your Affinity. Finally, Level 3 sends you into SP mode. Also at Level 3, when you finish your melee combo string, you go flying through the air. Any attacks you land do
mounting damage
. It's hard to control, so I recommend only doing this on larger monsters.
When in Beast Mode, the Signature Support Move slot changes to
Cage the Beast
, which costs no gauge and takes you back out of Beast mode. You keep any buffs you accumulated, but why would you not want to RIP AND TEAR?
Second Slot Skill

Rousing Roar
Gauge Cost- 1
Unlock Condition- hunt
Tigrex
Rousing Roar confers stun resist to you and the entire party. By default. You may have noticed I only said the 3rd level of Beast Mode sends
you
into SP mode, not the rest of the party. This is why. When you use Rousing Roar,
any
buffs you've accumlated are also passed to the entire party. Read the list of buffs you get from Beast Mode again. You can give ALL of those, including SP mode, to
everyone
with this move! Hoooooly shit yes!
That's the only second slot skill Beast cats get, and can you blame them?!
Fixed Passives

Recovery Speed Up
Slots- 2
Unlock condition- none
Increases recovery rate of the red portion of your HP gauge. It's... kind of weird? It might be worth it if you combine it with previously hot garbo Support Move, Vase of Vitality, which also increases red HP regen rate and, as of GenU, automatically cures abnormal statuses.

Critical Boost
Slots- 4
Unlocks at Level 25
Increases critical hit damage. Normally, I'd be all over such a thing, because crits are what Prowler excel at,
especially
Beasts, but HOOOOOLY SHIT that slot cost. That is hefty, way too hefty to be worth it! That doesn't leave much room for essential skills like Critical Up (S)/(L), Earplugs, etc. Personally, I would avoid.
And that's it for now! That was a lot of Words, but we had a lot of ground to cover. Next time, I'll go more in-depth about cat moves and skills, especially focusing on ones that were changed, or that are brand new to GenU, and also suggest builds for your Prowlers. Until next time, happy catting!