Part 9: The History of Subaru; About the Subaru Impreza WRX STi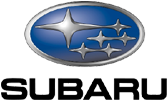 The History of Subaru
Subaru
is the automobile manufacturing division of Japanese transportation conglomerate
Fuji Heavy Industries
. Subaru is known for their use of the boxer engine layout (similar to those in cars like the Volkswagen Beetle and Porsche 911) in most of their vehicles above 1500 cc as well as their use of the all wheel drive drive-train layout. Fuji Heavy Industries, the parent company of Subaru, is currently in a partial partnership with Toyota Motor Corporation, which owns 16.5% of FHI.
Originally not having an automobile division and not called Fuji Heavy Industries, FHI made World War II aircraft. After the war they were broken up into 12 smaller corporations due to anti-zaibatsu legislation, but four of those coporations and a fifth new one decided to join up in 1953-1955 to form the FHI known today. Soon after, the corporation began to manufacture cars thanks to their CEO's wishes, and numerous Subaru brands have been created over 60 years of operation.
Nissan acquired a 20% stake of FHI in 1968, and today Subaru still uses parts from Nissan. People have speculated that it was Subaru that introduced Renault to Nissan when the French company asked for assistance in all-wheel drive technology. Later on, General Motors also got some FHI stakes, and a "badge engineered" Impreza was sold during that short time as the Saab 9-2X. Toyota purchased shares from General Motors and replaced the American company. Subaru has had quite a lot of success in rally racing and motorsports, being especially prominent in the 1990s. Unfortunately, given the current global economic crisis and other problems, Subaru announced in 2008 it would no longer be competing in the World Rally Championships.
About the Subaru Impreza WRX STi
The
Subaru Impreza WRX STi
, as noted by the "STi" suffix, is an even more performance-oriented version of the WRX class of Imprezas, which are already well-known for their performance. Unlike normal Imprezas, WRXs have turbochargers. Imprezas have four generations so far, and the second generation of Imprezas is represented in-game.
As noted before, Subaru Imprezas were exported to the US in 2003. Their huge success with the gray market led Mitsubishi to export the Lancer Evolution. The two cars and their respective companies are major rivals.
An interesting thing to note is that the Impreza WRX chassis had great success in rallying. The Subaru World Rally Team originally used the
Subaru Legacy
, but demands for a lighter, sleeker chassis led Subaru to change it up with the Impreza. The late Colin McRae used a Legacy and an Impreza while he raced for Subaru, and Imprezas have had a relatively high success rate in championships. Unfortunately, in later years Subaru's cars kept getting problems, until Subaru announced it would not participate in rallying anymore.
Triple A Says...
This car is pretty damn great. While it's not as quick out of the factory as the Lan Evo, it still provides a VERY competent turbocharged Flat-4 and one of the best AWD systems ever developed that give it remarkable flexibility and speed in a reasonably priced and practical package. Much like the Lan Evo, it also gets stolen a lot and is usually driven by idiots who think they are
Ken Block
. In their hands, these things usually end up getting them into the nearest intensive care unit due to driving while idiot.
Those who don't think they are Ken Block have done quite a lot to enhance the reputation of this car, as seen from these videos that are assembled from
World
Rally
Championship
coverage. It's even more popular as a car for privateers and other not-so-professional drivers due to both responsive to modifications and being pretty easy to drive. Pretty much like the Lancer, it is also quite popular in pretty much every form of racing as long as they allow AWD.