Part 117: Episode CXII: To Remember
Episode CXII: To Remember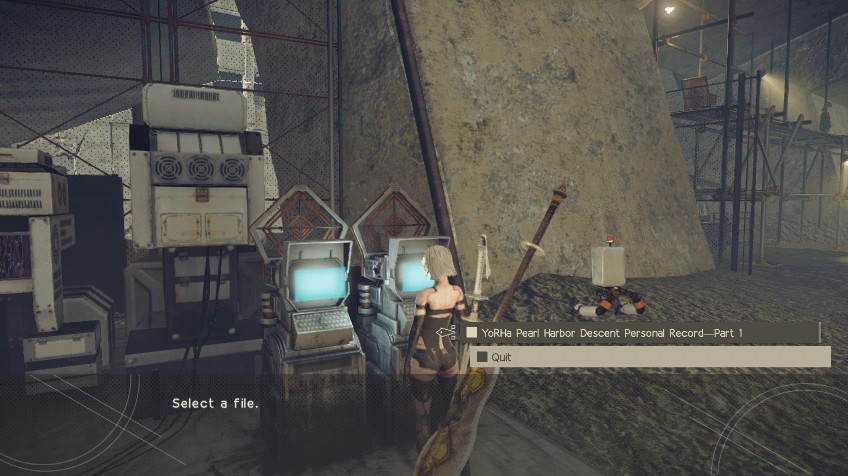 So this entirely optional and apparently kinda easy to miss. Shame on you for not speaking to every NPC until they repeat dialogue. What are you doing with your lives? Anyway, the YoRHa Pearl Harbor Descent Personal Record is a retelling of the events of the YoRHa Stage Play from Anemone's perspective. It's really weird they made this optional considering this
is
all of A2's backstory that is given in-game.
I hope you're ready for some reading because this is all a big ol' novella text dump with music!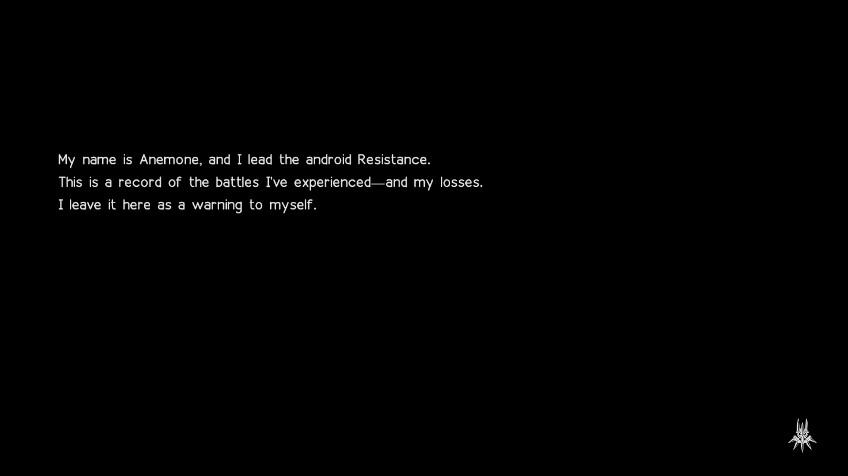 Music: Song of the Ancients ~ Atonement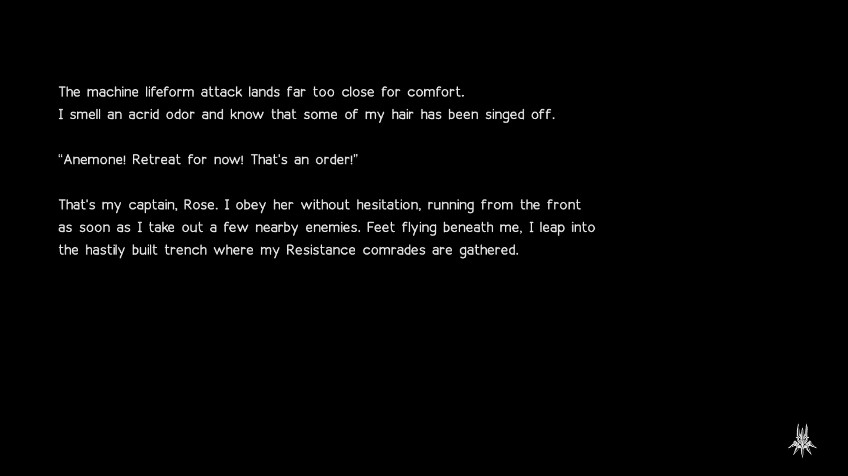 How many battles is it now?

The same sights and sounds. The same struggle of attrition.
My Resistance forces play the same war on repeat with no end in sight.
I don't even remember why we're fighting anymore, but I must continue regardless.
I must continue until one side or the other is dead.

"This looks bad, Shion. What should we do?"
"Calm down, Lilly. We'll find an opening somewhere."
"You don't search for an opening! You make one!"
"Dahlia, wait!"

I grab Dahlia's arm before she can flee the trench and turn to Rose. She brought us here, after all—she must have a plan of some kind. But as the enemy horde closes in, Rose simply squints off in the distance.

"There's been a change in enemy moments," she says finally.
"Someone just started fighting over there."
"But that's not possible," stammers Margaret. "We're... all here."

Margaret's right. There are only nine of us left capable of fighting the machines: Captain Rose. Gerbera. Lilly. Sonia. Erica. Margaret. Shion. Dahlia... And me. Anemone. We're all that's left of the eight descent forces.

The one that took place roughly 200 years ago.

An uneasy Sonia pulls Shion close and chews on a loose strand of hair.
"I don't like it," she says. "What if it's some kind of machine trap?"

I wait for a while, heart pounding, until I hear the enemy fire lessen.
"Okay," I say, "this looks like our chance. Let's pull back."
"Someone's fighting out there, Anemone!" cries Dahlia. "We can't abandon them!"
"Oh, so you want to risk all of our lives for some stranger? Come on! We don't even know if this mystery fighter is on our side or not."
"That's not what I said!"
"Enough, you two," barks Shion. "The captain makes the final decision on this."

After Shion speaks, all of us turn to Captain Rose. She looks us in the eyes and nods slowly before starting to speak.

"Gerbera? The enemy is heading towards the explosives we set up earlier, yes?"
Gerbera thinks for a moment. "Now that you mention it, yeah. They are."

A slight smile crosses Rose's face, yet she still seems perfectly composed.
"Good. Then if this goes well, we might be able to take them all out."
"I want all of you to leave this trench and get to those explosives," says Rose.
"We'll let the blast take out most of them, then clean up the stragglers.
Identifying our unknown mystery fighters can wait until we're done."

No one objects to the captain's decision. The moment she issues the order, we all leap from the trench as one and reenter the fray. When we reach the battle, we find what appears to be another set of androids dressed in strange black outfits. Before they even know what's happening, we detonate the explosives, kill the remaining machines, and turn our guns in their direction.


Music: The Sound of the End (Instrumental Quiet)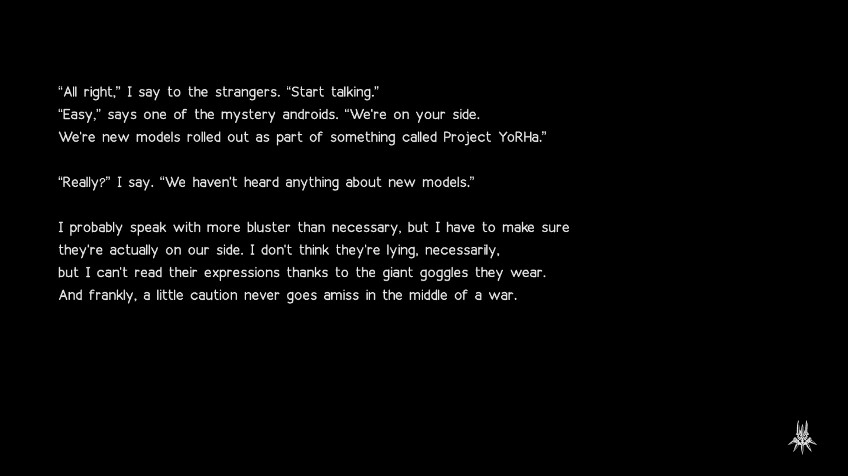 We learn that the four androids refer to each other as Number 2, Number 4, Number 16, and Number 21. They also aren't in a hurry to share much more.

"Our mission is top secret," one of them says." That's why you haven't heard about us yet."
I slowly draw my knife in an attempt to gauge their reaction. "So in other words, no one will know any better if I kill you right now?"
"Stand down, Anemone," says Rose softly."
"No!" cries Lilly. "She's right! We've all seen how quickly the enemy is evolving. Who's to say these four aren't machines that just look human?"
My companions nod in agreement. This damn war has made us all suspicious.

One of the strangers—Number 16, I believe—draws a long knife from its sheath.
"If it's a fight you want," she says, "I'm happy to give it to you."

Before I can respond, Dahlia leaps in front of me with her weapon at the ready. This is it. We're going to fight. But just before the battle can erupt, the android called Number 2 steps forward.

"Wait," she says.
"There used to be sixteen of us," says Number 2, "but the others died during the descent. We're isolated and alone out here. Reinforcements aren't coming. And that means we have to finish this mission with the soldiers we have left. We don't need more enemies right now. What we need... is allies."

She finishes this speech with a soft sigh, as if trying and failing to hold her emotions in check.

I know that sort of voice.

Music: ENDS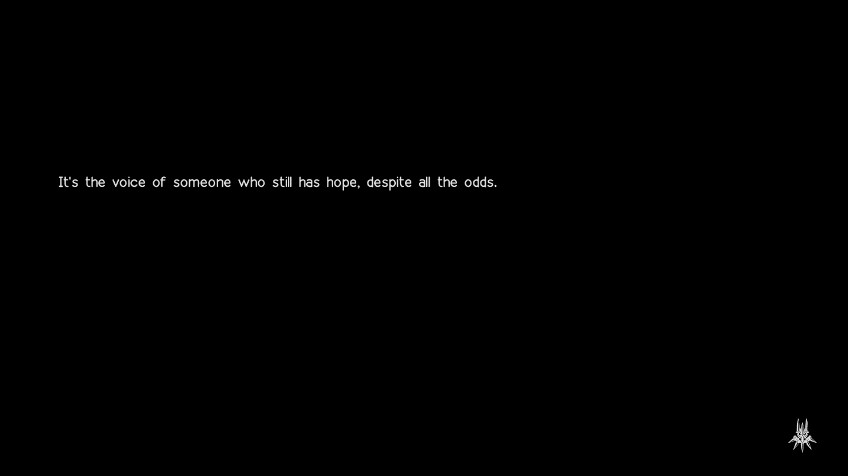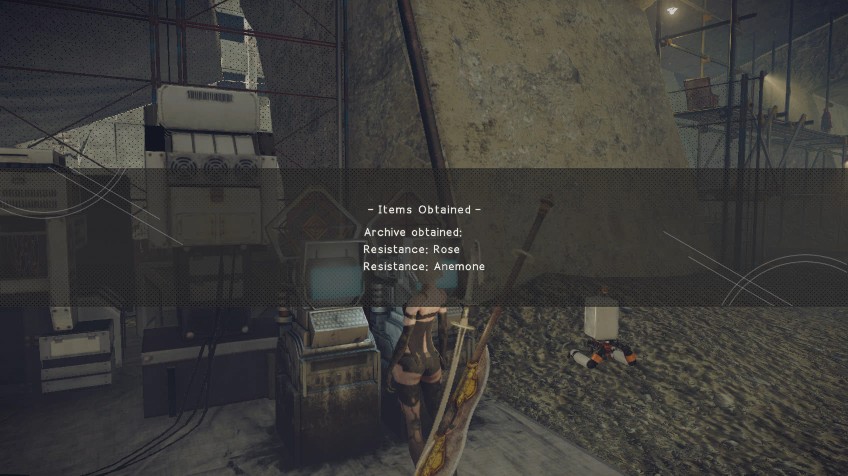 For completing the first reading session on Anemone's terminal, we receive a couple of new archive entries. Let's take a look.
Anemone went on to steal Rose's overarm cape look. Young Anemone wore an oversized army jacket, shorts and bright yellow leggings and looked like a dingus that fell out of the '80s. So at least something came out of her experiences.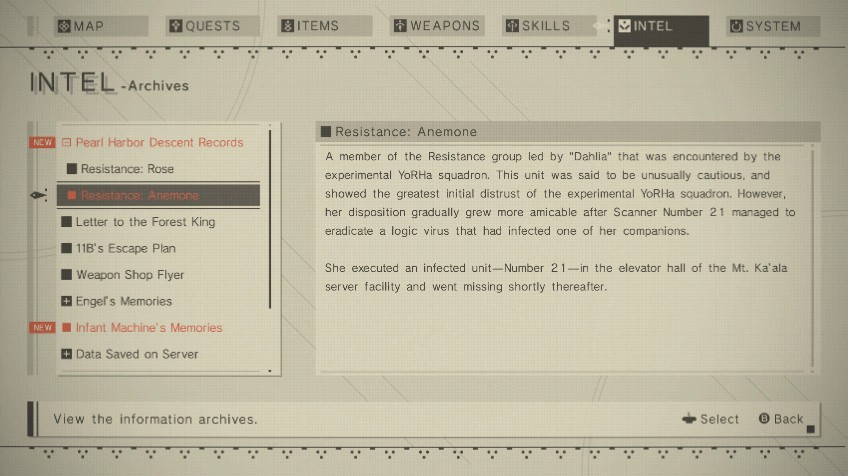 Since this story is from Anemone's perspective, it ends just prior to the climax of the play in the Mt. Ka'ala Server Room. Which is why she's around today to appear in NieR: Automata because in traditional Yoko Taro fashion they killed off EVERYONE (besides A2 of course) at the end of that thing.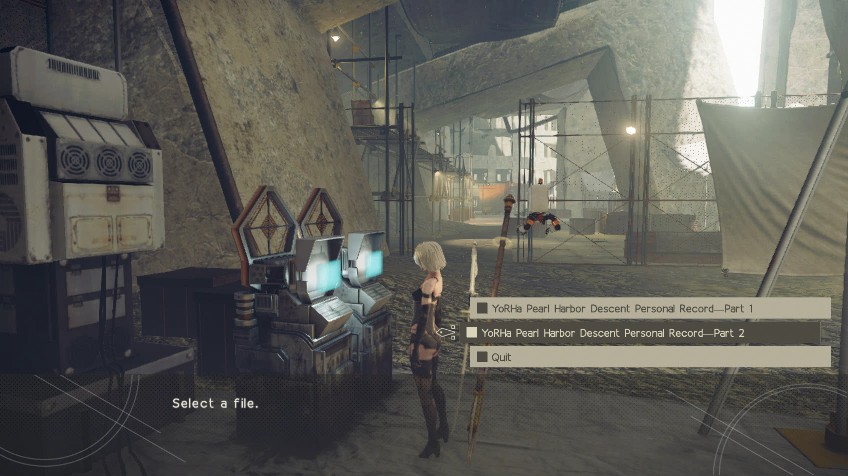 But that's for later. We're not done yet with Anemone's tale. Part 2 of the record is unlocked as soon as we finish reading the first part. So let's continue onward...



Music: Peaceful Sleep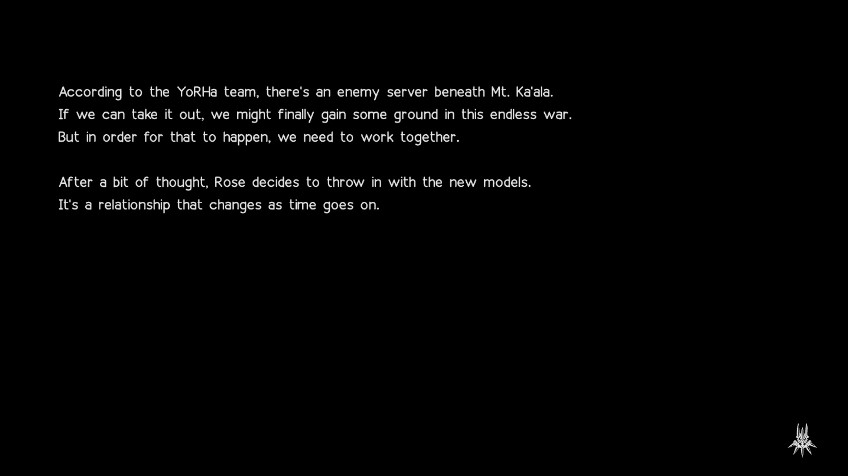 "Er, what are you doing, Dahlia?"
"Just... showing this idiot... how weak she is!" replies a winded Dahlia.
"Ha!" wheezes her opponent, Number 16. "You're obviously... outmatched!"

The two of them are taking turns hitting each other. It seems friendly enough... as those things go. Plus, they'd been doing it for so long now that both of them are out of energy. They likely couldn't punch through a piece of paper at this point. The rest of the group stares at the combatants and tries not to grin. Dahlia and Number 16 seem to butt heads over the smallest little things. Maybe it's because they're so much alike. It's almost annoying how quickly muscleheads learn to like one another. The rest of us converse as Dahlia and 16 continue to spar.

"We call each other by names I gave us," explains Rose.
"I see," responds Number 4. "I thought it strange that you didn't use code numbers."

She nods while she speaks, as though this all makes perfect sense.

Suddenly Captain Rose breaks into a wide grin.
"You know what?" she says. "I think we should give all of you names as well!"
"No," says Number 2. "It would be a waste."
Rose eyes her warily. "Er, a waste?"
"You can name me when the mission is over," she replies as a blush rises in her cheeks. I could tell her words served as a wish for success.
"All right," responds Rose. "I'll think of a name for you by then."

She knows this is a fleeting promise, as most such things are. But it doesn't matter—already I can see us growing closer to the YoRHa team. Well, my friends are growing closer to them, at least.

"You're all being careless," I state, much louder than I intended. Luckily, the others either don't hear or decide to ignore it.

Don't get me wrong—I'm not about to go against the captain's judgment. But that doesn't mean I'm ready to just lie down and trust our new "friends." Ours is a solitary existence that has long since been abandoned by the moon. No matter how they cried, mourned, or struggled, the voices of our departed comrades went unanswered. So how can you trust an entire squad of new models that you just met?

Music: ENDS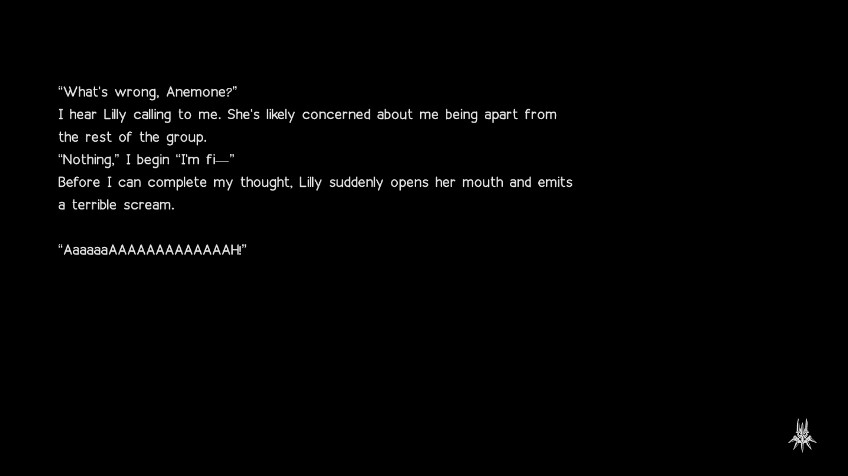 New Music: The Tower (Instrumental)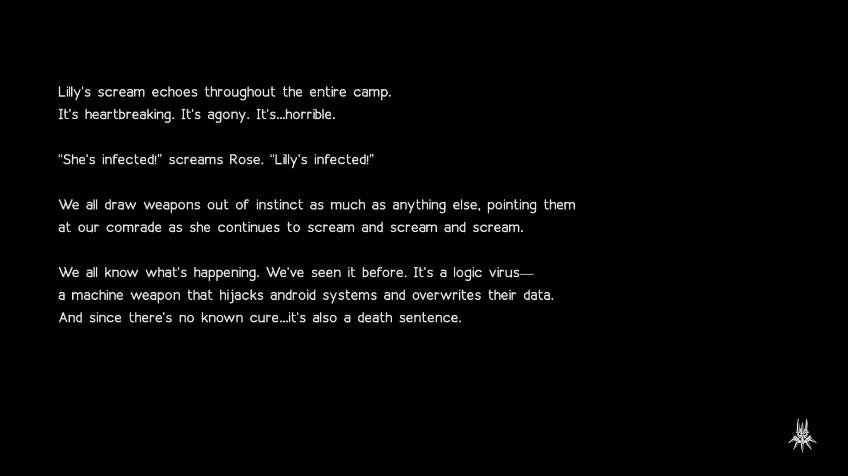 I need to show her mercy. I need to set her free. My finger rests on the trigger, yet I hesitate. And before I can make that final, fateful decision, I hear a voice rise up from somewhere behind me:
"Stop! You can't do this! You can't just let your friend DIE!"

It's Number 21. The girl I'd thought to be cool and composed and beyond all measure was now pleading with me to spare Lilly's life.

What did I do? What the hell do I DO!?

"Lilly said you were like a family to her! You can't abandon family, not before you exhaust every possibility!"
"What can you do, then?"
"I'll use my power to erase the virus!"
"That's impossible!"

Rose spat out what we were all thinking, but before we can act, Lilly starts to send nearby comrades flying with impossible strength. I've seen infected androids before—I know how much damage they can do once the virus turns off their limiters. They'll fight and fight until they're utterly destroyed.

Dahlia and Number 16 rush into the fray, trying to suppress their former friend, but she swats them away like flies.

How many of us have been infected now?
How many friends have I been forced to put down?

The heart I'm not supposed to have aches with the thought. It aches as I remember all of the identification numbers that have been retired.

When did I start giving them names?
When did I decide I simply couldn't endure it any longer?

"Imitating reprogramming sequence!"

That voice. ...Number 21? She's screaming something about... reprogramming?

I don't know what to do.
I am lost.

As my vision slowly clears, I see Number 21 inputting commands into her terminal while Number 2 and Number 4 hold her down. They hold her as she writhes and... Rose stares at me with surprise.

...Oh no. I'm holding Lilly too.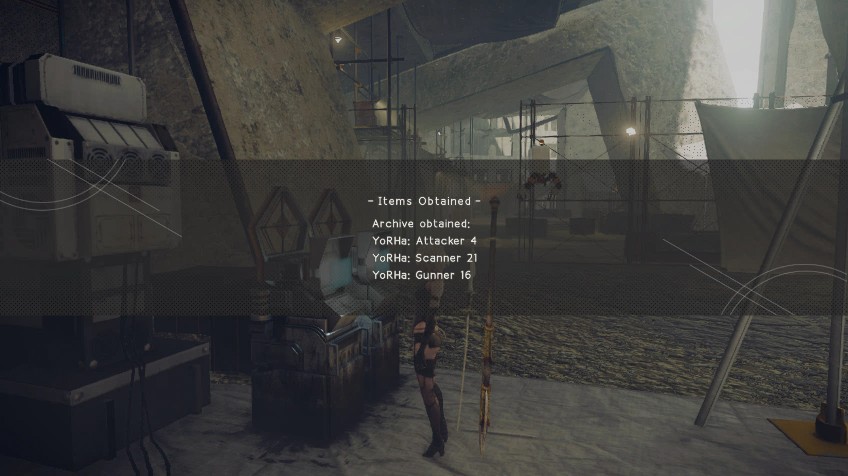 And that's the end of the second part of Anemone's report. With it comes another trio of archive files. What have we got this time...?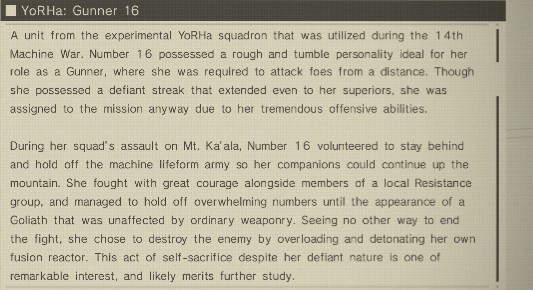 Gunner 16 is probably the reason modern YoRHa androids can all blow themselves up instead of have B-Mode. There are countless timelines where this lead to the Bunker being blown up by androids testing their abilities by arrant tutorial prompts.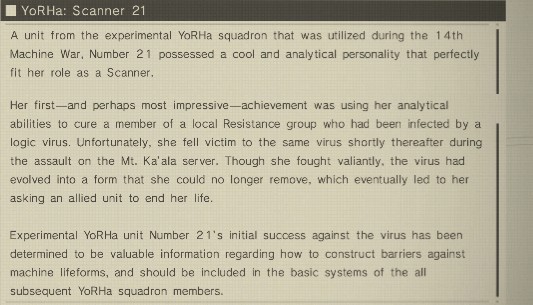 Scanner 21 was the original Hackerman. Also, in case you're wondering if it would have made any difference if 9S had been around earlier when 2B was dying – naw. 2B was totally fucked. Using Hackerman powers on the Logic Virus only works exactly once and 2B already blew her mulligan during the EMP attack before the mess on the Bunker. 9S also couldn't hack himself out of getting infected if that came to pass. So it's best he came in late for maximum dramatic effect.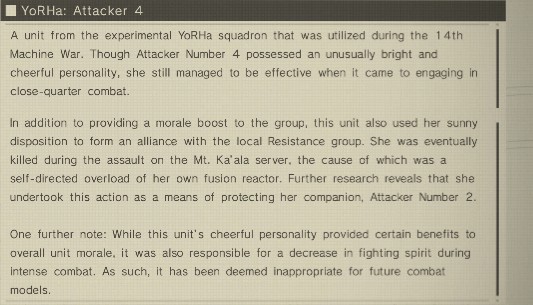 Maybe let's cool it with letting the combat units be into cat pictures and flower drawings in the future. Maybe prohibit emotions or something. I dunno. Just spit-balling ideas for the R&D team...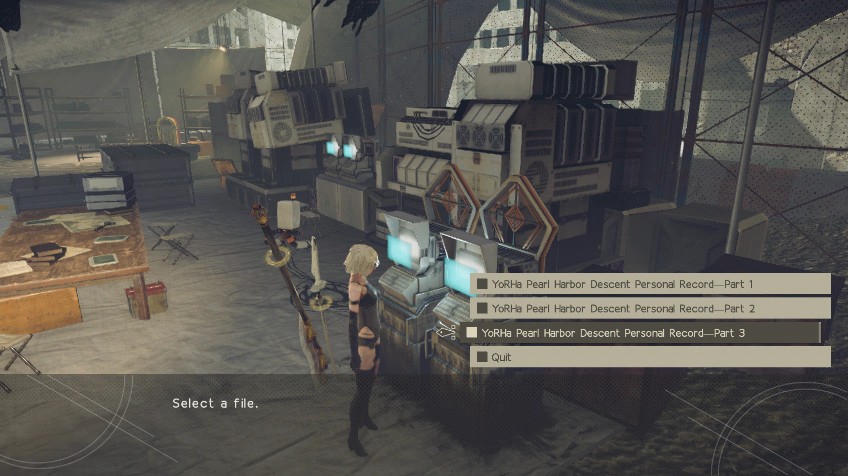 There's one final report left to get through. No delaying the inevitable. Let's finish this thing...
Music: ENDS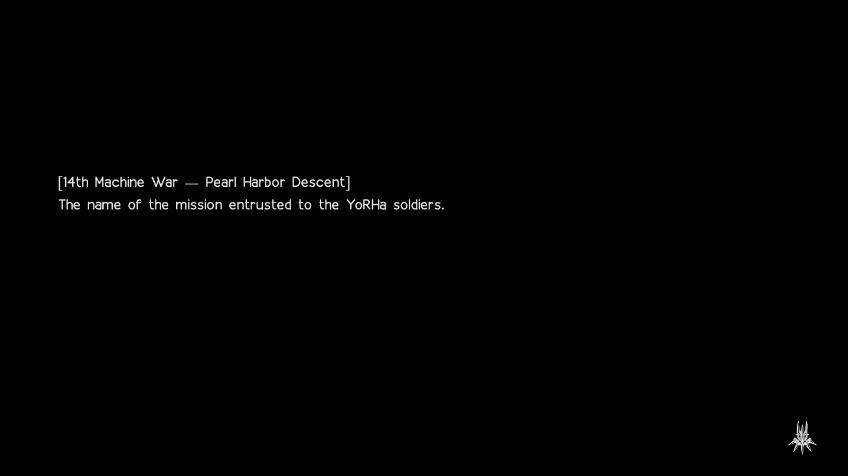 Music: The Sound of the End (Instrumental)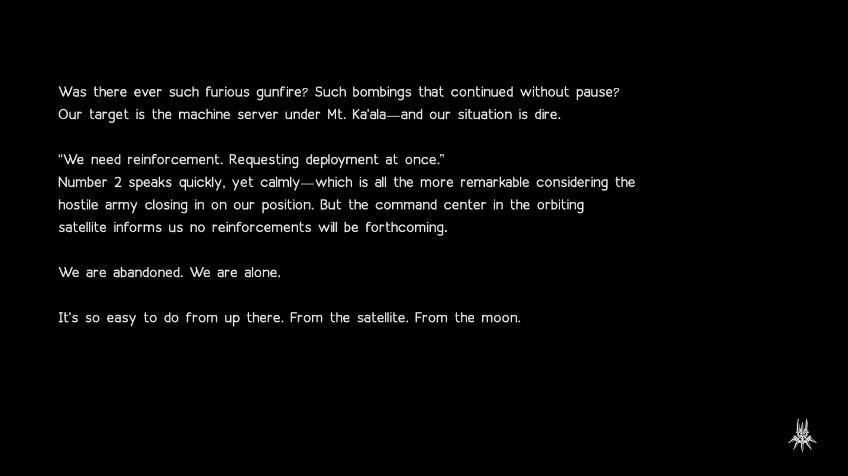 "I'll do whatever is necessary," says Lilly with a grim smile. Dahlia and Margaret quickly nod in agreement, as does Number 16. They decided to join the rearguard, staying behind to be our shield, even though it comes at the cost of their lives. Regardless, they all agreed without hesitation. For we in the vanguard would be joining them in death soon enough. Without another word, we turn our backs on each other and take up positions.

We know this is the end.


Music: The Sound of the End (Vocal)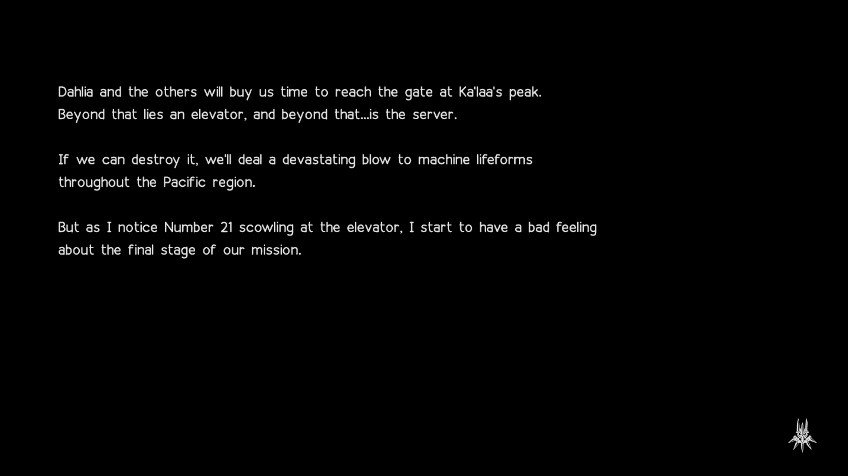 "Go on," she says "I've got this."

We crowd into the elevator as she begins hacking the terminal. She doesn't need to tell us what's happening—it's clear that the elevator won't descend all the way to the server unless someone stays behind to control it.

"Enemies incoming... They're almost on us..."

As I speak, I suddenly find myself leaping from the elevator and taking up a position at Number 21's side—almost as if my body is out of my control.
Something is wrong. Something...

"I'll back up Number 21!" I cry. "The rest of you take out that server!"

The doors close on my friends. The last thing I see is the face of my captain, Rose. She looks... concerned. But then the doors shut and she is no more.

That was the last time I ever saw them.
But it's all right. I'm going to finish this, one way or the other.

The only sounds we hear are distant explosions and the rasp of Number 21's breathing.

"Thank you," she whispers, "for staying with me."

I look at her eyes and see the telltale red of a logic-virus infection.

I was right after all.

I sigh softly as I draw my weapon.


Music: The Sound of the End (Quiet)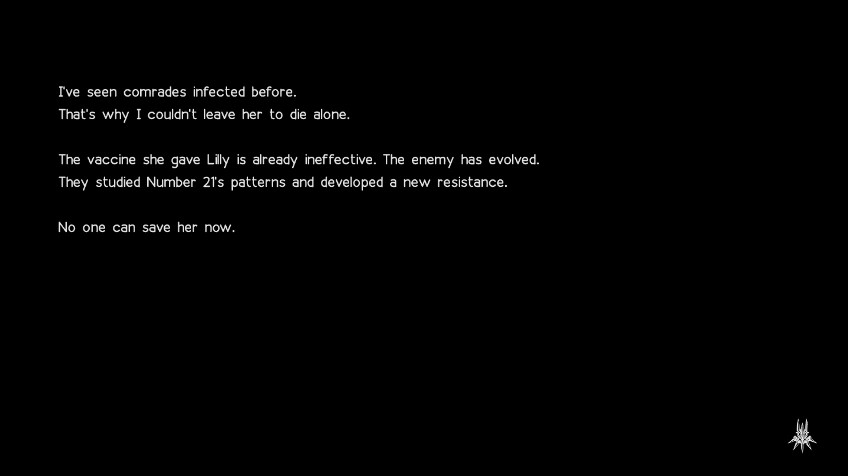 Wh-when the elevator... reaches the server," begins Number 21 weakly.
"Then I'll give you peace," I reply.

The elevator moves ever lower, creating a countdown on Number 21's life.
How much time has passed? How much can possibly be left?
Too long to wait, yet not long enough for regret.

A massive explosion echoes in the distance as the hall slowly shakes.

It's the final act of Lilly and the others in the rearguard.
They just overloaded their own fusion reactors.

The sound of our comrades' demise slowly fades from our ears.
As it does, Number 21 reaches up and slowly removes her goggles.

"I'm... glad I got to meet you," she says.

Her eyes are so red. But not completely. There's still a little of herself left.
And while it is...

"Don't worry," I say." I'll be with you soon."

She smiles as my words reach her ears.

Music: ENDS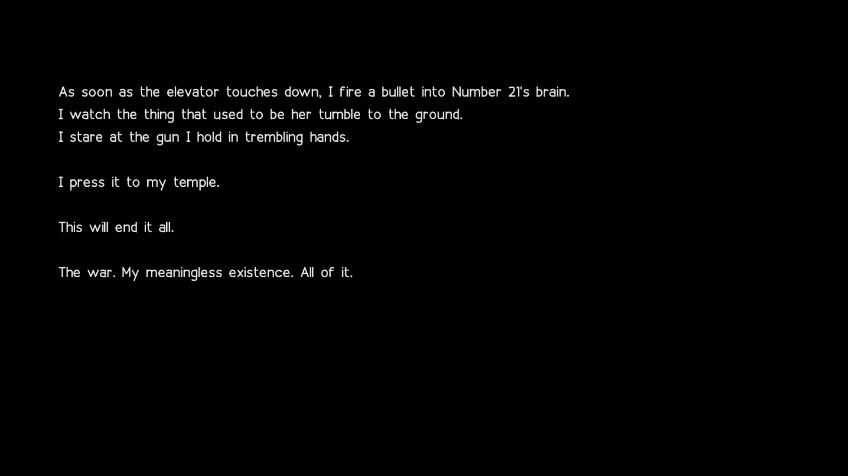 Music: Widespread Illness (Vocal)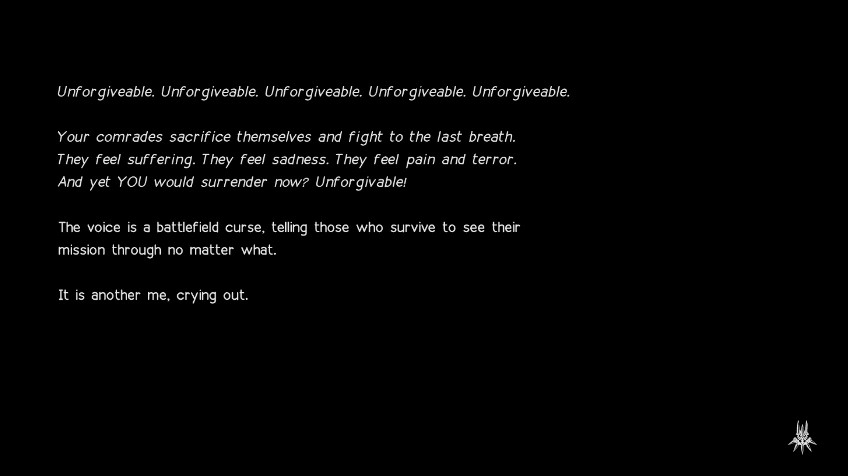 I scream at the top of my lungs and race down the hall.
I'll show you. If you're going to push me, I'll show you.
You'll only be satisfied if it ends with more killing.




I leap into the fray with weapons in both hands.

Here I am.
HERE I AM!
KILL ME!

As I scream, an explosion suddenly rises up and sweeps everything away.




A soft wind touches my cheek. I smell fire. I smell ash.
The explosion in the server room was powerful enough to take out Mt. Ka'ala itself, reducing the once proud summit to a smoking crater.

The machines immediately drop to the ground and stop moving.

I look out over the scorched earth. Lilly? Number 16? Rose? Number 2? Are any of you...?

I am the only one left. The only one.
I was alive because I had been afraid to die.

I begin to giggle. It's a mad thing, crazed, even to my own ears.

I'll join you soon... You promised to join her soon!

How could I have said such vain, laughable words? Such lies?
I laugh. I stand in the smoke and the flame and laugh until I think my very throat will tear itself in two.

I blink. Daylight drifts through the smoke.

I've been standing here all night.

My laughter finally depleted. I force myself to my feet.
I'm the coward who stayed behind. The coward who lived.
Now it's my job to carry on the will of those who fought at my side.
Since I can't kill myself, I have to fight until someone does it for me.
I'll endure every hardship. I'll kill every machine I find.

This is my cross to bear.

I walk slowly into the west, dragging my broken body along.



Music: Peaceful Sleep (Vocal)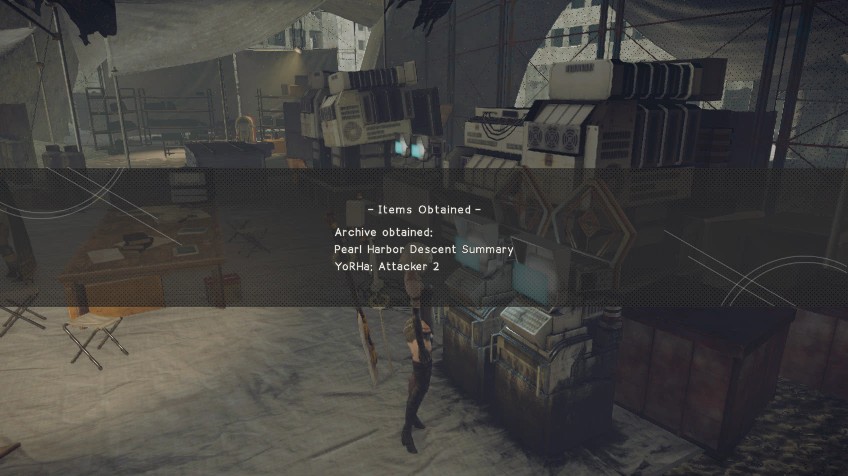 And that concludes the YoRHa Pearl Harbor Descent Personal Record files. That ended about as well as you'd expect. The part after Anemone executes Number 21 is the only part that wasn't part of the stage play. Anemone's role ended with her going into a suicidal blood rage facing down a horde of machines and her fate wasn't seen. So that's how she made it to NieR: Automata.
In any case, once more we receive a couple of extra Archives as a reward. Let's close this update out by taking a look.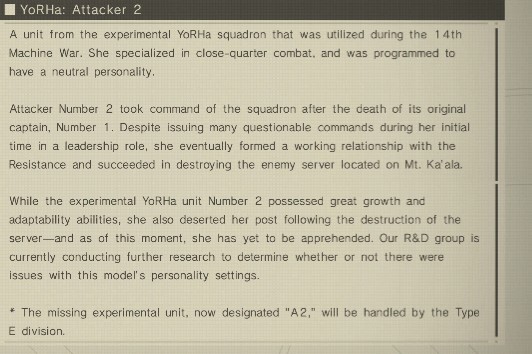 A2, of course, went FUCK THIS NOISE after these events and went AWOL. If you can't guess by the fact she's basically identical to 2B, she was the prototype for that line of androids. And that's because...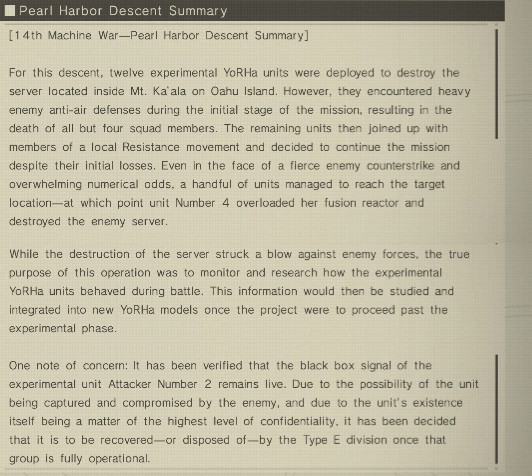 This was all a great big suicide mission for the YoRHa squad to obtain the bane of all soldiers in the field appearing in Japanese media – combat data. All the current YoRHa soldiers were based on largely based on these four's performance during the Pearl Harbor mission. Not that it matters much now that most of YoRHa is dead now. But there you go. A2 might have found out about this towards the end of the play on top of having a full party wipe and that is why she was muttering shit about Command having betrayed them to 2B and 9S on top of having a huge chip on her shoulder to this day.
For what's it worth, the Commander clearly thought that whole thing was super shitty too. But it's not like she was going to send a text to Number 2 going "super sorry... just following orders" to make things OK. Speaking of A2, she has a final bit of dialogue once we finish all of these entries...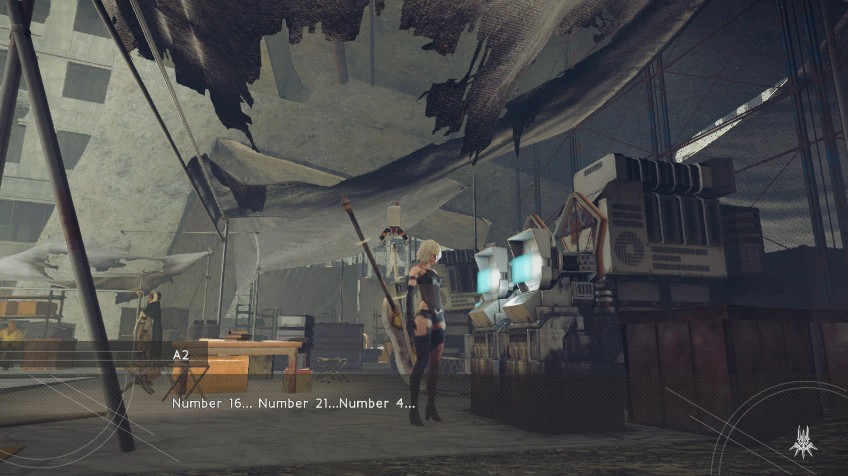 I'm... sorry I'm still alive.

......

But I'll be joining you as soon as I finish some things up.
And that concludes Anemone and A2's backstory and the continuing chronicle of a bunch of really depressed robots. Tune in next time for a bit more detail on the totally canon stage play performed before NieR: Automata was ever announced. And after that there's actually a stretch of junk that isn't a huge downer for a while! I promise! Just... don't expect it to last forever...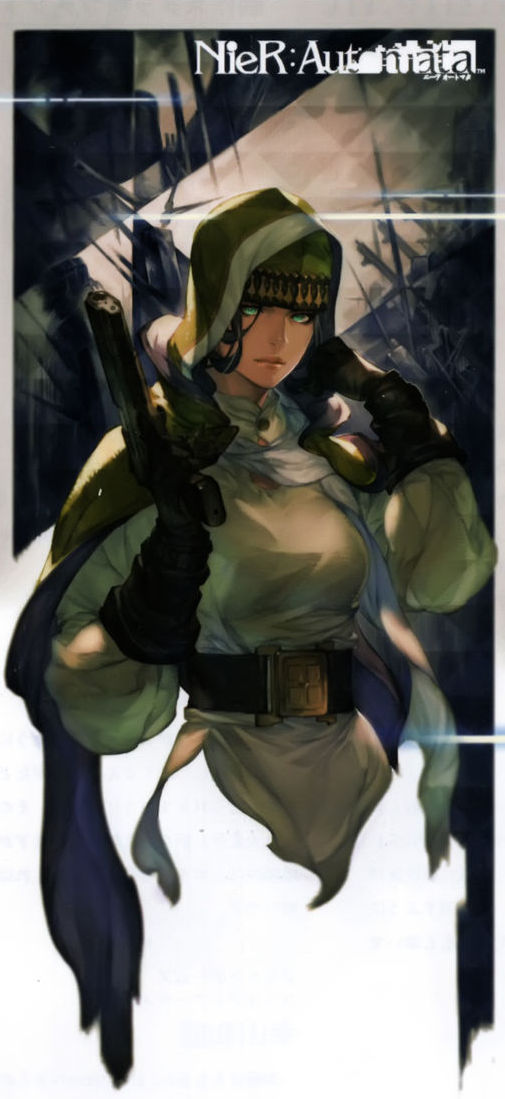 Anemone Poster – For having all of her art be in action poses, it's a shame Anemone never actually gets to do anything cool ever.