Part 13: Mission 08: Trinity | Escape
Mission 08 - Trinity: Escape
[
blip
|
youtube
]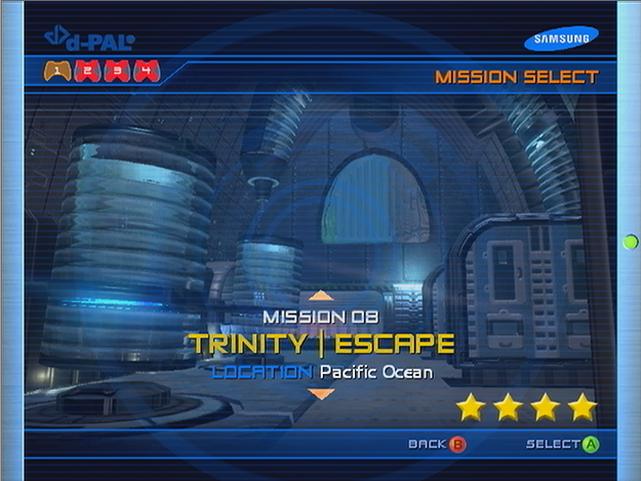 Primary: Download Zeigler's Program
Zhang Li's not the only one who wants to get his hands on Zeigler's Program. I'll get you to safety alright, but I have to grab a copy of Zeigler's program first. Cover me while I hack into the datacore and download it.

Support: Cut Off Pursuit
Every time we push forward dataDyne send more men in behind us! If we want to improve our chances of getting out of here alive we could do with securing our rear. You're packing a demo kit right? Blow the pneumatics at the base of the blast doors and we can stop dataDyne hitting us from behind.

Support: Flood Hangar
My schematics are showing a single valve that controls the platform's air pressure. If you want, you can take out dataDyne forces by dropping the pressure and flooding one of the hangars. You reckon you can hold off dataDyne long enough for one of my men to unlock the valve?

Primary: Secure Launch Pad
Dammit! We can't get off this rig, not without clearing the launch pad. Our ride out of here is taking a kicking. I don't know how long Eagle One can hold it. We have to take out the guards on the deck so he can land safely. Last thing we want is a missile up our afterburner.

Primary: Escape to Evac Point
I'll get you out of here alive but you've got to do the same for me - we're a man down. I know you can handle a gun, I need you to fight alongside us. You'll be glad to know you're not going to have to swim off this rig. We've got a dropship waiting for us on the surface. Just follow me, you'll be okay.