Part 116: 9/23: WARNING: SYSTEM COMPROMISED

Sorry about the hiatus, guys. This Palace is just… something of a trial. Also I asked Ari if he wanted to do it instead and he said no. Also, my computer's been acting up lately. But enough of the excuses, let's just… oh nooooooooooosdfgjkslegsd'aosdfksglk;weoi[fds……...
….hello

is this working?

it would seem so

all right then, hack successful

Wait, what the fuck is going on?

shut up. you're being hacked. you shouldn't even be able to see this
You're typing this into a word document, dude. This isn't a command line. You seem weirdly bad at this.

well, i'm not the one who compromised his entire system by downloading suspicious font packs, idiot. now shut up if you're not gonna tell me what your passwords are, i'm trying to get into your bank account
I wouldn't waste my time, I have maybe fourteen bucks in there.

then send my virus to one of your friends!
We're having this conversation in the overlong preamble to part
one hundred and nine
of a Persona 5 Let's Play that's lasted over a year. I clearly don't have any friends.

that's true. most of the files on this system are video games and shitty pirated anime… ugh
Face it, you have nothing to gain here.

i refuse to give up! give me your money!
No. Now, if you don't mind, I've got an audience of dozens waiting for me to horribly embarrass myself. Goodbye.

i'm staying, dickwad. hope your lp can survive my bullshit
It survives my own bullshit constantly, so I think it'll be fine.
Part 109: 9/23: WARNING: SYSTEM COMPROMISED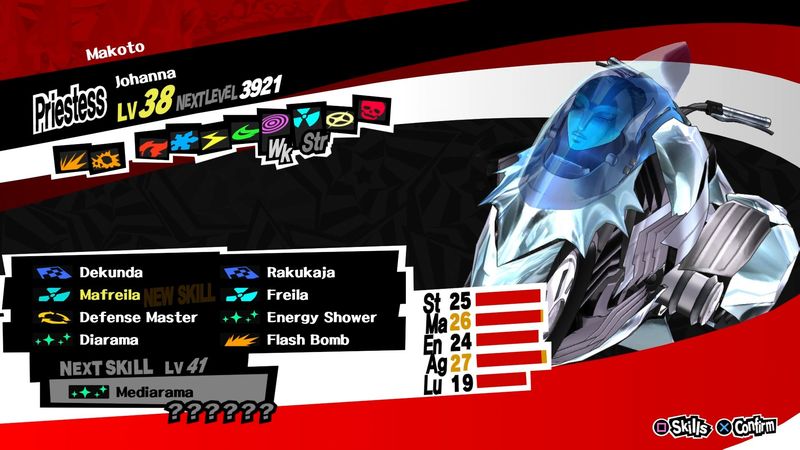 Okay, so, when we last left off, Makoto was just leveling up, learning Mafreila to replace Mafrei, as it's a straight upgrade.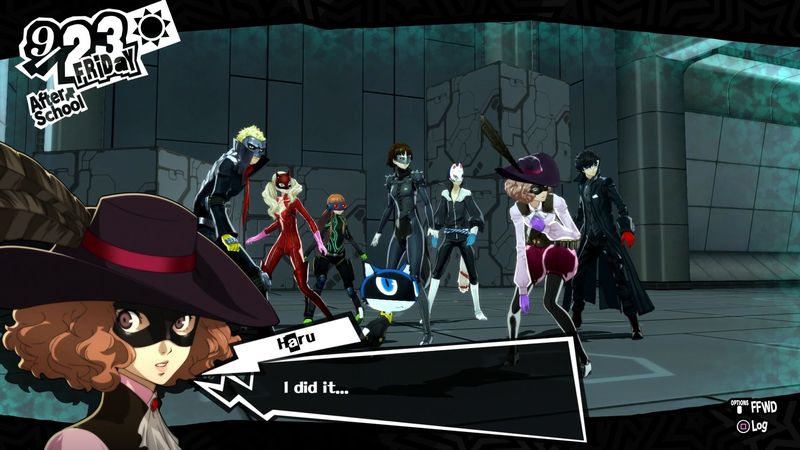 Music:
Break it Down (Elp Version)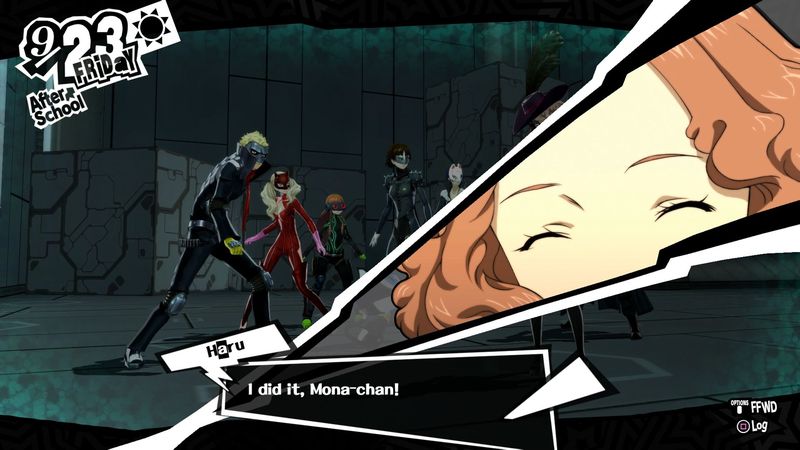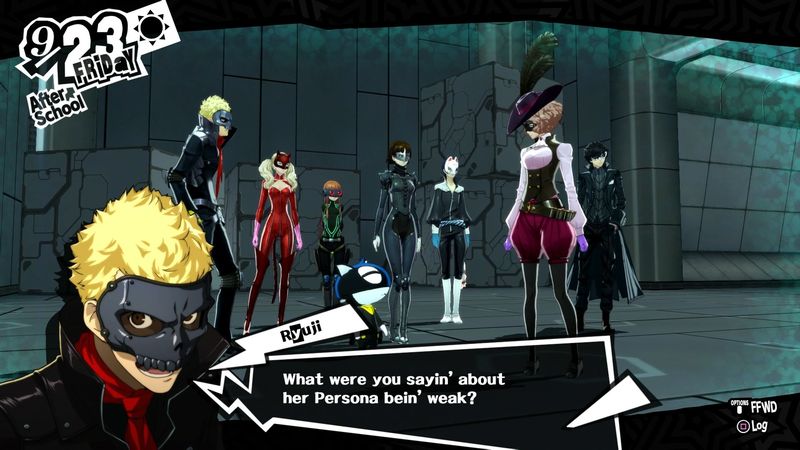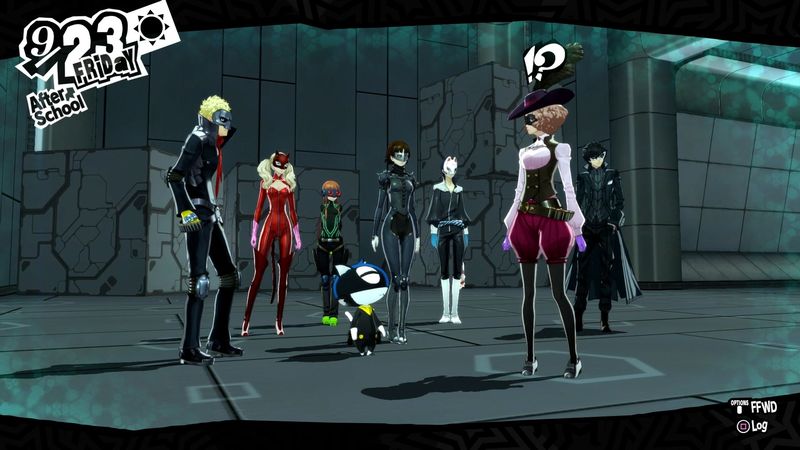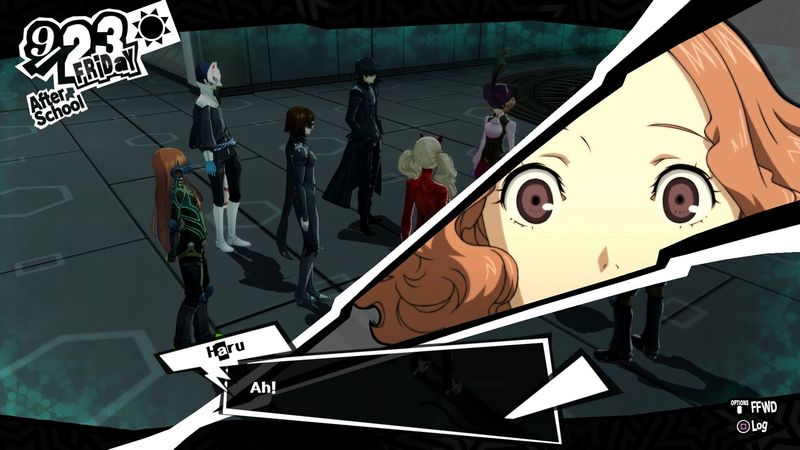 (Haru) He disappeared! Is that OK?
What did you do to my
portraits,
dude?

oh, i deleted a bunch of files. nothing important, just some tiny pictures. what, you need that shit? good.
Everyone's a fucking twelve-year-old around here, christ.

(Ann) Are you sure you taught her how things work in here?

(Morgana) I did… or so I thought…

(Futaba) What's the point if she doesn't get it?

(Makoto) Don't worry. Cognitive beings have no correlation to their real-world counterparts. You'll see when we get back. I guarantee he will be OK.

Then, he's not dead?
This all sounds like shit to worry about
before
you murder him.

(Yusuke) That's right.

(Ryuji) Dude, does this mean we got a new teammate? Good to have ya… uh…

She already has a code name.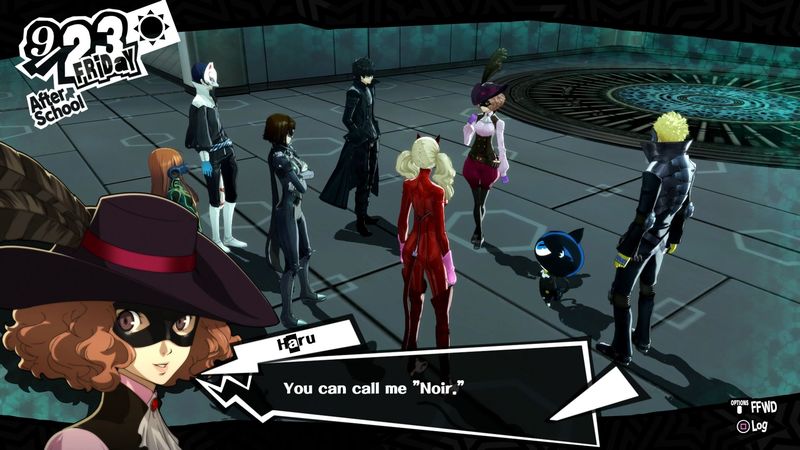 ...Noir?

It means black in French. I'd like to be a heroine of justice, but the Phantom Thieves are on the darker side of the law. I chose the name Noir to remind me of that.

...There you have it.

As long as she's into it…

She created quite an elaborate backstory…
These guys are weirdly down about her choice of name. I think it sounds cool.

you would
Oh, shut up.

Noir. I like it. It conveys a dignity that won't bow down to others, as well as a rebellious spirit towards society.
Okay, maybe it's not that cool.

Thank you.

Don't let your guard down, Noir. Our trip through the Palace doesn't end until we steal the Treasure, after all.

Yes, sir!

Someone's talkin' all big again…
Music:
Sweatshop
This is a good song. Let's see how it holds up for the next
four hours!

four hours? jesus, why do this to yourself
I actually enjoy this game.

it doesn't sound like it!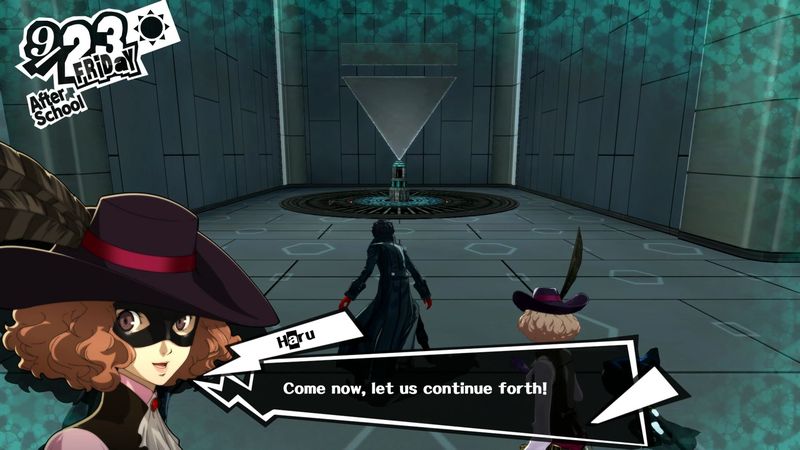 Before we move out, let's make an adjustment...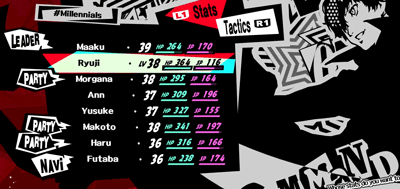 There we go.

why are you mean to the cat
He knows what he did.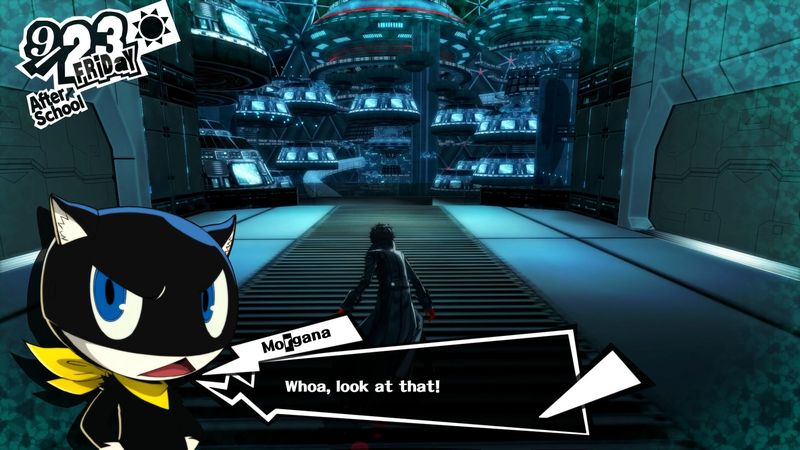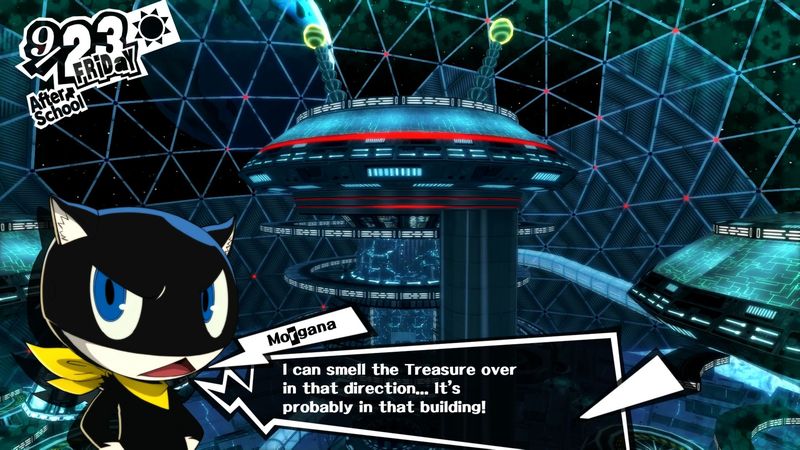 Hm, that seems quite far off… It is difficult to ascertain the shortest route there as well.

We'll just have to keep going on whatever path we find for the time being… Let's go.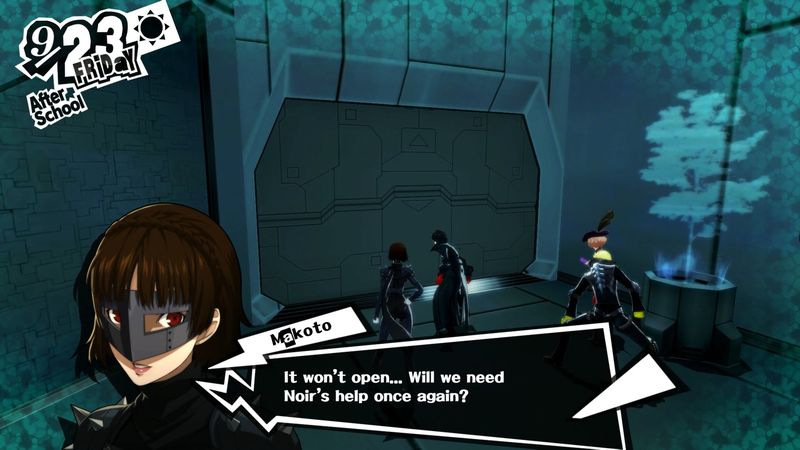 A bit further in, we find a door that won't open.

No, this one isn't a biometric authentication… but it might be hard to open it from here. We'll probably need to look for a server or a terminal if we wanna break through.

A server, huh…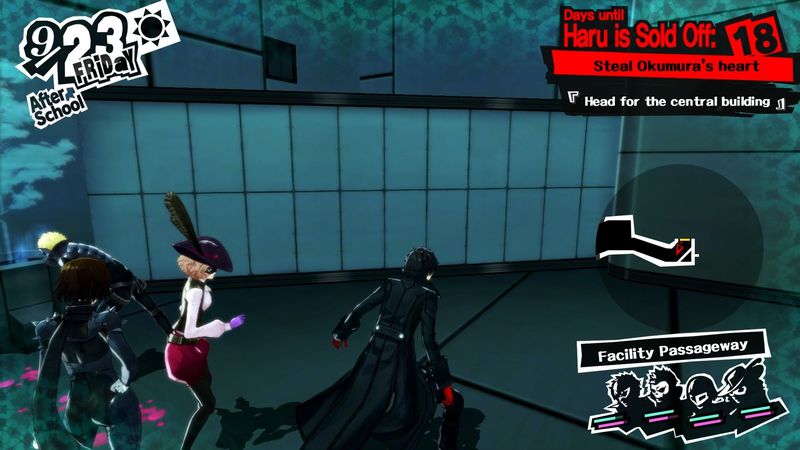 The entrance to the server room is cleverly hidden by a vent about six yards away. I make fun, but I totally missed this on my first playthrough and it was very embarrassing.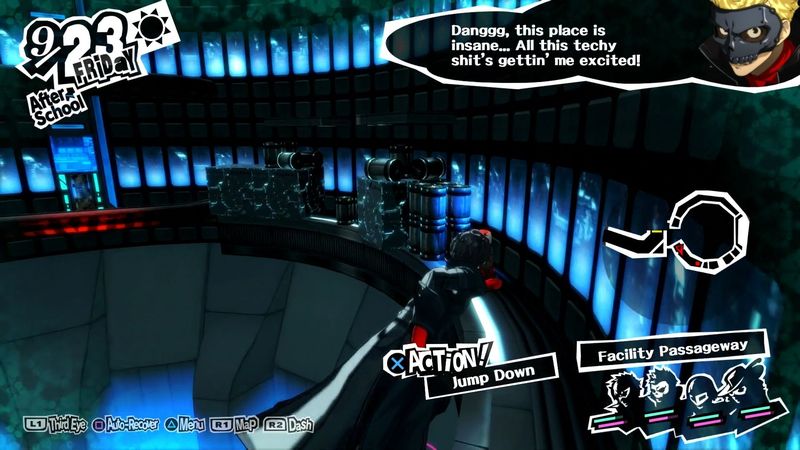 That's such a boyish thing to say.

Oh, there's a room like this at the office. It's called the server room.

What are all these machines even used for…?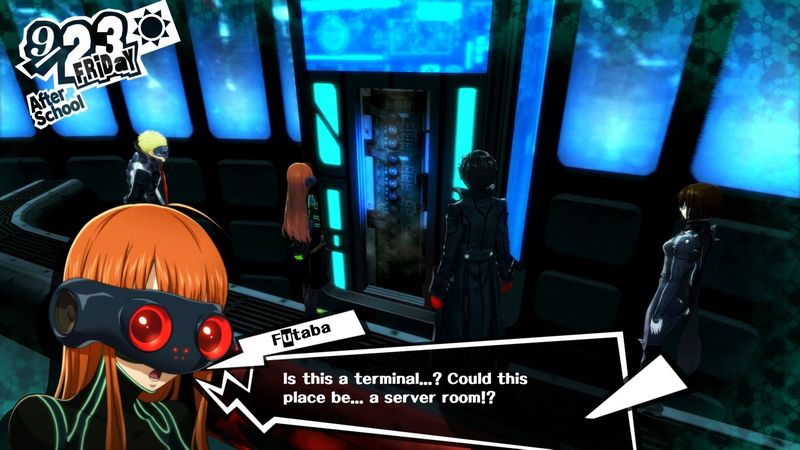 Mwehehe… Watch this… All right, that should've opened up a buncha doors! I managed to grab a map of the place too.
Hey Mr. Hacker, how does it feel to see this fifteen-year-old girl do your job better than you?

pff, this shit is so watered-down and inaccurate. now if you'll excuse me, i have to do a hack via cyberspace to crash the corporate mainframe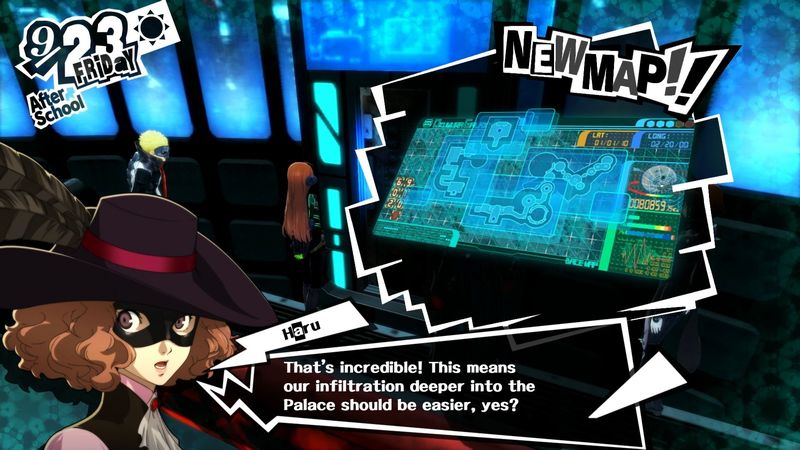 I dunno about that… There are three more areas ahead: the barracks, the factory, and the airlock area…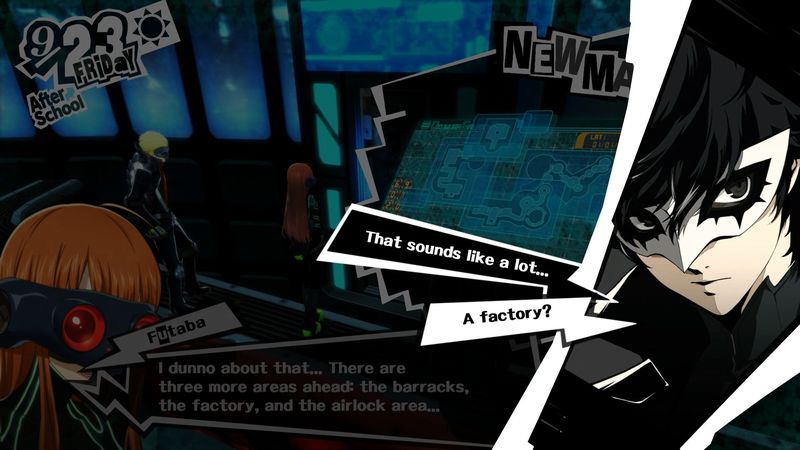 They're just giving us the entire map at this point and not even bothering with finding it in pieces, because they totally gave up on that idea I guess.

I was wondering about that too. Actually, I found one other interesting file when I was cracking into the system. It's called "Project: Escape to Utopia"… There was some kinda blueprint inside too. It looks like whatever they're making for it is ginormous. That factory can't just be for burgers.

Escape to Utopia… What do you think that's supposed to mean…?

It ain't gonna matter if we can steal the Treasure and make this Palace disappear! Let's hurry!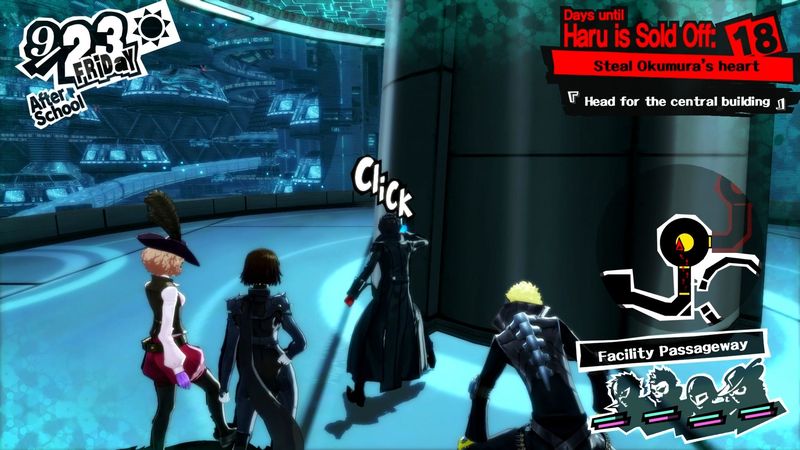 Outside of the server room, we come an elevator that does not respond.

Don't this look like an elevator? It ain't doin' anything though.

But it doesn't seem to be completely out of order either. Perhaps it's at another floor. Let's try coming back later.

that's not how elevators work
I thought you weren't paying attention?

there's nothing on netflix
You should wa—wait, fuck you, I'm not giving you recommendations.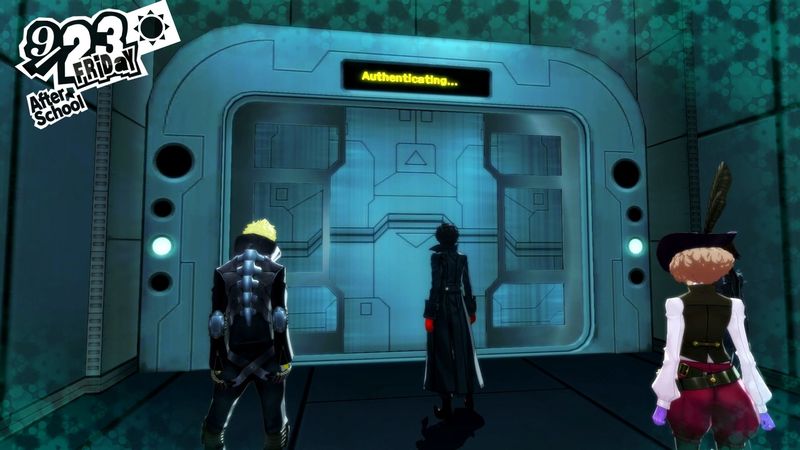 Further in...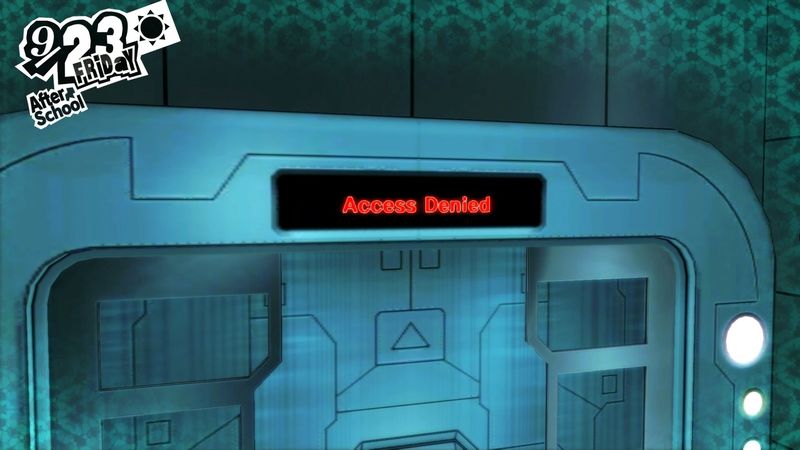 Ugh, it still ain't openin' even after all of Oracle's tinkerin'!? That bastard really doesn't trust anybody, huh?

Skull…!

It's all right. Father is clearly guilty of some horrible crimes… That's why we will stop him.

We'll still need to think of a way to get past here though. Can you figure something out, Oracle?

If it's not a normal lock or a biometric one, I think it might call for rank authentication. Basically, you have to be at least a chief director to get through here.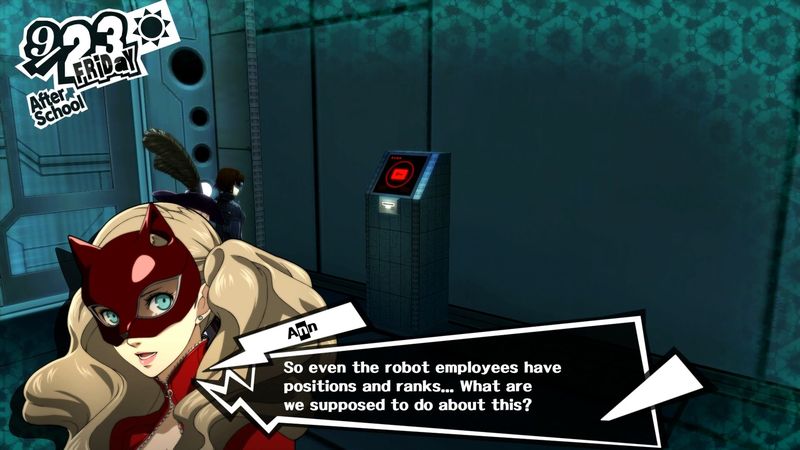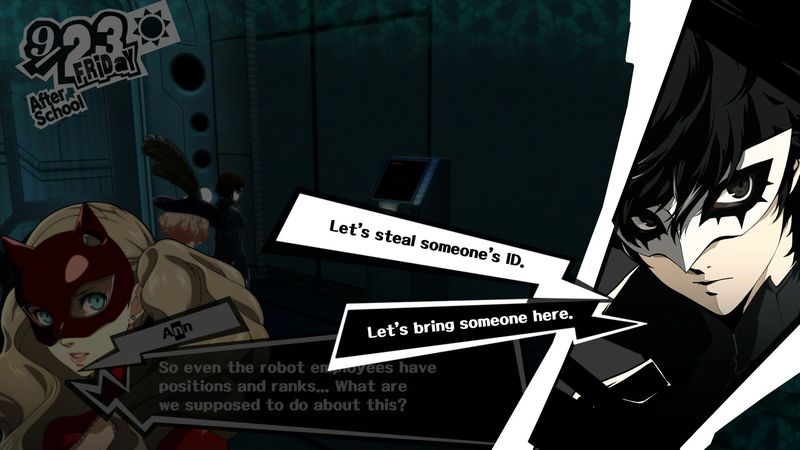 Oh, you mean an
employee ID
! Those are used to authorize entry in the real world company as well.

You two are so smart! That's gotta be it!

Then it's decided. Let's find an employee that's the rank of chief director or higher and take their employee ID!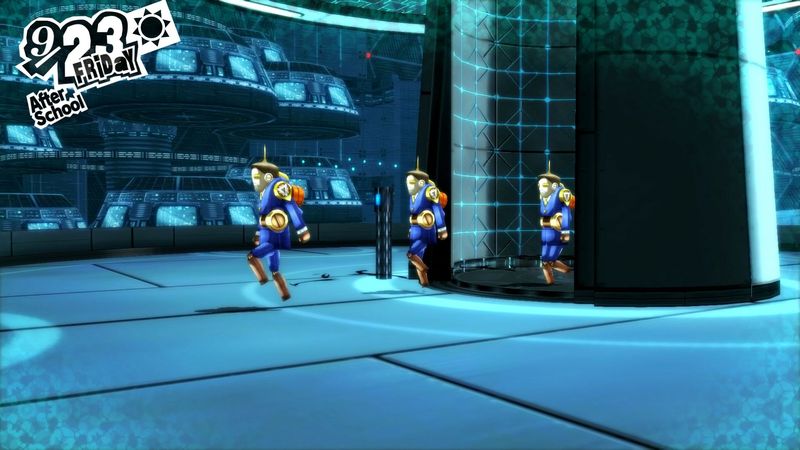 Back by the elevator, robots exit.

Look, there're a ton of 'em… You wanna start takin' their IDs?

Not yet. If we go instead to their origin, there should be even more "employees" for us.

Oh, great idea. That should make it even easier to find a chief director! Let's head there, Joker.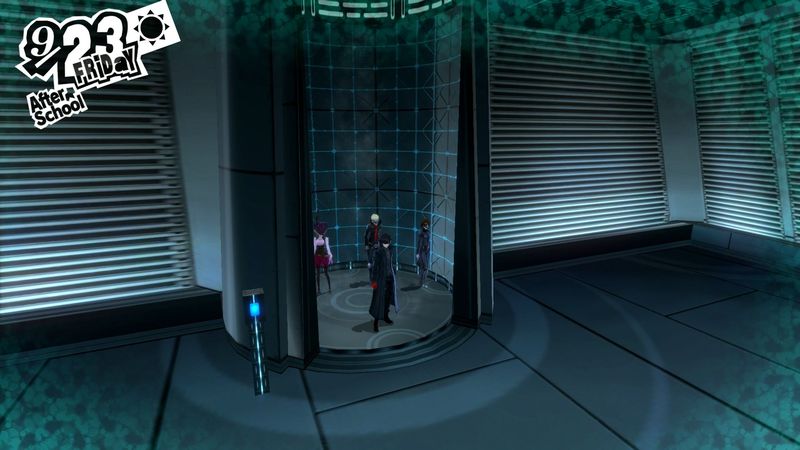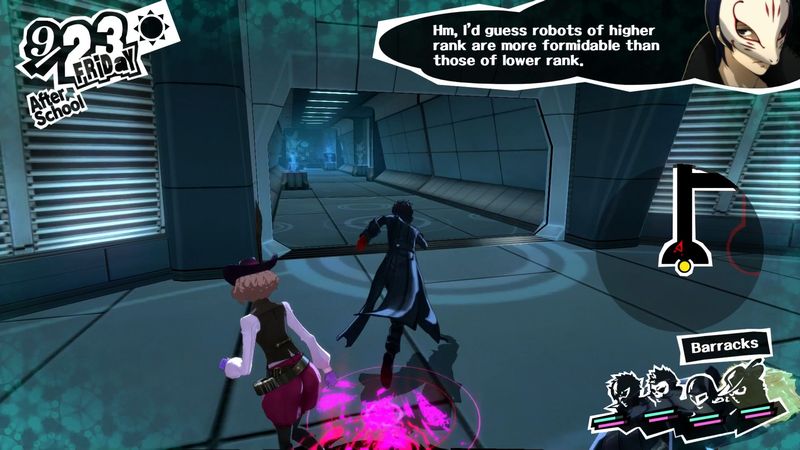 All right, let's go about this carefully.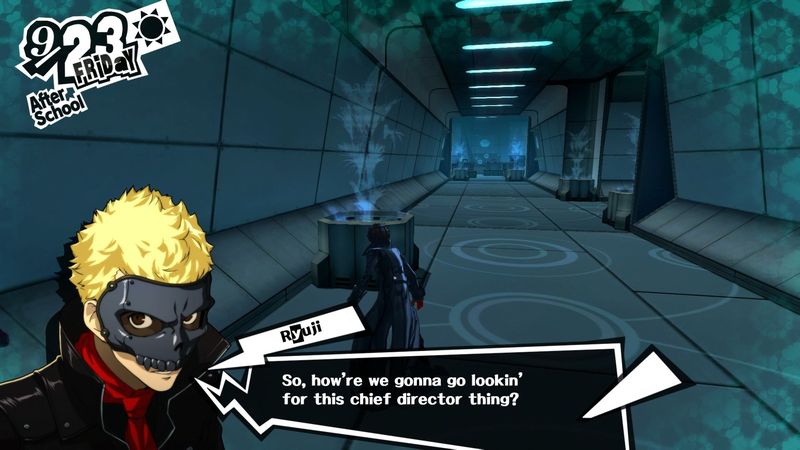 I did a scan of the area, but there are multiple large readings around here. They're definitely different from normal robots, so it's prolly one of them.

So we'll need to find which one is the real one? But how exactly will we do that…?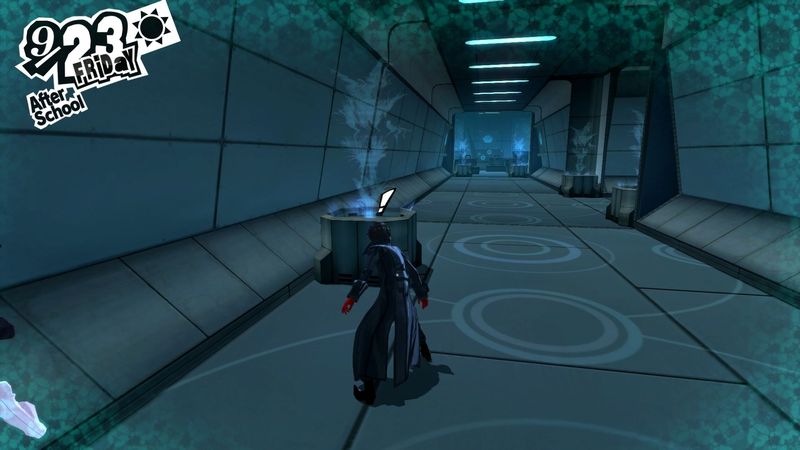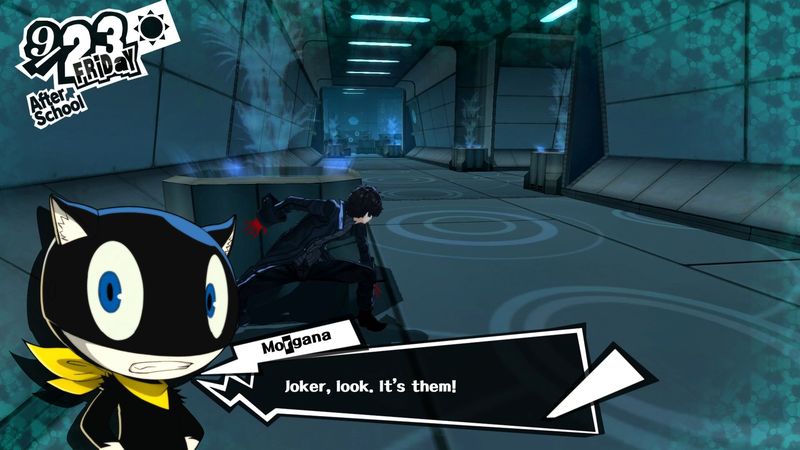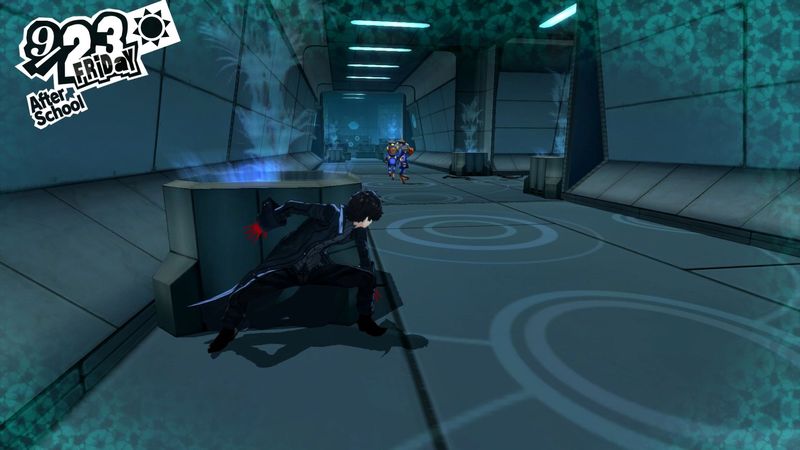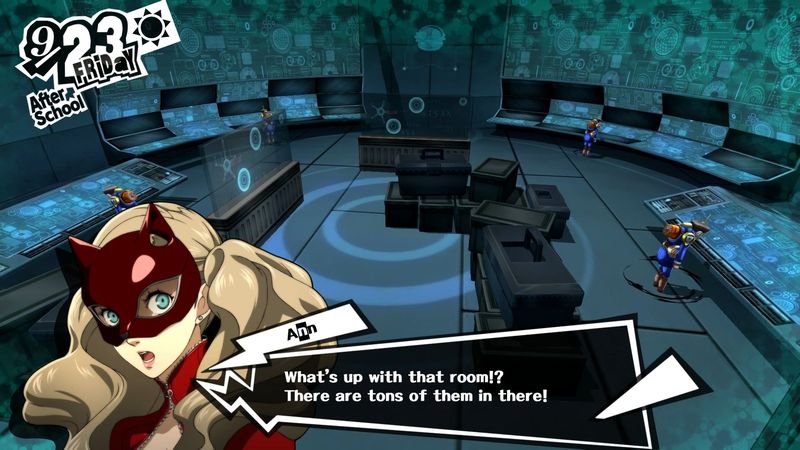 Heh, perfect timin'. Let's try askin' them about this director guy.

That would be a foolish move. They'd report us immediately if they spotted us.

Fox is right. We'll need to think of a way to glean info from them without asking.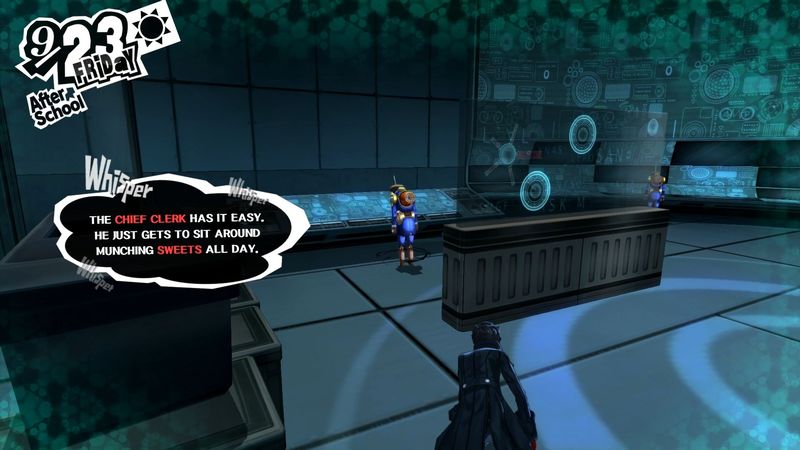 Just walk up and eavesdrop like we do every day in real life!

Huh… So we're basically eavesdroppin' on 'em…

It's a divine skill of mine.

Impressive. I can see how you managed to wiretap Leblanc for so long…

That? Oh, that was nothing! Someday I'll show you what real wiretapping is… Mwehehe…

I-In any case, there's no denying that this is a smart move. We'll just have to obtain information from the group about
what their boss is like
.

There appear to be a few of them further in. Let us go obtain their information as well!
This first room, which we'll call "1," has three more bots for us to eavesdrop on:

I WONDER HOW THE
CHIEF CLERK
GOT THAT POSITION…

NO MATTER HOW MUCH I WORK, THERE'S ALWAYS MORE TO DO…

THIS JOB JUST NEVER ENDS…

We've heard a good amount… What do you think, Joker?

(Maaku) I'd like to listen more./
>I know all I need to know.

Then let's get out of here before we get caught.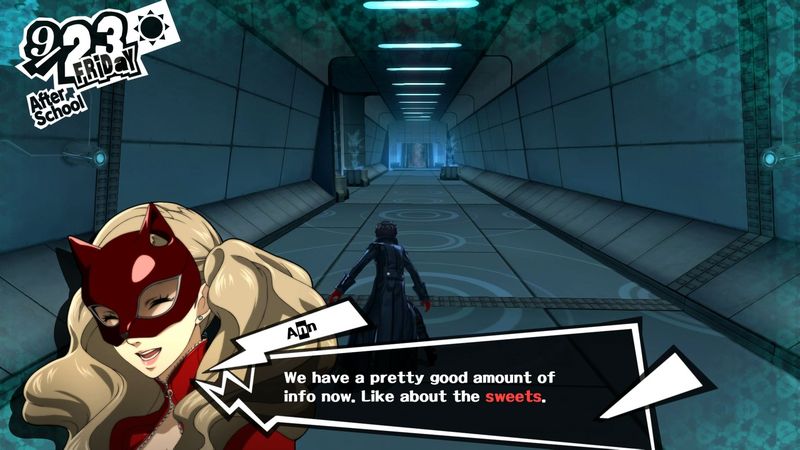 But that's on the chief clerk, yeah? We're lookin' for dirt on the chief director, remember?

We don't have to target that director guy right away though. We can go from the bottom up.

Now that you mention it, I doubt we could reach the chief director immediately regardless. We don't have any employee IDs, so accessing the more secure areas would be impossible.
Oh god, this is gonna take forever.

like you have anything better to do
You just said you don't have anything better to do either, dude! Ugh, can't believe I'm getting roasted by this script kiddie.

script kiddie!? you'll pay for that one
Oh, I'm so scared.

Well, for now let's just identify the chief clerk with the info we have. And if there are any more rooms that you think we can get info from, be sure to stop in!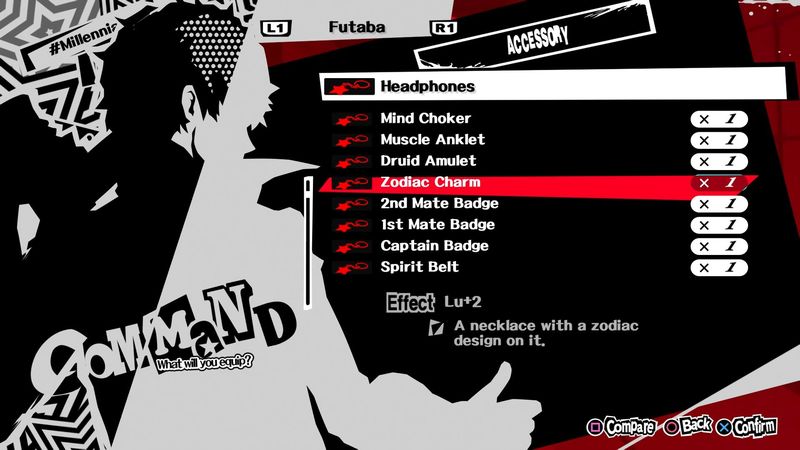 It's at about this point that I think to indulge what I'm pretty sure is a myth about Futaba. Some people think her Luck stat affects the rate of her skill procs, which is why they let her equip accessories. I don't think this is true and they just let you do it because fuck it, effort is hard. I thought I'd bring it up, however. I give her the accessory anyway because who cares, right?
Also it's at about this point that I realize I only have three SP Adhesive 3s for some reason, having never actually bought a fourth for Ryuji, meaning he and Haru are gonna have to trade theirs back and forth for the entire dungeon! Hooray!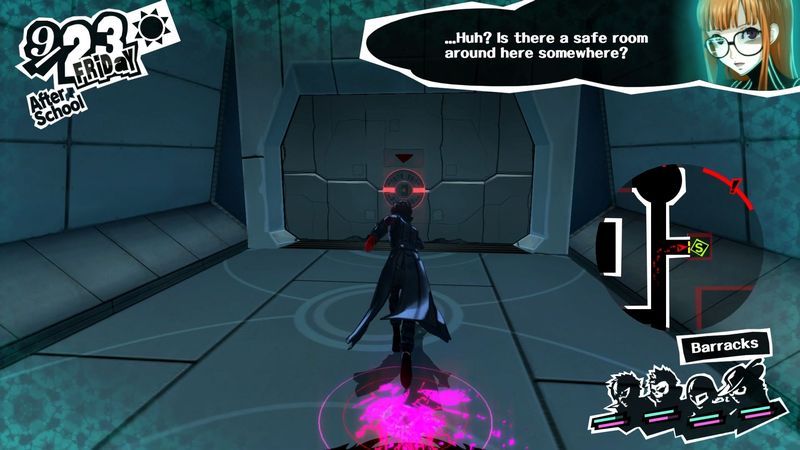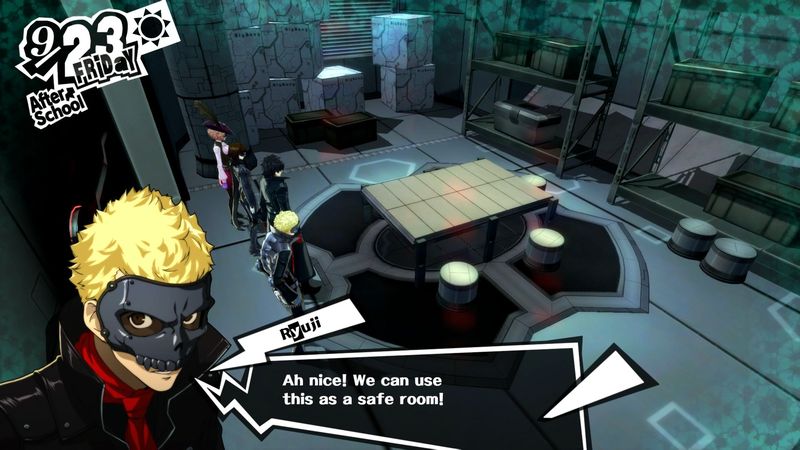 I don't usually make too much note of safe rooms, but we'll be visiting this one in particular a few times for reasons I'll go into. Just know that if you ever play this game you should probably make note of this one.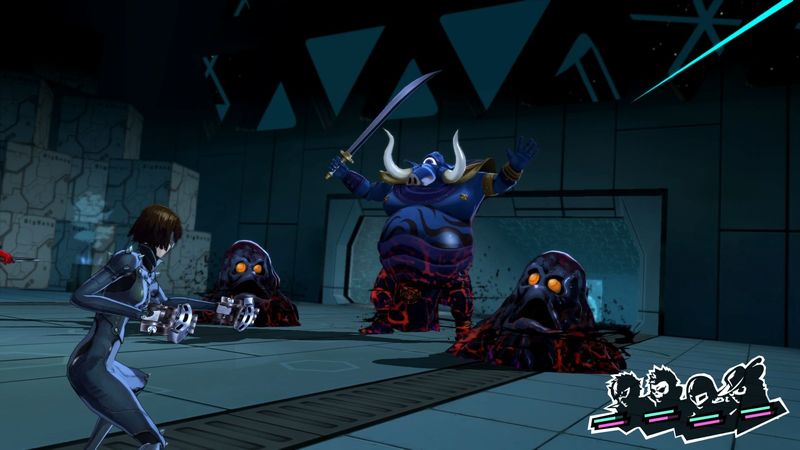 This big one-eyed elephant (no, that's not slang for penis) is Girihmekhala. He's weak to Bless and repels Physical and Gun, the second enemy in this Palace to do so.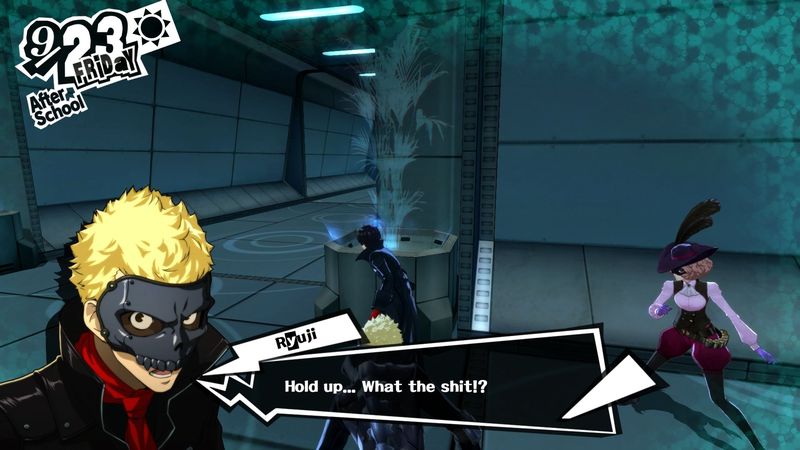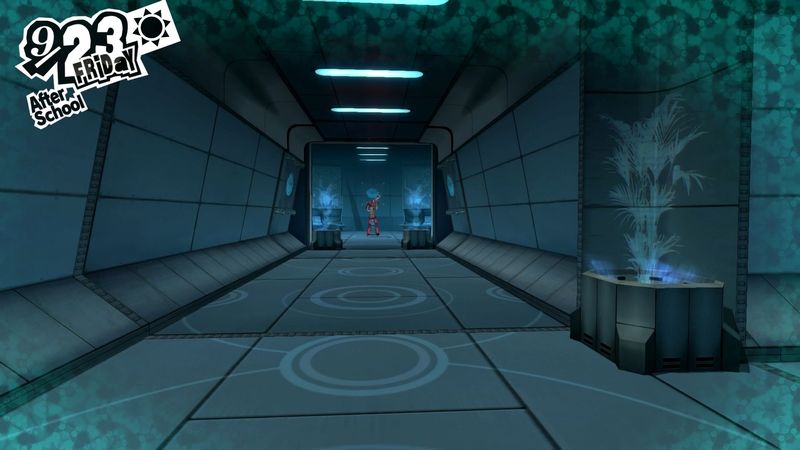 One robot...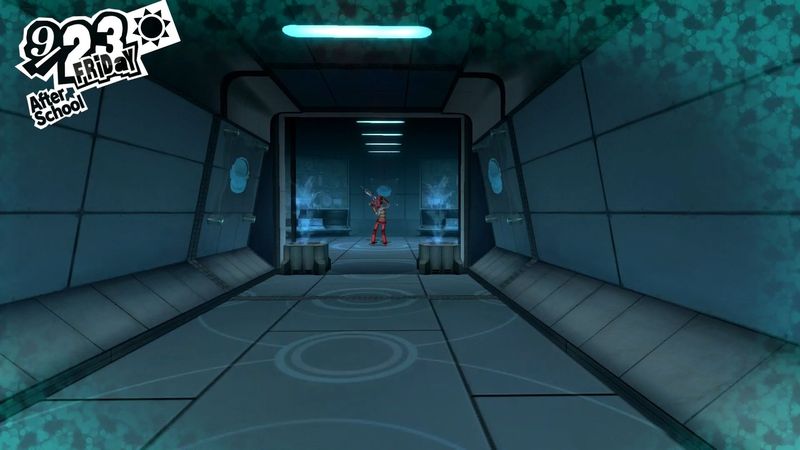 ...and then another.

There are two of the same robot!?

Didn't I tell you I was getting multiple signals?

Moving on, we saw one of those red ones giving instructions to the smaller robots, right…? Does that mean that one of them is the chief director? Or just the chief clerk…?

Hm, should we defeat them both and take their employee IDs to find out?

There's no need to waste our energy like that. If we can
talk
to each one and compare what they say to the
intel
we have on hand… We might be able to tell what rank they are.
Okay, so I took a screenshot of the map of this floor in order to more easily keep track of all the robits and the clues they give us. Wait… where is it?

yeah i deleted that shit lol
...fuck. Well, I guess I'll just have to remake it, then.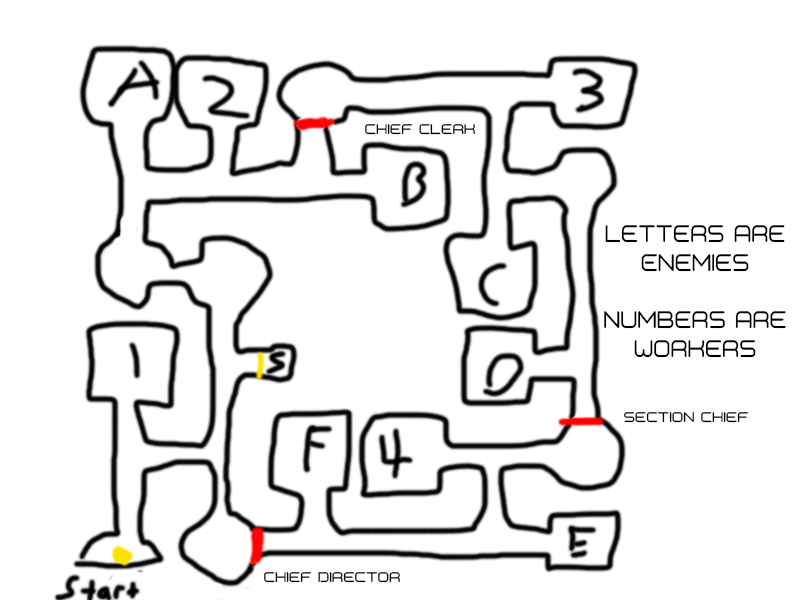 Perfect. I feel no need to leave this unspoiled: we do, in fact, have to do this three times.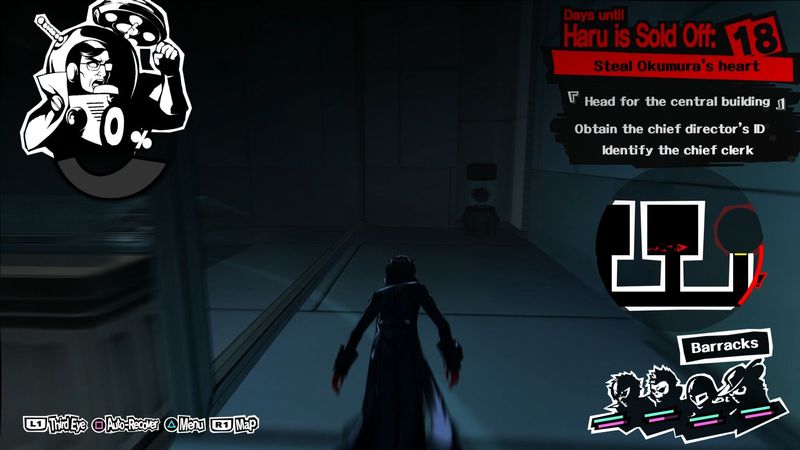 First, let's go to 2 and get more information. Also Shadow Okumura just looks fucking dope.

he looks like an unmasked scooby-doo villain
Here are the fruits of our eavesdropping:

APPARENTLY HIS STOMACH IS DONE FOR. MAYBE THEY'LL DISPOSE OF HIM.

SOMEDAY I'M GOING TO MOVE UP THE LADDER AND MAKE MY DREAMS COME TRUE!

OW… MY HIP HURTS. I WISH I COULD TAKE A DAY OFF…

I HEAR THE CHIEF CLERK'S BEEN
STRESSED OUT
LATELY.
So, we have stress and sweets. Let's head over to A.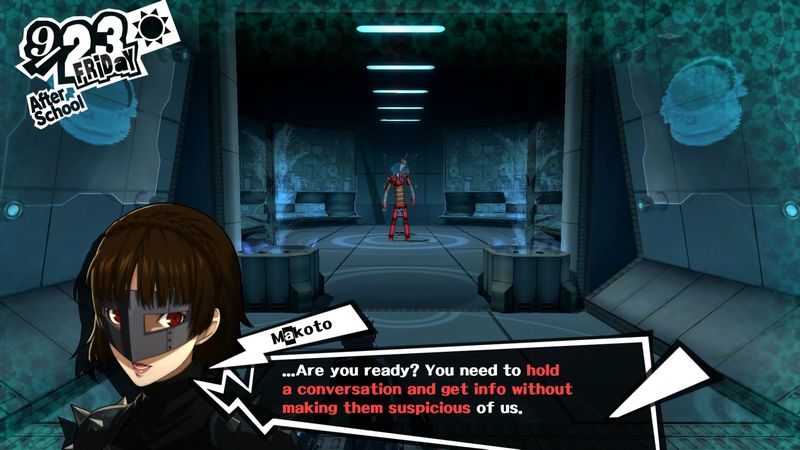 If they find out who we are, we'll be forced to fight. Be cautious.
Music:
Disquiet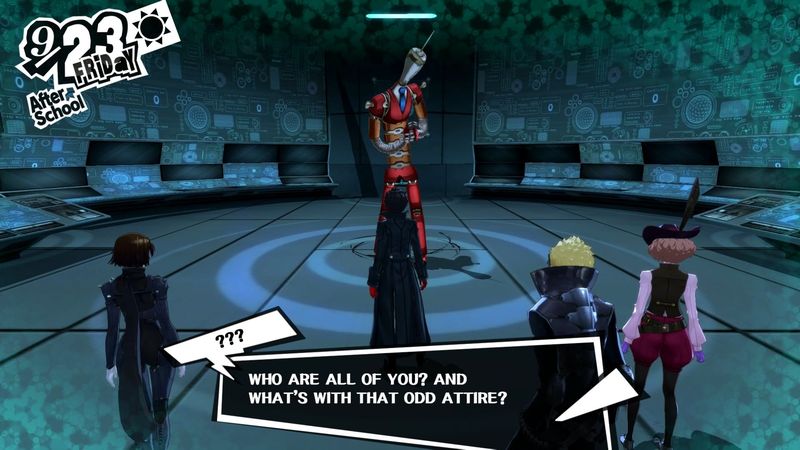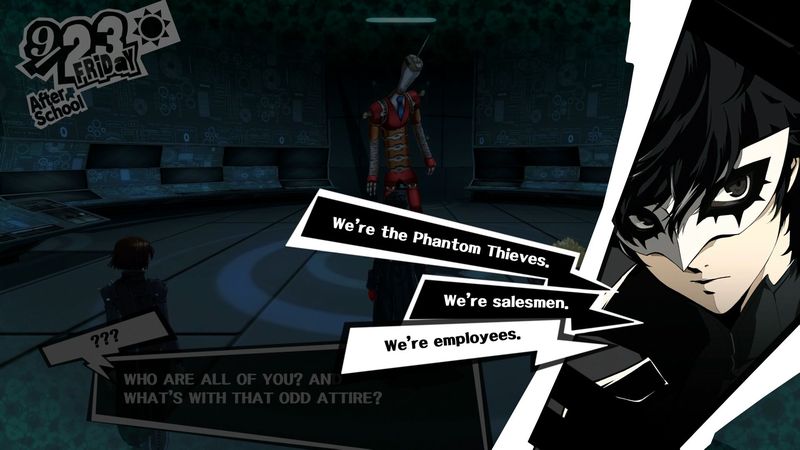 AH YES, I'VE SEEN YOU AROUND BEFORE… FALSE! THAT WAS A LIE. YOU MUST BE INDUSTRY SPIES! I BET YOU PLAN ON STEALING AWAY THE FRUITS OF OUR LABORS!

We won't be able to avoid a fight at this rate. Let's go, Joker!
Goddammit. Rewind!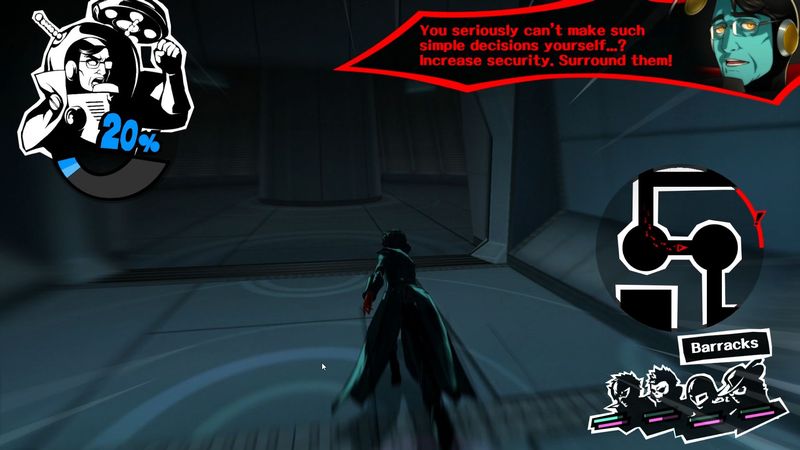 ...Well, rewind by suiciding. I've never actually seen this message before, but it seems to pop up when an enemy successfully escapes, as one did when I failed to die fighting it to reset the puzzle. Also uhhh, the visible mouse cursor in this image is from the hacker. Shut up.
Let's try that again. Back to A.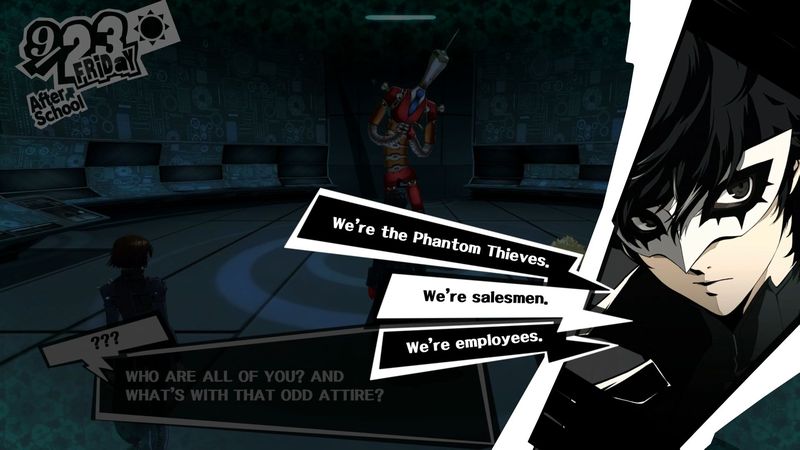 SO YOU'RE A PEDDLER? IT WON'T BE EASY CONVINCING ME TO BUY ANYTHING, I PROMISE YOU THAT. NOW THEN, WHAT PROFIT WOULD BUYING YOUR PRODUCT BRING ME? HAVE YOU BROUGHT GIFTS?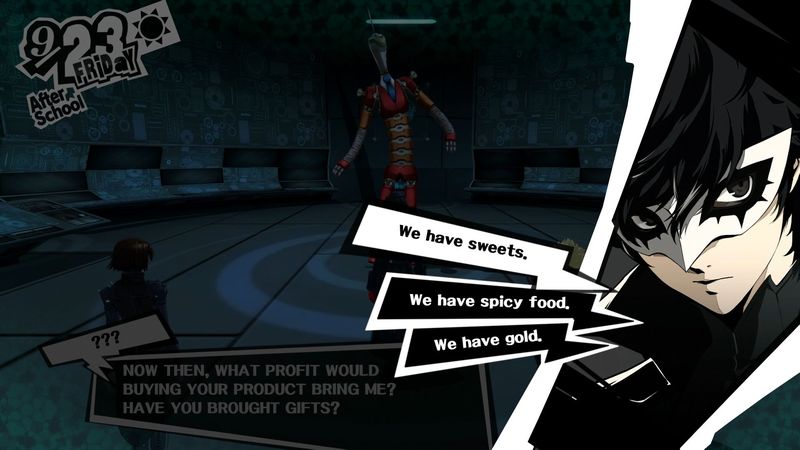 WHAT A BORING GIFT! WHEN I SAID PROFIT, I WAS SPECIFICALLY TALKING ABOUT SOMETHING MORE VALUABLE!

It is time we make our decision, Joker. What do you want to do? Should we fight him for his employee ID?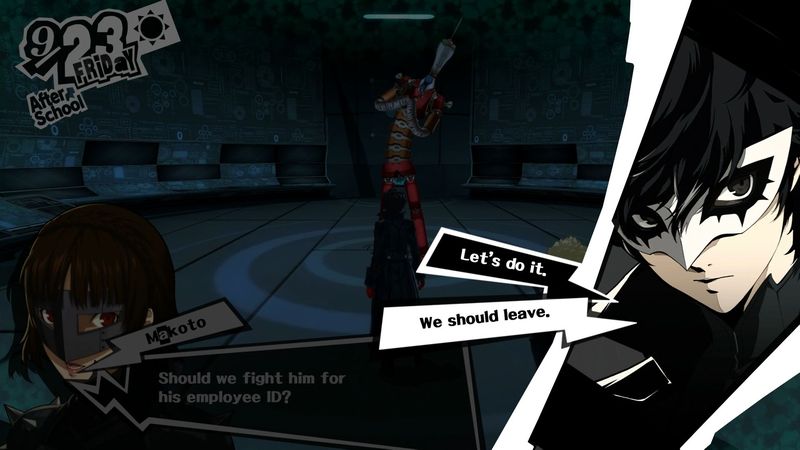 Hmm… he doesn't seem to like sweets. Let's check the other one.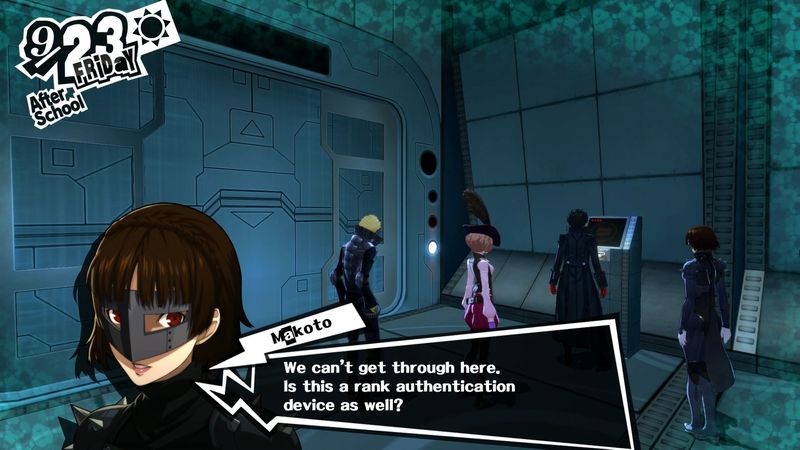 We also find the door to the next area on the way to B.

Yeah, you've gotta be a chief clerk or higher. Basically, we'll need an employee ID card for this.

Ugh, you gotta be kiddin' me! Are all companies like this!?

…I believe our security in the real world is even stricter.

You serious…?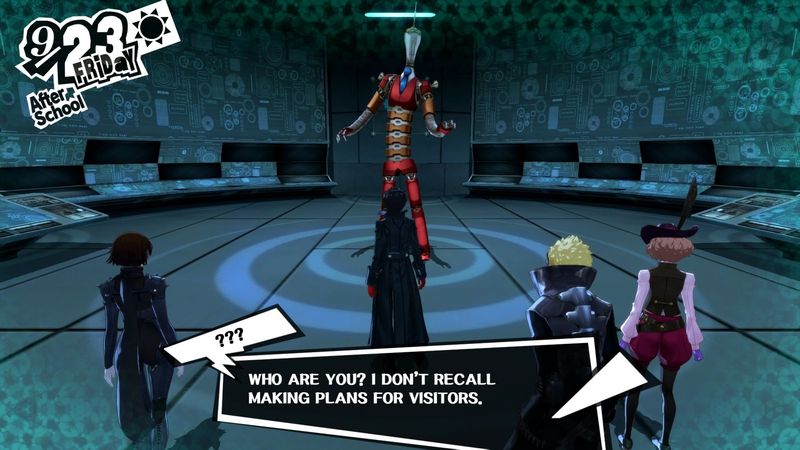 And we make it to B.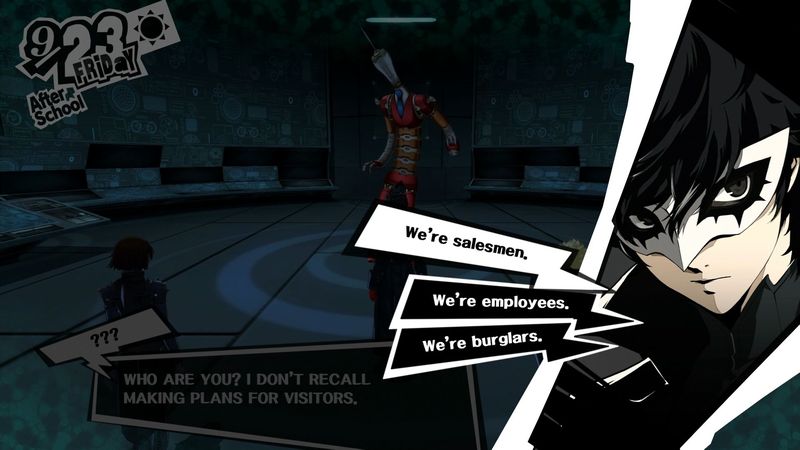 IS THAT SO? YOU MUST BE HARD WORKERS IF YOU'VE COME TO SELL WITHOUT AN APPOINTMENT. I'LL GLADLY LISTEN TO WHAT YOU HAVE TO SAY. NOW THEN… DID YOU BRING ANY GIFTS FOR ME?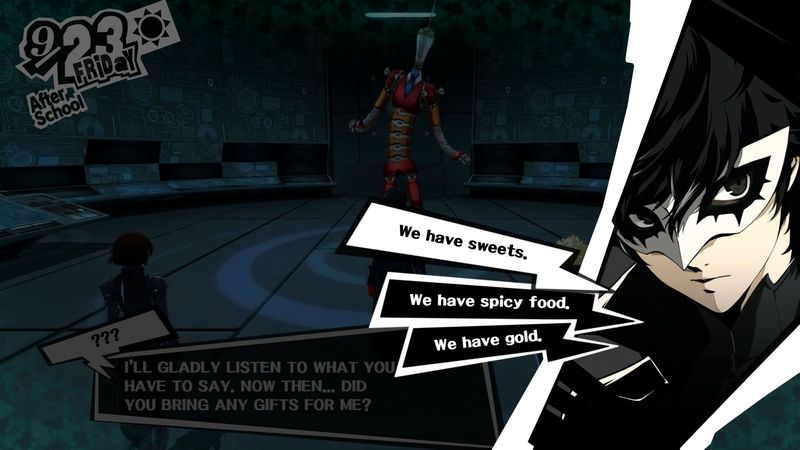 AH, YOU ARE QUITE IN THE KNOW. I'M A CONNOISSEUR OF ALL THINGS
SWEET
. I CAN'T HELP BUT CHOW DOWN ON THEM WHEN I'M
STRESSED
!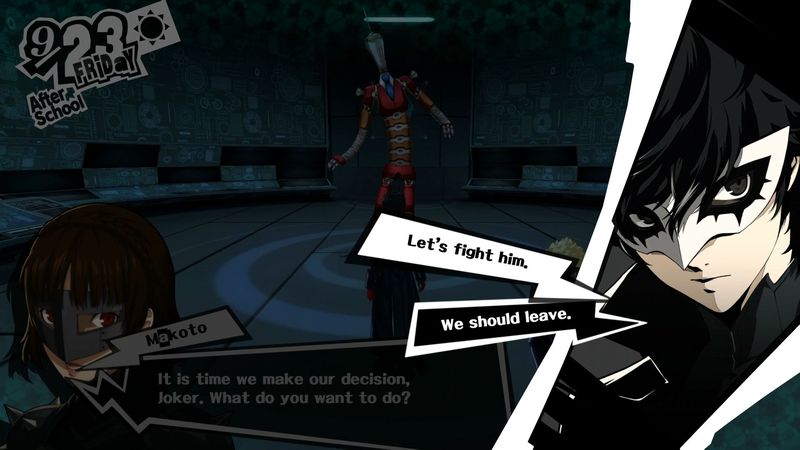 Definitely the right one, here.

Right, there's no need for any more discussion. Take him down!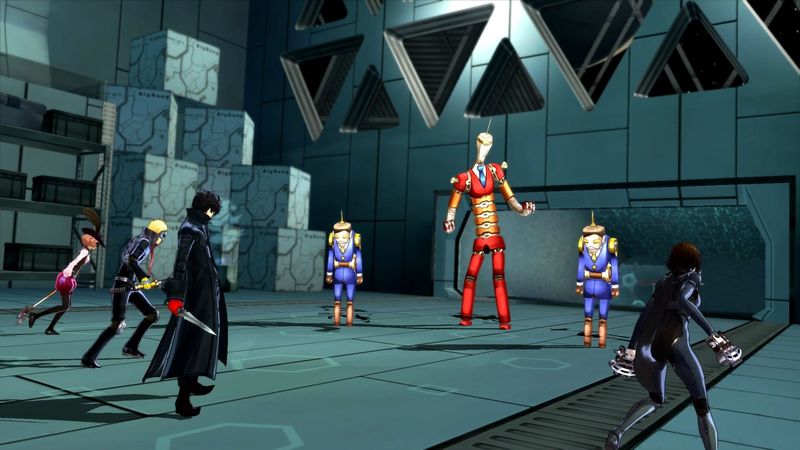 The grunts will use Triple Down and Recarmdra, and are weak to Fire and Wind. The big boss is weak to Nuke and will summon more grunts and use Heavy magic attacks.
The best way to take these guys down is to do as much damage as possible as fast as possible—sounds obvious, but these things'll wreck you with repeated Triple Down if you give them an inch. If they have to heal with Recarmdra, they'll all want to use it to heal each other from there, and you can take them down more easily.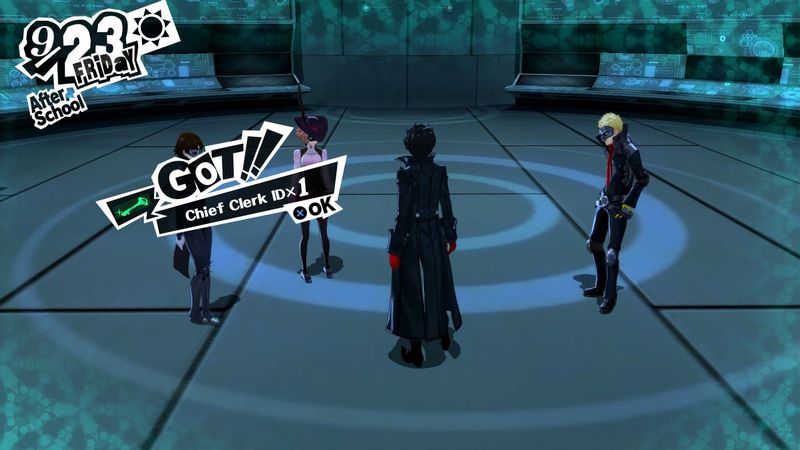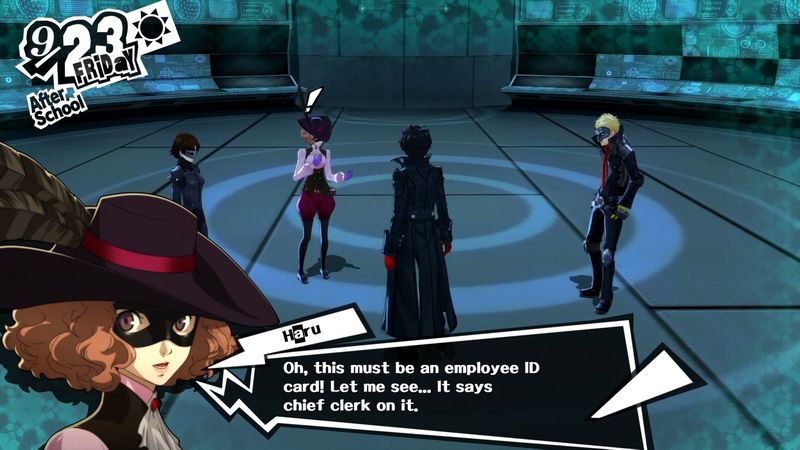 But we're looking for one that's chief director or higher, yes?

This one should be OK for now. At the very least it'll help us get to some new places.

Yes, we can now enter areas restricted to those of chief clerk rank or higher now.
Redundancy? How redundant!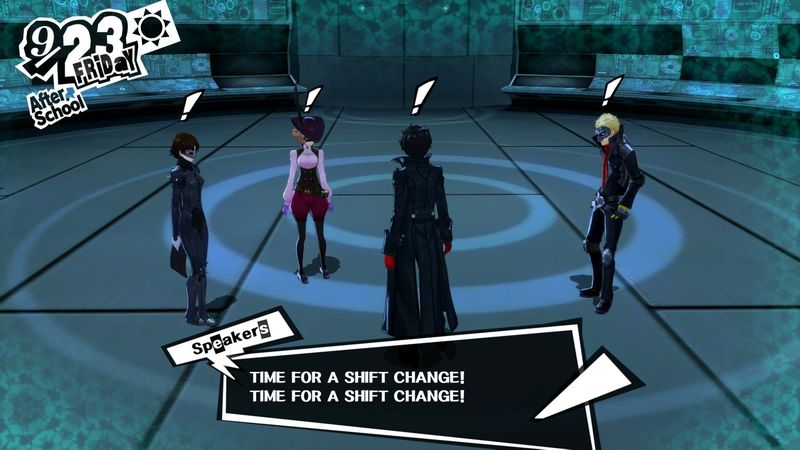 EVERYONE, MOVE STATIONS! CONTINUE WORKING UNTIL YOU DIE!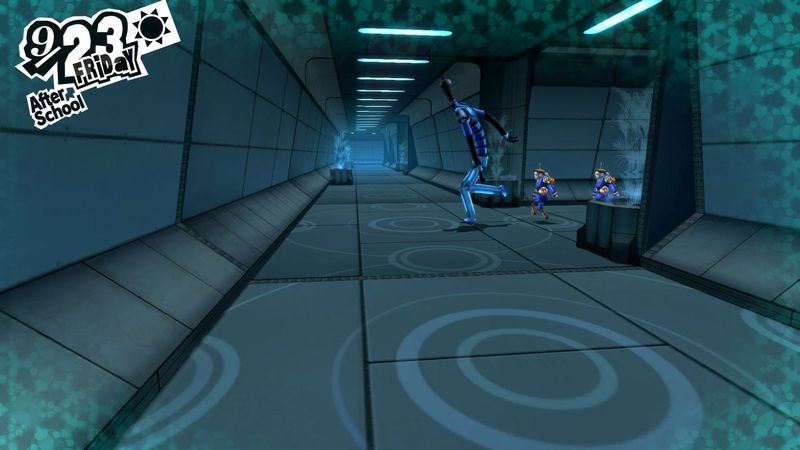 Wait, what? Shifts…? Hm, it said to move stations… Perhaps the rooms we have already entered will have different robots.

We should go check it out. Oh, and don't forget to look for places we can get into with that fancy new employee ID card.
Yes, so, not only do we have to search for three different tiers of ID card, but we have to search through all the old rooms for new boss Shadows and new information! It's a nightmare! This is the reason I advised keeping the safe room handy, by the way—we want the checkpoints because we'll almost certainly die at least once to a
fucking Girimehkala
and have to spend another
fucking hour
in these
fucking hallways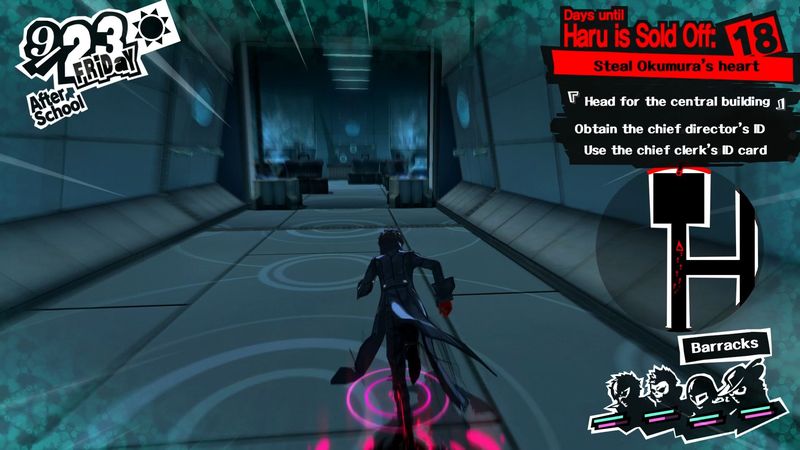 EMBRACE THE MAJESTY OF SPACE!!!!

this seems almost unbearably tedious. not just the game part, though that's pretty bad. just like the entire concept of working with all these screenshots and transcribing all this dialogue
I assume you write code for a living?

i fail to see your point
Well, anyway, let's start gathering the info we need to find the next boss. Here's the map again, so you don't have to go searching for it: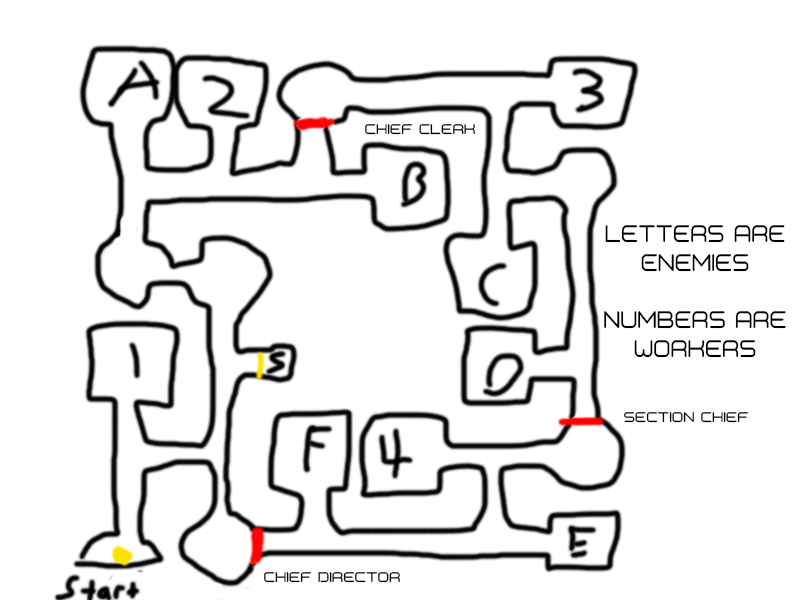 1:

THE SECTION CHIEF SAYS "
PRIVATE TALKS ARE PROHIBITED
" SO MUCH, IT'S LIKE HIS
CATCHPHRASE
.

WAKE UP, GO TO WORK, COME HOME, SLEEP… RINSE AND REPEAT, FOR THE REST OF MY LIFE…

MY INCOMPETENT BOSS KEEPS MANIPULATING ME. I ALWAYS GET THE WORST OF IT…
He sounds more competent than you, at the very least.

THE
SECTION CHIEF
WOULD GET REAL ANGRY IF HE HEARD ME SLAGGING HIM OFF LIKE THIS.
2:

HM, IS IT DAY OR NIGHT? I CAN'T TELL ANYMORE…

IT MUST BE NICE BEING A SECTION CHIEF. ALL YOU HAVE TO DO IS
YELL AT PEOPLE
.

THINGS MAY BE TOUGH, BUT THIS IS ALL FOR THE SAKE OF MY FUTURE…

THINGS MAY BE TOUGH, BUT THIS IS ALL FOR THE SAKE OF MY FUTURE… YEAH, THAT'S RIGHT. I HAVE TO KEEP BELIEVING THAT.
Yes, the first line of the last two are identical. No, I don't know why.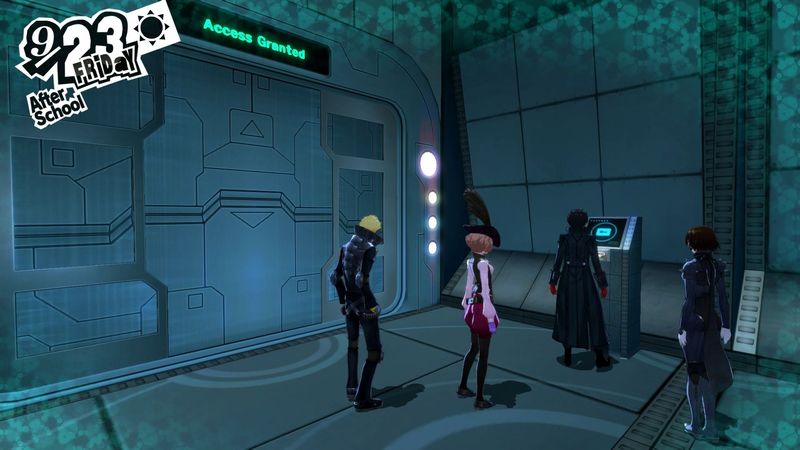 Over at the door to the second area:

Yes, it opened!

We might end up getting a chief director ID eventually if we keep getting higher and higher ranks!

Agreed. Let's go about this one step at a time. Oh, and if you're feeling tired, be sure to stop in at a safe room, Joker.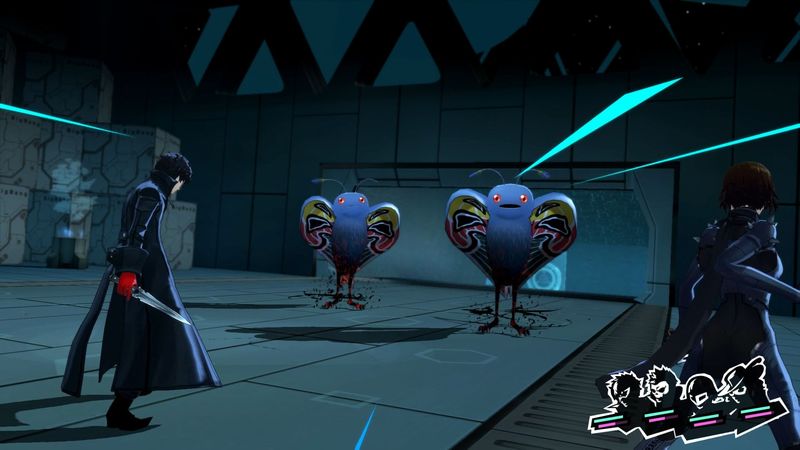 These are Mothman, cryptids from West Virginia of all places. They're weak to Gun and use Electricity.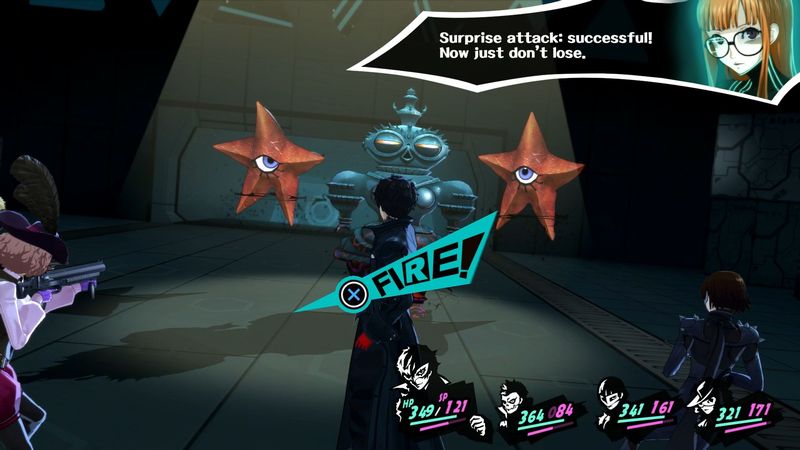 This is the part where I learn that if I don't pay attention and mash when Bullet Hail comes up, I don't get the free damage. Shit.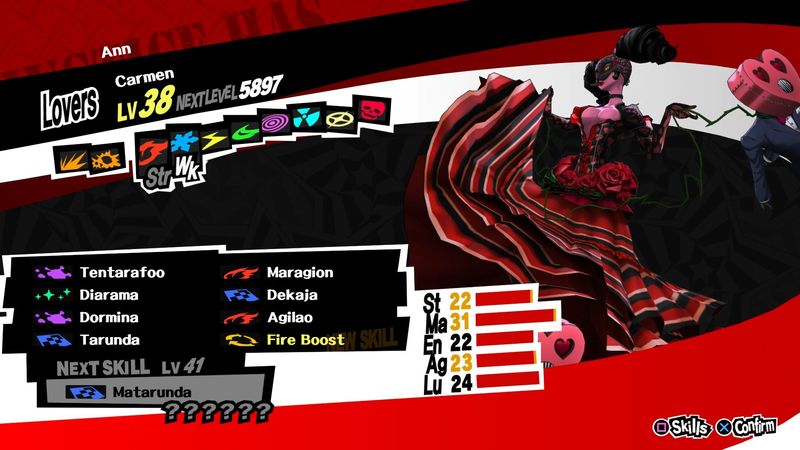 Fire Boost strengthens Ann's Fire skills by 25% automatically. We slot it in to replace Ambient Aid, which was a garbage skill.
Here's room 3:

I'M USED TO
GETTING YELLED AT
. I DON'T MIND IT ANYMORE.

THERE IS NO FUTURE FOR ANY OF US IF THE COMPANY CAN'T TURN A PROFIT! WE HAVE NO CHOICE BUT TO PUSH ON WITH ALL OUR EFFORT. THIS IS JUST THE WAY IT IS…

THE SECTION CHIEF ALWAYS SAYS "
THIS IS FOR YOUR OWN GOOD
." IT DRIVES ME MAD...

HE'S SO COCKY, BUT HE BARELY DOES ANY WORK HIMSELF.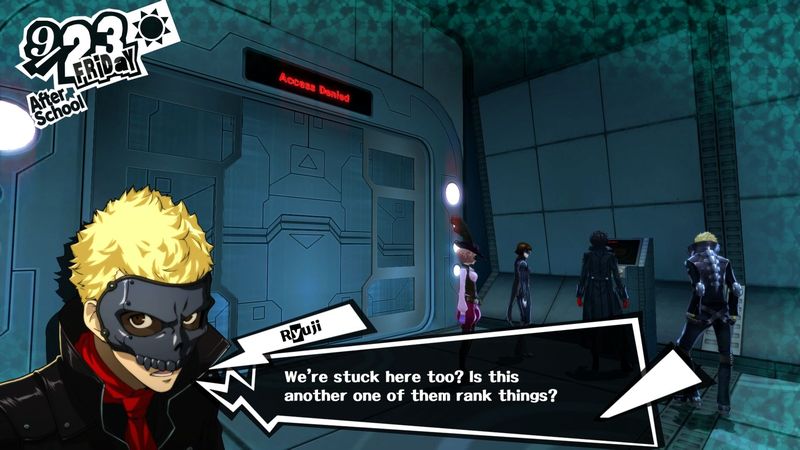 Yup! We'll need a section chief or higher ID card for this one.

I'm truly sorry for all the trouble I'm putting you through…
You're not forgiven!

Stop that. The only one who's going to be apologizing here is your father, right?

Panther is correct. Let us go search for this next ID card.
All right, now to check out the bots. There's currently no one at B, so there's three options: A, C, and D.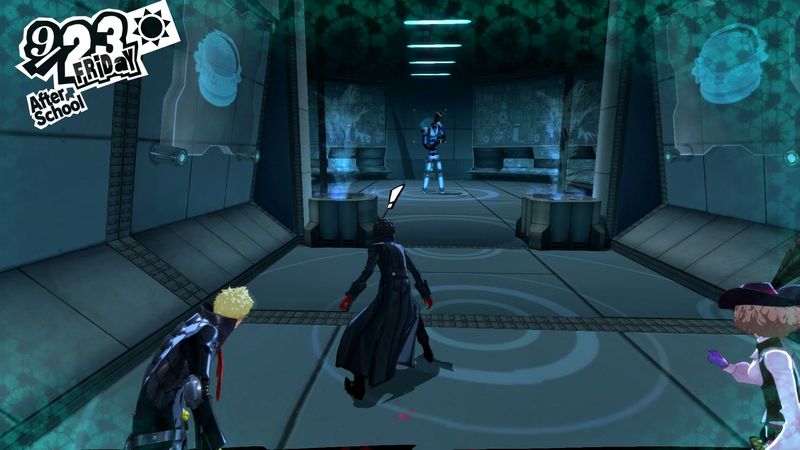 Here's A.

There's one! It looks way different from the others.

What rank is it though? I wish they'd make them so you could tell just by looking…

Either way, let's try starting up a conversation like last time without raising suspicions.
A:

I HAVE NEVER SEEN YOUR FACES BEFORE. WHO MIGHT YOU BE?

Y'know, the Phantom Thieves./
>Just passersby.
/We're employees.

YOU'RE PASSING BY IN A PLACE LIKE THIS? IS SUCH A THING EVEN POSSIBLE? HMM… THAT ASIDE, WHAT HAVE YOU COME HERE FOR?

>The chief director.
/We're looking for Okumura./We want loot.

AH, SO YOU'RE ACQUAINTANCES OF THE CHIEF DIRECTOR. SORRY, BUT HE IS OUT AT THE MOMENT… WON'T YOU PLEASE WAIT QUIETLY?
PRIVATE TALKS ARE FORBIDDEN
WITHIN THIS OFFICE.
C:

HEY! WHO ARE YOU!? YOU CAN'T BE WANDERING AROUND HERE UNATTENDED!

>Sorry.
/No need to get so angry./Shut your trap.

ARE YOU TRULY APOLOGETIC THOUGH? I DON'T MEAN TO LECTURE YOU, BUT
THIS IS FOR YOUR OWN GOOD
! I'M NOT SURE WHAT BUSINESS YOU HAVE HERE, BUT YOU CAN'T JUST COME INTO-- WAIT… JUST WHO ARE YOU ALL ANYWAY? WHAT EXACTLY ARE YOU LOOKING FOR IN A PLACE LIKE THIS?

>The chief director.
/Okumura./The Treasure.

HM? AND WHAT BUSINESS DO YOU CHILDREN HAVE WITH HIM? HE IS A VERY BUSY MAN. I DON'T INTEND ON SPARING TIME TO CHAT WITH THE LIKES OF YOU ONCE I BECOME CHIEF DIRECTOR EITHER. EITHER WAY, SUCH
PRIVATE TALKS ARE FORBIDDEN
IN THIS OFFICE! IT IS TIME YOU STOP TALKING!
D:

HEY
! WHAT IS WITH ALL THIS RUCKUS!? WHERE DO YOU THINK YOU ARE RIGHT NOW!?

>Sorry.
/No need to get so angry./Shut your trap.

ARE YOU SERIOUSLY APOLOGIZING TO ME? UGH, AND YOU HAVE SUCH STRANGE ATTIRE TOO… NOW THEN, WHAT ARE YOU LOOKING FOR IN HERE? THIS IS NOT SOME SORT OF PLAYGROUND FOR YOU!

>The chief director.
/Okumura./The Treasure.

THE CHIEF DIRECTOR, YOU SAY? WHY WOULD PEOPLE LIKE YOU BE LOOKING FOR SOMEONE LIKE HIM!? YOU MAKE NO SENSE WHATSOEVER! I FEEL FOOLISH FOR EVER TAKING YOU SERIOUSLY!
It's clearly C from the clues here, though the original clue for "PRIVATE TALKS" seems to have been inconsistently translated as "PROHIBITED" instead of "FORBIDDEN." Let's just go for that one.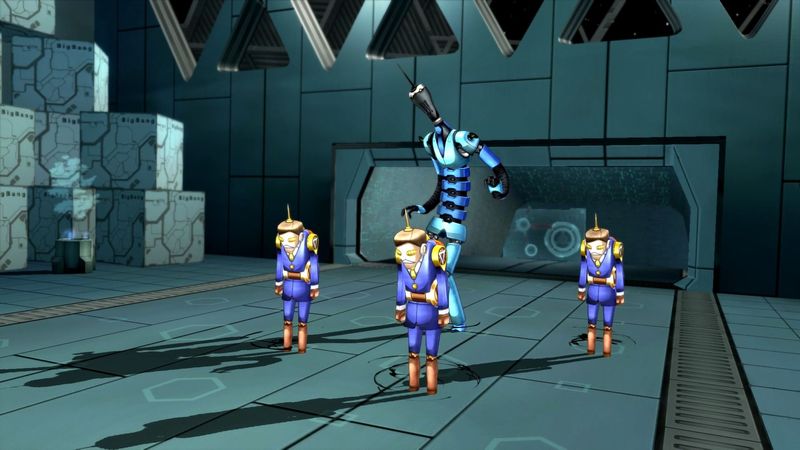 These guys murder me the first time I fight them because I still have Mothman active, whoops. The big dude's weak to Wind.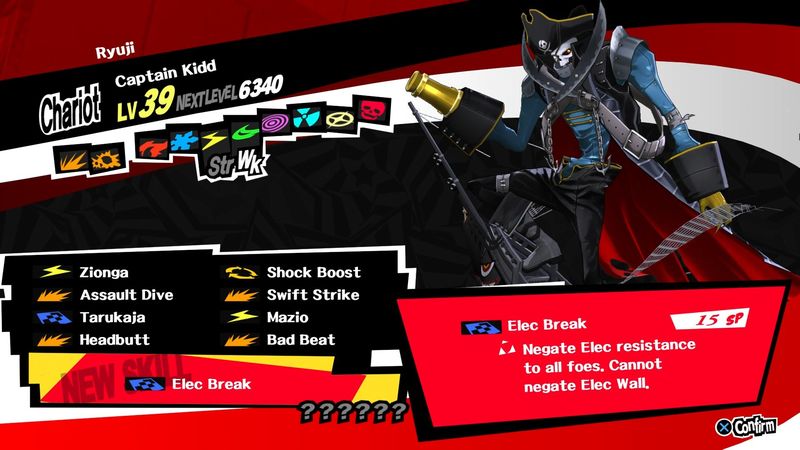 Also, Ryuji attempts to learn Elec Break, but it's worthless, especially on him, so we don't bother.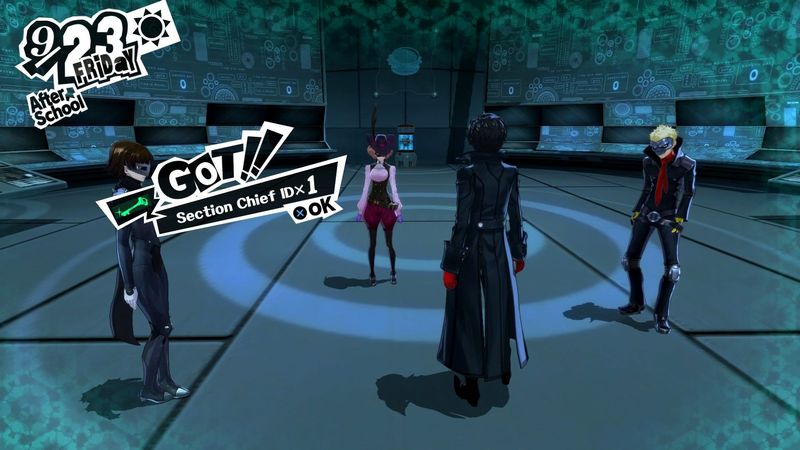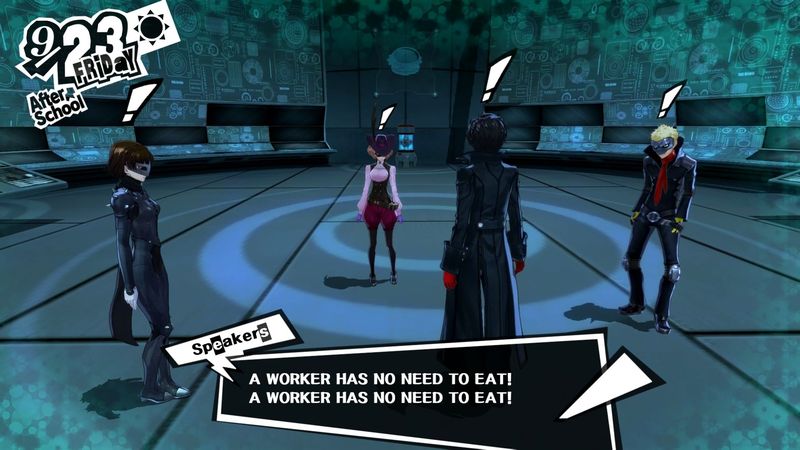 An employee ID! This one says it's for the section chief…

Ughhh, so he wasn't the chief director dude either!? Can we just fight the president already?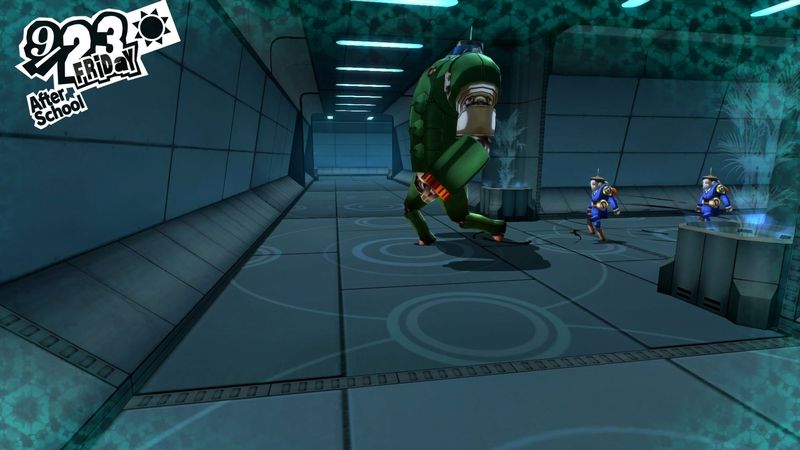 EVERYONE, IT IS TIME TO CHANGE SHIFTS! KEEP WORKING EVEN IF IT DESTROYS YOU!

This is…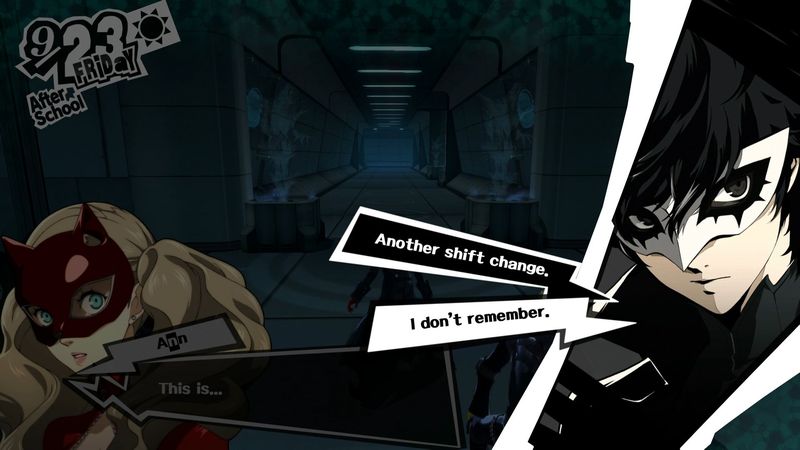 Come on, get with the program!

The employees must be getting switched out just like before. Why don't we check the places accessible via the section chief ID card?
So, we're two-thirds done with this thing, right?
Wrong.
This last portion takes me a
full hour
to complete. RIP me.
Hey, that hacker got awful quiet all of a sudden. Maybe he left. Yeah, that's probably it.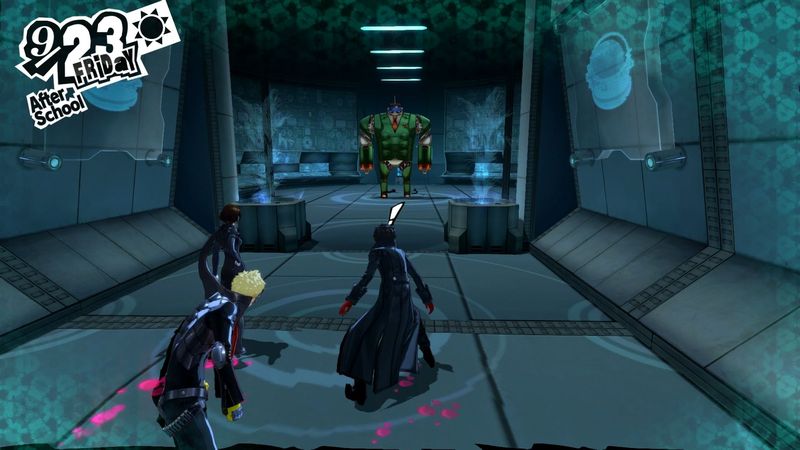 Oh crap, that thing's huge! What's with him!?

If size shows the importance Father places on them, I suppose he should be quite high up…

We're just gonna have to talk to him and find out.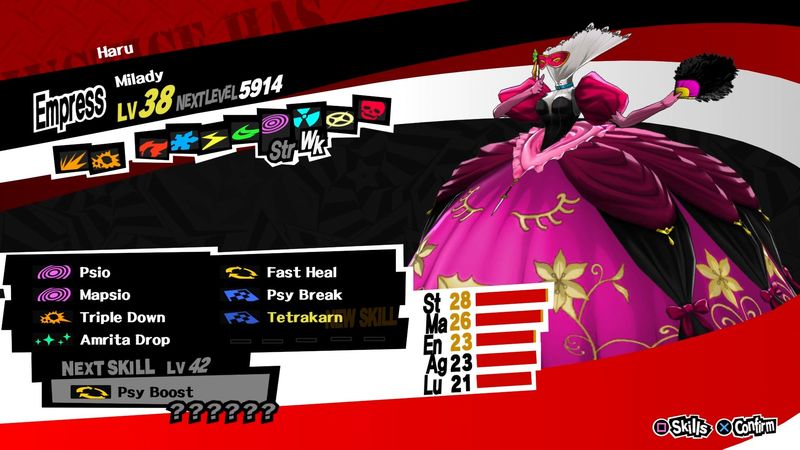 Tetrakarn is a skill that allows Haru to repel one Physical or Gun attack on a chosen party member. It's very situational, but it can come in handy.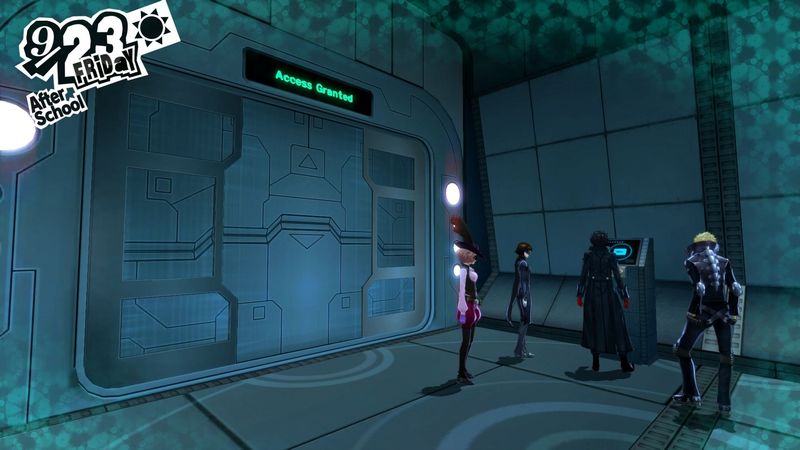 Great, this one is open as well!

We've gotta be close to the end, right? Chief director is usually directly above section chief!

Don't forget to be conscious of your condition, everyone. If you're feeling tired, be sure to rest at a safe room.
We get it,
Mom
.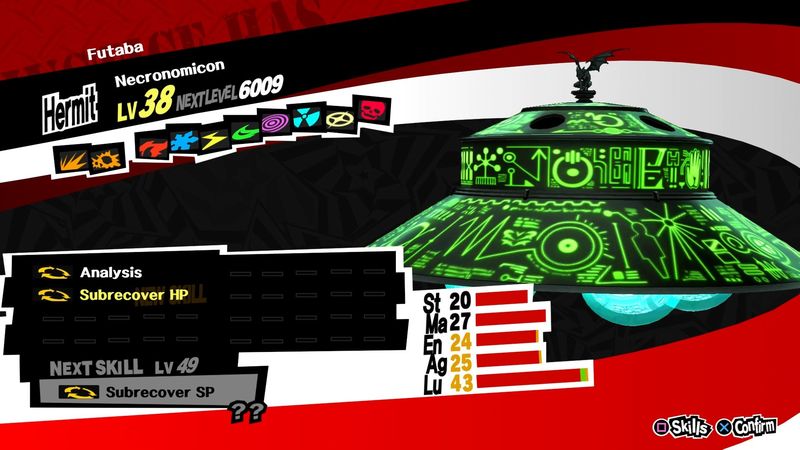 Subrecover HP is a rather awkwardly-named skill that lets Futaba heal party members who aren't in the active party for 10% HP every battle. It's not actually that useful, both because I almost never switch and because of how late it comes in. Also, multi-target healing out of battle hits everyone, so that's even less reason to use it.
And at the last door on the map, the chief director lock: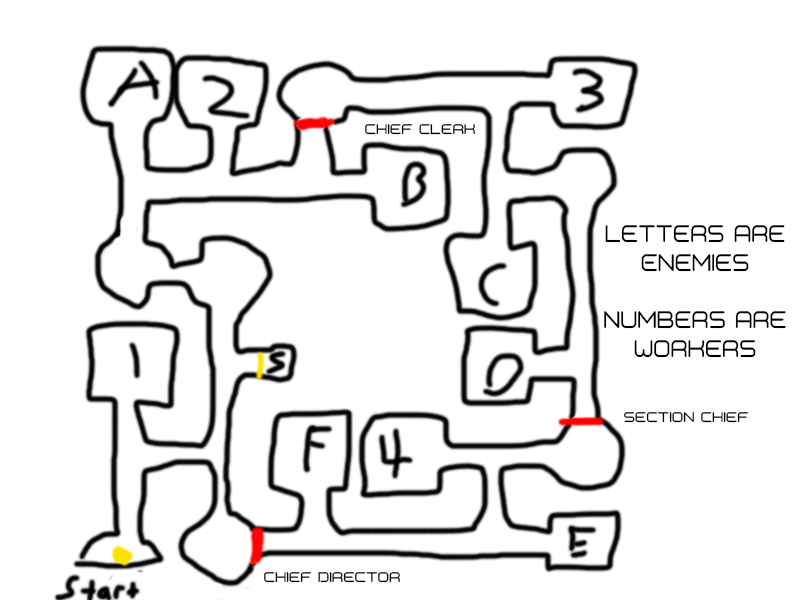 Hm, another roadblock. Is this one rank authentication as well?

Mm-hm. We can get through here if we have a chief director ID card or higher. Though given the layout of this floor, it doesn't look like this leads to a new area or anything.

So our main goal remains the door we found downstairs.

Why don't we skip all this shit and just nab the president's ID? I wanna get this over with!
BIG MOOD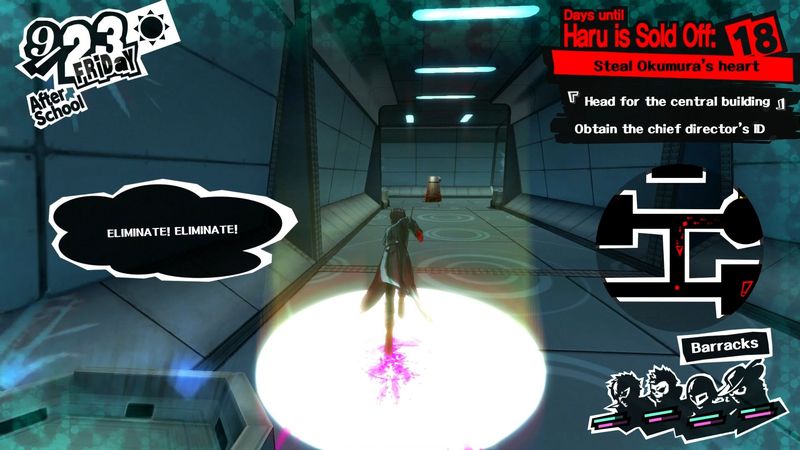 I also discover that these things don't just look like Daleks when one of them starts chasing me.
Okay then, let's get the rest of these done. First the clues, then the conversations.
1:

IT'LL ONLY CAUSE TROUBLE FOR EVERYONE IF I COLLAPSE NOW…

IT-IT-T-IT'LL ONLY CAUSE TROUBLE FOR EVERYONE IF I C-C-C-COLLAPSE NOW…

I'M HAPPY TO BE ABLE TO WORK FOR THIS COMPANY! GARBAGE LIKE US ARE GRATEFUL FOR OUR WORK AT OKUMURA FOODS!

THE CHIEF DIRECTOR ALWAYS SAYS THIS COMPANY IS THE
BEST OF THE BEST!
I AM THANKFUL TO BE ABLE TO WORK FOR SUCH AN ELITE ORGANIZATION!
I'm pretty sure these last two dudes are undercover Pinkertons.
2:

BUT I WILL BE OK. THE HEART OF A ROBOT WILL NEVER B-B-B-B-BREAK!

ISN'T THE SECTION CHIEF'S LAUGH STRANGELY HAPPY? IT GOES "
GRAHAHAHA
." NOW THAT I THINK ABOUT IT, I CAN'T REMEMBER THE LAST TIME I ACTUALLY LAUGHED...

THEY SAY IT'S GOOD TO STRUGGLE THROUGH LIFE WHILE YOU'RE YOUNG… I WON'T BE ABLE TO BECOME A REAL ADULT UNLESS I CAN PUSH THROUGH THIS.

AHHH, I'M FA-FA-FA-FA… FALLING APART...
3:

I'M TIRED OF THE SECTION CHIEF BOASTING ABOUT
WHEN HE WAS YOUNG
. I BEST HE WOULDN'T SURVIVE IF HE COULDN'T CLING TO HIS
PAST
GLORIES.

I WAS TOLD THAT OTHERS HAVE HIGH HOPES FOR ME. I AM BETTER THAN THEM! I HAVE TO WORK HARDER THAN ANYONE ELSE!

I'M IN PAIN, BUT I MUST KEEP WORKING. OTHERWISE MY FAMILY WILL BE TURNED INTO FUEL…

I SIMPLY HAVE TO DO IT! WORK IS THE ONLY OPTION!
4:

LIFE IS ONLY WORK. THEY MAKE YOU SURRENDER YOUR HOPES, DREAMS, PERSONALITY…

THEN IF YOU WORK TOO HARD, YOU BREAK AND THEY DISCARD YOU. I WISH THIS WASN'T TRUE…

DON'T WORRY. SOMEBODY WILL SURELY DO SOMETHING ABOUT THIS EVENTUALLY.

I'LL JUST HAVE TO STAY QUIET UNTIL THAT DAY COMES.
A:

AHEM! WHO MAY YOU BE?

Y'know, the Phantom Thieves./Just passersby./
>We want to talk to you.

YOU HAVE BUSINESS WITH ME? BUT TO THE EXTENT OF MY KNOWLEDGE, THIS IS OUR FIRST MEETING. WELL THEN, WHAT DO YOU NEED?

>What is your rank?
/Where's the chief director?/Nothing in particular.

MY RANK? YOU COULD SAY I'M SOMEWHERE IN THE UPPER ECHELONS. WHY DO YOU ASK?
B:

HMPH, WHO ARE YOU!? WHAT ARE TINY BRATS LIKE YOU DOING HERE?

Don't be so rude./We're the Phantom Thieves./
>Are we in the way?

OF COURSE! WHERE DO YOU THINK YOU ARE!? THIS CORPORATION IS THE
BEST OF THE BEST
: OKUMURA FOODS! YOU SHOULD NOT BE HERE! MORE IMPORTANTLY, WHO ARE ALL OF YOU!? HOW DID YOU GET IN!?

We snuck in./>
Through the front door.
/That's a secret.

THROUGH THE FRONT DOOR? SO YOU MEAN TO SAY YOU'RE NOT ANYBODY SUSPICIOUS? YOUR LOOKS WORRY ME… BUT IT WOULD BE A PROBLEM IF I MISTAKENLY REPORTED YOU…
D:

UMMM, WHO'RE YOU AGAIN?

The Phantom Thieves./Passersby./
>We want to talk.

I HAVE NO NEED FOR THAT. NOW, GET LOST. YOU'RE JUST IN THE WAY OF MY WORK.

Please hear us out./Are you the chief director?/
>You seem unenthusiastic.

GOHOHO! MY ENTHUSIASM IS WHAT MAKES ME WANT TO GET BACK TO MY WORK. MORE IMPORTANTLY, WHO ARE YOU? I SHOULD REPORT EVERY LAST ONE OF YOU FOR SLACKING OFF!
E:

WHO'RE YOU? THIS IS NO PLACE FOR RUNTS LIKE YOURSELVES.

>Oh, sorry.
/Well that's not nice./I'm no runt.

UGH, BRATS THESE DAYS THINK APOLOGIZING CAN GET THEM OUT OF ANYTHING. WHO ARE YOU, ANYWAY? YOU DON'T SEEM LIKE EMPLOYEES.

We're the Phantom Thieves./
>We're janitors.
/We're salesmen.

JANITORS!? O-OH… WELL, GOOD WORK. I DON'T HAVE TIME TO MEMORIZE JANITOR'S FACES IF OUR COMPANY WILL BE THE
BEST OF THE BEST
. ...SO, WHAT BUSINESS DO YOU JANITORS HAVE WITH ME?
F:

HWA-HEM
! WHO ARE YOU RASCALS? HOW DID YOU GET IN HERE?
I have no idea why "HWA-HEM" is in special text. None of the clues relate to it.

WHAT BUSINESS DO YOU HAVE HERE AT OUR BEST OF THE BEST CORPORATION, OKUMURA FOODS?
And here, "BEST OF THE BEST" isn't in red text, which I think is
just them trying to trick you.
Be consistent, game!

Are you the chief director?/
>Nothing in particular.
/Let's talk for a bit.

THEN WHY DID YOU COME HERE? LEAVE AT ONCE! YOUR PRESENCE IS MAKING ME FEEL QUITE ILL!
"YOU'RE IRRITATING MY VALVE, FOUL WORKER!"

…iS THERE ANYTHING ELSE YOU NEED TO TALK ABOUT BEFORE I KICK YOU OUT!?

>Let's discuss the past.
/Let's discuss the future./Let's make some small talk.

HOW ADMIRABLE. YOU WISH TO HEAR OF MY SUCCESSES, YES? EVERYONE WAS HUMBLE LIKE YOU
BACK WHEN I WAS YOUNG
. BUT YOUTH NOWADAYS…
So, uh… which one? Some of these seem to refer to the section chief, so we can safely ignore those. The problem is, there isn't enough information to narrow it down. Well, the answer is that it was a trick question! See, whether by simple mistranslation or just general error, the lines here referring to the "section chief" are not here to trick us, because they do in fact refer to the chief director! Also, if we go back to F:
F:

>Are you the chief director?

HM? OHHH, I THINK I'VE FIGURED IT OUT. YOU MUST BE THE RUMORED PHANTOM THIEVES!
GRAHAHAHA
! VERY WELL, I'LL TELL YOU THE TRUTH. I AM INDEED THE CHIEF DIRECTOR! WHETHER YOU CHOOSE TO BELIEVE THAT OR NOT IS UP TO YOU. NOW THEN… IS THAT ALL YOU WANTED TO ASK ME?
There's more dialogue, which the game fucking encouraged us not to check for earlier by making it punishable with a pointless fight! So, yeah, F is the correct answer. I hate this.
Corporobo MDL-?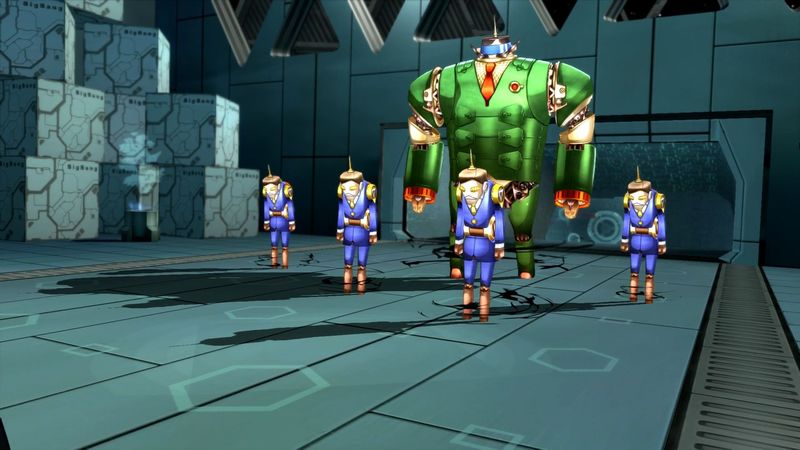 The Corporobo will use Matarunda a fucking lot to lower Attack, so Maaku spends a lot of turns getting rid of that. It's weak to Psy, though.
Music:
Sweatshop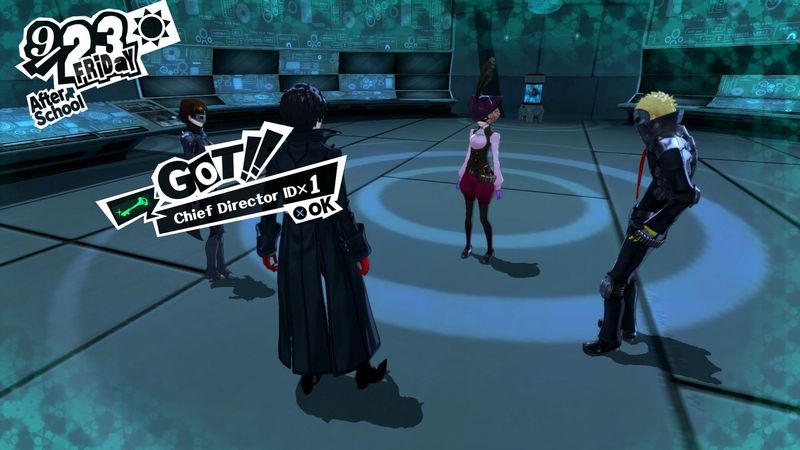 Perfect! We've finally found the chief director's ID card!

This means we can go in that rank door downstairs now!
I don't see what the door's smell has to do with this, Ann.

Welp, let's go check it out! Time to make like a banana and split!
Back downstairs...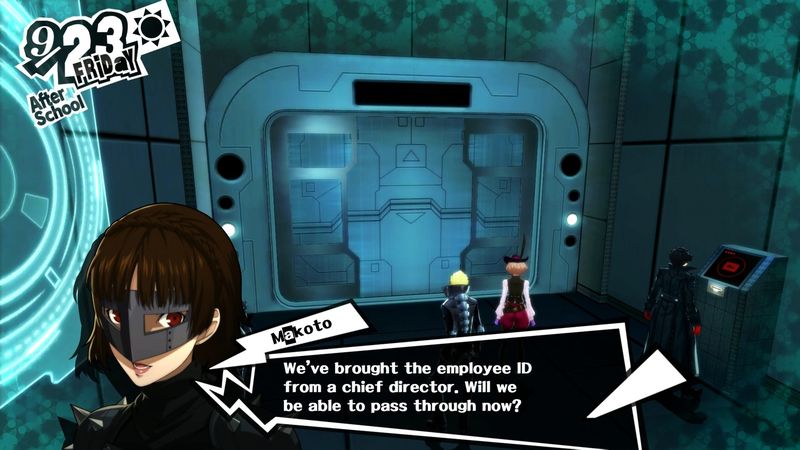 Of course! Well… probably.
Don't you fucking start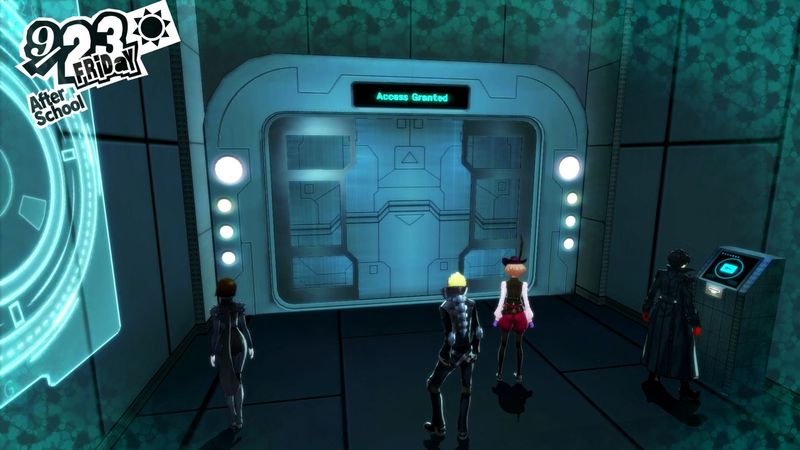 Hell yeah! Finally!

You know, it's a little odd… I thought Okumura might be behind the mental shutdowns… But we haven't found anything even remotely pointing to such a secret so far.

Something that important might be deeper in. Let's just keep going.
And that, my friends, was the security card game, the worst part of the entirety of Persona 5 in my esteemed opinion. That took up an hour and forty-five minutes of this run alone, though to be fair I was intentionally running all over the entire place looking for dialogue and I died like three times. Well, at least the worst is behi--

YOU MOTHERFU