Part 148: Sensory Stone of the Nameless One: Part 18
Sensory Stone of the Nameless One: Part 18
We spent our remaining days training and preparing. At night we scoured the bowels of Undersigil, hunting the strange beasts that bored tunnels in the city's belly like worms through rotten wood. In the morning we worked through the connections of our factions to acquire magic and weaponry. In the afternoons, we browsed. For some things you just needed to go to the market.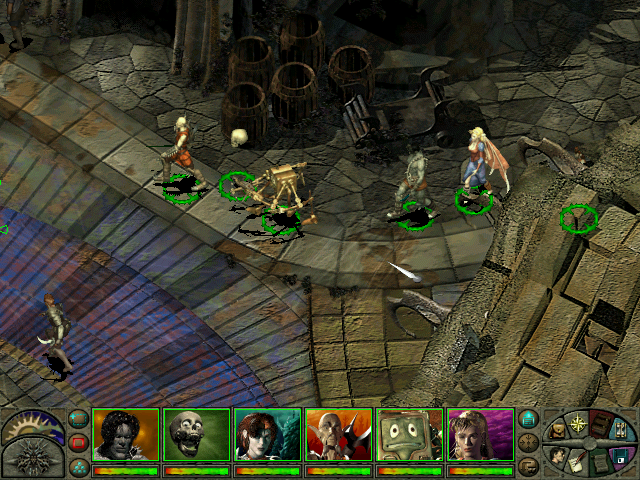 "I thought you said this place is supposed to be an exotic pet store."
"No, I said it
was
an exotic pet store. The business went under, and now they sell magical components."
~
Fell raised his pale eyebrows when he read my skin for the last time.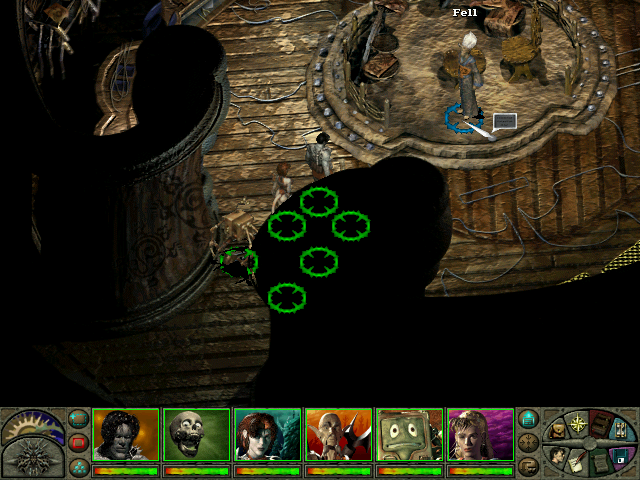 Many stories have you gained
, he signed in a string of rebuses,
Tales dark and cruel as well as beautiful. I can pen them into your flesh if you like.
"Might as well, Fell. This may be the last time I see you."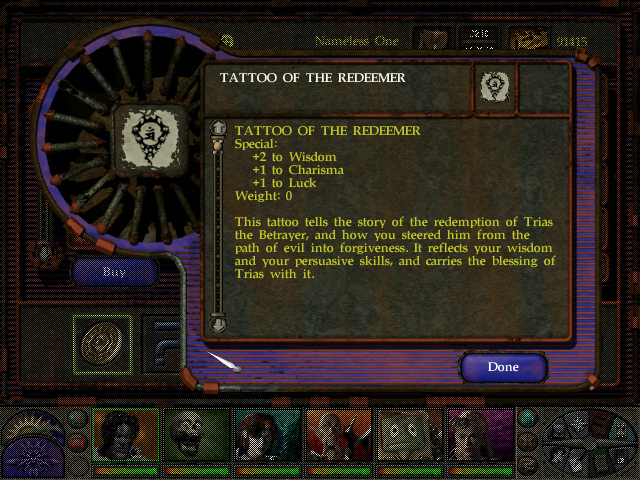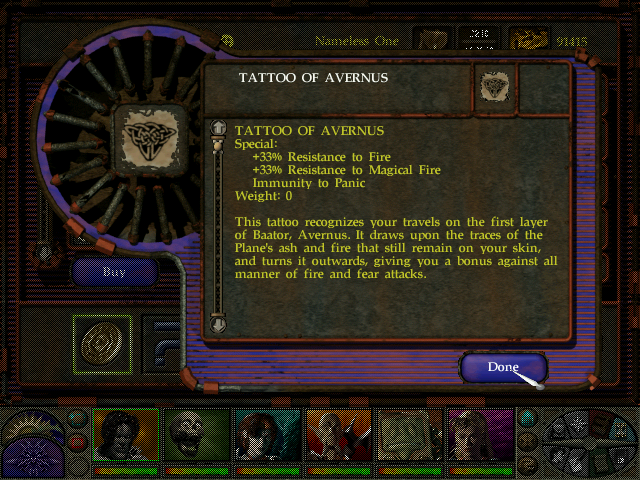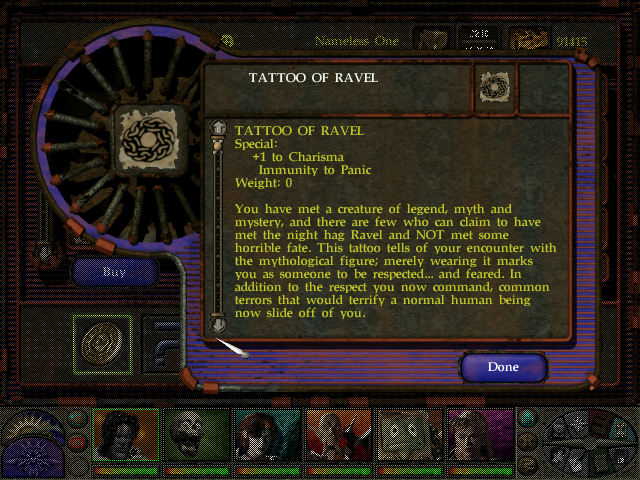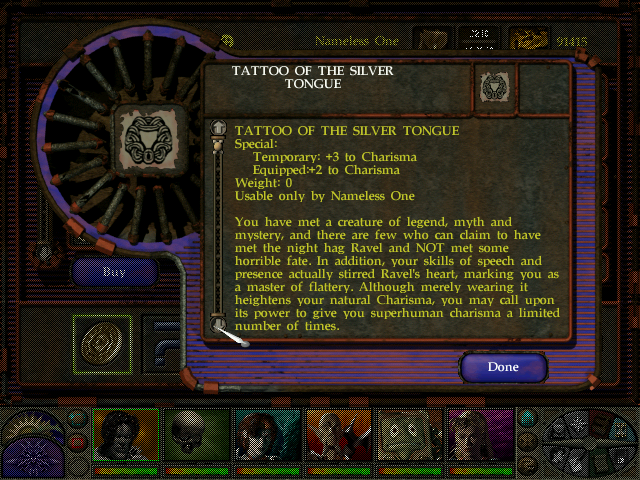 ~
The noxious stench of iron and sulfur from the Lower Ward seemed to cling to my mouth, but a small, sour pear helped clean the tang from my palate.
"We're getting married!" Karina said, delighted, "Corvus proposed just last week! Thank you, thank you so much for introducing us! To think he never bothered to speak with me since he thought I had a long list of suitors!"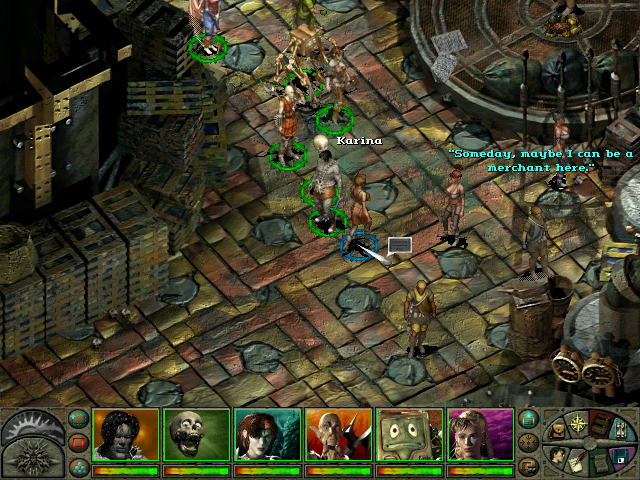 Corvus grinned, "Aye, if it weren't for you I wouldn't have met this sweet girl. I'd love for you to come to our wedding."
"Ah I'm afraid not. I'm afraid I'm going... traveling. I probably won't see you again, but I wish you two the best of luck." I smiled. It would hardly be appropriate to tell them I was working towards a funeral instead. Idly I thumbed through the bag of goods and charms I'd just purchased.
Corvus sighed, "Well best of luck to you, then. You're a good man, cutter."
~
The creature in front of me smelled of blood and rust. Sulfur billowed hot from its braziers, ash flecked the metal walkway. It'd breached the barriers between planes, sundered worlds. Countless armies have broken their spears against its fortress.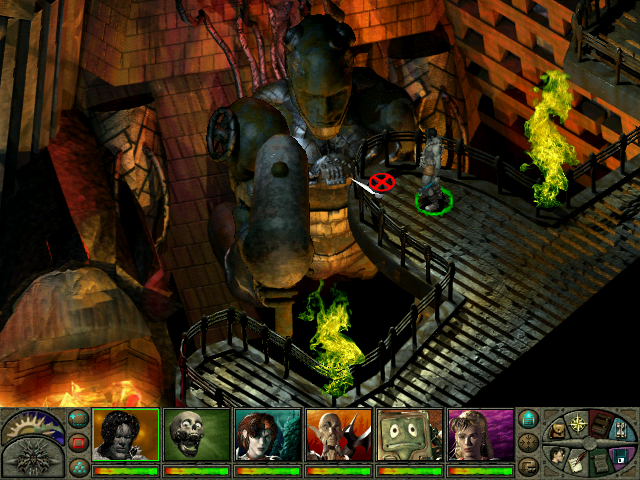 "Coaxmetal, do you know of a citadel called the Fortress of Regrets?"
IT IS A PLACE OF SHADOWS. A FORTRESS NOT EVEN THIS TOWER CAN BREACH.
"Do you know anything more about it?"
IT IS A MEMORIAL THAT HAS FORGOTTEN ITSELF. IT NOW DECAYS IN DARKNESS, SLOWLY DYING AMONG THE SKIES OF THE NEGATIVE MATERIAL PLANE.
"What of its denizens? Its defenses?"
Coaxmetal's arm continued to creak as it hammered at the twisted metal beneath it,
THE CITADEL OF WHICH YOU SPEAK NEEDS NO AID IN ITS DESTRUCTION. ENTROPY IS IN ITS BONES, LAMENTATIONS IN ITS MORTAR. IT IS NONE OF MY CONCERN.
I sighed and stepped away, feeling the black-edged blade that Coaxmetal had forged for me long ago. At least I had gotten this from him.
HOLD. BEFORE YOU DEPART, THERE IS SOMETHING YOU MUST DO.
I blinked, "What?"
SUNDER THIS PRISON. FREE ME. MY PURPOSE CANNOT BE FUFILLED IN THIS CAGE.
"How could
I
free you?"
GIVE ME THE PLANAR CUBE YOU CARRY. IT CAN FREE ME FROM THIS PLACE.
"I can't give that up."
IT IS THE DOOR THAT WILL ALLOW THIS TOWER TO LEAVE THIS PLACE. GIVE TO ME THE PLANAR CUBE.
"I'm not giving it to you. I cannot allow you to be free. The Planes do not need any more chaos and blood-letting."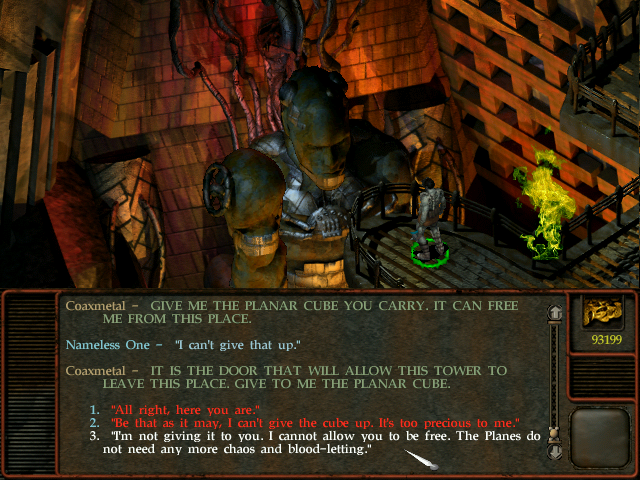 ORDER HAS SET ITS CHAINS AROUND YOU. YOU ARE MY ENEMY AND THE ENEMY OF ALL THAT DIES. YOU SHALL BE BARRED FROM THIS TOWER UNTIL ETERNITY ENDS.
"If that is what must be, then that is what must be. Farewell."
~
The Modron engineer clicked and whirred as it processed my orders.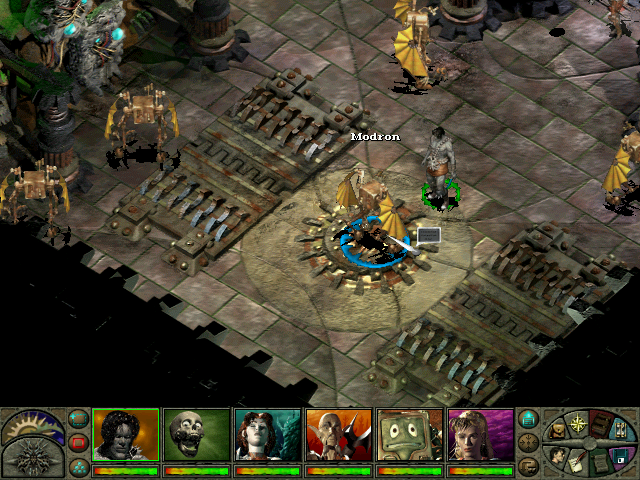 "Is that understood?"
"By your command, Director." It bobbed, giving a
whirr
and
click
in confirmation.
"Fantastic."
~
Grace wouldn't keep us waiting for long, but I wouldn't mind lingering in the perfumed atrium of the Brothel for a while longer. The branches of the tree seemed to waver as if caressed by an unseen wind, and as usual tea and cakes were complimentary.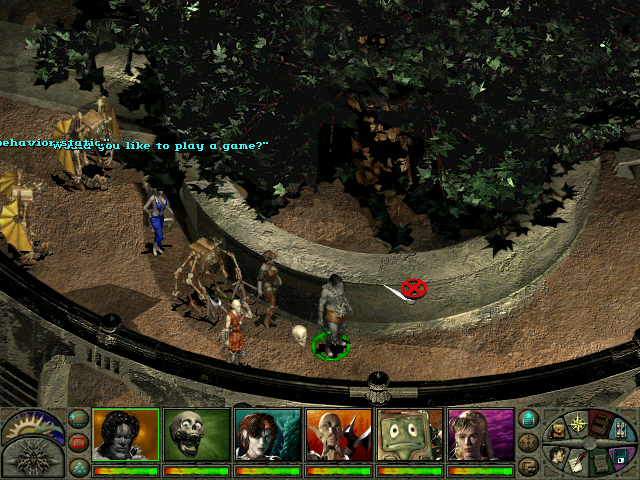 "She died in my arms, Kesai-Serris."
The exotic gray-skinned prostitute sniffed, wiping her nose, "I think- I believe I felt it when it happened. A sharp dream of... of her, shrieking, voice cold and sharp as a knife. And then nothing."
"The planes have been crueler to your mother than most realize. Part of her was good to me. There was a remnant of Ravel that was kind, generous, nurturing. No one's irredeemable."
She leaned against my chest, and I put a consoling arm around her.
"I think I believe you," Kesai-Serris sniffled.
"Visit the Mortuary sometime, the black obelisk, and ask for Old Mebbeth the healer."
~
The Hive merchant was just opening up his shop when we visited him in the morning. "Ah, cutter! Such a long while since you graced my stands. I'd heard of a scarred-up man wandering the Clerk's Ward as if he were familiar with the place. I do hope my humble offerings will still please you." He smiled graciously, waving a hand over his delicacies.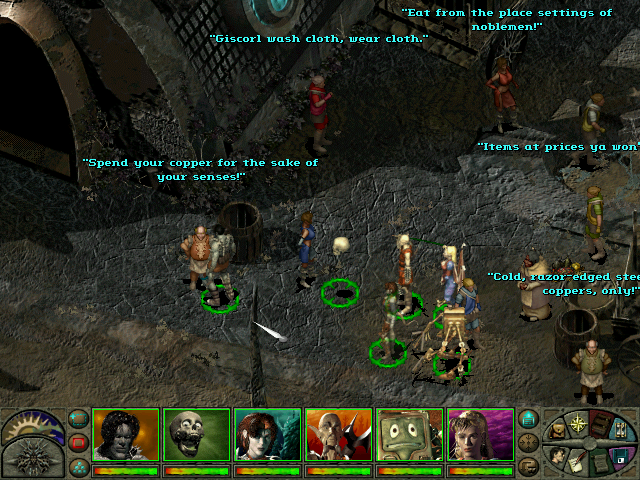 "Of course. Anything special you have for me?"
"Ah certainly, certainly! Today, a shipment of Golden Apples from Hesperis. Most rare, and it's said that they grant longevity and wisdom to those that sample them. I make no such grandiose claim of course, but the flavor is exceptional..."
The coppers clinked into his hand, "Longevity I have little need for, but wisdom is always appreciated." I bit into the apple, and its juices ran down my chin. Nothing had ever tasted so sweet.
~
"I should've known you'd be here."
Fresh new gouges scarred Ebb's armor, and pulling the pipestem from his lips he exhaled, letting the wreath of smoke mingle through his thick white beard. "Nice work back there in Curst, friend."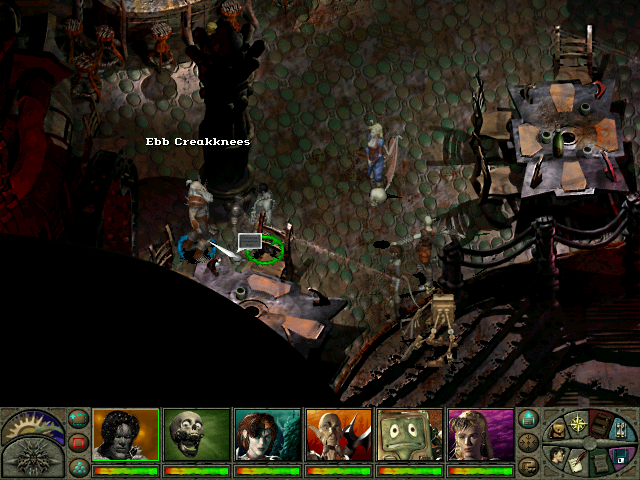 "You seem unusually content for a... revolutionary. I'd expect you to be more upset that your plans had gone awry."
Ebb chuckled, swilling his mug of foul ale, "I was undercover. Triple agent. Harmonium agent, infiltrating the Anarchists, pretending to be a Harmonium double agent. You've got to think more even more deviously than these berks to get in... and I still wasn't sure if my cover had been blown or not when you sauntered into that warehouse."
I nodded, impressed. "Things worked out for the Harmonium then?"
Ebb laughed, "Better'n we expected. Five cells joined together for the takeover, and every one o' em Anarchs turned stag. Half saw there'd been enough tearing-down, and they've left to help build Curst back up stronger an' more orderly-like than before. The other half had their fill of chaos and fled to Powers know where. I think one o' em decided to be a priest."
I waved to the bartender and ordered some drinks. "A toast then, to the fall of the old, and the rise of the new."
Ebb bellowed with laughter, "There be a fellow here who plays the dulcimer. Once he's back from takin' a piss I say we toss him a few coins, order some food, and celebrate. Life only happens once, after all."
~~~~~
This was where it began. This was where it would end.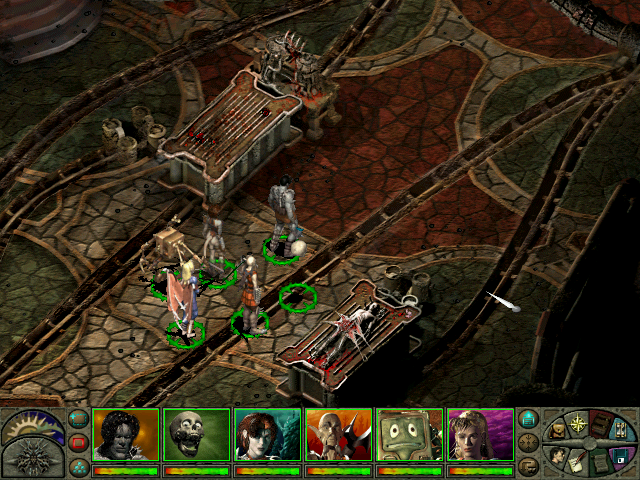 I ran a hand along the slab where I'd been born to this world. The stink of formaldehyde and alcohol cutting the air brought back memories, none of them fond. In the distance was the sound of slow-footed shambling, the squelch of organs being pulped and bodies processed.
There was something about the arch in front of us... something hauntingly familiar. A bone-numbing chill blanketed the air between these two black pillars, as if the arch itself bordered on some other, colder space. For some reason, I KNEW this was the portal to the Fortress of Regrets... now all I needed to do is open it.
I gritted my teeth and peeled the skin from my left forearm, as Trias described. Fine scalpels were in abundance in the Mortuary, and though there was surprisingly little pain I clenched my teeth. Fingernails dug beneath the incisions along my flesh; with a wet, tearing sound, I peeled off the strip of skin. The chill between the pillars became stronger, almost hungering, as if the portal has opened a crack...
The exposed muscle and sinew beneath burned at the kiss of dry air. I held the scrap in my hand and stared a moment. Its scarred, gray surface seemed more like a zombie's hide; it feels more like a piece of cured leather than a strip of skin.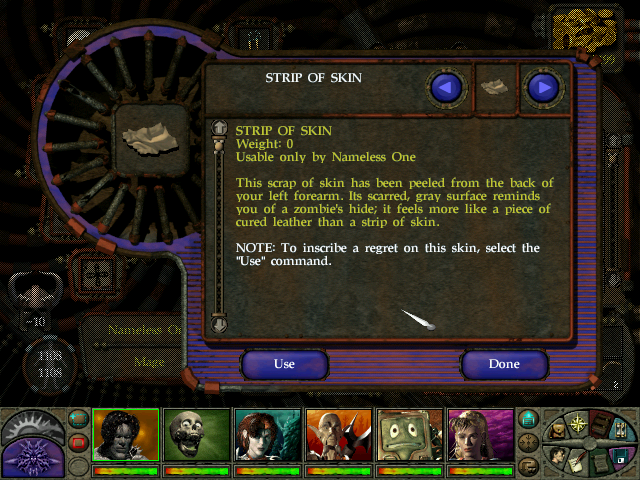 With the same scalpel I pricked my index finger, and the many possible regrets swam in my mind: what had happened to my companions, my actions, my past, all the dire events that led up to this point...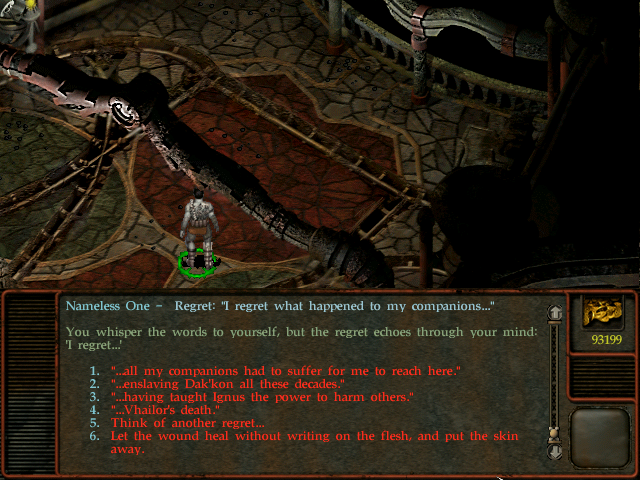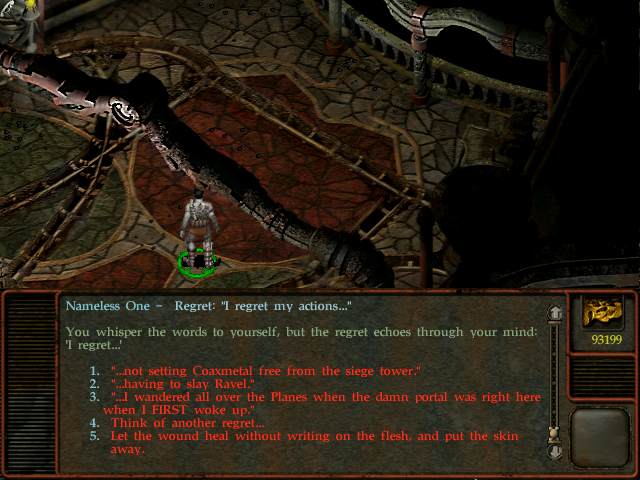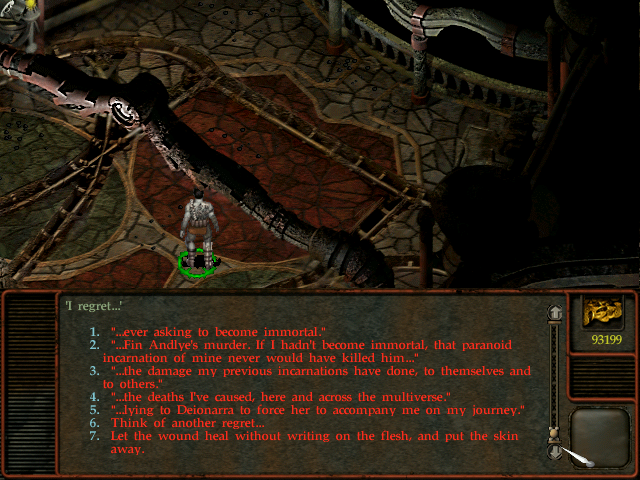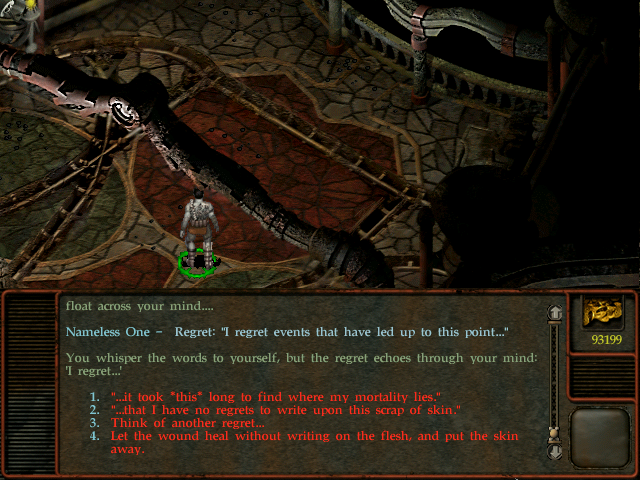 "I regret that I wandered all over the Planes when the damn portal was right here when I FIRST woke up," I grunted.
Before the wound could heal I squeezed forth several drops of blood and scrawled the regret onto the scrap of flesh. My rapid healing forced me to stop often to re-open the cut on my finger and squeeze forth more blood. Several moments later I finished, blood glistening on the scrap of skin... a combination of flesh, blood, and regret.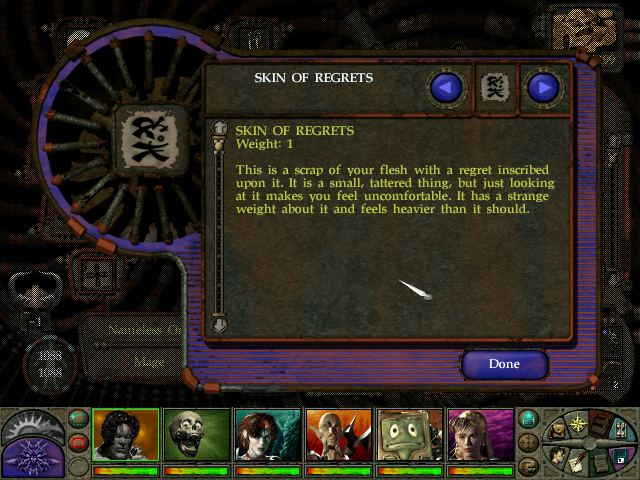 As I watched the bloody regret dry, a wave of cold washed over me. I looked up; the black pillars to either side of the arch were glowing softly, motes of misty blue light drifting from their sides to form a shimmering curtain between them. Beyond the curtain, I could barely make out a weathered stone causeway leading into darkness.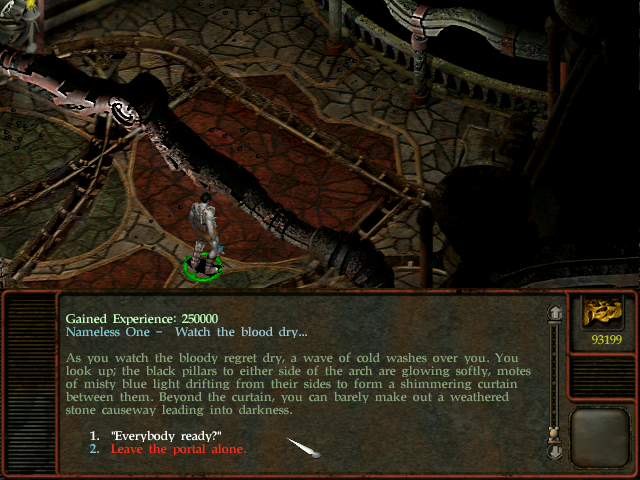 I licked my lips.
"Everybody ready?"
Nordom clicked, crossbows twirling in his hands. "Query: Received. Response: Nordom is readied and waited. Awaiting to profess further directives."
"Actually, it's 'process'... never mind. Fall-From-Grace?"
"I have come this far, and it would be rude of me to retire before the final hour." She smiled slightly. "Even if you were to ask politely, I would not permit it."
"It seems I have no choice, then... Annah?"
"I..." Annah shivered as another wave of cold emanated from the portal. "If
she
goes, I'll go, so I will. I'll not turn stag on yeh here, I won't... 'sides, yeh'd lose yer own head if it weren't attached. Yeh'll need a minder, so yeh will."
I chuckled, "Perhaps so. Dak'kon? You with me?"
His eyes were bright obsidian, his
karach
blade swam and flashed like quicksilver, "Your path is mine."
"Morte? You ready?"
"Eh..." Morte hesitated, glanced at the portal, at me, at the portal again, then gave a rattling sigh. "Look, I'm not going to say
too
much here, but uh... well, there's something I need to tell you..."
"What? C'mon, Morte, we have to be going..."
"Well, it's about where we're going... or eh, actually where... we've...
been.
"
"'Where we've
been
?' What are you talking about?"
It was so subtle, I almost missed it - Dak'kon's blade flickered, the edge dulling. As I glanced at him, his hands dropped to his sides, as if he was preparing for battle.
Morte stuttered "This... uh, this isn't the FIRST time we've been through this... you see, we've been to this 'Fortress of Regrets' before... though, we... I... didn't know it then."
"So, from the VERY START... you could have TOLD me where the portal was, WHAT the portal key is, WHY I am immortal, WHAT happened to my mortality, AND the fact that it's in this Fortress?! Morte, I'll
KILL
you...!" I was close to foaming at the mouth, and I reached out as if to throttle him, if he'd had a neck.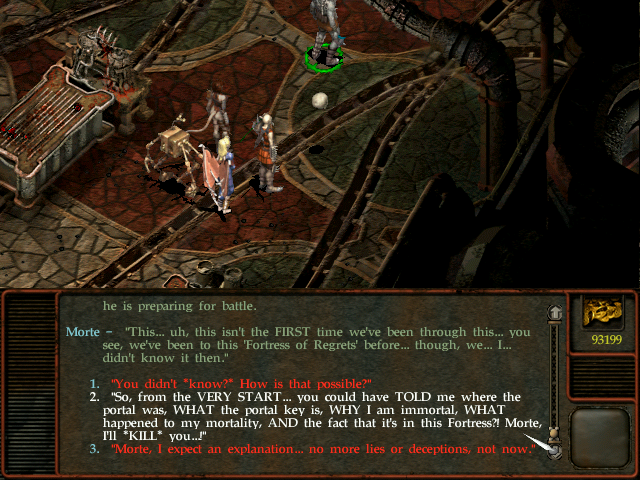 Morte looked alarmed and dodged, speaking quickly. "No! No! We... I... never KNEW any of that! It's not like you were always the most sharing basher in the Planes! That... that
other
you kept a LOT of the chant to himself, and we didn't even know WHY we were going to this place before or even WHAT this place was! I just know what happened when we GOT there..."
I rubbed the bridge of my nose, "And... what happened?"
"Well, we went to this - this FORTRESS, and even before we land foot in this place, we're all SPLIT up, fighting for our lives..." He shuddered. "So the
first
thing I want to tell you is if you're determined to go through with this, there's a good chance that anybody who goes through that portal is going to end up somewhere
far
away from everybody else. Thing is, even split up, we may be your only hope..."
"Why do you say that?"
"Because whatever was waiting in that Fortress for you, chief, it already defeated you once... to this day, I don't know how you managed to survive, but if you fall again, you're going to need someone there to pull you out of that Fortress..."
Annah shifted uncomfortably, but her eyes were steeled with resolve. Grace's hands were folded before her, the picture of serenity.
"Morte, I need you to tell me everything you can about the Fortress... it's important."
"This 'Fortress of Regrets'... it stretches on for LEAGUES, chief. It's a Fortress, but it feels more like a PLANE in itself, all stone, all darkness, and shadows - everywhere, shadows. We go there, and... we better be prepared."
"What happened when we first went there?"
"Chief, I don't know what happened to YOU, but I know what happened to ME... I spent my time running from vault to vault, those shadows crawling all over me, trying to bring me down... then, I just... suddenly, we were 'out,' like someone had pulled us back..."
My eyes flicked over to meet Dak'kon's.
"
Know
that I have walked your path many times." Dak'kon spoke slowly, as if measuring each word; his blade had become a misty gray, as if Dak'kon's mind had drifted. "A portion of your path is
known
to me. Five walked the path to the Fortress. Each died their own death."
"But... who were they? How did they die?" even as the words left my lips, shadows of names and faces flicked over my memory.
"I died the death of faith. The skull died the death of courage. The woman died the death of grief. The blind archer died the final and most merciful death, the death of the body. You... you died the death of memory."
"The woman was that chit Deionarra," Morte said quietly, "I never knew the archer..."
Dak'kon's face became grim, "I could not save the woman because it was not your WILL that she be saved. Her grave was dry of tears. No one
knew
to mourn her passing."
"But... why did I not want her saved?"
"Your will was
known
only to you."
"Yeah..." Morte rattled, as if shivering. "Chief, at this Fortress - there's shadows
everywhere
..."
"There was darkness there, and every shadow was Shra'kt'lor." Dak'kon's voice was a whisper, and his eyes bled into a dead black, seeming to stare at something just beyond me. "They are tormented creatures. The wounds in your spirit are
known
to them. They will attack you through them."
"They spoke to me like the Pillar of Skulls..." Morte's voice dropped. "They
knew
..."
Dak'kon shook his head. "The shadows
suffer.
They
know
of torment. They
know
how to torture you with that which has wounded your heart. When you face them,
know
that you face that which has killed you once."
"I can't tell you anymore, chief - except we're bound to be divided as soon as we arrive, it's a HUGE place, and it's crawling with shadows... and somewhere in that Fortress is something more powerful than
any
of us."
"Nothing lives there. The walls are darkness," Dak'kon murmured.
I swallowed, looking into that portal. Its edges were misty and wavered, like teeth gnawing gently at the grim corridor beyond. "All right - before I step through this portal - is there ANYTHING ELSE you feel like sharing that you think might HELP me?"
"Well..." Morte paused. "Yeah, there's one other thing you should know - the YOU I knew before, the YOU that led us here, he wasn't like you. At all."
"What do you mean?"
"The other YOU, he... he didn't care very much for anybody. For anyone. We could have ALL died in the Fortress, and he wouldn't have blinked. So... I just want you to hold on to your differences, because... well, I like this
you
better. A LOT better."
"But that's not all you want to say, is it?"
"No..." Morte paused. "There's one other thing - I may not have liked that
other
you very much, but he was one smart basher - the smartest basher I've ever known; he always had every angle covered. If he died at the Fortress, that means... well..." he trailed off.
"You don't think I can succeed, do you?"
"No..." Morte shook his head. "It's not that, chief. Because it's not always who's smartest, or who's the most powerful, or who's the toughest... sometimes it comes down to who you are and what you
really
want. I mean, once you wanted to become immortal - but in the end, is that
really
what you wanted? Just be sure of what you want this time, is all I'm saying."
"Fair enough. Look, Morte... we haven't really talked about this, but you know you don't have to come with me to this place, right? I'll understand if you don't want to."
"Yeah... I know, chief. And I can't lie to you... I don't want to go... but I will. Just know that once we step through that portal, it isn't going to be just about
you
anymore. This is our lives you're playing with, and we don't get back up when we die."
"It's because of what Ravel said in the maze. And the symbol Fell described for us." Grace's voice was soft, so soft I almost missed it. "Isn't it, Morte?"
"What Ravel said, in the maze - and what Fell said about that symbol, Torment? They say you draw people who suffer to you, like a lodestone." Morte shook his head. "Maybe it's because
you've
been suffering all this time. Maybe when you end up settling things... maybe
we'll
know a bit of peace, too. Maybe."
I looked over my companions: Morte, who'd hidden his guilt with wit. Dak'kon, his spirit dry as ash when the fires of faith had burned away. Nordom, struggling to see a spectrum of colors where once there'd been only white and black. Grace, who held her secrets in her heart. Annah, who grew up harder than she ever had to be.
"Maybe so. Then... are you with me, Morte?"
"Why not, chief?" Morte shook his head. "I mean, we've gone to every OTHER horrible plane in the multiverse I can think of. Why not take that extra step over the cliff?" He gave a rattling sigh. "Are YOU ready? Because if you're not..."
"I'm ready, Morte. There's nothing more I can do to prepare myself; are you with me?"
"Well, I..." Morte glanced at the shimmering blue curtain. "Sure. Let's go. I mean, any place else has got to be better than rattling our bone-box in the Mortuary, right?"