Part 157: The Final Memory
The Final Memory
We met one another, and at first it was like mixing oil and water. The ropes of his armor bent and coiled around my body, brambles biting deep into my flesh. His talons fell away and dissolved, his helm split open. A pressure of substance that had been parted for too long walled between us: bending, stretching, until it pricked like a soap bubble.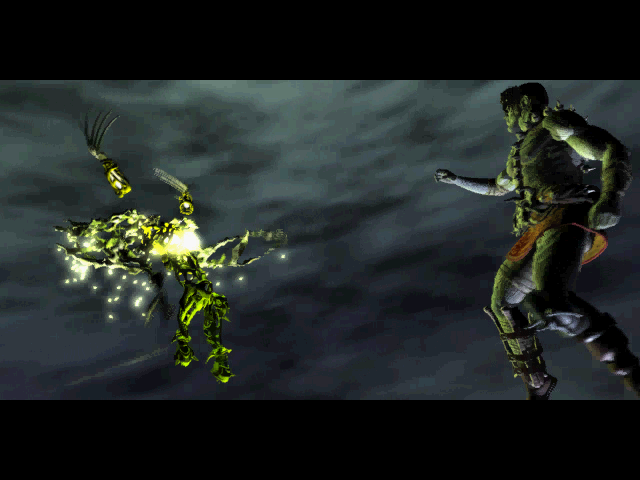 And the form of it
burst
, the core of inner light flooding into me. Beams of radiance crackled between the two of us and I threw my head back, crying out at the sensation of being
filled
once more...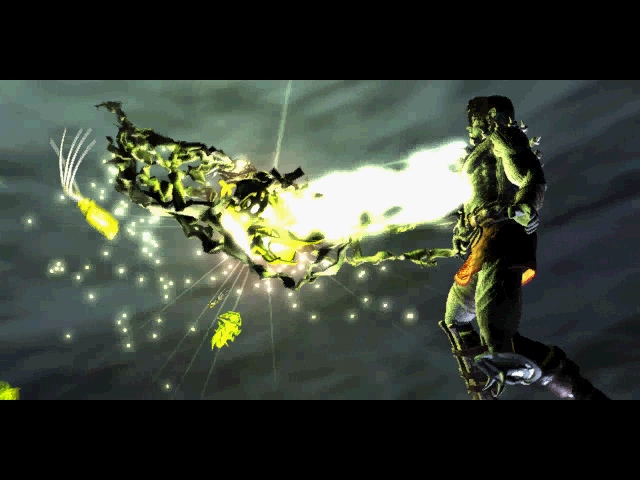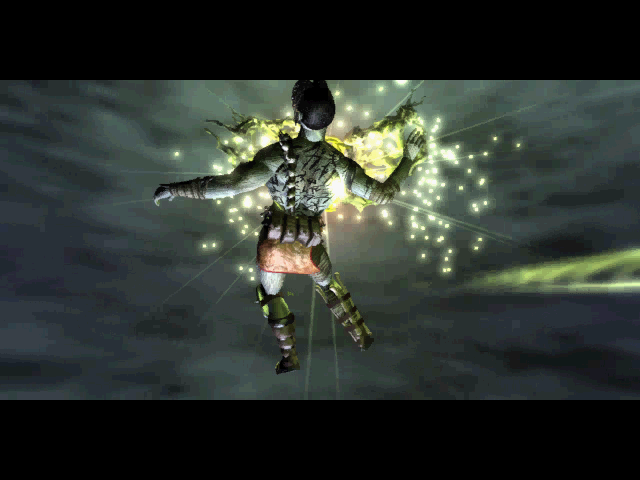 My mortality swirled through me, viscous and thick. The tempest of its motions welled, and for a moment I feared that I might burst from it...
But then it began to settle, like a wave after crashing against the shore. It essence seeped into the cracks and crevices of my spirit, filled in wounds long forgotten and sealing gaps that had been left with countless deaths. I shone like a sun. My eyes burned like stars. Each moment a hundred lifetimes revealed themselves to me, a thousand...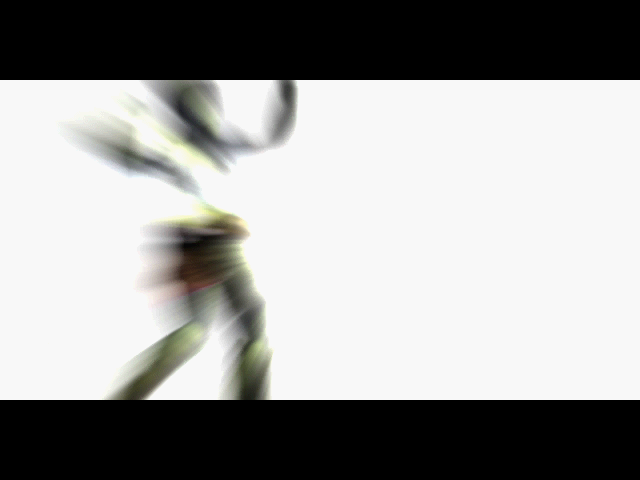 So many wounds, so many deaths of memory, so many fissures... I had forgotten not only the incarnations past, but what it was like to be
whole
again. The countless shreds of my existence sealed together, my mortality cementing them tight. I was a Sensate, and this was merely another experience. I was a Godsman, and this was merely another test. I'd been a murderer, a madman, a poet, a priest, a scavenger, a mourner, a scribe, a merchant, a butcher, a baker, a scholar, a mage... countless lives and countless incarnations strung together like pearls once scattered, clicking one by one into a single chain.
And the world calmed once more... placid as a quiet pond.
I closed my eyes and felt deep inside, exploring the depths of my mind. A million new memories chattered away and I swept them aside, searching for the gap where my spirit had once laid. Nothing. Where that ragged wound was, that hole that led to a deep oblivion inside my being, there was only a smooth continuity of essence.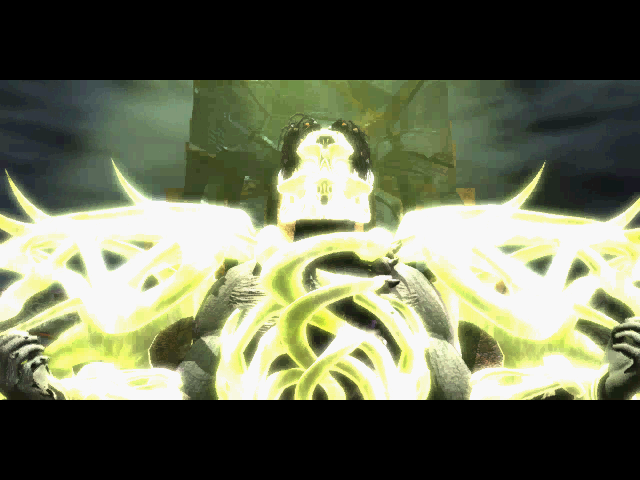 I was whole.
I was healed.
I was one.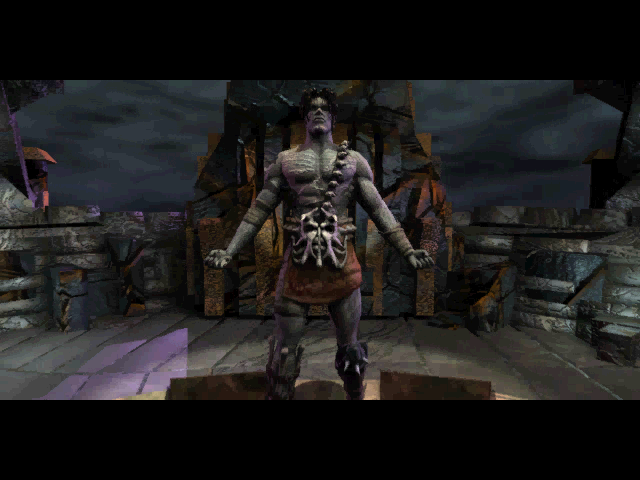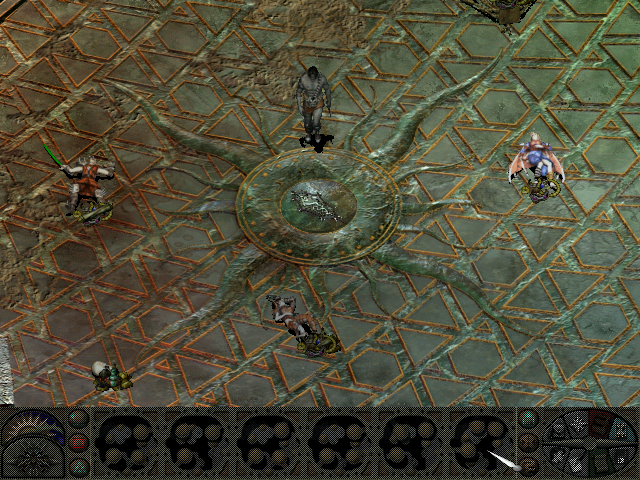 Reunited (video)
And I knew now, the totality of life and death. I pressed against the veil that laid between this world and the next, and it bent like gauze at my touch. A little further, and I directed the threads over Morte, to weave him back into his corporeal form in a nimbus of light...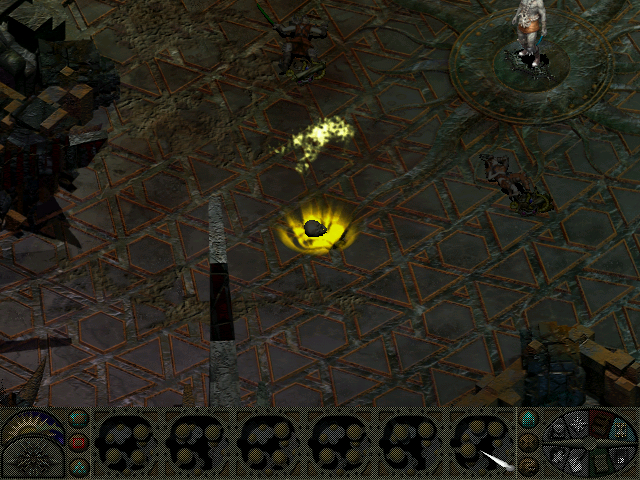 Yet as I reached out with my power, Morte suddenly floated into the air. "Eh... hold up, chief. You don't need to resurrect me; I was uh, just kind of lying here, you know, listening to you two."
"YOU WERE FEIGNING DEATH,"
reality trembled at the thunder that was now my voice.
Morte blinked, "Well, yeah, I mean I'm
already
dead. When you've been dead as long as I have, you learn to fake it really well..."
"SO YOU WERE GOING TO LIE THERE WHILE I GOT MY ASS HANDED TO ME?"
I could feel my eyes flash, and my lips curled into a grin.
"Well,
yeah,
chief. It's not like you'd die. I mean, if you failed, you'd need someone to remember for you. Plus, you know how worthless I am in a fight - well, when I'm not taunting some mage or another..." he cocked in the air, "Uh, chief, what happened to your
voice?
"
"I... AM SOMETHING ELSE NOW. TIME RUNS SHORT, AND SOON TIME AND FATE WILL CATCH UP WITH ME. I WILL RETURN YOU TO SIGIL, MORTE, IF YOU WISH IT."
"Wh --?" his jaw dropped, "Return me? What about
you?
Come on, chief, I may be a
coward,
but there's no way I'm leaving you in this place."
"MANY ARE THE CRIMES THAT WERE COMMITTED WHEN MY MORTALITY AND I WERE SPLIT. THESE CRIMES CARRY A... PRICE. YOU MAY NOT GO WHERE I WILL SOON BE."
"Well, I
could
go with you anyway, chief, if you wanted me to," he pressed, eager to stay by my side, "I mean, we've been through wors-"
"NOT THIS TIME. PERHAPS ONE DAY YOU AND I WILL MEET AGAIN, ON ANOTHER PLANE. BUT NOT NOW."
The deed was done, whatever lay between us was complete, and Morte needed to follow me no longer.
Morte stared at me for a moment, then sighed. "Not to get all misty-eyed, but, uh, it's been a pleasure, chief."
"FAREWELL, MORTE."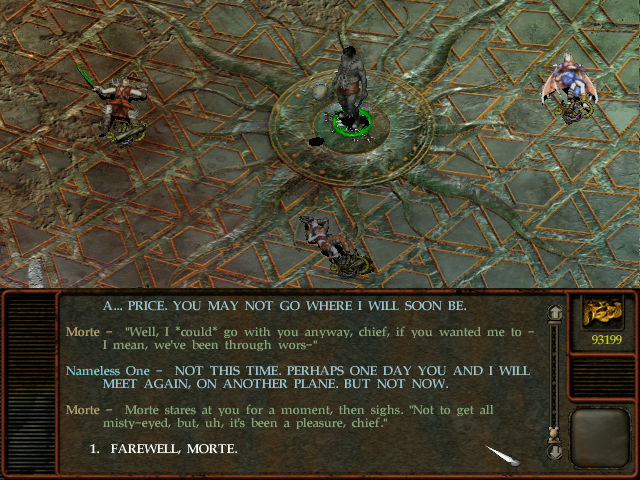 I reached out with my power again. There was a rush of air, and Annah stirred as I wove her spirit back into her body - she raised her head slowly, then shook it, confused.
"ANNAH. ARE YOU ALL RIGHT?"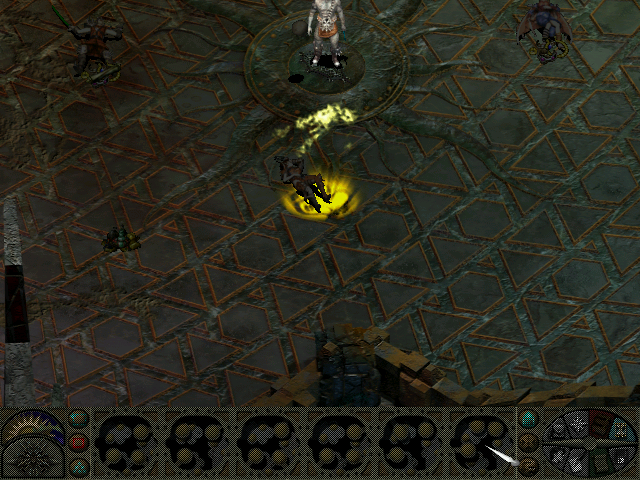 Annah's eyes widened as she heard my voice. "Wh - what
happened
ta yeh? Yer voice - it's like echoes, it is."
"I HAVE CHANGED. I AM SOMETHING ELSE NOW, AND I CANNOT REMAIN HERE MUCH LONGER. I WILL RETURN YOU TO SIGIL, IF YOU WISH IT."
"Wh-" Annah opened her mouth, then paused. "Wh -- Where are
yeh
goin'?"
"MANY ARE THE CRIMES THAT WERE COMMITTED WHEN MY MORTALITY AND I WERE SPLIT. THESE CRIMES CARRY A... PRICE. THERE IS A PLACE RESERVED FOR ONES SUCH AS I ON THE LOWER PLANES. IT IS... PUNISHMENT OF A SORT."
"But I... I don't
want
yeh ta go." She reached out as if to clutch my arm, to pull me back to her, but she hesitated.
"I WILL NOT FORGET HOW MUCH YOU WERE WILLING TO SACRIFICE FOR ME, ANNAH,"
I tried to make my words gentle, and though they roared with the voices of thousands of lives, she didn't pull away when my hand cupped her chin.
Annah nodded. She looked like she was about to say something else, but then fell silent. The unspoken thought remained in her mind, lingering.
"I DO NOT NEED YOUR WORDS TO KNOW YOUR HEART, ANNAH. FAREWELL."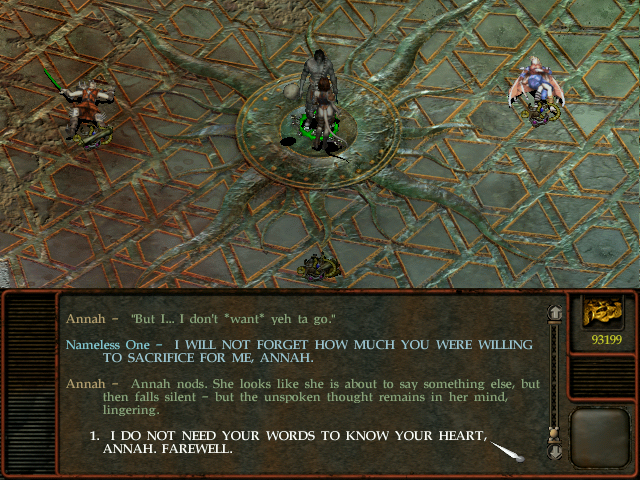 My power touched Dak'kon, and he took a staggered breath then looked up weakly. It looked as if he was barely clinging to life.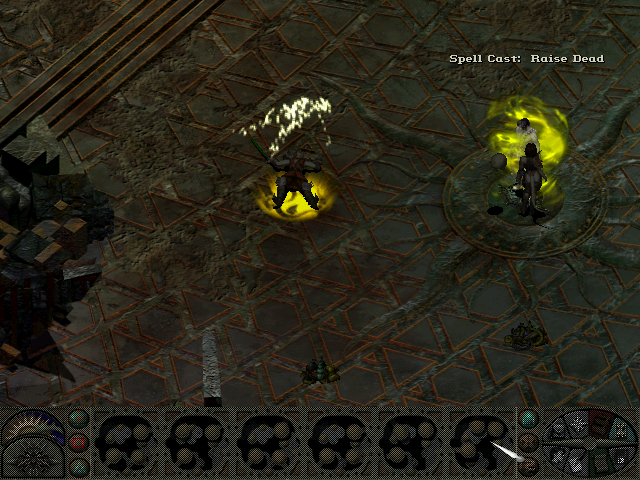 "AWAKEN, DAK'KON OF SHRA'KT'LOR, LAST WEILDER OF THE KARACH BLADE.
As he heard my words, Dak'kon slowly nodded, standing. "Your voice... have you at last come to
know
yourself?"
"YES. IT WAS A... DIFFICULT THING, AND IT COST MANY LIFETIMES. MANY SUFFERED SO THAT I MIGHT KNOW MYSELF AGAIN.
"The
knowing
of one's self is a difficult path."
"IN KNOWING IT, I KNOW WHERE I SHALL SOON BE BOUND. TIME AND FATE COME HERE EVEN AS WE SPEAK, AND I WILL NOT BE HERE MUCH LONGER. I WILL RETURN YOU TO SIGIL, DAK'KON, IF YOU WISH.
Dak'kon fell silent for a moment; when he spoke again, his voice was sharp, as if severing a link. "
Know
that once I owed you a debt.
Know
that you saved my life, and
know
that I followed you to settle that debt."
He bowed, "I have paid for your life with mine. The debt is settled."
"VERY WELL, DAK'KON. OUR TWO DEATHS WERE AS ONE. YOU WILL LEAVE THIS PLACE WITH YOUR FREEDOM."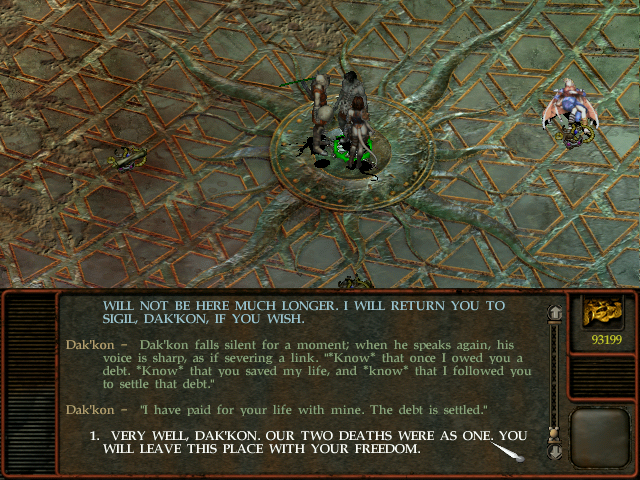 As your my power touched Fall-From-Grace, she rose dizzily to her feet - even disoriented, she somehow managed to maintain her composure.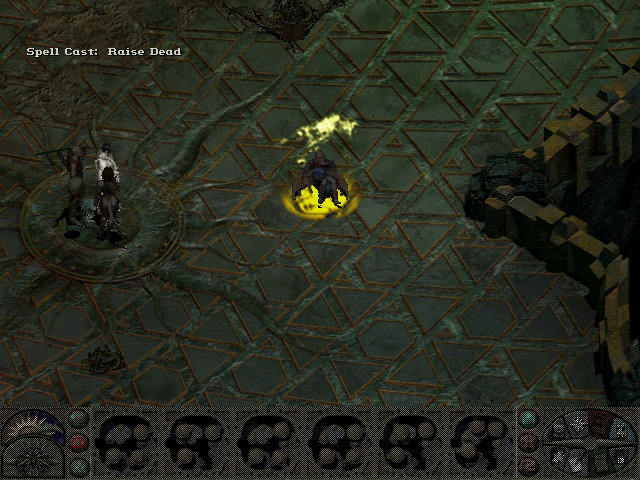 "FALL-FROM-GRACE,"
I intoned.
Fall-From-Grace looked up, and she held my eyes for a moment, and smiled. It was a slight smile, that carried more sadness than anything else. "Your voice - so you have found yourself at last?"
"YES. THE PRICE WAS... HIGH. THE COST WAS MANY LIFETIMES, MINE AND OTHERS."
"The price of such a thing is seldom measured in copper." Fall-From-Grace studied my features. "Are you still -"
"I AM STILL THE ONE YOU KNOW - BUT MY PERSPECTIVE HAS... CHANGED. I HAVE NOT FORGOTTEN YOU, IF THAT IS YOUR FEAR."
Fall-From-Grace smiled again: the same sad smile as before. "No, that was not my fear."
"I CANNOT REMAIN HERE FOR MUCH LONGER. MY PUNISHMENT CALLS, AND FATE AND TIME SHALL SOON BE HERE. I WILL RETURN YOU TO SIGIL, IF YOU WISH."
"That is not my wish." Fall-From-Grace reached forward, and her hand lightly touched my arm. There was a slight tingling sensation, barely felt, then she took it away. "I
will
find you again, no matter where in the Lower Planes you will be - just as you shall be able to find me."
"IT MAY BE A LONG TIME. WHERE I AM BOUND, TIME IS NOT MEASURED IN YEARS. AND THE CRIMES I HAVE COMMITTED ARE STRONGER THAN ANY CAGE."
"No cage shall separate us, and no Plane shall divide us." Fall-From-Grace's face became like stone. "Keep thinking of me, and we shall meet again."
"I SHALL NOT FORGET ALL YOU SACRIFICED FOR ME."
She shook her head. "Just do not forget me."
"TIME LAYS WASTE TO ALL THINGS. BUT I SHALL FIGHT IT AS LONG AS I CAN."
Grace folded her hands then, and looked to me, the same look she gave her students. The same look she gave when weaving her mastery of words.
"Time is not your enemy. Forever is."
I nodded, and understood.
"PERHAPS SO. FAREWELL, GRACE."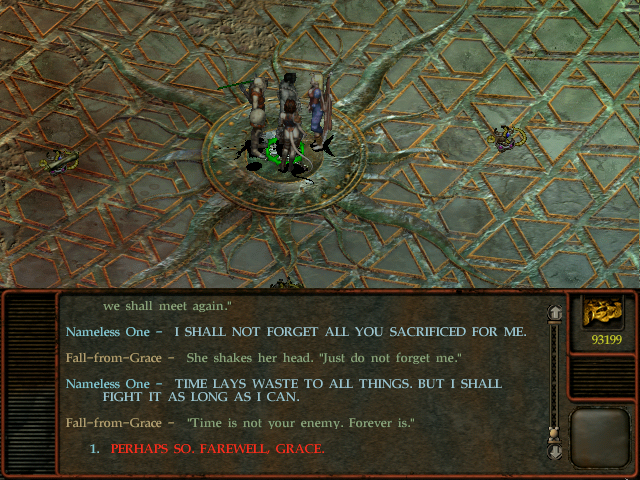 At last I reached out to Nordom, shaping the soul into Nordom's frame: slowly, until I felt it slipping back into the modron's body. There was a shudder from Nordom's boxy shape, and he sprang to his feet.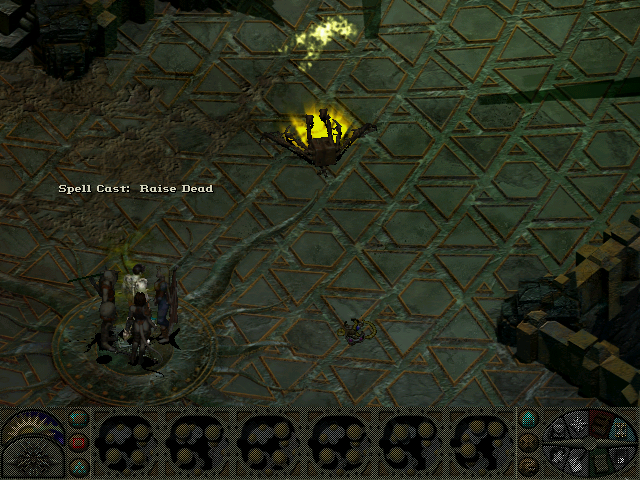 "NORDOM."
Nordom blinked, the shutters of his eyes
kliking
rapidly, then dilating to points, as if he was squinting at me. "Your voice x-ceeds standard recognized parameters."
"I HAVE BECOME... WHOLE AGAIN. I HAVE CHANGED, BUT I SHALL NOT BE HERE MUCH LONGER. I WILL RETURN YOU TO SIGIL, NORDOM, IF YOU WISH."
"Query:" he clicked, "Where is your next destination? Nordom will follow and protect you."
"I HAVE COMMITTED MANY CRIMES ACROSS MANY LIFETIMES. I GO NOW TO A PLACE OF PUNISHMENT. YOU CANNOT COME WITH ME."
"Branching query: Do you not (require) or do you not (want) presence of Nordom?"
"YOU CANNOT FOLLOW, NORDOM. IT IS NOT MY CHOICE. THERE ARE OTHER POWERS THAT NOW RULE MY ACTIONS. THEY ALWAYS DID, BUT NOW THEY KNOW ME FOR WHAT I AM, AND THEY COME EVEN AS WE SPEAK."
I reached into my pack, and pulled out the Modron Cube.
"I HAVE MADE PREPARATIONS ANTICIPATING MY END, NORDOM. YOU ARE NOW THE NEW PROJECT DIRECTOR OF RUBIKON. PROTECT THE MODRONS WITHIN. GUIDE THEM. AND TEACH THEM HOW TO PURSUE THEIR OWN DESTINIES."
Nordom
whrrr-kliked
for a moment, then his crossbows began
klikking
and
twanging
in his hands. "Nordom surrenders gratitudes. You helped Nordom find his idemnity." He accepted the duty with grace, and held the cube close to him.
"AS YOU HELPED ME FIND MINE. I GIVE YOU YOUR FREEDOM, NORDOM. EXPLORE, LEARN, GROW. WE MAY MEET AGAIN, ON ANOTHER PLANE, IN A TIME FAR FROM NOW."
"Response: Heard and acknowledged. Nordom now awaiting said day."
"HOLD ON TO YOUR LOGIC, NORDOM. YOU WILL FIND IT A GREATER SHIELD THAN MOST OF THE PASSIONS THAT RULE THE PLANES."
"The issue no longer equals total logic."
"FAREWELL, NORDOM."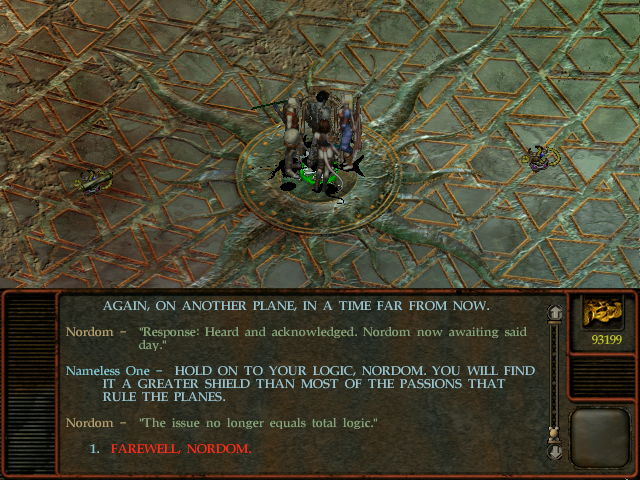 I turned from them, reaching a hand out into the empty space in front of me. With a wrench of my wrist I twisted the threads of existence, and the area in front of me turned in on itself, warping in a whirl of blue and white. The portal hung like a curtain, and revealed the perfumed quarters of the Clerk's Ward.
I felt a pang through my chest. For a short time that had been home, and I could never return.
One by one they went through, gazes kept forward. They left me into the folds of life, and it would shelter them for the rest of their years, may they be last long.
But not as long as mine,
I smiled to myself.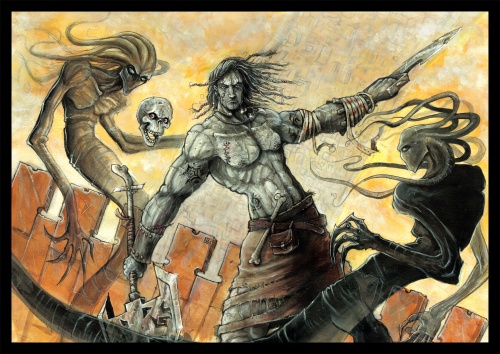 Only Annah turned to me then, the last to leave. Her mouth opened, she reached out, but before she could run back to me I snapped the portal shut.
I closed my eyes, and waited for the end.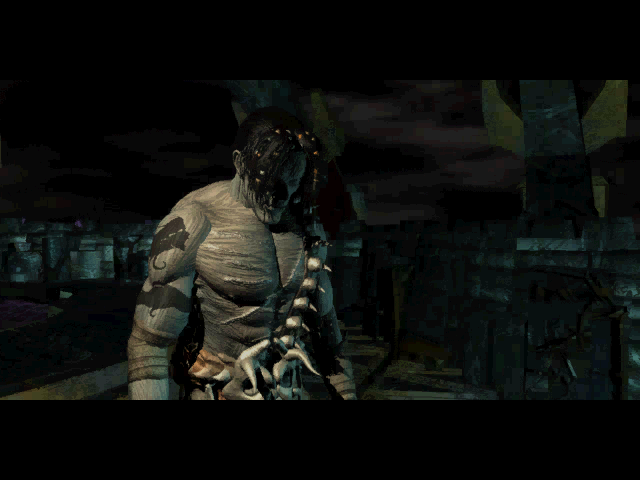 ~~~~~
I could feel it gnawing at the walls, clawing at the protective wards my mortality had placed when we were apart. I looked up to the shadows that swirled, and shuddered, not knowing whether I was their master or foe. With a sweep of my hand they scattered. I hoped they would find their rightful rest.
And then I focused,
knowing
the protections that barred my death from me. They snapped like overstretched sinews, and with each one that broke the Fortress shuddered. Far in the distance I could
feel
the regrets crumbling to ash, swept into the nothingness of the void that lay beyond. Words unsaid and stillborn dreams... the mortar and brick of my palace, my prison, cracked. The pillars of sorrow fractured and broke.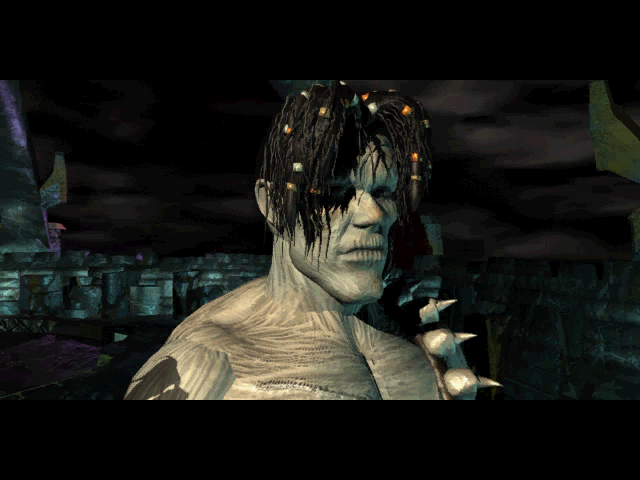 The Fortress was falling apart.
I could feel the foundations raining away beneath me, dissolving into nothingness. Each floor and tower shattered and melted away like ice into the sea of black, and with each barrier that fell my death clawed closer, howling with voracious fangs.
I noticed her then: On the other end of the rooftop to see me away. She gazed at me with crystal-blue eyes, her silver-white hair whipped by an unseen wind. Her sky blue gown rippled like the waves of an ocean. Her eyes locked with mine, and she bowed her head. Bit by bit her being dissolved into motes of stardust. There was nothing to bind her here now.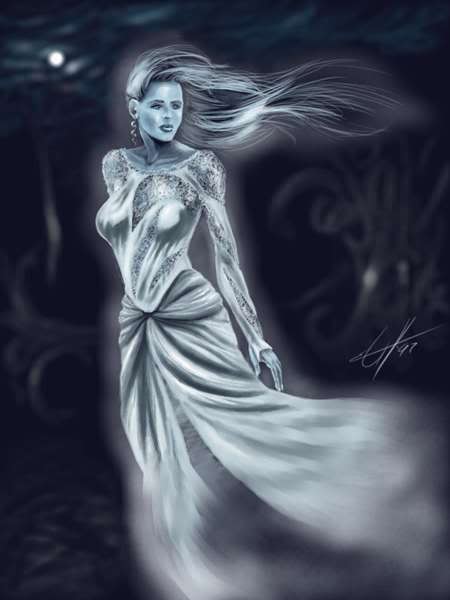 "FAREWELL, MY LOVE,"
I murmured softly, even as my voice resonated, even as the roar of crumbling mortar drowned out my words.
And the ground broke away from me, the roar of abyssal flames searing my flesh. I threw my head back, howling in pain, weeping with relief. The flames seared past the flesh and down to my soul, and I laughed. I
laughed
that finally, death was mine.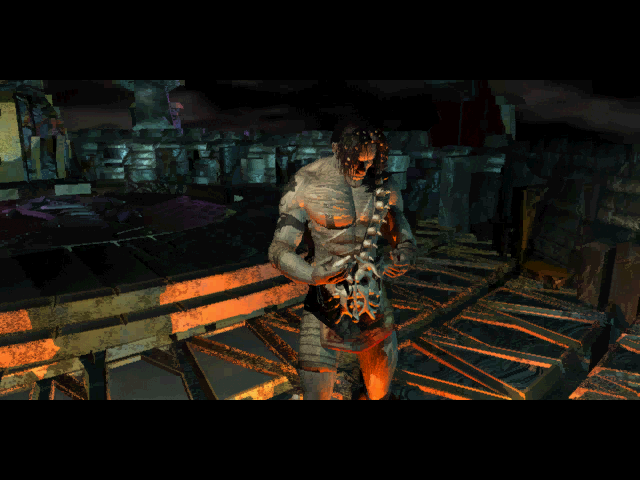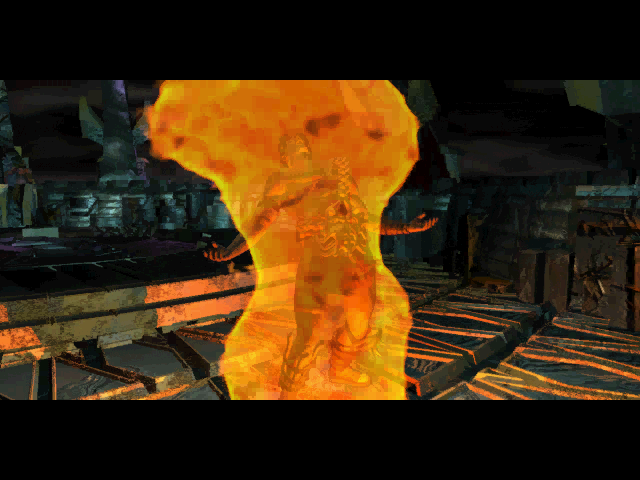 Its fangs snagged my spirit, its scythe pierced my breast. It dragged me down, past the hundred plains of the Abyss. Down, through the layers of Hell. Down, into the cold that froze the hearts of fiends, into the flames that would sear souls to ash. I sped onward to my fate for an eternity, and my regrets broke down behind me, until nothing was left.
I was dead.
~~~~~
In the deepest levels of the Lower Planes, in a realm where the soil was the dried and crumbled blood of infinite sinners, where the dust that blew in the wind was their powdered bones, a single star flickered in the sky.

It was a pale and pathetic thing, shrouded by the dust that rose in battle, the toxic miasma that belched from the fire-mountains on the far horizon. Yet if one looked up and searched hard enough, it could always be seen.

Few in this land lived long enough to attach a name to this realm. Fewer still lived long enough to contemplate anything but survival. But those few, those rare and precious and condemned souls that could become scholars of a sort, were split in two on what that star was.

Some believed that the star was a pale beacon of hope: that salvation was available to all, even on the most wretched and vile of Planes.

Others believed that it shone to torment the damned: a constant reminder of what was lost, a hope so distant that none could grasp it.

In a valley that had known only war and violation, a river ran between the hills. The river ran through all the Outer Planes, but here one could follow it for eternity and know only pain. On the river was a single rowboat, piled high with the souls of the dead. The ferryman was blind and deaf and dumb, but its skeletal hands gripped its staff firmly, guiding its cargo to their final destinations.

A single body twitched, and tumbled over the side.

The ferryman took no notice at the form as it floated: gray and scarred and puckered as it was, it would've blended into the foggy waters even if the ferryman had eyes to see with. Instead it rowed on, leaving the thing behind.

The river carried the lump silently for a time, and if anything lived to see it, none knew what it was.

For an eternity it floated, until it hit the shallows. The waters swept it quietly onto the bank... onto the beach of the Silent Shore.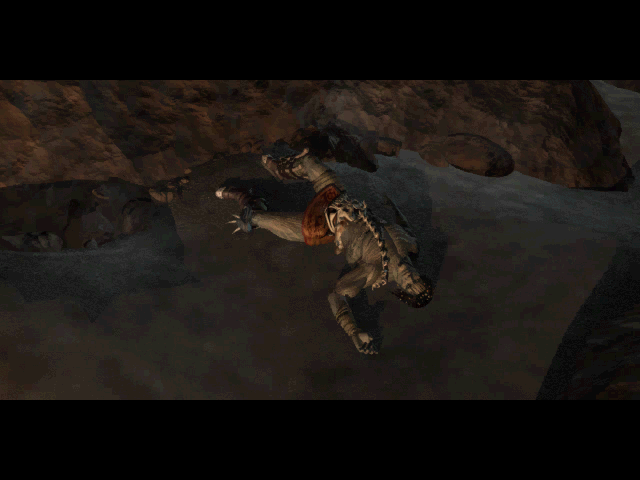 He coughed then, fluid spilling from his mouth and pouring down his cheeks. The stranger rolled to his side retching it up, warm and thick, until none was left in him. He'd had enough of forgetting.

His eyes blinked, and his vision refocused. The bleak clouds swam by in the distance, and nearby he could see a bundle of weapons sticking up from the ground. Ancient things, rusted to near uselessness.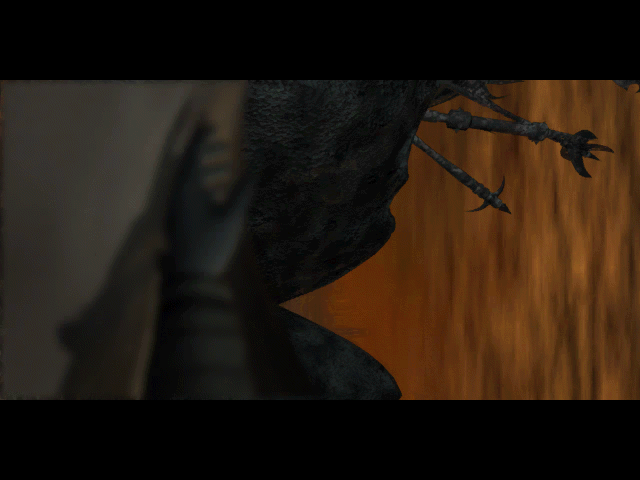 He leaped to his feet then, steadying himself. The stranger breathed once more, taking in his surroundings, the knowledge of where he was. The stink of death and depravity was in the air, but he breathed it in anyway. He needed to get used to the taste of it.

Leaning forward the stranger crawled up the hillside. The dirt peeled away from his hands and boots like ancient scabs. The dampness on his palms mingled with the dust and churned it into a bloody mush between his fingers, and the harsh tang of iron filled his nostrils. The roar of thunder seemed to be coming over the hill.

And he reached the crest, looking down at the scene below him.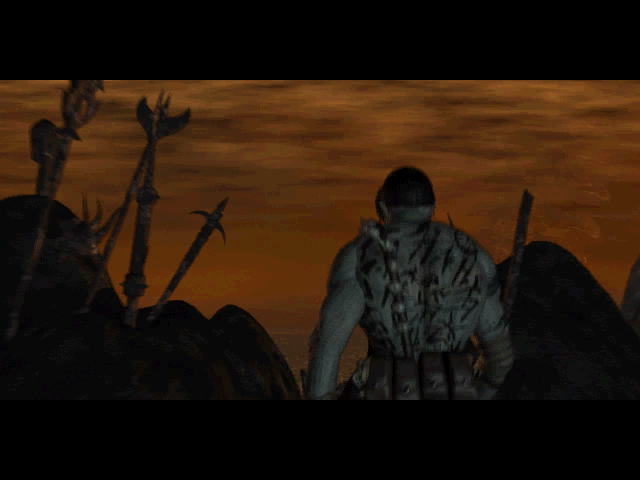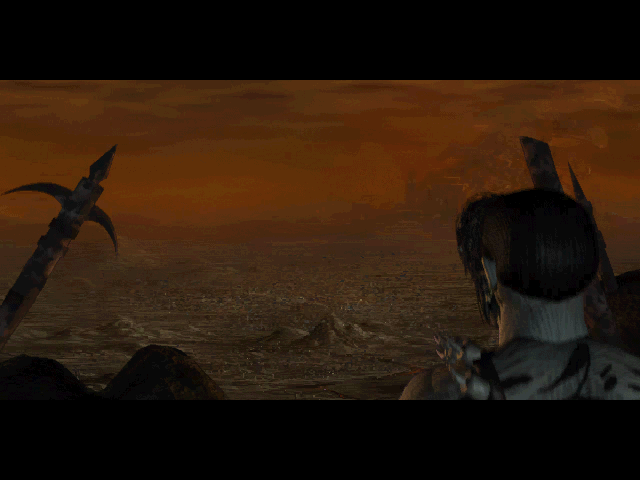 War. War that had gone on so long that it had lost all meaning. The battlefield stretched from one horizon to the other, spanning into the infinite distance, and the din of battle sounded from all sides until it seemed to merge into one, continuous scream of terror and pain. In each blink of an eye a hundred thousand died, and in each glance a hundred thousand more swam into the fray: goaded by terror or fueled by blind rage.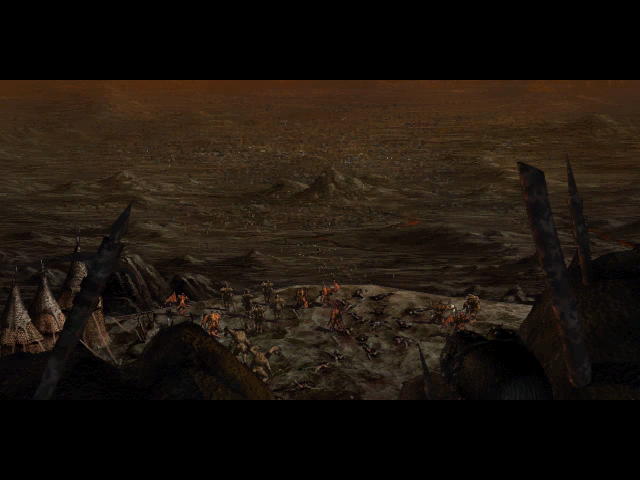 The stranger gazed down calmly, the fires of destruction and death reflecting in his eyes. He turned to his side, and his hand reached out to grip one of those weapons that had fallen half-buried in the dirt.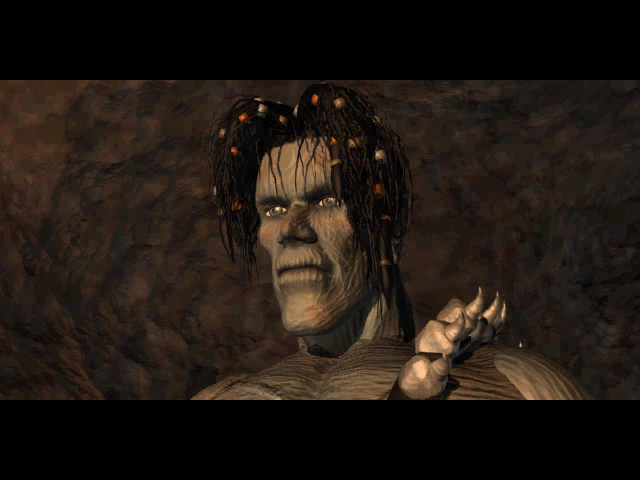 He pulled it out with some difficulty, and gazed into the four-bladed axe, dust falling free from its edges. The words of someone long ago echoed in his head:


"What can change the nature of a man?"


He nodded in satisfaction then, knowing the answer. The bones and dried blood crunched beneath his boots, as he descended down the hillside quietly, beneath the pale light of a distant star.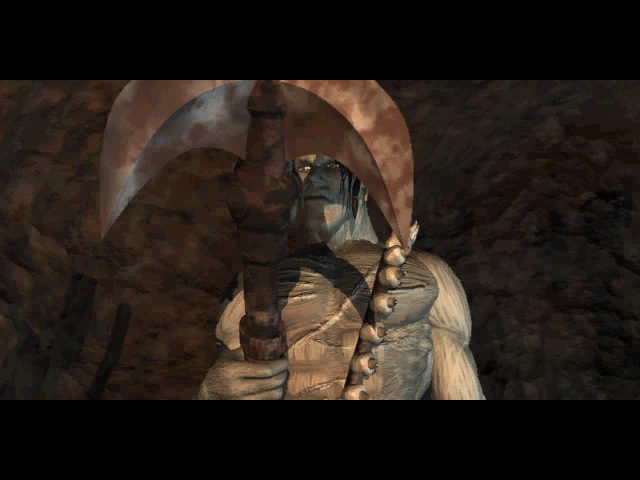 Into the battle.

Into the madness.

Into damnation.

Into his destiny.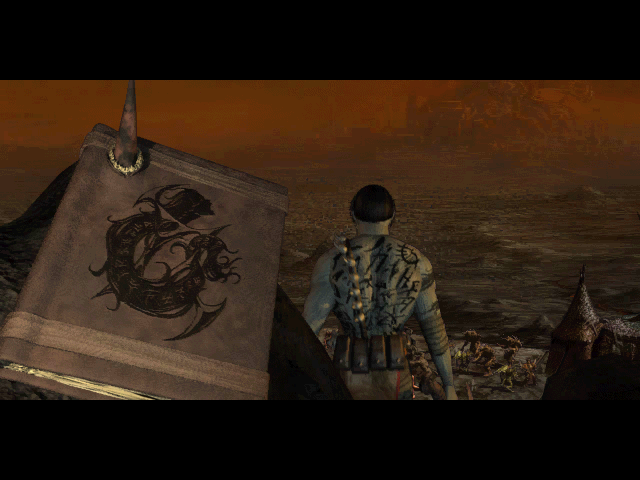 Ending (video)