Part 35: Ruby by the Kaiser Chiefs
Ruby, Ruby, Ruby, Ruby!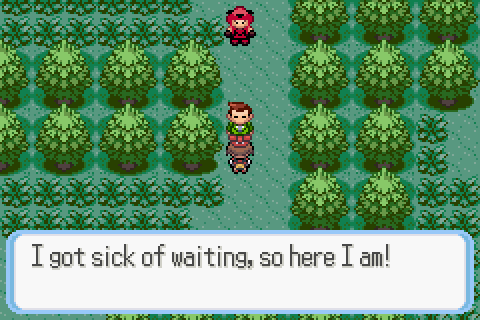 Hi, there's some differences between RS and Emerald and I'll go over them because why not? We'll be playing Ruby since Sapphire has a lot in common with Emerald, so this gives the most complete RSE experience, if you wanted that for some reason you fuckin weirdo.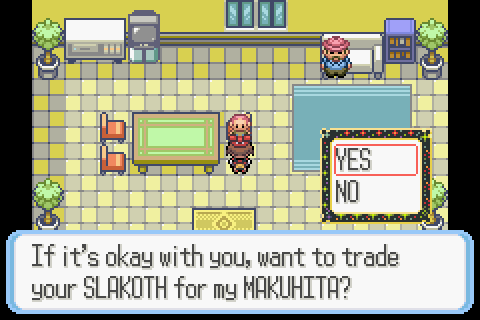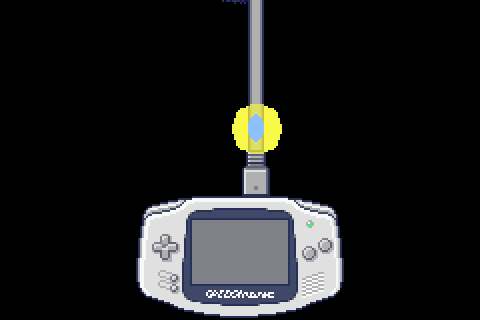 All the trades are different and they're maybe better, maybe worse? Only one is pretty trash and getting an early Makuhita for the Gym is pretty good, especially if you chose Torchic. It's also cute that the trade cinematic is different in Emerald.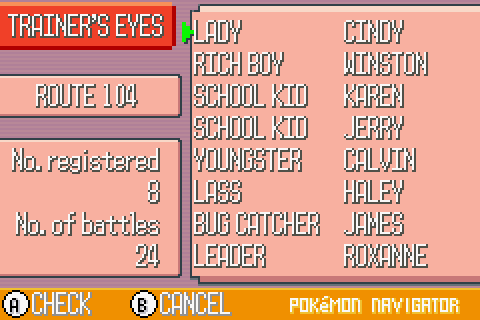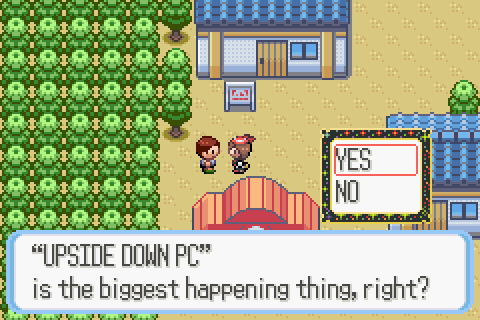 The Trainer's Eyes automatically registers any trainer you've battled that can be registered. And there's less to register in RS of course. If you're curious, we did register all 84 trainers in the LP, so I'm very chuffed about that.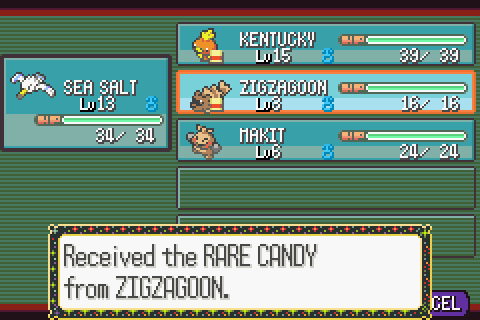 Pickup in these games are great, we'll be seeing all the nice loot I get. Here's a peek at the team, I'll be using six different mons in this game and we'll see them grow throughout this update.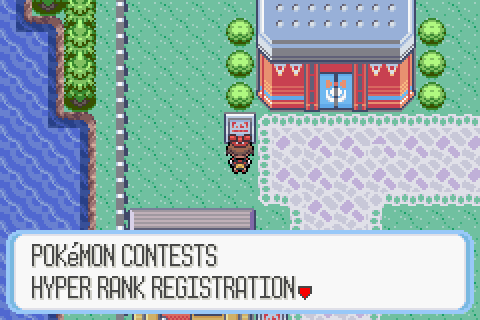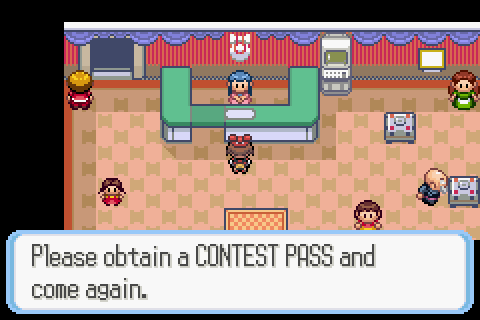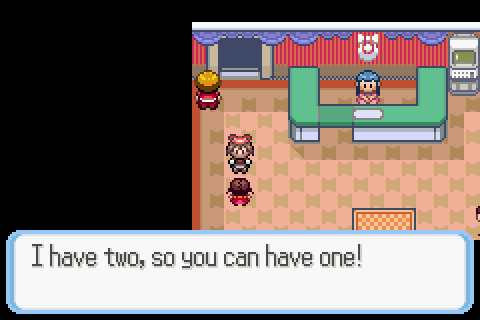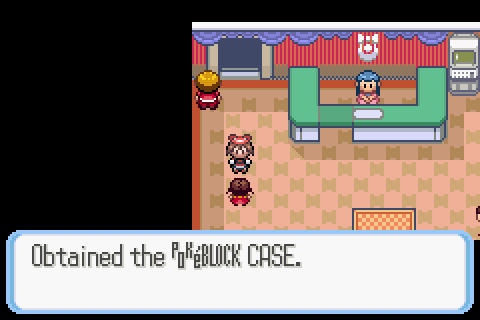 Contest Halls are scattered across the region instead of being in one nice place in Lilycove. You can start contests a lot earlier than in Emerald, before the third badge instead of before the seventh, but it's still whatever.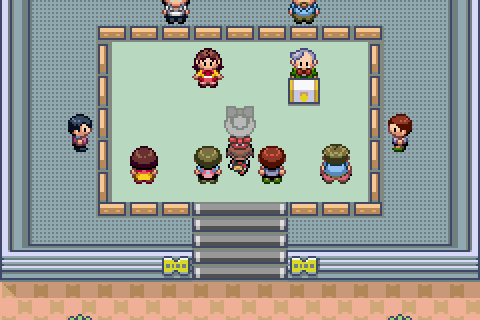 Look at all this cut content we never saw!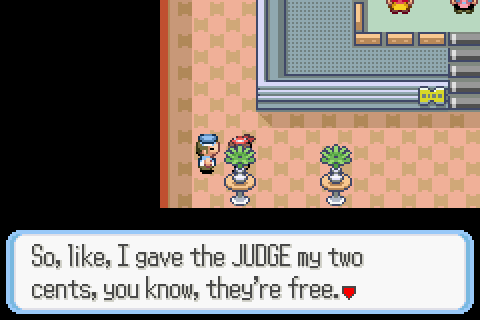 All the items we could get from Contest Halls are in more or less the same place, so it's not a loss.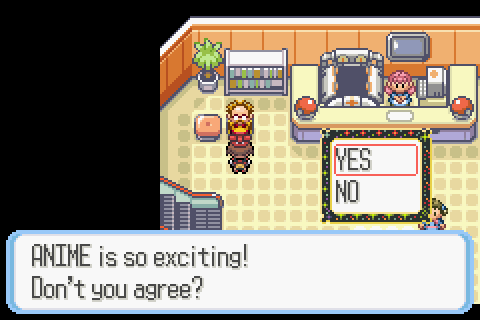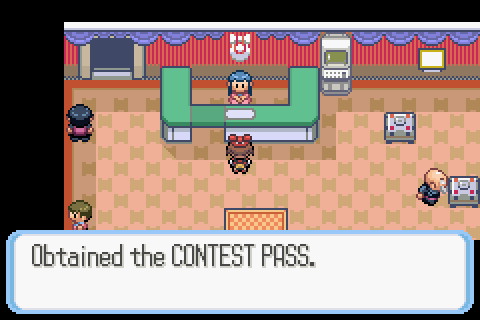 We got Giddy for our old guy, who is as useful as you remember. Also we can do Contests starting in Verdanturf! We're not going to do Contests.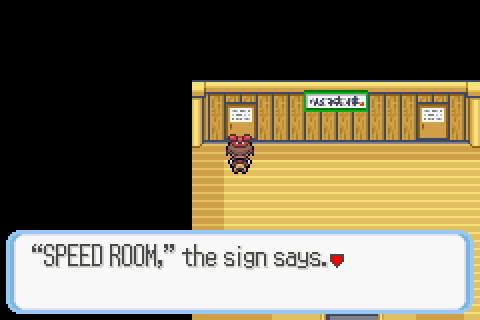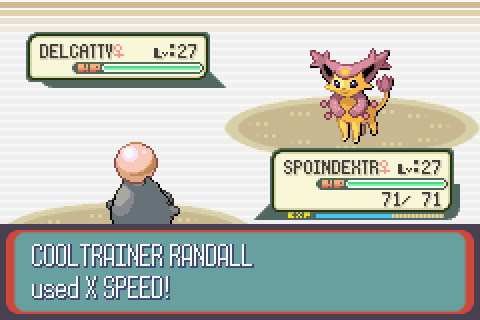 Petalburg Gym is different in that trainers use items instead of their own moves, which isn't as good.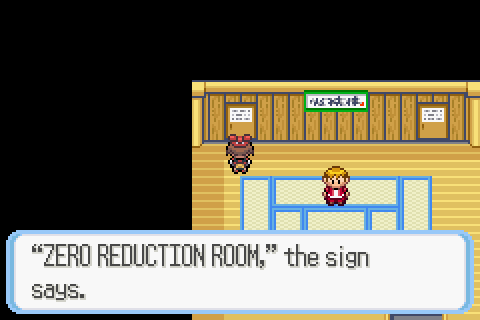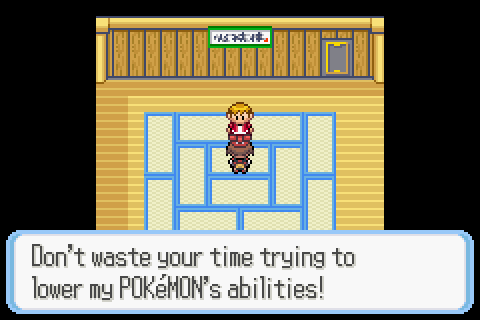 The Zero Reduction Room is replaced by the Confusion Room in Emerald.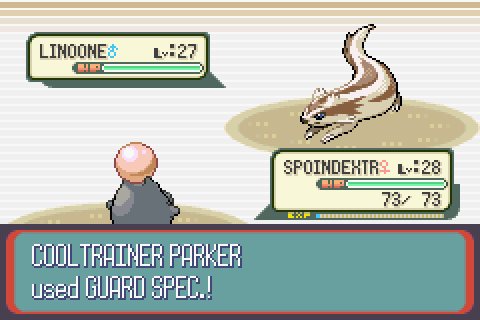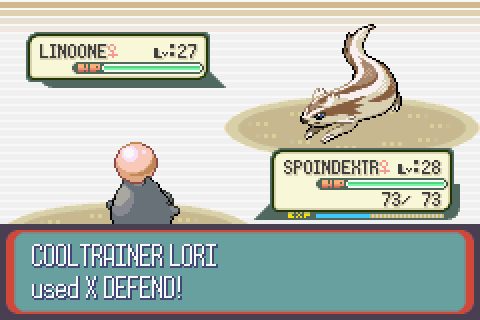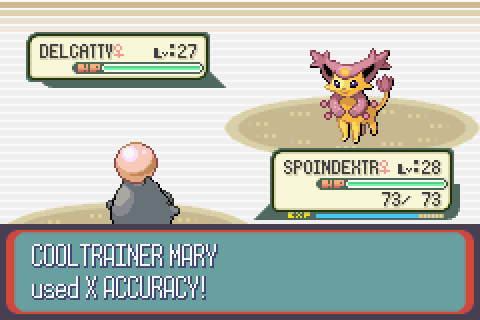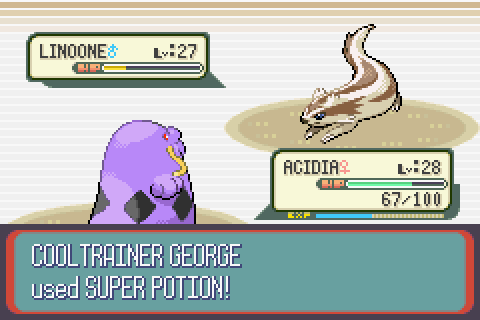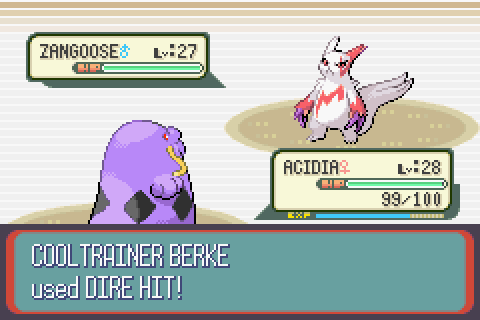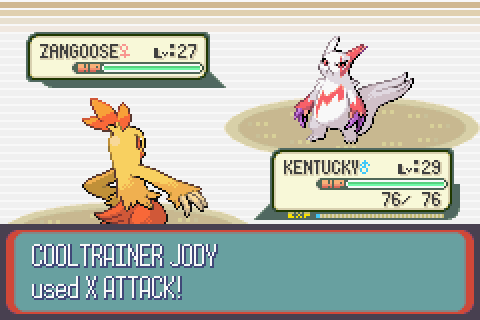 Neat. You can see how our team is shaping up. They're not too amazing, but they get the job done.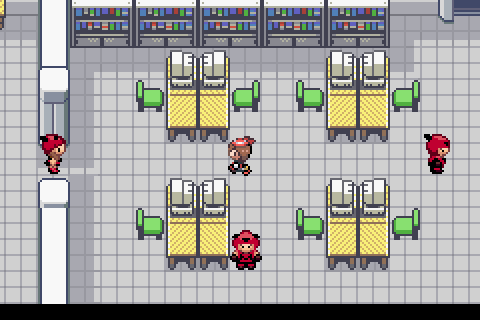 Next up on our journey is the Weather Institute, since we encounter a character we saw in the background for a minute in the Seafloor Cavern!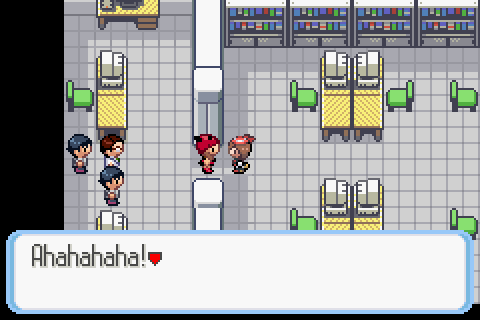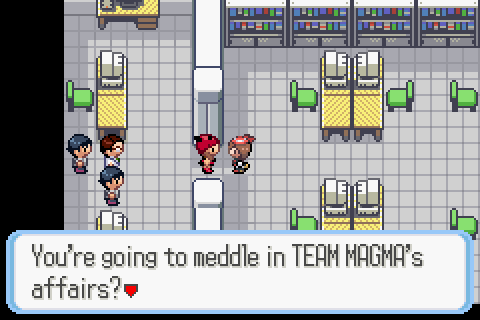 You're either absolutely fearless, simply ignorant, or both! You're so cute, you're disgusting! I'll put you down, kiddy!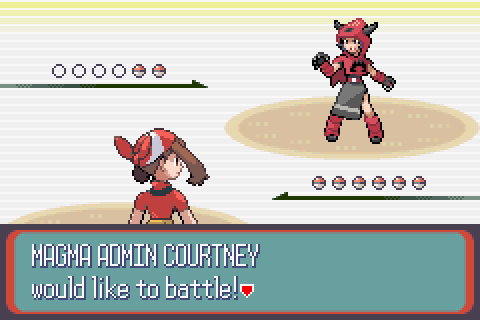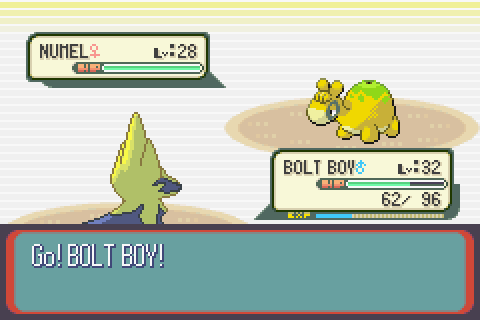 It's Courtney! If you don't remember her before the remakes came out, that's because she is a palette swap of Shelly. Or Shelly is the palette swap since Ruby comes first? Ah whatever, it's not as bad with Matt and Tabitha, since you encounter them both in Emerald and they kinda feel different.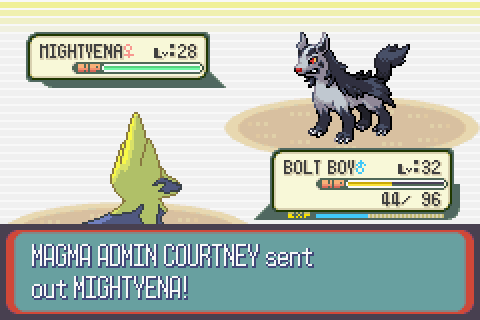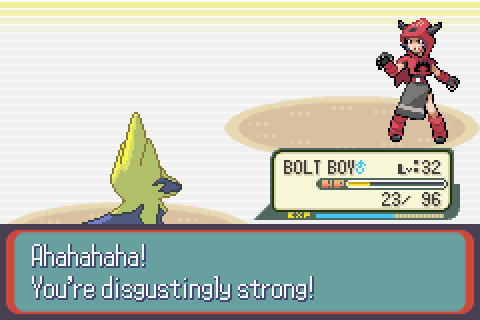 Ahahahaha! We got meddled with unexpectedly! We're out of options. We'll have to pull out. But this isn't the last you'll see of TEAM MAGMA! We have other plans! Don't you forget it!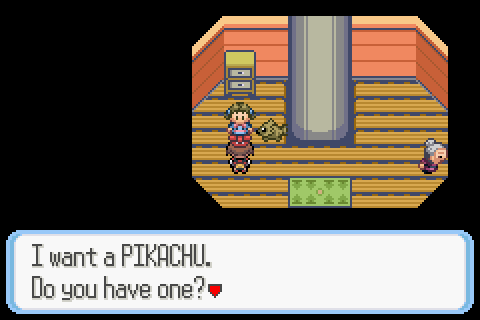 Trade two is Pikachu for Skitty, which is pretty nice, though we can't get Pikachu until the Safari Zone. Skitty is still a 2% encounter in this game, so this is an easy way of getting one. Though since this is Ruby and there's no Lunatone, you can only evolve Skitty or Jigglypuff unless you trade. Pretty shitty.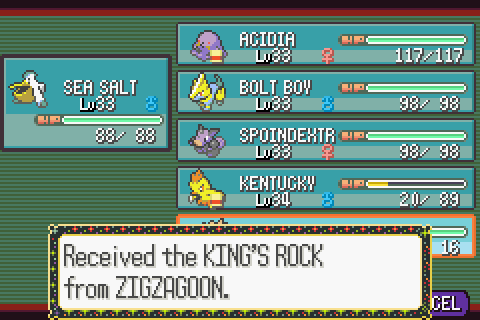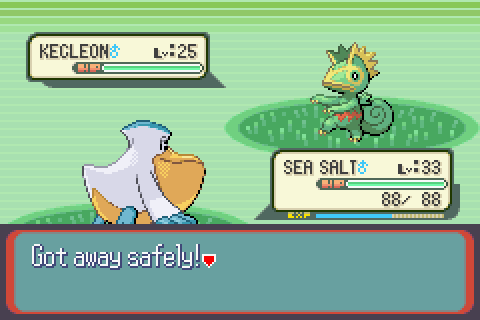 Here's all my luck for this run, yet again I encountered the 1% Kecleon in the grass and I also got the 1% King's Rock from Pickup. Not that I need one, but hey, might as well get the flinch chance. (I don't remember if I ever got the flinch chance).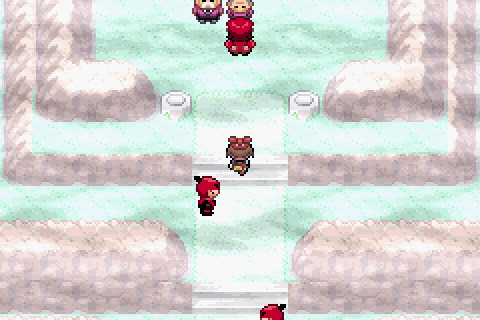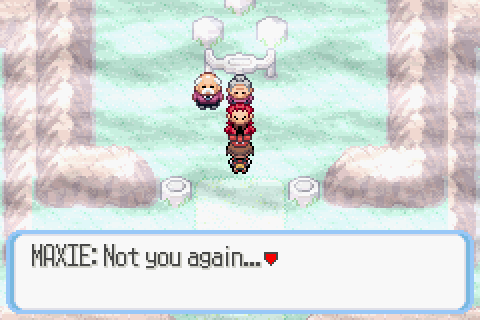 You've impeded our plans repeatedly, but this time you're too late. The BLUE ORB that rested atop MT. PYRE... I, MAXIE, claim it as mine! Fufufu... finally, I can realize my grand design... Come on crew! It's SLATEPORT next!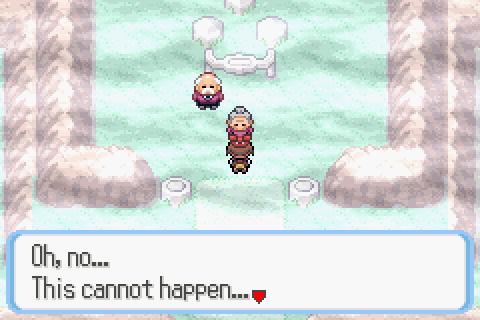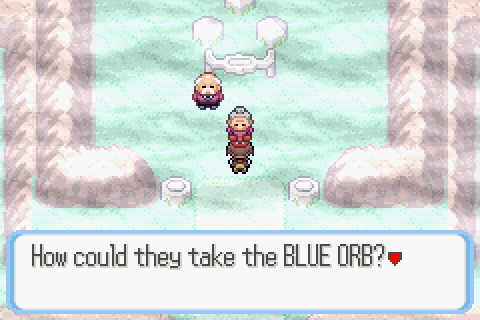 The BLUE ORB and RED ORB must never be seperated. They belong together. Hmm... fine! You take the remaining RED ORB! Please take after that foul man and get the other ORB back!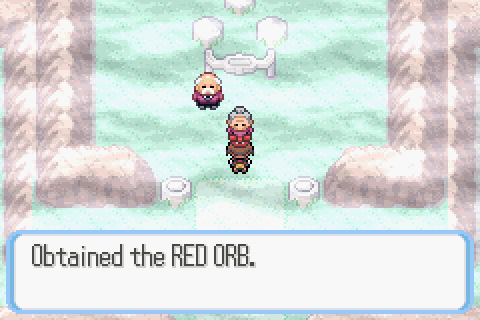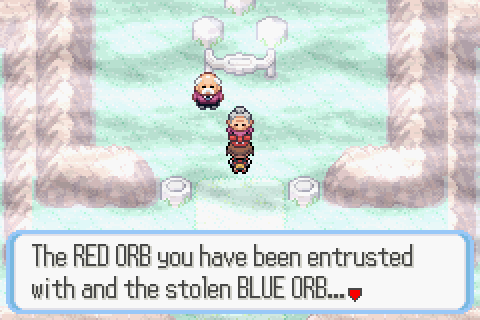 They must never be apart... something terrible will happen...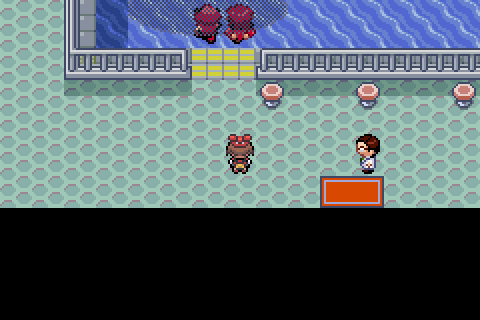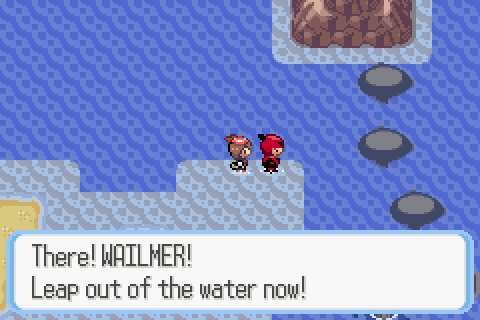 This just looks wrong. I wonder why the evil teams pick up the wrong coloured orb. Is that a mistake on their part, or is the orb meant to properly control the legendaries, but they're grouchy when they first wake up? Ah whatever.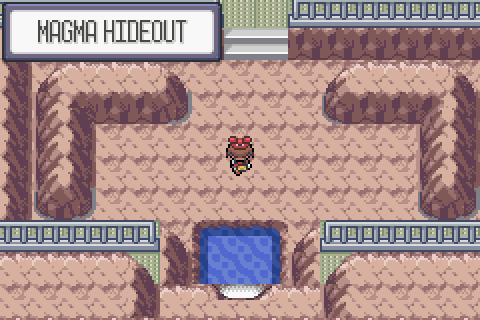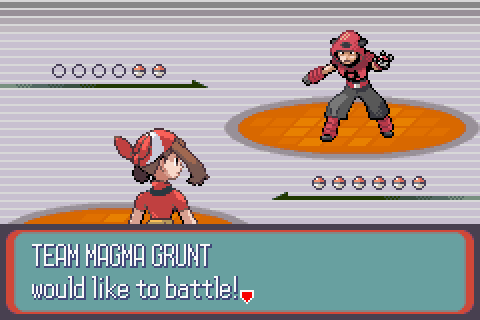 The Magma Hideout is kinda different to the Aqua Hideout and features a pretty cool background you don't see anywhere else.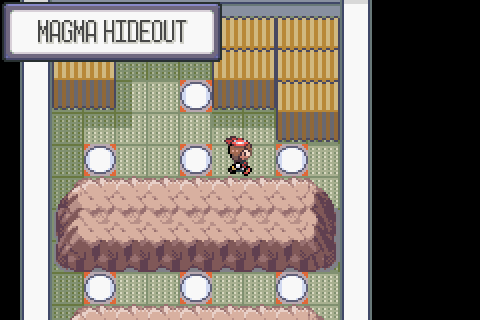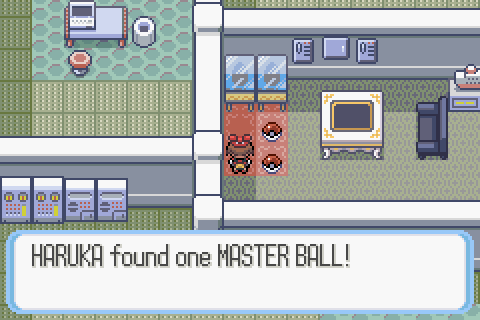 You absolutely need to pick up the Master Ball now, since the Hideout gets sealed after beating the Mossdeep Gym. You're right, that is pretty shitty.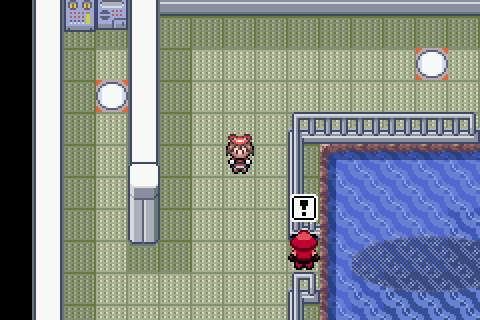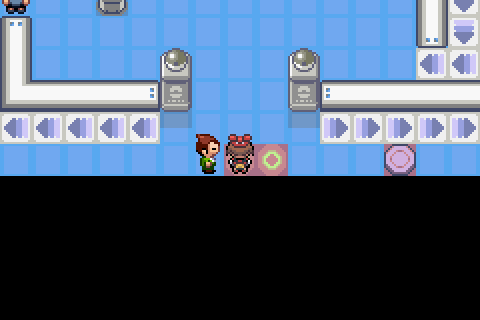 It's cool the submarine dock is mirrored for no real reason, but anyway, Mossdeep Gym was changed in Emerald, so here's what you're probably more familiar with.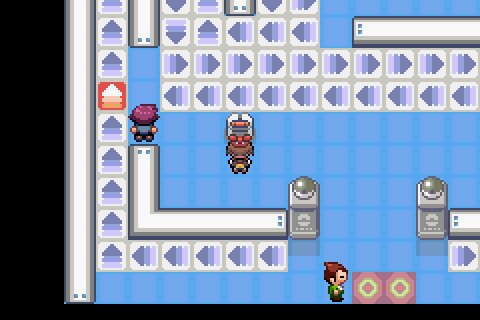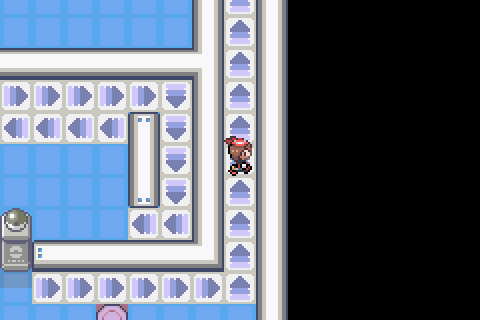 Just go around flipping switches to change the arrows. You need to flip every switch once to reach the Gym Leaders.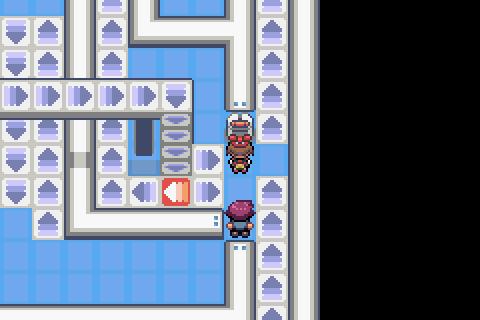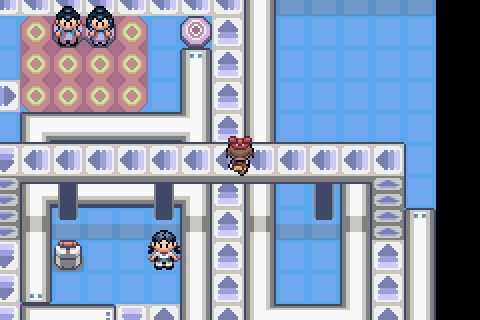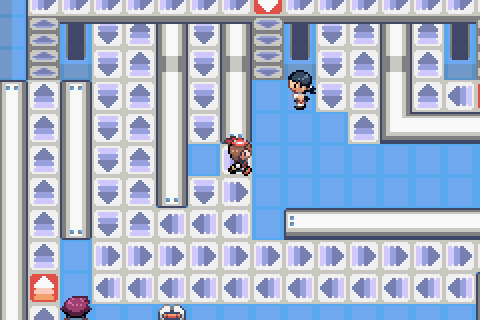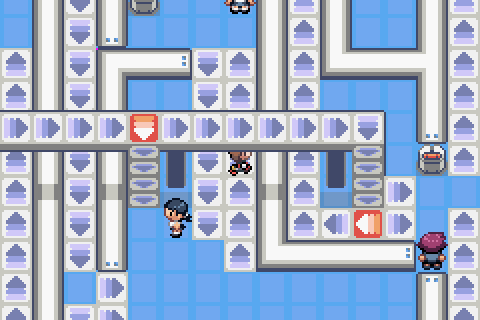 Around and around we go.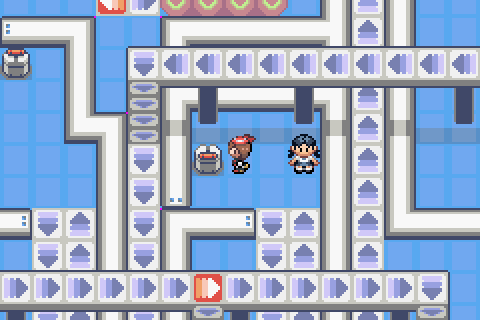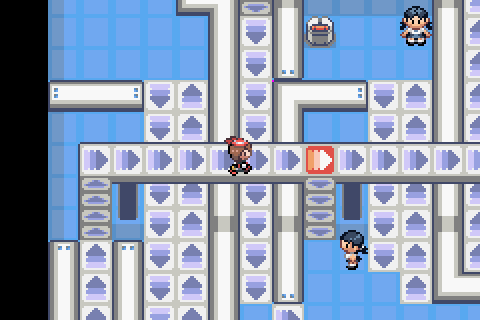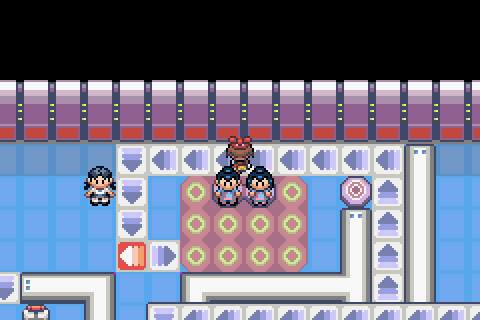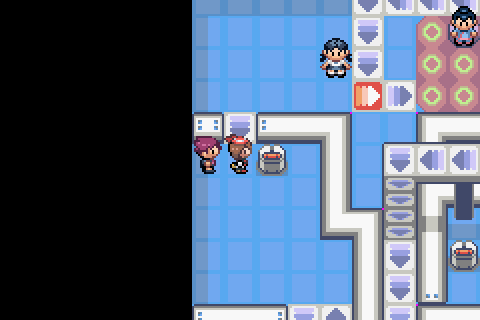 If you want to find that last trainer then you need to flip this switch last. Now the path to the Leaders are clear. And we're not seeing double this time!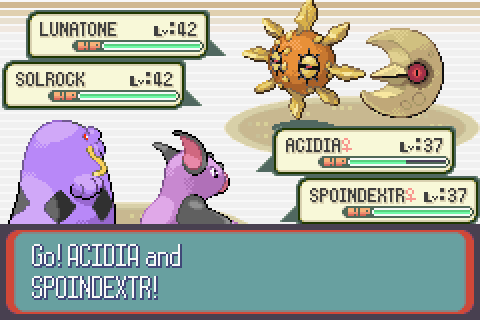 They've only got the two Pokemon in RS, so Tate & Liza are so much easier. Still pretty tough though.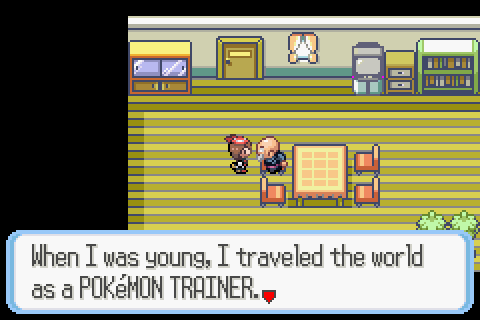 Now that I've become an old buzzard, my only amusement is watching young TRAINERS battle.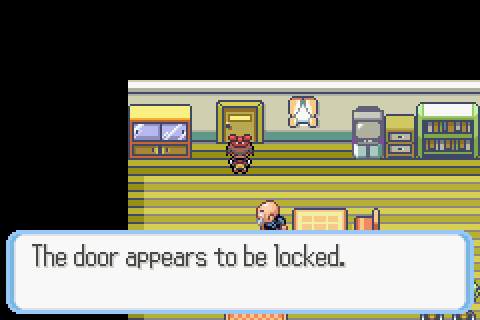 e-Reader, motherfucker!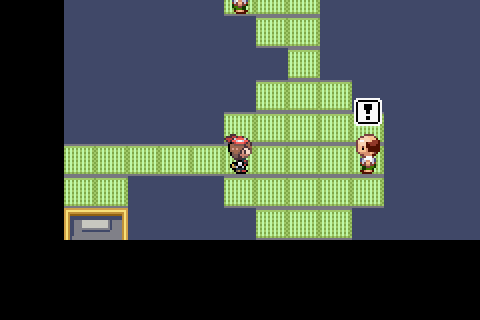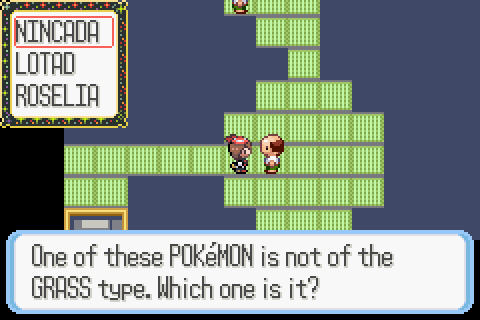 Welcome everyone to the quiz bonus round! Like before, we've got questions to answer and you get one point for a correct answer and another point for certain questions where you need to show your working! Hard mode is answering every question! Let's go!!!
A
ONE OF THESE POKEMON IS NOT FOUND ON ROUTE 103. WHICH ONE IS IT? ZIGZAGOON/NINCADA/POOCHYENA
B
ONE OF THESE POKEMON USES SCRATCH. WHICH ONE IS IT? SHROOMISH/NINCADA/SURSKIT
B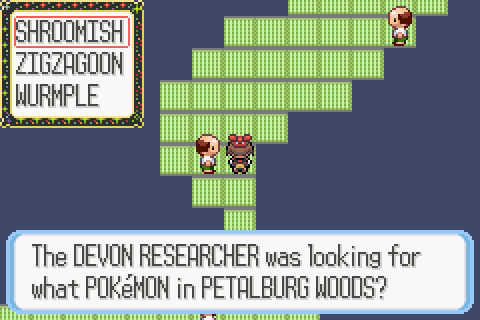 Unlike the two ! of the Emerald version, this time the layout is a ?.
A
IN PROF. BIRCH'S BAG, THERE WERE THREE POKEMON. WHICH ONE WAS AT THE RIGHT? TREECKO/TORCHIC/MUDKIP
C
WHICH POKEMON WAS OFFERED FOR A TRADE AT THE POKEMON TRAINER'S SCHOOL? SEEDOT/SHROOMISH/SPINDA
A
Don't you just love maths?
Escape Rope is $550, so sells for $275, while an Antidote is $100, leaving $175, so C.
WHICH COSTS MORE? THREE POKEBALLS OR ONE SUPER POTION? POKEBALL/SUPER POTION/SAME PRICE
Pokeballs are $200 each, so $600 for three, while Super Potions are $700, so A.
DO ONE FULL HEAL AND GREAT BALL COST MORE THAN ONE REVIVE?
Full Heals are $600 and Great Balls are $600, so $1200, while Revives are $1500, so B.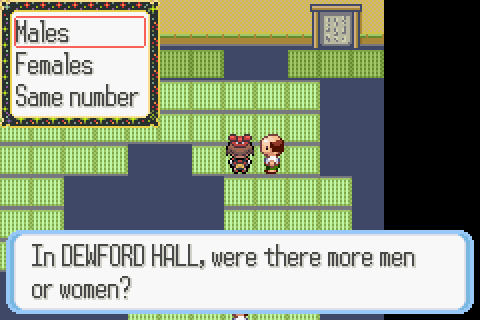 Get remembering everyone!
Including the Sludge Bomb lover, there are six men, while there are three women, so A.
RUSTBORO GYM LEADER ROXANNE USED A GEODUDE. WAS IT MALE OR FEMALE? MALE/FEMALE/NEITHER
B
THE FIRST TRAINER IN DEWFORD GYM WAS MALE OR FEMALE? MALE/FEMALE/IT DEPENDS
B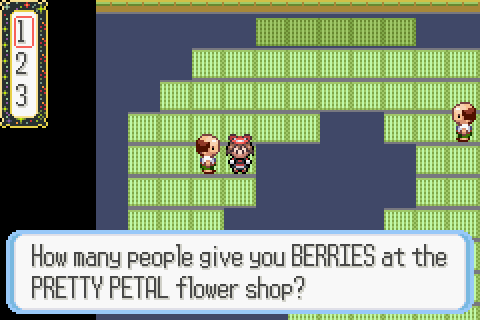 The last question is always a bit tricky.
A
HOW MANY BIKES DOES RYDEL HAVE ON DISPLAY OUTSIDE HIS CYCLE SHOP? 6/8/10
B
HOW MANY SIGNS ARE THERE IN LILYCOVE CITY? 6/7/8
C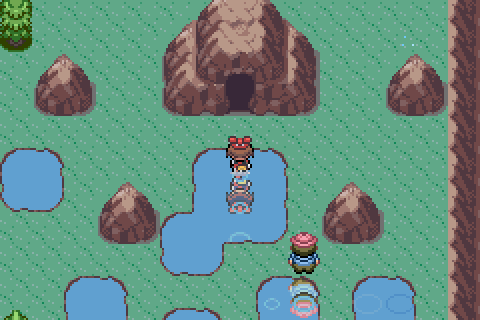 Moving on, I'll be using Registeel as my last team member since I couldn't think of one for the final slot. I don't want another Water type, after all. Oh yeah, the last trade in the game at Pacifidlog is Bellossom for Corsola. What an awful trade. Not the worst one, I think that's still the Lickitung for Dugtrio in Yellow, but you can find Corsola before getting to that trade and you're using your only Sun Stone to get a Bellossom to then trade. If you're playing Sapphire and Emerald, then that's it, no more Sun Stones for you. Pass.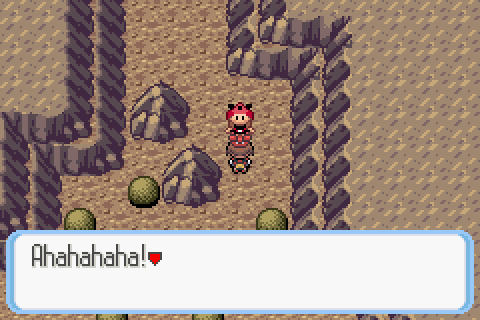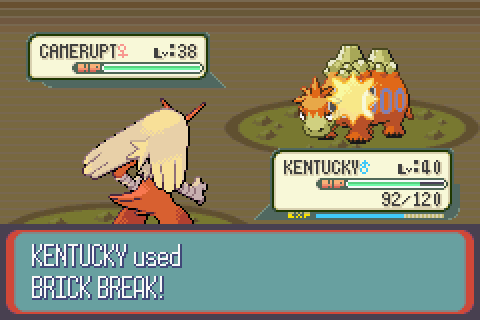 And that's all for Courtney, onto the lava dino.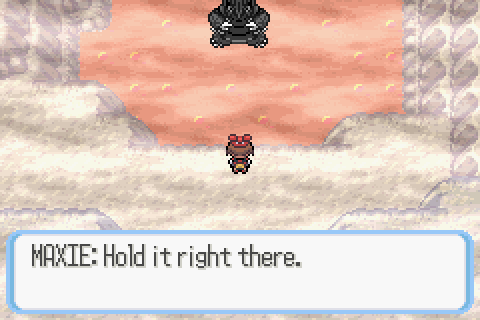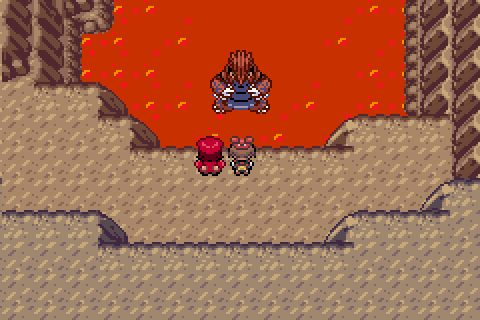 Why is this at the bottom of the ocean?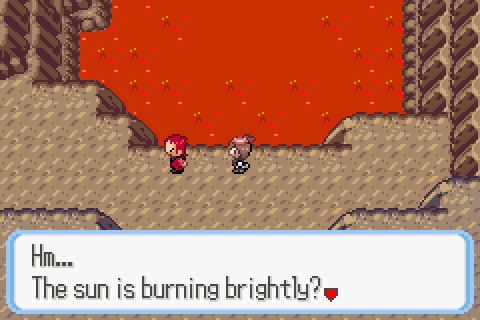 Good... that should have happened. That is why we awakened GROUDON, to realize TEAM MAGMA's vision of expanding the world's landmass. What?! It's far hotter than we envisioned? It's so hot that it's dangerous? This can't be... that's just not possible...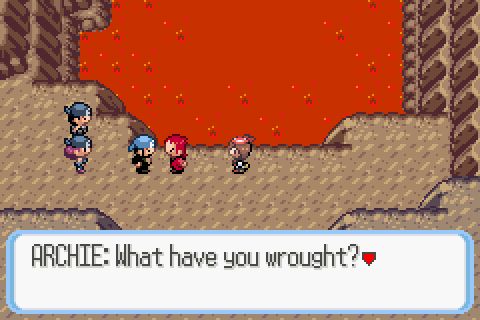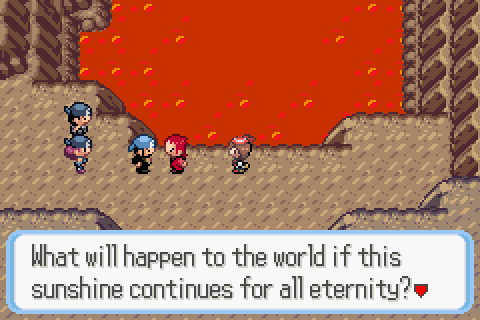 The world's seas will dry up and disappear...
I kept this all in because it really undercuts the dramatic tension when everyone's talking about sunshine.

Drought
Drizzle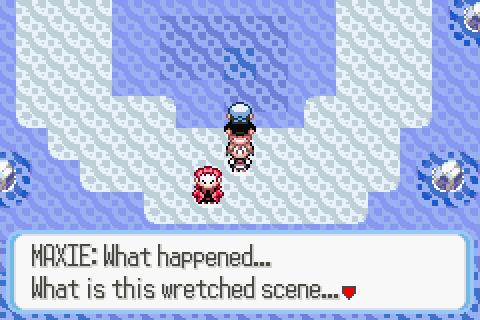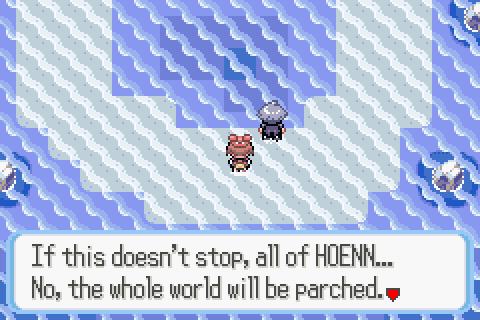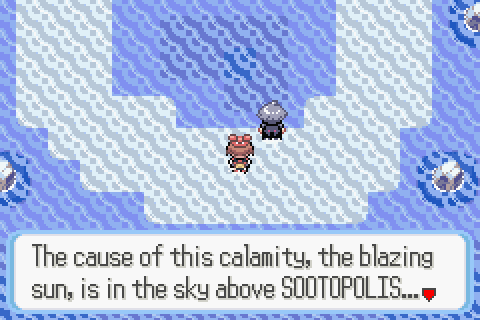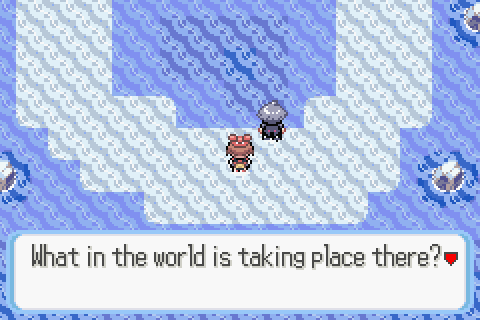 Let's go over to Sootopolis!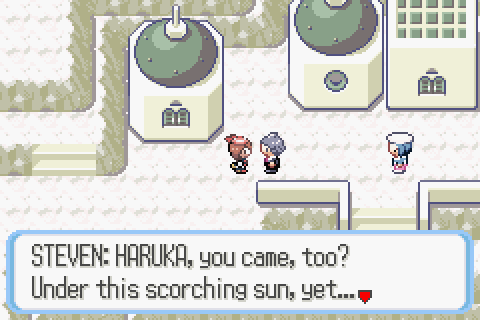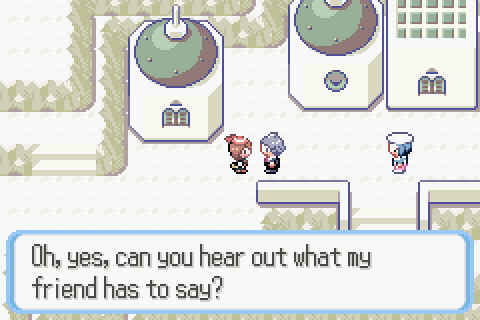 My name is WALLACE. I'm this town's GYM LEADER. I've also been entrusted with the protection of the CAVE OF ORIGIN. The sunshine is caused by a power emanating from the CAVE OF ORIGIN. That... that is the RED ORB. I see. Follow me.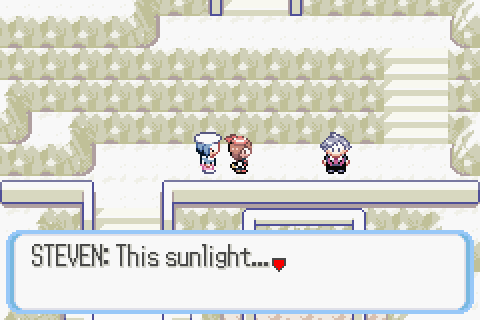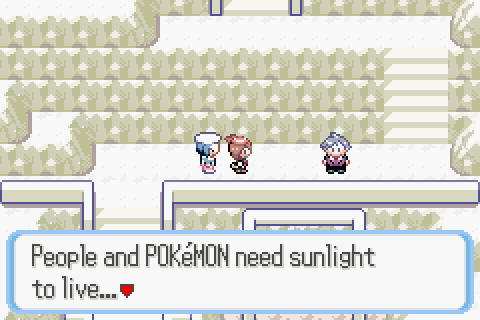 But why does this sunlight fill us with so much dread? The blazing sun over SOOTOPOLIS is intensifying... soon, all of HOENN will be under its withering glare... If that were to happen...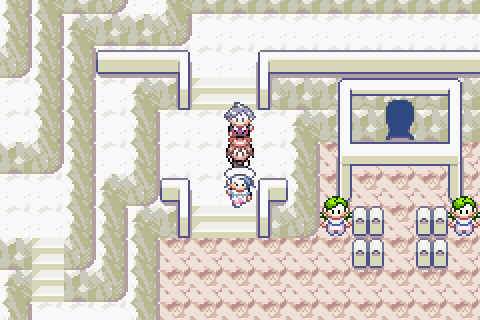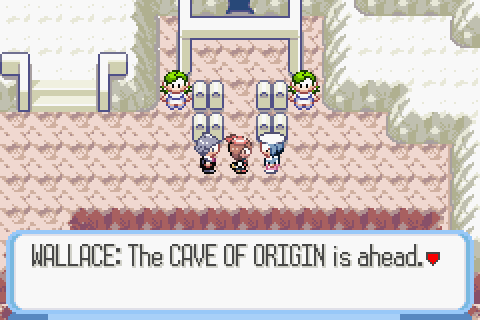 No one from SOOTOPOLIS is permitted to enter the CAVE OF ORIGIN. But you must go. Together with your RED ORB. You must go regardless of what awaits you inside the CAVE...

HARUKA, I never expected you to be holding the RED ORB. You'll be okay. With your POKEMON, you'll get things done no matter what. I'm convinced of it!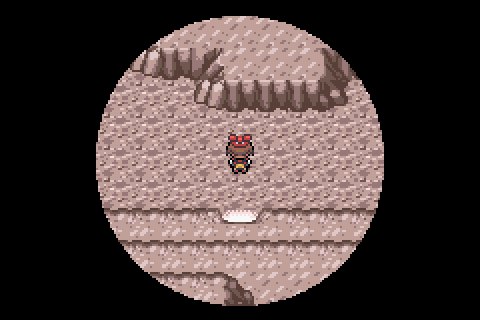 Oh great we need Flash to get through here. Bah.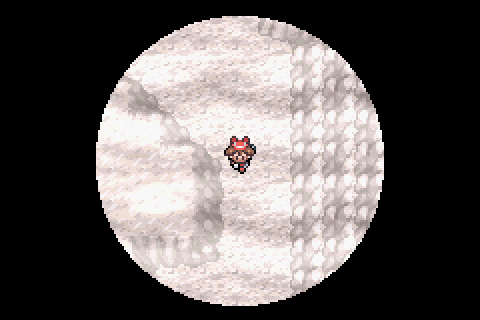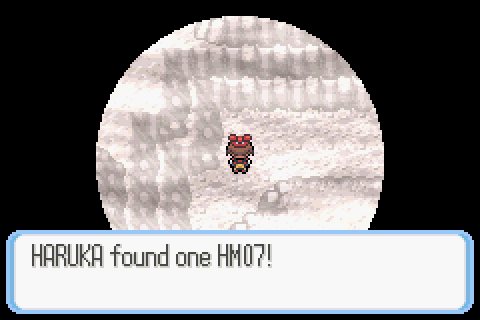 Don't forget to pick this up!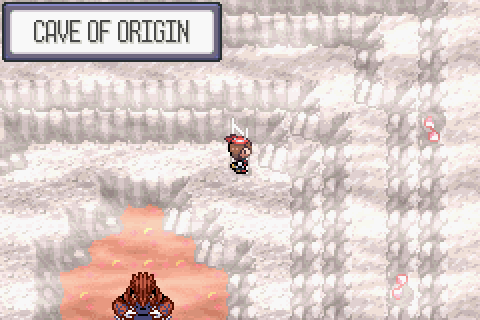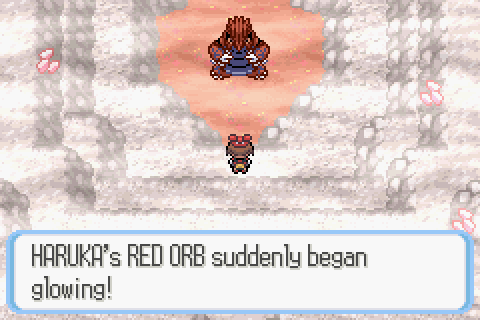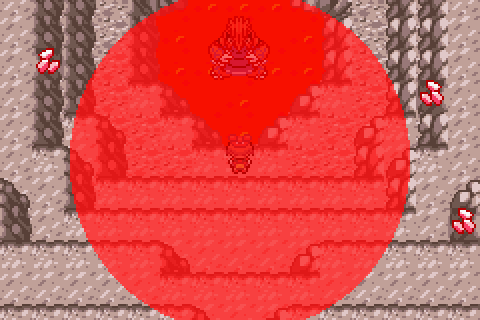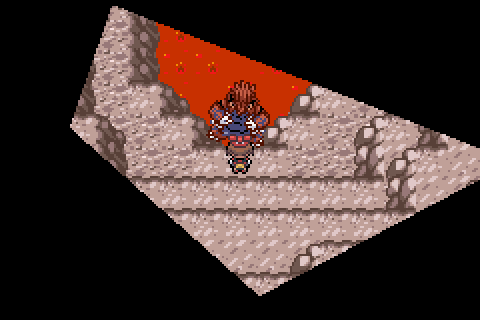 While the story is still super dumb, we at least get to fight something at the end of it!

Weather Titan Battle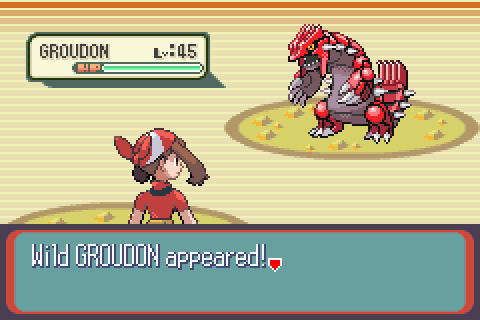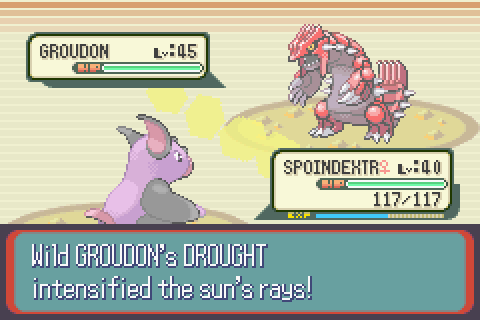 Both Kyogre and Groudon are pretty nasty to fight, especially at this stage of the game. Kyogre hits especially hard with its Water attacks and Groudon should really be fought with a Flying type due to the ridiculous power of Earthquake.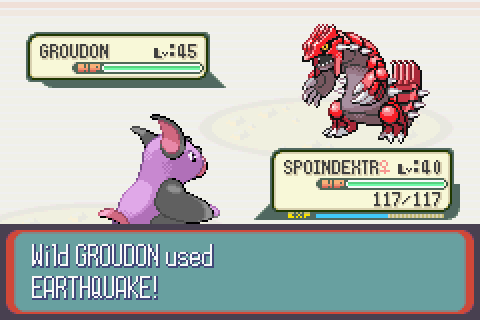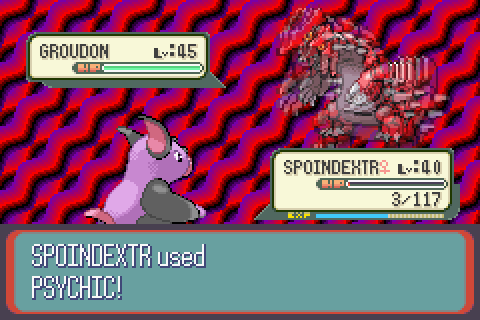 Just hit it with Water moves to weaken it and then start chucking balls.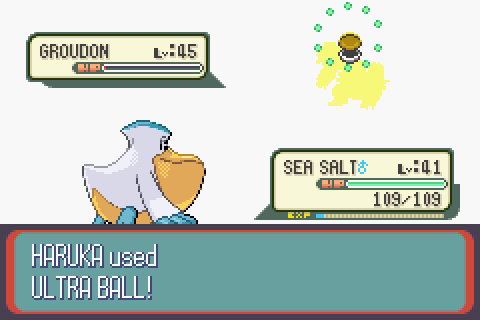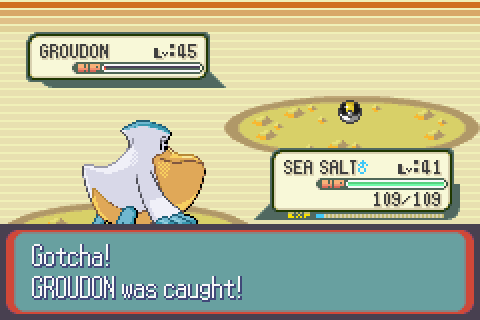 Uh, yeah, like that. Man that was a bit too easy.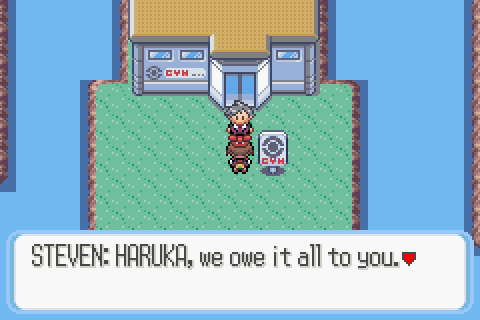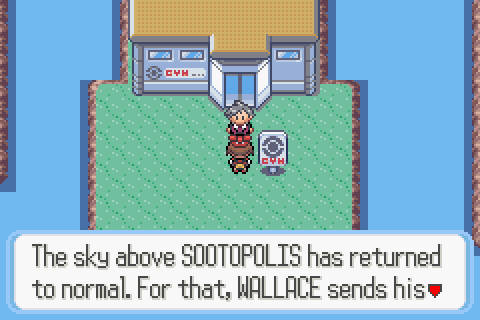 "thanks, too."

And, that same WALLACE is waiting for you inside. He's strong. But the way you are now, you should be on equal footing with him. Give it your best shot.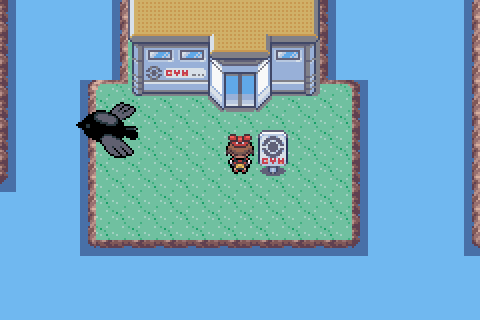 Let's fight a Cham- I mean, uh, Gym Leader.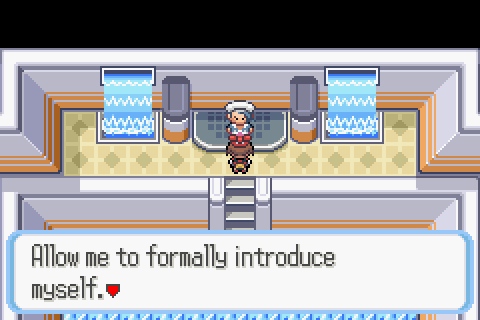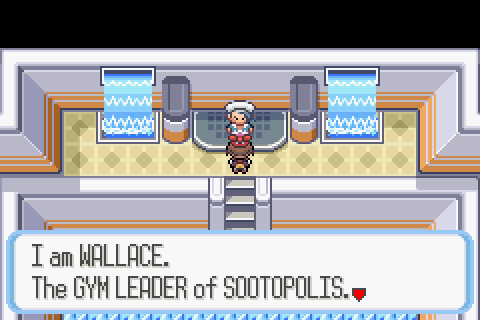 There's something about you... a difference in your demeanor. I think I sense that in you. What happened inside the CAVE OF ORIGIN, and what you did, I will likely learn through our upcoming battle. Now, show me. Show me the power you wield with your POKEMON. And I, in turn, shall present you with a performance of illusions in water by me and my POKEMON!

VS Gym Leader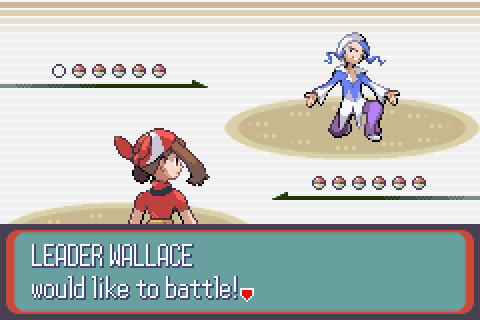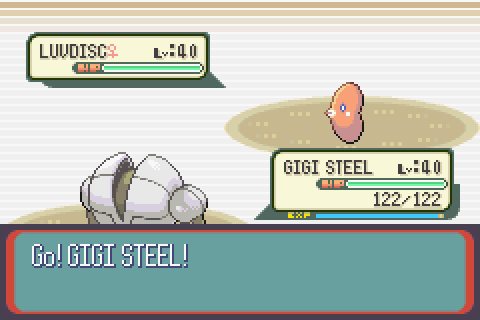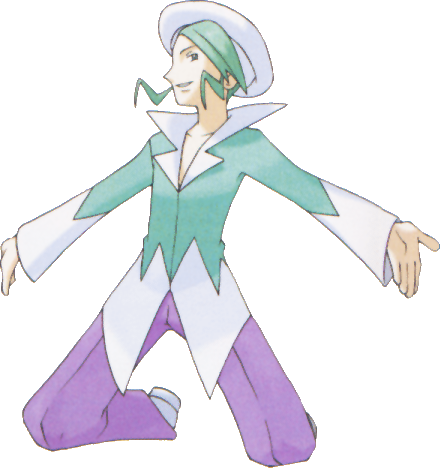 Wallace/Mikuri: Artist, and lover of water.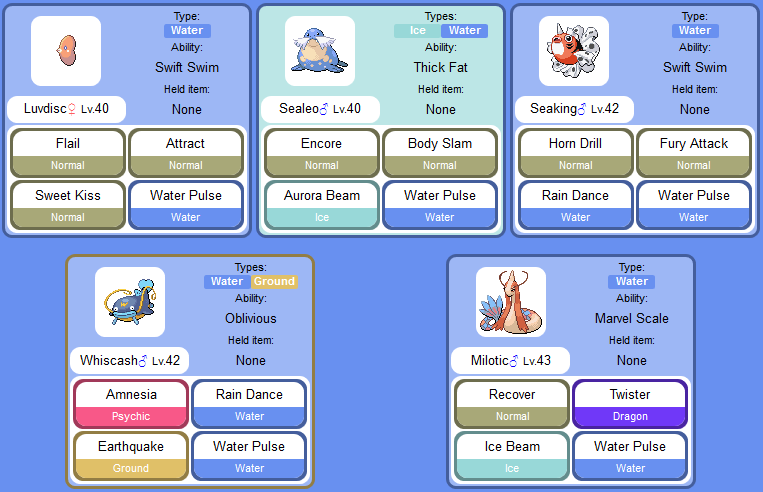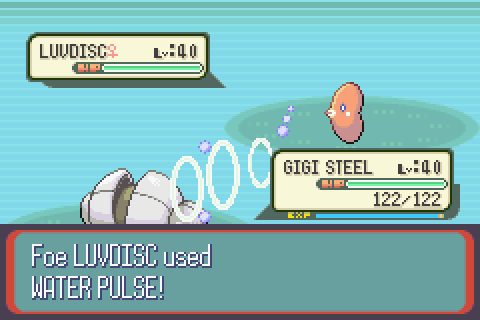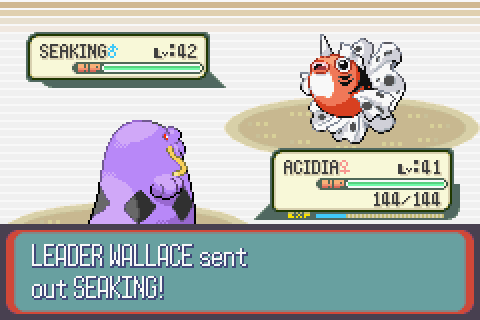 Wallace has a few Pokemon similarities with both Juan and his Champion team, but this Seaking is completely unique and his Milotic is slightly less dangerous.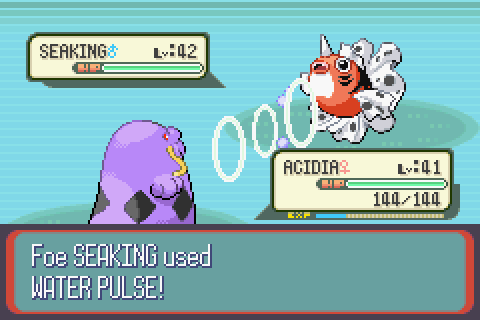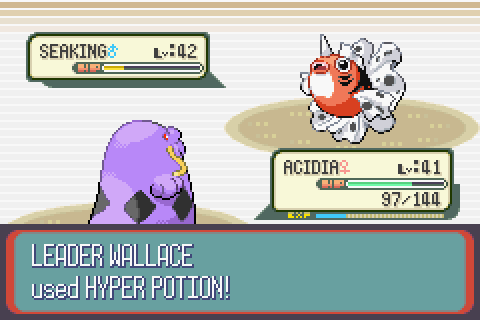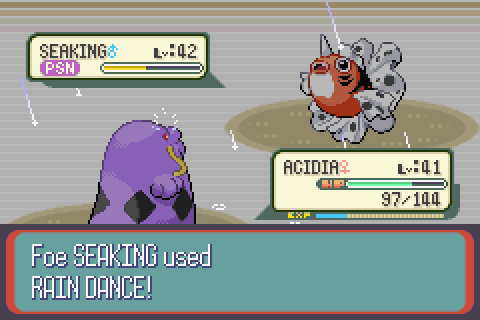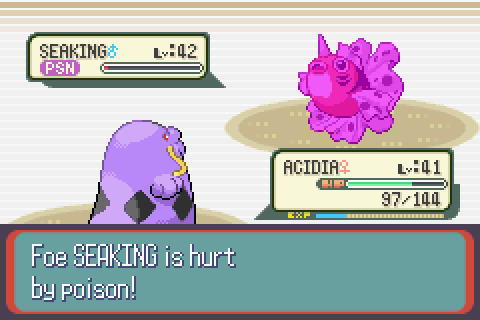 His Pokemon just love using Water Pulse and Rain Dance.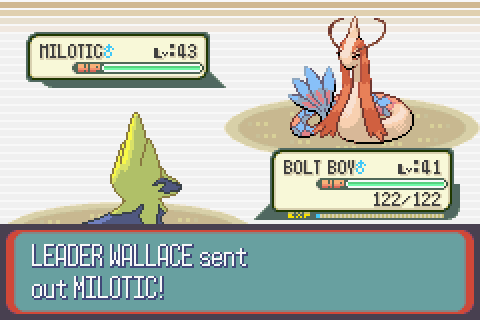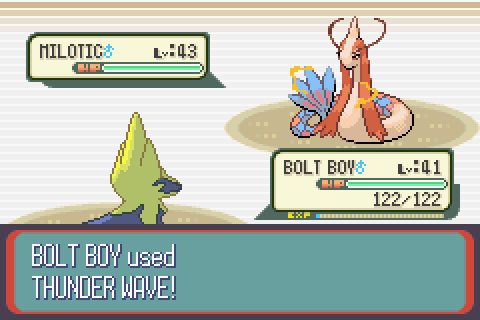 Wanna neuter this thing asap, since it can be a wall that chips you down bit by bit, especially in rain.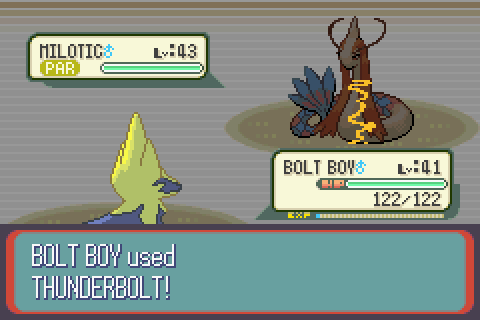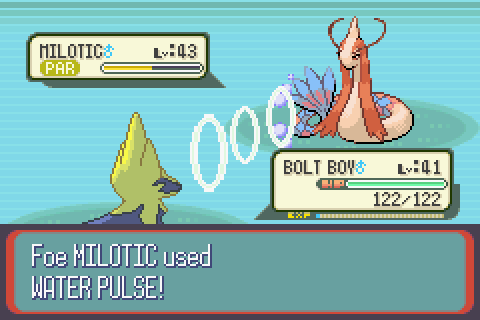 That's looking like a 2HKO.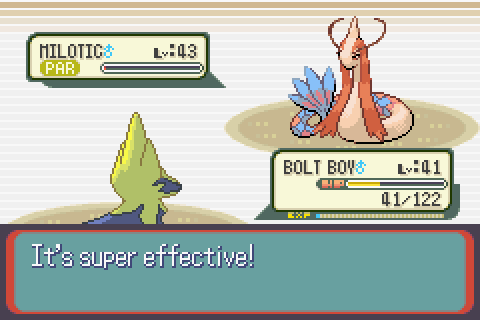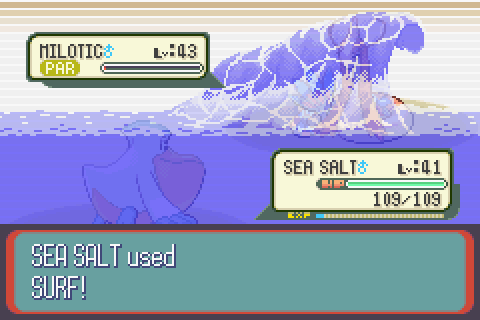 Damn it, guess Sea Salt will have to finish up.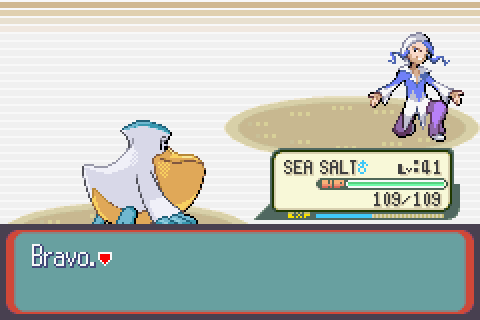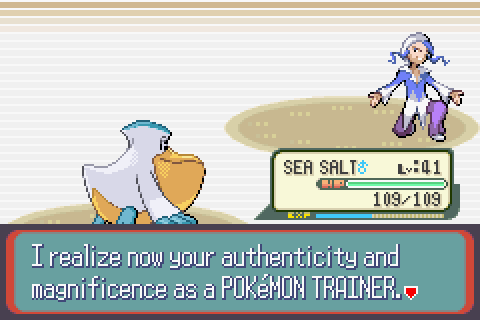 I find much joy in having met you and your POKEMON. You have proven yourself worthy of the RAIN BADGE. Accept it.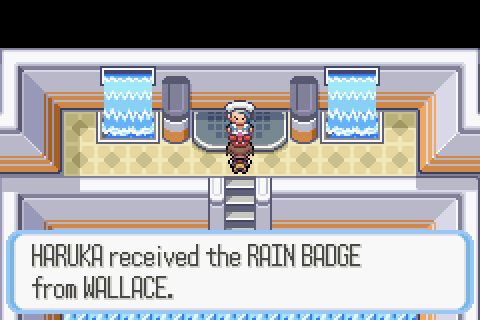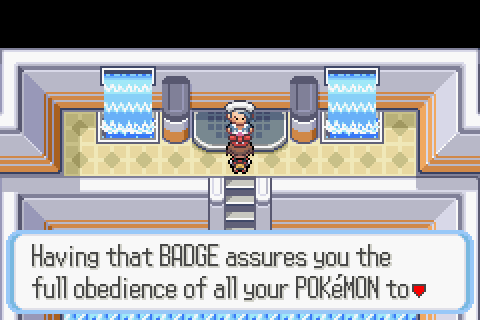 "every command you make."

The BADGE also allows the use of the HM move WATERFALL to scale walls of cascading water. And, so that you never forget the battle we shared, take this...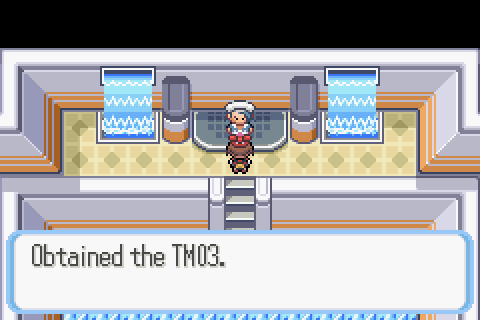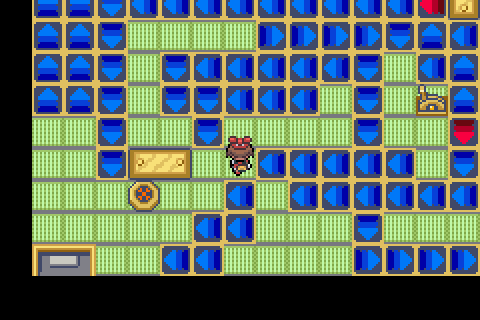 Right, with all that done, since the Mossdeep Gym changed in Emerald, so too did the Trick House challenge.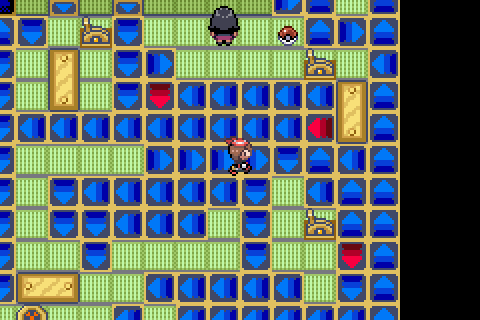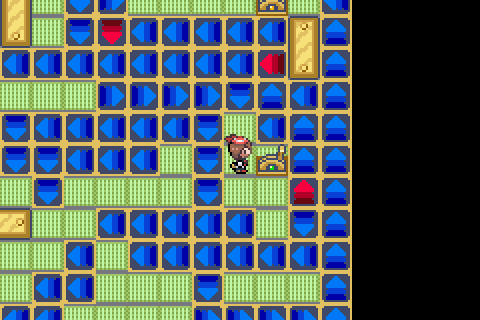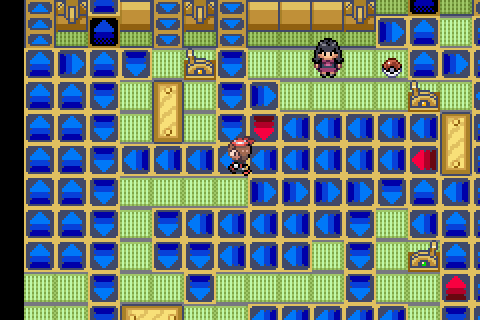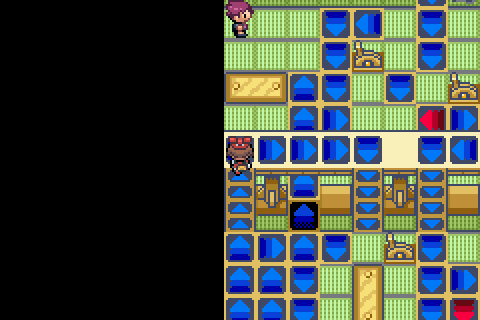 It's basically the same puzzle as the Gym, flip every switch once. The trainers are the same as the respective challenge in Emerald.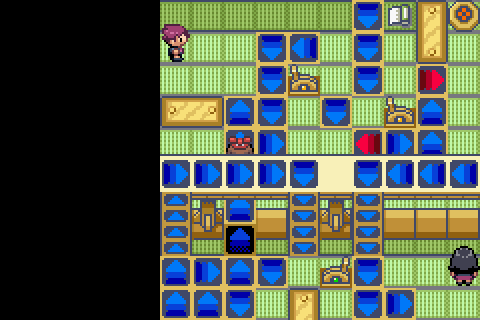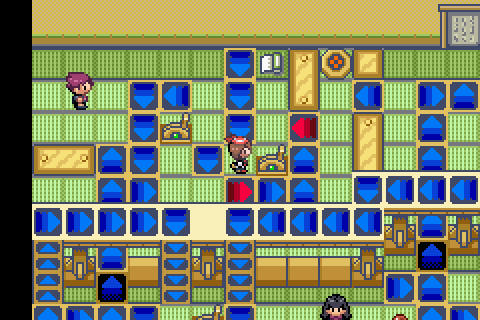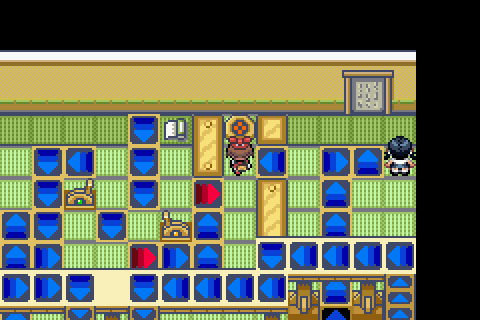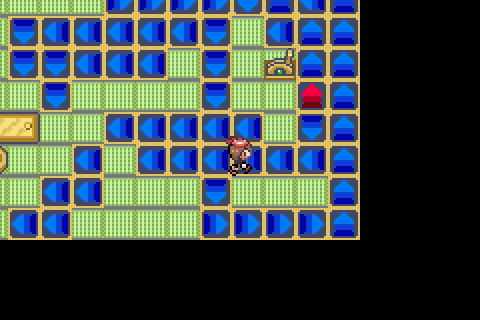 The way to get the scroll is a bit sneaky, you need to flip a switch again to reach the teleporter since you're in a dead end.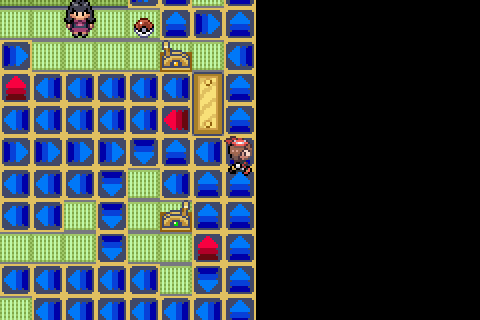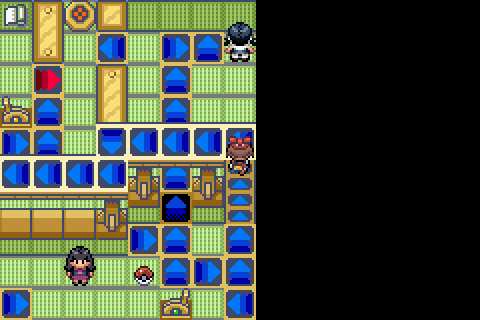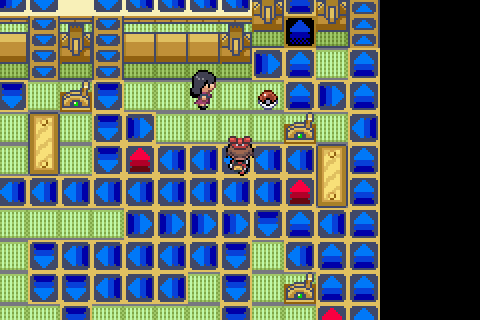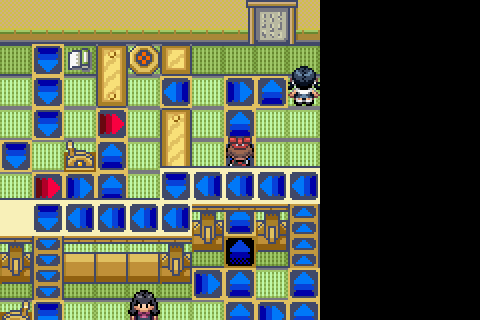 There we go, as easy as that!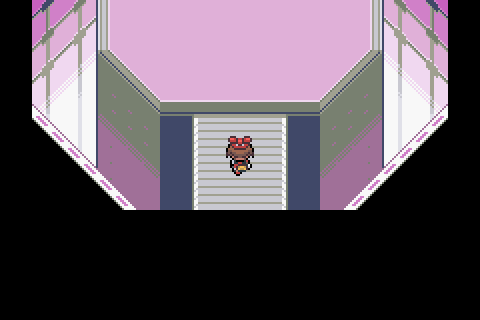 Alright, it's Steven time! Battle me, luscious man.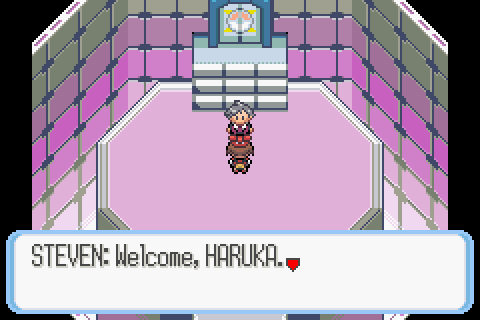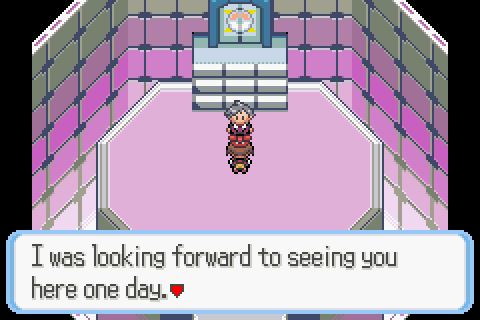 You... what did you see on your journey with POKEMON? What did you feel, meeting so many other TRAINERS like you? What has awoken in you? I want you to hit me with it all! Now, bring it!

VS Champion Steven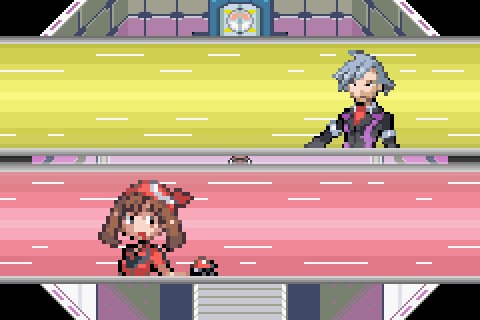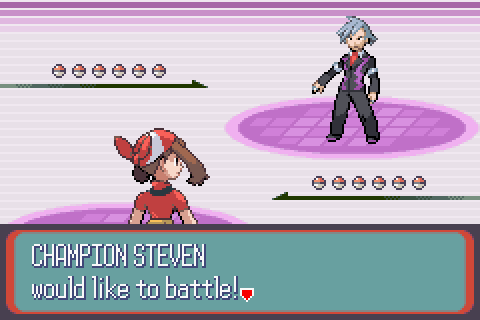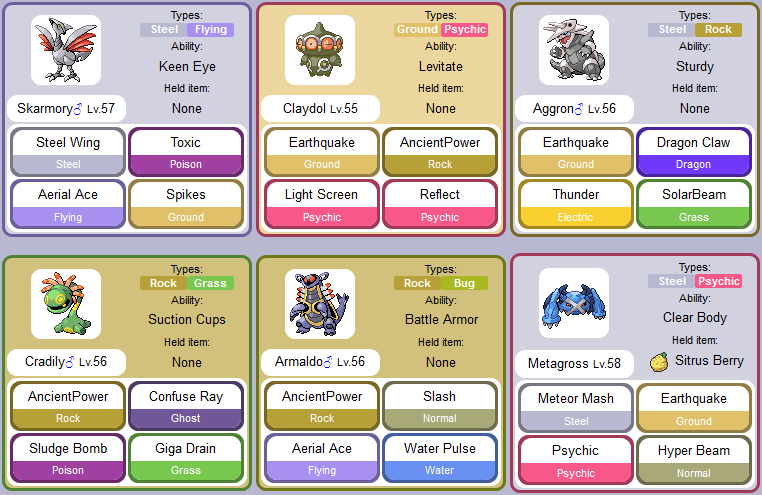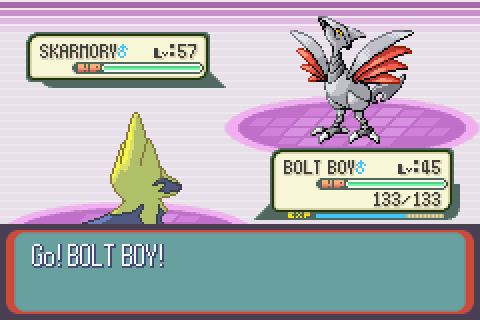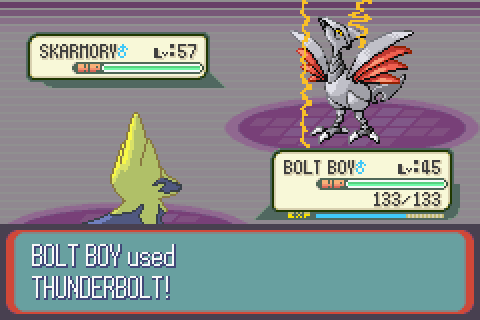 His team in Emerald is nearly identical to his Champion one, with only two changes, Ingrain instead of Sludge Bomb on Cradily and Shadow Ball instead of Hyper Beam on Metagross. Since his team isn't 30 levels above us, he's vaguely manageable, but still pretty tough.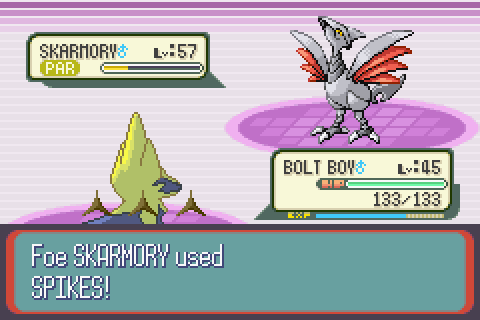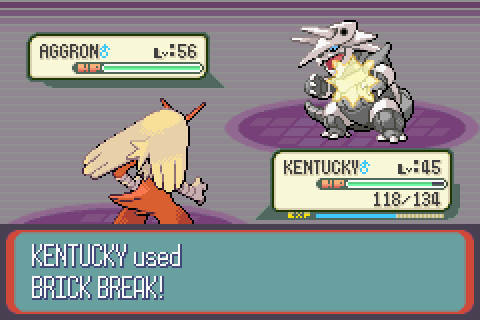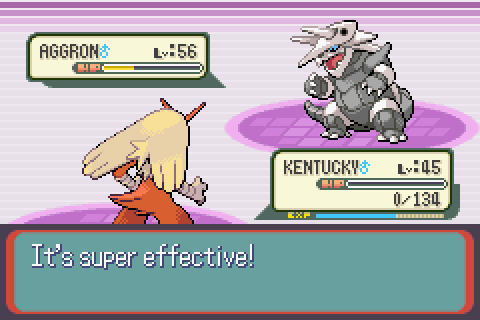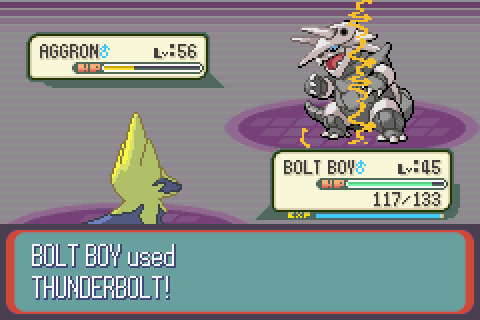 So far so good. It'd suck if he brought out the big guns now.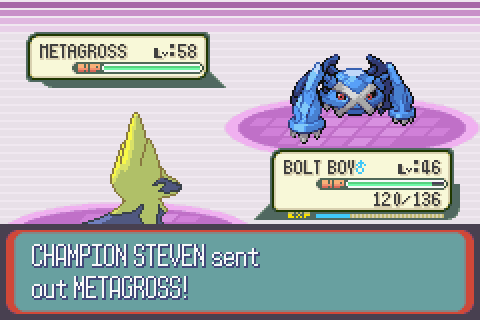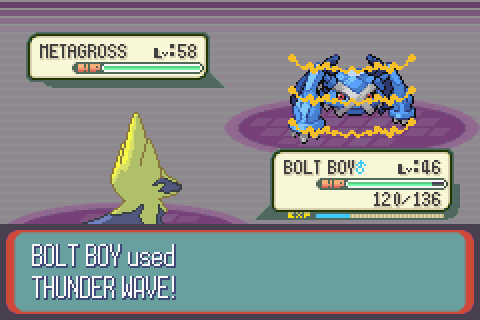 This mon is a problem!!!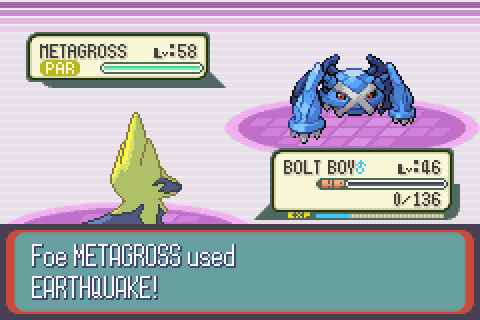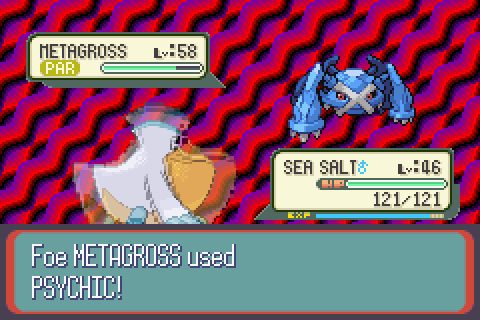 At least we can outspeed it but goddamn.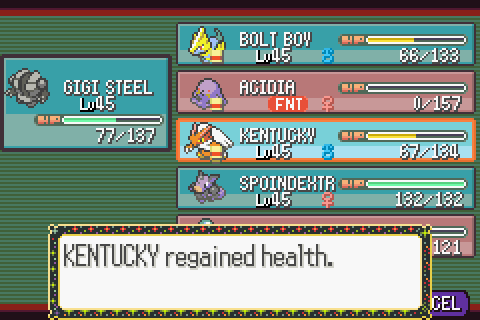 Now here's something I had no idea about, since I haven't played RS since I was a kid. Revival Herbs only restore half health. Just in these two games. That is absolutely, completely baffling, since it nerfs them down to a more expensive Revive that lowers your happiness. That's literally it, it's so weird. Thankfully they fixed it for FRLG, cause I love me my Revival Herbs.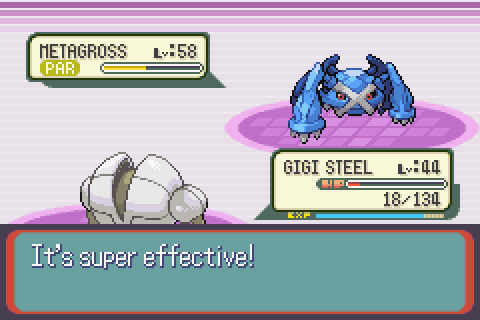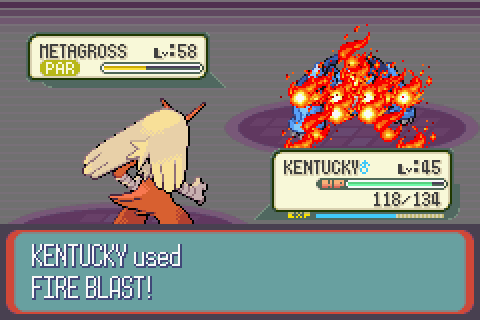 Since Gigi can tank a hit or two, Kentucky finishes the job!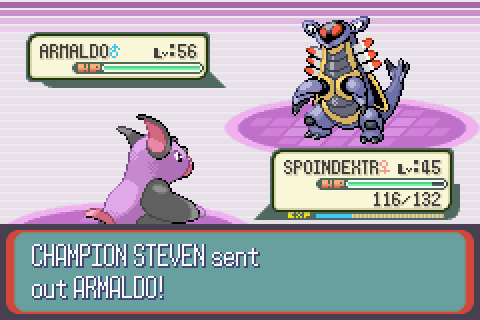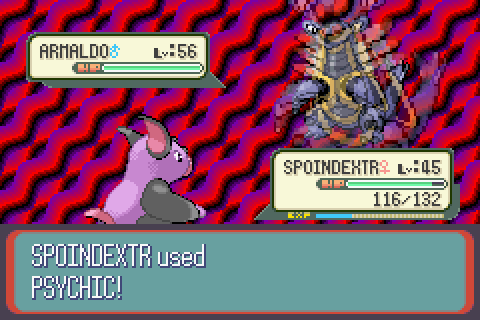 Oh yeah, his remaining Pokemon are still a fuckin problem. God I love this guy's team, it's so out there and pretty damn effective.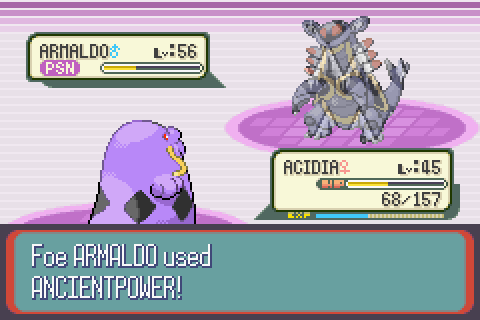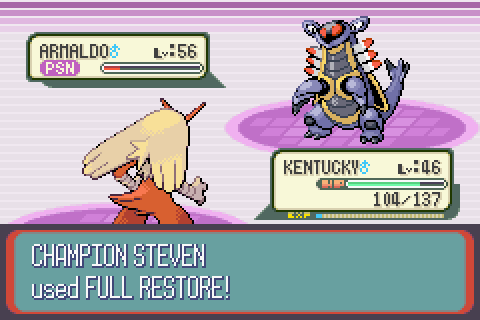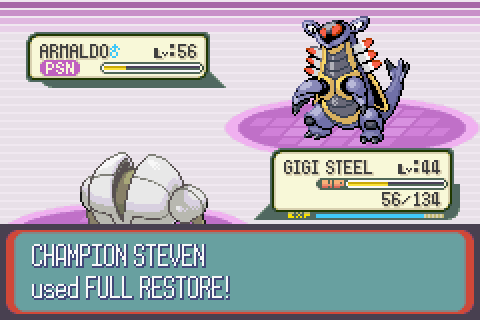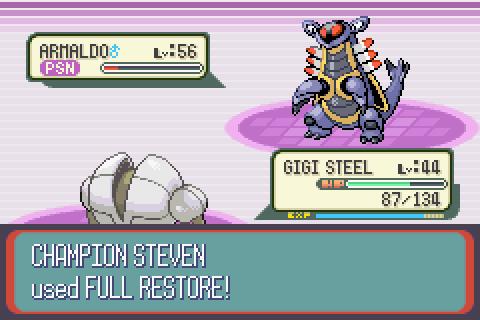 FUCK OFF WITH THIS SHIT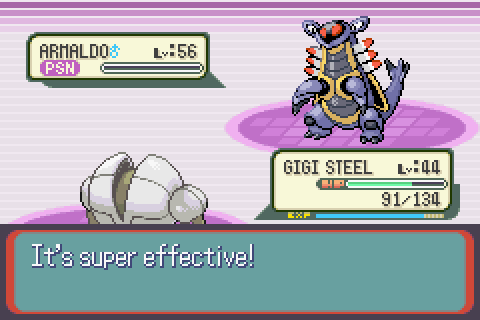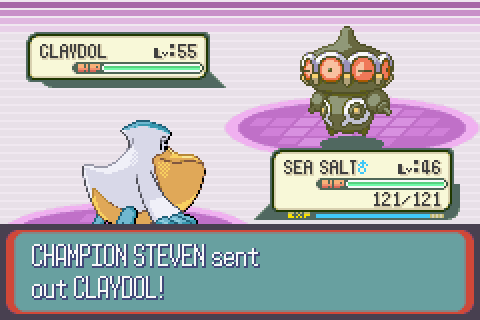 No Curse strats to save us this time, alas.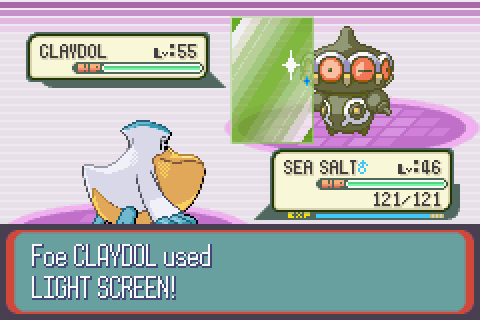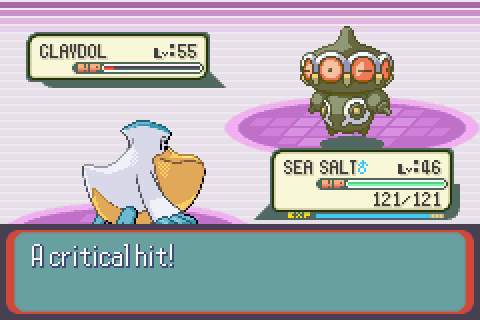 Ooh, nice and easy.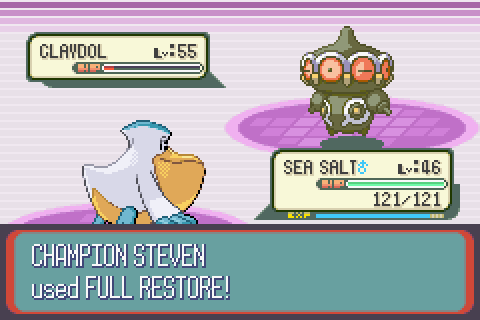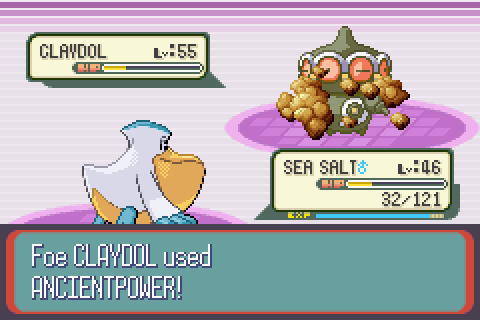 Ah, just kidding.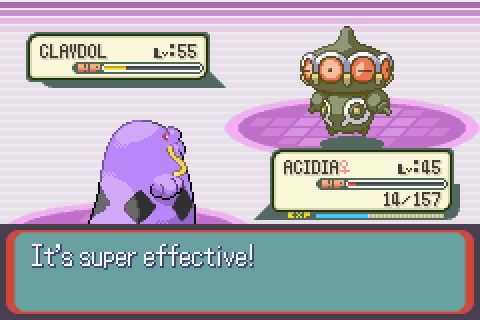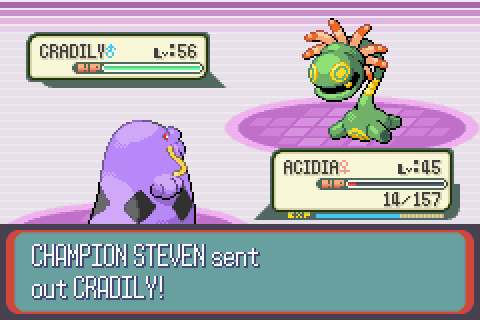 Okay, now we're on the last mon.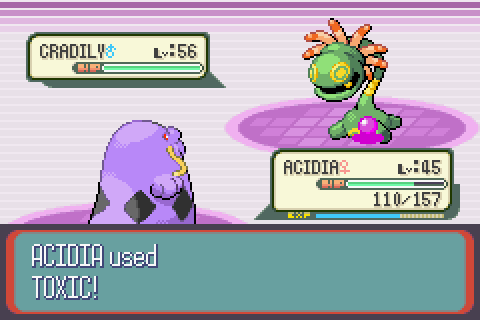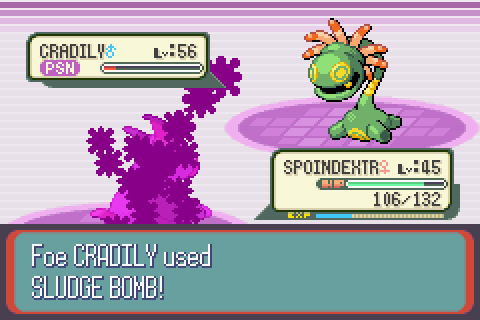 We've got Toxic strats instead, pretty damn good.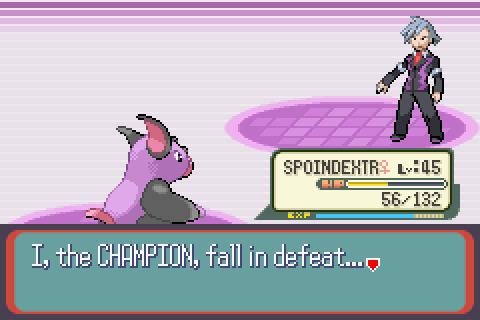 Kudos to you, HARUKA! You are a truly noble POKEMON TRAINER!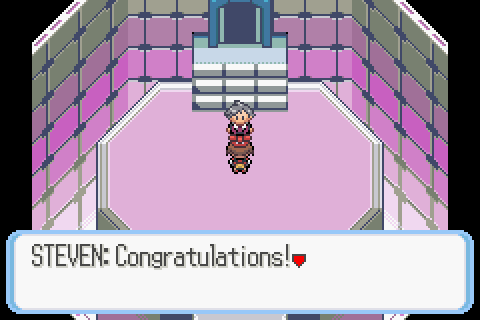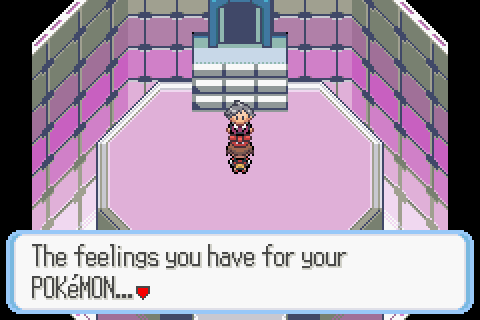 And those POKEMON that responded to those feelings with all their might... they came together as one, and created an even greater power. And thus, you were able to grasp victory today! You are rightfully the HOENN region's new...

Brendan Encounter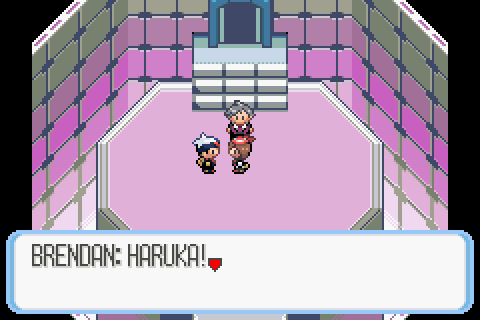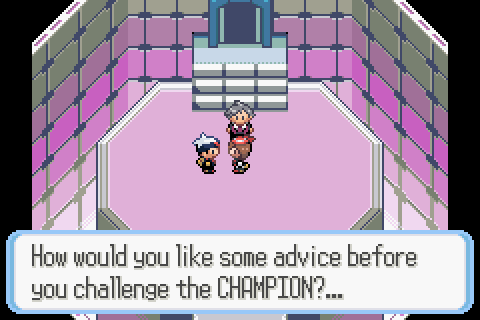 ...HARUKA... are you trying to tell me... you've beaten the CHAMPION?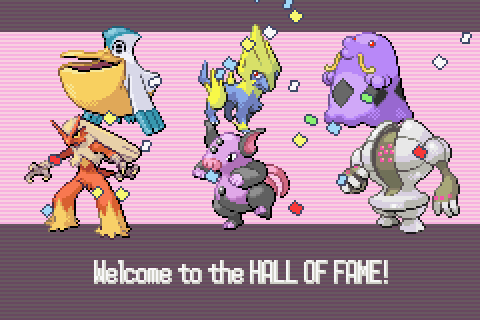 Good job team, they were a lot of fun to use, but I've used them all before (aside from Registeel), so I didn't want to use them again in the LP. Only Nobunaga and Calbrena have been used before, as well as Cold Gregg in ORAS, but I don't really count that, since Freeze Dry makes Glalie much more interesting.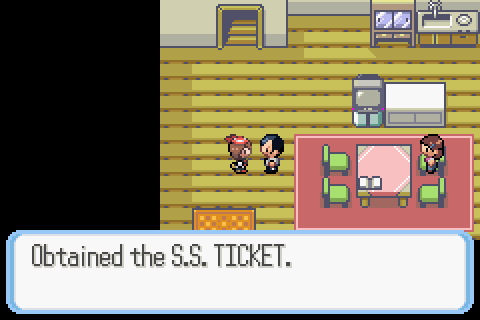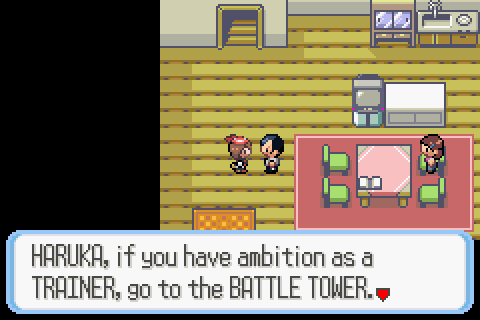 Now it's the postgame. There is so so little to do in RS's postgame, like, three things total, in all honesty: the Eon roamer, Sky Pillar and the Battle Tower. Seriously, that's it, it's dumb.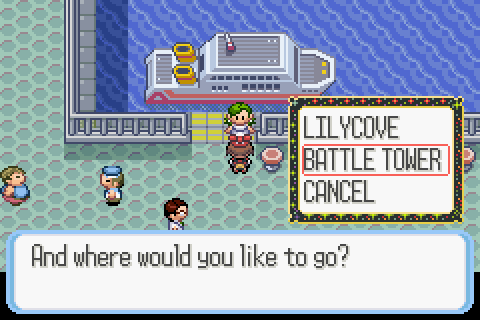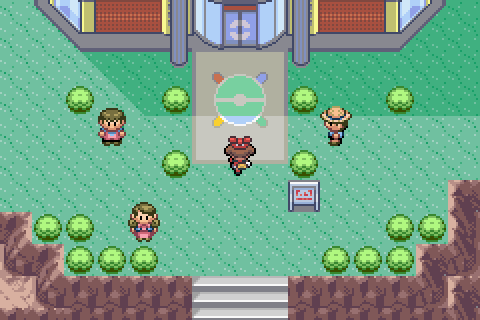 Okay, there's technically the S.S. Tidal since you can just head straight to the Battle Tower. Let's give it a go!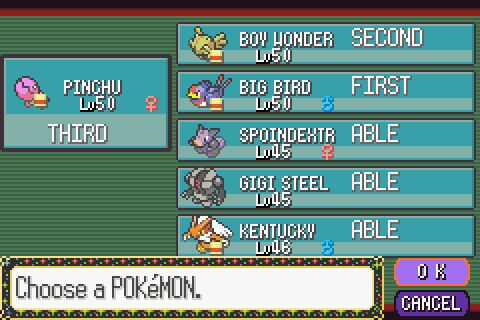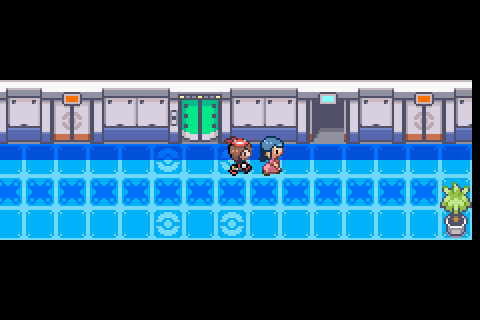 Hey, these three Pokemon seem familiar. Might as well use them one last time.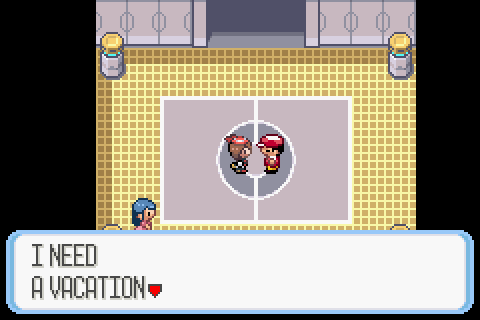 "RIGHT NOW"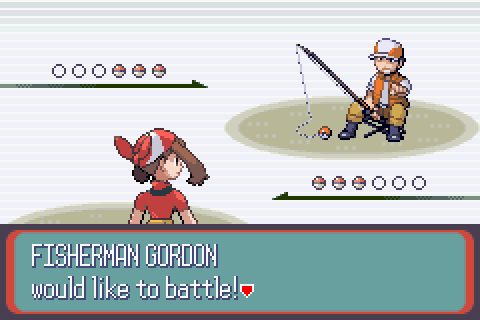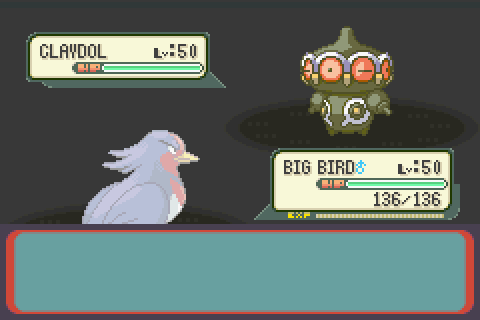 Now unlike the Battle Tower in Emerald, The RS one has a few differences. First, this is the game where streaks are introduced, so you're encouraged to win lots of battles in a row to get lots of neat prizes. There's the level 50 or level 100 challenge, but with single battles only, other battling modes were introduced in Emerald.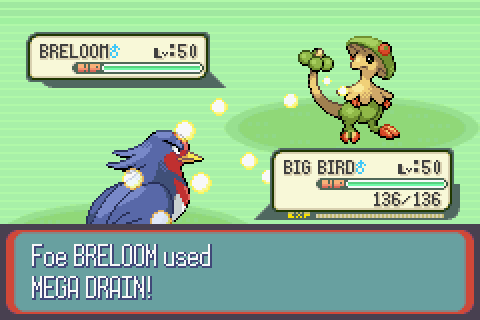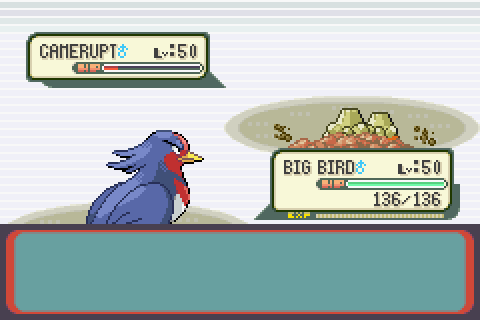 In the early streaks the AI is as special as always. You might notice that the only Pokemon we find here are those in the Hoenn Dex, though you encounter the same Pokemon between level 50 and 100, with the sets being the main difference. Just by scrolling through there's only one Banette set for whatever reason.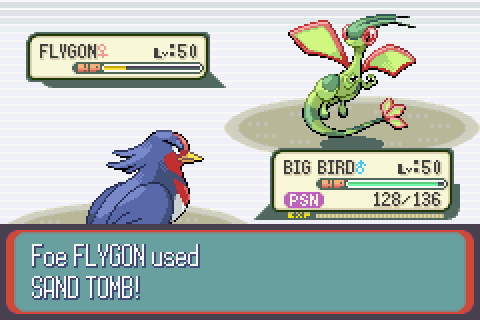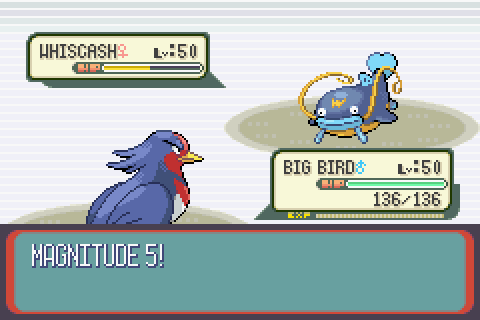 Seriously, having a Flying type just breaks the AI's brain I swear.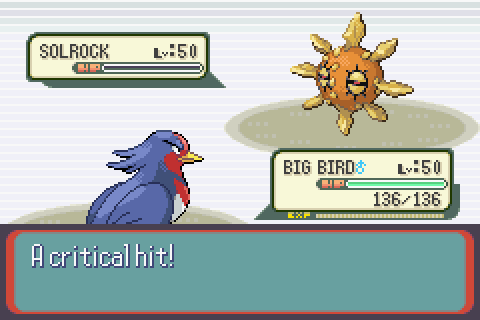 You'll also notice I didn't use the other two. That's because I didn't need to. It starts off super easy.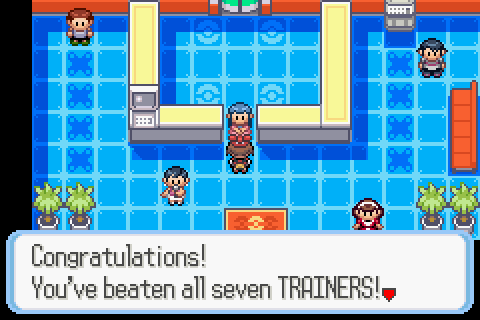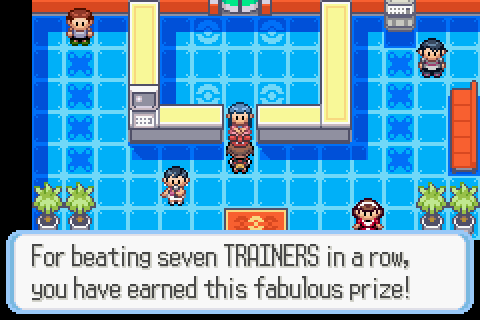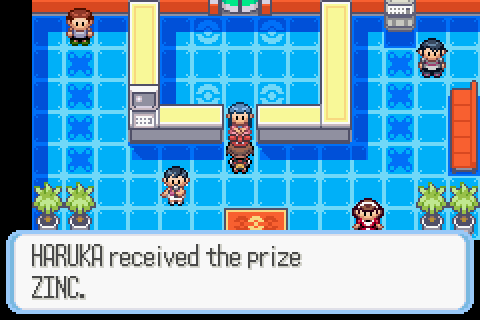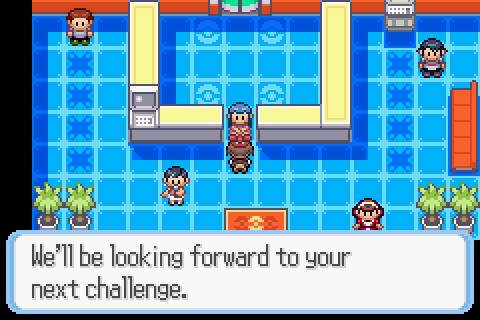 Now you might be thinking that's a bit shit, you only get a drink for beating seven trainers, just like last time. But there's the streak prizes. Until battle 35 (5 streaks), you'll get the various EV boosting items, but past that, you then obtain one of the competitive items as a reward instead, such as Choice Band, Quick Claw, Brightpowder, etc. It's pretty damn nifty, as well as the only way to obtain these items. All the other Battle Tower rewards for streaks are also in Emerald, so we'll go over them later.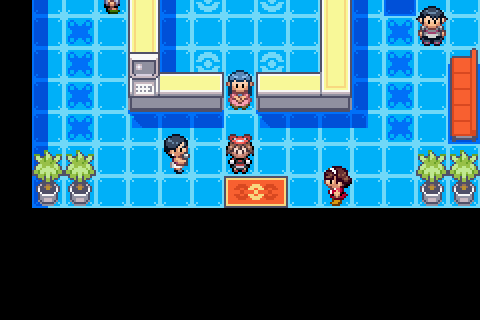 That's it for this bonus thing I did. See ya!