Part 30: our lives would make a sad, boring movie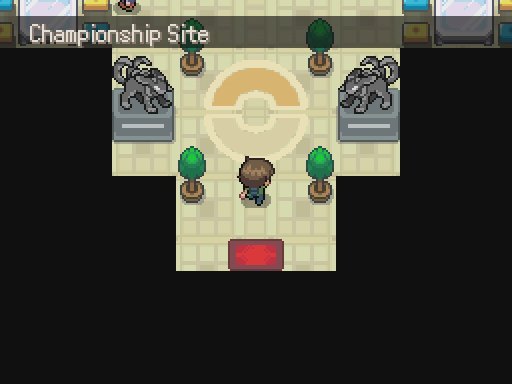 Pokemon Anime Soundtrack - Hoenn Elite Four Battle (EXTENDED).ogg
Apparently our Elite Four thing is so cool it gets a different elite four as its lobby music.
There are a shitton of NPCs and empty rooms to look at, so let's get down to the important thing: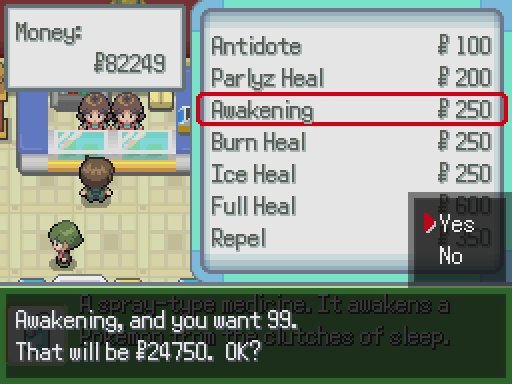 Awakenings are finally for sale!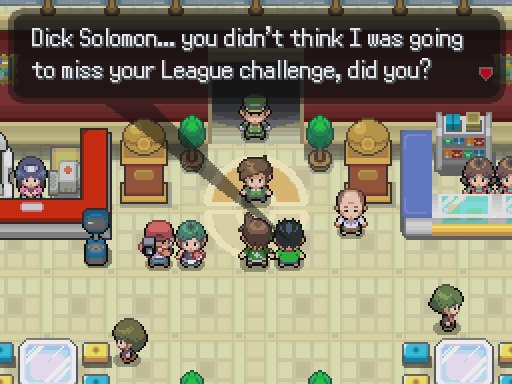 Important NPCs show up to cheer us on.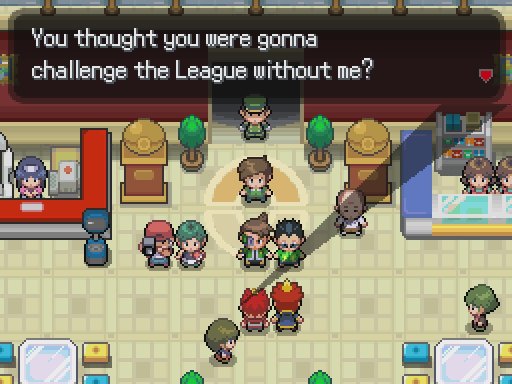 And Theo shows up at the last minute to also be part of the championship. If you're wondering how this is supposed to work, it's because Tandor doesn't have the normal elite four + champion structure the official games have.
It is 32-person single-elimination tournament tournament, which means we have four normal opponents and a final battle... so kinda similar. Instead of the gigantic closed chambers the offical games have, it's in a huge stadium with crowds.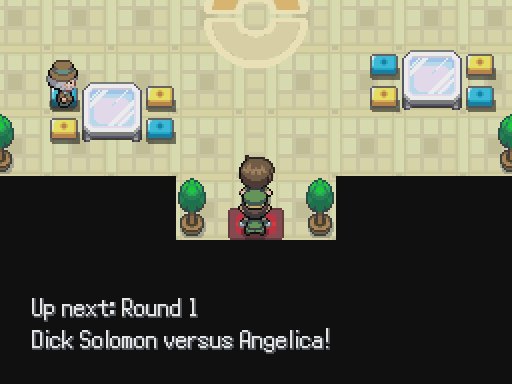 Angelica was apparently one of the trainers at Route 14, but what that Angelica and this one have in common is beyond me.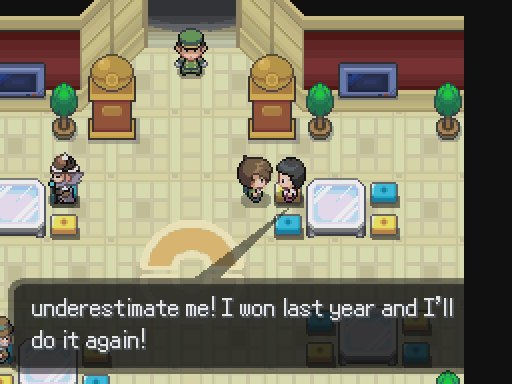 Maria's here, and line breaks are really mean to her text!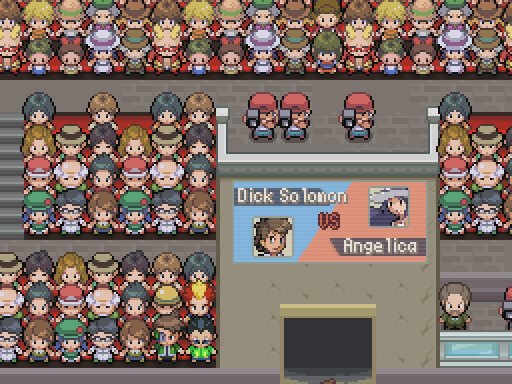 There are television crews, huge crowds, fancy signs that must've been a bitch to code...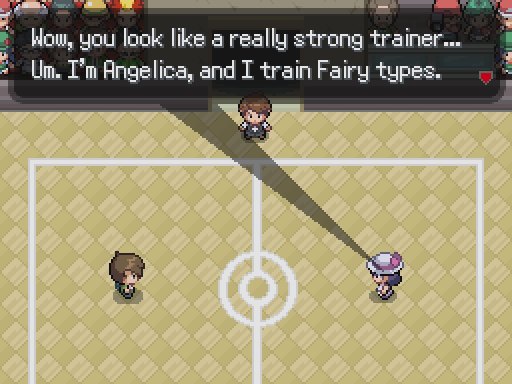 Angelica gives a brief introduction.
The big change from the official games is this. We don't get to use any items... nor does the opponent. No more full restores. Point: Uranium.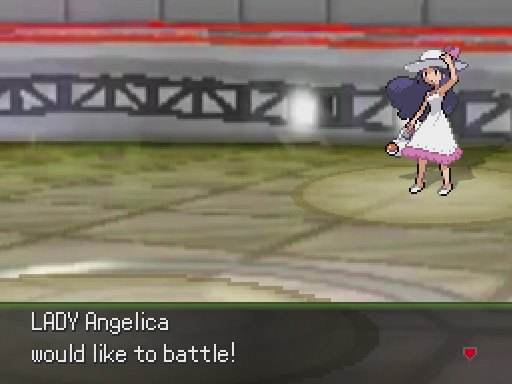 OST:
PU-EliteBattle.ogg
The name of the track indicates it's intended for the post-game bosses that use it, instead of the Championship. Indeed, the composer made a track specifically for this:
OST?:
Battle! Vs. Championship Trainer
By the date I guess it ran into the C&D before it could be implemented? I don't know.
OFSelects:
Survive Said The Prophet - Let It Die
I heard this at random about the time I got here, and I fell in love with it.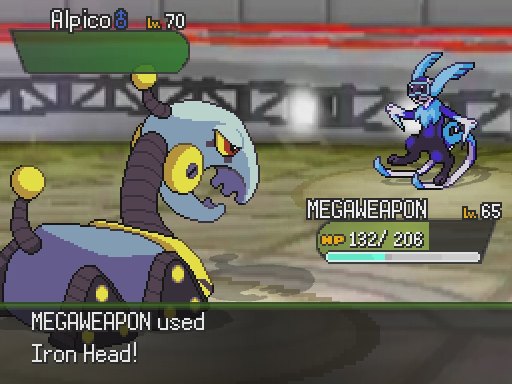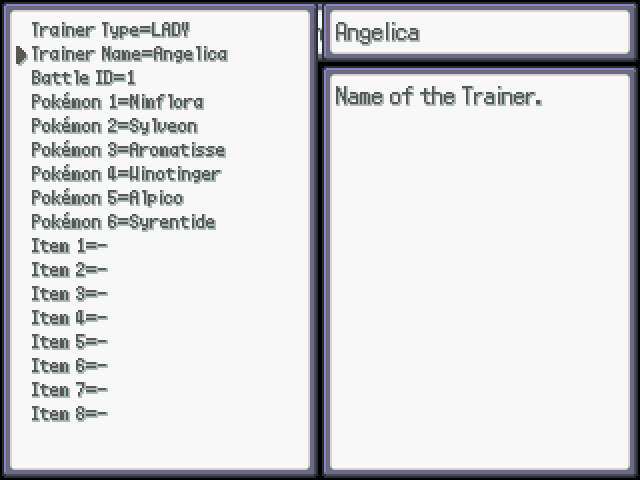 Angelica's team has 10 IVs, no hold items, and default level-up moves. It's not that hard.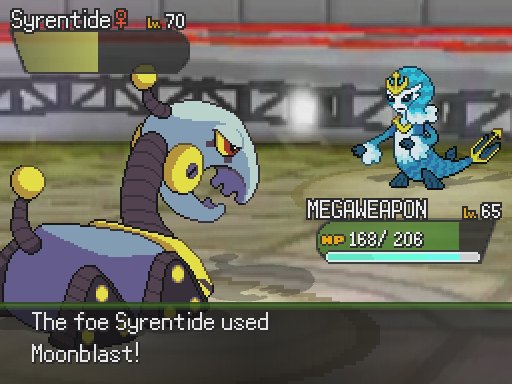 The only hang-up is that her Syrentide is neutral to steel and doesn't flinch. It wasn't enough to KO MEGAWEAPON, but it's annoying anyway.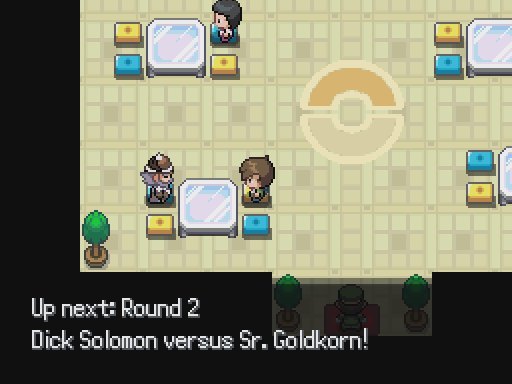 We're taken back to the lobby after the previous round.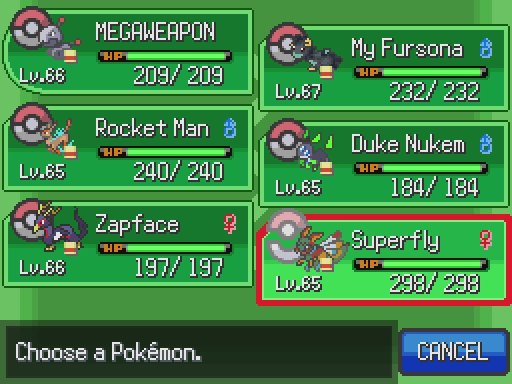 Despite the incredible number of lumps that MEGAWEAPON took, he's back in perfect shape. Indeed, battles here are about slugging it out with full force rather than endurance.
Also, this is the Championship team. Say hello to Zapface, now a full-grown Yatagaryu!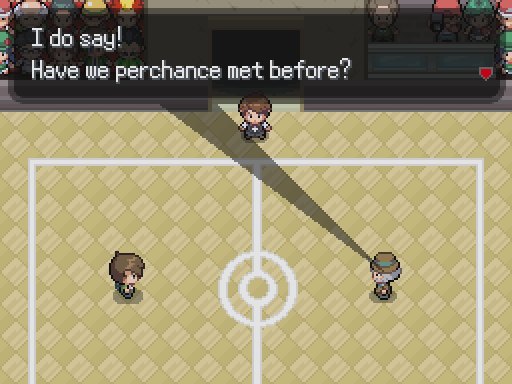 This guy has memory problems.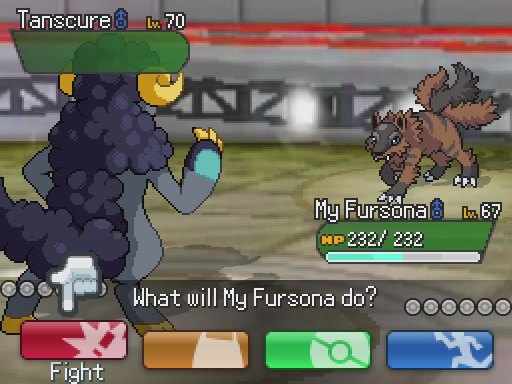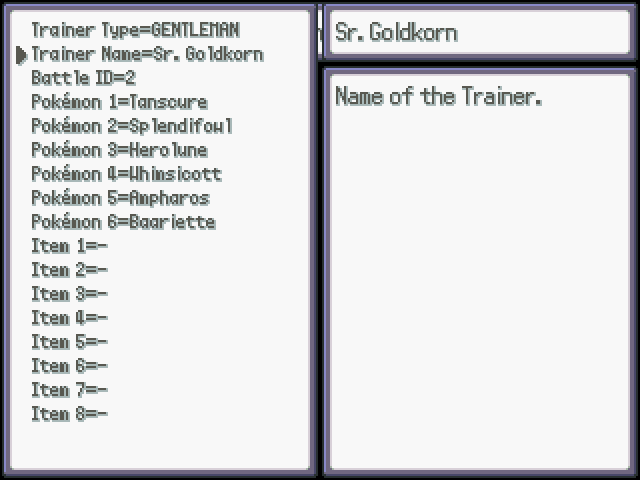 Once again, 10 IVs, no items, default moves.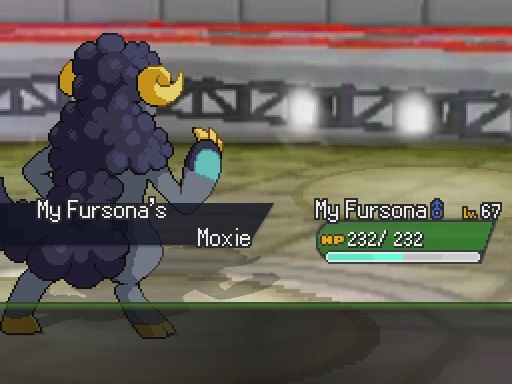 A quick Drain Punch KO keeps My Fursona at full HP and lets his Moxie kick in, and he kicks butts until, uh... that Whimsicott.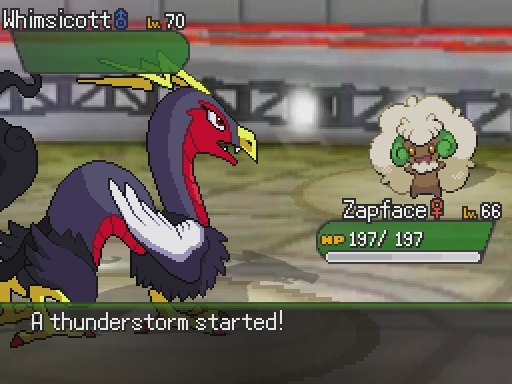 Zapface has the Stormbringer ability, causing a new weather condition: thunderstorms! It boosts electric damage, causes damage based on electric resistance at the end of turn, and makes Thunder never miss.
I think.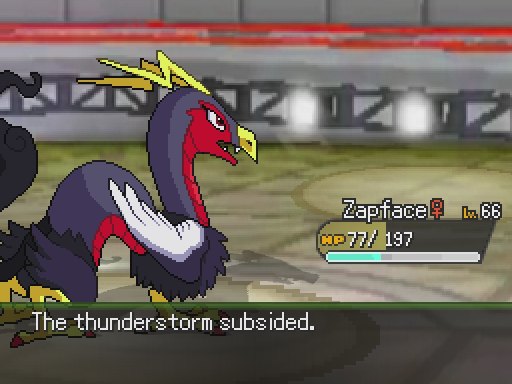 Hard to tell when there's so little feedback and it gives up really fast.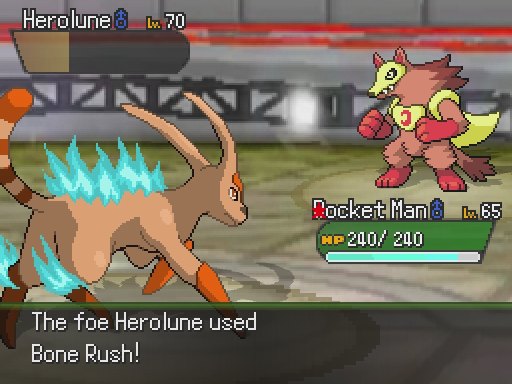 Why not Earthquake? Level-up move lists didn't I
say
that, jeeze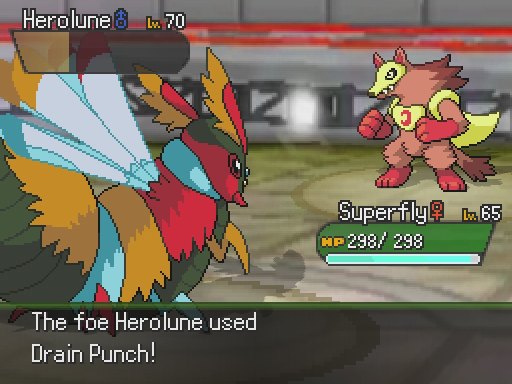 Herolune tries desperately to stop Superfly but fails.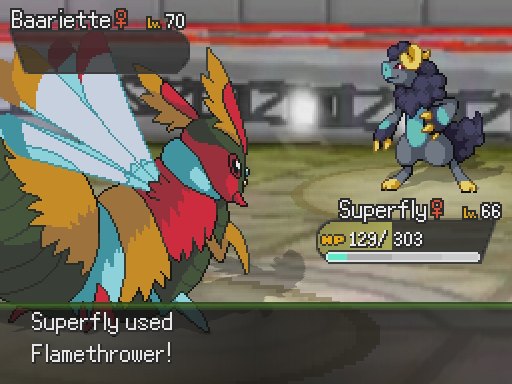 Same with the Baariette.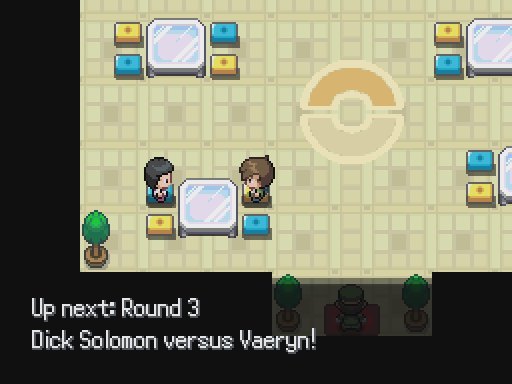 I think this chance between rounds is to pick a lead based on your opponent.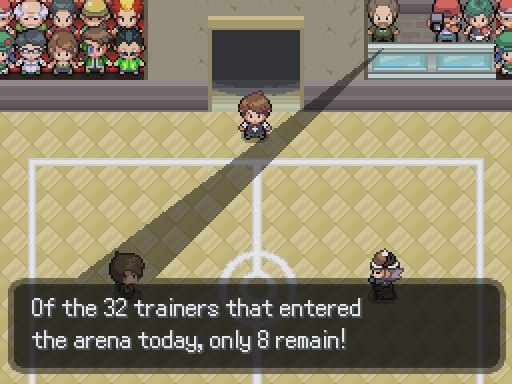 After how Star Ocean 2 handled other entrants in a tournament (two knight npcs walking into each other) I'm glad the other battles are skipped.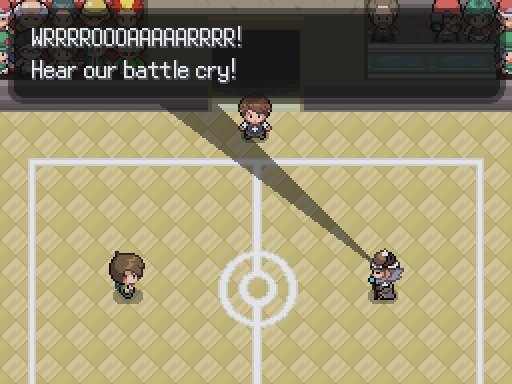 I imagine it like [insert contemporary meme reference].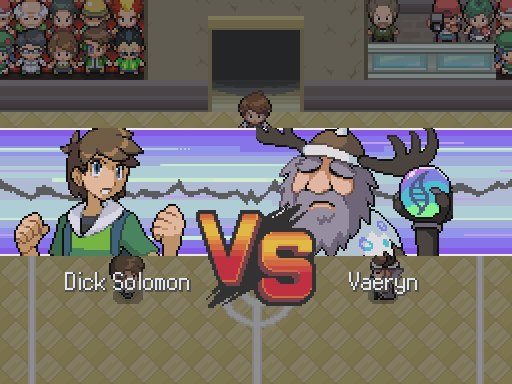 I wish Dick Solomon got a mega bracelet for these splash screens.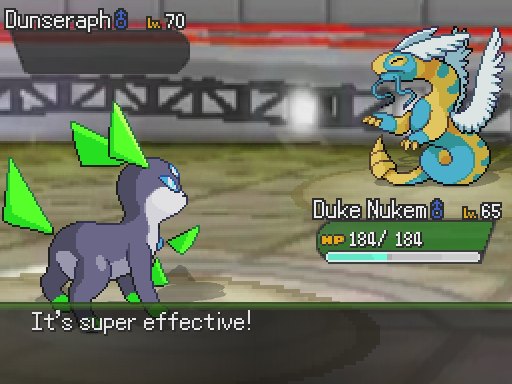 For Vaeryn I sic Duke Nukem on him, and quickly realize a scarfed Nucleon is pretty good at wiping *everyone* out.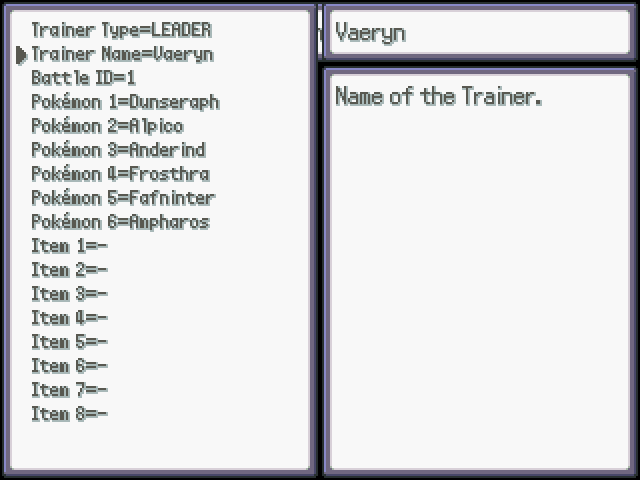 Vaeryn is a little trickier than the previous opponents, but not by much. Only item here is the Ampharosite.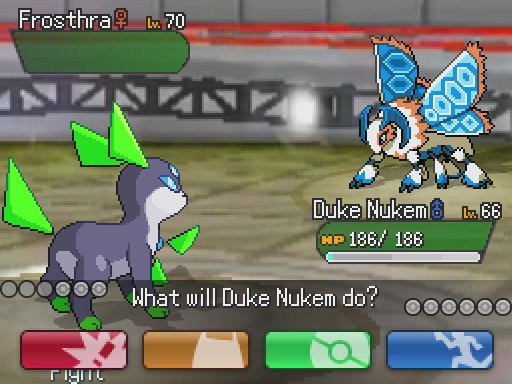 Only change between the gym battle and this is Frosthra instead of Glavinug.
Can you keep these guys' names straight? I can, somehow. If you had to look up what Glavinug is, I understand. It doesn't really communicate whatever the heck it is very well.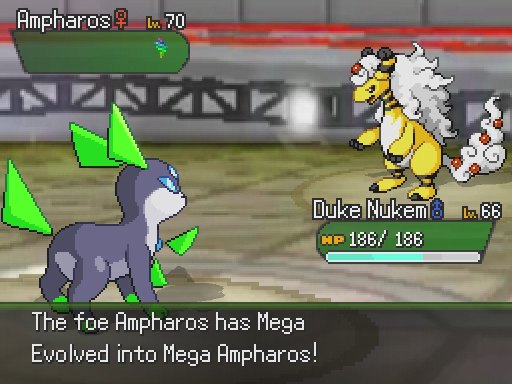 Getting an extra type means it's more weak to Nuclear than before.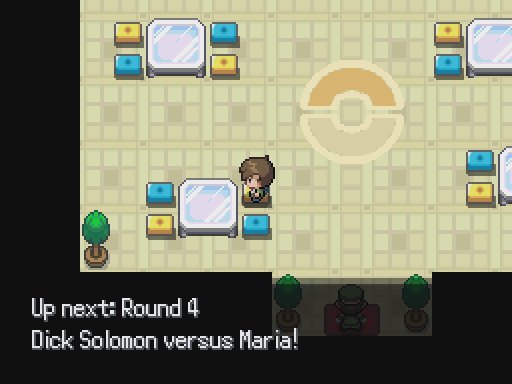 There's no one in here but the guy who tells me I can't escape and the guy who tells me to fight on.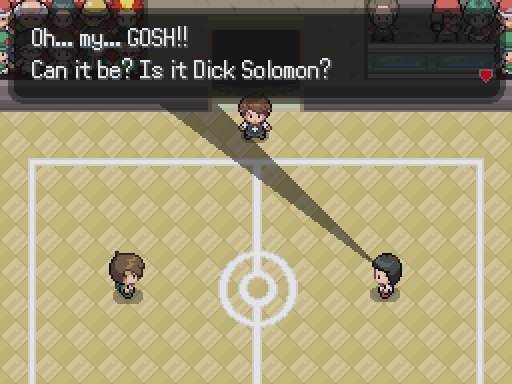 Shortly before this update, one of the devs did a reddit AMA and revealed that Maria's ~ are pronounced "uguu."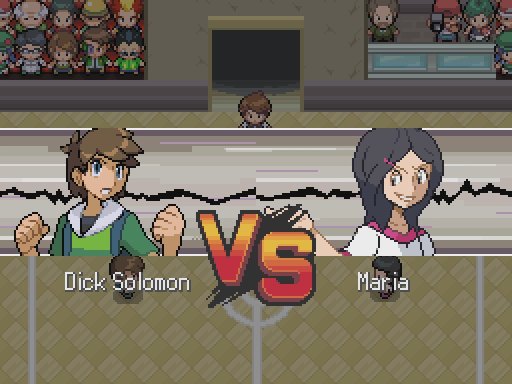 She's now my Least Favorite.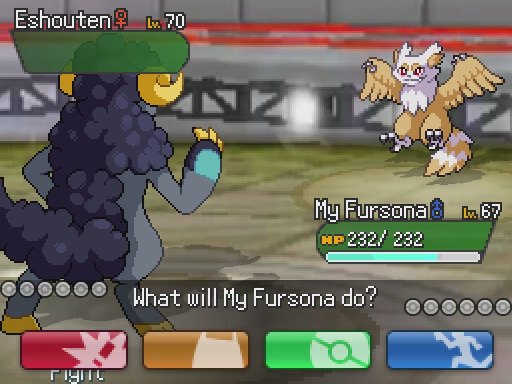 Unlike our previous opponents, Maria has defined movesets and items and natures and IVs.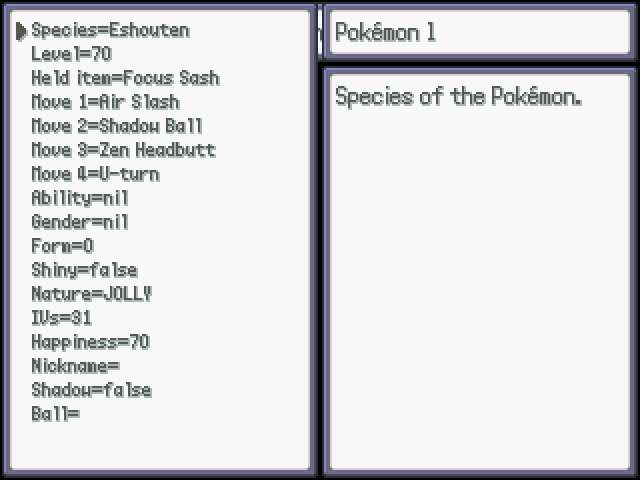 The Sash is only annoying if you run right into it somehow. Otherwise it's just a fucker that spams weak Air Slashes.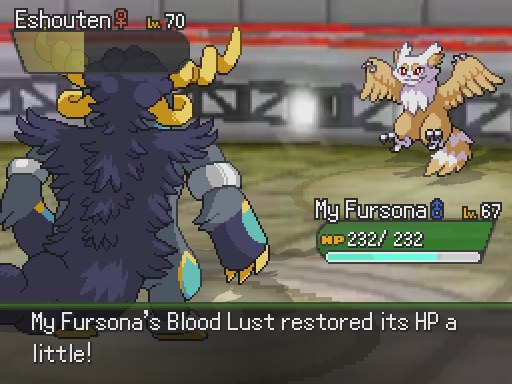 My Fursona can drain back the health it lost pretty well. I like Drain Punch tanking.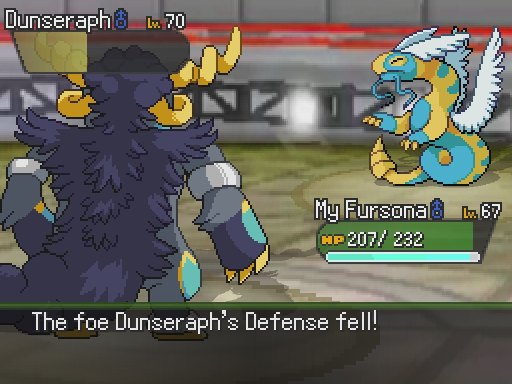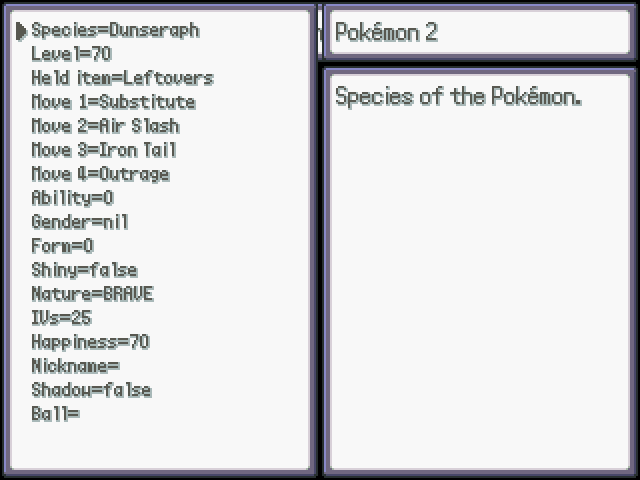 Sub + Lefties would be annoying but the AI likes dealing damage too much. Crunch hitting a defense down doomed this guy.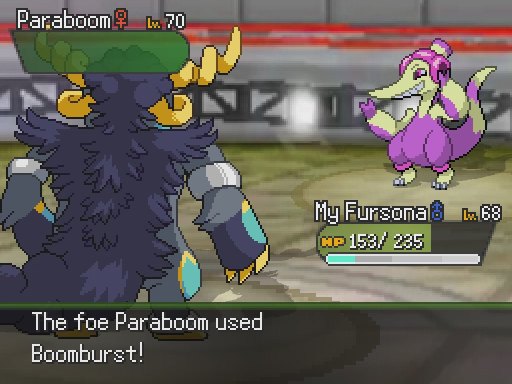 OH FU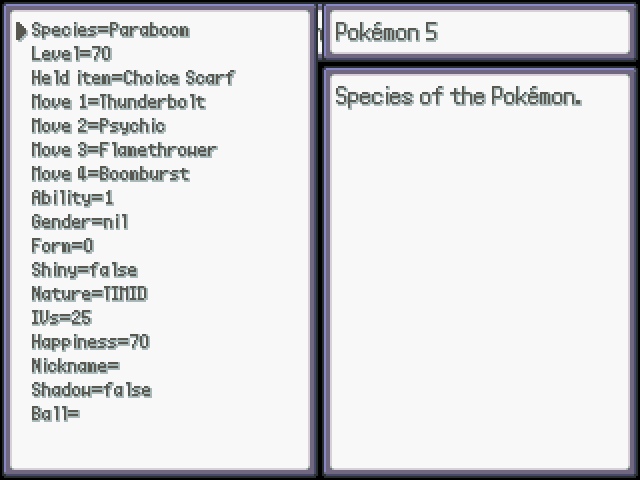 Maria's Paraboom is the game tossing a full-fledged yellboy at you. The ability is fixed at Soundboost, and it has the best move for it:

Yikes.
Boomburst's huge power is enough that Swellow ran a Specs set with its 55-base special attack. This thing has a much higher base and an extra 50% boost.
My Fursona didn't make it.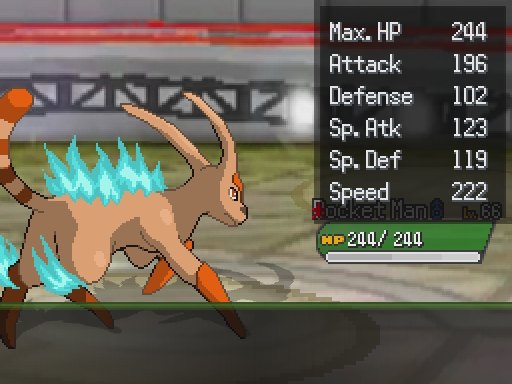 Luckily, good ol' Flame Impact stuffed it. Yet another reminder, this is all in on HP and attack. That speed is just so gratuitous.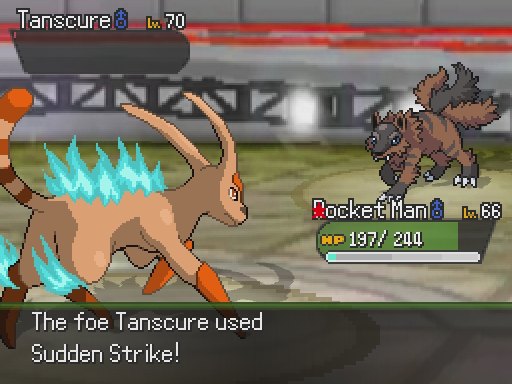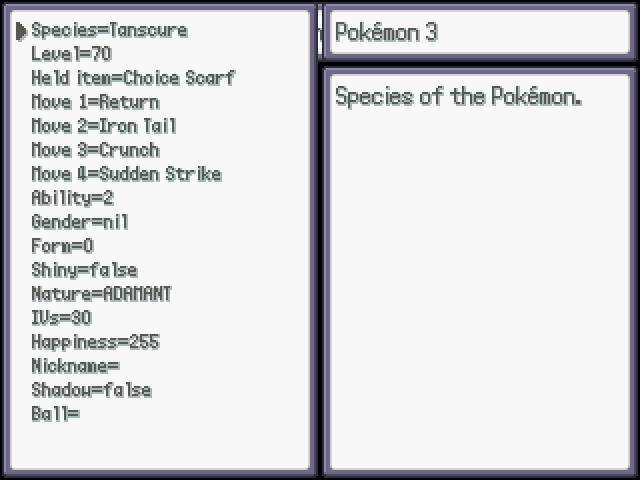 It tried.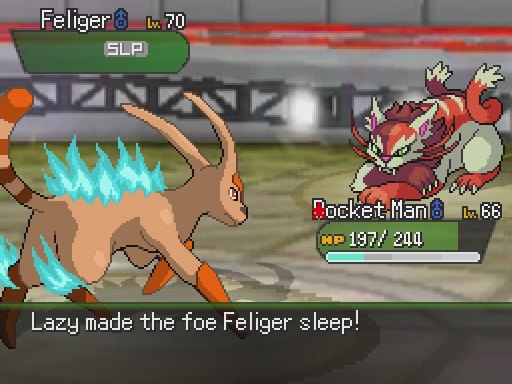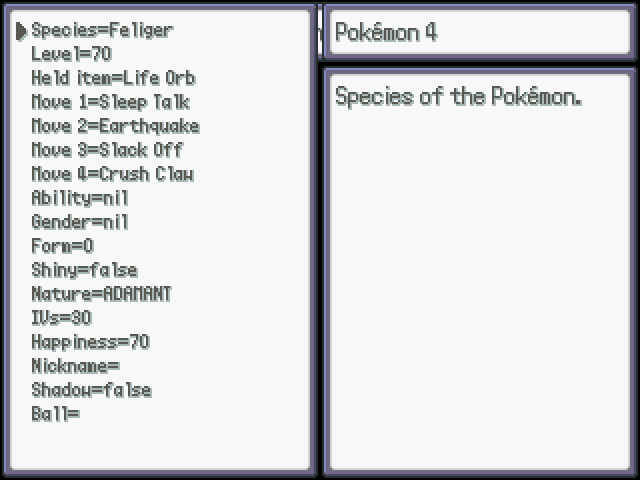 Maria's Feliger goes for the sleep talk route. It takes advantage of Rest's full recovery by keeping up the pressure via sleep talk.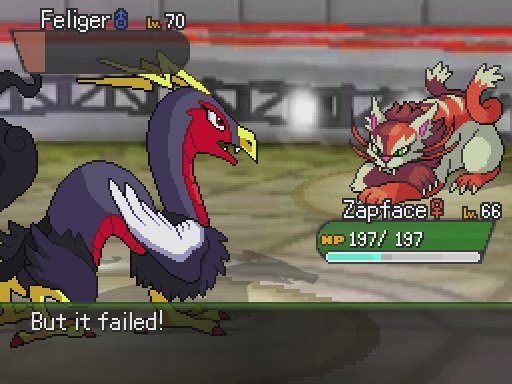 It doesn't work when it's off of a random duration sleep.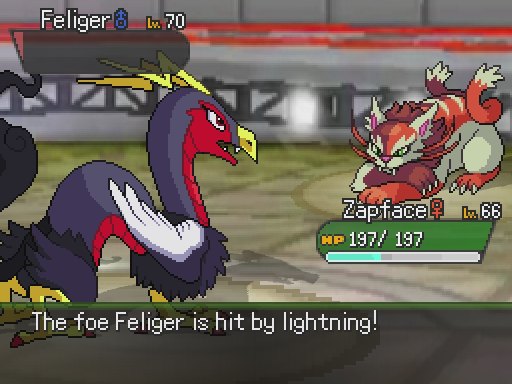 Then the thunderstorm kills it for me.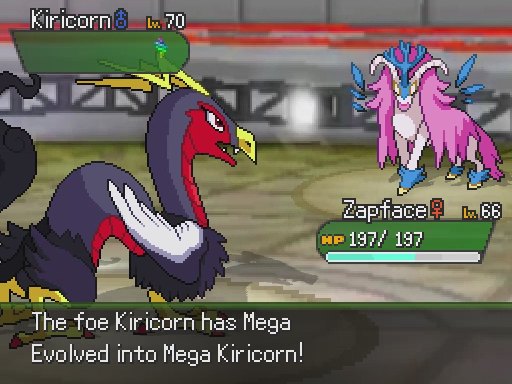 No subtle tricks or anything, Mega Kiricorn is just here to bash in faces with mixed offense.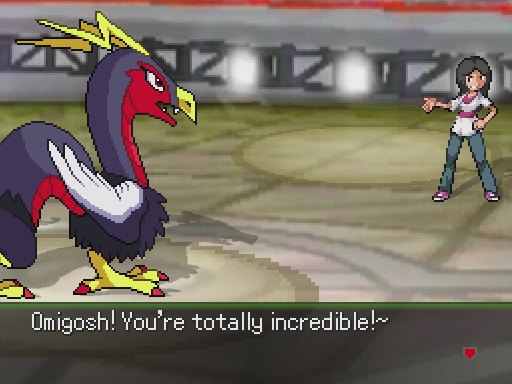 It's not tough enough to survive the super-buff Thunder.
Uguu.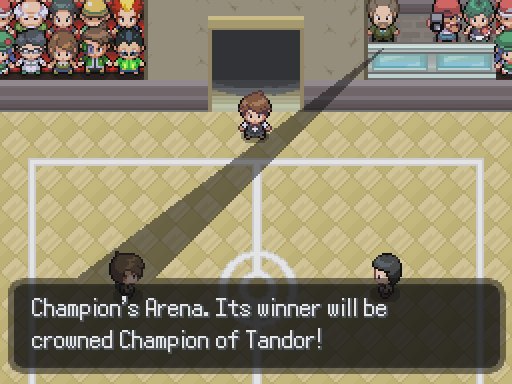 We'd be going on to the final battle next...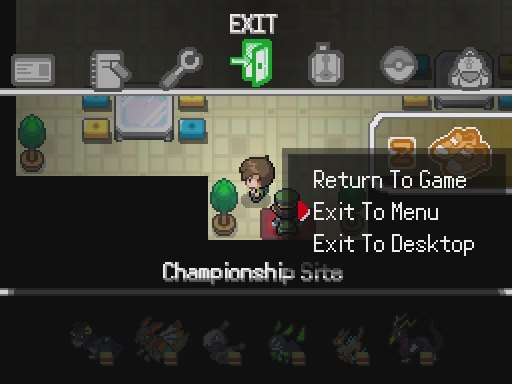 But there's more to this than meets the eye.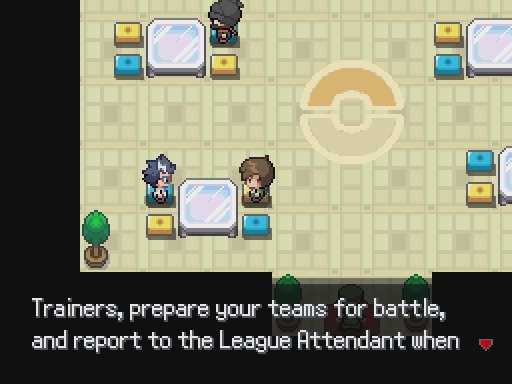 You see, your last two opponents are random, selected from a list of 8 possible opponents. They're the first seven gym leaders and Hokage.
I'm gonna fight
all
of them.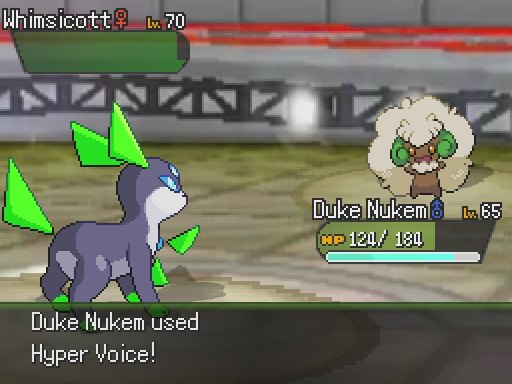 Sr. Goldkorn and Angelica are always there. They have no counter measures to Duke Nukem.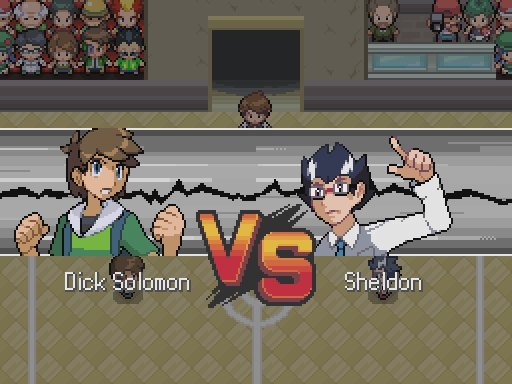 Sheldon at least has the one non-Nuclear Nuclear-resistant guy in the game.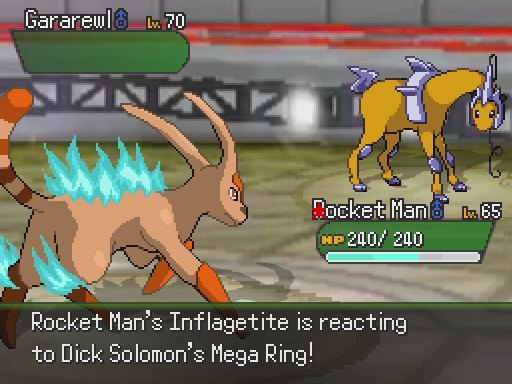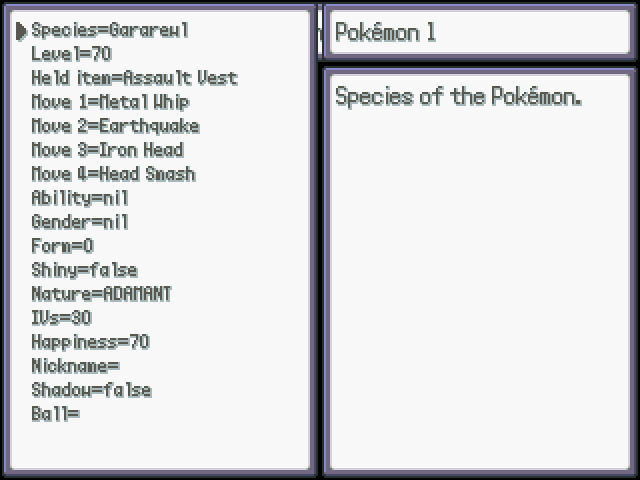 Is the Assvest even open to the player? It prevents the use of status-category moves but boosts special defense by 50%. You can tell this boy barely feels it.
It does feel a +2 Flame Impact.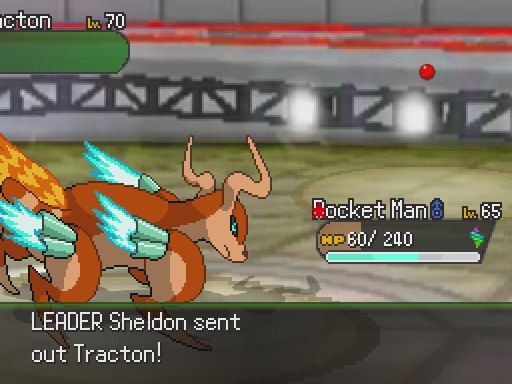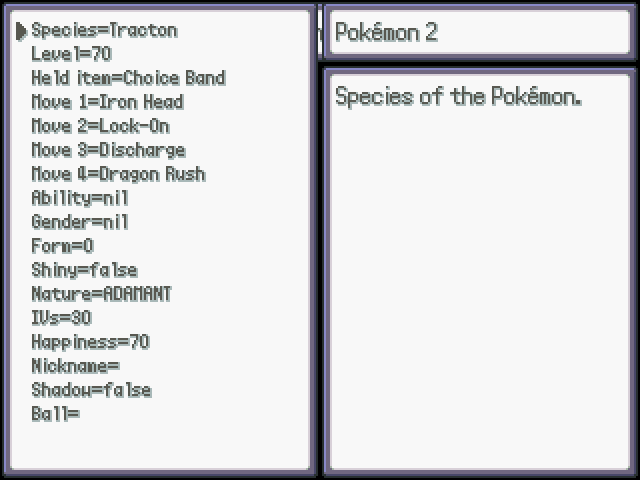 Choice Band-boosted Outrages from a Tracton are scary, but thankfully this thing only has level-up moves instead of having Drill Run as coverage.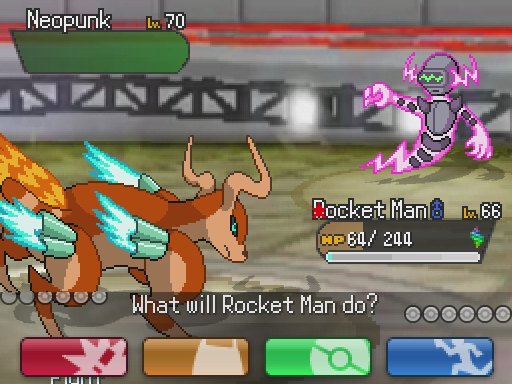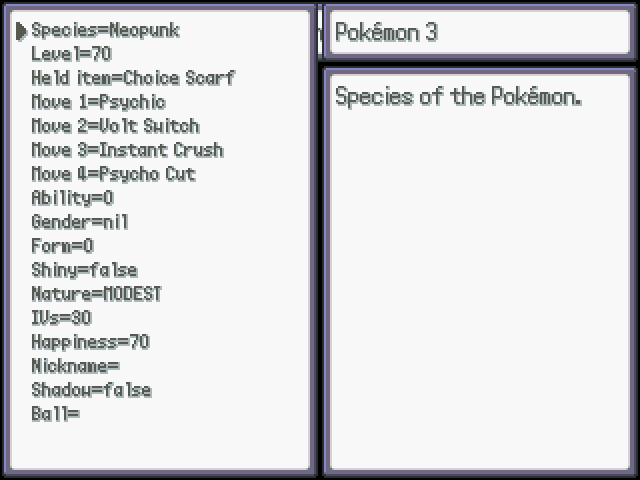 He's got a Daft Punk thing with a choice scarf. Flame Impact is at +2 priority.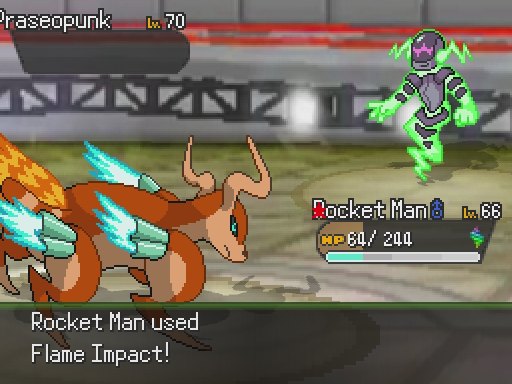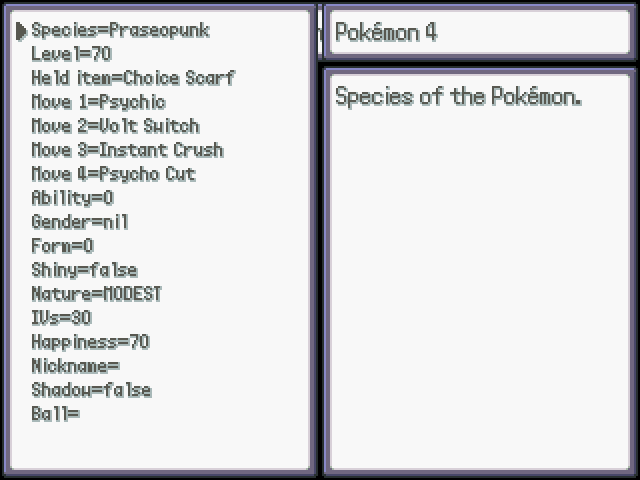 He's got a Daft Punk thing with a choice scarf. Flame Impact is at +2 priority.
Wonder why I have a feeling of deja vu.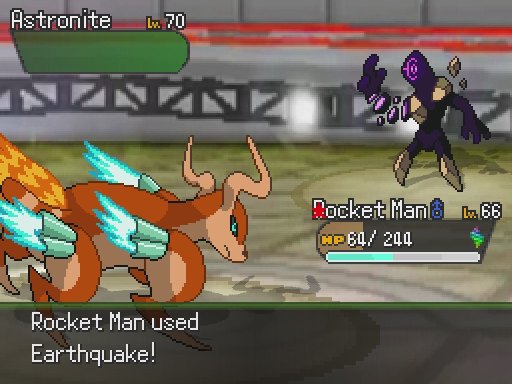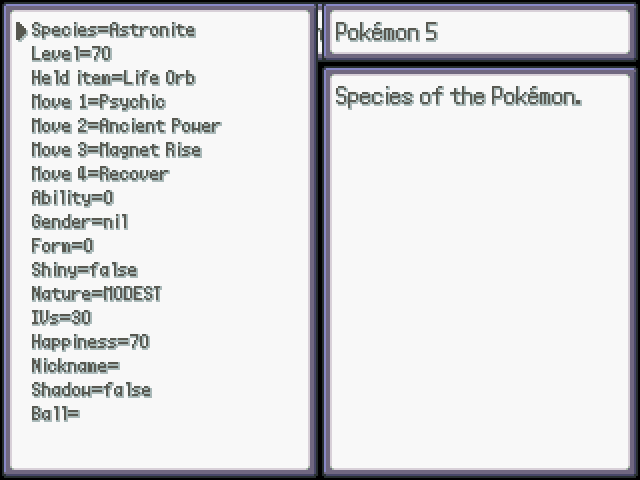 Magnet Rise is trying way too hard with the AI, I believe. Otherwise this is about the level I'd expect.
Mega Inflagetah's 175-base speed means that it can't rise.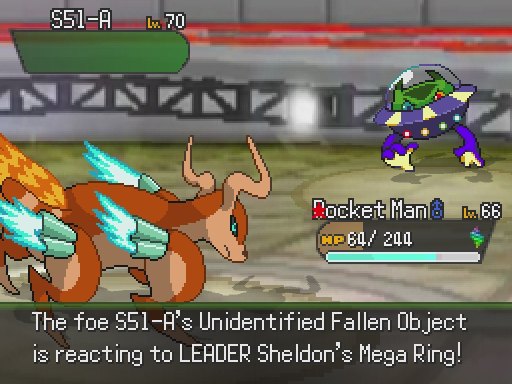 The other mega stone with the stupid name in the casino goes to the alien. In earlier versions the only way to get your own UFO (geddit) was to get it from Vaeryn.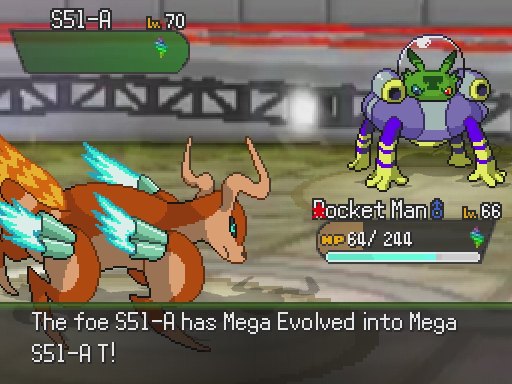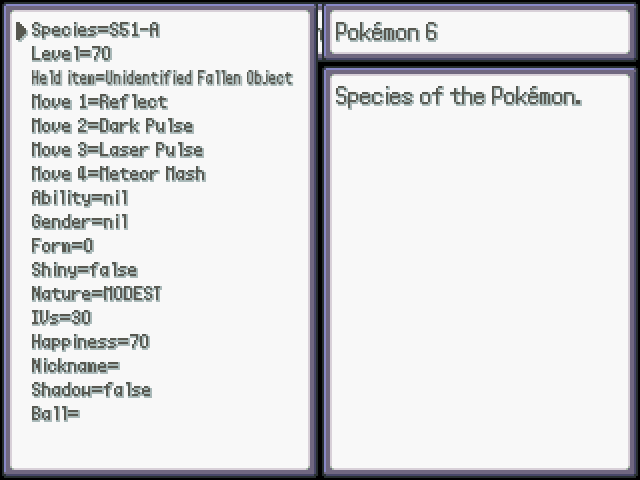 S51-A T doesn't have the movepool for its own ability, Hyper Launcher. For the things that actually have Hyper Launcher, that seems to be having Aura Sphere on hand.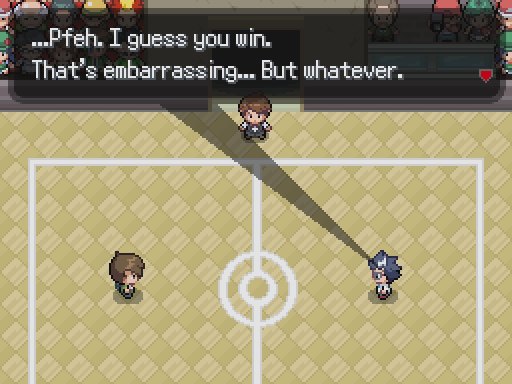 Bazingling Sheldon this time is a lot easier. Then again, we did get Rocket Man shortly after his gym battle.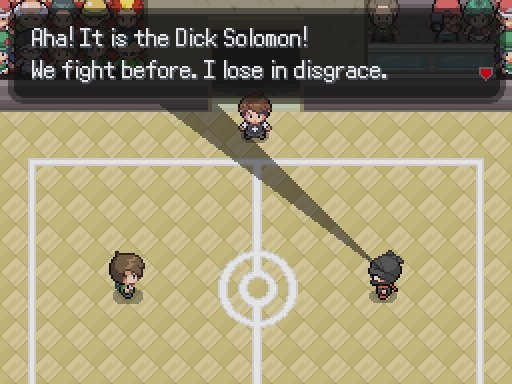 Hokage is back to reclaim his title from Hero of Tandor Ninja Ranger Good Human Hokage Dick Solomon's collection of titles!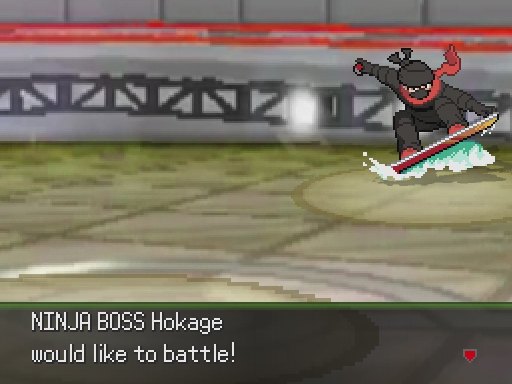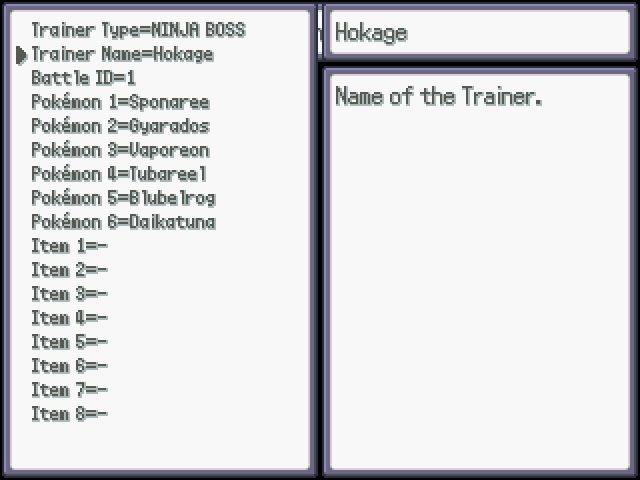 Level up moves, 10 IVs, no items. There are opponents they did work on, and opponents they didn't do work on. They are weighted equally. Hokage is a comedy option.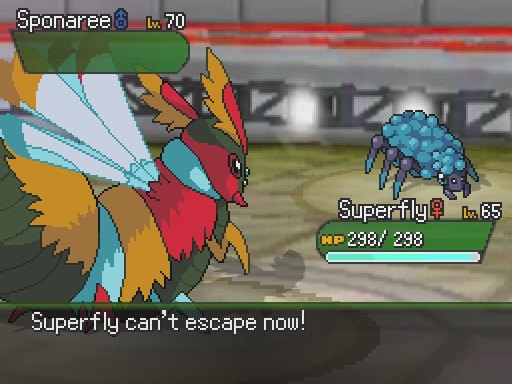 Superfly has no reason to escape.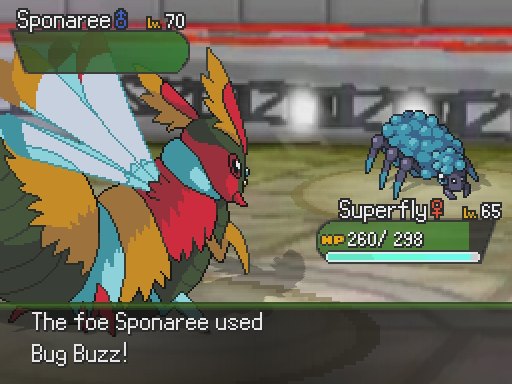 It uses special attacks, and Quiver Dance boosts special defense.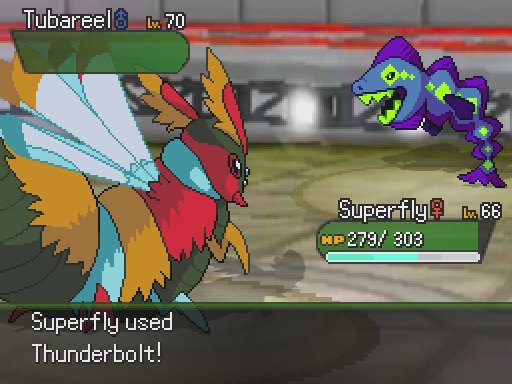 From there it's an endless series of Thunderbolt OHKOs off maxed special attack.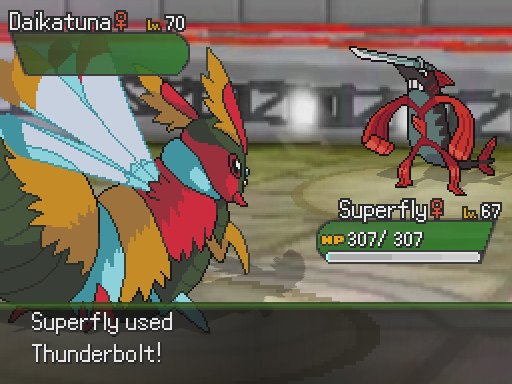 There's a Daikatunaite in the game's code, so I suppose they at least planned to make Hokage an equal to the other opponents.
Too bad they can't make them equal to each other.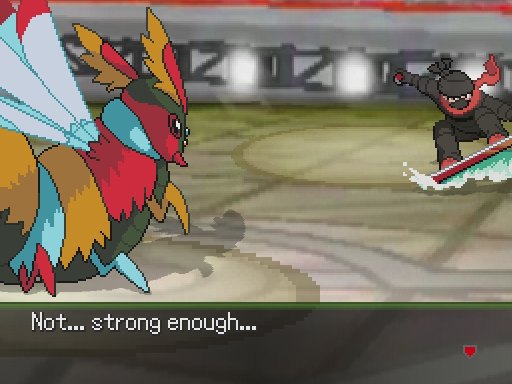 This would be clear to the final round as well, but we still have four more opponents left.
And one of them is the hardest battle in the game, bar none.