Part 29: 28. "Get on board, partner!"
Relevant Snatcher Media
Ending Part 1
Ending Part 2
28. "Get on board, partner!"
Gilian races against the clock. At any moment, the entire Snatcher base may be destroyed, but he's got one last mission: Save Jamie and escape.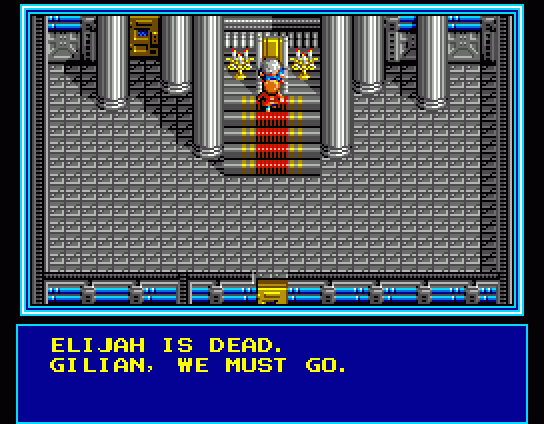 Unfortunately, we're in another annoying part of SD Snatcher: At least for me. I continued on in the base, which turns out was the wrong thing to do. At this point, you should go back to the scientists north of the subs. My screenshots are missing, but that's okay, since you saw all the graphics last update.
For the final boss, you need L-Angel. Unfortunately, the scientists inform you that a Naked Snatcher has stolen it! This means you have to fight Naked Snatchers around the subs and the lab until you find a Naked Snatcher holding a test tube. Kill him without breaking it and voila - you've got everything you need to finish the game. (The Naked Snatcher you're looking for is by the scientists, not the subs.)
Now it's time to fight your way through the rest of the whole damn base.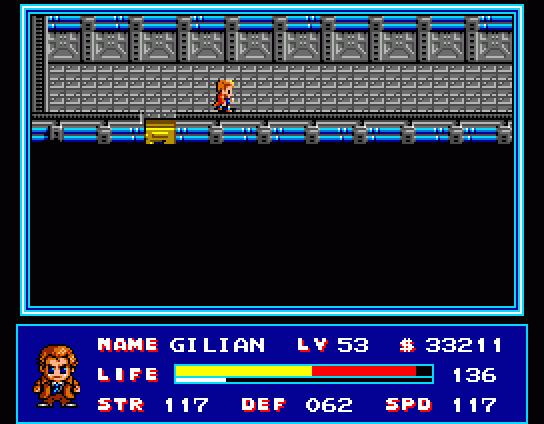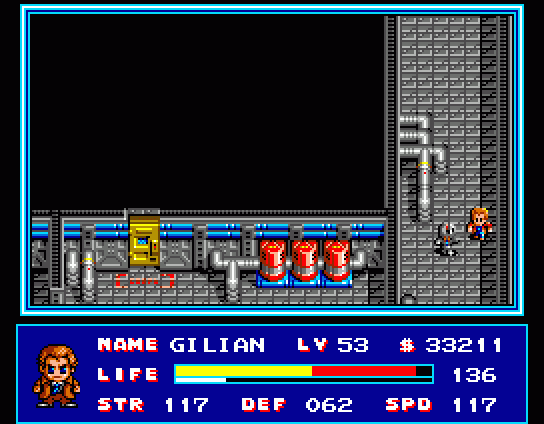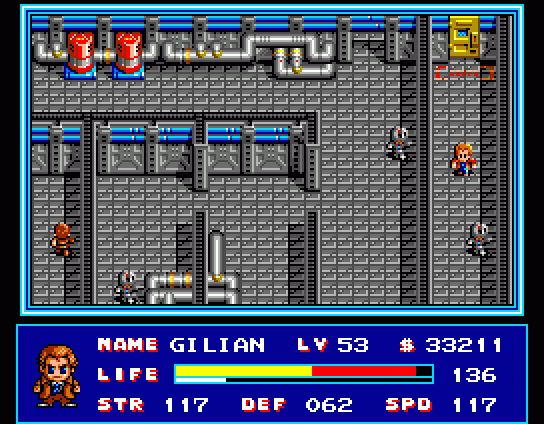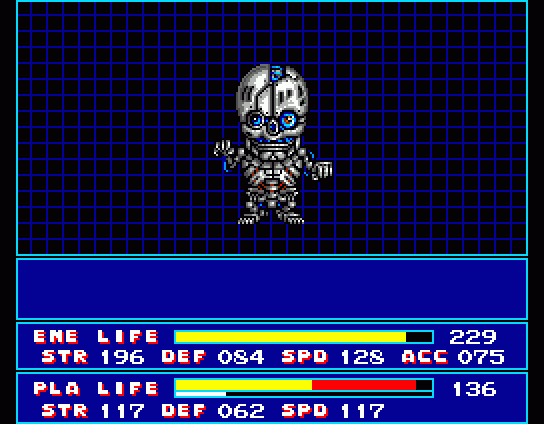 So, imagine a lot of this.
There's no real time limit, so take your time and feel free to heal up. You should still have way more Junker's Rush than you'll need.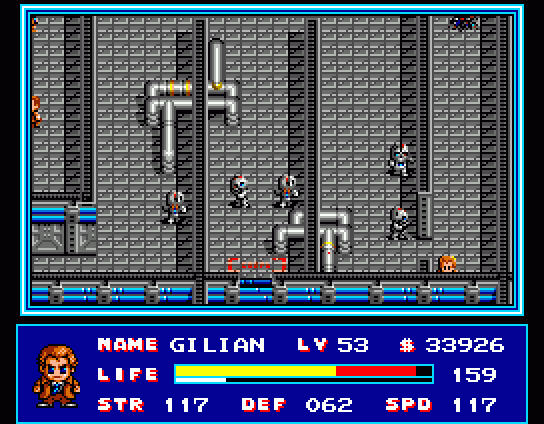 I hope these small narrow hallways full of Naked Snatchers look like fun. Because... sadly, they're not.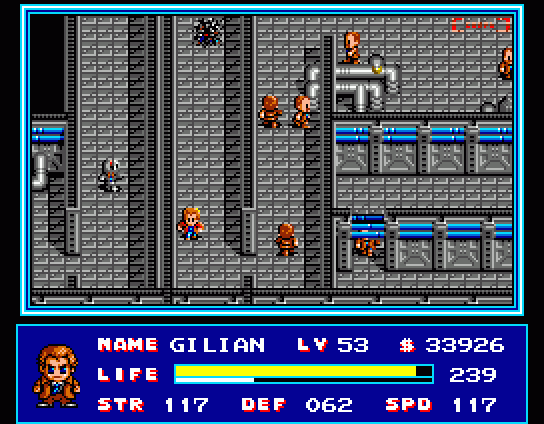 Wait a minute, who are all those brown suits to the right there?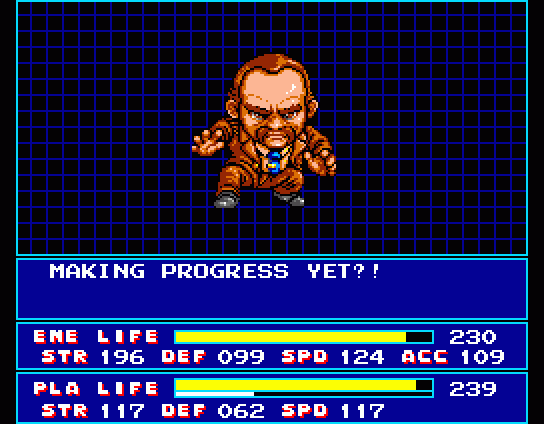 Ah! It's Benson Snatchers! They behave the same as all other Snatchers, so I guess this was just the point where Konami shrugged and said, "We've got the sprites. Might as well use them."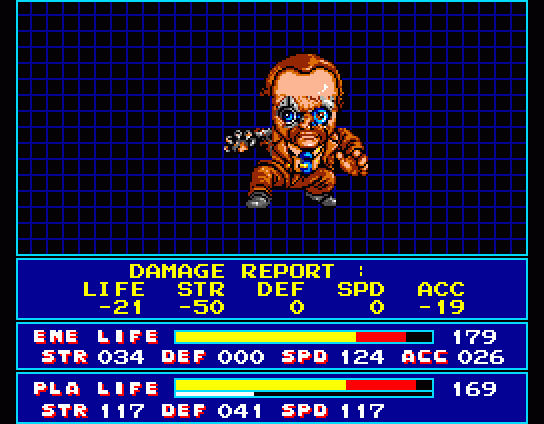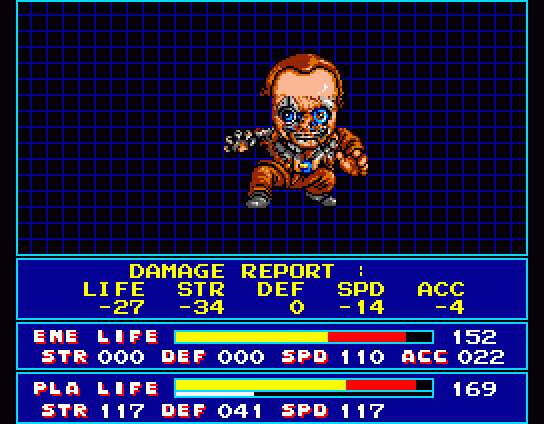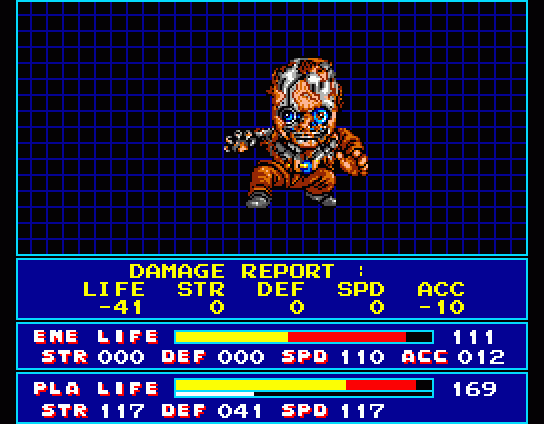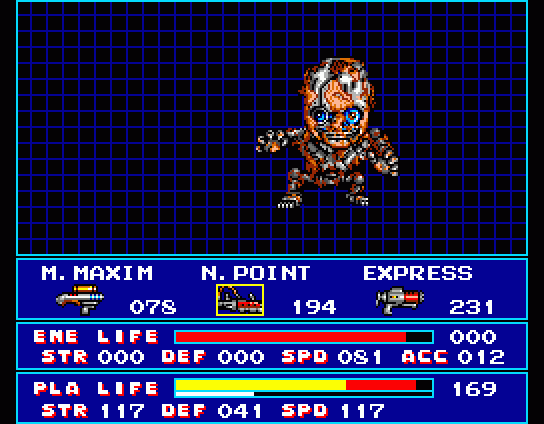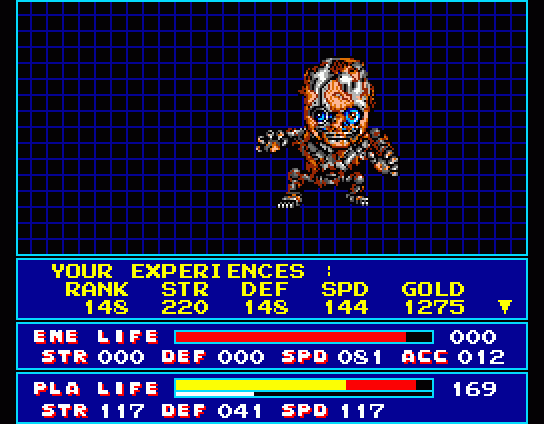 Christ, dismantling these things gives me the creeps.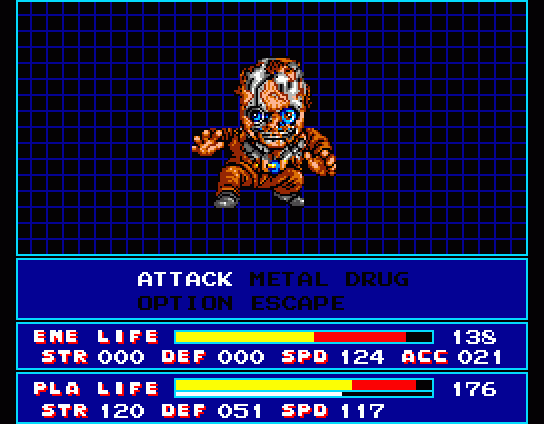 And for our next enemy...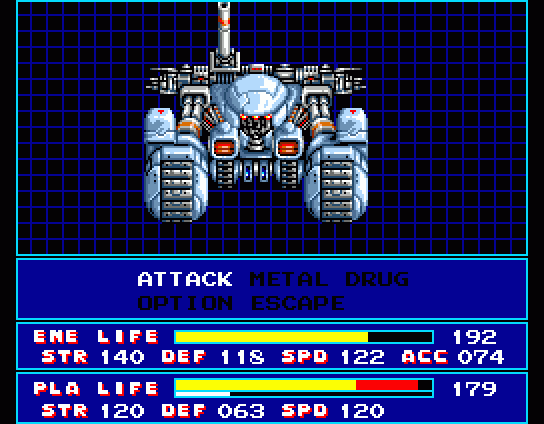 Meet the final enemy, Dreadnaught Mk 2! What the smaller faster, version of the boss (it's a regular enemy - there's a few of them in the second to last room) has gained in speed, he has severely lost in strength and defense. None of his attacks hit very hard and his high DEF is drained in about three shots of N. Point.
He's the last enemy to give anything like decent XP, so smoke them if you've got them, I suppose.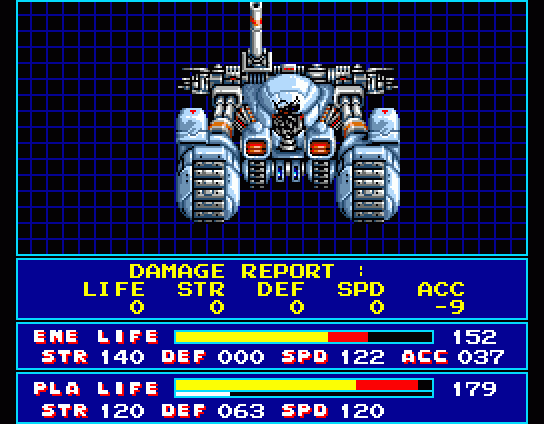 Beat the room of Dreadnaught Mk 2s and you're in the final room of the game...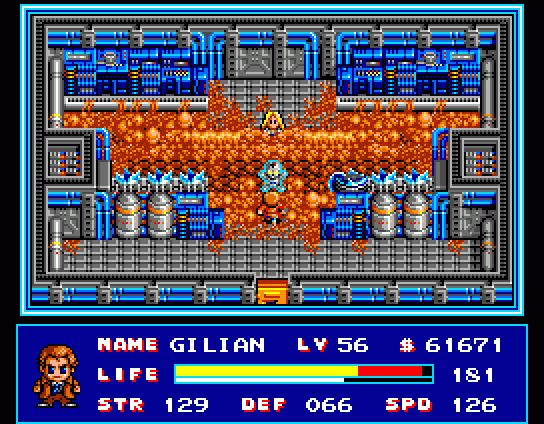 JAMIE: GILIAN! FINALLY...
GILIAN: JAMIE!!
JAMIE: GILIAN...MY MEMORY...IT HAS RETURNED...HARRY...HE WAS OUR SON!
GILIAN: HARRY...? GRANDPA? GRANDPA? OUR CHILD?!
JAMIE: IT'S HARD TO BELIEVE BECAUSE HE WAS 50 YEARS OLD. BUT WHILE WE WERE ASLEEP HE GREW UP AND BECAME AN ADULT...
GILIAN: JAMIE...HARRY...
JAMIE: WE WERE SAFE THERE. BUT HARRY...HE HAD TO DO IT WITHOUT US...HE HAD NO FAMILY.
GILIAN: BUT THAT'S A LONG TIME AGO.
JAMIE: A LONG TIME AGO?!
GILIAN: YEAH! I STILL CAN'T REMEMBER A THING!
METAL: GILIAN!! WATCH OUT!!
And then a wall of... brown crap (flesh?) comes up in a wave between the two of you and the Master Snatcher appears.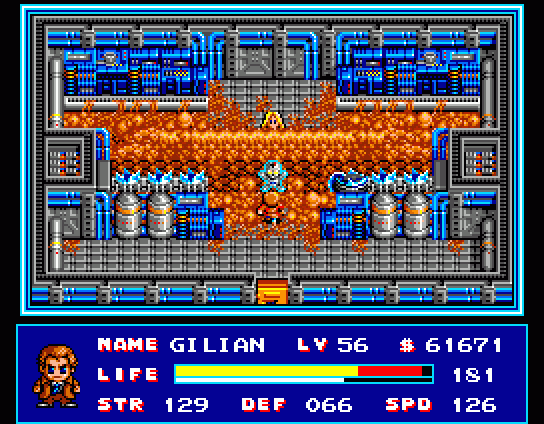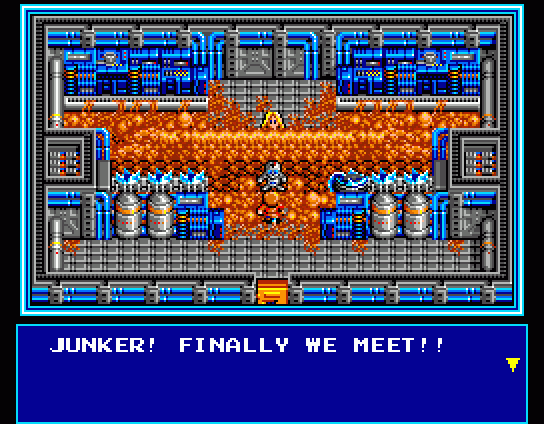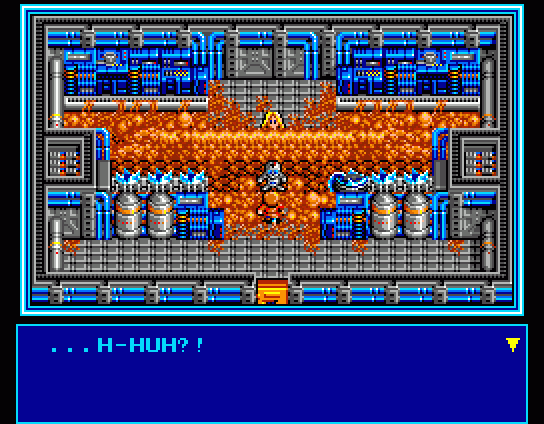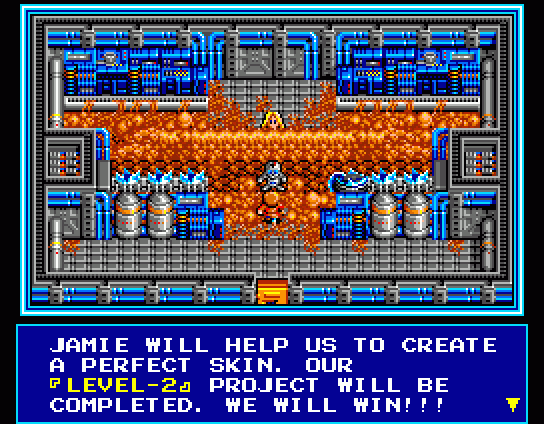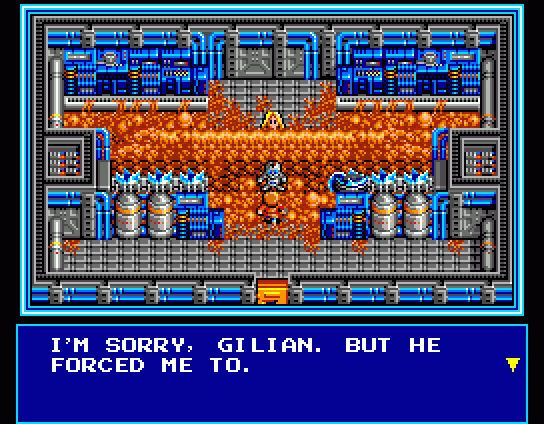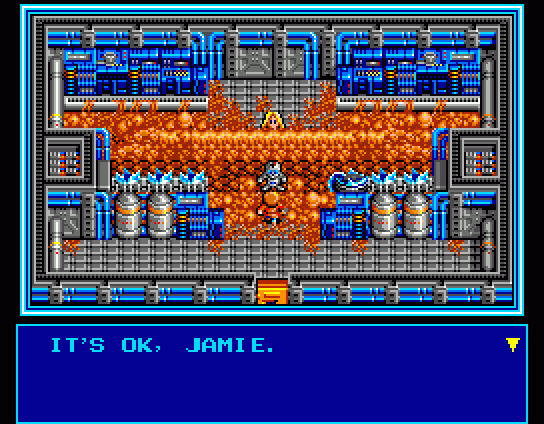 Ultimate Gillian Seed line in 3...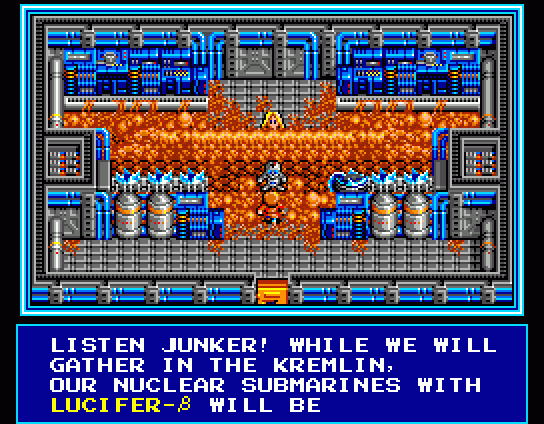 2...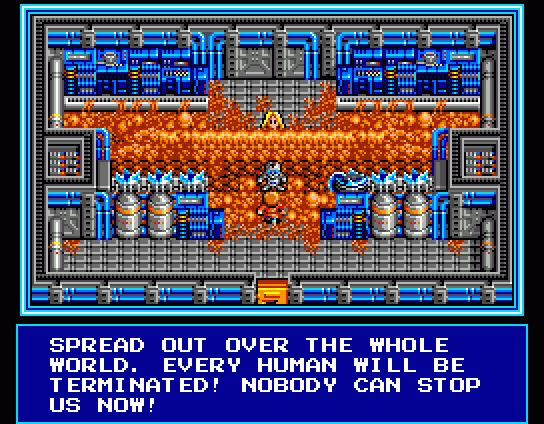 1...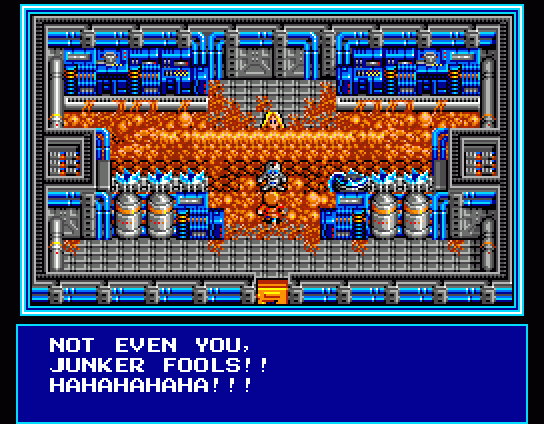 And: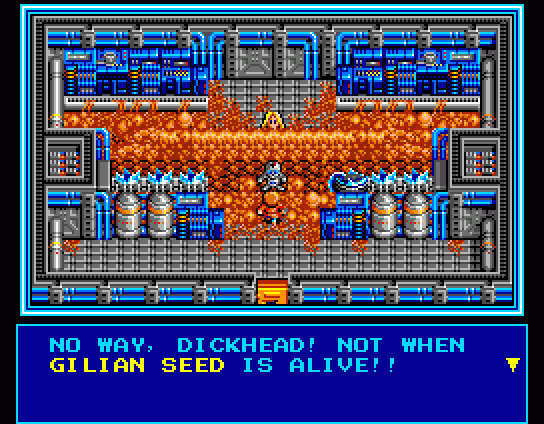 Fuck yeah!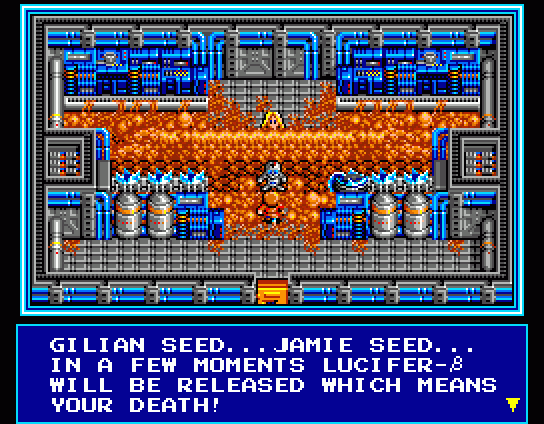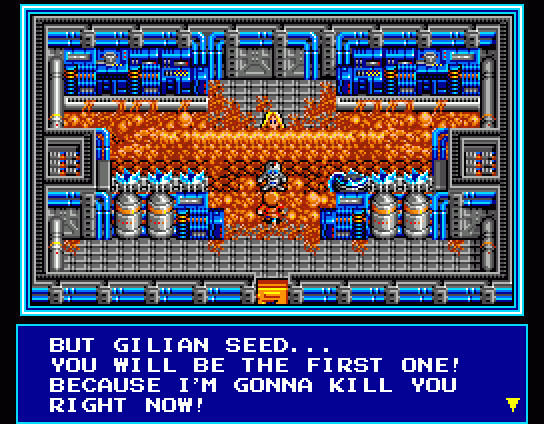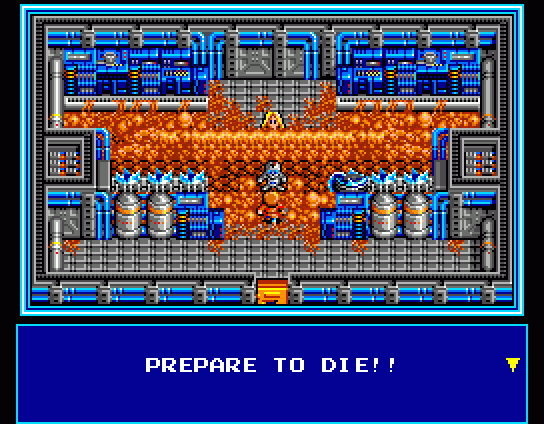 And now, we come to the final challenge of the game...
...
...
...
That's it? Master-Snatcher is a little disappointing. He's fleshy and a little more alien looking and... well...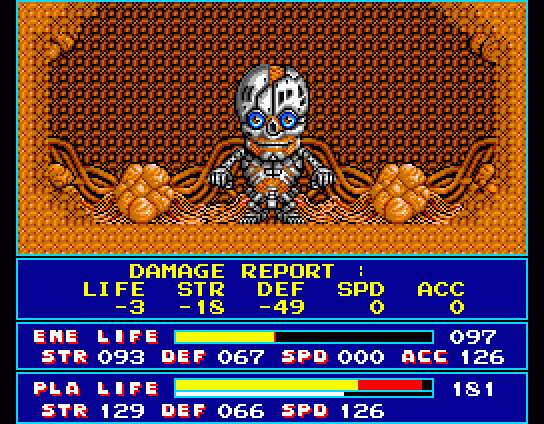 His DEF means nothing - you might as well use the N. Point because nowhere I hit him took off any significant amount of HP. So you're in this for the long haul.
Beware his ultimate attack!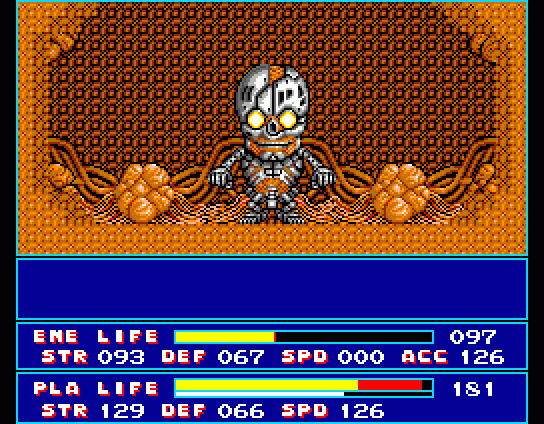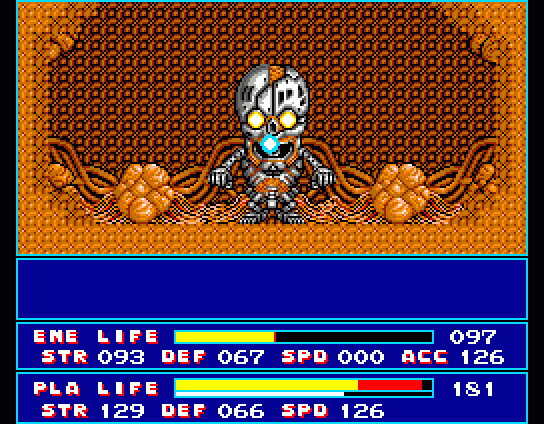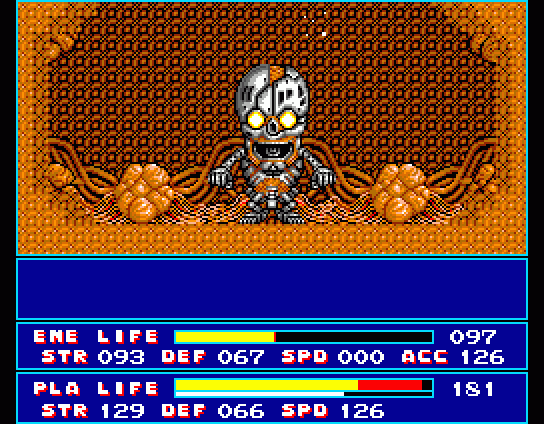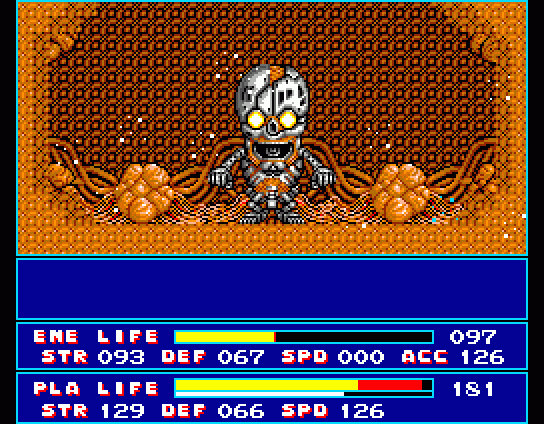 Oh my God! This is SD Snatcher's version of Sephiroth's Supernova! What will it do?!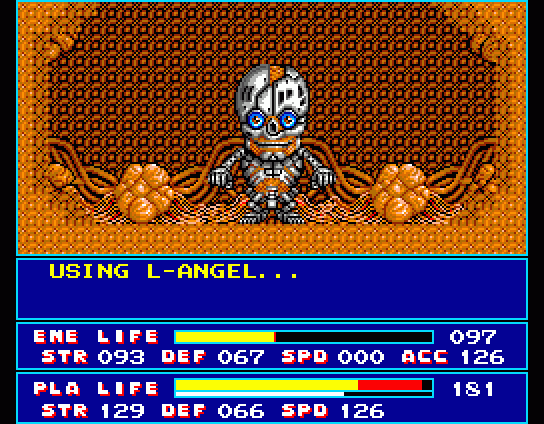 If you've got L-Angel, it just means he misses a turn. Oh well. If you don't, I'm pretty sure you die.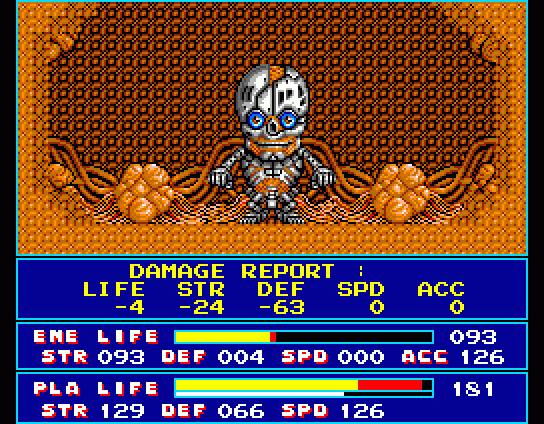 Whatever, it's still gonna take forever to kill this bad boy.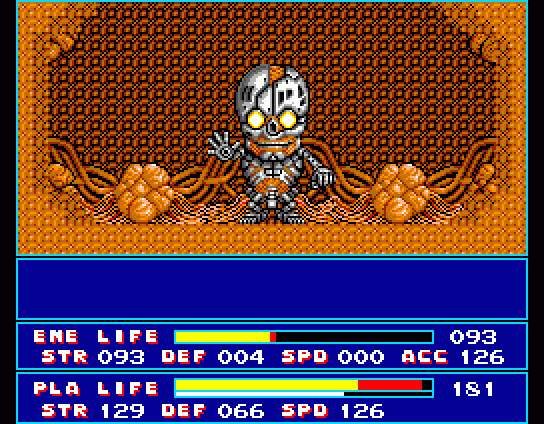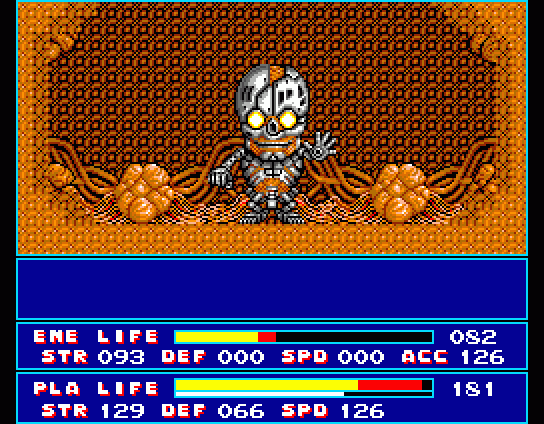 Rather than a mouth cannon, this guy's got hand cannons. He missed a lot when I fought him, so this was a bit anti-climactic.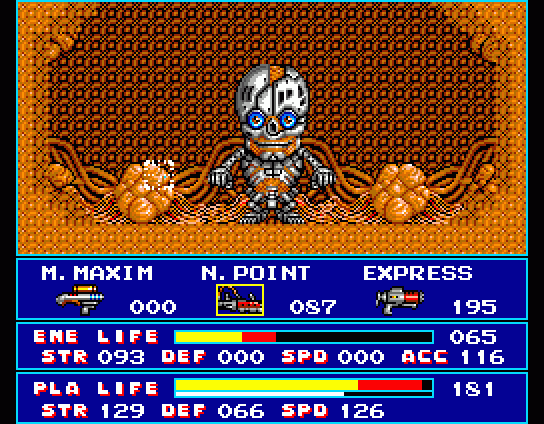 You can shoot those... uh... sacs?... to his left and right to lower his ACC. I don't know why.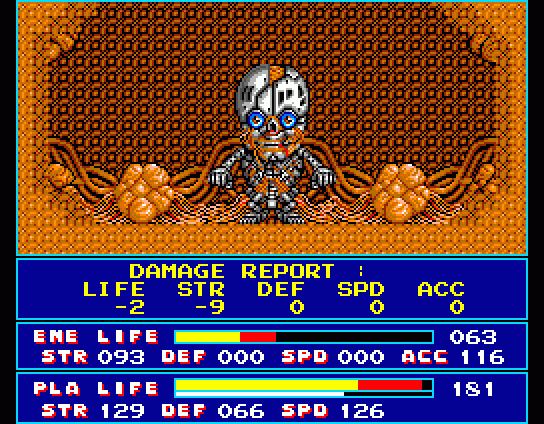 Keep at it and the Master Snatcher will eventually start to show signs of damage. As you can see though, it's still taking a long time to really dent this guy's HP.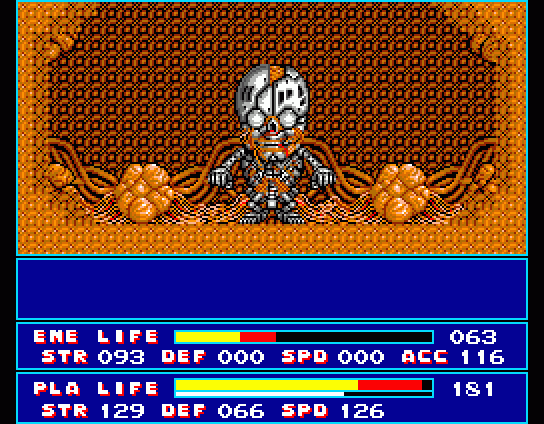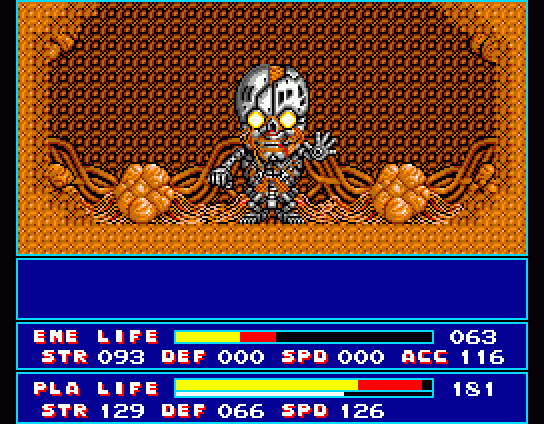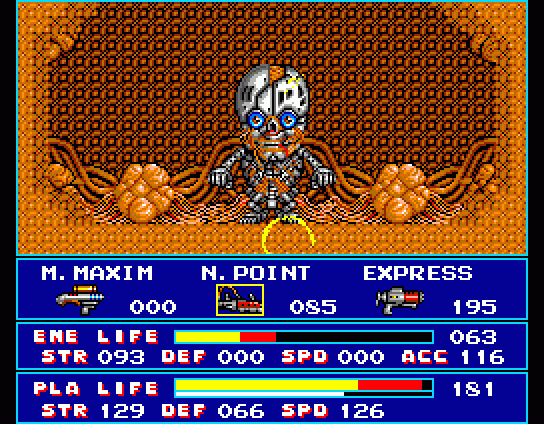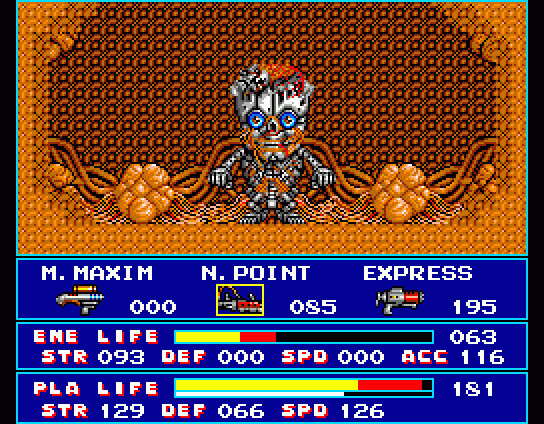 Expose his organic brain, and finally you can cause some more serious damage!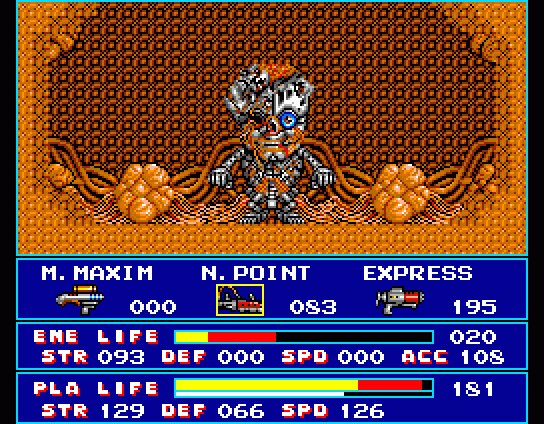 Get him about here and SD Snatcher invokes Video Game Rule #4: The Last Boss Never Dies Once.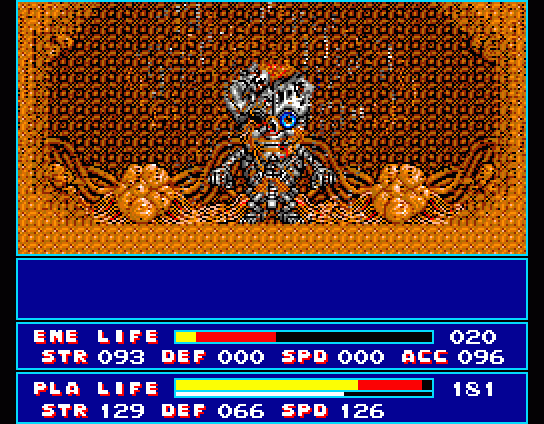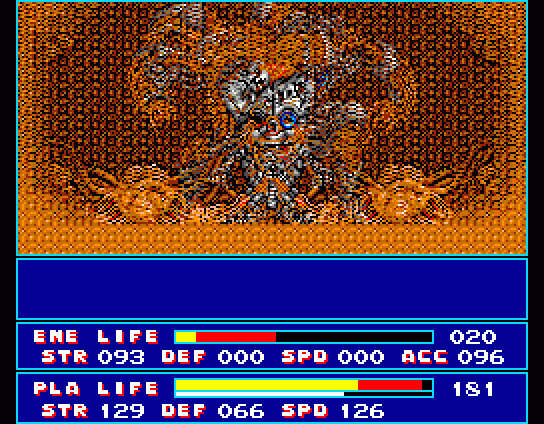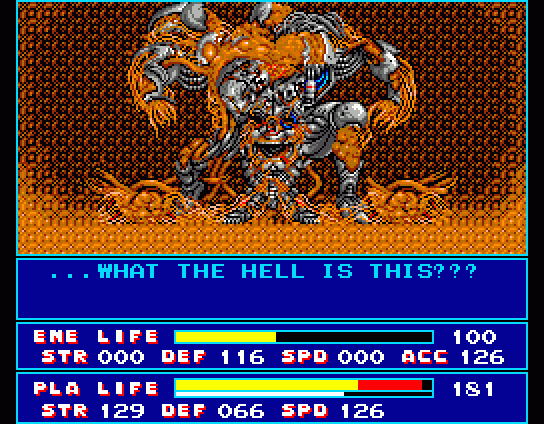 ...Ew.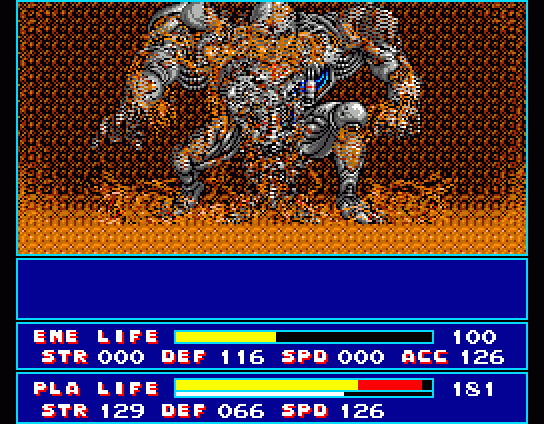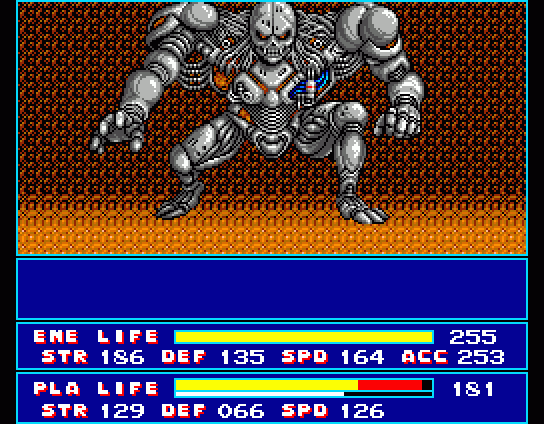 Welcome to his final form. Now with a completely full life bar and reinvigorated stats, Master-Snatcher is the ultimate pain in the ass boss.
He doesn't miss often and his shots can take about 2/3 of your max health. Fortunately...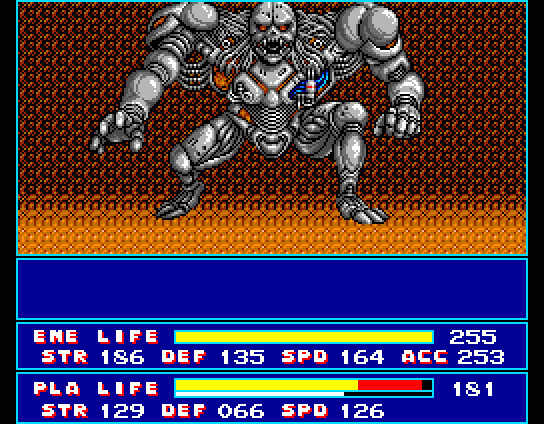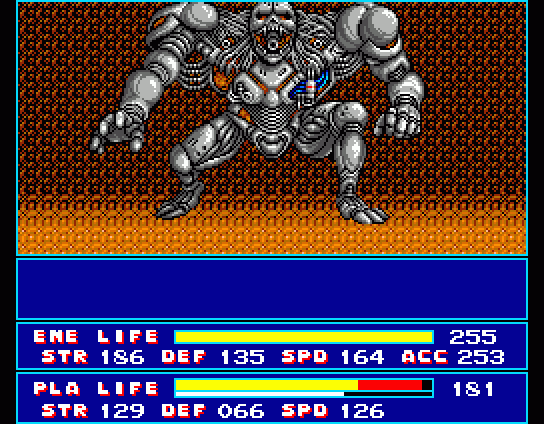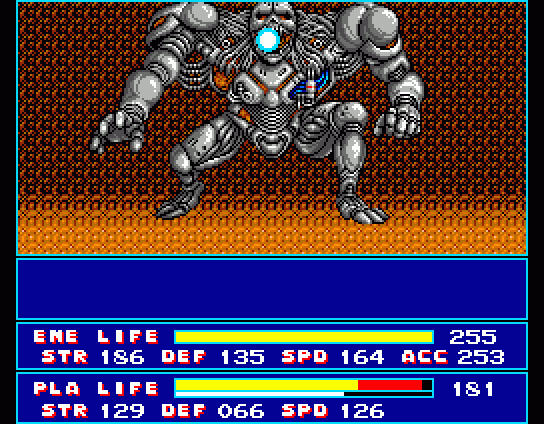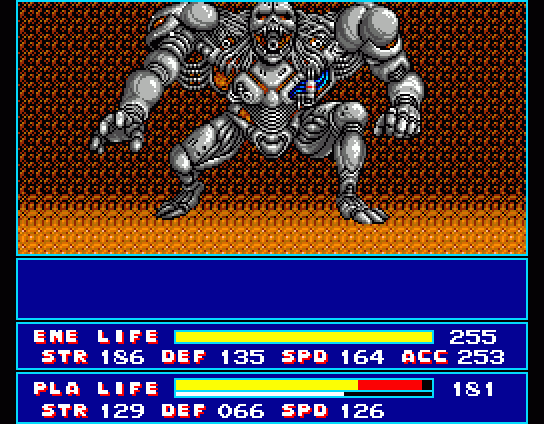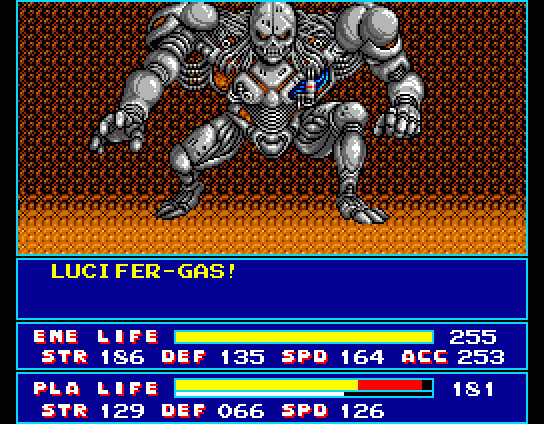 He still wastes a turn with Lucifer Gas. This is kind of your best chance to attack him. I'd say about 60-70% of my actions in this fight were healing, and waiting for him to miss a turn, so I could afford to shoot him and not die.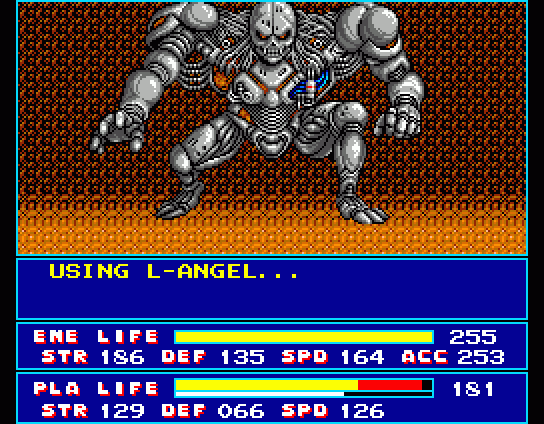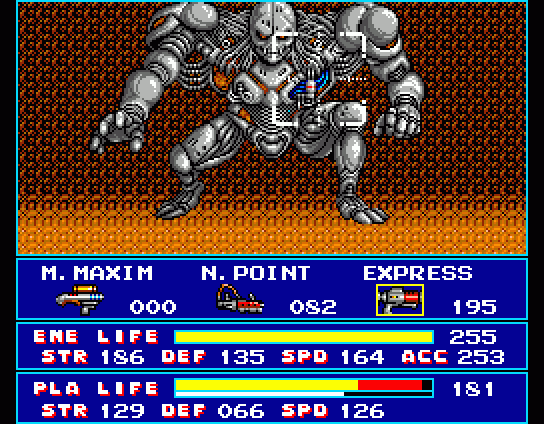 He's pretty fast too, so I used the Express a lot. You can't really damage this guy for awhile, so settle in for a long fight.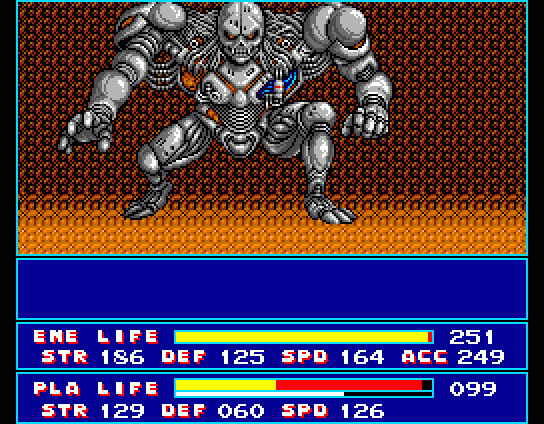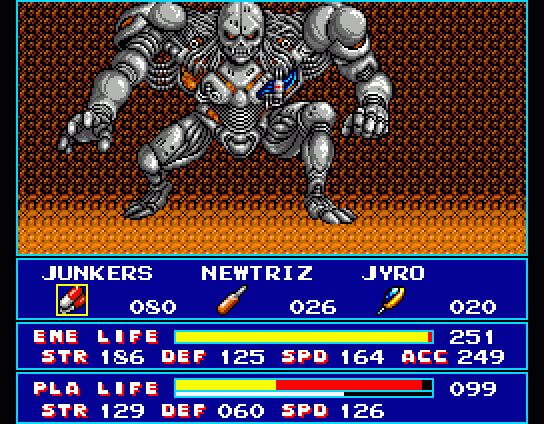 Incidentally, besides the mouth blaster, he's got two machine gun turrets in his... uh... you can kind of see them to the sides of his head, a little below and inward from his shoulders. Though the stats say his STR will lower, it never seems to go below 186.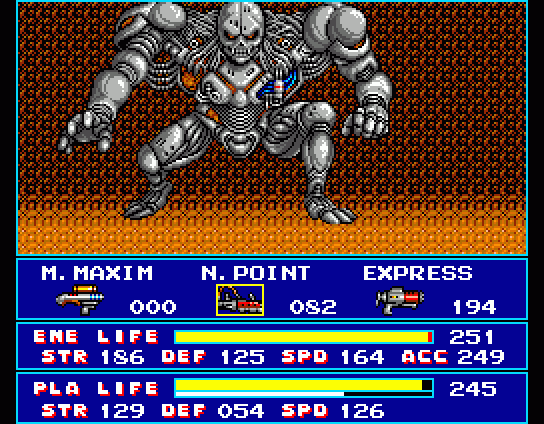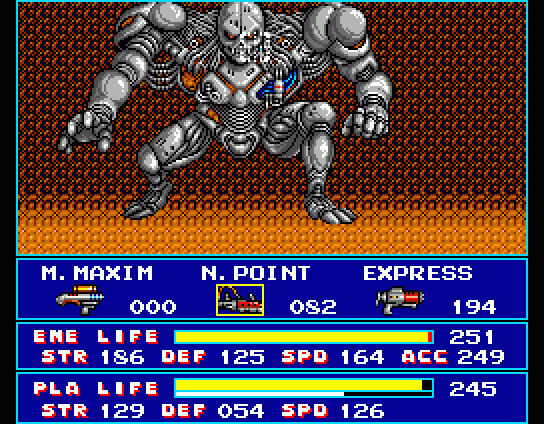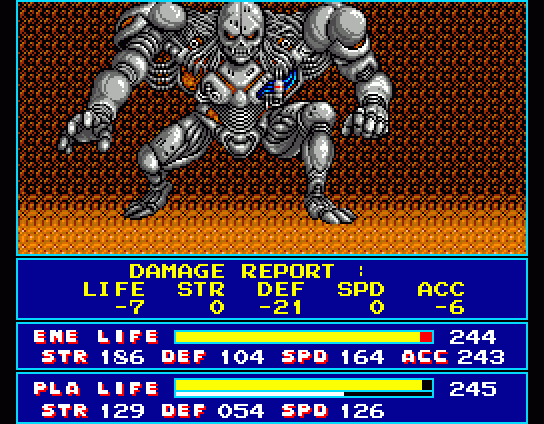 Even a N. Point to the face only takes about 7 HP away.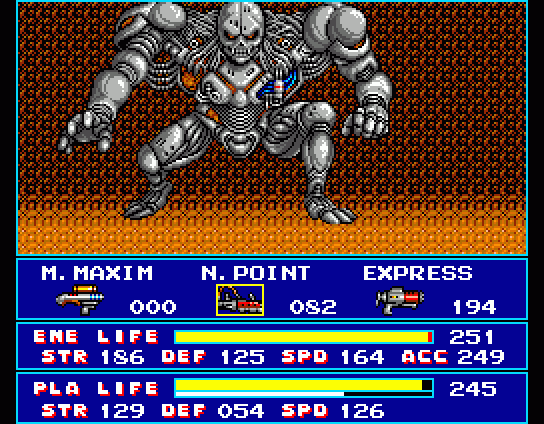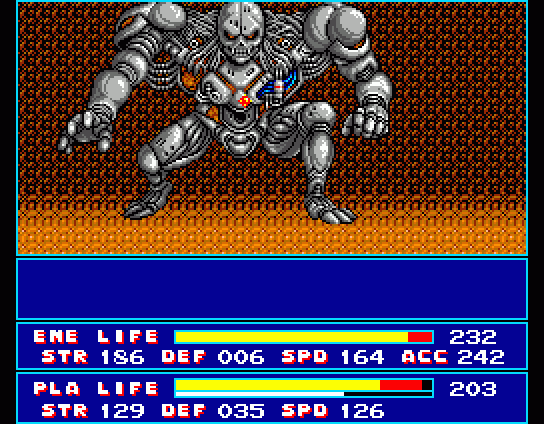 His navel also fires rockets. Well, okay.
With a lowered defense, I finally started taking damage off in 20 HP chunks and with this 27 HP shot...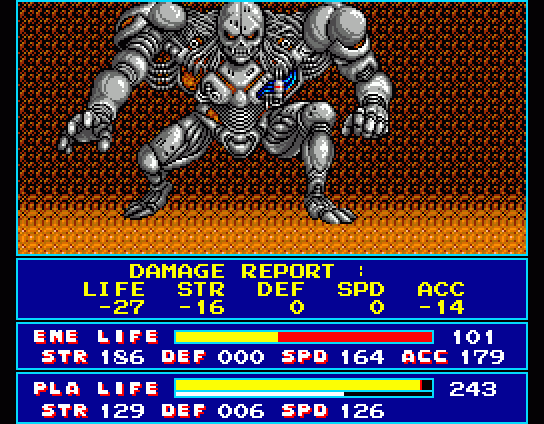 I got him down to 101 HP...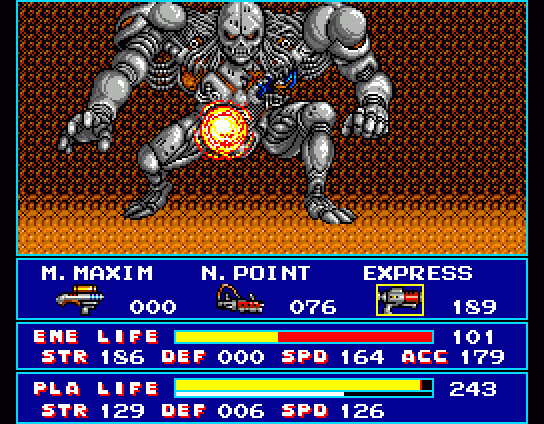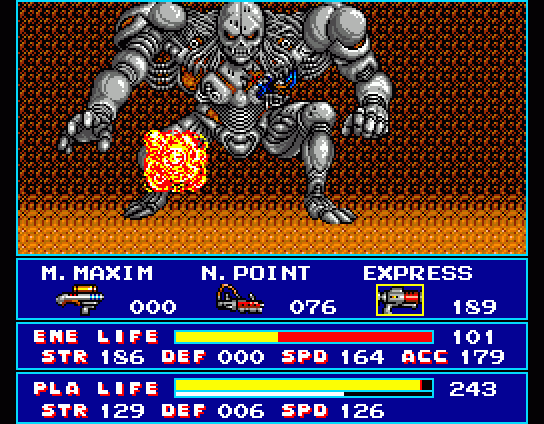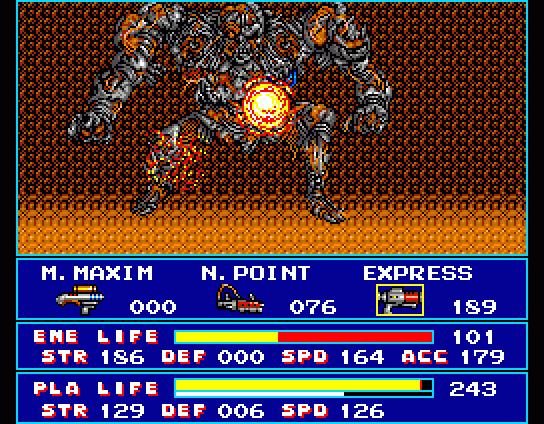 ...Which killed him?!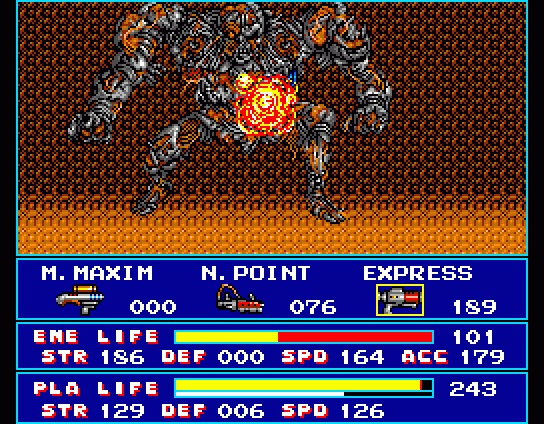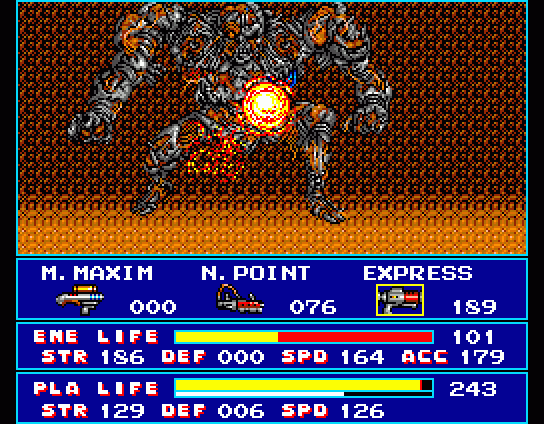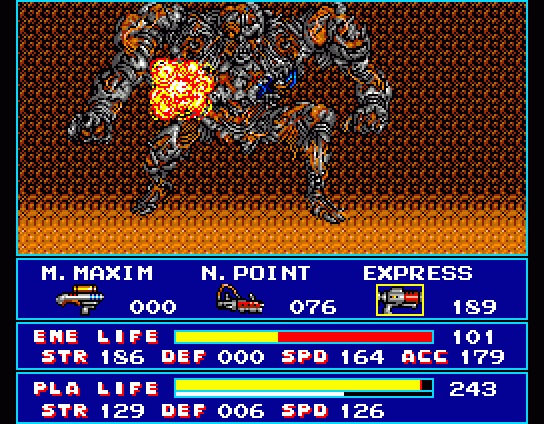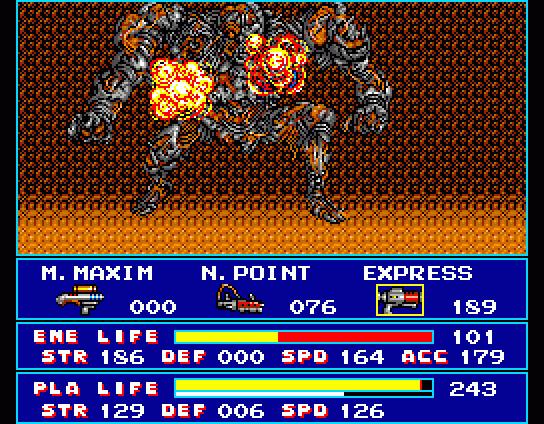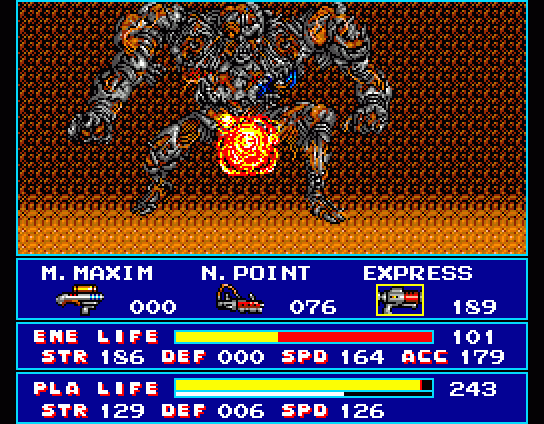 And with one final crotch explosion...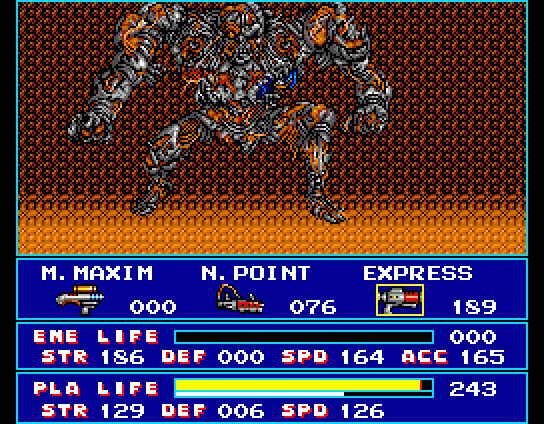 The game throws away any kind of climax it could have had and you get a black screen. Really.

(I screencapped this?!)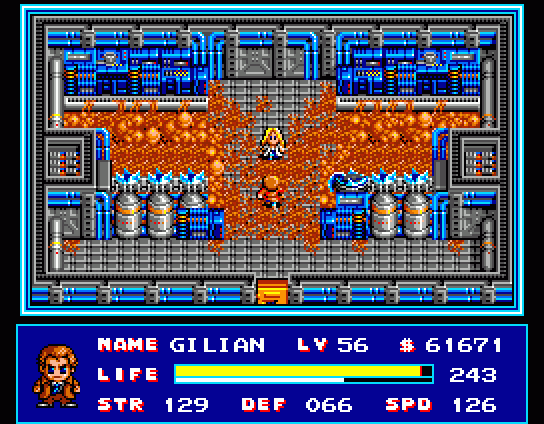 Congratulations! You've won the game. Let's watch the ending, shall we?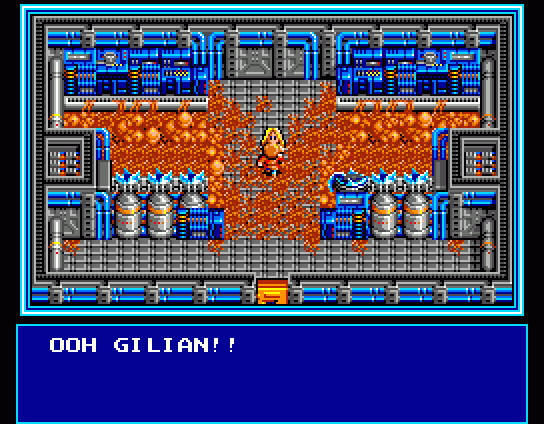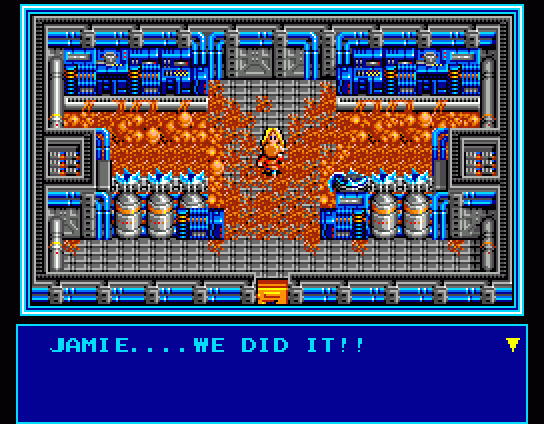 We? Not to sound ungrateful, but how did Jamie help-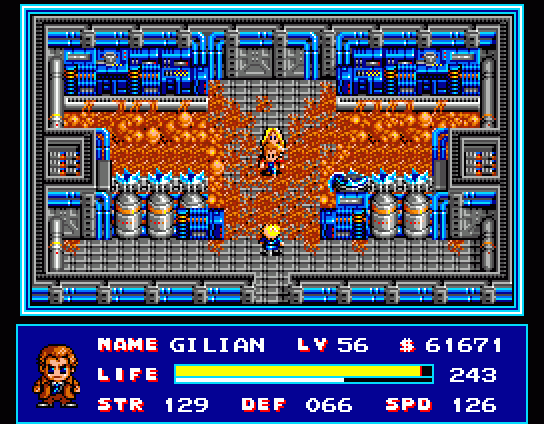 Never mind, Randam's here!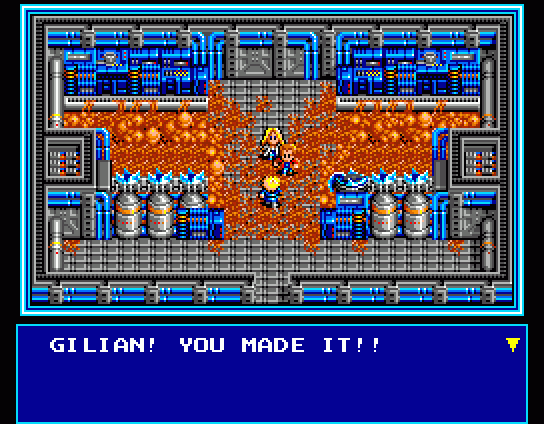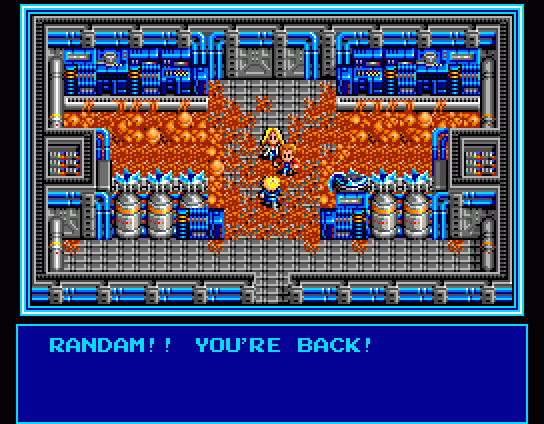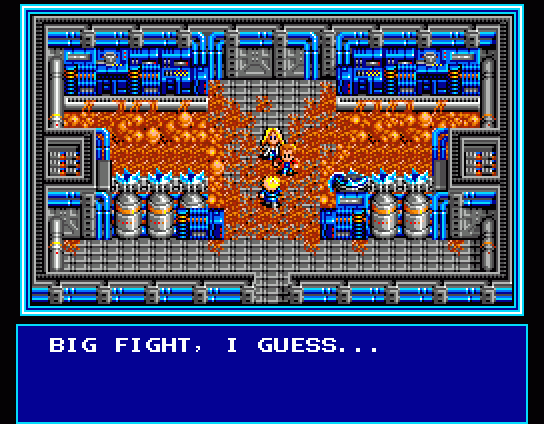 Well, long, at any rate.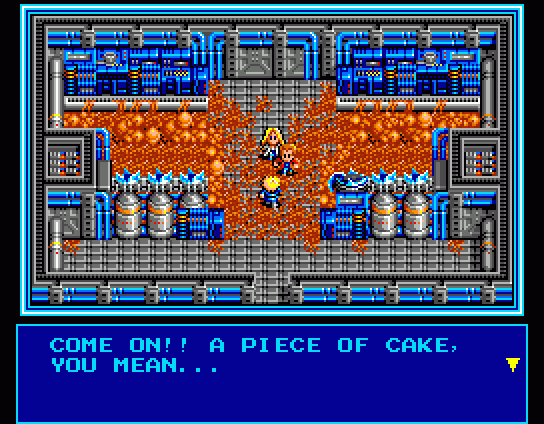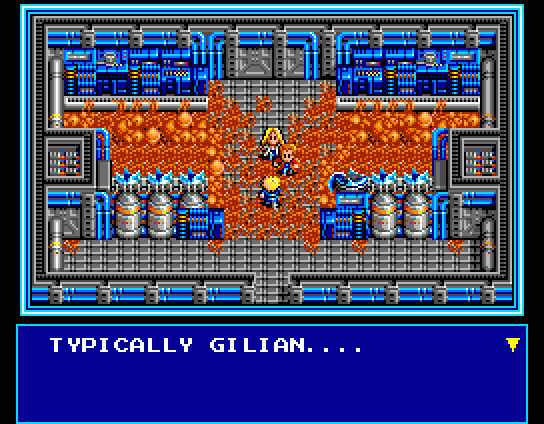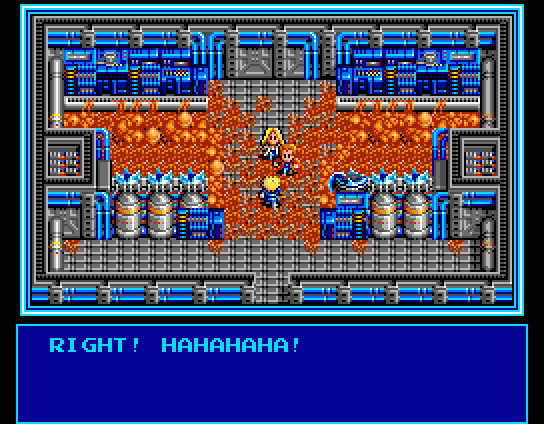 Yeah, haha! What?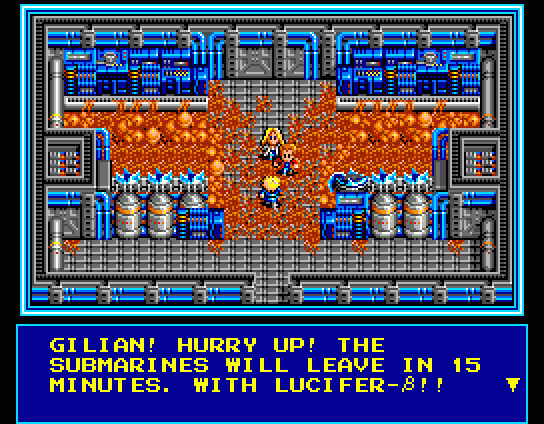 Metal interrupts with our last minute problem: The subs are going to launch Lucifer Beta in 15 minutes. ...Hey Randam, weren't you supposed to be doing something about that?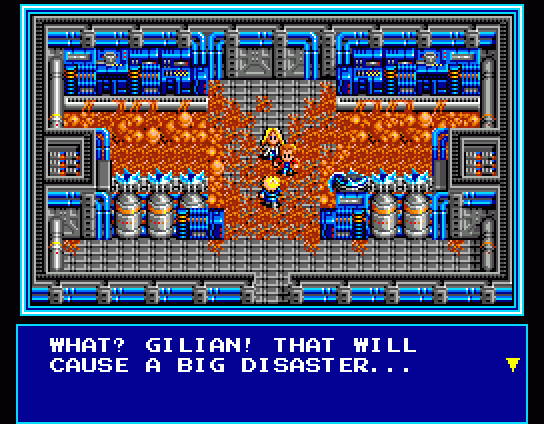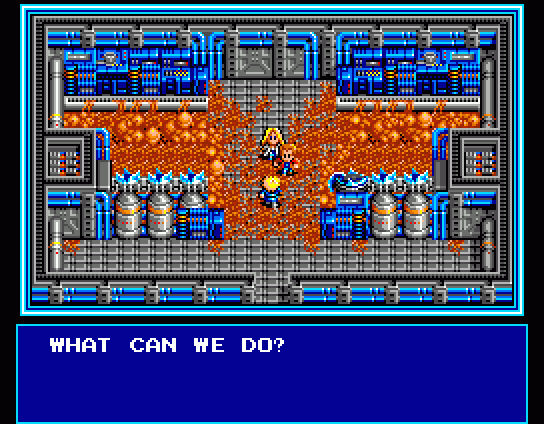 Gilian has, without a doubt, the most well-thought out plan ever.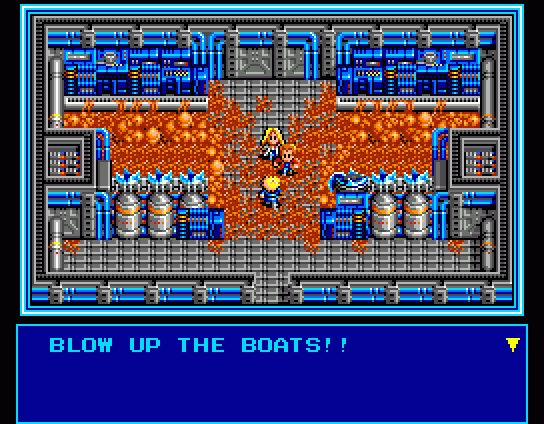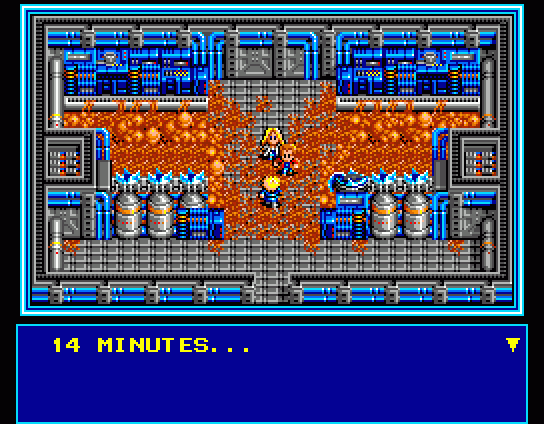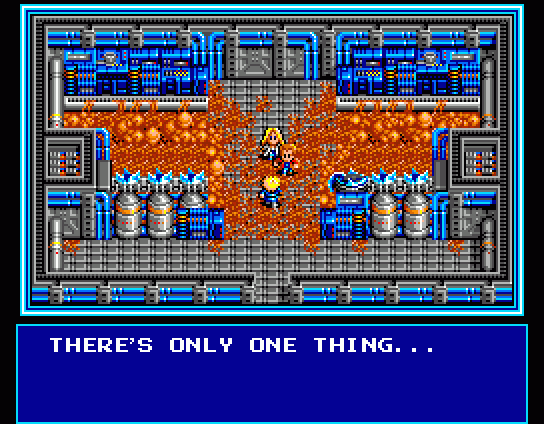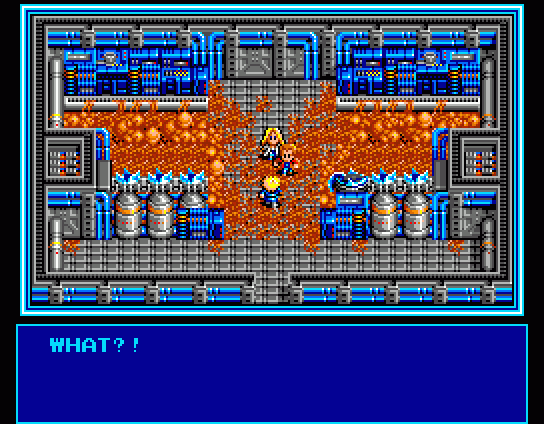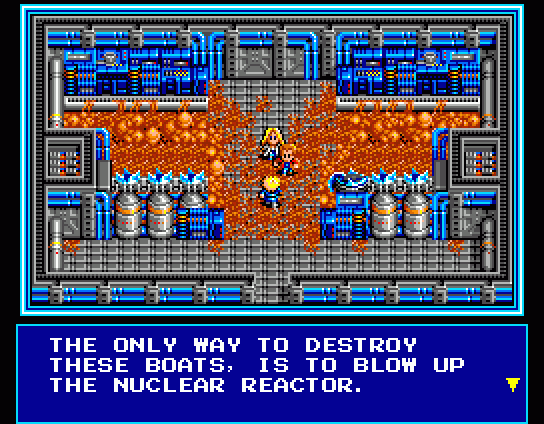 Wait, what nuclear reactor? Wasn't KSDF supposed to take care of this? Randam, what WERE you doing?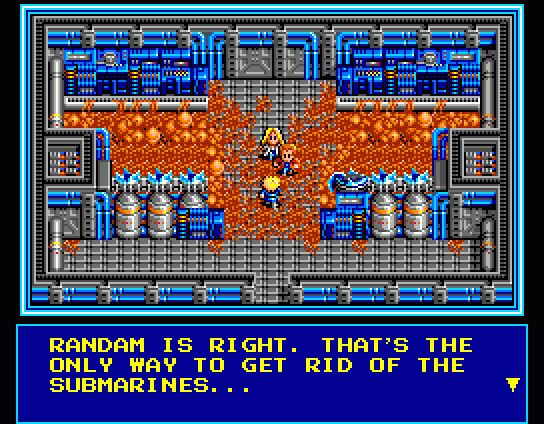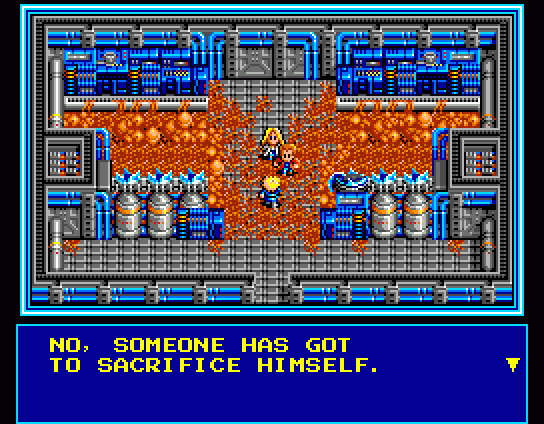 Unfortunately, destiny is immutable and the hands of Ka know no mercy.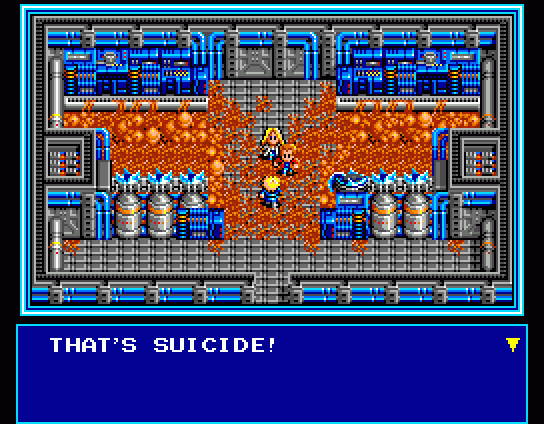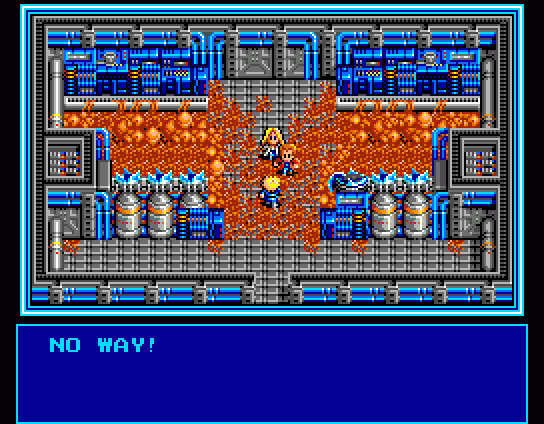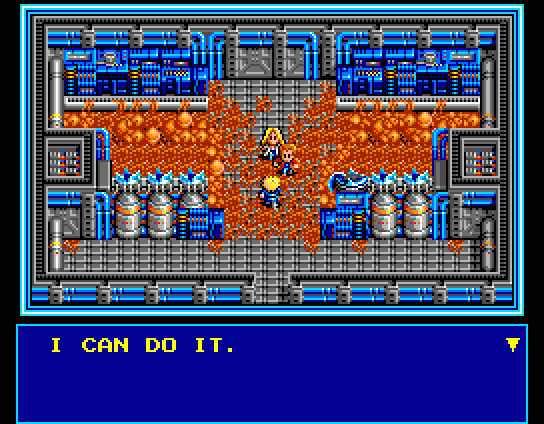 Metal offers it, but of course...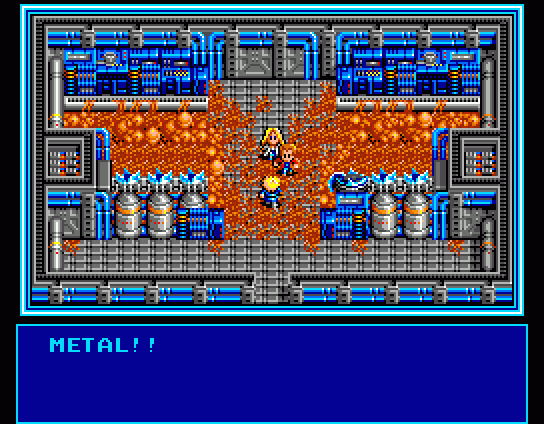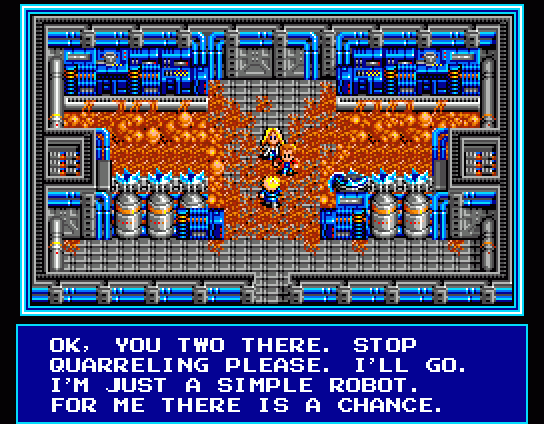 Randam's gotta take one for the team again.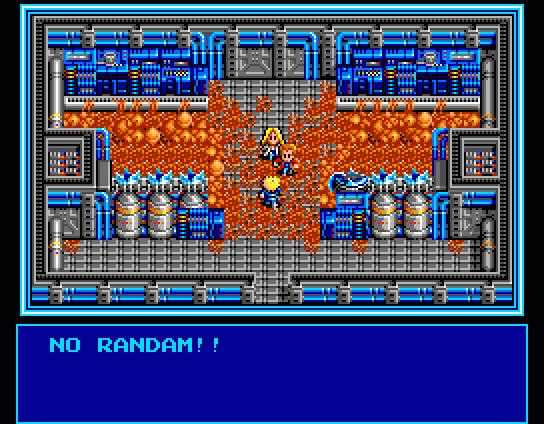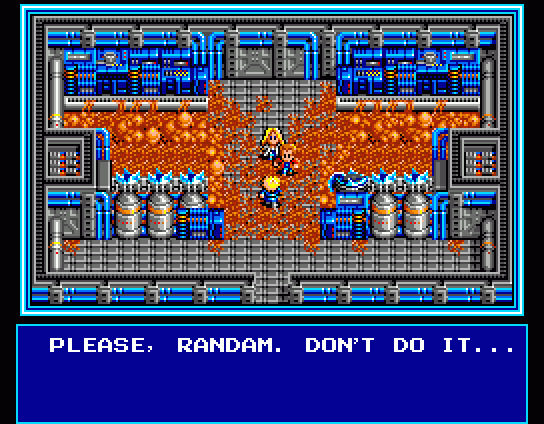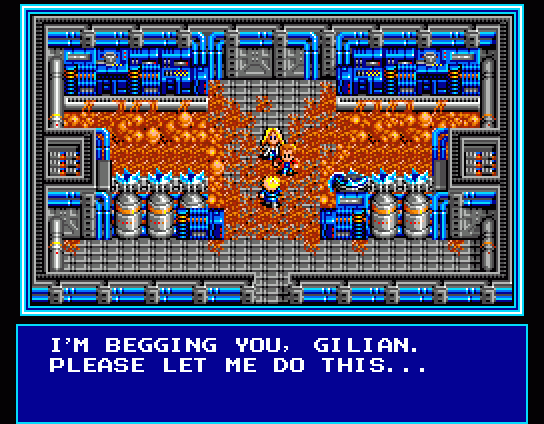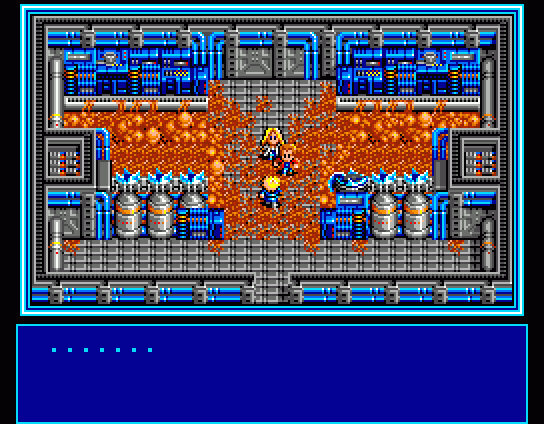 "Well... okay!"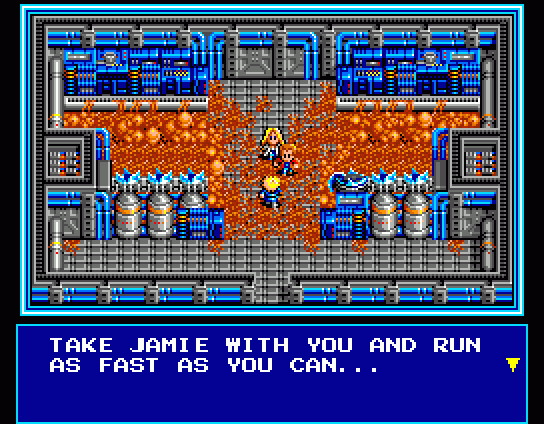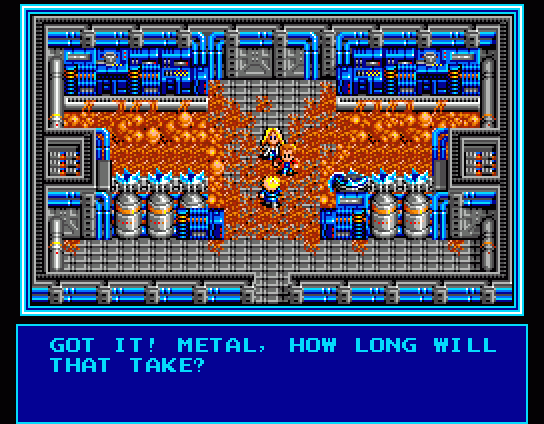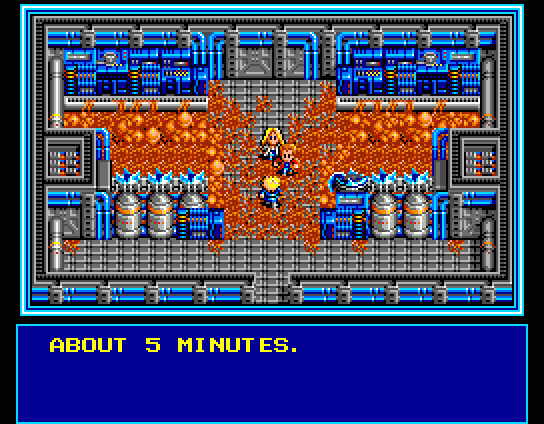 There's no time for subtraction! Just effin' run!!!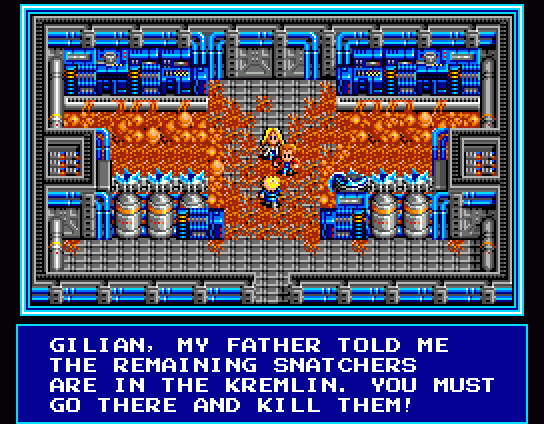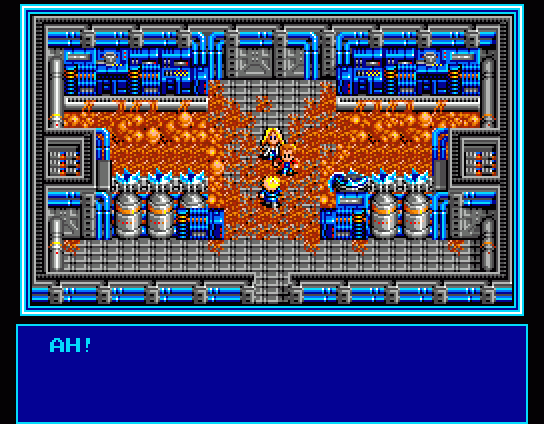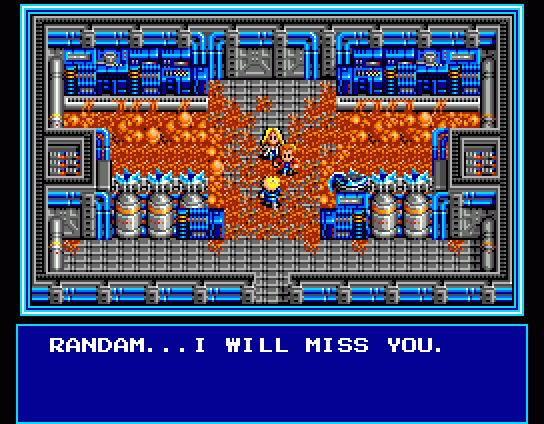 From the font color, this is Jamie speaking. Jamie has not met Randam. Actually, she also never gets to meet him in the original until the very end, either.
(Quick aside: One of the sillier lines at the end is when Random says "You always were a real pain in the butt," and breaks out of the tube he's in. Jamie says, "What's that?" even though she's presumably STARING RIGHT AT HIM.)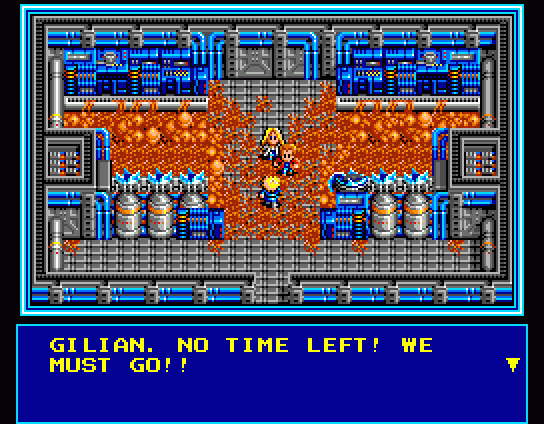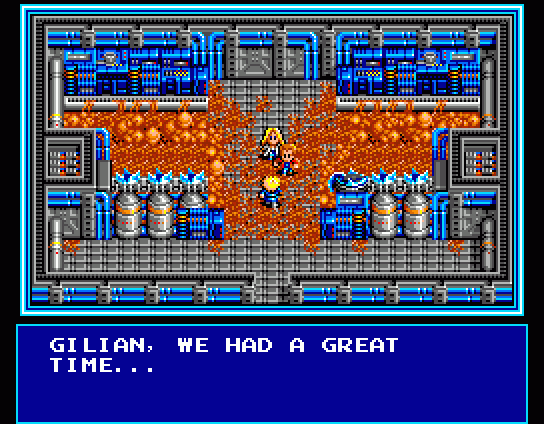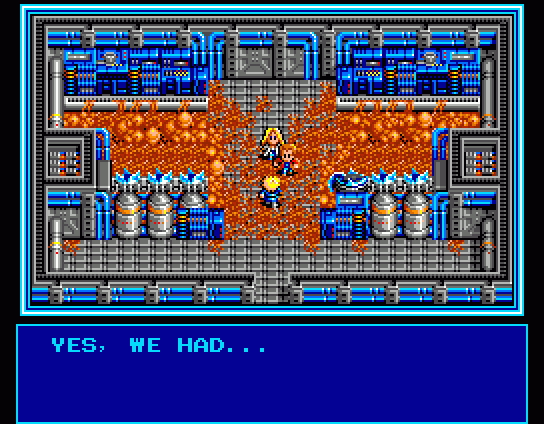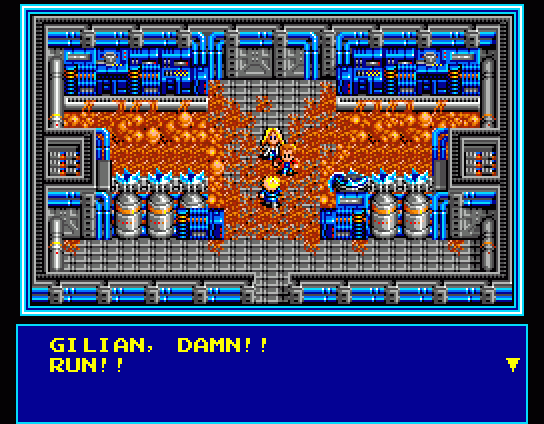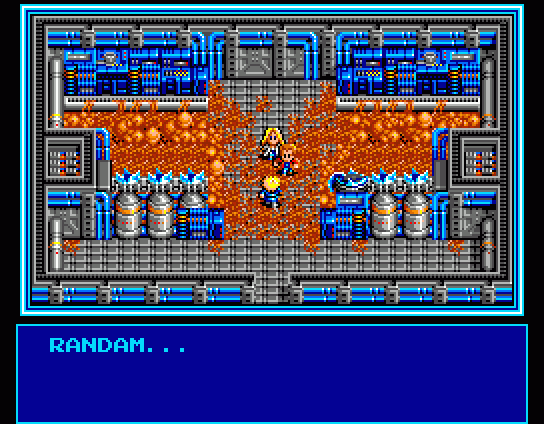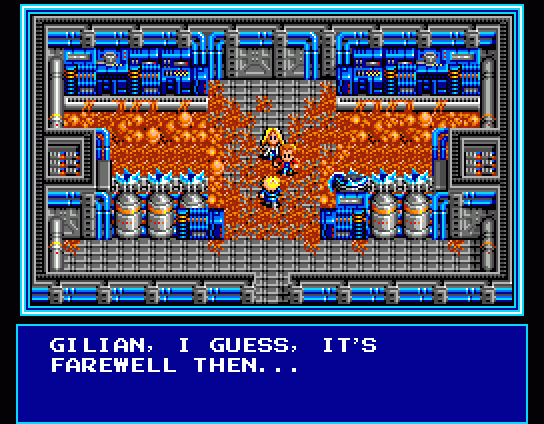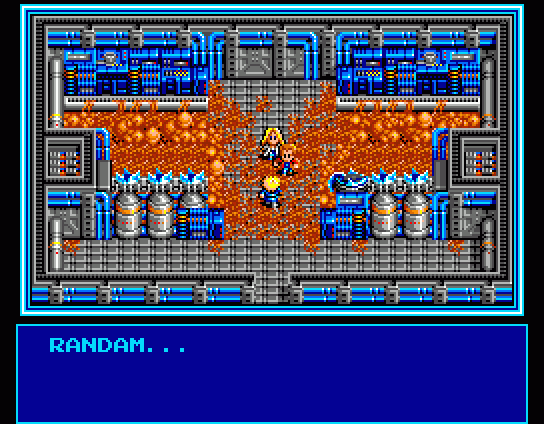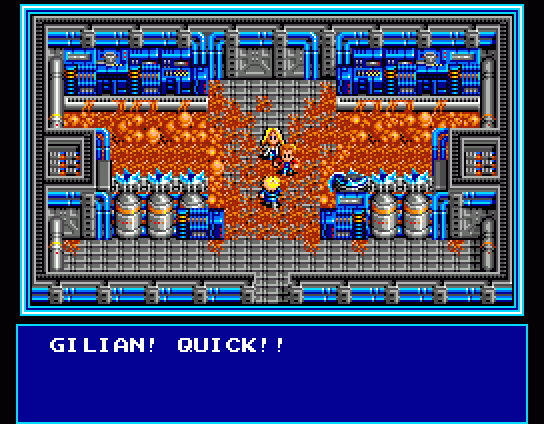 And if Gilian Seed gets to curse in this final ending...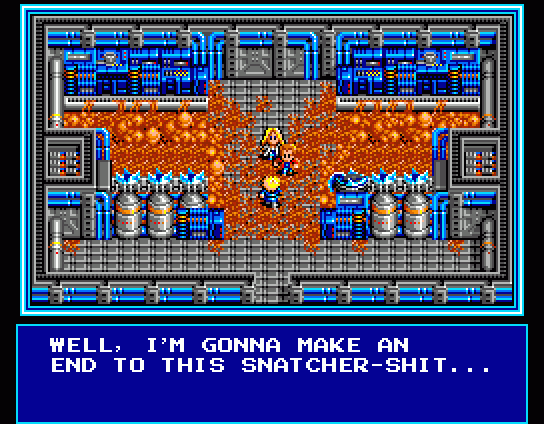 You can bet Randam gets to, as well.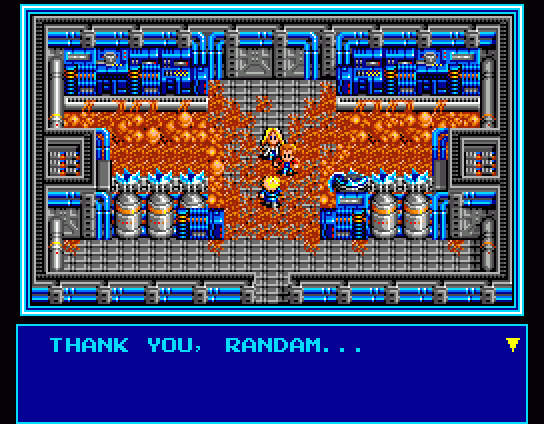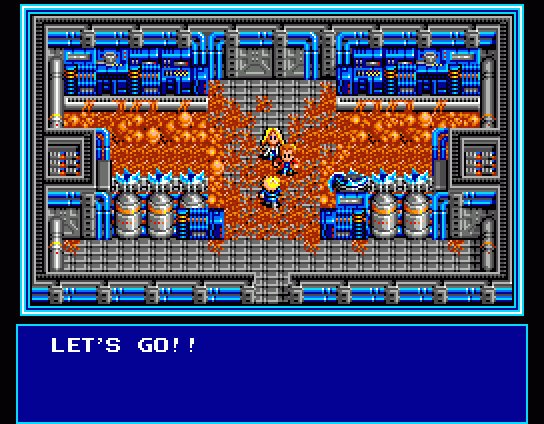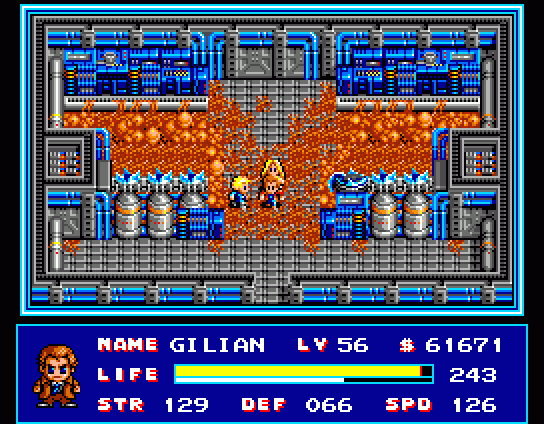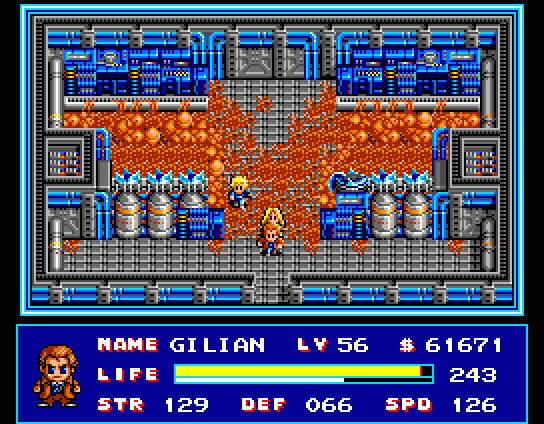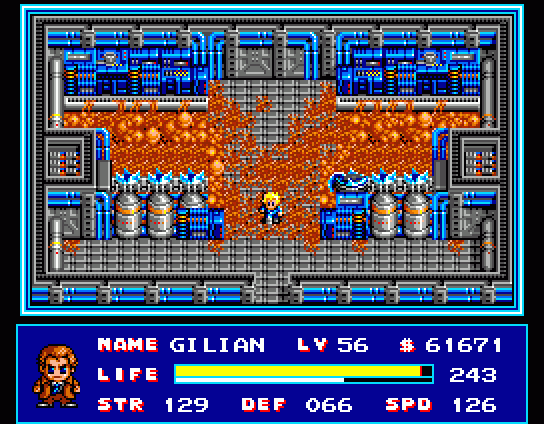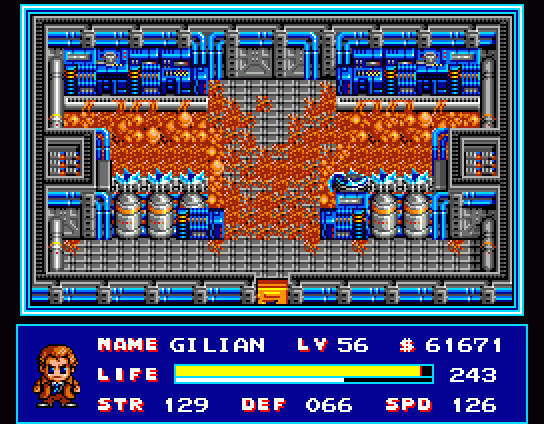 The game makes you watch the four run from the base.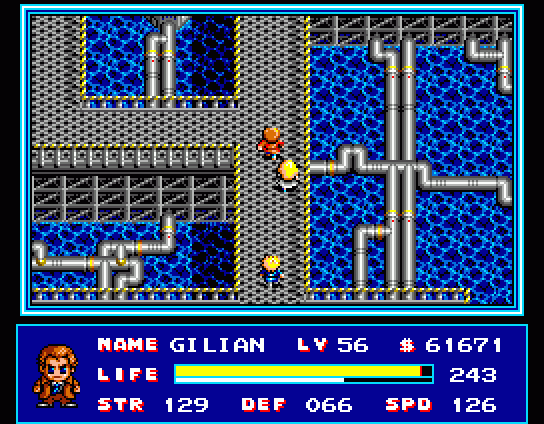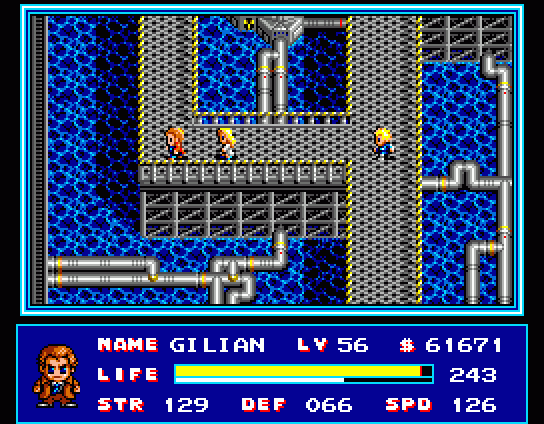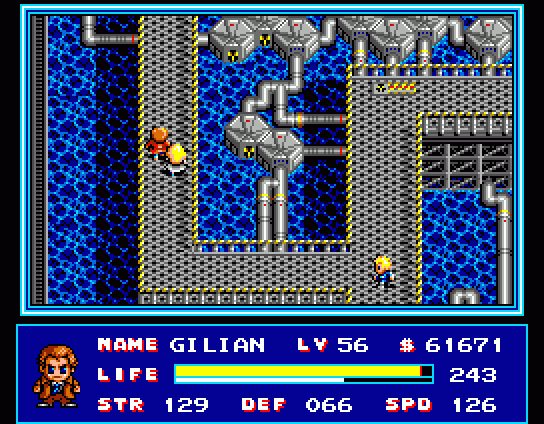 Gilian, Metal, and Jamie leave him behind.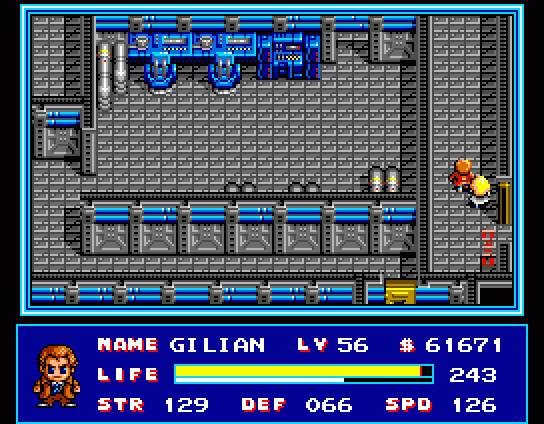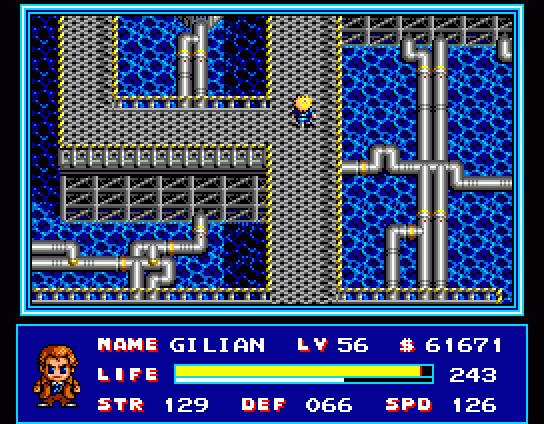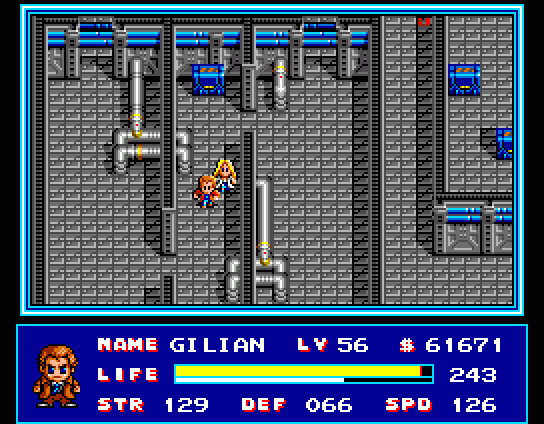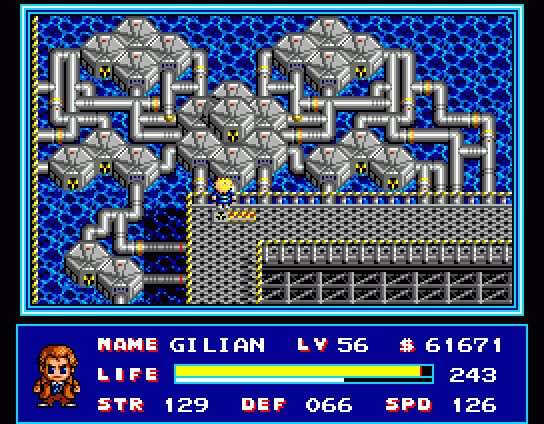 And with that, Randam Hajile dives into the reactor. I guess that's how you destroy it.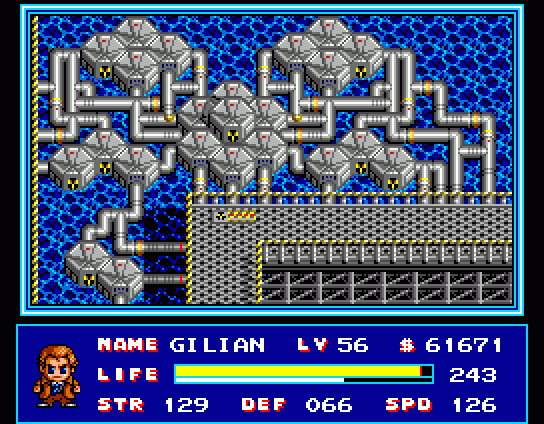 There's a long pause and then, for the final cutscene...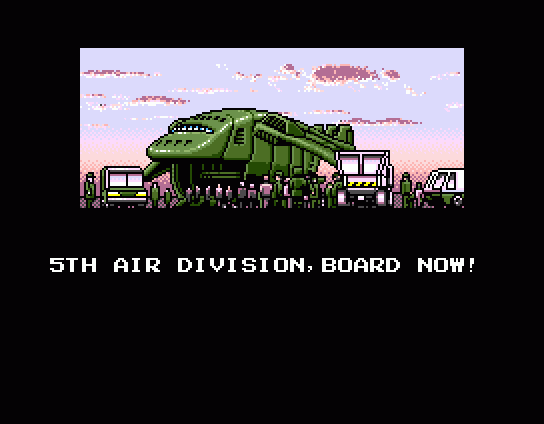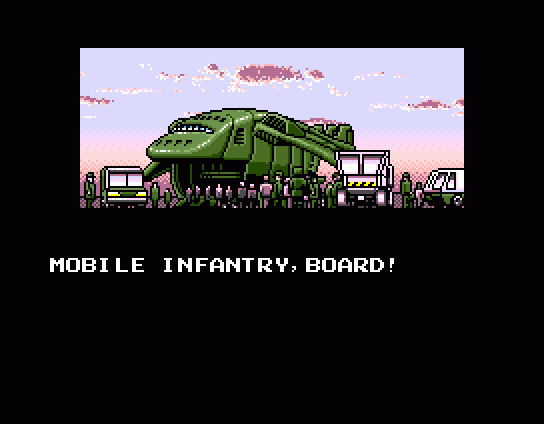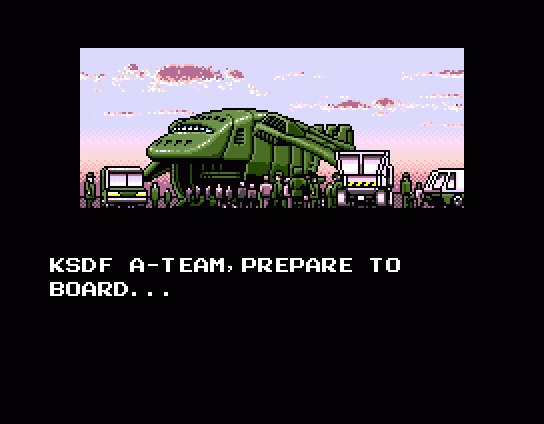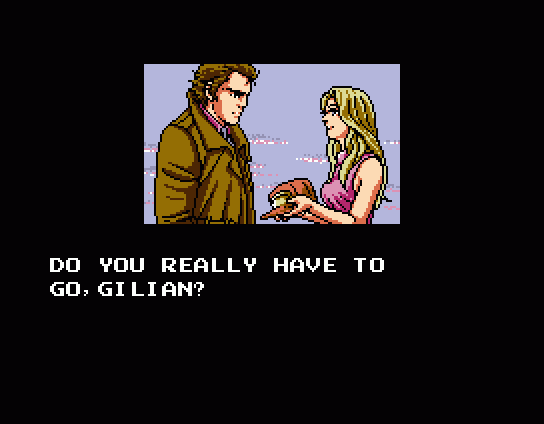 SD Snatcher decides to drop the chibi graphics and go to normal.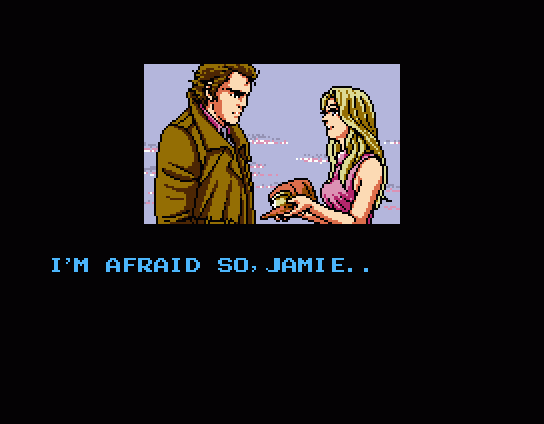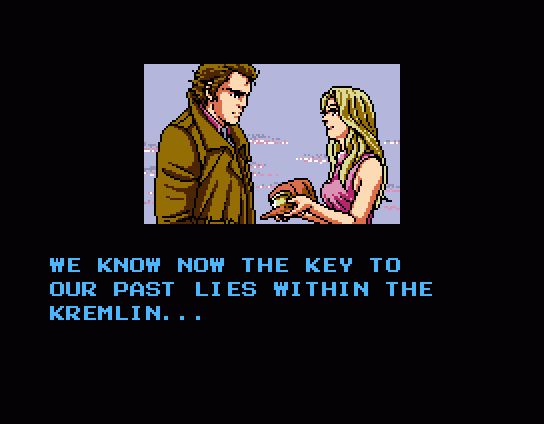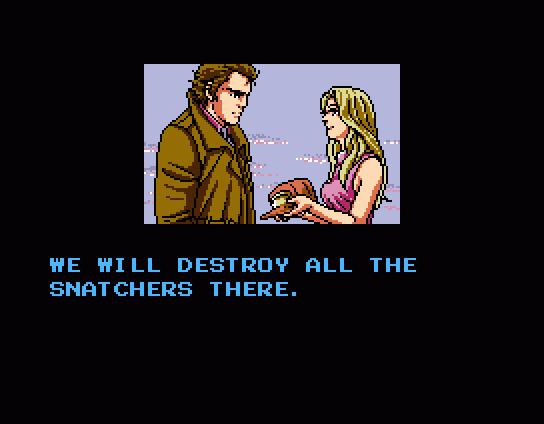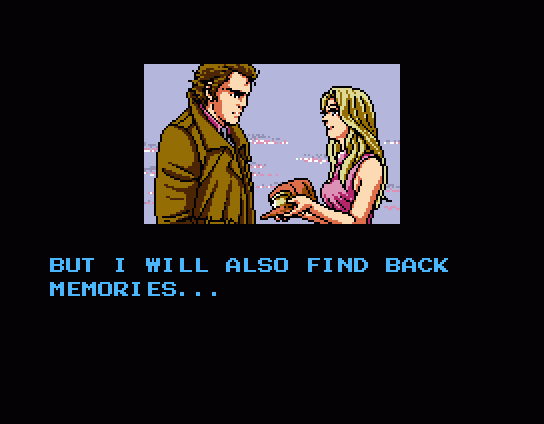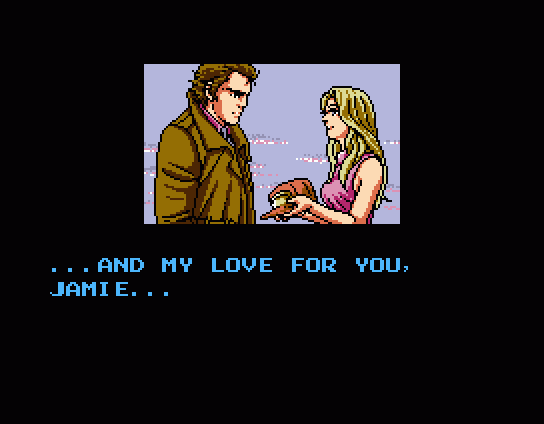 Sorry, Gillian fans. Mika and Katrina are bit parts in SD Snatcher, so we don't get a big send-off.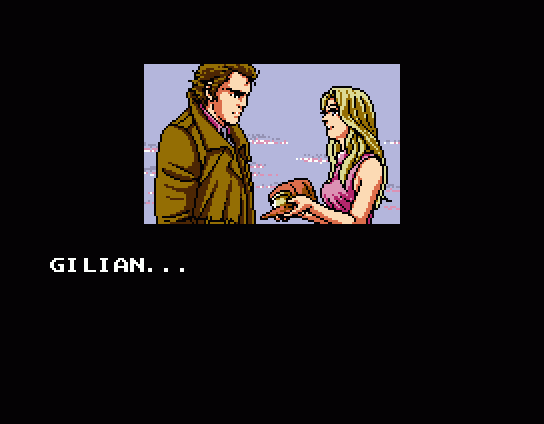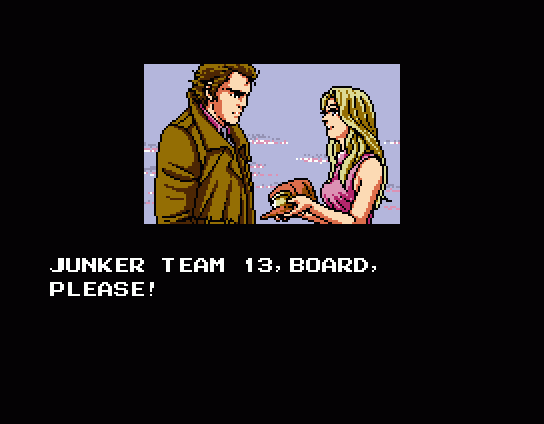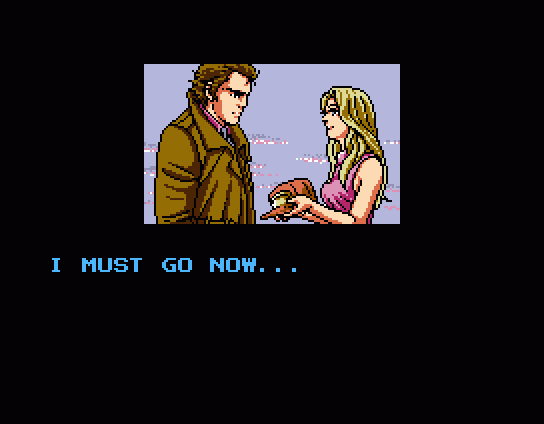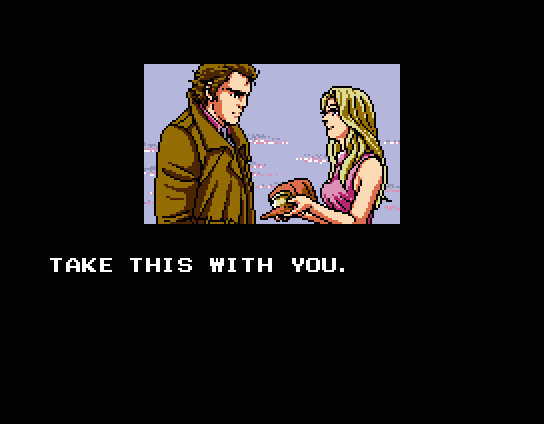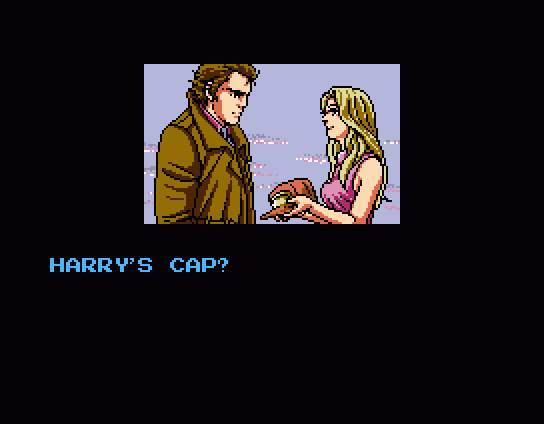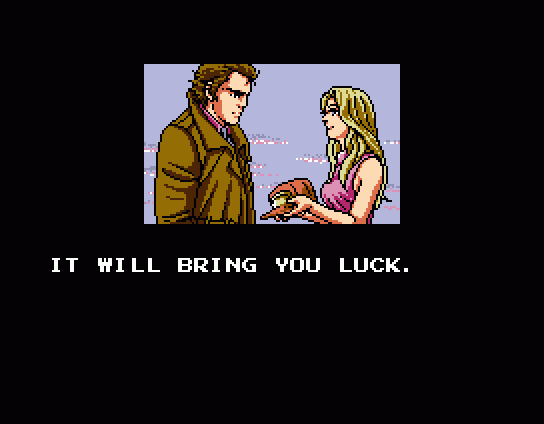 ...Didn't... didn't really do that for Harry, I mean...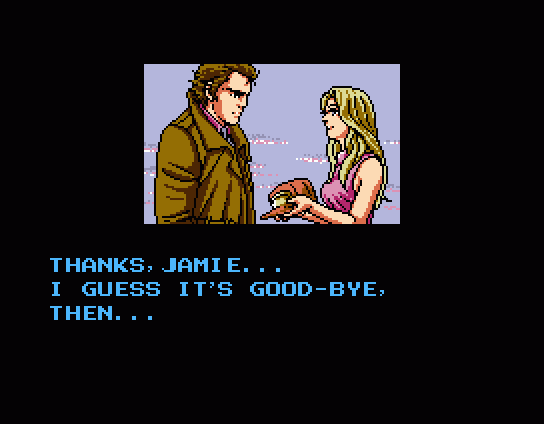 Well, at any rate, SD Snatcher ends like the original, with Gillian on a trip to the Kremlin that never quite ends...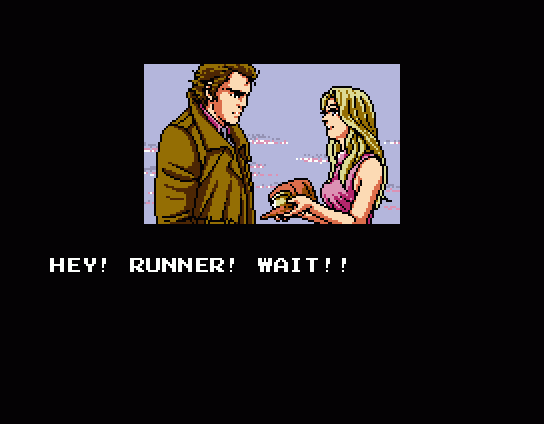 Hmmm? Metal as an MSX?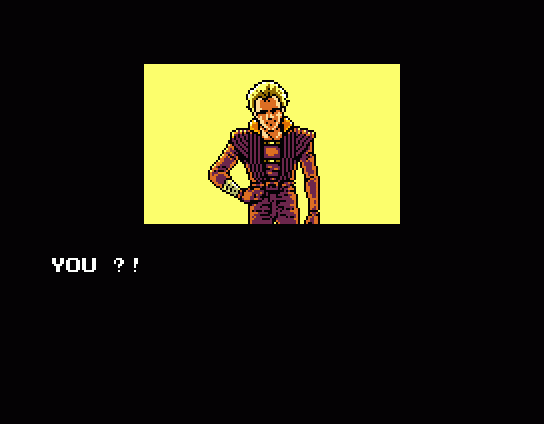 And in the final big change, Kojima makes one more character swap and it's Random accompanying Gillian to Russia.
(I lied. He dove into the water, not the reactor.)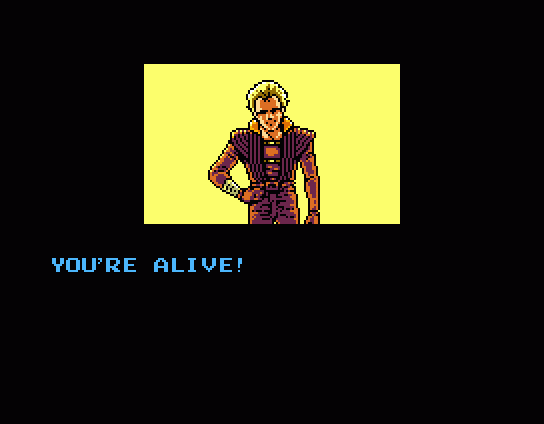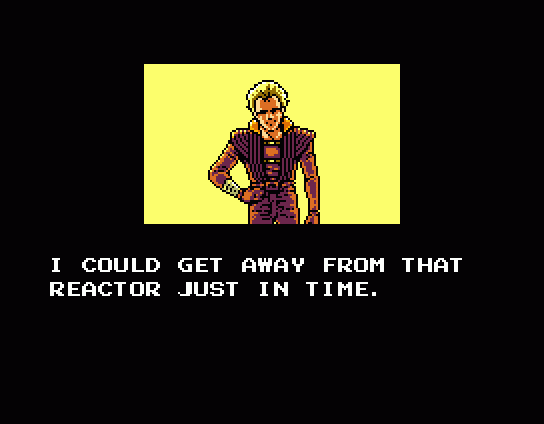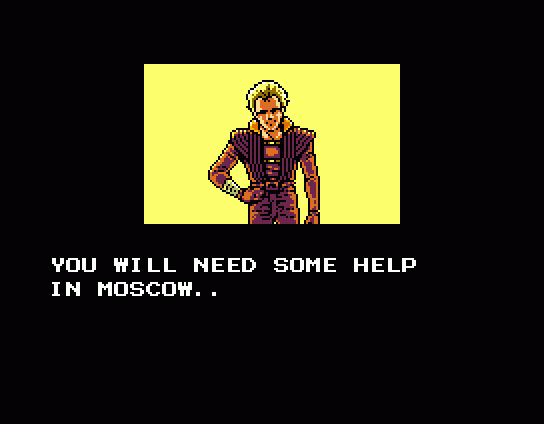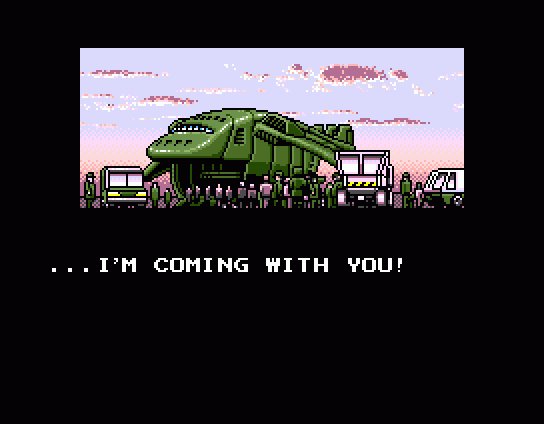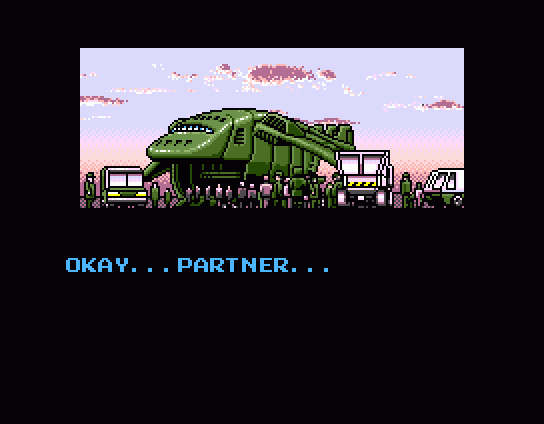 Maybe it's not possible to really just avoid a nuclear explosion like that, but fuck it. I'll leave it be.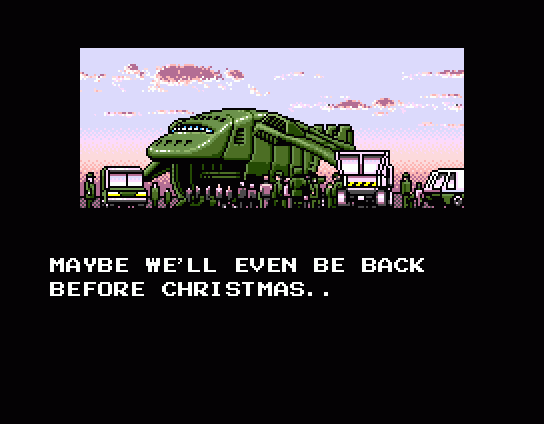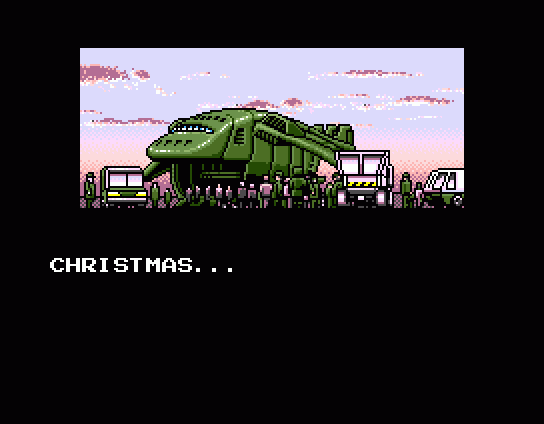 Hey OASIS, can we get a badly translated non sequitir for the road?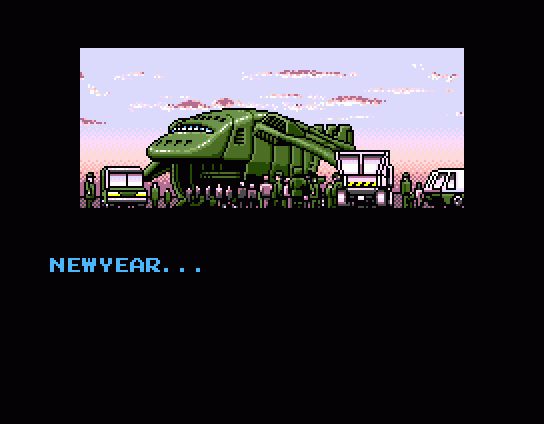 Course we can!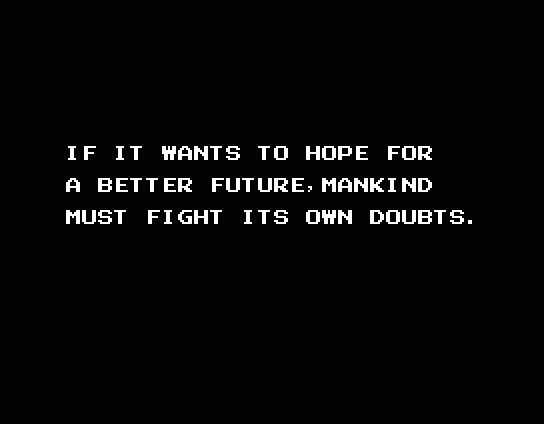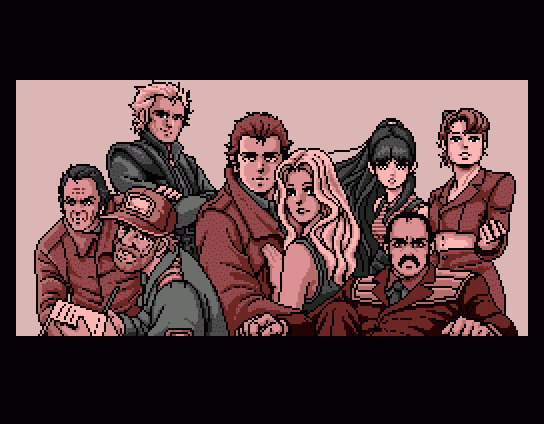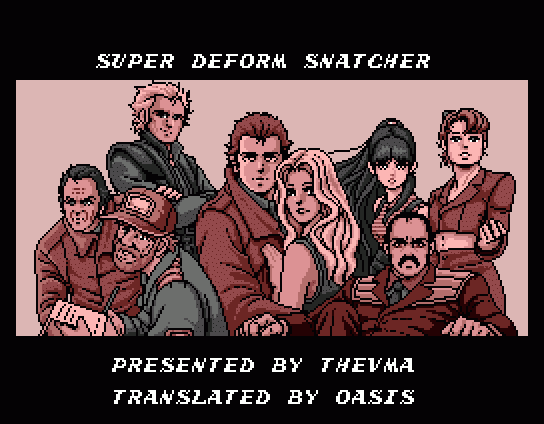 The fan translators are, indeed, arrogant enough to insert themselves in the credits. Ah hell, they deserve it, I suppose.
And I suppose that about wraps it up for SD Snatcher.
Version Differences
- Random lived.
The End