Part 28: 27. "Randam! He's- he's a..."
Well, gang, I was gonna pace it out more, but I wanna be done and I made you wait like a month, so fuck it.
This is the penultimate update for LP SD Snatcher.
27. "Randam! He's- he's a..."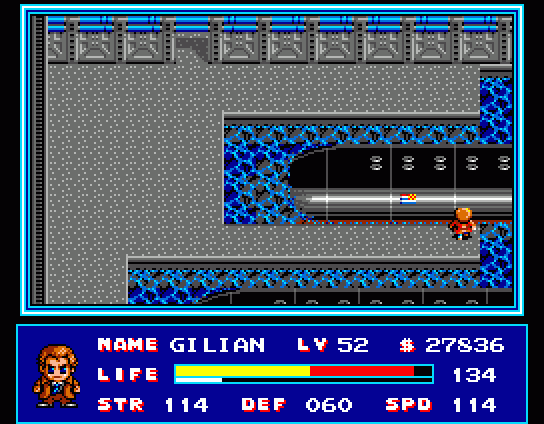 Gilian: Metal, what are these subs for?
Metal: It's not possible to analyze their contents. However, judging from their condition, though old, they appear seaworthy.
Gilian: What could the Snatchers want with subs?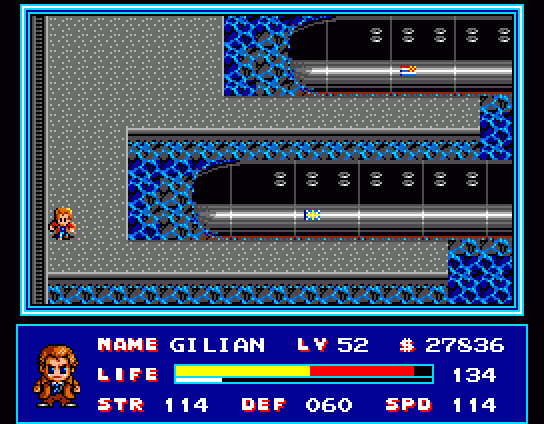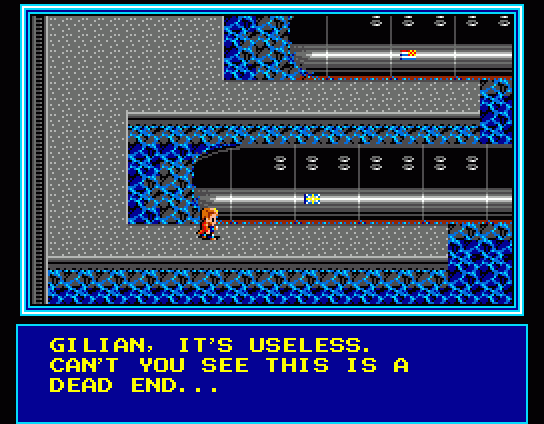 Gilian: You're right. Let's head back.
On the way back in, a klaxon goes off.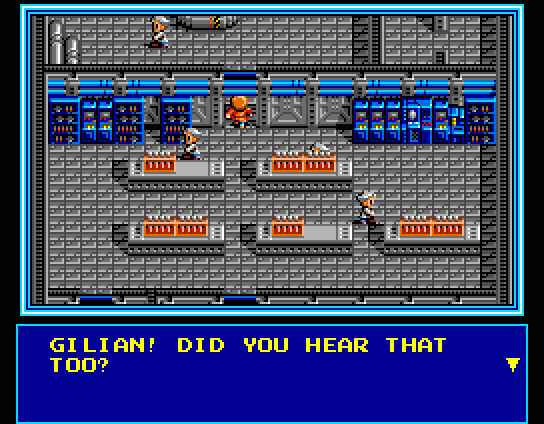 Gilian: Sure did. Let's get back to the subs!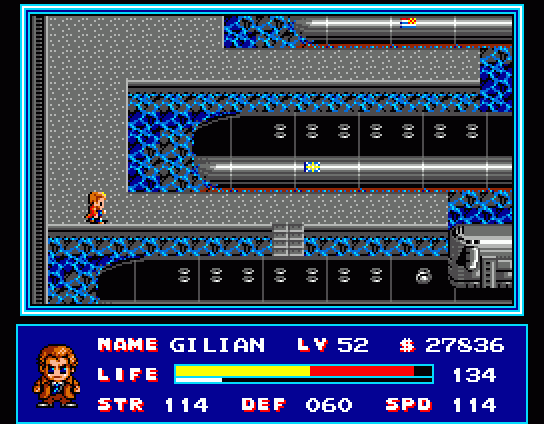 Metal: Another submarine has arrived! The docking doors are down.
Gilian: We'll be able to cross over to the other side of the dock!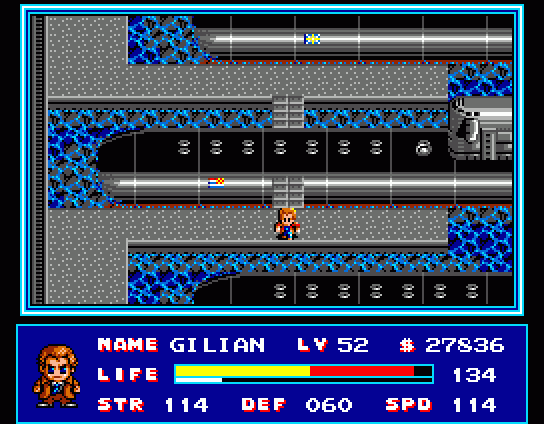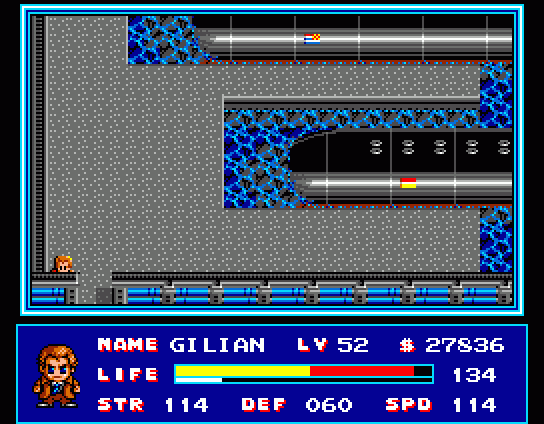 Welcome to another part of the lab. Or at least another area full of scientists.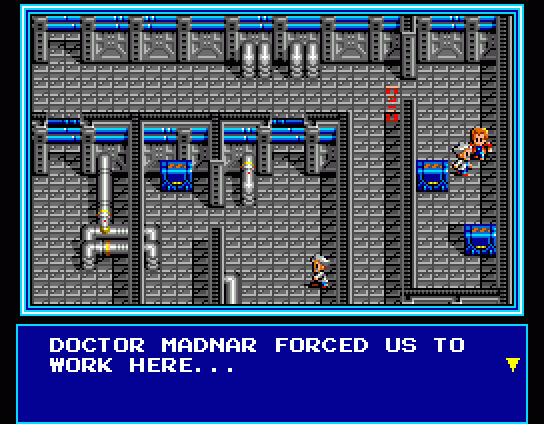 I'm going to leave that where it is, becaues the next box contains...
FIFTY JUNKERS' RUSH.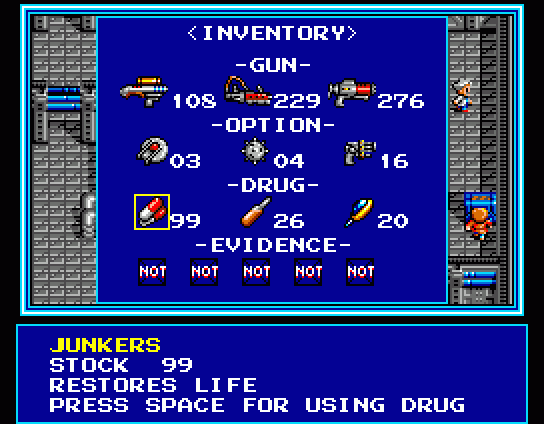 Maxed out at 99, I am now no longer in any need of medical items. Actually, I'm still in danger though. Enemies at their initial strength can kill you in two shots, for the most part, so it's a matter of using all these pills to keep your health up constantly.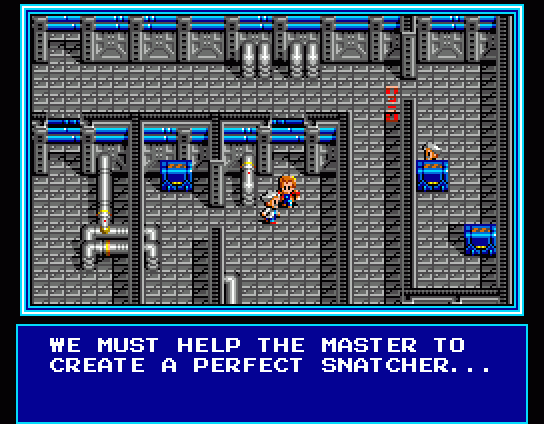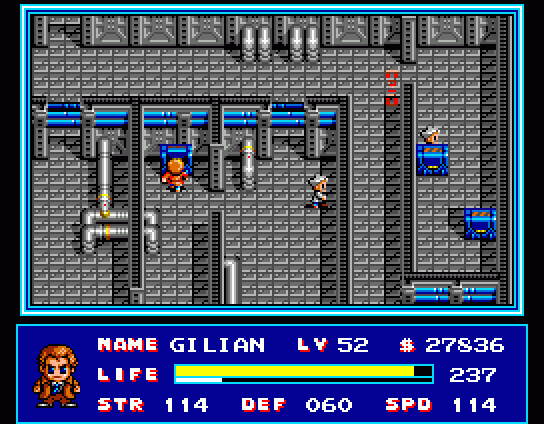 Gasp! What's in this box?!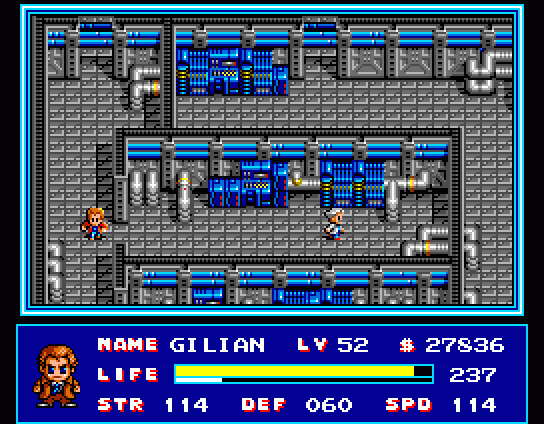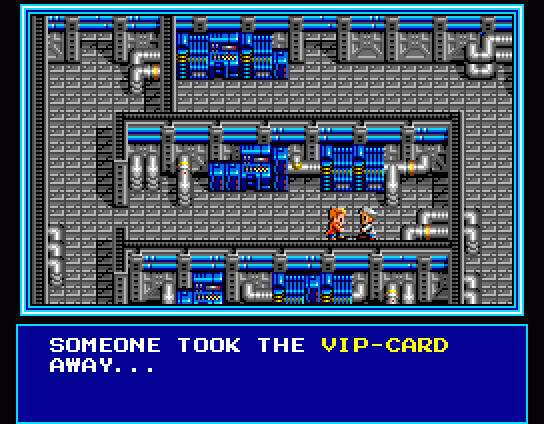 Ugh. A fucking fetch quest? Really? Looks like we're after a VIP card to the next area.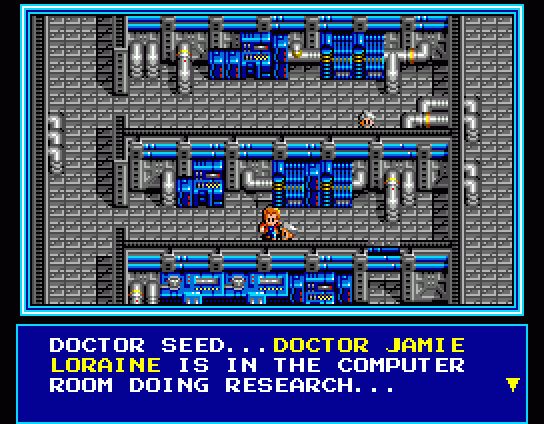 Gilian: Jamie! Come on, Metal, we've gotta find her!
Metal: But Gilian, we can't forget to find the heart of the Snatchers in this laboratory.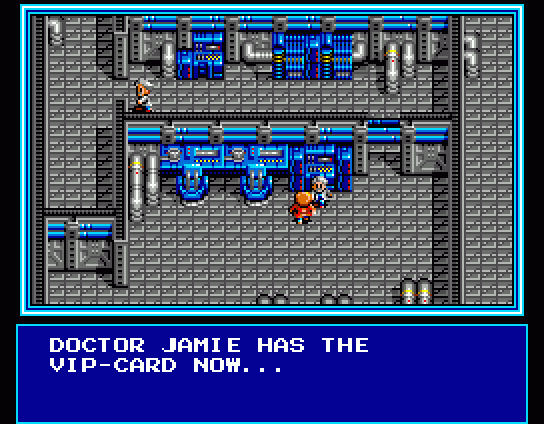 Gilian: No problems! We'll kill two birds with one stone!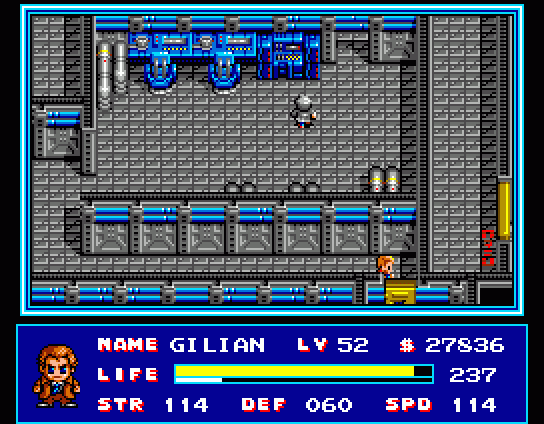 Gilian: She's right through here, I'll bet!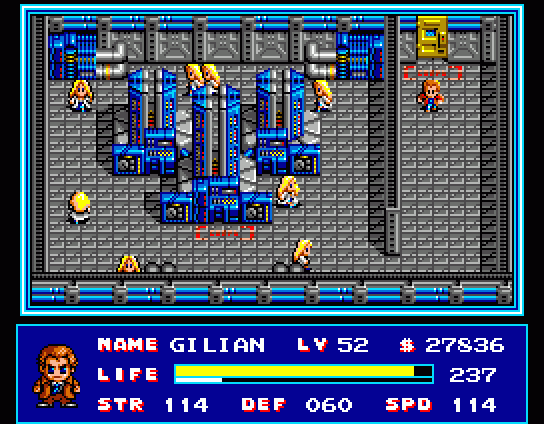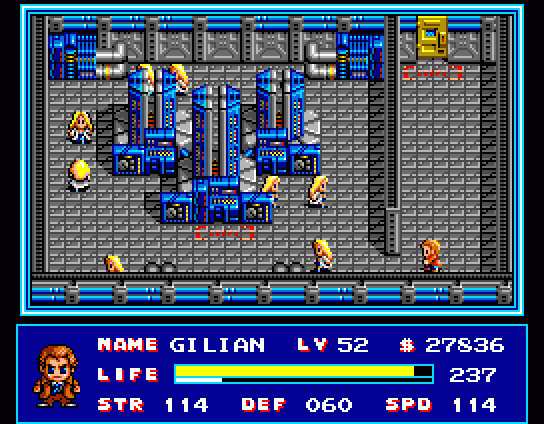 Gilian: J... Jamie? Metal, am I hallucinating or are there multiple Jamies?
Metal: Be careful, Gilian! It's possible that only one is the real Jamie.
Actually it's not. This room has 8 Jamies and they're all Snatchers. One has the VIP card.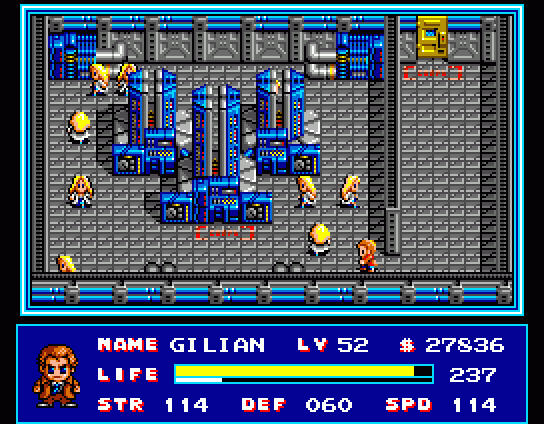 Gilian: I guess there's only one way to find out if any of them are real. ...Why did they build eight of them?
code:
confuse dseed stall tactic
Oh well, time to fight!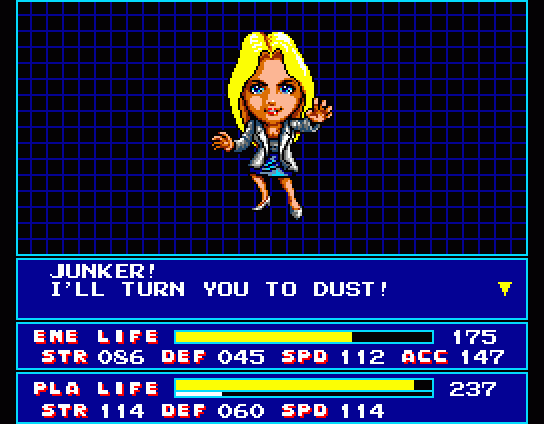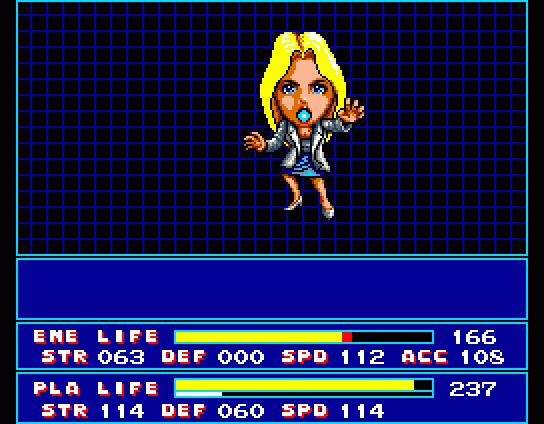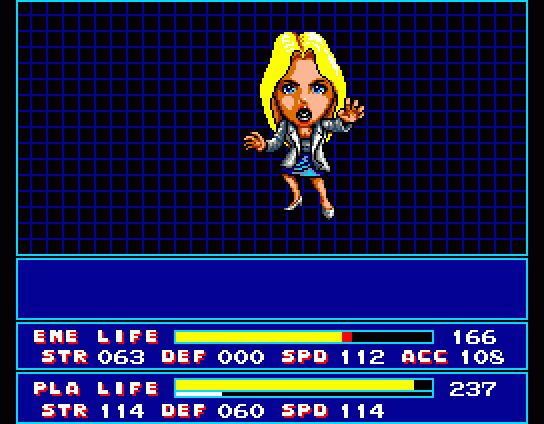 Well, she was fairly easy as a boss and it's no different here. Jamie succumbs to the usual "face-first" tactic for dealing with Snatchers.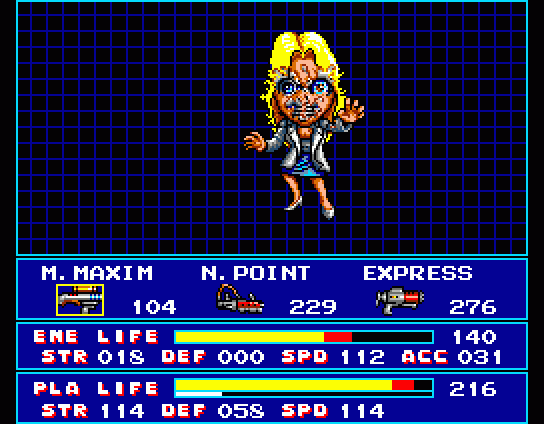 That doesn't make her more pleasant to deal with, though.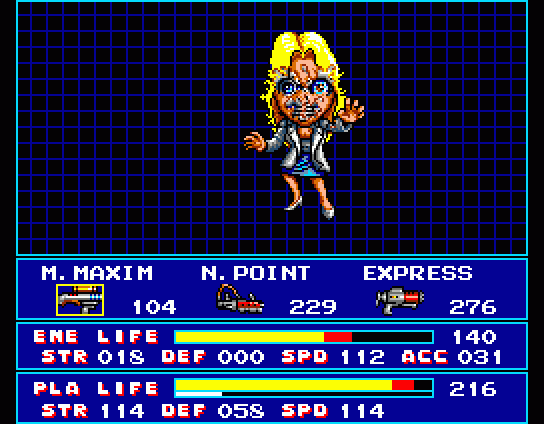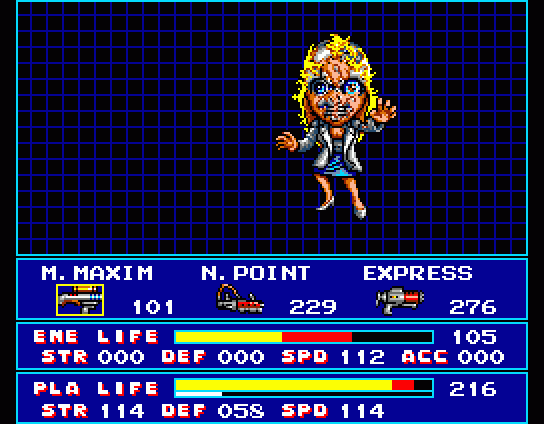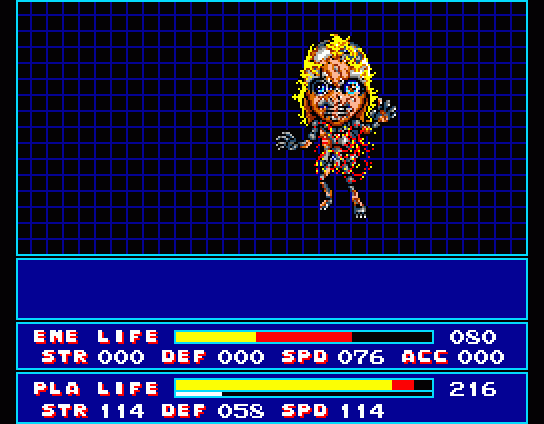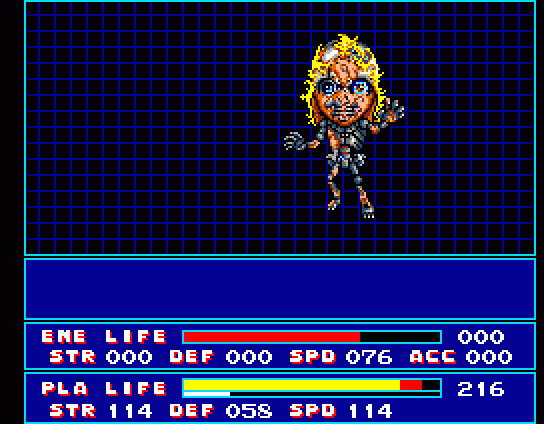 Unfortuantely, Jamie can self-destruct if you destroy her mouth and let her go for awhile.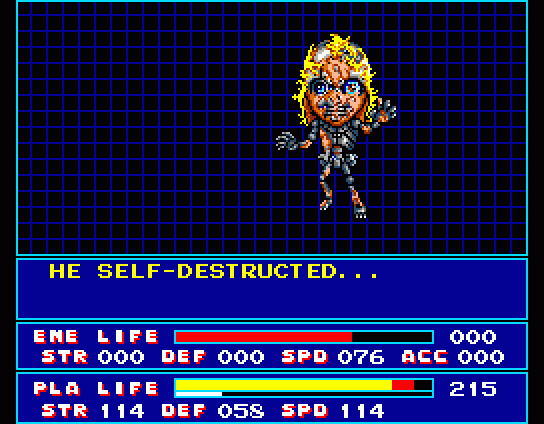 Which, of course, causes pronoun mishaps.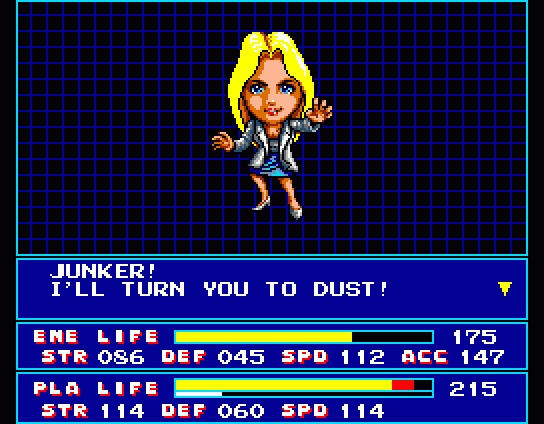 You're gonna have to fight each of the eight Jamies, until you get the one holding the VIP card.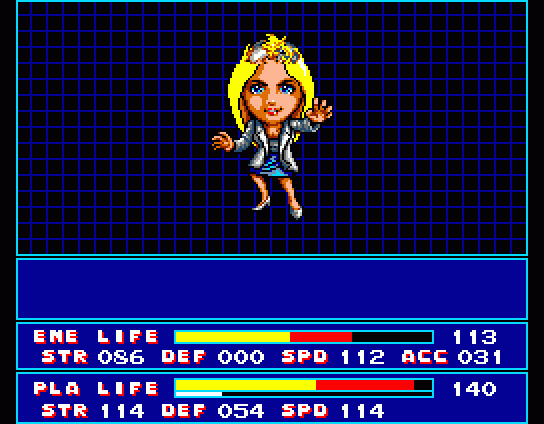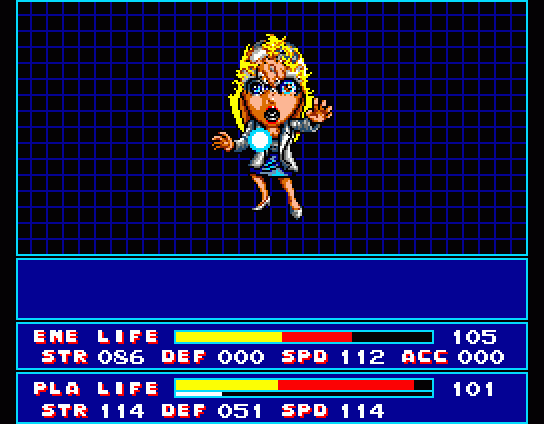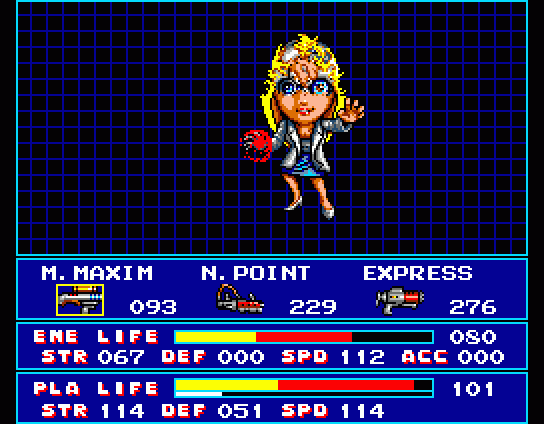 This might be a good time to mention I picked up the most expensive weapon in the game, the Express. It hits in a 3x3 grid, giving it the largest... uh, "cone" of fire. It's not as strong as the N. Point, but you'll be using both in conjunction - the N. Point to drop the target's defense and then you can continue with the N. Point to finish it off quickly or use the Express against a hard hitter to lower a lot of stats at once.
Jamie is not really a problem, so I used my worst weapon - now the M. Maxim - to conserve ammot.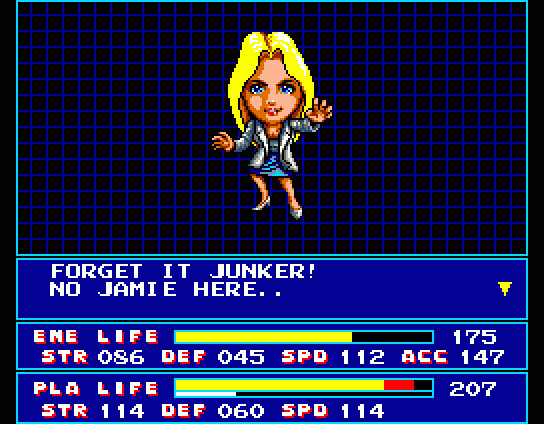 This Jamie says something different for no reason at all. Predictably, she's got the VIP card. But, again, she goes down like all the others.
This opens up the final portion of the game.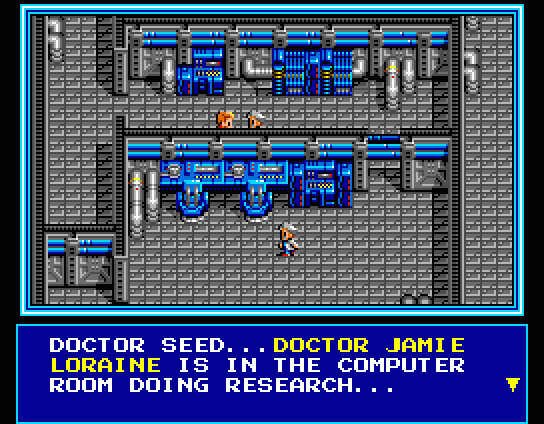 Gilian: You didn't notice there were 8 of her in there?
Scientist: ...
Gilian: ...Okay, then.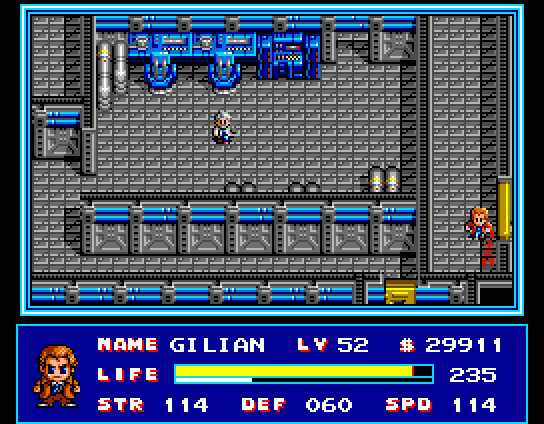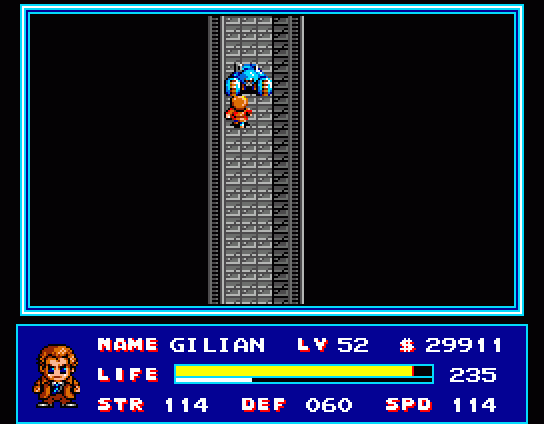 This leads to a boss fight.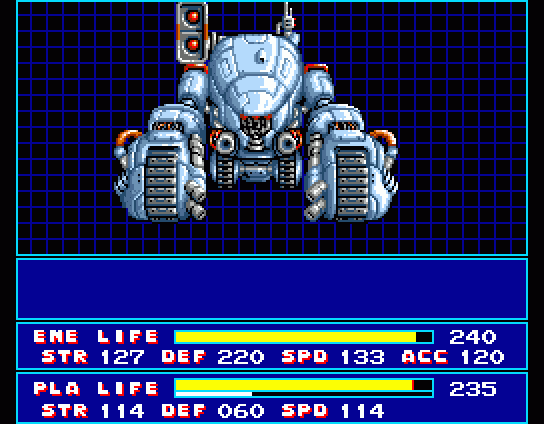 Introducing Treadnaught. Easily the largest non-last-boss enemy in the game, Treadnaught boasts one staggering stat.
A DEF of 220 - it means you're not anywhere close to hurting it for awhile. Your new strategy (especially because C. Killer isn't that effective on him) is to chip away at his DEF with N. Point, which knocks about 20 points per hit off. You'll have to heal a few times, to be sure, but once his DEF is at 0, you can use the Express to begin lowering the damage he can dish out.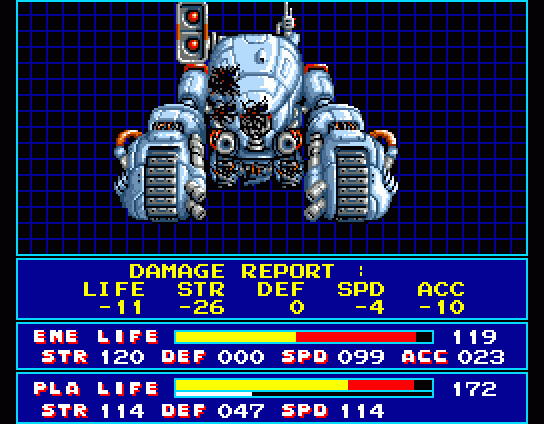 Note that even with a DEF of 000, you're still only going to take off about 10 HP per hit. This essentially becomes a long battle of attrition, but with the 100 or so healing items you should now have, you'll do fine so long as you pay attention. (Losing focus is actually the thing that tends to kill me in this game.)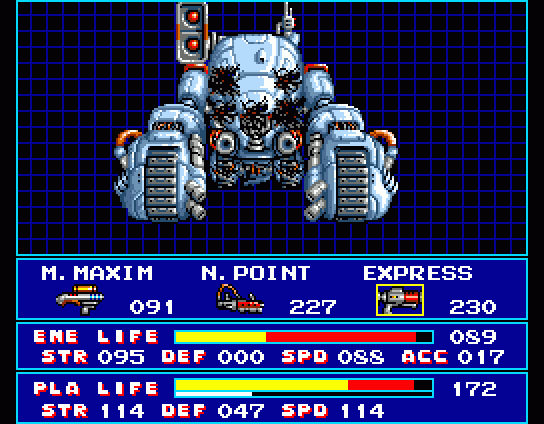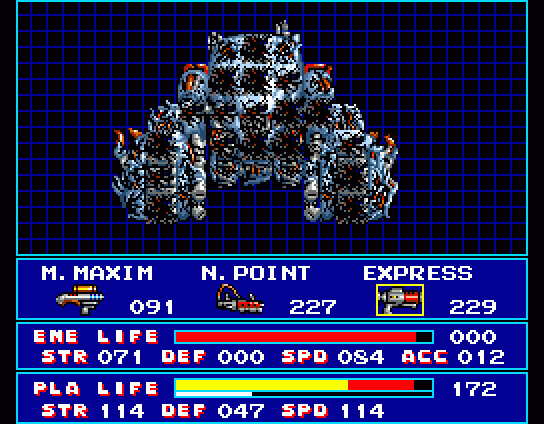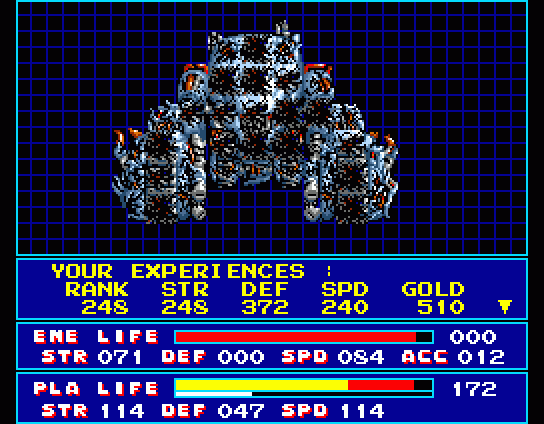 At the very least, you get a bunch of XP for your trouble.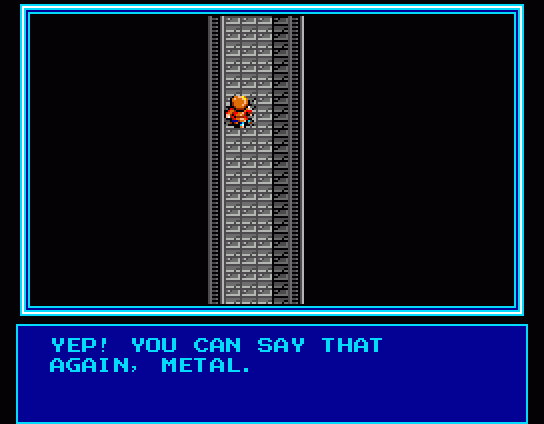 I like Gilian's "Ain't no thang" attitude.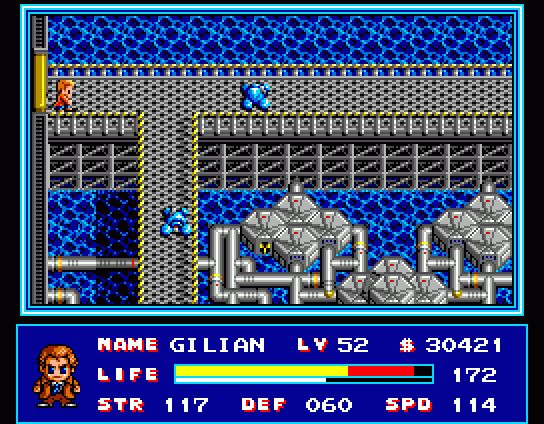 Welcome to the final part of the game. As you can see from the very tiny radioactive symbols, there's something nuclear going on here. I don't know what it is, but it sure is something.
And now it's Shiatsubot. Their... roughly rectangular... shape makes them unable to dodge much of anything. With a DEF of 51, my strategy is to paralyze them with C. Killer, zero out their DEF with N. Point and then just disassemble at leisure.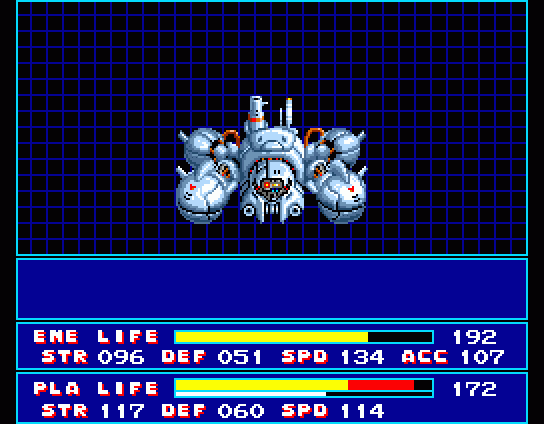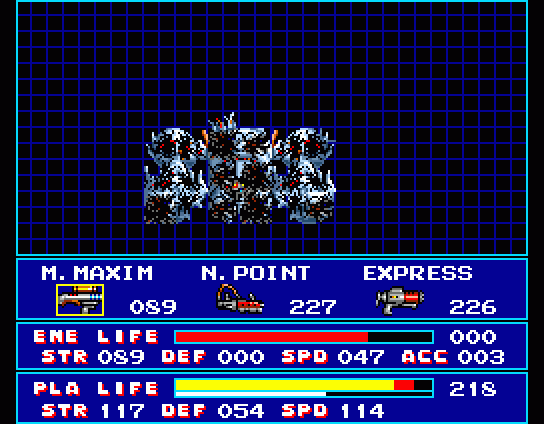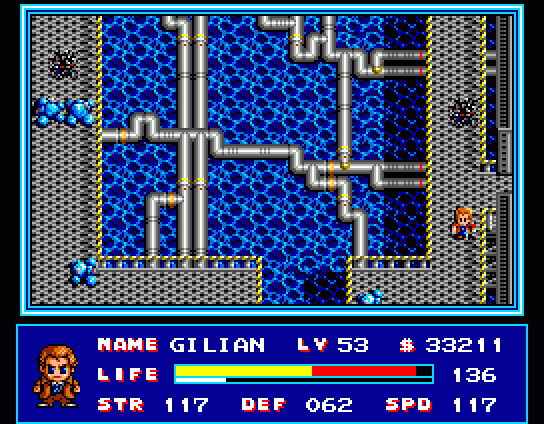 Sadly, there's a lot of Shiatsubot. There's two exits from this room, and your objective is the one on the lower right side of the room.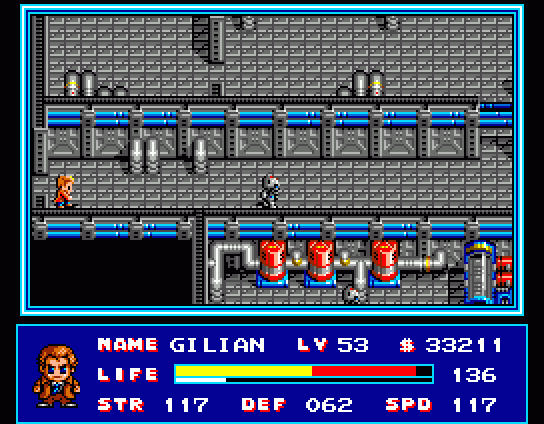 You're going to meet a new denizen of the base: Naked Snatchers. They behave just like they did when you fought against four of them with Chin Shu Oh. See how much health I have there? That's way too low - I got one-shotted by one right after the following cutscene.
WHICH IS LIKE THIRTY MINUTES LONG.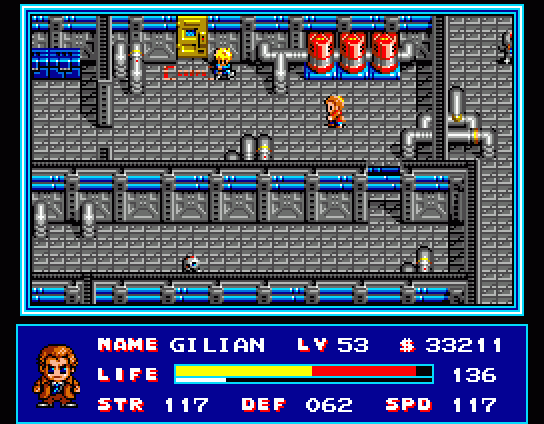 Hey, it's Randam!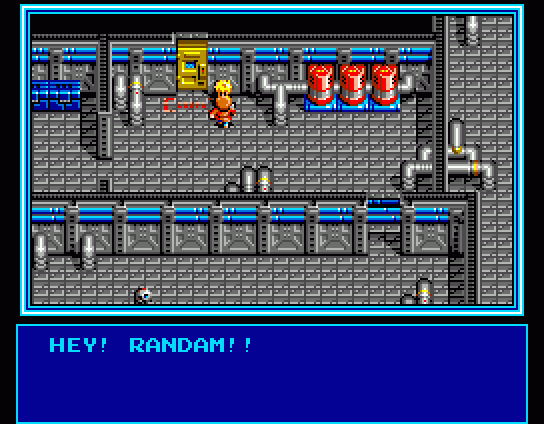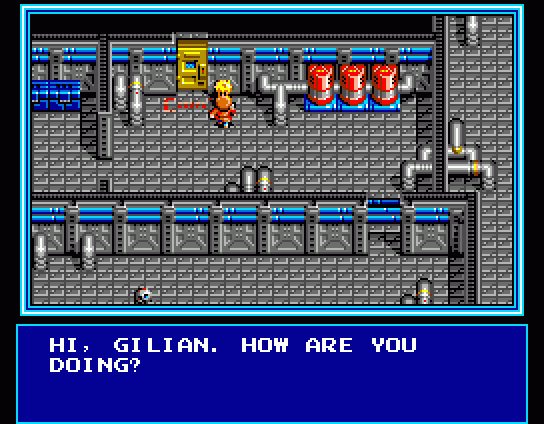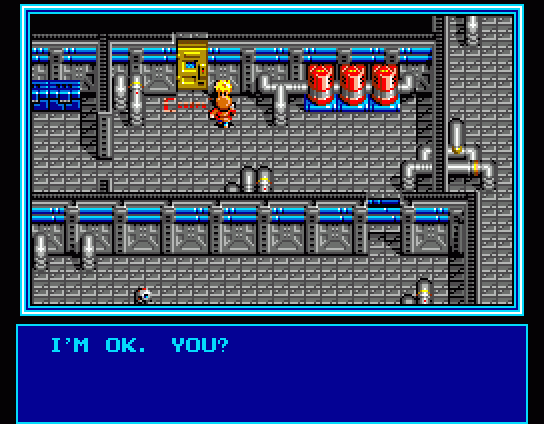 This is seriously the most appropriate conversation to have when you're in the enemy base.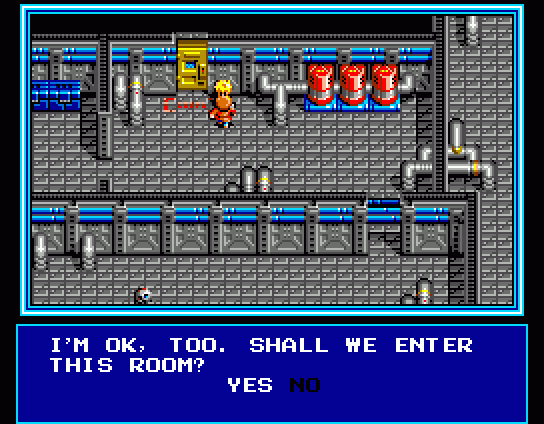 (Sigh.) You know what? No.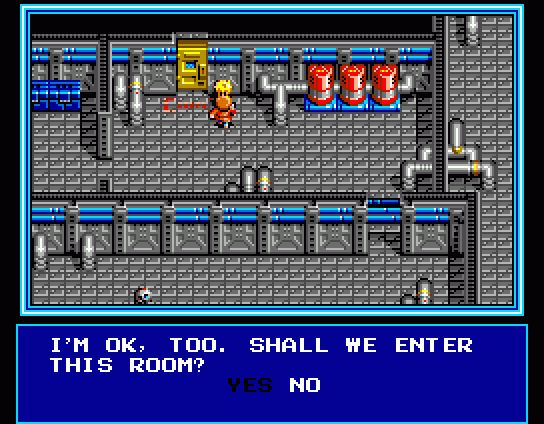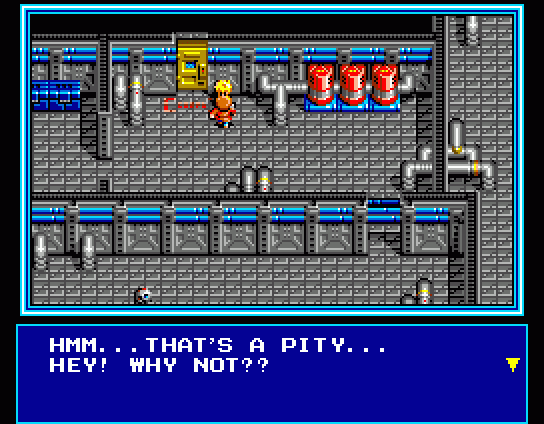 Here's why not.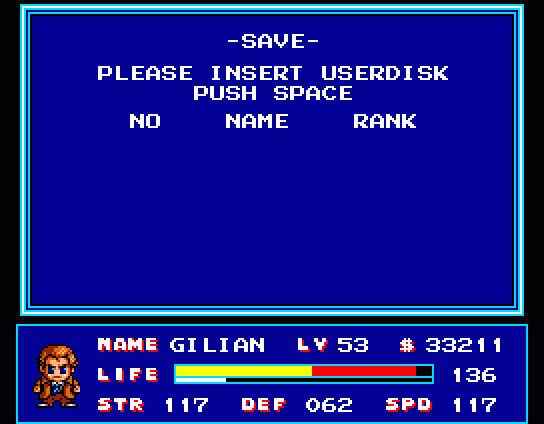 Okay, now let's go in.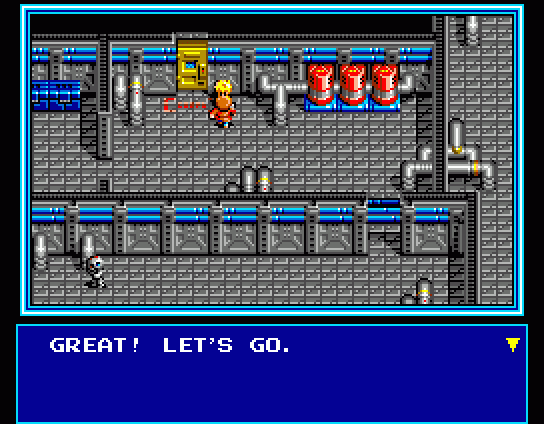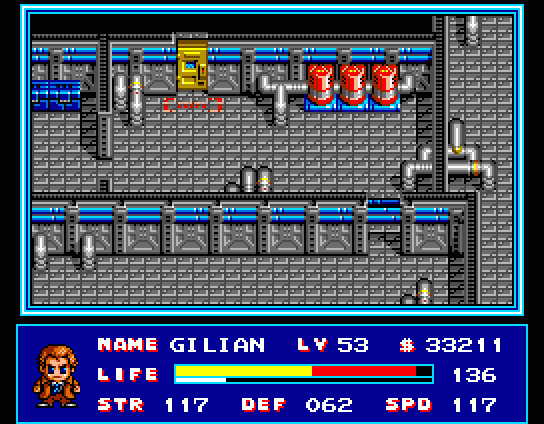 For the most part, the text has been really, really brief, so I've been doing all screenshot, but this scene is - in real time - about twenty-five minutes long, so I'll be doing some transcription.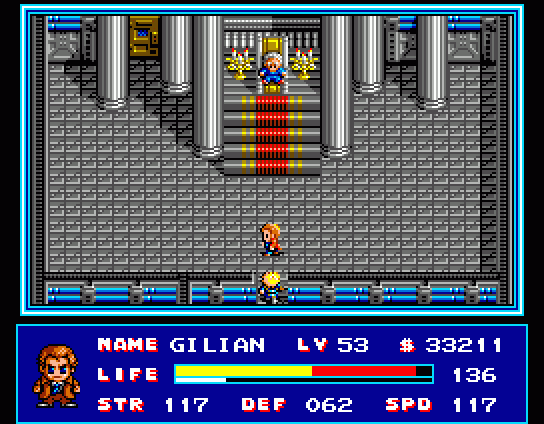 Snatcher fans can guess who this is.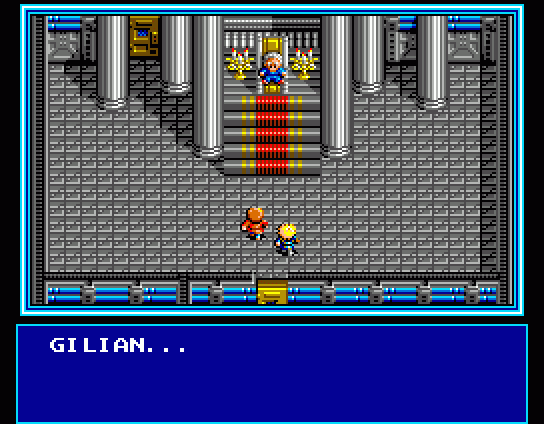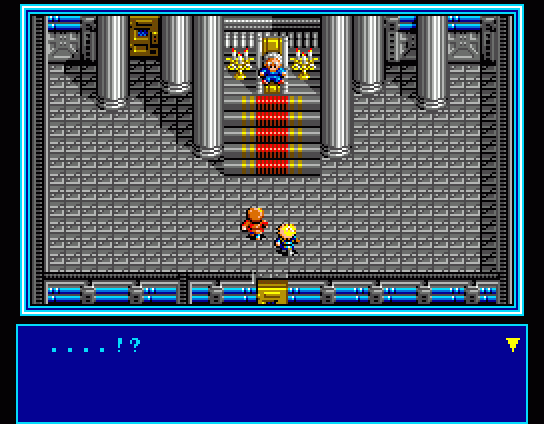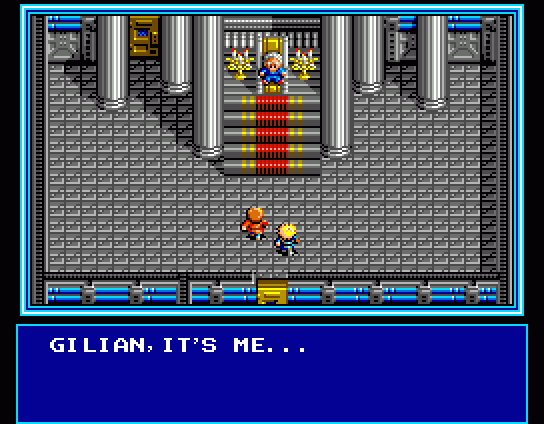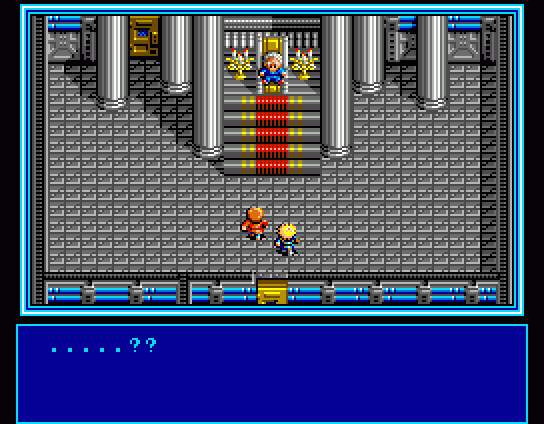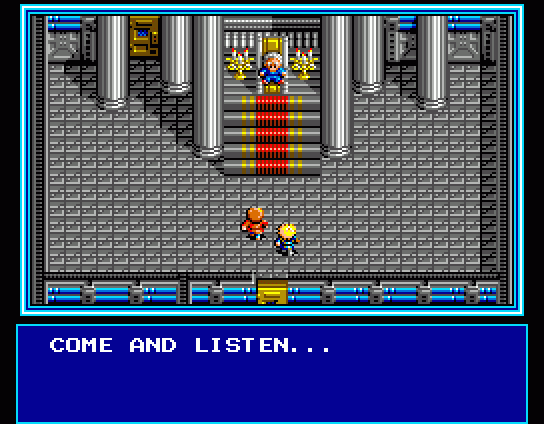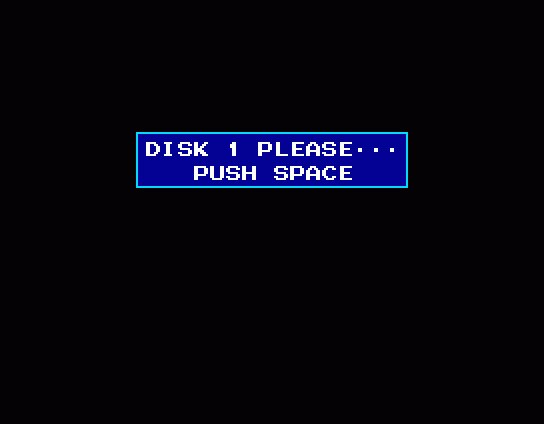 OH COME ON!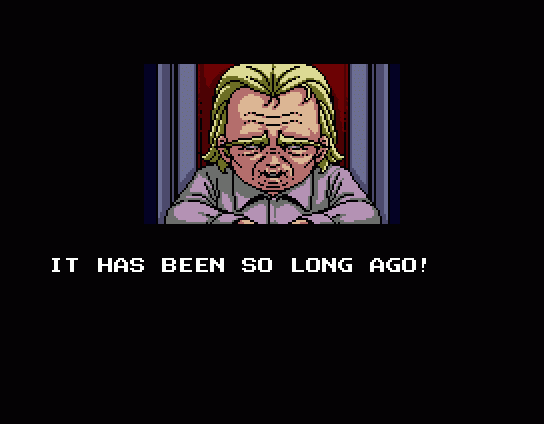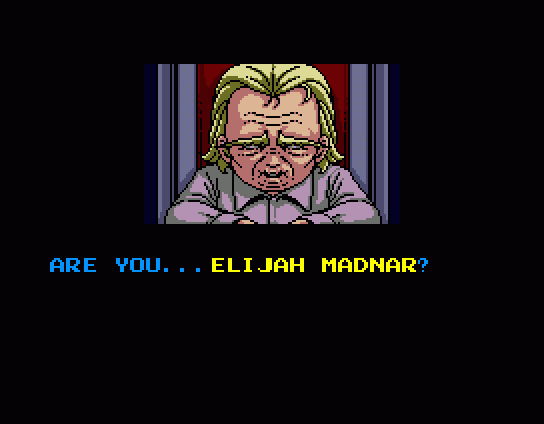 MADNAR: I AM. THOUGH I HAVEN'T HEARD THAT NAME FOR A LONG TIME,DR. SEED...
GILIAN: DOCTOR?
MADNAR: YOU DON'T KNOW?
GILIAN: I...NO...
MADNAR: I COULD HAVE EXPECTED THAT.. PERHAPS WHEN I TELL YOU ABOUT YOUR PAST, YOU WILL REMEMBER SOMETHING...
GILIAN: MY PAST...YES!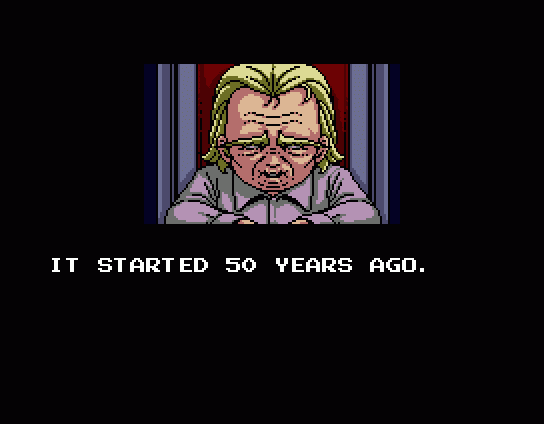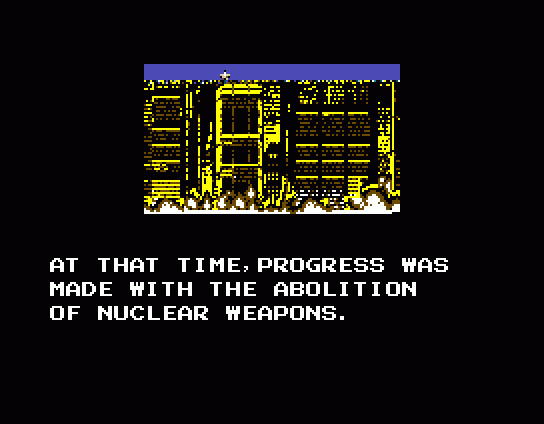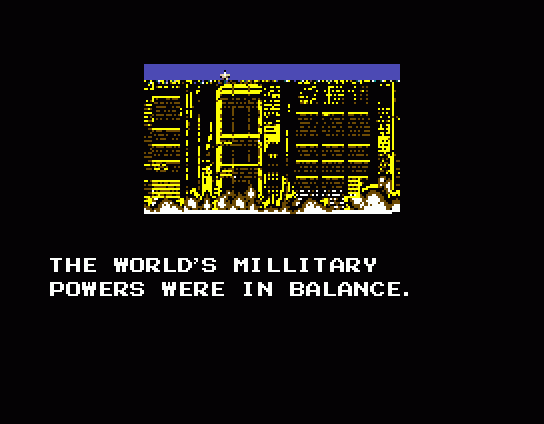 Kojima does this incorrect prediction that all the nuclear weapons would disappear in the aftermath of the Cold War elsewhere. It's why there's no military action against Zanzibar in Metal Gear 2: Solid Snake - Zanzibar is the only nation with nuclear weapons. The government has to send in Solid Snake.
MADNAR: THE WORLD'S ATMOSPHERE SEEMED PEACEFUL. BUT...THE KREMLIN WAS STILL RULED BY TYRANTS... THEY STILL WANTED TO RULE THE WORLD... BUT AT THAT TIME,THINGS WENT BAD FOR SOCIALISM AND COMMUNIST COUNTRIES... SO A DARK PLAN WAS MADE...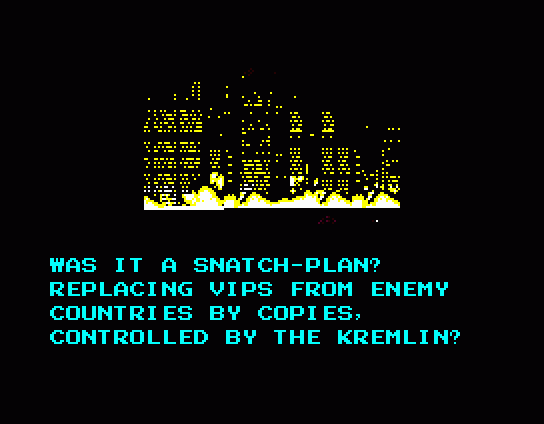 One thing of note, is that - I believe - Kojima is presuming that the Cold War is continuing on despite nuclear disarmament. Here, the Snatchers are meant as a substitute plan for nuclear weapons.
MADNAR: IT WAS,INDEED. TOP-SCIENTISTS WERE GATHERED TO DEVELOP A SNATCHER PROTOTYPE.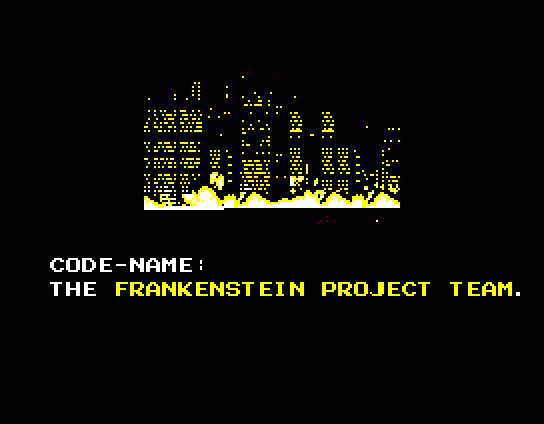 This is another one-off thing from the original. But yeah, in regular Snatcher, the team of researchers (the Modnars, Jamie, and Gillian) are working on what is codenamed The Frankenstein Project.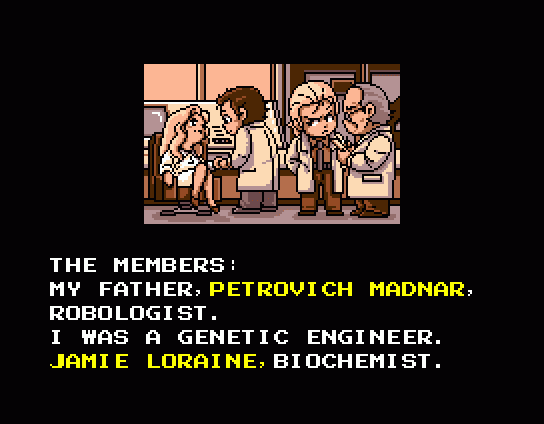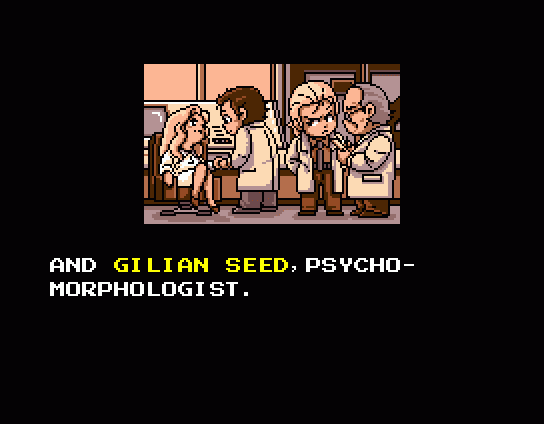 MADNAR: THE FIRST RESEARCHES (sic) TOOK PLACE IN THE ACADEMIC LAB IN NOWROSIBIRSK(sic),BUT LATER WE MOVED OVER TO THE KREMLIN.
GILIAN: KREMLIN? NOWROSIBIRSK? WHY THERE?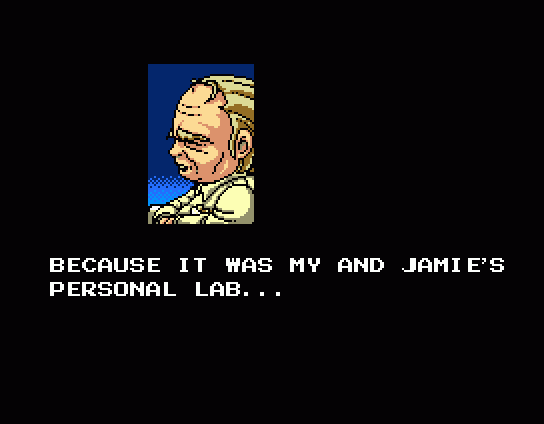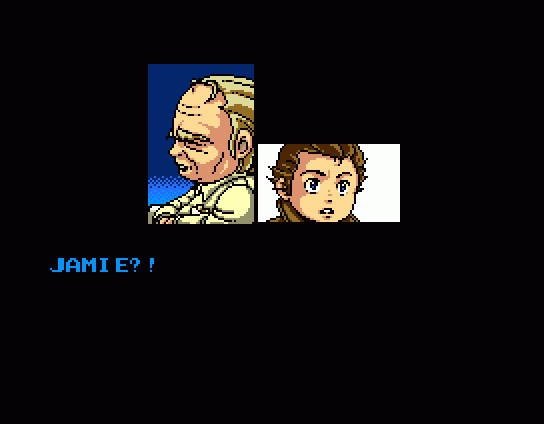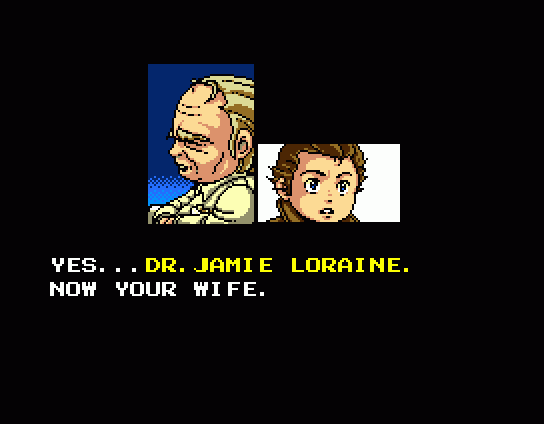 MADNAR: AS A STUDENT, I MET HER AT THE BIOCHEMISTRY ACADEMY. FROM THE FIRST MOMENT ON, I WAS ENCHANTED BY HER BEAUTY.. LATER,SHE BECAME MY FATHER'S ASSISTANT.IT ALL SEEMED SO PERFECT!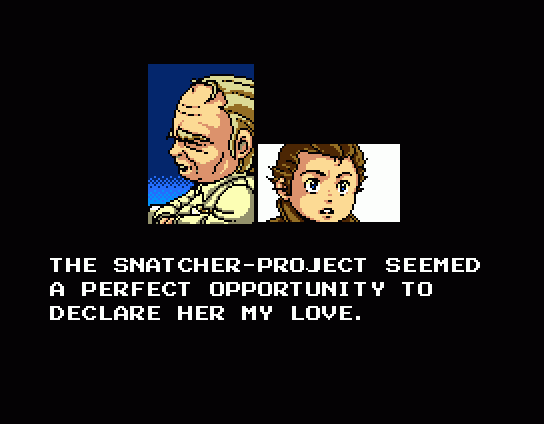 Pffft!!! Hahahahaha!
"I just finished installing the mouth blasters on this android in the underground base in the Kremlin. ...I was thinking, by the way, you ever go to that really cool Borscht place down the road? I mean, if you're, you know, not busy."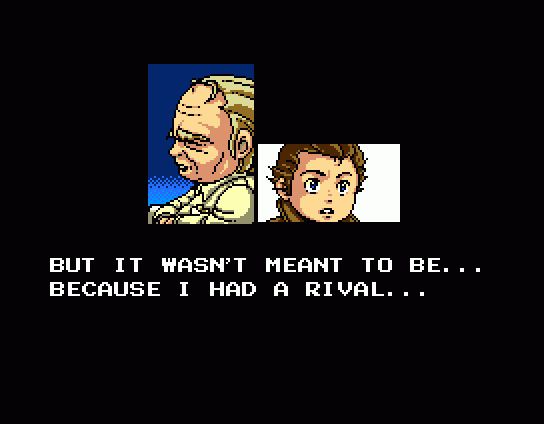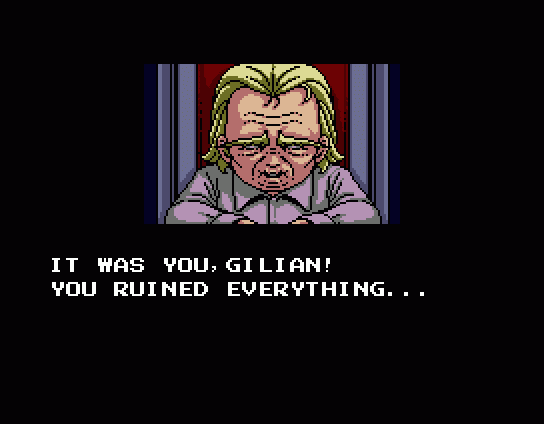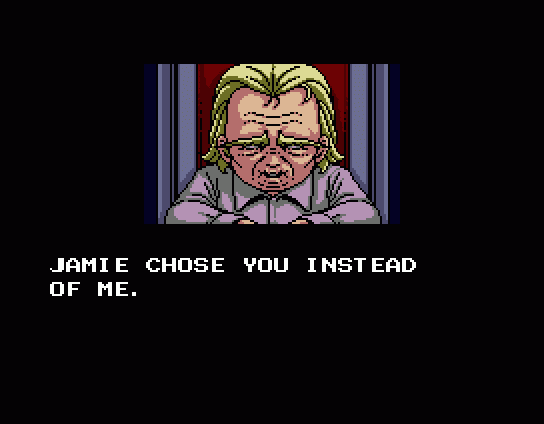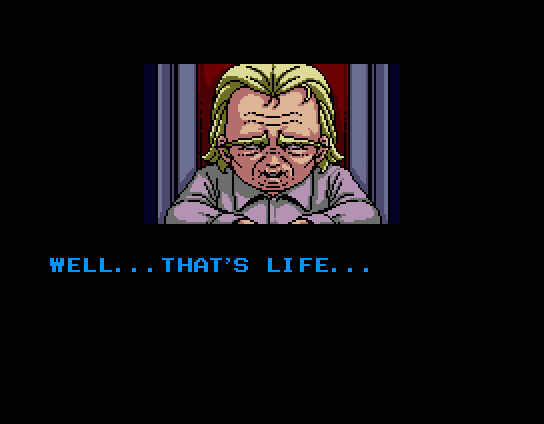 "Sucks to be you, pal!"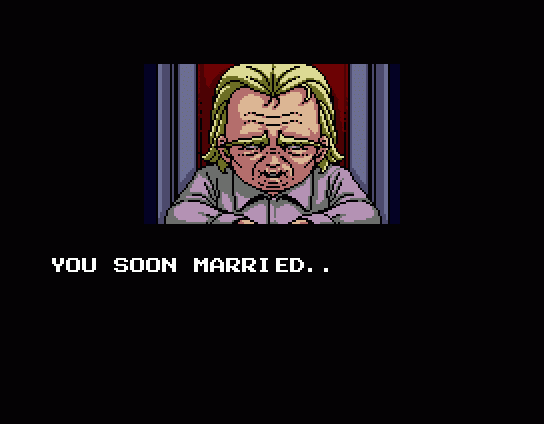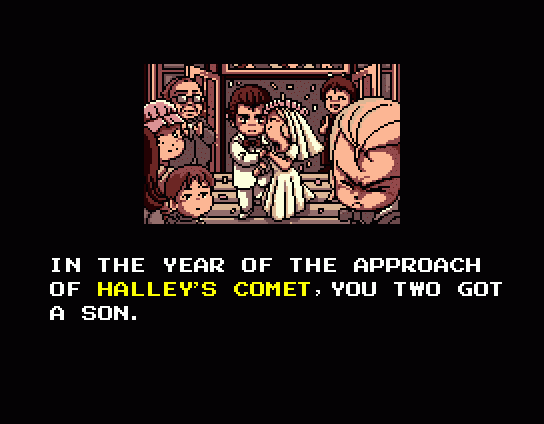 MADNAR: ALL THIS WAS VERY HARD TO ACCEPT FOR ME... A BROKEN HEART TAKES LONG TO HEAL. I DECIDED TO DEVOTE MYSELF TO MY WORK TO FORGET HER...
GILIAN: I HAVE A SON?!
MADNAR: THEN, AT JUNE 6,'91...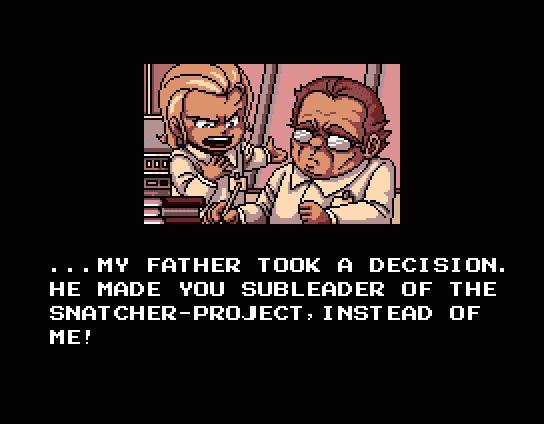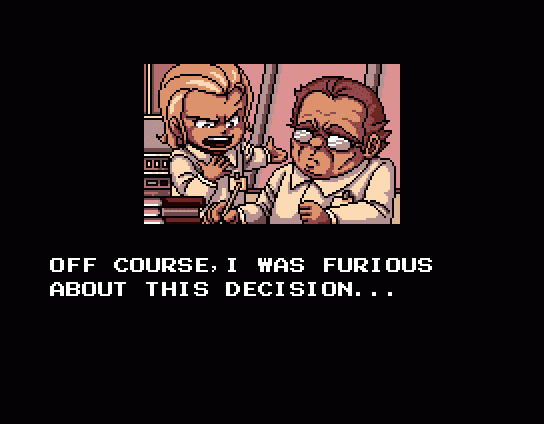 MADNAR: FIRST YOU TOOK AWAY MY LOVE, AND NOW MY WORK AND PRIDE! FROM THEN ON,I BEGAN TO HATE YOU AND MY FATHER... TO MAKE THINGS WORSE,MY MOTHER,WHO HAD ALWAYS HAD A FEEBLE HEALTH,DIED..
Mention of Modnar's mother is new to SD Snatcher.
MADNAR: MY FATHER,TOO BUSY WITH THE PROJECT,DIDN'T SEEM TO CARE MUCH... I HAD LOST TOO MUCH IN TOO LITTLE TIME... INSANITY GOT ME IN ITS GRIP...
GILIAN: .......
(Seven ellipses indicates a
really
thoughtful pause.)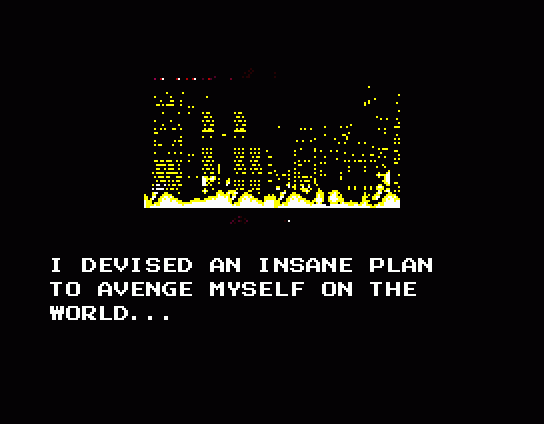 MADNAR: AT THAT TIME,THE BIOROID WAS FINISHED FOR 80% ONLY THE ARTIFICIAL SKIN WAS MISSING,WHICH WAS MY AND JAMIE'S DIVISION. KREMLIN URGED US TO HURRY... THEY WANTED A TEST..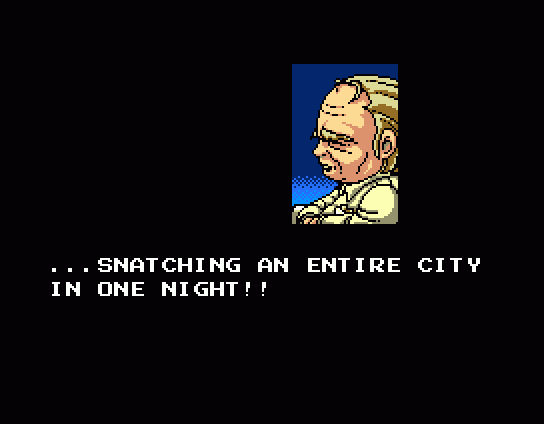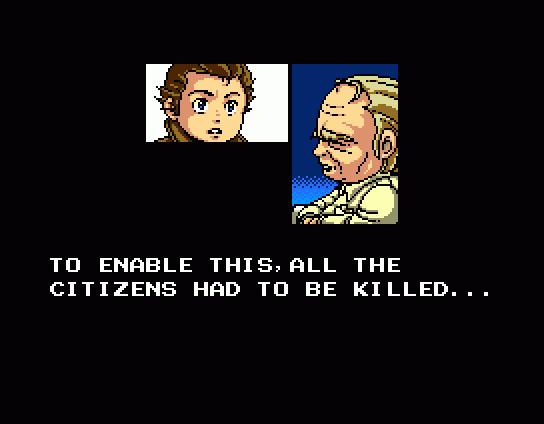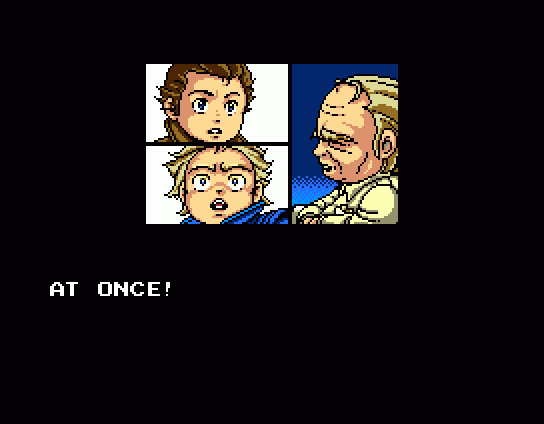 MADNAR: FOR THIS PURPOSE,A NEW BIO-WEAPON WAS DEVELOPED IN A PARALLEL-PROJECT.. IN CHERNORTON-LAB. THE RAO-11 VIRUS!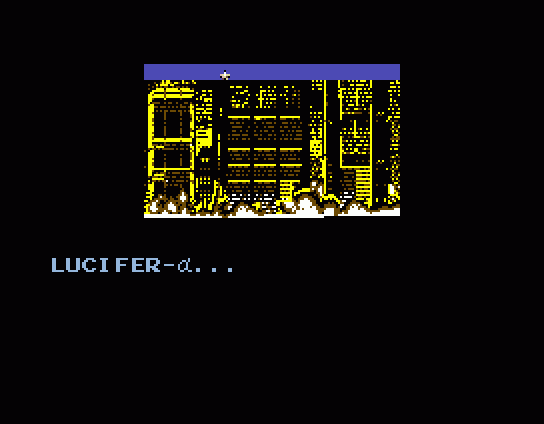 MADNAR: ONE OF MY ASSOCIATES IN THAT LAB HELPED ME CAUSING AN EXPLOSION WHICH RELEASED THE VIRUS. YOU KNOW THE RESULT. MY FATHER AND YOUR SON ESCAPED TO AMERICA...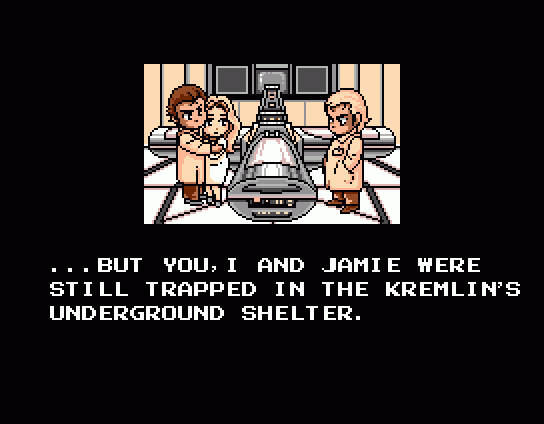 MADNAR: WE WENT INTO COLD SLEEP TO PROTECT OURSELVES. A SENSOR ROBOT WOULD WAKE US UP WHEN IT WAS SAFE...
METAL: OBJECTION!!!
No, really.
METAL: 10 YEARS LATER,THE LUCIFER HAD VANISHED COMPLETELY. BUT THE COLD SLEEP'S AUTO-SYSTEM REMAINED INOPERATIVE. 40 YEARS LATER,GILIAN AND JAMIE WERE INCIDENTIALLY (sic) FOUND BY THE 15TH SIBERIA INSPECTION TEAM. BUT YOUR POD WAS EMPTY. 50 YEARS OF COLD SLEEP HAD TAKEN AWAY GILIAN'S AND JAMIE'S MEMORY. BUT YOU..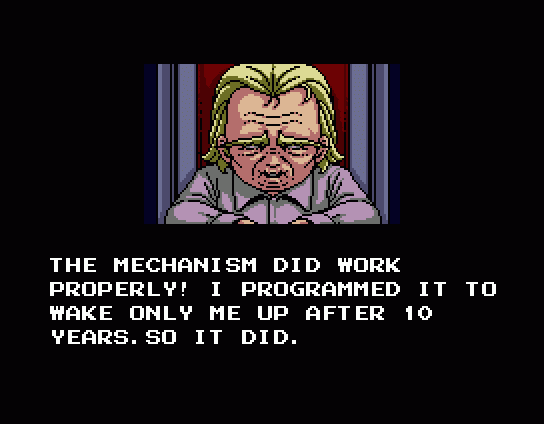 MADNAR: IT WAS MY PLAN TO FINISH THE SNATCHER TOGETHER WITH JAMIE. GILIAN WOULD REAMIN FROZEN FOREVER. I SABOTAGED HIS TIMER...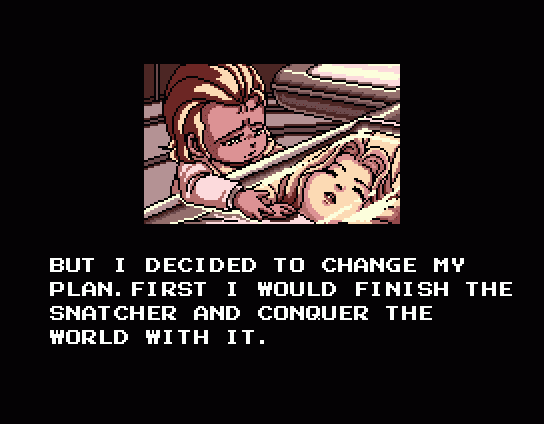 MADNAR: THEN I COULD WAKE UP JAMIE. IT TOOK ME 40 YEARS TO FINISH THE ARTIFICIAL SKIN-DESIGN...DAY AFTER DAY I WORKED.
GILIAN: 40 YEARS...
MADNAR: FINALLY,I COMPLETED MY RESEARCHES... BEFORE WAKING UP JAMIE, I HAD TO TEST MY CREATIONS FIRST... ...IN NEO KOBE CITY. IT WAS THE PERFECT PLACE FOR A TESTCASE(sic),INHABITED WITH PEOPLE OF ALL RACES... BUT THEN...
GILIAN: I AND JAMIE WERE FOUND?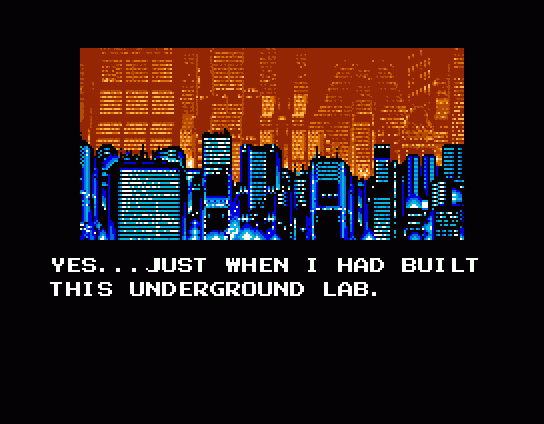 That's some pretty shitty timing.
MADNAR: I HADN'T COUNTED ON THAT. BUT THAT WAS ONLY ONE OF MY PROBLEMS.. BY THE ACTIONS OF MY SNATCHERS,A BIOROID-PANIC BROKE OUT,IN WHICH MANY PEOPLE GOT KILED... IT WAS THE FAULT OF THE HUMAN DOUBT AND SUSPICION...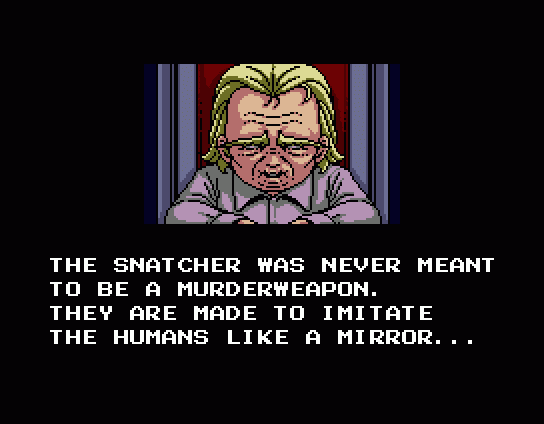 ...Bullshit! The whole point is you have to kill the original so you can take their place! Oh, whatever. I guess I get the point.
MADNAR: ...PHYSICALLY...BUT ALSO MENTALLY! AND,UNFORTUNATELY,THEY WORKED A LITTLE BIT TOO WELL. THEY GOT INFECTED BY THE BACTERIA OF THE HUMAN MIND, WHICH HAD ALSO CAUSED THE BIOROID-PANIC. SUSPICION AND DOUBT! I HADN'T EXPECTED THIS TO HAPPEN...THEY BECAME MORE AND MORE HOSTILE...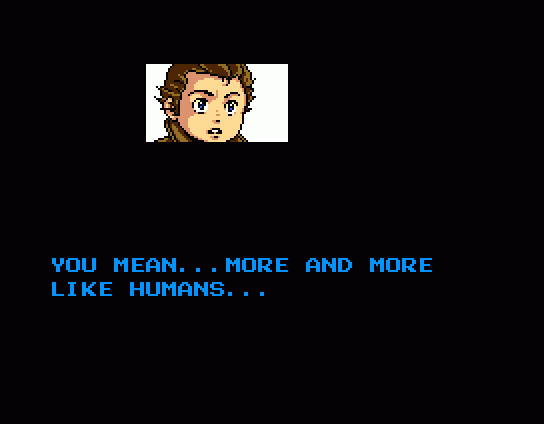 MADNAR: EVERY DAY,THEY WERE HARDER TO CONTROL... UNTIL THEY TURNED AGAINST ME,AND LOCKED ME UP HERE. ...ALONE WITH MY OWN DOUBTS AND SENSE OF GUILT...
GILIAN: BUT WHAT DO THEY WANT?
MADNAR: THAT'S NOT HARD TO GUESS... THEY WANT TO EXPEL ALL DOUBT FROM THE WORLD... THE ONLY WAY TO DO THAT IS DESTROYING THE SOURCE.. THAT MEANS...MANKIND!
I really, really hope he means the wrestler.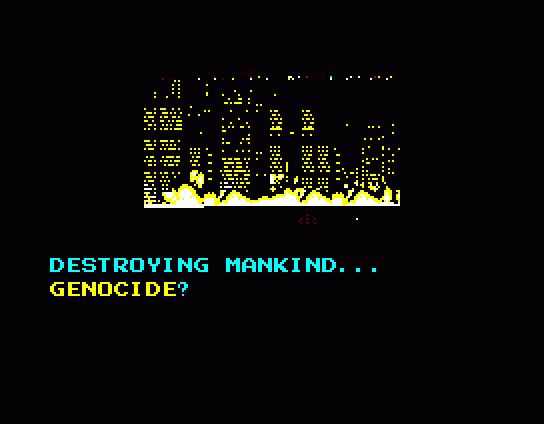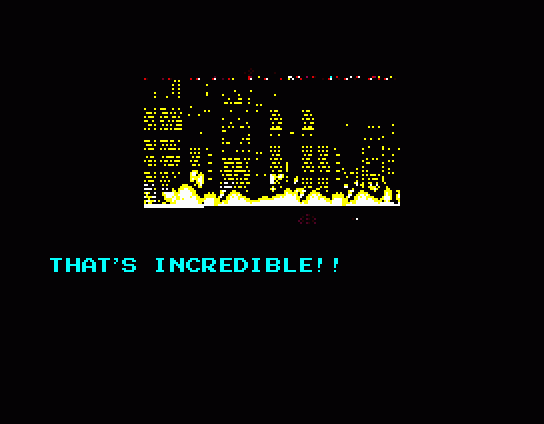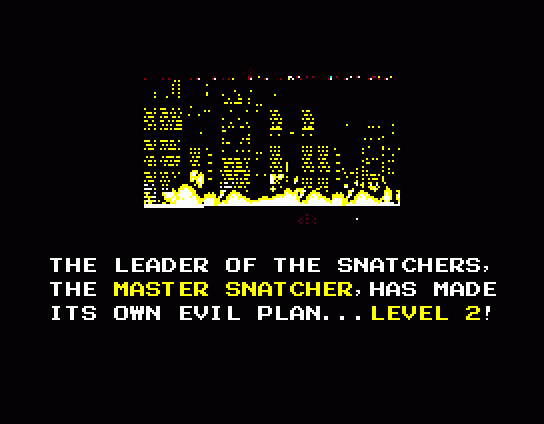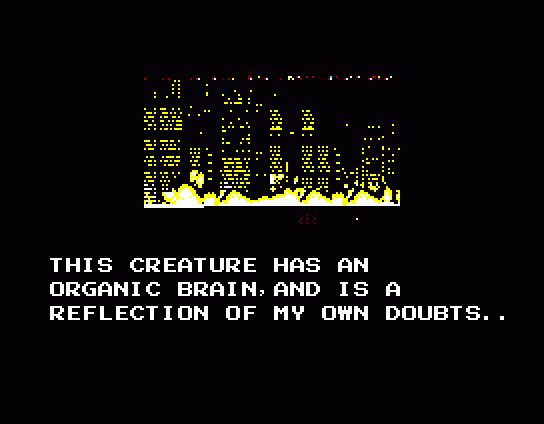 MADNAR: IT WANTS TO DEVELOP A NEW, UV-RESISTANT SKIN.. THEN THEY WILL BE ABLE TO TAKE OUR PLACE,WHEN THEY HAVE WIPED OUT ALL HUMANS ON THIS PLANET!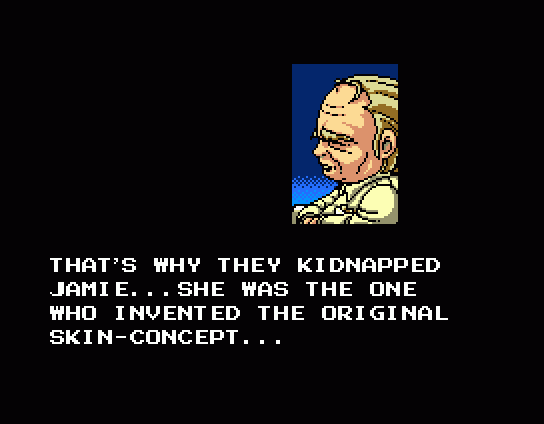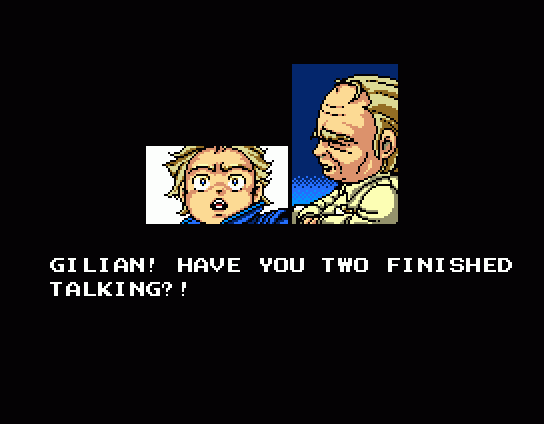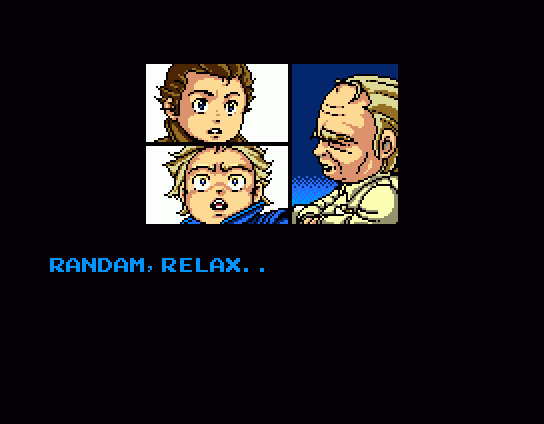 RANDAM: LET'S LEAVE THIS OLD FOOL!!
MADNAR: AND WHO MIGHT YOU BE?!
RANDAM: I'M RANDAM HAJILE, PETROVICH MADNAR'S SON...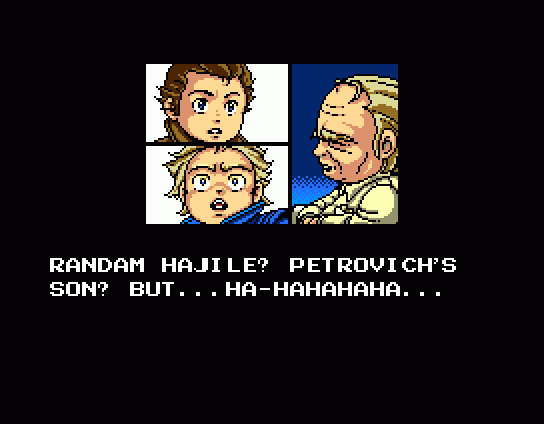 RANDAM: WHAT'S WRONG?
MADNAR: HAHAHAHA...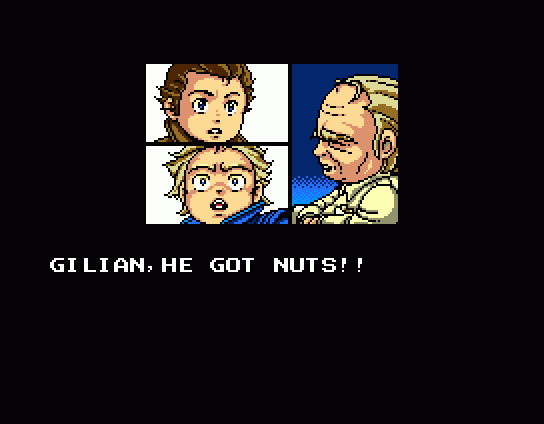 MADNAR: NO,NO...HAHAHA...
GILIAN: WHAT'S SO FUNNY?
MADNAR: GILIAN, HE'S A BIOROID, MADE BY MY FATHER!!
GILIAN: WHAT?!
RANDAM: YOU'RE INSANE!I'M HUMAN!!
MADNAR: GILIAN,LOOK AT HIS ARM!
His arm?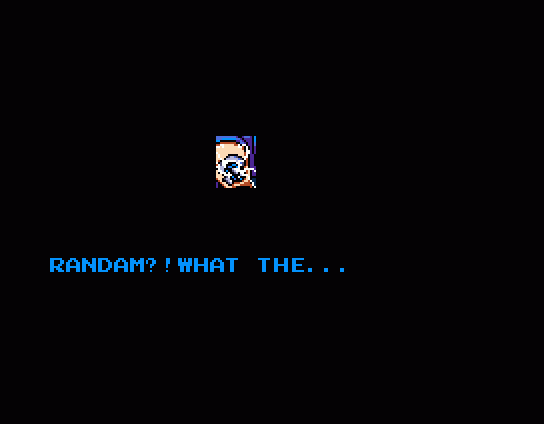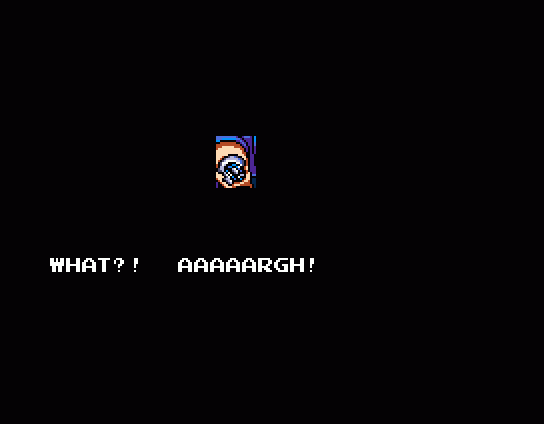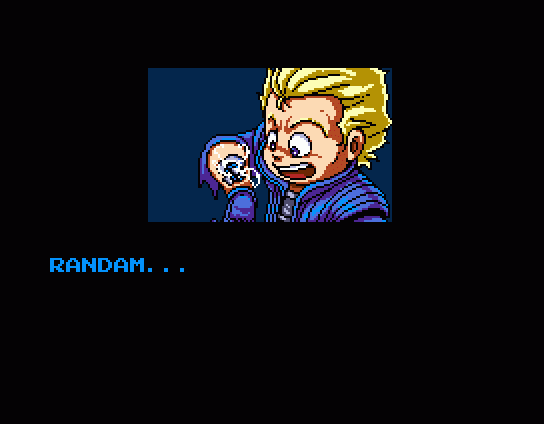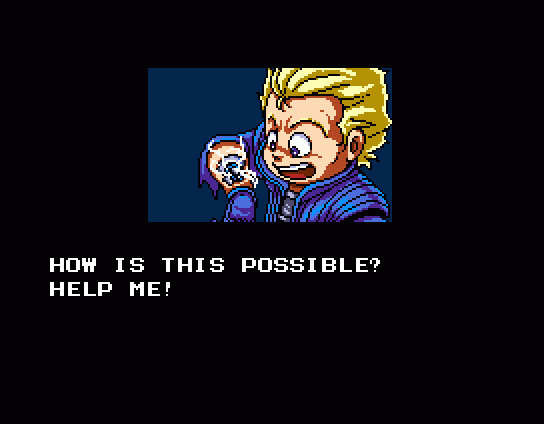 Uh oh. Randam's freaking out here. In yet another deviation, we get to see Randam's revelation that oops! He's a bioroid.
RANDAM: THIS IS A BAD DREAM!! WHY DIDN'T I KNOW?! I AM HUMAN,I MUST BE!
GILIAN: RANDAM,CALM DOWN...
RANDAM: MY MEMORY...ALL LIES!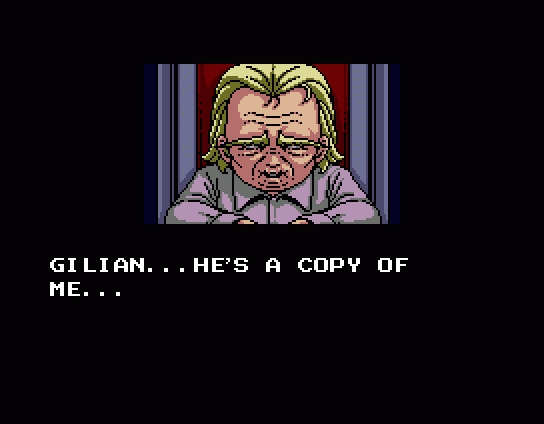 MADNAR: HIS MEMORY HAS BEEN PROGRAMMED IN SUCH A WAY THAT HE WOULDN'T KNOW HIS REAL IDENTITY. BUT.... THE NAME PROVES IT... RANDAM HAJILE,IS ELIJAH MADNAR,READ BACKWARDS!!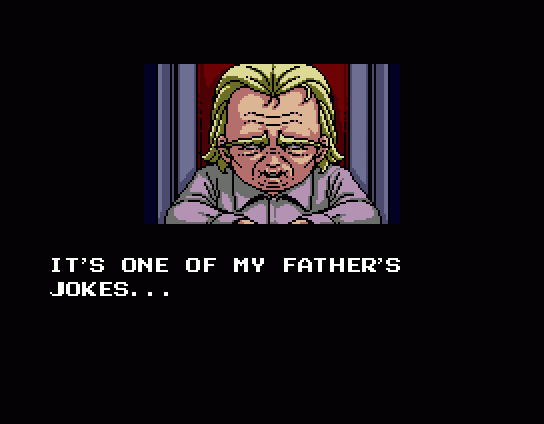 Admittedly, it is a pretty good one.
MADNAR: IT WAS MY FATHER'S PLAN TO MAKE A BIOROID TO COMBAT SNATCHERS.. FATHER... HE IS SO BRILLIANT... IT TOOK ME 40 YEARS TO CREATE A DEFECTIVE ARTIFICIAL SKIN... HE MADE A COMPLETE,PERFECT HUMANOID ROBOT! HE EXPECTED SO MUCH OF ME...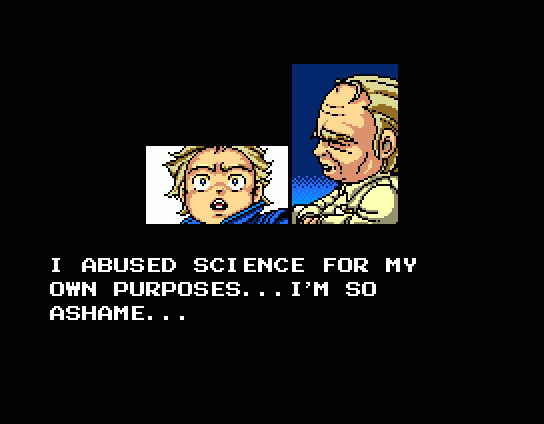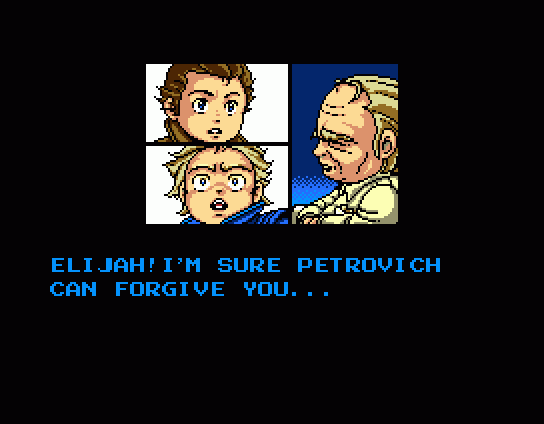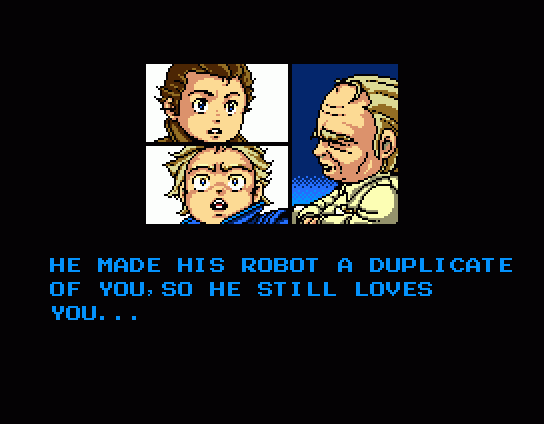 Gilian, don't comfort the guy who killed off half the fucking world. "Don't worry, Adolf. I think you're still a good artist!"
MADNAR: I HOPE YOU'RE RIGHT... RANDAM...PHYSICALLY WE ARE IDENTICAL,BUT I HOPE FATHER DIDN'T COPY MY MIND... ...SO THAT YOU WON'T MAKE THE SAME MISTAKES I DID... IT IS MY FATHER'S WISH THAT I WILL LIVE ON IN RANDAM HAJILE... RANDAM,MAKE SURE MY FATHER CAN BE PROUD OF YOU... HE OUTLIVED ME AFTER ALL...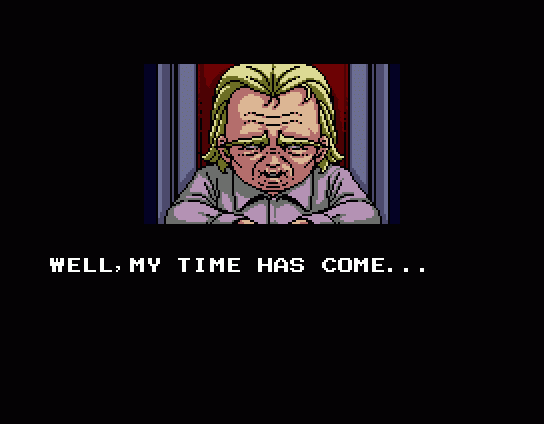 Haha, I love how video game charactes can do this willfully. "That's my story. Welp, time to die!"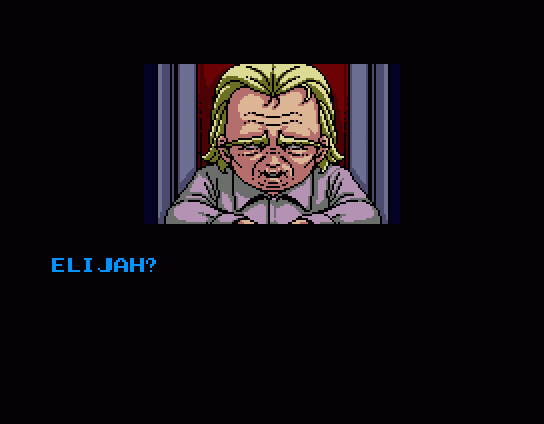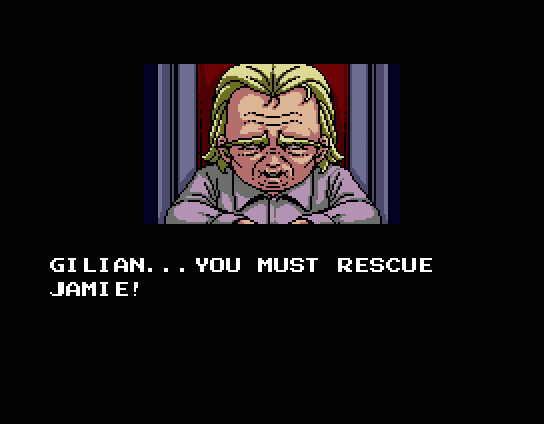 MADNAR: THE MASTER-SNATCHER IMPRISONED HER IN THE ARTIFICIAL SKIN LAB..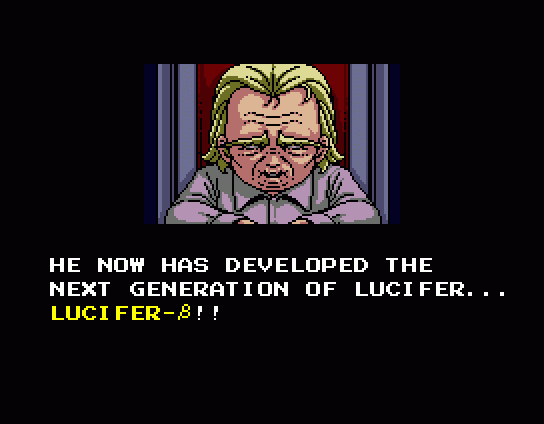 (I included that screencap because I'm not sure how to write "beta".)
MADNAR: IT CAN WIPE OUT THE ENTIRE WORLD.. THE ONLY EXISTING ANTIDOTE IS L-ANGEL.. YOU WILL FIND IT IN THE BIO-LAB IT'S YOUR ONLY HOPE!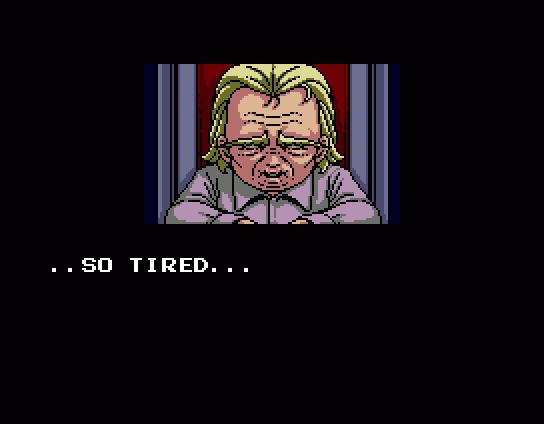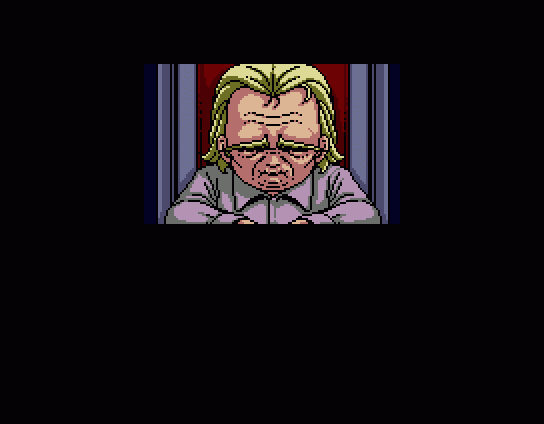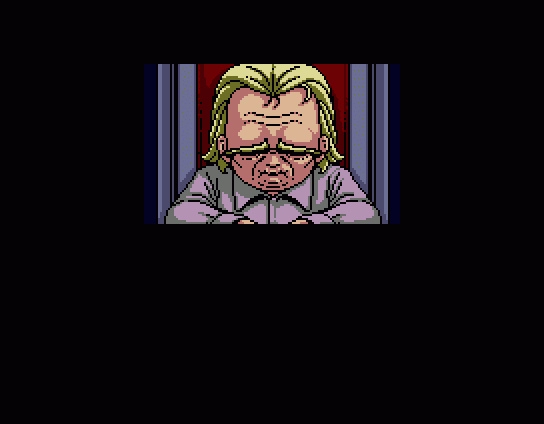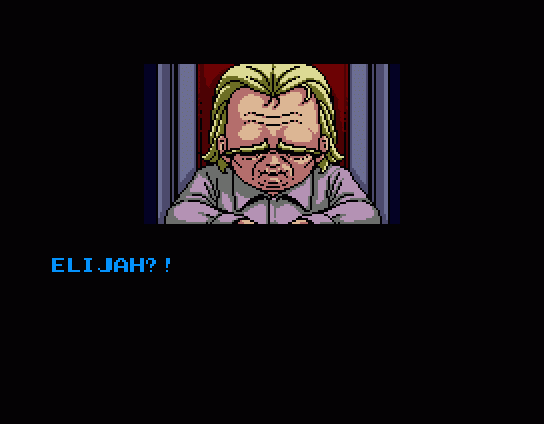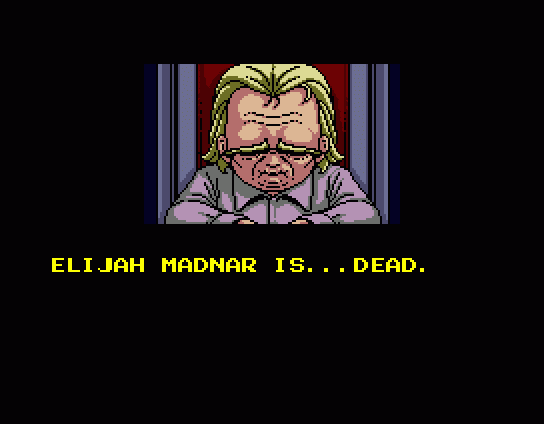 GILLIAN: ......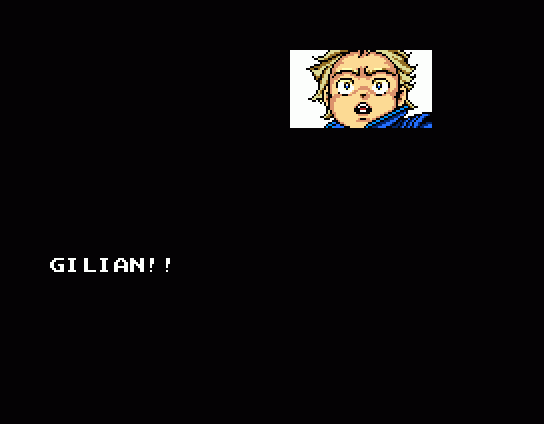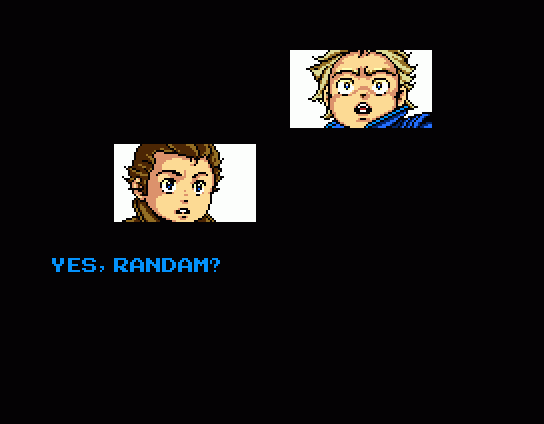 RANDAM: I'M A ROBOT... ALL MY LIFE I'VE HUNTED THEM,AND NOW...
GILIAN: LATER,RANDAM! WE DON'T HAVE THE TIME OR WEAPONS TO DESTROY EVERY SNATCHER HERE. YOU GO TO KSDF,AND TELL THEM TO PREPARE TO NUKE THIS BASE DOWN. I'LL RESCUE JAMIE!
RANDAM: ERR...ALLRIGHT!
GILIAN: OKAY, LET'S GO!!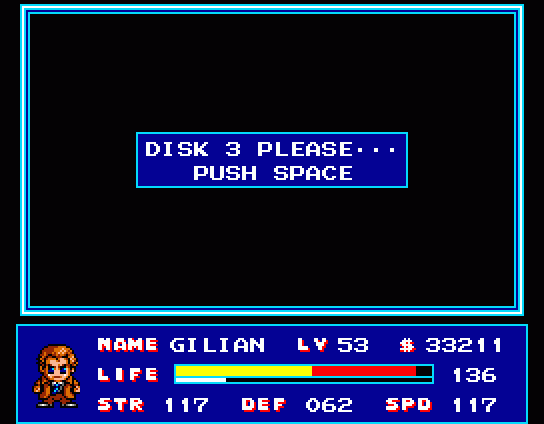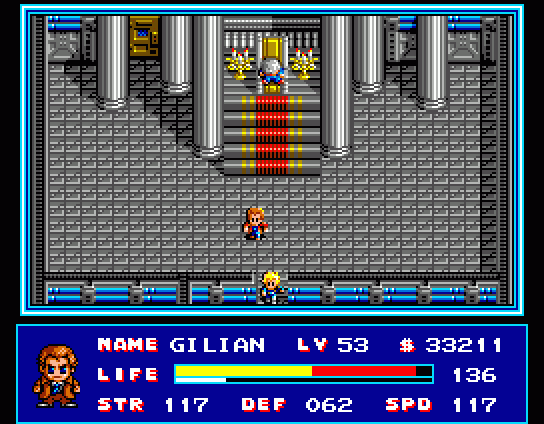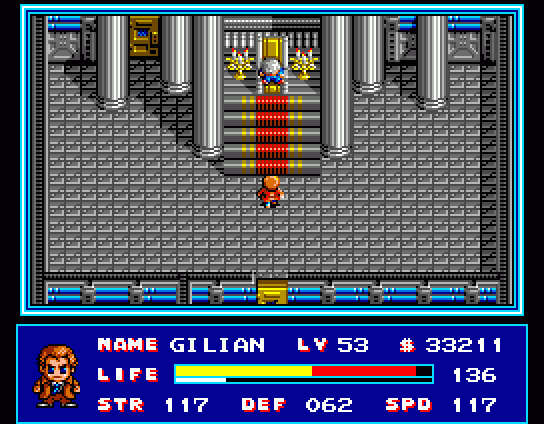 Version Differences
- In a character swap, Kojima has Randam be the one to leave and tell KSDF to nuke the base. As opposed to Metal leaving to contact the Kyoto Summit.
- It's never really covered how Random feels about finding out he's a robot in the original. His only line regarding any sort of remores or shock about it:
Random: Gillian... even if these memories in my head are fiction...
Gillian: I know what you mean. Our memories of our time together are all too real, Random.
- This is pretty large: The final villain of Snatcher is, essentially, Elijah Madnar, who wants to take over the world because he believes his Snatchers to be the next dominant "species" of the planet. In both games, the bioroid panic causes the Witch Hunts - only in SD Snatcher, the snatchers gain humanity's suspicious nature and decide to eradicate humans because of that. They develop Lucifer Beta and under the leadership of the Master-Snatcher, seek to wipe out humans. Modnar is now their prisoner.
- Elijah, despite killing off half the world's population, is portrayed as not such a bad guy after all. Despite trying to kill him and steal his wife, Gilian is pretty chummy towards him at the end there.
- In this version, Randam Hajile is incapable of noticing a large, sparking wound in his arm.