Part 14: Update XIV - Once More Unto The Breach
Update XIV - Once More Unto The Breach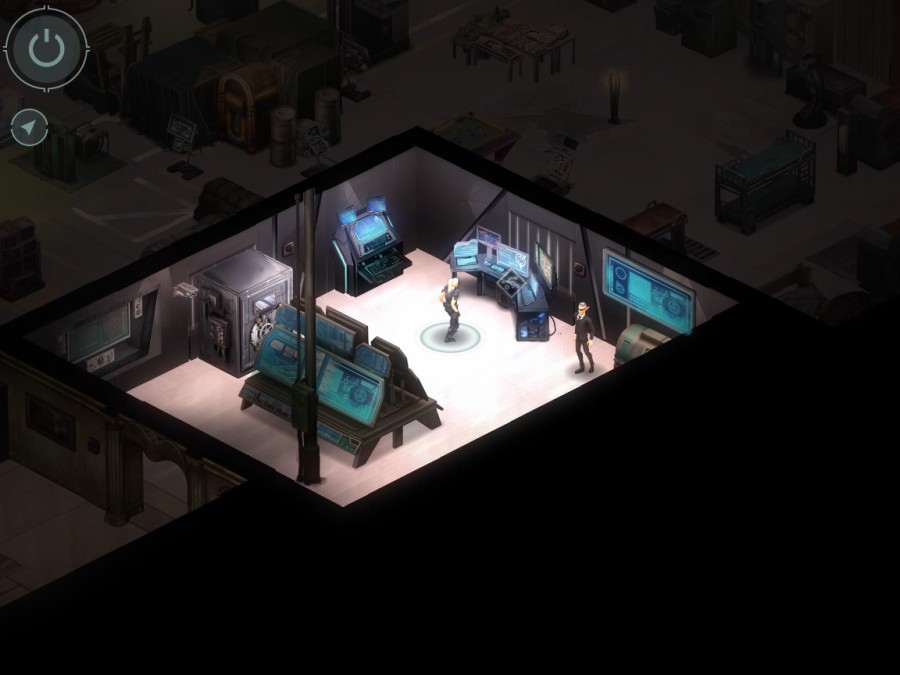 Alright, let's roll. We have one more mission to go, and the implication of it is that we have no real chance to win and can just hope to not die too quickly. But first, let's stock up in accordance with the thread's wishes.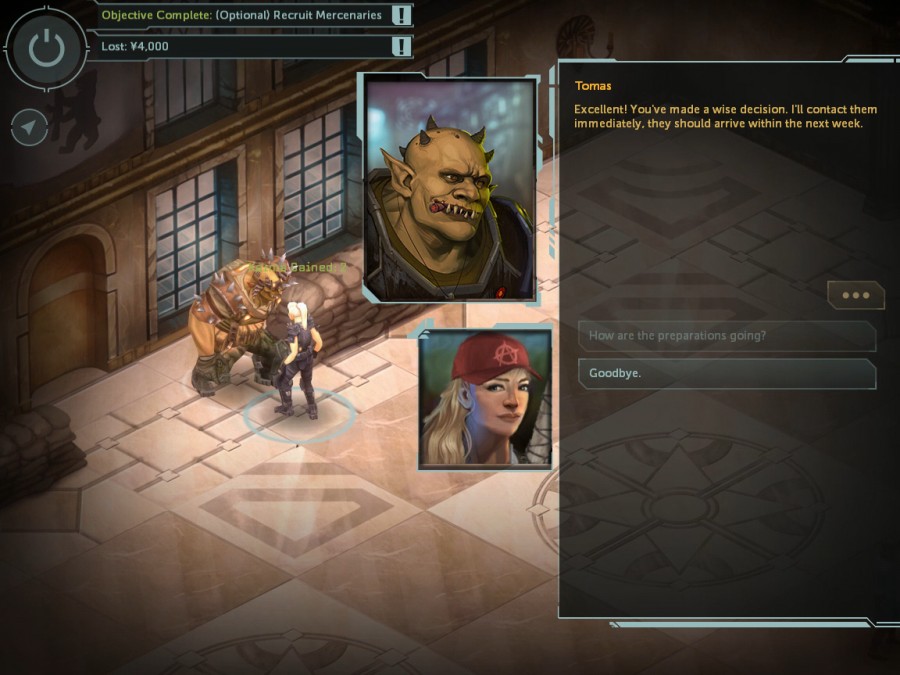 First, we pay Tomas for the mercenaries. I have no idea what this does, and I have already finished the mission. But I'm sure it helps.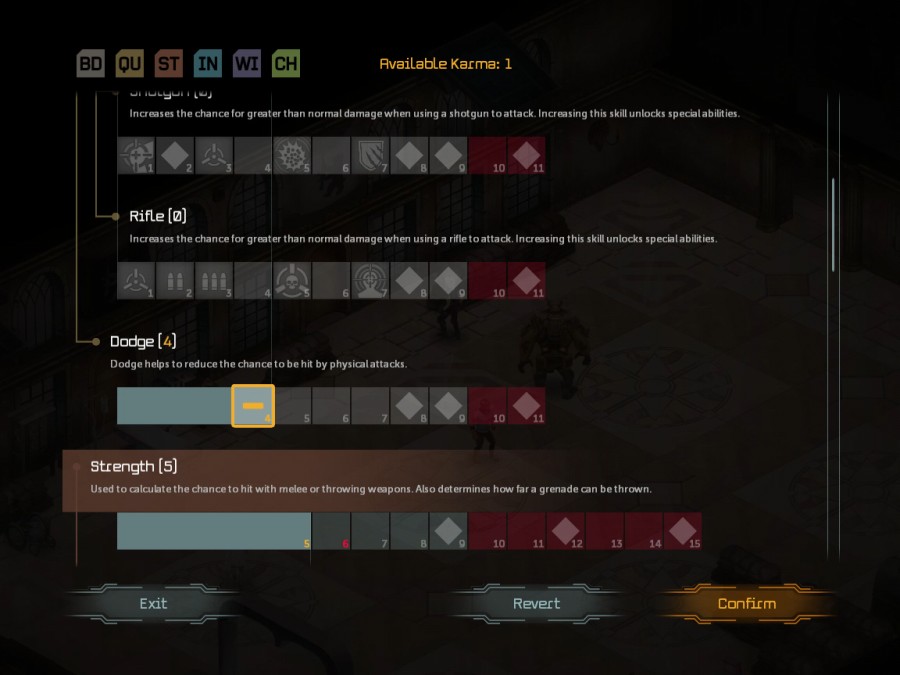 We get some additional Karma for doing that, so we can pick up another point in Dodge.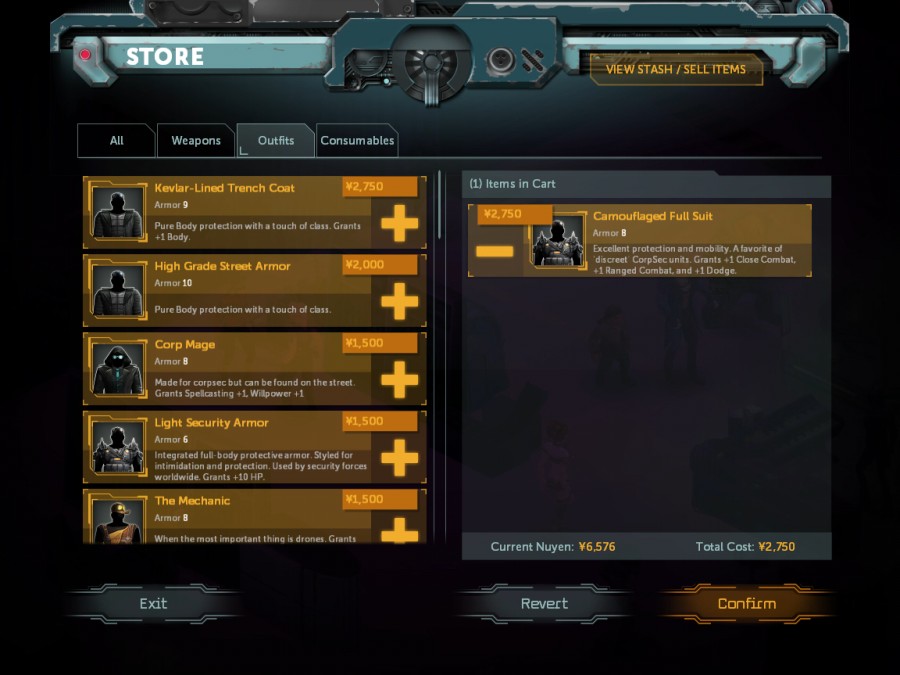 We get the combat armor which maxes out our Armor (with the +2 from the cyberware we already have) and gives us some combat stat boosts.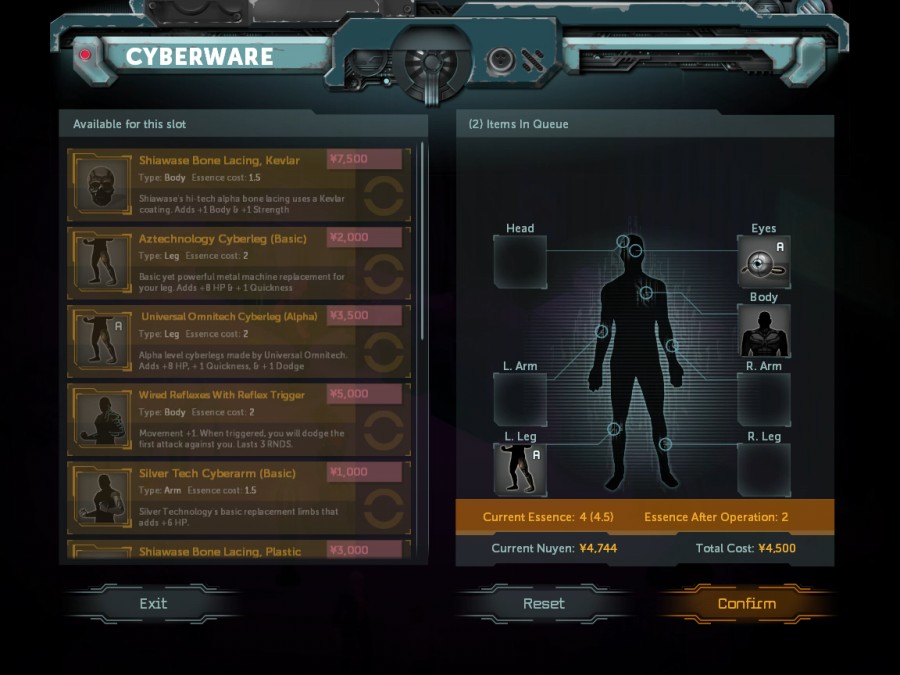 We then get an alphaware cyberleg, and we have just enough cash left over to get the alphaware cybereye as well.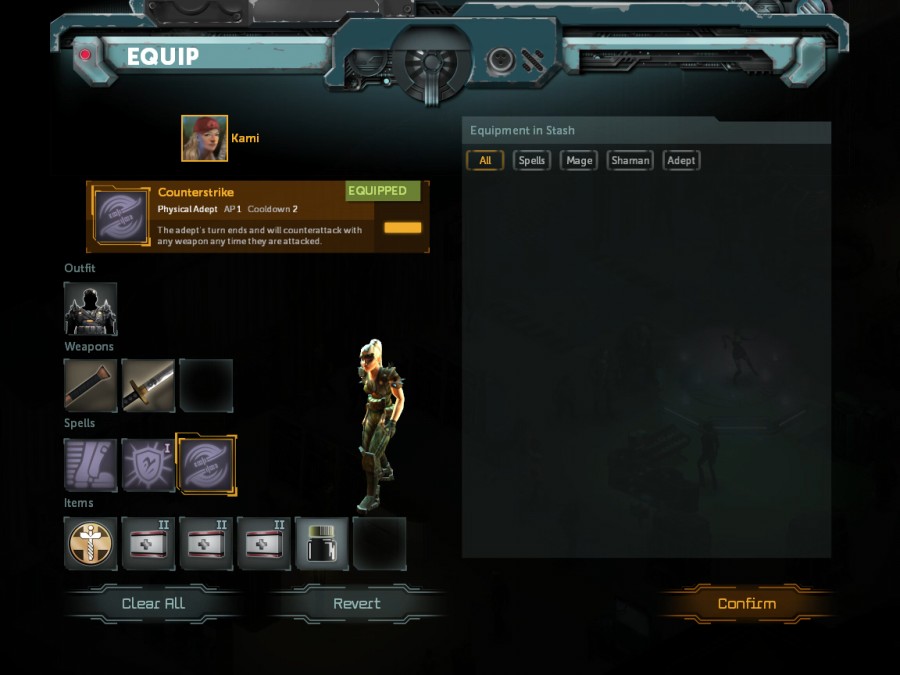 And our Essence loss leaves us at exactly enough spell slots.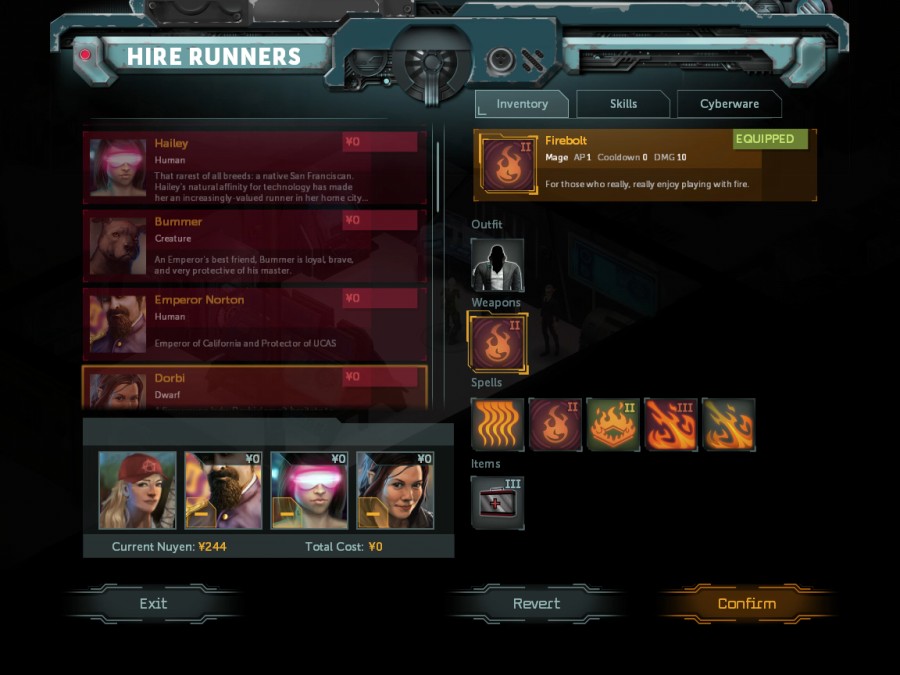 And as the thread decided, Elorn ends up the odd man out for this run.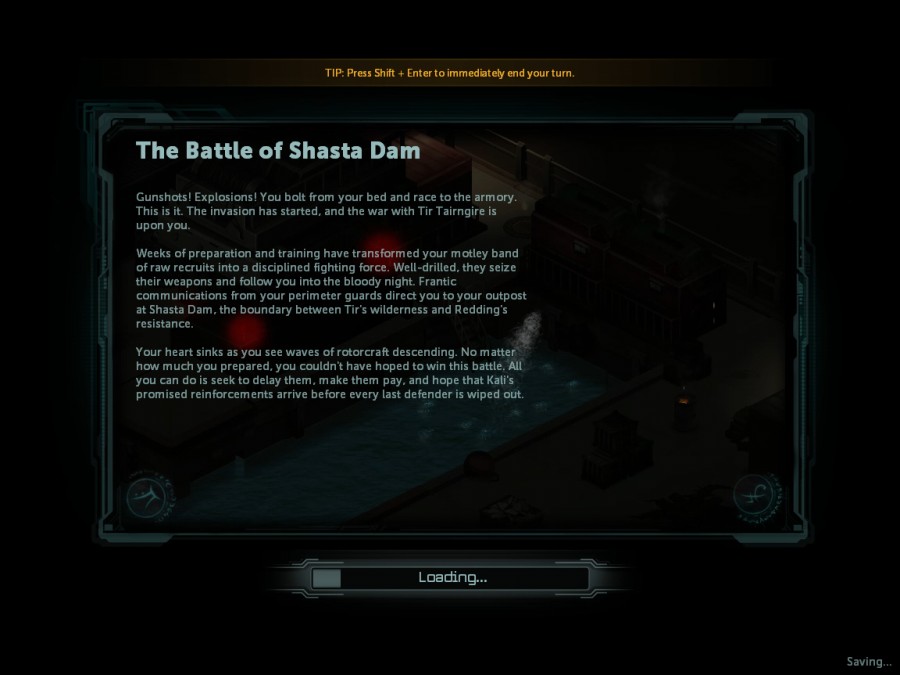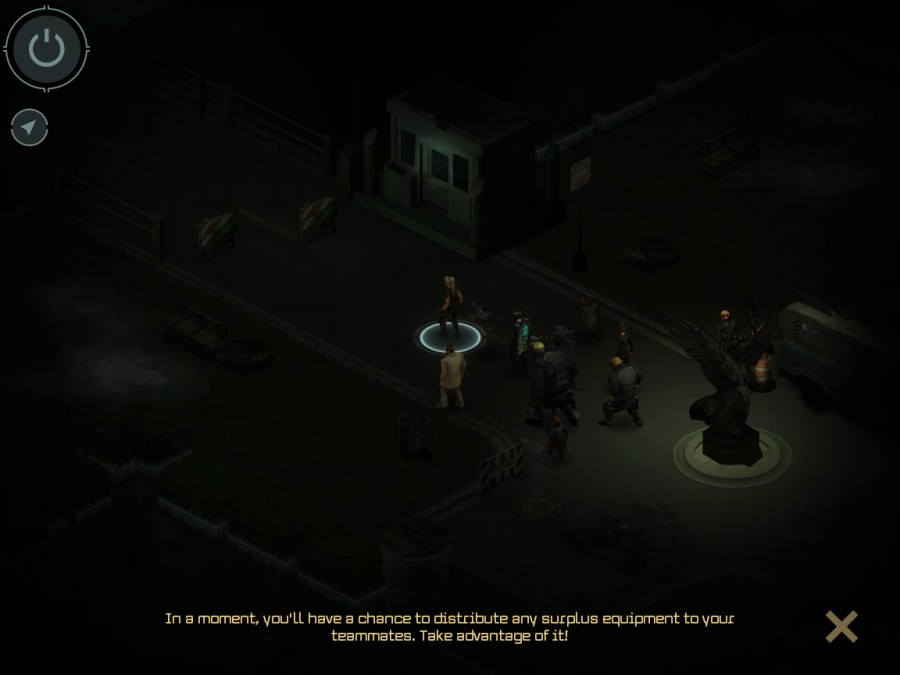 Here we go!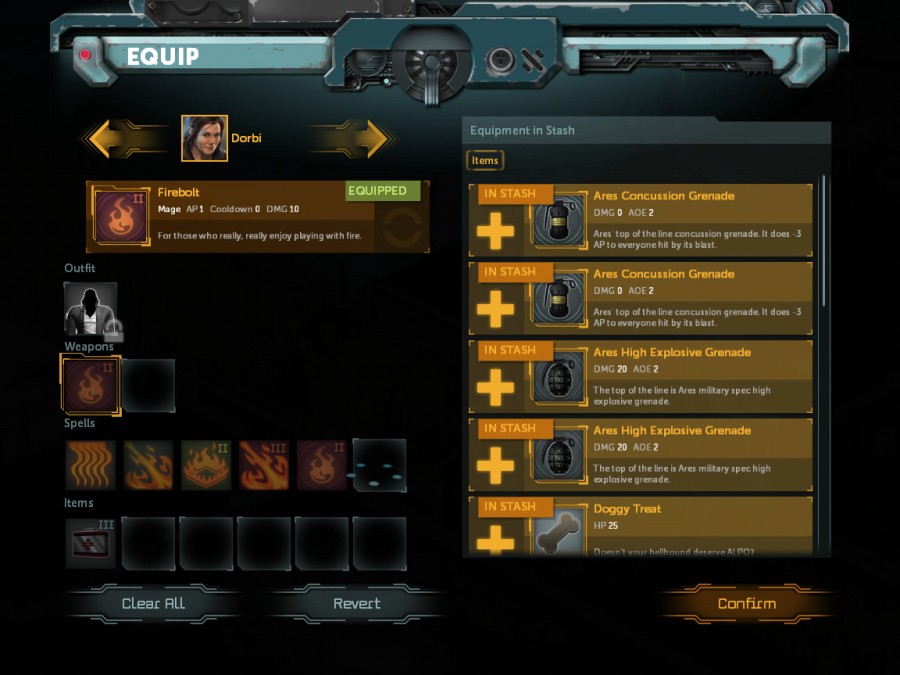 So, first, we get a whole bunch of gear, like I said at the end of the last update. We spread most of it out amongst the party, leaving mostly the dog treats and some grenades.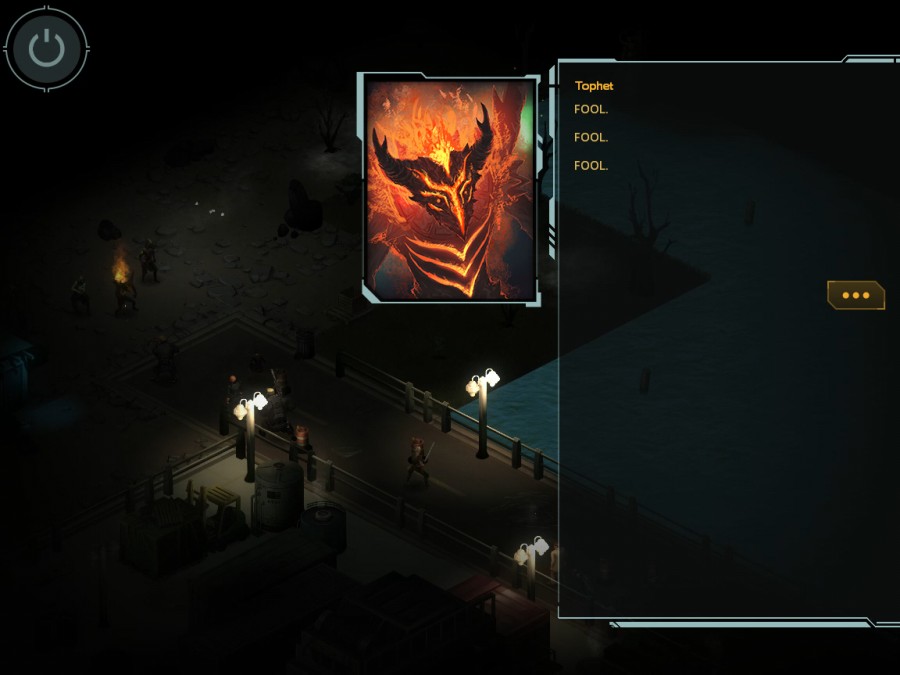 YOU PLAY WITH FIRE, AND INVOKE MY WRATH. YOUR TIME IS ENDED.

Why is a freed spirit working with the elves?

HE PROMISED ME VENGEANCE. YOU TOOK WHAT WAS MINE. I WILL DESTROY YOU, AND ALL YOU HAVE WORKED SO HARD TO CREATE.

What do you hope will happen after you win?

MY SITE OF POWER HAS BEEN STOLEN, BUT OTHERS REMAIN. I WILL FIND A NEW CENTER TO CONTROL. I WILL WAX IN POWER, AND ONE DAY I SHALL RAIN MY FLAMES DOWN UPON ALL MORTALS.

Your reign of terror ends here.

MY PATRON IS NEAR, AND MY POWER IS LIMITLESS. YOU ARE DOOMED. DOOMED. DOOMED. YOU WILL DIE. YOU CANNOT STOP IT. DO NOT RESIST. YOU WILL DIE. YOU WILL ALL DIE.
Well, I don't think we need much more to set up our final battle, let's go.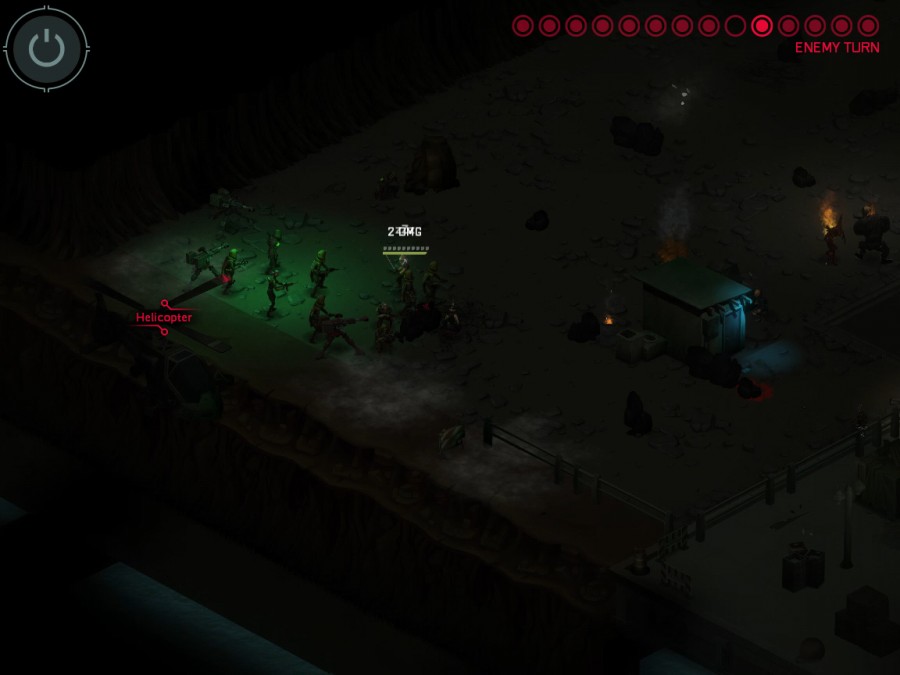 The main fun of this mission is that you get a fuckton of Tir soldiers to deal with, and constant reinforcements coming in from one particular part on the left side of the map. We get some allied soldiers to help us (and mostly take some hits we're then not taking), and one main problem is that Tophet just parks himself exactly where he is, immune to everything we'd throw at him, and getting two attacks per round.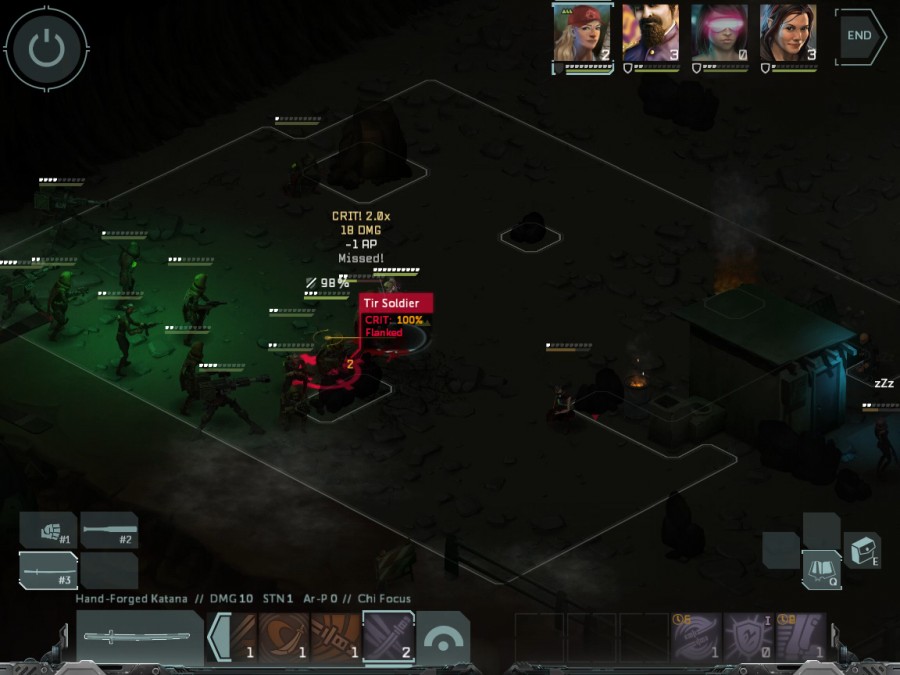 So, here's basically what we're doing. Kami runs right into the thick of things because FUCK IT.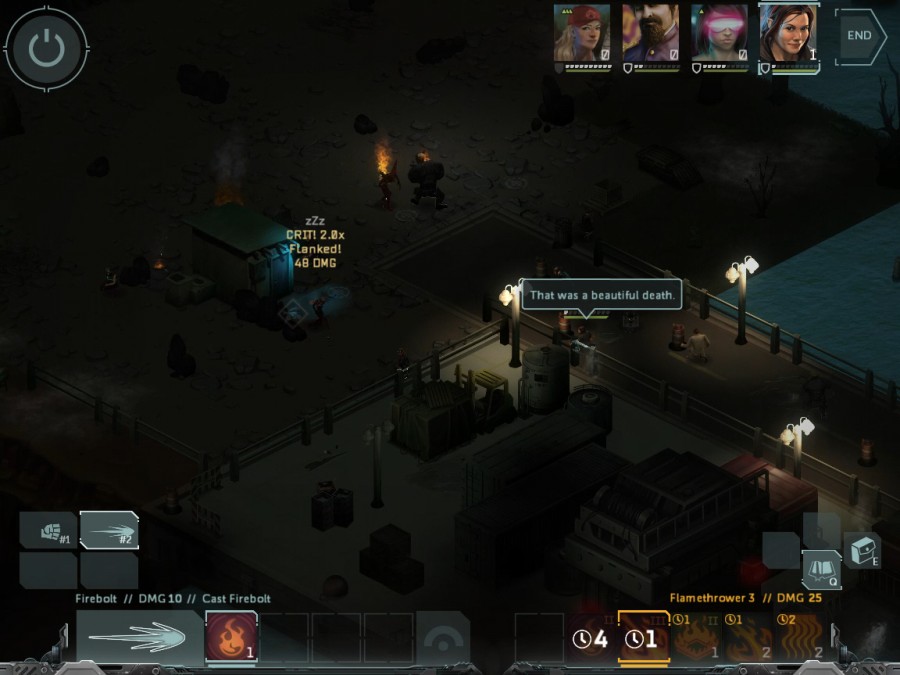 Norton and Dorbi set up at the bridge and do their thing - namely buffing and flaming, respectively. This has the problem of leaving them directly in view of Tophet, but we have a lot of healing stuff available to deal with that.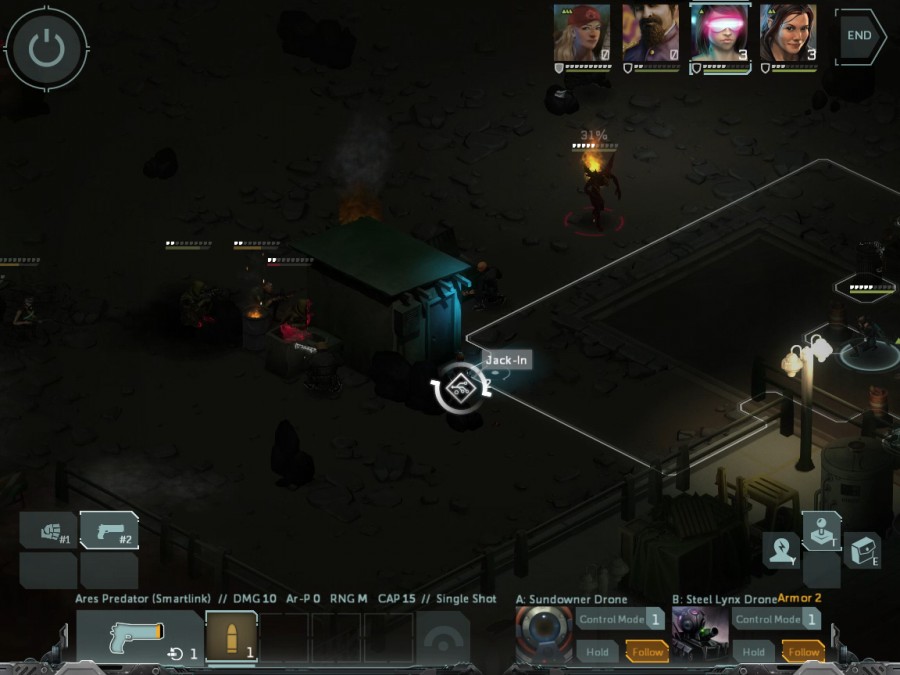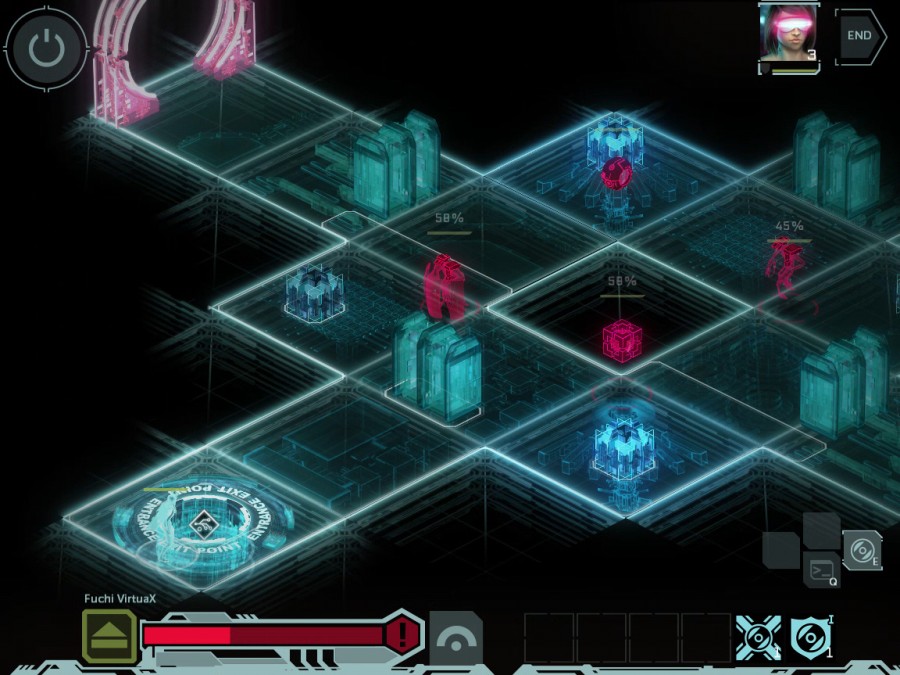 Finally, Hailey finds a jack-in spot and goes to work.
And now we wait a bit.
I mean, we don't wait. But nothing changes at this point for a bit. Kami slashes like crazy while having bullets just ping off of her, Dorbi fires people, Norton buffs, and Hailey moves through the Matrix. The ally units do some minor damage and take hits.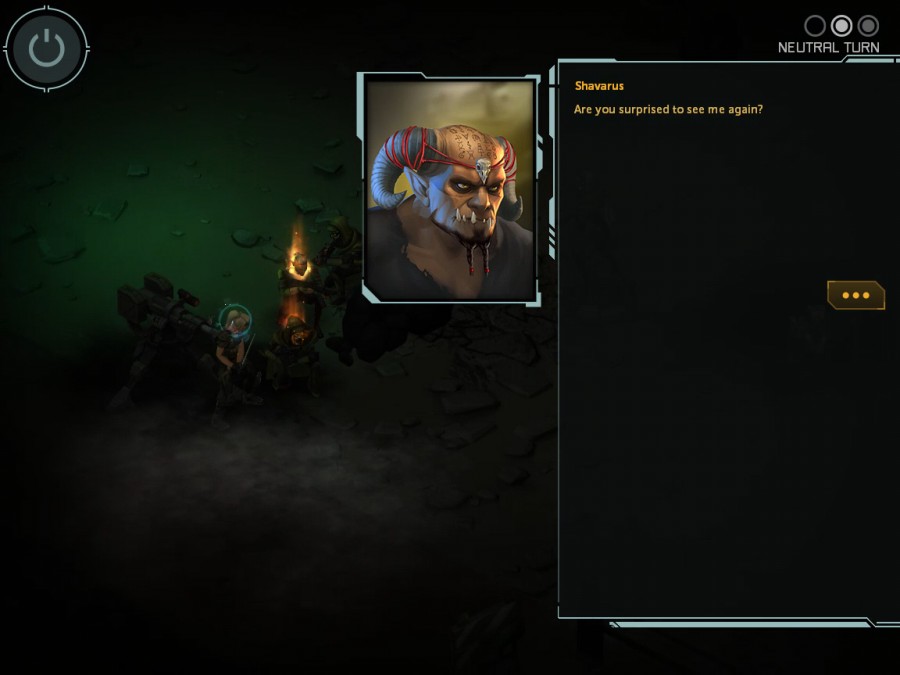 Then, suddenly, surprise!

The last time we met, I swore that I would kill you. I do not take my promises lightly. Not to you, and certainly not to my followers. I was a fool to ever trust in Tir Tairngire's support. Now I'll be able to destroy them and you in a single blow. Farewell, Kami. I will take pleasure in gutting you.
Ha, you are so dead.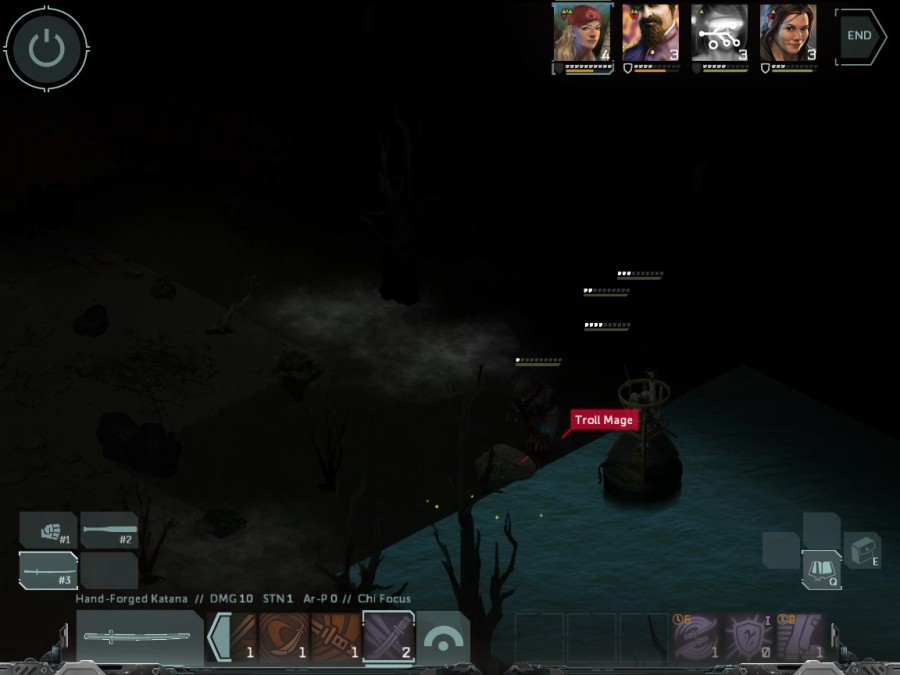 He shows up at the top of the map with, like, three or four guys. Meanwhile, Kami is practically bathing in Tir soldier blood on the other side of the map. I remember this being a lot tenser the first time I played this, but I guess it really helps having an unstoppable death machine as a PC.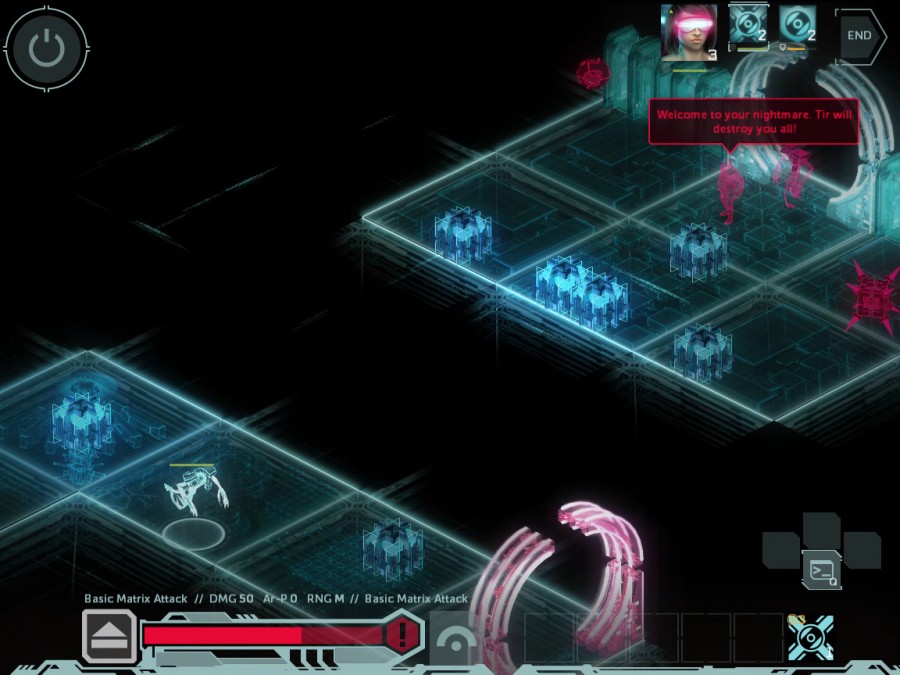 Meanwhile, Hailey runs across a Tir decker in her trip. The long distance makes actual combat here kind of wonky because it's mostly missing, but still no major problem.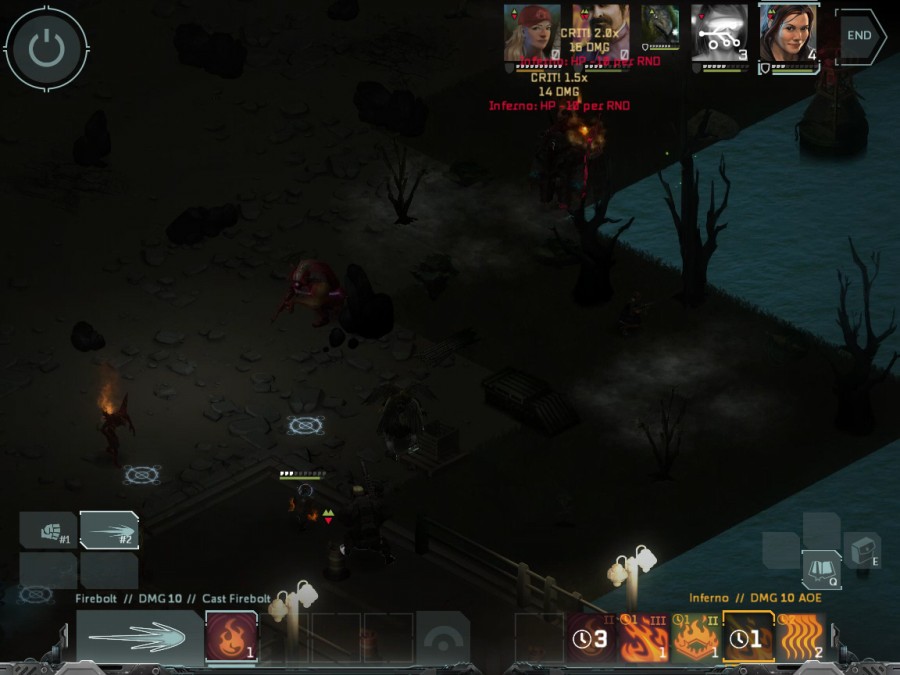 Shavarus starts getting in range for Dorbi and immediately starts getting flamed. He's got 100 HP, and they're not going to last long - Dorbi already takes off 60 HP on this first turn, and a summoned spirit from Norton takes off another 20, so he's already up shit creek.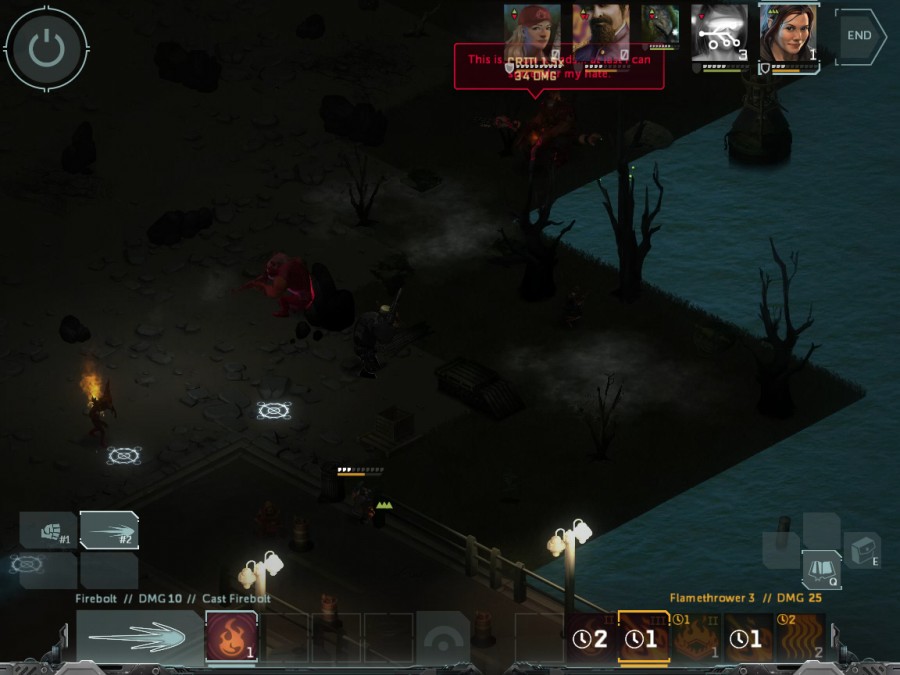 And then Dorbi drops him in the second round with him barely having advanced. Suck it. I'm sure you had some sort of special thing you were saying, but it's blocked by the UI, so screw you, you don't get last words.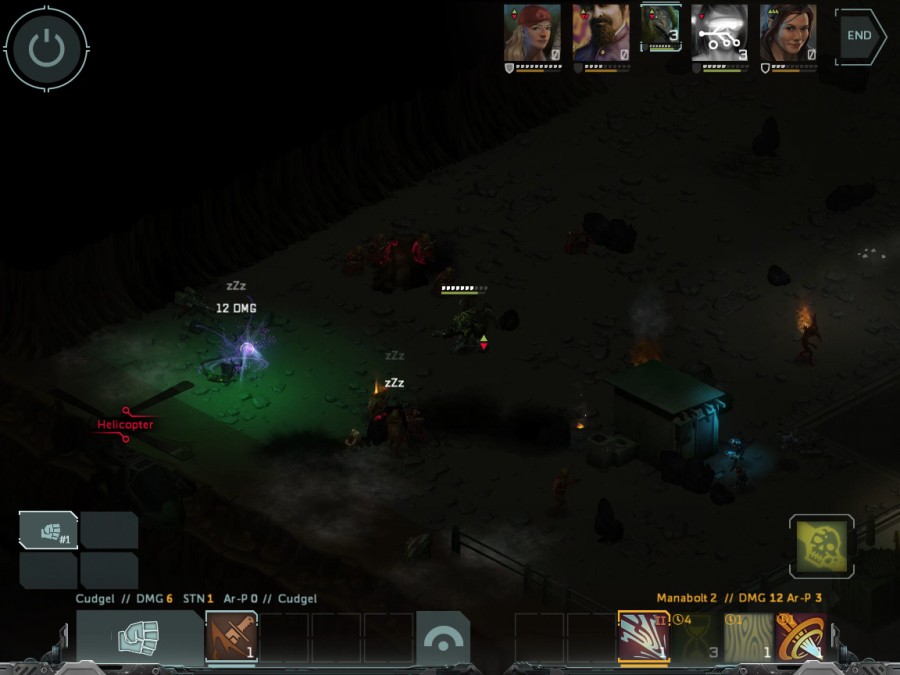 Norton's spirit is serving a valuable purpose over where the real action is - Kami smacking a soldier around leaves them at about a fifth of their health, and given that there are so god damn many enemies, I'm having Kami just move on to the next full health enemy, leaving the other one for the rest to pick off. The spirit, with its 4 AP until it breaks free, serves that purpose well - it killed three on this turn that I screenshotted here.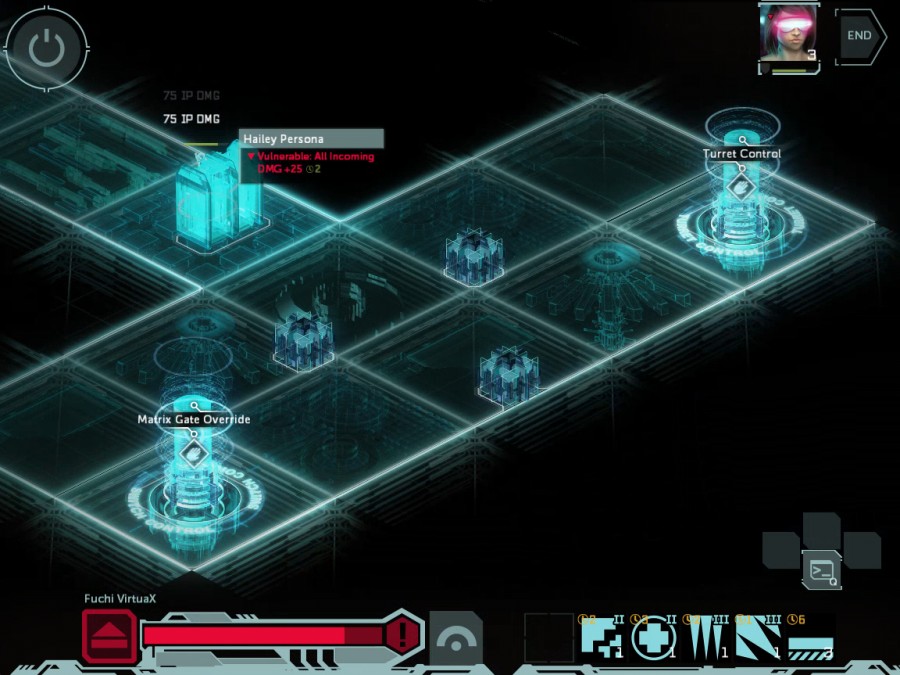 Hailey finally gets to the end of the first path, and finds an unlock for a blocked path back at the beginning and something that turns the turrets over to our control. Which would've been fucking great if Kami hadn't already destroyed most of them. Whoops.
The next enemy turn, it turns out that we've thinned the enemy numbers so far that our allies almost outnumber the Tir soldiers. Kami is death incarnate. Of course, they still keep getting reinforcements, but they're already much less problematic.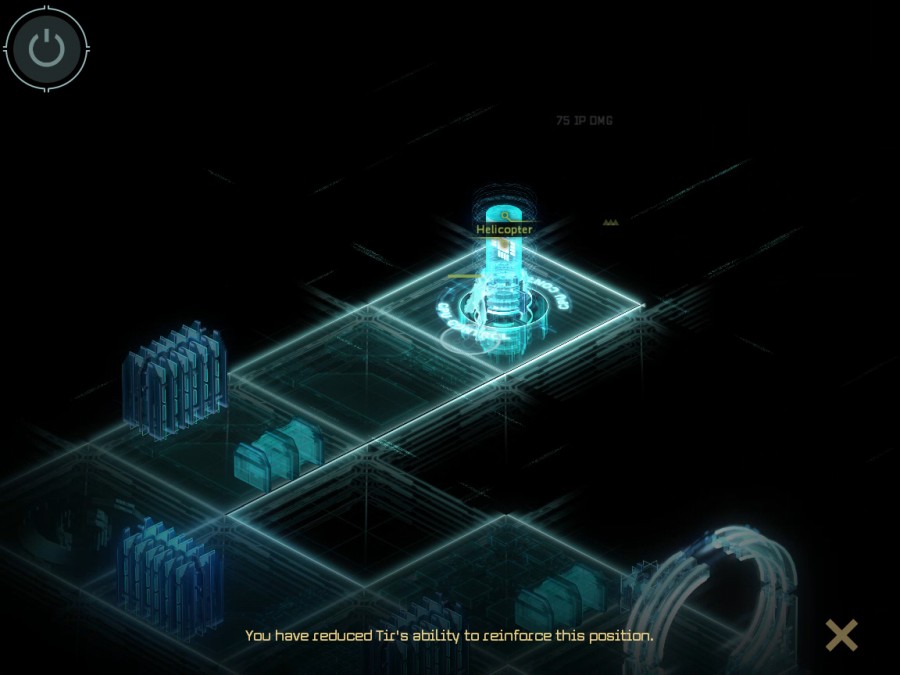 Hailey makes it to the place that was previously blocked off and clears it out, leading to her being able to take over the helicopter, reducing the amount of reinforcements, which defangs the Tir guys even more.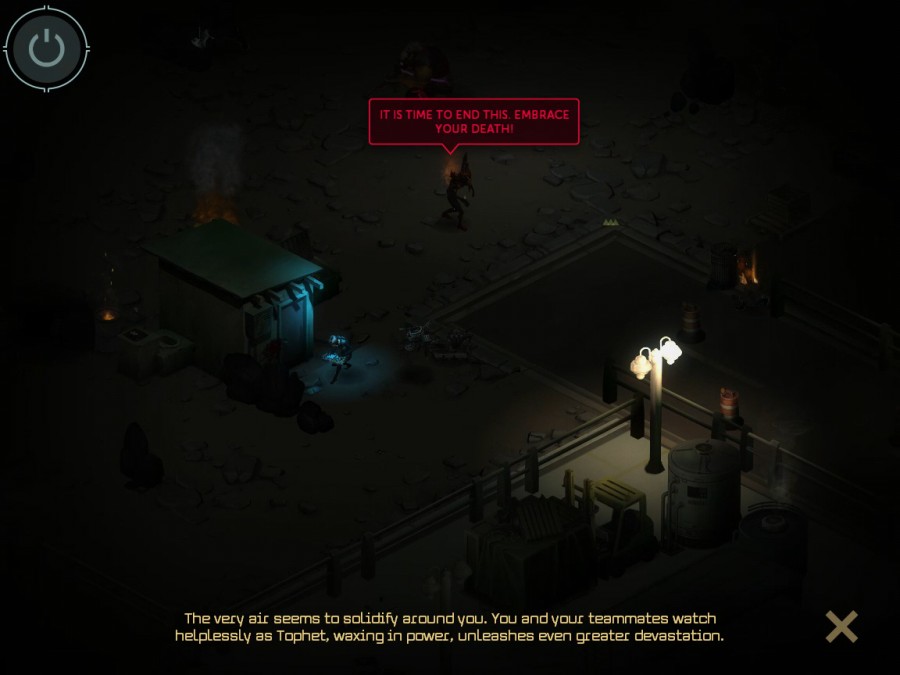 And directly after that, Tophet has apparently decided that this shit isn't going well and turns up the heat.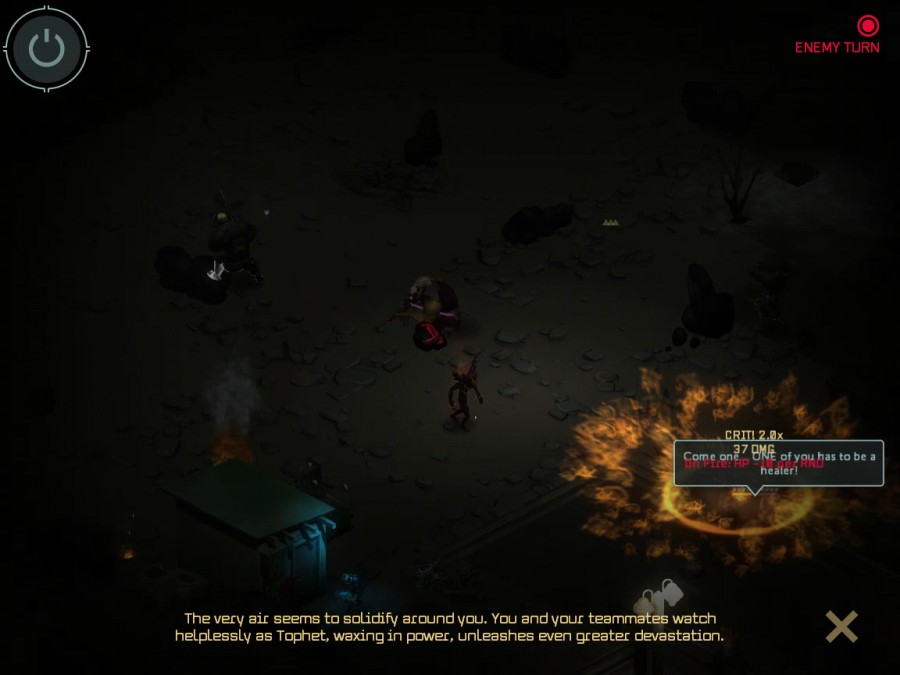 Namely, he nukes the fuck out of Dorbi.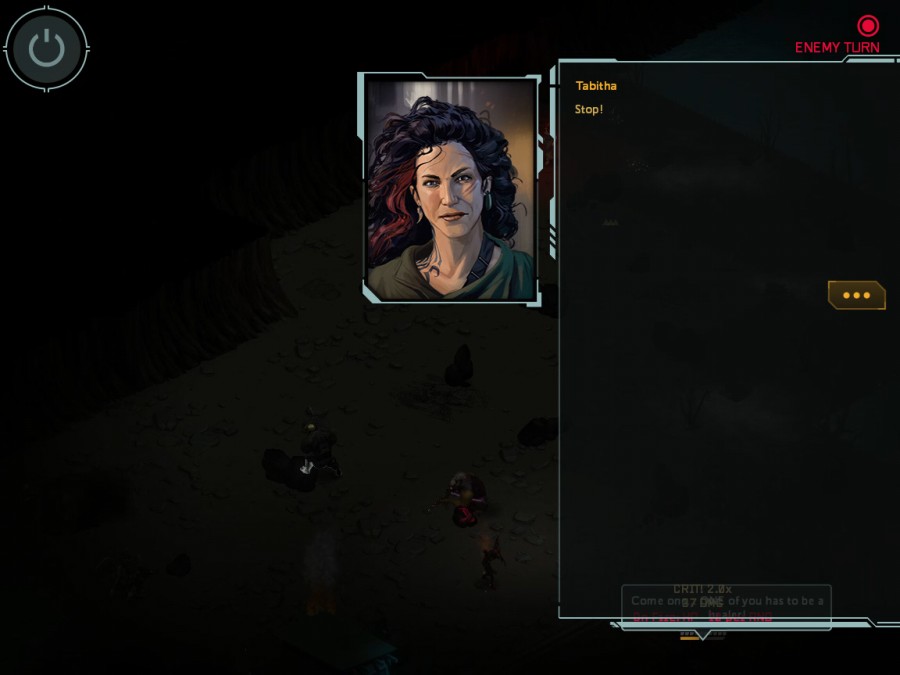 But then, interference!

DO NOT INTERFERE, LEST YOU SHARE THE SAME FATE.

This destruction... this madness... you have to end it! Such senseless hate serves no purpose. It must end.

AND WHO ARE YOU TO END IT?
[Instead of answering, Tabitha kneels by the body of Dorbi. Bowing her head, she places her hands on their chest. Her lips do not move, but her voice reverberates inside your head.]

*Body, heal. Mind, calm. Spirit, come.*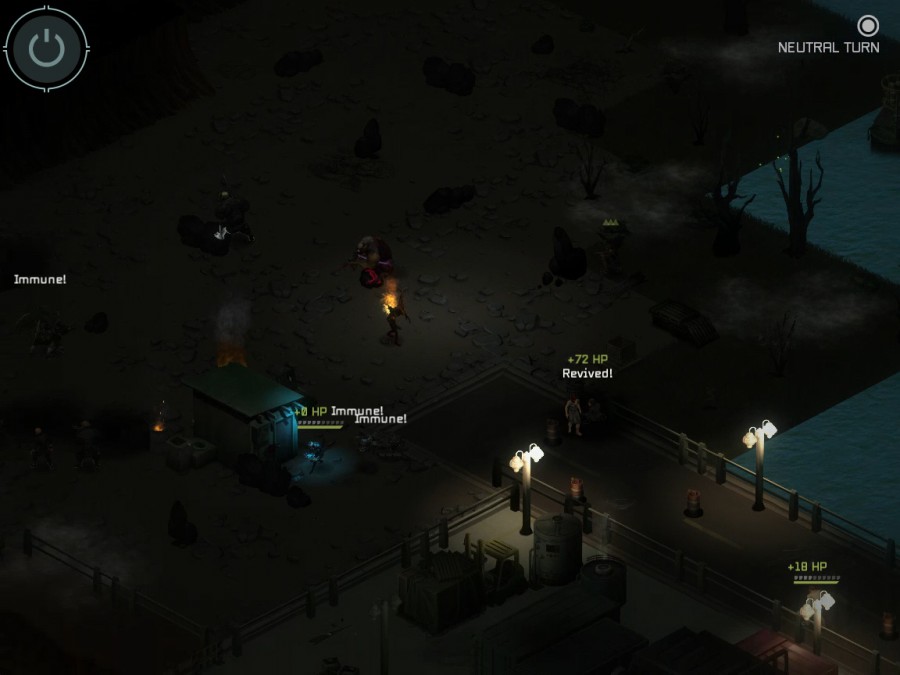 And everybody in our party gets fully healed.

YOU SEEK TO DENY ME MY PRIZE? YOU WILL BURN.

No. You are wrong, Tophet.
[She shakes her head sadly.]

You were never meant to be here. You have experienced only sorrow upon this plane, and multiply that sorrow everywhere you go. I will return you. It's time to go home.

NO! I WAS PROMISED! I WAS PROMISED! HE SAID...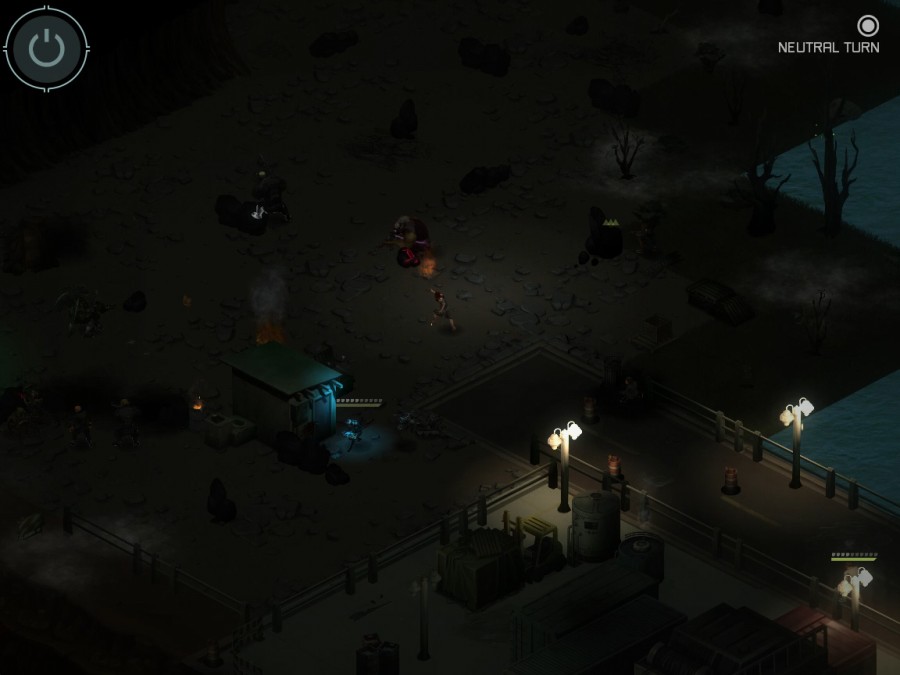 And then Tabitha just straight zaps Tophet away. Dang.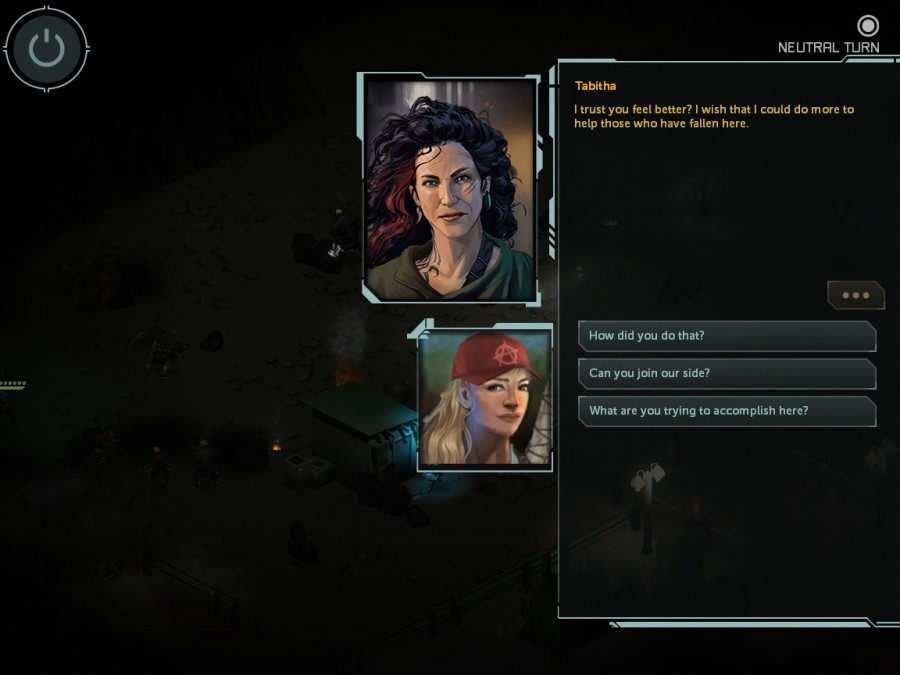 How did you do that?

Well, you see...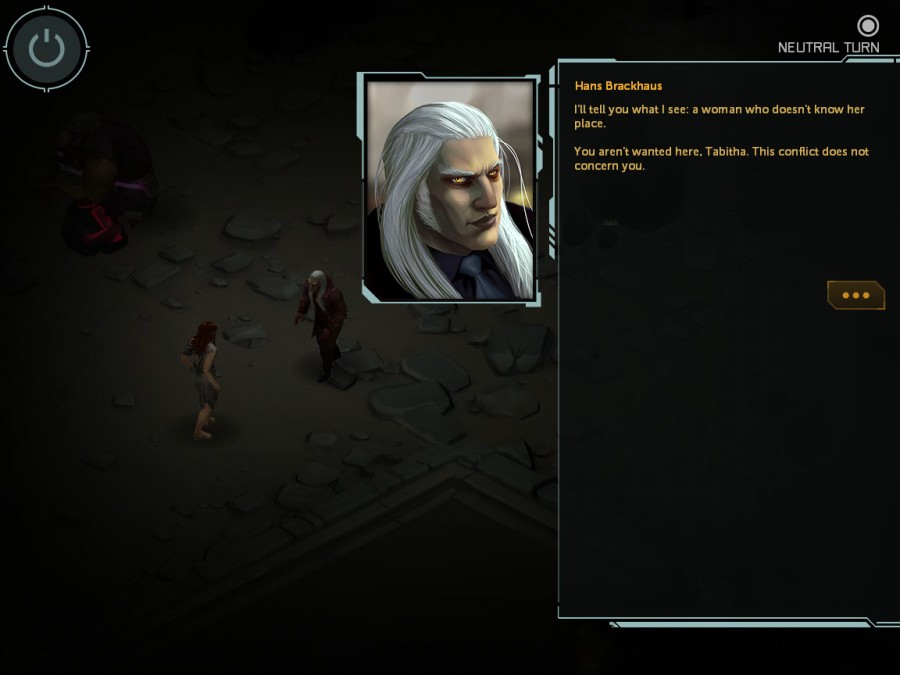 Aw shit. The Big L has entered the building.

I should have known you were involved in this. Were you Tophet's "patron"?

Tophet was a valuable tool. A fool, and a source of danger, but more for my enemies than myself. I make it a point to f‌ind and use such tools whenever and wherever I can. I do not enjoy being deprived of my tools.

And I do not enjoy being deprived of my sister. Where is she? You must know something. Have you hidden her? Have you hurt her?

I haven't the faintest idea what you're talking about.
[A faint sneer brief‌ly plays at the corner of Hans's face.]

All I know is that you've overstepped your bounds. You're surrounded by my army, in the middle of what will soon be my lands. I suggest you leave before the situation gets any worse.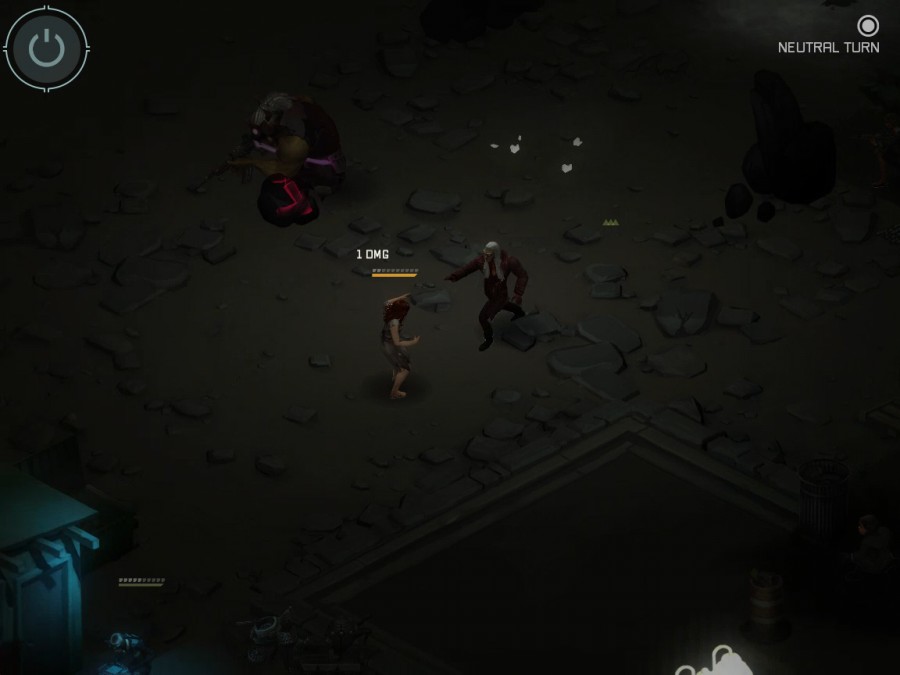 And then Lofwyr does... something.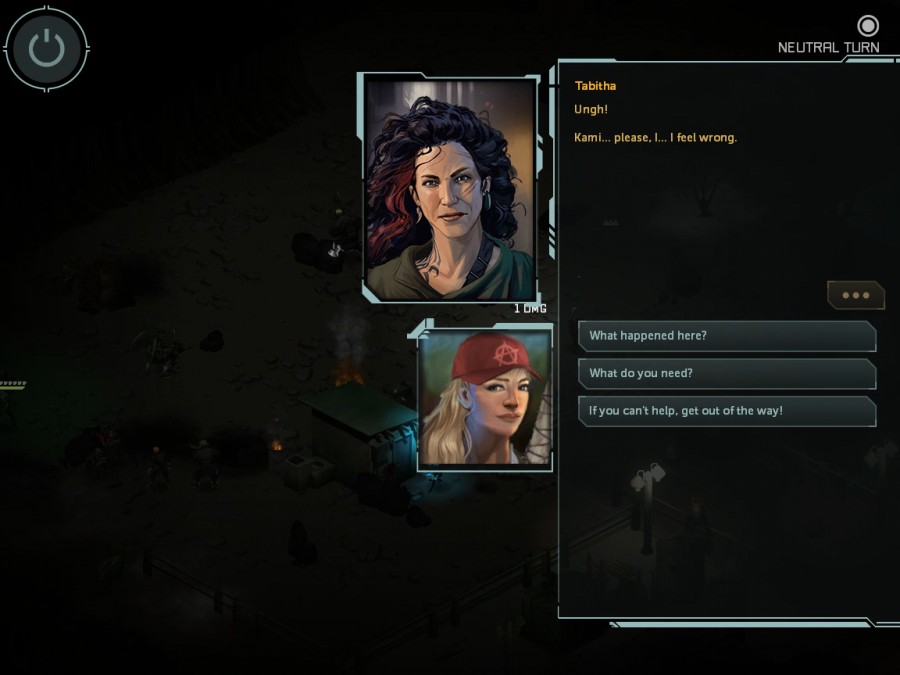 What do you need?

Keep him away... I must f‌lee... Please, buy me some time. I beg of you. Help me live...
So, welcome to the second round. Now we need to "protect" Tabitha. I say "protect" because Lofwyr never once attacks her. In fact, nobody does. I'm not sure if this was just given that they have multiple other targets to choose from or whatever, but hey, I'm not complaining.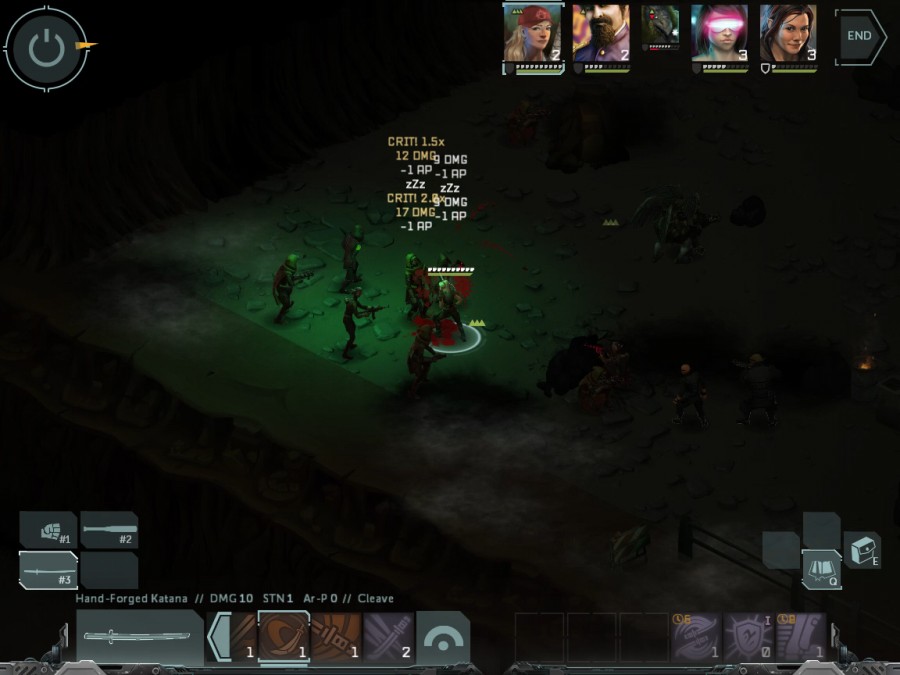 Kami continues her thing.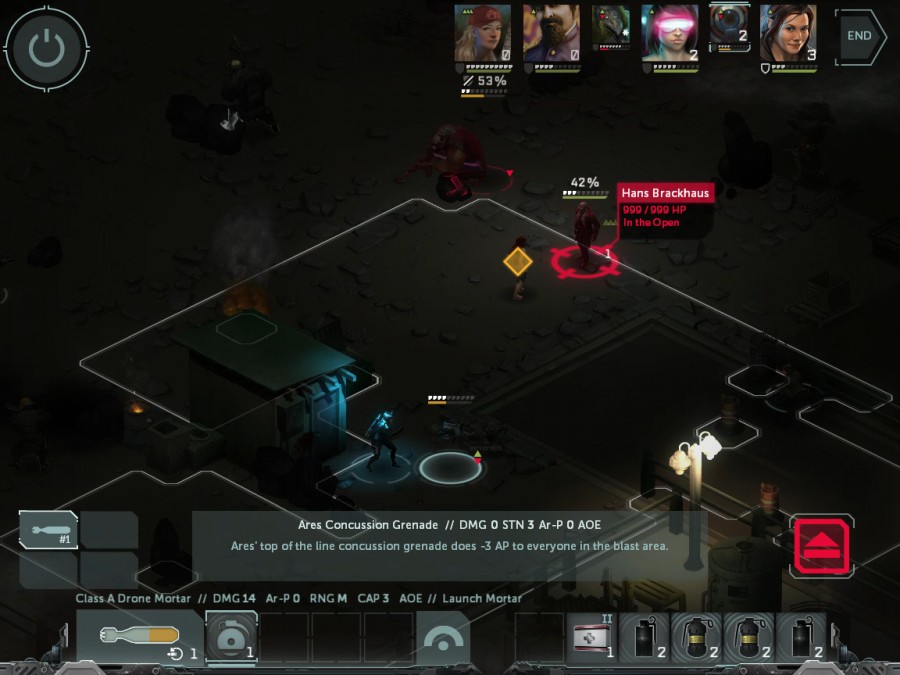 To note, Lofwyr has 999 HP, but it doesn't matter, since he's immune to everything.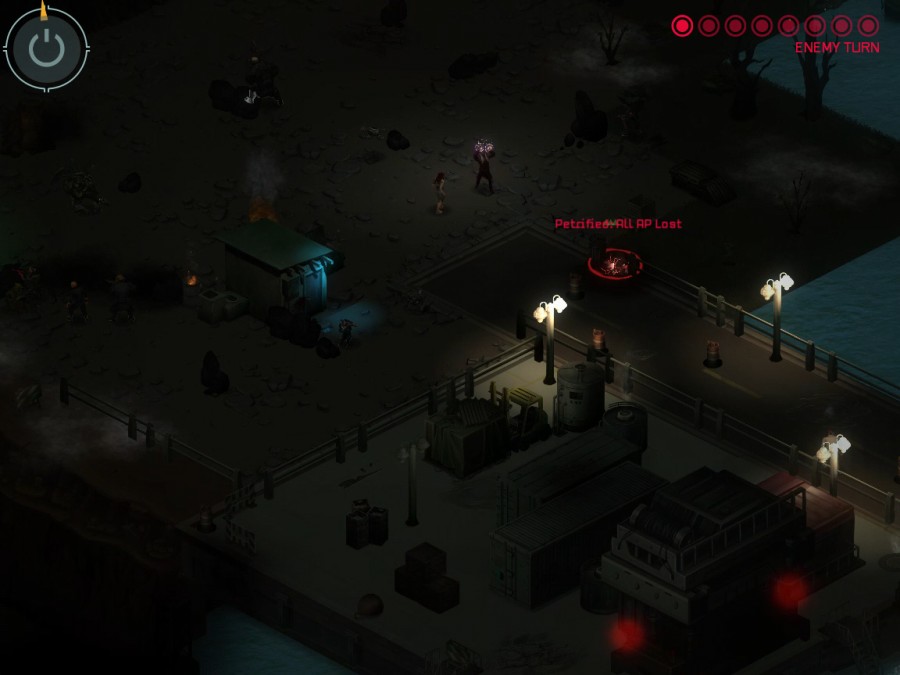 He also does shit like take all AP from one character for multiple turns.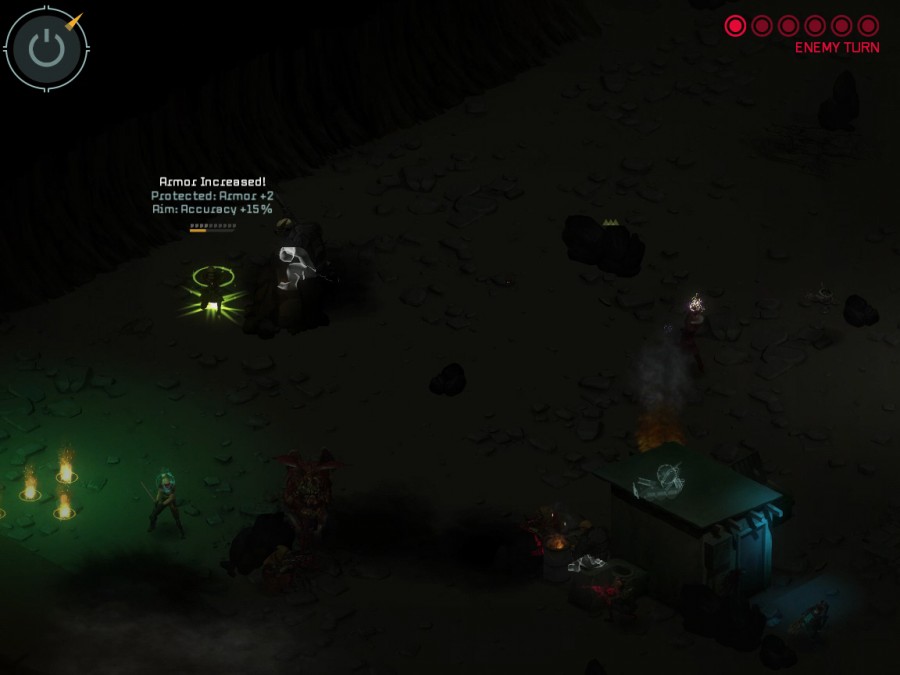 Mainly, he goes around flinging buffs on Tir soldiers, which does make them more of a problem, but ultimately not *that* much more compared to what I would've expected motherfucking Lofwyr to be flinging around, even if only in human form.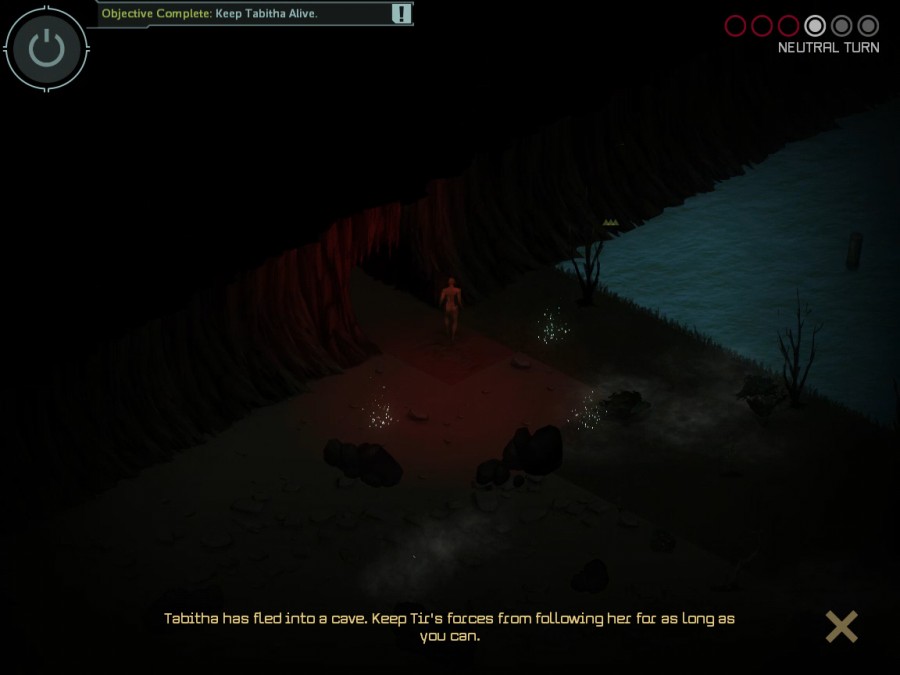 Tabitha runs away into a cave in the second round, and now we need to continue occupying Tir for an indefinite period of time, which, sure. No problem. I'll occupy them to death.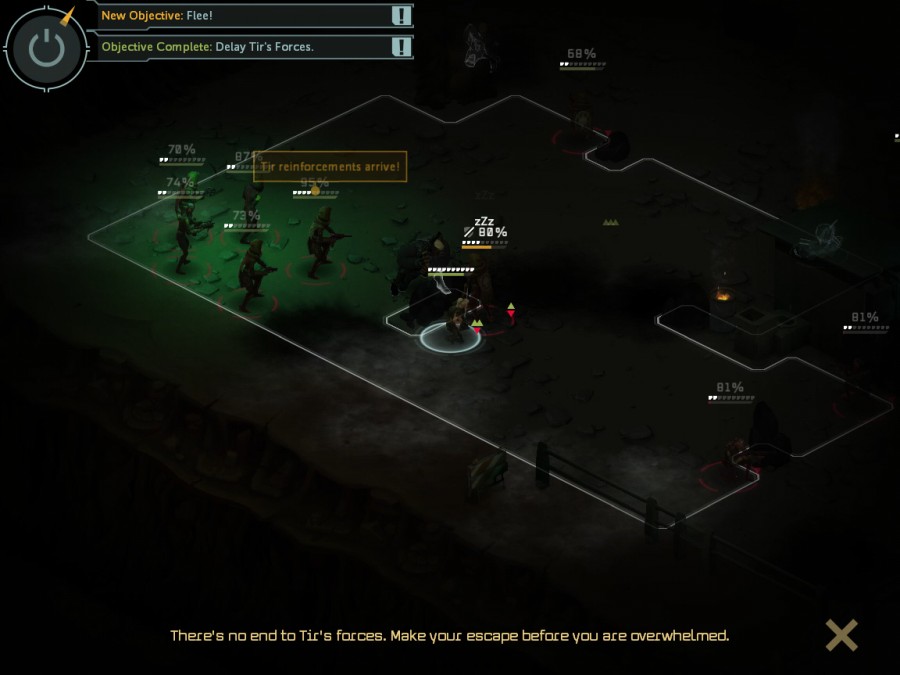 A few rounds later, we're told to run. Sure, I can do that too.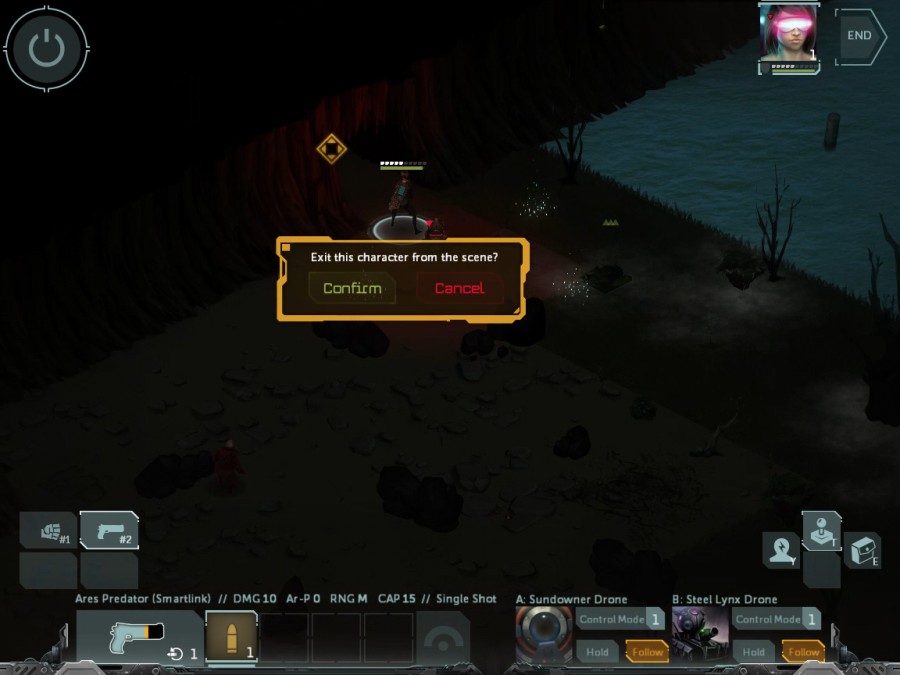 The ally units make for enough of a distraction to let us run with ease.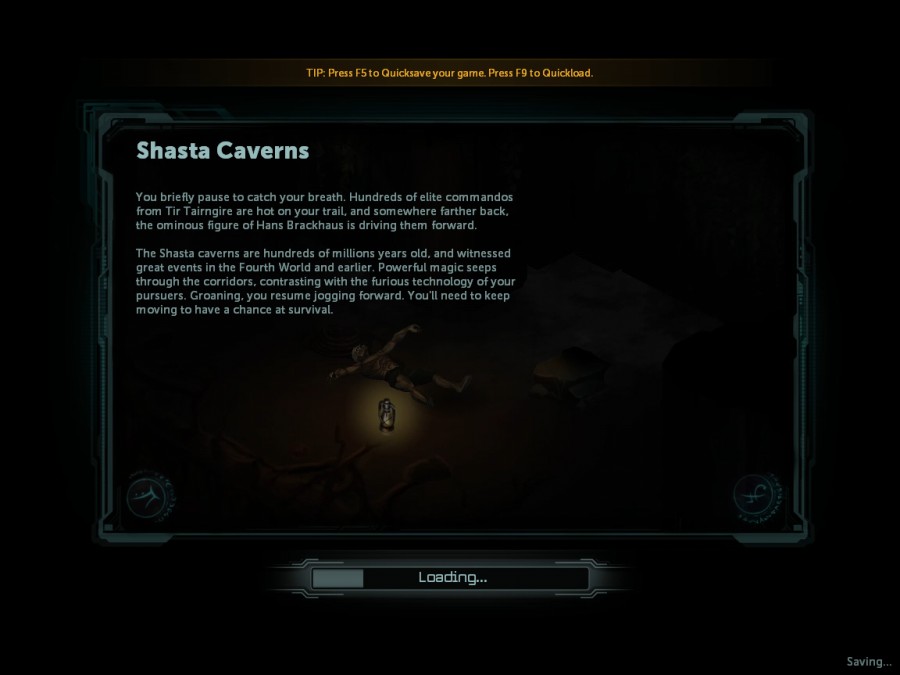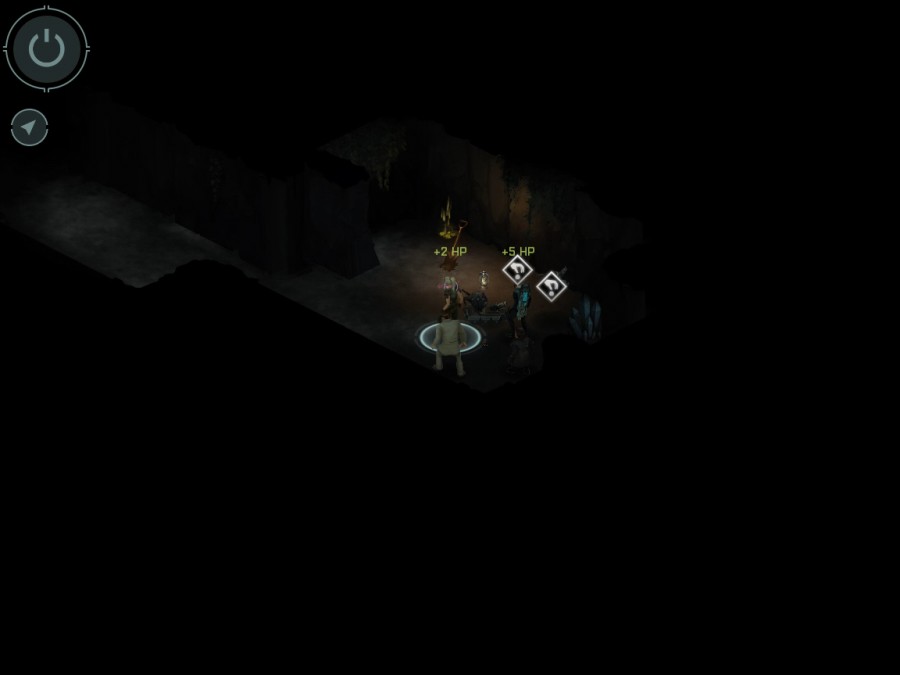 Alright, so here, first of all, we find two premium medkits to replace some used supplies. Fine by me.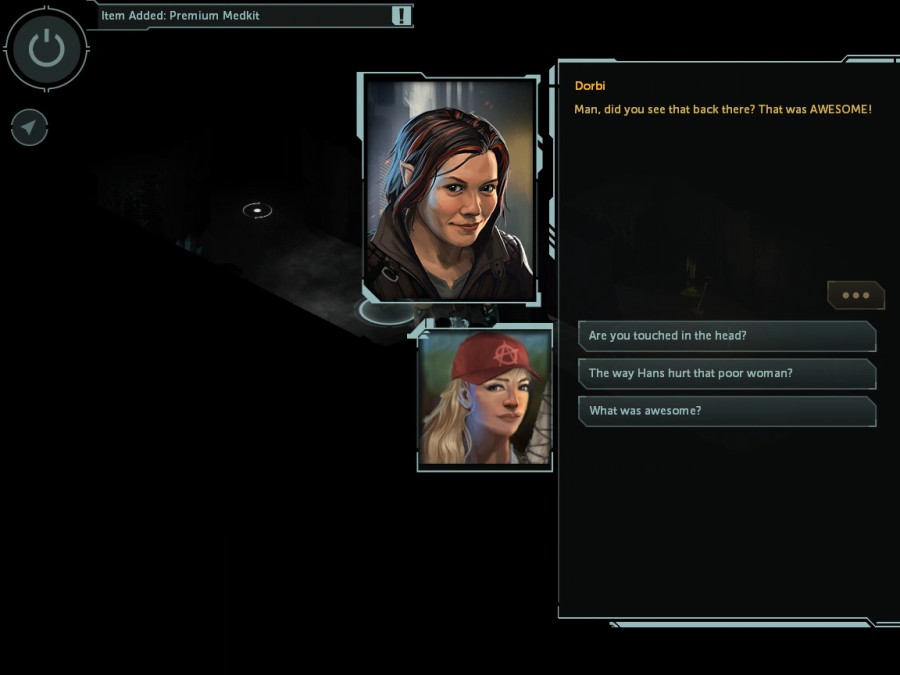 What was awesome?

That f‌ight with Tophet. It was so cool! Nothing we did could hurt it AT ALL! Just imagine... if I can someday tap into that kind of power, I'd be unstoppable! And then, the way that woman just, like... snuffed him out... She could only do that because he was originally from another plane. But I'm a natural-born dwarf, ain't nobody gonna snuff me out! I could be a prettier, friendlier, unstoppable version of Tophet.

Just remember who your friends are.

Oh, don't worry! You're the last person I'd set on f‌ire.
I can't help but feel that you mean that literally and that Kami will indeed find herself set on fire by you. And it will indeed be the last time because after that we're going to end up with dwarven schnitzel.

Heh... thanks for indulging me. I know that we probably won't survive this f‌ight, and I'll never be able to achieve the kind of mastery I want. But I have to dream and believe that there's a bright future ahead. Now, let's try and make it happen!
I guess we are currently being chased into a cave by an endless supply of Tir soldiers. Does kinda make it seem like we're going to die.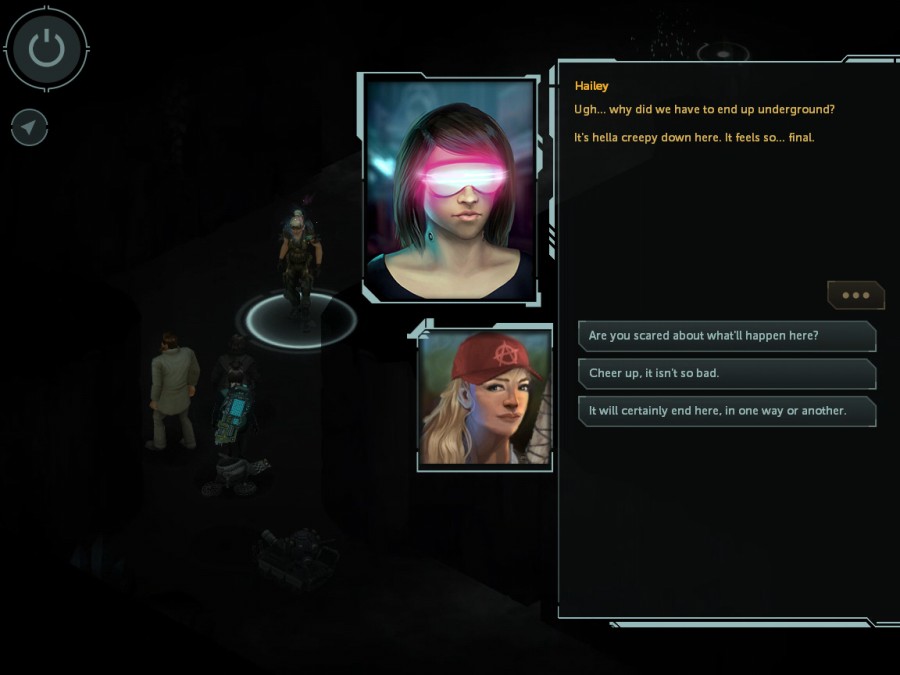 It will certainly end here, in one way or another.

Yeah, but I think I know which way it'll be. I always imagined that I'd go out f‌ighting black IC. Seated in a comfy chair, surrounded by empty cans of soykaf, brain fried to a crisp but with a smile on my face. Not, you know, buried under miles of rock with worms eating my f‌lesh.
I don't think that's how getting your brain fried while in the Matrix works out. I guess you wouldn't care much at that point.
[She shudders.]

I'm sorry. I shouldn't be bringing you down, too. Let's get it over with.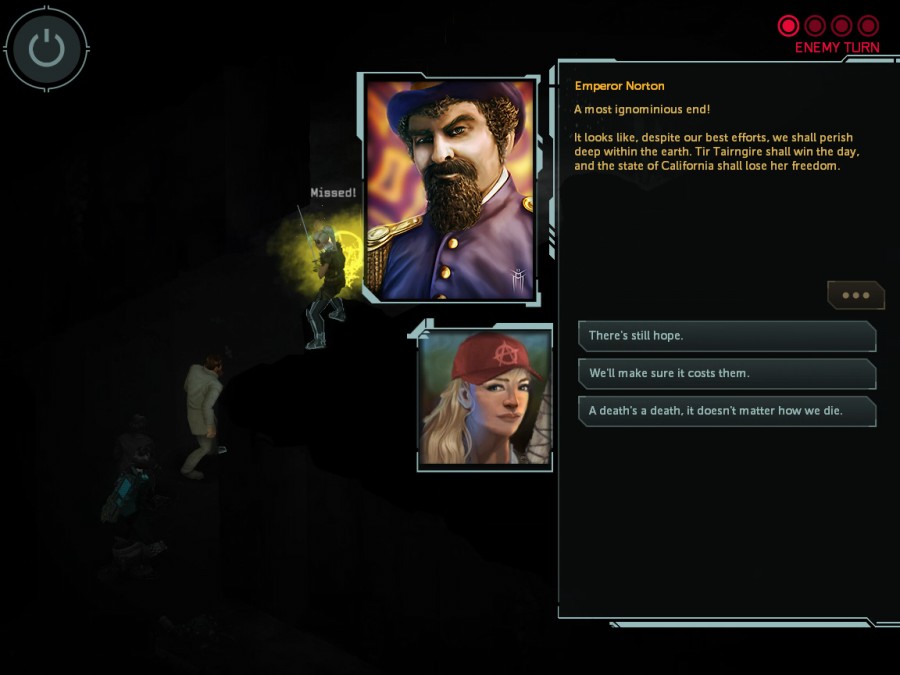 Look, Norton, I appreciate your input, but I'm not sure I can always dodge venom being spit at my back by giant scorpions that easily.

We'll make sure it costs them.

While we may be doomed, we can at least choose the manner of our passing. Let us claim our place in history, and let the world know that California did not pass lightly For freedom! For empire! Forward!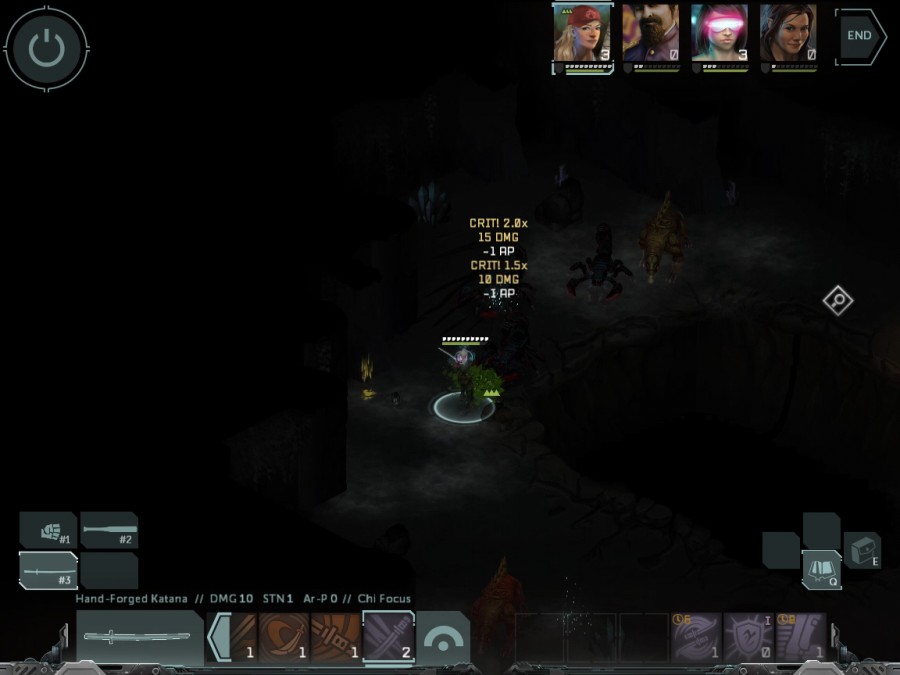 So, as implied by that previous shot, we're fighting scorpions and basilisks now. Not much of an issue.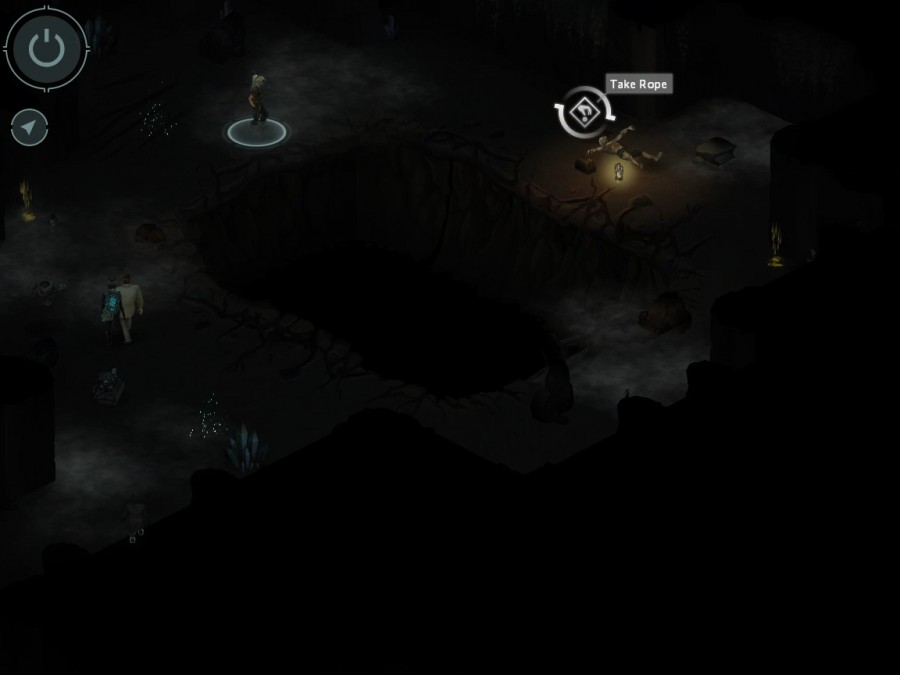 Next, there's a big hole and there's a rope next to that corpse. So let's grab it.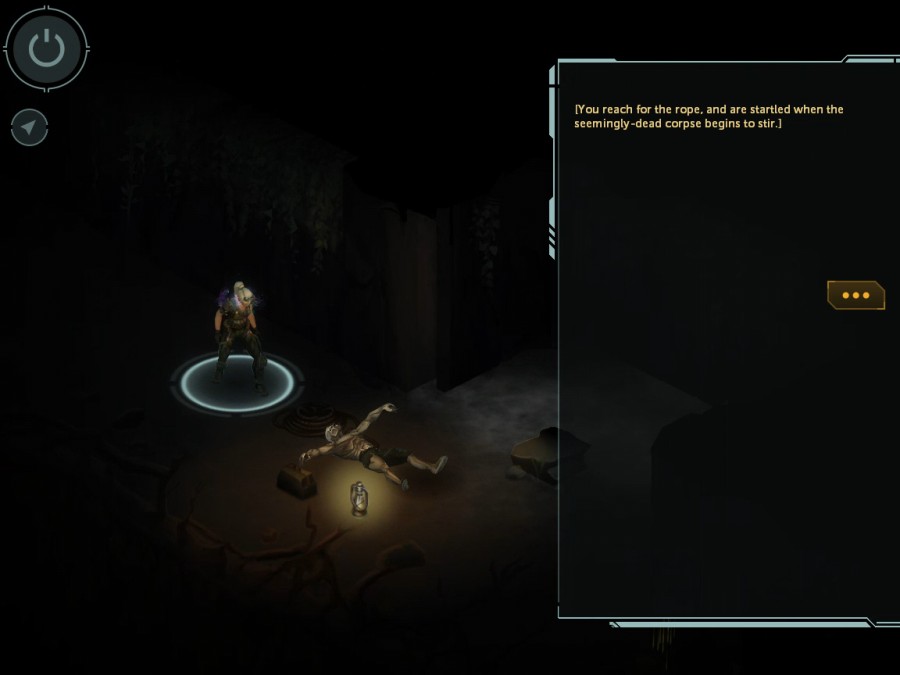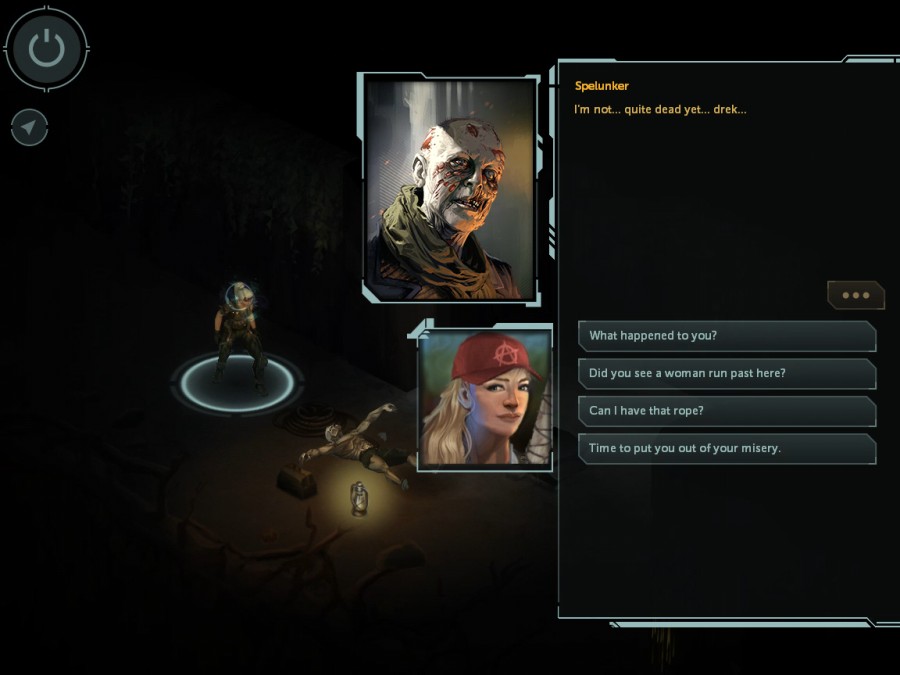 What happened to you?

Tir Tairngire happened, that's what.
[He coughs raggedly. spewing up blood. He doesn't seem to have much longer.]

I was on my... way back up, and one of those... bastards shot me. He didn't even think I... was worth f‌inishing off, just left me to... crawl away and die... alone down here.

Did you see a woman run past here?

Yeah, I did.
[A momentary look of peace settles on his face.]

She knelt beside me... and told me not to worry. She said that my wounds... were mortal, but she would... give me a gift. And, somehow, she did. I'm still... dying, but I don't feel the... pain any more. I hope she can do... that trick on herself. She seemed like she... was in awful pain herself. But she somehow managed to... go down that pit. I'm not... sure how, that fall would kill anyone...

Can I have that rope?

What, so you can chase after... that poor woman? How do I know you won't... harm her?
[He reaches out and grasps the coils. bringing them in closer to his chest.]

I'll tell you what... we'll riddle for it. You might be a killer... but at least that way I'll know you're not... a brute. We walk into a room... The room holds three pedestals... Each holds an artifact from the Fourth World... A mighty sword that can slice through anything... A tome of ancient arcane knowledge... And a rod that can summon a powerful earth elemental. I grab the sword and say... "On this day you will meet your death!" What do you grab... to stop me?
Oh, god damnit. We would have the option to Charisma our way past, either with Charisma 6 or the Shadowrunner Etiquette, but alas, we have neither. This could be straightforward or it could be a trick. Screw it, 50/50 chance here we go!

I grab the book.

No.
[He shakes his head sadly.]

If you are unfamiliar... with resolving conf‌lict peacefully, how can you... resort to anything but violence? My time is over, but I have... a friend who will stop you from... following her. She must... live, no matter what.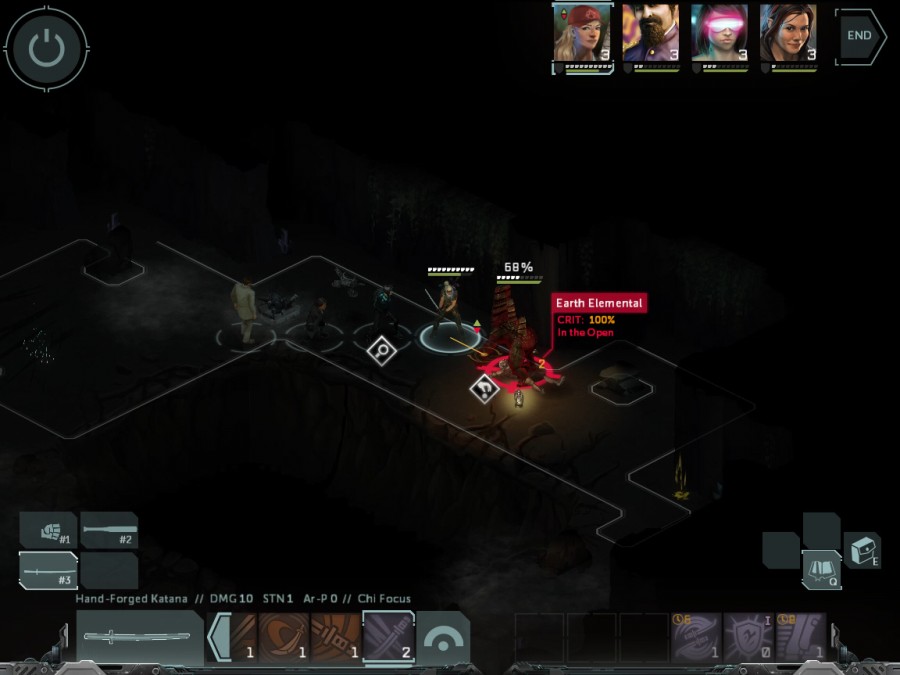 And now we get to fight an earth elemental. Well, given all the other shit we killed, this can't be that hard...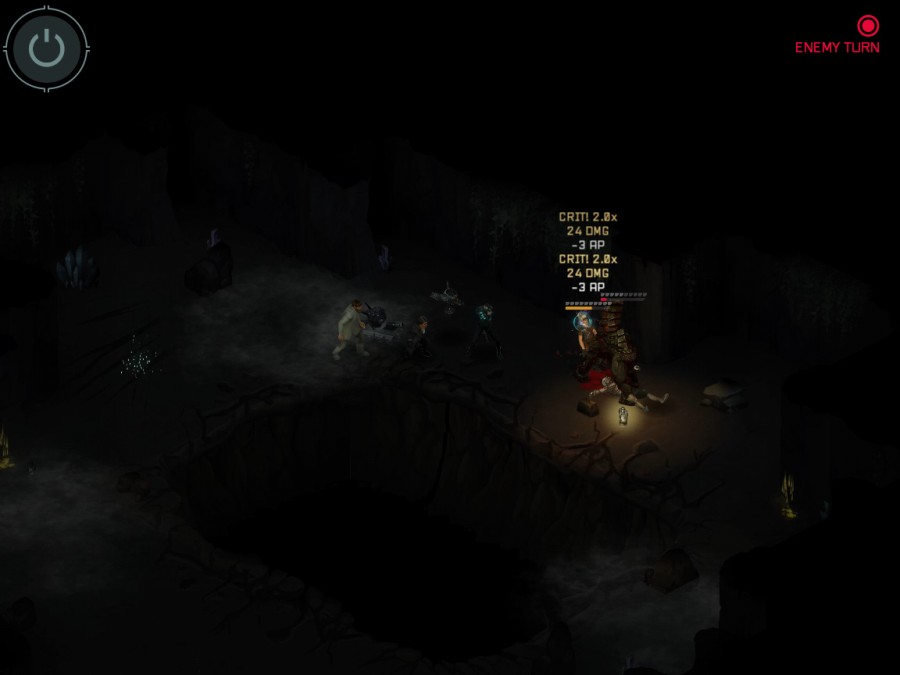 ...HOLY FUCK. So yeah, this thing, when it hits, can almost one-shot Kami, who, might I remind you, is running around with the maximum amount of Armor possible. Not to mention paralyze her completely, even with her being Hasted to 4 AP. Thankfully, we can take it out before total disaster strikes.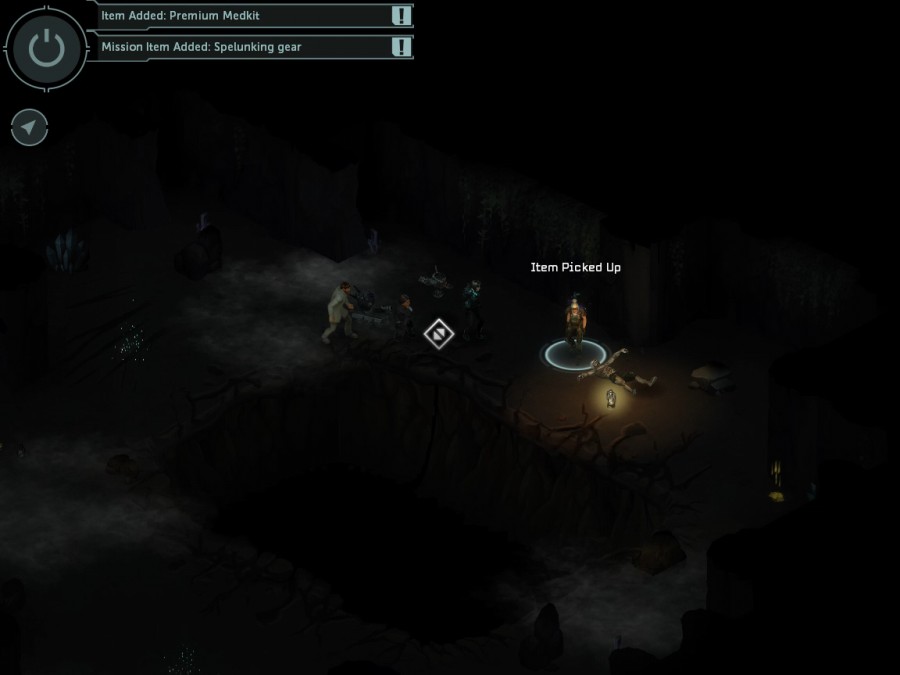 So we then get a rope, a premium medkit (which gets burned healing Kami back up, so it's basically a wash) and head down the hole.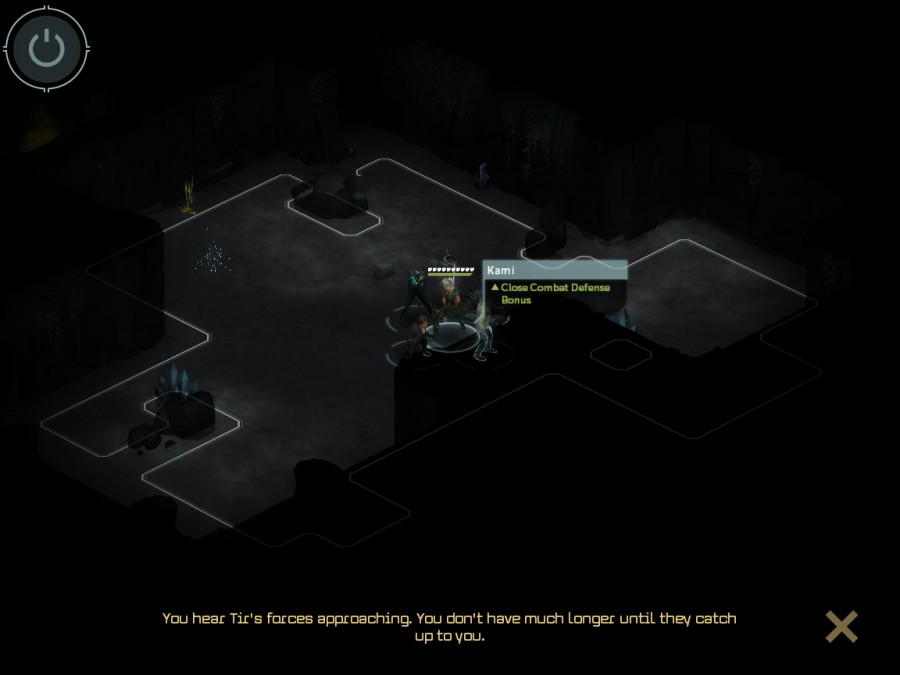 OK, so we're basically stuck. Nowhere to go here.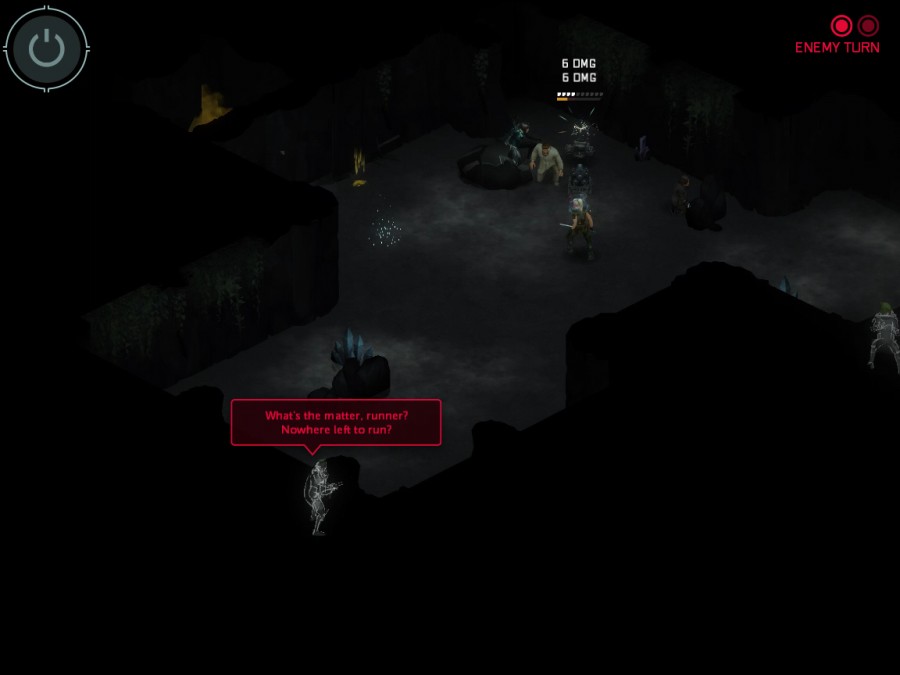 And then Tir guys show up. This is very much not good.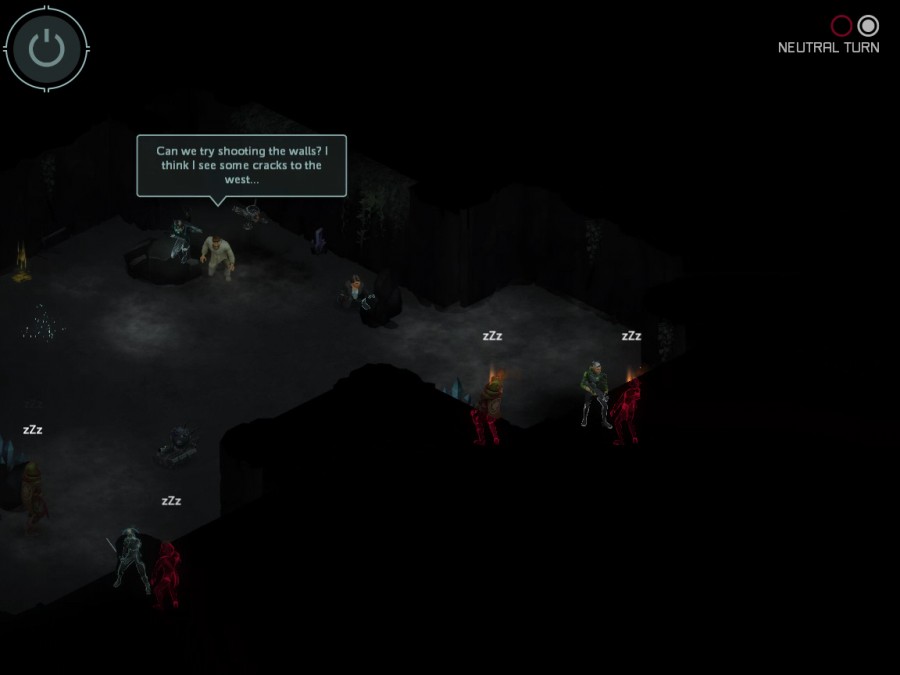 But after two rounds, we are given a hint.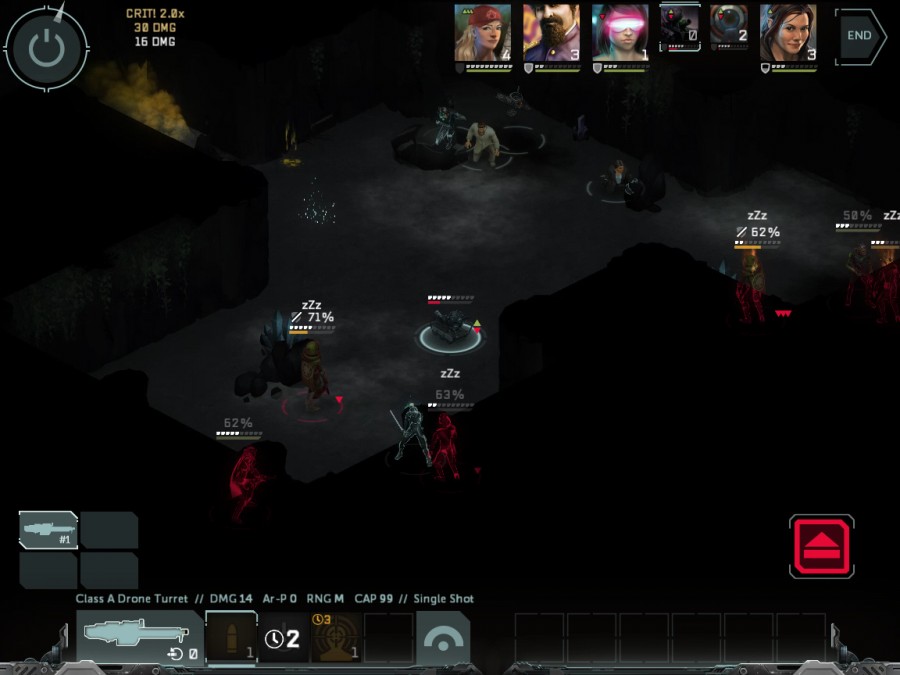 And indeed, it turns out we can shoot a wall and make a path appear.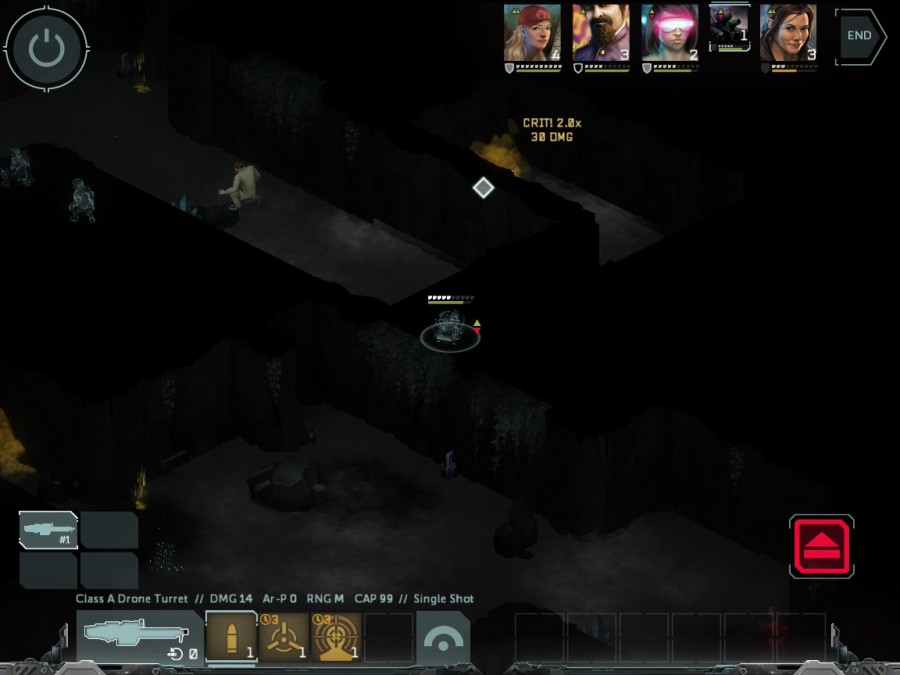 A bit further down the path, we repeat that with Tir hot on our trail.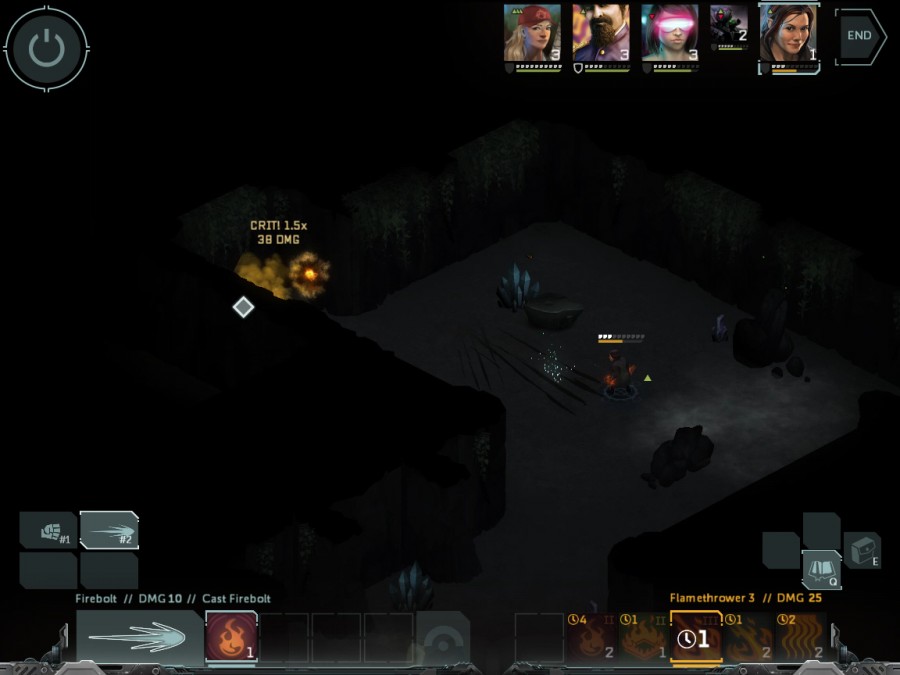 And past that, we find another one to bust down.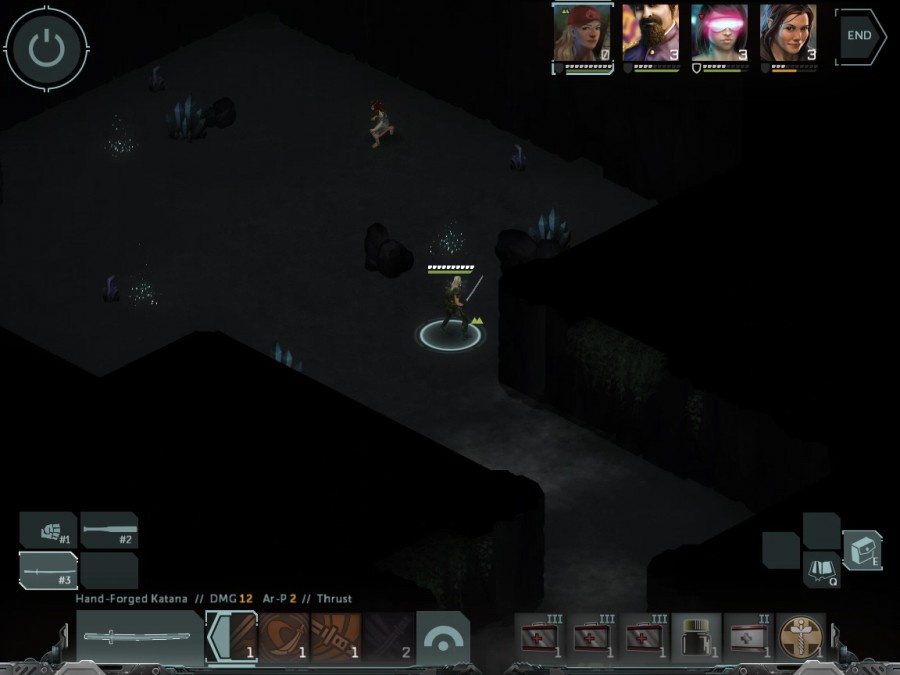 And at the end of that, we find Tabitha in a dead end. Uh, whoops.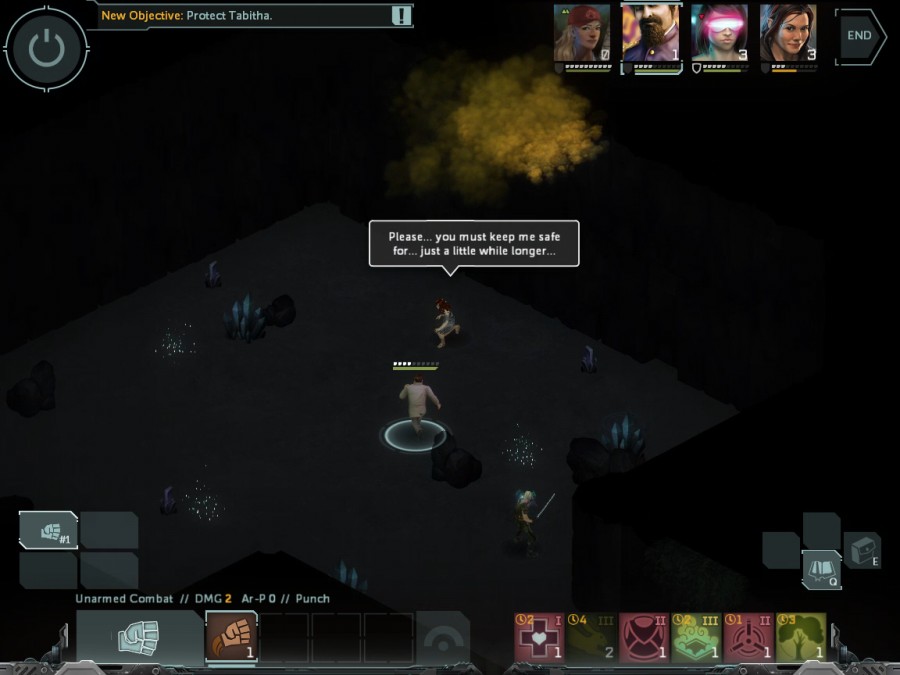 So now our objective is to defend her. We do this in a fairly simple way. Everybody hunkers down near her...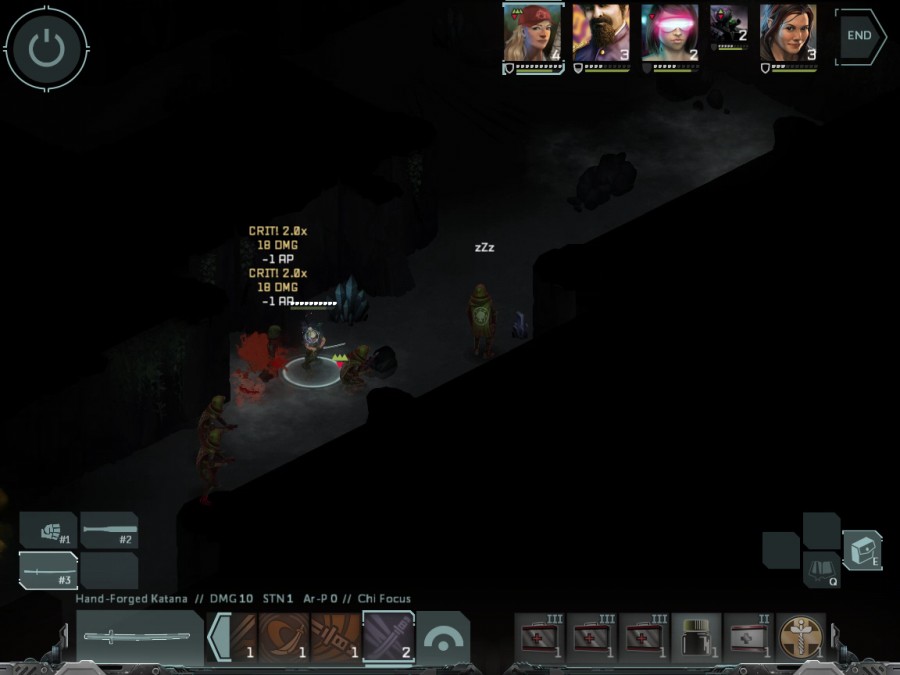 ...except Kami, who heads to the front and does her thing for a while until everybody is dead.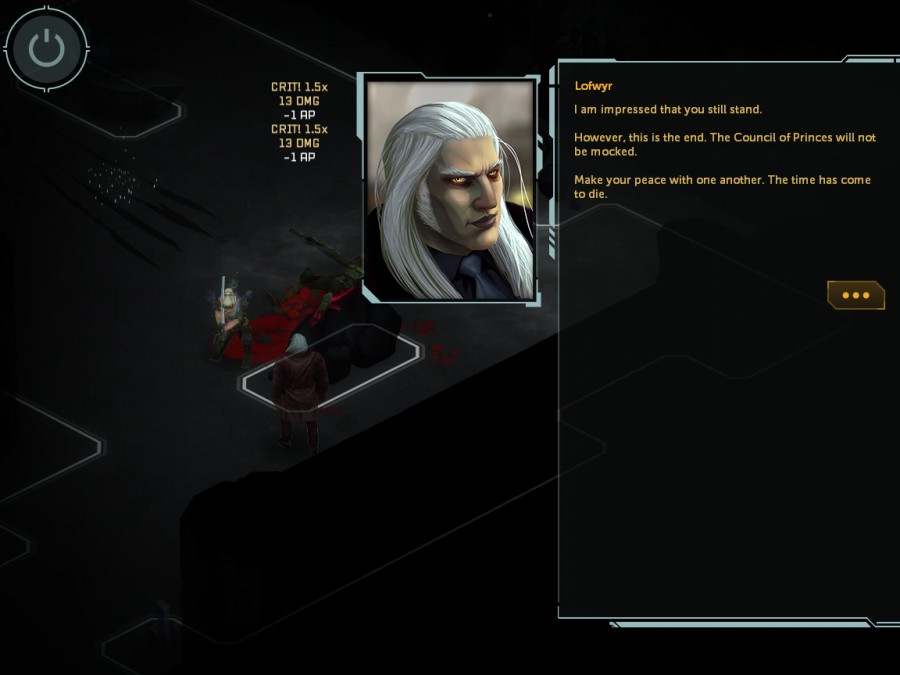 I'm not sure why exactly we dispense with the whole "Hans Brackhaus" thing now of all times.

No. No! THERE SHALL BE NO MORE DEATH TODAY!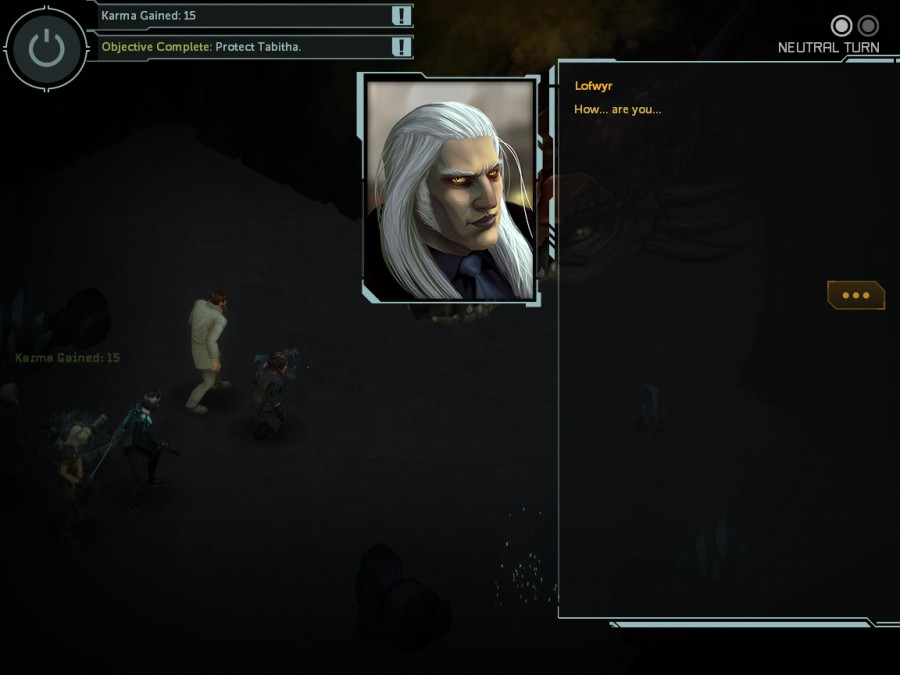 I love how we just gained 15 Karma we have no reason to spend anymore. Also, HOLY SHIT DRAGON.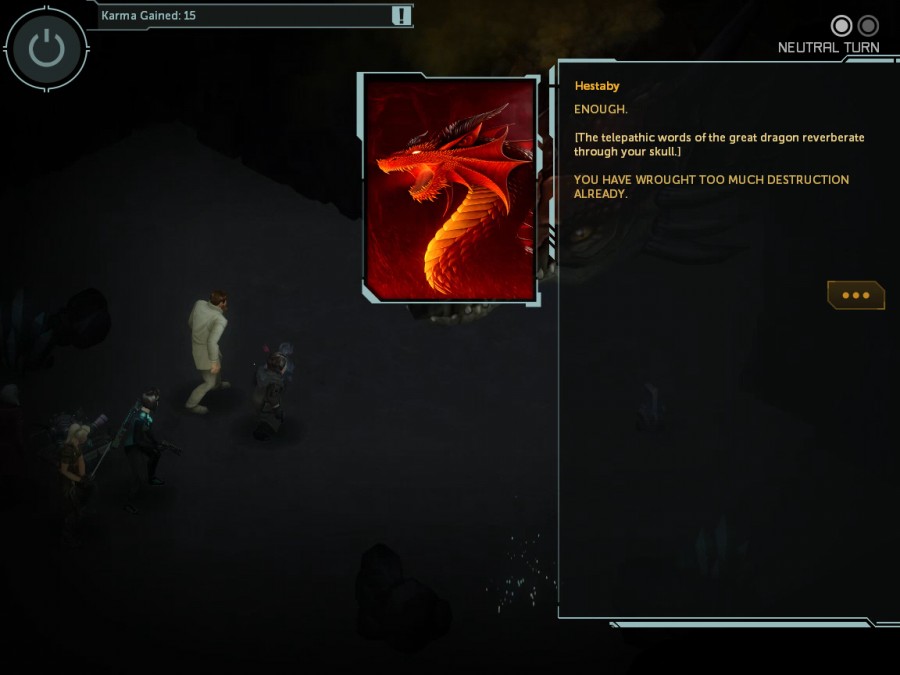 So yeah, Tabitha was Hestaby, one of the Great Dragons, in disguise all along.

YOU FIGHT FOR THAT WHICH IS NOT YOURS. YOU, WHO HAVE MORE THAN ANYONE ELSE. YOUR GREED KNOWS NO BOUNDS, AND CANNOT BE SATED. BUT IT IS NOT ENOUGH FOR YOU TO OWN EVERYTHING. YOU CRUSH THOSE AROUND YOU, INFLICT PAIN, MAKE ENEMIES AND BRING THEM TO RUIN.

I'm sure we can come to some arrangement...

THESE ARE MY TERMS. RETURN TO YOUR COUNCIL OF PRINCES, AND GIVE THEM THIS MESSAGE: THIS LAND IS UNDER *MY* PROTECTION. THEIR ARMIES ARE NOT TO SET FOOT ON MOUNT SHASTA OR ANY POINTS SOUTH.
[The great dragon's eye swivels in your direction.]

KAMI, YOU SPEAK FOR THE PEOPLE OF CALIFORNIA. ONE DAY YOUR NATION WILL RISE AGAIN. WHEN THAT HAPPENS, YOU WILL NOT SEEK VENGEANCE ON TIR. YOUR ARMIES WILL NOT STEP ANY FARTHER NORTH THAN THE CITY OF REDDING.
As amusing as it would be, you can't disagree here. It'd just lead to you getting fried, probably.

As you command.
[Her gaze returns to Hans.]

TAKE YOUR SURVIVORS AND GO. REMEMBER THAT, ON THIS DAY, I GAVE YOU YOUR LIFE.

As you command.
[Hans bows deeply, hesitates for a moment, then carefully chooses his words.]

I trust that we will meet again, and under more auspicious circumstances.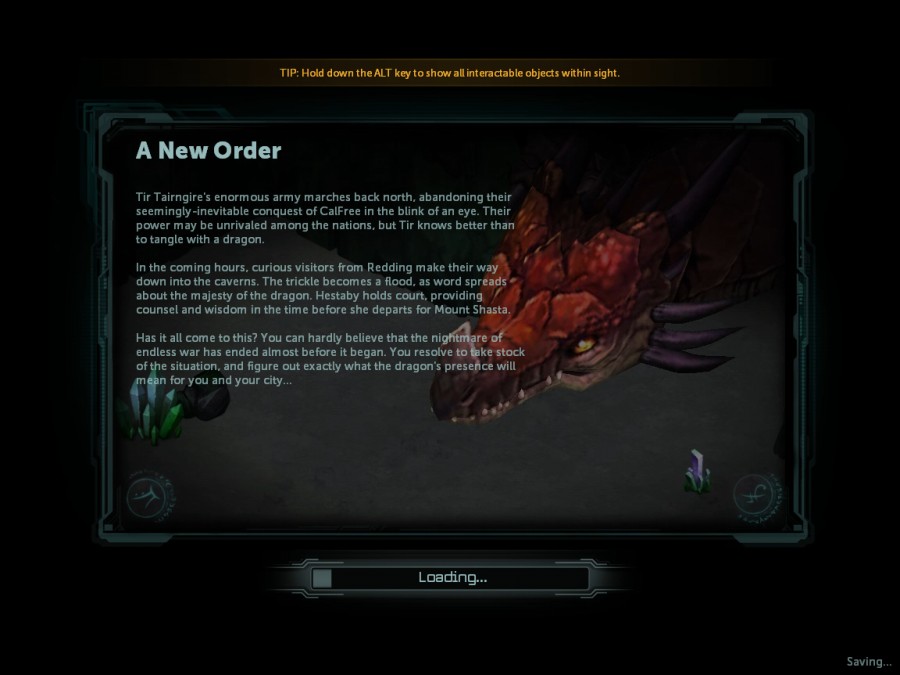 And so, it's time for the ending.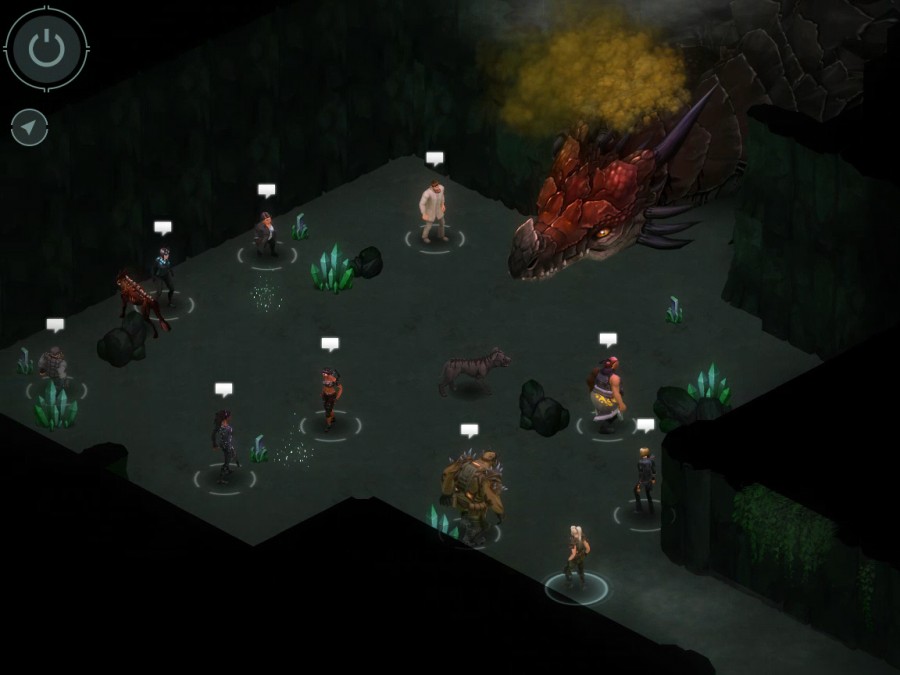 Tir has been repulsed, and now everybody is here for us to chat with.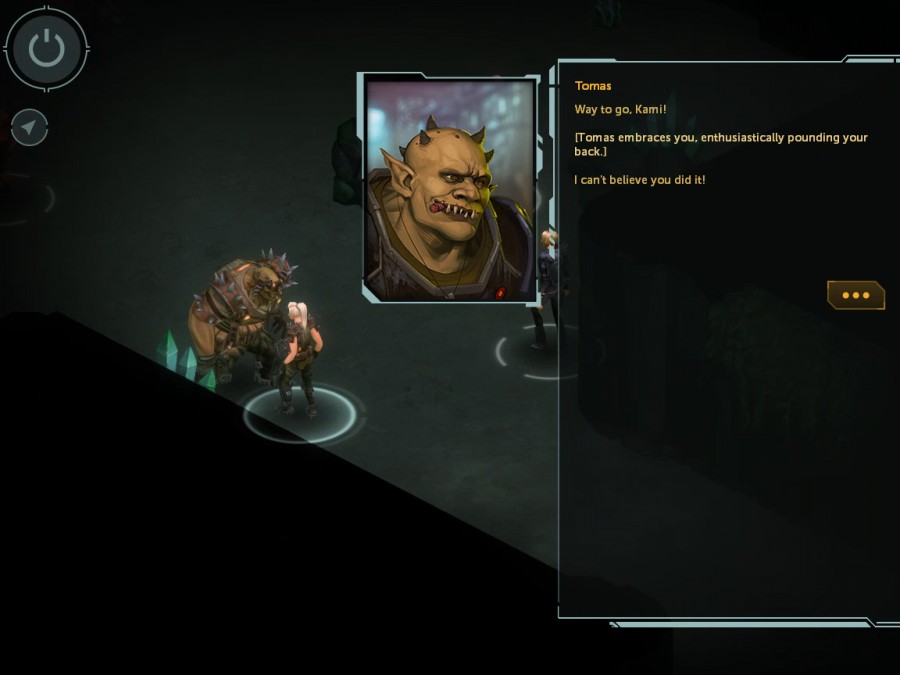 Things looked really bad for a while there. I was convinced that every single one of us was going to die. Just thinking about that... all of the widows and orphans I'd be responsible for creating... But, somehow, you and that big dragon there did the impossible. How did you know about her, anyways? Did you plan this all along?

I'm as surprised as you.

It's more fun that way, right? Like unwrapping a present that you didn't expect. Anyways, I should get back to town. I just wanted to see that creature for myself.

What's the damage like in Redding?

Amazingly, it's mostly intact. You were able to draw most of their advance forces to the dam, and their elite commandos all chased you down into the caves here. We caught some long-range mortar f‌ire, and lost good soldiers, but the dragon ended the f‌ighting before their main force could breach our perimeter.

Do you have plans for the future?

It sounds like we won't need this army much longer. Under Hestaby's protection, we should be free from territorial aggression, whether by Tir or CalFree. I'll muster out the troops over the next few days, make sure everyone's paid and taken care of. I'll also need to contact the next of kin for those who didn't make it. After that... well, if you'll still have me, I'll happily support whatever projects you might have in mind for Redding.

Goodbye.
[Tomas f‌irmly shakes your hand.]

It's been a pleasure.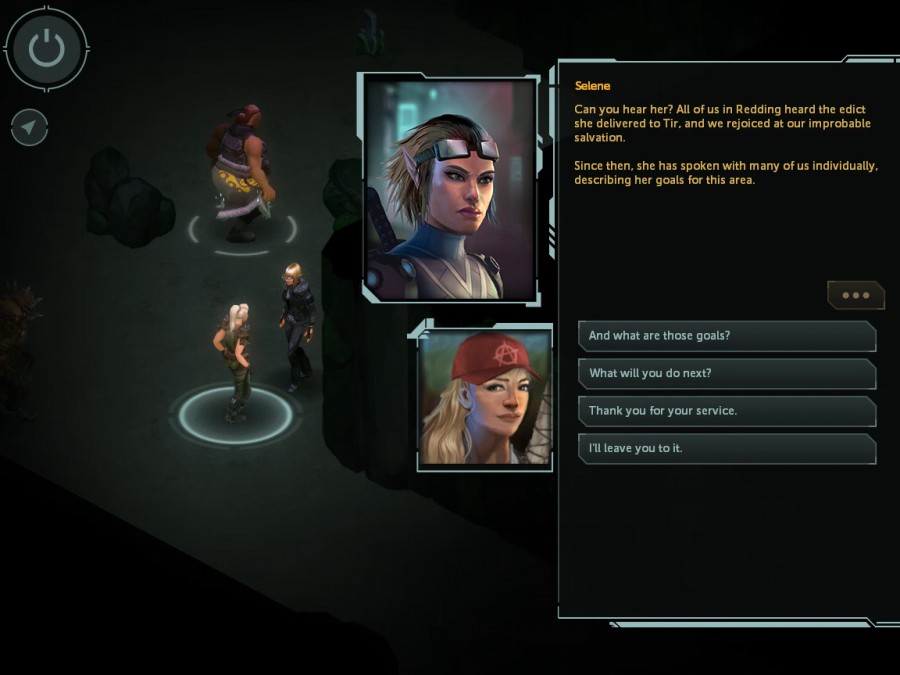 And what are those goals?

She has wandered far, and seen much that pained her. The destruction of the environment, the mistreatment of metahumans, the carnage of war. She wishes to do what she can to blunt the hatred between people, and to begin repairing the damage done to the land.

What will you do next?

Many have been called to join her in Mount Shasta. My place remains in Redding, though. I've heard from Rick and several other California Rangers, and we're planning to move the headquarters for the Rangers from Sacramento up to Redding. Sacramento is hopelessly corrupt, and in the shadows of the dragon's wings, Redding will be the safest place in CalFree.

Thank you for your service.

Oh, it has been a pleasure working for you, ma'am! At f‌irst I thought it would be boring to stack boxes and take inventory all day long. You've built something really remarkable in Redding, though. If it lasts, I want to remain by your side, and help turn it into the best city in CalFree.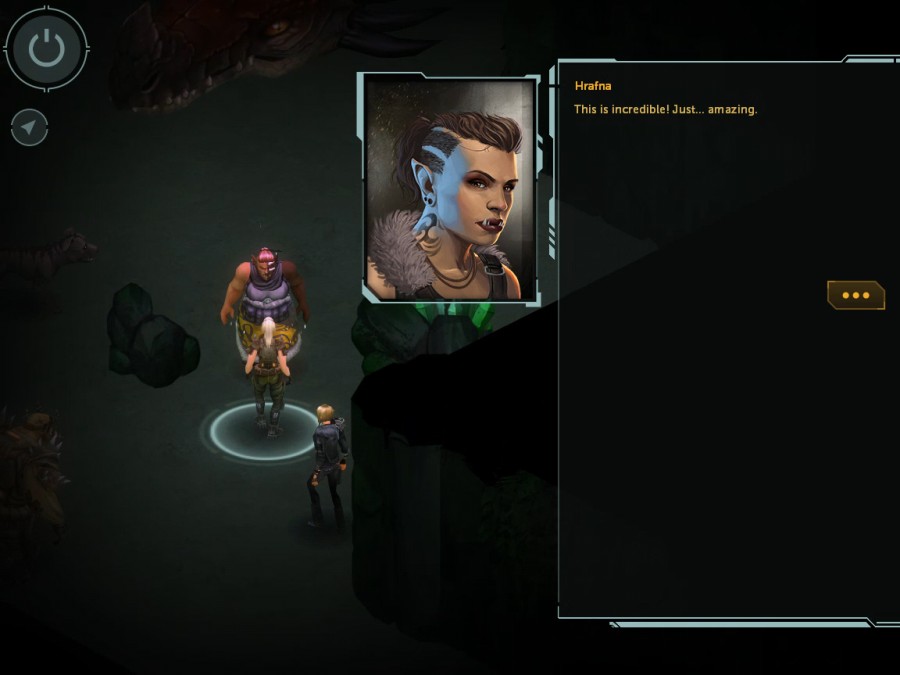 She's so beautiful. And I can already tell that she's kind, and wise, and powerful. She's what I've been looking for all my life.

She certainly saved the day here.

I heard! And she did it without even lifting a claw. Remarkable. We have you to thank for this. From what I understand, you were the one who saved her life when she was vulnerable, in her human form. If it wasn't for your timely actions, she would have perished, and all of us with her. Now, if you'll excuse me, I wish to commune with the great dragon. I have f‌inally found the purpose in my life: I will serve her and fulf‌ill her mission, bringing harmony to Shasta and, eventually, the world.

Bit of a shame about the war, though. I thought it was going to make me rich! Now I've got an enormous arsenal of f‌irepower, and no customers.

I might buy some off of you.

Yeah? Like, several hundred thousand Ares Predators? I hope you have deep pockets.
OK, look, I'm not sure what kind of operation you thought we were running, but we had, like, maybe fifty guys in our headquarters.

Well, looks like I'll be moving on soon. It's been a pleasure. Kami. Thanks for saving CalFree and all that jazz. Next time. though. try not to cut so deeply into my prof‌it margin.
I mean, we could cut off your head instead,
capitalist
.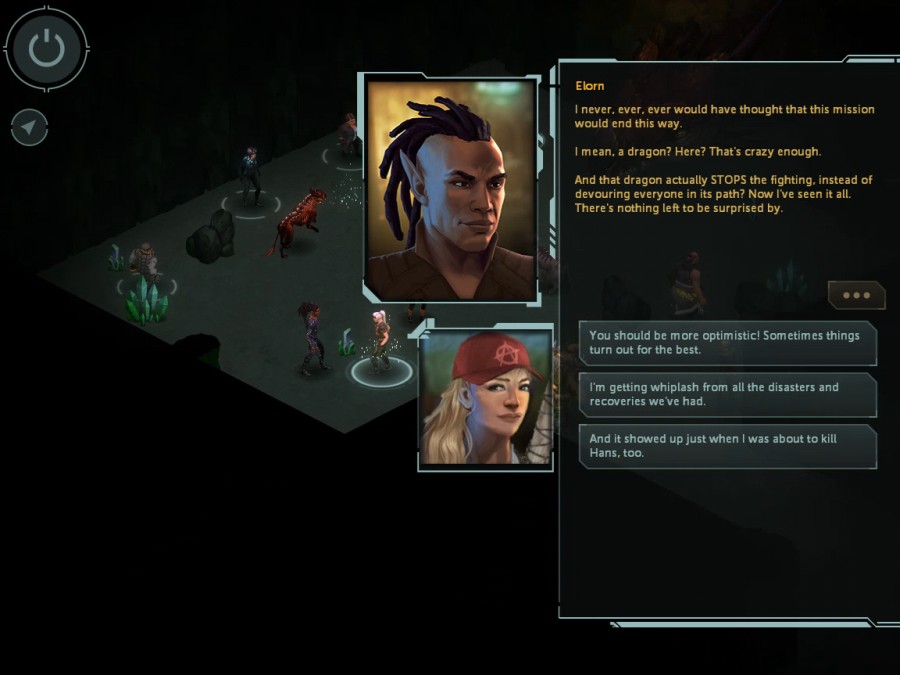 You should be more optimistic! Sometimes things turn out for the best.

You're right. I've seen enough awful things in life. I tend to just assume that it's the natural way of things. But there are forces that oppose entropy, and we should recognize and support them. Anyways. This is hard for me, but I wanted to thank you for all that you've done. From the day you rescued me from the Native Californians, through all the missions you've run, and your role in defending my city, you've been the best ally I could have hoped for. Thanks for being you, and doing what you do.

How's your family doing?

I sent my parents out of the city a few days ago. Dad was rather upset about it... he kept talking about how many Tir soldiers he'd killed last time, and that we'd all mess up without him around to give us pointers. He f‌inally relented when I told him that we needed him to plan for a guerilla campaign closer to Chico. My sisters were holding the perimeter close to the dam. One was wounded, but they all survived, thanks be. We're all happy to be alive, and will hopefully reunite next week.

Will you stay in Redding?

I think so, yes... It feels a bit strange. I've always thought of myself as one of Redding's defenders, the last line of resistance when Tir invades. Now that the invasion is indef‌initely postponed, I don't seem to have much of a purpose any longer. That said, I'm sure I can f‌ind work as a guard, or maybe even as a shadowrunner. We'll see where the future takes us.

What do you think about Hestaby?

Well, what I think about her shouldn't matter much. It's more what she thinks about me. Let's face it, a dragon can affect an elf inf‌initely more than an elf can affect a dragon. That said, I'm stunned and delighted that she's here. For my entire life, I've been afraid of Tir invading us, destroying our home and killing my family. And now, from out of nowhere, we have a bulwark, one of the most powerful beings on the planet who, for some inexplicable reason, has decided to protect us. It's remarkable.

Goodbye, Elorn.
[Elorn clasps your forearm and stares earnestly into your eyes.]

Fare well, Kami. Know that you'll always be welcome in Redding, wherever your travels may take you.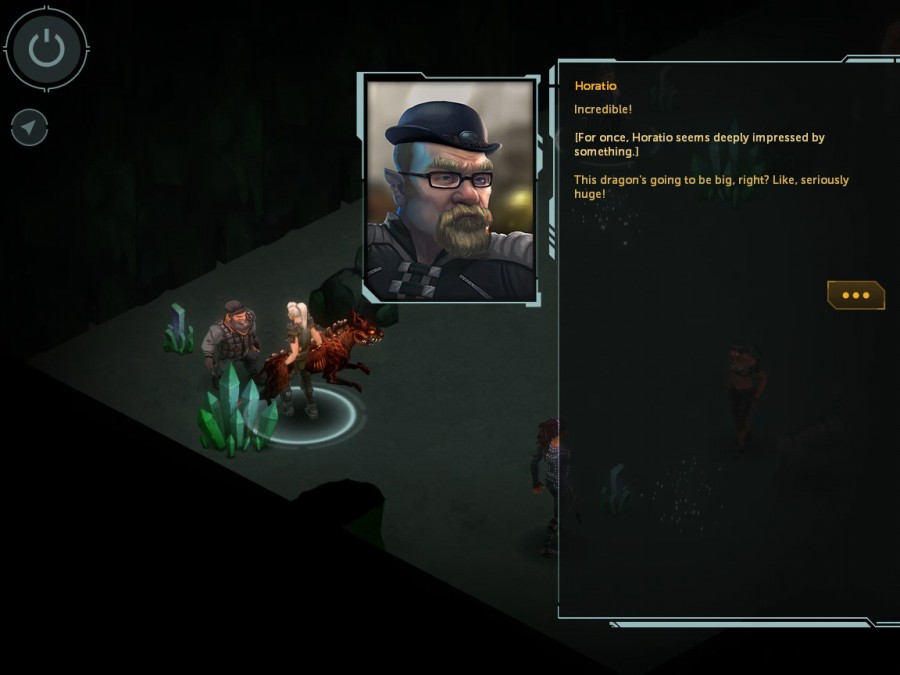 And I'm here on the ground floor. Probably the f‌irst person in thousands of years to lay eyes on this great dragon! I'm going to enjoy this, before everyone else discovers her.
Dragon hipster. Marvelous.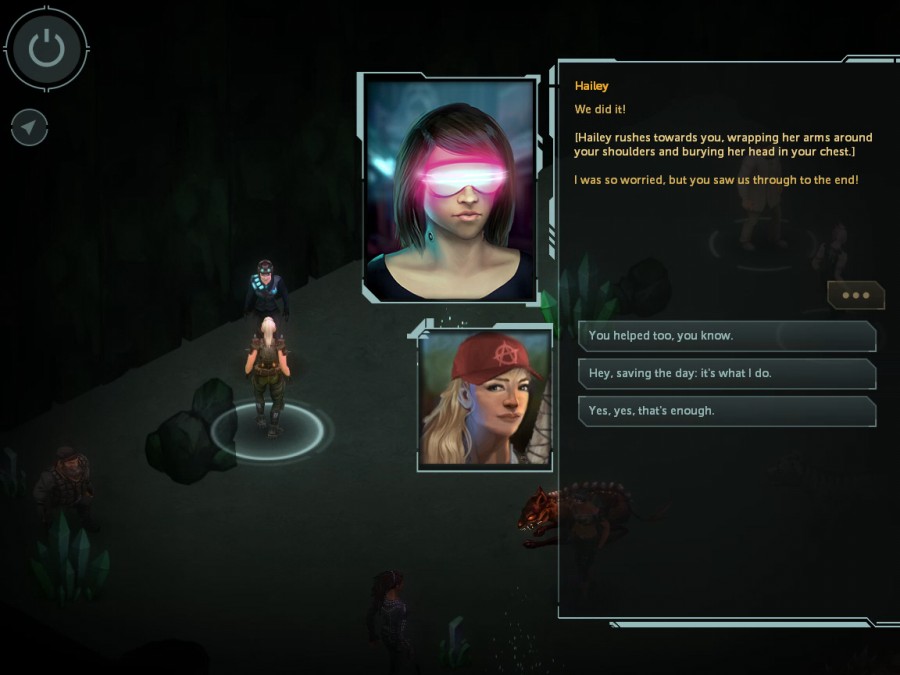 You helped too, you know.

Oh, all of us played our parts. The grunts, the support staff, even techy geeks like me. But you're the one who brought us all here and taught us to work together. Everyone's been talking about that dragon. I still can't believe that she's just... here, you know? Like, the f‌irst thing a shadowrunner learns is to never make a deal with a dragon. But she... it seems like she's just trustworthy?

Have you heard her speak?

Not after that initial order to Tir, no. I know a bunch of other people have been getting messages from her, though. I think it might be related to your essence? Magical types seem to be way more excited about her than people like me who are f‌illed with chrome. I dunno. It's interesting!

Are you going back to San Francisco?

Yeah, soon. I kinda want to get a trivid of me with Hestaby f‌irst, though. Would you mind taking our picture?
That sounds like fun.

Sure.

Thanks, Kami! You're the best!
[Hailey strikes a pose next to Hestaby. who tactfully ignores her posturing. After capturing several appropriately dramatic shots.you return Hailey's gear to her.]

Anyways, this has been fun and all, but really makes me miss The City. There just aren't that manyjack points out here, and I haven't felt all that useful. I've become one of Kali's most valuable deckers, so I want to keep on practicing my skills and getting more famous. You should def‌initely look me up the next time you're in town! Kali has been really successful in carving out more territory from Saito's grasp, and it's actually possible to relax and enjoy yourself again. If you ever need anything from there, just let me know — I can be your local connection!

Now that it's over, what are your thoughts on this run?

Wow... it was crazy! Hella scary, and really sad. I'm still kinda shocked that it turned out as well as it did. It felt like we were all doomed for a while there. The most important thing, though, is that you made the world a better place. I'm not just saying that: there's way fewer anti-metahuman supremacists running around, Colonel Saito has backed down, and, oh yeah, there's that little war that you helped stop, saving millions of lives. You're incredible, Kami! I'm so glad that I got to help you out. This will be the most important shadowrun of my entire life.

Take care, Hailey.

You too, Kami! I'll let you chat with the others here. Don't forget to ping me the next time you visit San Francisco!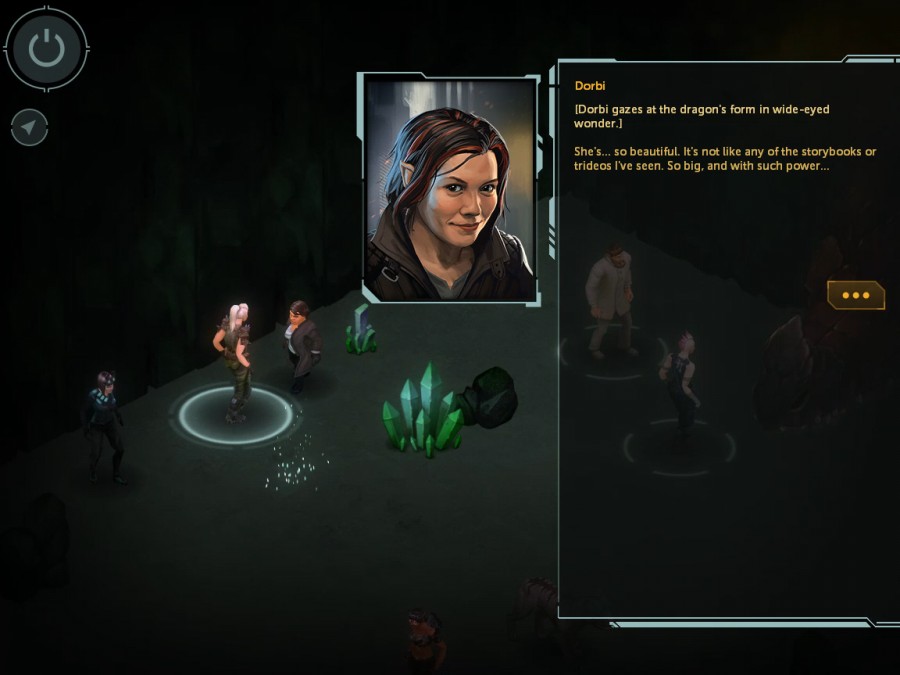 [She snaps out of her reverie and turns to face you, a wide grin blossoming over her face.]

You did it! You did... well, everything! You helped save Redding, defended the Dam, held off damn near an entire army... and, oh yeah, def‌ied Tir's Council of Princes and rescued a real-life dragon! I never would have thought that the woman I nearly waterjacked on The 5 would rebalance the power structures in CalFree. And she... well, I think she might be what I've been looking for. Dragons are the most powerful magical creatures in the world, and they're pretty famous for breathing f‌ire. If I ask nicely, do you think she could teach me some tips? Maybe even give me better control over the f‌ire inside me?

I think she'll gladly help you tame your talent.

Yeah. She's, like, millions of years old, right? I imagine lots of wisdom comes with those years. Hell, if I can just stop accidentally stop setting my companions on f‌ire. I'll be happy enough. And, after I'm done with this here dragon, what do you think comes next?
I think given what I've heard from you, you might benefit from chilling out a bit.

Why not settle down in Redding?

Hm. I'm not really the type for settling down. But maybe I can take a few years off. Make sure that my parents are comfortable, practice my skills, learn from the dragon. We dwarves are long-lived, I have plenty of adventuring years ahead to me.
[Dorbi drops into a wide, ironic curtsey.]

Well, my liege, if you'll excuse me I'm about to make a deal with a dragon. Until we meet again!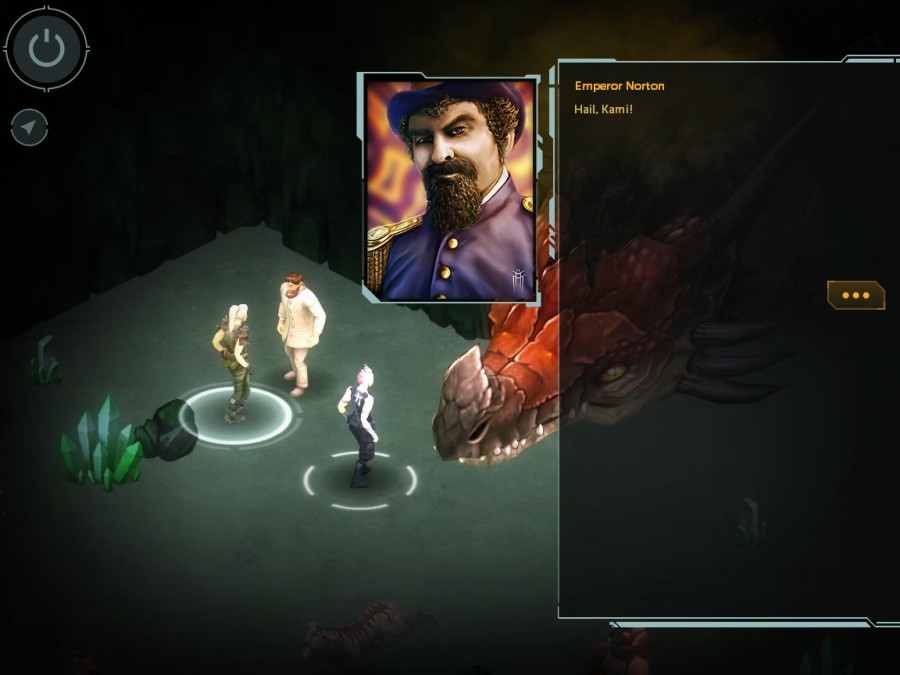 When we f‌irst recruited you to our cause in defending California against Tir aggression, we had hoped that your skills as a shadowrunner would prove adequate for the task. In truth, we have learned, you were better suited for this mission than we dared to dream. Any shadowrunner can deal death. You are one of the rare few who can bestow life. Your actions have saved an entire generation from suffering the horrors of another war, and perhaps broken the cycle of oppression and revenge that has so badly harmed relations between humans and metahumans. And so, by the power invested in us by ourselves, we hereby raise your station and grant you the honors you are due. Kneel, Lady Kami... and rise, Countess Kami of Redding!
Ah, hell, now I've got two titles. I think I need to worry about my inheritance now. Am I on Gavelkind, and when can I switch to Primogeniture?

We hereby grant to you and to your progeny, unto perpetuity, sovereignty over the city of Redding, which your actions have saved on this May 28th, in the Year of Our Lord 2053. Rule her with wisdom and strength, that she may grow and prosper under your benevolence.

I thank my Emperor for this gracious gift.

And so the Great Chain continues. We trust - nay, we know - that you will uphold your part in the Chain, and show your subjects the ideal to which they may strive.
Just show up in a year or two, and you'll only find the Redding Commune.

We may contact you from time to time as new crises arrive that require our action. Know, however, that we now consider you a peer, and worthy of overseeing our interests in this region. Go forth, and may all the people praise your name!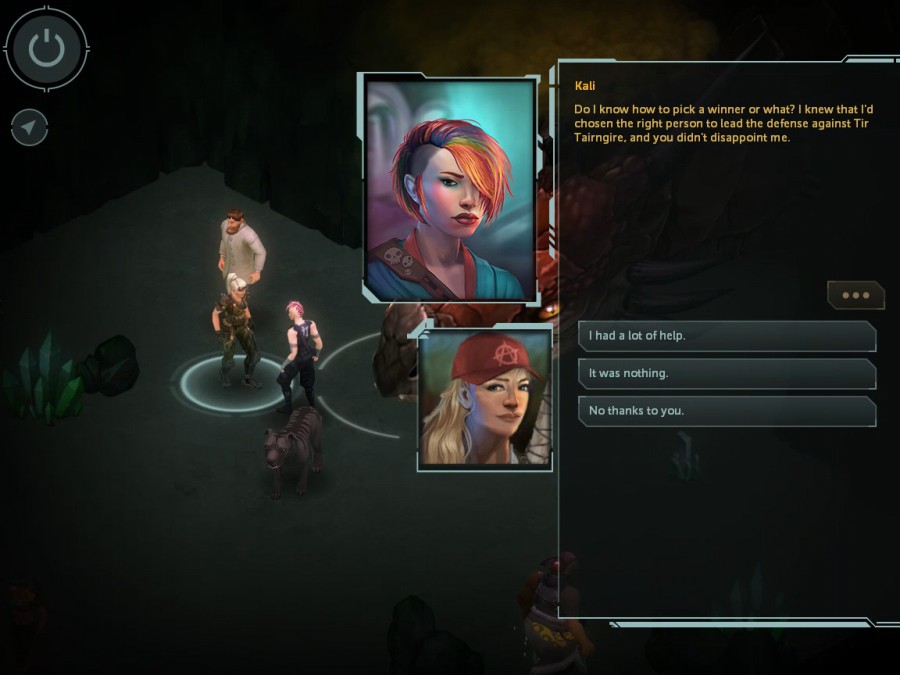 I had a lot of help.

True, but you were responsible for selecting and guiding most of the help. Their actions do you credit. I f‌inally secured a full army from the Japanese megacorps, and even an elite detail of marines from Colonel Saito's regular army. We marched here as soon as we heard that the invasion was starting, only to be turned back by Hestaby once we arrived. Colonel Saito is furious! I think he was hoping to repeat his San Francisco ploy - take the excuse of defending against a Tir Tairngire incursion to move his troops into position, then continue the occupation indef‌initely. Hestaby is shutting him down before he can even start, though. The megacorps seem relieved by the outcome. A Tir invasion would have been disastrous for their operations. Now they get to maintain the prof‌itable status quo, and they didn't need to incur direct costs associated with f‌ighting the invasion. They can write off their donations to you as in-kind deductions on a depreciating basis. Knowing them, they'll try to sign trade agreements with Hestaby and open up new markets in dragon-related goods.

[Wait for her to continue.]

You've been a loyal ally and a true friend to my superiors and myself throughout this long process. We'll never forget the debt we owe you. Corporate work is the most lucrative on the planet, and you'll be able to write your own ticket for the rest of your life. I'd love to stay and chat, but it's vital that I speak with Hestaby and determine what her presence means for Antumbra Enterprises. Please f‌inish chatting with whoever you need to speak with, then come join us, and we'll f‌ind out what your future holds.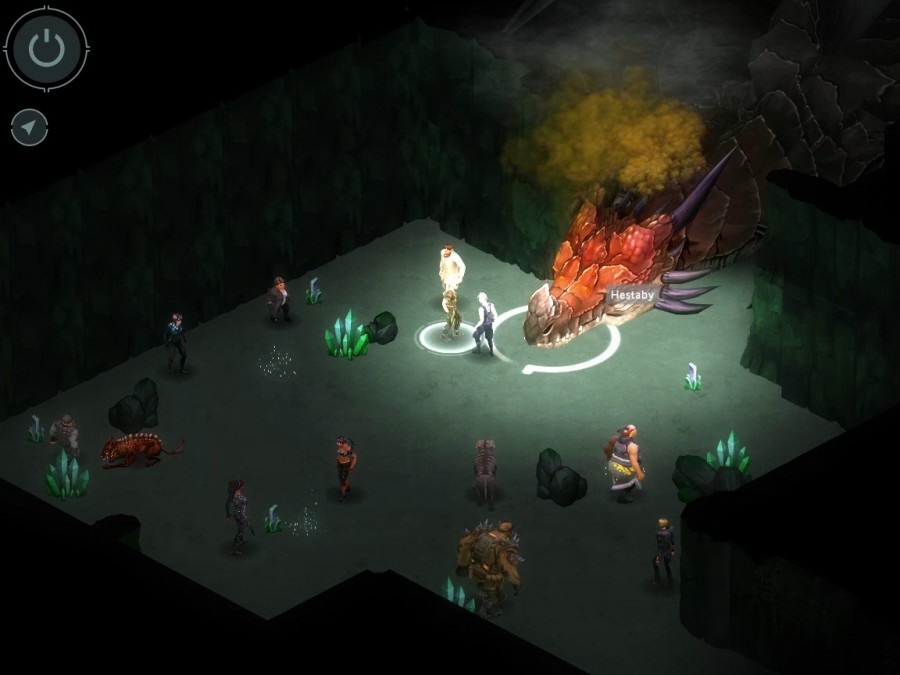 Well, we've got nobody left to talk to, so time to trigger the proper ending.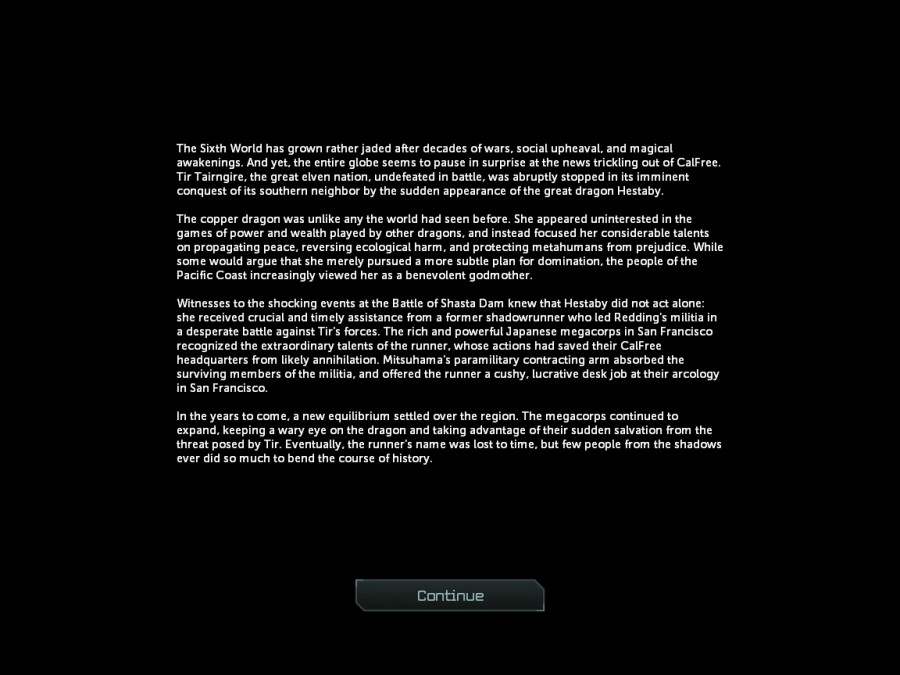 At least it doesn't say if we actually took that corp desk job. I would figure being the Lady of the Mission, Countess of Redding, Chromatic Metal musician, action movie star and Revolutionary Hero would already be enough for us to do.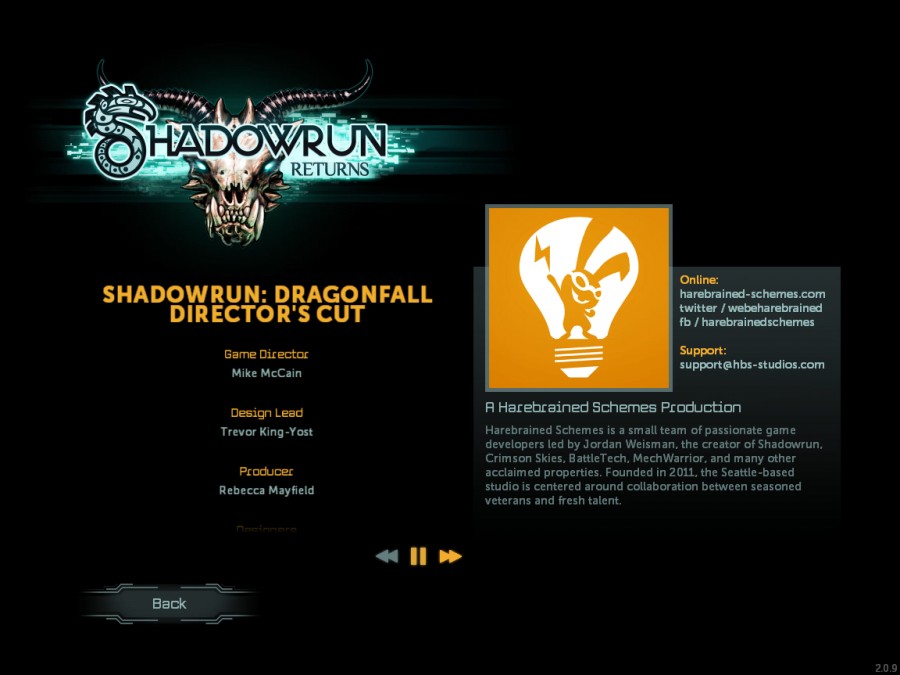 And that's it! We end it with Dragonfall's credits, which we don't really have to go into.
So, I suppose that means it's time for my waffling final notes.
- I have to say, this was an interesting LP experience - I went into this by decidedly cutting corners right from the start. I wasn't going to show off options or anything, I was just going to play through the game once and take my actions as they come. And I wouldn't go into detail on battles, instead just skipping the bits that were mostly the same. It made for an interesting low-effort sort of LP for a fairly short mod that only took me a bit over two months to get through (which all things considered is a pretty short LP for me).
- While I did expect The Closer to seep into this LP, given that I went directly from one to the other, I didn't expect you all to coalesce around Kami so quickly, and in retrospect, it was a really good choice. Now I'm just expecting you to give me Shaman Zizek when I end up LPing the next part.
- On that note, I'm probably not going to be doing the next part of this mod, The Caldecott Caper, as my next LP. I'm sure I'll do it eventually (as long as nobody gets the itch to LP it before I get around to it, which I'd totally be fine with), but for now, I'm looking into something else - a subtitled video LP of AI: The Somnium Files. As I mentioned earlier in the thread, I started playing that the day it released and loved the hell out of it, so why not LP it? But first, I'll need to learn how to do subtitled VLPs, so I'll probably have a break from LPing (apart from running the Sub-Par League, that is) for a bit.
I don't think I have much more to say. This was really straightforward, all things considered. So, thanks everybody for reading!
LET'S PLAY SHADOWRUN: THE ANTUMBRA SAGA - THE END