Part 23: Puzzles - Round 7 - Isomers
Round 7 - Isomers
Well, looks like no one took me up on the offer to write about interesting chemical processes for a free copy of SpaceChem.
Wait! That stuff by Carbon dioxide sort of counts!
14: LP Isomers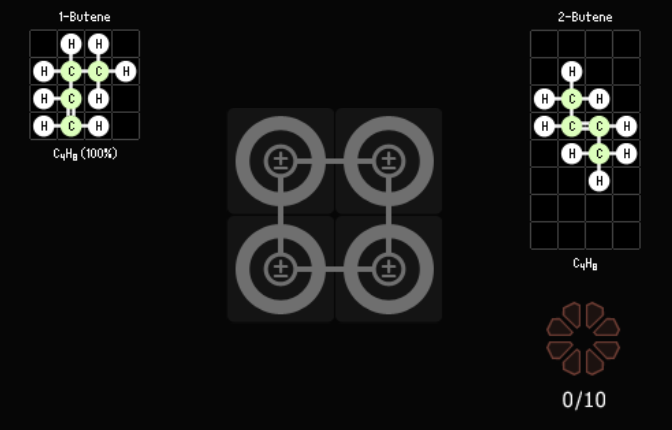 Task: Make 2-butene from 1-butene.
Goal Priority:
LEAST CYCLES
/
LEAST SYMBOLS
/
SUBMISSION TIME
H4sIAKSN6VEA/2WQPWvDMBCG/0q5OYY7yTXF2pqlhRa6dSgdXOdcG2TJ6GNIg/PbKykd3GR5OT
28cM/pBJNZYqh+rGEP7QkwR2Hp+XGC2Wruo2ZogarHGNiw2p+xfjrjgyJqiJQoSaJBoSQRohJI
mLjIM4qEFFJOKhxlmWWTUsjUgR30NpoALYn1c113YGO4tdqoiFsVUSToerGQhctGoJJ1kaszkX
mxorp07ks/a21UMIuMna905765uihBG1zkHXxZc2BX/XXrS9Gz8dZBO3Ta8wUN0fN/4hc9hXAF
A2terNvicFzypY49d64fk5jp5kxe3u6evZ3Z+cS6GMa8Et4nfXhN4DANw5R+KRyhxfUXqmwdqN
8BAAA=
15: Natural Chemo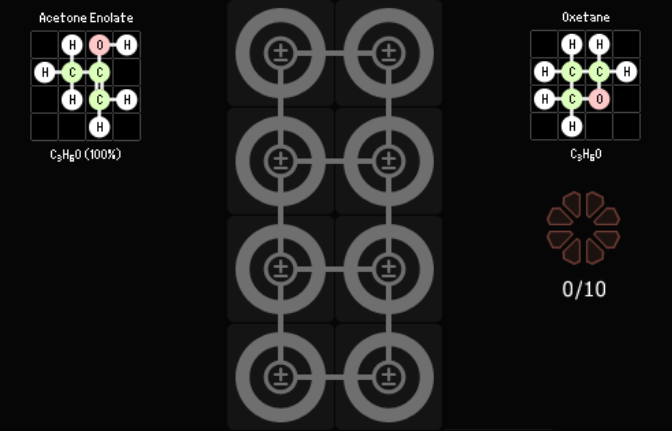 Task: Use an isomer of acetone to make oxetane.
Goal Priority:
LEAST SYMBOLS
/
LEAST CYCLES
/
SUBMISSION TIME
H4sIAI+N6VEA/2WQy2rDMBBFfyXMOoYZGYKxViUUsmmz7KJ0odrj2qBIRg9oGpxvrySXkjYIBu
nowrnSBSYzx1B9WcMe2gtgHoWl4+sFTlZzFzVDCw8dhxTbPBqrVWC5v2J9uOLuKIl2RJIwLYlE
hJIEIUpBOxRSiHxbr6QuE5tMUh5hC52NJkBLYnlbli3YGO4b3dQ4fnJQ5l6/ikXZ15Q1VMRCNH
lfylHRoyjJTG70mOWj8pVW7oOrtQa0g9Ket/BuTc+u+gk3a9Kz8db9ZjIaoue/xM96CuEfDKx5
tu4Wh/Ocn+fYs3LdmJoZdcrkWYXolN7sRz7ZhFUMY7bCy6T7pwT6aRim9DvhDC0u3/GywsnTAQ
AA
Challenge 7: The Chem in SpaceChem
Inspired by Carbon dioxide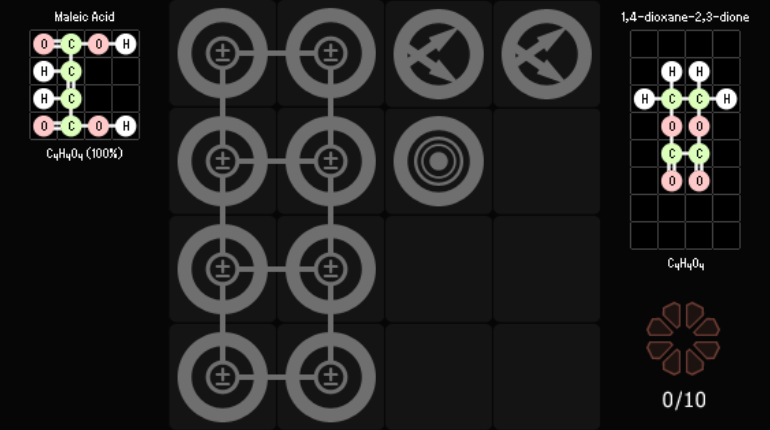 Task: Refashion maleic acid into 1,4-dioxane-2,3-dione.
Restriction: Every submission must contain a small chemistry fact that will be read out if you make the next results video. The same fact can be used for all of your submissions, but that's up to you.
Goal Priority:
LEAST SYMBOLS
/
LEAST CYCLES
/
SUBMISSION TIME
H4sIAE6G6VEA/2WQTWvEIBCG/0rwnICjaQjJqeyll6WHFnooPdhk0giuBj+g2yX97R2TLfTj4I
M+jsw7Xpi2S4rVh7MYWHdhPGNzdHy+sJMzOCSDrGNHZVAPxe2gx/7wyes7Wve0euANQA/QcNGD
aDjtZQO85wCZYiNvBVFmCt6SETJTcuBESWQlG1yykXUg1pd1LZlL8X+4H4mgrKtRu3dlsRKlzH
uLv7Pt3TOglyL3gpuWKDZSWkpOSehWiH2KXAl1AzTL7mua60c2npPNKlRG+Tes9oysiz5hyV6d
HdFX19p2Lwxog/PfJdlMKSCJSZlwNWExOsY/MqLBxflN74/jecmDewyo/DBTLKtO2TzOWBxmPB
XaFg+LGjAf6FqlOOfe7Emb8Uhi1NOk6f/imXV8/QJDgVQyAAIAAA==