Part 25: Paperback Writer
Chapter 23: Paperback Writer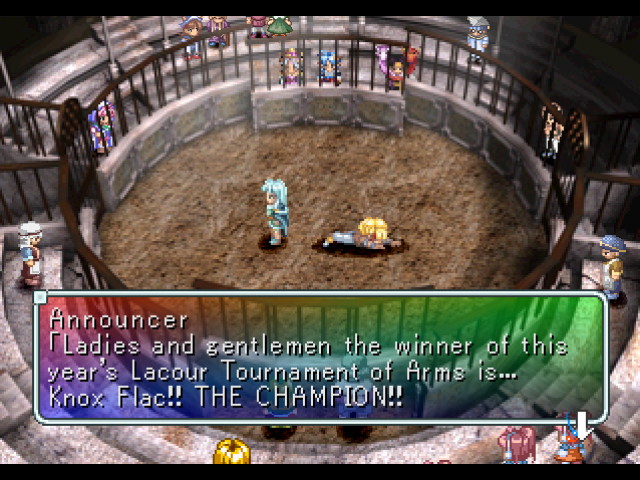 star ocean 2 is the worst game i have ever played
and the first game i ever played in my entire life was amagon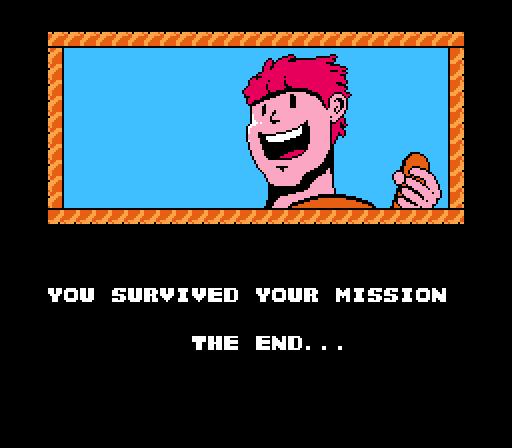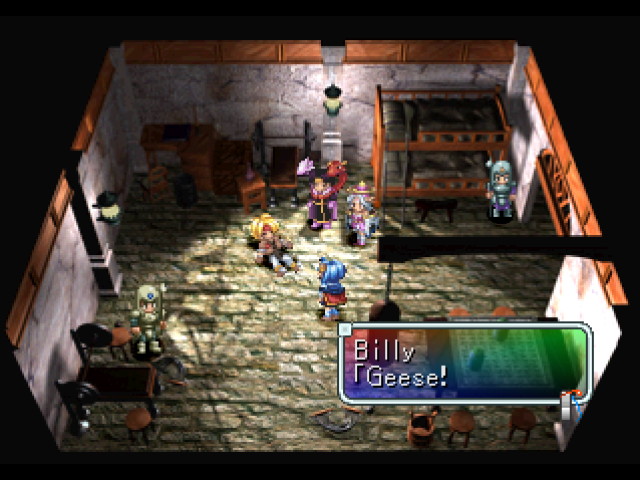 We come to in this room.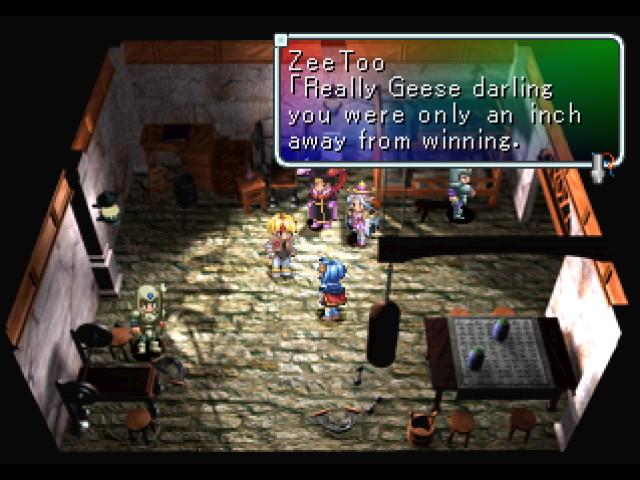 "HEY BILLY IT'S PRETTY IRONIC THAT THE WHORE IS MORE LOYAL TO ME THAN YOU ARE HUH"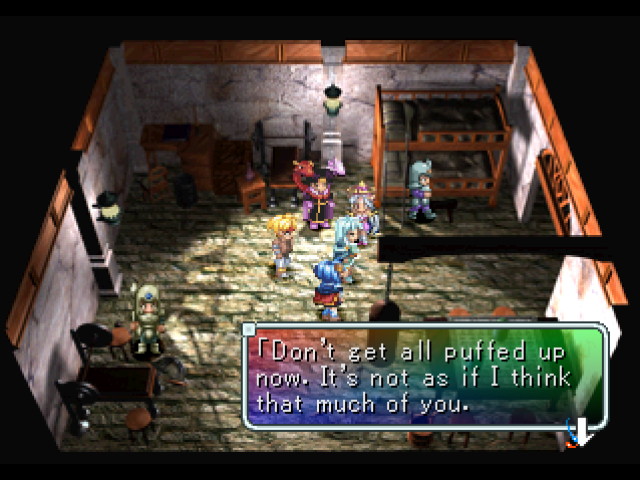 Okay so Knox walks in and tells Geese that he thinks that Geese is about on par with a sack of shit.
I don't know which assholes at Enix thought it was a good idea to just keep fucking rubbing it in at this point, but judging by the quality of Square-Enix games today, whoever it was probably still works there.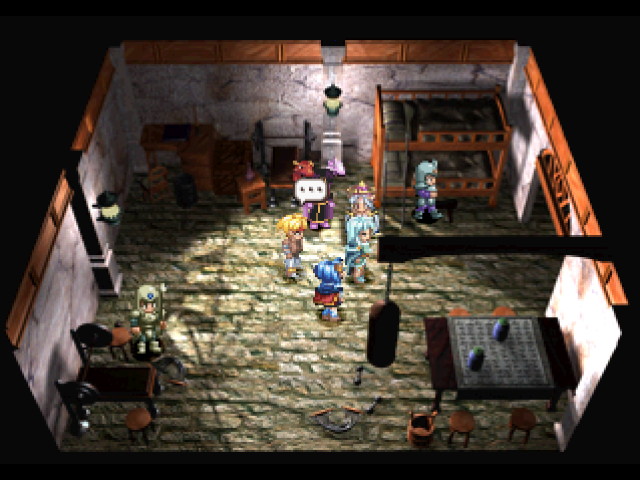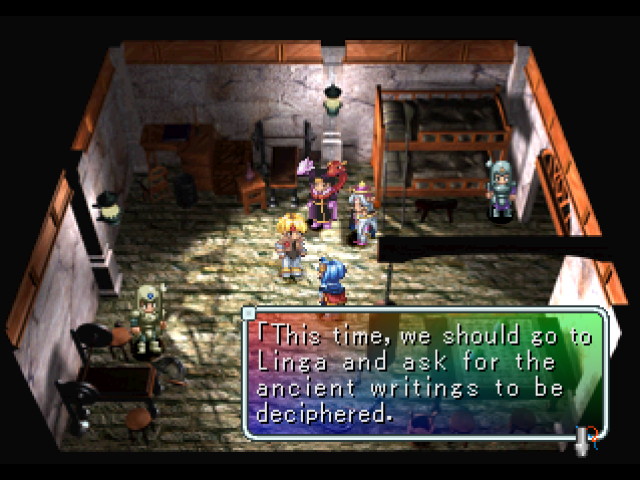 What Ancient Writings?
Oh, right. THOSE Ancient Writings. The ones that appeared in our Key Items inventory like twenty updates ago and are not only utterly pointless, but also utterly pointless.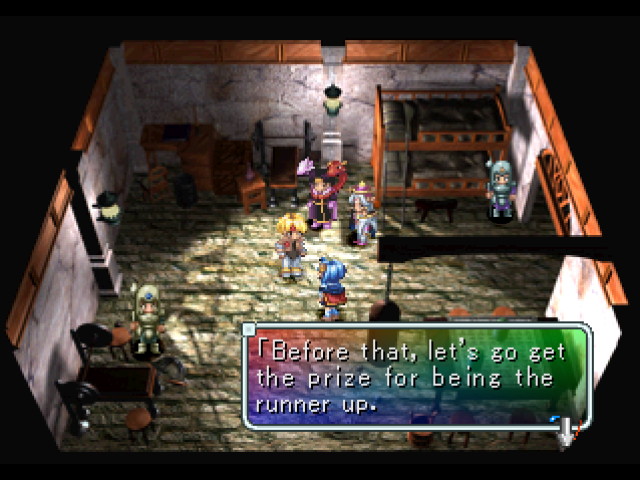 Let's not. That would entail talking to that insane bitch in that store with shitty items on sale.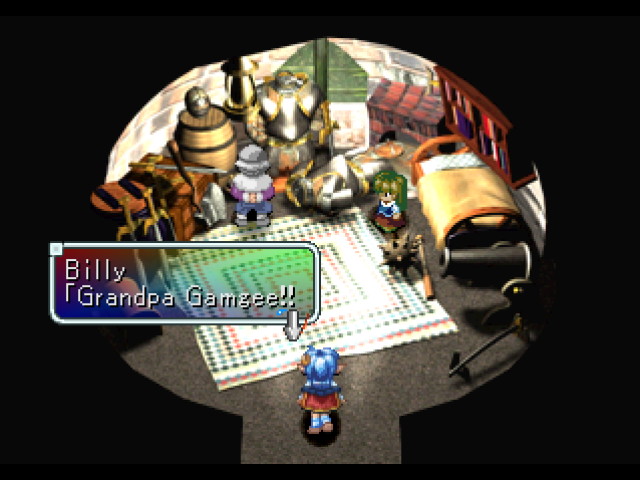 Instead, let's get our REAL prize.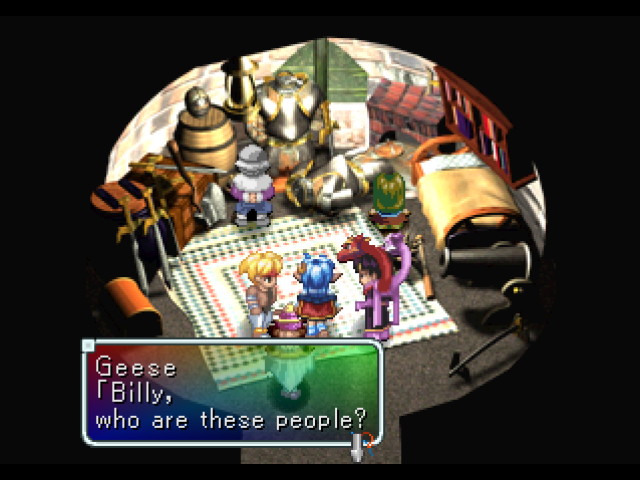 "They're alcoholics"
"... Even the five-year-old?"
"Well I took her to the bar just the other day so uh"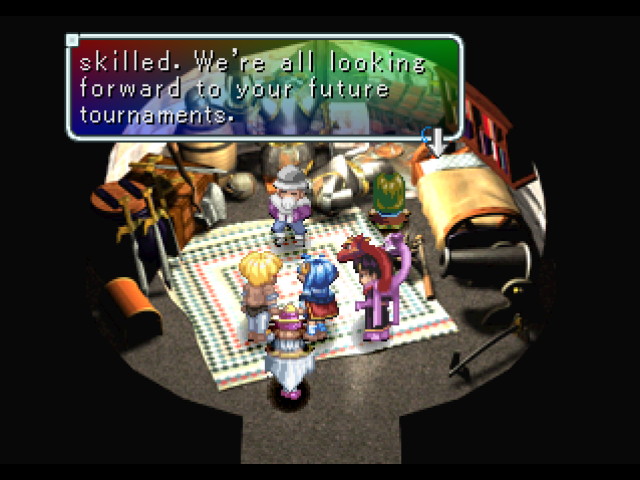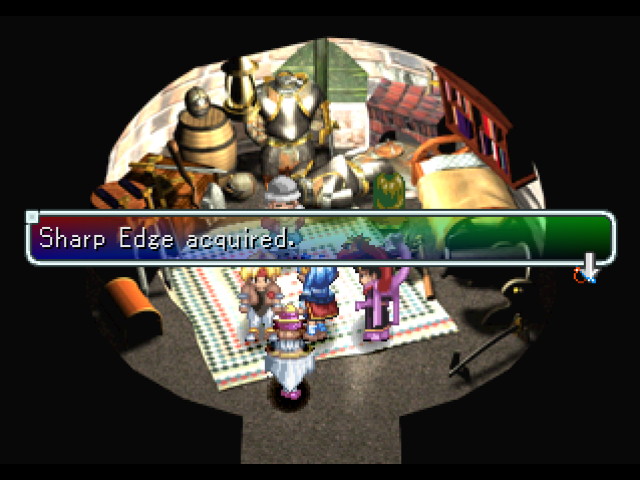 Oh, the Sharp Edge.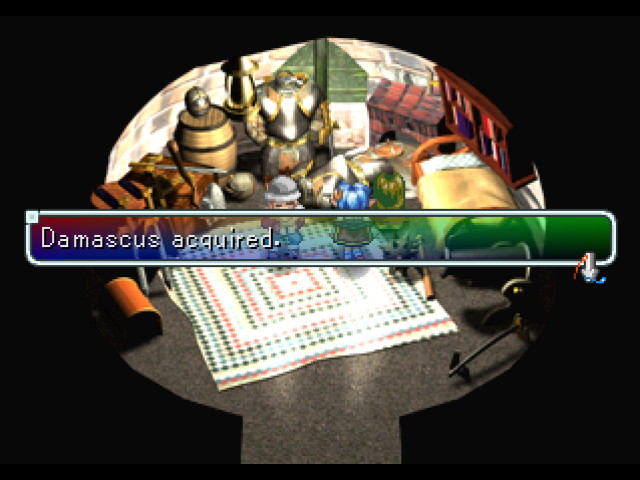 Also, you can pickpocket this completely useless mineral off of that brat.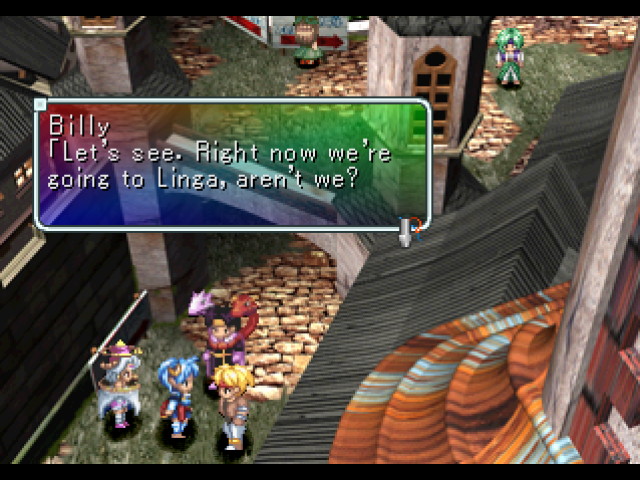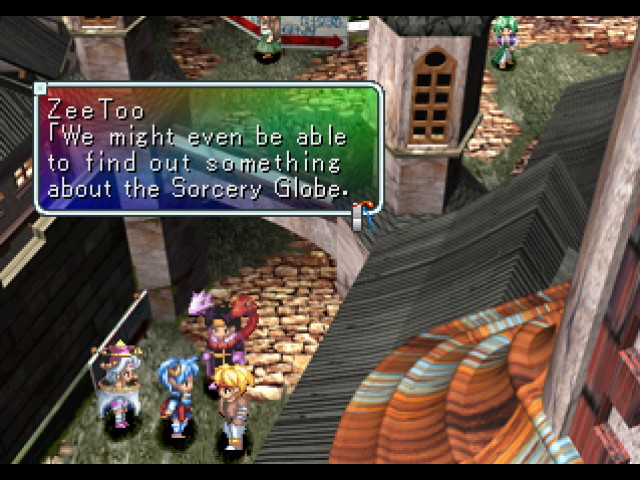 The Sorcery
what
?
OH, that thing, right, right. Yeah, I only completely forgot about it in the past two and a half hours of sucking Knox's dick, game.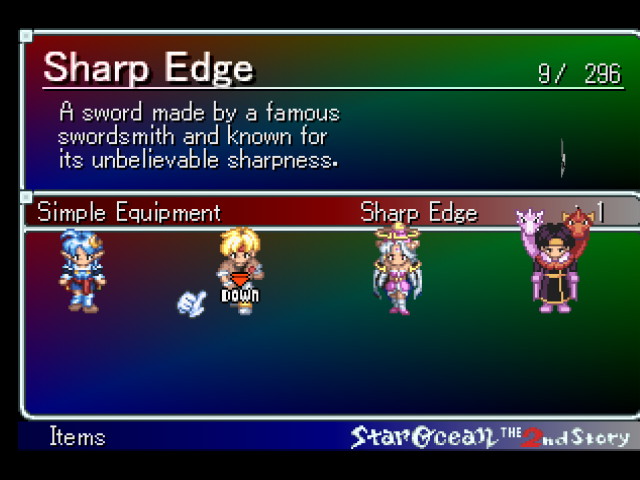 What a shitty sword
Anyway, 99% of this thread's readers already know the secret to this sword. You can only get it by talking to Gamgee before finishing the events in Linga, which are really short. You combine the Sharp Edge with some Mithril and you get...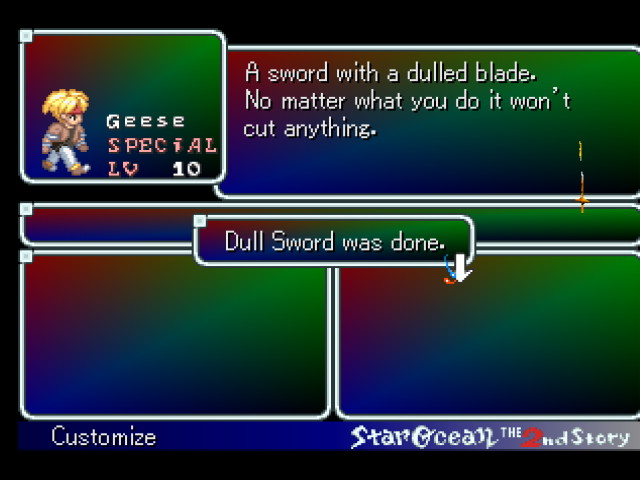 FUCK YEAH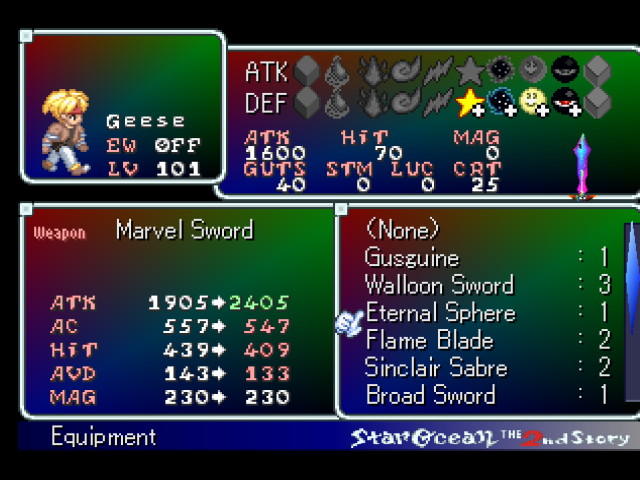 Nah I'm shittin' you guys, we made the Eternal Sphere. It was actually really nice, it took about ten tries between the two steps it takes to make the Eternal Sphere. Making the Melufa took like fifty, not even kidding.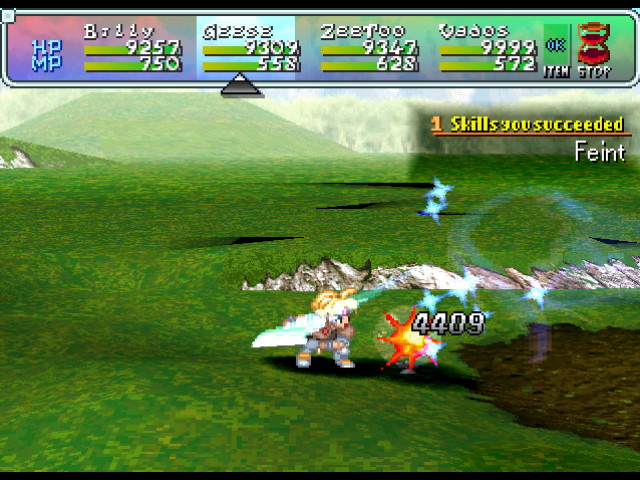 It clearly improves Geese's attack massively, and gives him some elemental resistances.
Everyone also knows that when you hit enemies with this equipped, it shoots out some stars that do about 1/4 of the damage of your normal attack. I used to think it was Star-element, but I don't think this so much anymore. It seems to be non-elemental, so whatev'.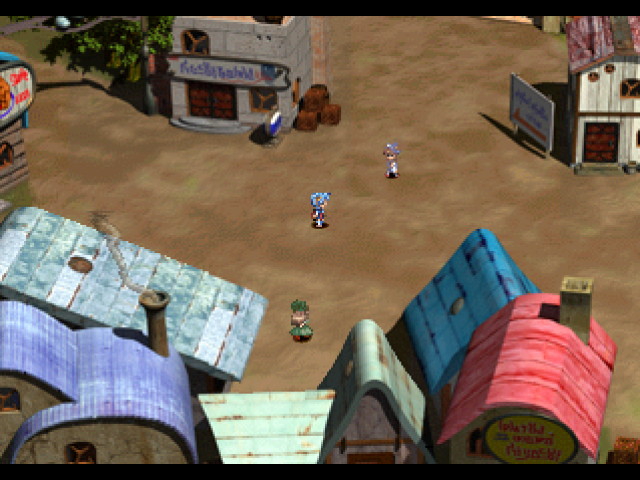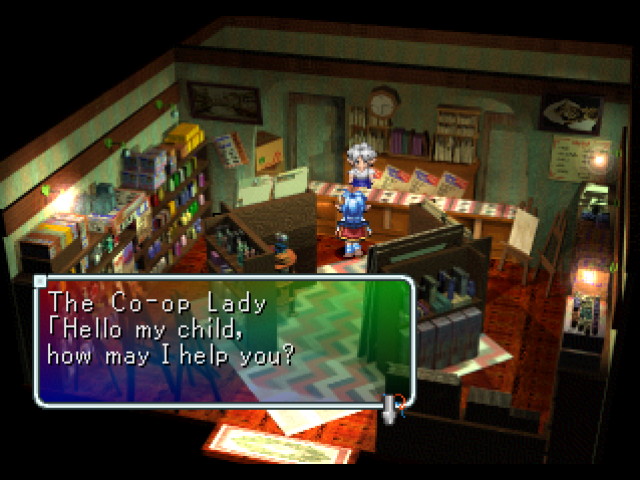 Well, this is familiar.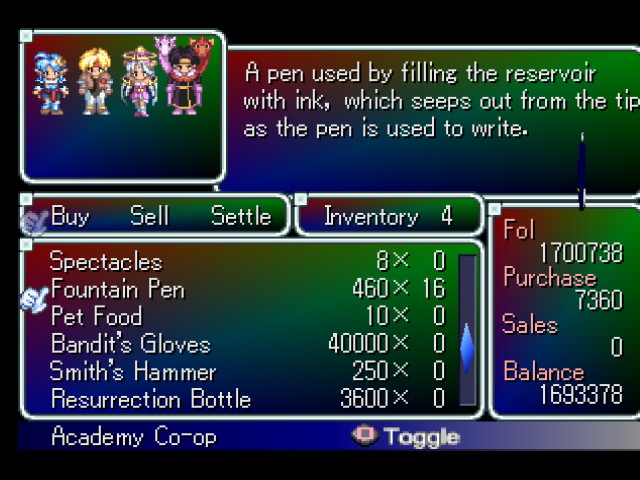 And this is even familiar-er.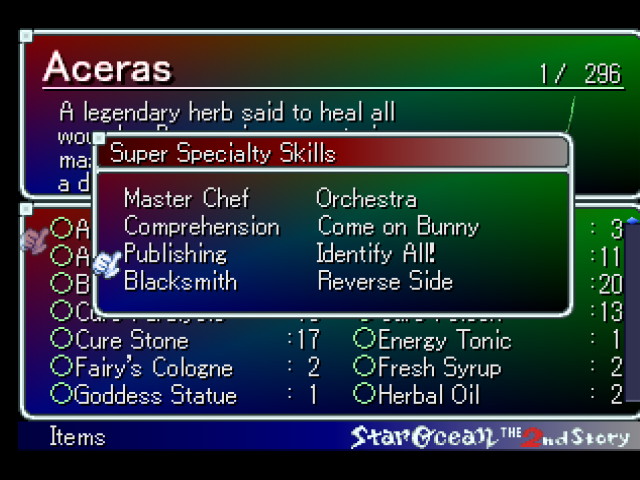 We're not, however, in the market for Magical Film today. Today, we have more pressing matters to attend to.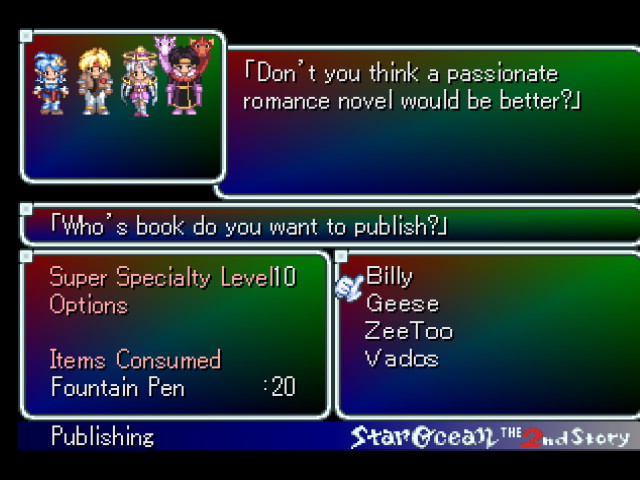 WE ARE GONNA GET PUBLISHED
(i am so sending out query letters for my latest manuscript tomorrow irl btw)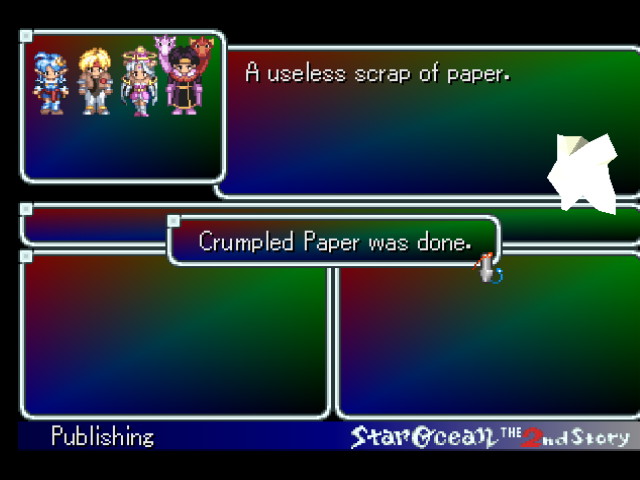 Billy is the magnificent author
So anyway, Publishing is a Super Specialty Skill that creates storybook items. If you sell them to the Publishing Company, you can come back in twenty hours and collect a few million Fols. Each character has two books: a common and a rare.
You can use these books to modify relationship values between characters. Common books set friendship values to 8. Rare books set romantic values to 8. Not bad for manipulating endings, or reducing the grind on getting there in the first place.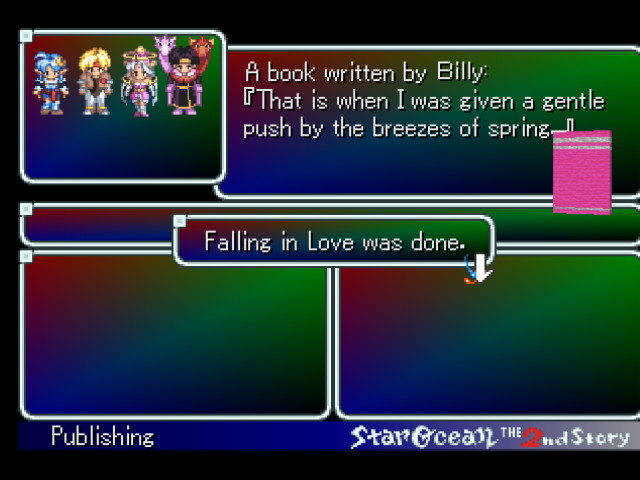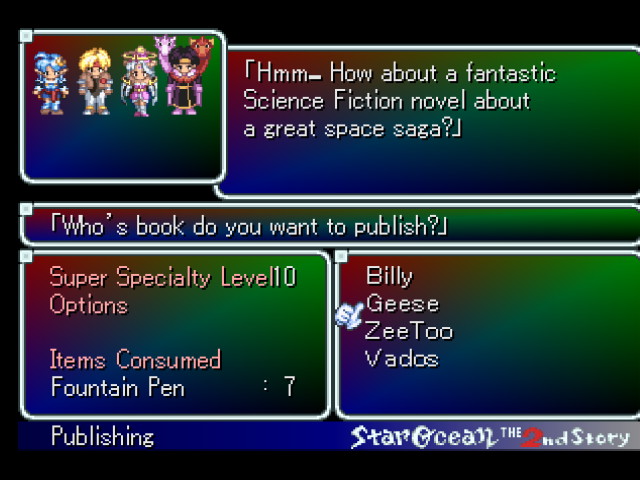 Oh, you mean something that is NOTHING AT ALL LIKE THIS GAME THAT IS SUPPOSED TO BE A SCIENCE FICTION RPG BUT ISN'T?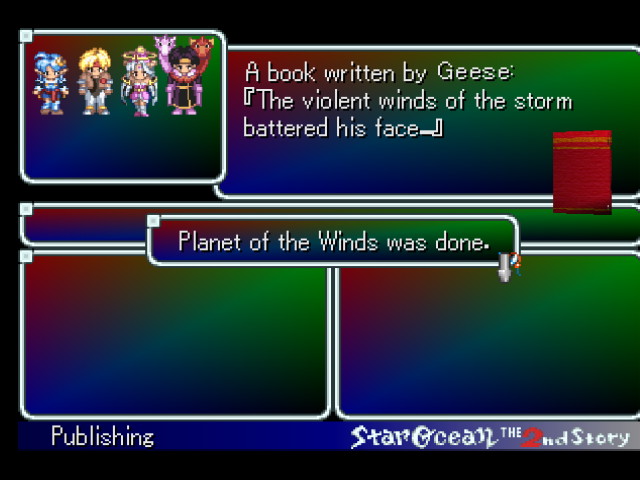 Geese writes a fart fetish novel.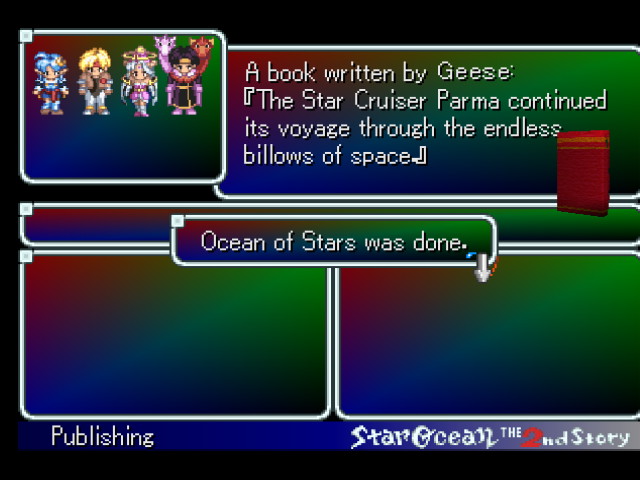 That is so, so very much like him.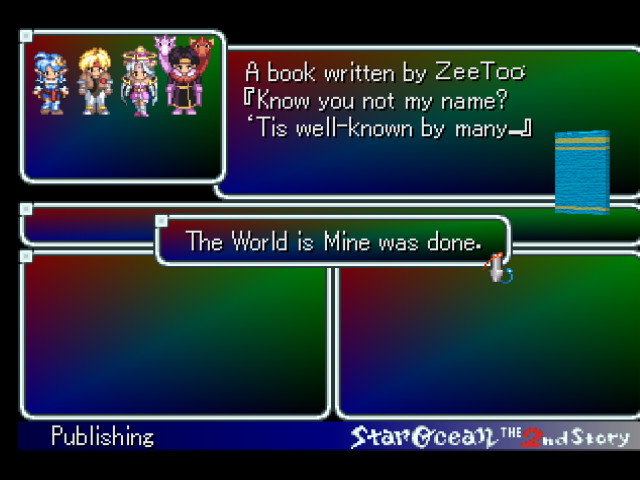 See, you can usually sort of tell what these books are "about" by their item description, but ZeeToo just doesn't know what the fuck.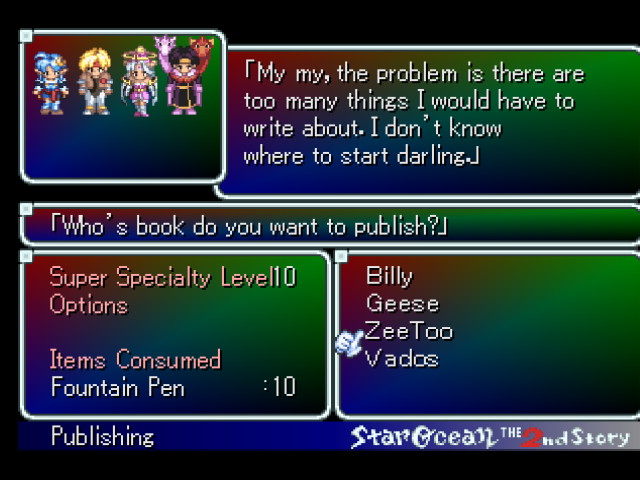 This seems to be the problem.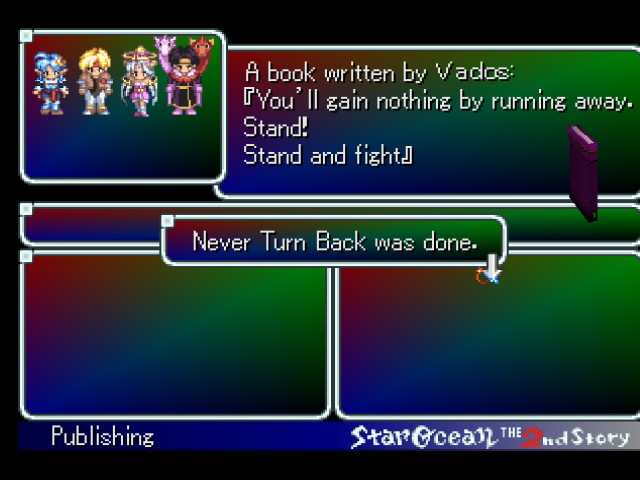 Vados wants to write, too. We actually get his rare book on our first try.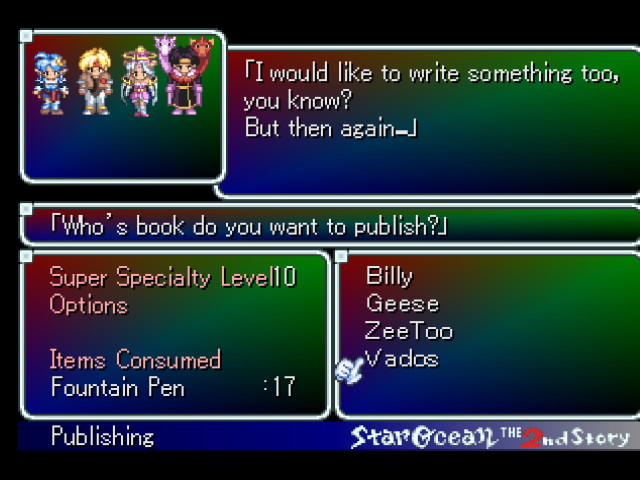 This confused me, because everyone is so used to always getting commons. I didn't get a picture of his common book, Mr. No, but whatev'.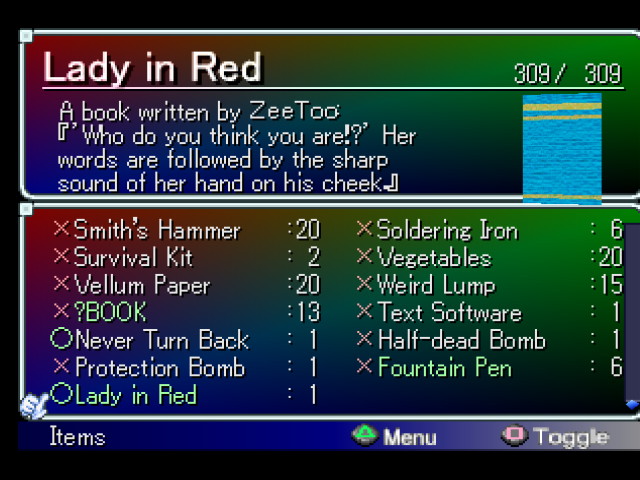 This is ZeeToo's rare book. Obviously, it's about an abused hooker.
Anyway, the Publishing Company is back in Lacour Town.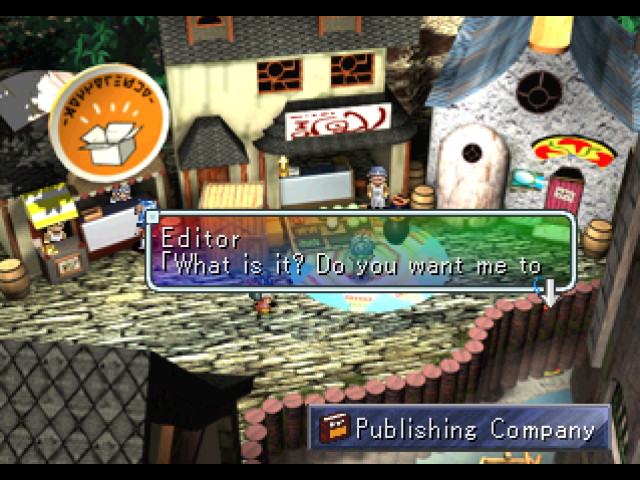 IF ONLY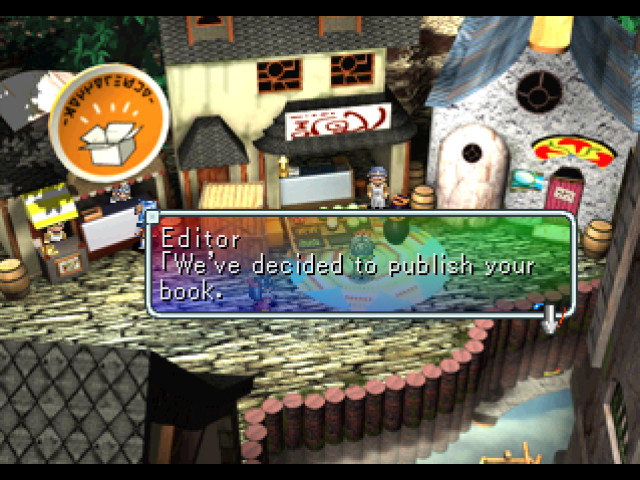 IT WERE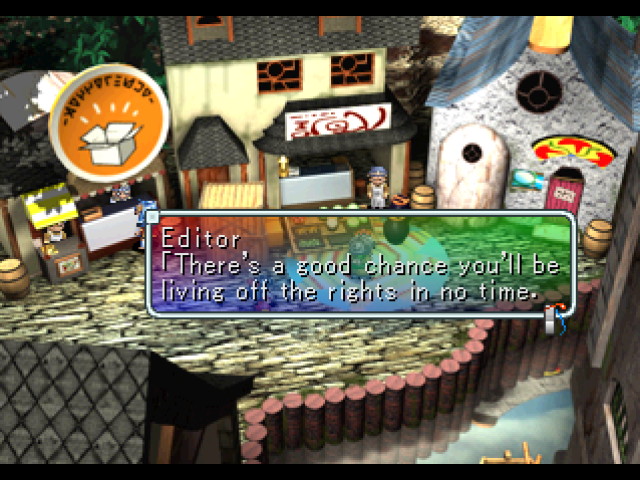 SO EASY
FUCK YOU STAR OCEAN TWOOOOOOOOOOO
OOOOOOOOOOOOOOOOOOOOOOOOOOO
So today, we have Contest Part 2, with the current scores standing at an astounding tie between nobody at 0 Points. Considering this chapter was all about books, I have a fun little challenge for us today: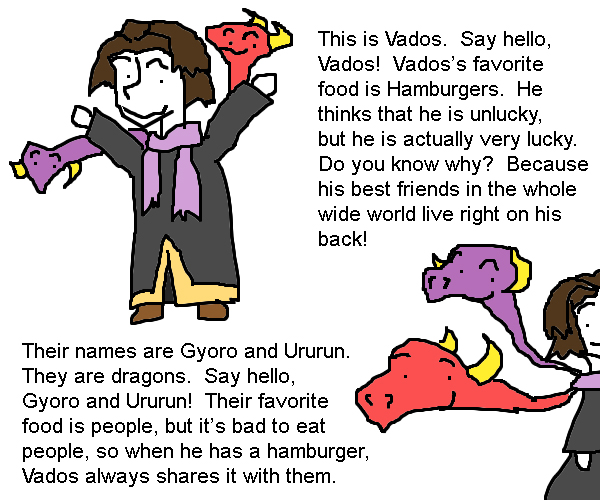 Make a page from Star Ocean 2: The Picture Book For All Ages
GET TO IT YOU FAGGOTS this shit is due some arbitrary day next week