Part 36: Chapter 19 Intermission Part 1
I've been putting off the intermission because I keep forgetting I don't have to do an entire chapter!
Let's start with an overview of what we have available as far as customization.
Robots posted:
Trider G7

Shuttle

Gaia

Cosmo Crusher

Scopedog RSC

Wing Gundam

Gundam Deathscythe

Gundam Heavyarms

Gundam Sandrock

Gundam Exia

Gundam Dynames

Gundam Kyrios

Gundam Virtue

(S) Ptolemaios

Nova Eagle

Getter

Mazinger Z

Aphrodite A

Dai-Guard

Burai (Zero)

Burai (Ohgi)

Burai (Tamaki)

Guren Type-02

Gurren-Lagann

VF-25F Messiah (Ozma)

VF-25G Messiah (Michel)

RVF-25 Messiah (Luca)

VF-25S Messiah (Alto)

VB-6 Koenig Monster

Quadluun-Rea

(S) Macross Quarter

Nirvash spec2

Terminus 303

(S) Gekko

Brasta

That's 35 units, fyi.
Next, a quick list of the available pilot skills.
Skills posted:
Block - Enables shield and blade blocking

Prevail - Get stronger as you take damage (9 levels)

Offensive Support

Attack Again - Support yourself if you're 20 points of Skill over the enemy

Defensive Support

SP+ - 6 points per skill level

Counter

Will - +10 Will at deploy

Morale - +3 Will each turn

Will+ Evade

Will+ Hit

Will+ Damage

Will+ Destroy

EN Save

Ammo Save

Chain Attack - Support attacks always crit (but not double attacks)

Predict - Hit, evade bonuses at 130 Will

Break Will Limit

Ignore Size

Guard - Defense bonuses at 130 Will

Spirit Block - Immune to weakening, immobilize, Will drain and SP drain

Repair - 1.5x repair effectiveness

Supply - Can supply after moving

Chain Actions - Breaks the game

Dash - +1 movement, +2 at 130 Will

Hit & Away - Can move after attacking

And the mech parts we have:
Parts posted:
1x Vernier Unit - +1 movement

1x Extra ISC - +1 movement, +10 mobility

2x Muscle Cylinder - +10 mobility

2x Precision Lens - +10 accuracy

1x Long-Range Radar - +1 weapon range

1x E-Carbon Armor - +500 HP, +100 armor

1x EM Antenna - +10% EN regen per round

1x Auto Repair Unit - +10% HP regen per round

1x Hyper Jammer - 30% chance of Double Image at 130 Will

1x Thruster Module - S in space

1x Land Module - S on ground

2x Screw Module - S in water

2x A-Adapter - A in all terrains

1x Propellant Tank - Restores all EN

1x Cartridge - Restores all ammo

2x Repair Kit - Restores all HP

9x Ikue's Snacks - Restores 20 SP

1x Pigmole Steak - Restores 40 SP

2x Adrenaline Ampule - Deploys at +5 Will

1x Sheryl CD - Restores 10 SP per round

So that's that. Again, I'm not asking for a complete detailed vote, but if someone wants to say something gameplay related, there's your reference. (For instance, now we all know that we have no Flight Modules and Command is not learnable in this game.)
Anyway, this is an intermission bit, but since we have way too many units, I'm going to drop updates on a few units each day (or faster or slower - probably faster) to keep things from getting chaotic instead of making one huge post and overwhelming people (including me). Let's begin with the oldies since they're at the top of the list. (Skills added to pilots, either earlier or just now or by path sync or whatever, are in italics).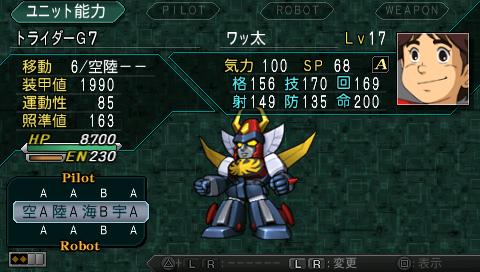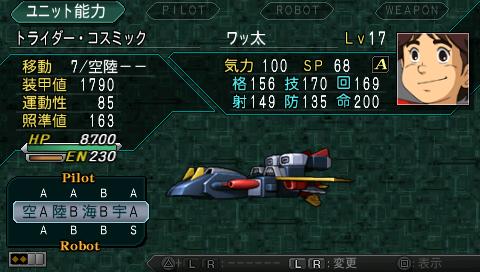 Trider G7/Trider Cosmic (Watta Takeo)
Skills
CEO
Prevail L4
+5
Will
EN Save
Spirits
Vigor
Gain
Invincible
Ace Bonus:
Extra PP from the CEO skill is doubled.
I never know what to do with Watta. I use him, but I just give him EN Save and keep his super robot stats up. SP Up might be nice.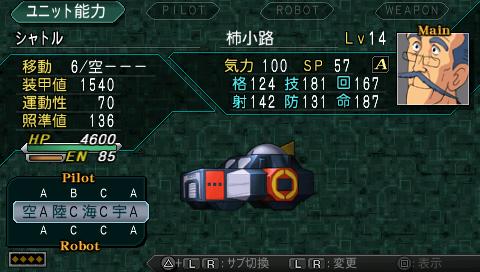 Shuttle (Umemaro Kakikouji, Tetsuo Otsui, Touhachiro Kinoshita, Ikue Sunabara)
Skills
Salaryman (all)
Offensive Support L2
Defensive Support L1
Supply
Spirits
(Kakekouji)
Vigor
Gain
(Otsui)
Trust
(Kinoshita)
Exhaust
Invincible
(Ikue)
Scan
Cheer
Traits
Supply
Ace Bonus:
Gain the item "Ikue's Snacks" at the end of each mission.
Got nothing.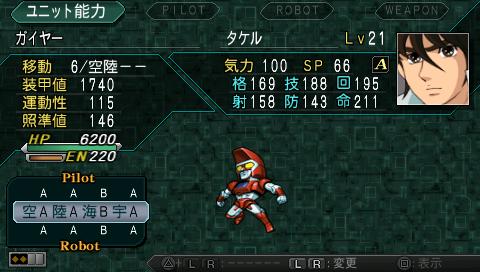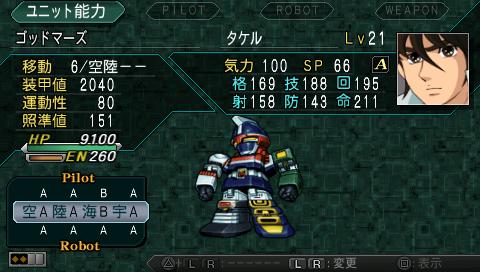 Gaia/Godmars (Takeru Myojin)
Skills
A-Class Psychic
Prevail L4
Spirit Block
EN Save
Spirits
Vigor
Sense
Drive
Traits
Six Gods Combination
Antiproton Bomb
Ace Bonus:
The Psychic Skill is replaced by A-Class Psychic.
I didn't realize I'd been neglecting Takeru's growth so much. Prevail? More SP? Will so he gets into Godmars faster? Godmars seems to win everything no matter what I do. Takeru's Skill/Maneuverability stat is actually competetive, so he's close to being a candidate for Attack Again.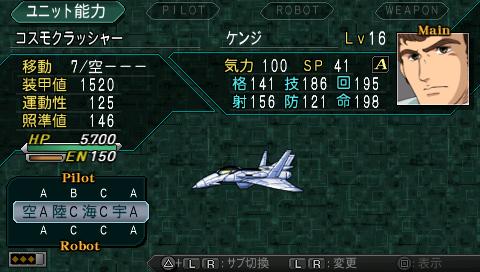 Cosmo Crusher (Kenji Asuka, Naoto Ijuin, Akira Kisou, Mika Hyuga)
Skills
Offensive Support L2
Counter L4
Will+ (Hit)
Spirits
(Kenji)
Focus
Guard
Guts
(Naoto)
Snipe
Strike
(Akira)
Vigor
Accel
Gain
(Mika)
Scan
Trust
Fortune
Traits
Jamming Unit
Ace Bonus:
Accuracy +15%. Evasion +15%.
Blurgh sidekicks. I even forgot the Crusher has a jammer.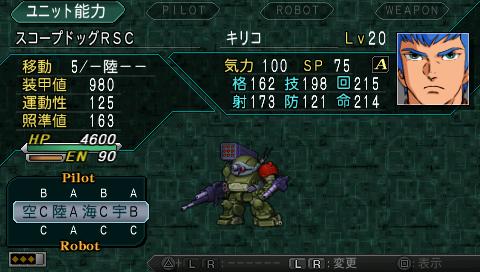 Scopedog Red Shoulder Custom (Chirico Cuvie)
Skills
???
Precise Attack
Prevail L9
Ammo Save
Attack Again
Spirits
Focus
Sense
Snipe
Ace Bonus:
At 130+ Will, all weapons gain +300 attack.
Last up before we enter Gundamland tomorrow is Chirico, who has one skill slot left. Personally, I don't think he needs Ignore Size that badly, but it's not an awful idea. Pumping at least some PP into his already-high Skill is also awesome, not because he needs it to critical but because it goes so well with Attack Again, and many elite units and bosses (and every single loathsome Damon) has high Skill and graceful pilots who depend on Attack Again would do well to invest in it.
So that's today's spotlight pilots. Discuss.
Oh, and as far as picking units - I know who the main characters are in each chapter and I think I have a handle on who the thread likes, so no pressure. In fact, I know it's in vogue to ask every poster to fill all deploy slots every time there's a vote for SRW LPs, but screw that - just throw out whatever names you want to see fighting, if any, and I'll try to make sure those guys are in battle as much as possible and fill in the rest according to chapter considerations and such. Cool?
Next update: GUNDAM GUNDAM GUNDAM GUNDAM