Part 38: Chapter 19 Intermission Part 3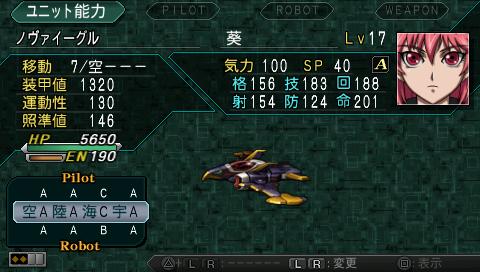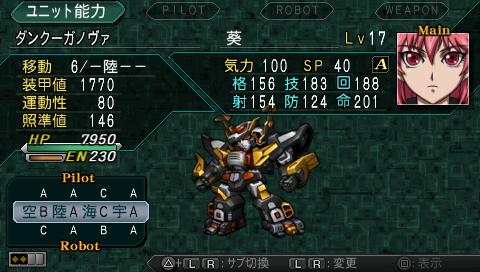 Dancouga Nova (Aoi Hidaka, Kurara Tachibana, Sakuya Kamon, Johnny Burnett)
Skills
??? (all)
Prevail L3
Predict
EN Save
Resolve
Spirits
(Aoi)
Accel
Focus
Spirit
(Kurara)
Mercy
Strike
(Sakuya)
Vigor
Invincible
(Johnny)
Guard
Analyze
Ace Bonus:
When the "Go Wild" Skill activates, casts "Zeal" once.
Every super robot gets EN Save. It's fairly cheap and makes them more able to spam their good attacks. Aoi has Resolve to get her into Dancouga faster, since the Nova Eagle is really bad.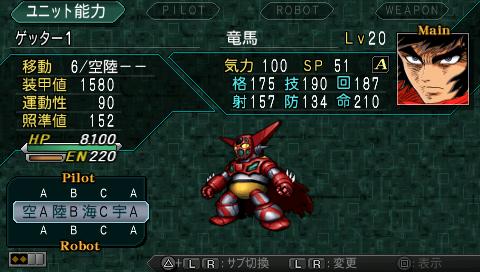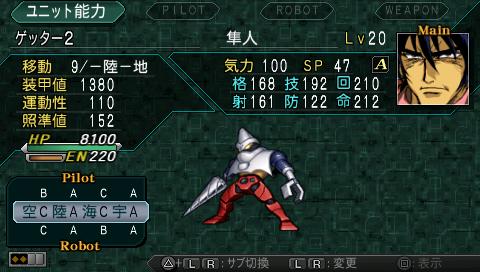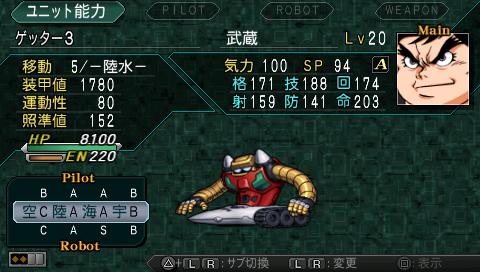 Getter Robo
Skills
(Ryoma)
Prevail L7
Break Will Limit
Will+ (Destroy)
EN Save
(Hayato)
Prevail L3
Predict
Counter L6
EN Save
Dash
(Musashi)
Prevail L8
Will+ (Damage)
Defensive Support L1
SP+ L9
Spirits
(Hayato)
Mercy
Alert
(Musashi)
Guts
(Ryoma)
Vigor
Strike
Traits
Getter Vision
Transform
Weapons
Drill Missile (4 Ammo, Pierce Barriers)
Drill Storm (10 EN)
Drill Arm (30 EN, Pierce Barriers)
Ace Bonus
(Ryoma) Deals 1.3x damage above 150 Will.
(Hayato) Trigger rate of Getter Vision-like traits increased by +20%.
(Musashi) The "Spirit" Spirit is replaced by "Drive."
I'm pretty sure I built Getter the way I always build Getter in every single SRW game - Hayato as the charger, Ryoma as the destroyer, and Musashi as a big ol' SP tank. Musashi is particularly suited for the job in Z2 with his Ace Bonus - I've been having him cast Drive at the start of every battle to catapult his teammates into the awesome zone.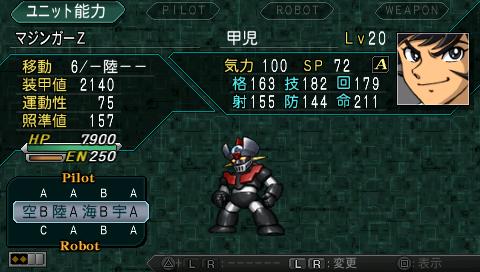 Mazinger Z (Kouji Kabuto)
Skills
Prevail L6
Morale
Will+ (Damage)
EN Save
Offensive Support L2
Spirits
Strike
Accel
Invincible
Guard
Ace Bonus:
1.2x damage when above 130 Will.
Mazinger is yet another "kicks ass no matter what" case. Now that I reflect on it, someone made a damn good case for Offensive Support Photon Beam back when Kouji joined, but the difficulty is that it can only be triggered by units on land...
for now
. (The eventual Jet Scrander should not be a spoiler at this point.) That's... Hayato, Akagi, Simon, Aoi, actually some pretty fair units. Good deal.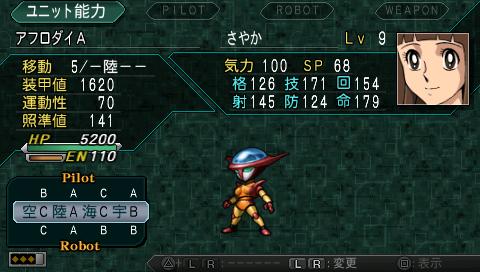 Aphrodite A (Sayaka Yumi)
Skills
Prevail L2
Defensive Support L1
Guard
Spirits
Vigor
Cheer
Traits
Repair
Ace Bonus:
Doubles the healing from the Repair command. (unearned)
I have never used Sayaka. She's ridiculously low-leveled. Whoops.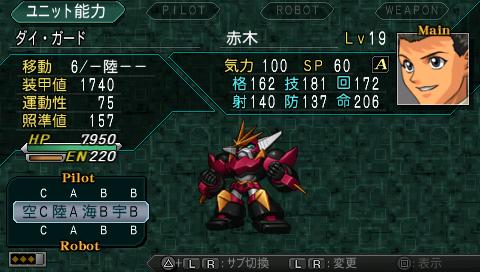 Dai-Guard (Shunsuke Akagi, Ibuki Momoi, Keiichiro Aoyama)
Skills
Salaryman (all)
Prevail L6
Morale
Supply
Ammo Save
Spirits
(Akagi)
Gain
Guts
Invincible
(Ibuki)
Vigor
Strike
Guard
(Aoyama)
Vigor
Accel
Focus
Ace Bonus:
The Spirit command Valor becomes Soul.
Dai-Guard has come a long way since I first showed off its stats. Ibuki and Aoyama still have weak SP pools, but they've gained some versatility as sub-pilots. And now that Dai-Guard has the Knot Buster
and
Knot Punisher, Ammo Save is effective at letting Akagi throw them around a little more often than just the final round. Dai-Guard also benefits vastly from parts - it's taking up a Vernier, an A-Adapter, and a Long-Range Radar to make up for its lack of movement, range, and effectiveness against flying enemies.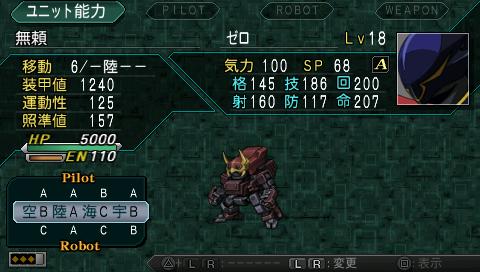 Burai (Zero)
Skills
Tactics
Command L2
Morale
Break Will Limit
Spirits
Analyze
Strike
Ace Bonus:
Takes 0.5x damage during Defensive Support.
Zero is a rare pilot who comes with four skills built in. He'll get a better machine later, but for the moment he's mainly going to stay out of combat, so he doesn't have that many relevant skills.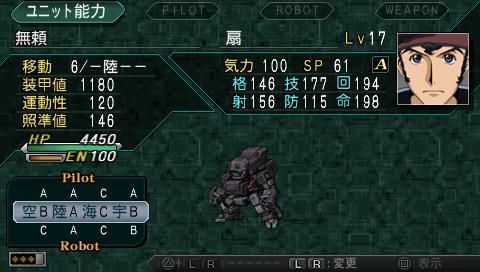 Burai (Kaname Ohgi)
Skills
Guard
Defensive Support L2
Ammo Save
Repair
Spirits
Vigor
Trust
Gain
Ace Bonus:
+2 radius of the Tactics command effect.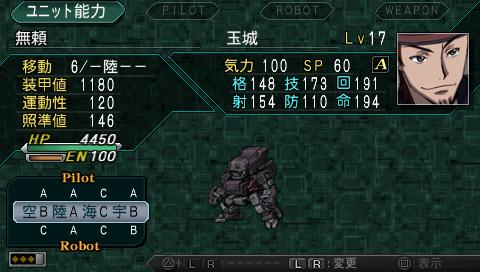 Burai (Shinichiro Tamaki)
Skills
Fortune
Offensive Support L2
Resolve
Supply
Spirits
Alert
Vigor
Ace Bonus:
The SP cost of the Spirit command "Luck" becomes 20.
Ugh, sidekicks. Not even great sidekicks - they're in crappy mecha. They're only leveled a little from being in the non-saved path split.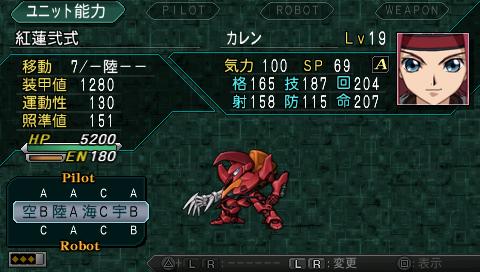 Guren Type-02 (Karen Koutsuki)
Skills
Prevail L6
Morale
Will+ (Hit)
EN Save
Chain Actions
Spirits
Guts
Invincible
Strike
Guard
Ace Bonus:
1.1x damage using Melee weapons.
I know I said I wouldn't abuse Chain Actions, but Karen is so destructive and even comes with Morale (so she starts at 115 Will) that it seems like a shame not to give it to her. She's probably getting that EM Antenna, since she's the only one who's ever actually run completely out of energy (mainly because she's an inviting target and every successful hit drains power for the radiation barrier).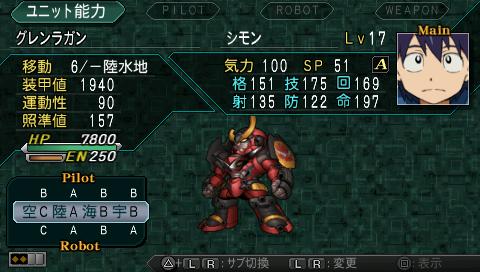 Gurren-Lagann (Kamina, Simon)
Skills
(Simon)
Spiral Power L2
Prevail L6
Break Will Limit
EN Save
(Kamina)
Spiral Power L2
Prevail L8
Morale
Fortune
EN Save
SP+ L9
Spirits
(Simon)
Gain
Guts
(Kamina)
Trust
Sense
Spirit
Ace Bonus
(Kamina) Will maximum raised by +30.
(Simon) Deploys at +30 Will.
This is number eleven, I know, but G-L is a natural breakpoint because right after that is the S. M. S. squad.
We've been without Gurren-Lagann so long I forgot I inflated Kamina's SP pool. He really should let Simon lead the way, and his Spirit pool is excellent whether or not he's in the driver's seat, so that's that. Gurren-Lagann is another case where the mecha is ridiculously good no matter what you attach to its pilots. That said, Simon's Ace Bonus makes him uniquely suited to Predict and/or Guard (in case you thought Gurren-Lagann wasn't hard enough to kill), as well as Chain Actions, which is incredibly tempting for all the same reasons it was for Karen.