Part 39: Chapter 19 Intermission Part 4
One last batch!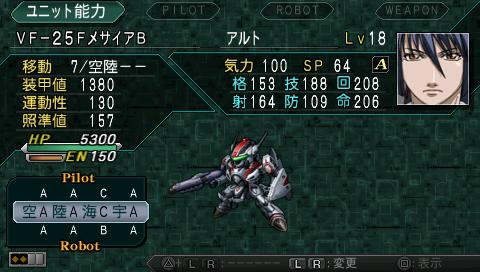 VF-25F Messiah B/F (Alto Saotome)
Skills
Prevail L6
Morale
Dash
Fortune
Spirits
Focus
Vigor
Luck
Sense
Ace Bonus:
Can Transform after moving.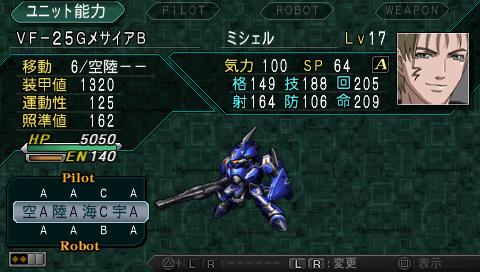 VF-25G Messiah B/F (Mikhail "Michel" Blanc)
Skills
Offensive Support L2
Will+ (Hit)
Hit & Away
Chain Attack
Spirits
Sense
Gain
Snipe
Ace Bonus:
+15% Accuracy, 15% Evasion when adjacent to a female pilot (ally or enemy).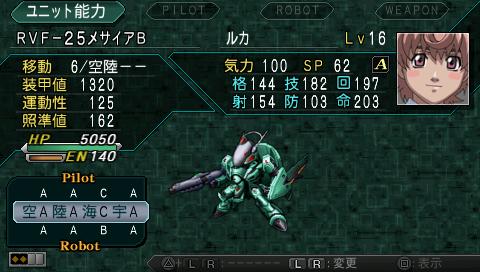 RVF-25 Messiah B/F (Luca Angeloni)
Skills
Offensive Support L1
Ammo Save
Ignore Size
Spirits
Scan
Focus
Analyze
Ace Bonus:
SP cost of the Confuse spirit reduced to 40.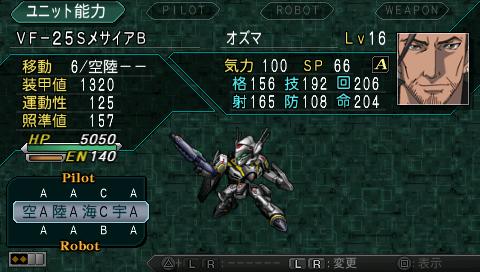 VF-25S Messiah B/F (Ozma Lee)
Skills
Command L2
Prevail L5
Chain Actions
Resolve
Spirits
Focus
Accel
Sense
Ace Bonus:
Doubles the effect of the "F. Bomber Disc" part.
I haven't been paying attention to the S. M. S. people at all. If we're going to use them, Ozma is taking Resolve to pair with Chain Actions, and Michel likewise with Chain Attack and Offensive Support. Alto is eventually going to be the main character of some chapters.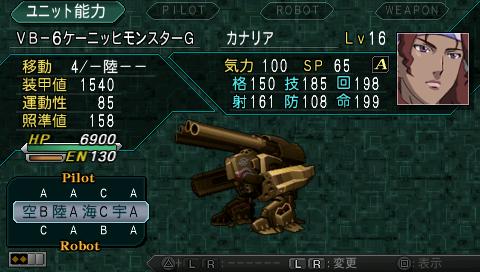 VB-6 Koenig Monster (Canaria Berstein)
Skills
Hit & Away
Offensive Support L1
Defensive Support L2
Spirits
Invincible
Strike
Faith
Traits
Transform
Ace Bonus:
Range of weapons other than range 1 and MAP weapons increased by 1.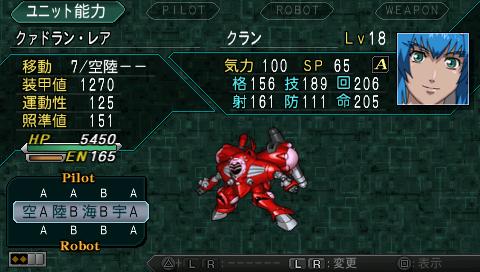 Quadluun-Rea (Klan Klan)
Skills
Prevail L3
Resolve
Guad
Spirits
Guts
Focus
Trust
Ace Bonus:
If Michel is on the map, gains +3 Will at the beginning of each player phase.
Been paying attention to these people even less. Canaria is an okay supporter, I guess. Maybe she can have Chain Attack too.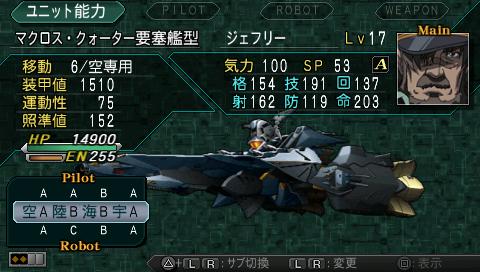 Macross Quarter Fortress Mode (Jeffrey Wilder, Bobby Margo, Catherine Glass)
Skills
Command L3
Defensive Support L2
EN Save
Hit & Away
Offensive Support L1
Spirits
(Jeffrey)
Strike
Trust
Invincible
(Bobby)
Vigor
Accel
(Cathy)
Scan
Gain
Ace Bonus:
Adjacent S. M. S. members gain +20% Accuracy, +20% Evasion.
Every battleship worth its salt should have Hit & Away, since they generally want to be moving with the army and their weapons are generally cannons and stuff. The Quarter is powerful enough, and Jeffrey a good enough commander (who has Strike), so hey, extra attacks.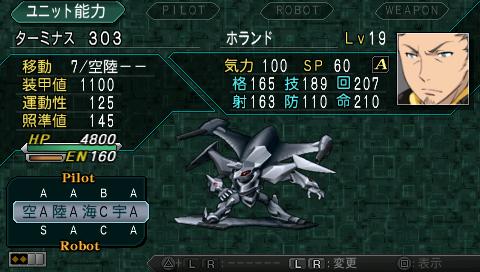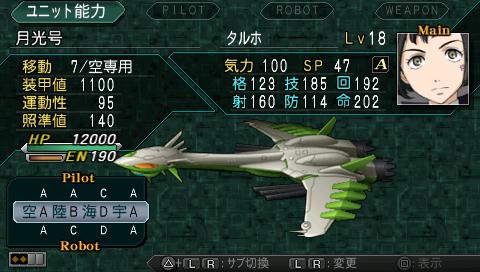 Oh my god who even cares about these people. The spec2 hasn't changed much since two chapters ago so if you care you can just refer to that.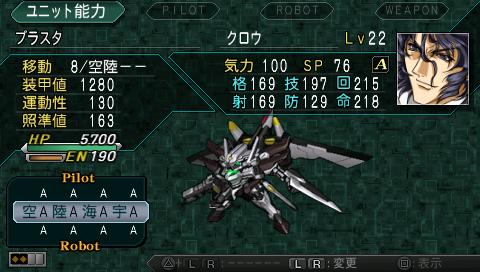 Brasta (Crowe Brust)
Skills
Offensive Support 2
Chain Attack
Fortune
Hit & Away
Attack Again
Spirits
Focus
Sense
Ace Bonus:
+25% earned money; 1.1x damage dealt at 130+ Will.
Poor Crowe has only picked up a single new Spirit since the game began so long ago. He has a lot of PP I've been sitting on, a chunk of which is earmarked for his Skill stat (as are some other pilots, like Chirico, since the current number to beat is around 195 and I've been slacking on the stats), but he does have an open slot. Normal generally good skills apply. I believe there's room for an extra rank or two of Offensive Support. Other than that, I guess Block was suggested back when since he's not making use of his shield.
Anyway, that's everybody we have right now. Hopefully it was informative. Normal gameplay resumes this weekend.