Part 46: It's the End of the World
#44 -
It's the End of the World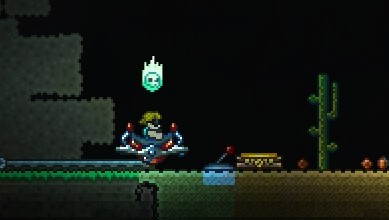 Hello everyone and welcome back to Rivershire. Last time we killed the Lunatic Cultist, and in retaliation, he started the Apocalypse.
We're also now firmly locked into the endgame. Once the Cultist dies, there's no turning back until the final boss spawns. So it's our job to avert the end of the world.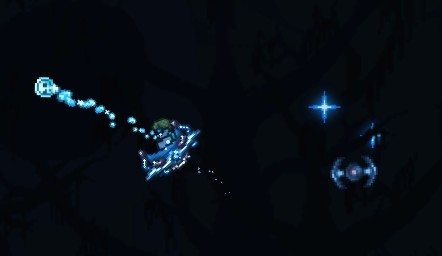 Once the Cultist dies, four Pillars appear on the surface of the world at pre-determined intervals. You can tell when you're near one of the Pillars, because the world takes on a colored tinge and the background image changes. Here, everything is blue and very star-like, so we're near the Stardust Pillar.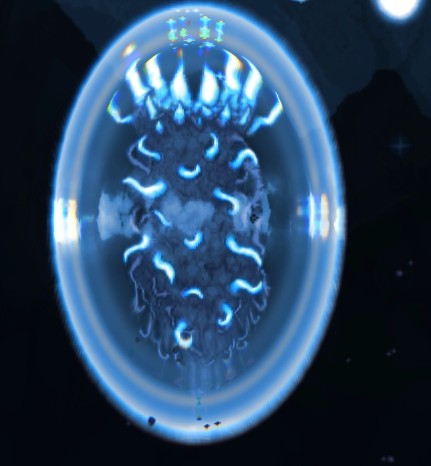 Speak of the Devil! The four Pillars are considered boss-level enemies, and they are protected by magical shields.
Terraria Soundtrack vol. 2 - Lunar Boss
Terraria Soundtrack vol. 3 - Lunar Towers
The same track plays near all four of the Celestial Pillars. For some reason, it's on both volumes 2 and 3 with different titles.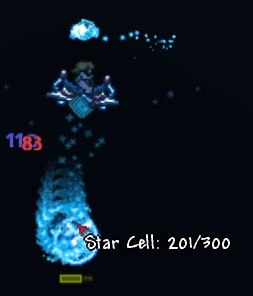 Our job here is incredibly simple. Murder. We have to kill 100 enemies to bring the Pillar's shield down. Absolutely no enemies at
any
of the Celestial Pillars drop anything, including coins.
Star Cell
- 300 life - 120 contact damage - 50 defense - (Splits into 4 Small Star Cells upon death.)
Small Star Cell
- 300 life - 70 contact damage - 0 defense - (If you don't kill these, they can individually regrow into bigger cells again.)
Flow Invader
- 1,500 life - 70 damage (melee), 120 damage (ranged) - 38 defense - (It creates and shoots minions at us. When it dies, it shoots all of its minions at once.)
Twinkle Popper
- 800 life - 70 damage - 40 defense - (Can shoot Twinkles at us, which explode on contact.)
Twinkle
- 200 life - 80 damage - 10 defense - (Yeah, these guys.)
Milkyway Weaver
- 1200 life - 80 damage - 10 defense (Freaky blue-tinged worm enemies. Unlike other worms, it can freely "burrow" through open air. Only its head is vulnerable to damage.)
Stargazer
- 700 life - 80 damage (melee), 120 damage (ranged) - 34 defense - (Walks slowly and shoots a big laser.)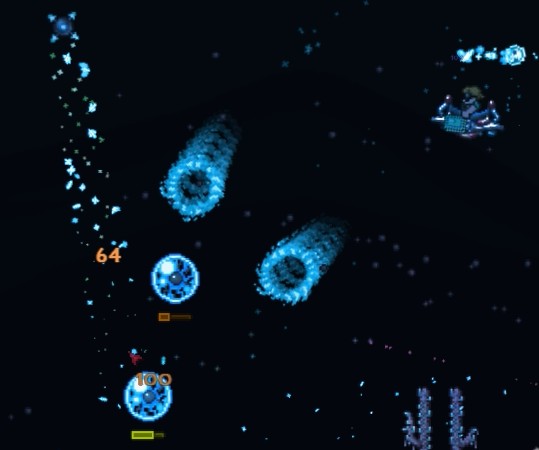 Because everything here has so much life, it will take a while to chew through the hundred enemies.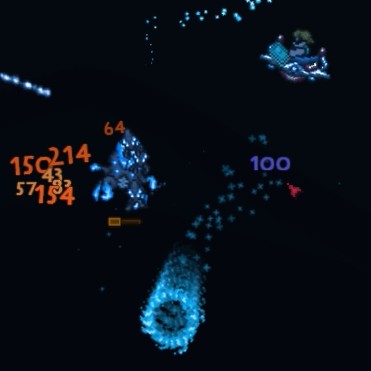 I've been using ranged weapons for most of the LP, but look at how powerful magic is.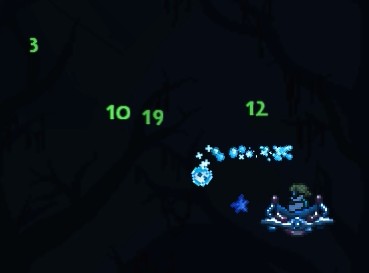 Thanks to the Spectre hood, we're largely self sufficient. As long as we can occasionally get mana stars from defeated enemies, we can go basically forever.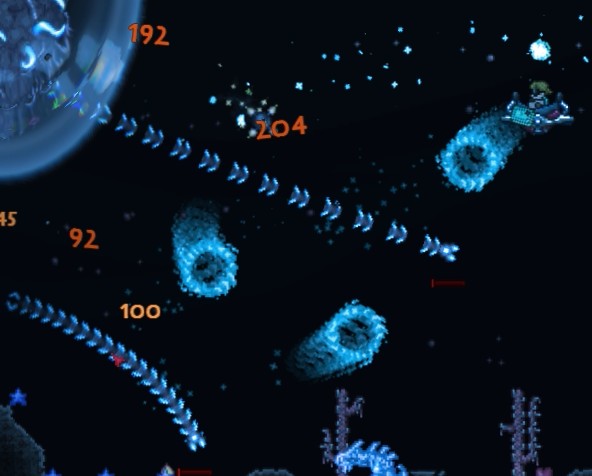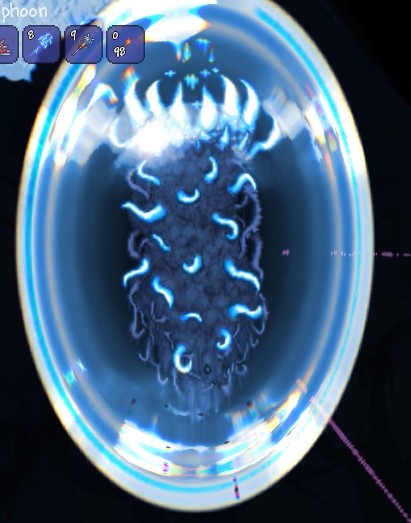 Skipping ahead a few minutes, there's no doubting when the shield goes down.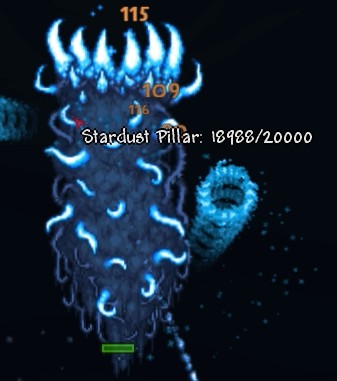 And once it's down, it's open to attack.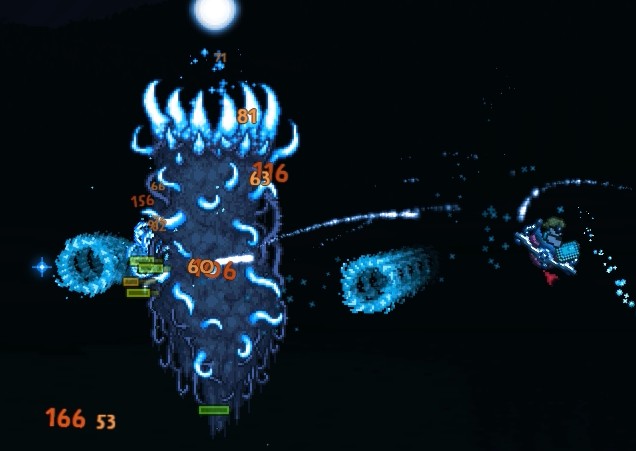 I'm sure it's just confirmation bias, but it feels like the enemies around the Pillars get more aggressive when the shield is down.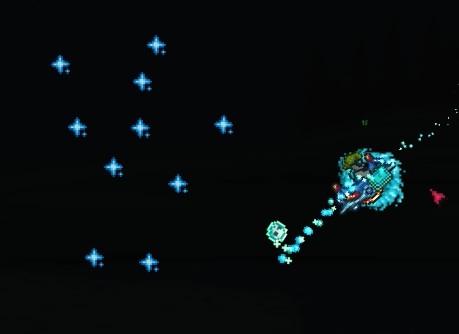 Anyway, once the Pillar dies, it quickly fades and leaves behind some stellar fragments. These blue ones are, appropriately enough, Stardust Fragments. It drops between 12 and 60 of them on death. Pictured here are 34.
This arena, by the way, was where I spent so much time in early hard mode farming for dark shards and blindfolds.

I can't imagine what that even feels like. Like, maybe a headeache but in reverse? It's probably not too comfortable.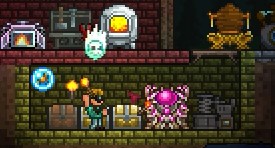 Let's skip ahead to the base real quick. I didn't intend for this to work out so perfectly, but I'm not gonna complain! Thanks to some innovations from one of the 1.3.x patches, we can craft from directly inside of the third chest.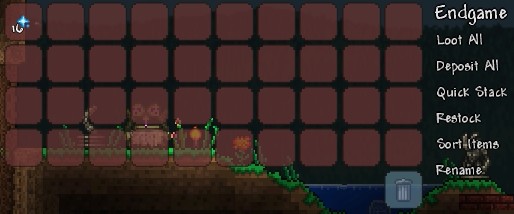 This is the endgame materials chest, and we stick our 16 Stardust fragments inside. Wait, 16? What happened to the other 18?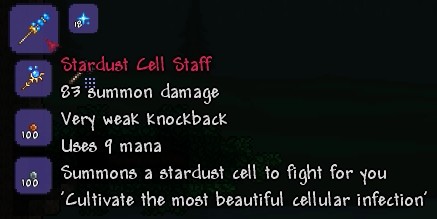 What, indeed. The Stardust Cell Staff is one of two items you can make from Stardust fragments. They are both tied for strongest summon weapons in the game.

The Dragon Staff is not as useful without summoner armor. It's unique in that instead of summoning more dragons, each successive summon adds another length to the dragon. Once you've got a 4 or 5 long dragon, you've got an asskicking elemental.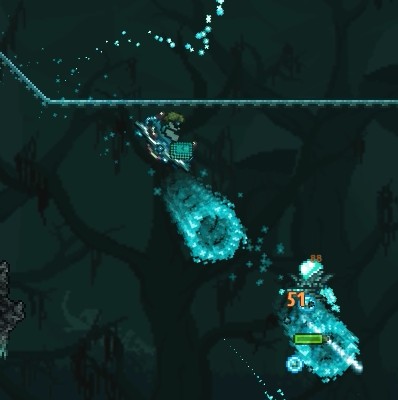 Let's move on to the next pillar. This one is just to the right of the treefort. If you recall, I built a minecart track across the world before hard mode started. This is the terminus in the Crimson.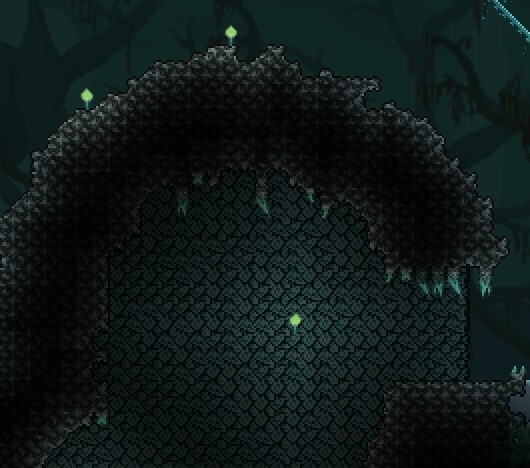 In fact, this is just above the Crimson "mouth" where we fought the Brain of Cthulhu so very long ago.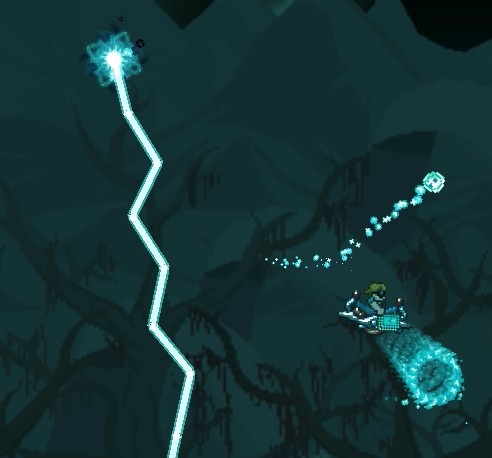 Anyway, the green tint can only mean that we've arrived at the Vortex Pillar. So let's do a roundup of the enemies here.
Storm Diver
- 800 life - 100 damage (melee), 150 damage (ranged), 40 defense - (A fast flying alien that shoots a shotgun.)
Vortexian
- 700 life - 90 damage - 34 defense - (Shoots a lightning attack similar to the Cultist if given a chance. Resembles the final boss. Kinda.)
Alien Queen
- 1,000 life - 100 damage (melee), 120 damage (ranged) - 44 defense - (Shoots attacks that cause the Distorted debuff, which makes your gravity completely random. Also can spawn...)
Alien Larva
- 200 life - 50 damage - 6 defense - (Slow, a bunch spawn when a Queen dies. If you leave them alone, they turn into...)
Alien Hornet
- 500 life - 75 damage - 20 defense - (Can randomly be summoned by the Pillar. Also causes the Distorted debuff. Can mature into a Queen.)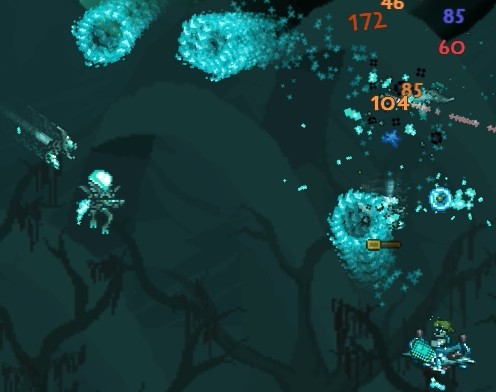 The Vortex Pillar is very alien compared to others. It even has the eerie green glow over everything.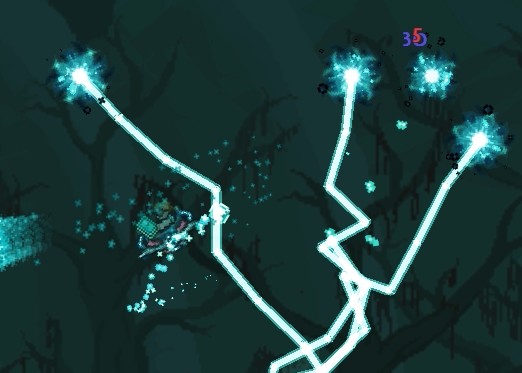 Fucking Vortexians...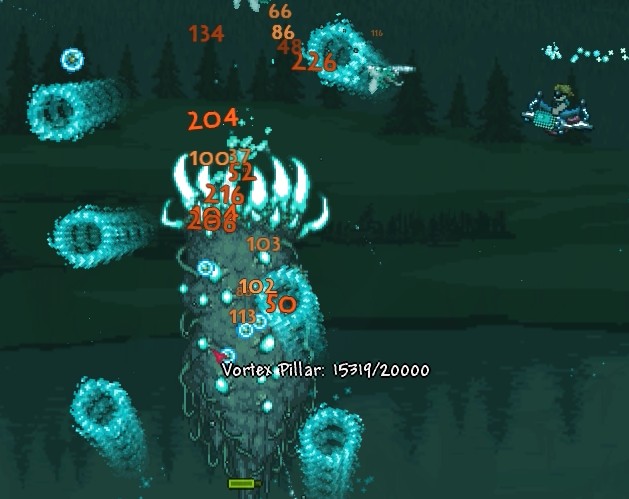 Like the Stardust Pillar before it, once the shield drops, we're all but done here. I'm excited too, because the Vortex Pillar is one of the two most important pillars for Sam here.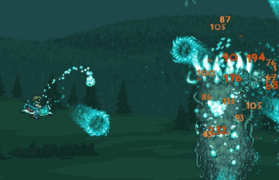 Had to cut the gif's dimensions in half to keep it under 2MB. But here's a postage stamp sized gif of the Vortex Pillar dissolving.


Guys, I don't think Sam's feeling too well. Though we do now have 26 Vortex fragments.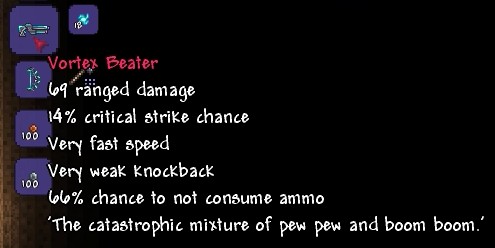 As though there were any doubt what I was gonna spend those precious fragments on. This gun... oh this gun is my baby.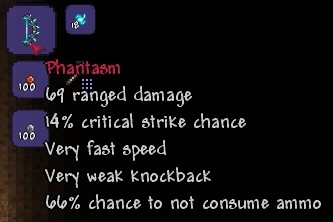 The Phantasm is nice, but it's just not the Vortex Beater.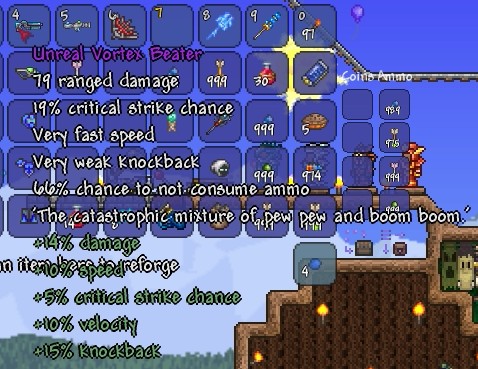 It's basically our Megashark but on crack, with a "slower" use time. Being merely "Very Fast" instead of "Insanely Fast." Either way, it's an assault weapon that would let me shoot holes in the planet with a 2-in-3 chance to not consume ammo. To say I love this weapon is an understatement.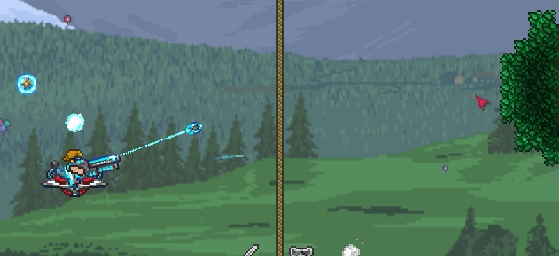 Yeah, this should suffice.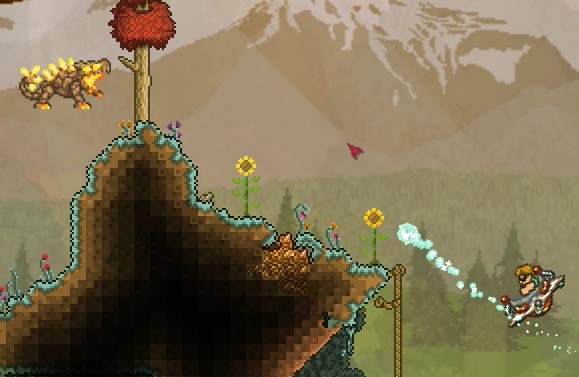 It's gotten angry and orange all of a sudden. We're also right here above the very first entrance to the caves we ever took. It's also hallowed for some reason.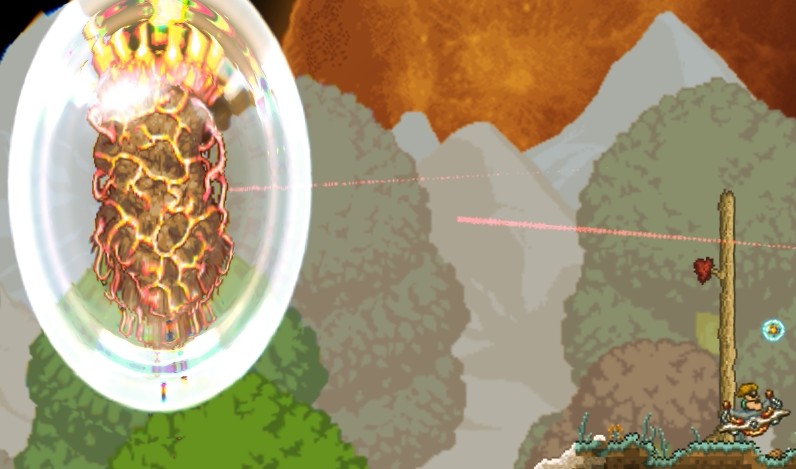 And, unlike every other pillar, we are parking our asses on the ground and
not leaving it
. Why? Because the Solar Pillar has one enemy that leaves me
terrified beyond the capacity for rational thought
.
Corite
- 600 life - 70 damage - 26 defense - (Think Meteor Heads and the tumbleweed enemy had a terrifying child.)
Crawltipede
- 10,000 life - 150 damage (head), 100 damage (body), 50 damage (tail) - 0 defense (tail) - (The head and body are invincible. The reason why you stay firmly on the ground. This thing is the concept of death given a body. It doesn't have a health bar, either. Ignores players on the ground or up to 8 blocks above the ground.)
Drakanian
- 1,000 life - 80 damage - 28 defense - (Enemy wielding a spear. Can also spawn riding...)
Drakomire
- 800 life - 55 damage - 32 defense - (A rock lizard dog thing. Occasionally spawns with a Drakanian riding it.)
Drakomire Rider
800 life - 80 damage - 28 defense - (A Drakanian riding a Drakomire. These descriptions are getting full of proper nouns.)
Selenian
- 800 life - 90 damage - 30 defense - (When it jumps at you, or spins, it can reflect almost any attack. I have one shot myself by doing this
multiple times
so be careful firing attacks blindly.)
Sroller
- 700 life - 80 damage (melee), 108 damage (rolling) - 34 defense - (Remember the tortoise enemies from the ice caves and the jungle? It's them again, but now it can walk on two legs.)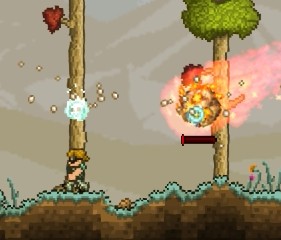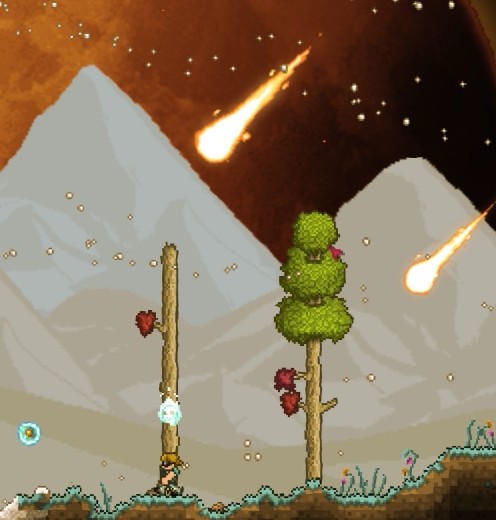 This is the first chance we've really had to get a good look at the background. When near the Solar Pillar, large meteors are falling from the sky, while a gigantic orange planet can be seen in the background.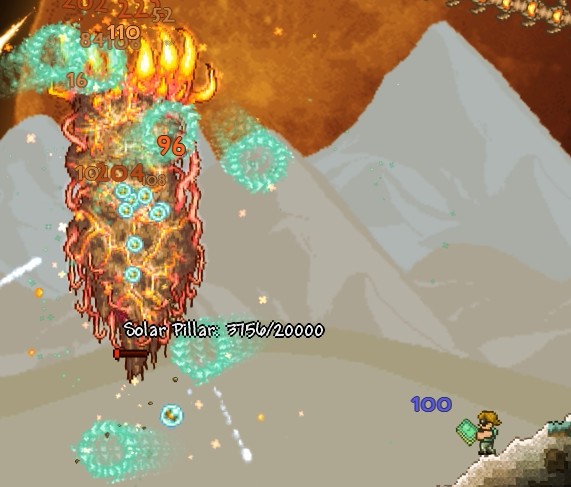 Not a lot to say about the Solar Pillar otherwise. It's a lot of hanging out on the ground while dodging enemies and praying that a Crawltipede doesn't take notice.

I'm getting the feeling that nothing good will come from that final Pillar falling.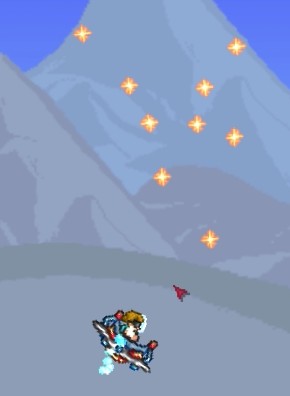 The Pillar was kind enough to leave us 36 Solar fragments. So we can actually make both weapons!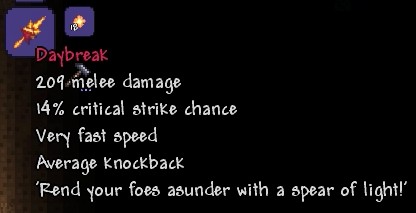 Daybreak is a spear weapon. Unlike other spears, this one is throwable. You can potentially stick an enemy with 8 of these spears at once. Each spear will deal 25 damage per quarter second, or 800 DPS with all the spears providing a DOT effect. Oh and it auto throws. The endgame weapons own.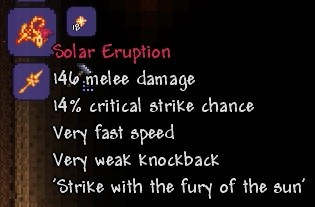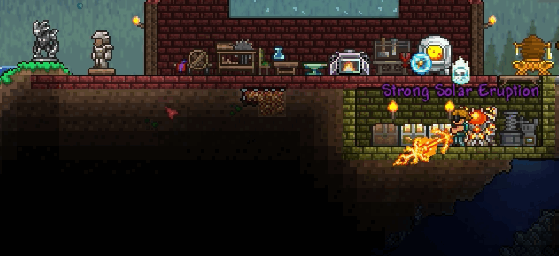 I thought I was going to be lukewarm on the Solar Eruption, but I think I like it better, to be honest. In addition to piercing through enemies, it also creates an explosion on the first several that it hits. Then it debuffs every enemy near the explosion with the same DOT effect that Daybreak has.
I have a recording from the postgame where I take on the Destroyer with this. He dies in 5 seconds. Endgame weapons are stupidly good.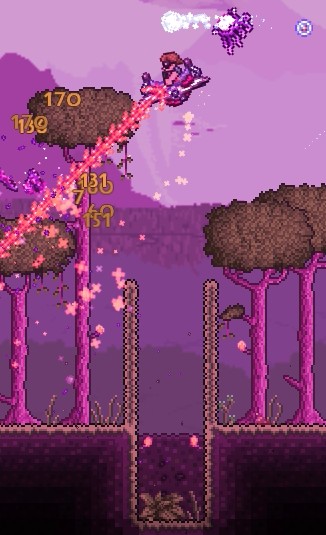 Moving on, we enter the area around the last pillar. It's over in the middle of the jungle.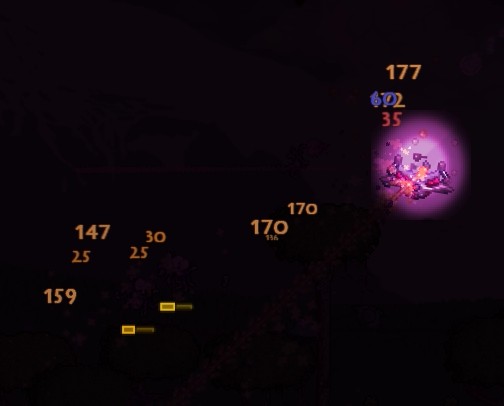 Fucking Nebula Pillar enemies.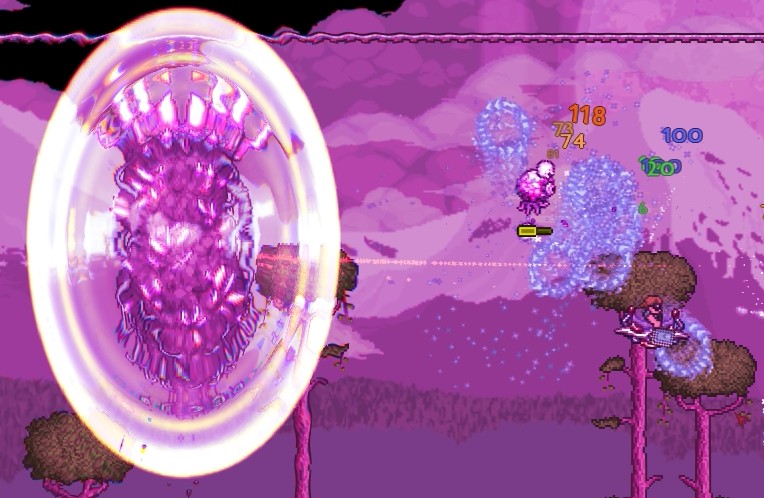 The Nebula Pillar is not really close to anything important to us. I guess the entrance to the underground jungle is a bit to the left? And I think I once fished in the pond below the Pillar?

Well, 3 out of 4 ain't bad considering their positions accidentally lined up with stuff I'd done in the LP.
We can also make an educated guess here. The Stardust Pillar was associated with Summons, the Vortex Pillar with Ranged, and the Solar with Melee. So we can be pretty damned sure that the Nebula pillar here deals with Magic.
Brain Suckler
- 330 life - 30 damage - 34 defense - (This asshole here was what made our screen darken earlier. It attached to our head like a freaking facehugger... or a Nihilego.)
Evolution Beast
- 850 life - 90 damage (melee), 100 damage (ranged) - 46 defense - (Attacks like a Unicorn enemy, also likes to shoot a homing sphere attack.)
Nebula Floater
- 1,300 life - 75 damage (melee), 130 damage (ranged) - 20 defense - (Can summon a group of eyes around it to attack with. Also likes to shoot a laser. You don't want to be hit by the laser.)
Predictor
- 700 life - 80 damage (melee), 120 damage (ranged) - 30 defense - (Mostly likes to shoot a bunch of projectiles at you.)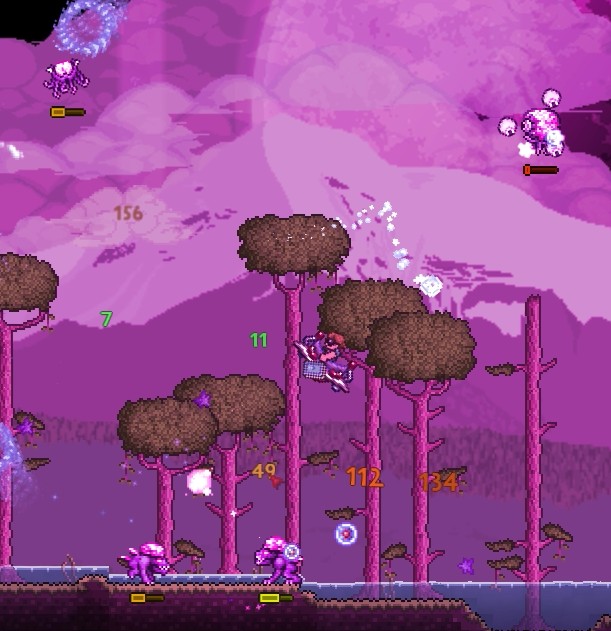 There's three of the four enemies on one screen. The Brain Suckler in the top left, the Evolution Beast on the bottom, and the Nebula Floater on the right.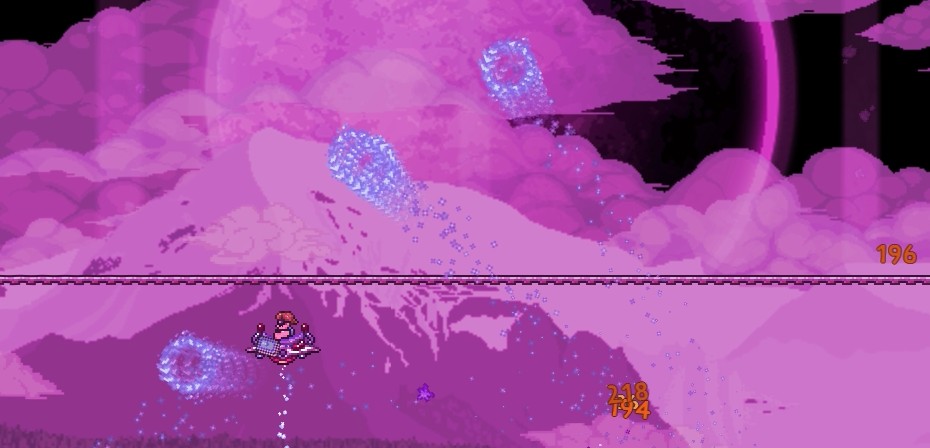 There's large beams of light on either side of this fuckoff sized purple planet. That's probably a bad thing. Let's put an end to this Pillar nonsense quickly.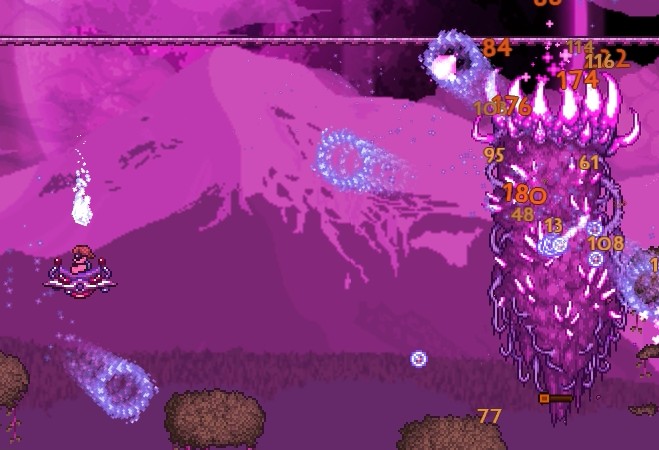 Almost there...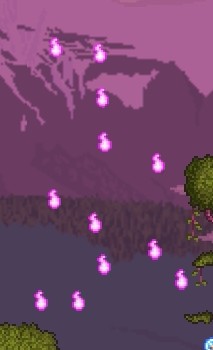 The Pillars are dead. That means the Apocalypse is over, right? Right? There's a very obvious answer to that question, but before we end the update on a cliffhanger, let's take care of some admin stuff first. The magic weapons we can make from Nebula fragments, namely.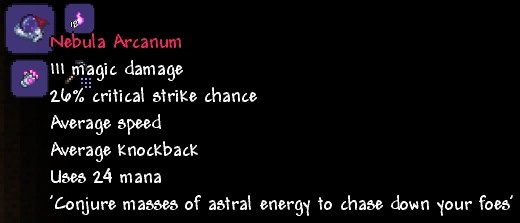 The Nebula Arcanum shoots slow moving spheres of magic energy. It deals a lot of damage, but has an insanely high cost to match.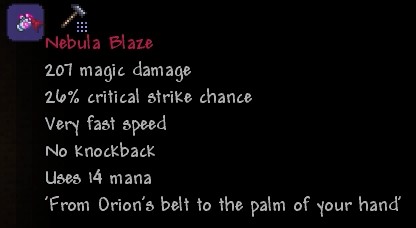 The Nebula Blaze is the better weapon to make from the fragments if you can only pick one. It shoots faster, has a much higher damage output, and has a mana cost comparable to the Razorblade Typhoon.
Anyway, that's all for this update.
NEXT TIME: