Part 14: Hard Time Update 3: You Think They'd Learn
Hard Time Update 3: You Think They'd Learn
Welcome back. Last time, we proved that there is no such thing as justice.
In actuality, the courts appear to be based on an RNG that's heavily influenced by your intelligence and any 'evidence' (witnesses, etc). We had an intelligence of 99% and the prisoners present didn't hate us, so do the math.
We are brought back to the cell blocks and immediately approached by Warden Hogan.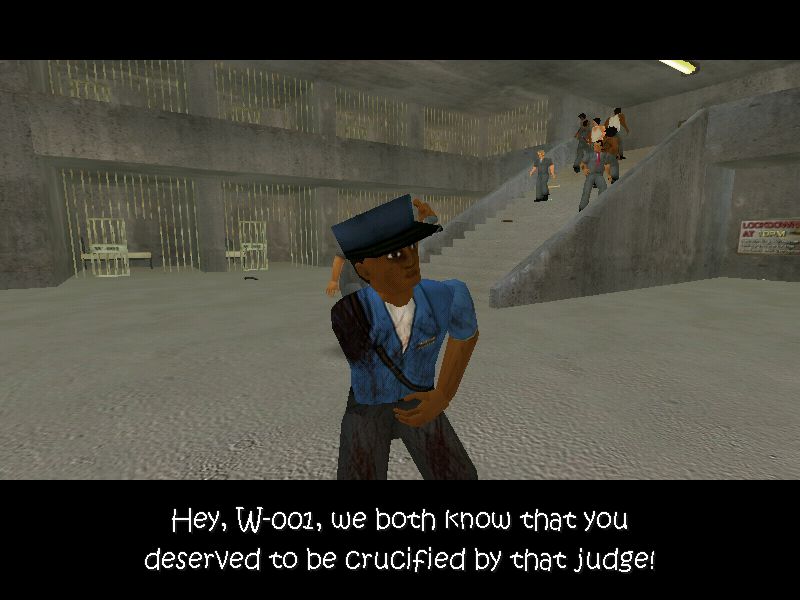 There may not be any justice in HIS court room, but there is in MY prison! For every day you should have been sentenced, I'm going to make your life a living hell...
I think that counts as a threat.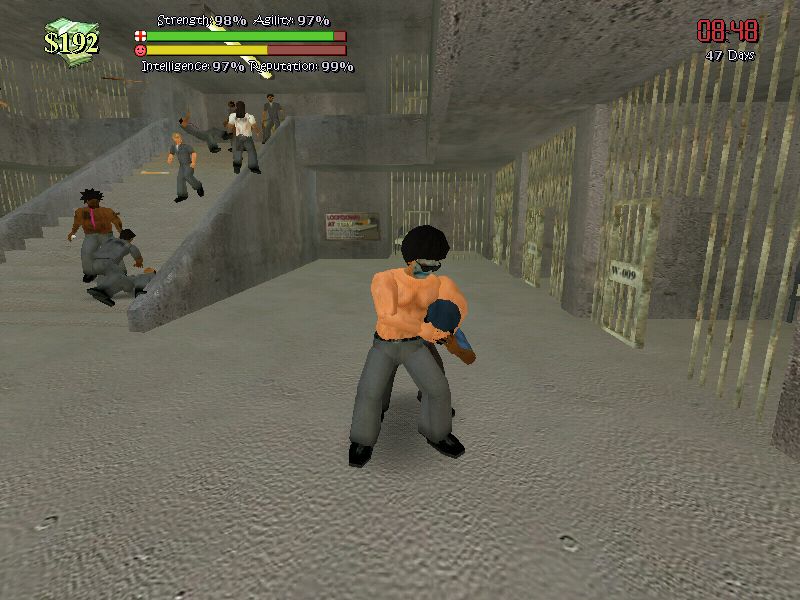 EN SABAHMANIA RUNNING WILD ON YOUR SPINAL COLUMN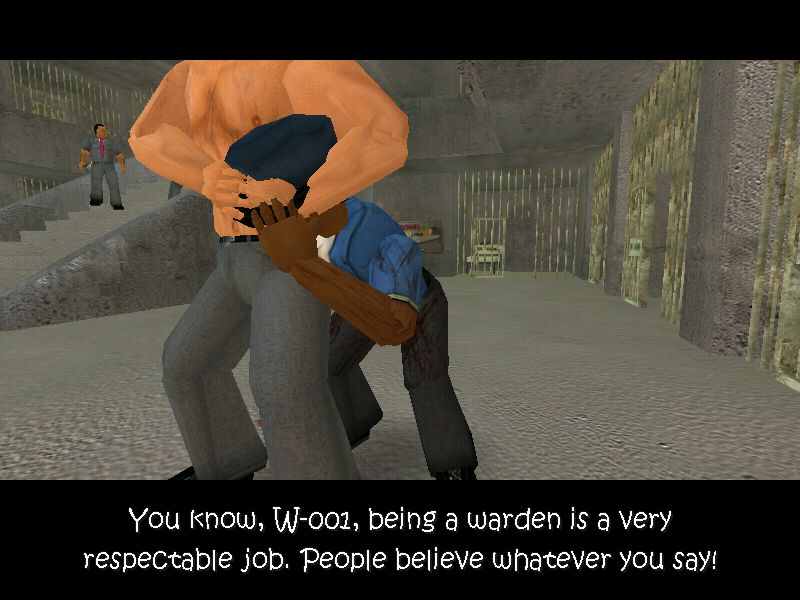 For instance, i [sic] don't have to SEE you morons commit a crime, I only have to SAY I did! [Something about extortion that didn't get screencapped]
I have you in a headlock. I think I'm the one who can do the negotiating.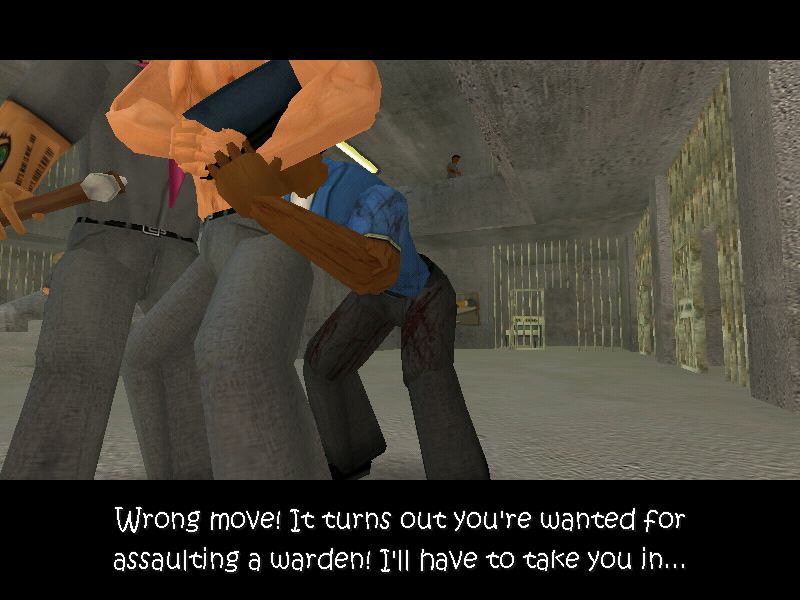 That's not fabricating charges at all! That's just doing your job!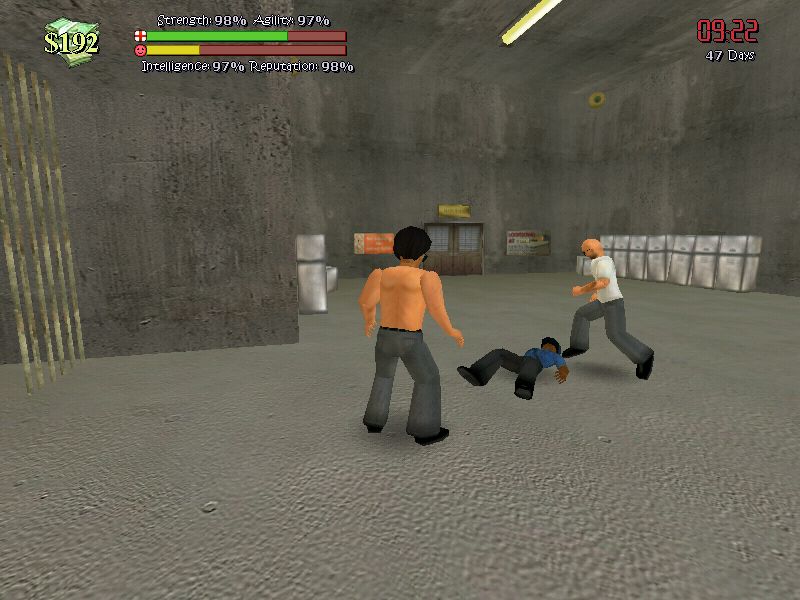 I chuck Hogan across the room, and he lets out a death rattle.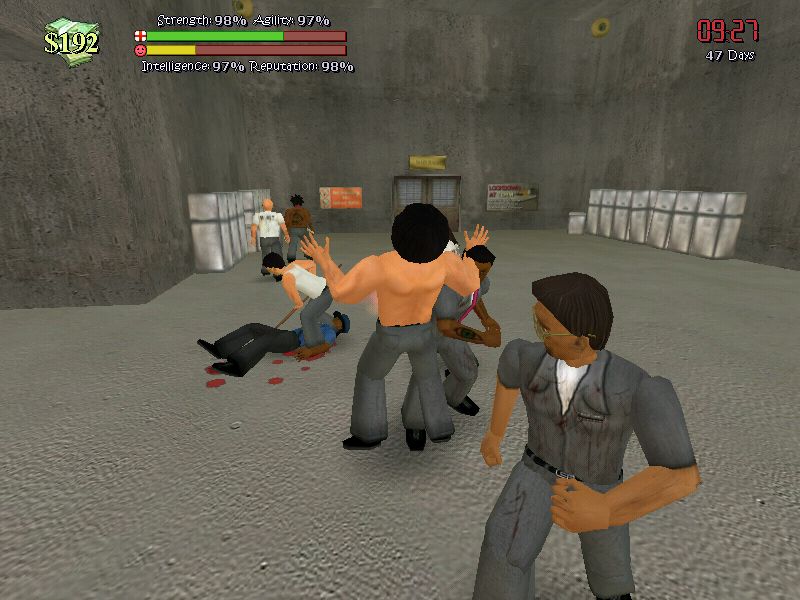 Wow, them's some efficient janitors.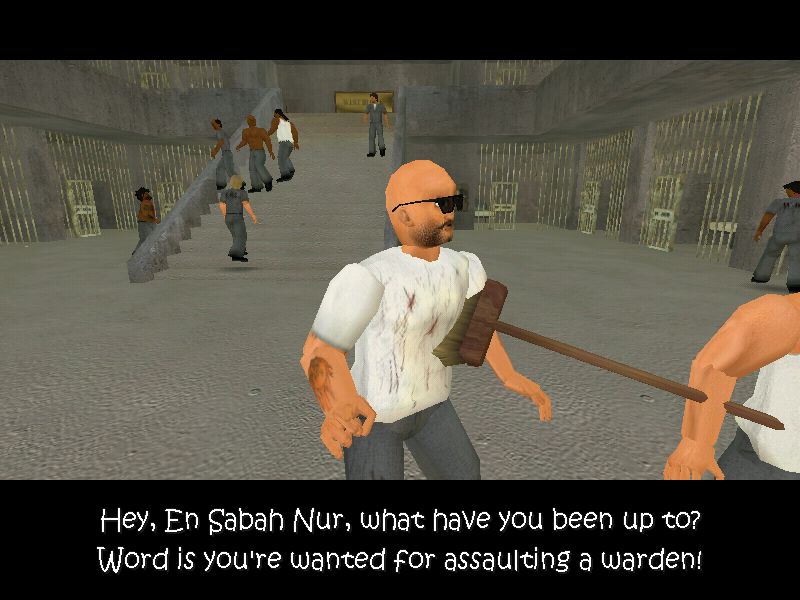 You watched me piledrive that guy so hard his neck snapped.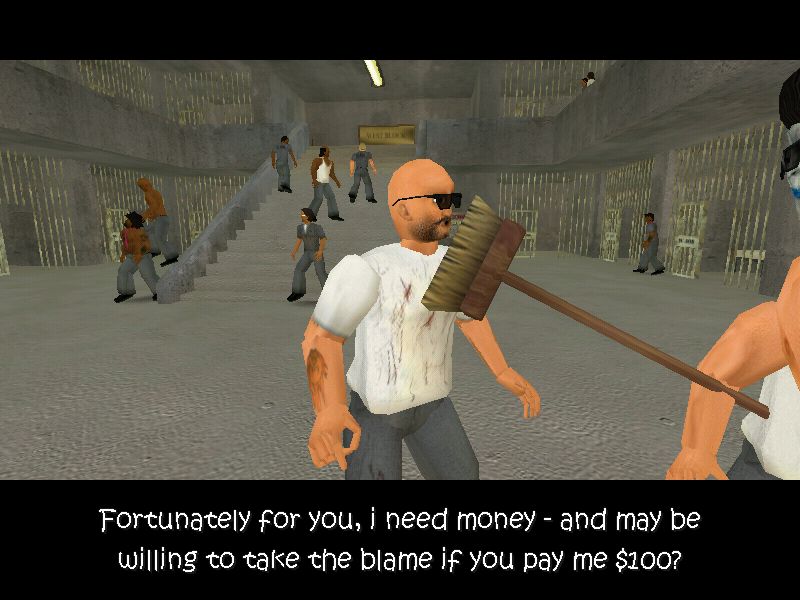 That's actually a pretty good deal. But that wouldn't be fun for the viewers, now would it?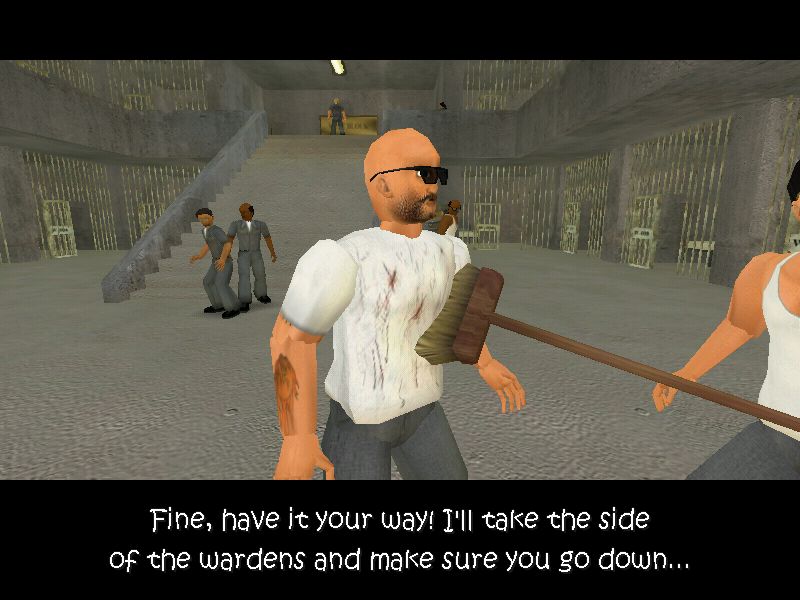 Aw damn, that'll suck.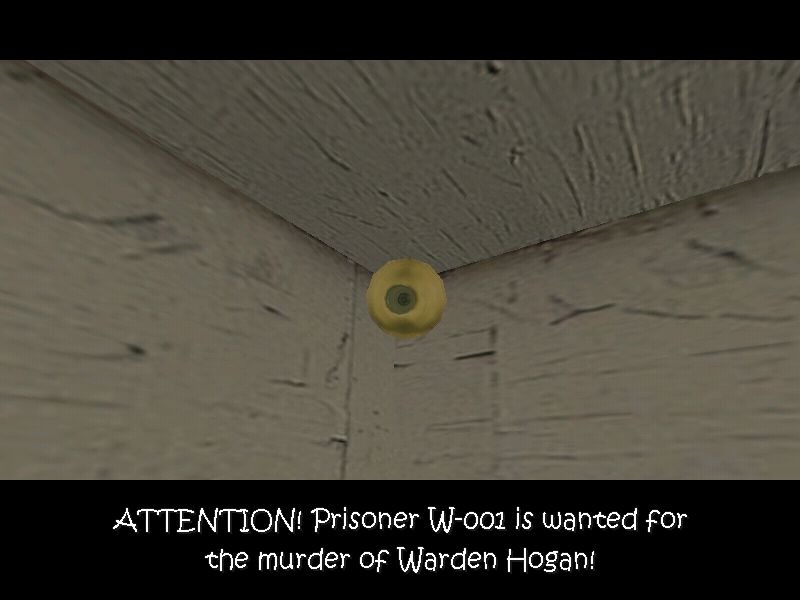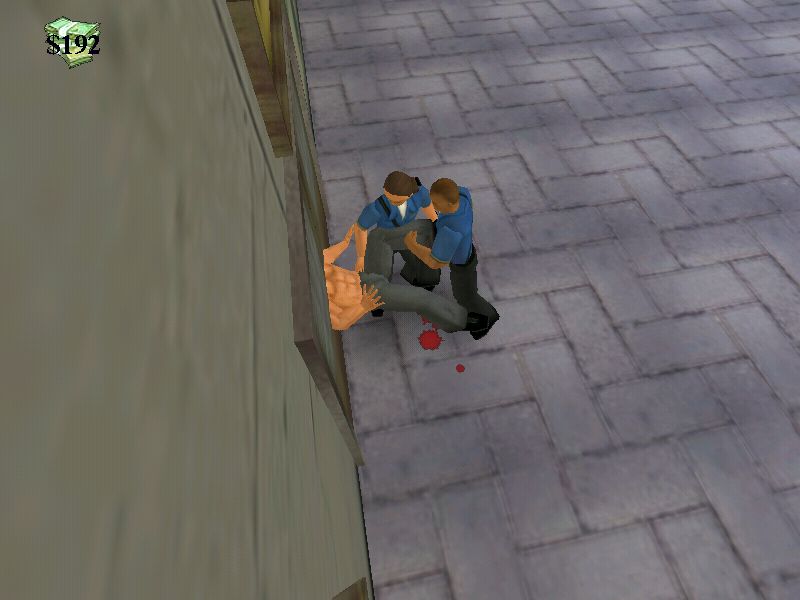 Ahhh FUCK.
It doesn't show very well at this point, but the guards beat me so hard that I lose the thumb on my right hand. My knuckles will permanently be stained blood red, now, even after showering.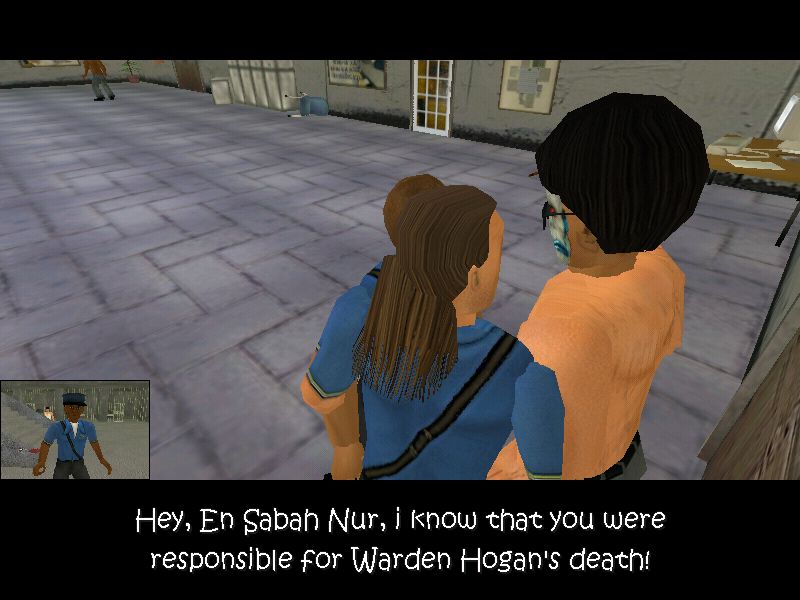 He was a dear friend of mine, and I won't rest until you've paid for what you've done!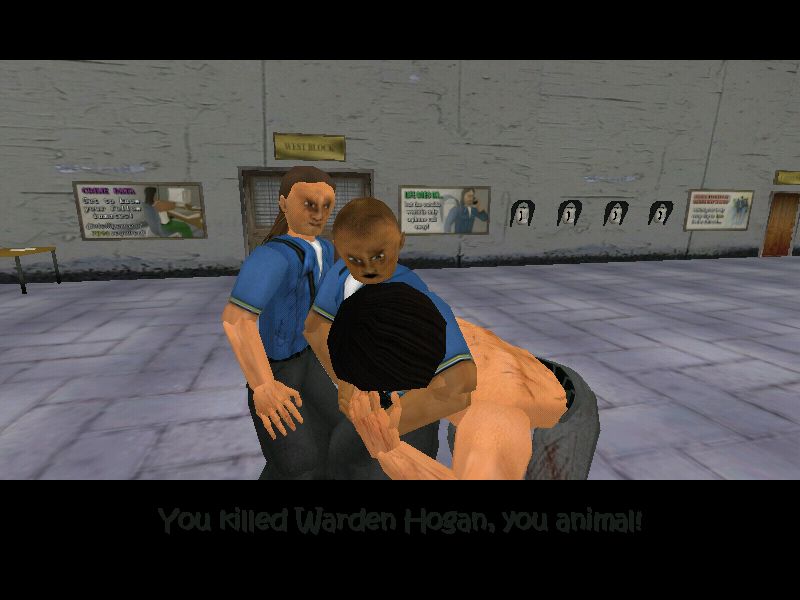 Nuts.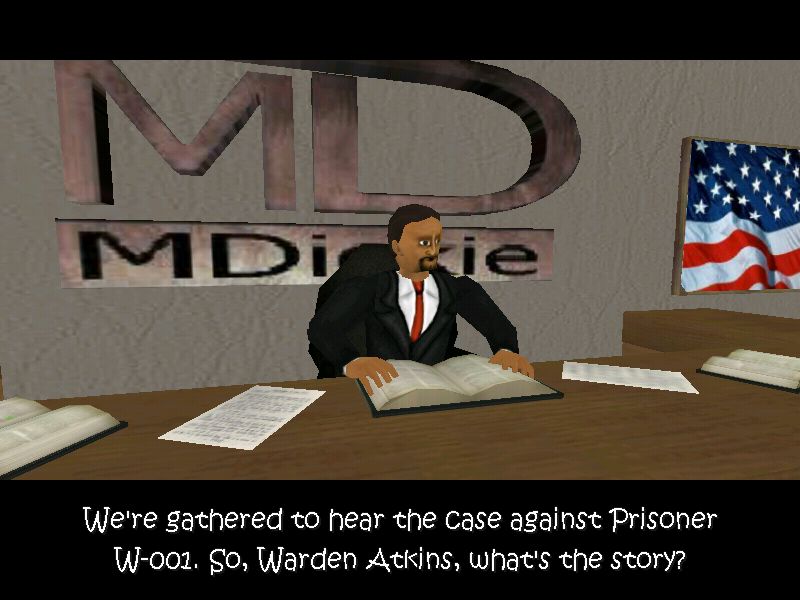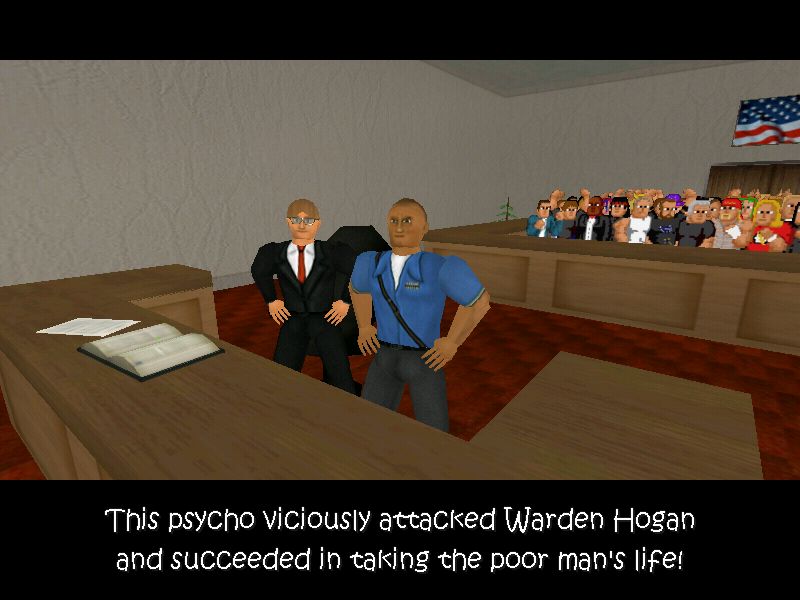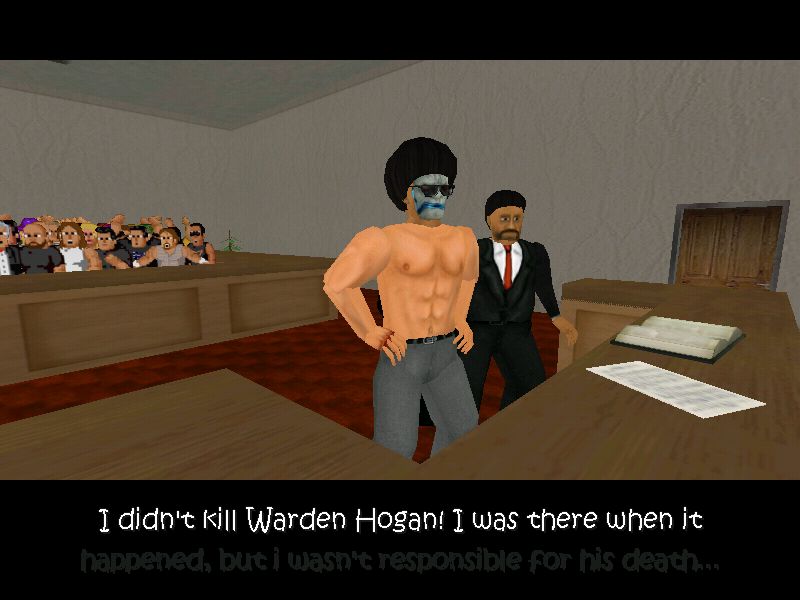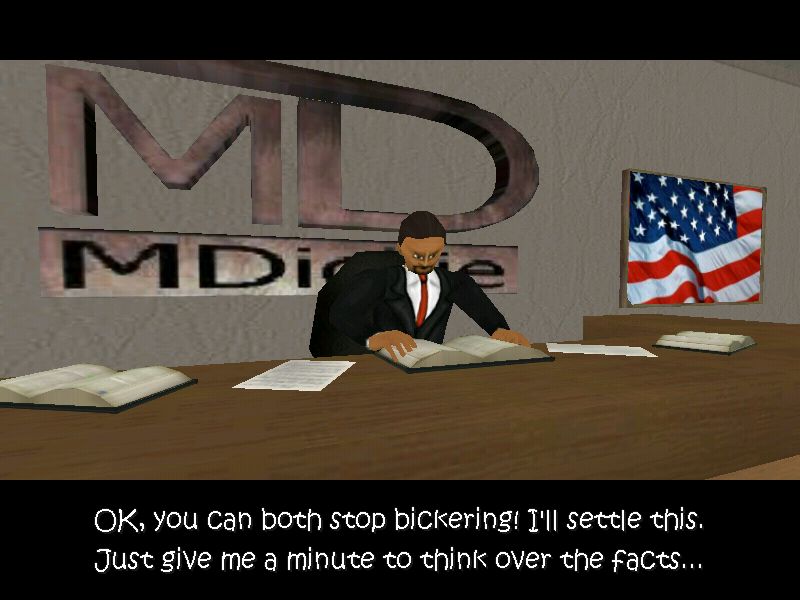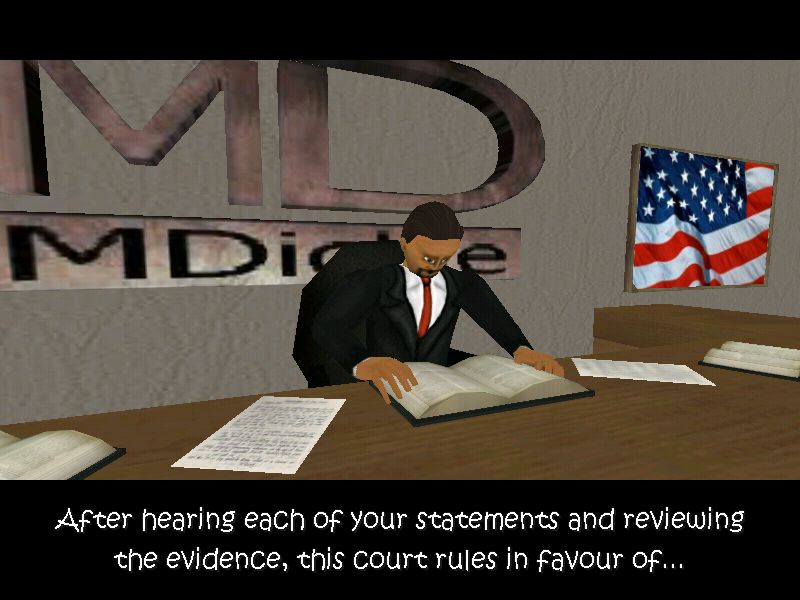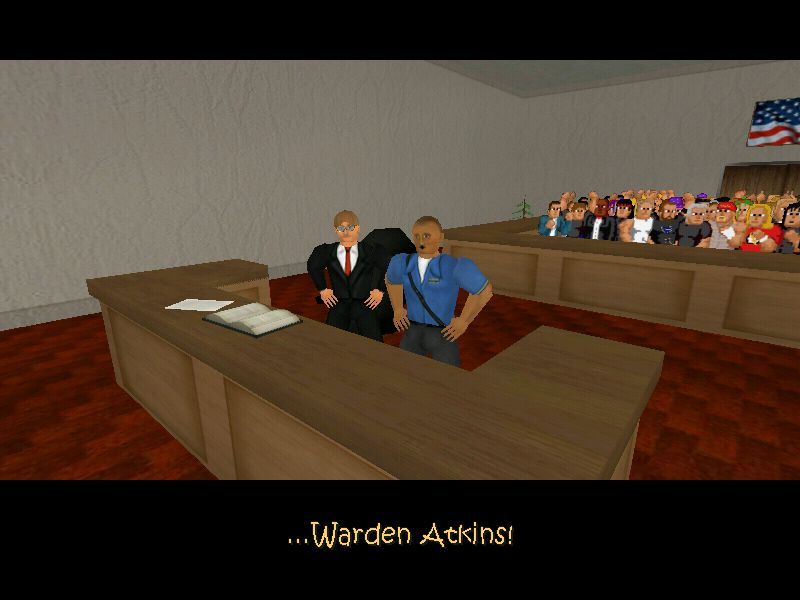 Shit. Snubbing the other inmate probably caused this.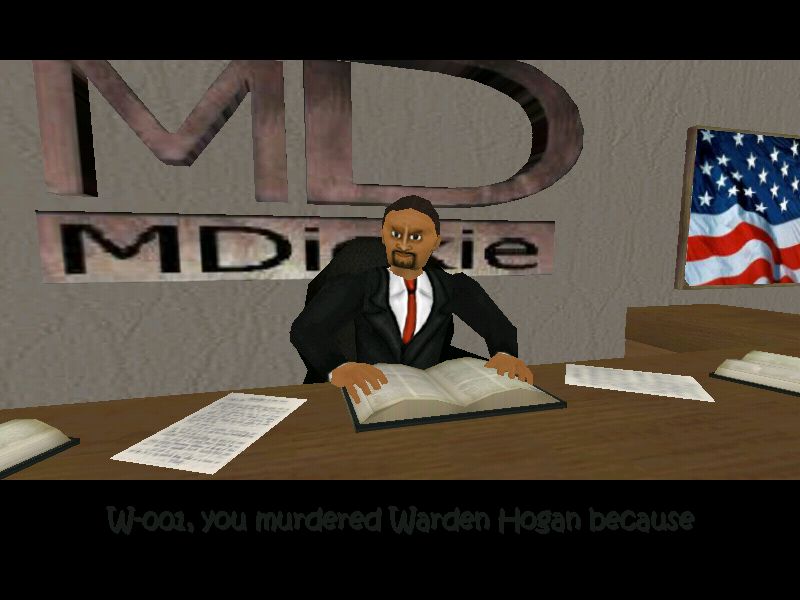 You're an animal or something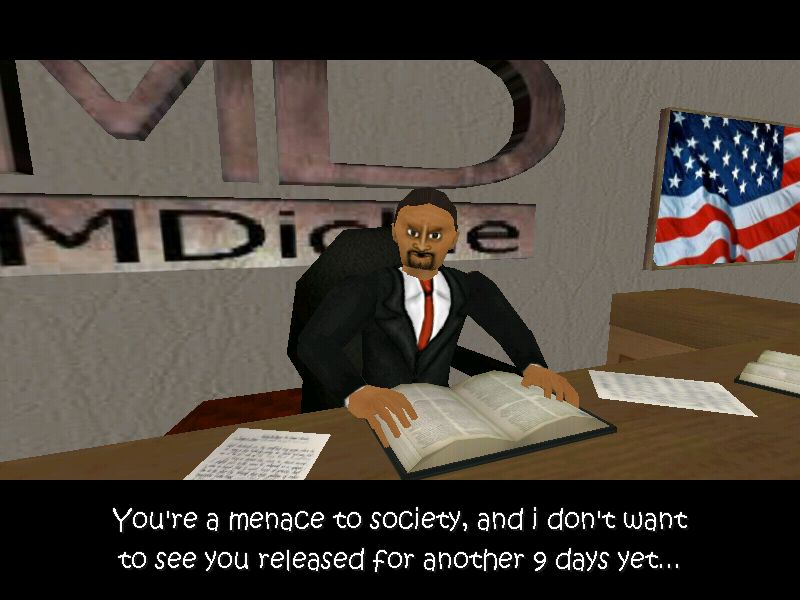 Waht.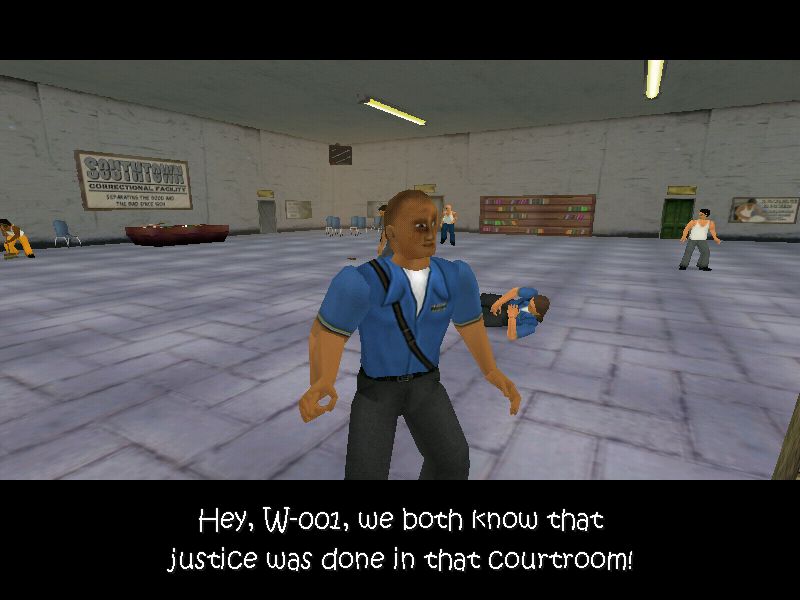 There's no reason for either of us to hold a grudge, so just toe the line and we won't have a problem...
W-a-h-t.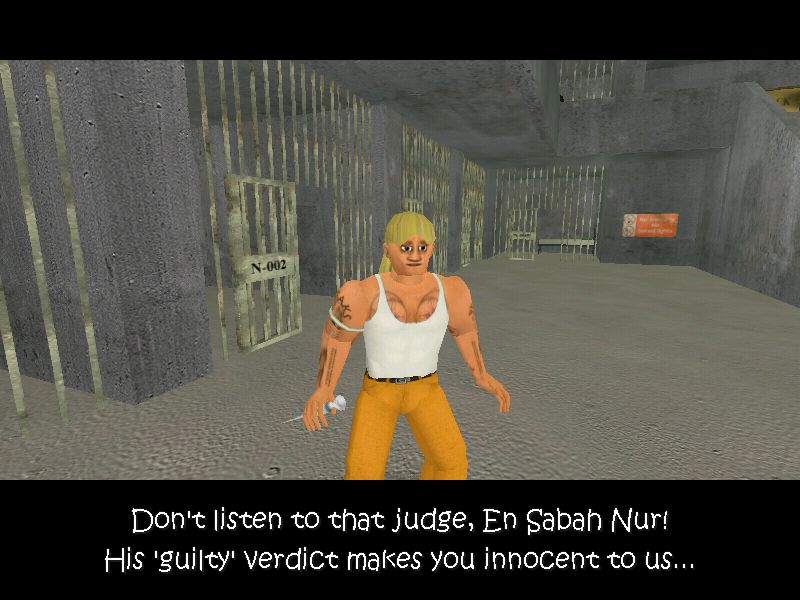 At least Heroin Harry still loves us. I'd be devastated if he left.
Oh yeah, we were supposed to get a broom for Iceman.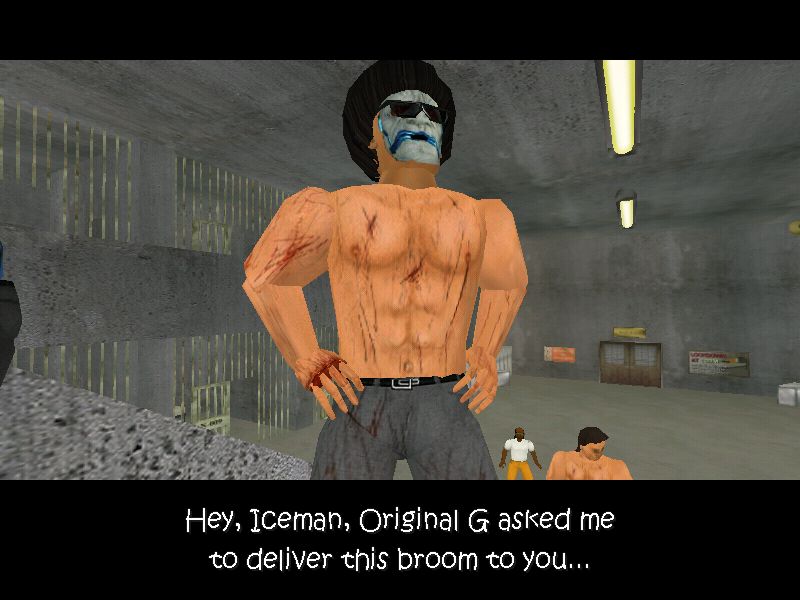 Original G? OG STANDS for Original Gangster! Arghgblhl.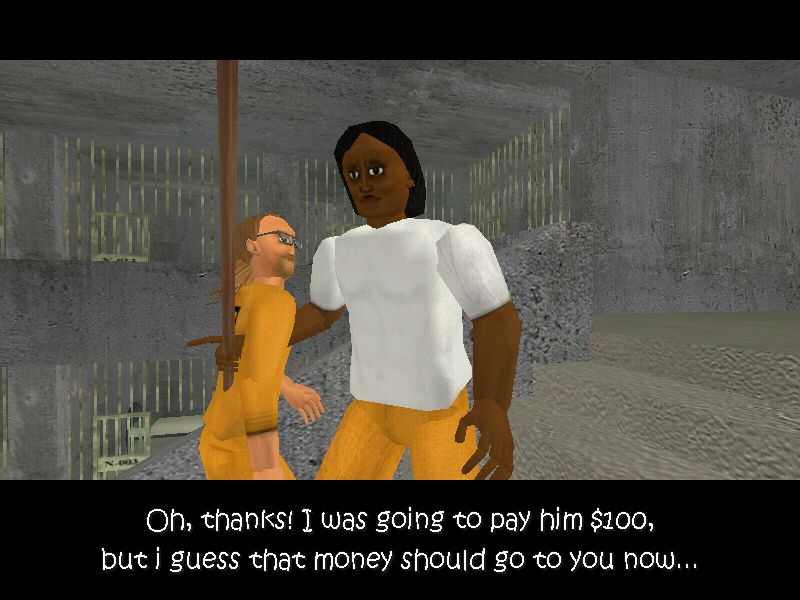 Hey, free money! We're pretty banged up, so let's hit those showers.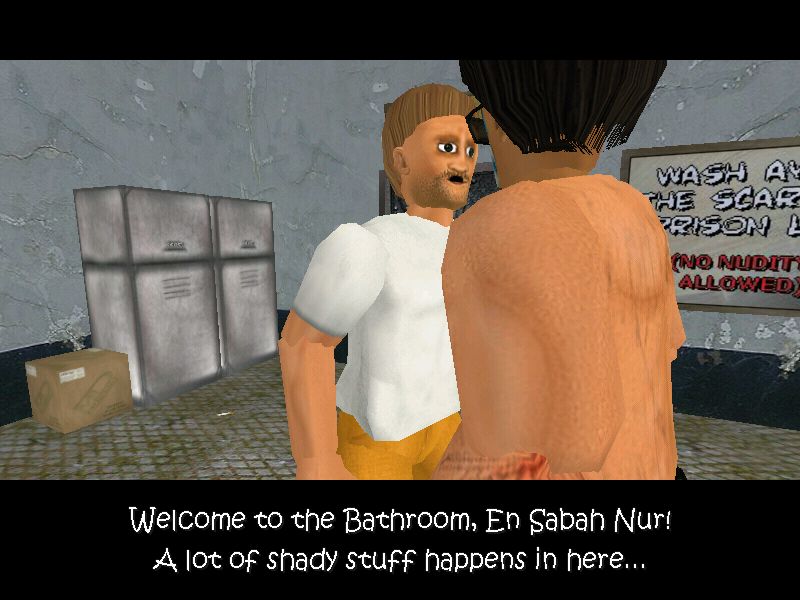 This is the one place the wardens aren't allowed, so you can do whatever you want!
Hey, we finally get the real intro, too! Hmm...whatever I want, you say?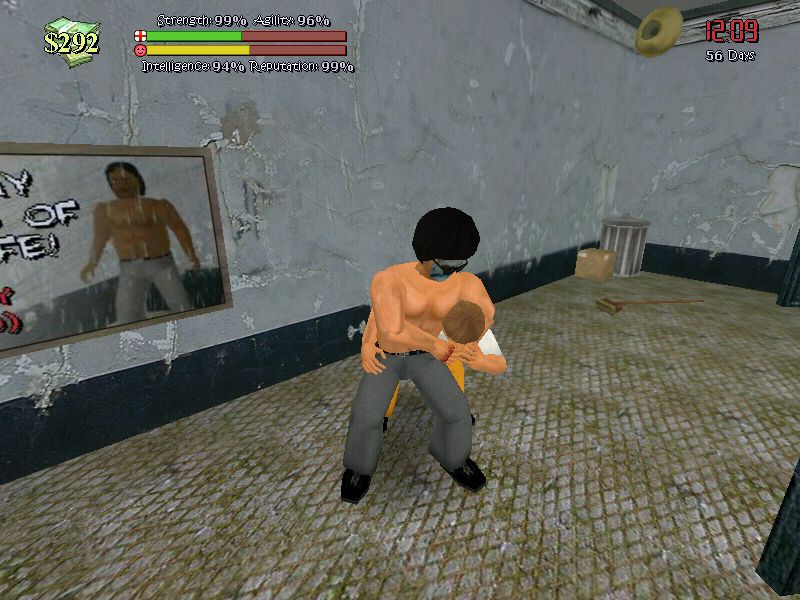 KISS MY FIST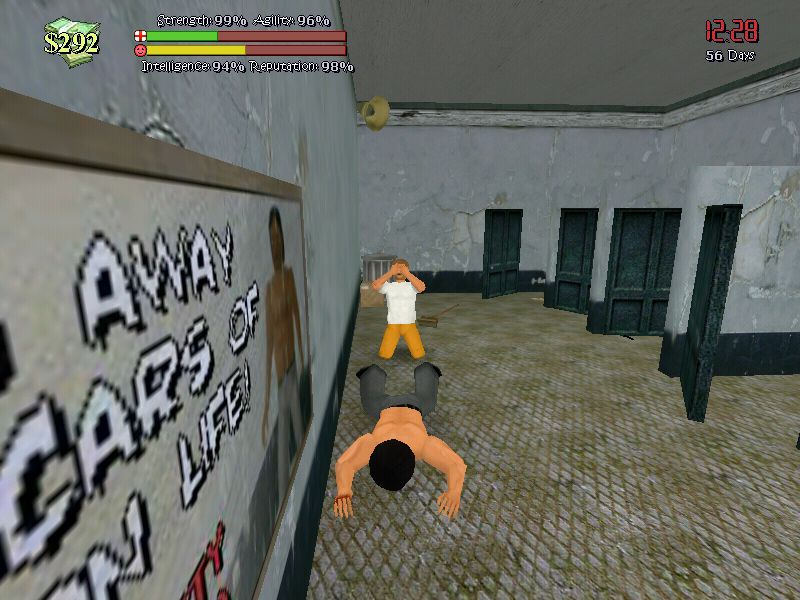 After a series of beatings, the poor guy goes insane, and we beat him back under the showers.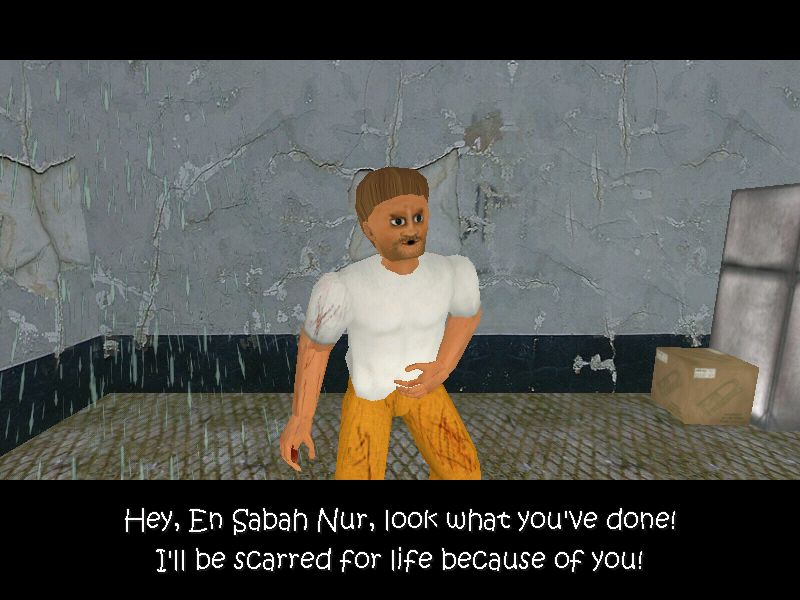 Wahh wahh, baby's missing a fingertip. I'm missing my thumb! That sucks harder! Some broom beatings ought to change his tune.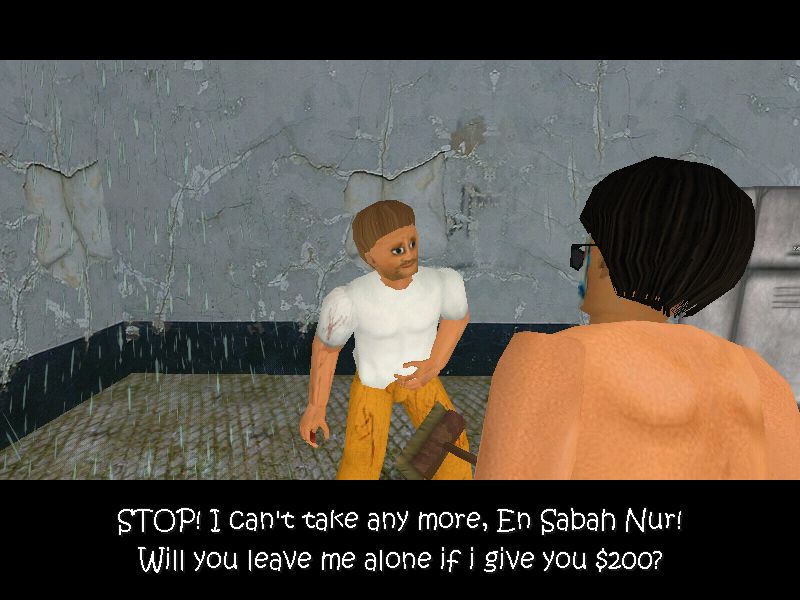 Sweet! Money!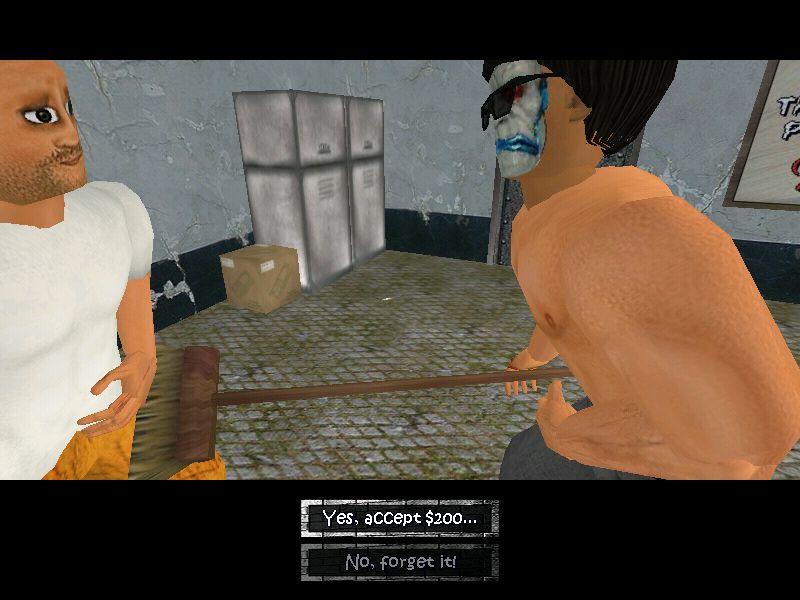 Hell yes I'll take free money!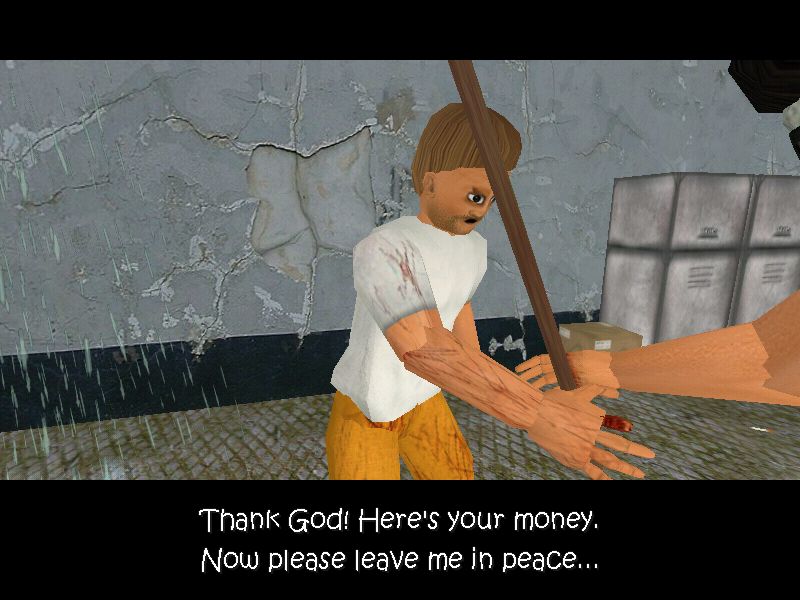 You know something, though?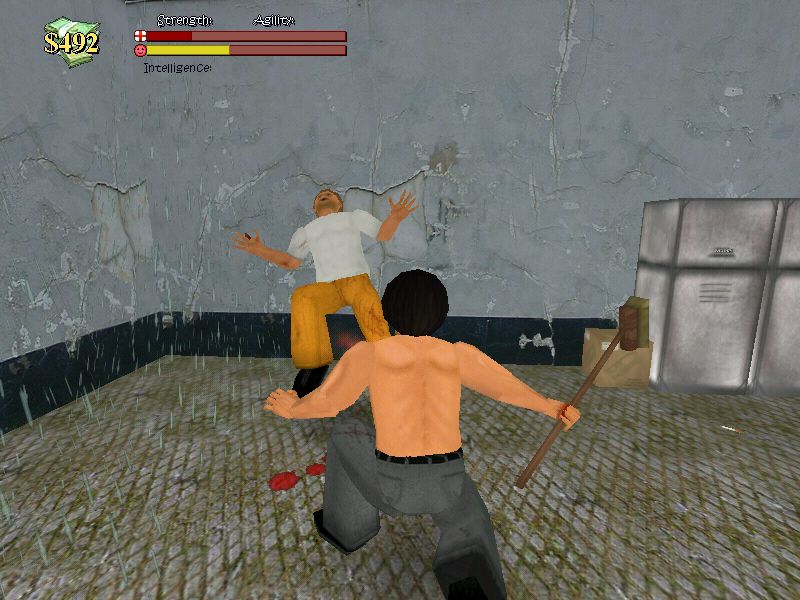 These guys don't really catch on too quickly.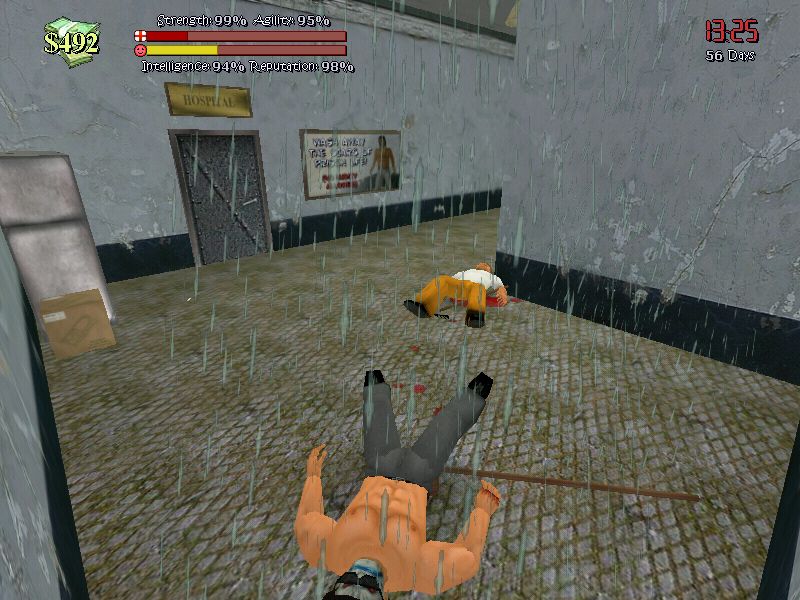 Ahh. Sweet, sweet repercussion-free murder.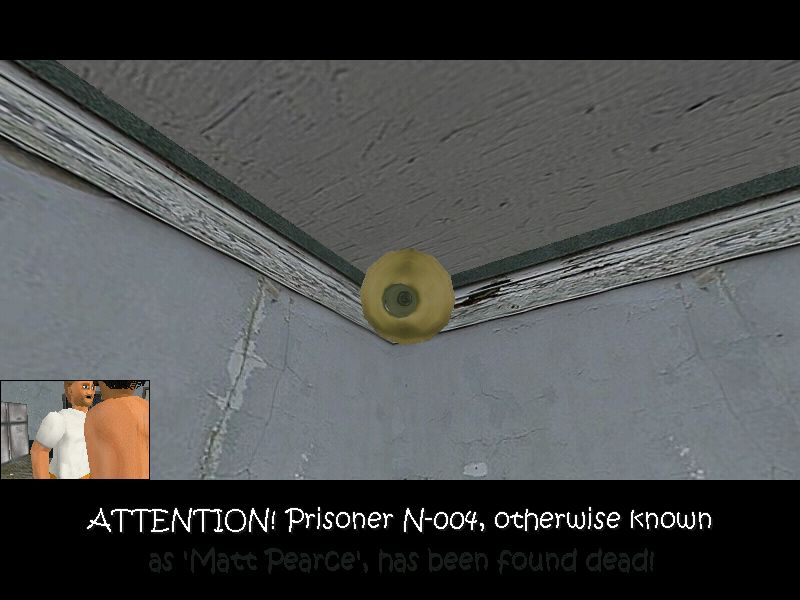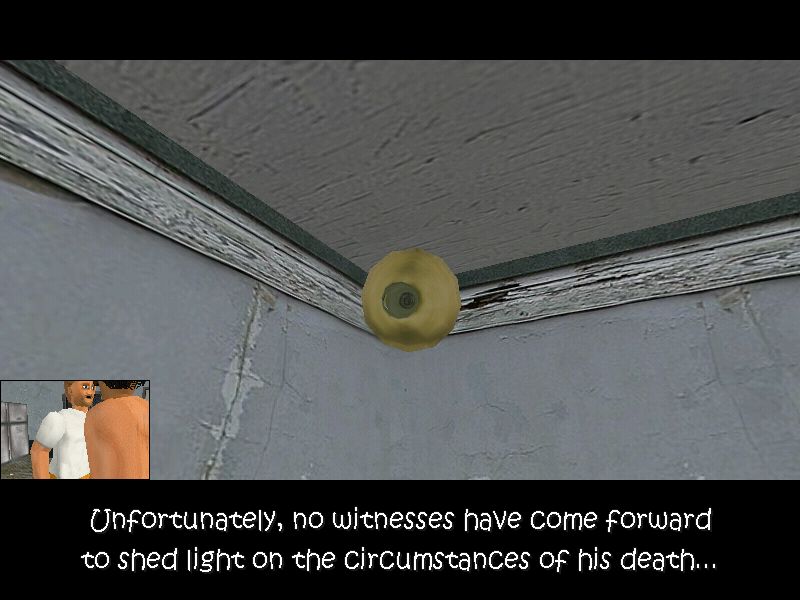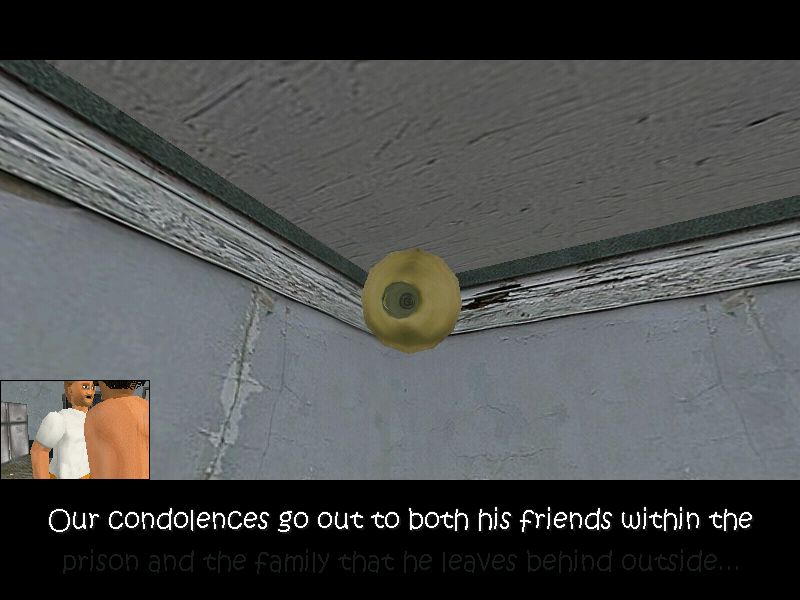 What a shame.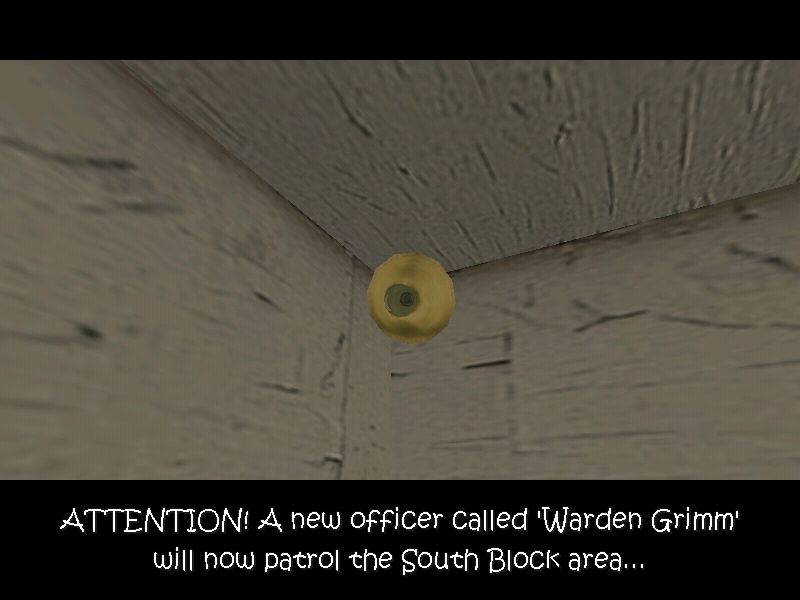 Also, a guard is hired to replace the one we brutally murdered.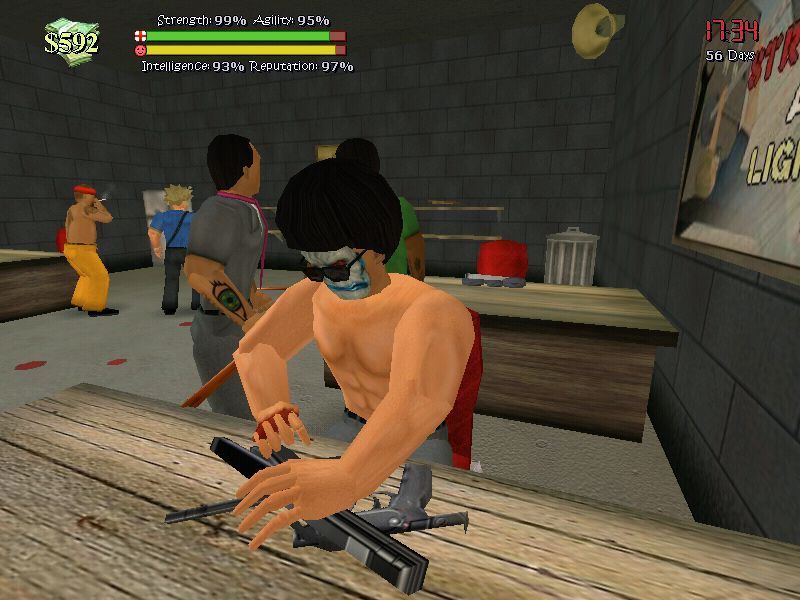 Time to make another rifle! The items you can make in the workshop are random and changed each day, but with two types of guns it's likely you'll get at least one.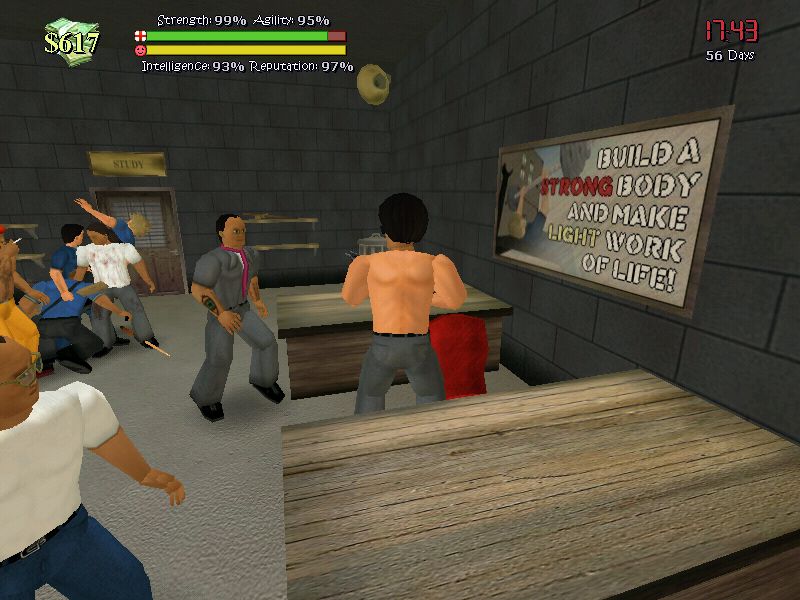 Awww yeahhh.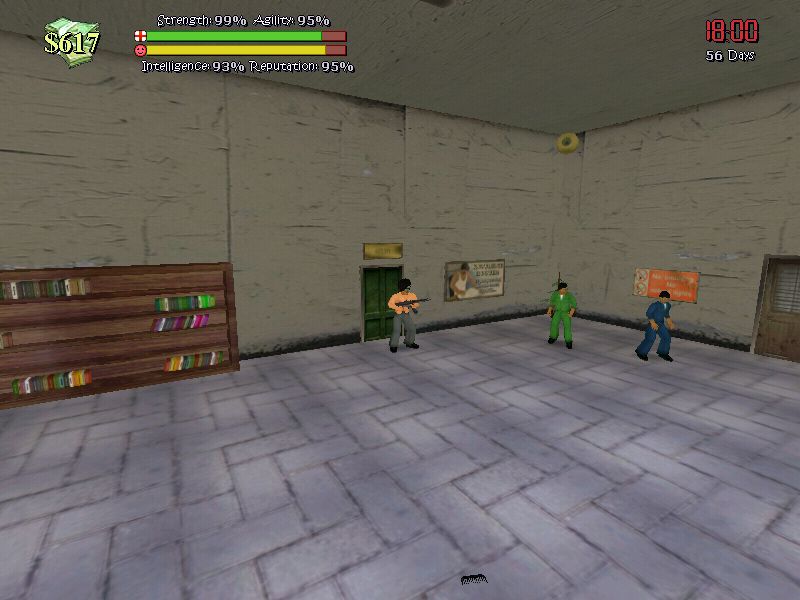 RUUUN TOOO THEEE HIIILLLLLSSS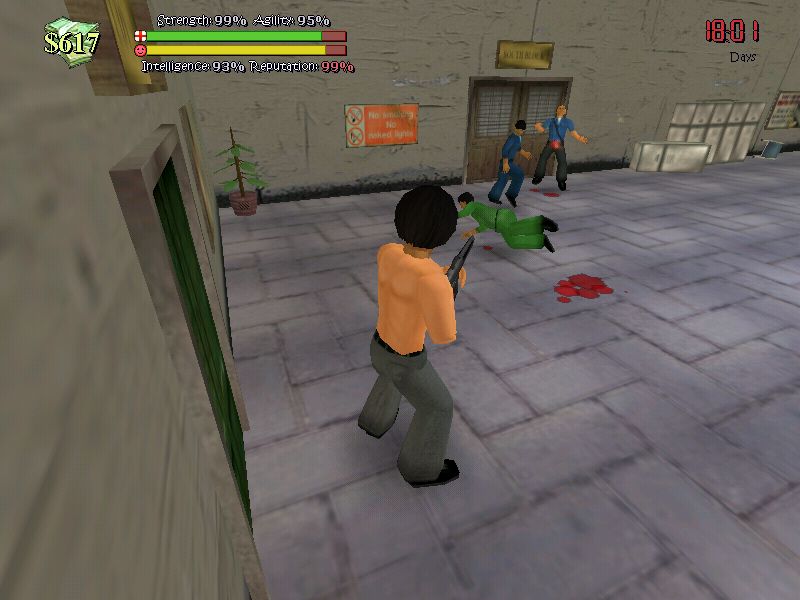 RUUUN FOOOR YOOOUR LIIIIIIVESSS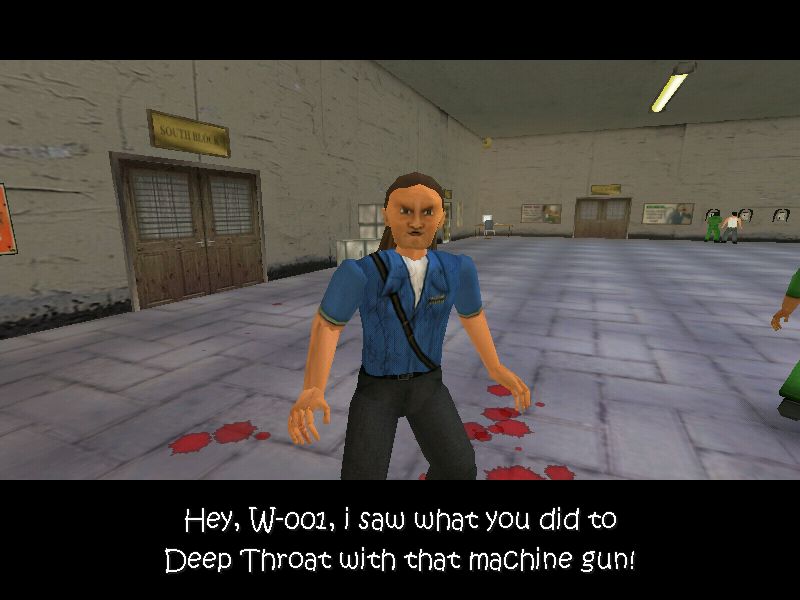 Aw crap, I either shot a porn star or Mark Felt.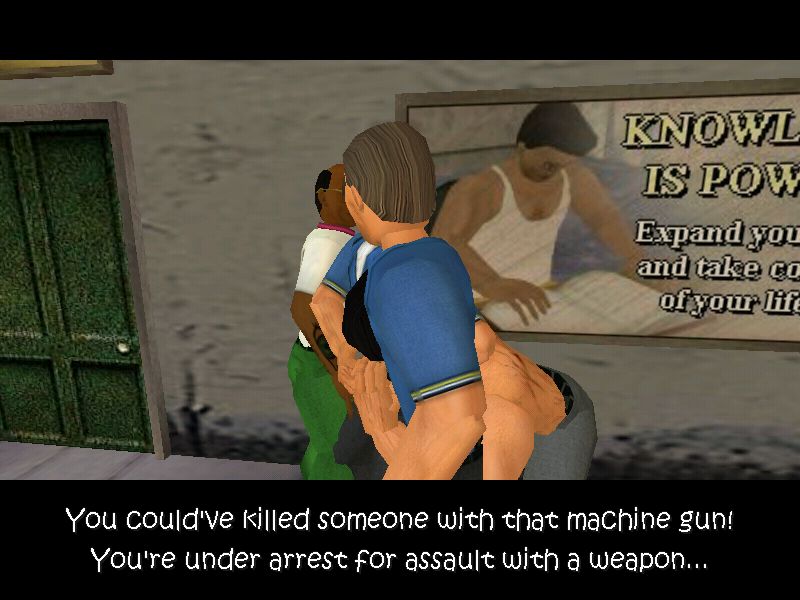 That's...kind of the point of what I was doing. You could just stop giving us perfectly functional assault rifle parts WITH the ammunition, you know.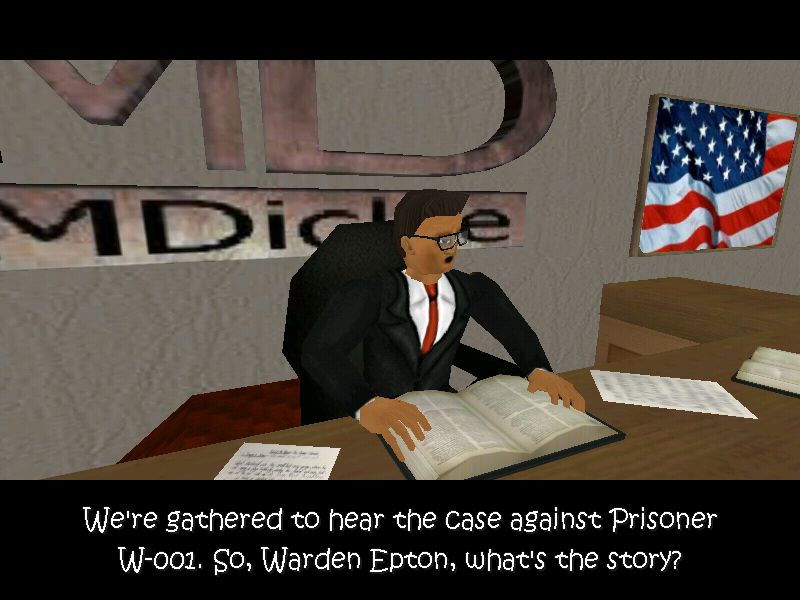 here we go again.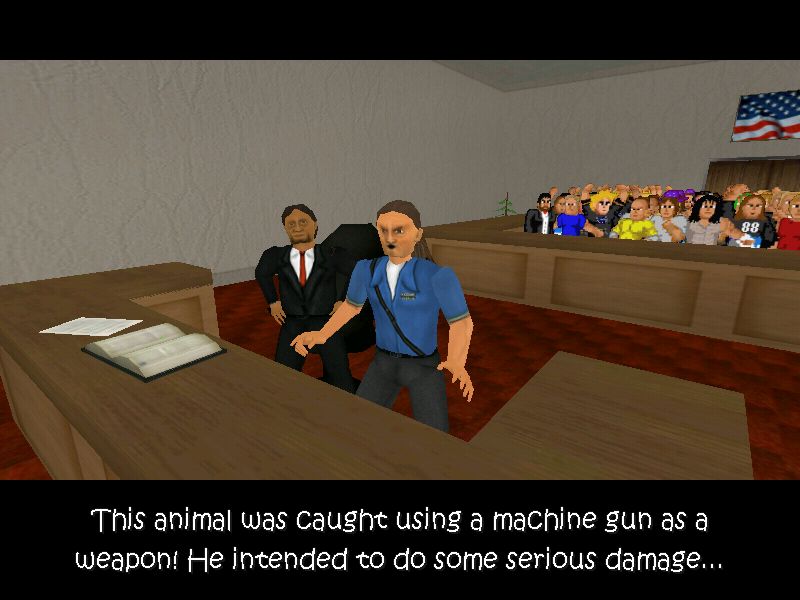 I'd say I succeeded at doing serious damage, actually.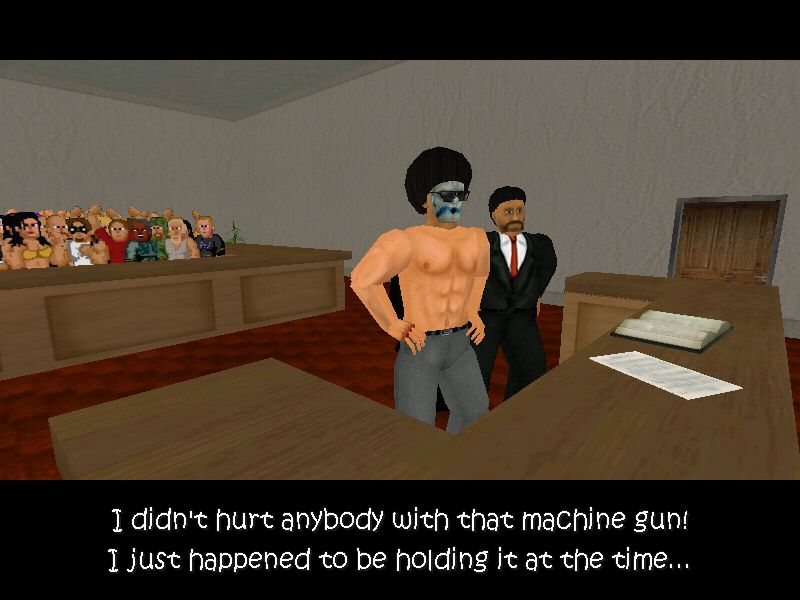 ...holding it with the trigger pressed down

So, who wins the case?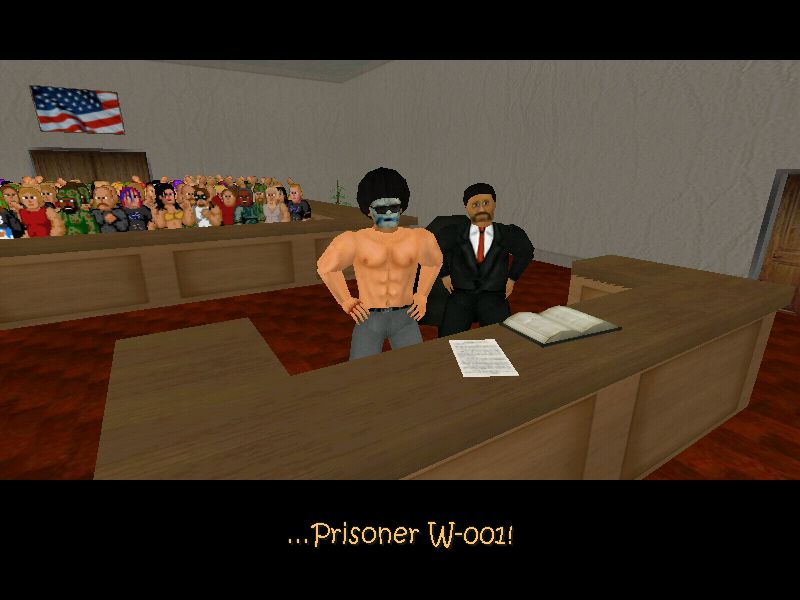 Us, of course.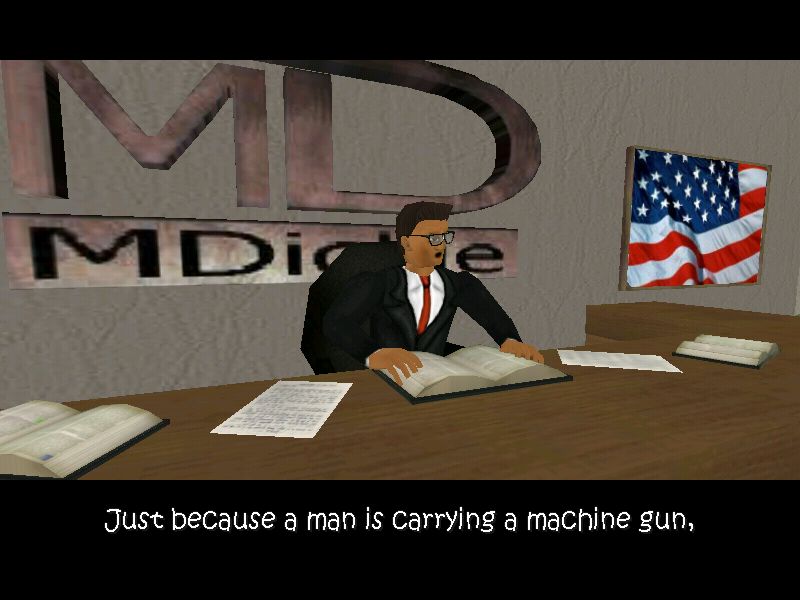 Doesn't mean he intends to use it as a weapon!
IT'S A GUN. THAT'S WHAT THEY ARE MADE TO BE. WEAPONS.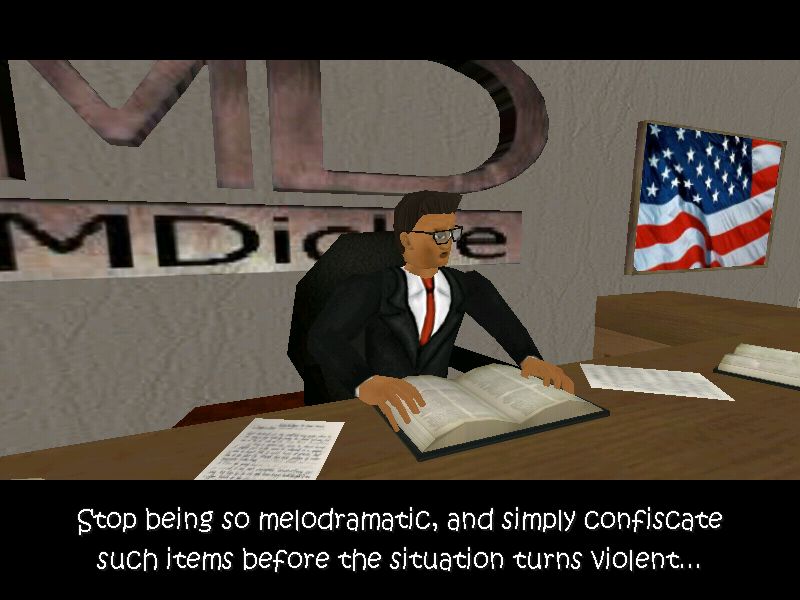 You know what I think is the cause of this nightmarish crime world MDickie's said Hard Time is set in? Judge Judy and co. took over the actual legal system.