Part 3: Canadian Content
Chapter 3 - Canadian Content
"April fourth, 15:00 hours.
Our contact with the local human forces has gone well. After clearing out a band of mutants they have given us permission to set up a base in the area where we can build what ever we like and mine the surrounding area for resources. The surrounding area of course being full of mutants we will need to clear out of our way in order to utilize the land.
On the subject of mutants we have seen some old transgenants we know pretty well, as well as some new ones. The morelmen and muckstars are nothing new, although the muckstars seem have figured out how to propel themselves around with out the Biomass. Some new mutants include what we're guessing is a manta ray gone land borne, we really don't have a clue there and something that looks something like a snakeman. I pulled up the old X-Com files we recovered from Dreamland and double checked just to make sure they weren't the same snakemen X-Com dealt with, and they're not. They look a little like it, but are definitely different creatures.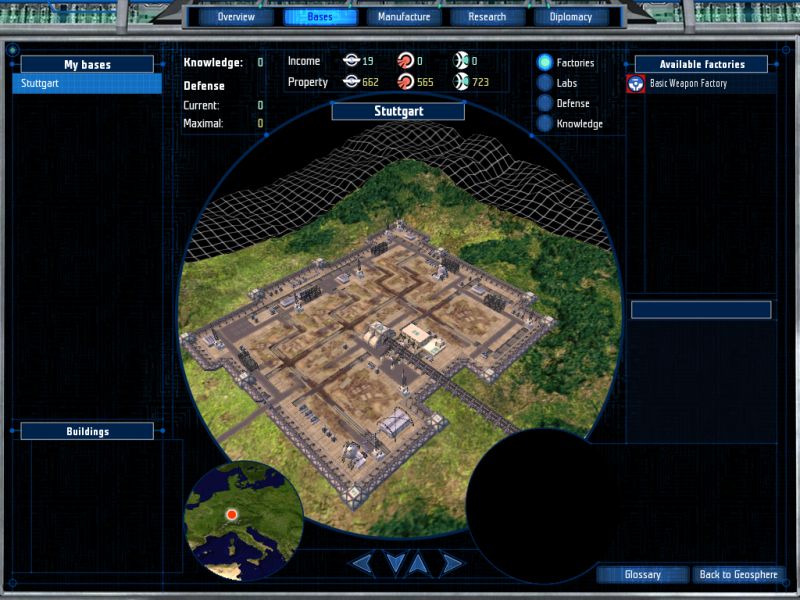 The base at Stuttgart is getting started. So far all we've built is a wall around the land Forest gave us and a resource track. The track isn't much use for now, but when we get multiple bases built we can use the track to send materials back and forth between them quickly. Sort of like the Spheres, only less nausea inducing because the track carts can't travel that fast. Oh the engineers are looking at the spheres to try to improve them some. Make them less hellish for the passengers to ride in.
So far I've ordered the construction of two basic weapon factories to get us started as soon as possible. We're going to need our own guns once the supply of Reticulan batteries runs out. Some of the engineers and scientists here on Laputa have been drawing up blueprints for other facilities, such as research labs and defensive structures.
With the base construction under way and Golden catching some rest from a bruised rib and claw wound I'm content with our first day of surface operations. Vault Out."
"April fourth, 22:27.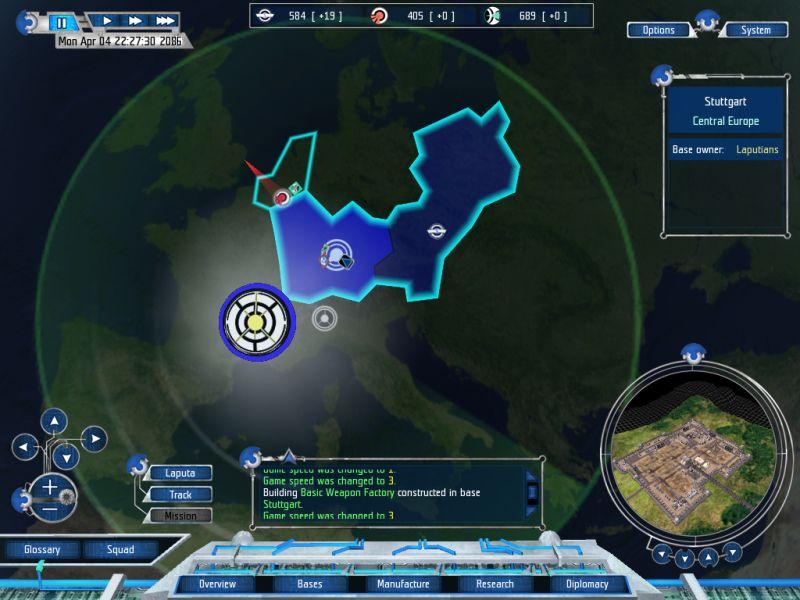 I was about to call it a night and get some sleep when we receive a communication from the surface. Seems word spread quickly of our intervention. It looks like another village or faction learned that we helped Forest's people and are willing to offer us the same deal, our aid for a piece of their land and resources.
Obviously we aren't about to pass this chance up, we need all the friends and land we can get on the surface. The problem is obviously neither Golden or our new weapon factories are up to 100% so soon. Regardless I'm sending the squad back down tonight, full force, Golden included.. The mission should be simple though, go down there, make contact, help the locals, and report back. Just like last time. The only thing that seems a little unusual is that the message said something about 'an old friend'. I don't know what that means, since everyone in the CoE is aboard the Laputa, and we haven't left anyone behind."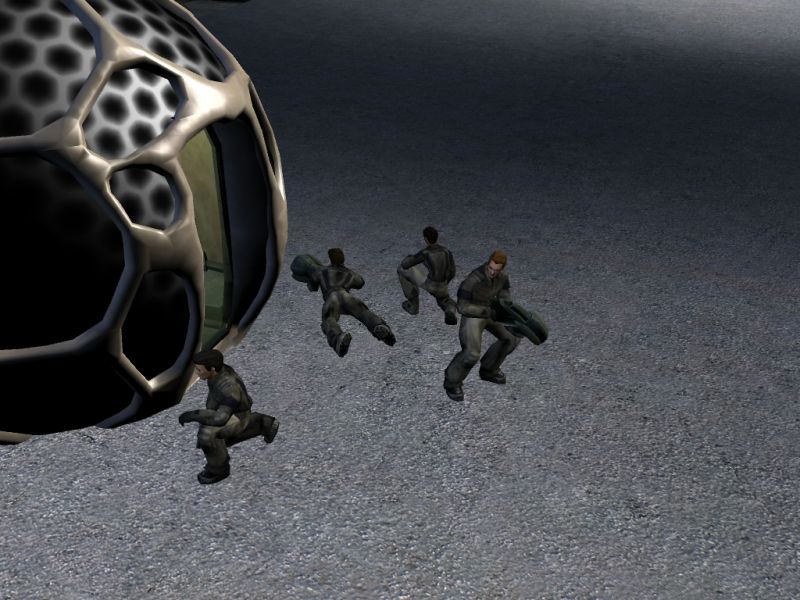 Golden: Huuuuurrrrgggg...
Vallhallan: Grrrooaannn...
Hero: Those engineers didn't upgrade anything!
Booya: Aw jumping giblets, not again...
5 minutes later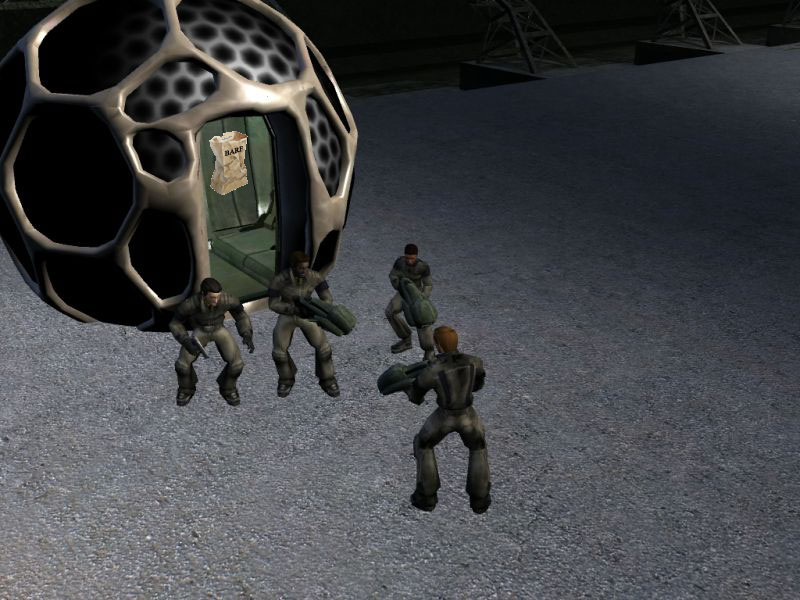 Booya: Alright, you all feeling better?
Golden: My ribs still hurt.
Booya: I meant are you done puking, dirt bag.
Golden: Oh.. yeah, we're good until the return trip.
Booya: Right. Well the mission is the same as last time. Find the locals, shoot what ever it is that they need shot, and set up shop down here.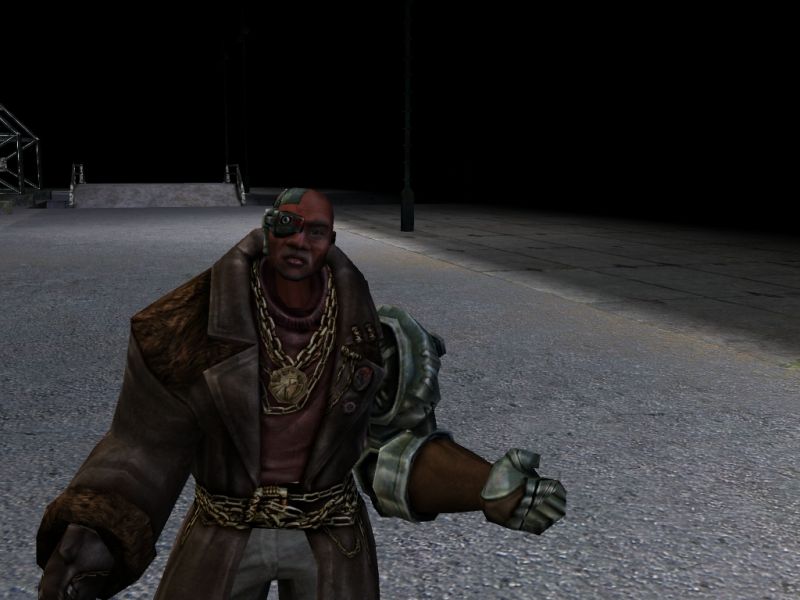 Canuck: ABOOT TIME YOU SHOWED UP.
Vallhallan: Holy shit a cyborg!
Booya: Canuck?!
Canuck: AFFIRMATIVE. GOOD TO SEE YOU AGAIN BOOYA.
Booya: Canuck! I haven't seen you since I cut your head off your body, escaped from the moon with you, and then you left the CoE!
Canuck: I KNOW. I'VE BEEN BUSY SINCE THEN.
Booya: So you're the leader of the guys that contacted us?
Canuck: YUP.
Booya: Hey why are you black?
Canuck: THE OTHERS WERE TRYING TO GET MY SKIN TONE BACK FROM THAT GOD AWFUL DEAD BABY GRAY YOU GUYS GAVE ME WHEN YOU BROUGHT ME BACK. THEY WENT A LITTLE OVERBOARD WITH THE MELANIN. THEY SAY IT'LL THIN OUT OVER TIME.
Golden: Okay, that explains the skin tone, but what about the gold chains?
Canuck: ...SHUT UP, FOO'.
Golden: And what about you Val, why are you still black?
Vallhallan: It's oil based or something, it wouldn't wash off!
Hero: So what's the deal? Wipe out a bunch of mutants and you'll let us start a base here?
Canuck: PRETTY MUCH. WE HAVE A LOT OF FACTORIES OF OUR OWN HERE, BUT WE CAN'T DO TOO MUCH WITH THEM WITH THE MUTANTS CONTANTLY ATTACKING US.
Hero: Simple enough. We'll let you know when everything is dead here. It's good to see you again Canuck.
Canuck: YOU TOO.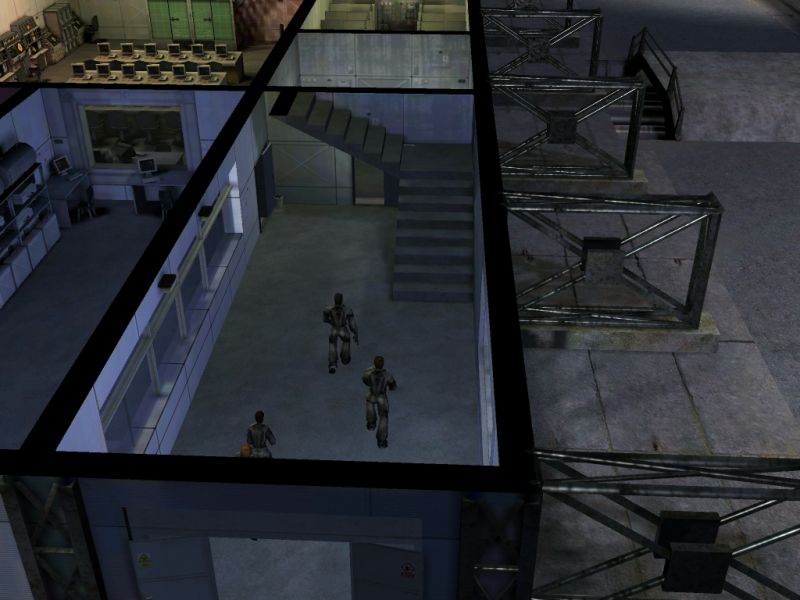 Golden: Dude, Canuck has his own industrial complex? Kick ass.
Hero: Maybe we can start manufacturing some of our old guns and armor.
Vallhallan: Yeah, I really miss that exoskeleton armor with the extra crotch plating.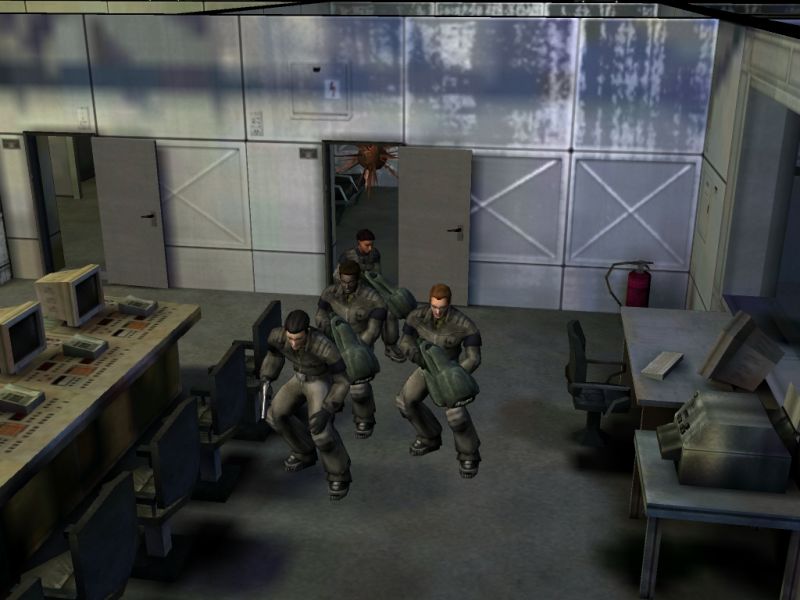 Booya: Huh, looks like a computer center. Or control room for the place.
Hero: Yeah... hey you hear something? ... Shit they found us!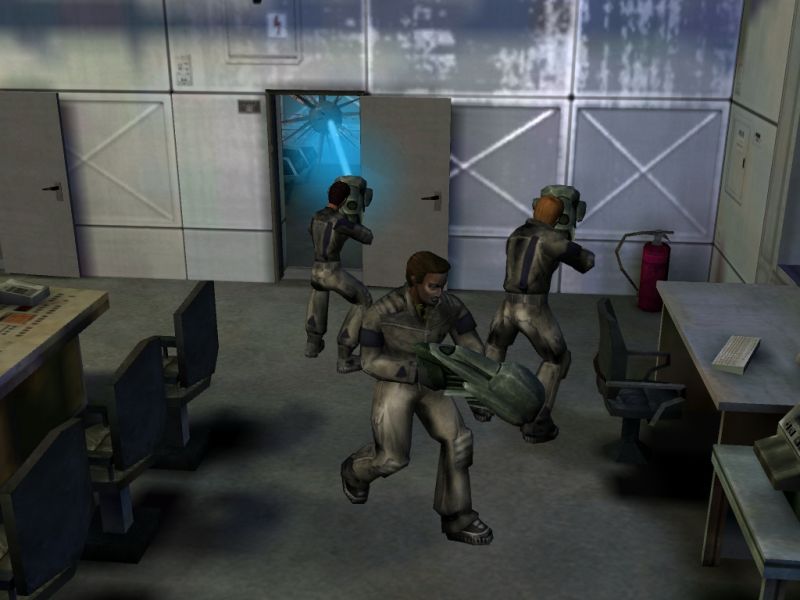 Hero: Stupid muckstars! This one can't even get us, won't fit through the doorway I bet.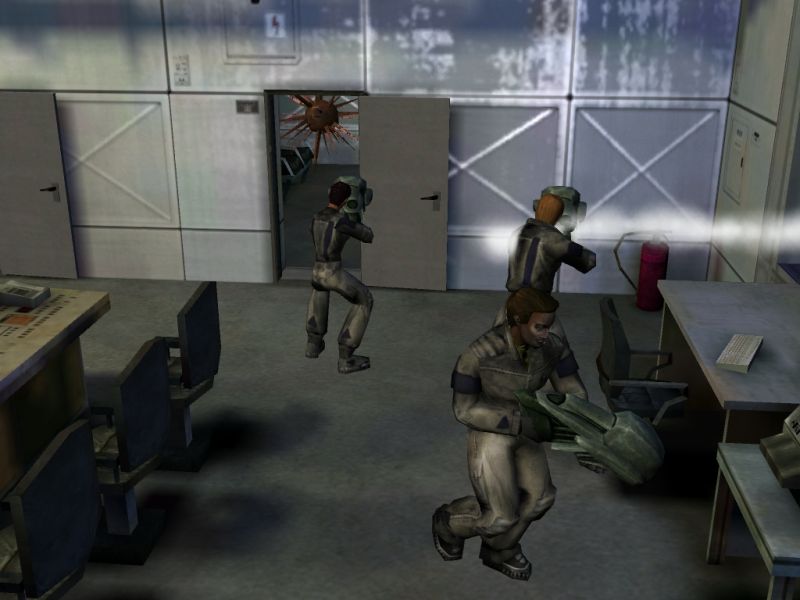 Booya: I'm hit! What was that!?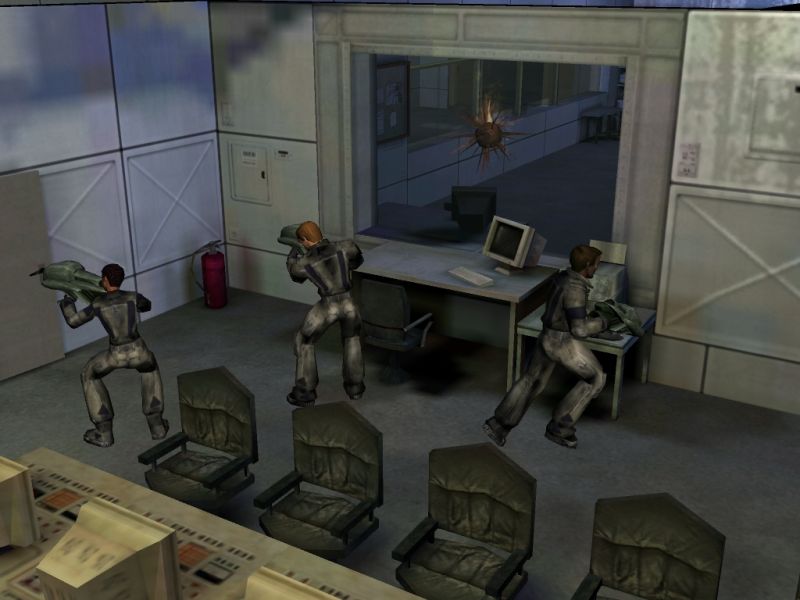 Vallhallan: Looks like the little muckers remembered their ranged attack.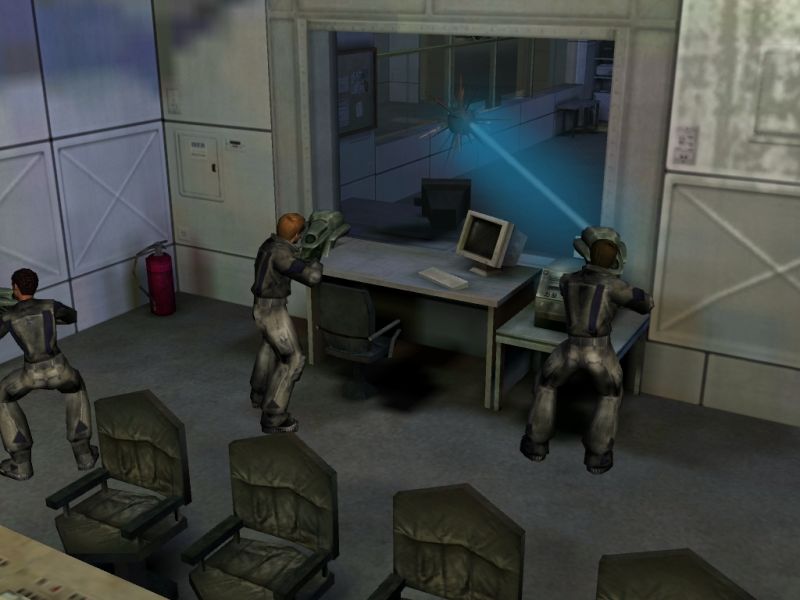 Vallhallan: Still, pretty weak enemies though. Only takes a good shot or two.
Booya: Take that, transgenant! Lasers don't need to worry about shooting through a window, it's just light!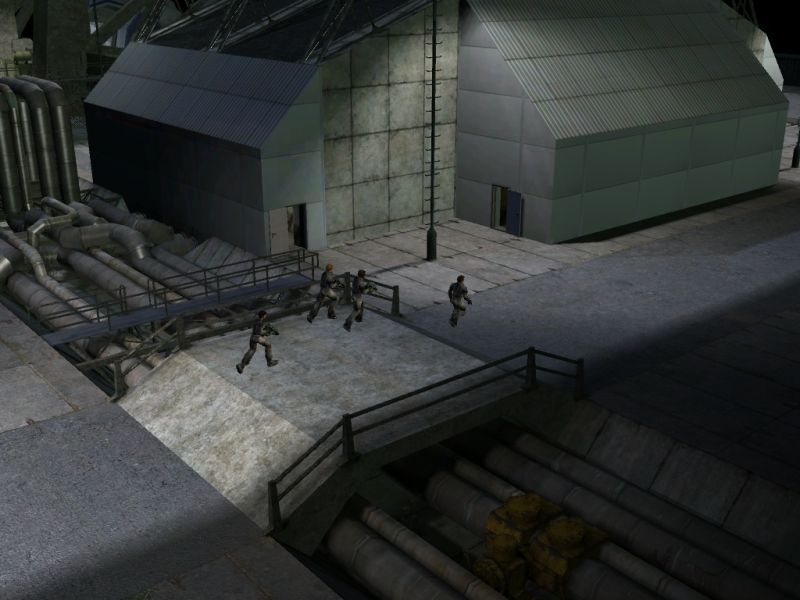 Hero: This place is pretty big, could take a while to search it all.
Booya: Golden, stop getting so far out in front!
Golden: Oh yeah, why?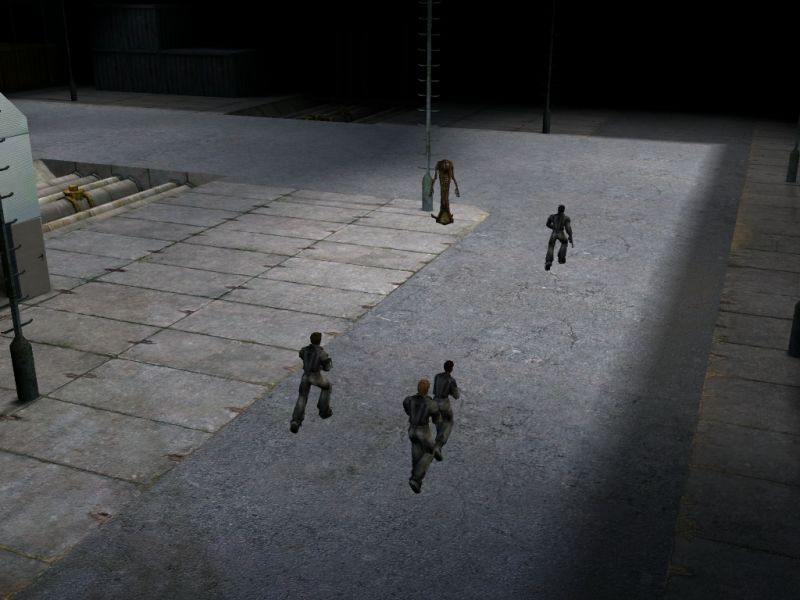 Booya: That's why!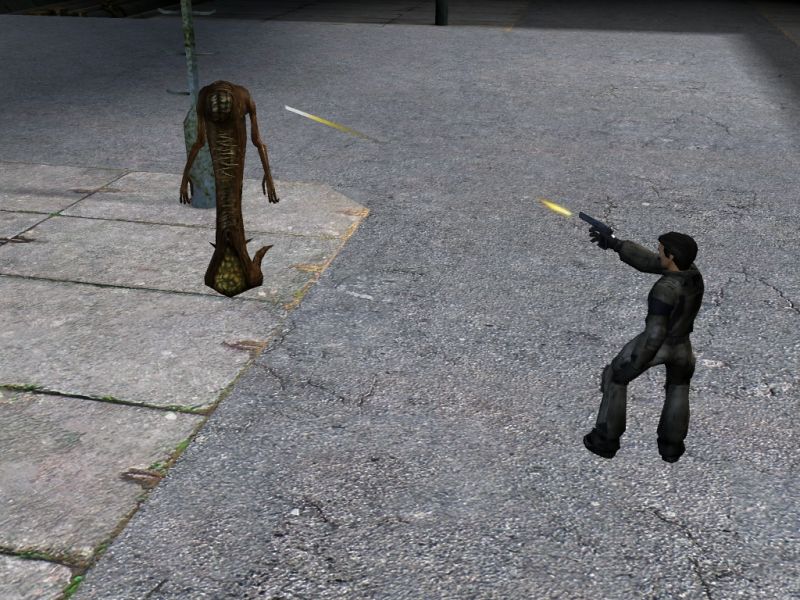 Golden: What, this one mutant? No sweat.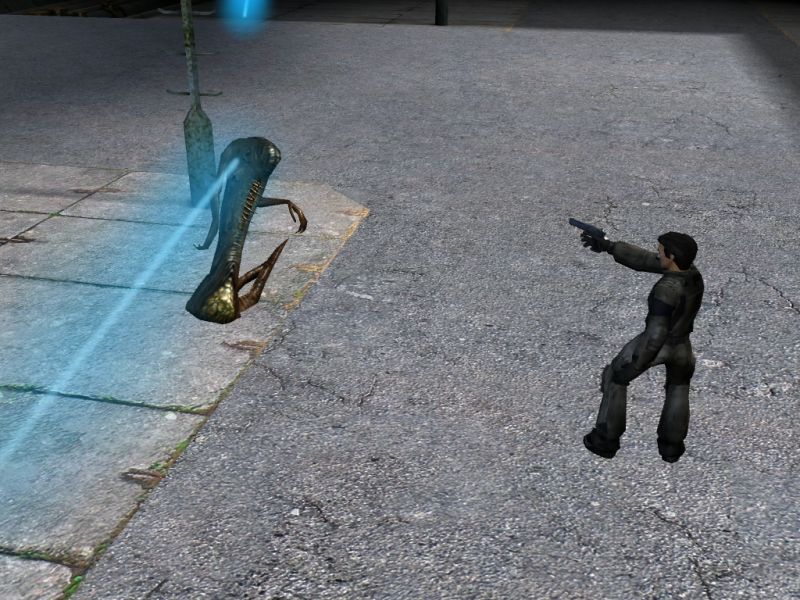 Golden: Hey, I said I could handle it.
Vallhallan: What ever dumbass, just like the morelman?
Golden: He got lucky, that will never happen ag-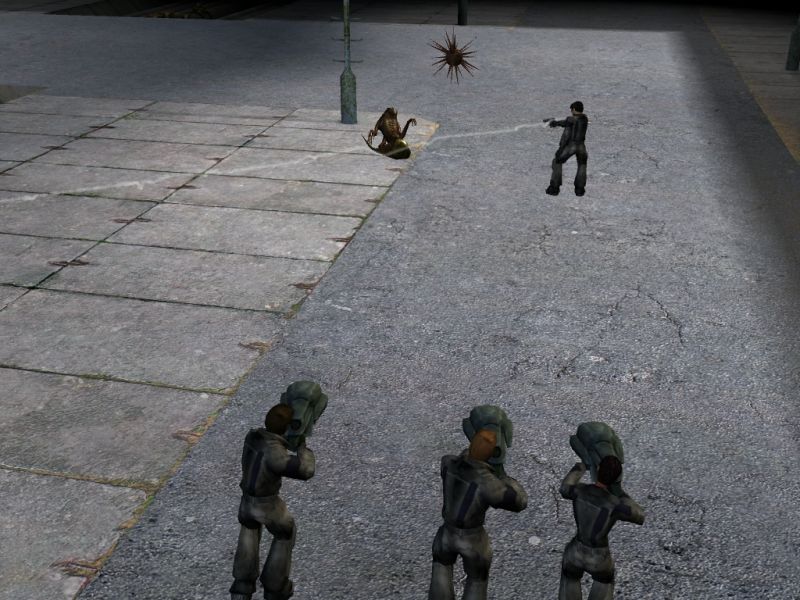 Golden: Aw fuck...
Booya: Pair of muckstars!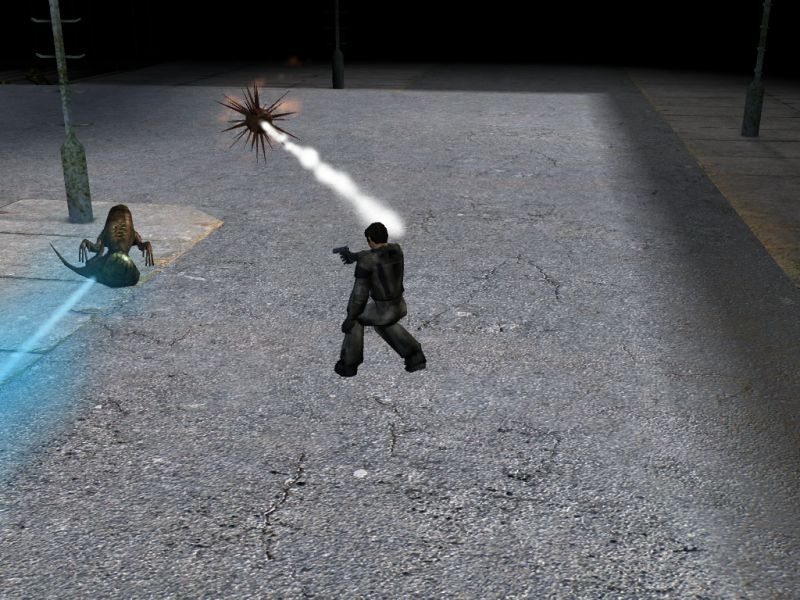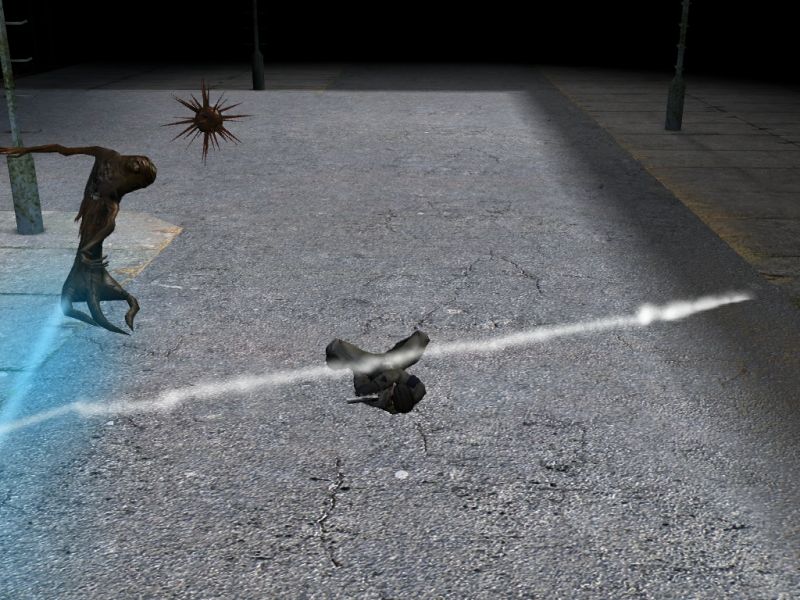 Booya: Golden's down! Warned him, but would he listen to me? Oh no, don't listen to the Major, he doesn't know what he's talking about.
Hero: That snakeman is
freaking out
over there.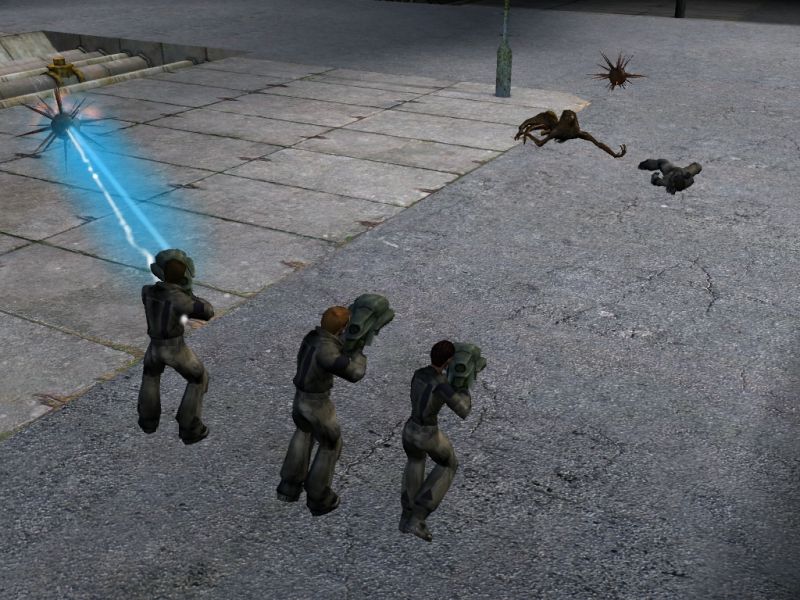 Vallhallan: Son of bitch. Damn muckstar got me.
Hero: Snakeman is down though.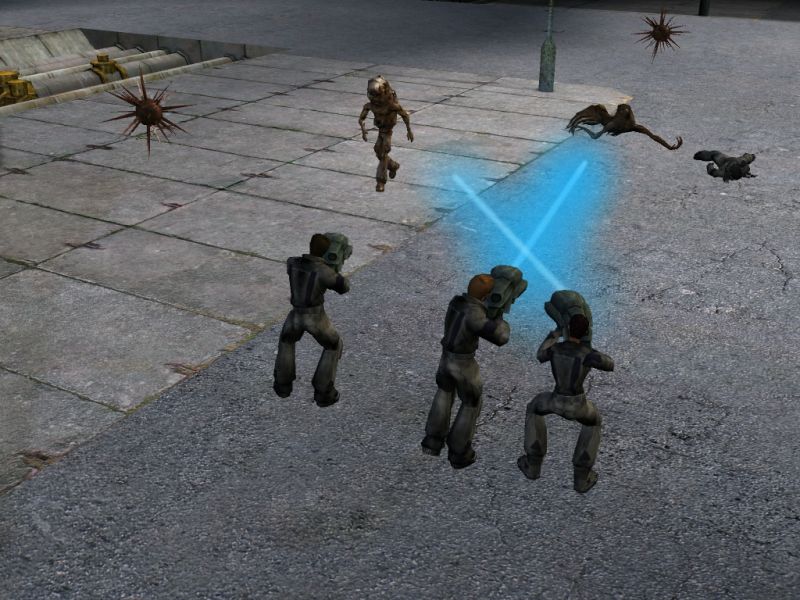 Vallhallan: Morelman spotted! We're getting into trouble here.
Hero: I got him!
Booya: No don't cross the streams!
Hero: What?
Booya: Never cross the laser streams!
Hero: Why not?
Booya: Because... you know... things... never mind, get a med kit for golden boy down there.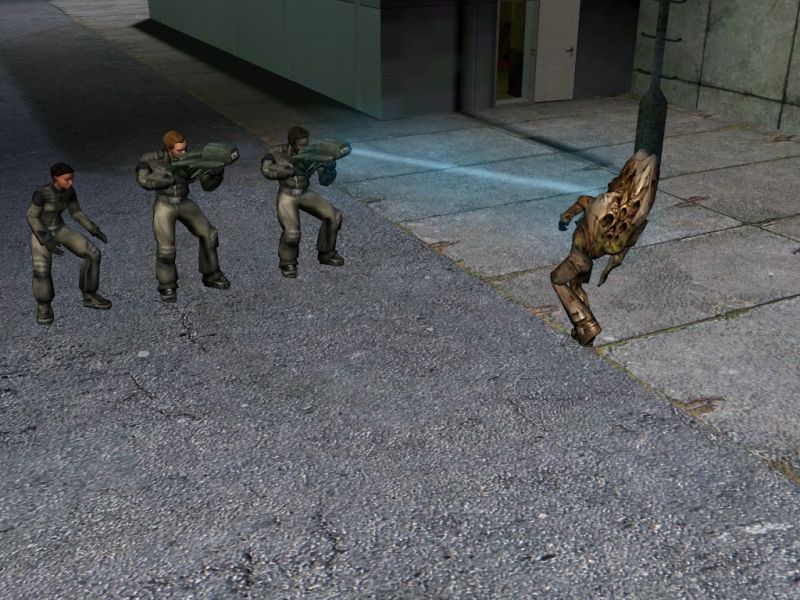 Vallhallan: Get back you freak!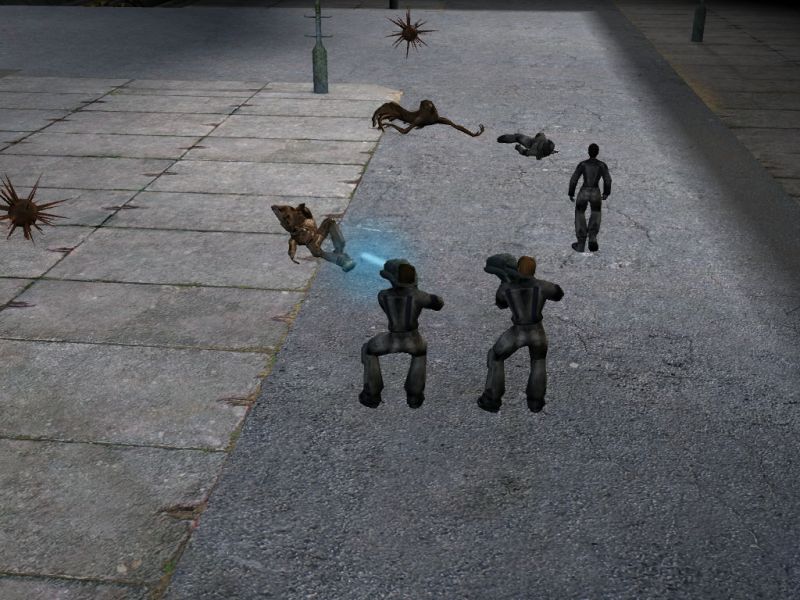 Vallhallan: And stay down damn it!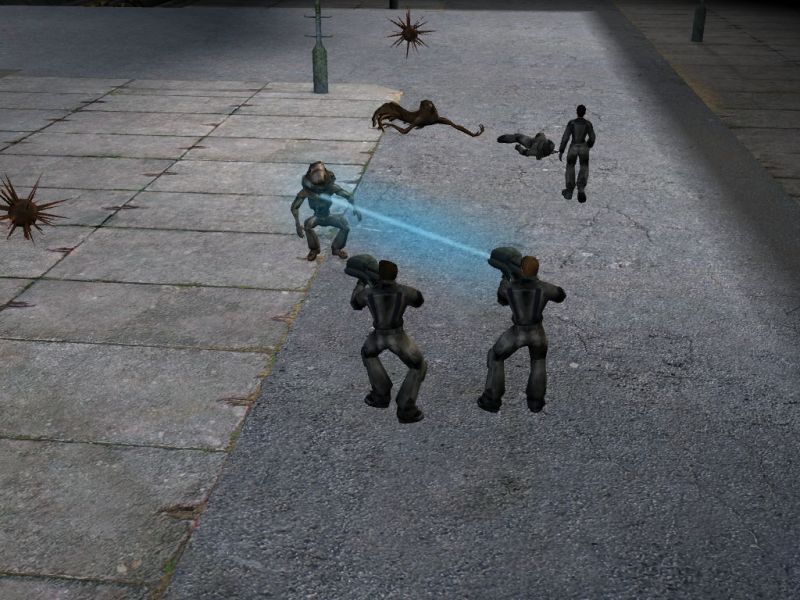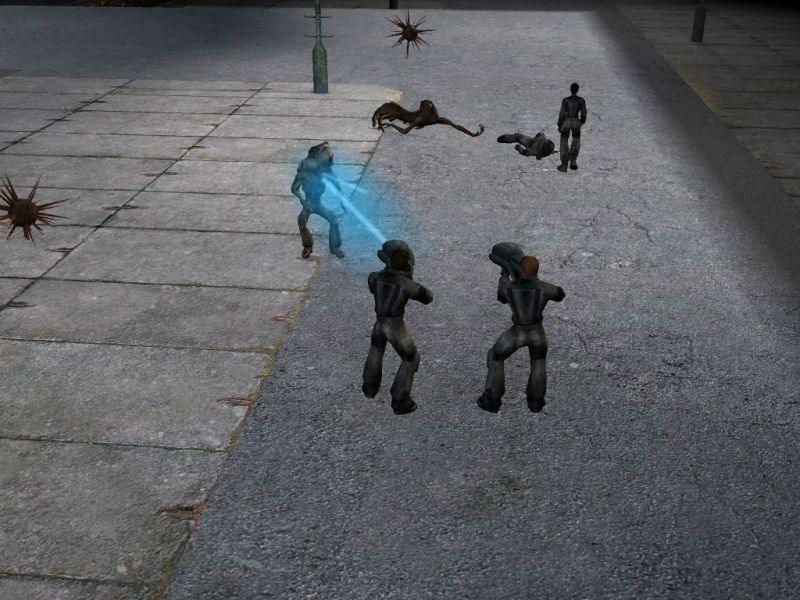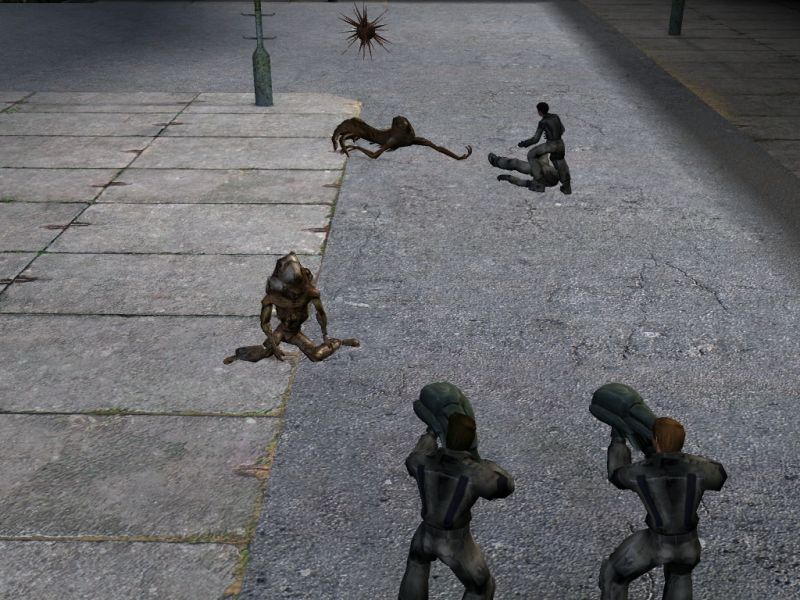 Booya: Tough sons of bitches aren't they?
Vallhallan: Oh yeah. We better cover Hero.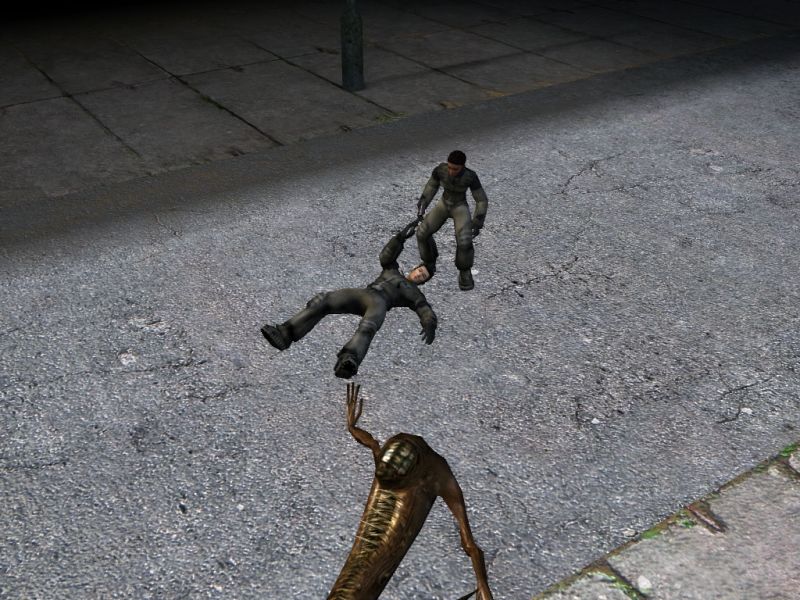 Golden: Help me, I'm too good looking to die.
Hero: Come on Golden, get up.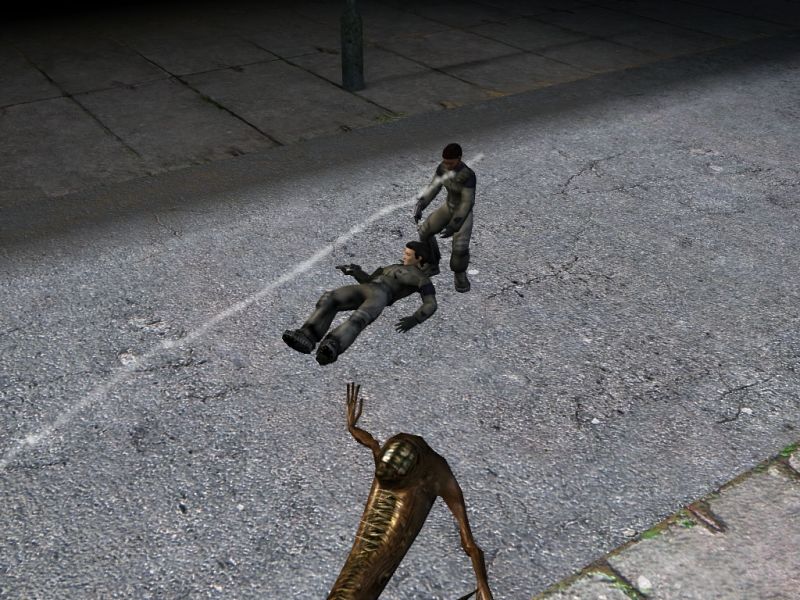 Hero: Fuck! Damn it Golden, get up and shoot that thing if you want me to heal you.
Booya: I got you covered my little dumpling.
Hero: Thanks Major.
Golden: Ah much better.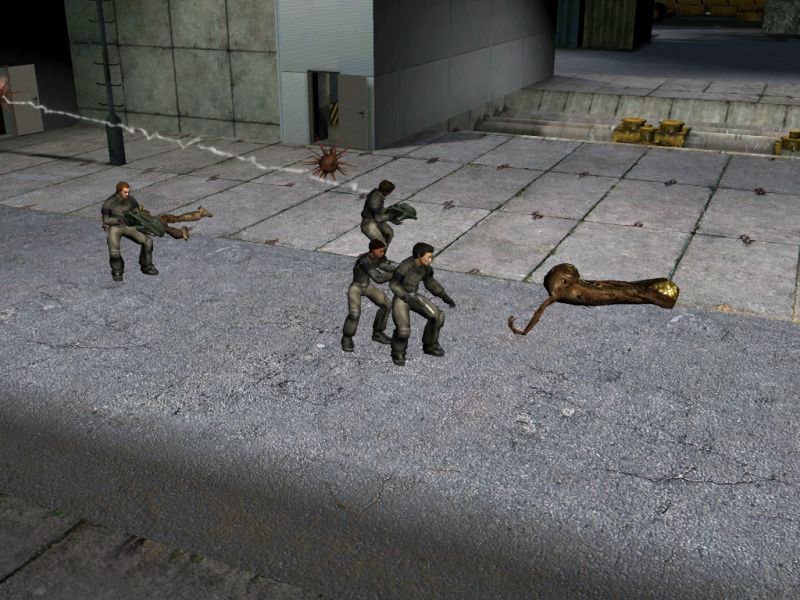 Vallhallan: OW my neck!
Booya: They just keep coming!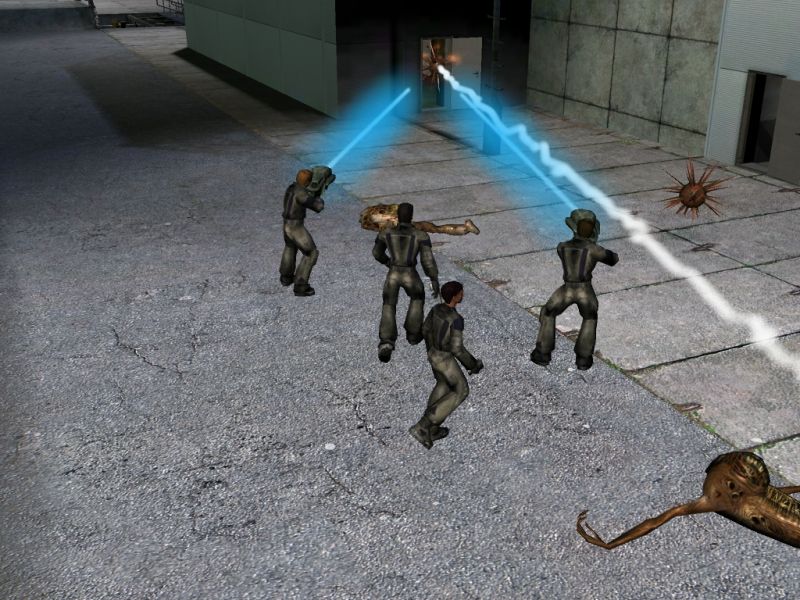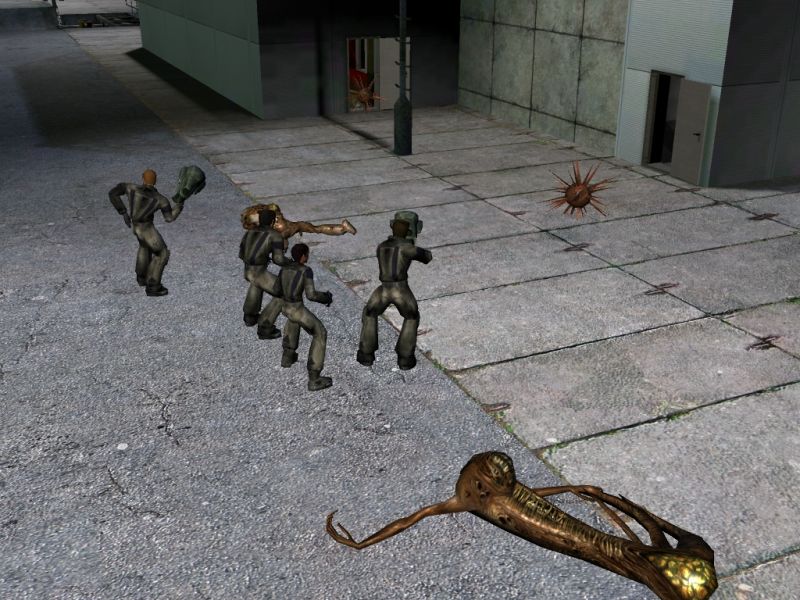 Vallhallan: It's down.
Booya: Just in time. Need to reload here.
Hero: Anyone else need some meds?
Vallhallan: Please.
Booya: Dose him and lets look around.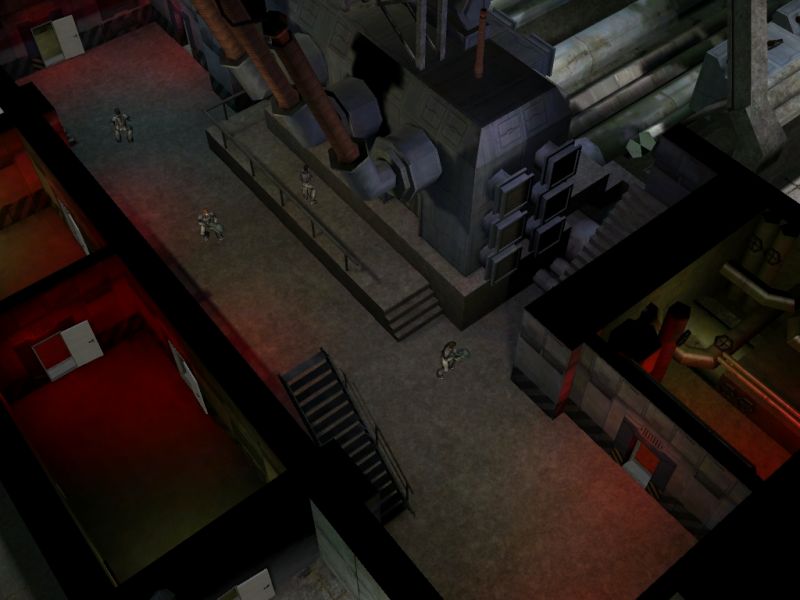 Golden: This place is huge... what is it?
Hero: Some sort of reactor I guess.
Booya: Maybe the cyborgs need it to recharge their batteries.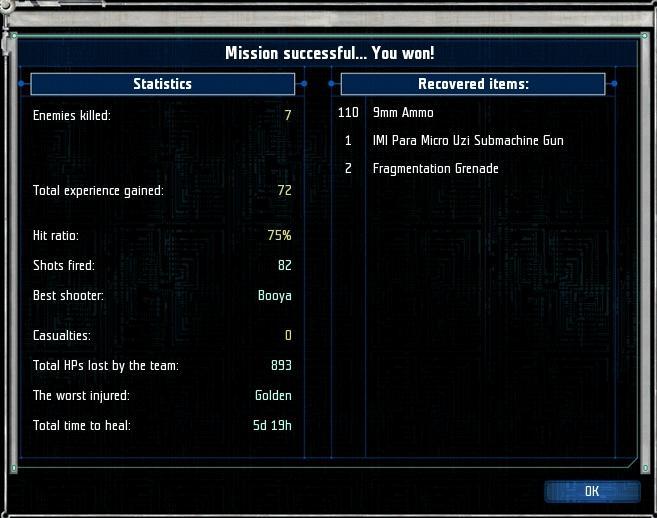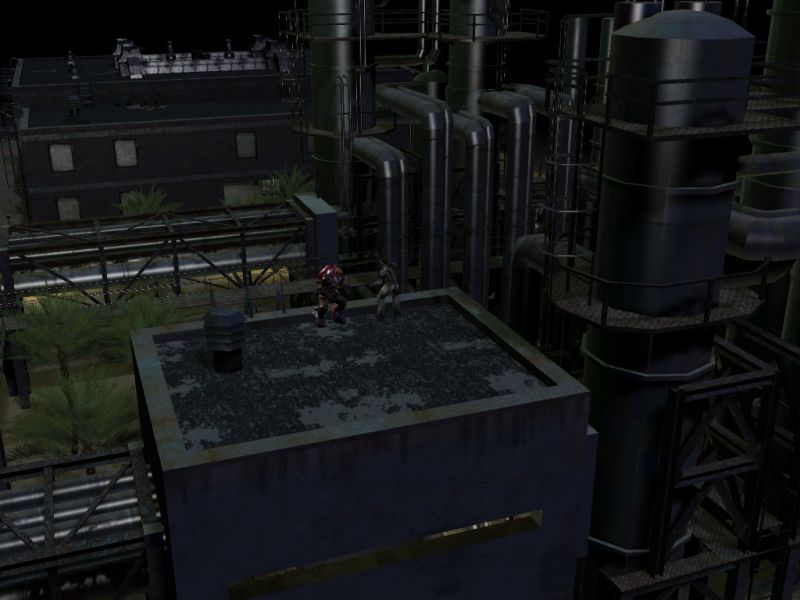 Canuck: THIS IS THE FACTORY. UH. IT'S NOT REALLY RUNNING YET; I GUESS WE DON'T HAVE ALL THE PARTS. BUT WHEN IT'S WORKING, WE'LL BE ABLE TO MAKE A TON OF STUFF. WHEN THE FACTORY'S SET UP, MAYBE WE CAN FINALLY MAKE SOME DECENT GUNS AND AMMO. WE'VE BEEN USING SALVAGED STUFF, BUT IT'S STARTING TO FALL APART. AND SHEET METAL DOESN'T STOP PLASMA VERY GOOD.
Booya: Yeah, we're running low on supplies too. We lost all our old armor with the Omen. Golden got hurt pretty bad by a morelman just clawing him. Never would have happened with our old stuff.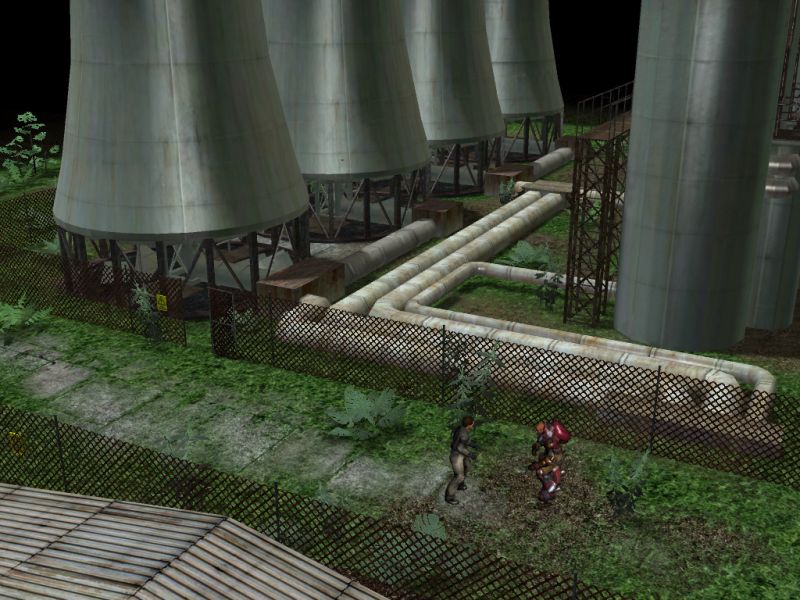 Canuck: THE COOLING TOWERS FOR THE PLANT. THERE'S A SOPHISTICATED WATER RECOVERY SYSTEM IN PLACE HERE OR SOMETHING. - HEH, WATER RECOVERY SYSTEM. MAKES ME THINK OF OL' PICCOLO PENIS. HOW'S HE DOING, ANYWAY?
Booya: Not too bad. Recovered nicely from the Reticulans and hasn't been shot in the crotch in nearly a year.
Canuck: THINK HIS LUCK WILL HOLD UP NOW THAT YOU'RE FIGHTING AGAIN?
Booya: Ha, not a chance in hell.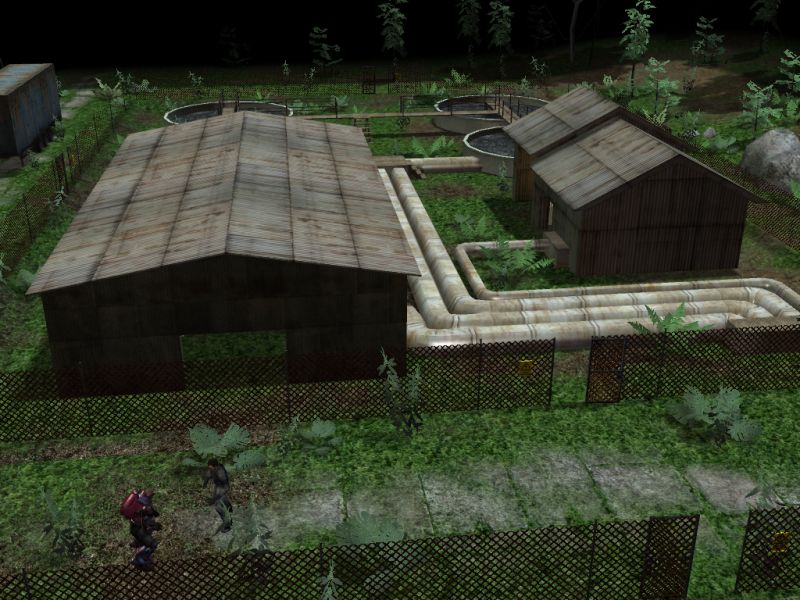 Canuck: WATER TREATMENT PLANT. SEWAGE. WE USE THE SLUDGE FOR THE FARM. THERE'S A STILL IN THAT SECOND SHED, BUT DON'T TELL ANYONE. I NEED THE BOOZE TO, UH, CLEAN MY SERVOS?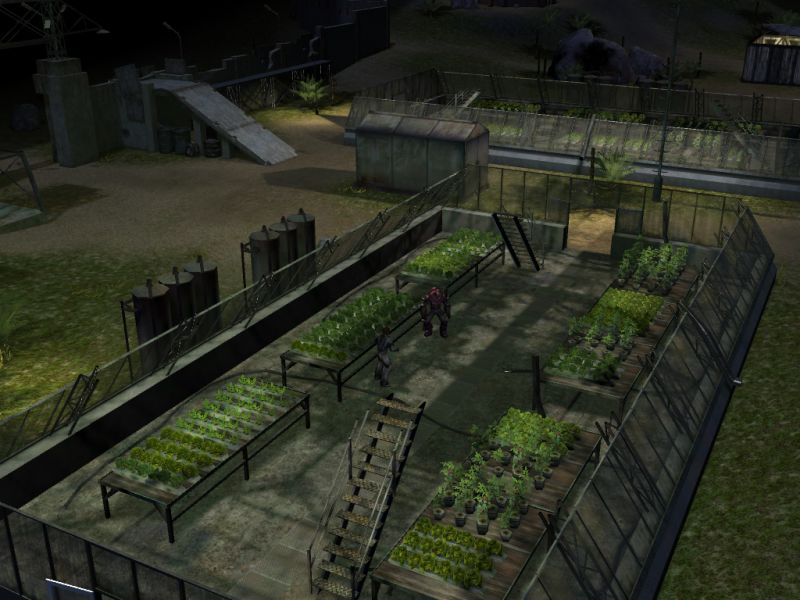 Canuck: THE FARM. HYDROPONICS, GREENHOUSES, THAT SORT OF THING. CARROT? ... NO? OKAY. UM. YEAH. SO THAT'S THE TOUR, I GUESS.
Booya: It's good seeing you again pal. I'm sure everyone else misses you too. We had a lot of good times.
Canuck: REMEMBER THAT TIME WE SET A FEW SQUARE MILES OF JUNGLE ON FIRE TAKING OUT A FEW RETICULANS? THAT WAS PRETTY FUN.
Booya: Of course! You really loved that autocannon. We were worried you came back as a pyromaniac for a while.
Canuck: YEAH, WE HAVE PLANS TO SET UP A GASOLINE DISTILLERY SOMETIME. MAYBE FIX UP SOME NAPALM. THAT REMINDS ME, WANT TO STICK AROUND? WE WERE GOING TO HAVE A BARBEQUE.