Part 8: Dogbass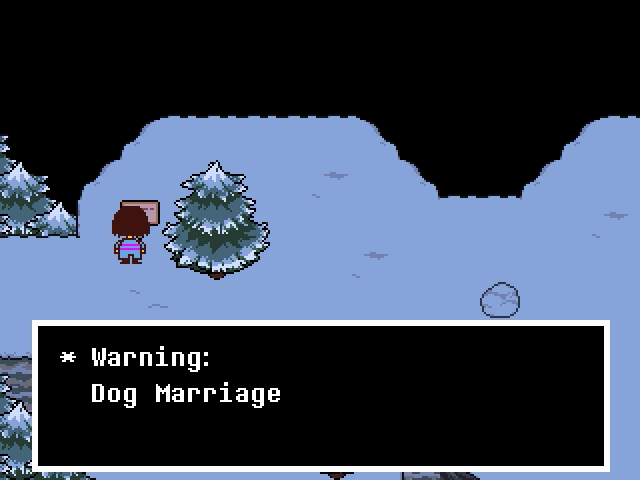 BGM: Snowy
I read an ominous warning about the road ahead.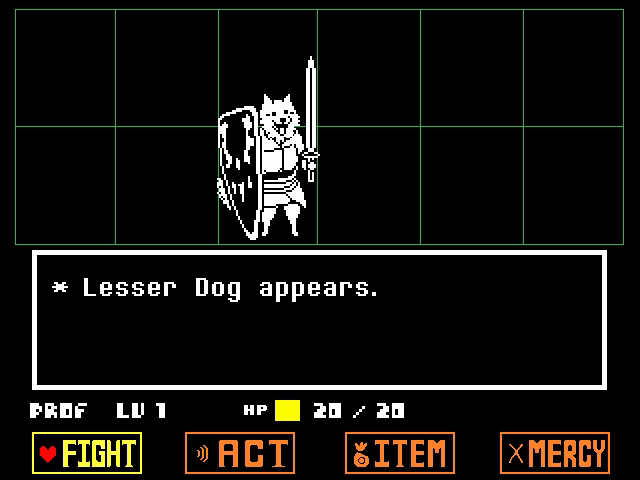 Dogs encountered: 2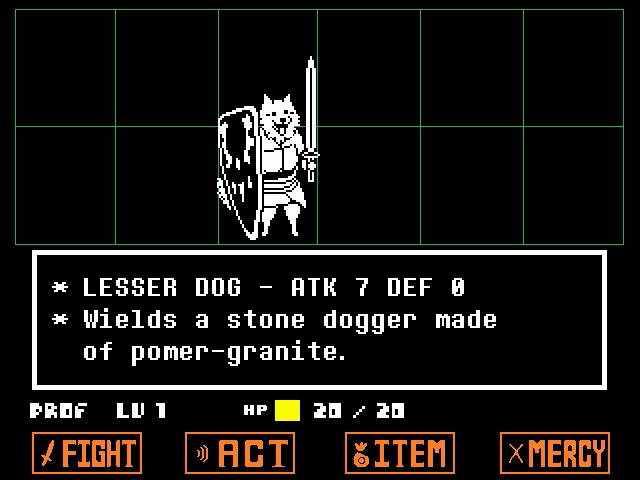 Steel yourself for the ultimate battle.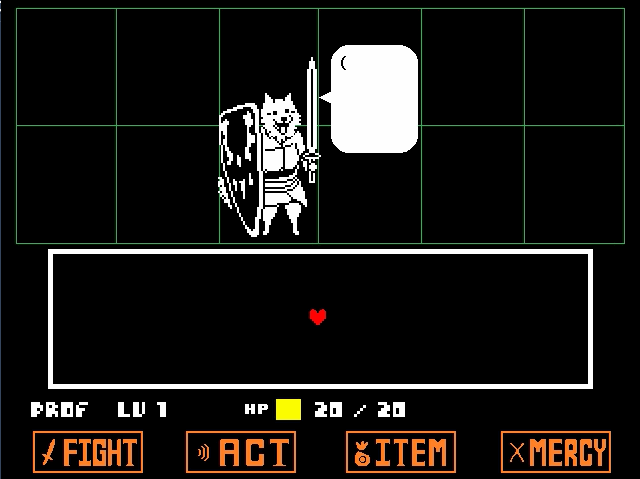 Lesser Dog attacks by leaping into the air.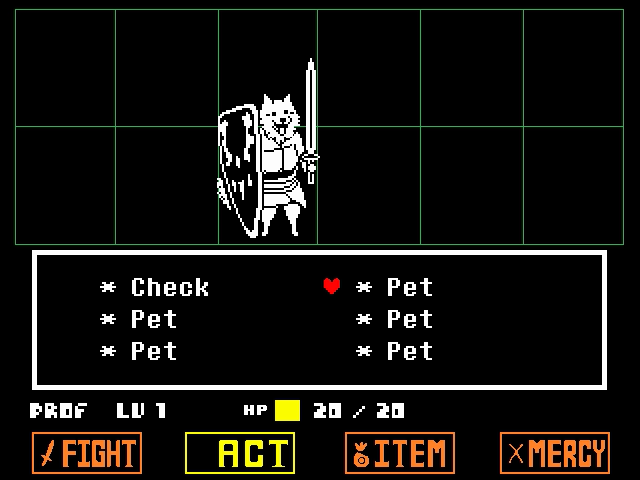 I think I know what I have to do.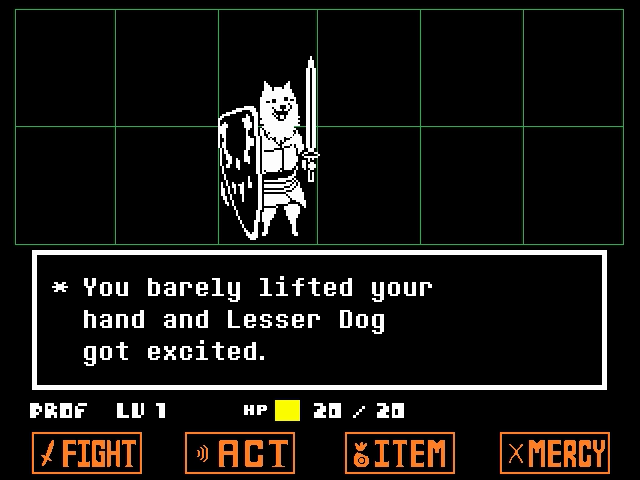 Lesser Dog is already ready to Spare!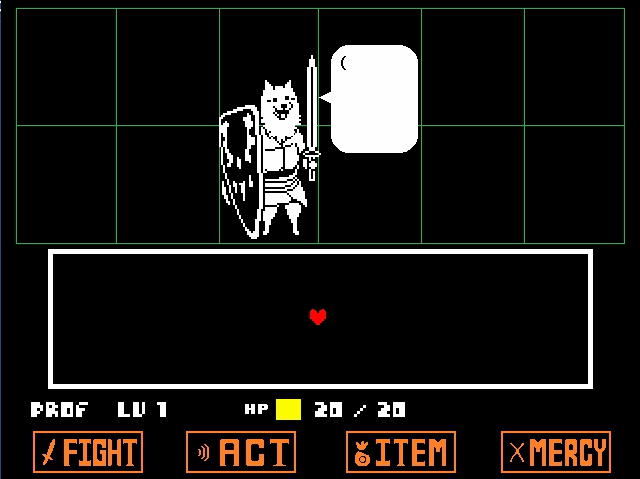 Here's its other attack - the game is mixing blue and white bullets now, which makes things harder.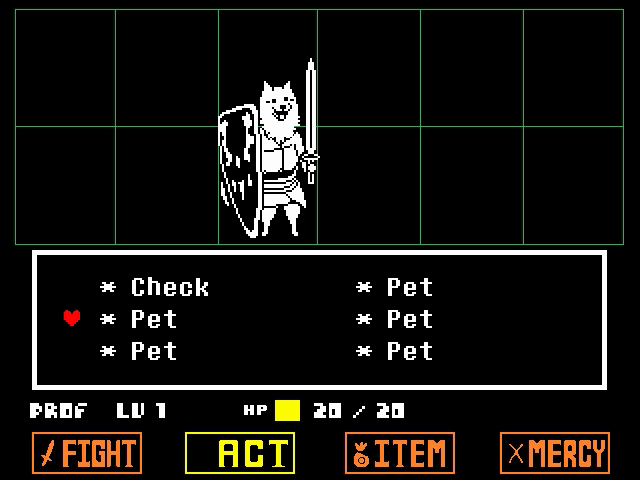 Look, just because I
can
stop petting the dog doesn't mean I have to.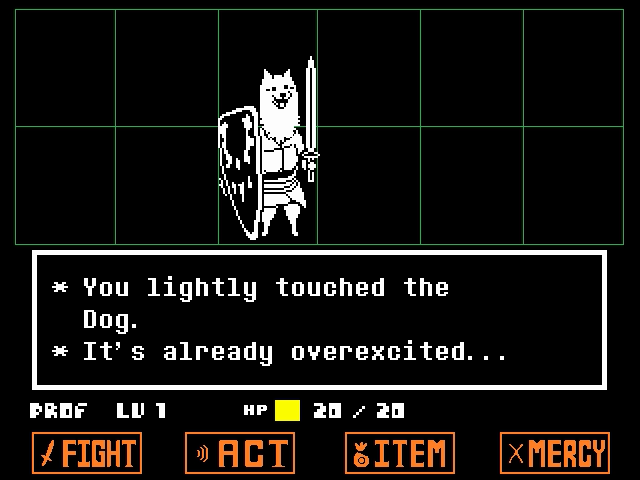 Let's pet it some more.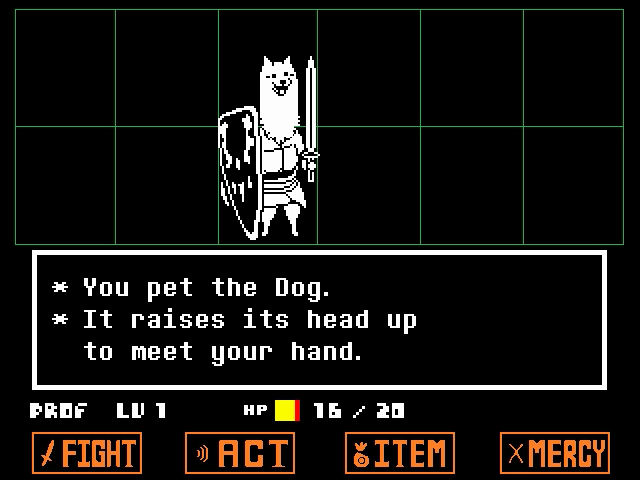 You may have noticed something going on with the Lesser Dog.
The dog is really giving that neck a good stretch.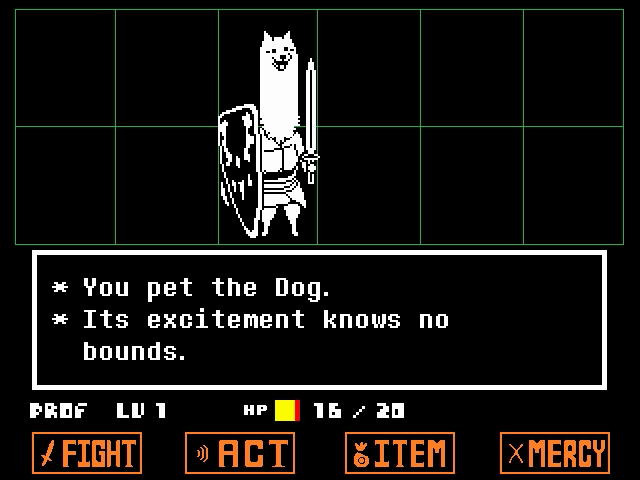 Not stopping yet.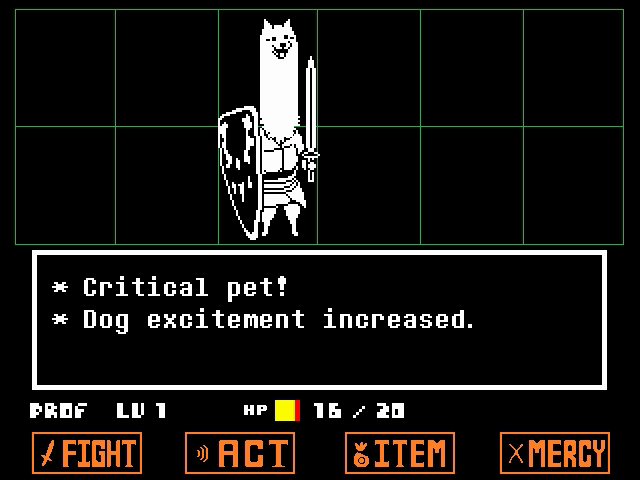 The dog isn't even attacking at this point.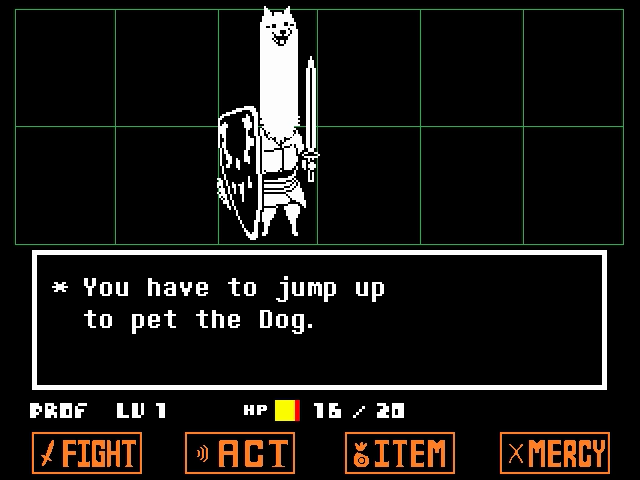 Keep going.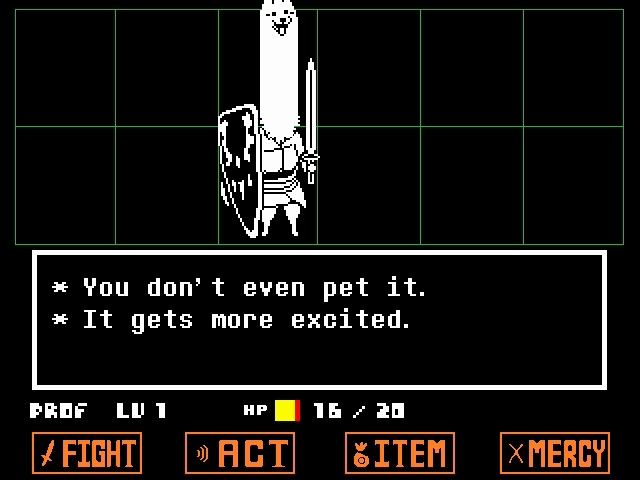 It's getting hard to reach.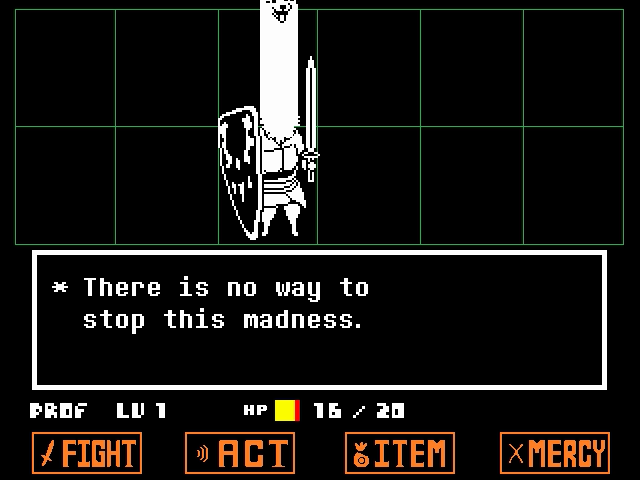 Lesser Dog shows no signs of stopping.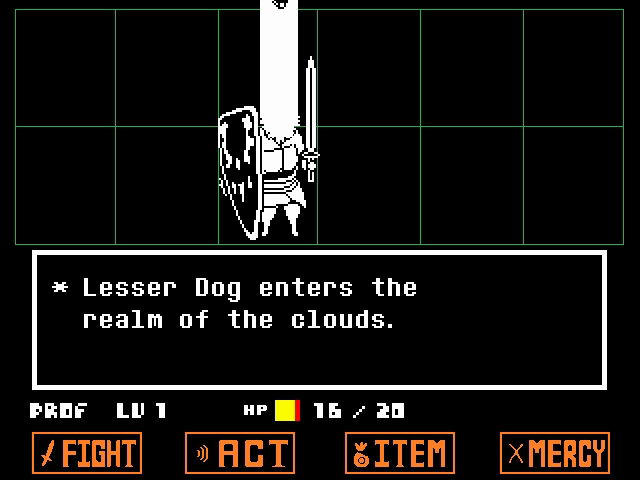 I only just found out that you could do this recently, you know.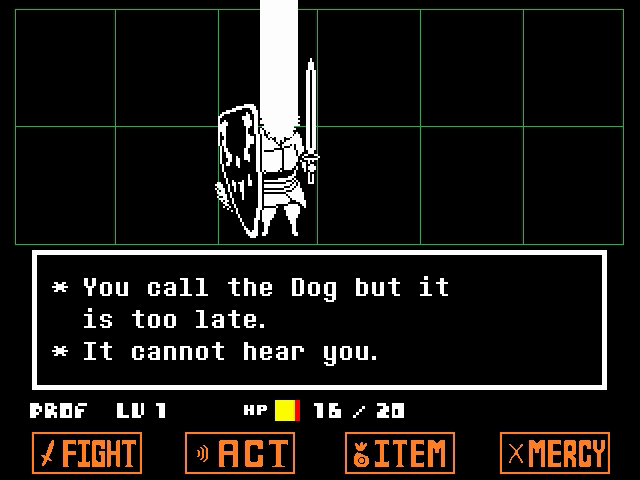 From somewhere, a faraway bark.
Where even is it at this point?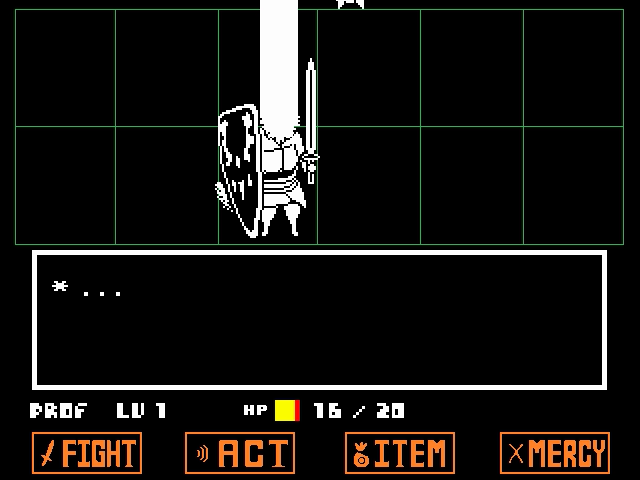 Oh, there it is.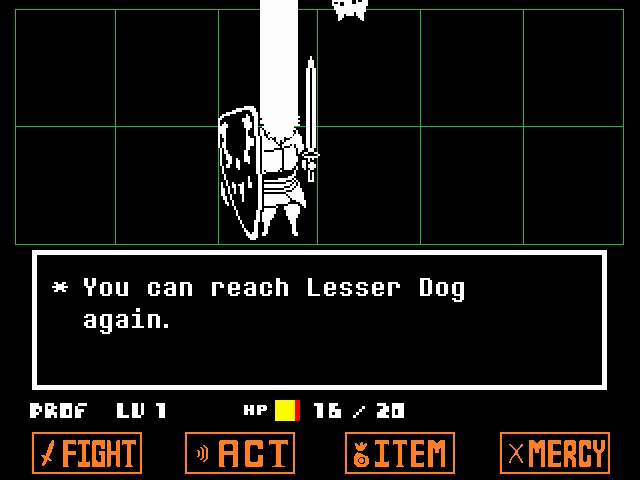 I pet Lesser Dog some more.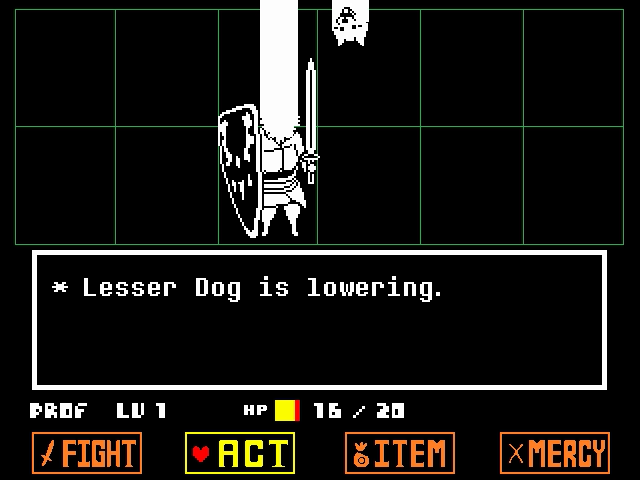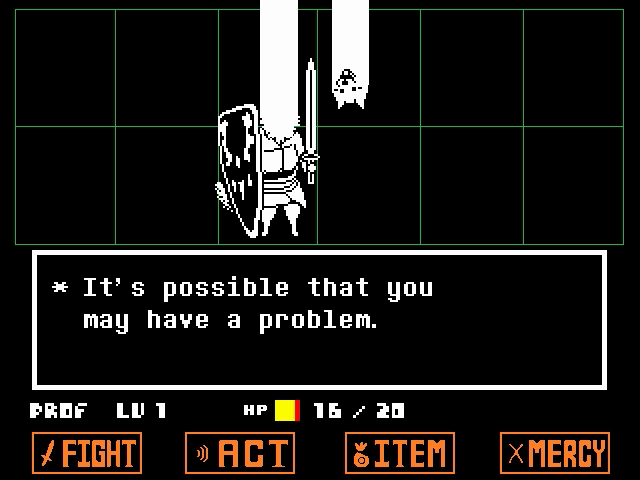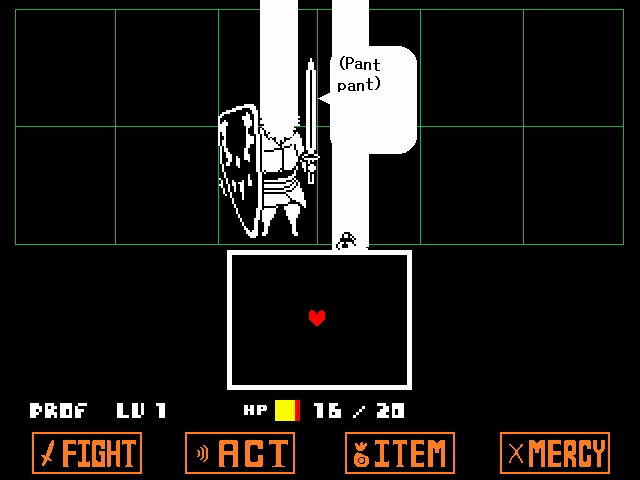 Lesser Dog is whining because it can't see me.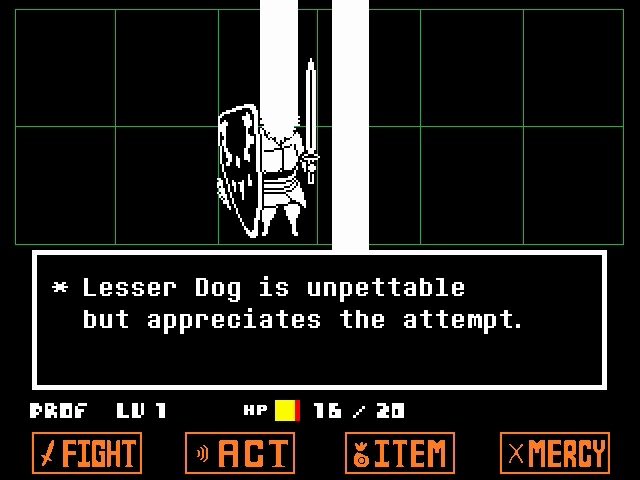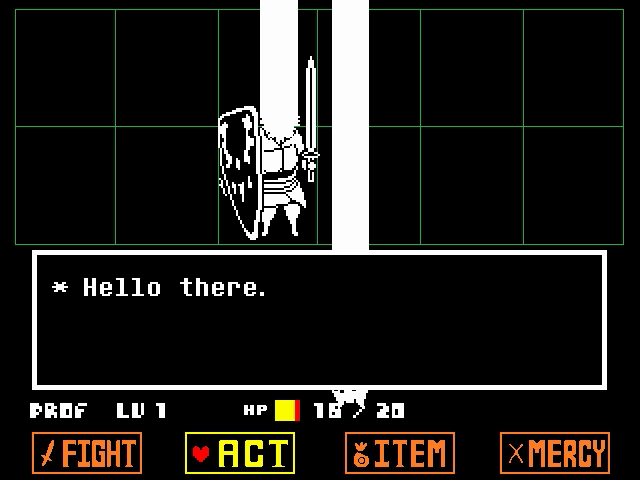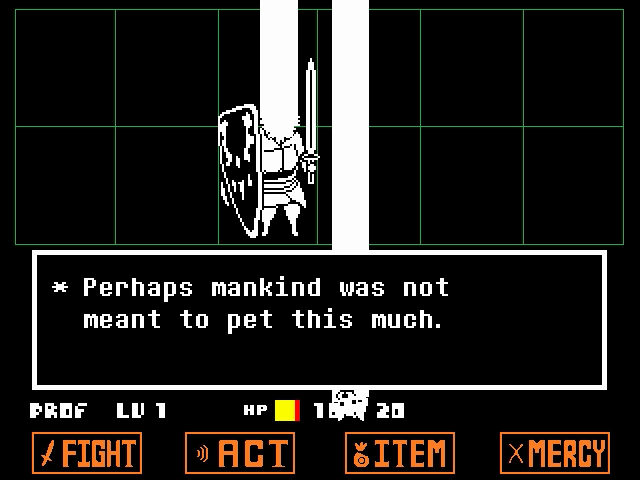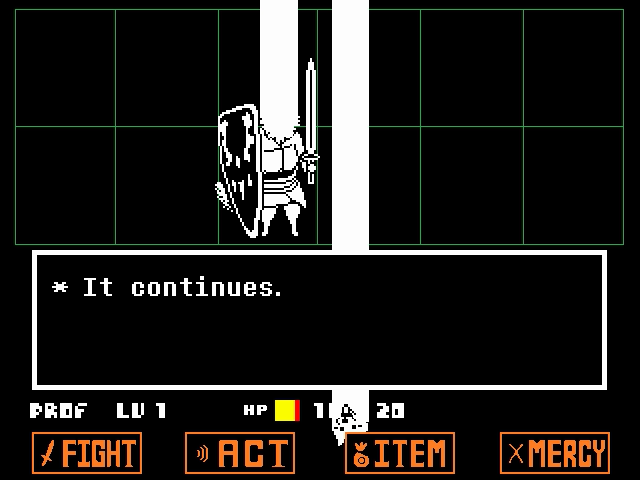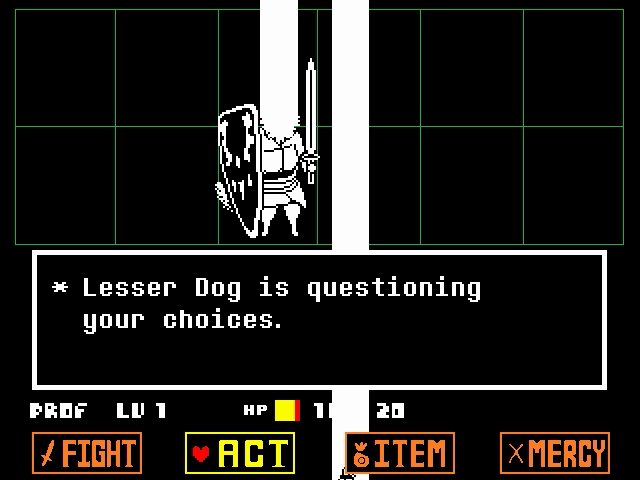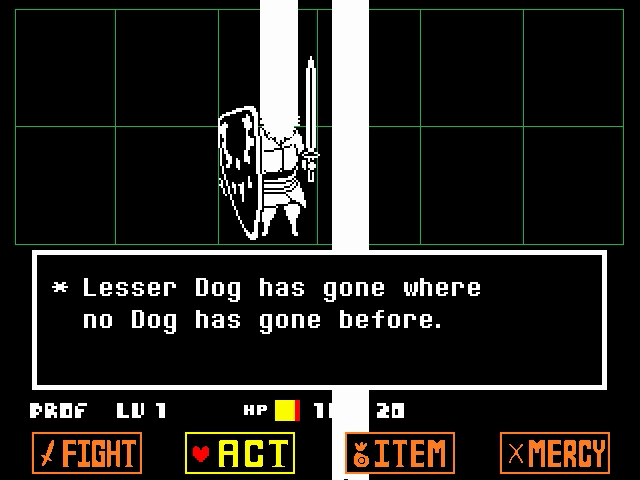 Okay, I think that's enough.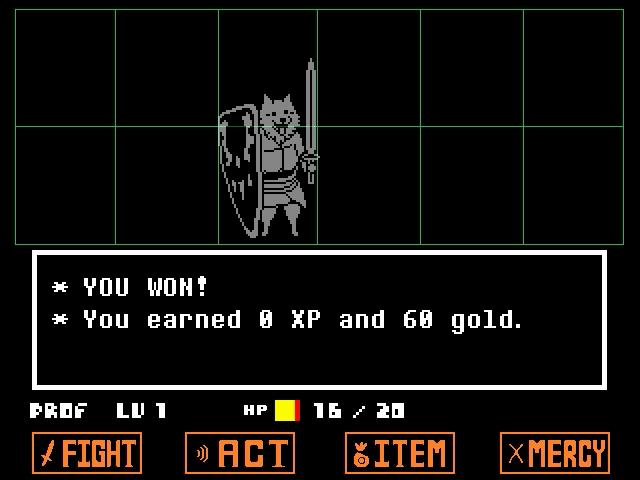 The longer you pet, the more gold you get at the end of the fight.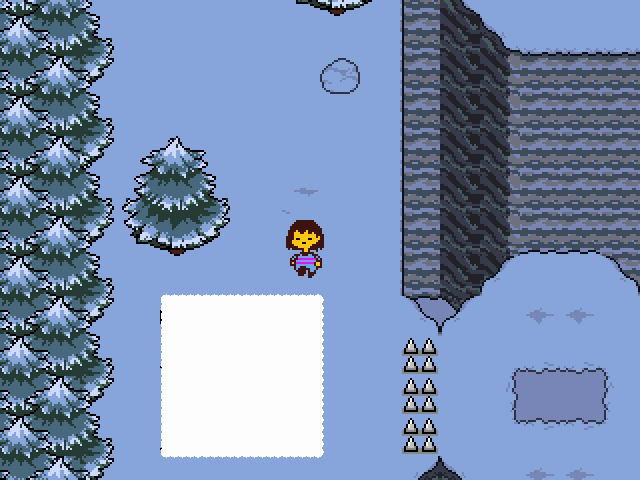 Now that we're done with that insanity, back to solving puzzles. There's a strange white spot on the ground.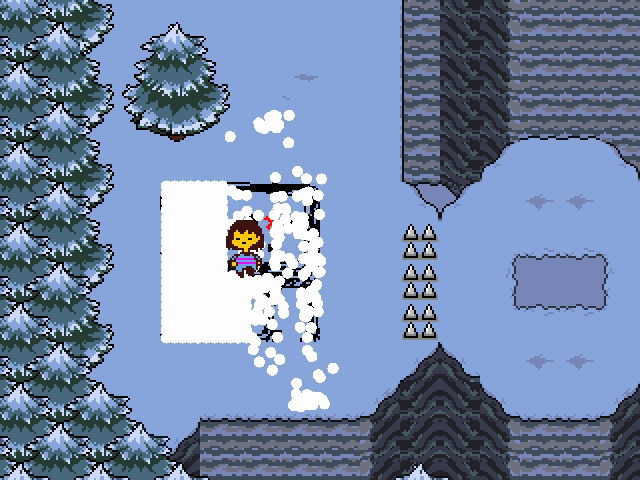 It's snow! And there's something drawn underneath it.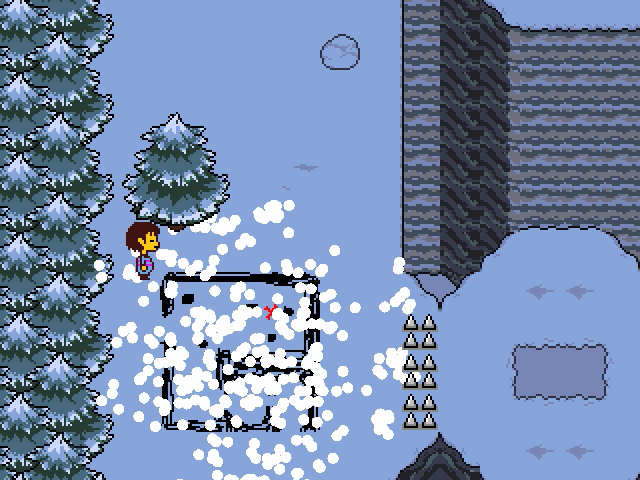 Hmm... still gotta clean it off a bit more.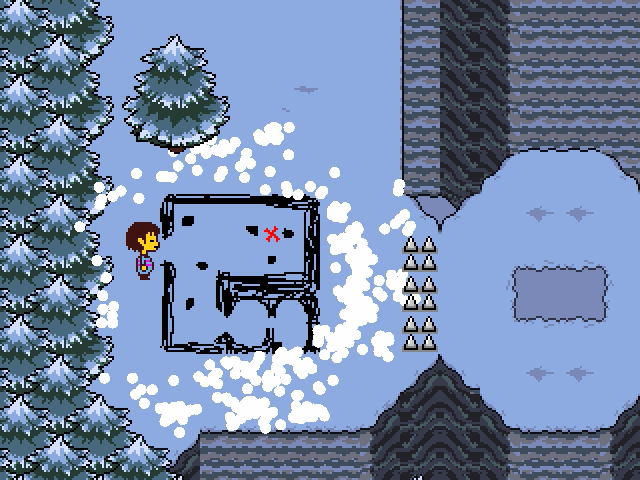 Looks like it's a map of this area.
What's the X, though?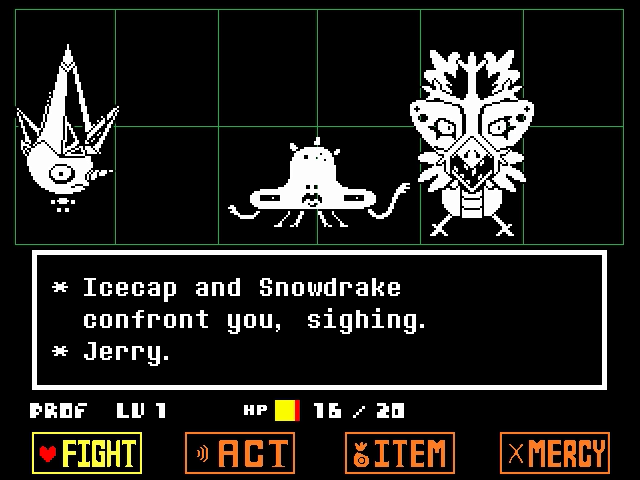 Icecap and Snowdrake return, bringing with them Jerry. Ugh.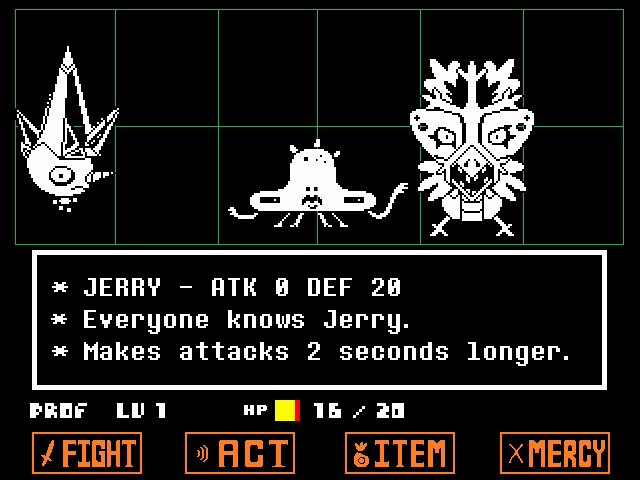 Jerry doesn't attack, but as long as he's there, all enemy attacks last longer.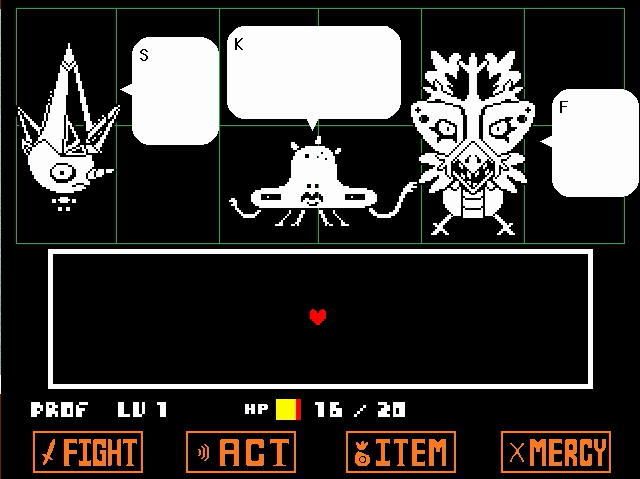 With all three monsters here at once, things can get pretty dicey.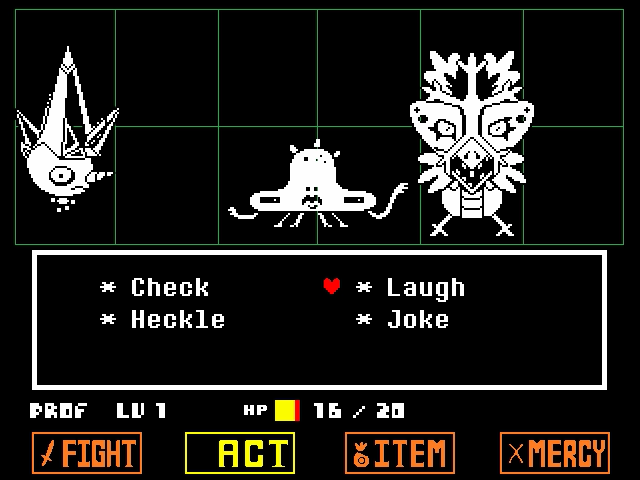 Snowdrake just made a pun, so first step is to laugh for him.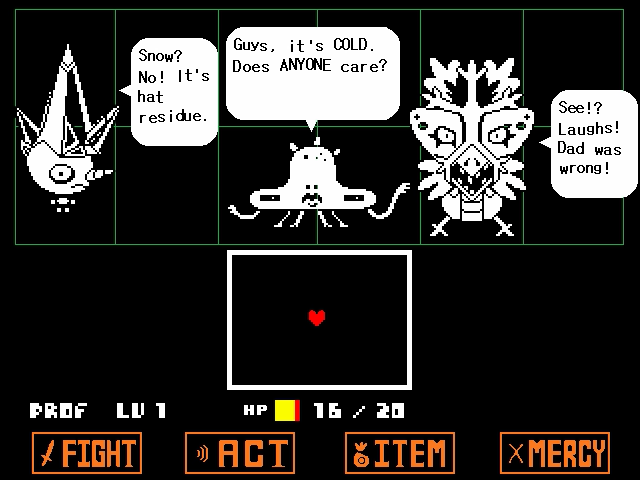 Next, I Spare, eliminating Snowdrake from the fight. Two to go!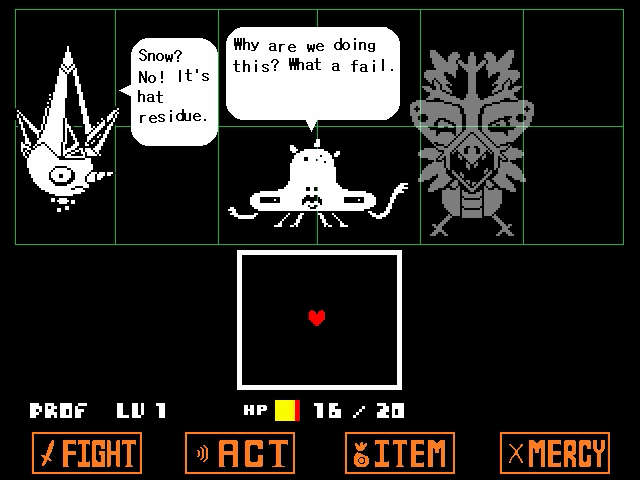 With that one down, it's time to Ignore Icecap a couple times.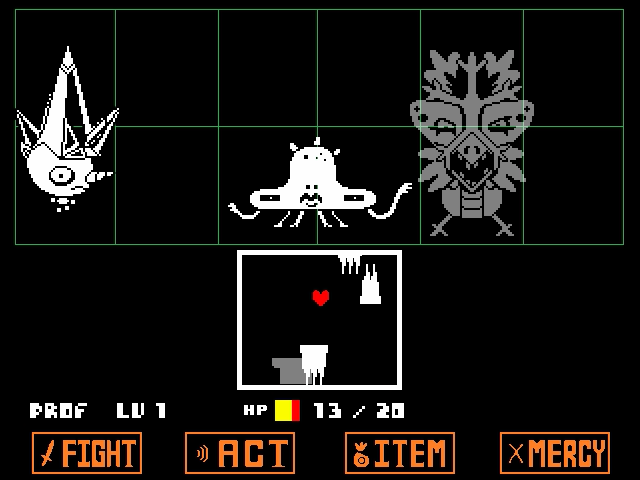 I get sloppy fighting Icecap, and get hit by some ice spikes for 3 damage.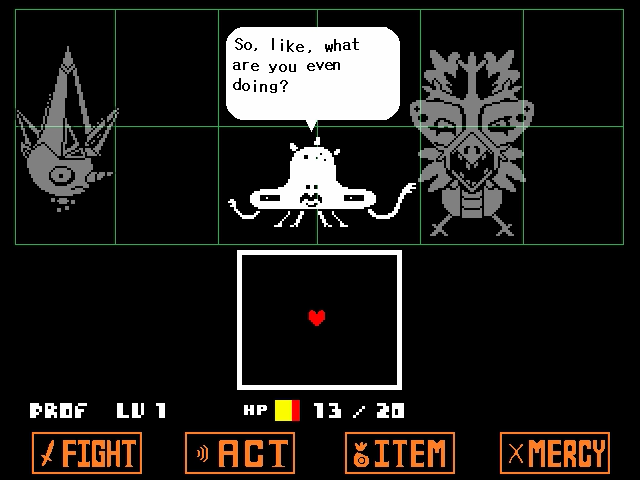 You know what? Snowdrake and Icecap are pretty cool monsters.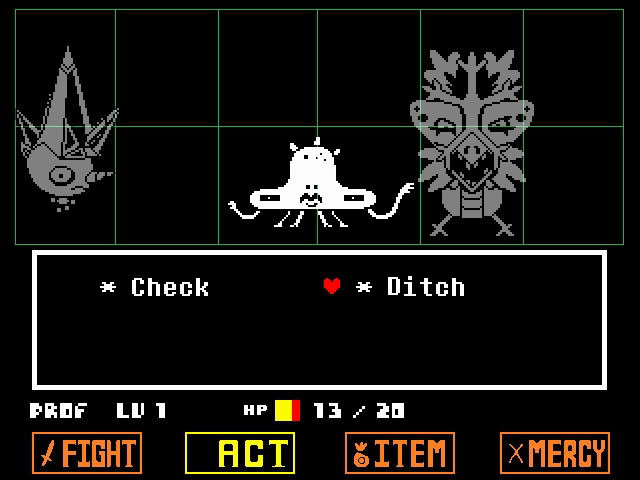 I'll ditch Jerry to hang out with them instead.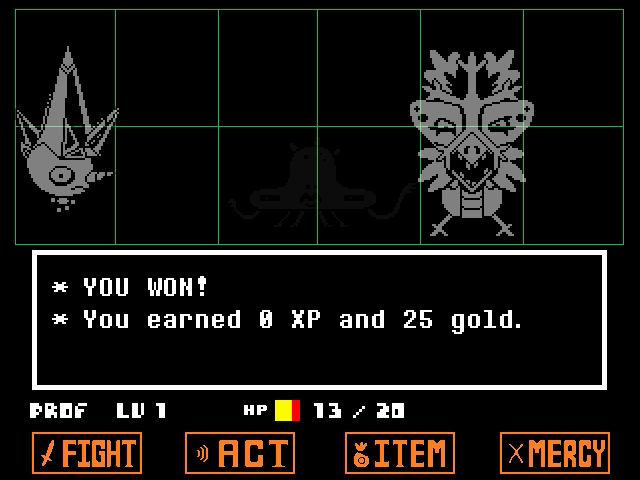 Battle over!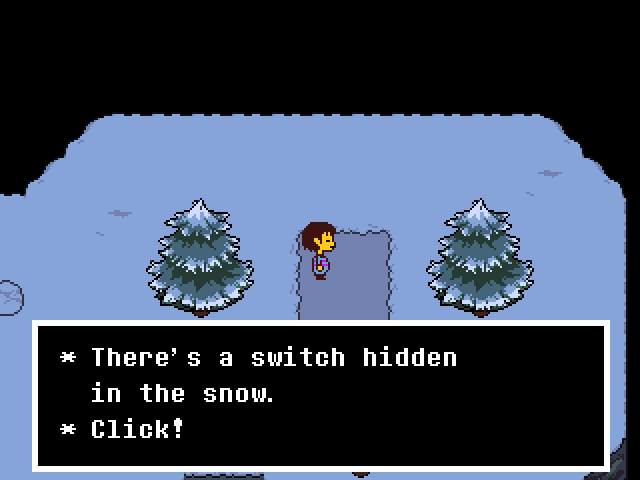 At the site of the red X, there's a hidden switch. It opens the way forwards.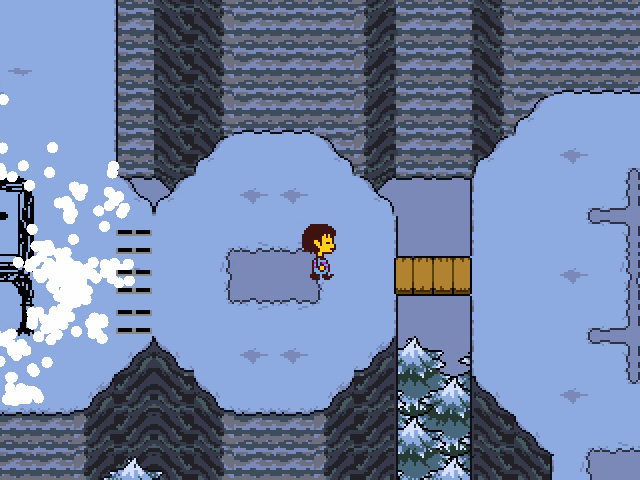 Not long after I keep going, I'm stopped again.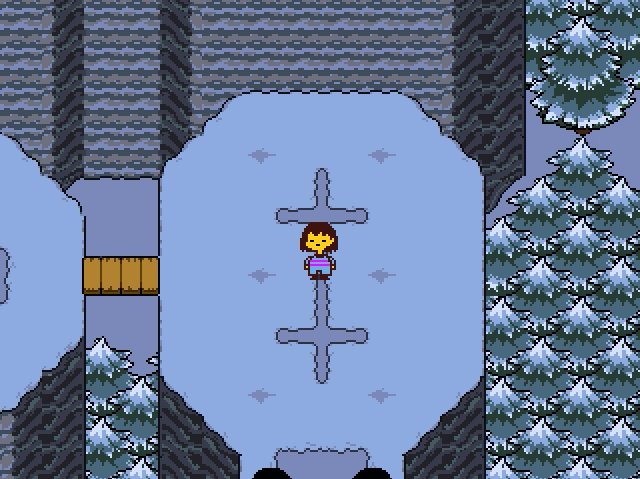 BGM: Dogbass

What's that smell?

(Where's that smell?)

If you're a smell...

(Identify yoursmellf!)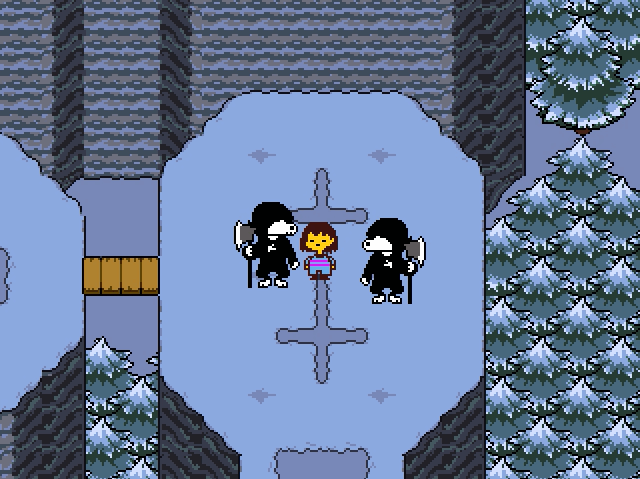 Hmmm... Here's that weird smell...

It makes me want to eliminate.

(...Eliminate YOU!)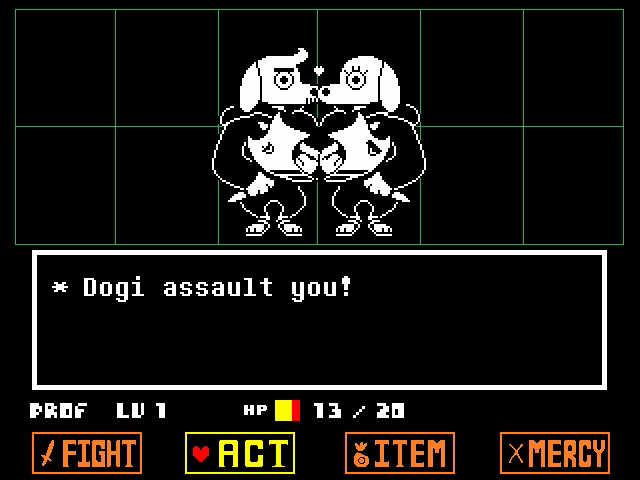 Is that really the plural of dog? Makes sense.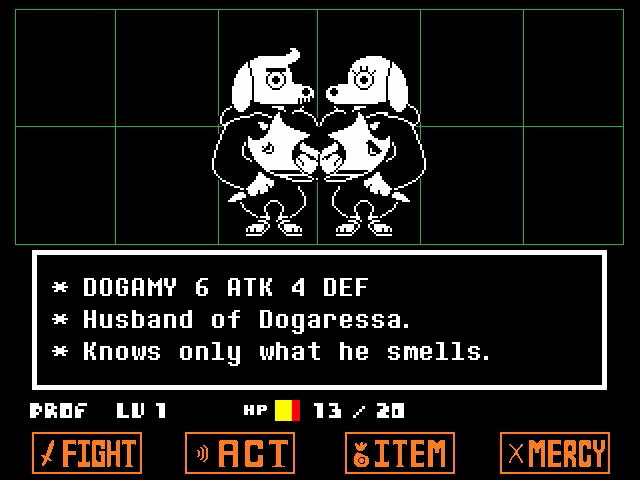 Dogs encountered: 4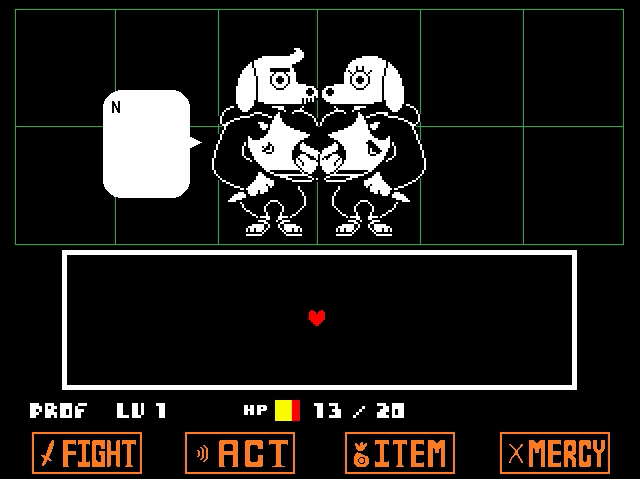 The dog duo attack via barking hearts. The strategy is to find where the blue hearts are going to land, and stay still there.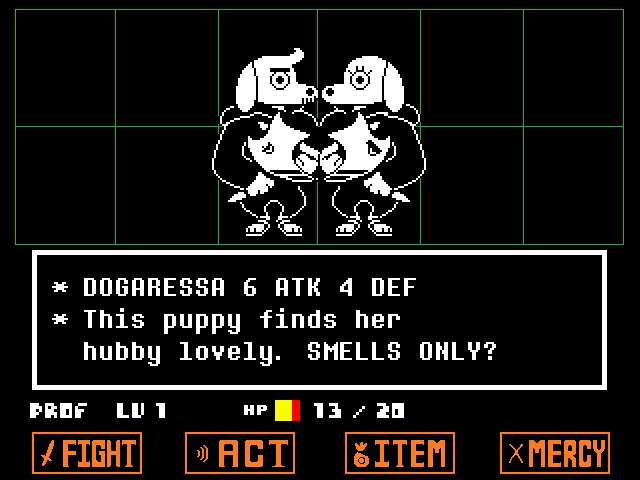 As I check the other one, they repeat the same barking attack.
Anyway,
Pet
has yet to fail me so far.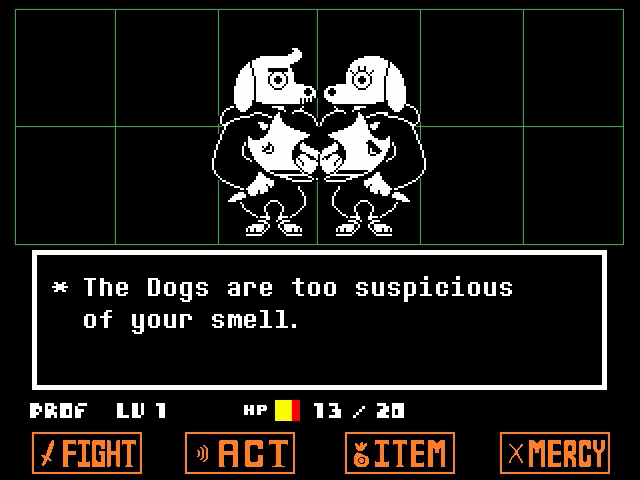 GASP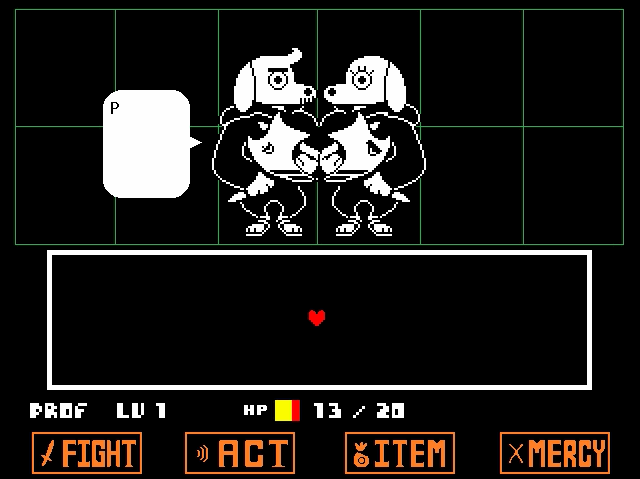 I avoid an axe attack from the two dogs.
Maybe they just smelled me wrong! How about a
Re-Sniff?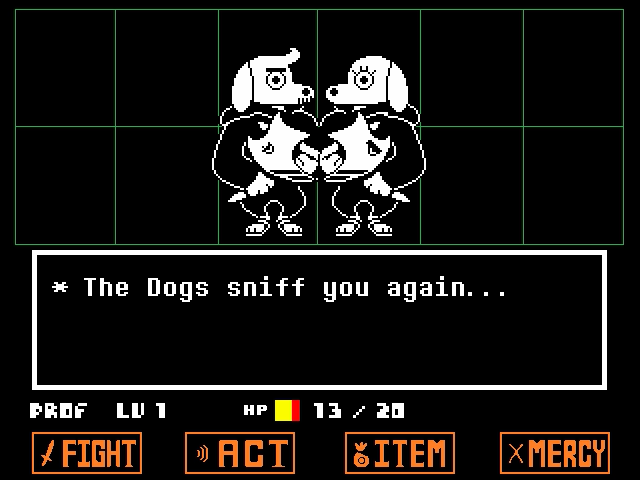 But you smell just as weird as before!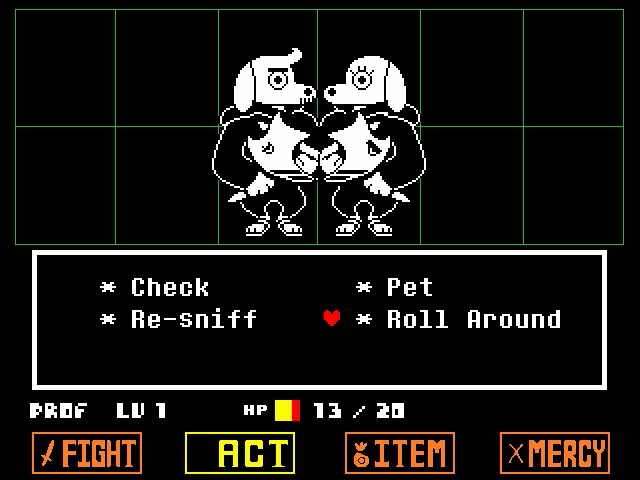 The trick is in the Smell Danger Ratings we read earlier. As it said:
Unsuspicious Smell - Puppy
BLUE Rating
Smell of rolling around.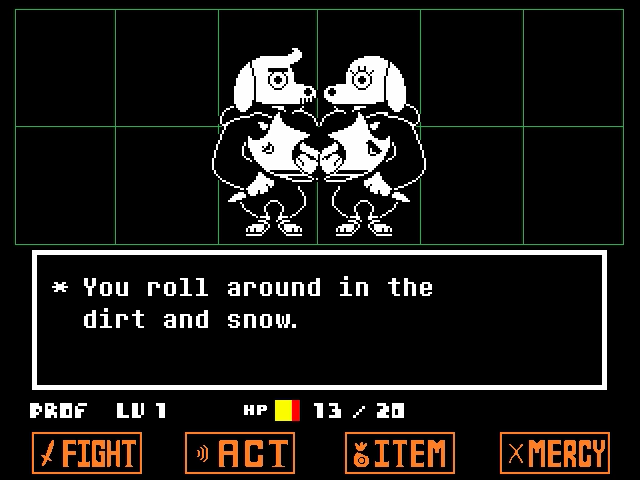 You smell like a weird puppy.
The Dogs may want to re-smell you.
Next, after dodging more axes, is another
Re-Smell
!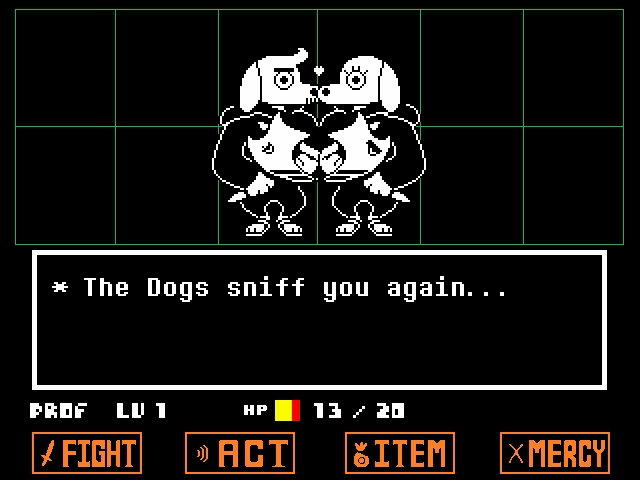 After rolling in the dirt, you smell all right!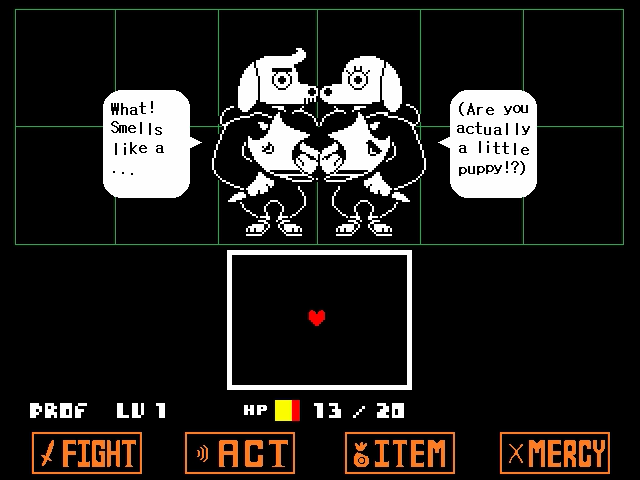 More heart-barking. These two only have two attacks between them.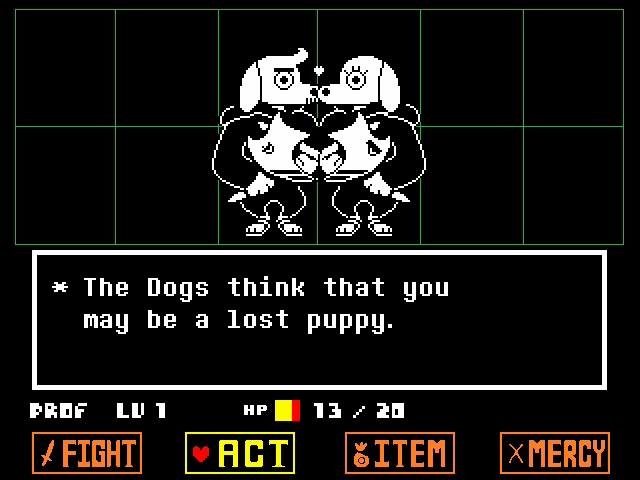 Now that they think I'm a puppy, I'll
Pet
Dogamy.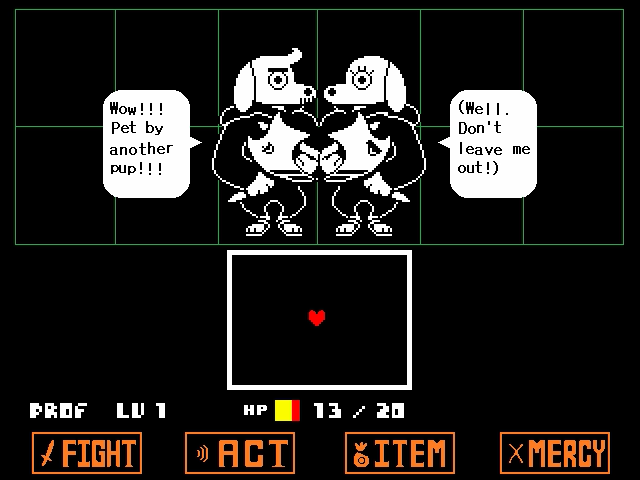 And then,
Pet
Dogaressa!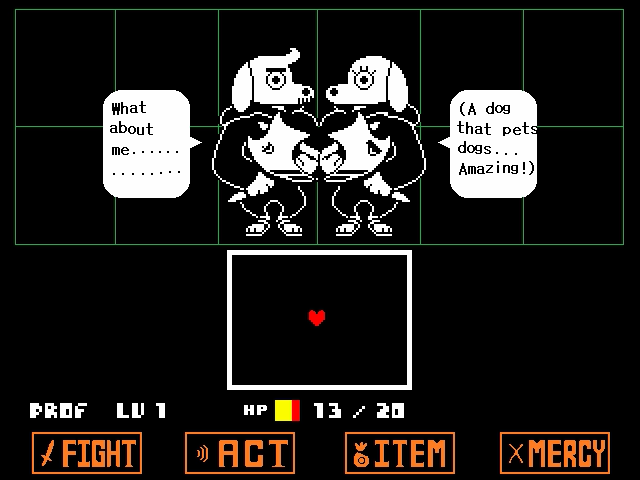 With that, the couple is appeased.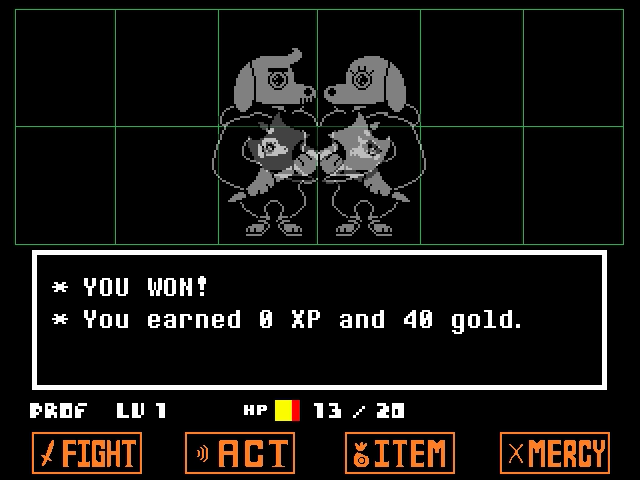 The Dogs' minds have been expanded.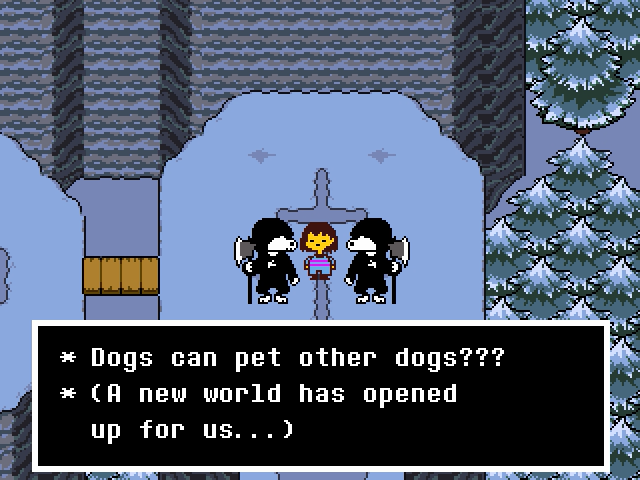 Thanks, weird puppy!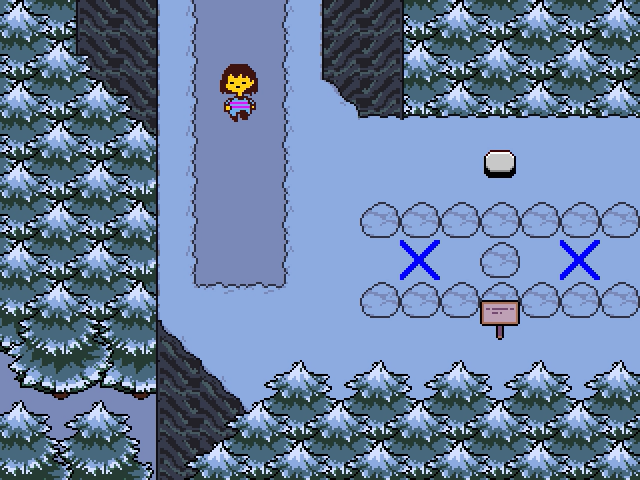 Well, this looks awfully puzzle-ish.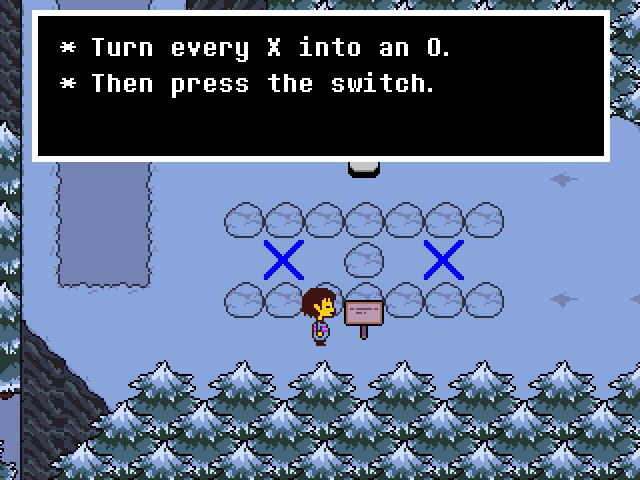 So, the two X's need to become O's.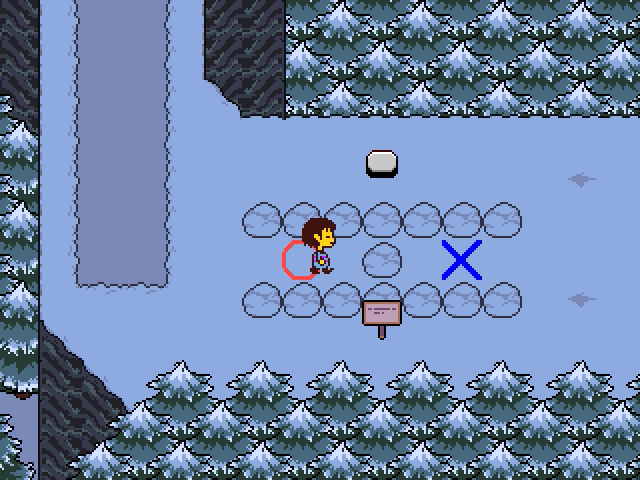 Walk over an X, and it turns into an O...
...and walk over an O, and it turns into a triangle. Once it's a triangle, I can't turn it back without pressing the switch to reset the whole puzzle.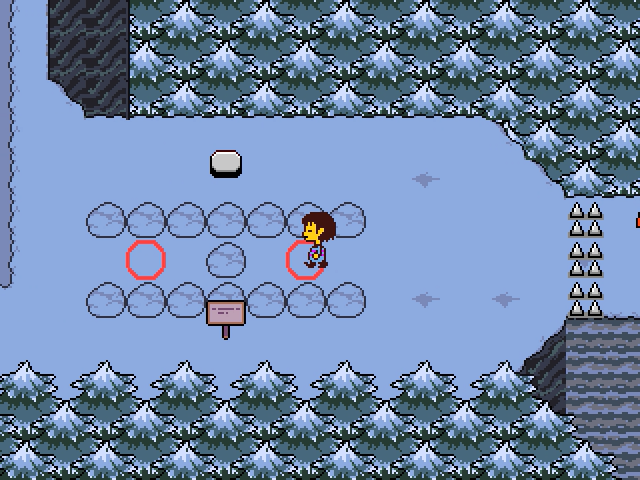 So, I step on each X without walking past it, making them both an O.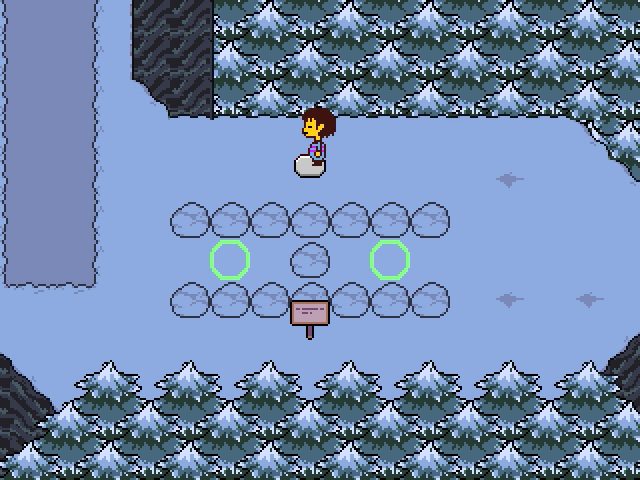 Puzzle solved!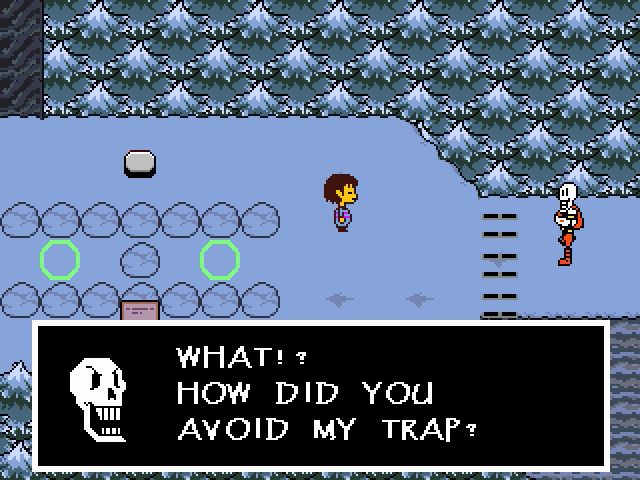 AND, MORE IMPORTANTLY...

IS THERE ANY LEFT FOR ME???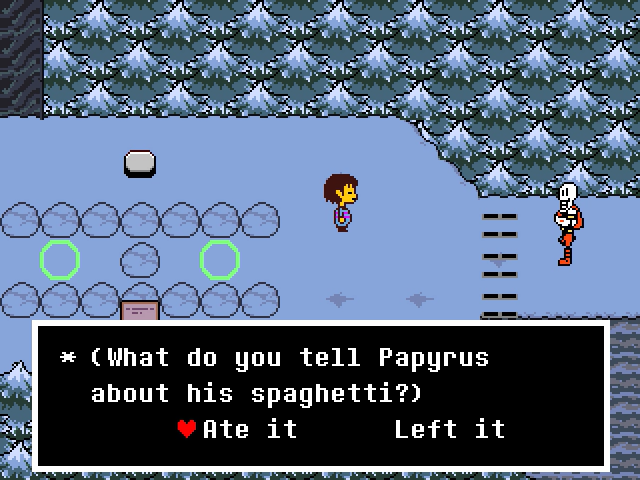 REALLY!?

WOWIE...

NO ONE'S EVER ENJOYED MY COOKING BEFORE...

WELL THEN!!

FRET NOT, HUMAN! I, MASTER CHEF PAPYRUS...

WILL MAKE YOU ALL THE PASTA YOU COULD EVER WANT!

HEH HEH HEH HEH HEH HEH NYEH!
Onwards.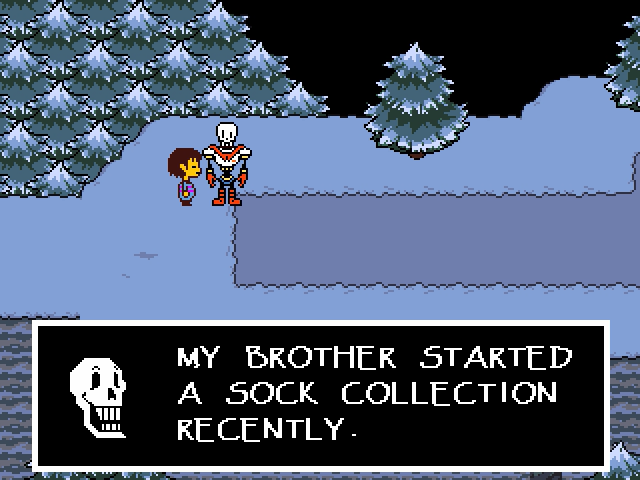 HOW SADDENING...

SOMETIMES I WONDER WHAT HE WOULD DO...

WITHOUT SUCH A COOL GUY TAKING CARE OF HIM???

NYEH HEH HEH!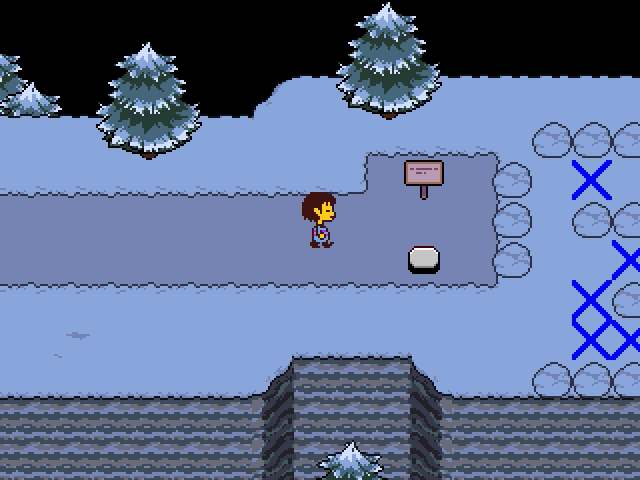 Another puzzle! Papyrus comes over to talk about it.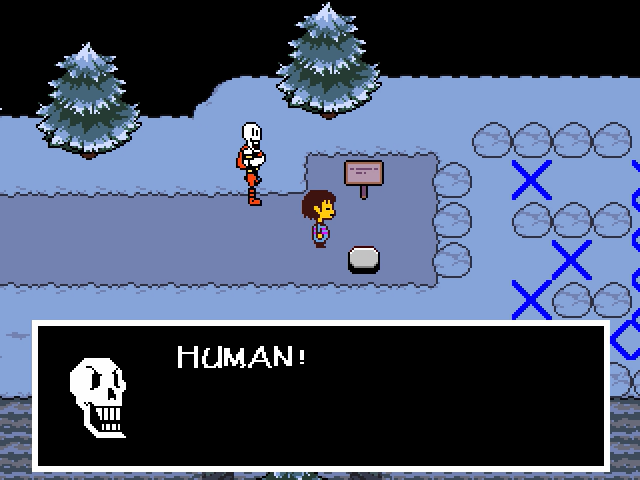 HMMM... HOW DO I SAY THIS...

YOU WERE TAKING A LONG TIME TO ARRIVE, SO...

I DECIDED TO IMPROVE THIS PUZZLE...

BY ARRANGING THE SNOW TO LOOK MORE LIKE MY FACE.

UNFORTUNATELY, THE SNOW FROZE TO THE GROUND.

NOW THE SOLUTION IS DIFFERENT!

AND, AS USUAL, MY LAZY BROTHER IS NOWHERE AROUND.

I SUPPOSE WHAT I AM SAYING IS...

WORRY NOT, HUMAN!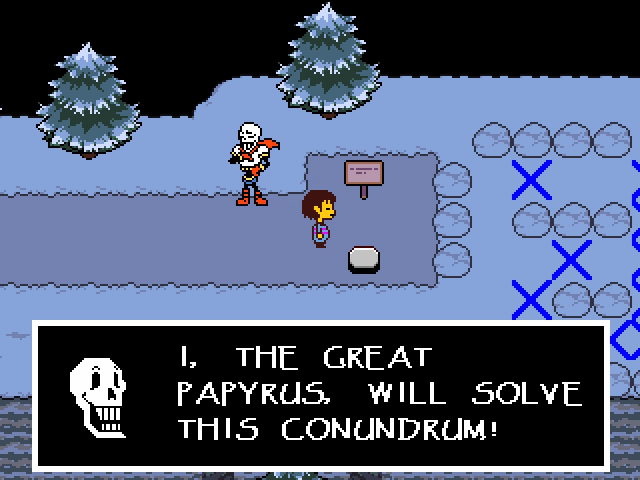 THEN WE CAN BOTH PROCEED!

MEANWHILE, FEEL FREE TO TRY THE PUZZLE YOURSELF.

I'LL TRY NOT TO GIVE AWAY THE ANSWER!!!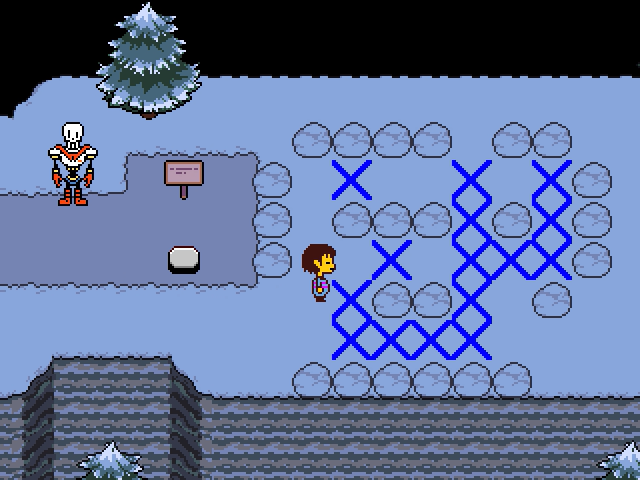 So, here's the more advanced puzzle. Can you see the solution, before I take a crack at it?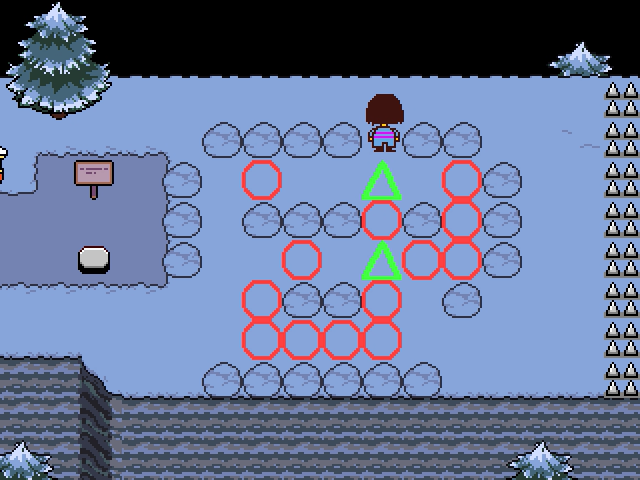 That didn't go well. Let's ask Papyrus for a hint.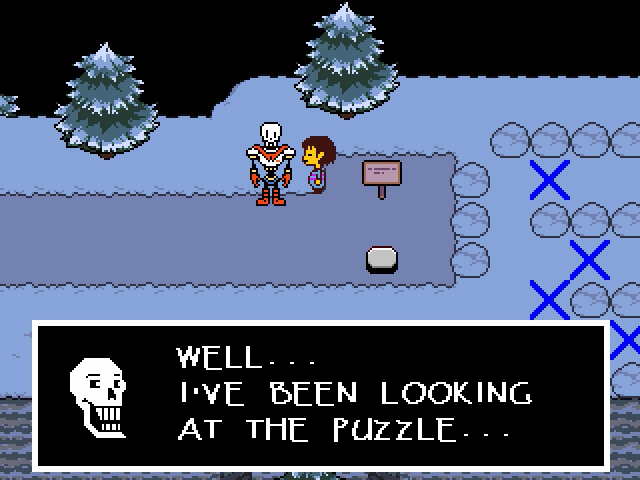 AND I THINK THE SOLUTION...

IS TO TURN ALL OF THE X'S INTO O'S!

YOU SHOULD TRY THAT!

ASK AGAIN FOR MORE GREAT HINTS!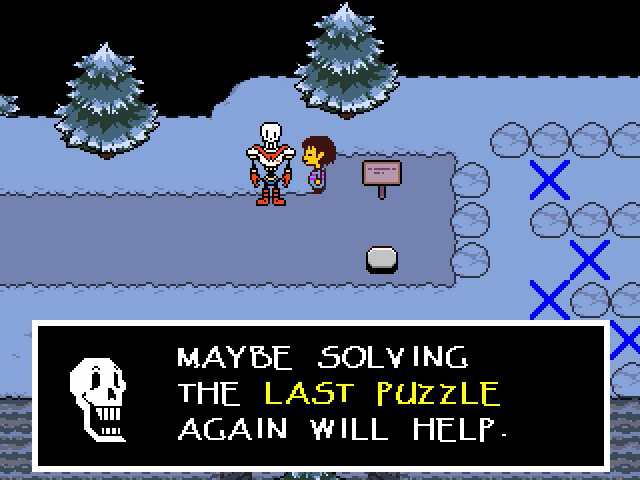 These hints aren't great.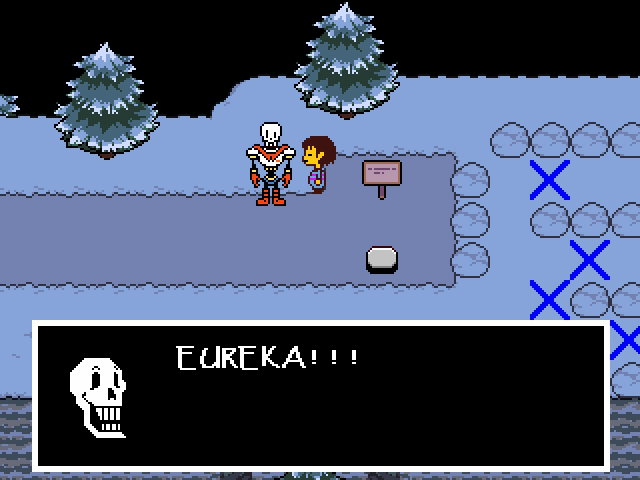 I'VE FIGURED OUT THE PUZZLE!

YOU SEEM LIKE YOU'RE HAVING FUN, THOUGH...

DO YOU ABSOLUTELY, DAPSOLUTELY WANT THE SOLUTION???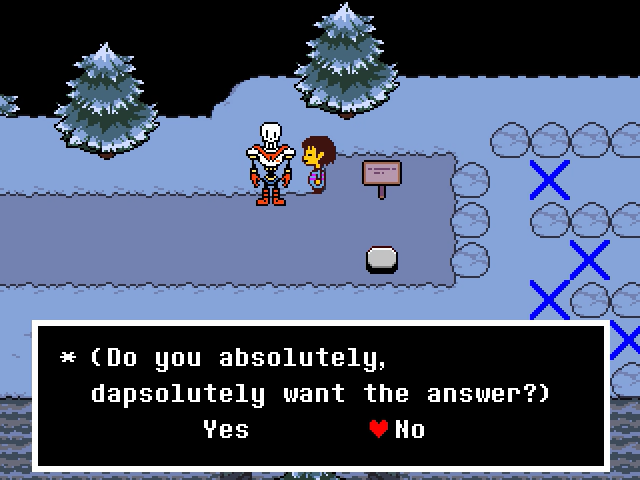 WOW... YOU'RE TRULY A PUZZLE PASSIONEER!

I'M SO ENTHUSED BY YOUR ENTHUSIASM!

YOU CAN DO IT, HUMAN!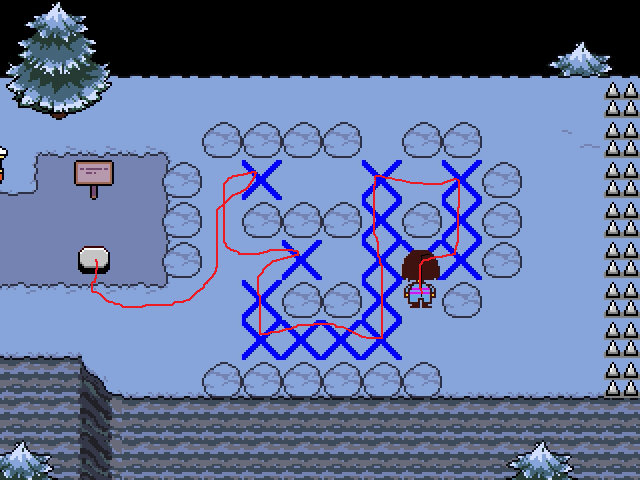 Here's the solution, if you were still stumped.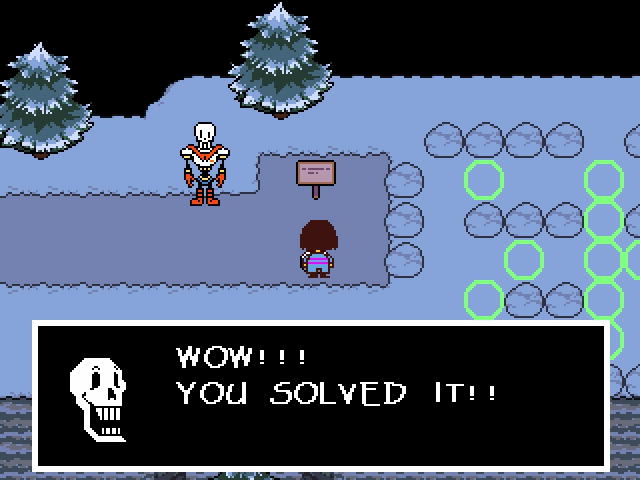 MY ADVICE HELPED! IT REALLY HELPED YOU!!

INCREDIBLE! I'M IMPRESSED!

YOU MUST CARE ABOUT PUZZLES LIKE I DO!

WELL, I'M SURE YOU'LL LOVE THE NEXT PUZZLE THEN!

IT MIGHT EVEN BE TOO EASY FOR YOU!!

NYEH! HEH HEH! HEHEHEH!!!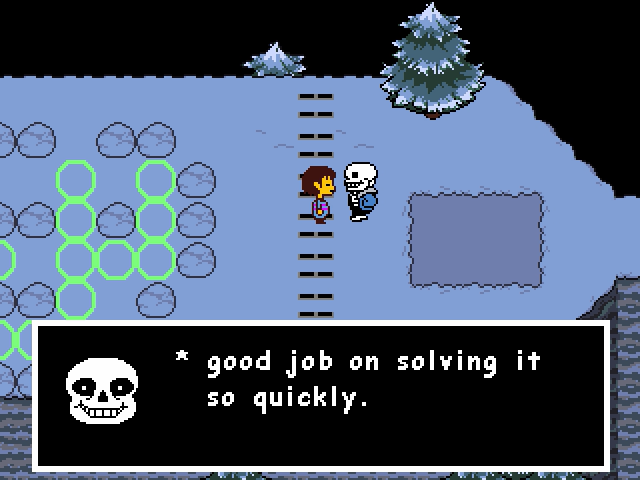 you didn't even need my help.

which is great, 'cause i love doing absolutely nothing.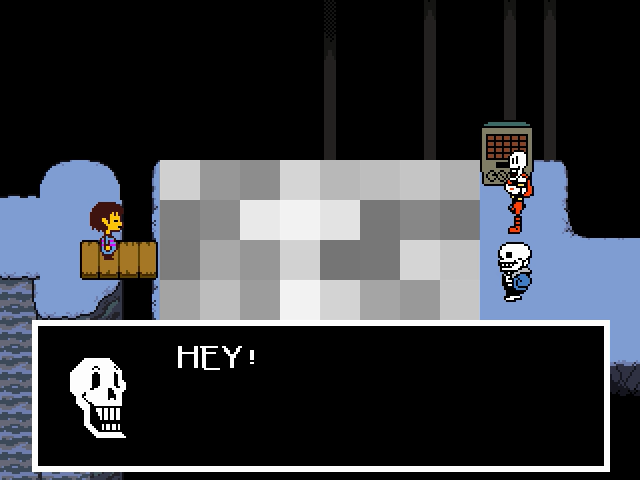 BGM: Nyeh Heh Heh!

IT'S THE HUMAN!

YOU'RE GONNA LOVE THIS PUZZLE!

IT WAS MADE BY THE GREAT DR. ALPHYS!

YOU SEE THESE TILES!?

ONCE I THROW THIS SWITCH...

THEY WILL BEGIN TO CHANGE COLOR!

EACH COLOR HAS A DIFFERENT FUNCTION!

RED TILES ARE IMPASSABLE!

YOU CANNOT WALK ON THEM!

YELLOW TILES ARE ELECTRIC!

THEY WILL ELECTROCUTE YOU!

GREEN TILES ARE ALARM TILES!

IF YOU STEP ON THEM...

YOU WILL HAVE TO FIGHT A MONSTER!

ORANGE TILES ARE ORANGE-SCENTED.

THEY WILL MAKE YOU SMELL DELICIOUS!

BLUE TILES ARE WATER TILES.

SWIM THROUGH IF YOU LIKE, BUT...

IF YOU SMELL LIKE ORANGES!

THE PIRAHNAS WILL BITE YOU.

ALSO, IF A BLUE TILE IS NEXT TO A,

YELLOW TILE, THE WATER WILL ALSO ZAP YOU!

PURPLE TILES ARE SLIPPERY!

YOU WILL SLIDE TO THE NEXT TILE!

HOWEVER, THE SLIPPERY SOAP...

SMELLS LIKE LEMONS!

WHICH PIRAHNAS DO NOT LIKE!

PURPLE AND BLUE ARE OK!

FINALLY, PINK TILES.

THEY DON'T DO ANYTHING.

STEP ON THEM ALL YOU LIKE.

HOW WAS THAT!? UNDERSTAND???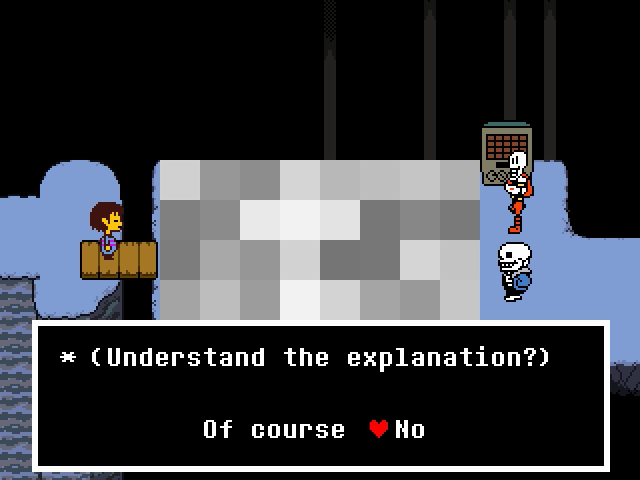 OKAY... I GUESS I'LL REPEAT MYSELF...

RED TILES ARE IMPASSABLE.

YELLOW TILES ARE ELECTRIC AND DANGEROUS.

BLUE TILES MAKE YOU FIGHT A MONSTER.

GREEN TILES ARE WATER TILES.

ORANGE TILES ARE ORANGE SCENTED.

IF YOU STEP ON ORANGE, DON'T STEP ON GREEN.

BROWN TILES ARE...

WAIT!!! THERE ARE NO BROWN TILES...

PURPLE TILES SMELL LIKE LEMONS...

WHY DON'T THE YELLOW ONES SMELL LEMONY?

UM...

WAIT!! DID I MIX UP GREEN AND BLUE!?

THE BLUE ONES ARE WATER ONES!

PINK TILES...

I DON'T... REMEMBER???

WAIT!!!

THOSE ONES DON'T DO ANYTHING.

OKAY! DO YOU UNDERSTAND BETTER NOW!?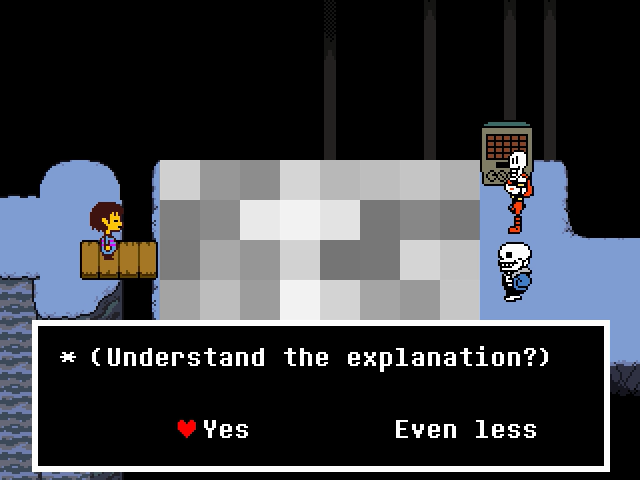 GREAT!! THEN THERE'S ONE LAST THING...

THIS PUZZLE...

IS ENTIRELY RANDOM!!!!!!

WHEN I PULL THIS SWITCH, IT WILL MAKE A PUZZLE...

THAT HAS NEVER BEEN SEEN BEFORE!

NOT EVEN I WILL KNOW THE SOLUTION!

NYEH HEH HEH! GET READY...!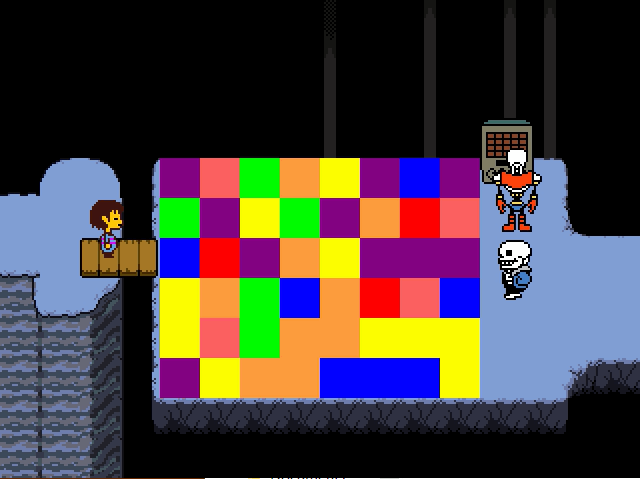 Here it comes.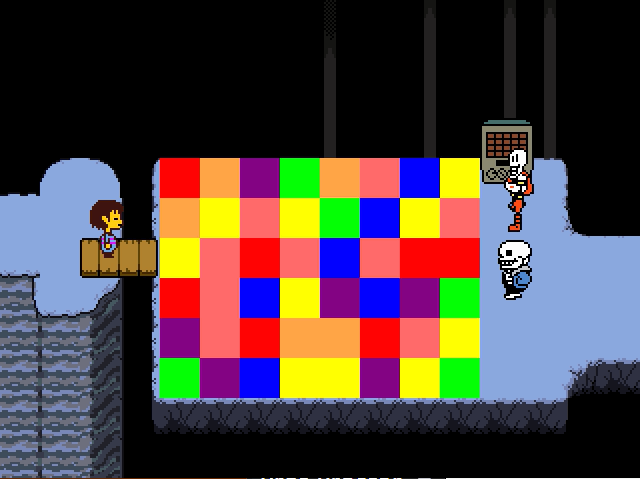 So, pink is safe, blue is water, yellow is electric...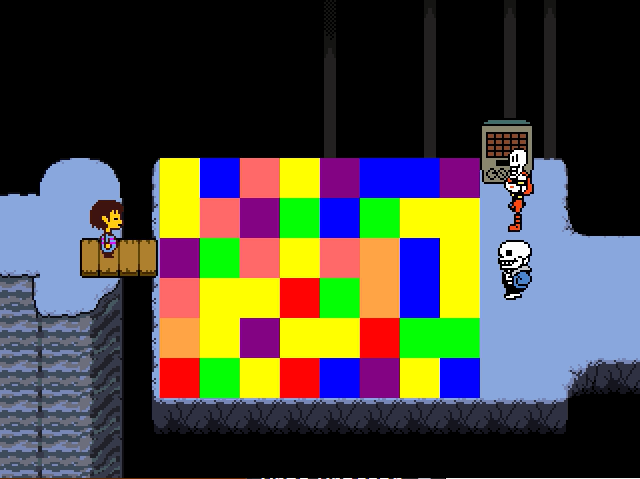 Green is alarm, purple slides and removes orange scent, and...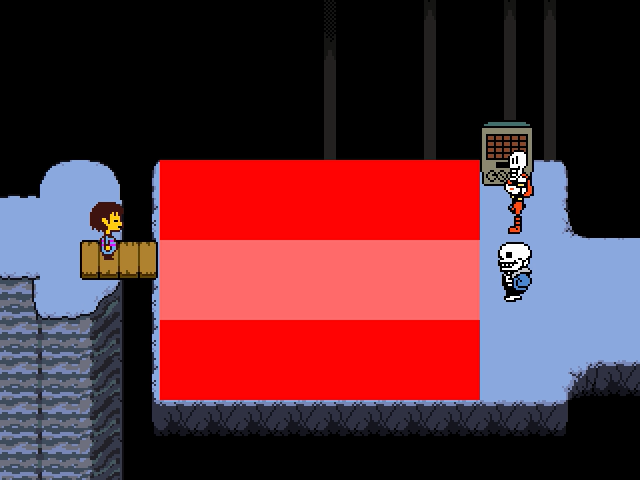 Uh.