Part 11: Bonetrousle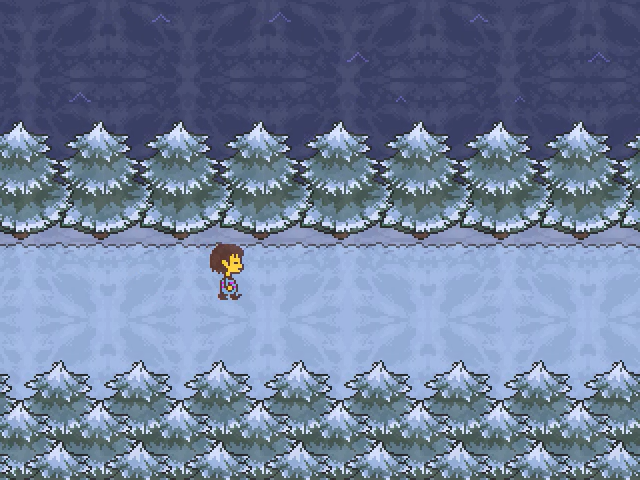 It's very cold out this way.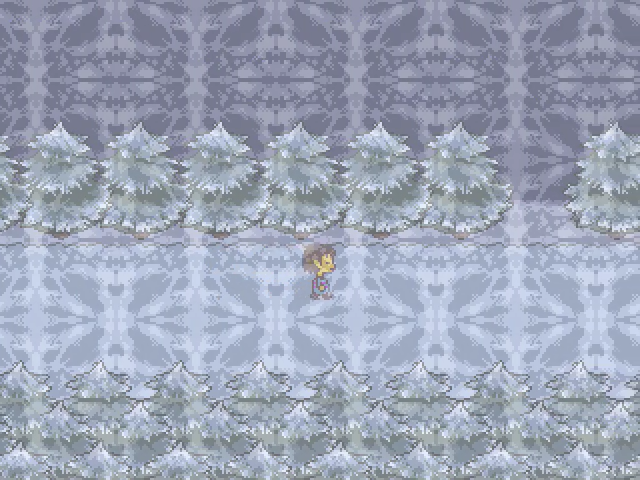 The longer I walk, the colder it gets.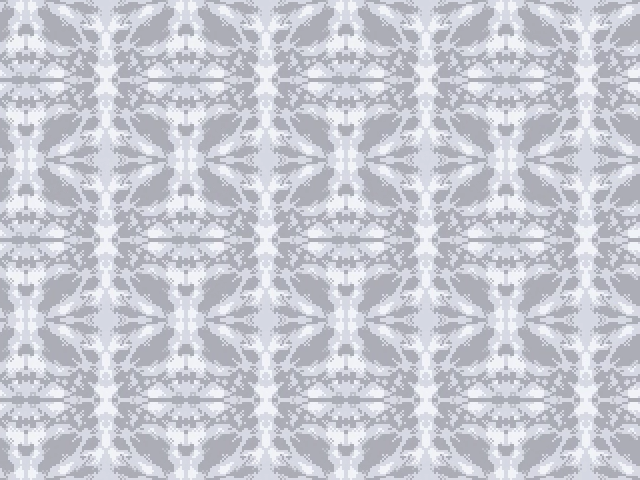 Eventually, it's so cold that I can't see(?).
That's when I realize I'm not alone.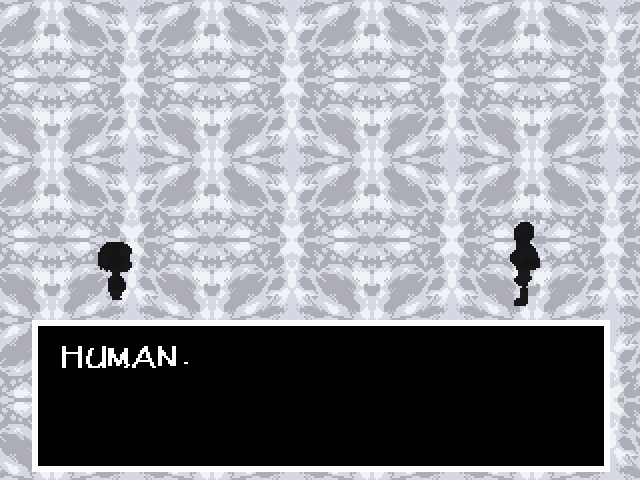 ALLOW ME TO TELL YOU ABOUT SOME COMPLEX FEELINGS.

FEELINGS LIKE...

THE JOY OF FINDING ANOTHER PASTA LOVER.

THE ADMIRATION FOR ANOTHER'S PUZZLE-SOLVING SKILLS.

A DESIRE TO HAVE A COOL, SMART PERSON THINK YOU ARE COOL.

THESE FEELINGS...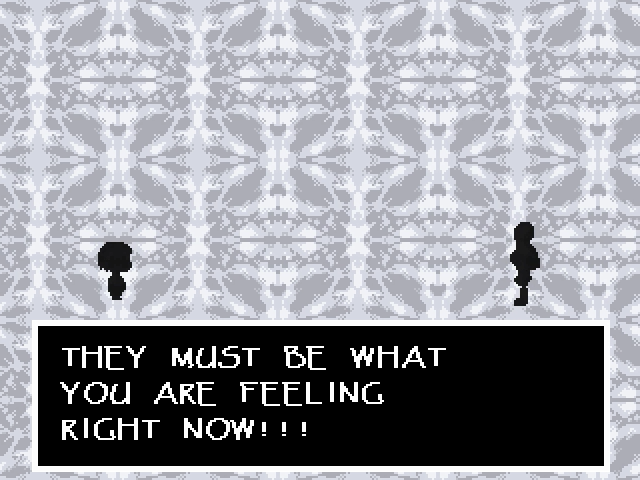 I CAN HARDLY IMAGINE WHAT IT MUST BE LIKE TO FEEL THAT WAY.

AFTER ALL, I AM VERY GREAT.

I DON'T EVER WONDER WHAT HAVING LOTS OF FRIENDS IS LIKE.

I PITY YOU... LONELY HUMAN...

WORRY NOT!!! YOU SHALL BE LONELY NO LONGER!

I, THE GREAT PAPYRUS, WILL BE YOUR...

...

NO...

NO, THIS IS ALL WRONG!

I CAN'T BE YOUR FRIEND!!!

YOU ARE A HUMAN!

I MUST CAPTURE YOU!!!

THEN, I CAN FULFILL MY LIFELONG DREAM!!!

POWERFUL! POPULAR! PRESTIGIOUS!!!

THAT'S PAPYRUS!!!

THE NEWEST MEMBER...

OF THE ROYAL GUARD!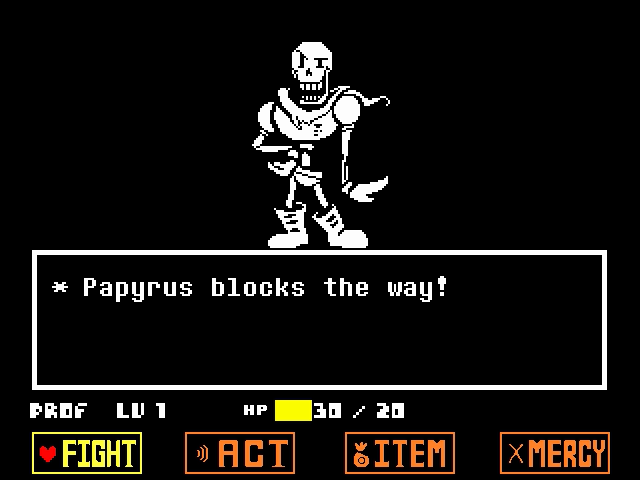 Video: Papyrus Blocks the Way

BGM: Nyeh Heh Heh!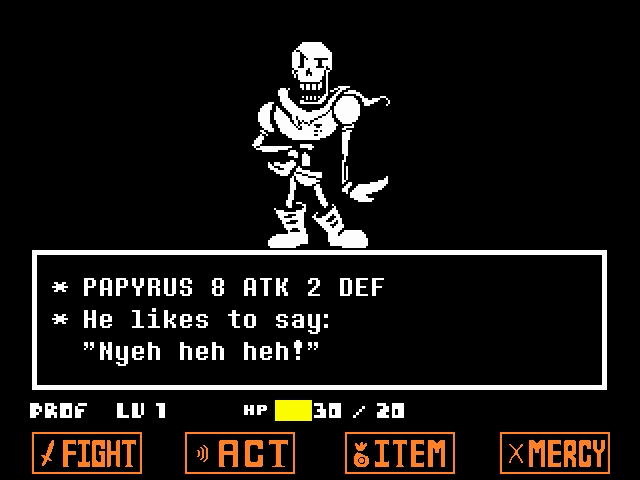 The showdown at last! Let's see what kind of crazy attacks Papyrus has in store!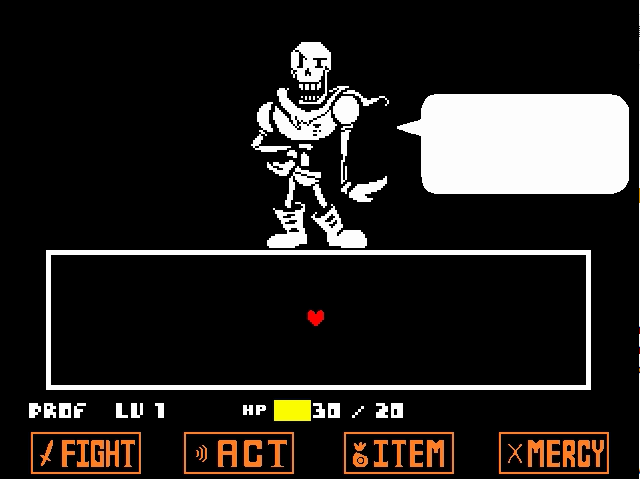 ...Really?
That's it?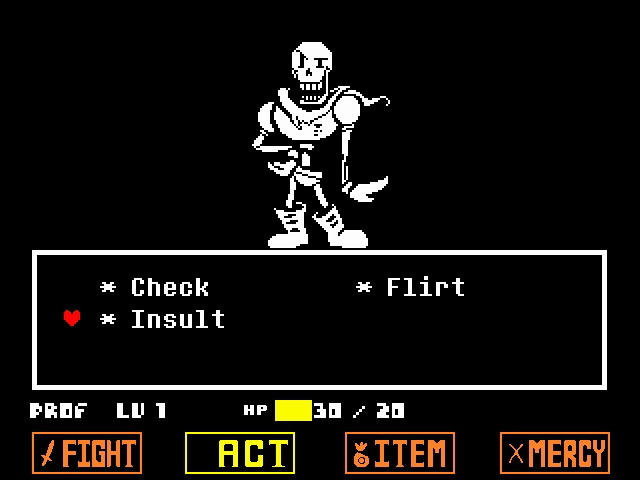 That was a terrible attack. Papyrus leaves me with no recourse but to violently
Insult
his skills.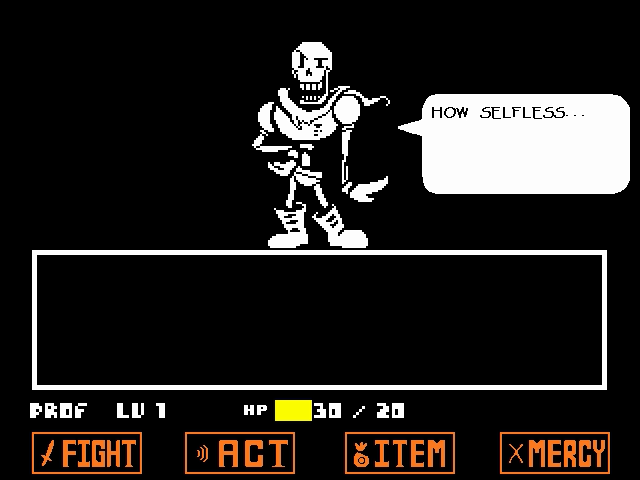 YOU WANT ME TO FEEL BETTER ABOUT FIGHTING YOU...

I DON'T DESERVE SUCH HOSPITALITY FROM YOU...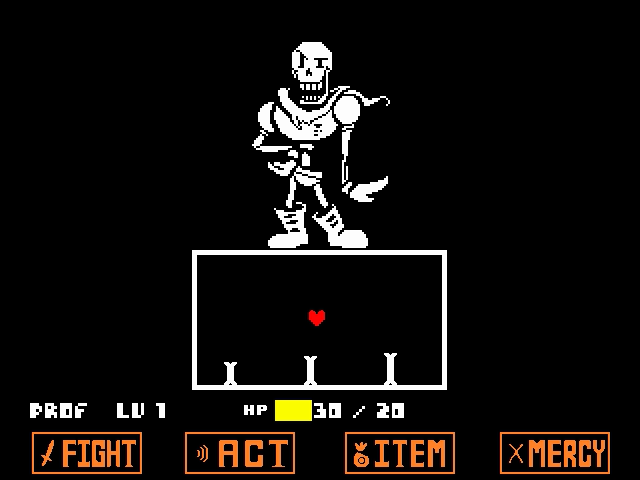 More bones trundle slowly along the bottom of the arena.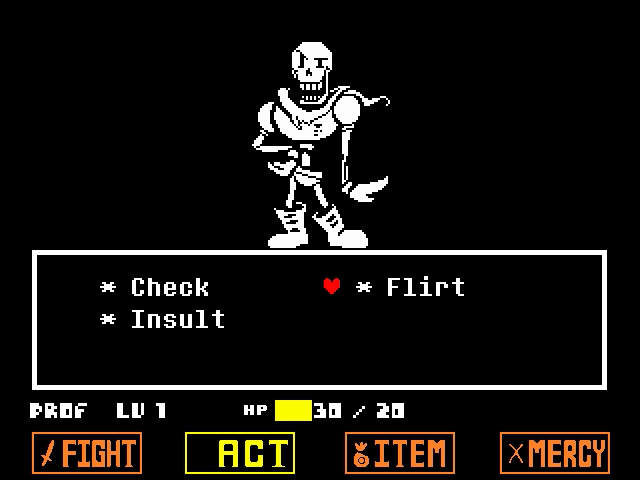 I have no choice but to unleash my ultimate psychological weapon.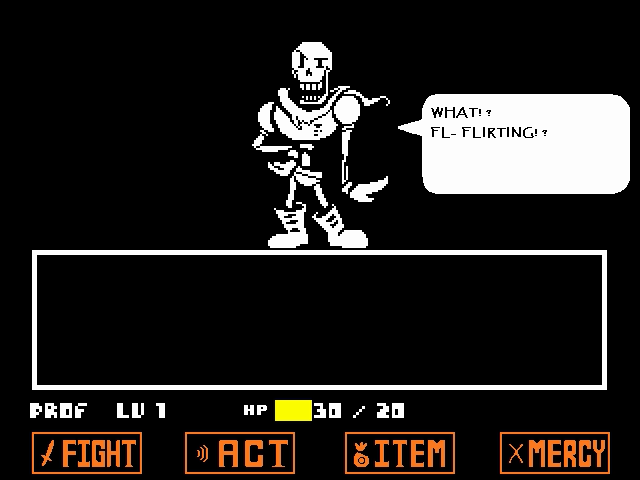 SO YOU FINALLY REVEAL YOUR
ULTIMATE FEELINGS!

W-WELL! I'M A SKELETON WITH VERY HIGH STANDARDS!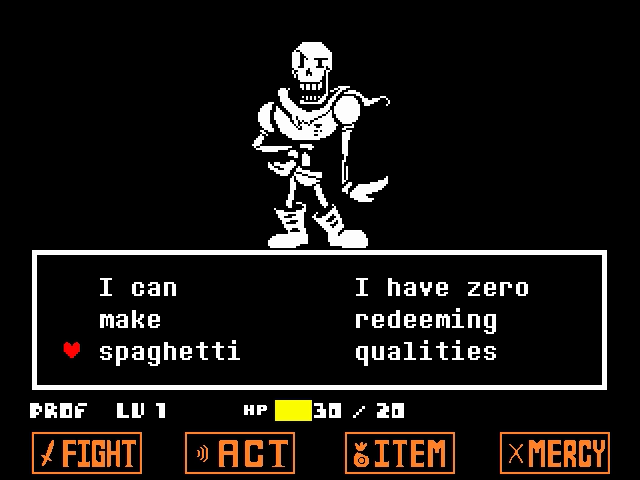 OH NO!!! YOU'RE MEETING ALL MY STANDARDS!!!

I GUESS THIS MEANS I HAVE TO GO ON A DATE WITH YOU...?

LET'S DATE L-LATER!! AFTER I CAPTURE YOU!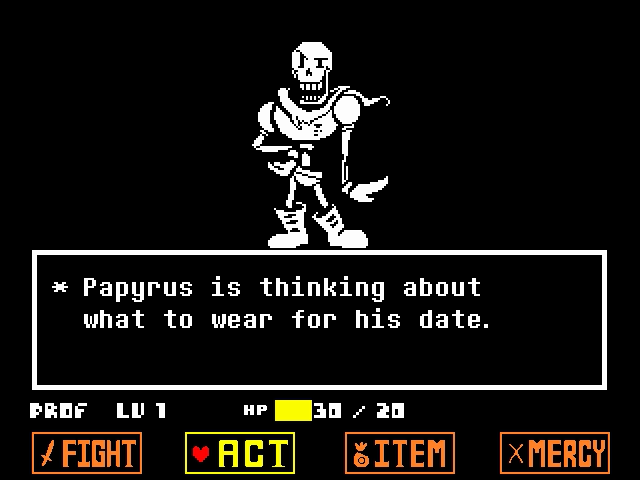 Just to be safe, I
Flirt
again.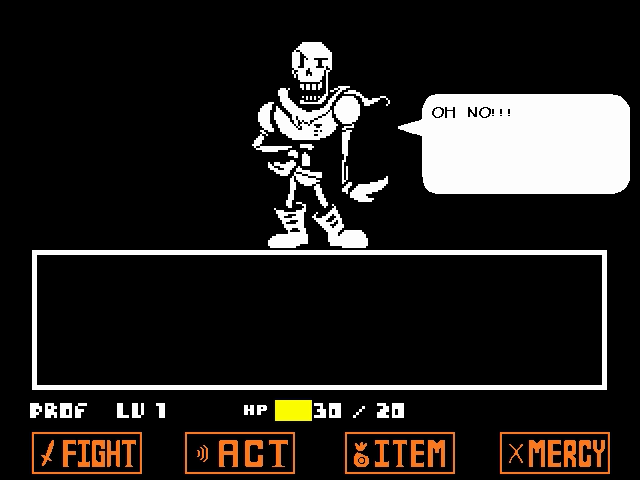 LET'S DATE L-LATER!! AFTER I CAPTURE YOU!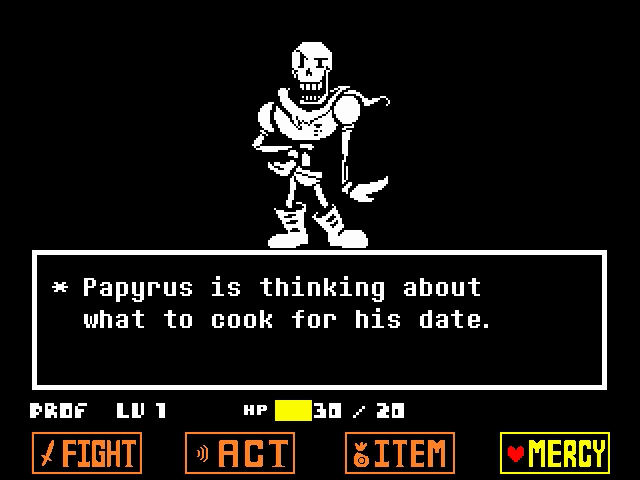 I guess that's all the flirting I can do. Instead, I'll switch to my go-to boss tactic:
Spare
.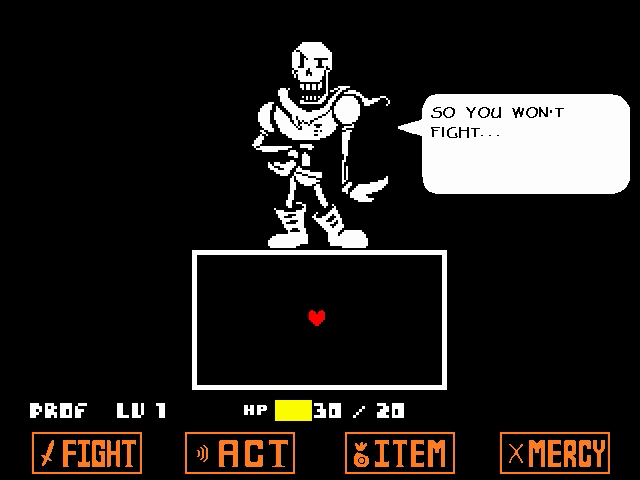 THEN, LET'S SEE IF YOU CAN HANDLE MY FABLED 'BLUE ATTACK'!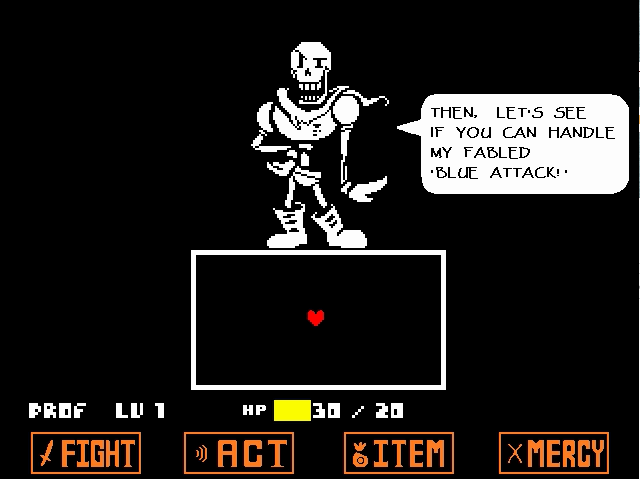 Papyrus.
I don't think you're taking this fight very seriously--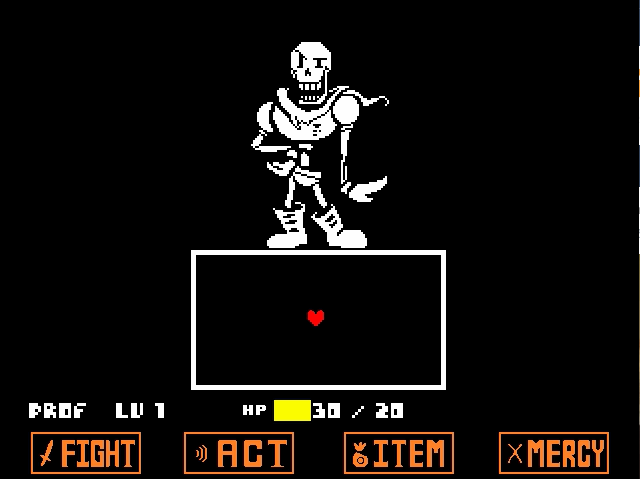 BGM: Bonetrousle

Wha-- hey!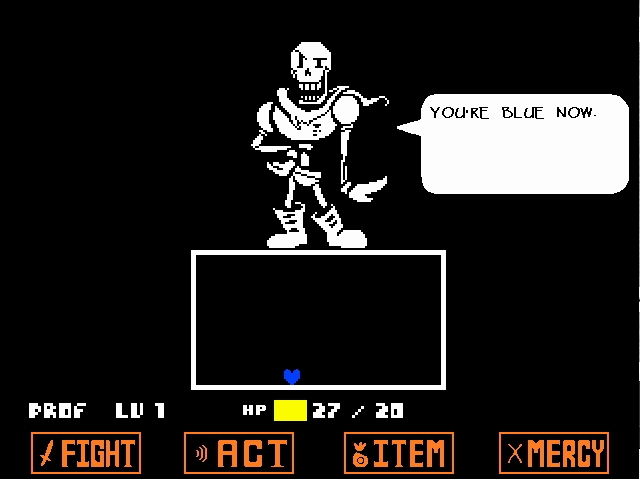 This is Papyrus's big battle gimmick. Now that my soul has been turned blue, I am susceptible to gravity!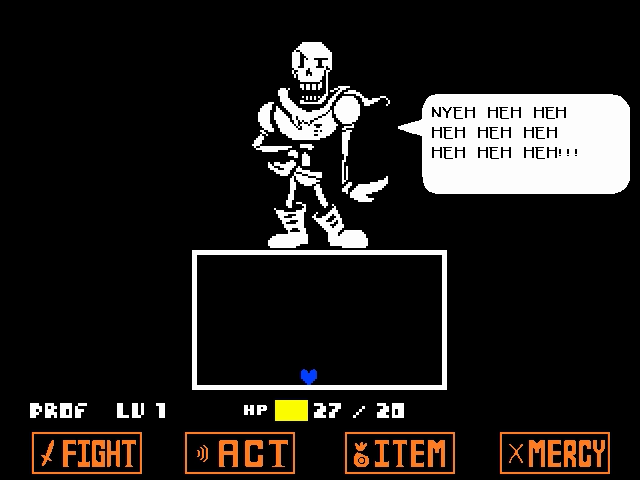 HMMM... I WONDER WHAT I SHOULD WEAR...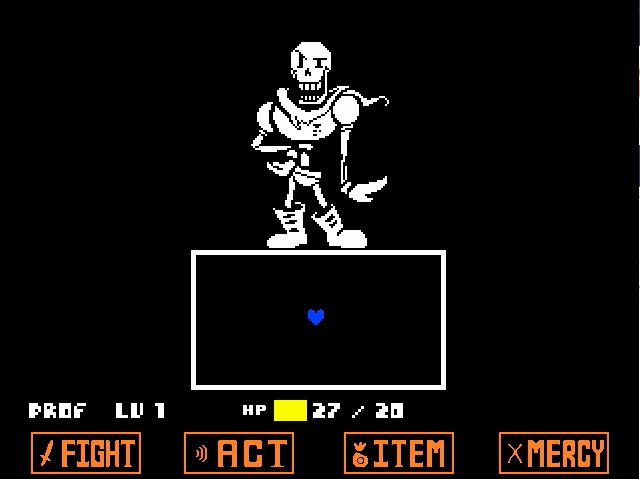 With a blue soul, suddenly Papyrus's feeble bone attacks are threatening again!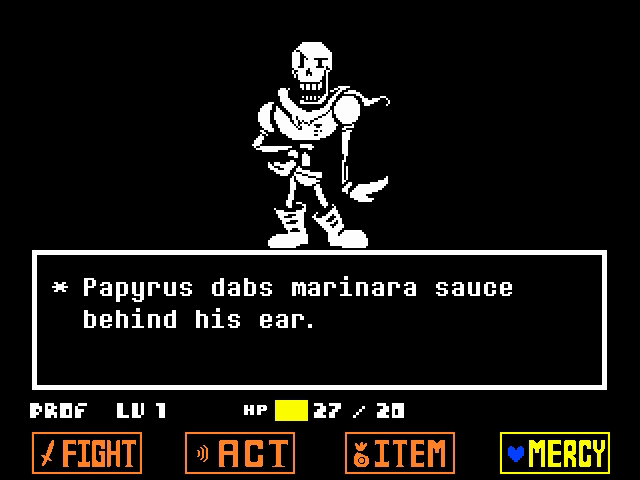 WHAT!? I'M NOT THINKING ABOUT THAT DATE THING!!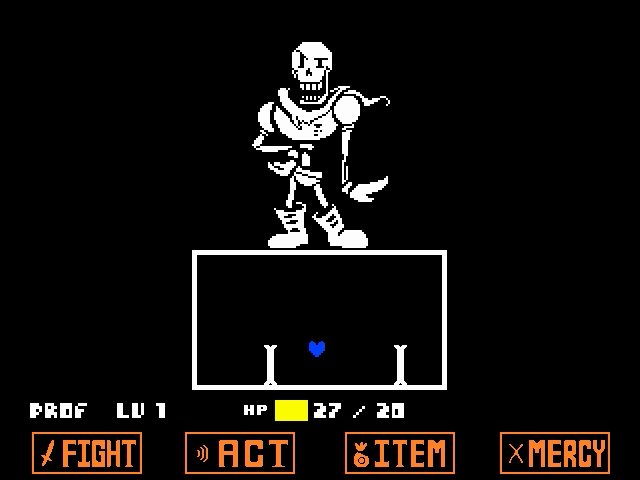 Basically the same attack, but longer and faster.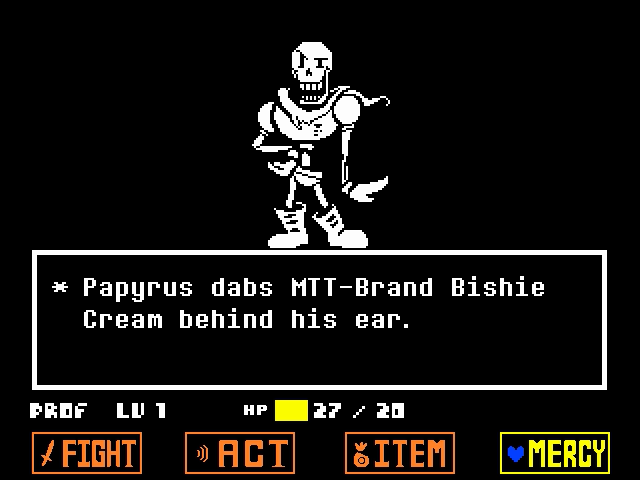 YEAH! DON'T MAKE ME USE MY
SPECIAL ATTACK
!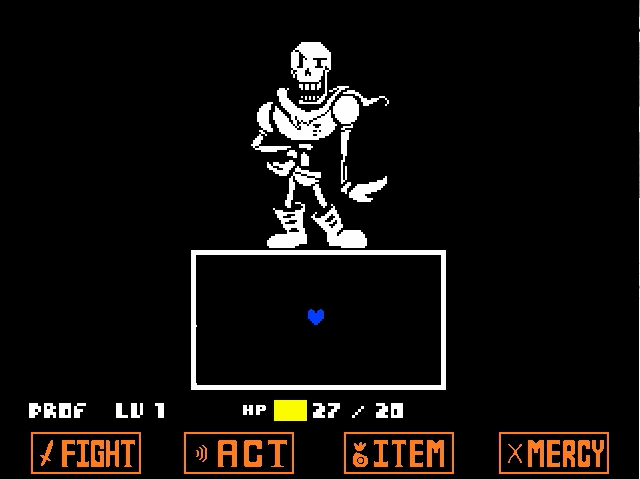 Papyrus's bone obstacle courses are starting to get more elaborate.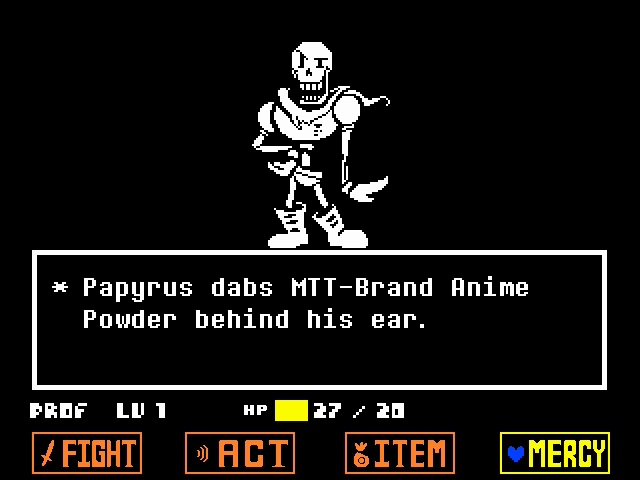 I CAN ALMOST TASTE MY FUTURE POPULARITY!!!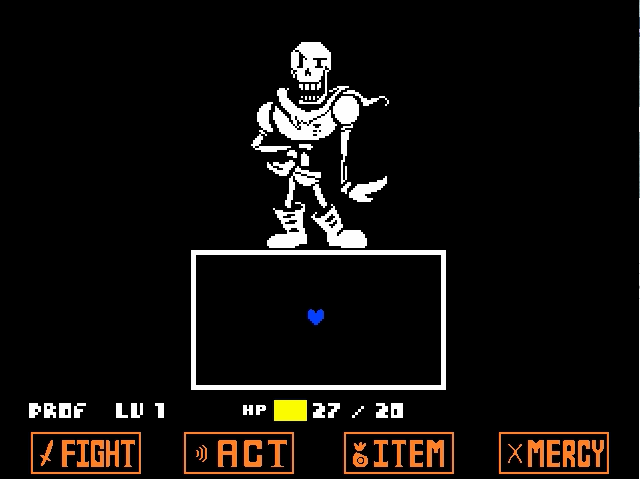 Okay, that last bone was just rude.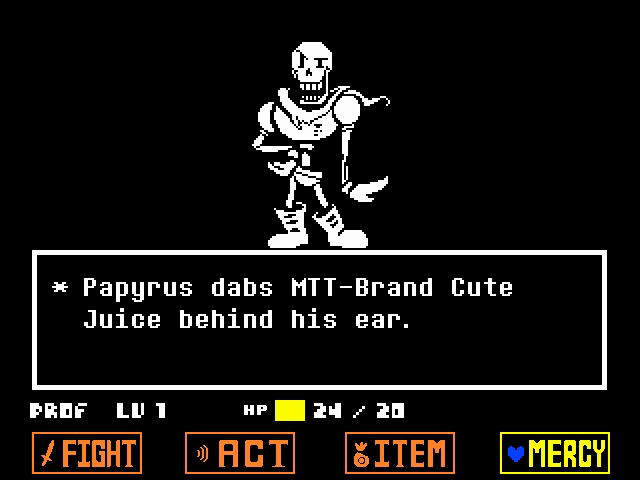 PAPYRUS: HEAD OF THE ROYAL GUARD!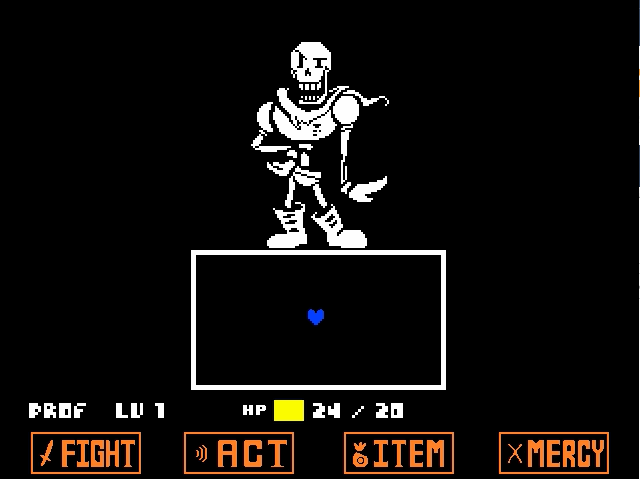 Calm the heck down, Papyrus!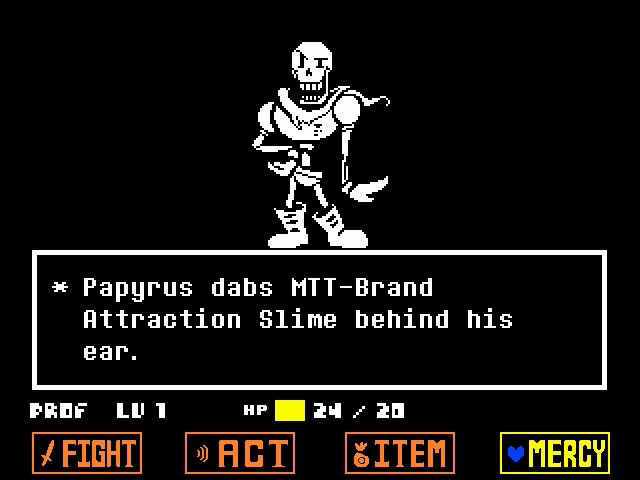 PAPYRUS: UNPARALLELED SPAGHETTORE!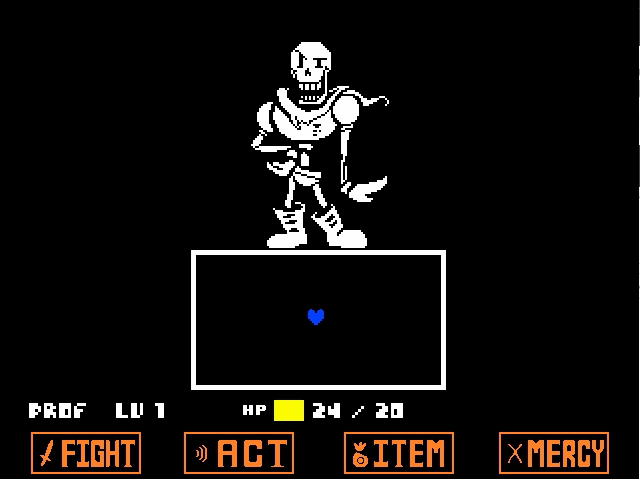 You know, something seems off about those things Papyrus is putting behind his ears.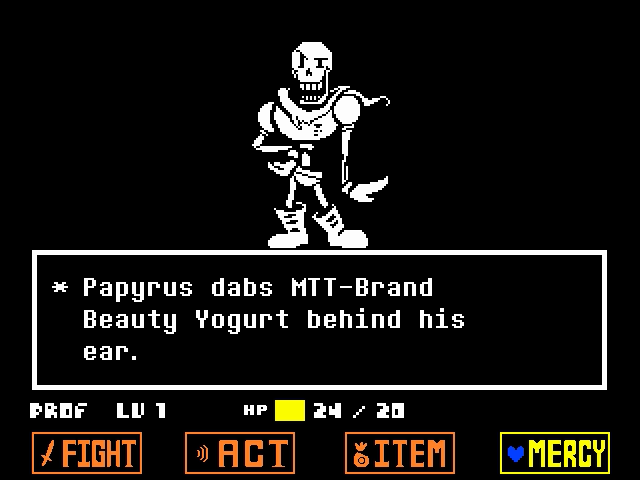 UNDYNE WILL BE REALLY PROUD OF ME!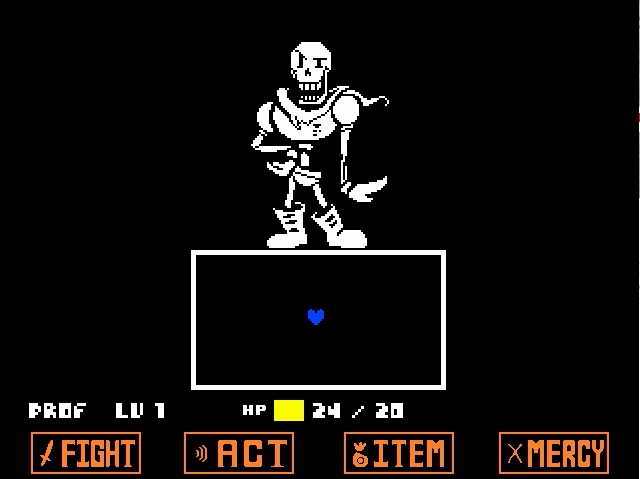 I can't quite place my finger on it...
Oh, wait.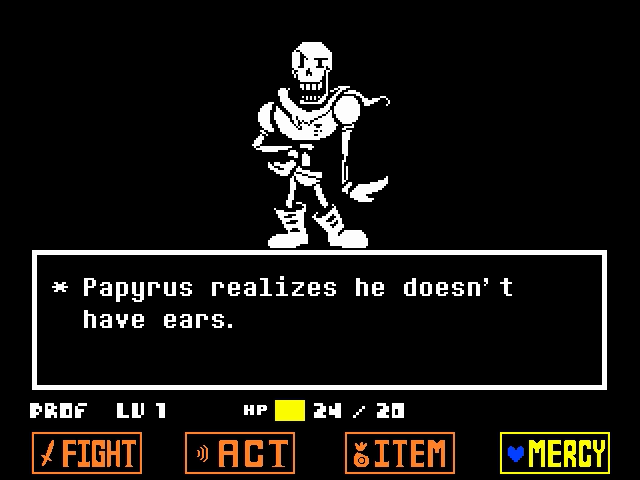 THE KING WILL TRIM A HEDGE IN THE SHAPE OF MY SMILE!!!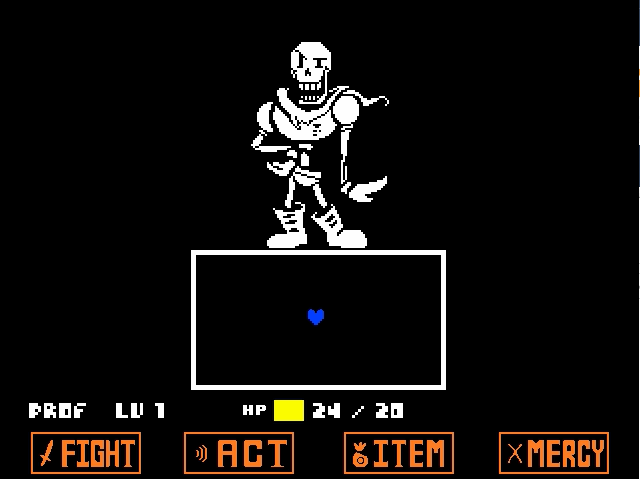 These bone attacks are kind of starting to run together.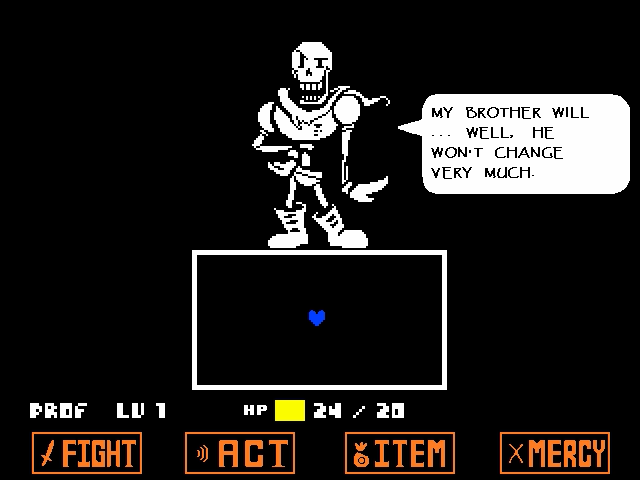 More bones follow.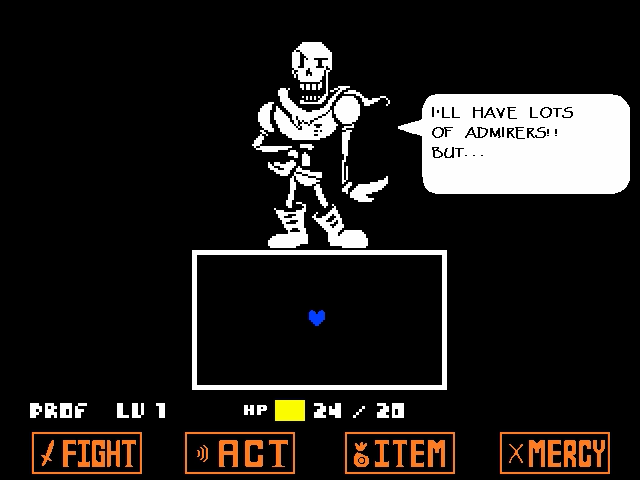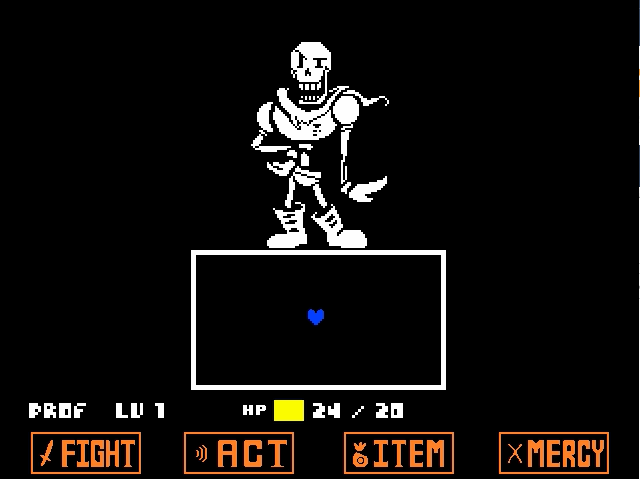 WILL ANYONE LIKE ME AS SINCERELY AS YOU?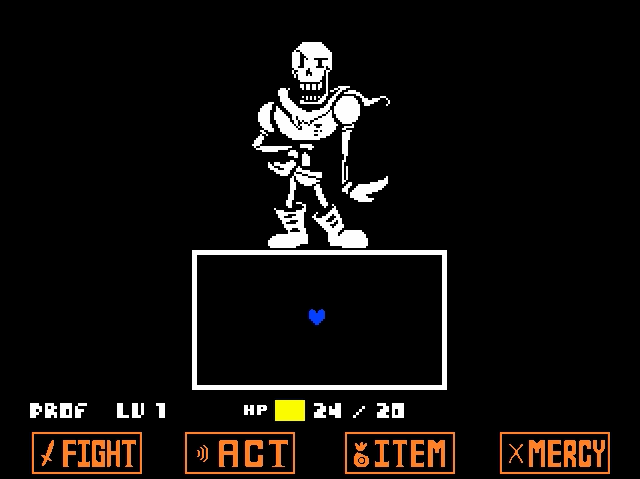 SOMEONE LIKE YOU IS REALLY RARE...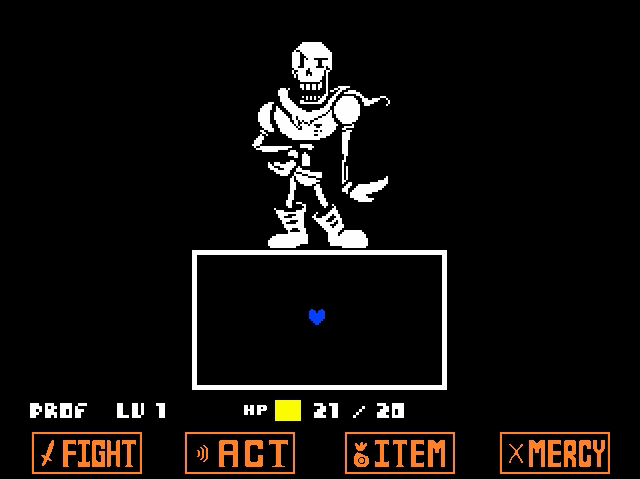 He has to get tired eventually.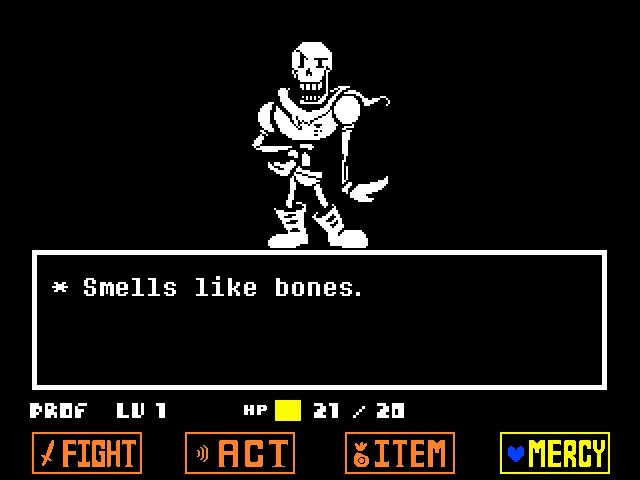 AND DATING MIGHT BE KIND OF HARD...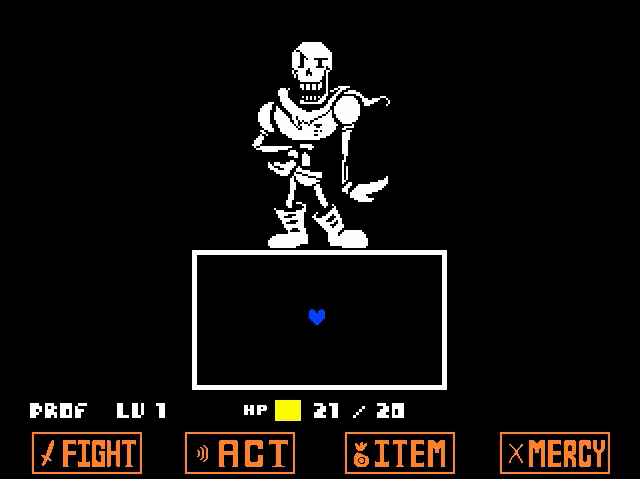 AFTER YOU'RE CAPTURED AND SENT AWAY.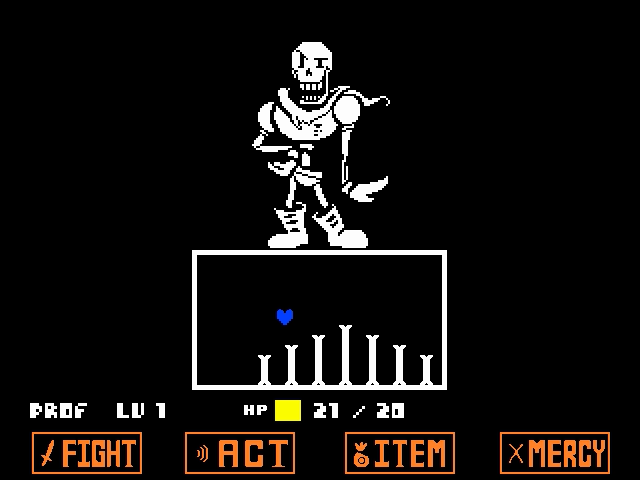 Blah blah blah blah bones.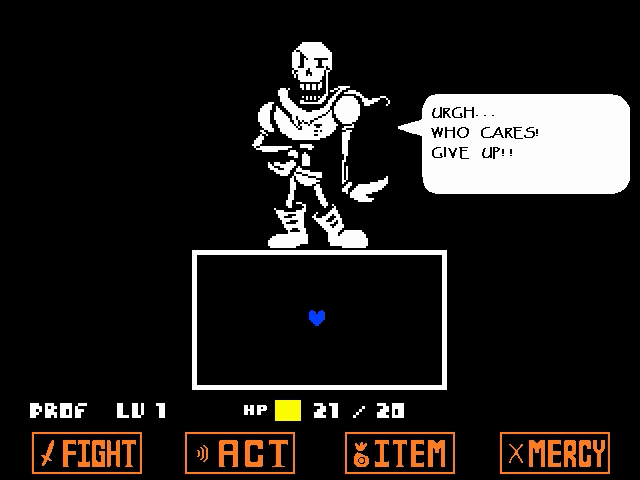 Can you guess what's next?
Hint: It starts with B.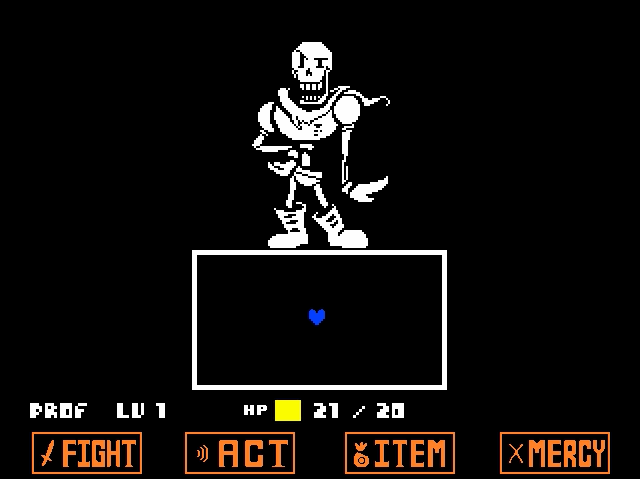 GIVE UP OR FACE MY...
SPECIAL ATTACK!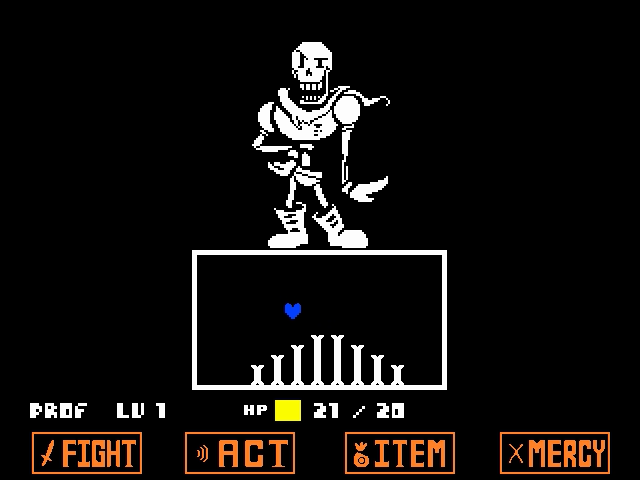 I'm pretty sure he's repeating attacks now.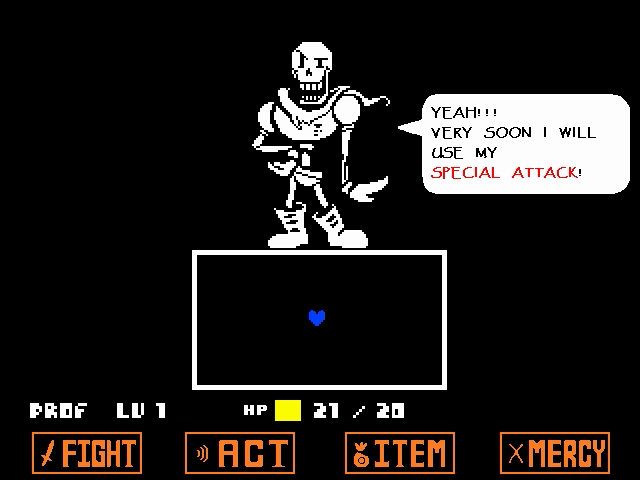 Bones bones bones.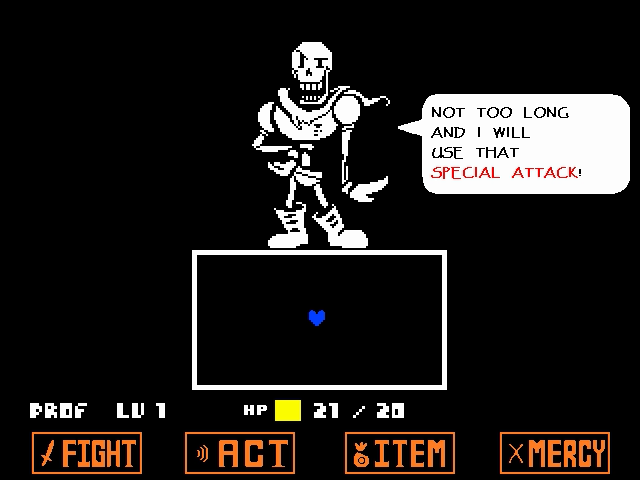 "Bones" has stopped looking like a real word.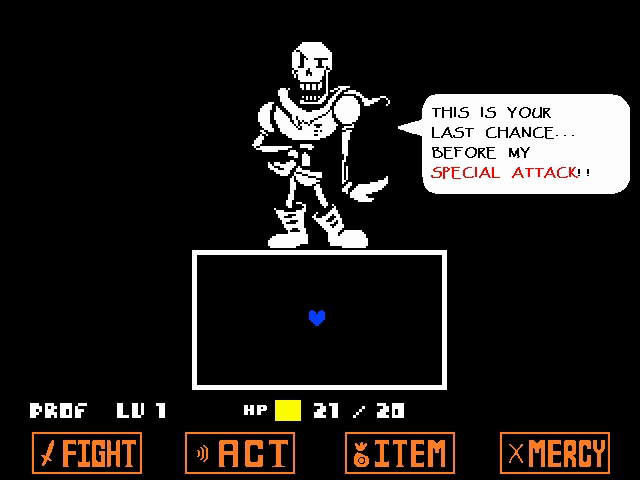 Please just hurry up and use your special attack!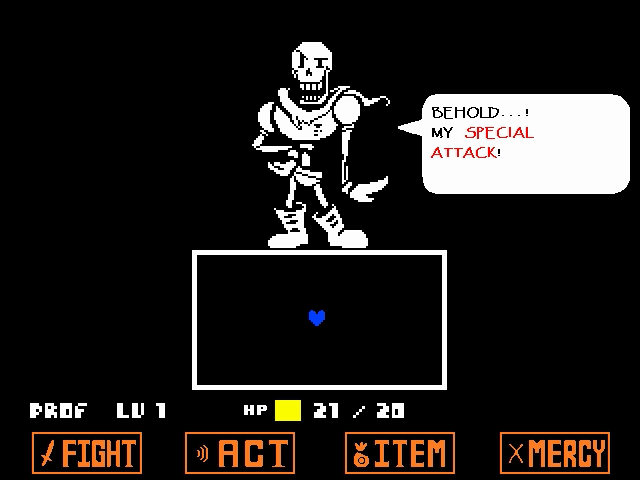 Here it comes...!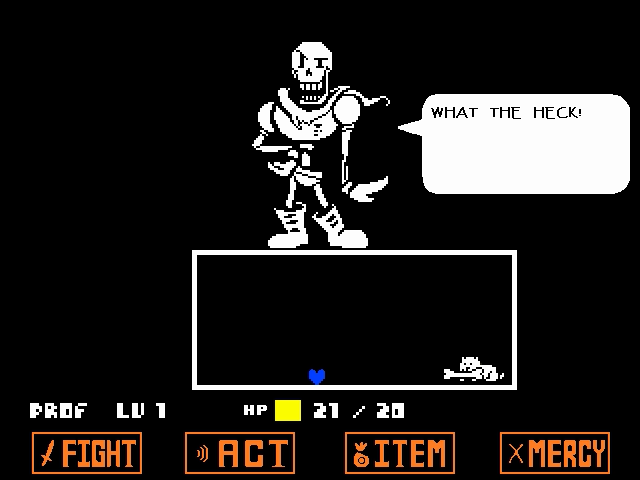 Dogs encountered: 7

THAT'S MY SPECIAL ATTACK!


HEY! YOU STUPID DOG!


DID YOU HEAR ME!? STOP MUNCHING ON THAT BONE!!!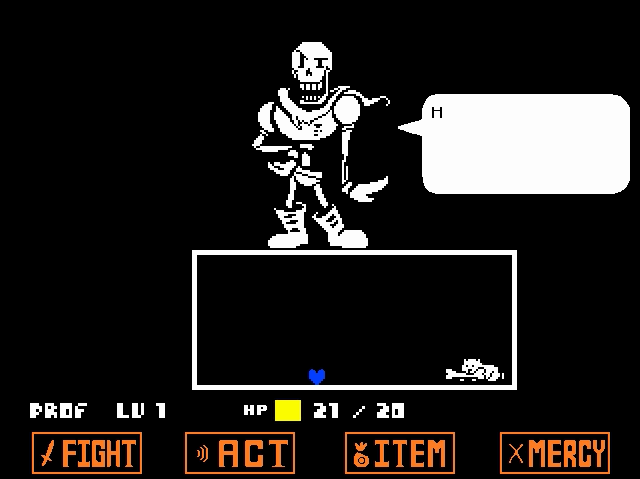 COME BACK HERE WITH MY SPECIAL ATTACK!!!

OH WELL.

I'LL JUST USE A REALLY COOL REGULAR ATTACK.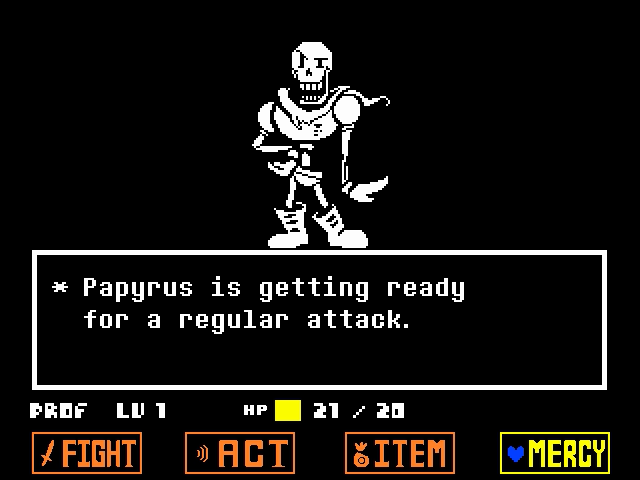 *SIGH* HERE'S AN ABSOLUTELY NORMAL ATTACK.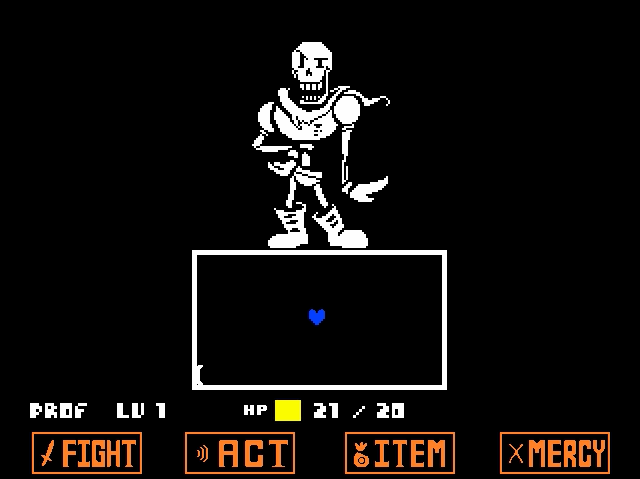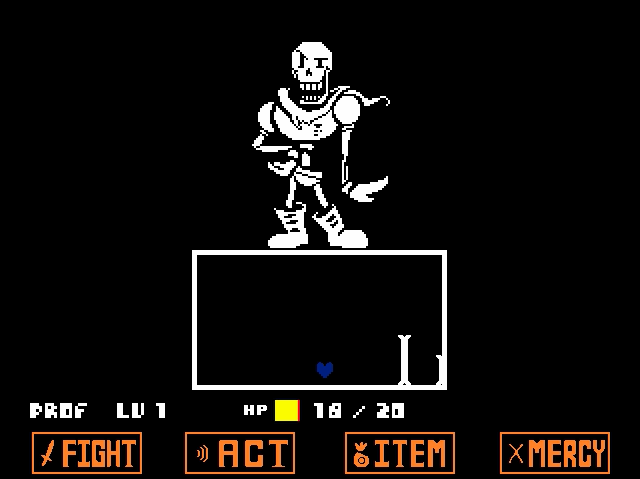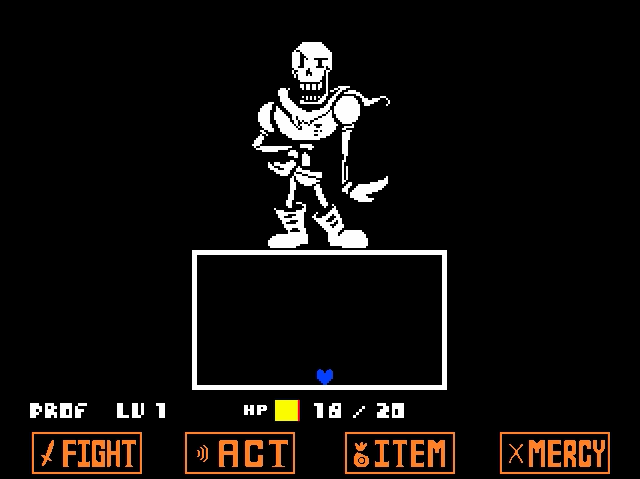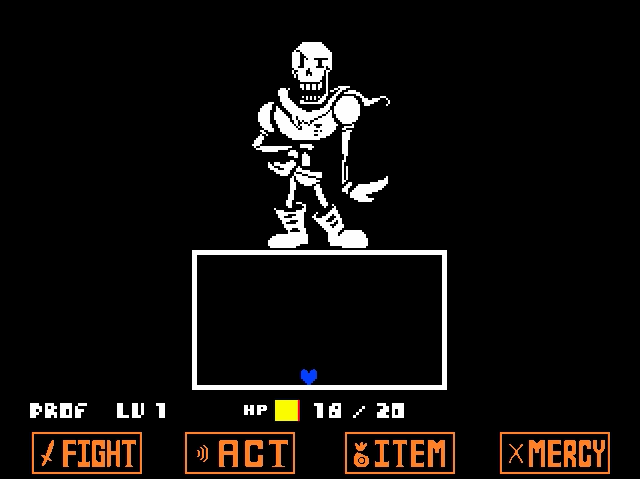 ARE YOU DONE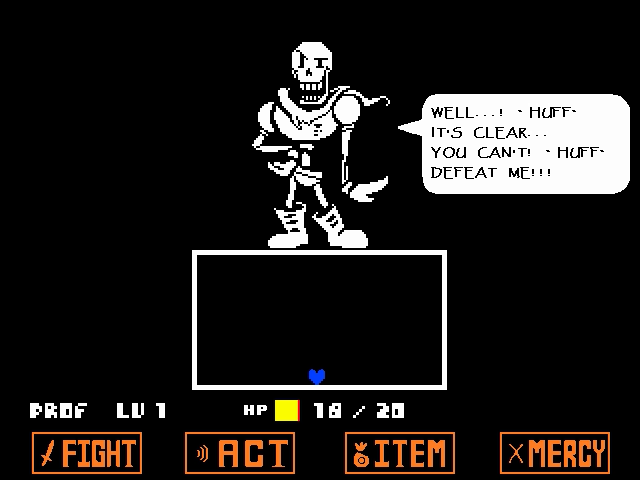 YEAH!!! I CAN SEE YOU SHAKING IN YOUR BOOTS!!!

THEREFORE I, THE GREAT PAPYRUS, ELECT TO GRANT YOU PITY!!

I WILL
SPARE
YOU, HUMAN!!!

NOW'S YOUR CHANCE TO ACCEPT MY
MERCY
.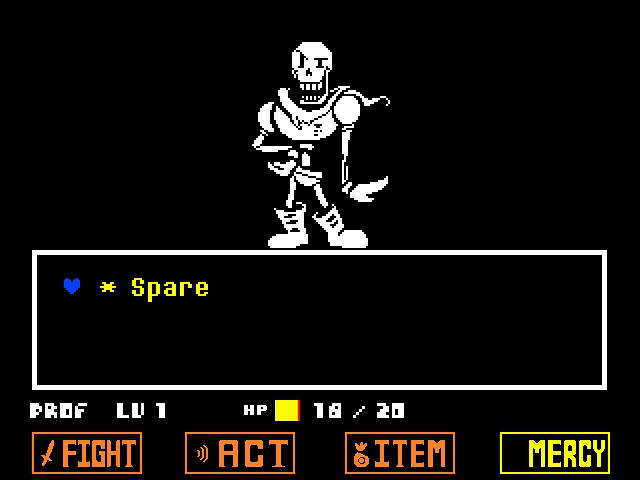 BGM: Silence
I
spare
am spared by Papyrus, and the battle ends.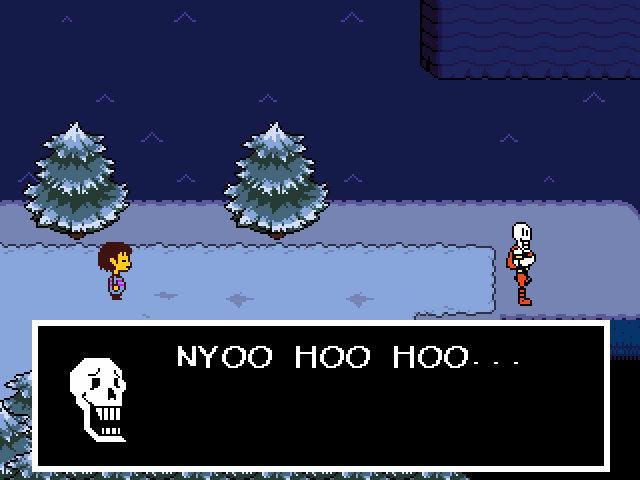 I CAN'T EVEN STOP SOMEONE AS WEAK AS YOU...

UNDYNE'S GOING TO BE DISAPPOINTED IN ME.

I'LL NEVER JOIN THE ROYAL GUARD... AND...

MY FRIEND QUANTITY WILL REMAIN STAGNANT!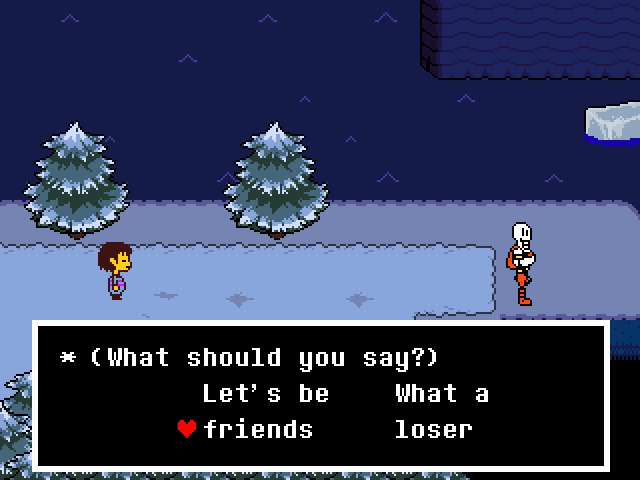 BGM: Nyeh Heh Heh!

REALLY!? YOU WANT TO BE FRIENDS, WITH ME???

WELL THEN...

I GUESS...

I GUESS I CAN MAKE AN ALLOWANCE FOR YOU!

WOWIE!! WE HAVEN'T EVEN HARD OUR FIRST DATE...

AND I'VE ALREADY MANAGED TO HIT THE FRIEND ZONE!

WHO KNEW THAT ALL I NEEDED TO MAKE PALS...

WAS TO GIVE PEOPLE AWFUL PUZZLES AND THEN FIGHT THEM??

YOU TAUGHT ME A LOT, HUMAN.

I HEREBY GRANT YOU PERMISSION TO PASS THROUGH!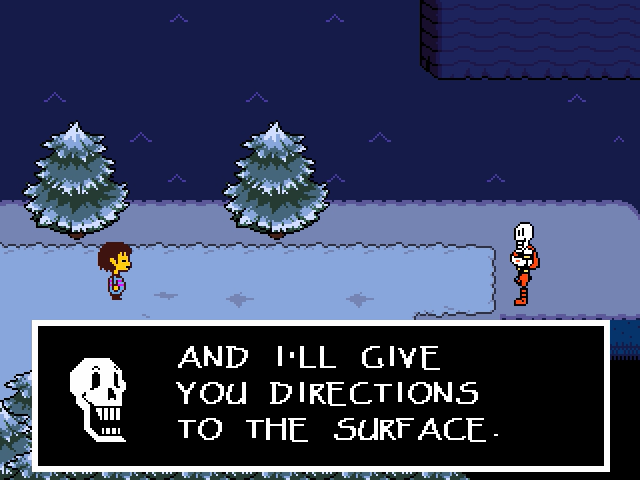 CONTINUE FORWARD UNTIL YOU REACH THE END OF THE CAVERN.

THEN... WHEN YOU REACH THE CAPITAL, CROSS
THE BARRIER
.

THAT'S THE MAGICAL SEAL TRAPPING US ALL UNDERGROUND.

ANYTHING CAN ETNER THROUGH IT, BUT NOTHING CAN EXIT...

EXCEPT SOMEONE WITH A POWERFUL SOUL.

...LIKE YOU!

THAT'S WHY THE KING WANTS TO ACQUIRE A HUMAN.

HE WANTS TO OPEN THE BARRIER WITH SOUL POWER.

THEN US MONSTERS CAN RETURN TO THE SURFACE!

OH, I ALMOST FORGOT TO TELL YOU...

TO REACH THE EXIT, YOU WILL HAVE TO PASS...

THROUGH
THE KING
'S CASTLE.

THE KING OF ALL MONSTERS...

HE IS...

...WELL...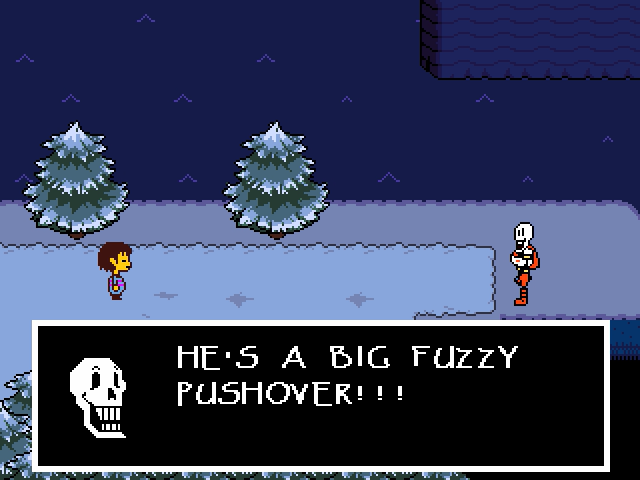 EVERYBODY LOVES THAT GUY.

I AM CERTAIN IF YOU JUST SAY...

"EXCUSE ME, MR. DREEMURR... CAN I PLEASE GO HOME?"

HE'LL GUIDE YOU RIGHT TO THE BARRIER HIMSELF!

ANYWAY!!! THAT'S ENOUGH TALKING!!!

I'LL BE AT HOME BEING A COOL FRIEND!!!

FEEL FREE TO COME BY AND HAVE THAT DATE!

NYEH HEH HEH HEH HEH HEH HEH!!!