Part 15: Memory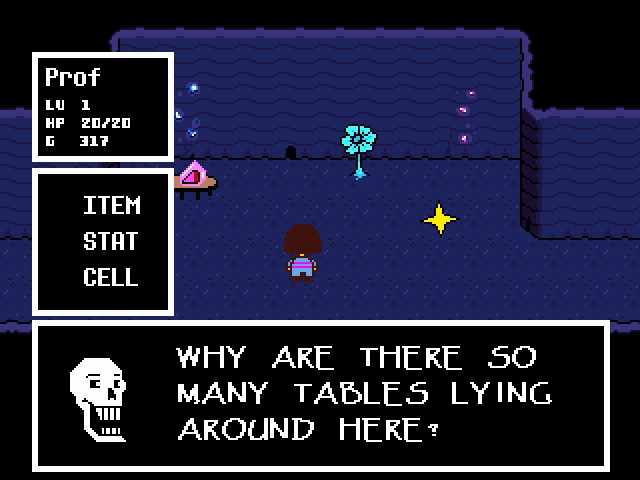 BGM: Quiet Water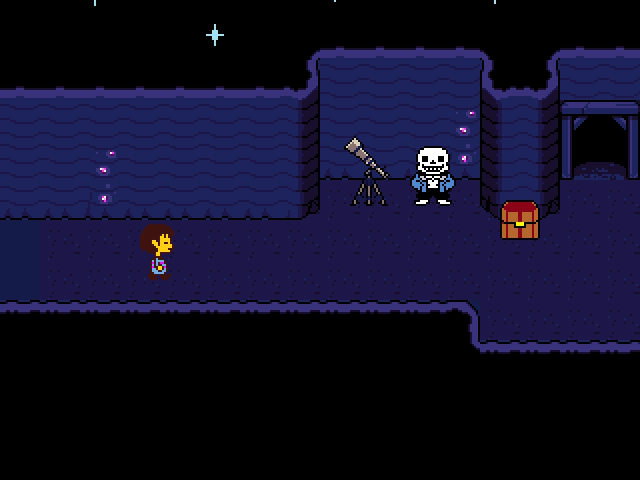 Hey, Sans.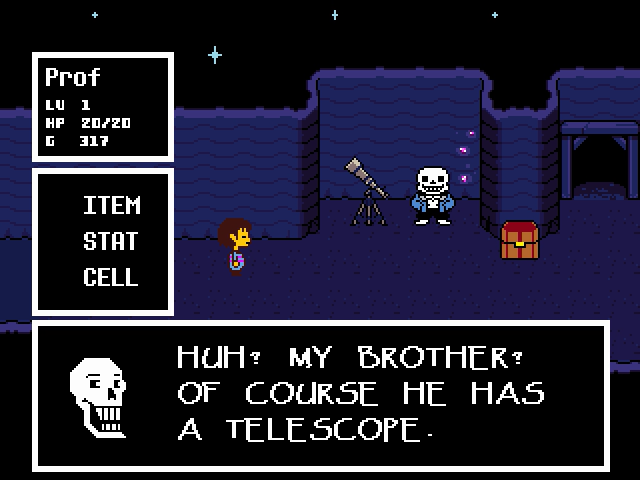 SANS LOVES OUTER SPACEY SCI-FI STUFF.

HMM? HE NEVER TOLD YOU??

YEAH, SANS NEVER TELLS ANYBODY ANTHING!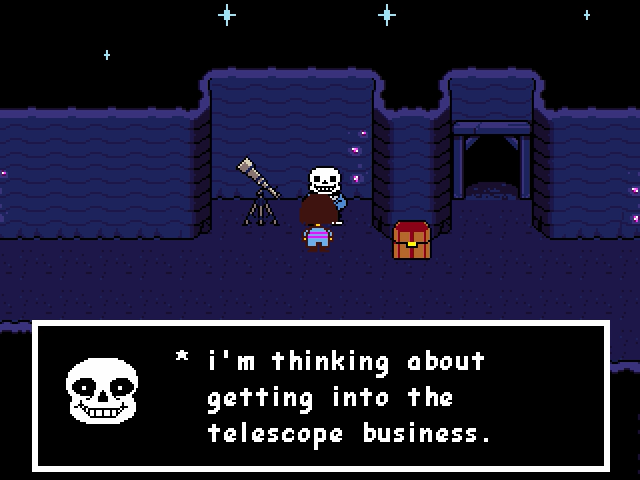 it's normally 50000G to use this premium telescope...

but... since i know you, you can use it for free.

howzabout it?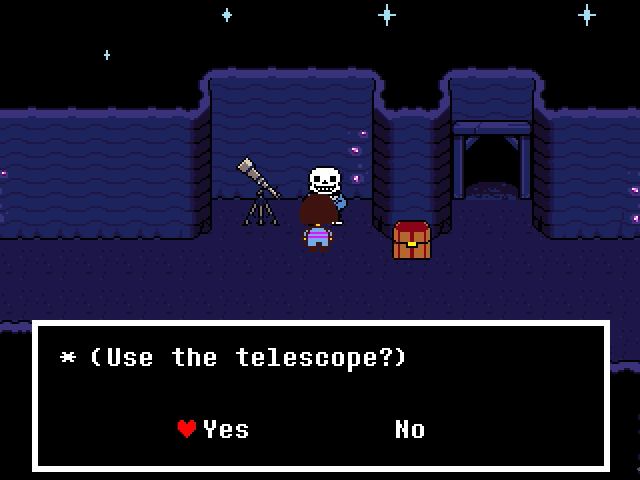 This is a rare opportunity!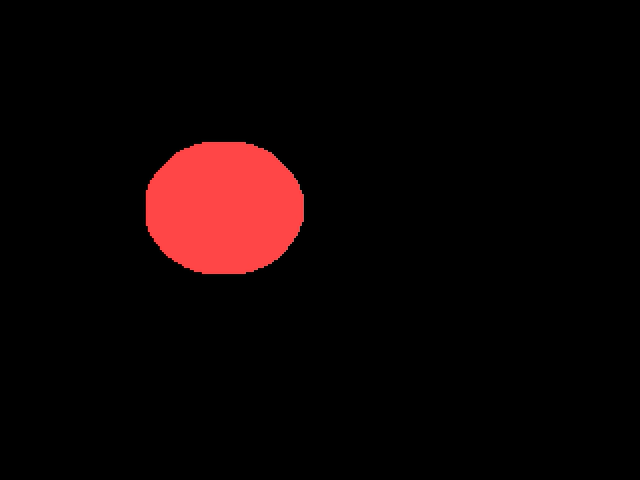 Something seems to be wrong with this telescope...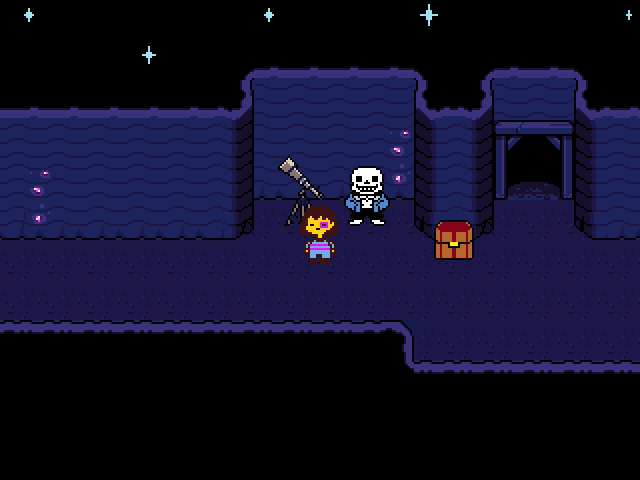 SAAAAAAAAAAAAANS!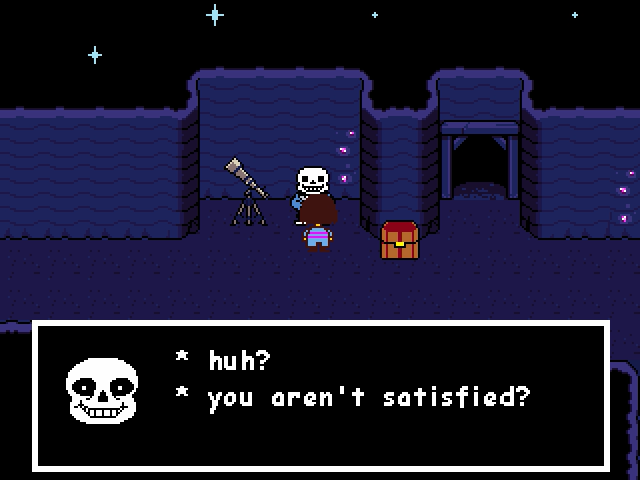 i'll give you a full refund.
I head into the room to the north.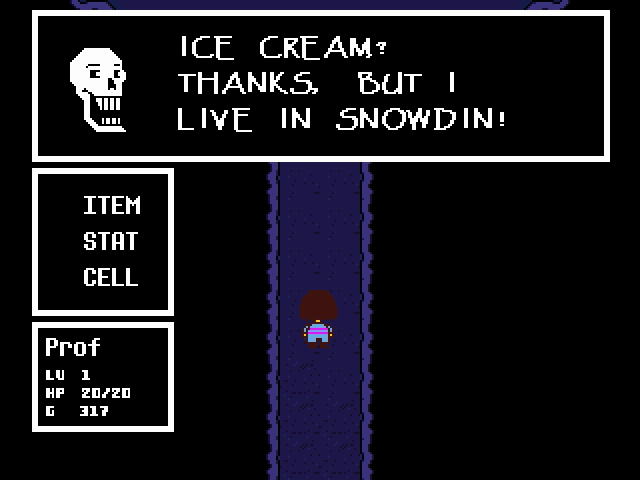 THERE'S ICE CREAM ALL OVER THE GROUND!!!

that's called snow.

SANS!!! I DIDN'T ASK FOR YOUR OPINION!!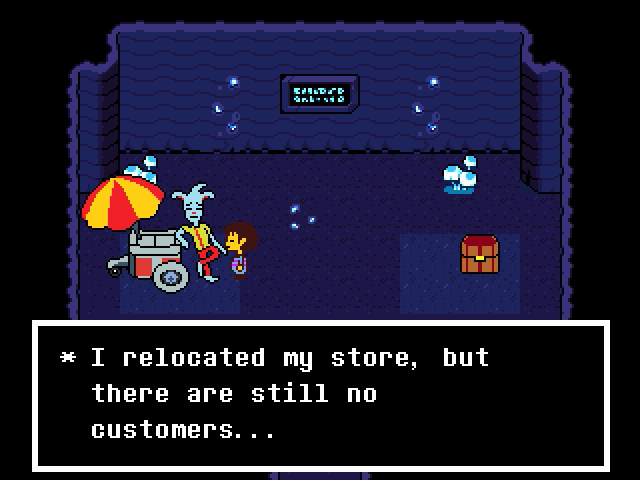 Fortunately, I've thought of a solution!!

Punch cards!!

Every time you buy a Nice Cream, you can take a punch card from the box.

If you have 3 cards, you can trade them for a free Nice Cream!

They're sure to get the customers to come back!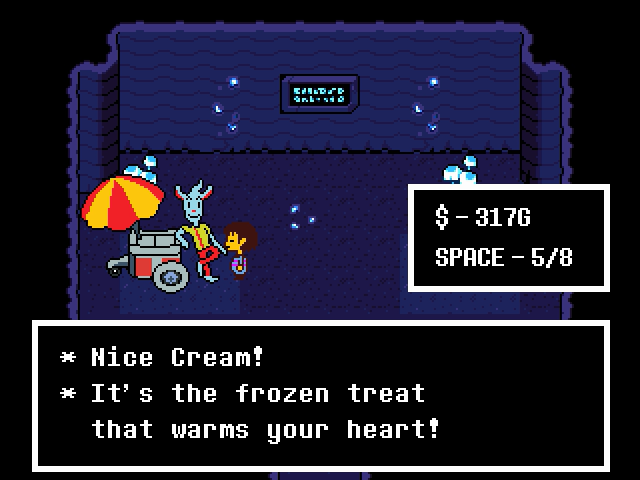 Well, I wanna try it out, so I buy three Nice Creams. That should do me for healing items for a while.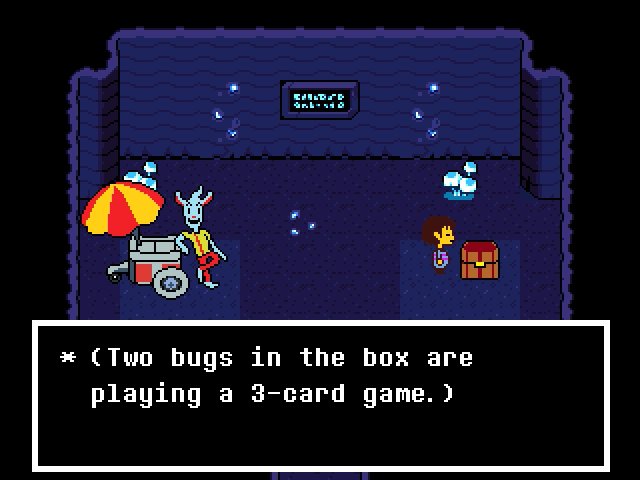 Putting the Nice Cream in my storage, I extract the three punch cards from the box.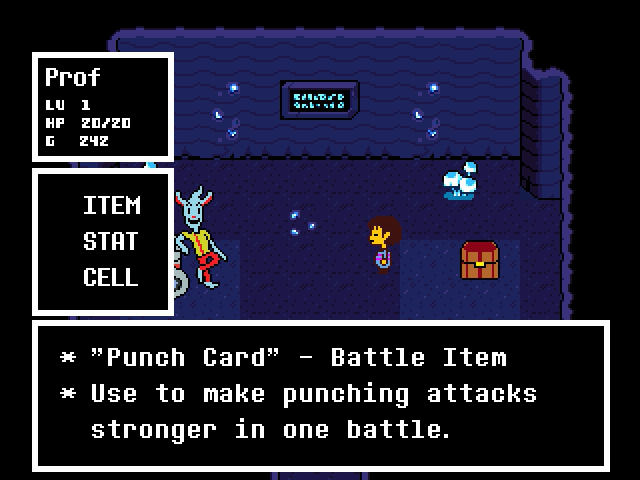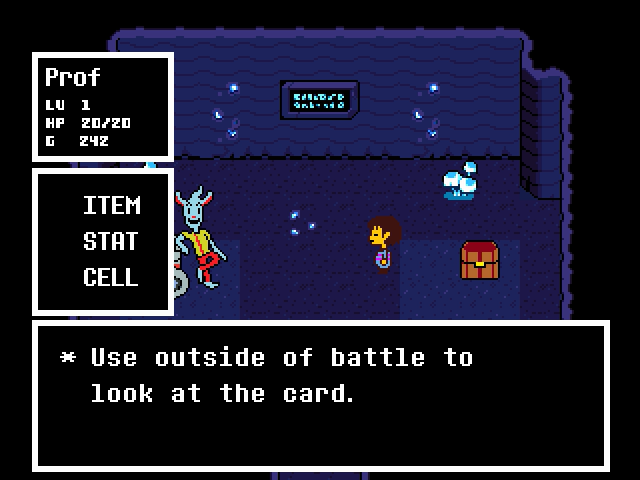 The cards are actually... very minimally useful!
They look like this: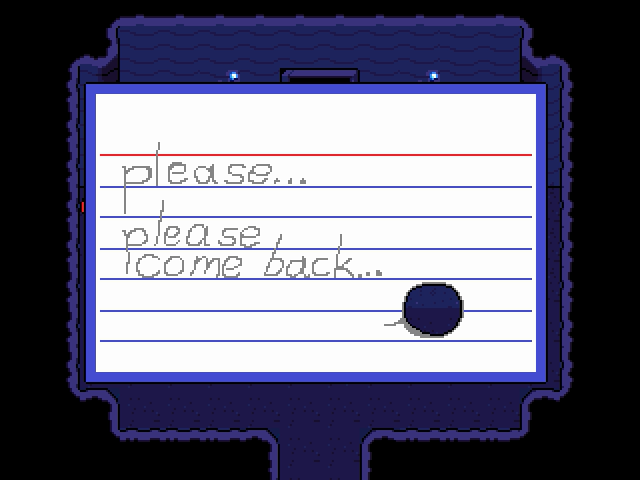 Wow.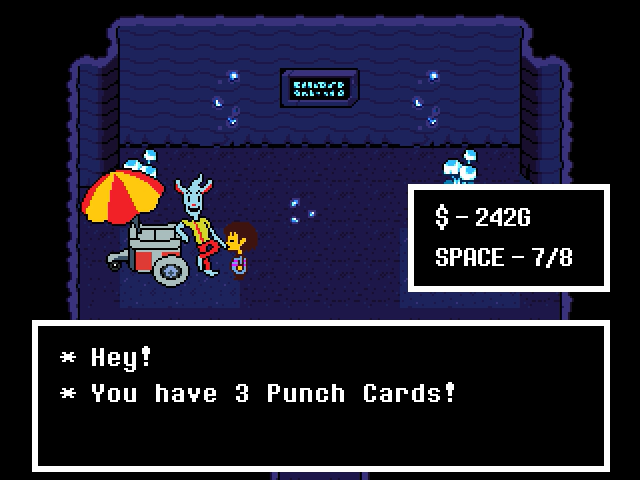 As promised, I get a free Nice Cream for my trouble.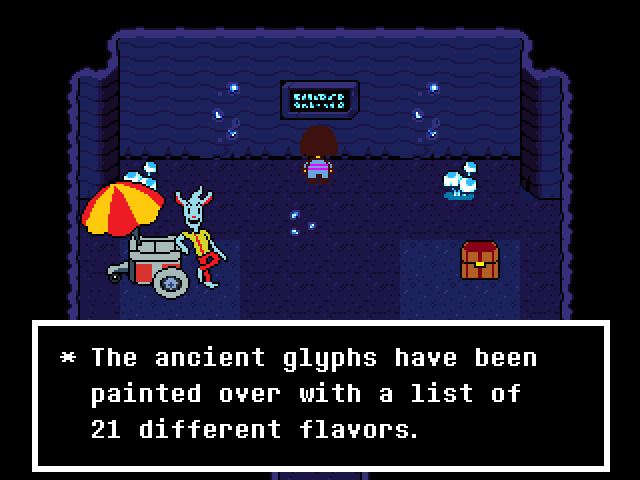 Enough dealing with Nice Cream Man.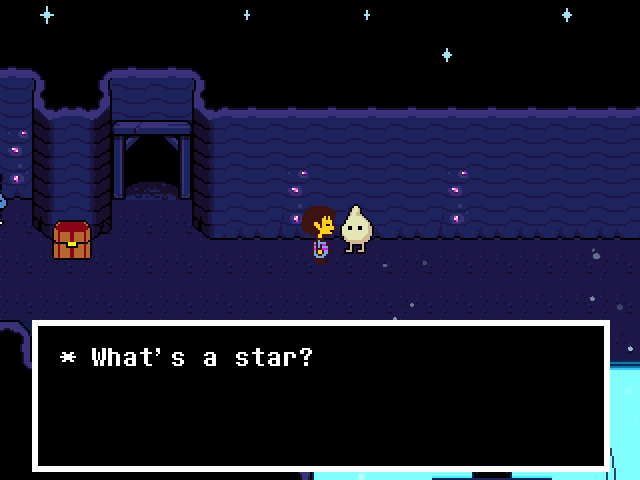 Can you touch it?

Can you eat it?

Can you kill it?

...

Are you a star?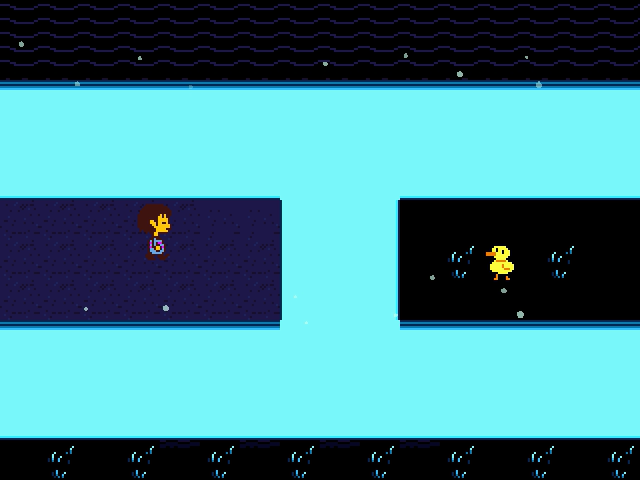 To the east, I find a bird.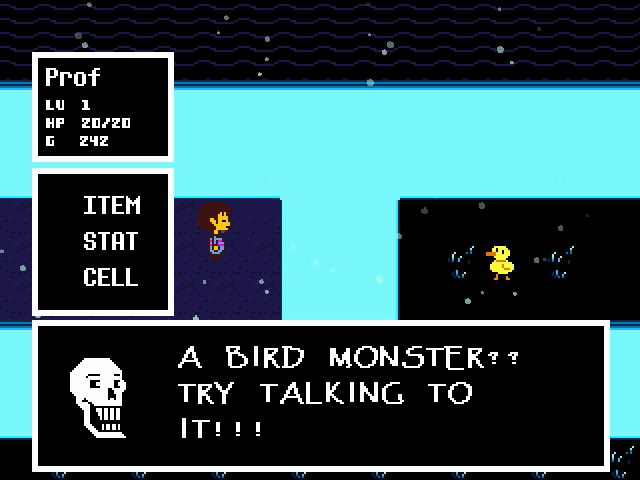 OR YOU COULD PUT ME ON THE LINE!

I'VE GOT SOME PRETTY GOOD TWEETS.

(HORRIBLE BIRD IMITATIONS)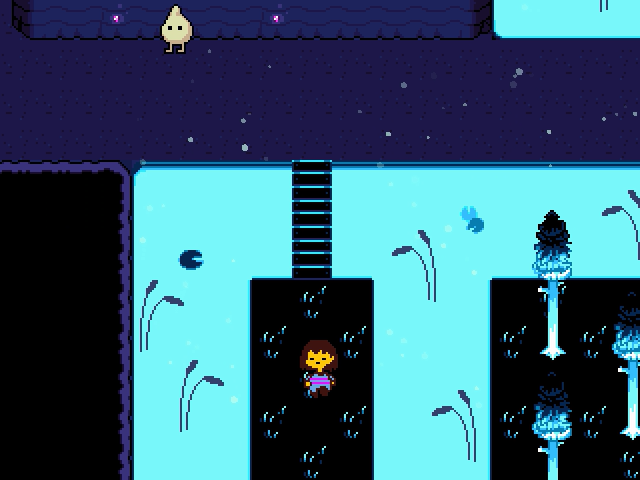 I go back, and head south.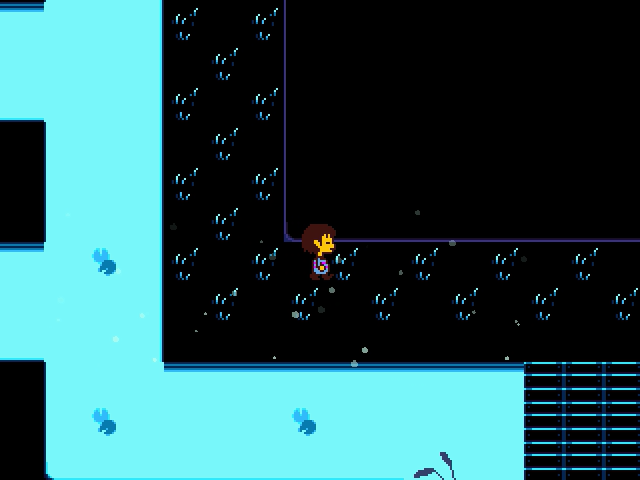 Papyrus isn't answering his phone again.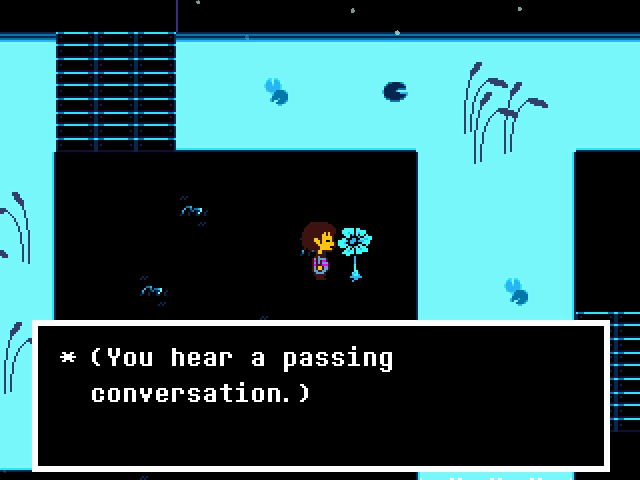 So? Don't you have any wishes to make?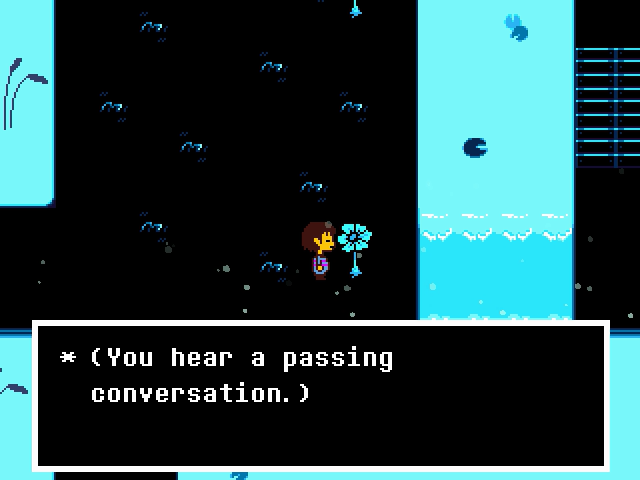 ...hmm, just one, but...

It's kind of stupid.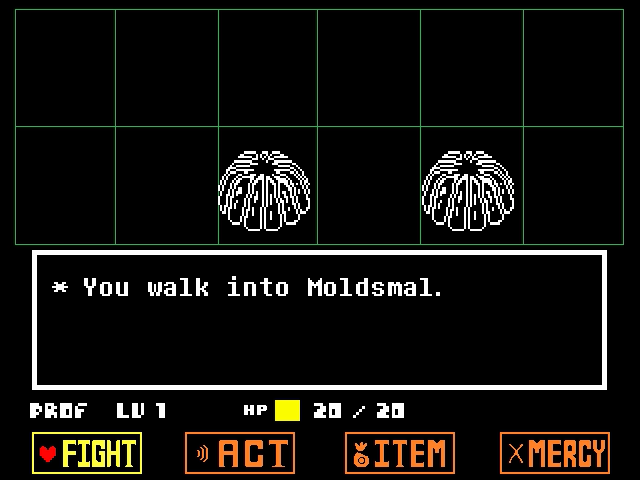 Strangely, I can run into Moldsmals here. As before, I can immediately end the fight by Sparing them.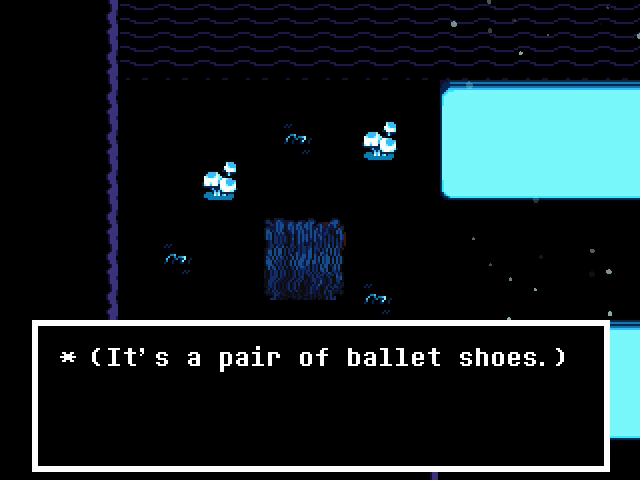 I find a new weapon in some tall grass.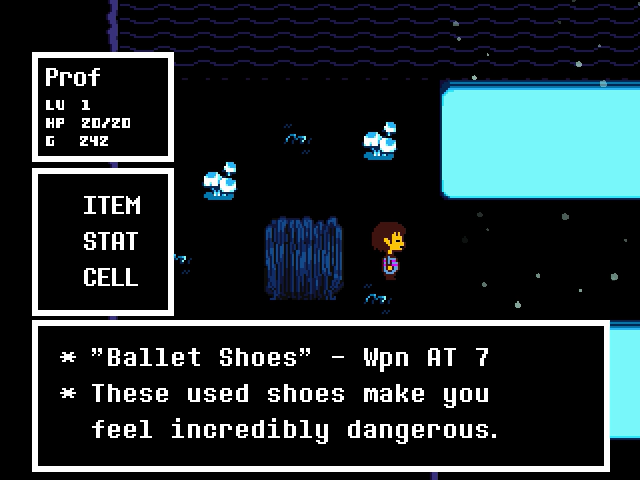 I equip a new weapon to match my tutu.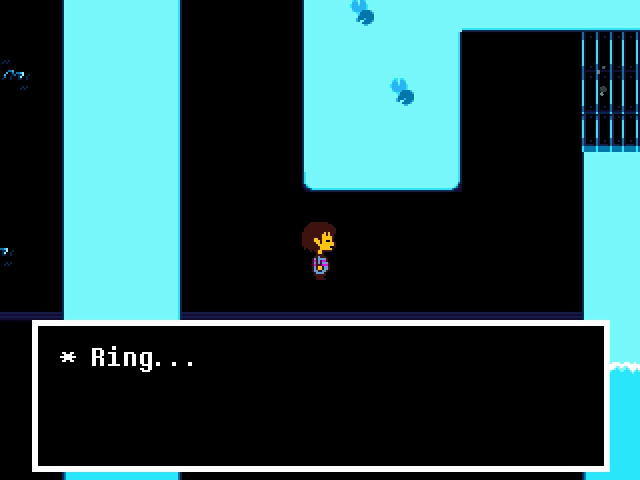 HELLO! THIS IS PAPYRUS!!!

REMEMBER WHEN I ASKED YOU ABOUT CLOTHES?

WELL, THE FRIEND WHO WANTED TO KNOW...

HER OPINION OF YOU IS VERY...

MURDERY.

WELL, WORRY NOT DEAR HUMAN!

PAPYRUS WOULD NEVER BETRAY YOU.

I AM NOT A CRUEL PERSON.

I STRIVE TO BE COMFORTING AND PLEASANT.

PAPYRUS! HE SMELLS LIKE THE MOON.

SO, BECAUSE OF MY INHERENT GOODNESS...

I TOLD HER YOU WERE NOT WEARING A BANDANNA!

EVEN THOUGH YOU TOLD ME YOU WERE!

INSTEAD, I MADE SOMETHING UP!

I TOLD HER YOU WERE WEARING...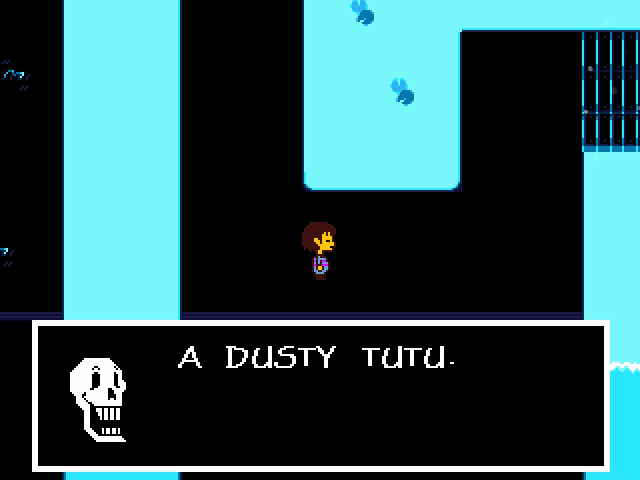 IT PAINED ME TO TELL SUCH A BOLDFACED LIE.

I KNOW YOU WOULD NEVER EVER WEAR A DUSTY TUTU.

BUT YOUR SAFETY IS MORE IMPORTANT THAN FASHION.

DANG!

I JUST WANT TO BE FRIENDS WITH EVERYONE...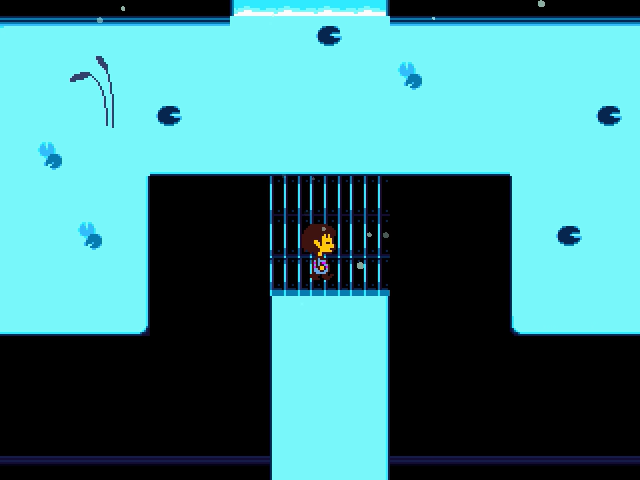 It's actually impossible for Papyrus to get that right, no matter what I say or do.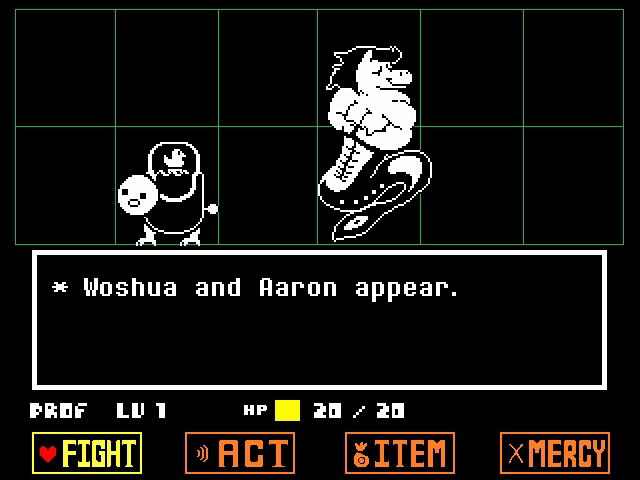 Tag team battle!
To quickly eliminate one, I ask Woshua to
Clean
.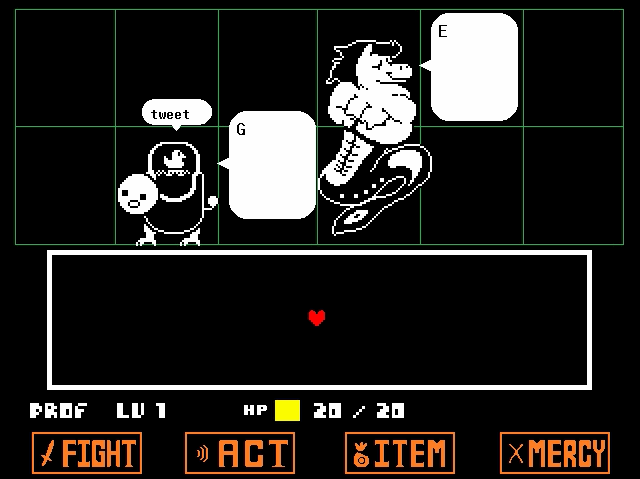 The two attacks combined are... actually pretty tame.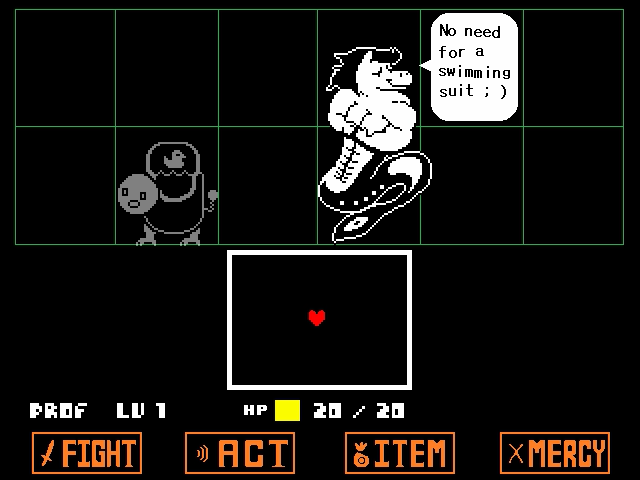 With Woshua pacified, it's back to the usual flex-off.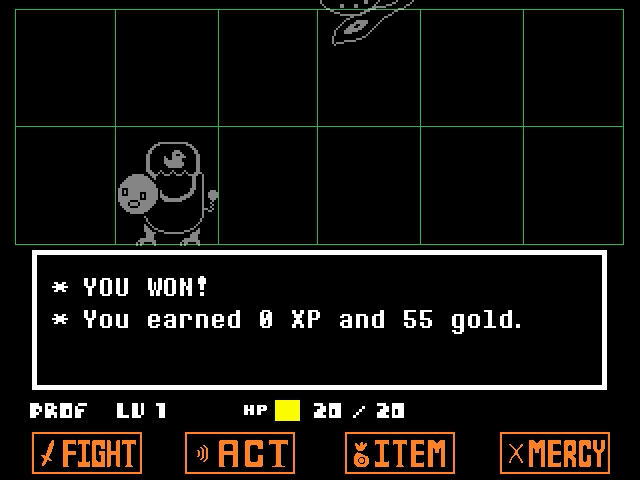 It would be cool if making Aaron sweat everywhere would somehow defeat Woshua, but I tried it and it didn't work.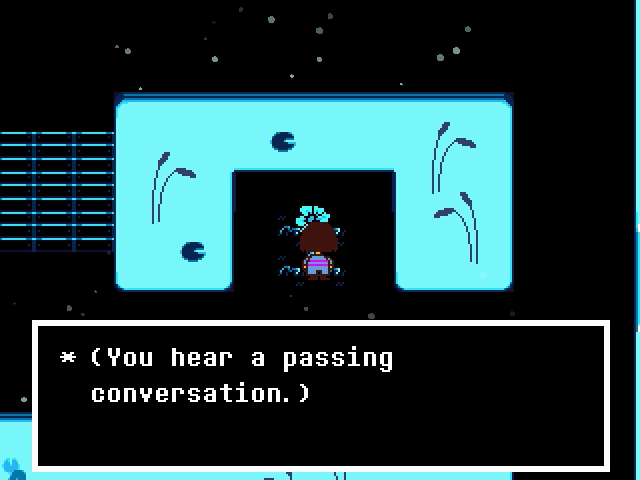 Don't say that! Come on, I promise I won't laugh.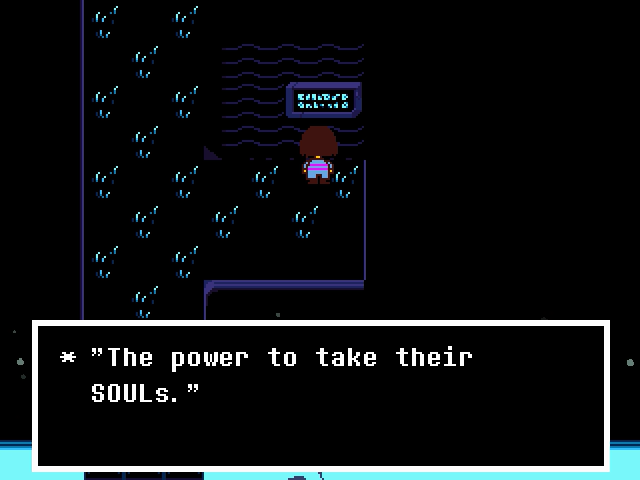 "This is the power that the humans feared."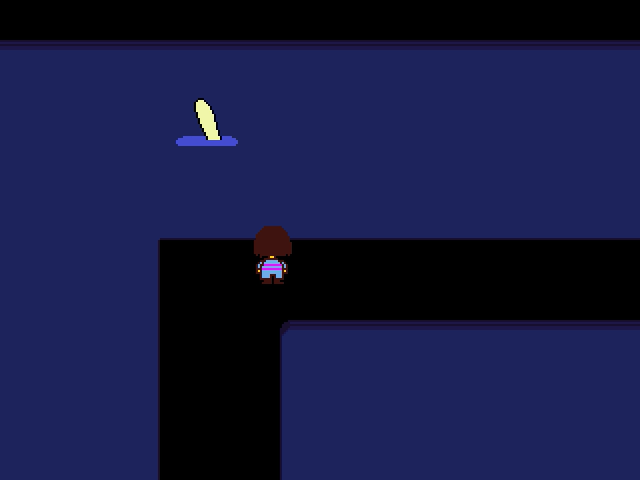 BGM: Silence
To the north, I see something strange rise from the water.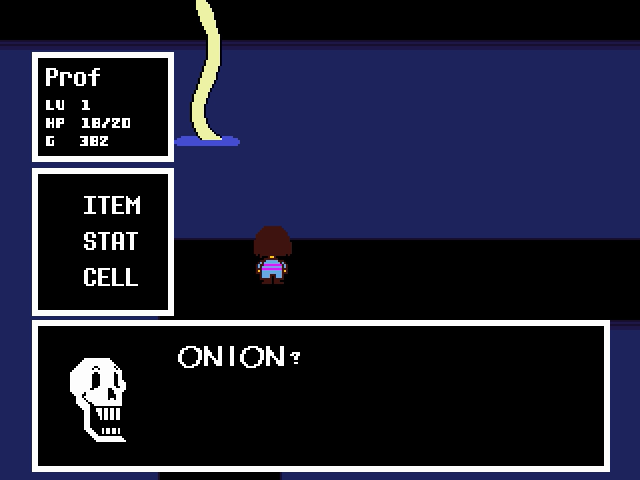 Papyrus is even less helpful than usual.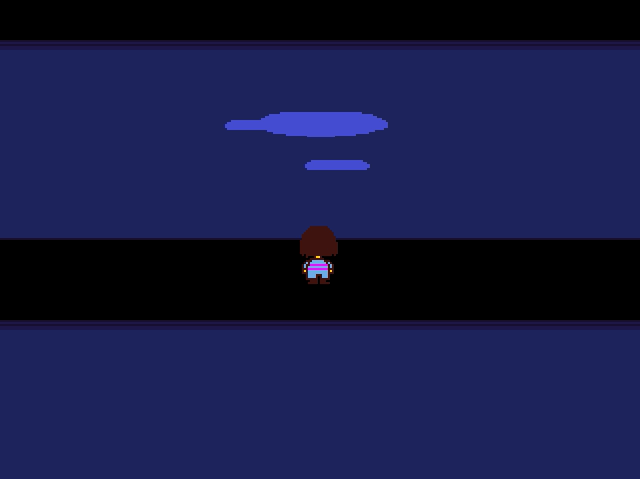 ...Onion?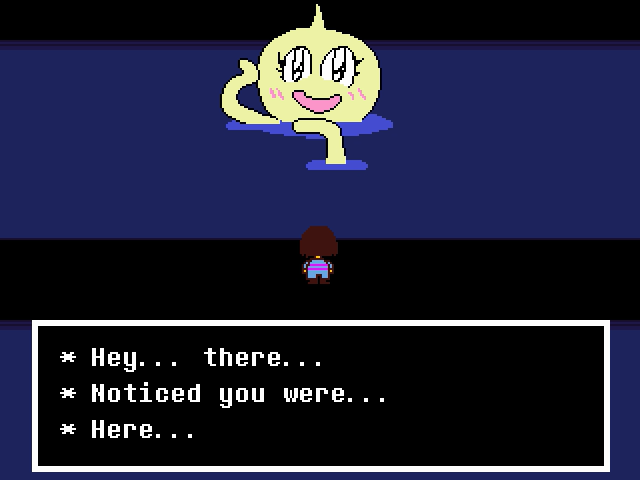 I'm Onionsan! Onionsan, y'hear!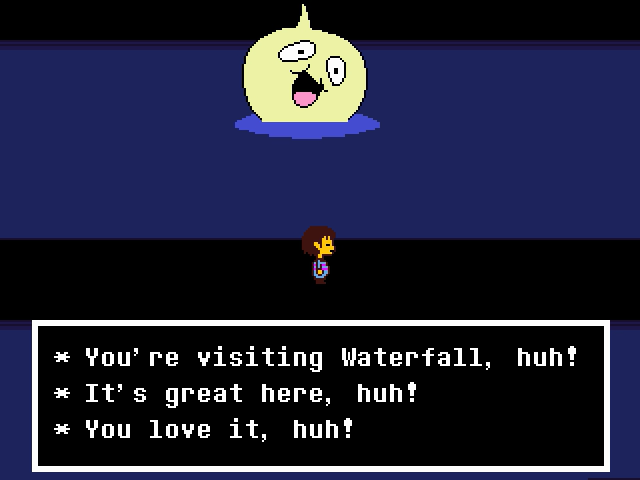 Onionsan follows me as I walk.

Yeah! Me too! It's my Big Favorite.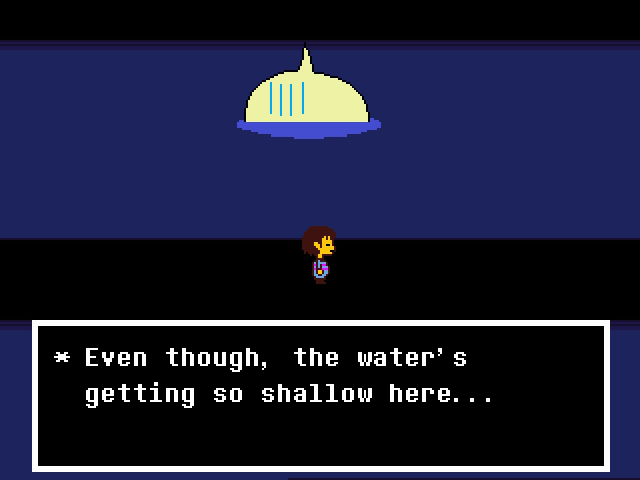 I, have to sit down all the time, but...
He-hey! That's OK! It beats moving to the city!
And living in a crowded aquarium!

Like all my friends did!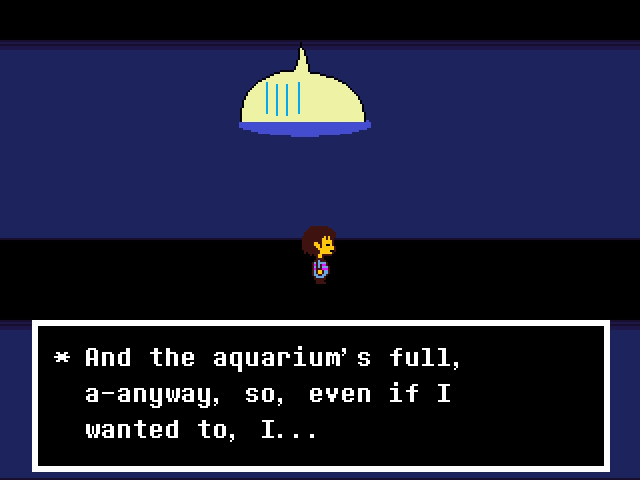 That's okay, though, y-hear! Undyne's gonna fix everything, y'hear!
I'm gonna get out of here and live in the ocean! Y'hear!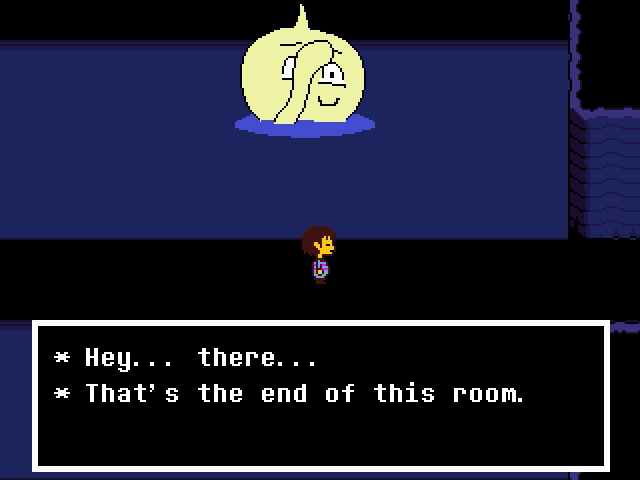 I'll see you around! Have a good time!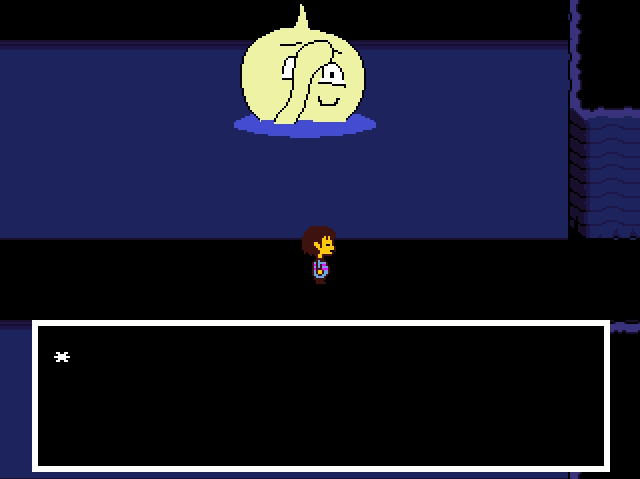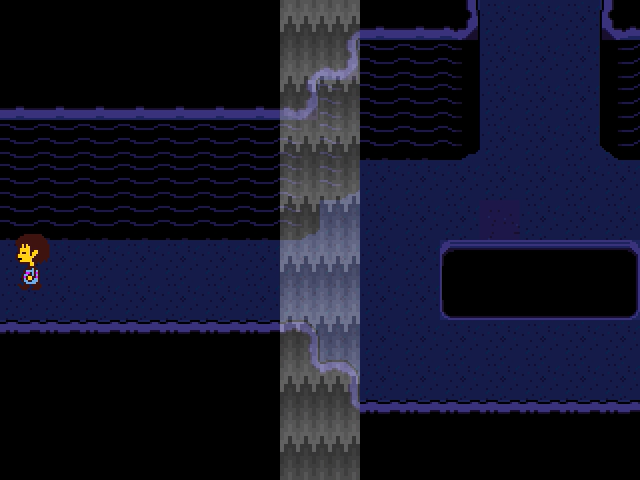 I leave, then immediately about-face to walk through again. Onionsan is too... Onionsan to let that be all I see of him.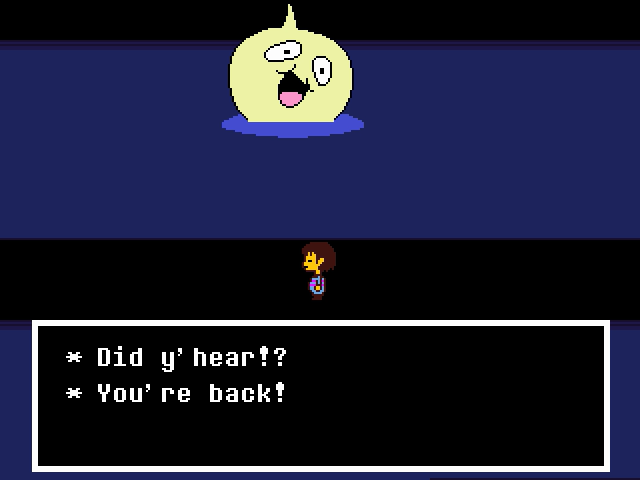 I'll tell you a big secret.
I'm starting a band, y'hear?
It's called the Red Hot Chibi Peppers.

All I've thought of is the name.

And I don't, play... Instruments, or sing.
Well! Do you think we'll be popular!!!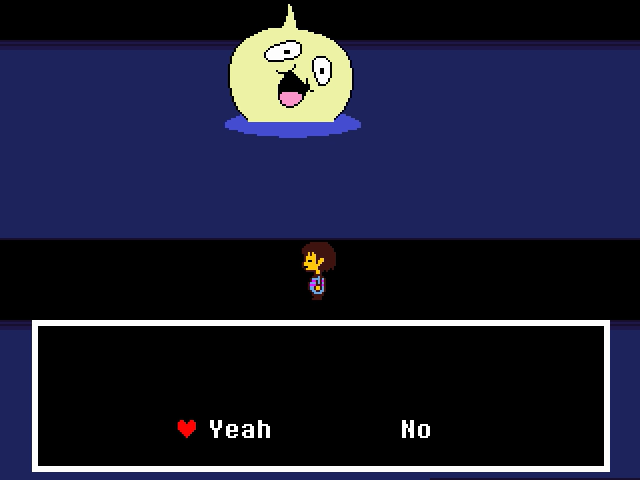 Yeah, me too...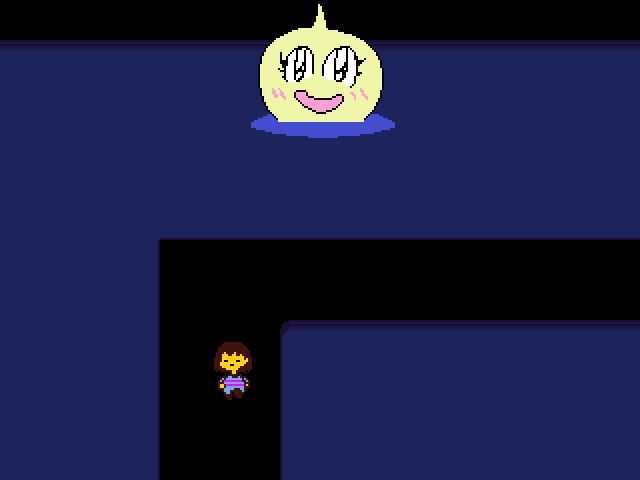 I'm back at the start of the room, so I'll about-face through it one more time.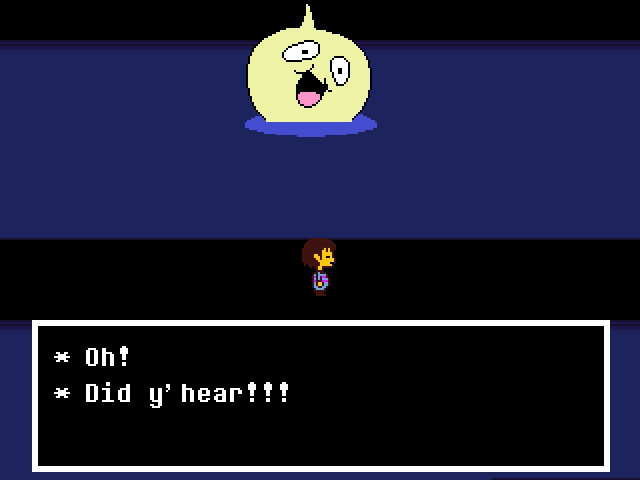 ...
I got nothing else... To talk about...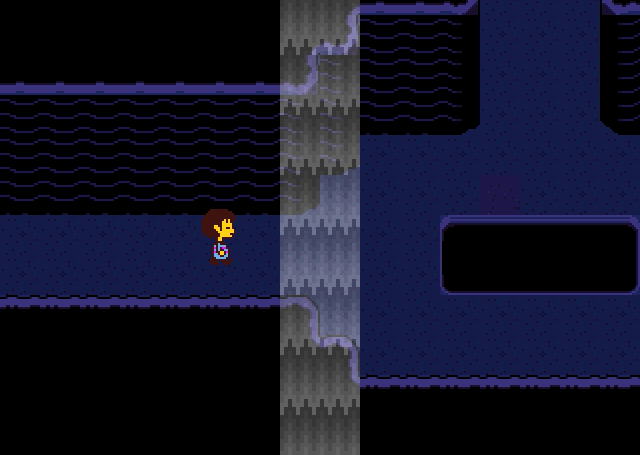 So, new area.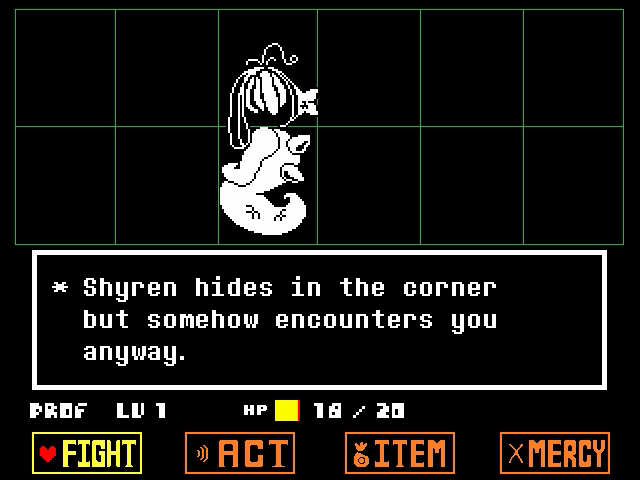 So, new enemy.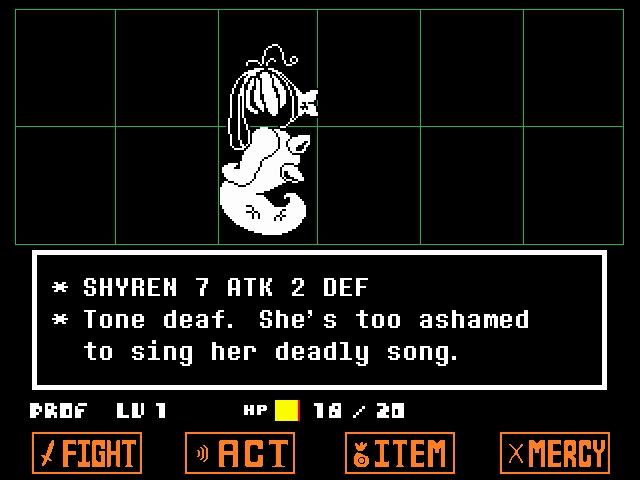 Brace for attack!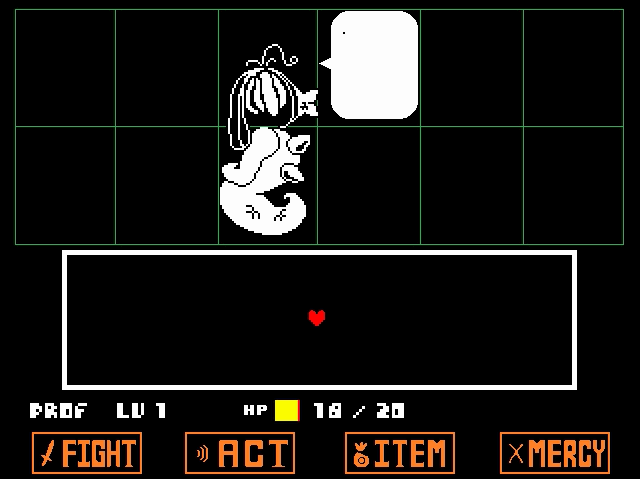 Shyren. Listen.
I think you can do better.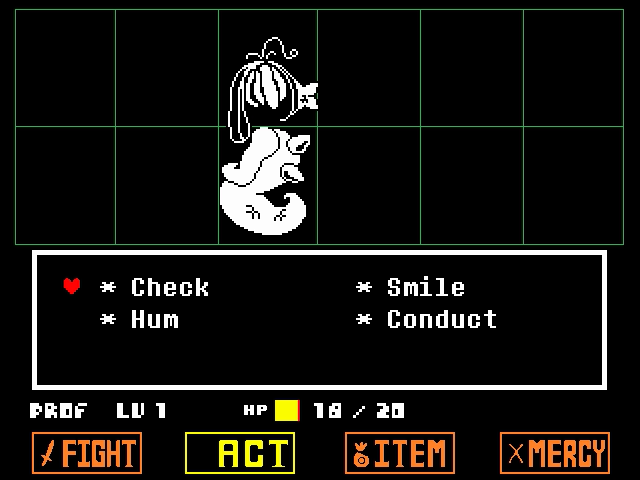 She just needs a little encouragement. I will
Conduct!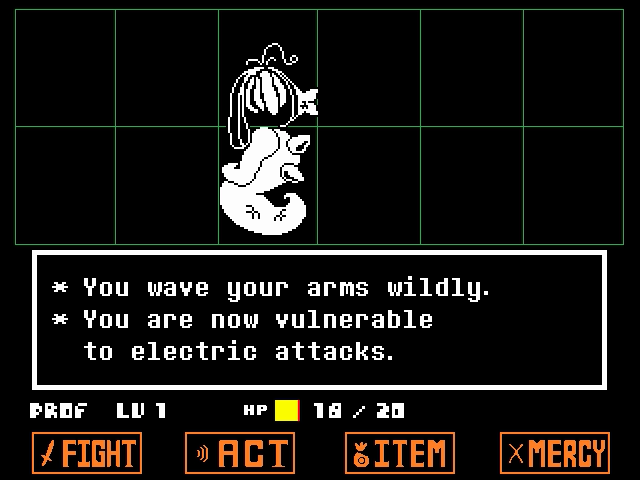 Ah.
Okay, I'll
Smile
instead.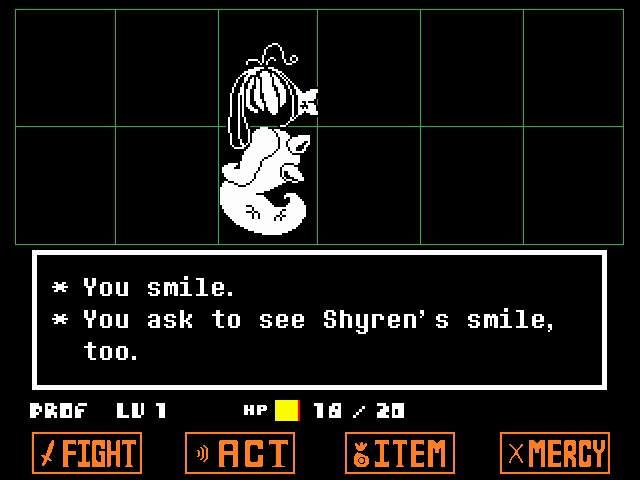 Shyren gets quieter. In the corner, Aaron nods his head approvingly.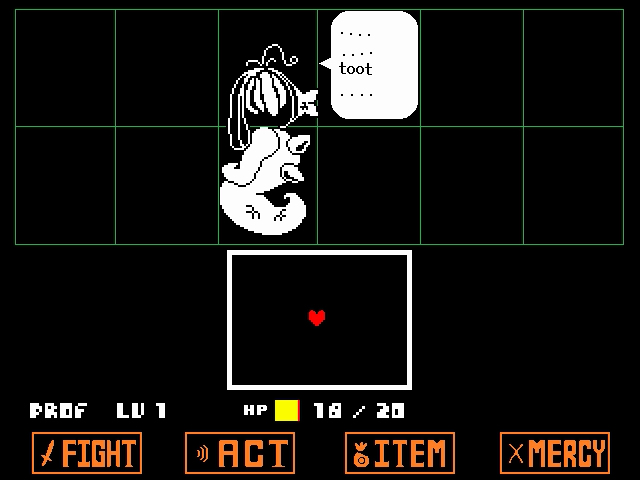 Shyren continues her totally ineffectual attack. Last option, I
Hum
.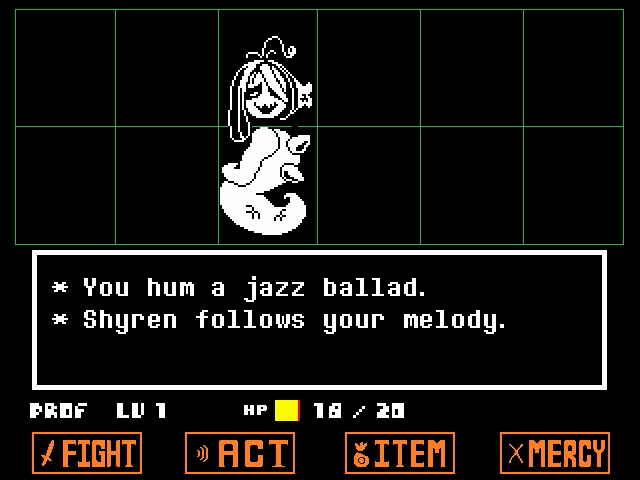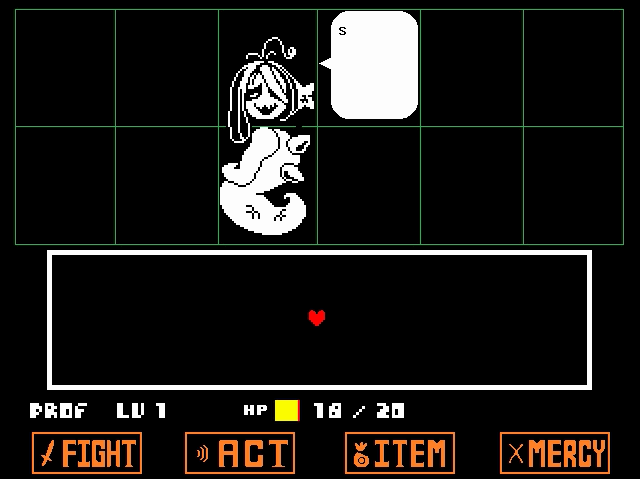 That's better!
Having regained her singing voice, Shyren leaves me alone.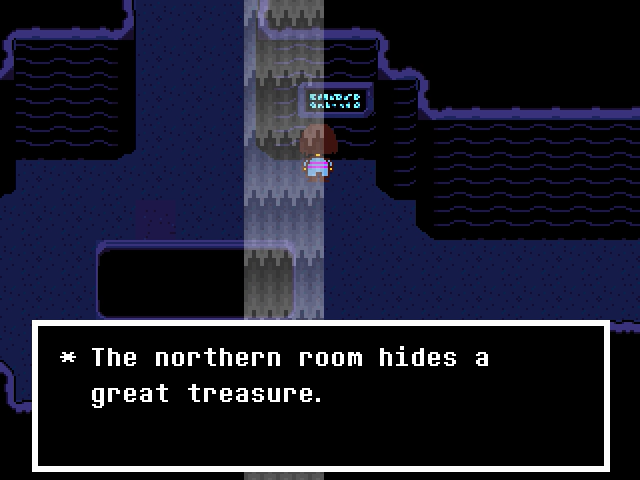 North it is!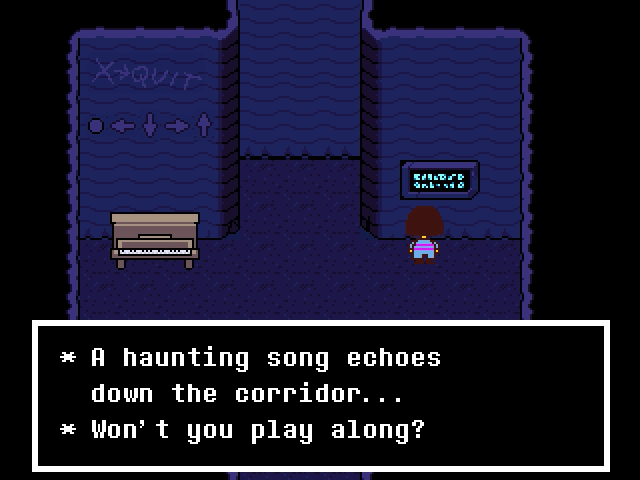 Only the first 8 are fine.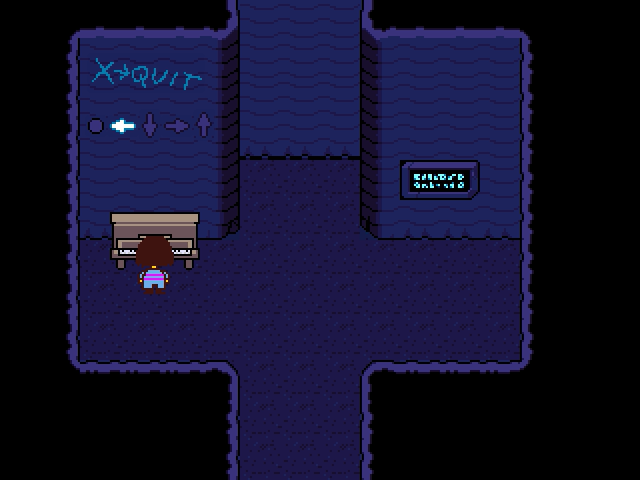 I can use Z and the direction buttons to play the piano! Only five different notes, though.
Anyway, the main problem is that there's no music echoing down the corridor, so I have no idea what to play.
For now, I head back south.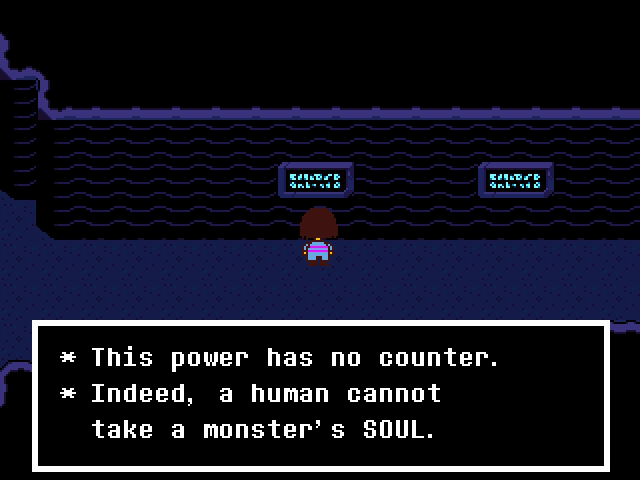 When a monster dies, its SOUL disappears.
And an incredible power would be needed to take the SOUL of a living monster.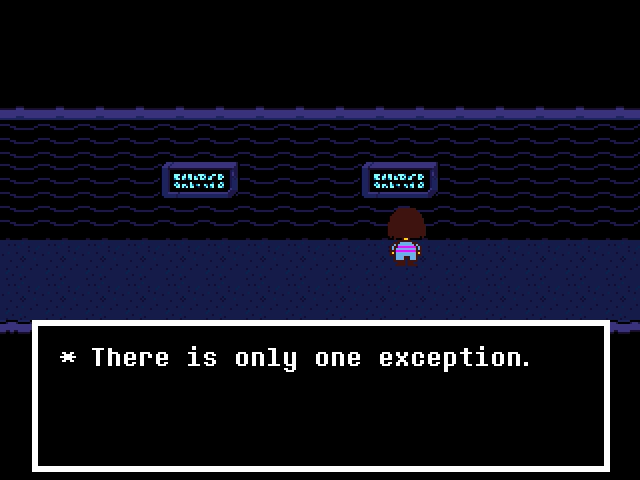 The SOUL of a special species of monster called a "Boss Monster."
A Boss Monster's SOUL is strong enough to persist after death...
If only for a few moments.
A human could absorb this SOUL. But this has never happened.
And now it never will.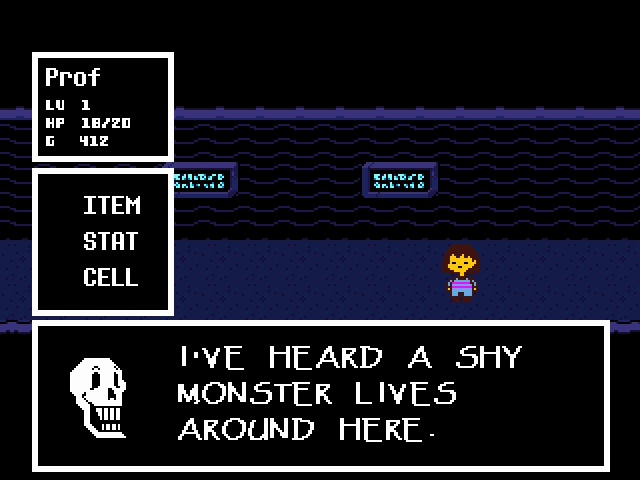 WELL, IF YOU WANT TO GET SOMEONE TO OPEN UP...

YOU SHOULD ENGAGE THEM IN COMBAT!!!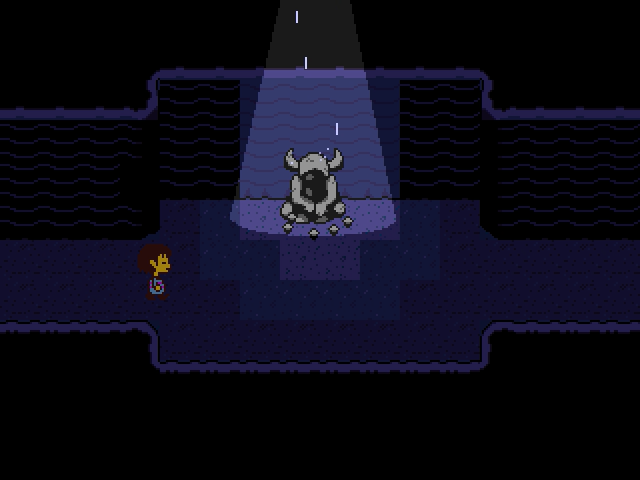 In the next room over, a strange object stands with rain trickling down on it.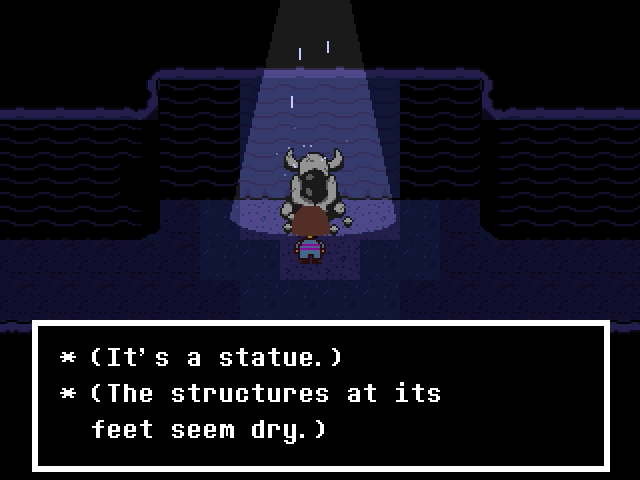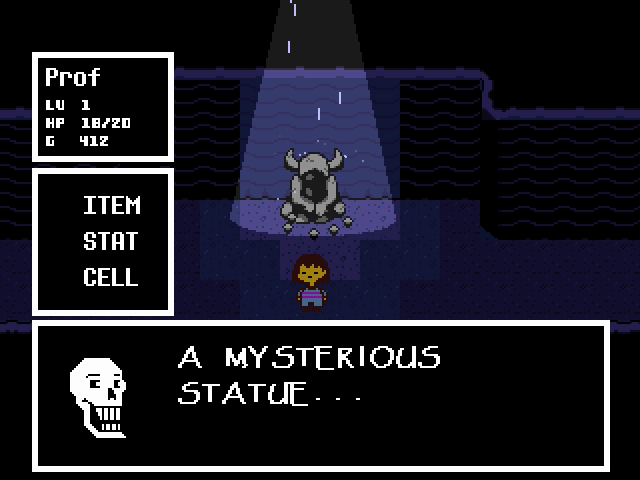 Mysterious, indeed. I continue on.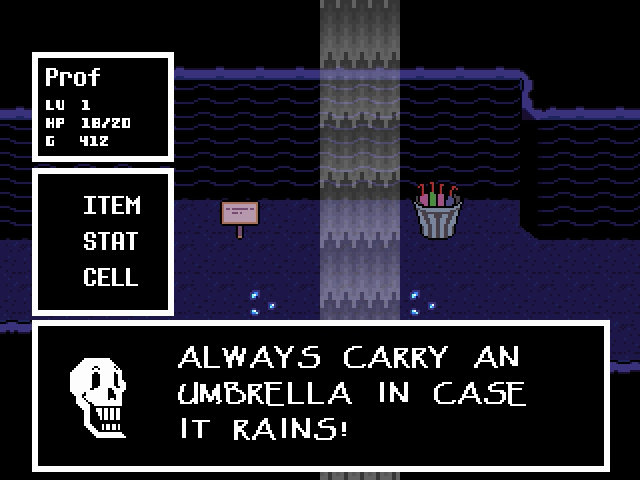 YOU KNOW. JUST KEEP A FEW IN YOUR POCKETS.

NOTHING LIKE A HOT BUCKET OF 'BRELLAS...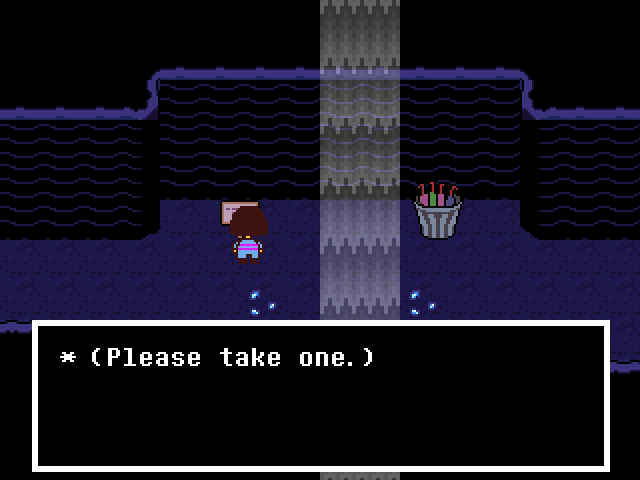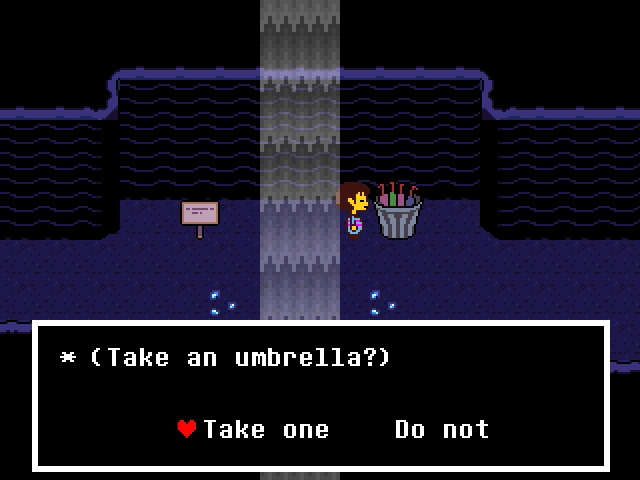 I take an umbrella... then head back!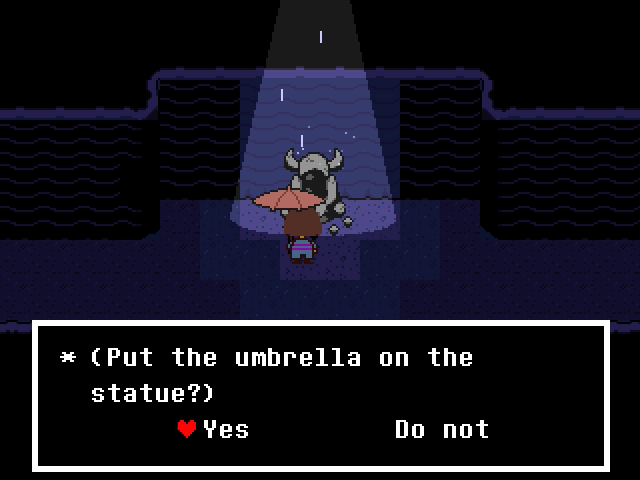 This statue is far too wet.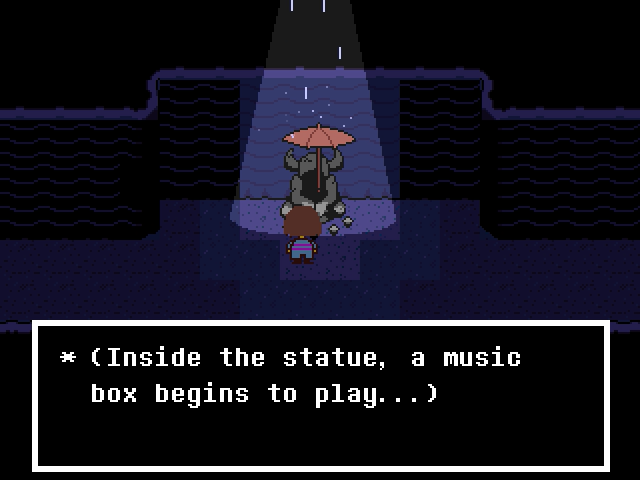 BGM: Memory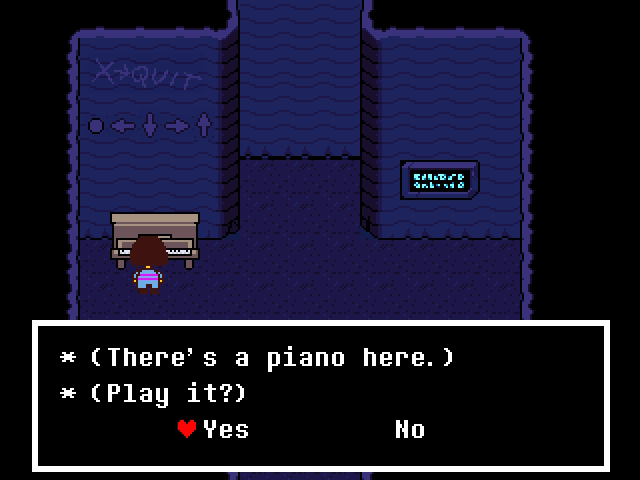 After listening to the music box for a bit, I go back and play it back on the piano.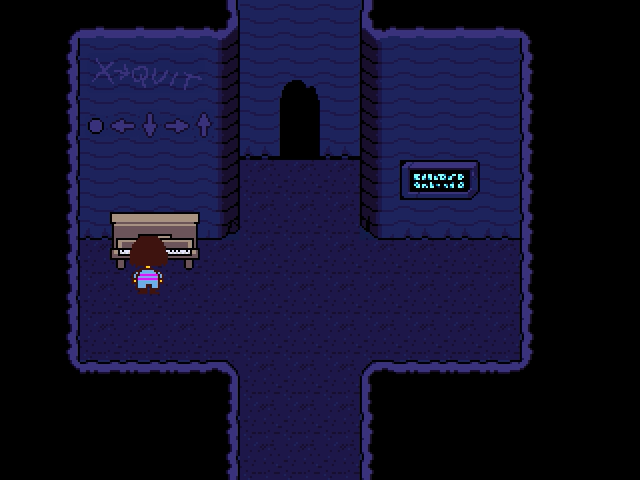 I head north, into the secret chamber.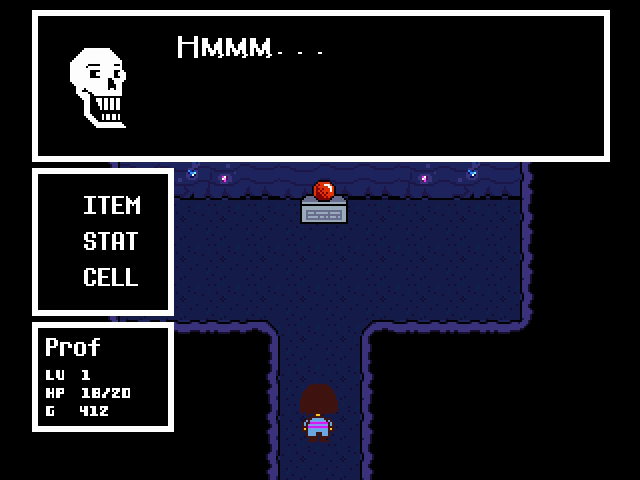 THERE'S SOMETHING ANNOYING ABOUT THIS ROOM.

BUT I CAN'T QUITE PLACE MY FINGER ON IT...

THEN PLACE MY WHOLE HAND ON IT...

THEN PET IT AFFECTIONATELY.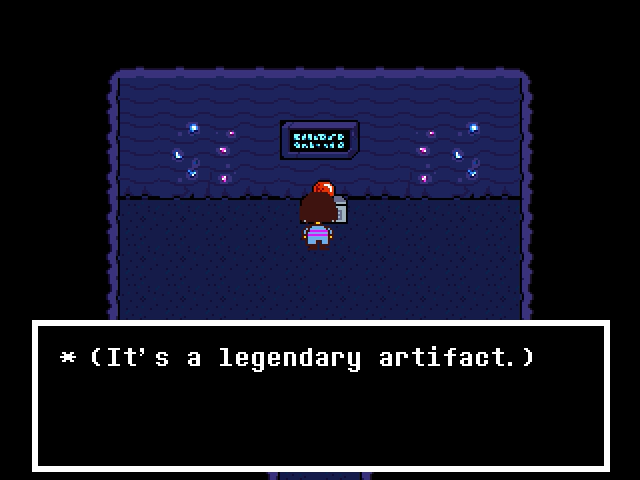 Hell yes. Gimme!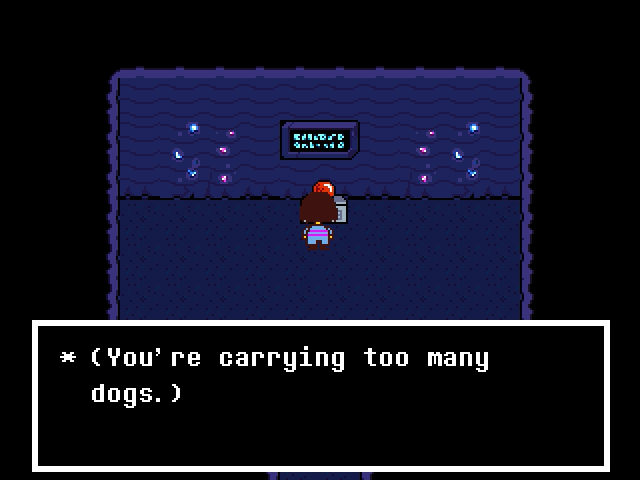 I... what?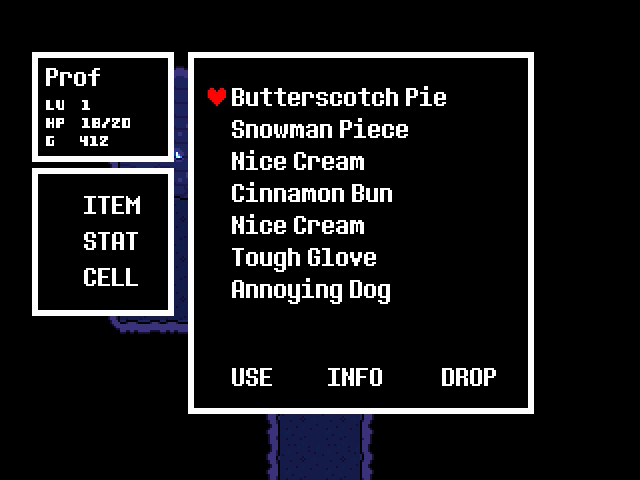 What???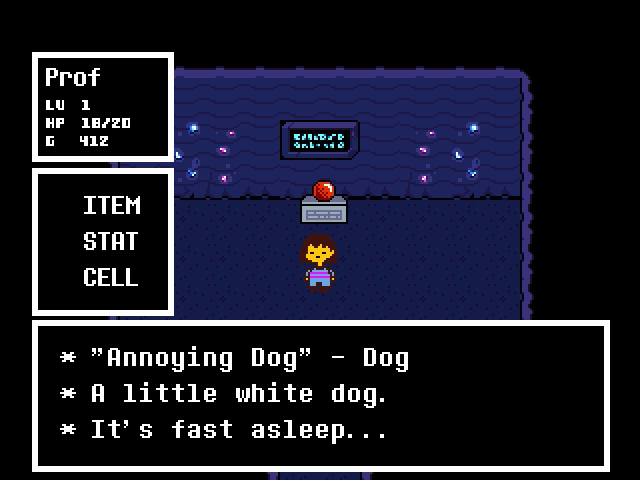 ??????????????????????????????????
I... put it down???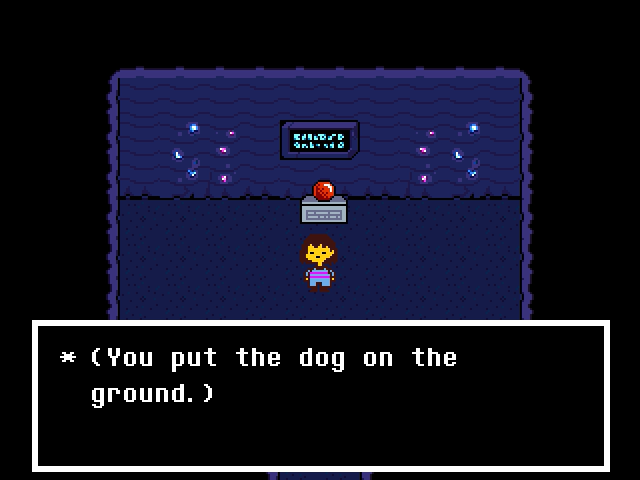 BGM: Dogsong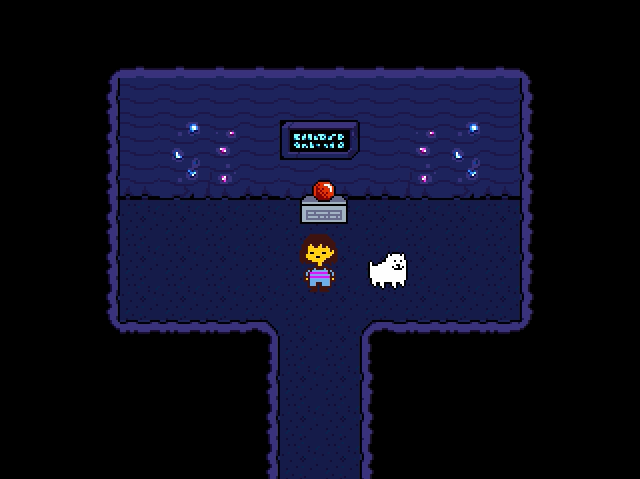 (The dog absorbs the artifact.)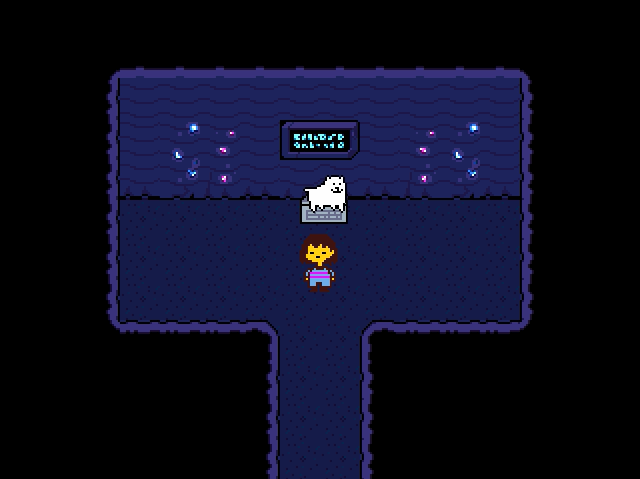 D

Dog encounters: 7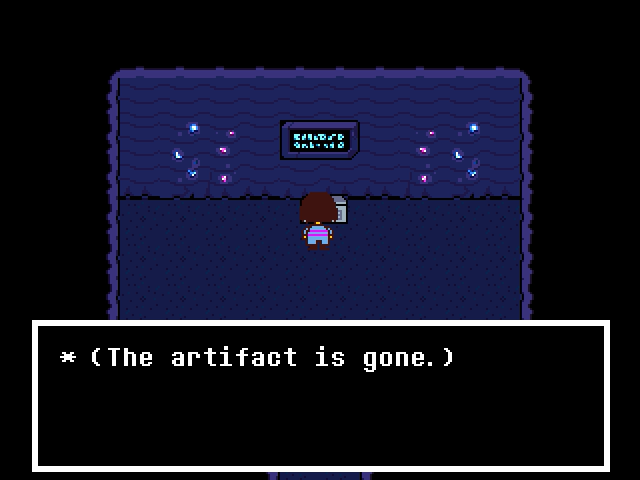 That's not all, either. Some
dog residue
has appeared in my inventory.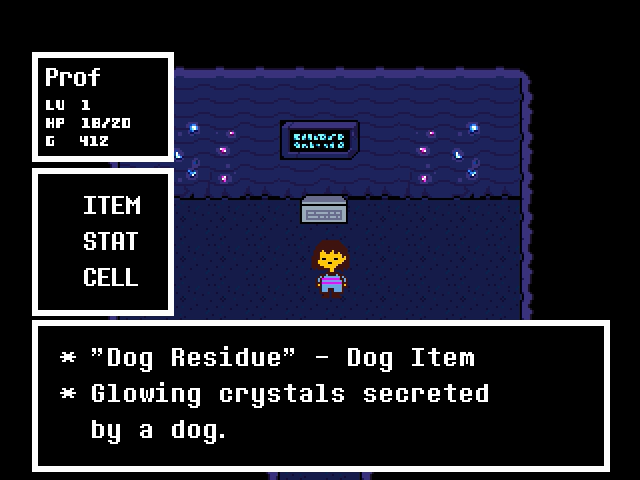 Against my bettter judgment, I use it.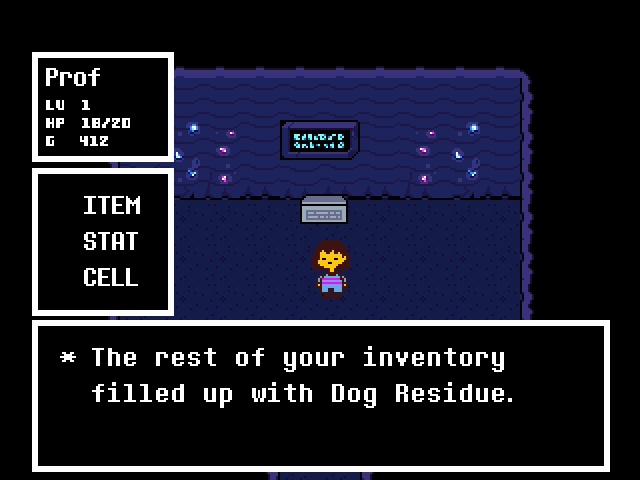 Now I have two dog residue.
I think I'm about done here.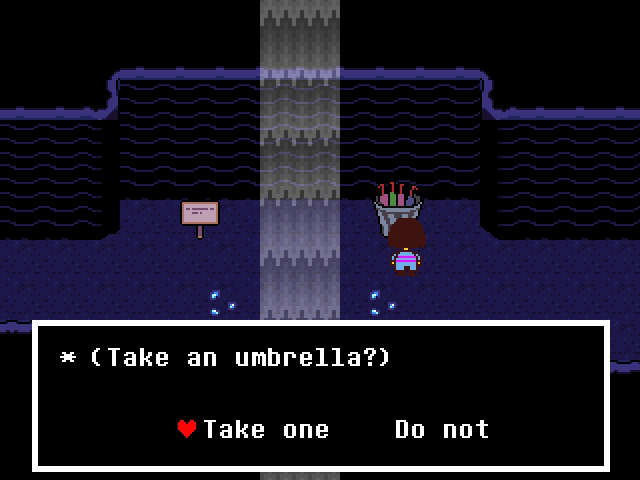 BGM: Silence
I continue east.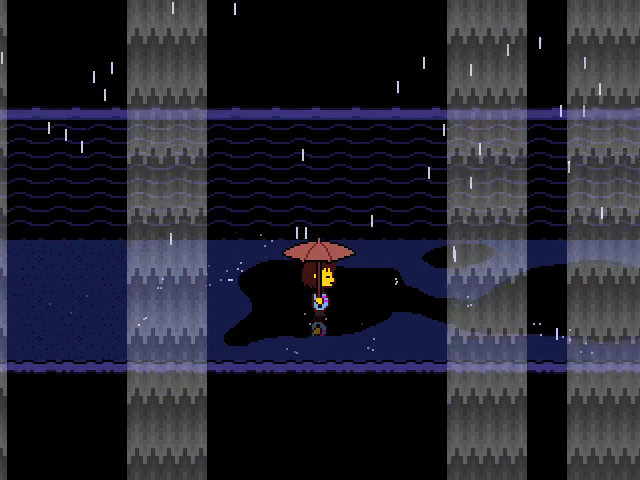 So that's why they had a bucket of umbrellas here.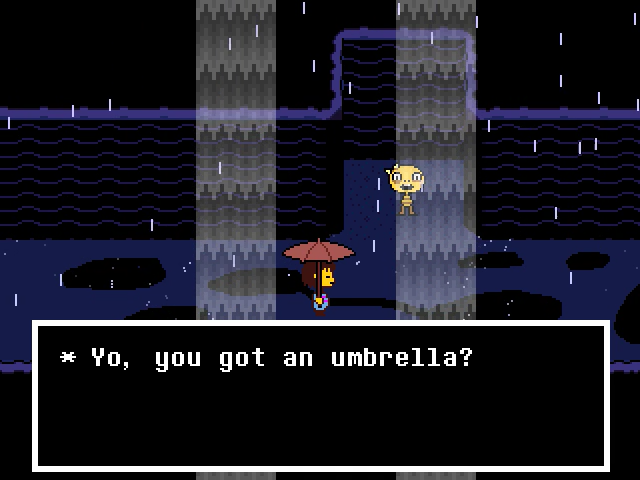 Awesome!

Let's go!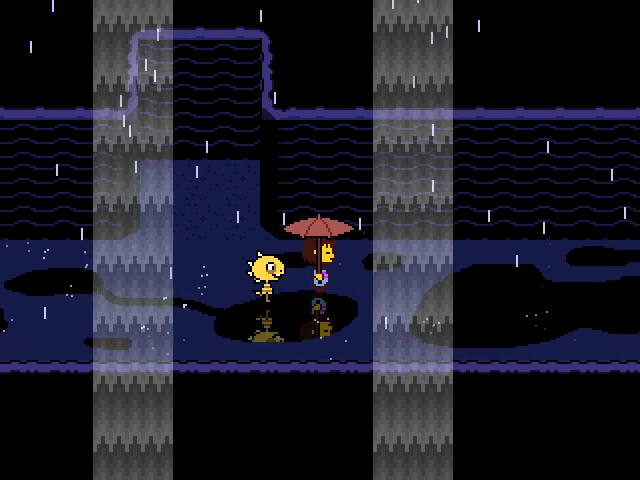 The kid starts to follow me.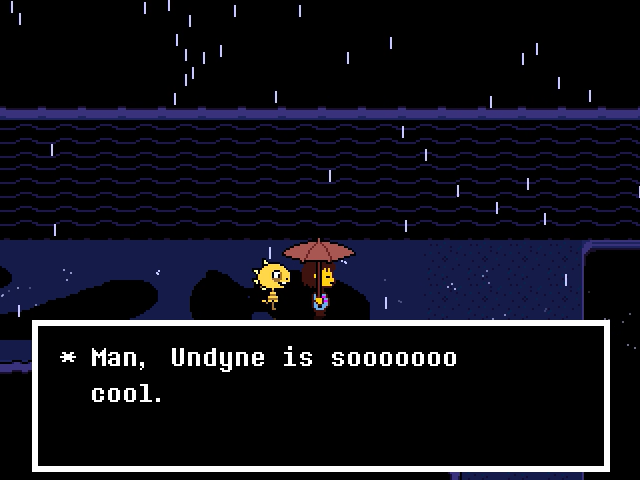 She beats up bad guys and NEVER loses.

If I was a human, I would wet the bed every night...

...knowing she was gonna beat me up! Ha ha.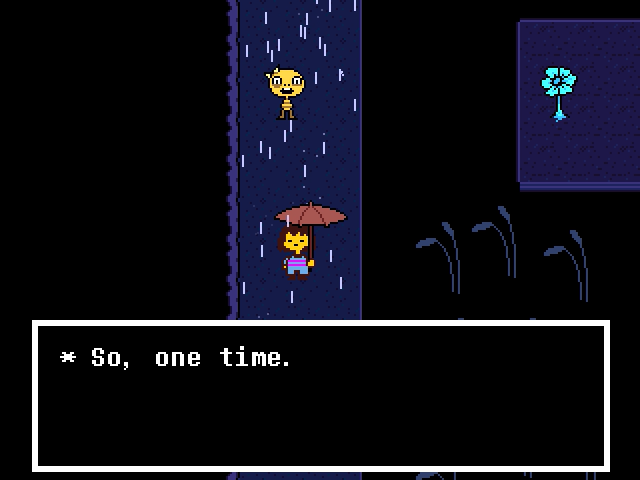 We had a school project where we had to take care of a flower.

The king - we had to call him "Mr. Dreemurr" - volunteered to donate his own flowers.

He ended up coming to school and teaching the class about responsibility and stuff.

That got me thinking...

YO! How COOL would it be if UNDYNE came to school!?

She could beat up ALL the teachers!!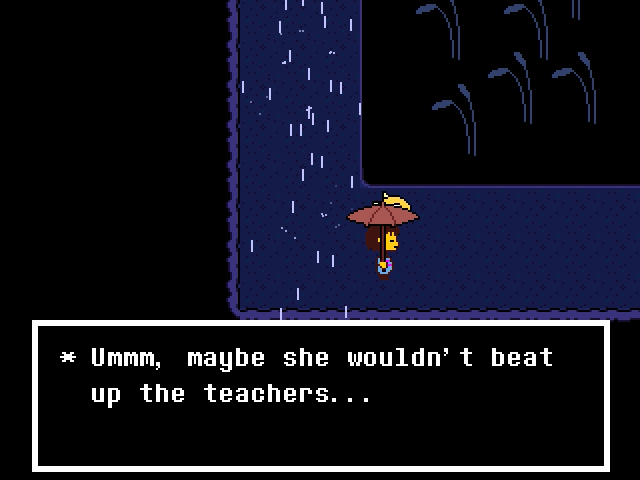 She's too cool to ever hurt an innocent person!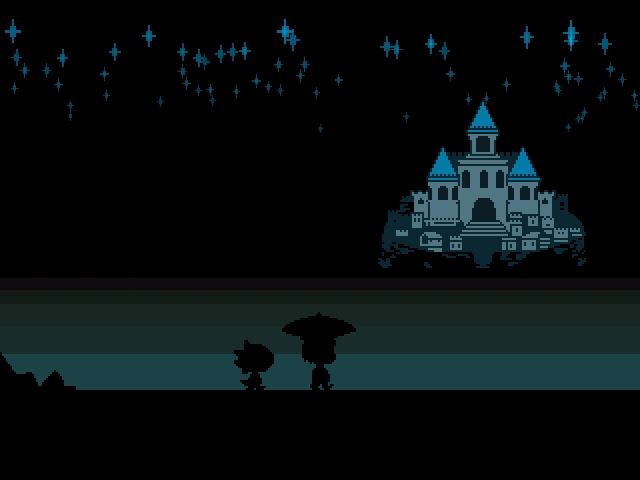 We walk in silence for a while.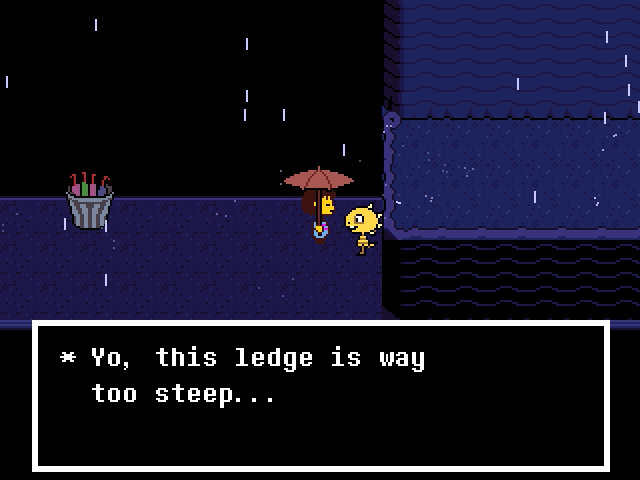 Hmm....

Yo, you wanna see Undyne, right...?

Put down your umbrella and climb on my shoulders.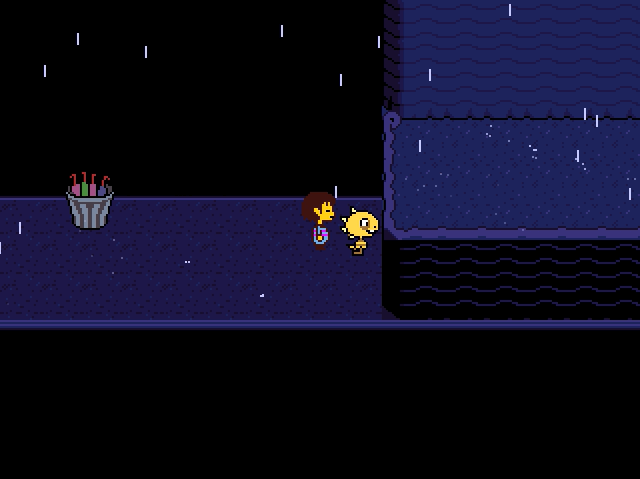 Yo, you go on ahead.

Don't worry about me. I always find a way to get through!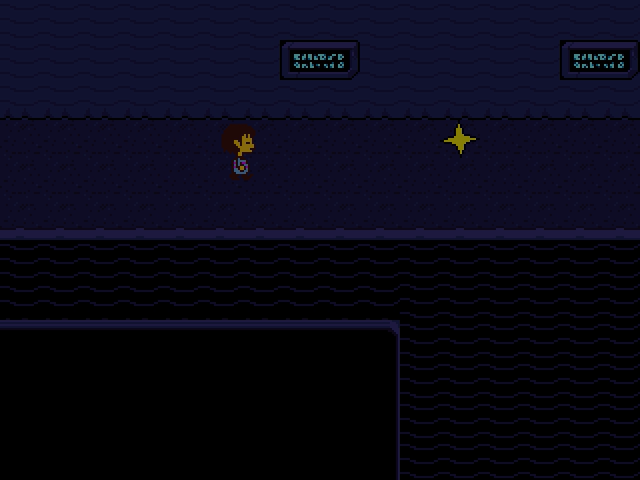 I continue on without the kid.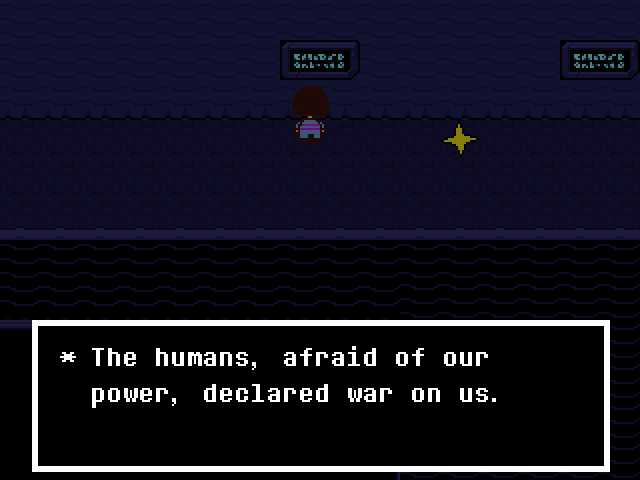 They attacked suddenly, and without mercy.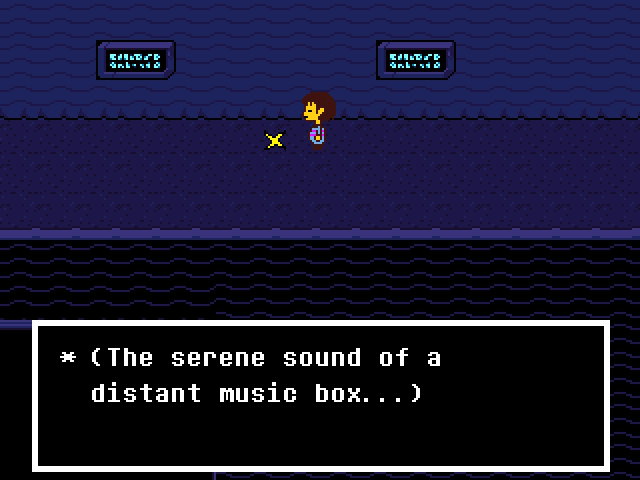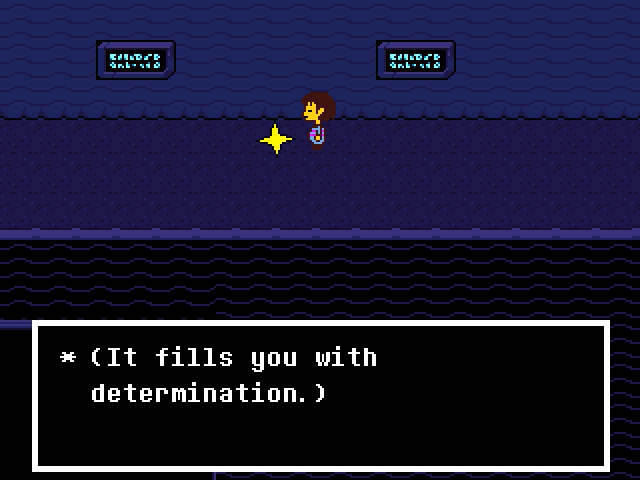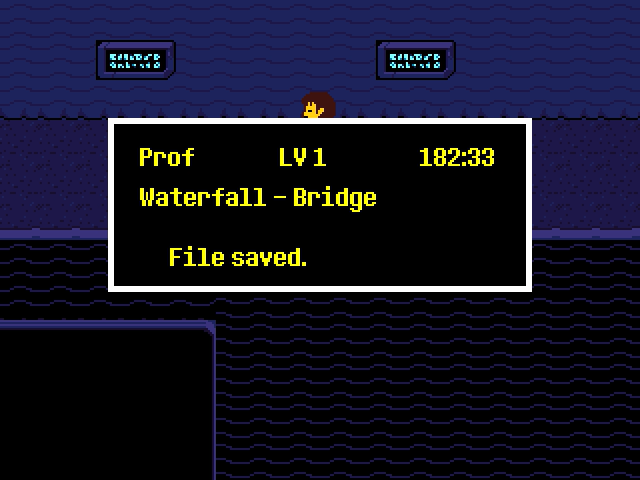 I save my game.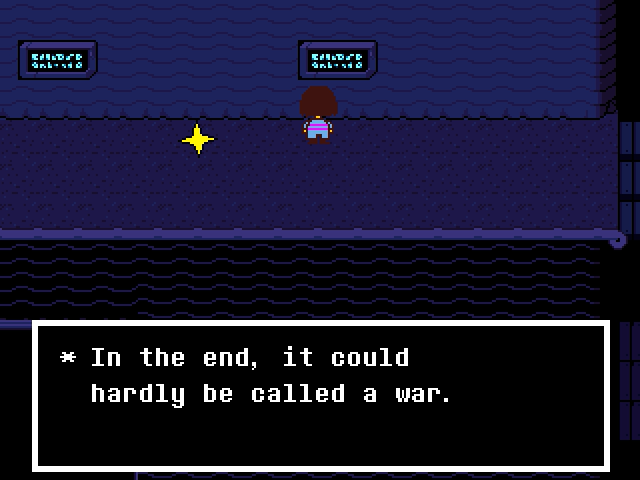 United, the humans were too powerful, and us monsters, too weak.
Not a single SOUL was taken, and countless monsters were turned to dust...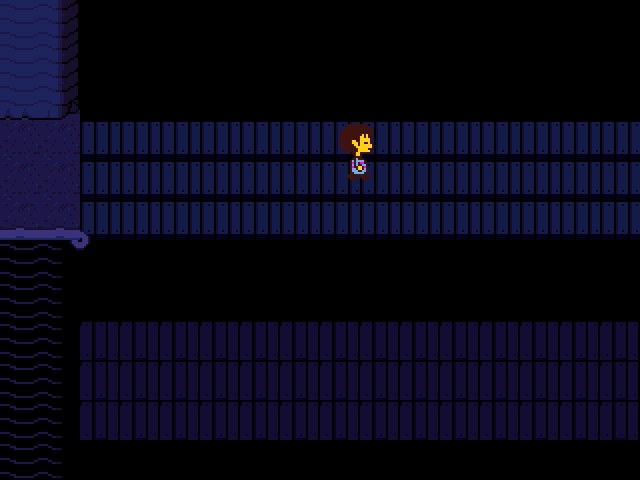 I continue onto the bridge.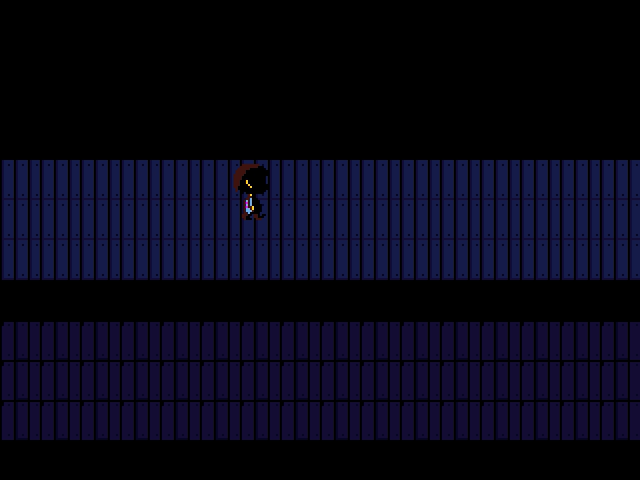 I have a bad feeling about this.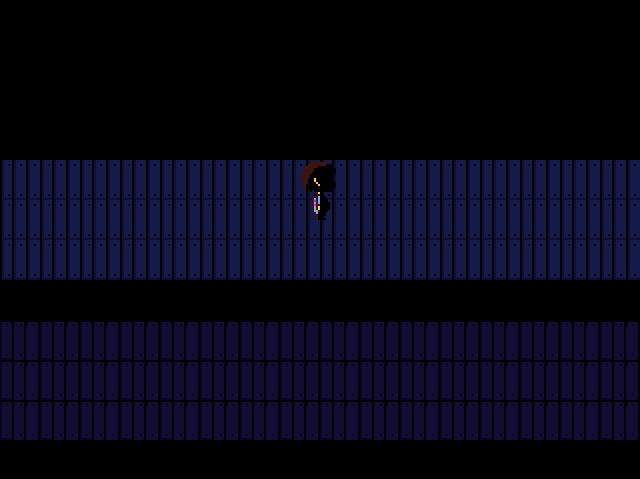 Huh?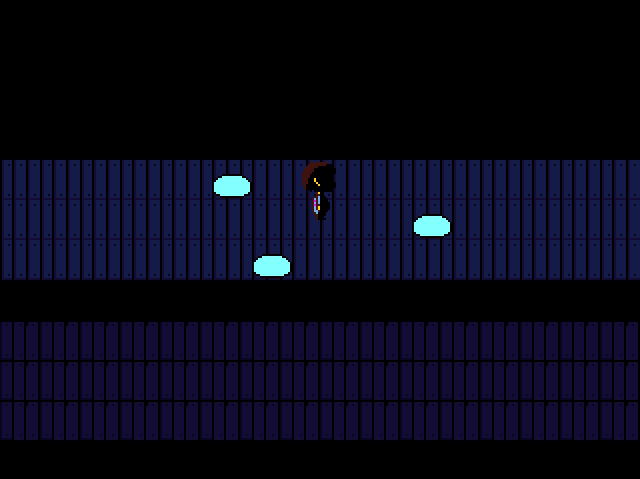 BGM: Run!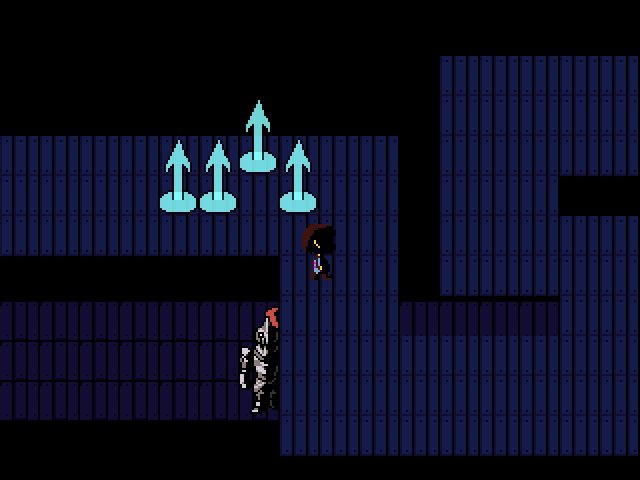 This is my second time fleeing in terror from Undyne!
Each blue spot telegraphs a spear shooting up from the ground.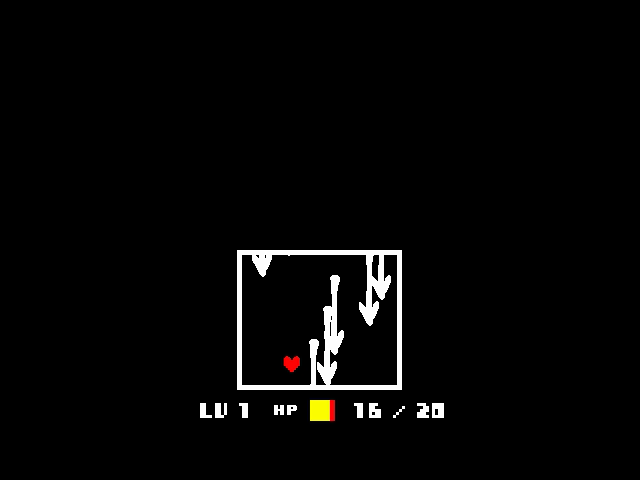 If one hits me, I have to do the same battle as with the last chase scene.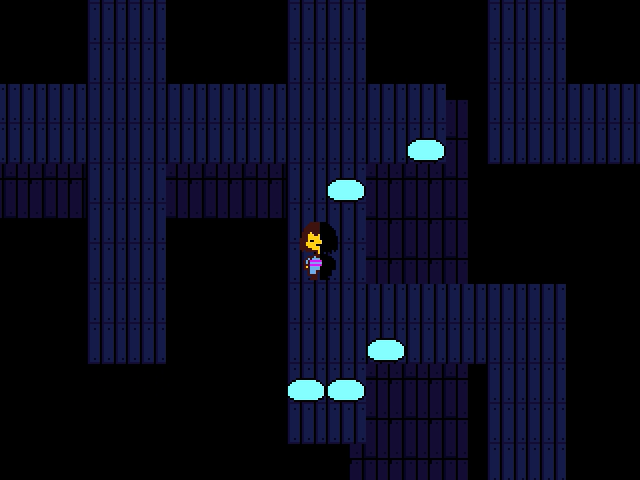 This bridge is huge, and needlessly convoluted.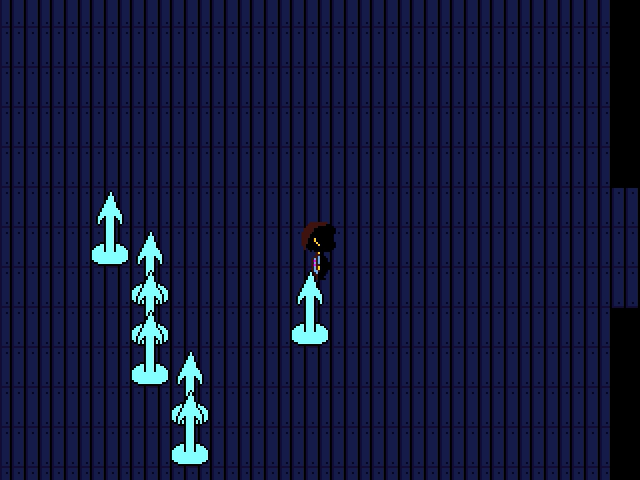 It opens into a huge area without obstacles, then narrows back down into a 3-tile passage.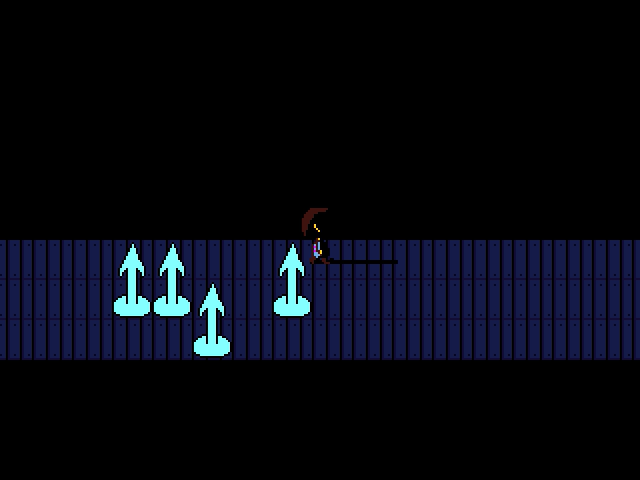 I run for as long as I can, but...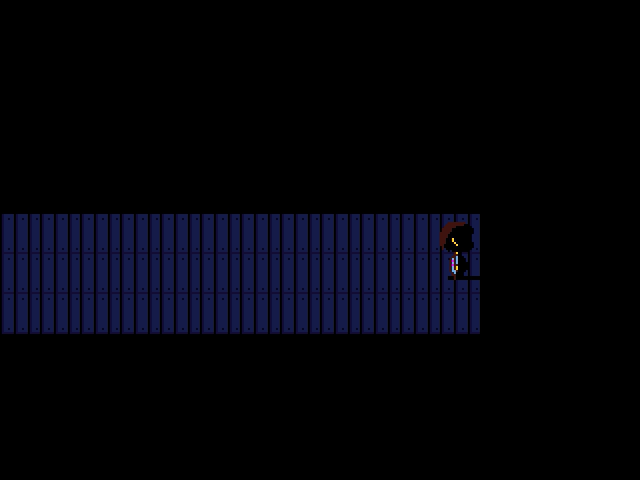 BGM: Silence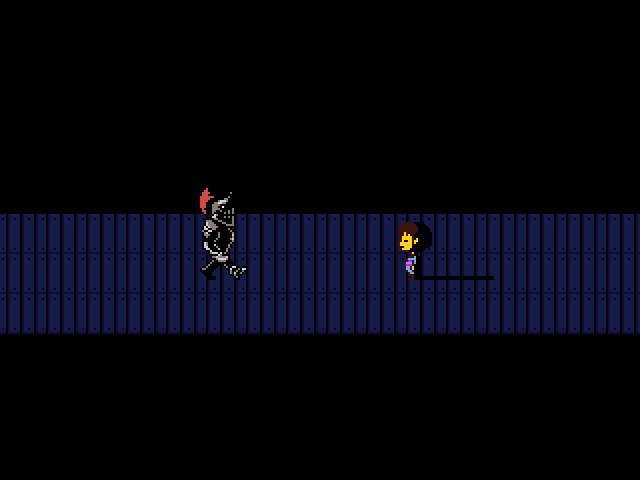 H... Hi there, Undyne.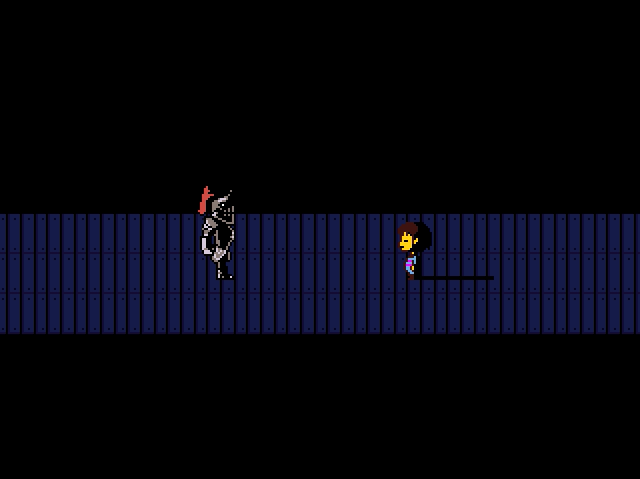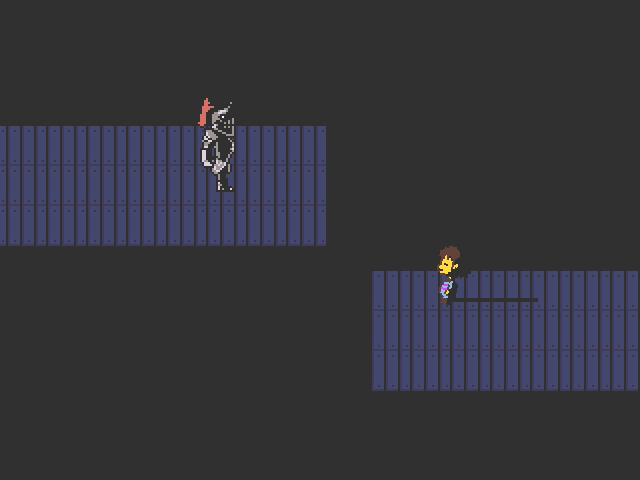 BGM: Memory