Part 39: Bring It In, Guys!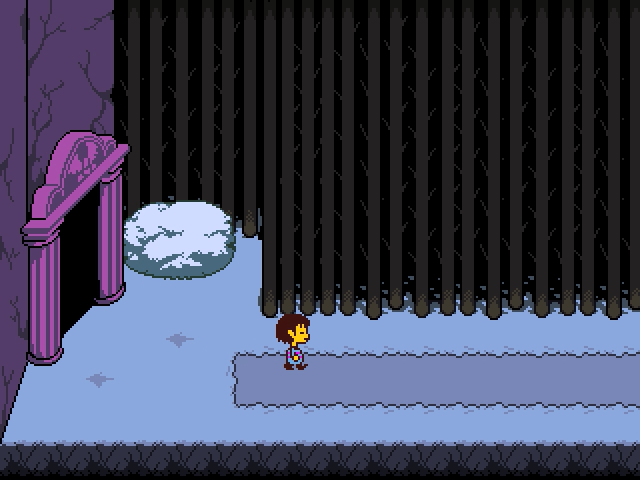 I leave the Ruins.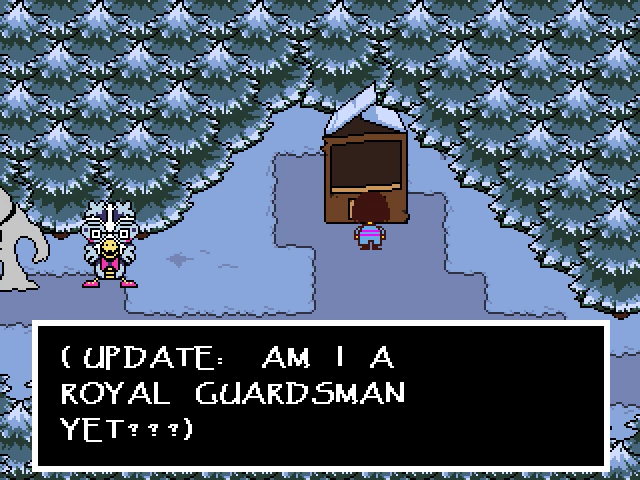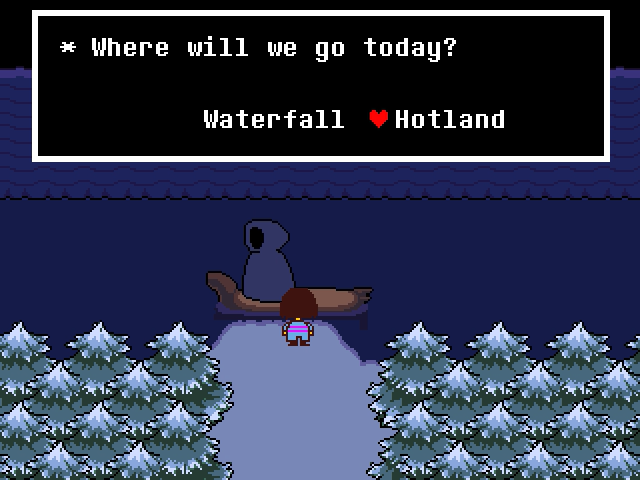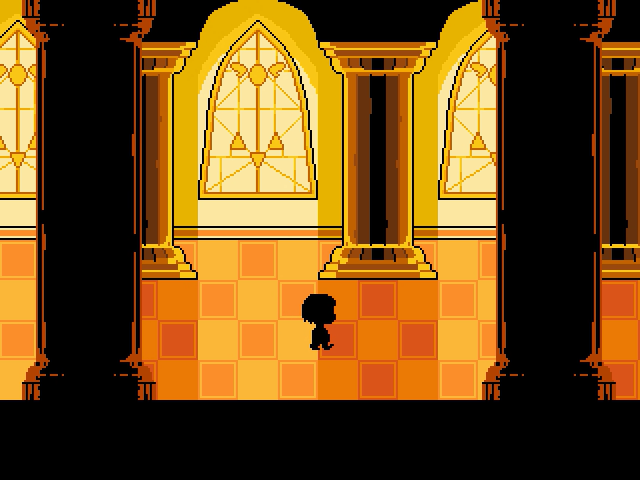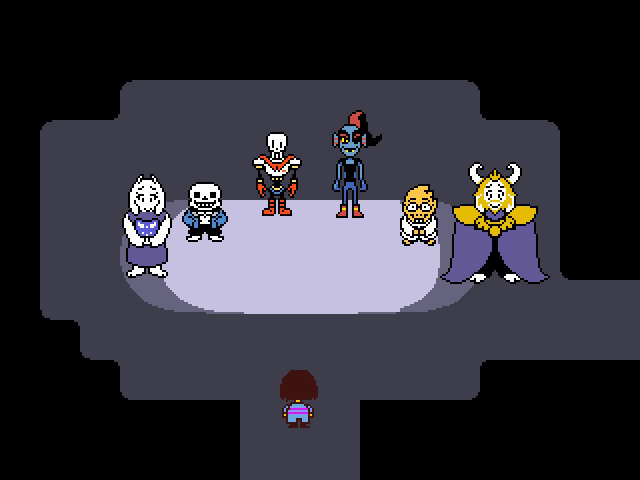 I think I'm ready.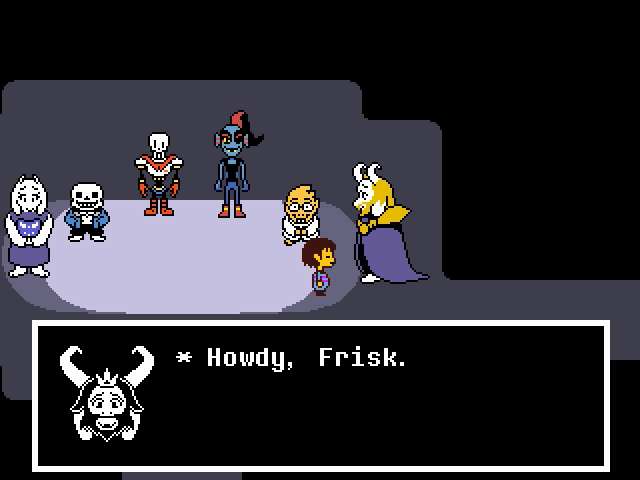 Sorry about almost trying to take your soul.

I feel very bad about it.

I hope we can still be pals.

Hey, don't worry about it, Asgore.

I think everybody's tried to kill Frisk at least once.

Oh... I see!

In that case, I'm not sorry, Frisk.

Asgore! That's not what I meant!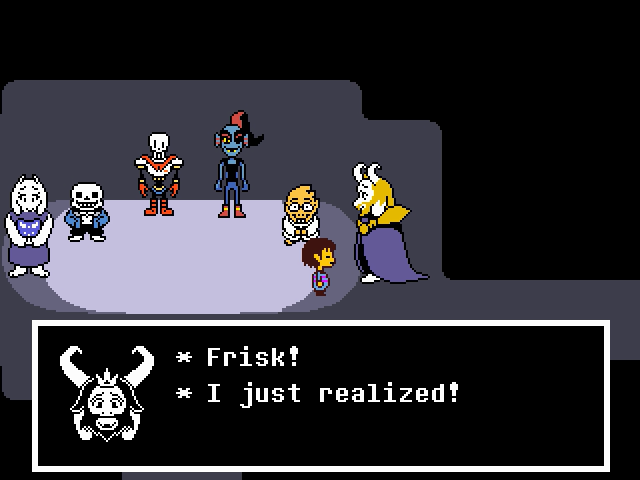 Now that we aren't fighting each other...

I can finally ask you...

"Would you like a cup of tea?"

...

Would you like a cup of tea?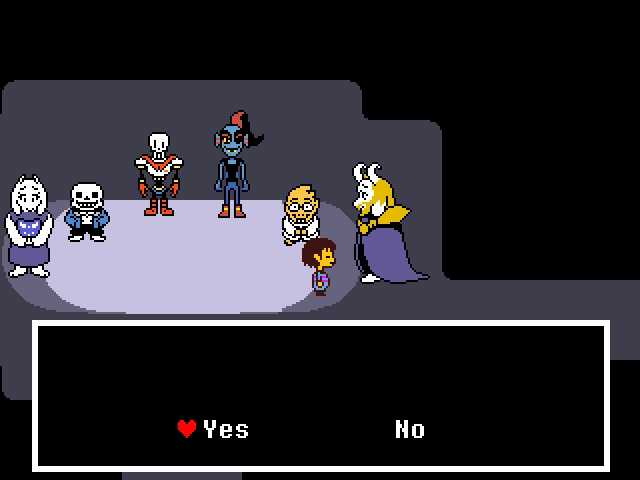 Oh! Well!

Actually, the cup I had is cold now.

So you shouldn't have it.

But, I am so happy you said yes.

As soon as I can, I will make some more for you.

Then we can be great pals.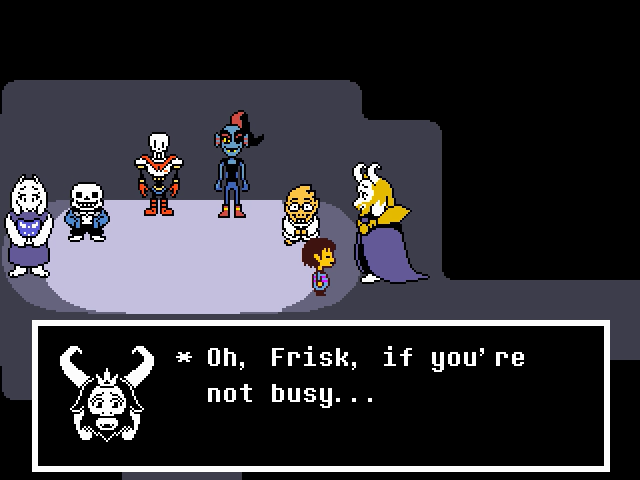 On nice days, you should walk around and have a good time.

That's important.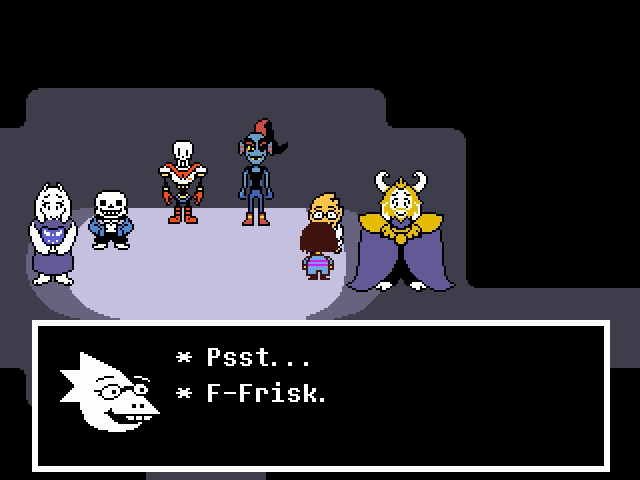 Um, you've gotta tell me.

D... do you think Asgore and Toriel are...?

Uh, ever gonna get back together?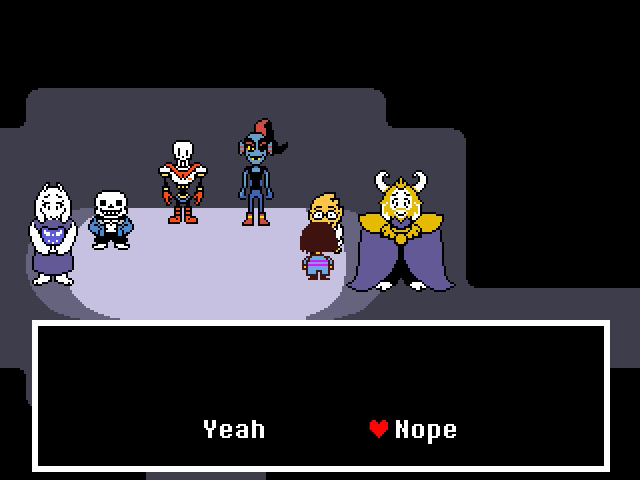 ...yeah, that's what I thought.

A woman can dream though, right?

And write fanfiction.

A LOT of fanfiction.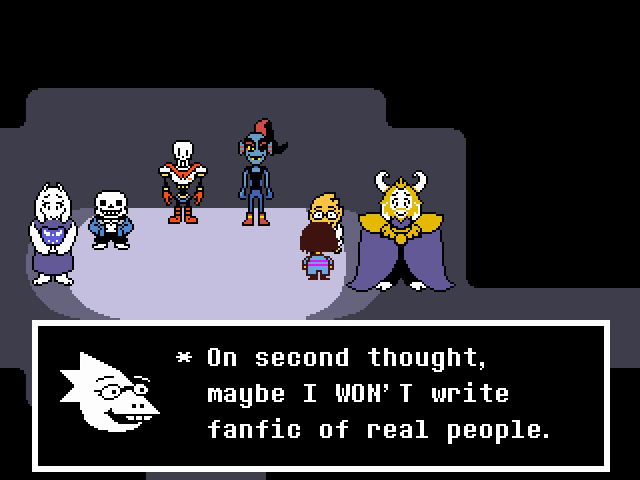 I mean, isn't real life already the greatest fanfiction of all?

...

Uh, don't tell anyone I said that.

Cause I'm gonna post it online!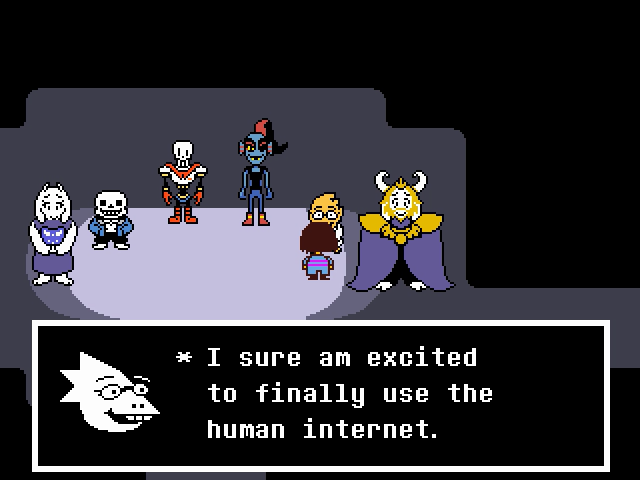 I bet they have all sorts of things Undyne and I can watch!

Oh man!!!

We're gonna be able to watch anime online!?

Of course, Undyne!

What do you think we've been fighting for all along?

yeah, what do you...

whoops.

Jinx! I knew you were gonna make that joke!

WAIT, ALPHYS, I DIDN'T KNOW YOU KNEW SANS.

Well... I...

doesn't everybody?

Who the hell is Sans?

...

Who the HECK is Sans?

TORIEL!?!?!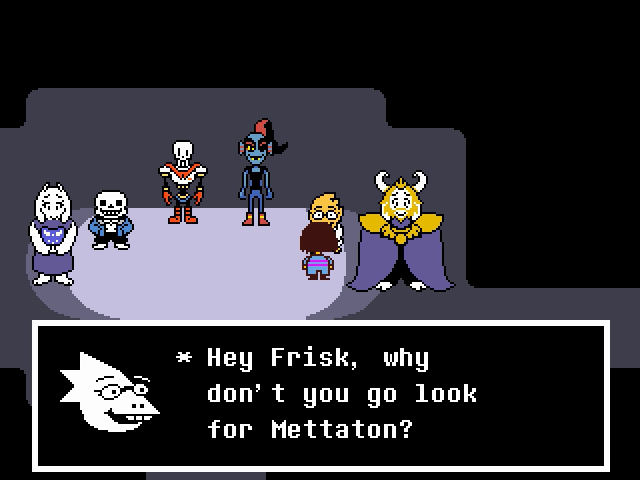 He was here for a while, too...

But he said he had to go somewhere.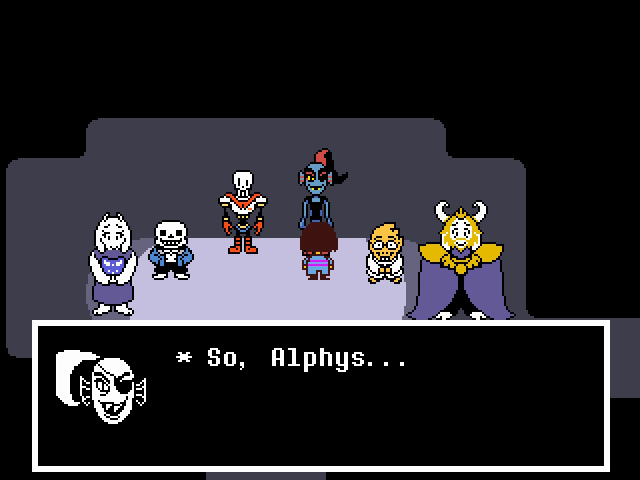 What do you want to do now that we're all free?

We have the whole world to explore now.

W-well, of course I'm going to go out and...

Um...

No, I should be honest!!

I'm gonna stay inside and watch anime like a total loser!

THAT'S THE SPIRIT!

EVERYONE!!! A CELEBRATION!!! TO BEING LOSERS!!

Heh. Papyrus has the right idea.

Losing to Frisk is the best thing to ever happen to me.

So I'm glad that we...

Huh? What is it, Asgore?

Um... what's an...

...anime?

(Oh My God?)

(Frisk. Please.)

(Help me explain what anime is to Asgore.)

Y-you see, it's like a cartoon, but...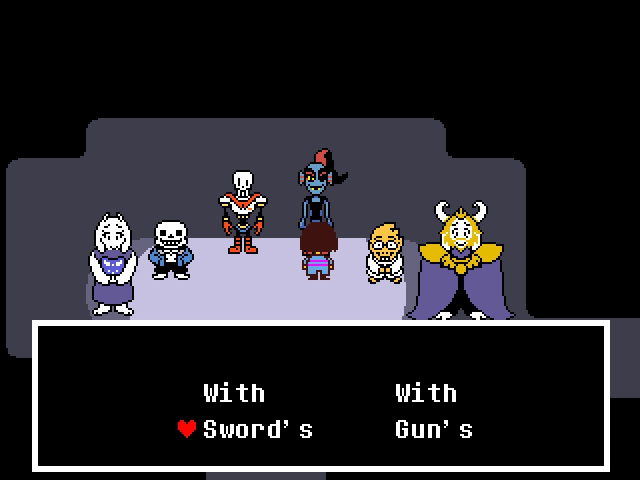 So it's like a cartoon... But with swords?

Golly! That sounds neato!

Where is this? Where can I see the Anime.

H-hold on, uh... I think I have some on my phone.

Here, l-look at this!

...

...Oh, uh...

Um... that's the... That's the wrong...

Uh, nevermind.

Golly. Were those two robots...

...kissing?

Boy! Technology sure is something, isn't it?

Eheheh, yeah! It sure is!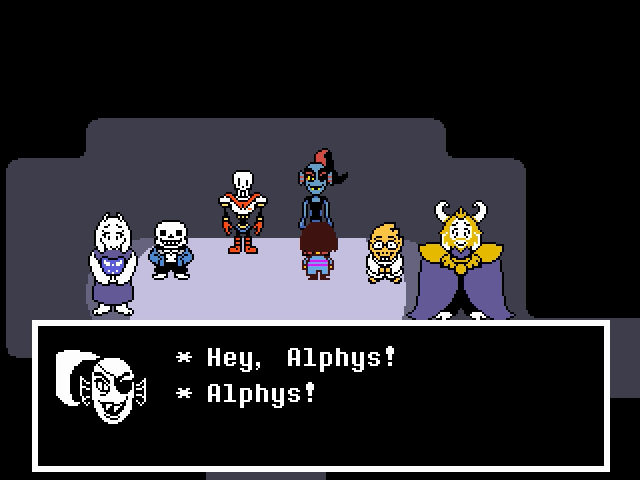 Do you think we can watch something with fighting next?

Oh, and then... something... with princesses!?

Or FIGHTING princesses!?

I-I'll see if I can manage to find any like that, Undyne.

Yayyyyy!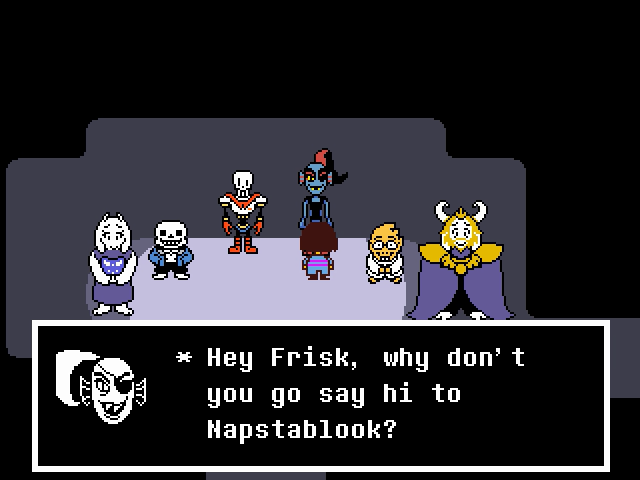 Oh, tell them I said hi, too!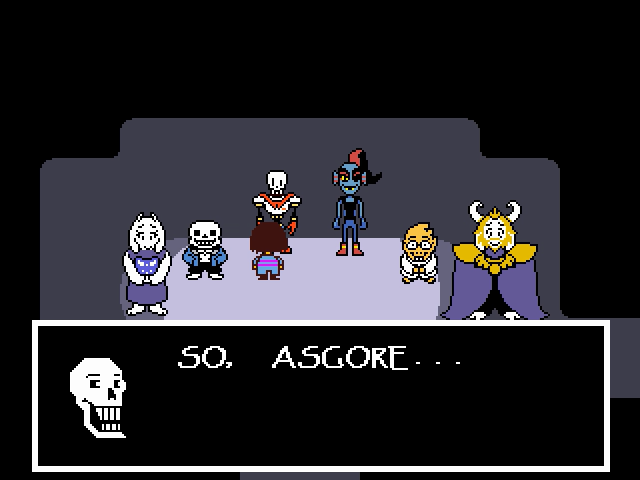 HOW ABOUT MAKING ME A MEMBER OF THE ROYAL GUARD?

Well, Papyrus, now that the war is over...

We might not need the Royal Guard anymore.

WHAT!?

THEN WHAT WAS THE POINT OF THE HUMAN'S QUEST!?

THEY JOURNEYED ALL THAT WAY...

AND I'M STILL NOT A MEMBER OF THE ROYAL GUARD!?

TRULY, THIS IS THE WORST POSSIBLE ENDING.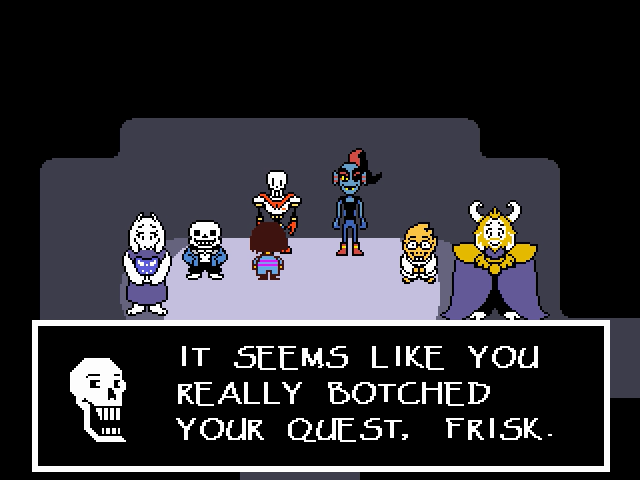 BUT I, THE GREAT PAPYRUS...

WILL ALWAYS BE YOUR FRIEND!!!

no matter how hard you try to get rid of him.

HEY!

THAT'S TRUE.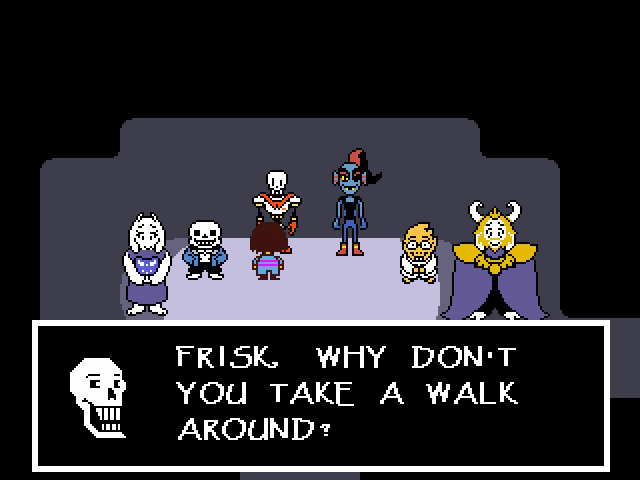 frisk, why don't you fly? it's faster.

YEAH, FRISK, WHY DON'T YOU FLY?

Hmmm... Flying sounds a little dangerous.

But they CAN'T fly.

Not with THAT attitude!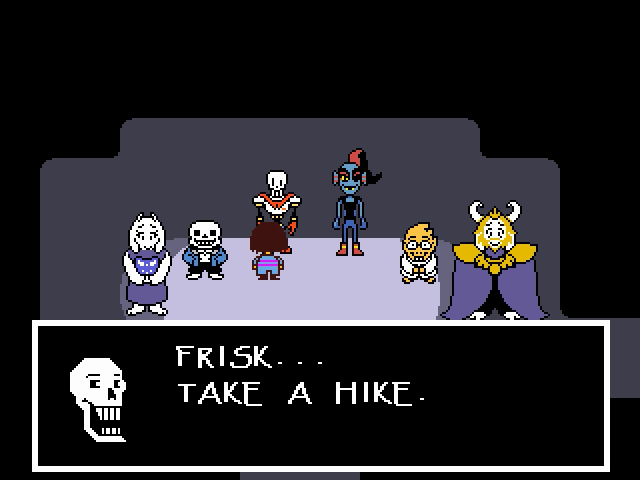 HIKING IS GOOD FOR YOUR BONES.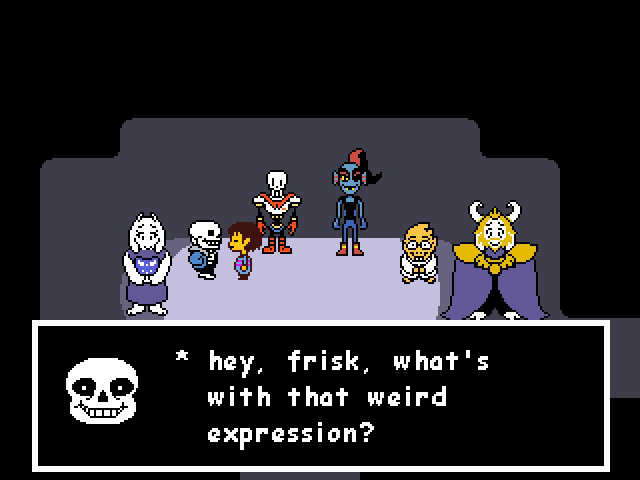 Sans, did I tell you about the time Frisk flirted with me...?

And then asked to call me "mother?"

oh boy.

WOW, FRISK...

THIS REALLY PUTS OUR RELATIONSHIP IN A NEW LIGHT.

hey, tory, do you have any other embarrassing stories?

Oh, do I ever!

But, I think that story is one of the most unbelievable.

It is hard to think anyone would want to flirt with me.

Ehehe...

Ehehehe...

AHA! AHAHAHAH! HA!! HA!!!

Oh, Toriel. You have NO idea.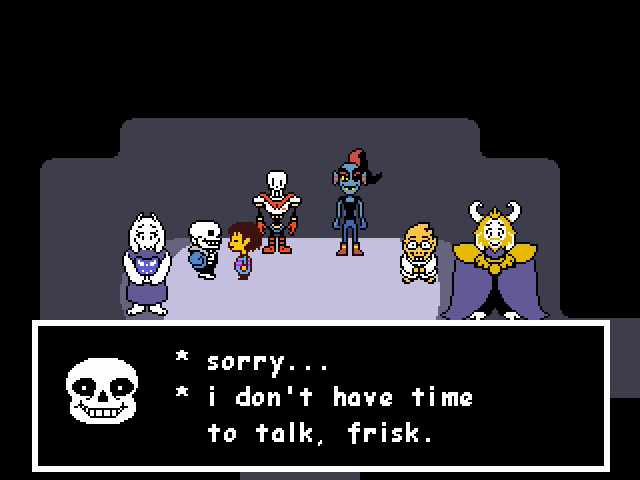 i'm supposed to be working right now.

BUT YOU AREN'T WORKING!!!

i know, and it's taking all my concentration.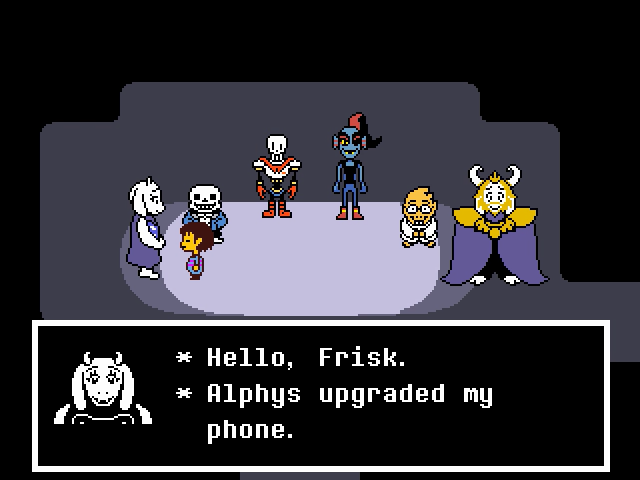 I am having a lot of fun with the "texting" feature.

Sans, "check out" this one.

oh man, tori...

that's brutal.

I CAN'T BELIEVE THE QUEEN HAS RETURNED....

AND ALSO THAT SHE'S A HUGE DORK!!!

YOU TWO ARE TWO FEET AWAY FROM EACH OTHER!!!

WHY ARE YOU TEXTING!!!

Worry not, Papyrus. We are texting for a good reason.

WHY IS THAT.

well.

cause we're huge dorks.

Sans, please do not say that.

You are not a dork.

You are more of a bonehead!

HAHAHA, WOW!

THOSE PUNS ARE EVEN LESS FUNNY COMING FROM HER!

then why are you smiling?

IT'S A PITY SMILE!!!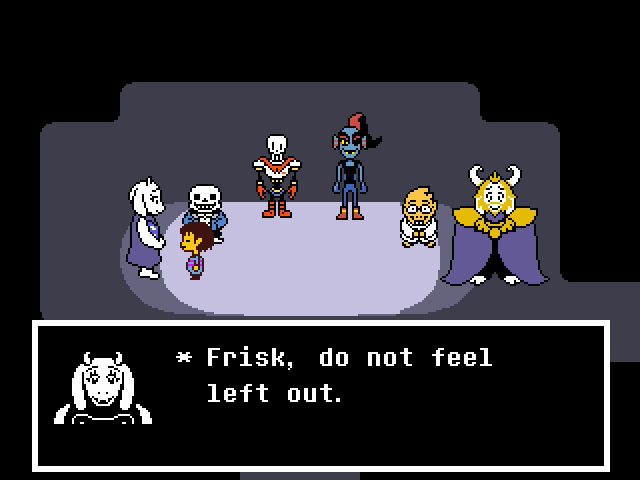 I have been writing messages to you as well!

You still have my phone number after all this time...

Do you not?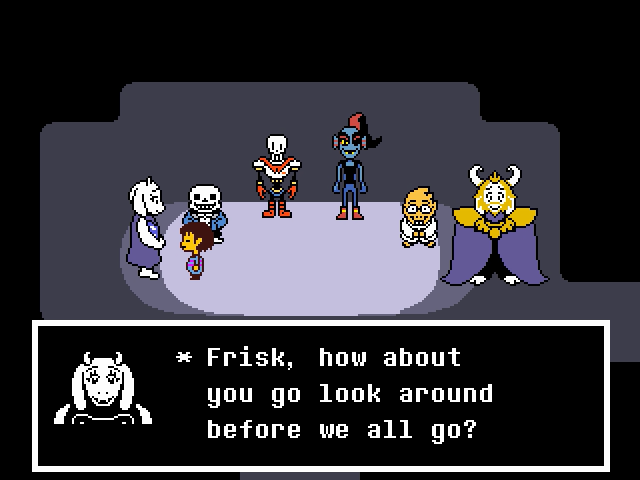 Seeing how many good friends you've made here...

I am almost certain you must have made some more.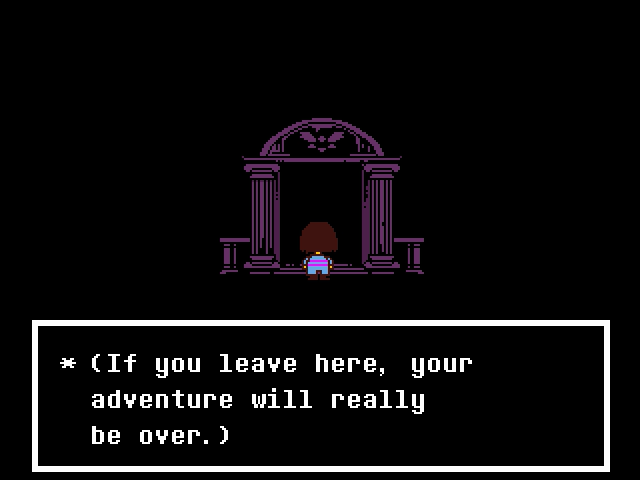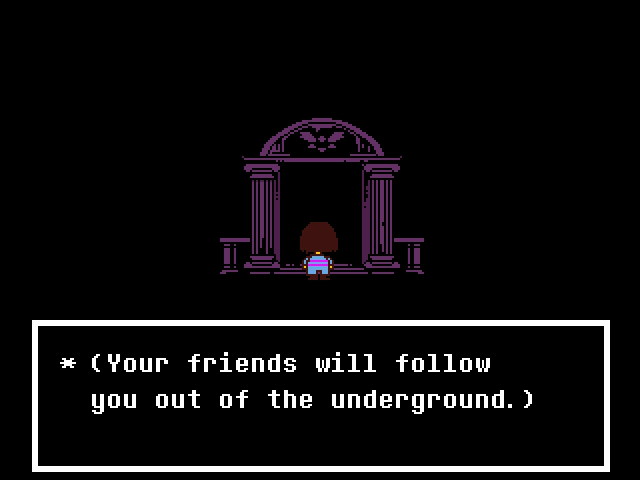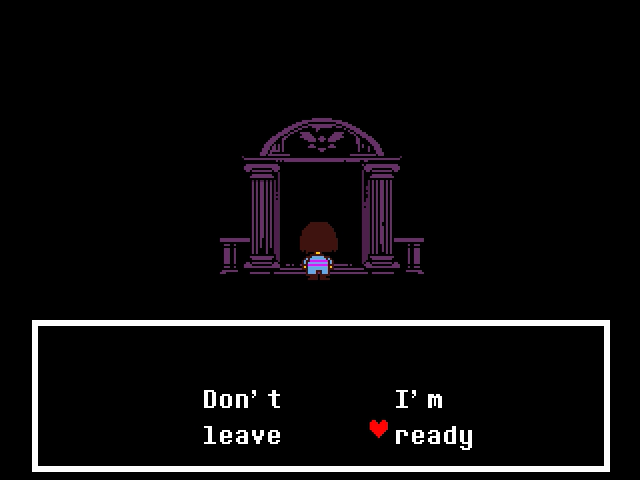 Video: The End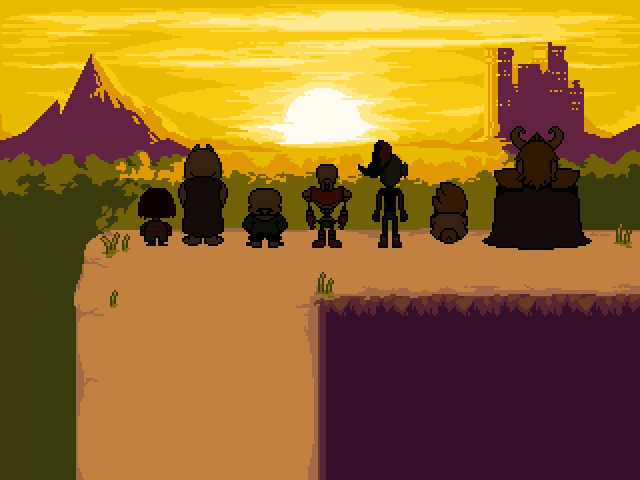 BGM: Respite

Oh my...

Isn't it beautiful, everyone?

Wow... it's e-even better than on TV.

WAY better! Better than I ever imagined!

Frisk, you LIVE with this!?

The sunlight is so nice... and the air is so fresh!

I really feel alive!

HEY SANS...

WHAT'S THAT GIANT BALL?

we call that "the sun," my friend.

THAT'S THE SUN!? WOWIE!!!

I CAN'T BELIEVE I'M FINALLY MEETING THE SUN!!!

I could stand here and watch this for hours...

Yes, it is beautiful, is it not?

But we should really think about what comes next.

Oh, right.

Everyone...

This is the beginning of a bright new future.

An era of peace between humans and monsters.

Frisk...

I have something to ask of you.

Will you act as our ambassador to the humans?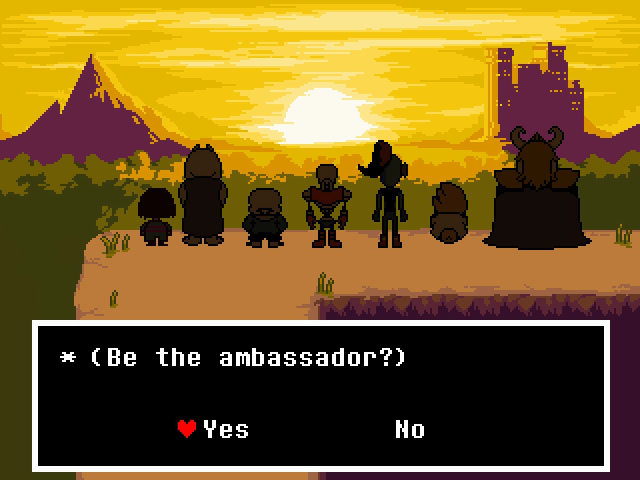 YEAH! FRISK WILL BE THE BEST AMBASSADOR!

AND I, THE GREAT PAPYRUS...

WILL BE THE BEST MASCOT!

I'LL GO MAKE A GOOD FIRST IMPRESSION!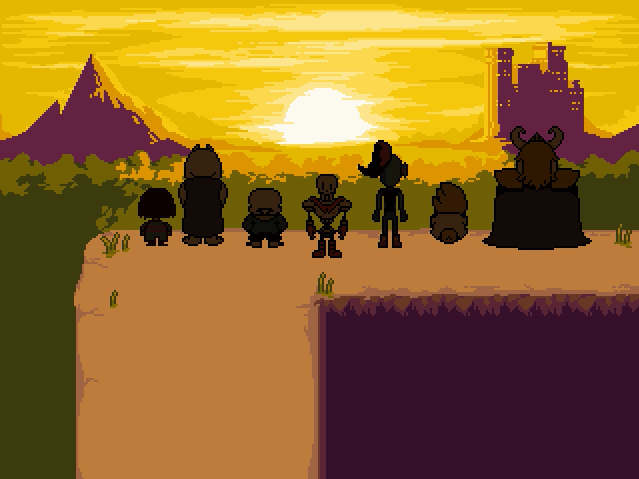 welp.

someone's gotta keep him from getting into trouble.

see you guys.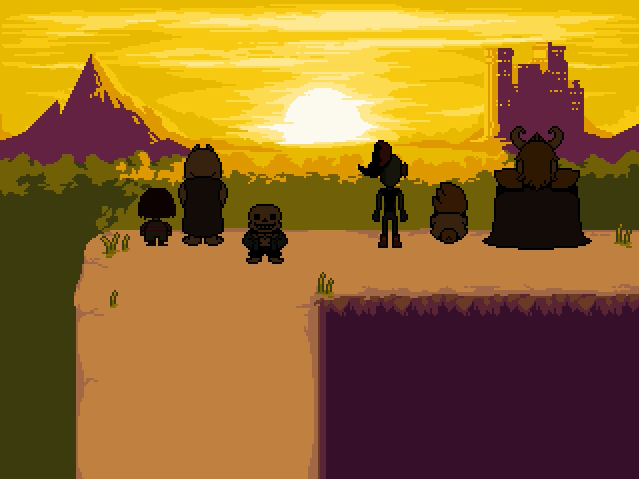 Man, do I have to do EVERYTHING?

Papyrus, wait!!!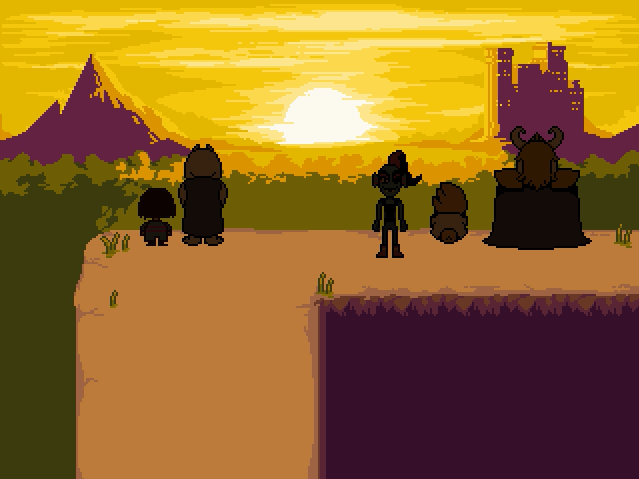 Hey, Undyne!! Wait up!!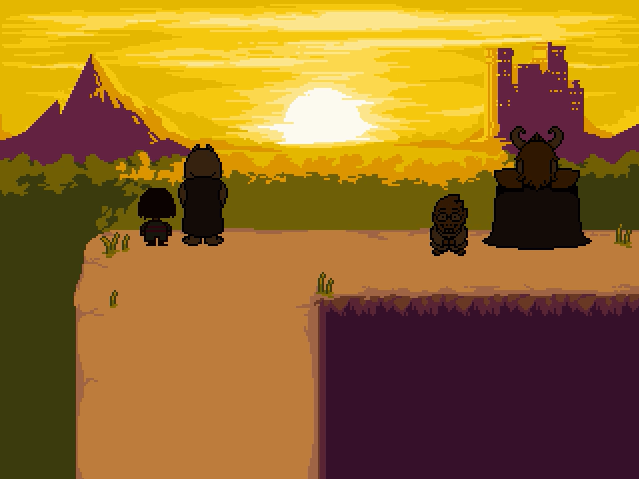 Whoops.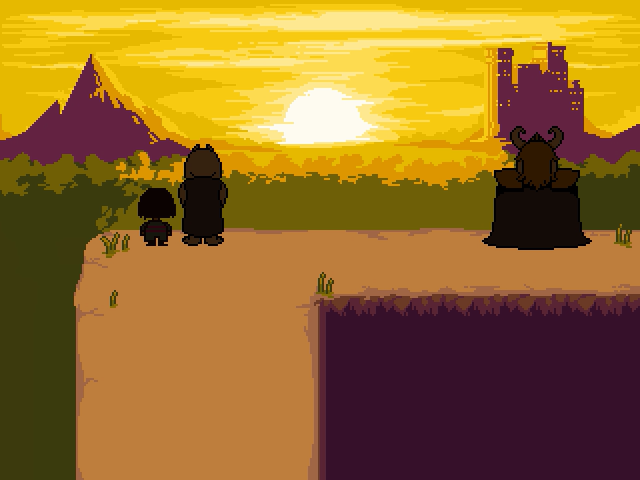 Uh, should I do something?

...

Well, gotta go!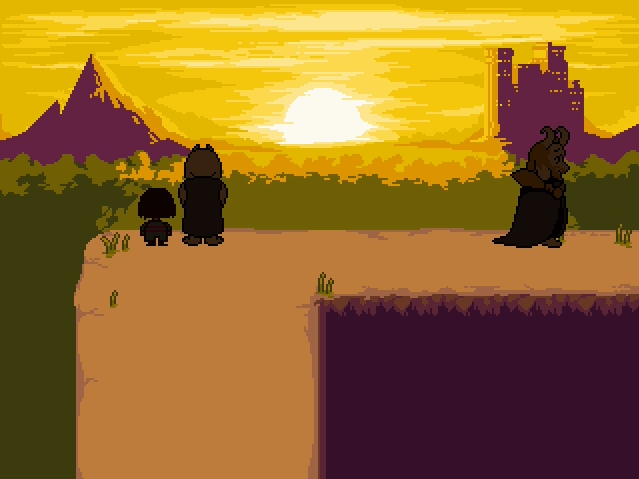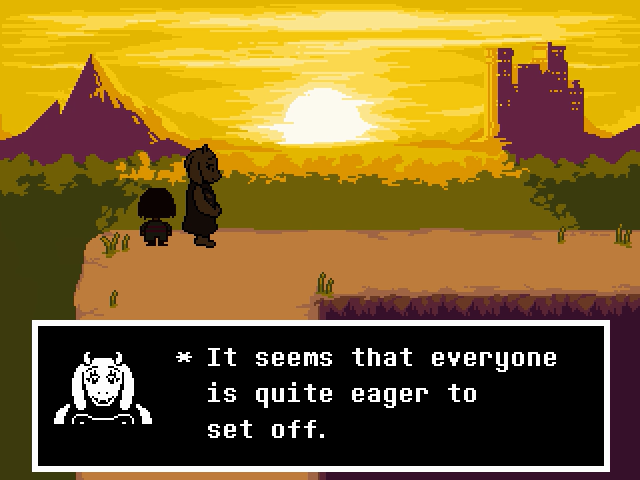 Frisk...

You came from this world, right...?

So you must have a place to return to, do you not?

What will you do now?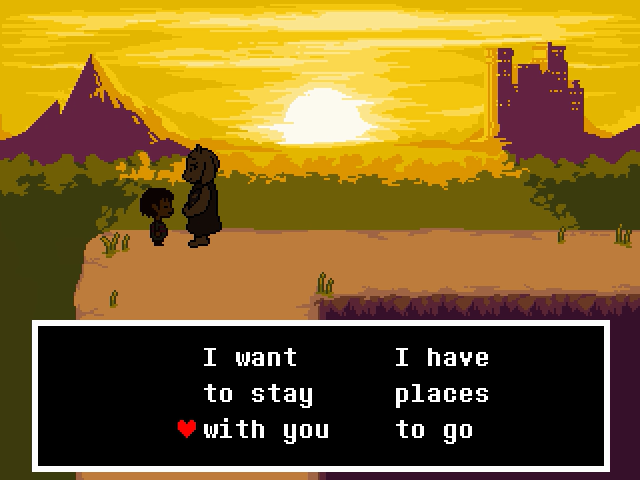 What?

Frisk...

You really are a funny child.

If you had said that earlier, none of this would have happened.

It is a good thing you took so long ot change your mind.

Hee hee hee.

Well... I suppose.

If you really do not have any other place to go...

I will do my best to take care of you, for as long as you need.

All right?

Now, come along.

Everyone is waiting for us!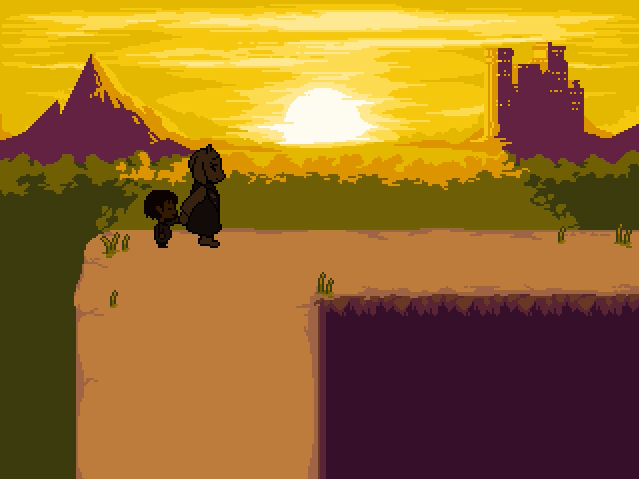 BGM: Bring It In, Guys!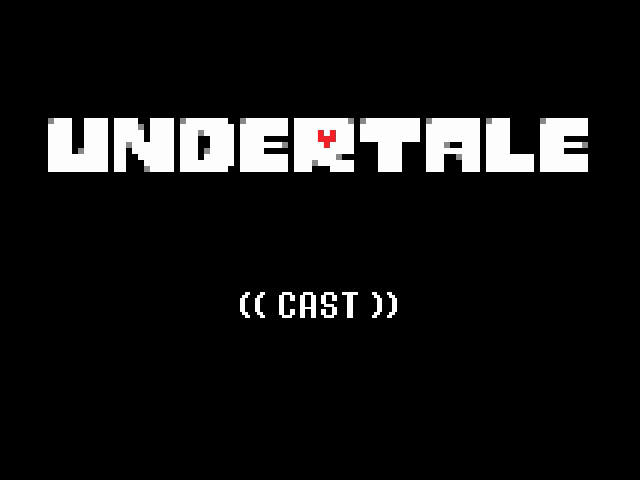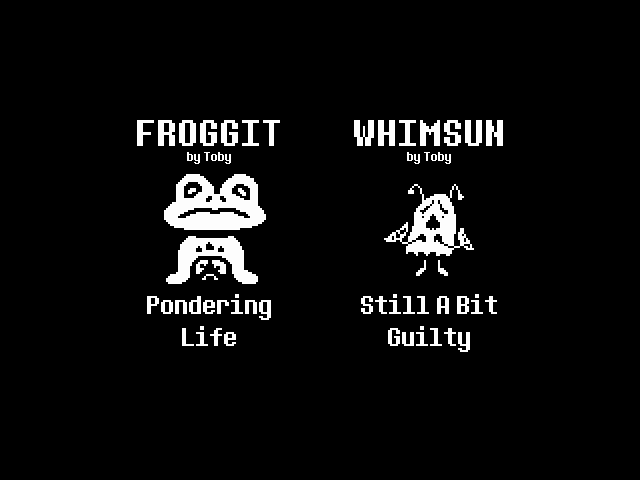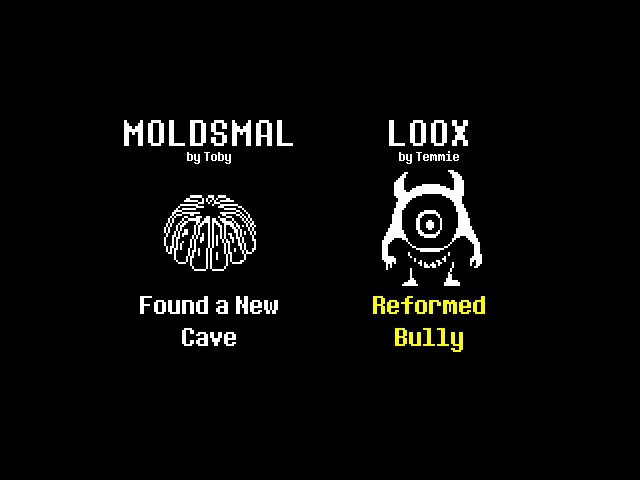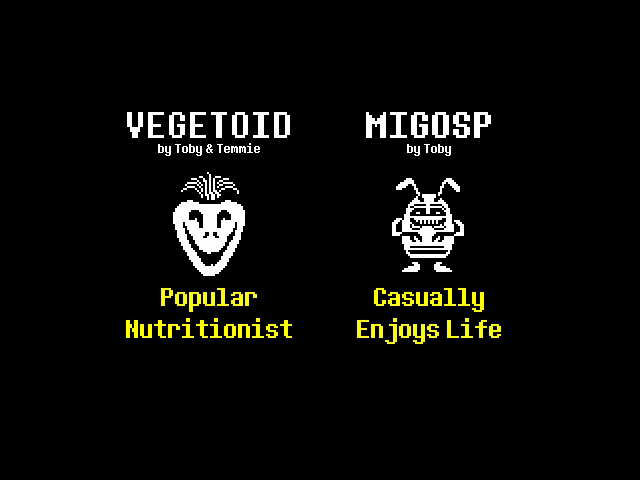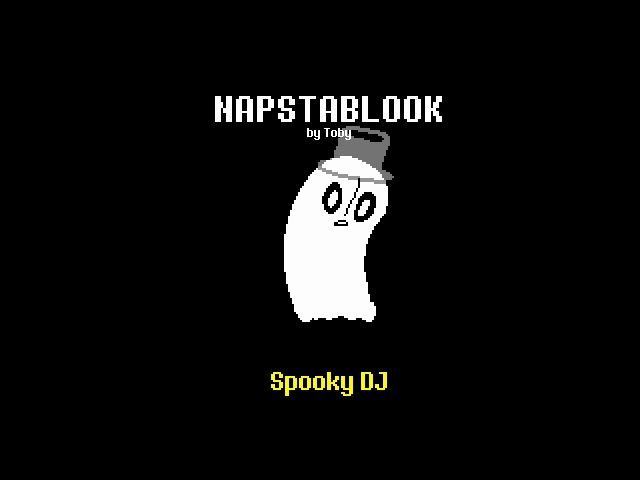 You may notice that some names are in white, and some are in yellow.
This means that I still could have done a better job.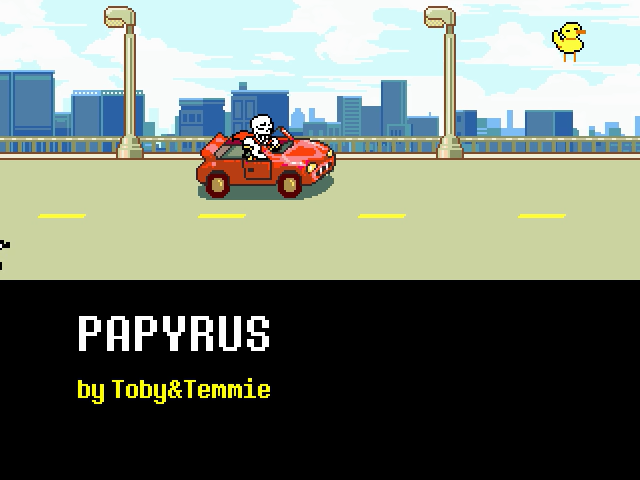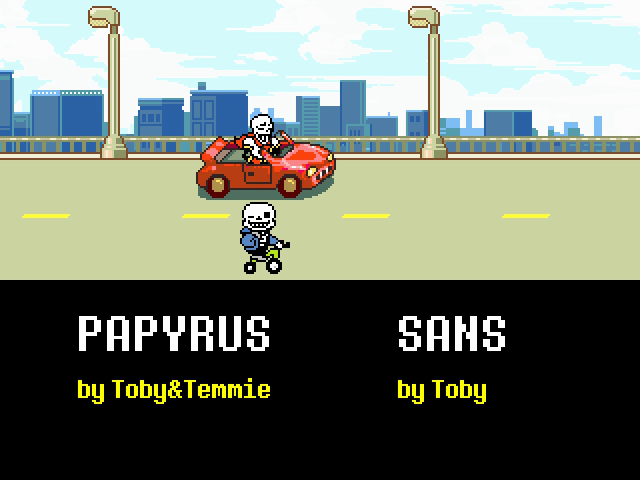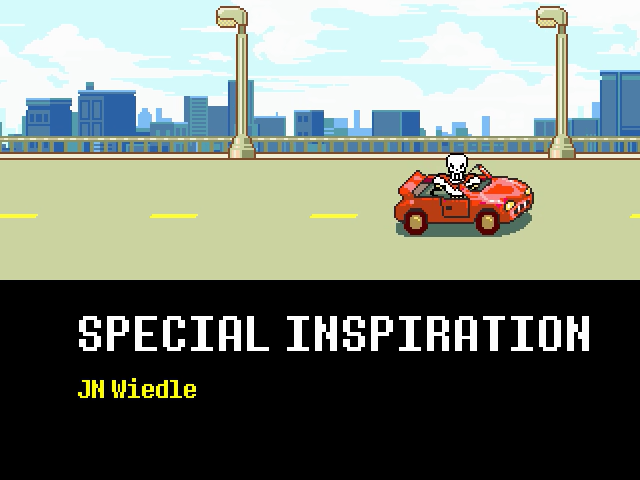 Papyrus fulfilled his dream.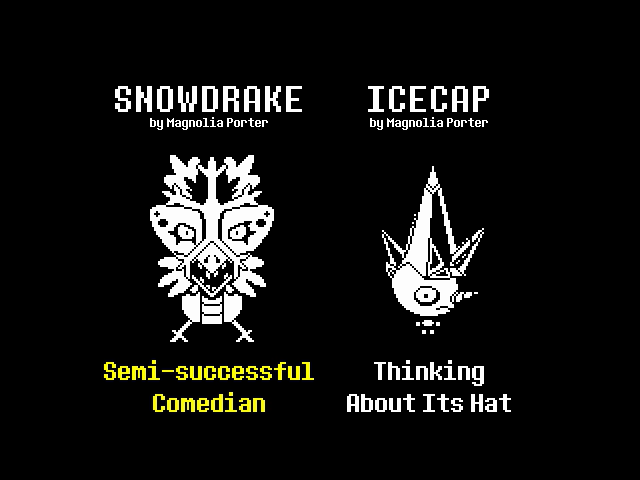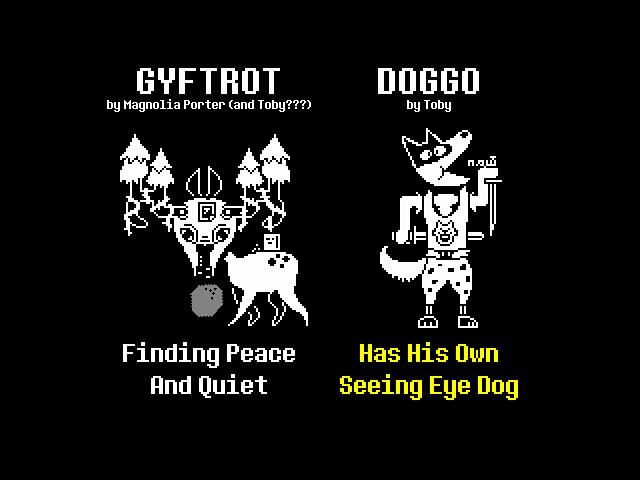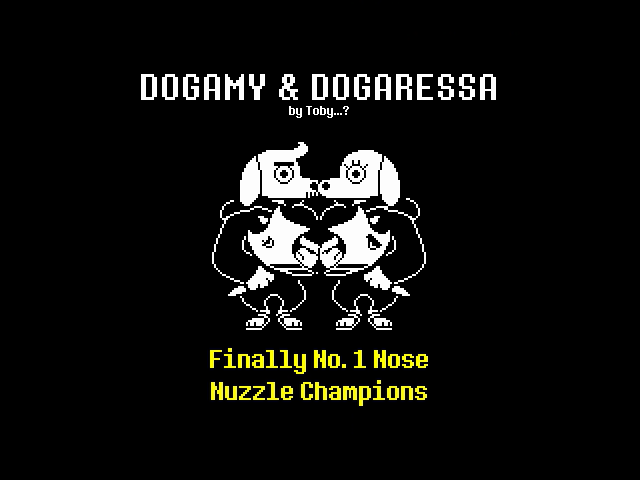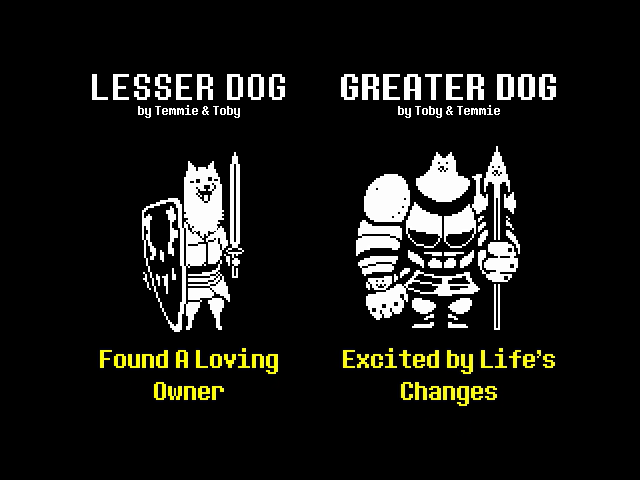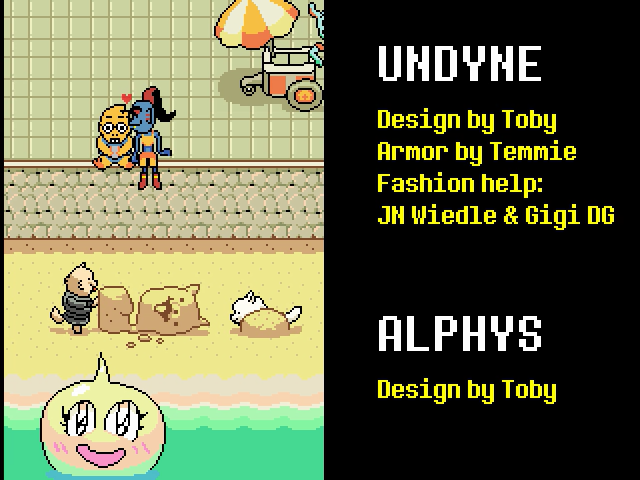 Undyne and Alphys lived happily on the surface.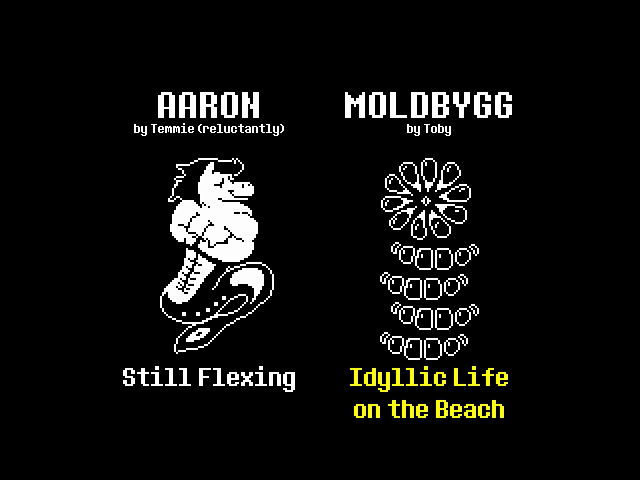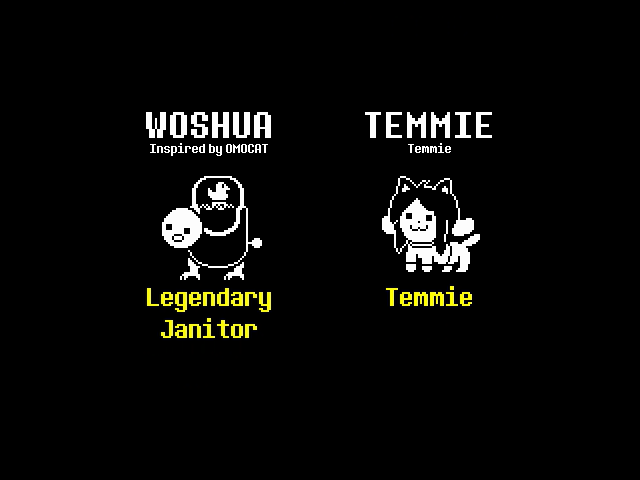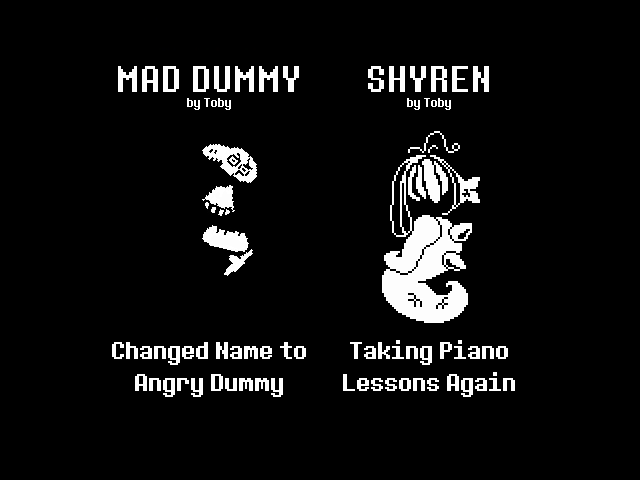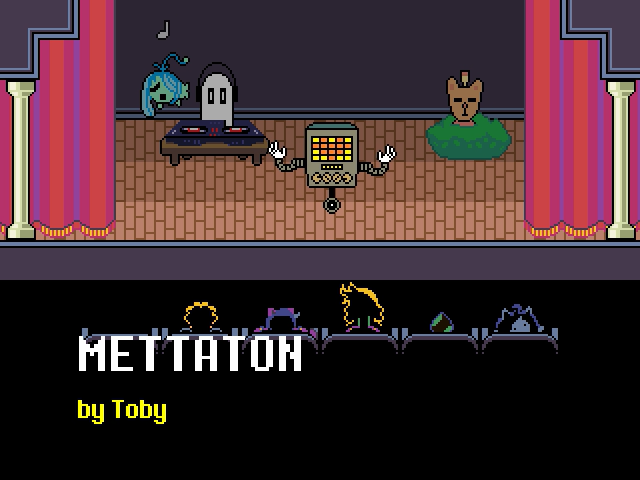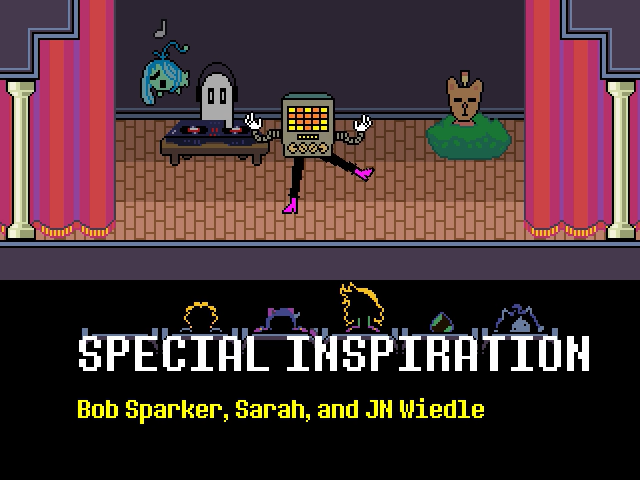 Mettaton became a star of the human world.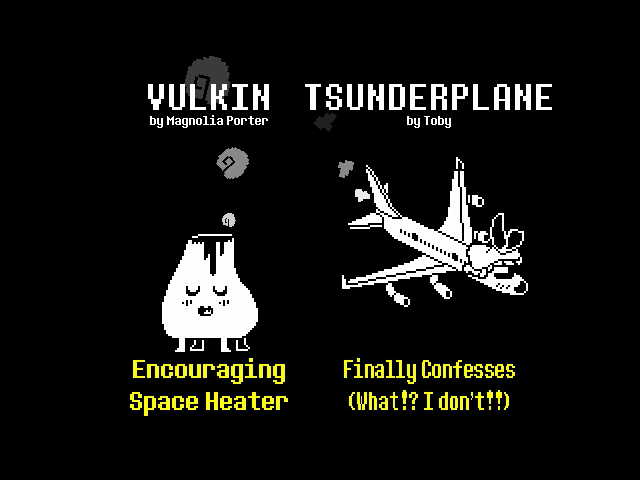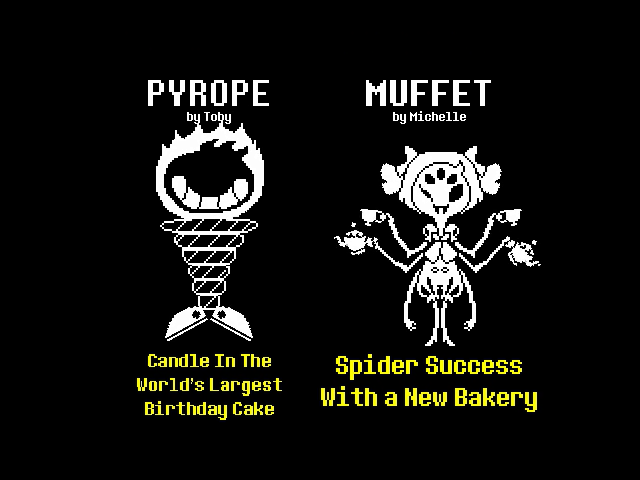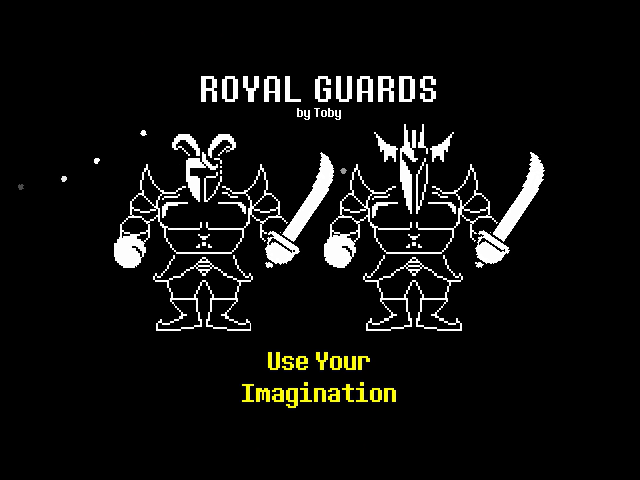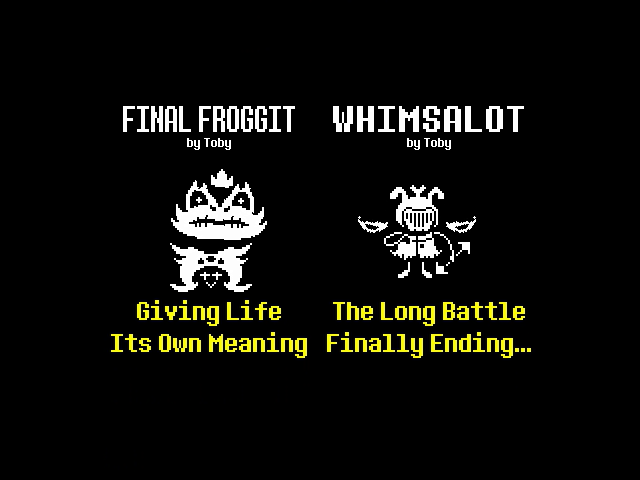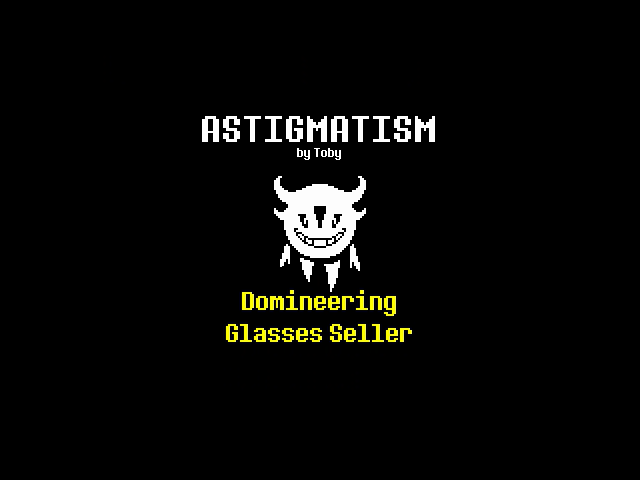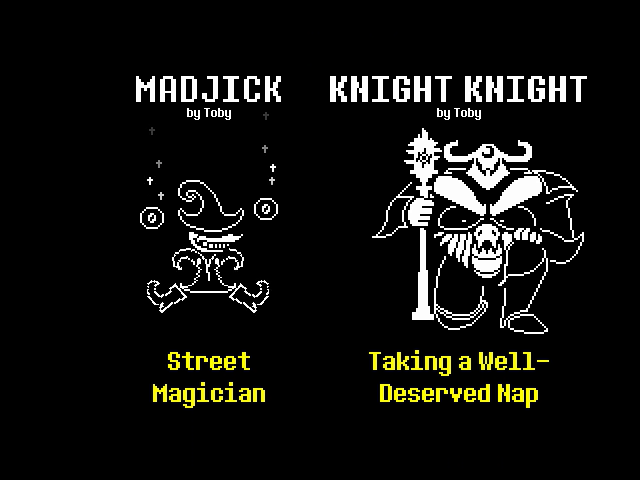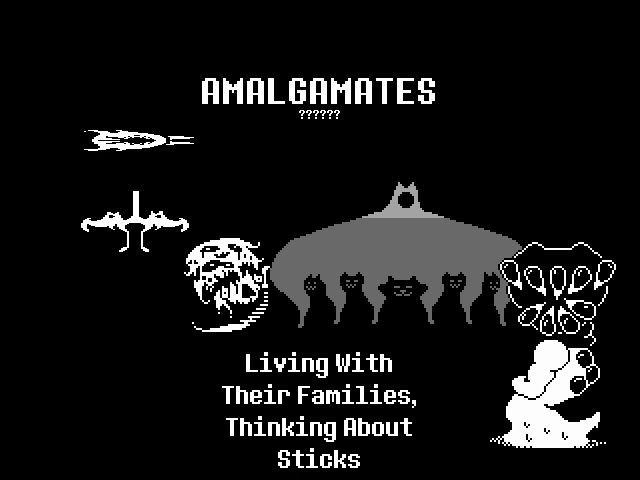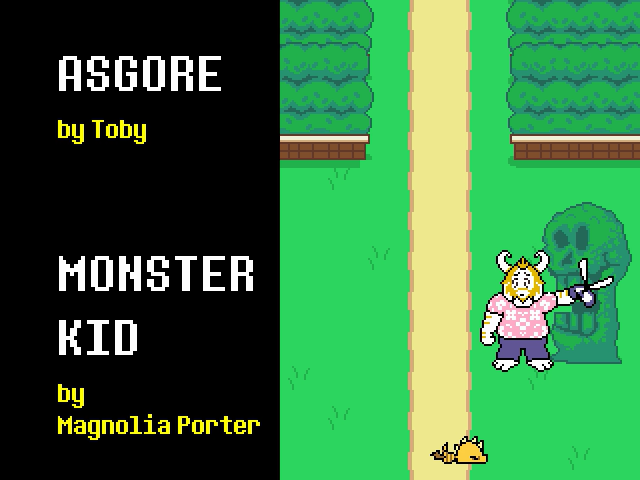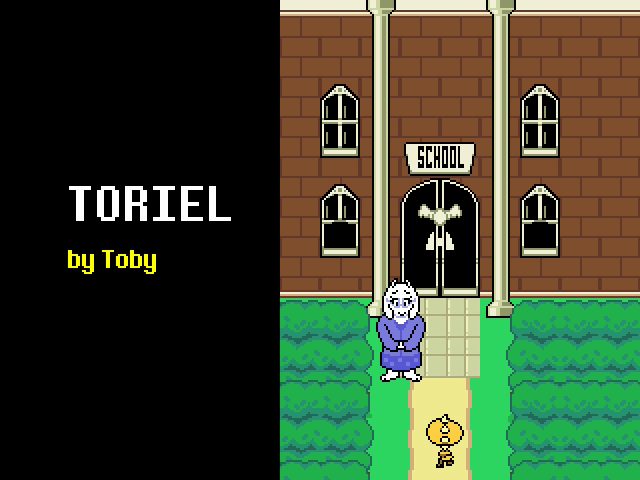 Toriel opened her school.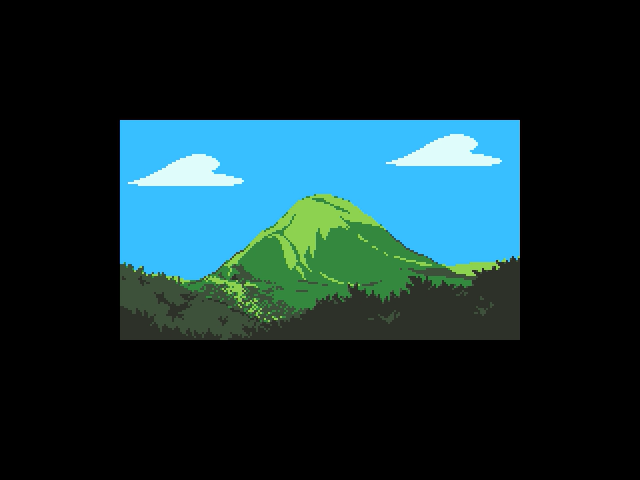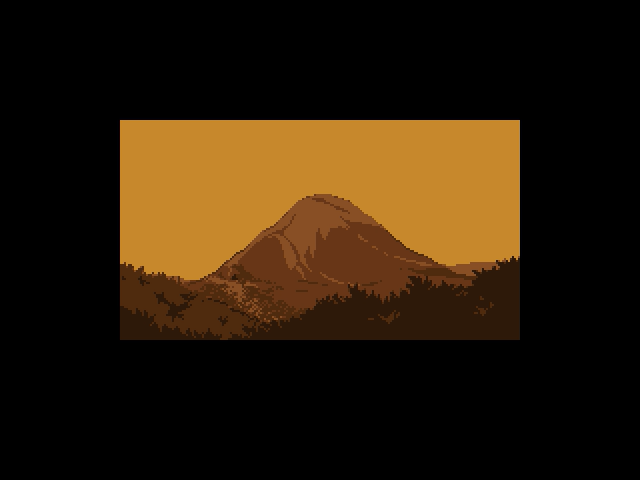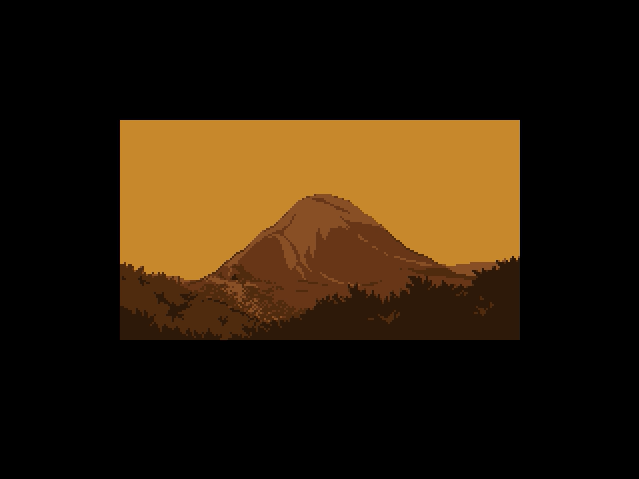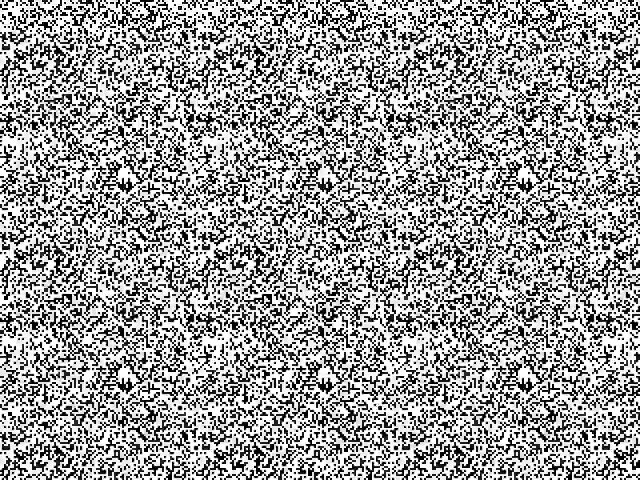 BGM: You Idiot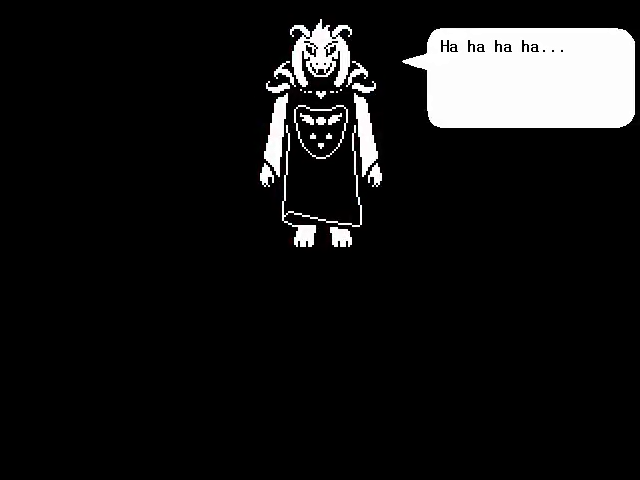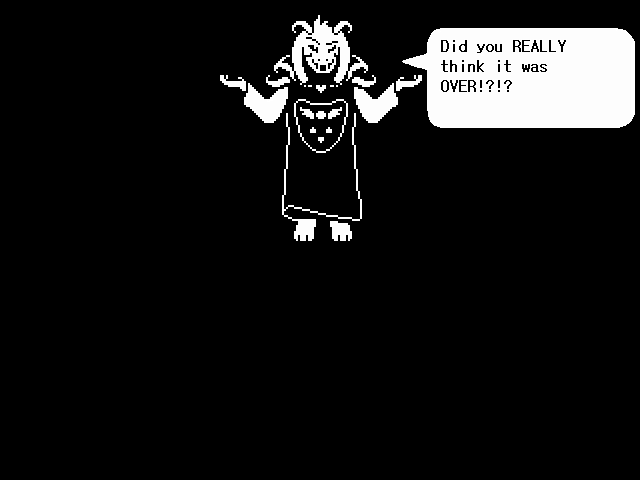 BGM: Silence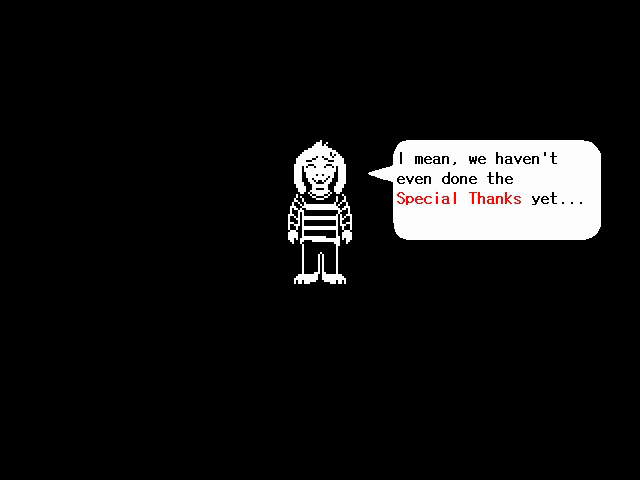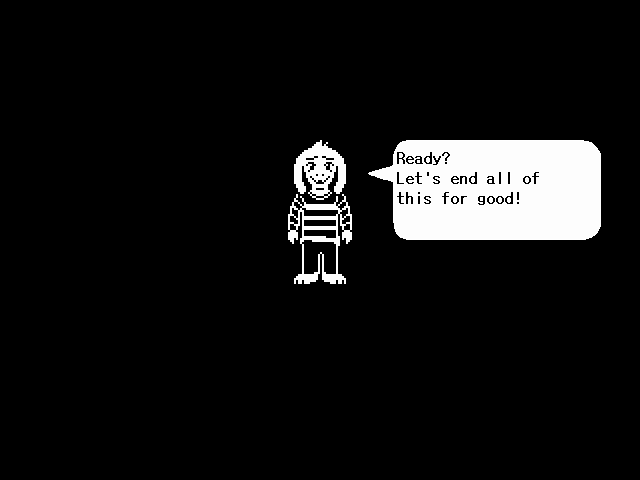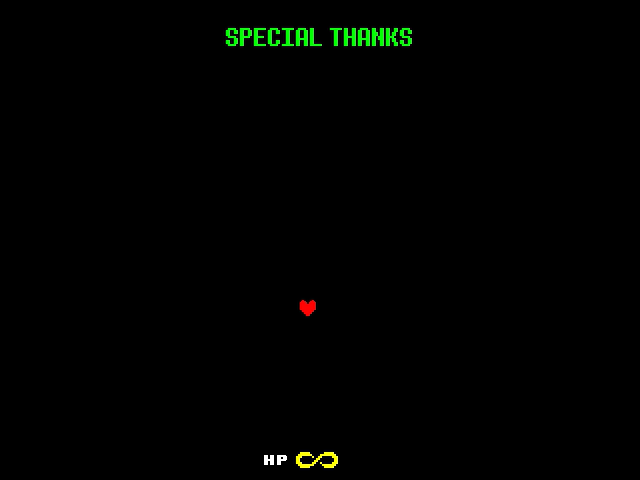 BGM: Last Goodbye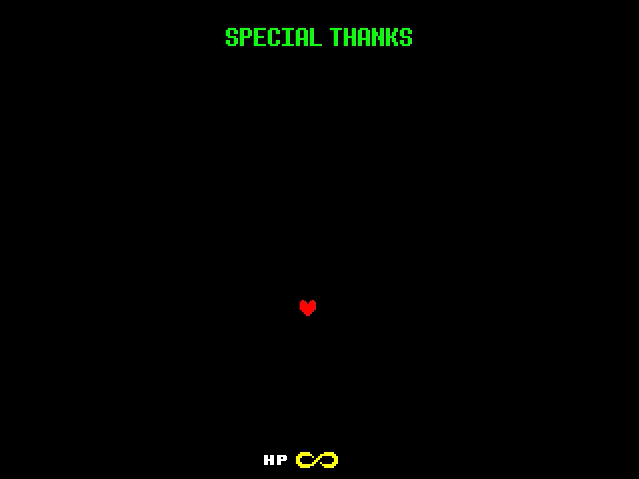 You didn't think we were done with the game, did you?
It's time to fight
every Kickstarter backer!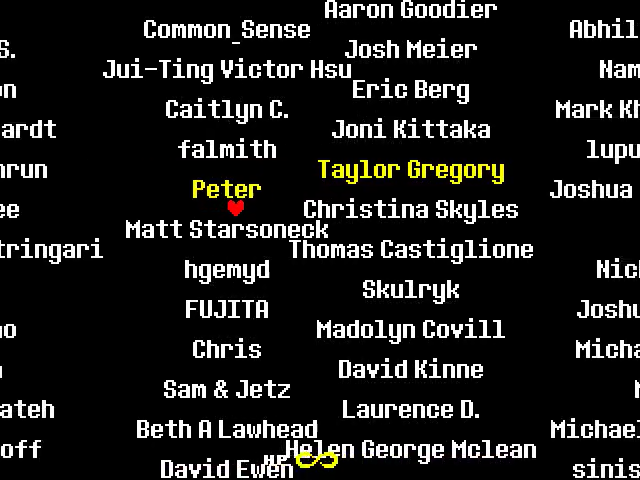 Every time I touch a name, it turns yellow.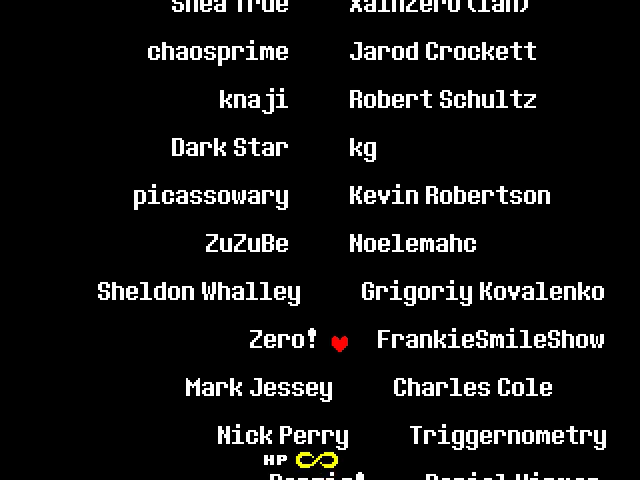 Can you get to the end without touching a single name?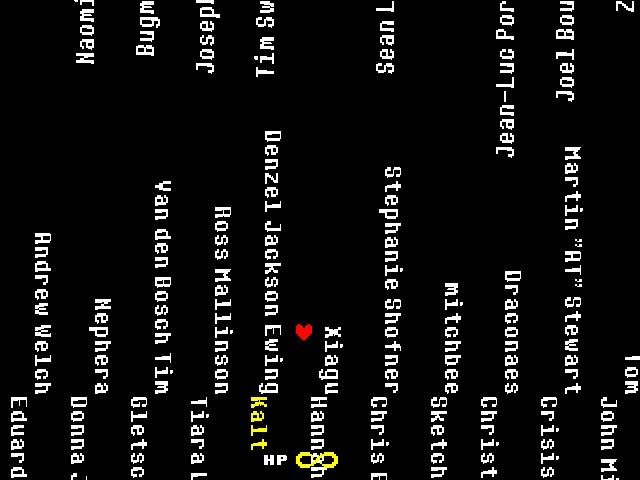 I sure can't!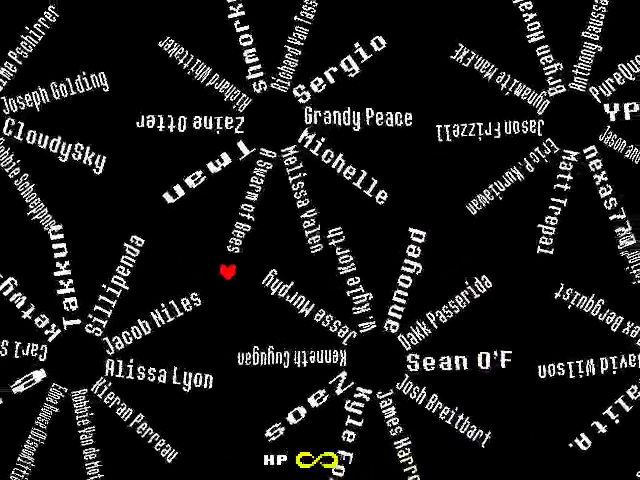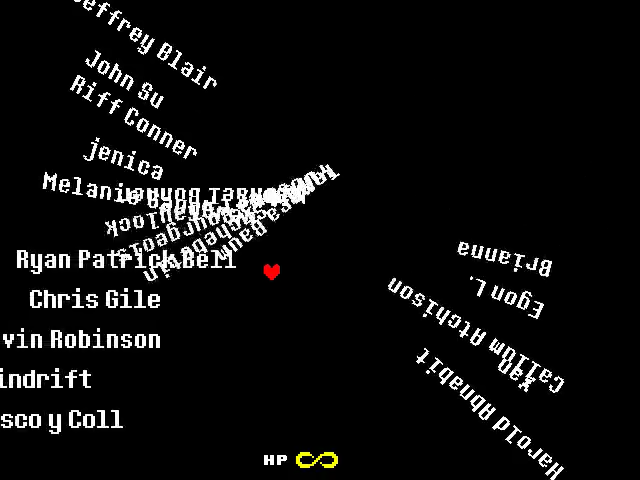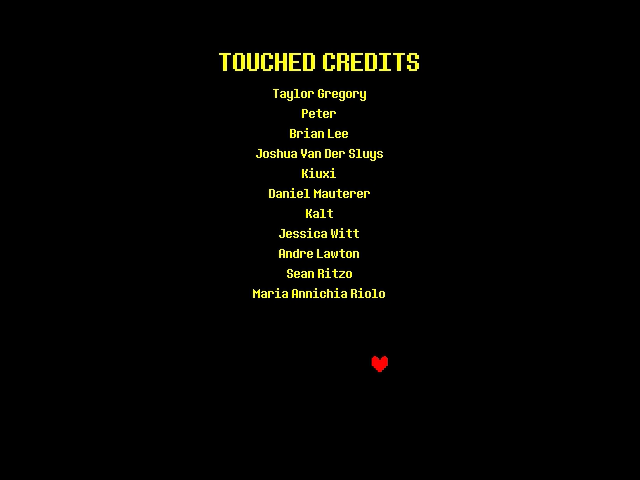 If I dodge every one, something special might happen.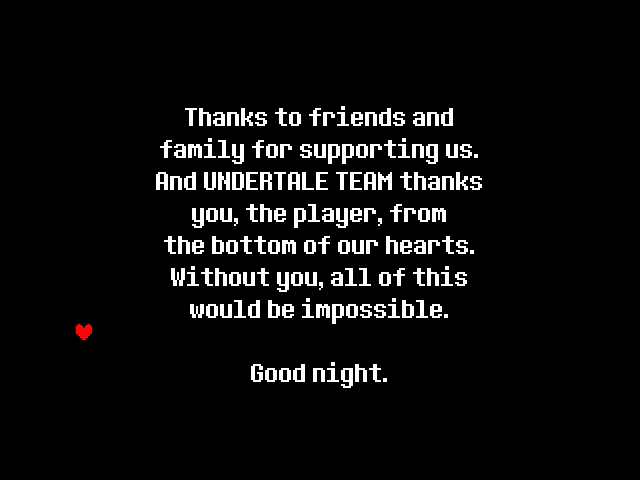 BGM: Silence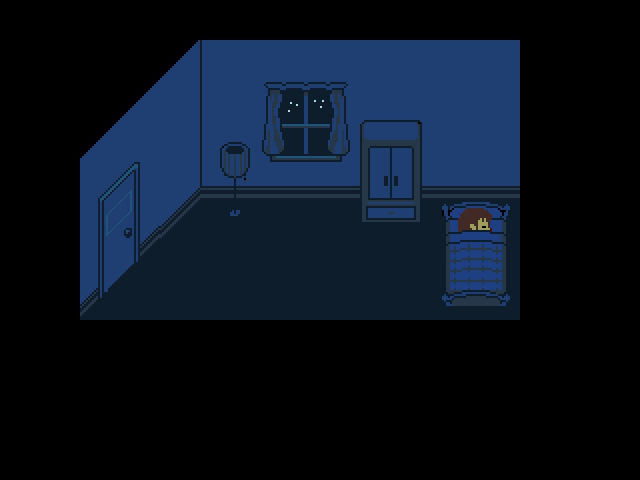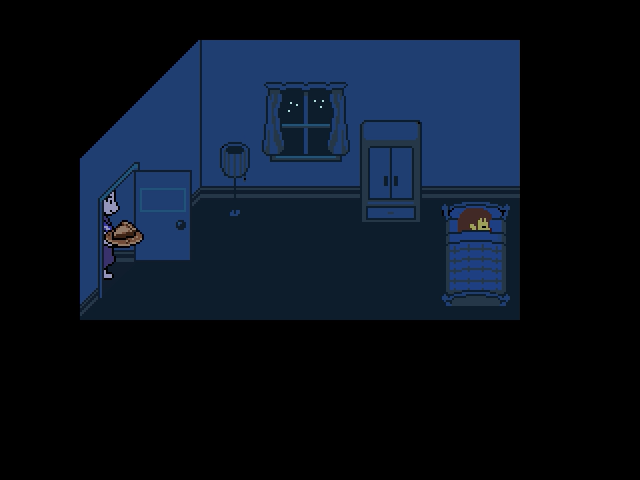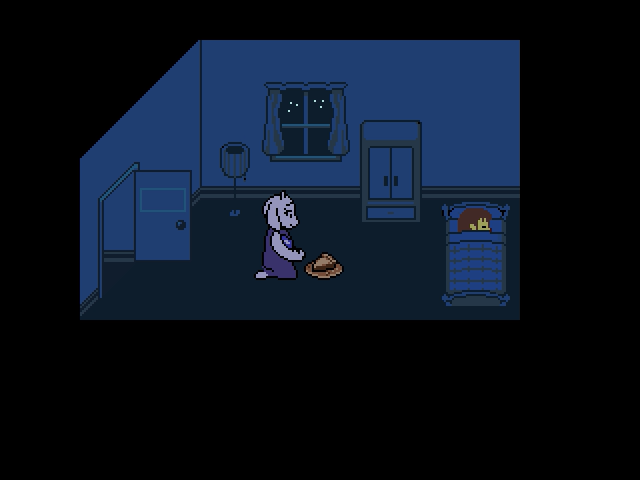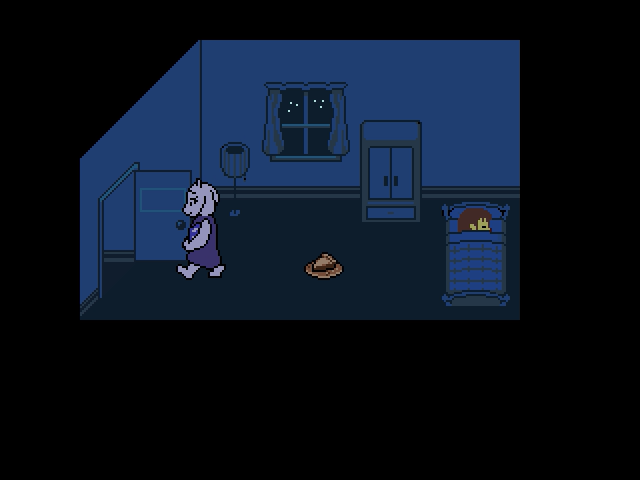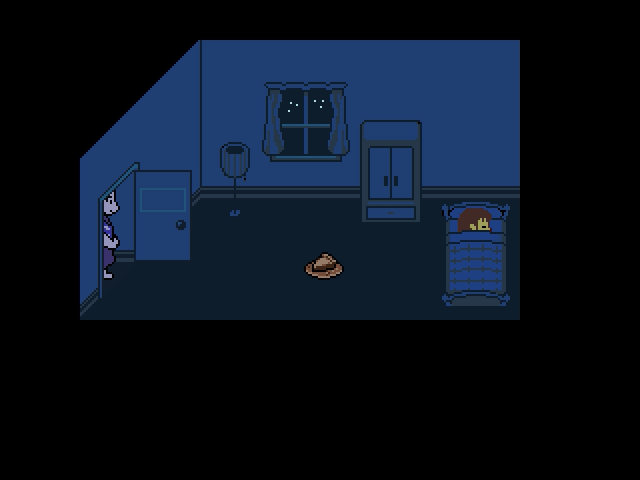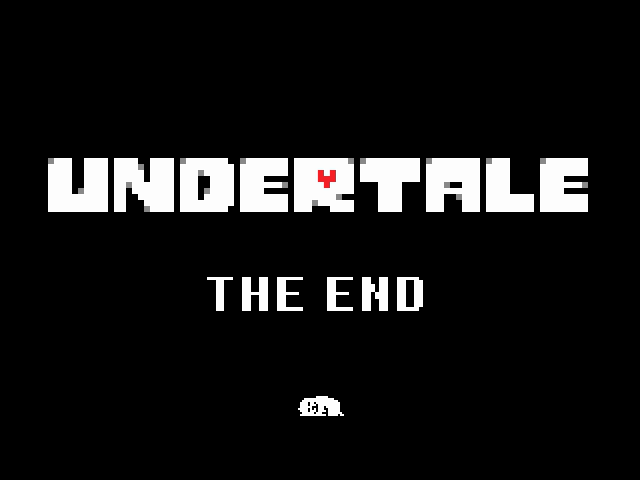 THE END