Part 42: Enemy Approaching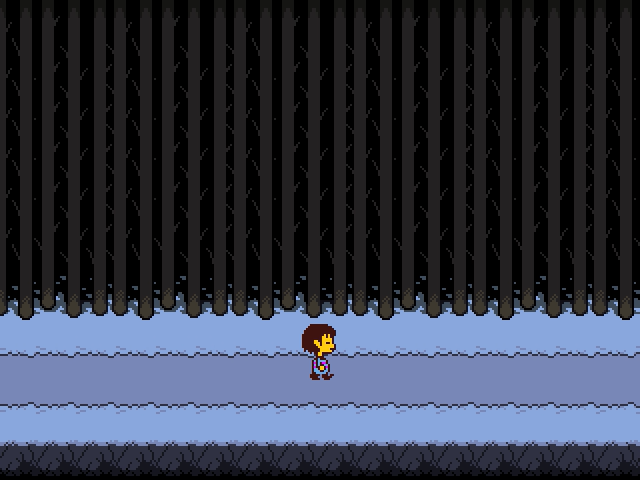 Pretty boring place so far.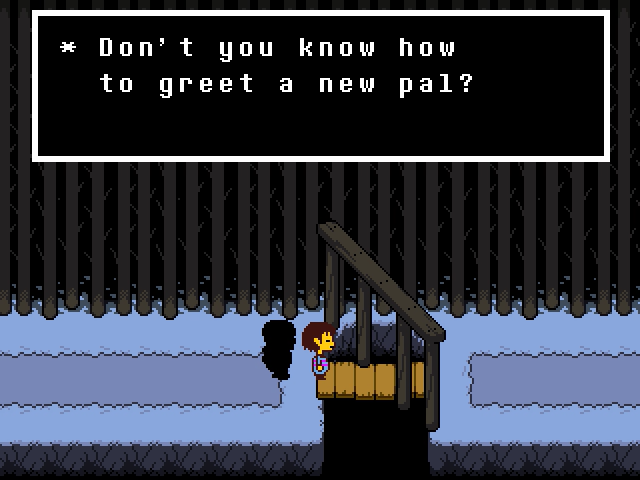 Sans approaches me. I've heard this speech before.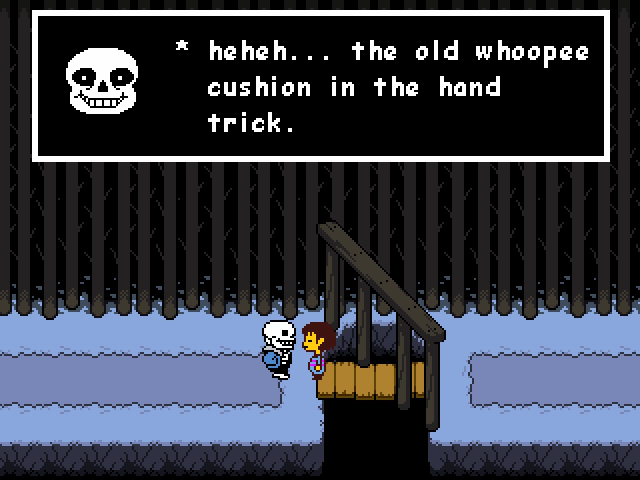 BGM: sans.

it's ALWAYS funny.

...

that's, uh. your cue to laugh.

or, uh, to emote at all...?

...

(gee, lady, you really know how to pick 'em, huh...?

OK, that's fine. everyone's got their own sense of humor.

i'm sans. sans the skeleton.

im actually supposed to be on watch for humans right now.

but... y'know...

i dont really care about capturing anybody.

now my brother, papyrus...

he's a human-hunting FANATIC.

hey, actually, that's him over there.

i have an idea. go through this gate thingy.

yeah, go right through. my bro made the bars too wide to stop anyone.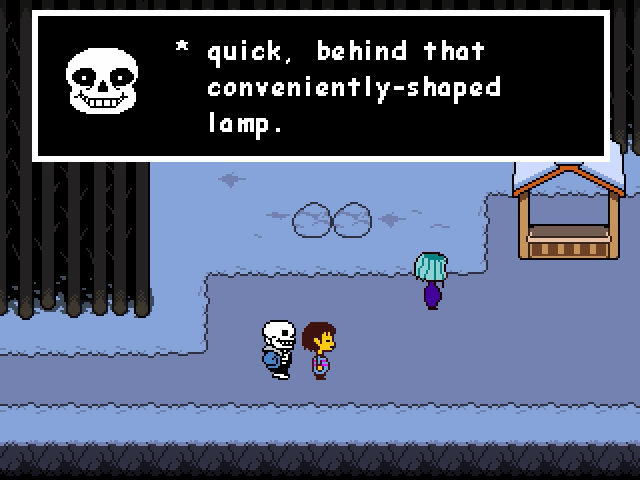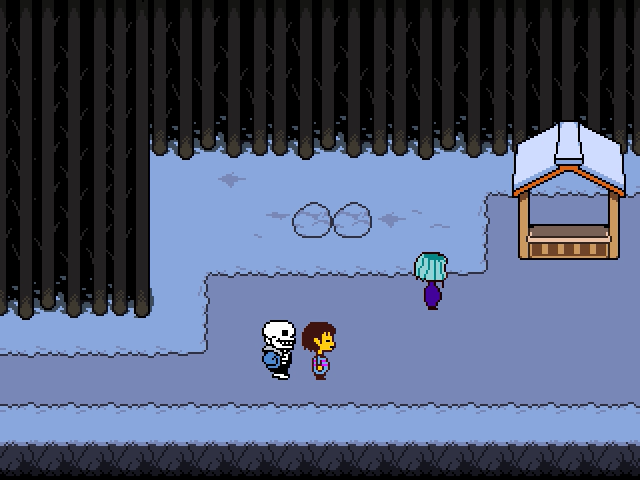 ...

uh, ok, i guess you don't have to.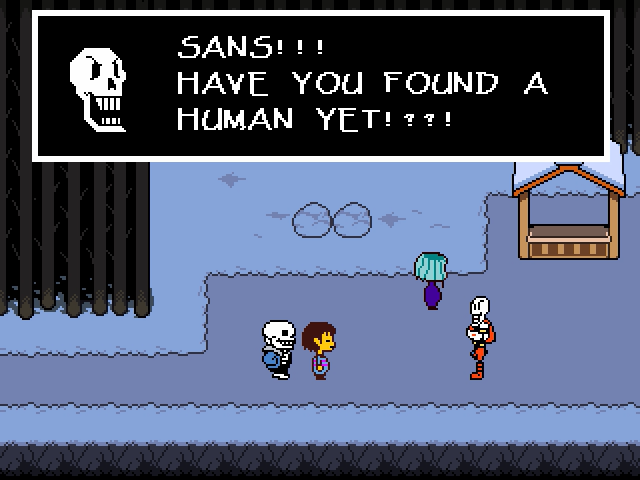 yeah.

REALLY!?!? WOWIE!!!

GUESS THAT'S SETTLED!!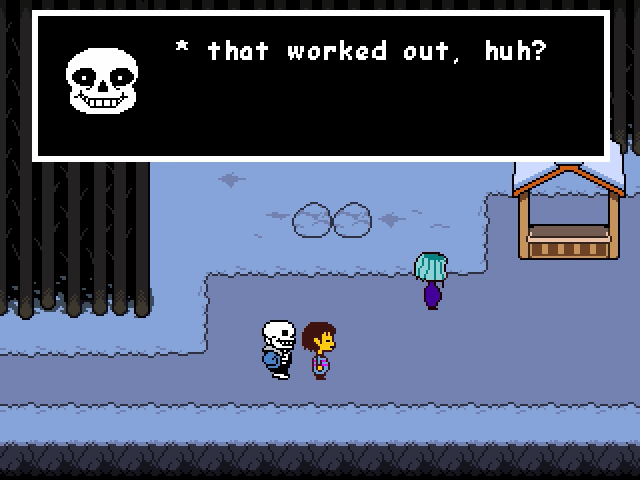 ...are you just gonna stare at me, or...?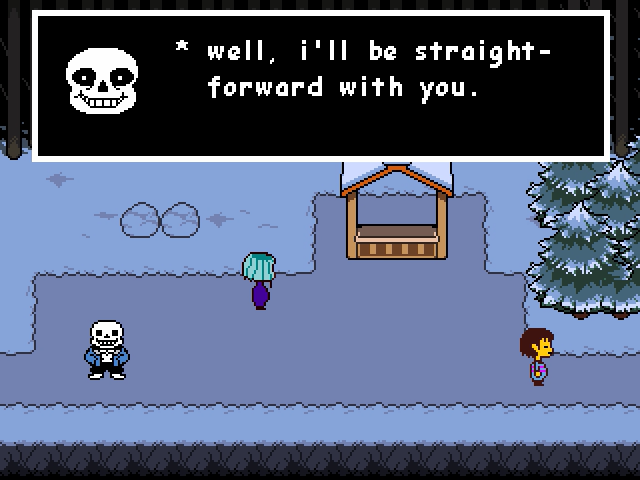 my brother'd really like to see a human...

so, y'know, it'd really help me out...

if you kept pretending to be one.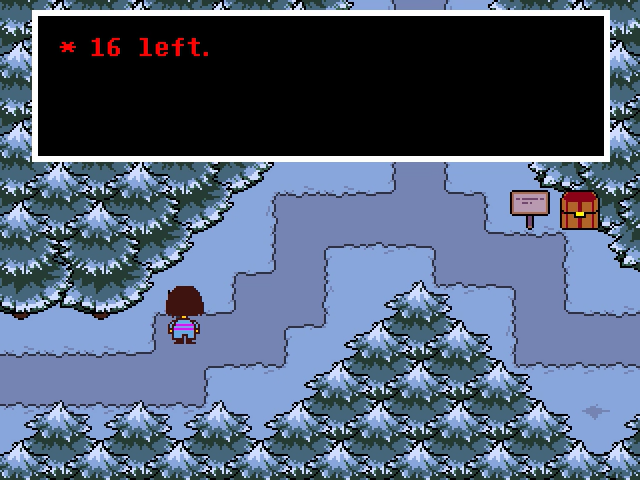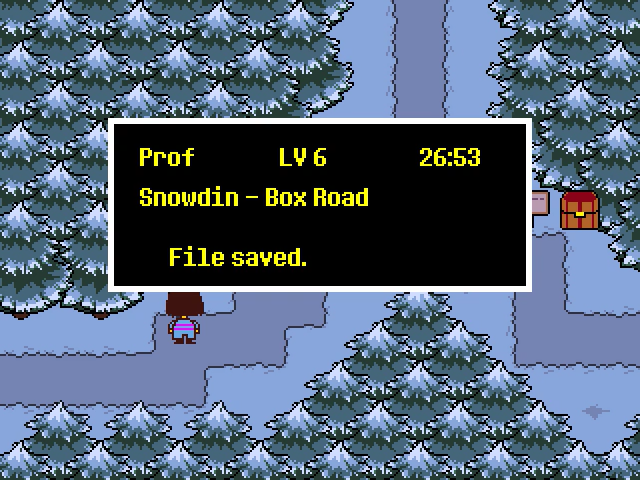 BGM: Snowy?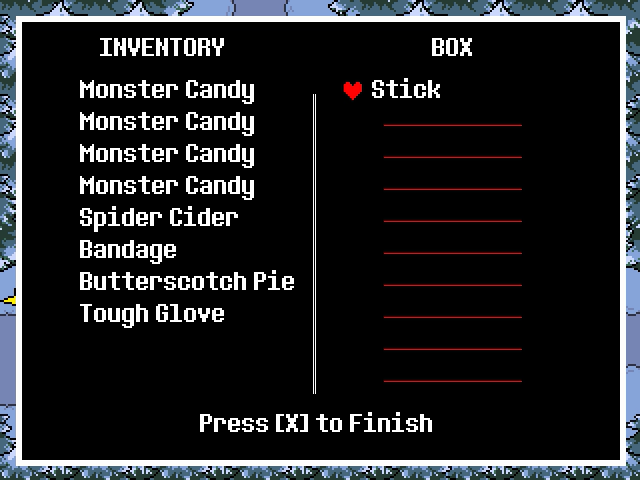 I take the Tough Glove. I'm going to need better equipment.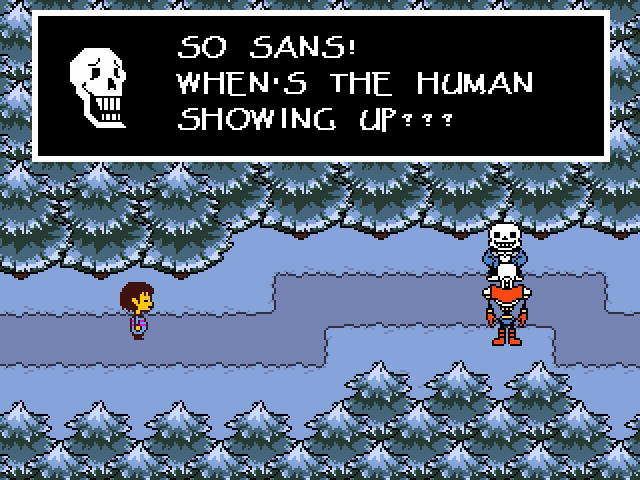 I WANT TO LOOK MY SUNDAY BEST...

OR AT LEAST MY TUESDAY PRETTY-GOOD.

don't you only have one outfit?

YEAH, BUT I COULD STYLE MY HAIR!

oh. right. good idea.

say, why don't you look over there?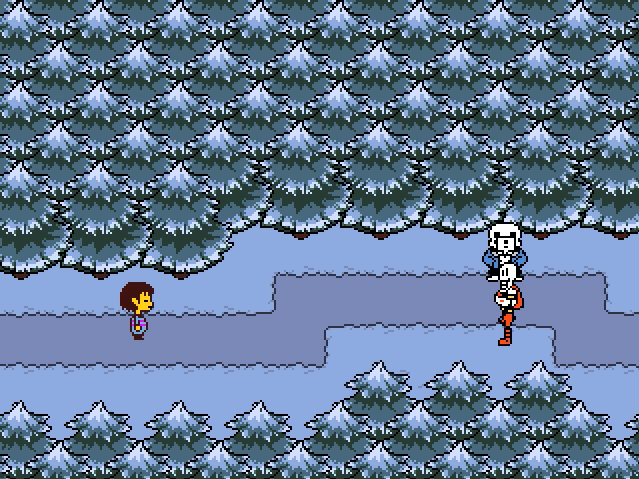 SANS!!! OH MY GOD!!!!

I'M DIZZY. WHAT AM I LOOKING AT?

behold.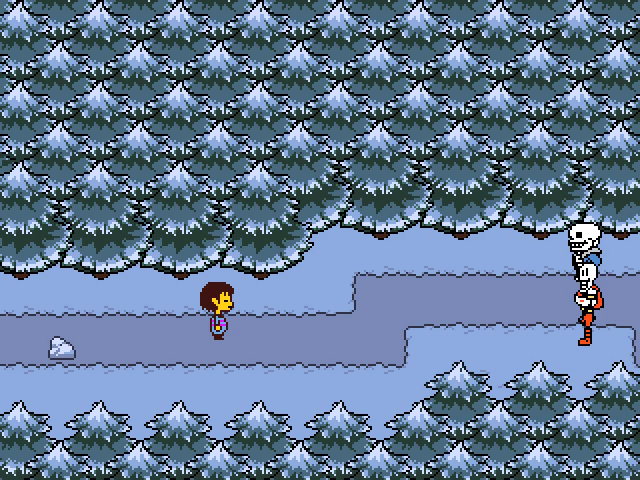 OH MY GOD!!!

WHY ARE YOU TELLING ME TO LOOK AT A ROCK.

hey, what's that in front of the rock?

OH MY GOD!!!

I HAVE NO IDEA WHAT THAT IS.

well. it's not a rock.

NOT A ROCK...?

OH NO!!! BY PROCESS OF ELIMINATION!!!

THAT MEANS IT'S A HUMAN!!!

AHEM!! HUMAN!!

PREPARE YOURSELF!! FOR HIGH JINKS! FOR LOW JINKS!

DANGERS! PUZZLES! CAPERS! JAPERS!

BEING CAPTURED! AND OTHER SORTS OF FUN ACTIVITIES.

REFRESHMENTS WILL BE PROVIDED...

IF YOU DARE!

NYEH HEH HEH HEH HEH HEH HEH HEH!!!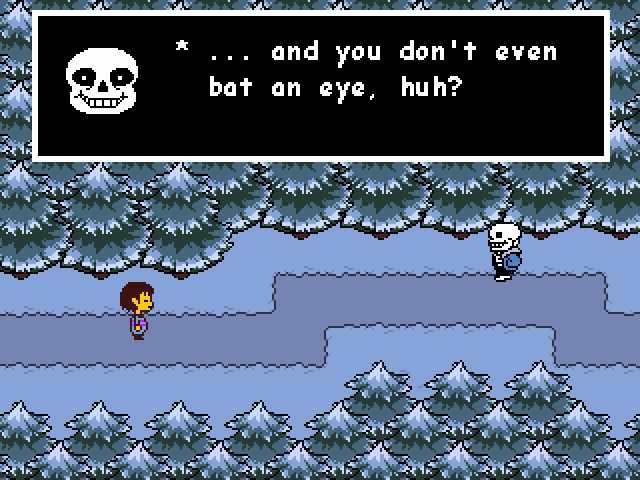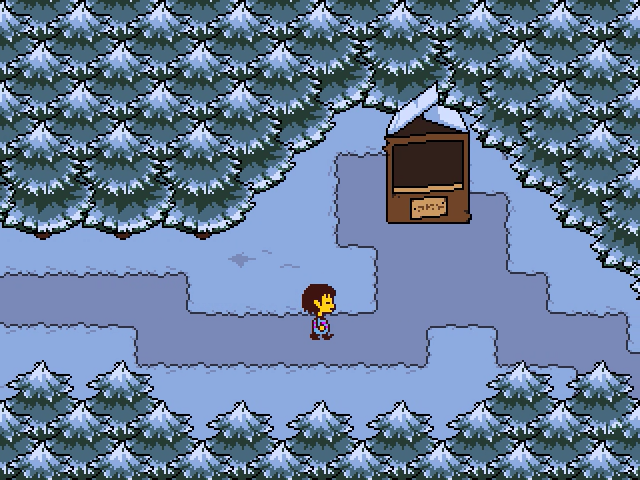 Finally, they left.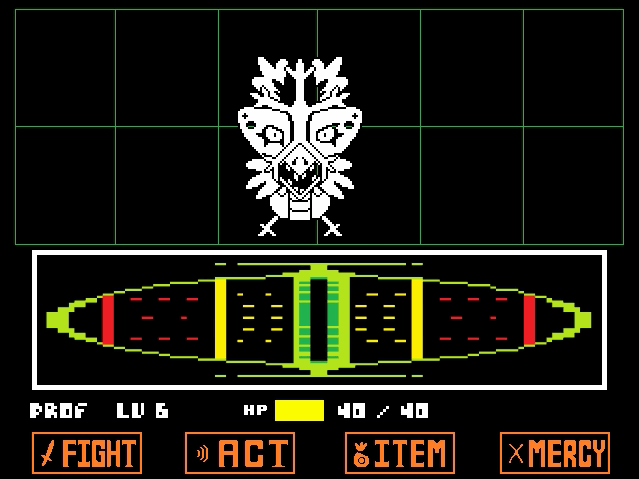 Each weapon alters the attack input. After pressing Z to attack with the Tough Glove, I need to mash Z for extra damage.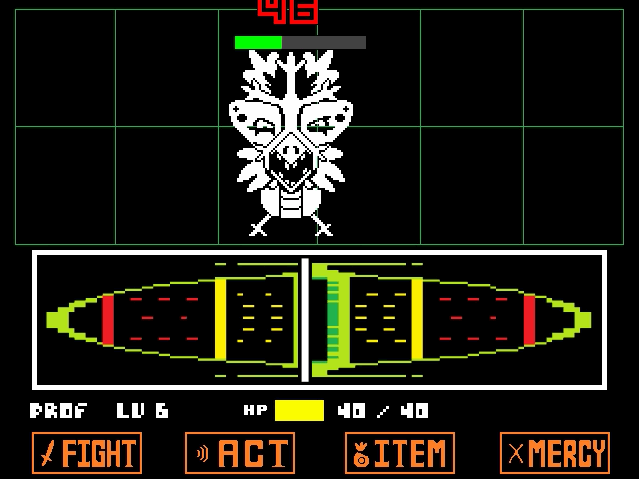 I kill Snowdrake.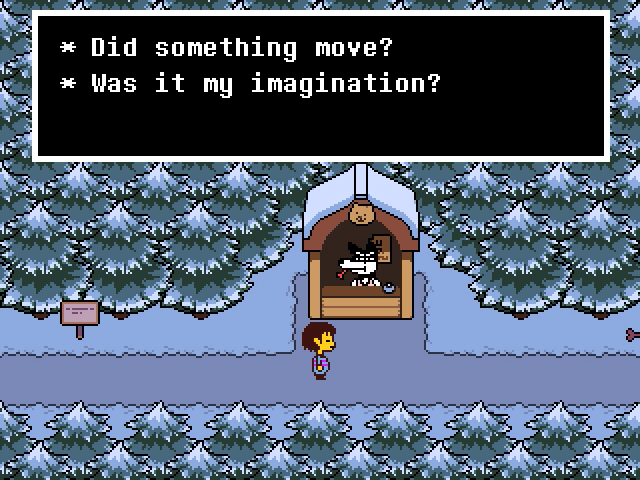 Someone stops me.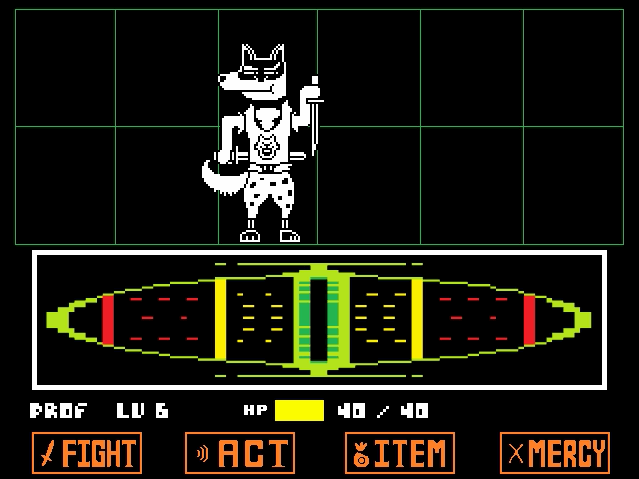 I kill Doggo.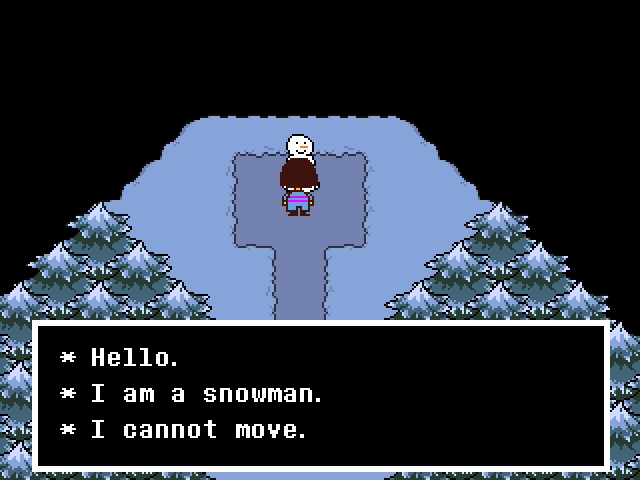 Traveller, if you could...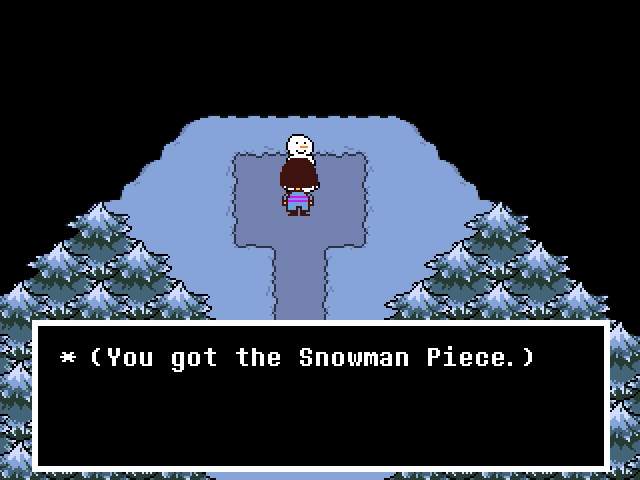 Oh me, oh my. What are you doing?

Soon there won't be any of me left...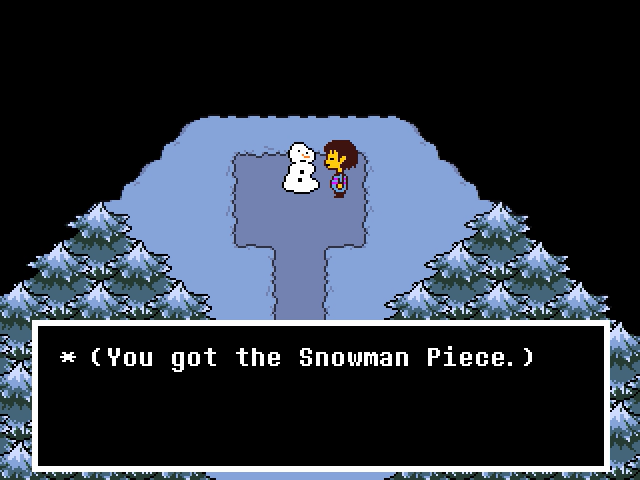 Stop... Please...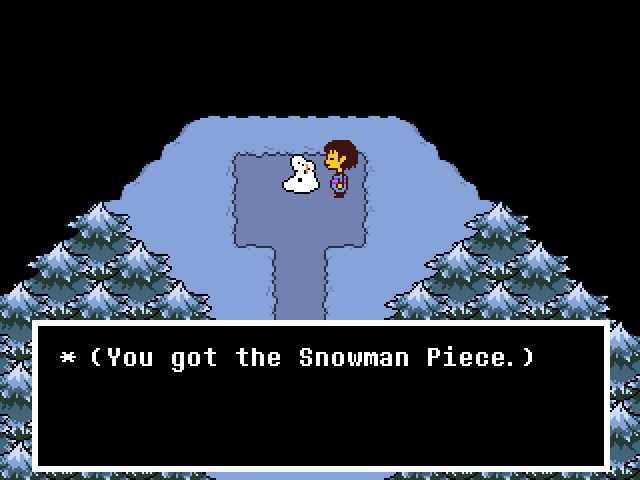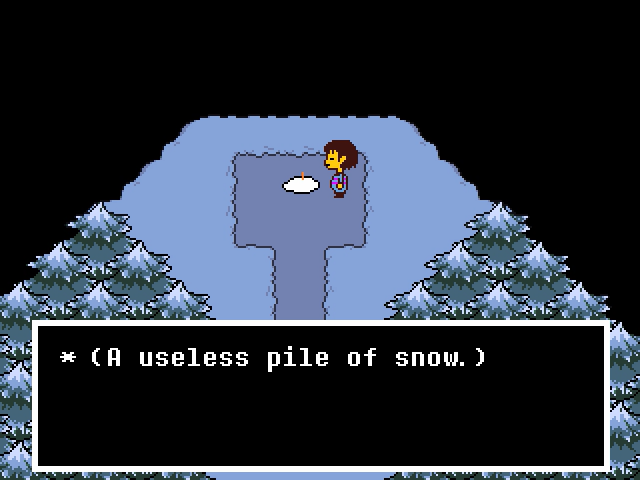 Nothing else I need here.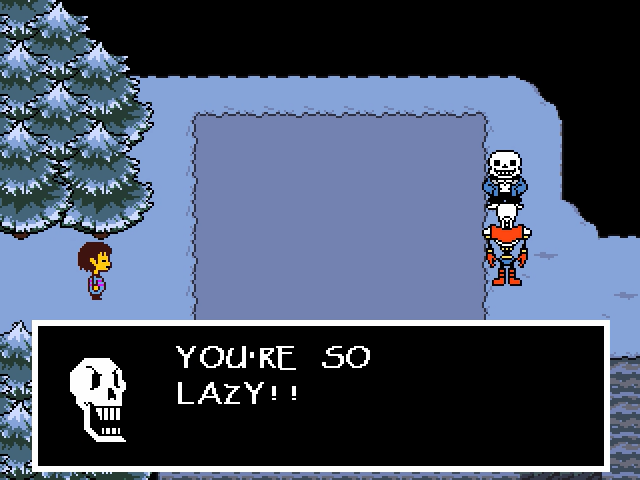 YOU WERE NAPPING ALL NIGHT!!

i think that's called...

sleeping.

EXCUSES, EXCUSES!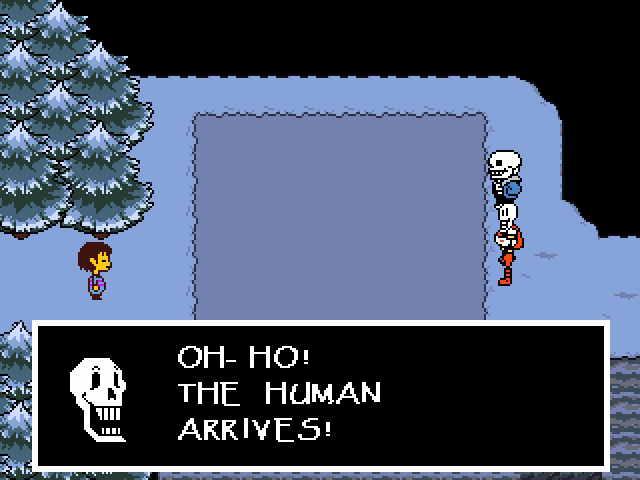 IN ORDER TO STOP YOU...

MY BROTHER AND I HAVE CREATED SOME PUZZLES!

I THINK YOU WILL FIND THIS ONE...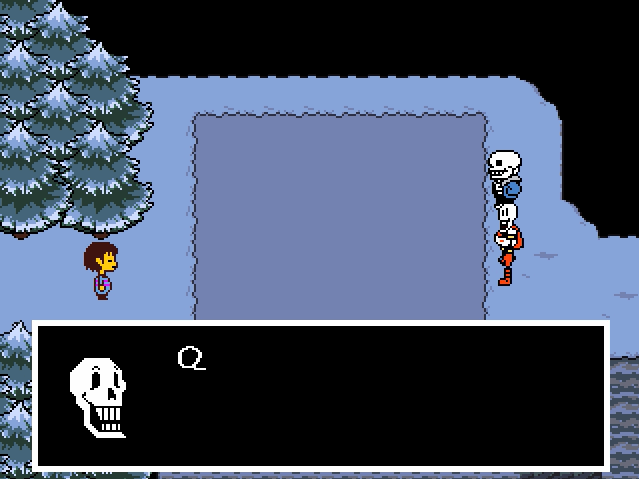 FOR YOU SEE, THIS IS... THE, INVISIBLE...

UHHHHHHH...?

HMMM... YOU MUST BE HAVING CULTURE SHOCK.

YOU SEE, WHERE I COME FROM, IT'S A LOVING TRADITION.

TO SUFFER THROUGH HORRIBLE PUZZLES FOR NO REASON.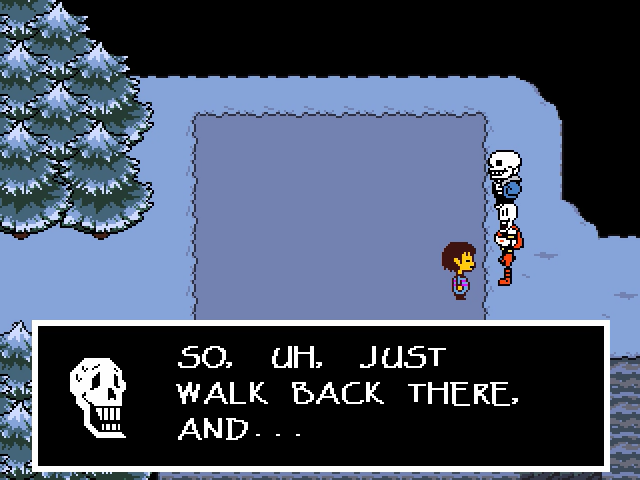 ...

SIGH...

WHY COULDN'T WE GET A HUMAN THAT LIKES PUZZLES???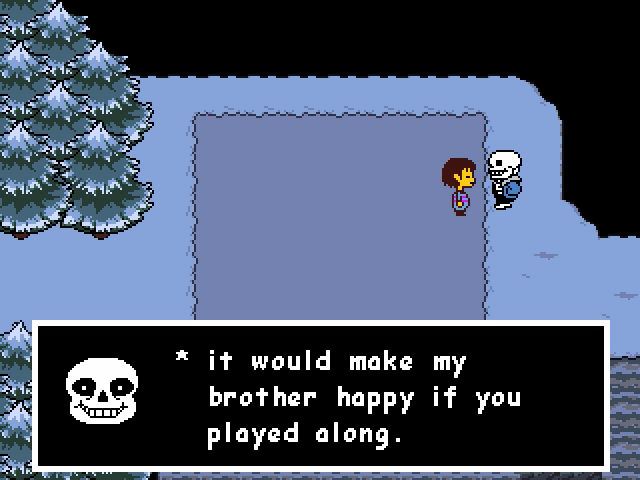 I keep moving.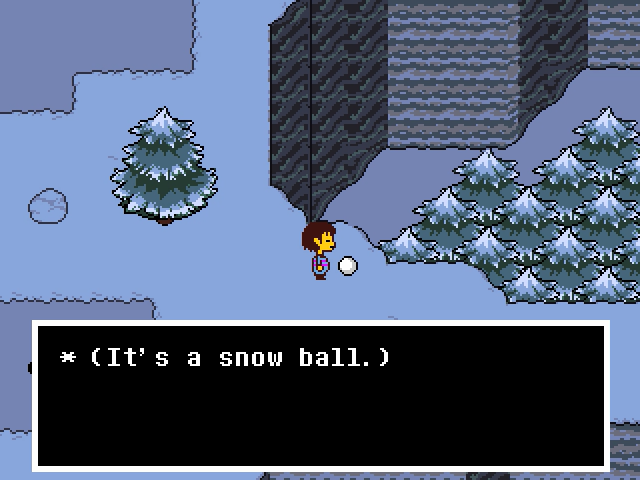 Just some boring snow.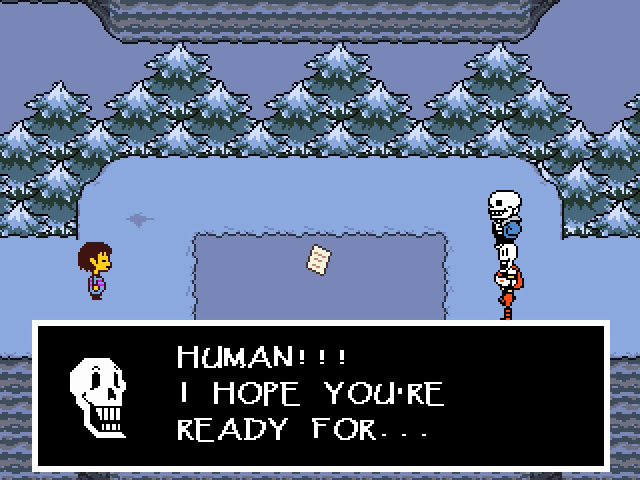 SANS!! WHERE'S THE PUZZLE!!!

it's right there. on the ground.

trust me. there's no way they'll skip this one.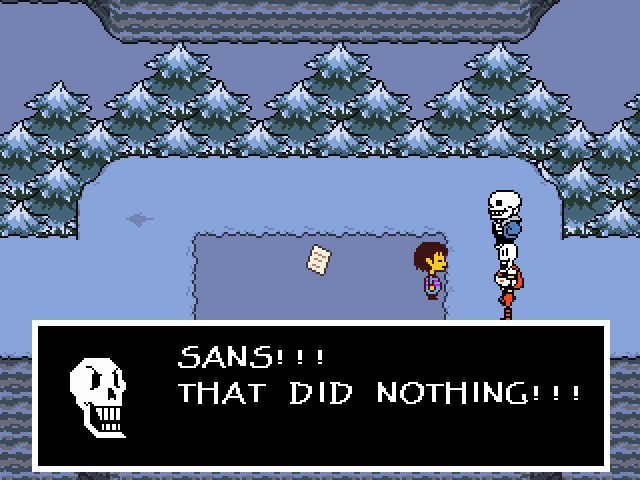 whoops.

knew i should have put down junior jumble instead.

WHAT?!? JUNIOR JUMBLE!?

FINALLY, SOMETHING WE CAN BOTH AGREE ON.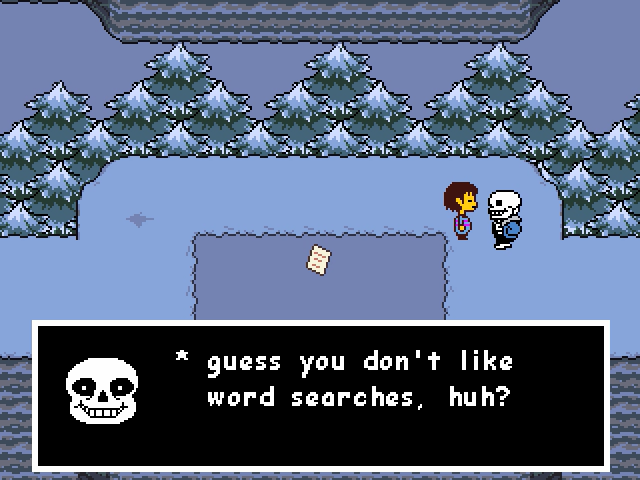 me neither. i'm more of a funny pages kind of guy.

...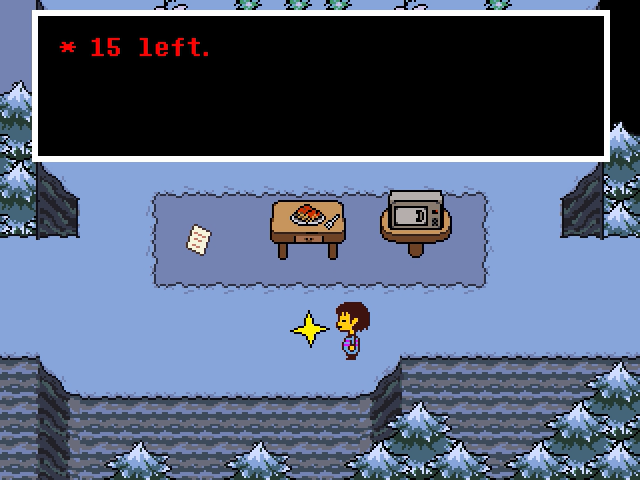 One snowdrake down.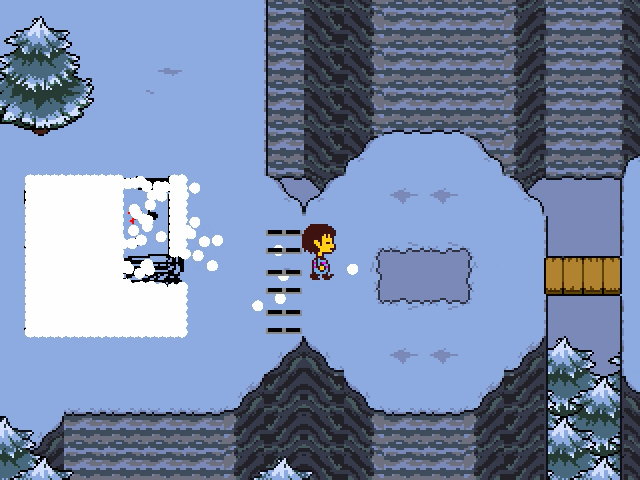 The puzzle in the next area isn't even turned on.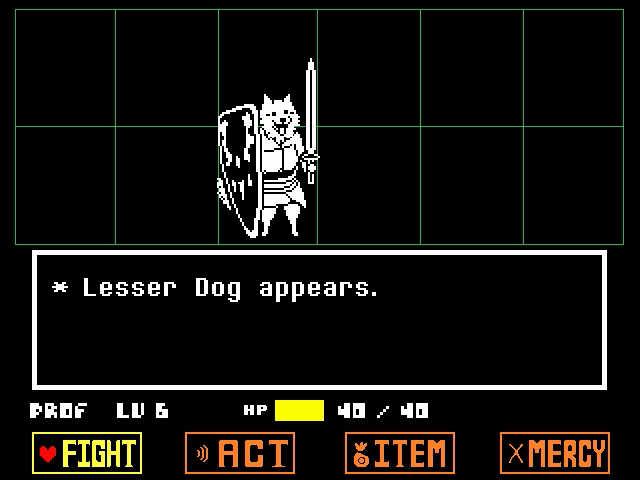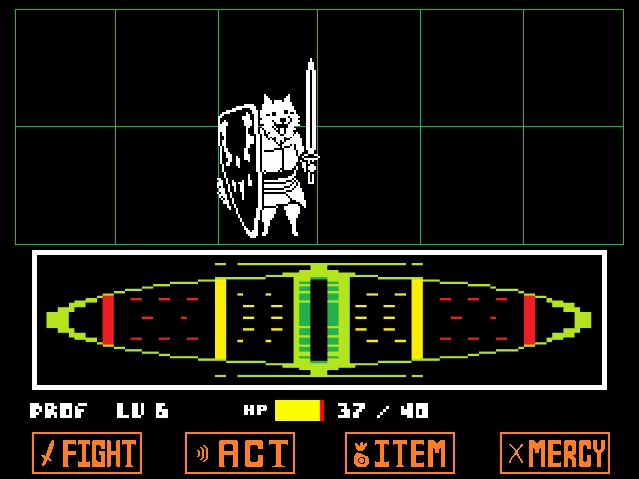 I kill Lesser Dog.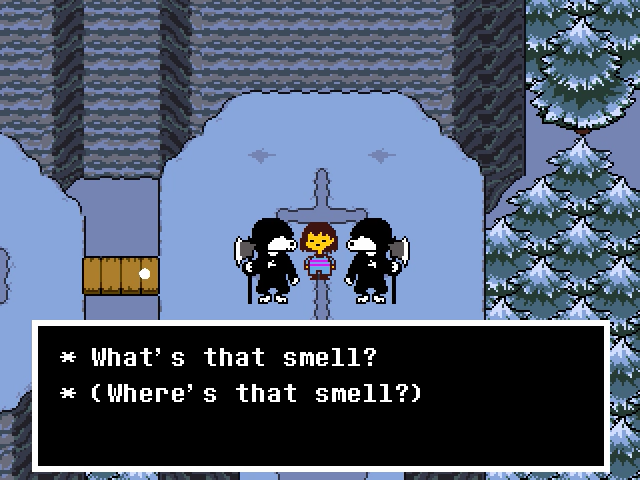 Why are there so many dogs in this place?
The other dog gets mad for some reason after I kill the first one.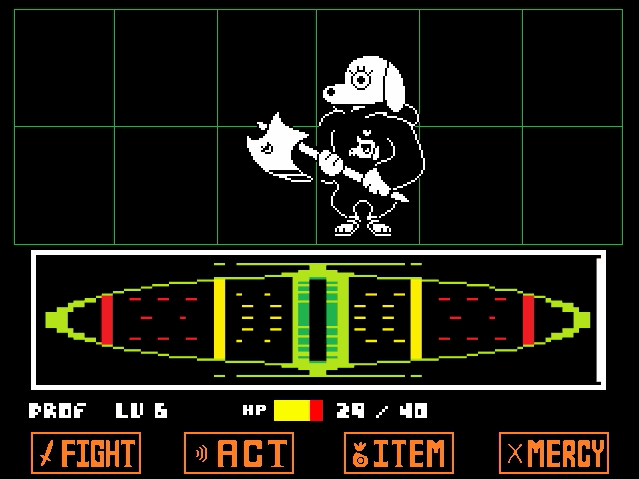 But not for long.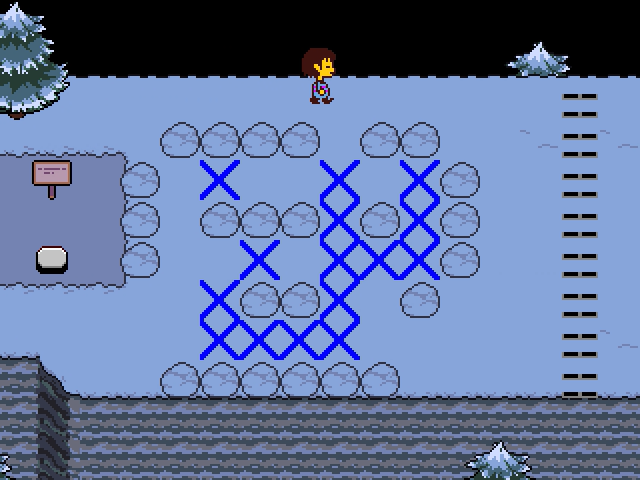 There's something unimportant on the ground.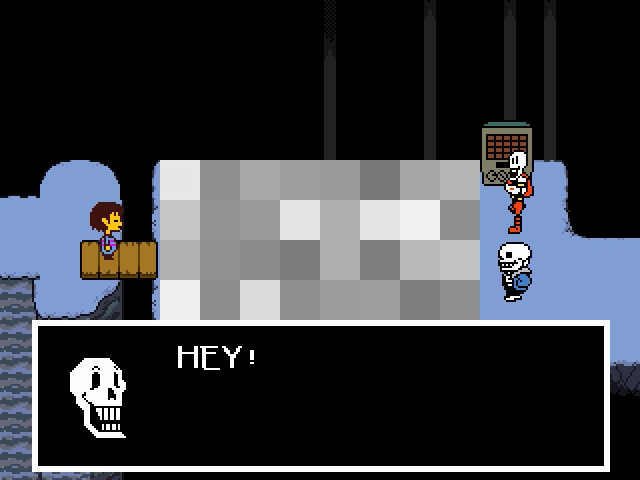 IT'S THE HUMAN!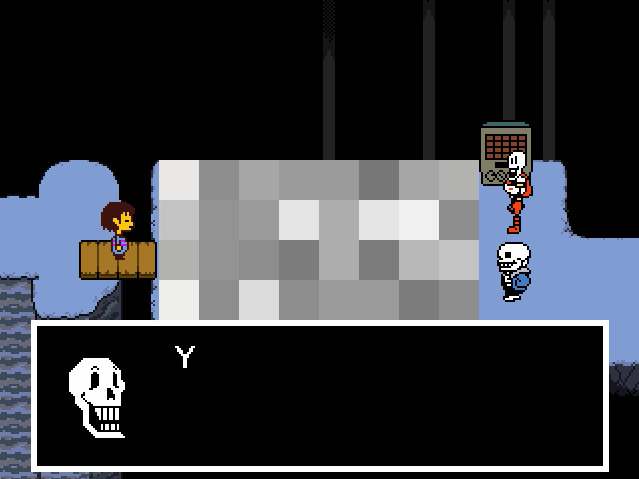 IT WAS MADE BY THE GREAT...

...ARE YOU SERIOUS?

SANS!!! HELP!!!

THEY KEEP WALKING THROUGH MY PUZZLES!

THEY'RE SUPPOSED TO LET ME EXPLAIN THEM.

THEN THREATEN AND BAFFLE THEM WITH DANGEROUS JAPES.

well, maybe they don't like japes.

EVERYONE LIKES JAPES!!!

what about undyne? doesn't she hate puzzles?

SHE HATES PUZZLES. BUT SHE LOVES JAPES.

that makes sense.

HUMAN!! WHAT DO YOU THINK!?

PUZZLES OR JAPES?

...

...

OKAY, THIS IS NORMALLY THE PART.

WHERE YOU EITHER AGREE OR DISAGREE.

AND DEPENDING ON YOUR ANSWER.

WE SAY SOMETHING GREAT IN RESPONSE.

...

HERE, WHY DON'T YOU DO THIS PUZZLE YOURSELF.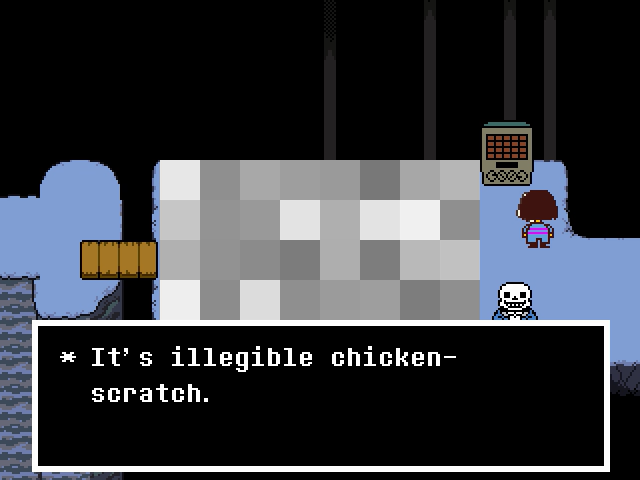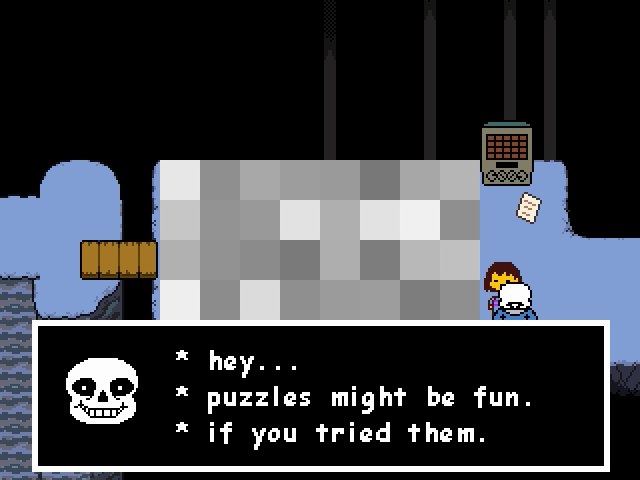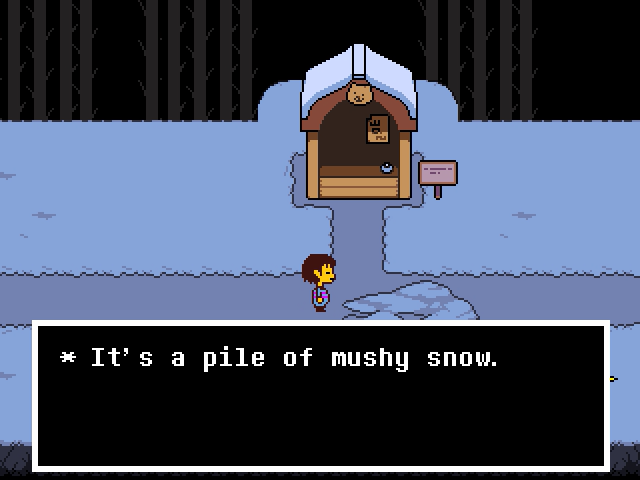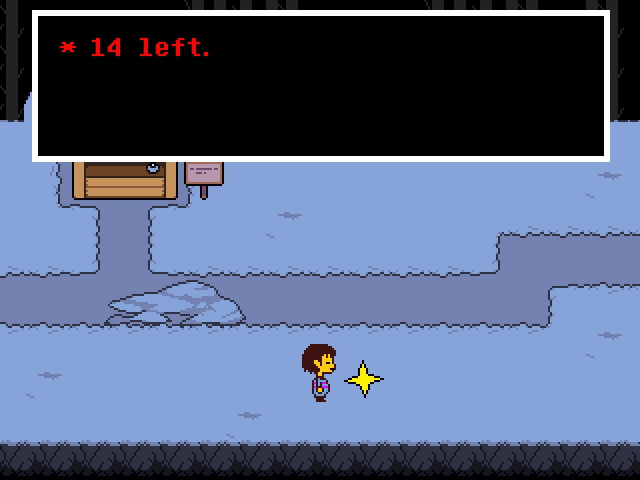 I save my game.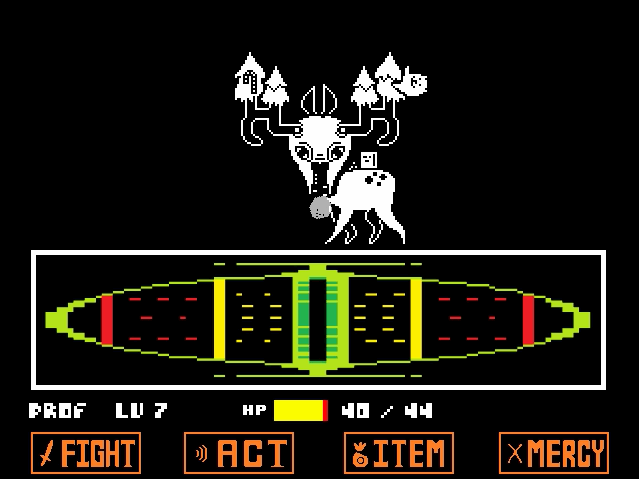 I kill Gyftrot.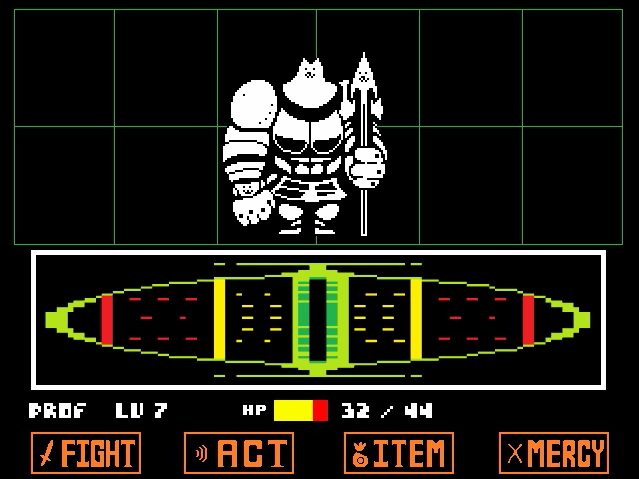 I kill Greater Dog.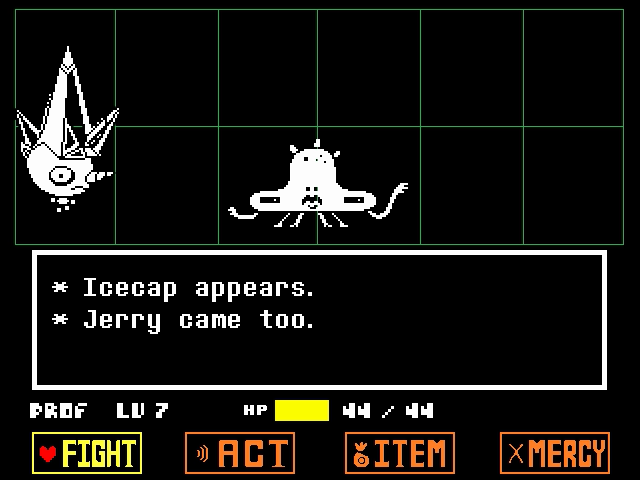 I kill another Icecap, then I easily kill...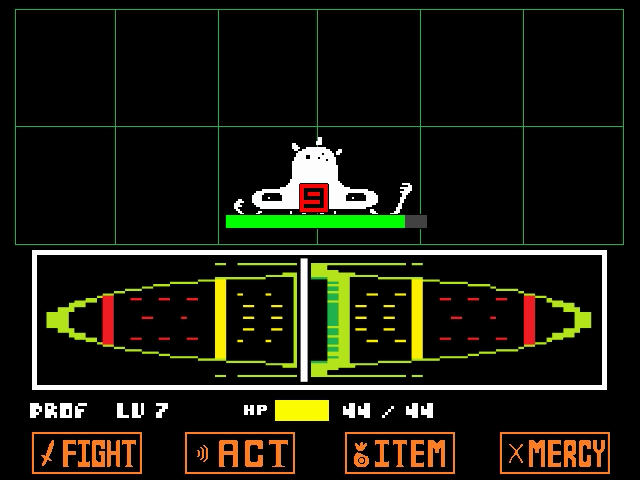 ...really?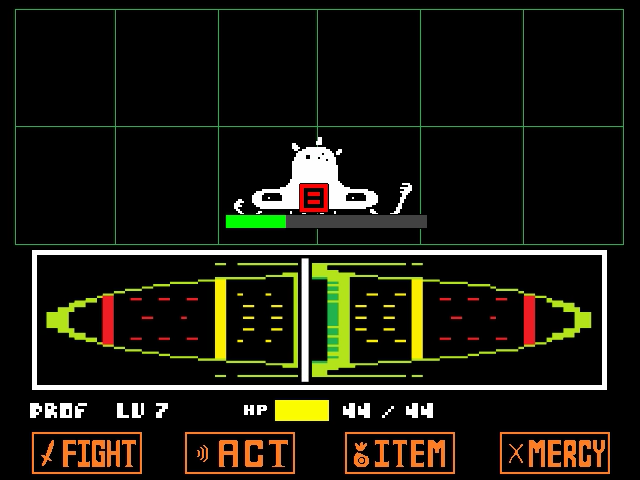 I hit Jerry way, way too many times.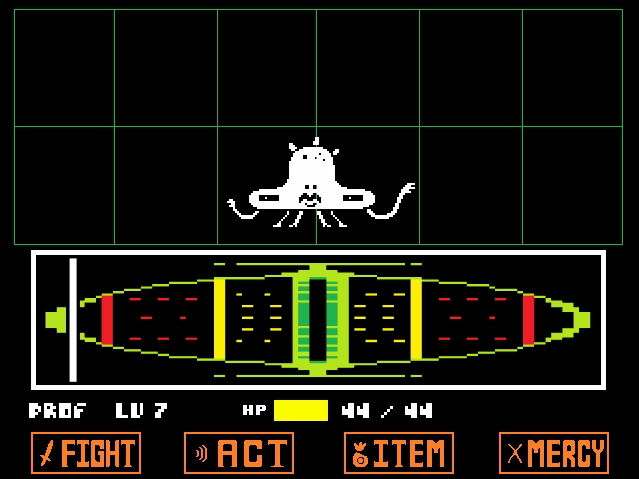 Even killing Jerry isn't any fun.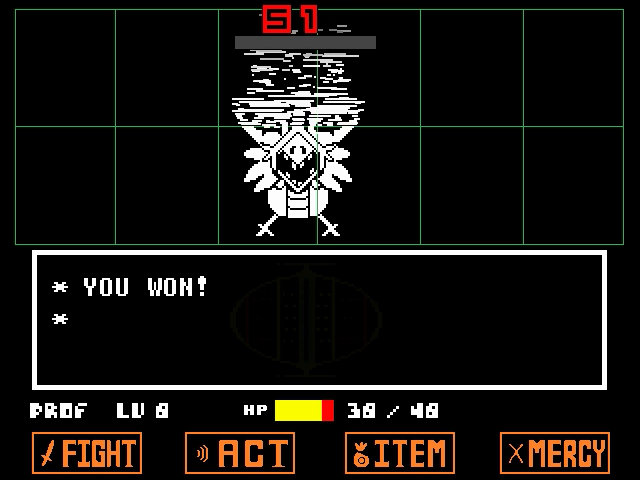 I kill, and kill, and kill...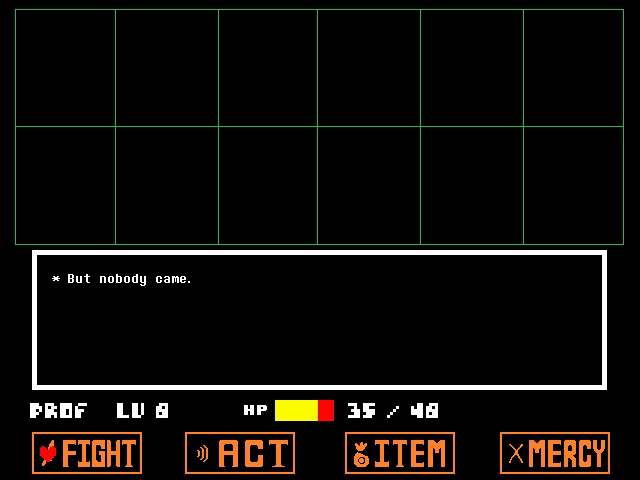 BGM: ?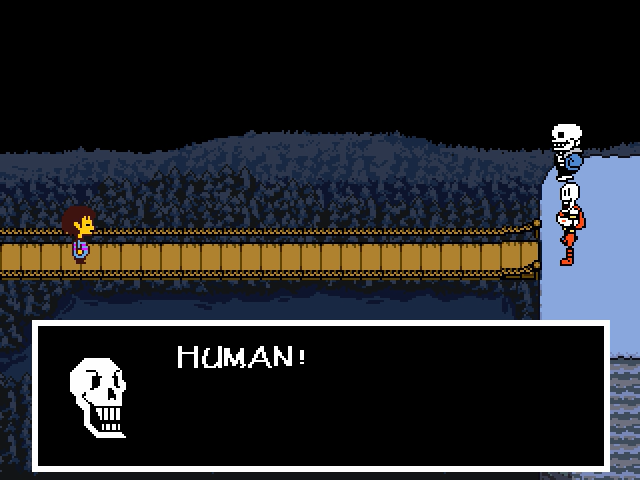 THIS IS YOUR FINAL AND MOST DANGEROUS CHALLENGE!

BEHOLD! THE GAUNTLET OF DEADLY TERROR!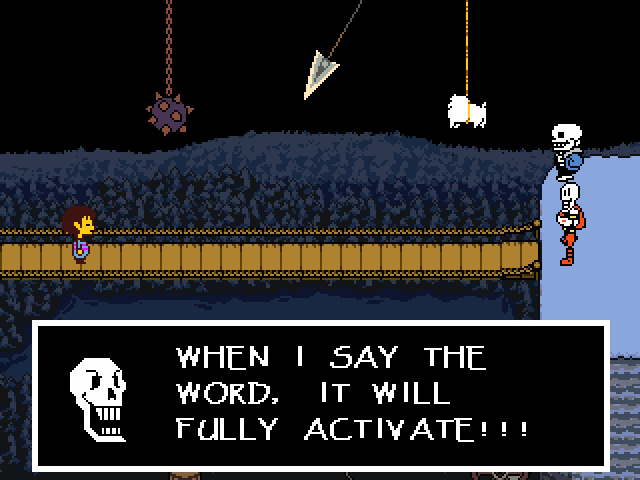 Oh, get on with it.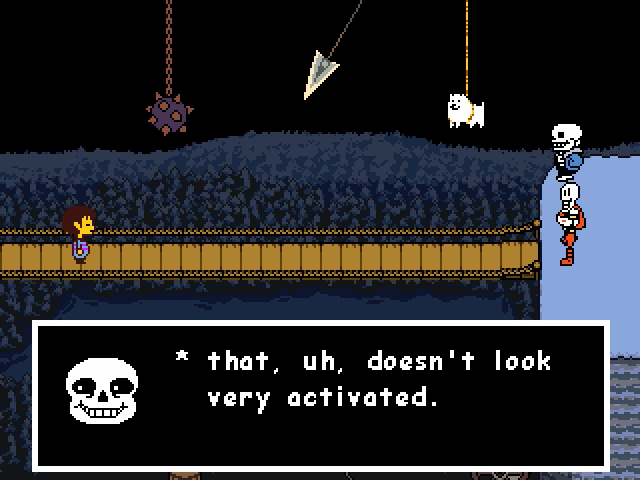 WELL!!!

...THEY'RE PROBABLY GOING TO WALK THROUGH IT.

AND IT WON'T BE ANY FUN AT ALL.

hmmm... so this human thing was a bust, huh?

WELL. I MEAN. I'M EXCITED TO CAPTURE THEM.

SO I'LL BECOME A FAMOUS ROYAL GUARDSMAN!!!

BUT ALL THE TIME I PUT INTO THESE PUZZLES...

IT'S KIND OF LIKE THROWING A BIRTHDAY PARTY...

without traps and fire?

EXACTLY!! IT'S POINTLESS!!!

MAYBE YOU WERE RIGHT TO BE LAZY ABOUT PUZZLES.

me? right about something? really?

...

YEAH!! WHAT AM I SAYING!

YOU'RE STILL COMPLETELY WRONG!

I JUST HAVE THE WRONG AUDIENCE!

THINK ABOUT HOW MUCH FUN UNDYNE WOULD HAVE HERE!

FLAMES. VIOLENCE. IT'S RIGHT UP HER ALLEY!

SO I WON'T WASTE THIS PUZZLE ON YOU.

I JUST HAVE TO APPRECIATE...

THE FRIEND I ALREADY HAVE!!!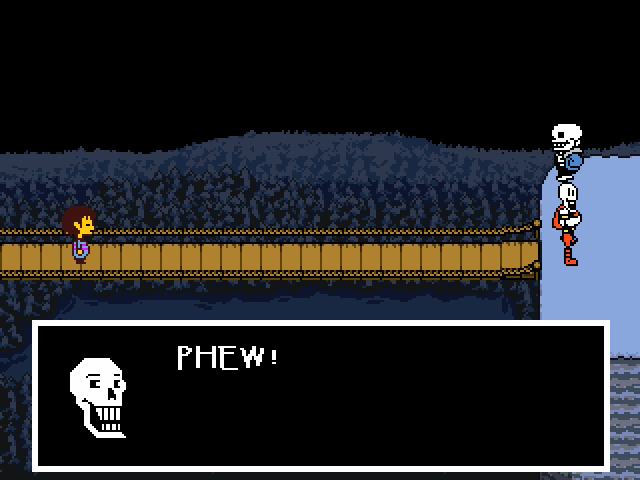 A VALUABLE LIFE LESSON!!!

NYEH HEH HEH!!!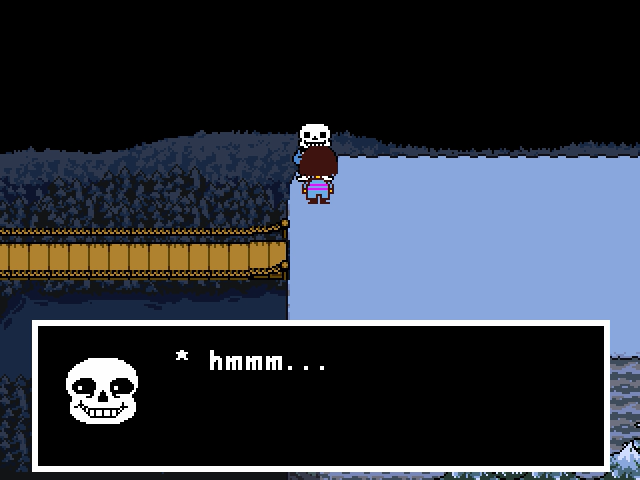 guess we didn't need your help to have a good time after all.

...

say, i've been thinking.

seems like you're gonna fight my brother pretty soon.

here's some friendly advice.

if you keep going the way you are now...

...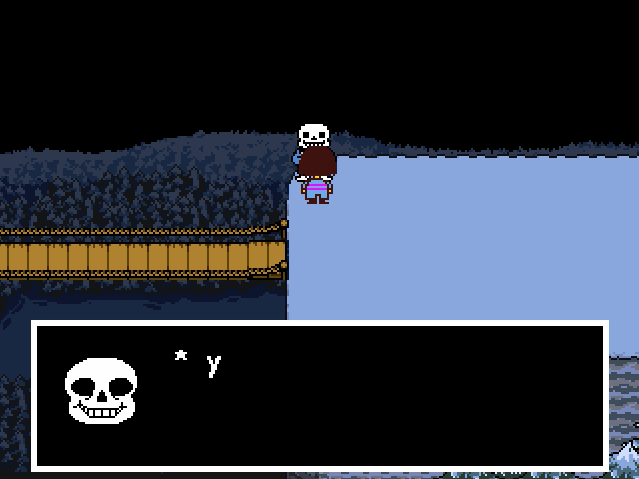 ...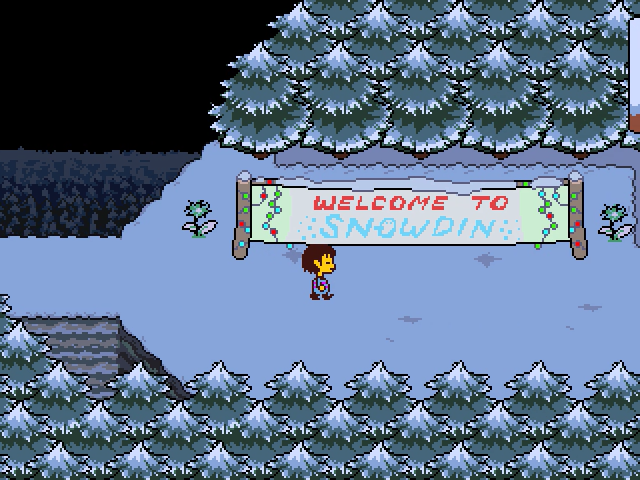 It's quiet.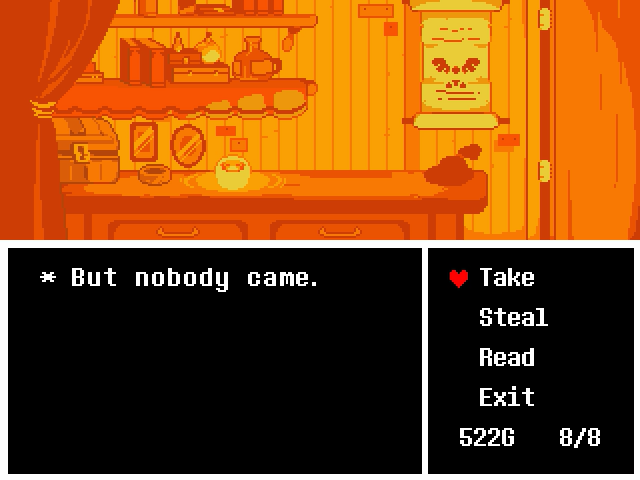 The shop is abandoned.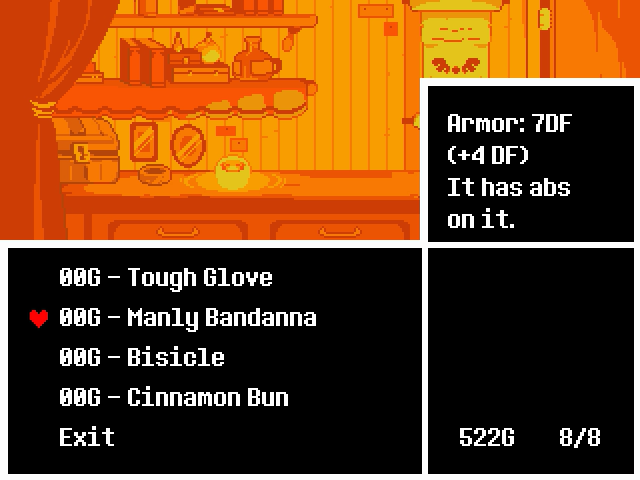 I can take any items I want. I clear some inventory space, then take one of everything but the glove.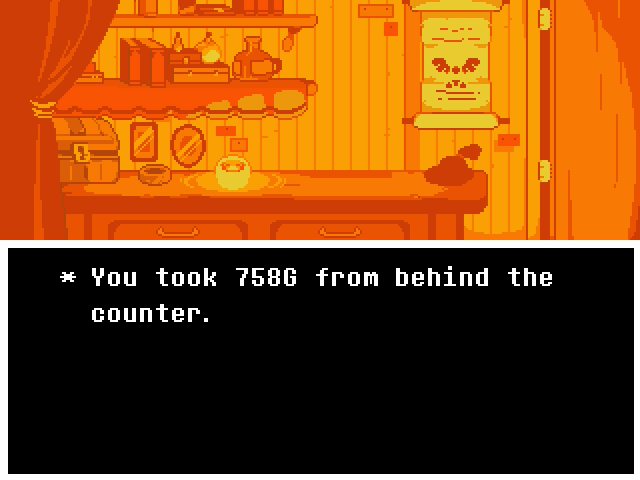 She doesn't need it.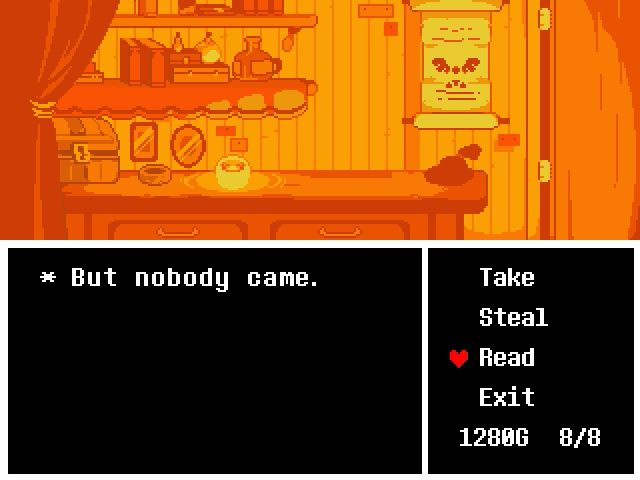 (There's a note here.)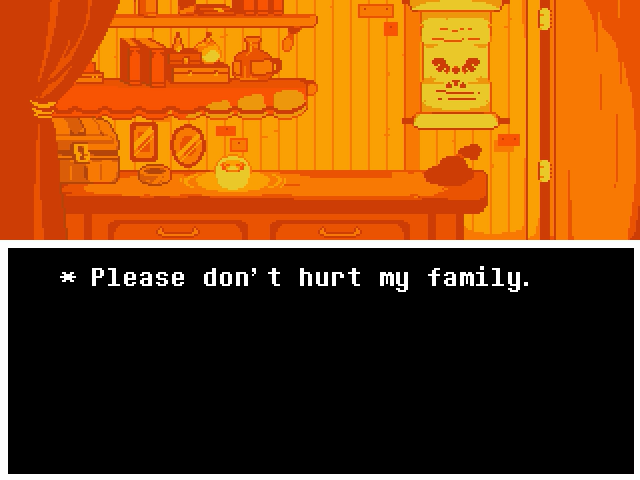 Nothing else here I can use.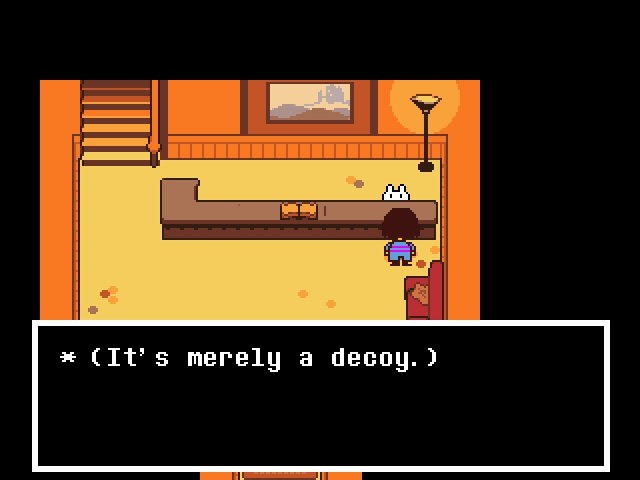 Nobody at the inn.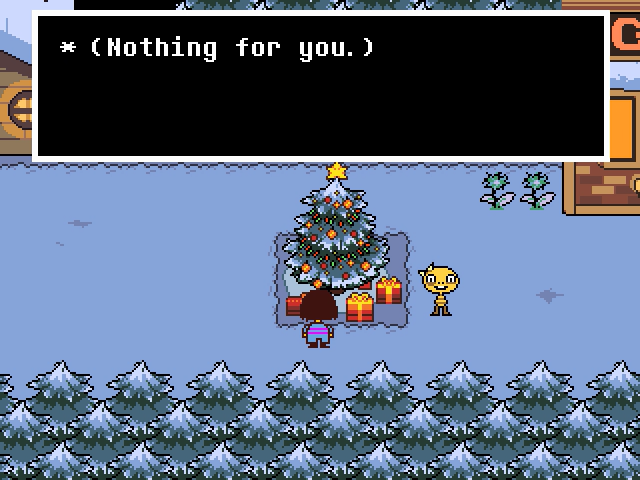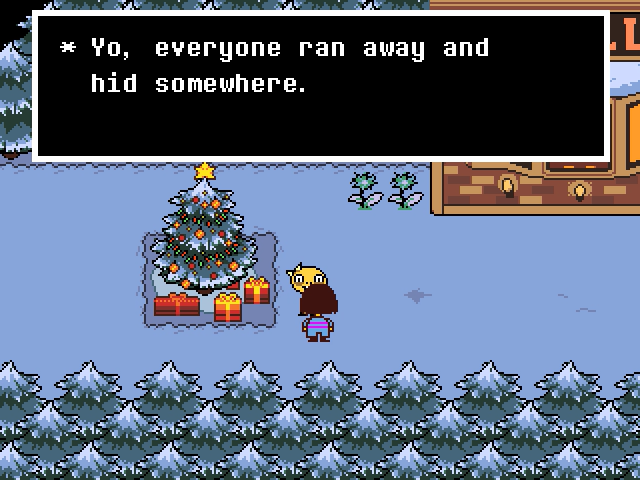 Man, adults can be so dumb sometimes, haha...

Don't they know we've got Undyne to protect us!?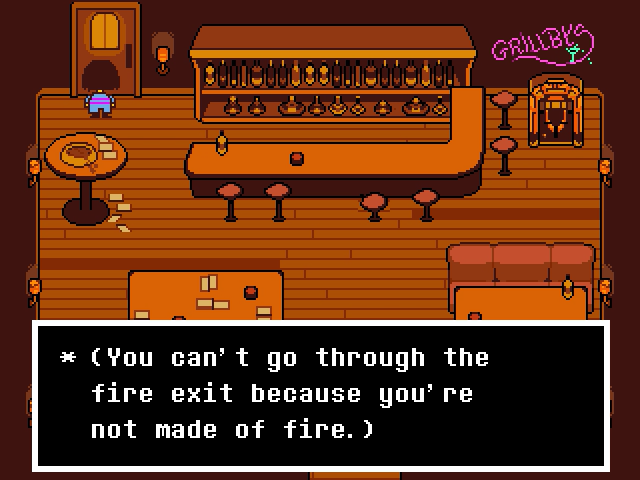 Nobody at Grillby's.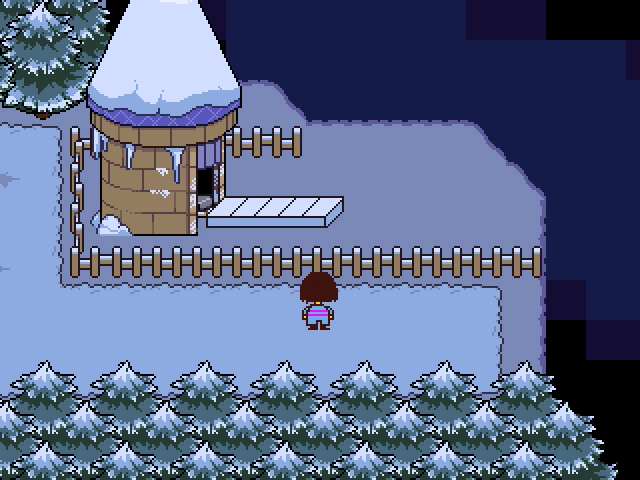 What a boring town.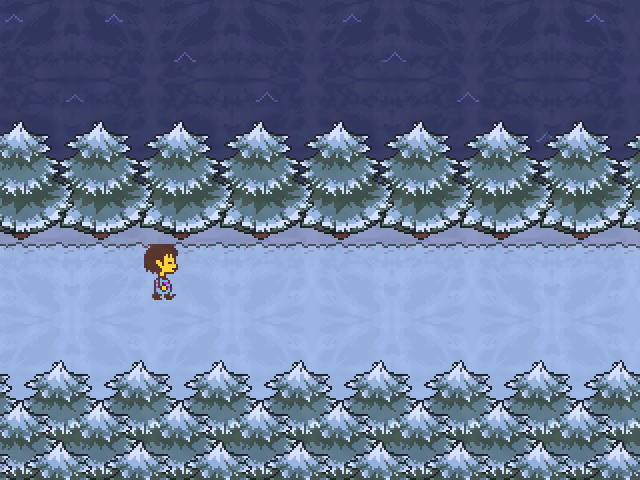 Time to meet someone.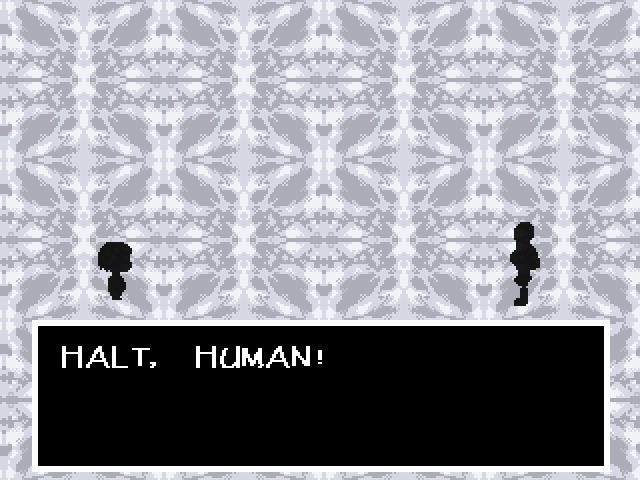 BGM: Bonetrousle?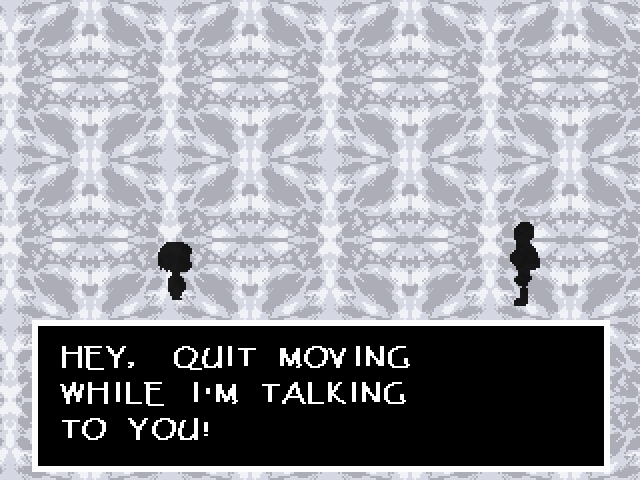 I, THE GREAT PAPYRUS, HAVE SOME THINGS TO SAY.

FIRST: YOU'RE A FREAKING WEIRDO!

NOT ONLY DO YOU NOT LIKE PUZZLES.

BUT THE WAY YOU SHAMBLE ABOUT FROM PLACE TO PLACE...

THE WAY YOUR HANDS ARE ALWAYS COVERED IN DUSTY POWDER.

IT FEELS...

LIKE YOUR LIFE IS GOING DOWN A DANGEROUS PATH.

HOWEVER!

I, PAPYRUS, SEE GREAT POTENTIAL WITHIN YOU!

EVERYONE CAN BE A GREAT PERSON IF THEY TRY!

AND ME, I HARDLY HAVE TO TRY AT ALL!!!

NYEH HEH HEH HEH HEH HEH!!!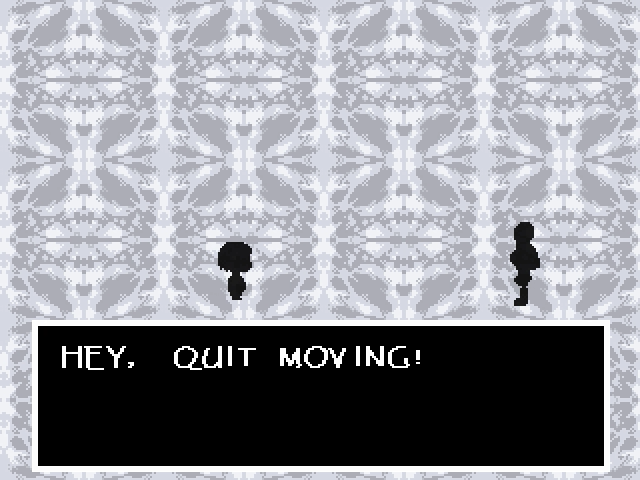 THIS IS EXACTLY WHAT I AM TALKING ABOUT!

HUMAN! I THINK YOU ARE IN NEED OF GUIDANCE!

SOMEONE NEEDS TO KEEP YOU ON THE STRAIGHT AND NARROW!

BUT WORRY NOT! I, PAPYRUS...

WILL GLADLY BE YOUR FRIEND AND TUTOR!

I WILL TURN YOUR LIFE RIGHT AROUND!!!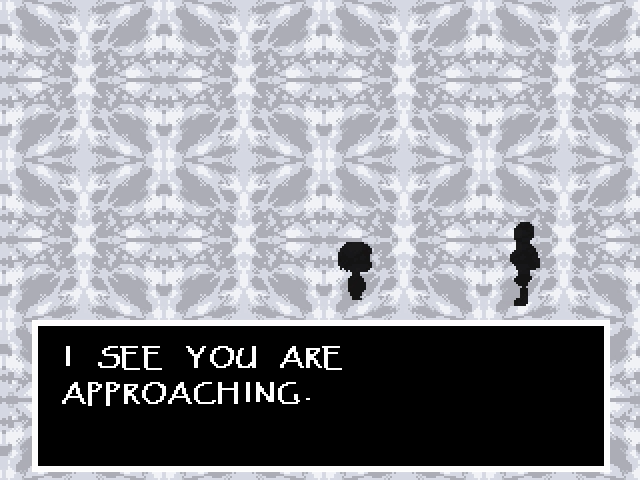 ARE YOU OFFERING A HUG OF ACCEPTANCE?

WOWIE!! MY LESSONS ARE ALREADY WORKING!!

I, PAPYRUS, WELCOME YOU WITH OPEN ARMS!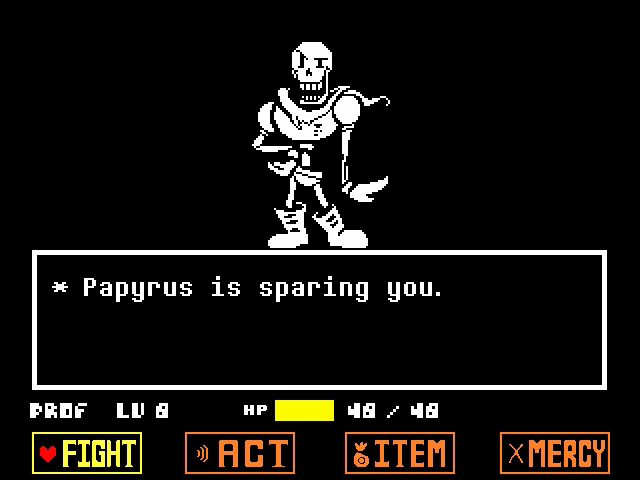 Finally.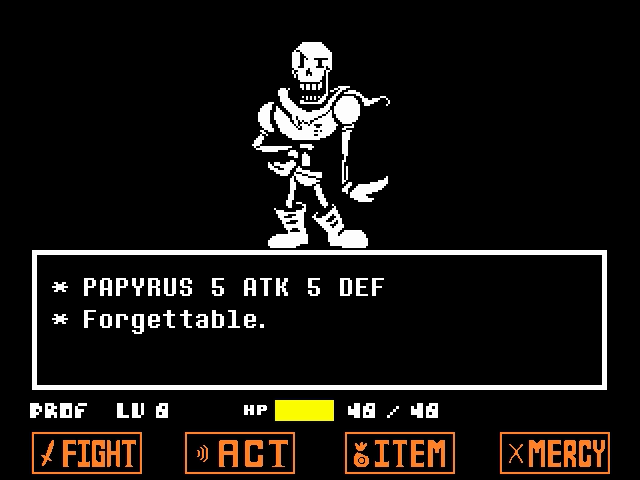 ...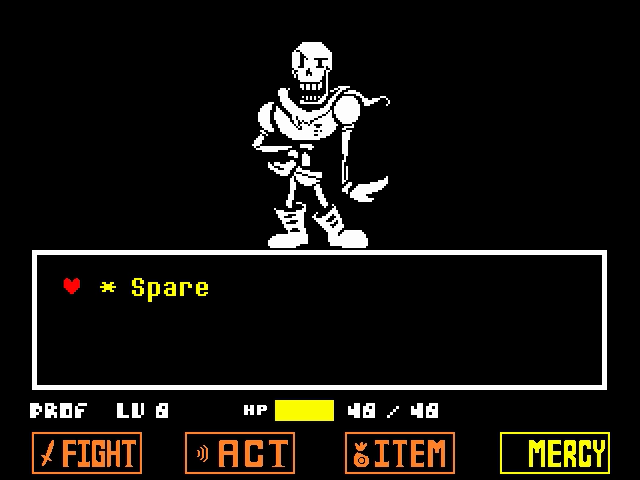 Maybe he's right.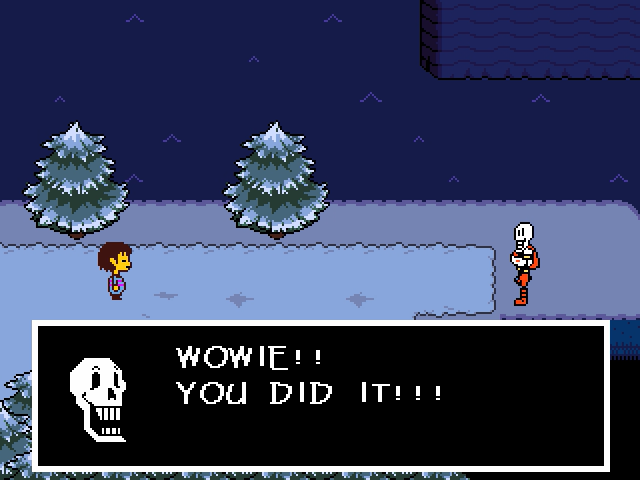 BGM: Nyeh Heh Heh!

YOU DIDN'T DO A VIOLENCE!!!

TO BE HONEST, I WAS A LITTLE AFRAID...

BUT YOU'RE ALREADY BECOMING A GREAT PERSON!

I'M SO PROUD I COULD CRY!!!

...WAIT, WASN'T I SUPPOSED TO CAPTURE YOU...?

WELL, FORGET IT!

I JUST WANT YOU TO BE THE BEST PERSON YOU CAN BE.

SO LET'S LET BYBONES BE BYBONES.

I'LL EVEN TELL YOU HOW TO LEAVE THE UNDERGROUND.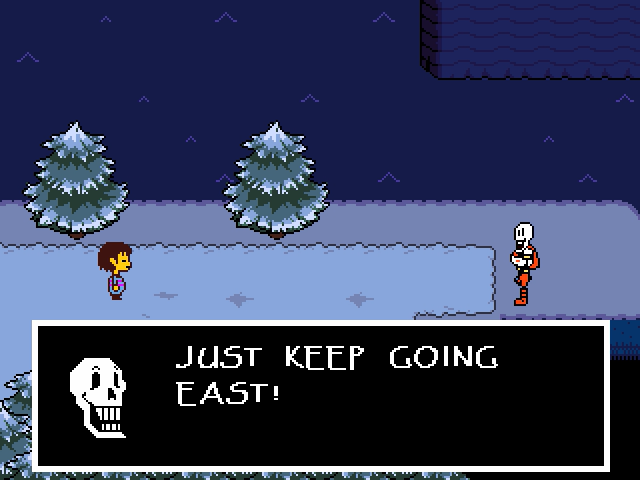 It's time to turn my life around...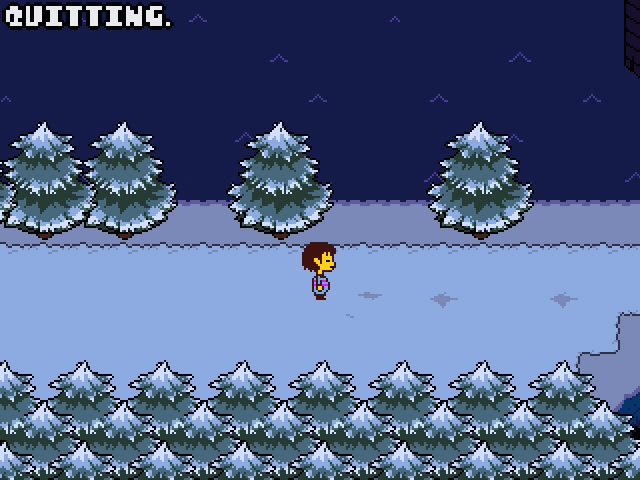 Just kidding.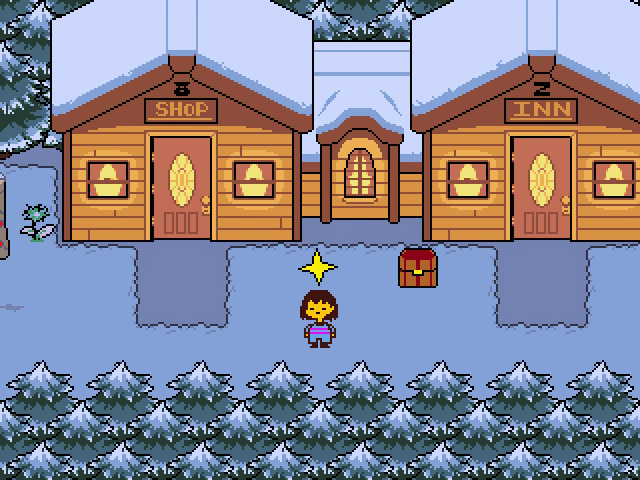 I just wanted to see what would happen.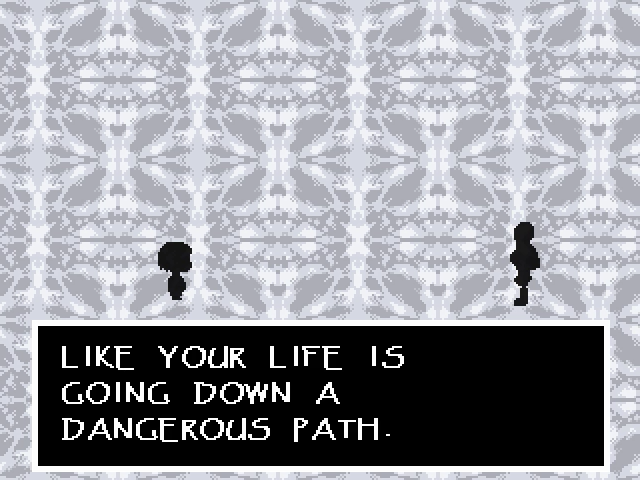 BGM: Bonetrousle?
Isn't that why we're here at all?
To see what happens.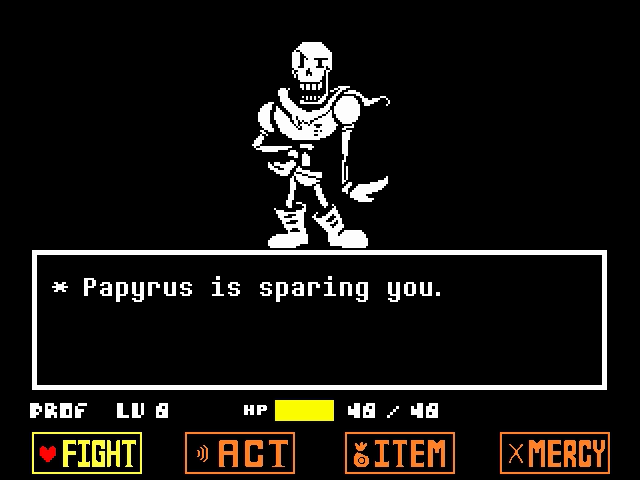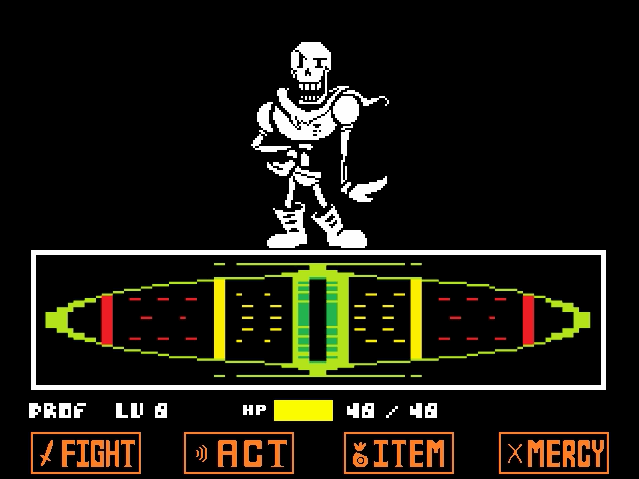 Monsters are weak.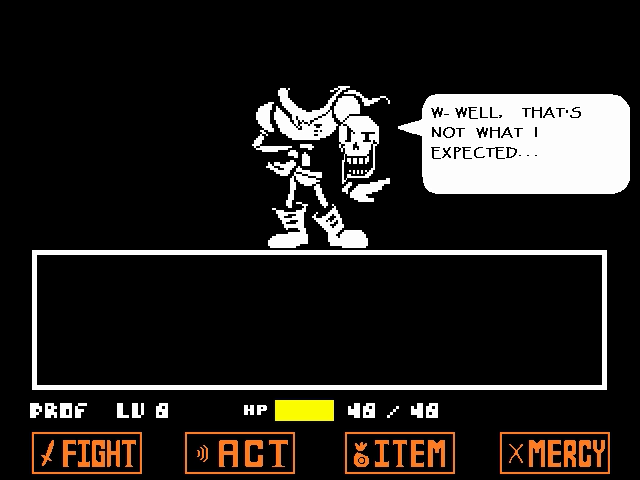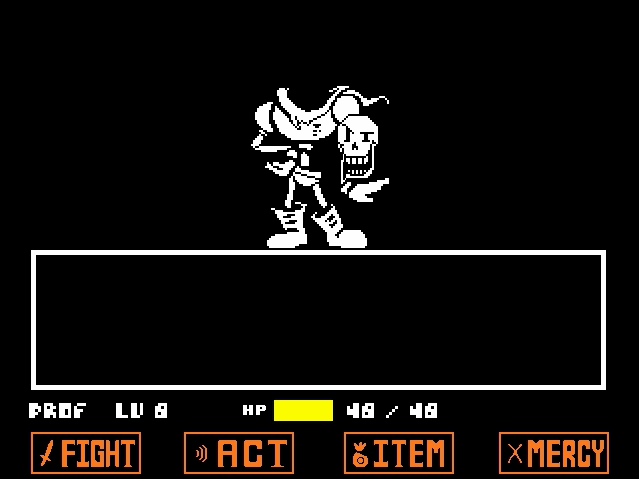 BUT...

ST... STILL! I BELIEVE IN YOU!

YOU CAN DO A LITTLE BETTER!

EVEN IF YOU DON'T THINK SO!

I... I PROMISE...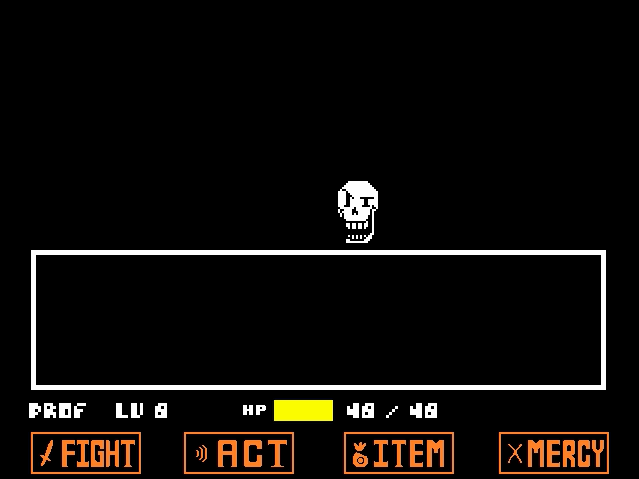 I kill... hmm.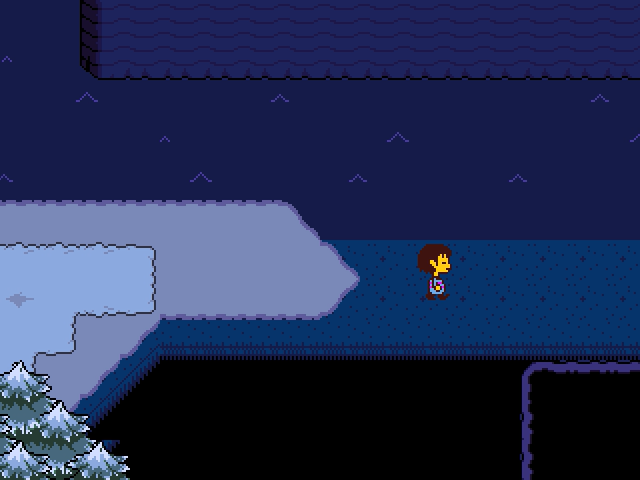 What was his name again?