Part 55: Oh! One True Love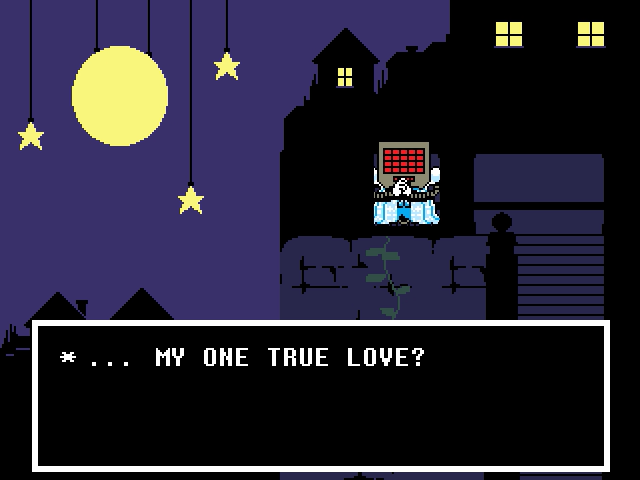 Time for a musical interlude.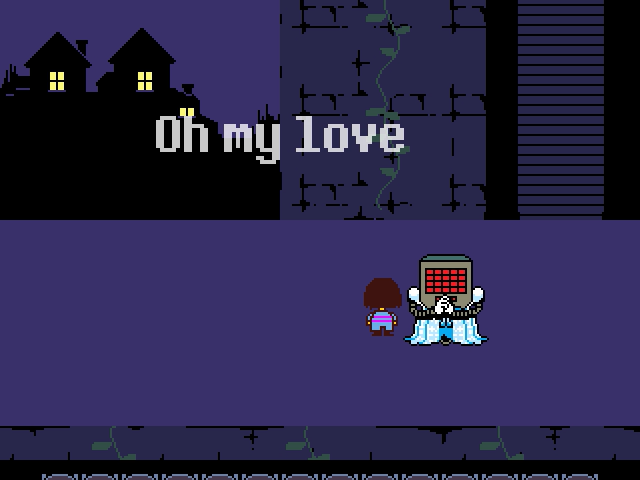 You can move around during this sequence, if you want to dance with Mettaton.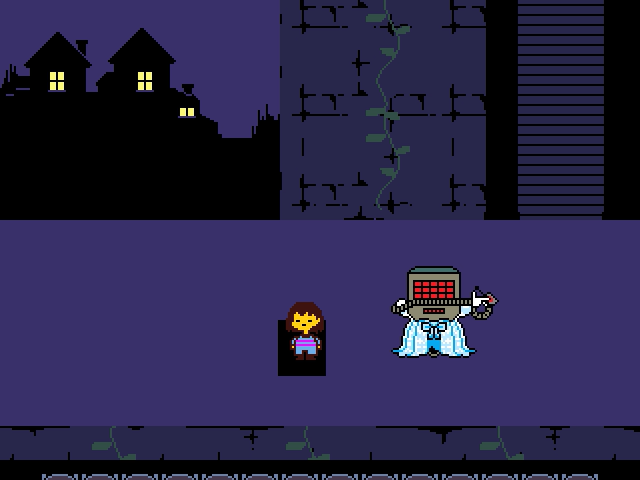 No matter where you end up though, there'll be a trap door there.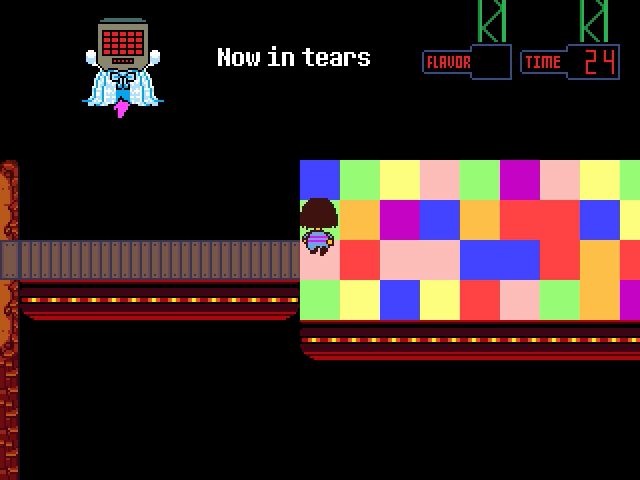 So, the colored tile maze.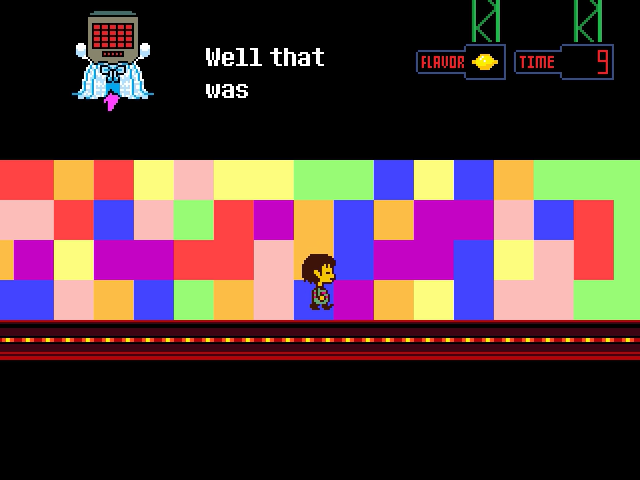 With quick thinking...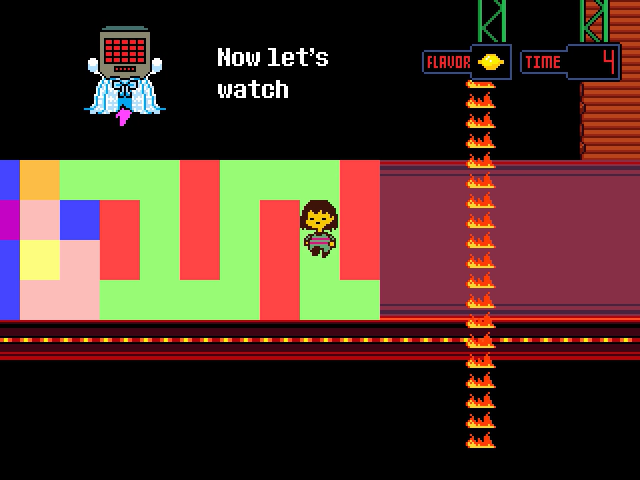 It's possible to reach the end in under 30 seconds.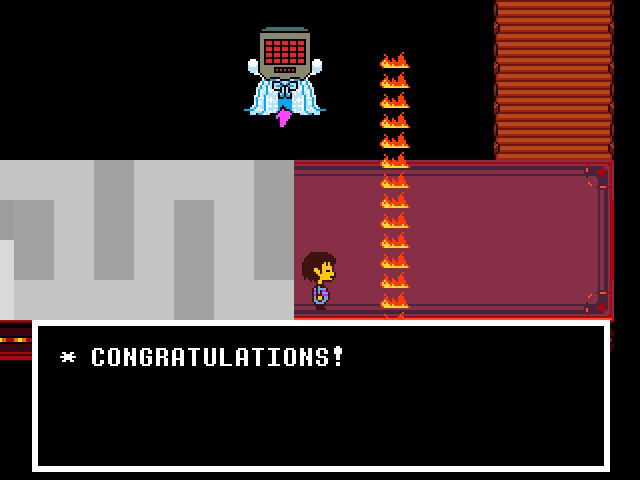 YOU MADE IT THROUGH THE PUZZLE!!!


AND NOW, WITHOUT FURTHER ADO, THE FLAMES WILL BE DEACTIVATED!


NO! MORE! FIRE!


...BUT IT'S AS THE PHRASE GOES.


"OUT OF THE FIRE, AND INTO THE FRYING PAN."


THAT'S RIGHT, DARLING!


EVEN IF YOU MANAGE TO BEAT THE HEAT...


YOU'LL NEVER BE ABLE TO WITHSTAND MY HOT METAL BODY!


PREPARE YOURSELF FOR MY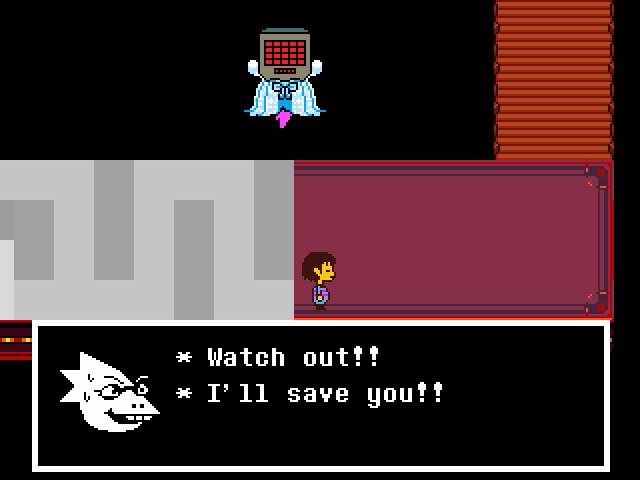 Flames, deactivate!!

...

...huh?

THE HUMAN FINISHED THE PUZZLE.


I ALREADY TURNED OFF THE FLAMES.


IN FACT, I WAS ABOUT TO FIGHT THE HUMAN.

Wh-wh-what? TH-THAT puzzle?

I mean, uhh...

Great job! We've got him on the ropes now!

ON THE ROPES? HA!


I ONLY DEACTIVATED THE FLAMES KNOWING THAT ALPHYS WOULD HAVE ANYWAY.


...NOW, WHERE WERE WE?


OH YES.


I WAS GOING TO ERADICATE YOU!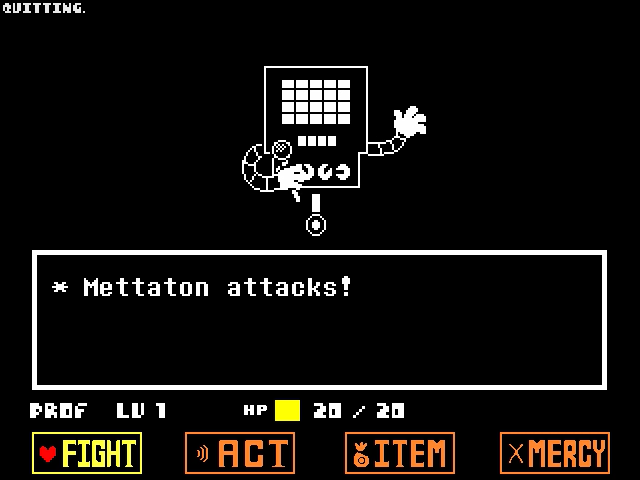 That didn't go well.
Fortunately, I have another idea.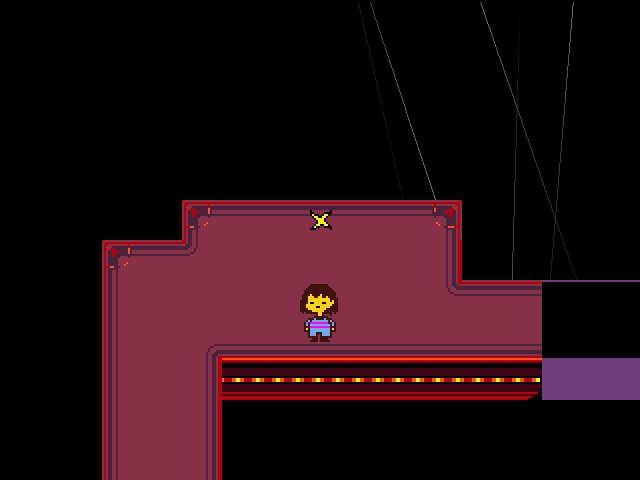 I load my game.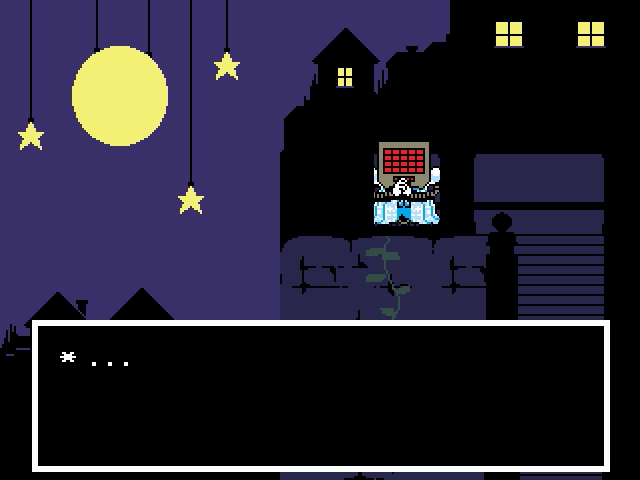 (YOU LOOK BORED, DARLING.)


(I WANT THIS TO BE A STELLAR PERFORMANCE, SO IF YOU WON'T GIVE IT YOUR ALL...)


(THEN I'LL SKIP AHEAD FOR THE AUDIENCE'S SAKE.)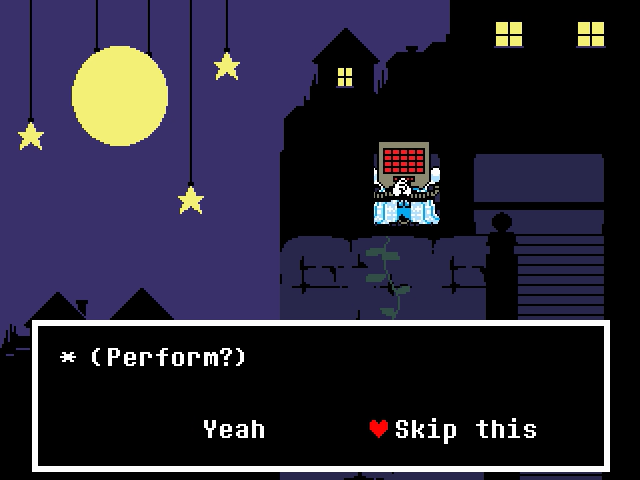 (KA-SIGH... THE SHOW MUST GO ON!)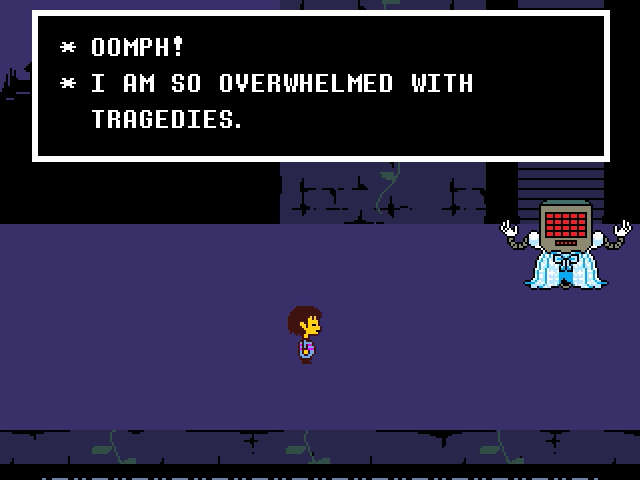 AND BEFORE WE EVEN HAD TIME TO SING A SWEET SONG ABOUT IT.


MY DEAR HEART! I CAN BARELY LOOK UPON YOU, KNOWING WHAT COMES NEXT...


WELL, TOODLES!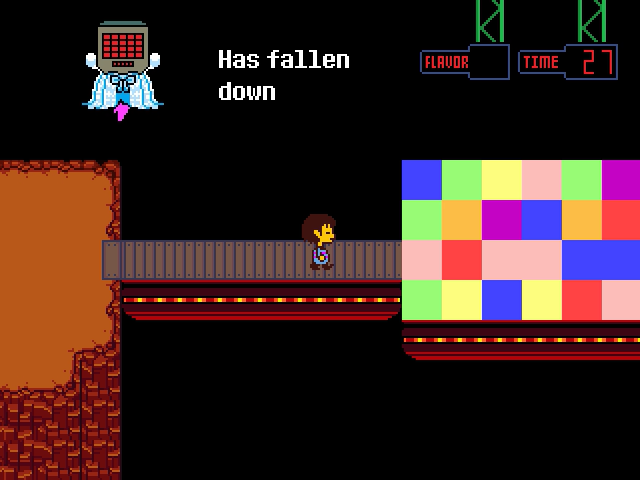 So, the reason Mettaton attacks is that, by the rules, if I step on a green tile, I have to fight a monster.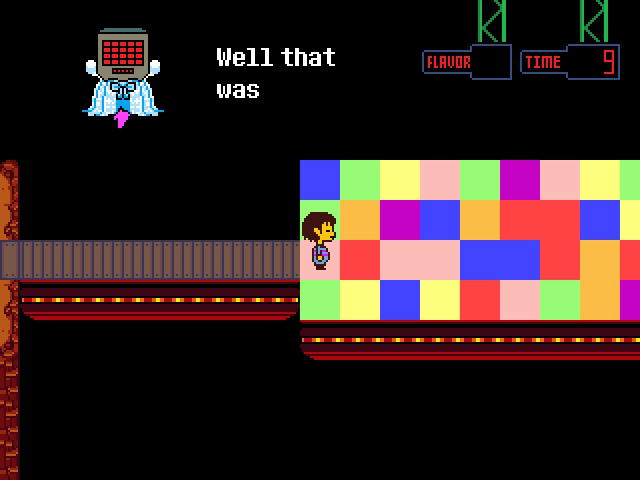 So, I just won't step on any green tiles!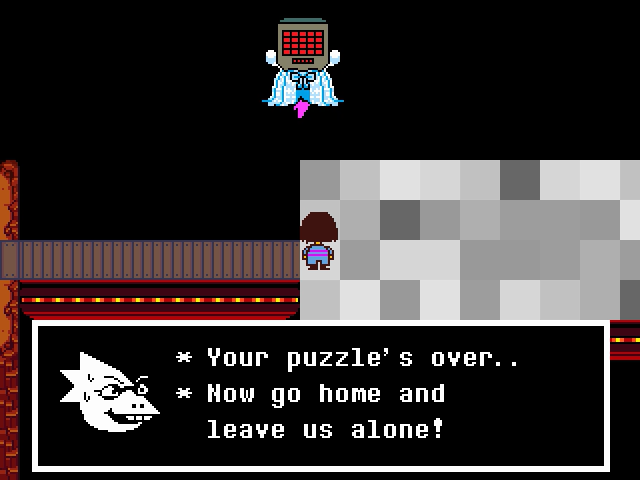 PUZZLE? OVER?


ALPHYS, DARLING, WHAT ARE YOU TALKING ABOUT...?


DID YOU FORGET WHAT THE GREEN TILES DO?


THEY MAKE A SOUND, THEN YOU HAVE TO FIGHT A MONSTER.


WELL, DARLING...!


WELL, WELL, WELL.


WELLY WELL WELL.


WELL WELLY WELL WELL, WELL WELL WELLY.


YOU NEVER STEPPED ON A GREEN TILE.


...


AND NOW YOU'RE GOING TO DIE.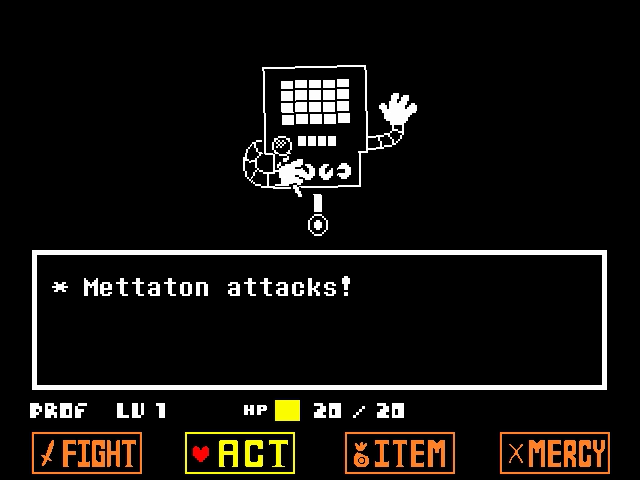 As you may have guessed, there's no getting around this fight.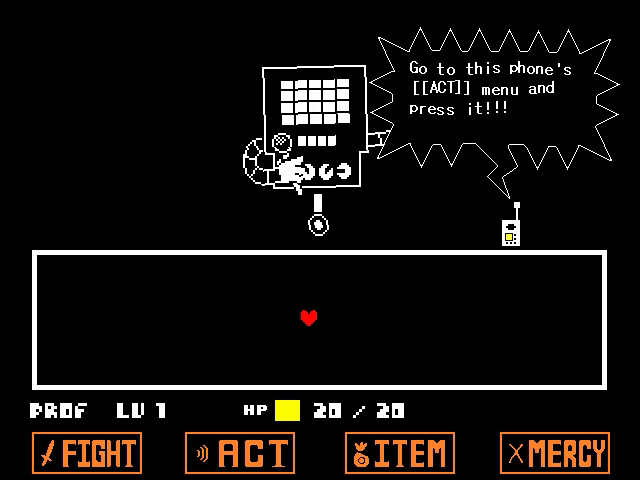 Instead of pressing the yellow button, I Spare Mettaton.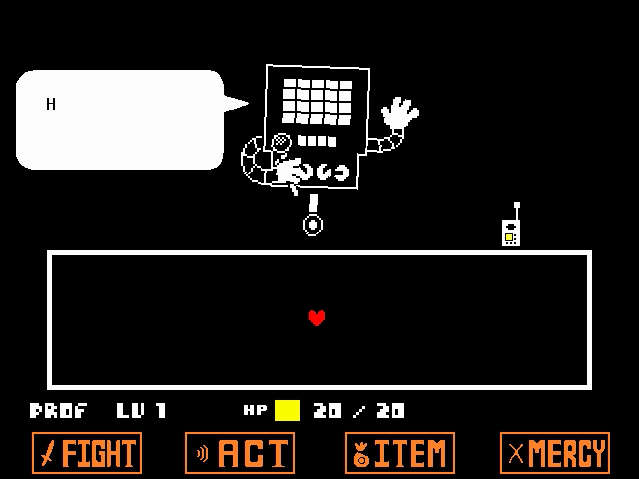 Mettaton has a unique attack for this scene - it does a lot of damage, but it can be evaded easily by hugging the right wall.
If you keep stalling: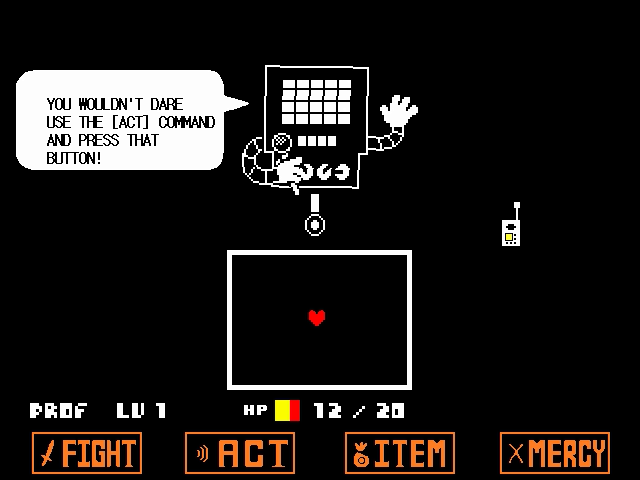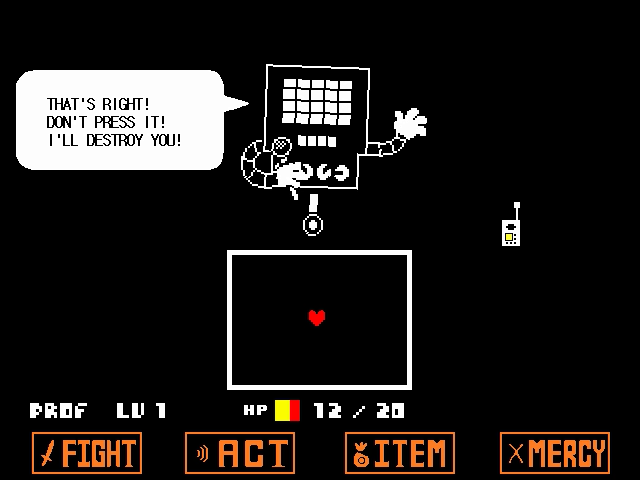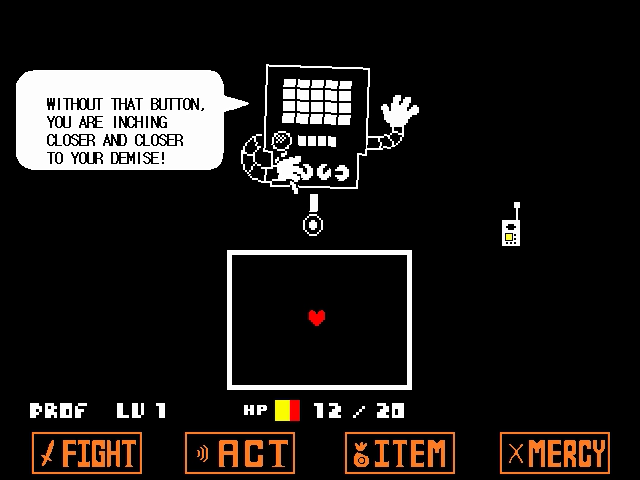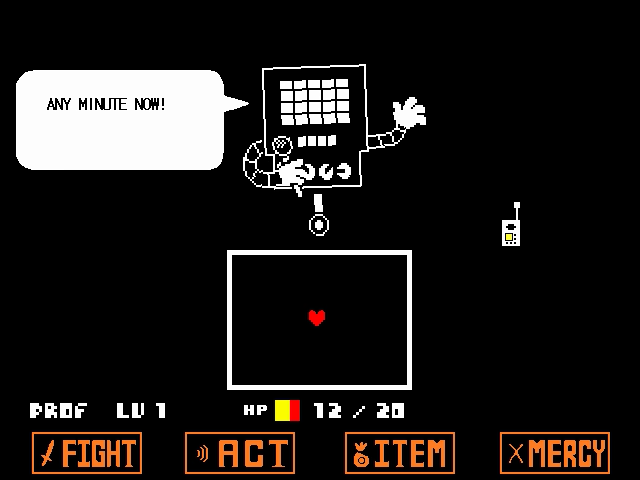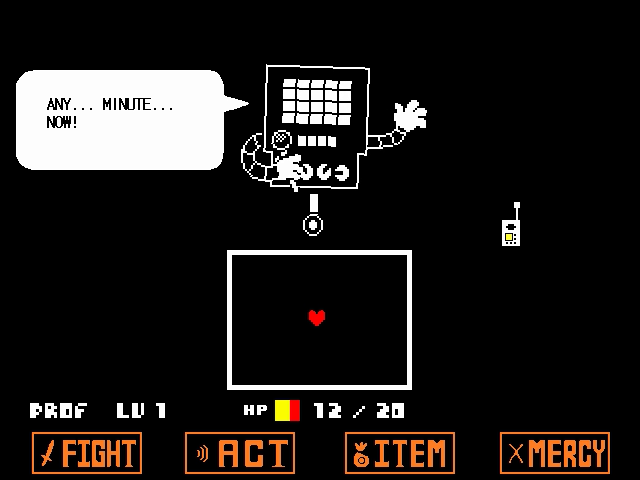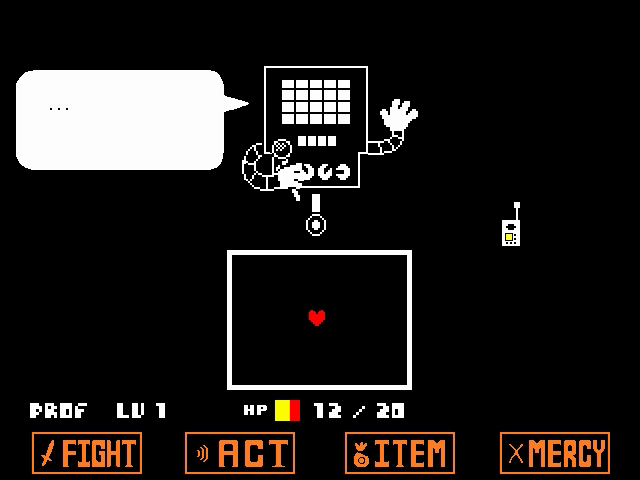 I go through with the button thing, and 'defeat' Mettaton.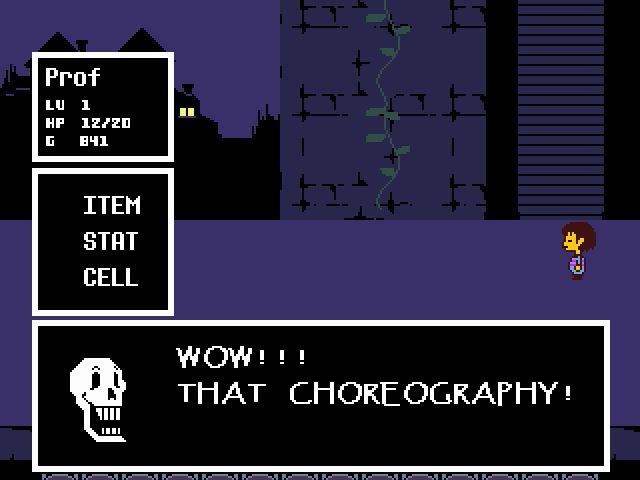 I CAN'T BELIEVE I'M FRIENDS...

WITH A BONE-A-FIDE OPERA STAR!!!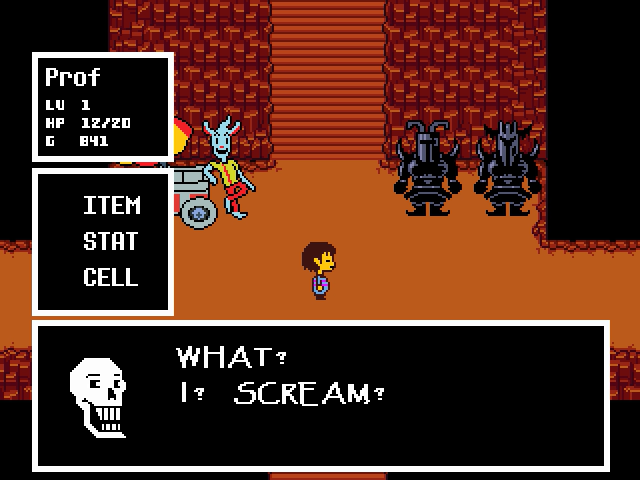 SURE! I'LL TRY.

A. A. A. A. A.

I'M SCREAMING VERY SLOWLY.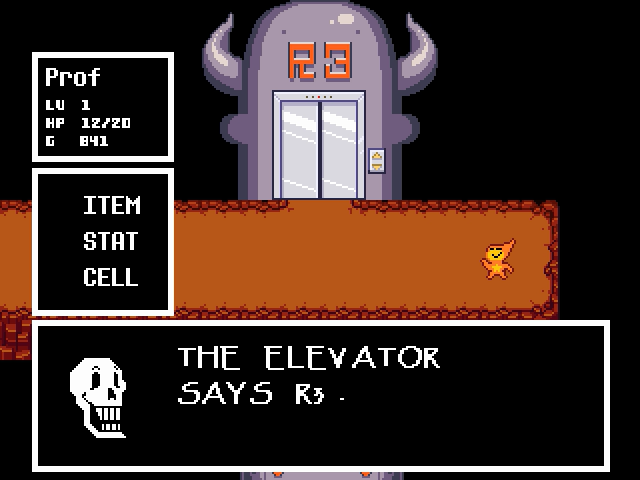 BUT WHAT DOES THE R STAND FOR? ROTINI?

THE SCREW-SHAPED PASTA.

I USED IT TO HOLD MY SENTRY STSATION TOGETHER.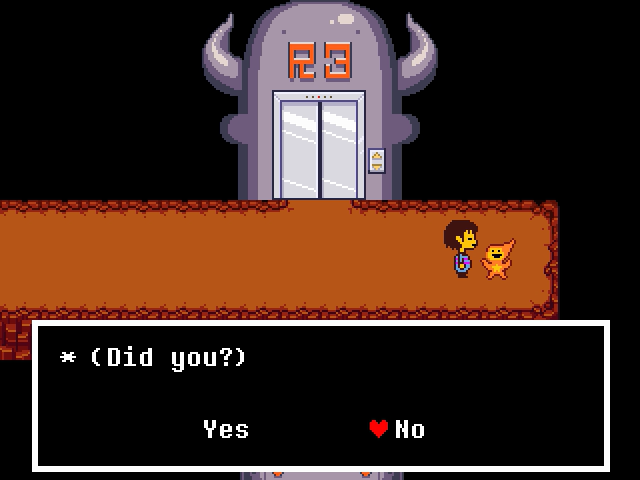 Wh-WHAT!? You DON'T REMEMBER!?

How could I be so easily defeateeeeeeeeeeeeed!?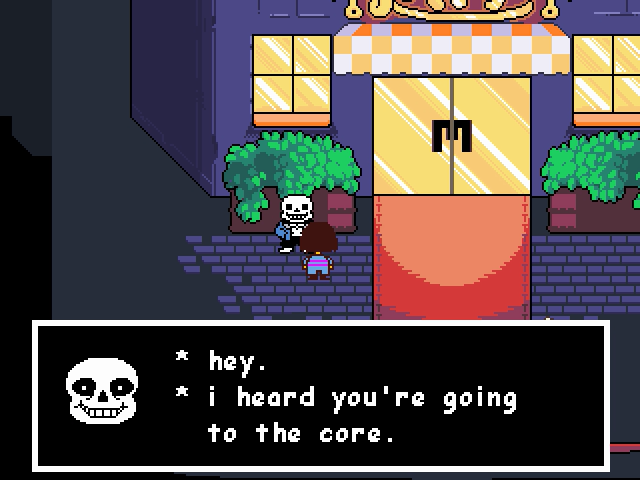 Dinner with Sans.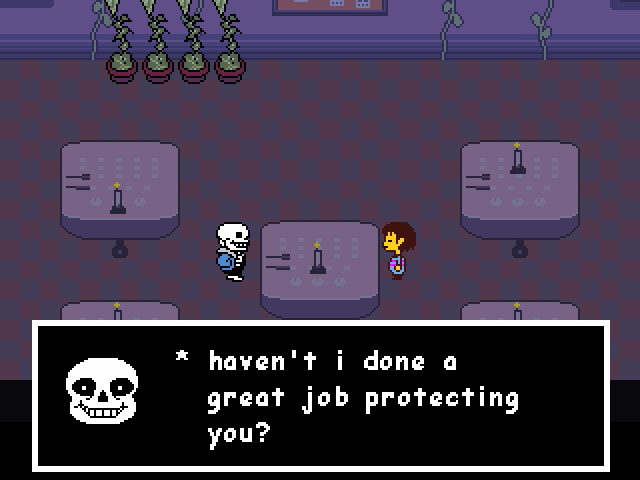 i mean, look at yourself.

you haven't died a single time.

hey, what's that look supposed to mean?

am i wrong...?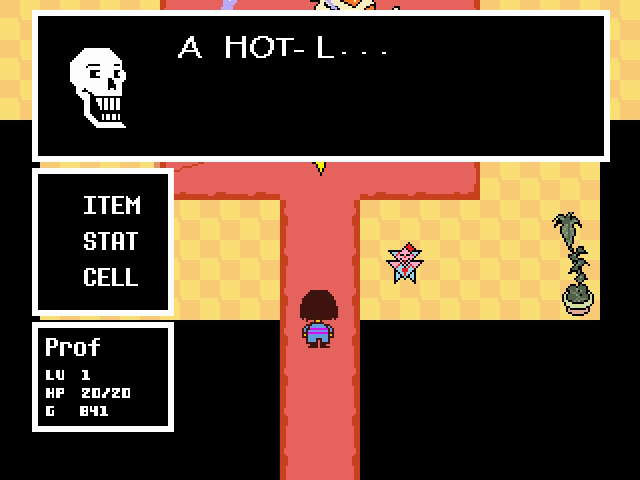 THAT'S SHORT FOR HOTLAND, RIGHT?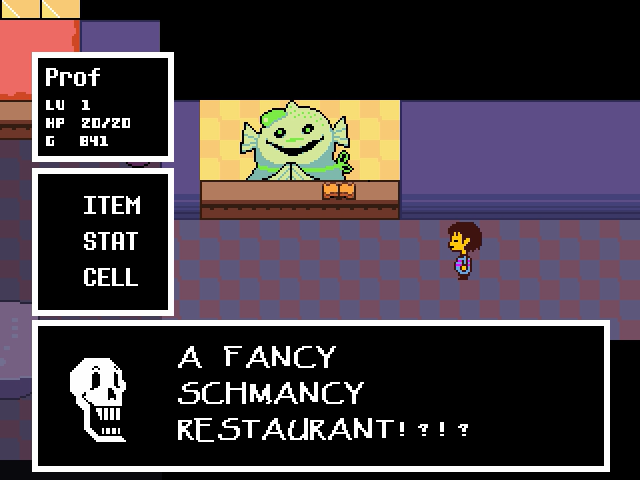 AFTER TASTING MY COOKING, THAT SEEMS POINTLESS, RIGHT?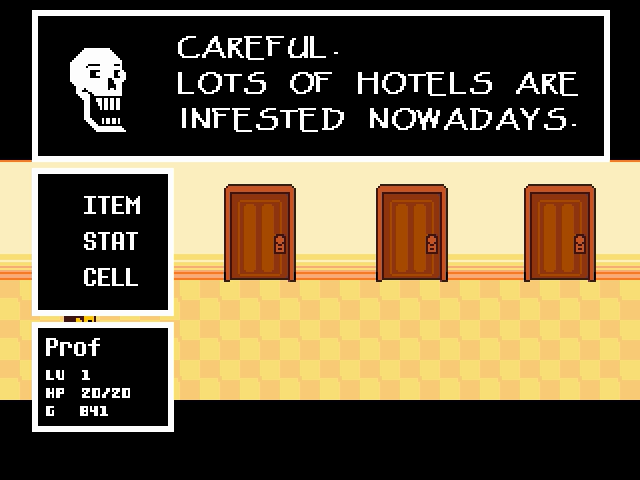 THEY CAN SLIDE UNDER CLOESD DOOR HOLES 1 INCH HIGH.

WHAT DO I MEAN? YOU'LL KNOW IT IF YOU SEE IT.
(You hear a muffled bark behind one of the doors.)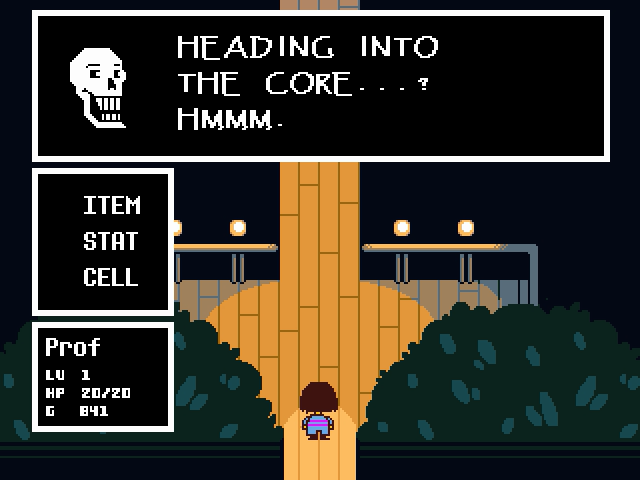 YOU MIGHT NOT BE ABLE TO CALL PAST THERE.

I KNOW! IT SOUNDS AWFUL!

HOW WILL YOU GET BY WITHOUT ME?

WELL, I HAVE CONFIDENCE YOU WILL FIND A WAY!

I WILL TALK TO YOU AGAIN, SO DO NOT WORRY!

GOOD LUCK OUT THERE!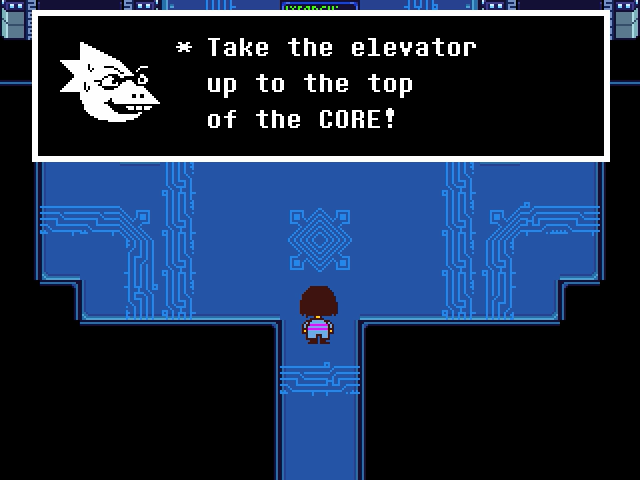 Off to the CORE.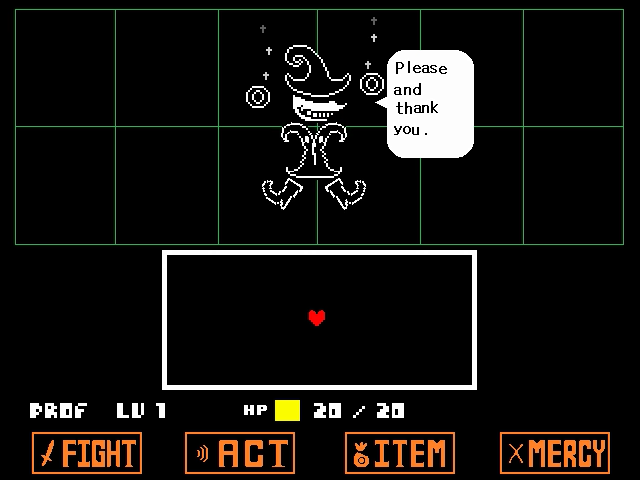 Madjick's white title is "Learning Bowling." You can spare it by Talking or Staring once at each orb.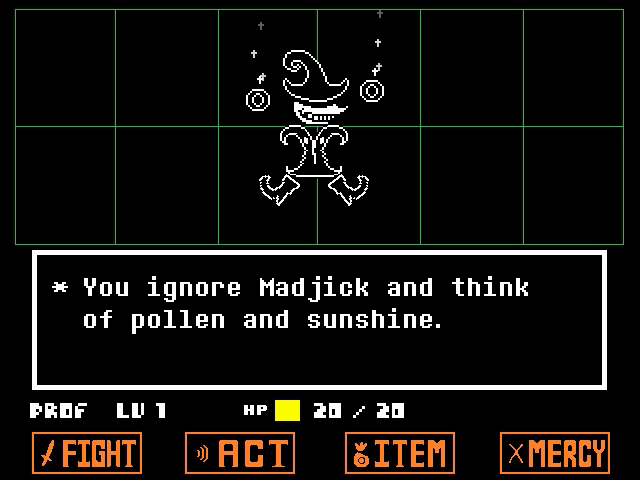 If you Talk, then your controls are reversed on the following turn. However, if you use Clear Mind first, that won't happen.
Yellow title is "Street Magician."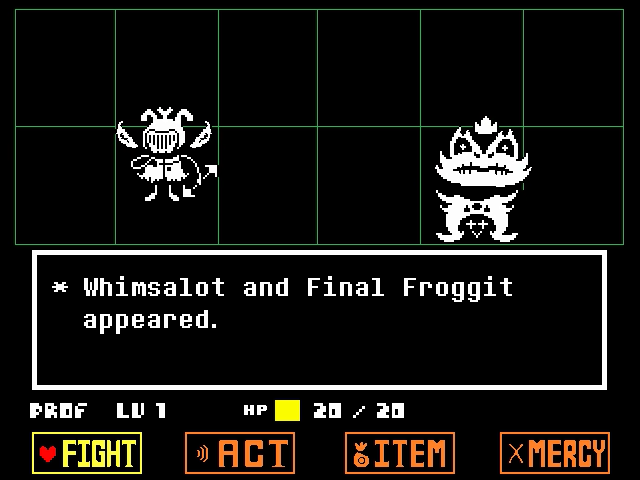 Final Froggit can be Spared using any of its commands, but Mystify changes its title from "Searching For Life's Meaning" to "Giving Life Its Own Meaning."
Whimsalot can be Spared either by Consoling it or by Praying and collectin the green butterflies it launches. This changes its title from "Fighting For The Future" to "The Long Battle Finally Ending".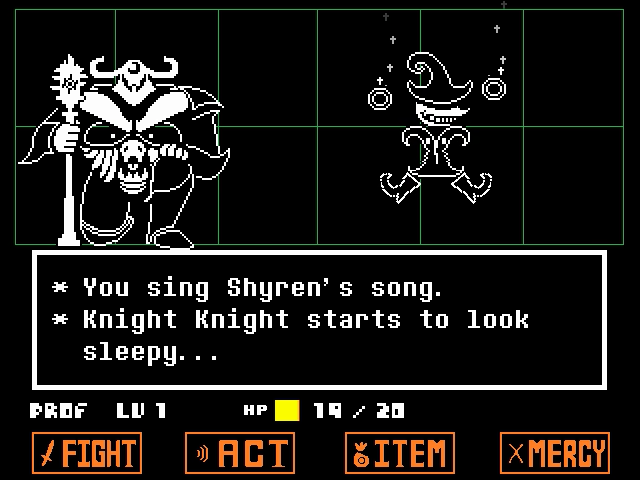 Knight Knight can be spared by Singing three times, changing its title from "Retail Job" to "Taking a Well-Deserved Nap."
If you did the Shyren concert event, then you only need to sing twice.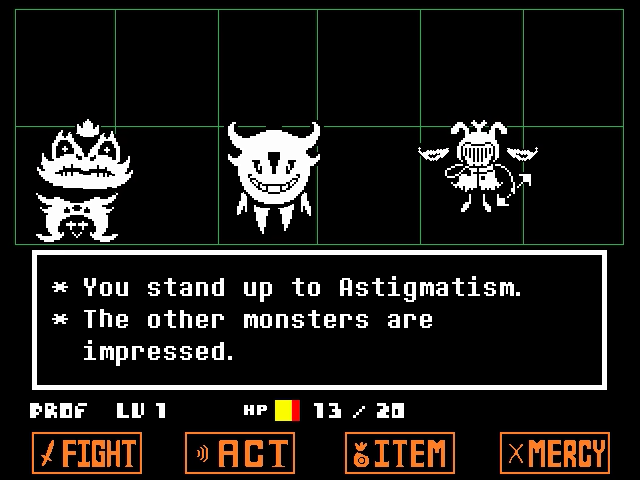 Asigmatism can be Spared by waiting a turn, reading whether he says "Pick on me" or "Don't pick on me," then following the instructions. This changes his title from "Still A Big Bully" to "Domineering Glasses Seller."
If you Challenge Astigmatism, then it doesn't pacify him, but it does pacify every other monster on the field.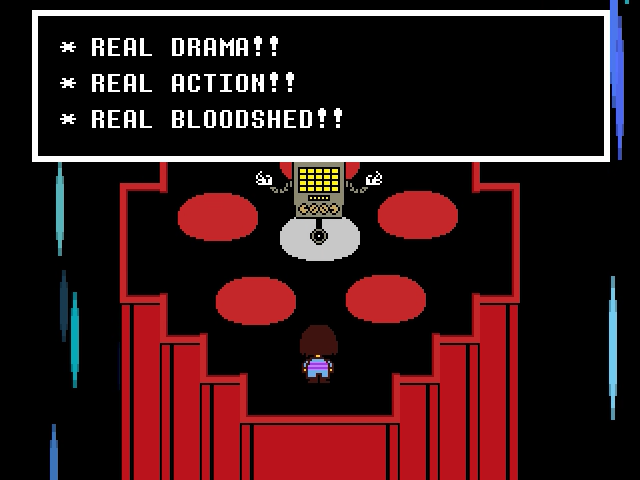 The rest of the Core passes without incident.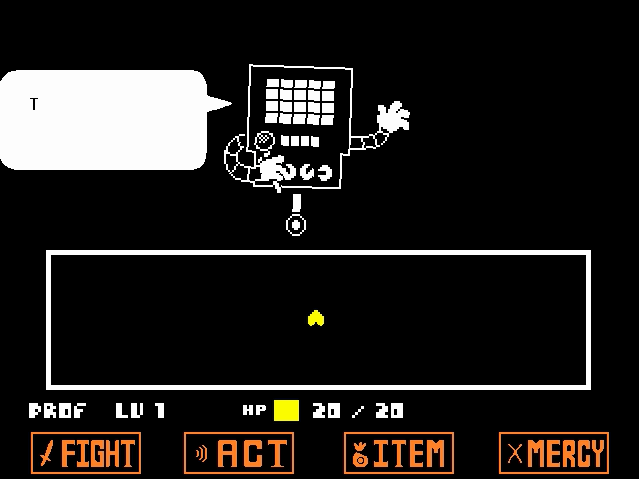 Mettaton has another hidden attack when waiting to be Turned for phase 2.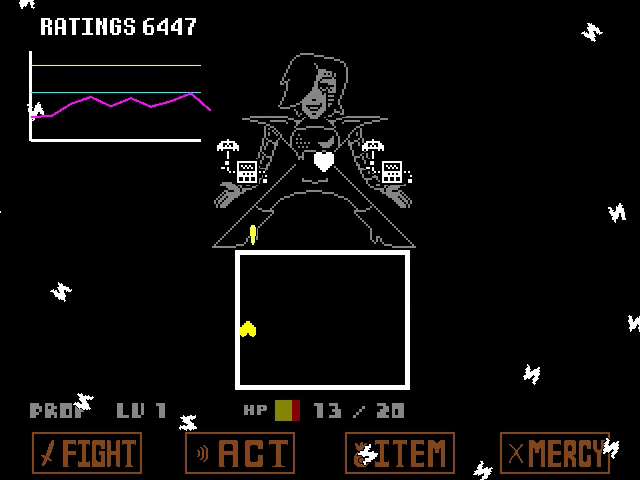 It's actually not necessary to attack Mettaton's heart - it can be beneficial not to. I got over 1000 Ratings off a single Boast by timing out the first heart phase.
There are actually two Mettaton EX clear conditions: You can survive through three heart cycles and get 10,000 Ratings, or you can get 12,000 Ratings and the fight will end immediately.
Really, though, I've already shown off most of this. Also, I can't realistically hit the 12K mark early, because I'm still wearing the bandage so I can't use the costume swap bonus.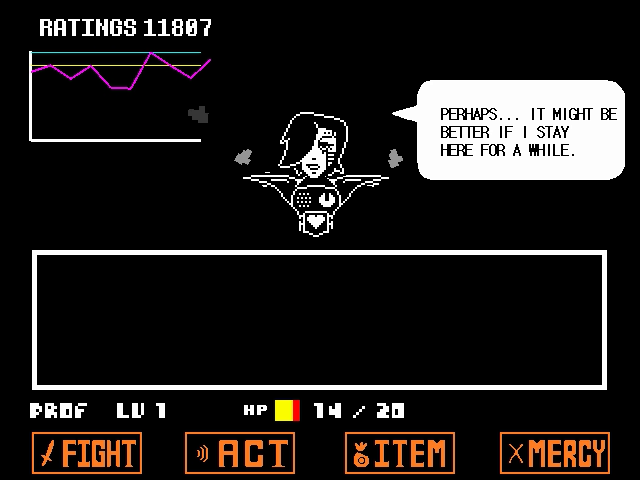 Mettaton is defeated.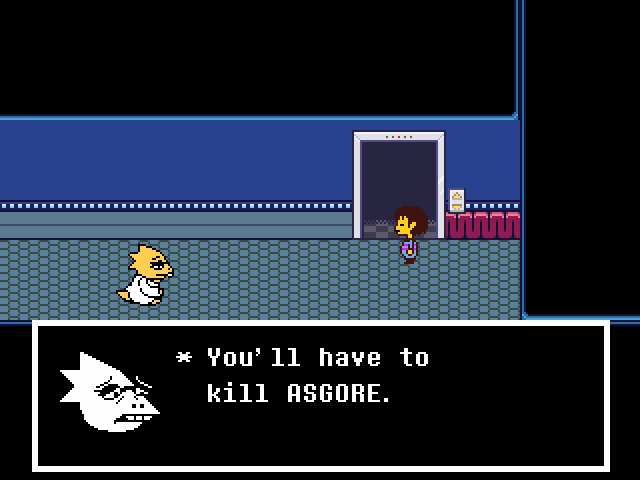 Foreboding.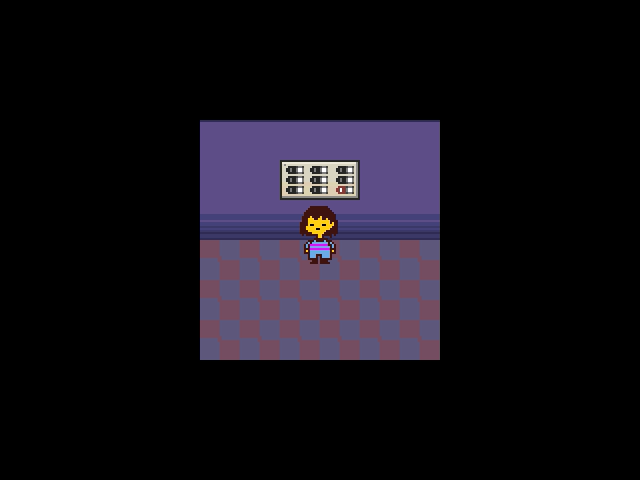 Elevator.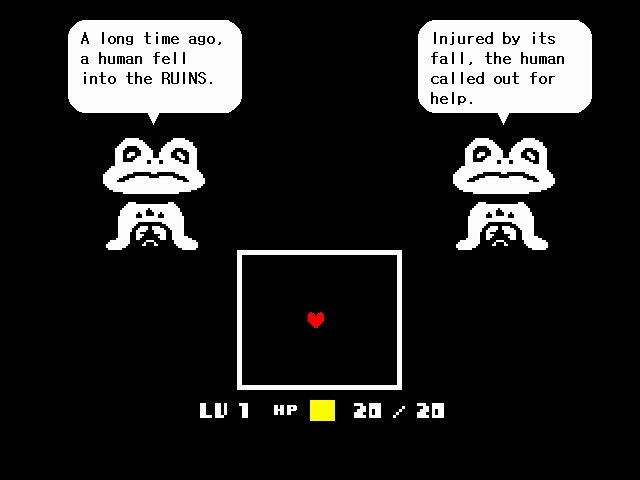 Undertale.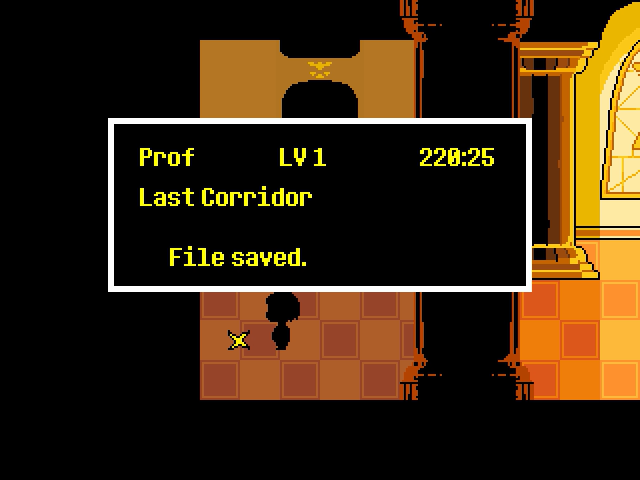 Nothing new to say about the approach.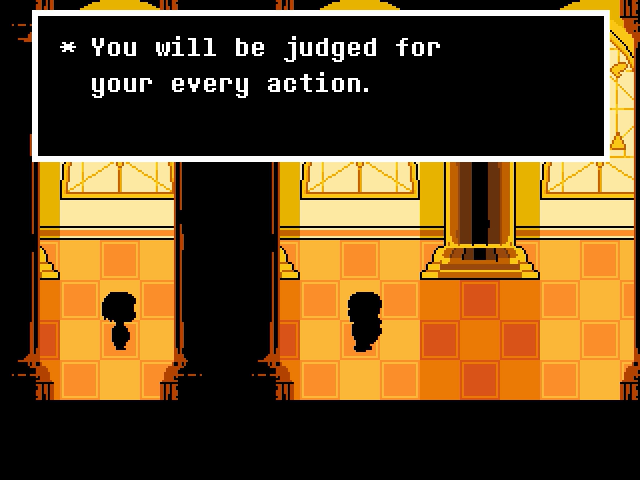 Sans gives his usual speech.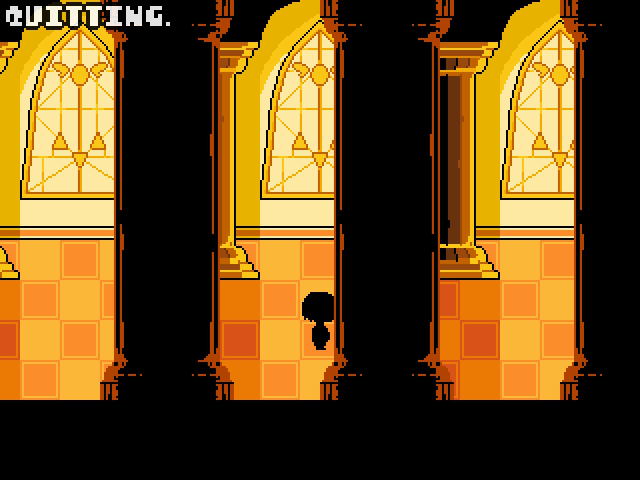 I load my game.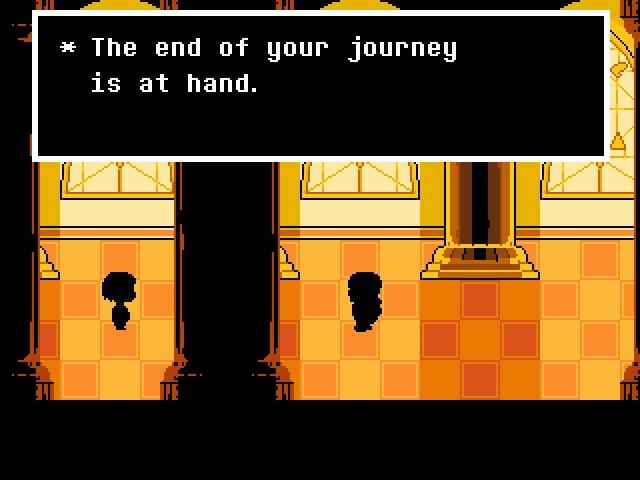 Sans give his speech again, but...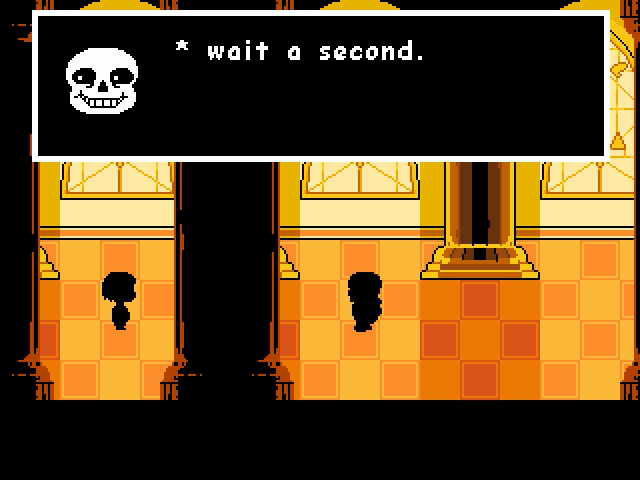 that look on your face while i was talking...

you've already heard my spiel, haven't you?

i suspected something like this.

you're always acting like you know what's going to happen.

like you've seen it all before.

so... i have a request for you.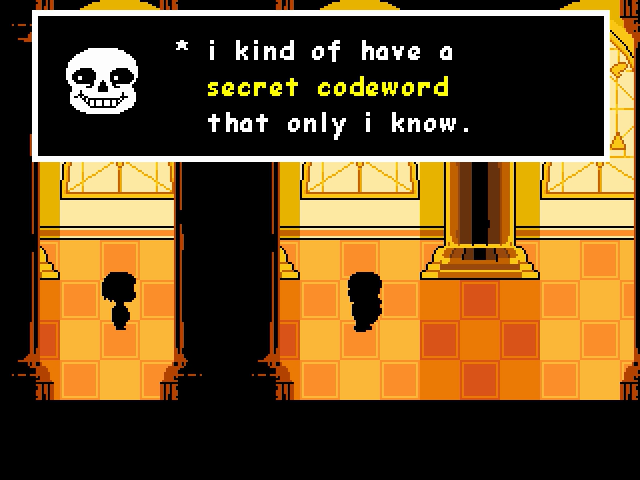 so i know if someone tells it to me...

they'll have to be a time traveller.

crazy, right?

anyway, here it is...

(whisper, whisper)

I'm counting on you to come back here and tell me that.

see you later.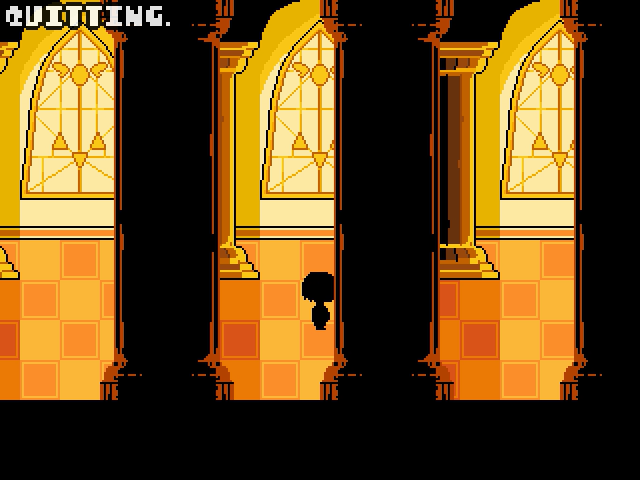 I load my game.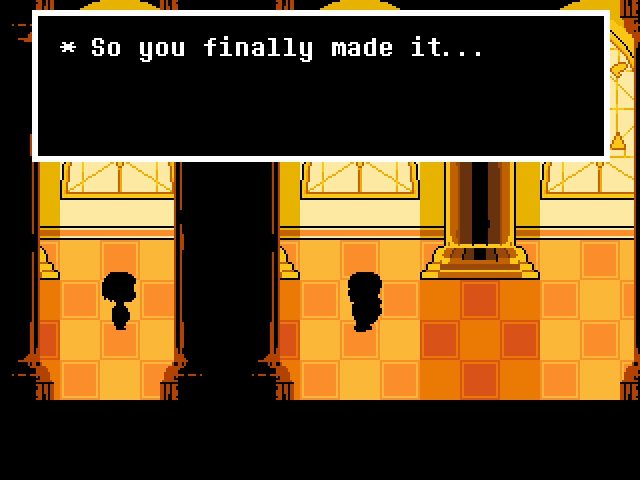 ...

huh? do you have something to say to me?

what? a codeword? can you speak a little louder?

...

did you...

...just say "i'm a stupid doodoo butt?"

wow. i can't believe you would say that.

not only is that completely infantile...

but it's also my secret codeword.

that, however, isn't good enough.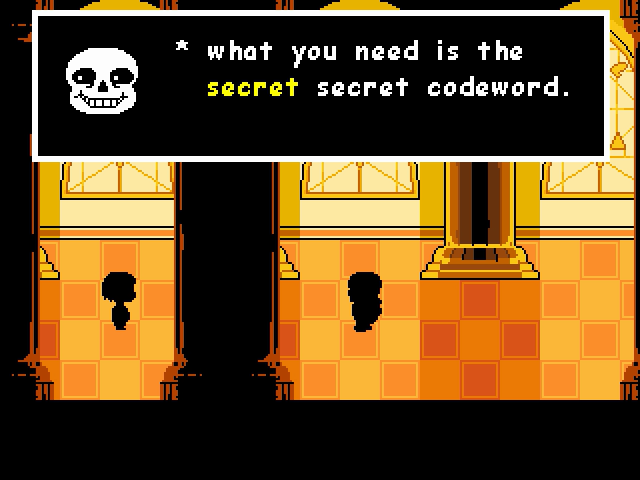 it's only for people that known the secret coeword.

anyway, here it is...

(whimsper, whimsper)...

i'm counting on you to come back here and tell me that.

see you later.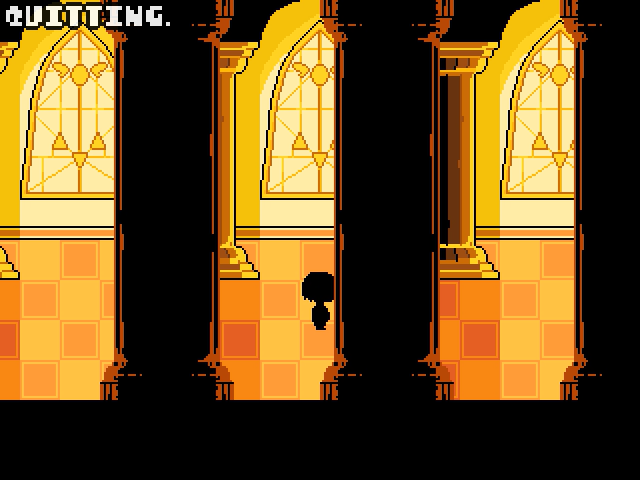 I load my game.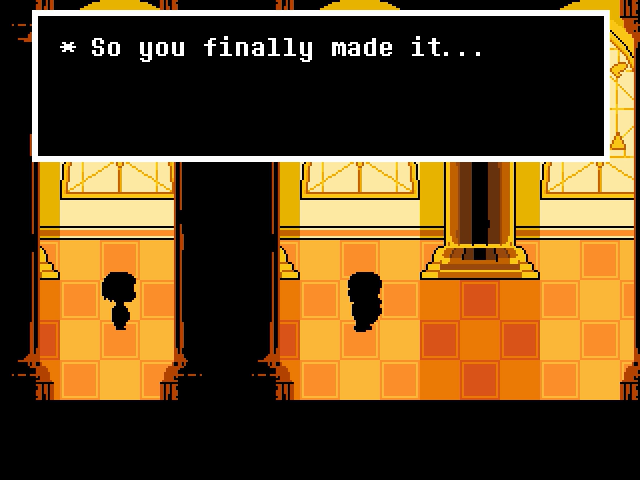 ...

huh? do you have something to say to me?

what? a codeword? can you speak a little louder?

...

did you...

...just say "i'm the legendary fartmaster?"

wow.

that's... uh... really childish.

why would you think that was a secret codeword?

whoever told you that is a dirty liar.

i don't have a secret secret codeword.

however.

i do have a secret secret triple-secret codeword.

which you just said.

so, i guess you're qualified.

here's the key to my room.

it's time...

you learned the truth.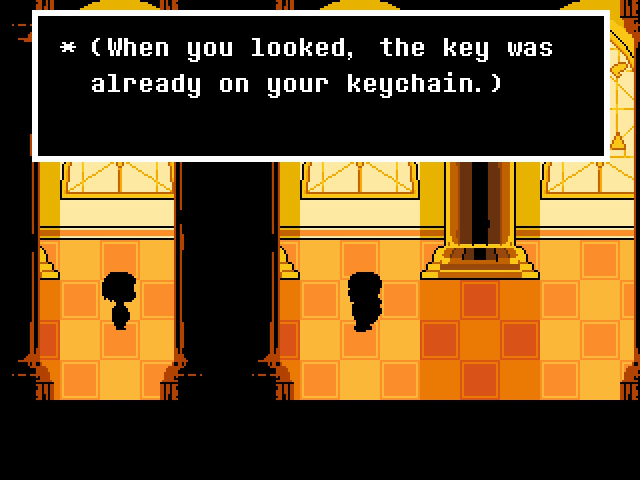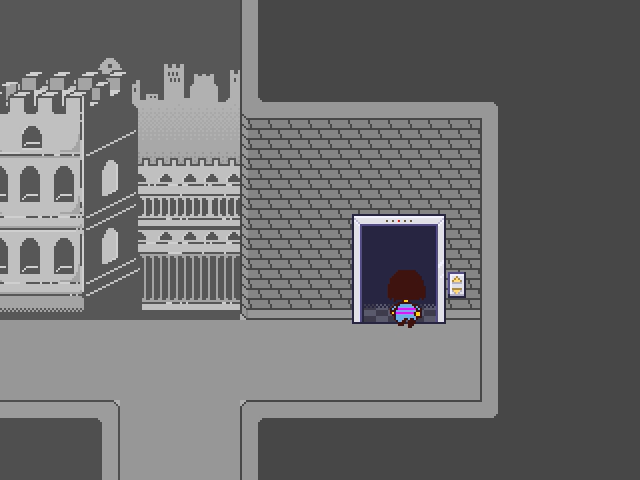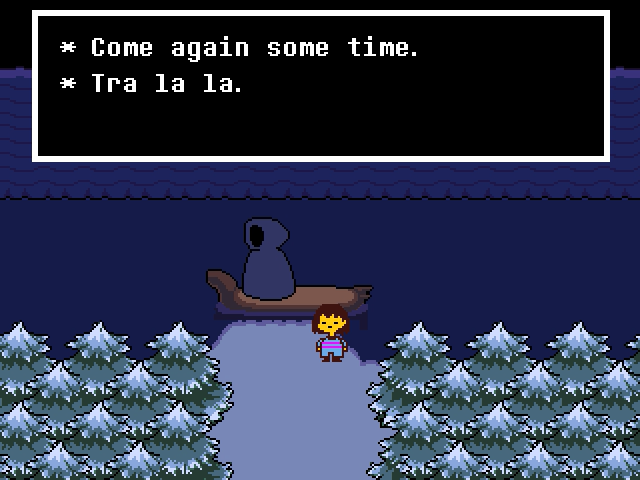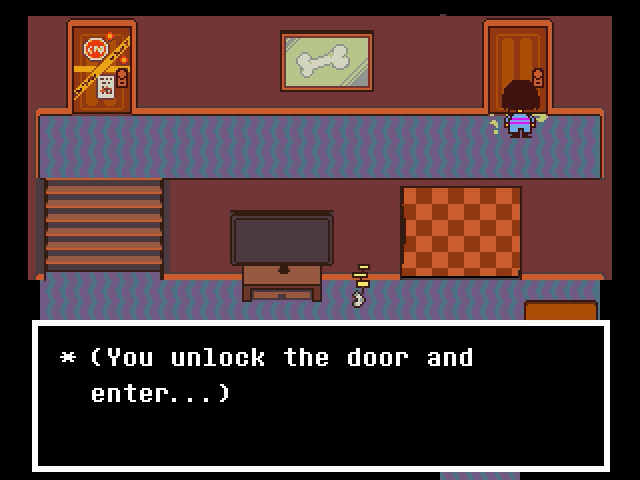 Next time: The truth.