Part 24
Wow, seriously split vote here. However, there is one right call and one wrong call...
Lord Hypnostache posted:
[U]se TORCH on Thug.

Seriously, is there anything fire can't solve?

...and Lord Hypnostache made the wrong one. Perhaps he forgot one key feature of this game...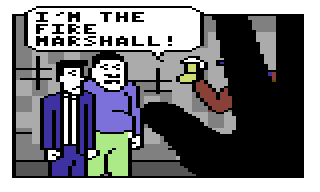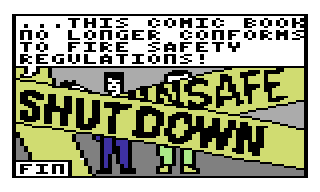 ...a love of breaking, or burning, the fourth wall.
Sighence's heart was in the right place, even if his vote wasn't...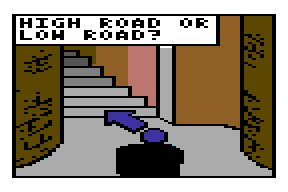 ...which brings us back here. Will it be the
high
road or the
low
road? That's up to you!
Current Scores:
12 (14 votes) = 10 + 02: senrath
10 (12 votes) = 08 + 02: Starblind
08 (12 votes) = 06 + 02: Lord Hypnostache
07 (12 votes) = 07 + 00: Bruceski
07 (11 votes) = 06 + 01: Frankomatic
06 (12 votes) = 04 + 02: CaptainCaveman
06 (11 votes) = 05 + 01: ProfessorClumsy
06 (07 votes) = 06 + 00: Glazius
05 (12 votes) = 05 + 00: 100 HOGS AGREE
05 (07 votes) = 05 + 00: Green Intern
05 (07 votes) = 04 + 01: Bobbin Threadbare
04 (08 votes) = 04 + 00: Sighence
04 (07 votes) = 04 + 00: LLSix
04 (07 votes) = 04 + 00: Nemo2342
03 (07 votes) = 02 + 01: randomcommoner
03 (05 votes) = 03 + 00: BiggerJ
03 (02 votes) = 02 + 01: Exercu
02 (02 votes) = 02 + 00: Golden Bee
02 (02 votes) = 02 + 00: Nick Buntline
02 (02 votes) = 02 + 00: PowerStreak
01 (04 votes) = 01 + 00: Professor Bling
01 (02 votes) = 01 + 00: PantsBandit
01 (02 votes) = 01 + 00: Wandering Knitter
01 (01 votes) = 01 + 00: Grilox
01 (01 votes) = 01 + 00: Sick_Hacker
01 (01 votes) = 01 + 00: Tiny Turtle
01 (01 votes) = 00 + 01: Azzur
01 (01 votes) = 00 + 01: FairGame
00 (01 votes) = 00 + 00: AmadeusVonBlastoise
00 (01 votes) = 00 + 00: Kobold