Part 102: Alternate Ending #7: The Acacia Dragoons Get Off Their Asses for Once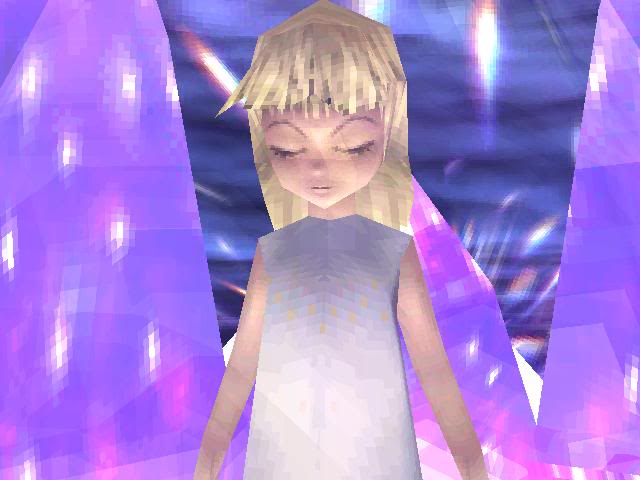 This next ending has a
very
small window. Probably the smallest next to the Programmer's Ending. Lavoschala must be defeated after Riddel has been rescued from the Viper Manor revisit, but BEFORE following up on meeting the Acacia Dragoons on Hermit's Hideaway (triggering the whole conga line of recruits from that event.)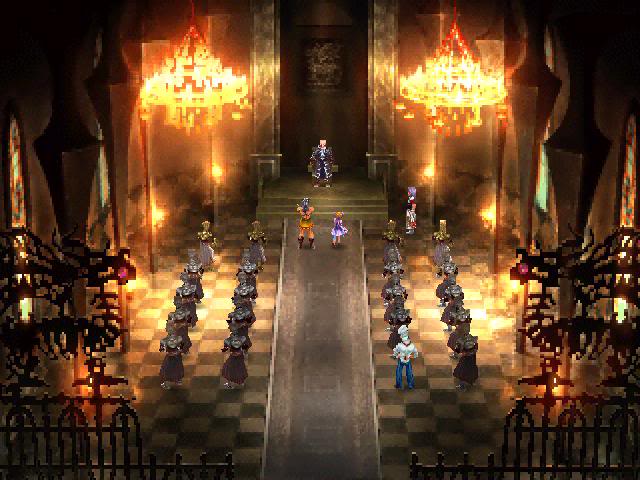 We open at Viper Manor with General Viper rallying the troops into action against Lynx/Dark Serge. About friggin' time that happened...
Music: Dragon Knight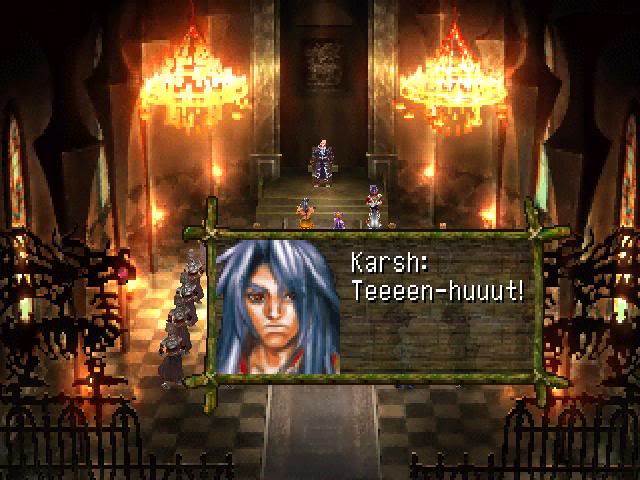 "General, the time has finally come for the Acacia Dragoons to sally forth!"

"Can I like kill 'em all yet?"

"LYNX IS A TERRIBLE VILLAIN THAT NEVER DOES ANYTHING! WHAT IS UP WITH THAT?! HIS LOITERING AND LACK OF MOTIVATION SKILLS GREATLY DISPLEASE ME."

"Hmmm... Everyone, prepare yourselves to face Lynx's army! Long live the pride and honour of the Acacia Dragoons!!!"

"I AM INSPIRED AND FILLED WITH PATROTIC PRIDE!!! LET ME RECITE THE ACACIA NATIONAL THEME!!"


"...Maybe later Zoah. We've got ass to kick right now..."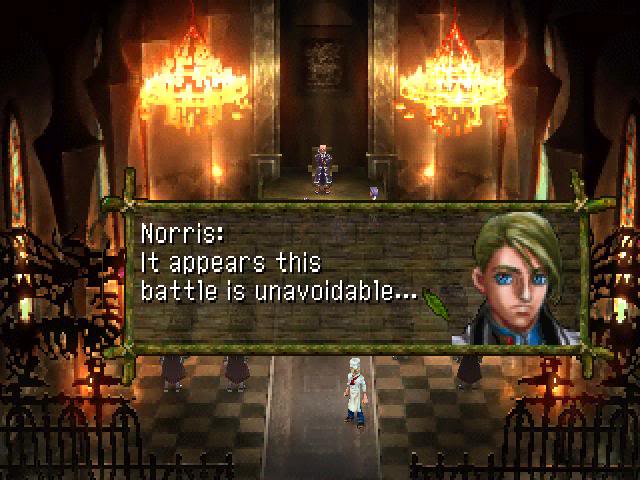 For some reason the dragoons allowed the dishwasher to join their ranks in formation. Norris slinks off to inform Porre that the dragoons are fully mobilizing and Porre should get off its ass and prepare for war if things get out of hand.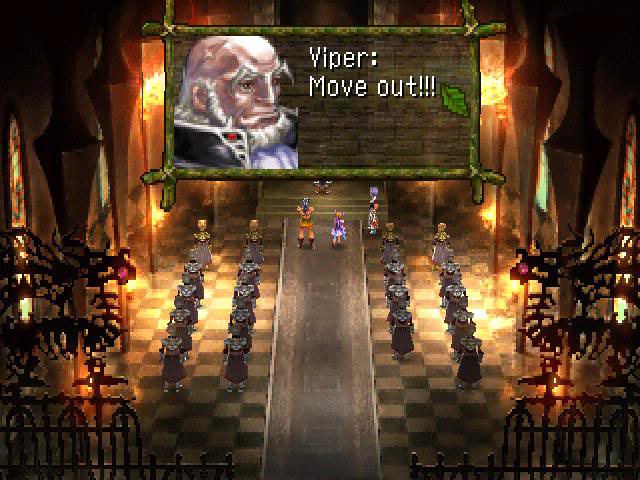 "COME! FOLLOW ME!!!"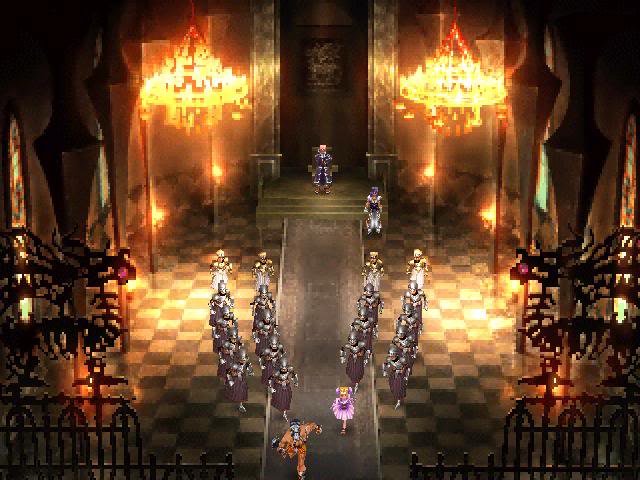 And so the dragoons rush off into battle against...Lynx's army...? Lynx had an army...? Huh. News to me.
Some time later...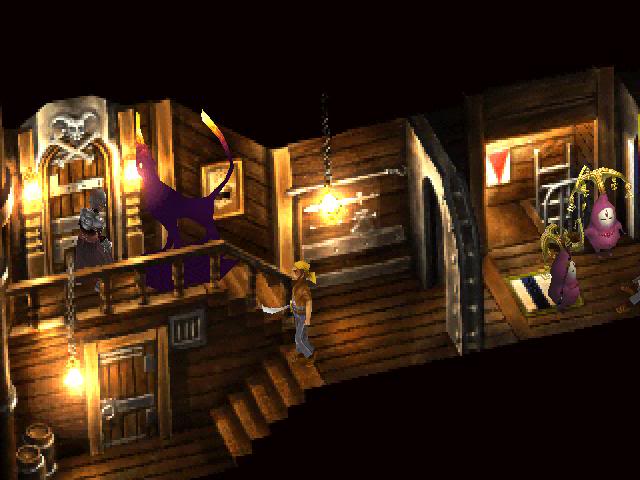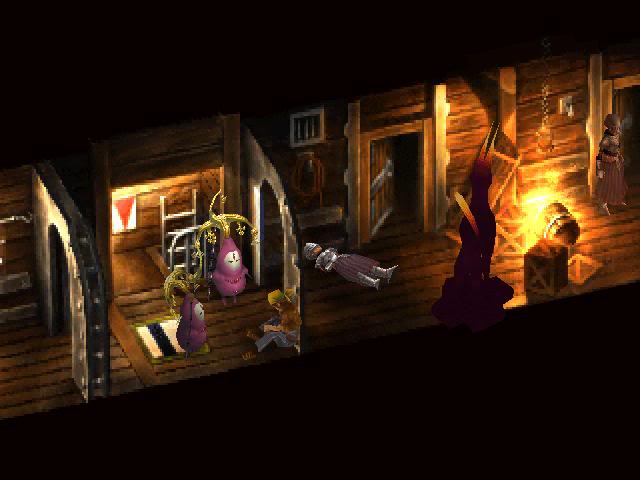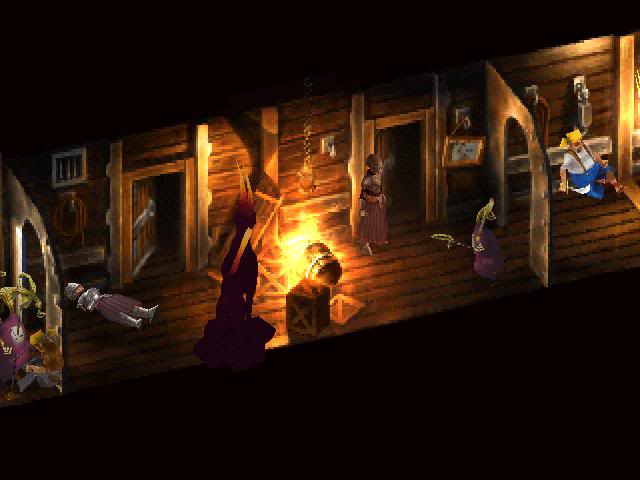 It seems the climax of the war against Lynx takes place on Fargo's S.S. Invincible for...some reason... What the hell Dark Serge was doing dicking around on a pirate boat is anyone's guess.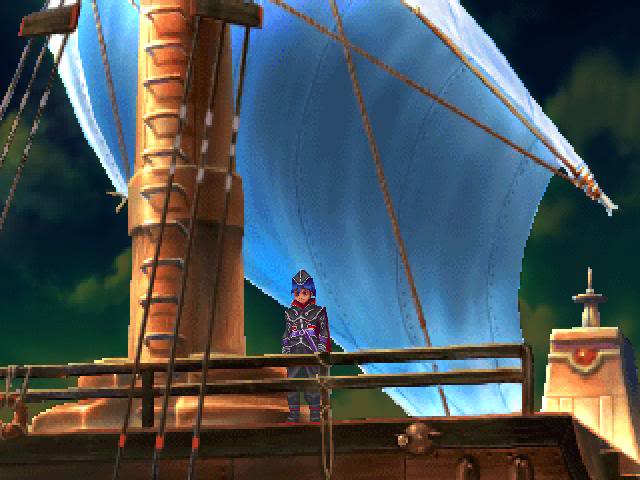 Apparently, he was just taking in the ocean sights and chilling out. He really is the least motivated villain ever, isn't he? Wazuki must have made Serge look like the hardest working man in all of Arni.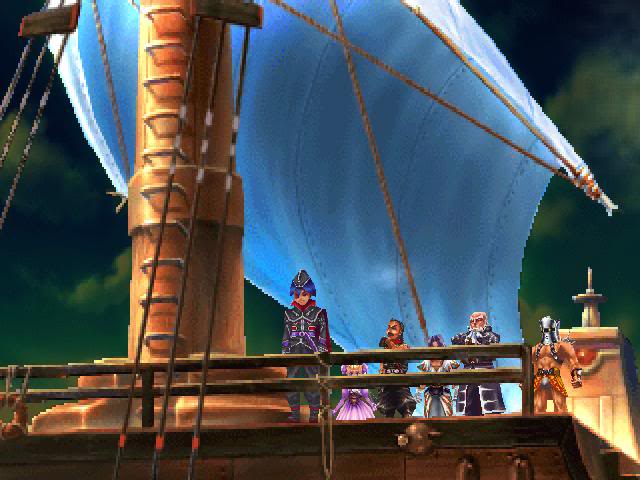 In any case, General Viper, Fargo, and the three Acacia Devas line up to stomp a mud hole in Dark Serge's ass. I wouldn't bet on Dark Serge and Kid beating out Team Old Geezer before. I'm pretty sure Lynx flying solo versus Marcy, Fargo, Karsh, Viper, and ZOAH is going to lead to the guy getting skull fucked in under a minute...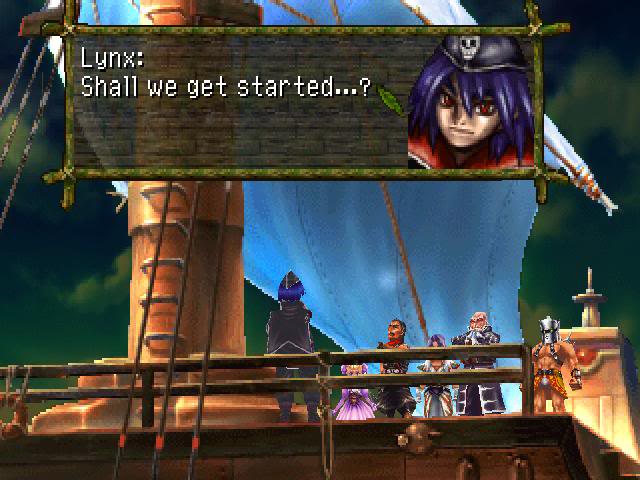 "Oh...uhh... I thought...there would be less of you...aren't we only allowed to fight in groups of three...?"


"NOT ANYMORE...!"


"Umm...Kid? Kid?! Time for some action!"


"...."


"Where the hell did she go?! K-Kid?!"


"IT HAS BEEN A WHILE SINCE I CRACKED THE BONES OF SOMEONE WHO'S VOICE STILL CRACKED AS WELL."


"......"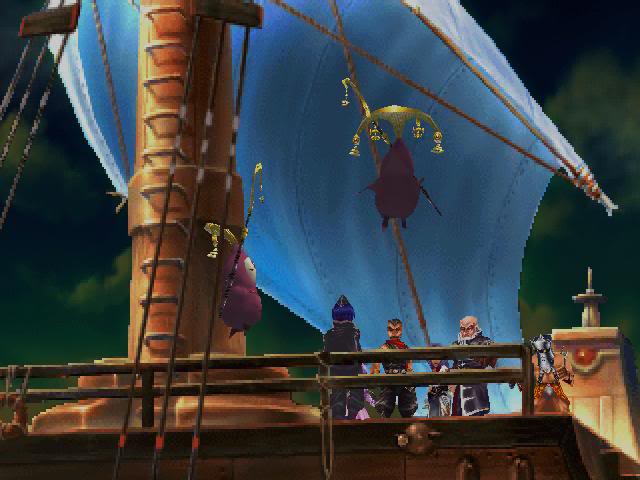 Welp, sucks to be Dark Serge. Let's see how the real Serge is doing...
Meanwhile, in Marbule...
Music: Another Marbule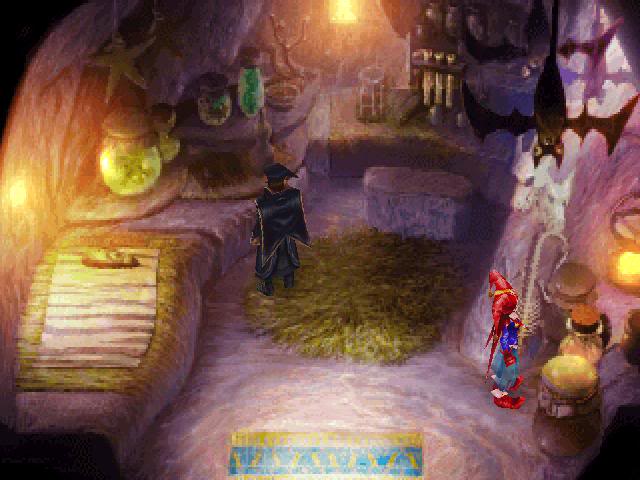 It seems Lynx is still shacked up with Harle. I guess Furry Serge has slightly less options when it comes to women folk...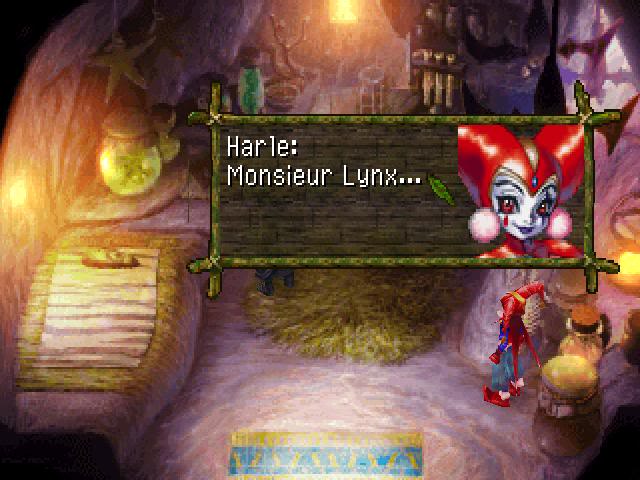 "Zis iz a nice change, non? Just taking it easy."

"Eh...that is at least one thing I've always been pretty good at..."

"Before, I would travel all over ze place wit' ze odder Monsieur Lynx. I've never stayed in one place for so long."

"Meh...from what I've seen of the world...it is boring and full of jerks. Better to just stick to one place and whack anyone who bugs you there with a rock. Always worked for me pretty well..."

"I wish...it could be like zis a bit longuer..."

"......"

"............Well zen. Time for dinner, non? What would you like ce soir?"

"Your specialty sounds good tonight..."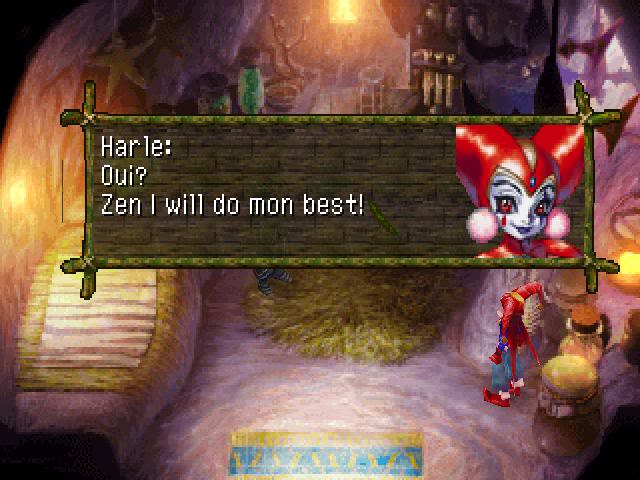 "I have to go steal...I mean get some ingredients, so wait here... Mon chéri..."

"Just don't pi-"

"Mon chéri, Mon SHMERI!"
Music: The Girl Who Stole the Stars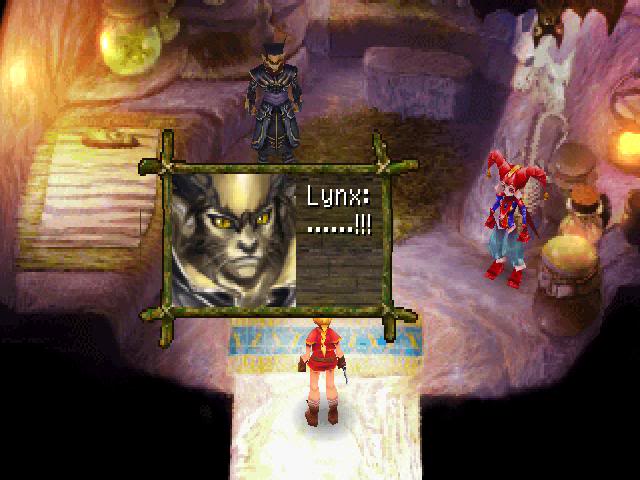 "I finally found you..."

"Kid...? What are you doing here...again...?"

"Ooh lah lah... You are still alive."

"Of course I am! I have more lives than a cat!"

"So what, are we gonna have to kill you like thirteen times for you to finally go away...? Seriously, Harle... How the hell does she keep coming back like this!? I felt pretty bad last time blasting her into a Black Hole but...I thought that would be the end of it. And she always shows right at dinner too! Sheesh."


"You've got me on how she doez it."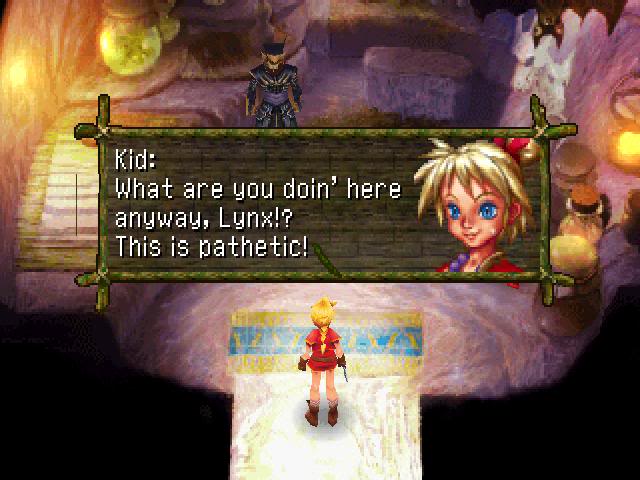 "Trying to eat dinner free of crazed Australians that keep trying to stab me. Ya know...like normal people do."

"This whole situation is pissin' me off!'

"Ze feeling iz mutual. Tu me fais chier!"

"Prepare yerself, Lynx! You ain't getting' away this time! You're goin' down!"

"If I ever find who gave you that poison antidote back in Guldove, I am gonna wring their neck..."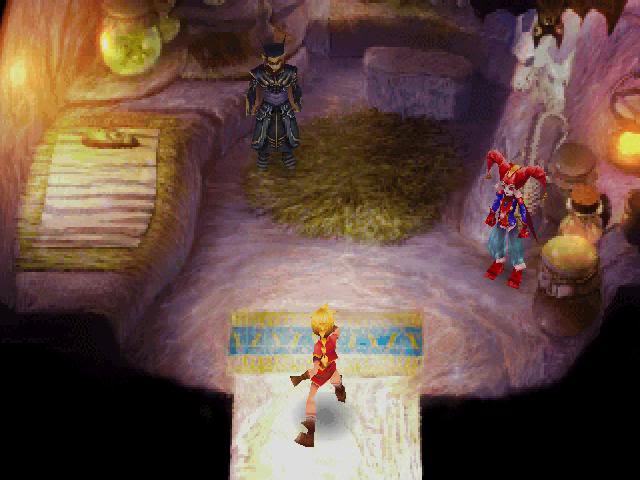 And so we fade to black as Lynx and Harle prepare to kick the Aussie out of Kid's dumb ass. Well, there are worst ways to end a day...
Music: Fragments of a Dream Only three more endings to go... I see the final end of this LP just ahead...