Part 8: The Heart of the Matter
Last time on Disgaea 3 we had a fight with Raspberyl. Today, we try to extract the title of Hero from Mao's heart.
Drama- Heart Vault Intro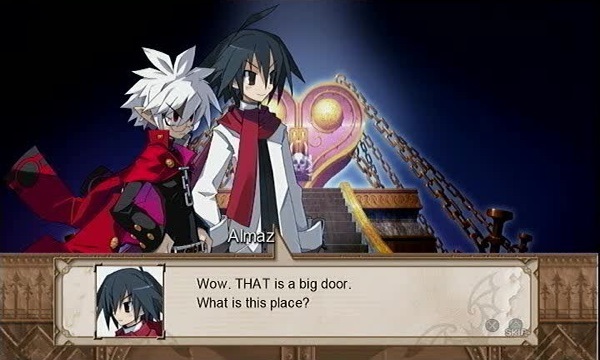 This is the deepest part of the heart.

What a tiny heart! We're already at the end? I heard that hearts are huge and complicated. Was that all a lie?
Wait, huh? Who are you? Another Lord Mao!?

I am the gatekeeper. What business do you have here?

I'm looking for a fake hero's title. Do you know where it is?

The title of hero is preserved preciously inside this vault.

Then open this door now! I need to slap this fraud with his own fake title!

I will not. This vault shall only open and close as I will it so.

What?

I am your true heart. Unless you truly wish it from the bottom of your heart, this vault will not open.

What's going on? You said that you want to open it. Does this mean you really don't?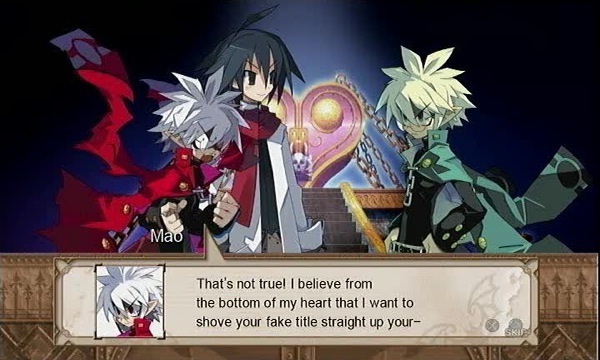 No matter what you might think on the surface, this door will not open unless your true heart wishes it to do so.

Wh, what's going on? I thought you were going to give me back my title…

Can't you see I'm a little busy here? I really don't want a fake hero title! I truly, truly want to get rid of it.

Oh? And what makes you so sure?

Mrrrgh! Open this door! If you refuse, then I'll bust it wide open!

It's useless to use force. Even if you did open it, I assure you the contents would-

End of discussion! Vaults aren't meant to be opened! They're meant to be cracked!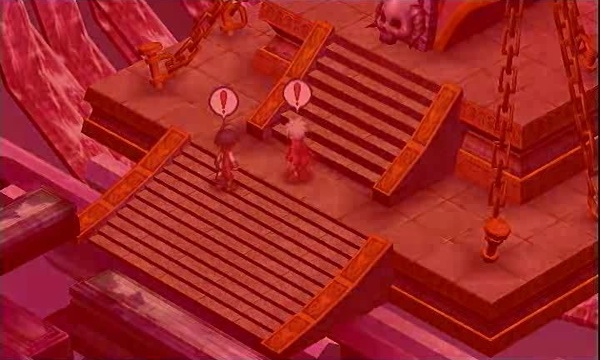 Something doesn't feel right… Anyway, I don't think using force is a good way to solve anything.

"A demon must commit acts of taboo to remain cool and popular!"

More of the Demon Oath? It seems to be the complete opposite of the Hero Oath…

Then you should know that it's perfectly reasonable for me to break into this vault.
Besides, this is my heart! I can do whatever I want!
Map- Heart Vault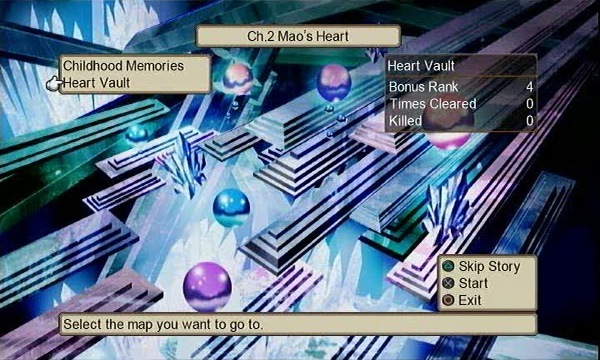 You'll notice, as you look at this map, that the enemies are on a set of Blue panels that provide them with Enemy Boost + 100%. This is what we call a Bad Thing. This is provided by two Blocks, one To Blue and one To Yellow. You might also notice we have a To Red Weaken Enemies -50% Block. So there's an easy solution to this. Create a tower of characters and chain-throw Mao over to the To Yellow Block then kill it with a Blast Finger. This will kill both Blocks and leave the whole area as Blue. Then just throw the Red Block on and go to town on the enemies. With -50% stats they're suddenly no threat at all.
Drama- Heart Vault Outro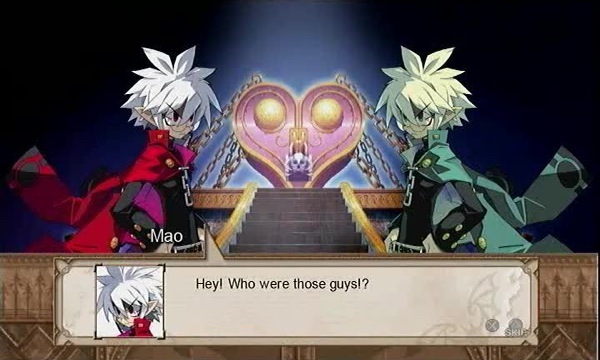 They were your heart's self-defense mechanisms.
Since truly precious items are kept here, we are very careful when it comes to security.

What!? That title of fake hero is precious? It's just a piece of junk!

…That is for me, the true heart, to decide.

(I wonder what's going on… Mao seems pretty sure that he doesn't want my hero title, but…)
(Does this mean that he and his true heart have separate minds?)
(Does this mean that demons actually have a complicated heart?)
(…Or is it just Mao who's especially complicated?)

Either way, items that end up here are not so easily removed.

Which means there is a way to get it. Enough with your opinions, just tell us how to open this stupid door.

…Alright. In order to open this door, you will need to open your heart with your true thoughts.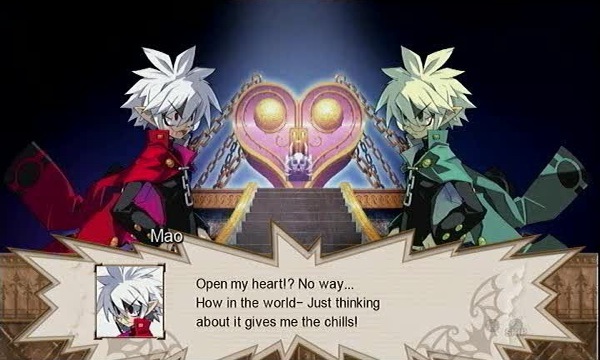 But, isn't that easy?

Can you hear yourself!? Opening your heart requires you to submit. Any demon would rather die!
I've never even though of doing such a humiliating act! I'm the No. 1 Honor Student for Mao's sake!

Wow… being a demon sounds pretty hard. Maybe you should ask those delinquents.

Ah, yes. They may know a super duper act of delinquency for opening hearts. Excellent. All I have to do is ask.
Heh heh heh… Yes, evil brain, always make others work hard before trying it yourself. What an evil plot, indeed!

But it was my idea…

A wise demon once said, "What's yours is mine, and what's mine is also mine."
Do you have a problem with that? Or do you not want to get your title back?

…No, no problem at all.

Then just be quiet and obey me. Let's go.

(* sigh* This is pitiful. I can't even talk back to a kid. Protecting the Princess is gonna take a miracle…)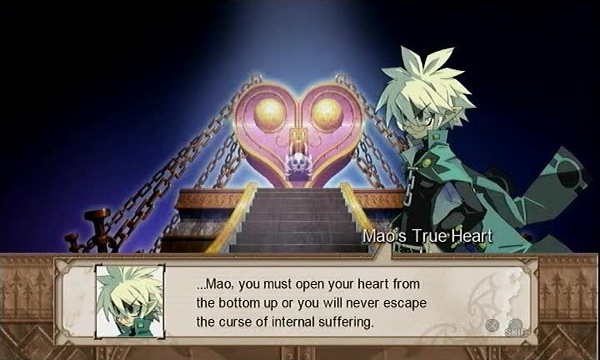 Later, back at the Academy…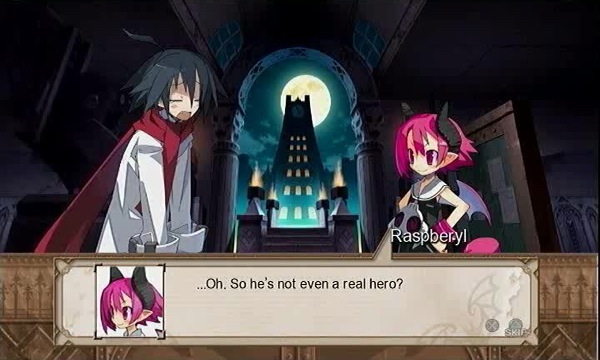 Too bad… I thought I finally found a rare spawn.

Sorry. I'm just a normal… spawn.

Not your fault. My eyes were clouded. Sorry for thinking you were someone special.


Please accept our apologies, Fake Hero.

…Um, can you please stop calling me Fake Hero? It's what I do, not who I am.

So, Mao, whaddaya want from me? I doubt you came just to clear up the confusion. …Something to do with this title?

Yeah. Even with my evil intelligence, there's one thing I can't figure out.

Heh, and what might that be?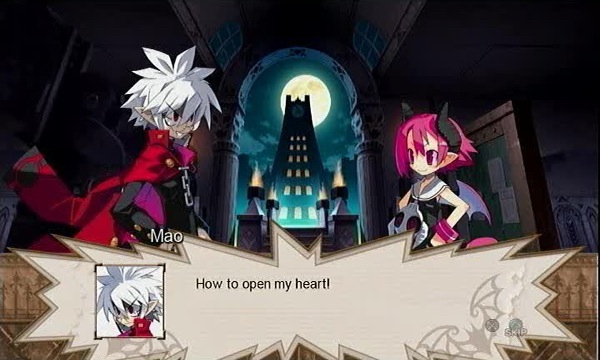 Open your heart!?!?

Even our lady would never date to attempt such an outrageous act!

Eew! How horrid! I just vomited in my mouth a little!

Heh… You sure do come up with the craziest ideas sometimes. Look… I can't stop my fists from shaking.

Hmm, I guess opening up your heart is a really big deal for demons…

My Lady, why don't you tell them about the forbidden land of mystery? About what lies in the old school buildi-

Stop, Kyoko.

But my Lady, we can't ignore the plight of the fake hero. He needs our help.

…The old school building, you say?

Oh my, do you not know about it? Legend has it that an evil dragon lives there…

Asuka!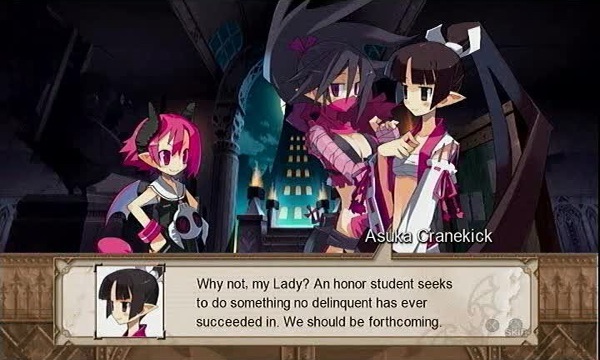 …Fine, you got me. You two are such earnest badasses. That's why you're such cool girls.


My Lady…

Mao, if you're serious about opening your heart, go find the legendary dragon at the old school building.

What happens after that?

If you eat its egg sunny side up, your heart is supposed to open.

Th, that's incredible.

I see… And you're supposed to eat it with hot sauce, right?

Hot sauce!?

…Fake Hero, are you one of those "salt and pepper on eggs" guys? Because I kill every one of them I meet.

Of course not! Pass the hot sauce!

…Mao, I highly advise you not to go unless you are willing to risk wasting the rest of your life.
Many badasses have tried to open their hearts, only to be lost to the building. No one has ever returned alive.

Muhahaha! Ah, Beryl. Are you scared?

No way. All I'm saying is I don't think you can handle it.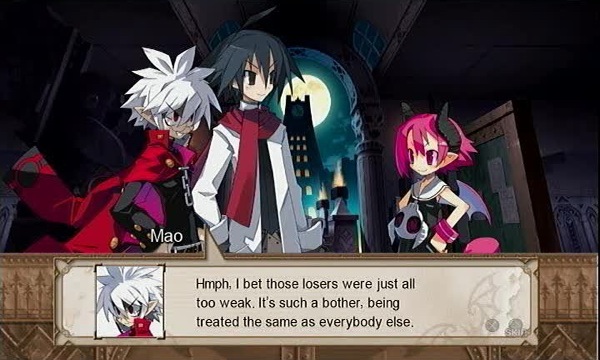 My evil eyes have glimpsed the future. I've eaten the egg, and I've seen the terrible evilness of my opening heart.

Why is your heart opening up such a terrible evil?

Heh… You've never lacked confidence. Well, I warned you. Whatever happens is your own fault. Kyoko, Asuka, let's go.


Yes, my Lady. Have a nice day… both of you.

Later, Mao. I'll pray a hundred times for your success.

A legendary dragon that nests in the forbidden building… Heh heh heh. What an interesting research topic.

Um, are we really going there?

Of course. Don't you want your title back?

Well, of course I want it back. But…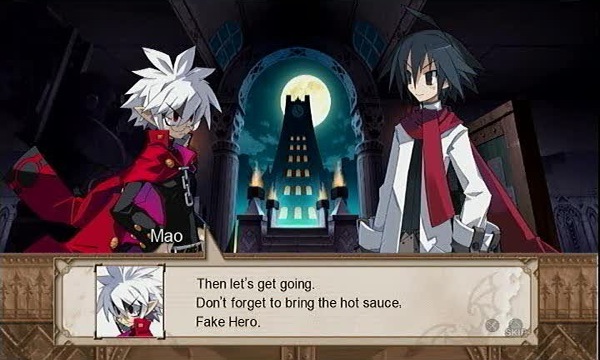 We also now have access to the Item World, which I'll go over in its own mini-update. For those not in the know, in the Item World we can level up our equipment to make it substantially more powerful. It'll be absolutely vital to our endeavors later in the game.
Next Time on Disgaea 3: Crouching Chefs, Hidden Dragon Egg.