Part 18: Aside: Of Etna and Overlords.
Aside: Of Etna and Overlords.
Last time on Let's Play Disgaea, we took a job to bring back a tiny tot's pets. This update won't be about Episode 7 per se, though, because 25 minute boss fight videos take a while to upload.
Let's check out what's going on with Etna this Episode: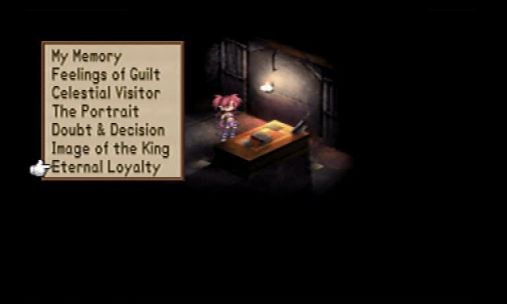 Even though there are still gaps, my memories are slowly coming back...
One thing I remember... When I first started as a servant in the castle...
Everyday was hard...
I lost heart, and my will to live was fading...
At times, I even welcomed death...
That was when the King reached out his hand to me...
I wanted to help him...
I wanted to be praised by him...
I wanted to be accepted by him...
I never felt like that before...
And so, I pledged my loyalty to him...
Even when I lost my memories, that loyalty remained...
Even now... and forever... My feelings will never change...
There's a couple of vassal lines that are worth sharing (one from an earlier Episode)

The "Supreme Overlord"... An Overlord who is more powerful than all others.
But, they say that there is one who surpasses even him: "The Lord of Terror".

Hmph... there is no such thing as someone stronger than the Overlord.
That's just a legend.

About that Overlord from the alternate dimension...
He claimed to be an Overlord, but I heard demons of that level are everywhere in the other dimension.
The King once told me that the true ruler is a terrifying demon known as the "Lord of Terror".
Even the King was wary of him, so I can't imagine how strong he is.

Hmph... That's just a legend.
If such a fool does exist... I, Laharl, shall pummel him to the ground!
Two mentions of a Legendary Lord of Terror, eh?
Oh, and I did a 'little work' before I started on Episode 7. To the Item World!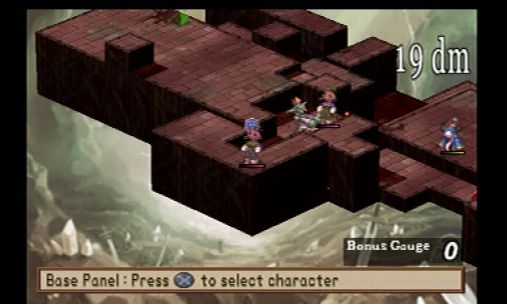 This is a representative sample of an Item World map. They're random, with random enemies.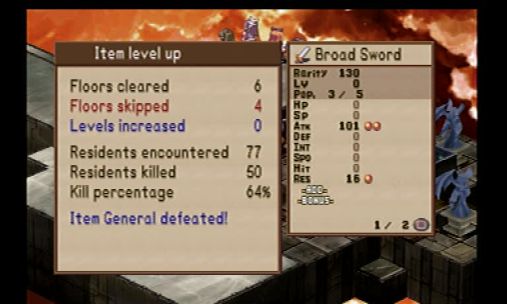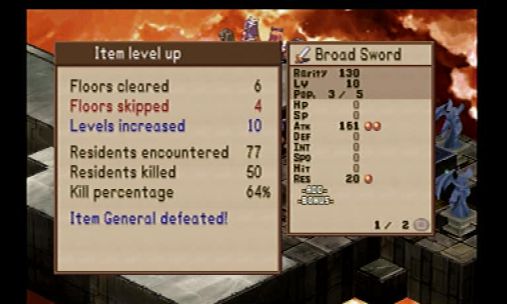 And that's the difference a few levels on the item can make, percentage wise. Let's see how that translates into power for Laharl: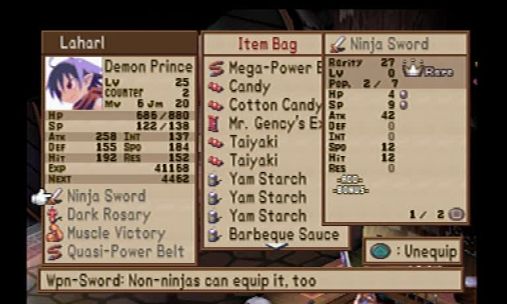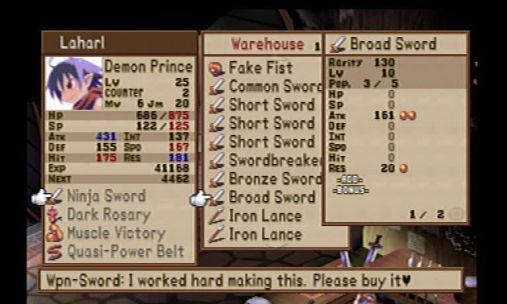 And, let's talk to the Dimensional Gatekeeper and see if we can figure out what's going on.

Have you heard what's been happening at "Salamander's Breath"?
Supposedly, there's been a flood of zombies recently.

Zombies, huh...

Could it be that Aramis' pet has been eaten by zombies...?
Close Flonne, close...
Next time on Let's Play Disgaea:
I suppose it wouldn't be right if he just had a puppy.