Part 244: Sauro - Pre-battle
A note about the current state of the game:

builds character I have dudes who are LITERALLY EXPIRING OF OLD AGE waiting for you to show up at the damned battlefield. You were supposed to distribute supply items to your army and submit attack orders two turns ago, what is happening?
Anyway, here is my contribution to the screenshot spam. I lied and cropped everything because I love you all as much as I hate myself.
The full
*
roster: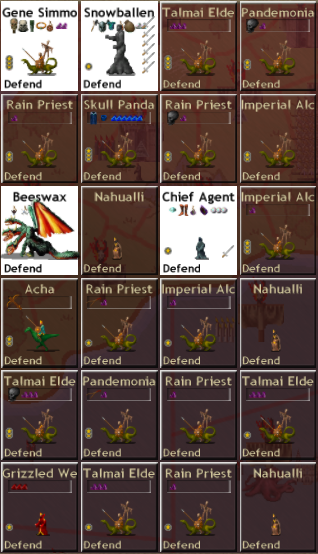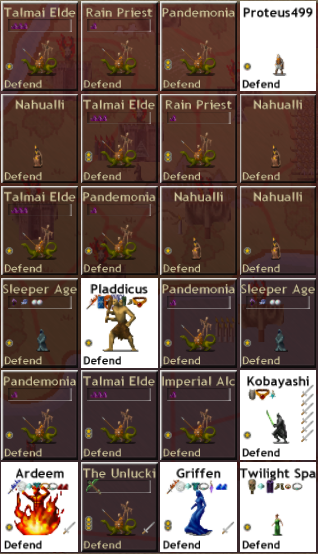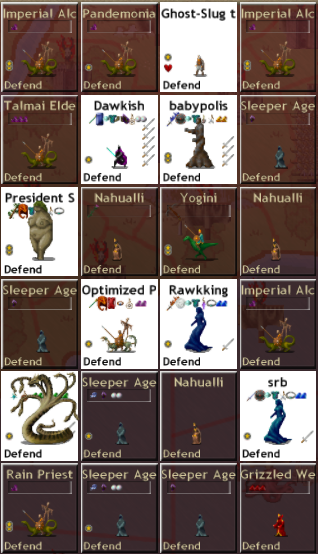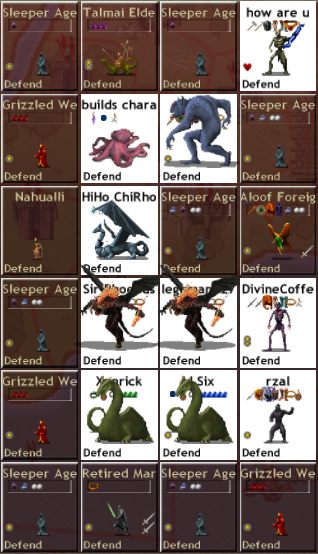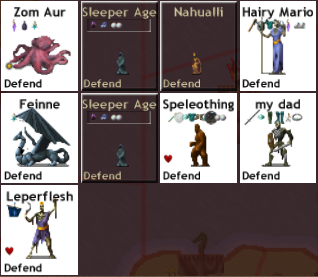 *
Missing from these screenshots are 5 Illusionists who will be participating in the fight but were in the adjacent province with move orders when I took these screenshots. Note that I could have taken screenshots later that included them, but I did not realize that my army would be standing around on the battlefield for at least two more months after these photos were taken.
Posting orders for everybody would be interminably long, so I took four screenshots that included my chaff units and many (if not most) of the important casters. Hopefully it gives everybody an idea of what I'm doing, but I'll add some commentary about the basic gist following the pictures.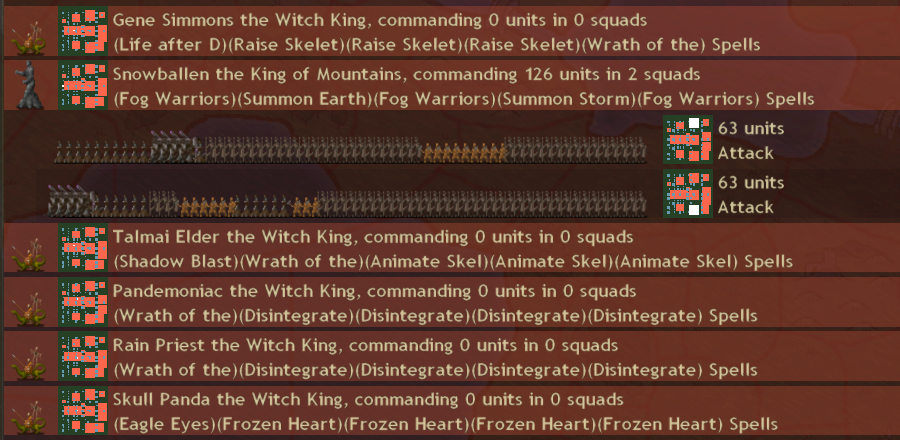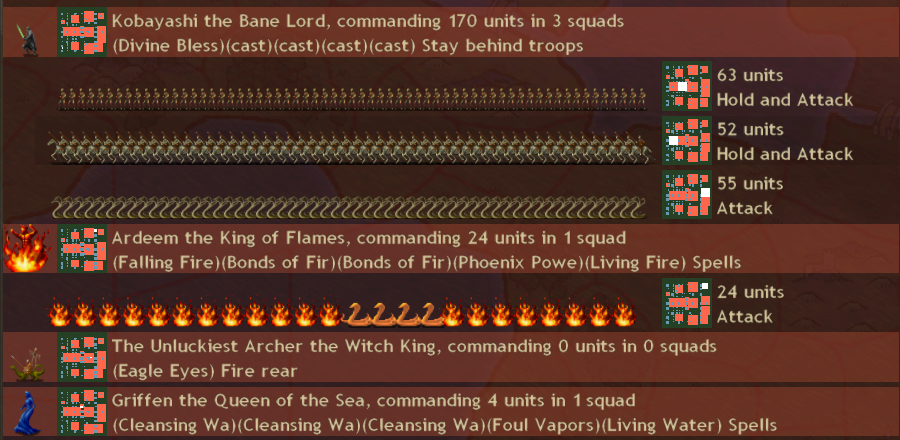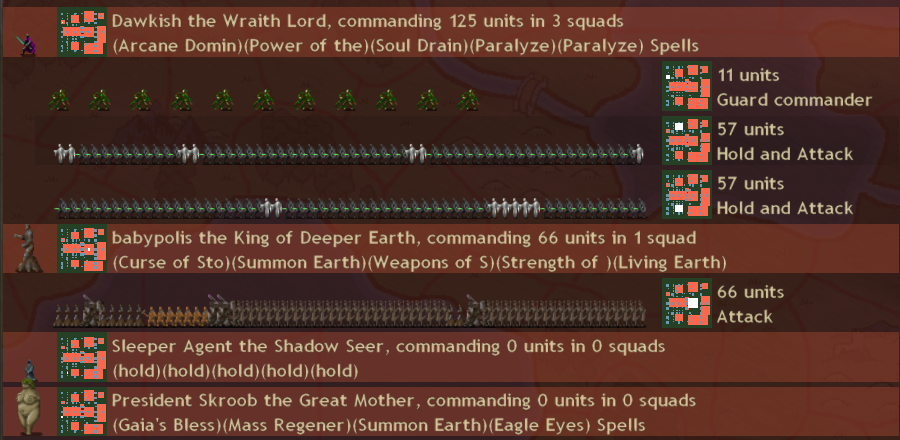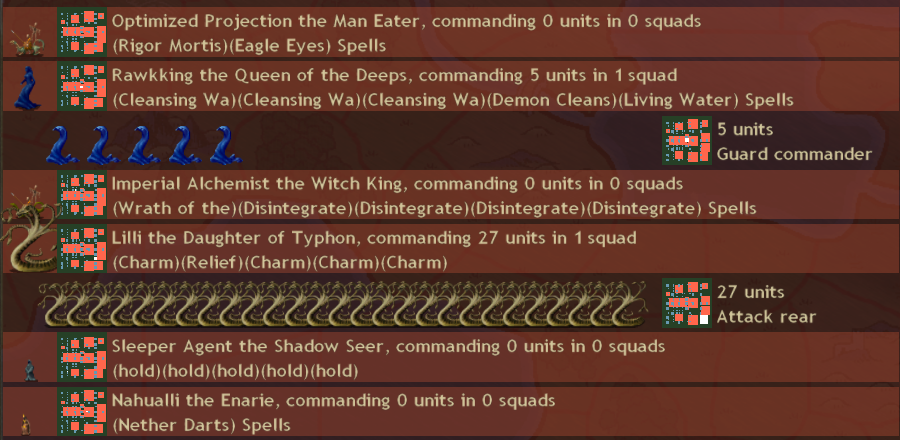 I will be the first to admit that I don't have a lot of experience with endgame shenanigans. Usually when I play, I win or lose around the late-middle stage. So a lot of this scripting is going to reveal painful oversights or whatever, but the basic idea is that I am going in with a crystal matrix communion of 16 "Sleeper Agent" (those are the Shadow Seers) slaves and two masters: Dawkish the Wraith Lord and Chief Agent the Shadow Seer. They will hopefully open with Arcane Domination and Master Enslave on round 1. Because I have initiative this will happen before Hinnom's armies even have a chance to cast.
On the other hand it might not happen at all because of Dominions 3 casting AI, but they have the paths (5S +4 from the communion = 9S, and Master Enslave needs 8S) and they have the gems so we'll see. I have hydras and fire elementals and earth elementals and earth gnomes and claymen and living statues and ghosts and wights and longdead cavalry and ghouls and mandragora as blockers/chaff, with a few sprites or elementals guarding their commanders. I have beefy fighters scattered throughout the army with attack orders, ready to respond to stormflying or edge-summoned enemies. I have tons of other buffs and battlefield-wide attack spells of my own set up, but really it all comes down to whether those two mass control spells go off like they're supposed to.
PS: I hope that everybody can see which pixelman is named after them. If you have any questions about who you've been assigned and what he or she is SUPPOSED to do in the fight, let me know. Noir89, you're the grendelkin and we can't see your name on him because the grendelkin sprite is frame-breakingly huge. Lilli, you're the Daughter of Typhon and we can't see your name for the same reason.