Part 13: Most obnoxious battle and it's end.
Chapter 10: Most obnoxious battle and it's end.

(Kidd) So, charged by a king to get some pepper, we visit Norud the Dwarf. It's just a hair northeast of Ashalam.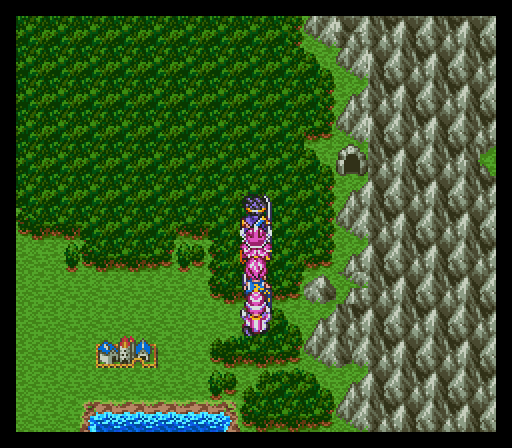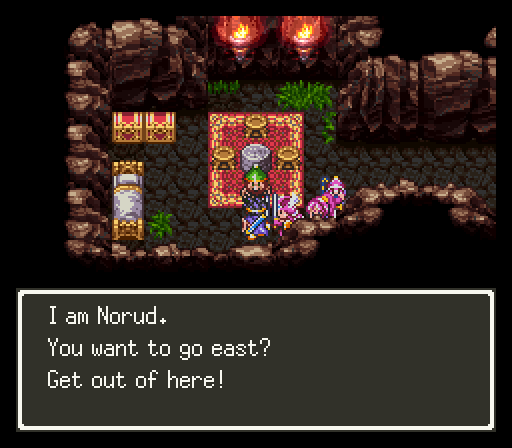 (Kidd) Sorry, can't let you out of it that easily. We're on a mission from the king of Portoga. Let me read you this letter from him. "Dear Norud,
Please guide these travelers safely thru (sic) Bahn's Tunnel...
Thank you!
Sincerely, The king of Portoga."

(Norud) Well, okay. Are you ready to head east?

(Kidd) Yes, I rather think we are.

(Norud) Alrighty then... follow me!!!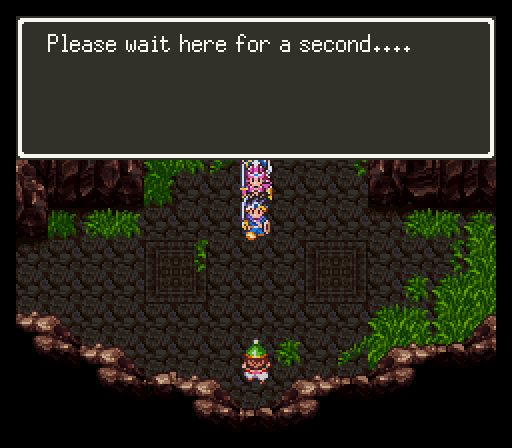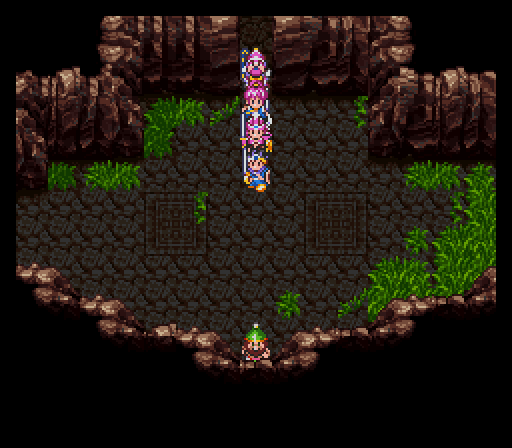 (Norud) This secret passage will lead you to the eastern land.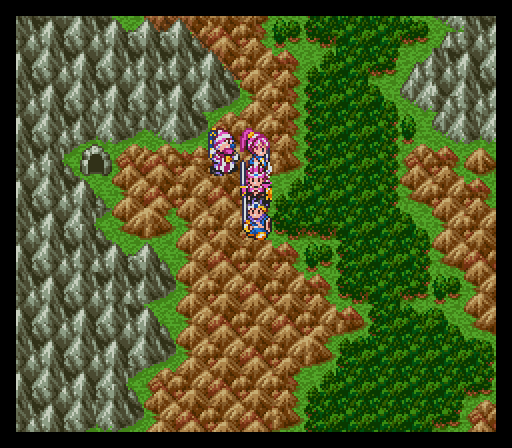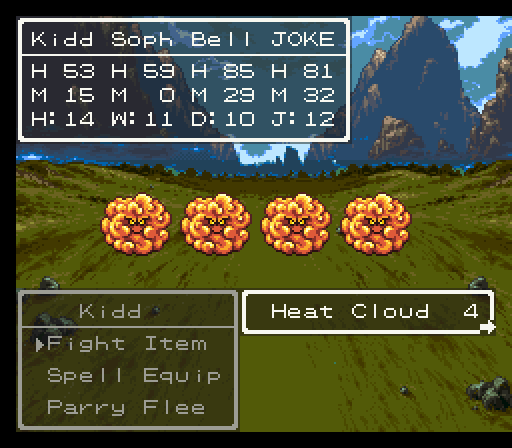 (Sophia) Another dozen recolors in this area, like this Heat Cloud. Blah blah fire elemental blah blah area attack. Not new, but quite dangerous. To the north...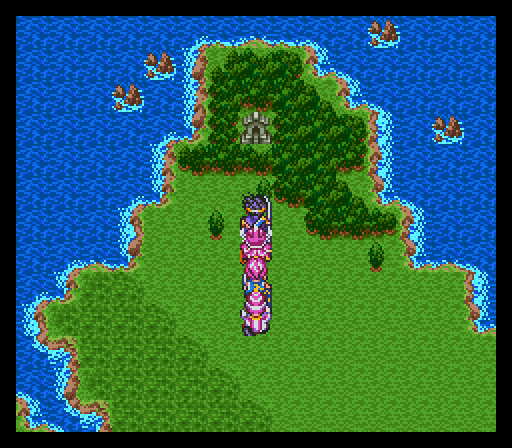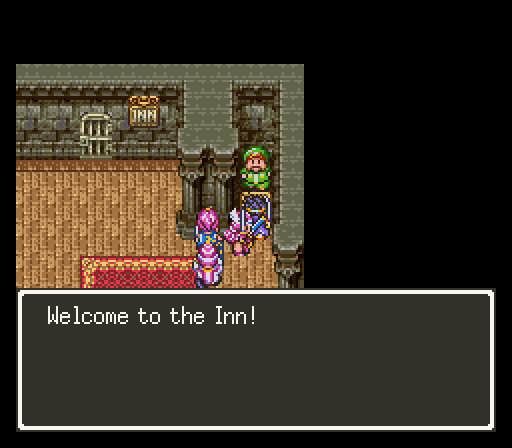 (Kidd) Is a handy inn! It has a couple of prison doors that we can't open yet.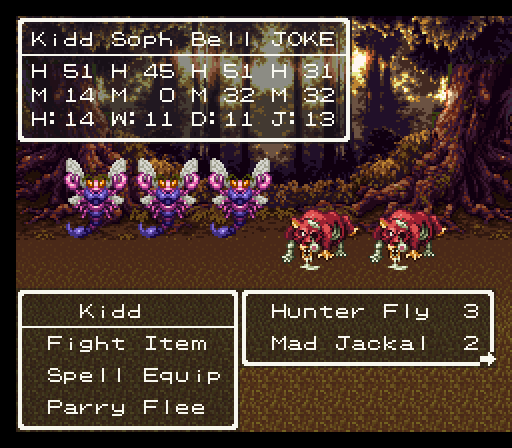 (Sophia) Already another hound-type creature? How boring. The Hunter Flies are poisonous so act with caution - kill them first. On the other hand, Mad Jackals can call for help. So kill them first.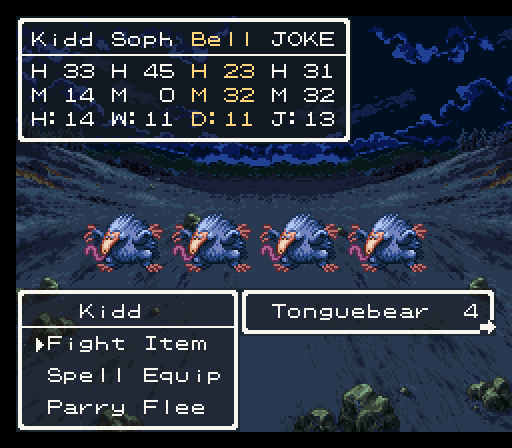 (Sophia) These are the more advanced form of the Antbear - the Tonguebear! No new abilities, just stronger. As per usual.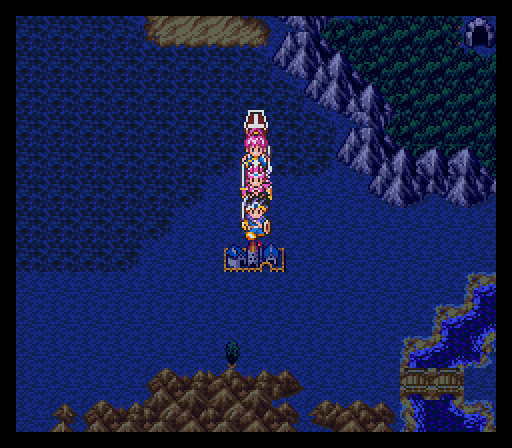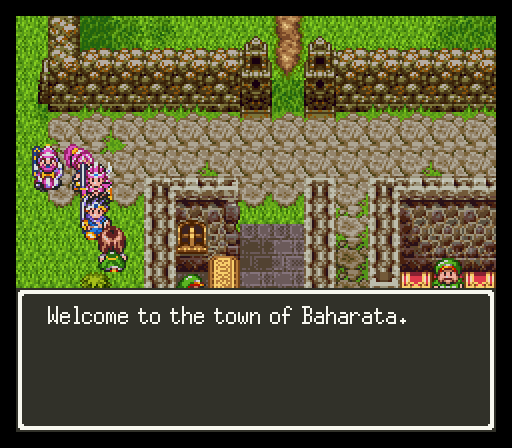 Black pepper? I believe the shop next door has some for sale.

(Kidd) It's right next door? This was pretty easy!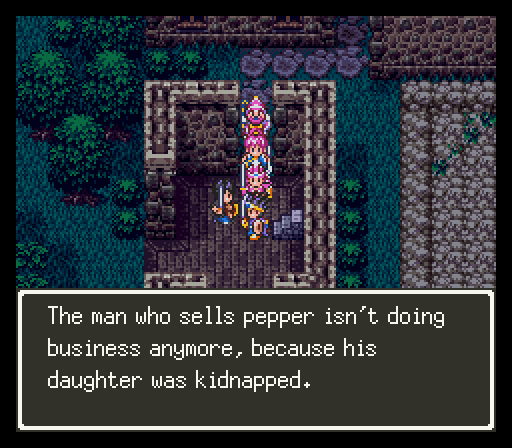 (Kidd) Well, fuck.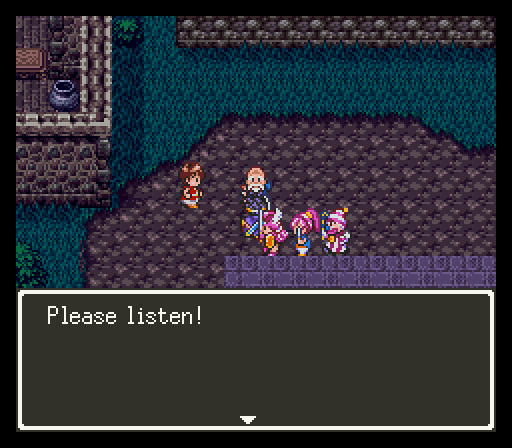 My granddaughter, Tania was just kidnapped! That lad, Gupta, is her sweetheart. I wanted them to get married so I could give them my shop, but now... You seem like you're pretty strong. Do you think you could rescue my granddaughter?

(Gupta) No, wait!!! I couldn't ask that of complete strangers. I have to go and rescue Tania myself!

Gupta, wait!! Oh no! What if Gupta gets captured as well.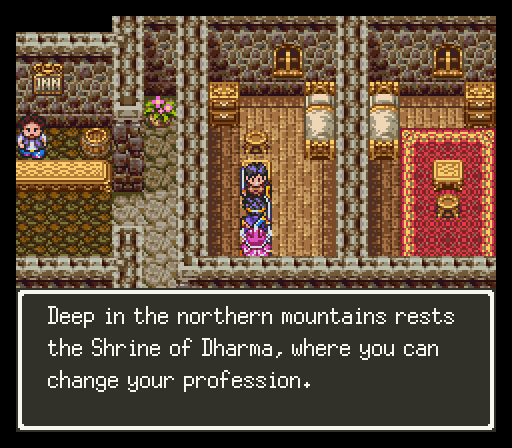 I want to become a Jester...
(JOKEBOT) A GUY MADE A HORK DRAWN CARRIAGE, BUT IT WOULDN'T START. NOT ENOUGH HORK.

Or maybe a Sage.

(Kidd) Hrmm... class changes, eh? I'm a Hero, and Heros don't change classes. What do you guys think?

(Sophia) And lose all my armor? I'm pretty happy as I am right now.

(Bella) Maybe some other time - too much money to make.
(JOKEBOT) INSUFFICIENT LIFE EXPERIENCE TO ACTIVATE CLASS CHANGE PROTOCOL.

(Kidd) We'll check into that some other time then.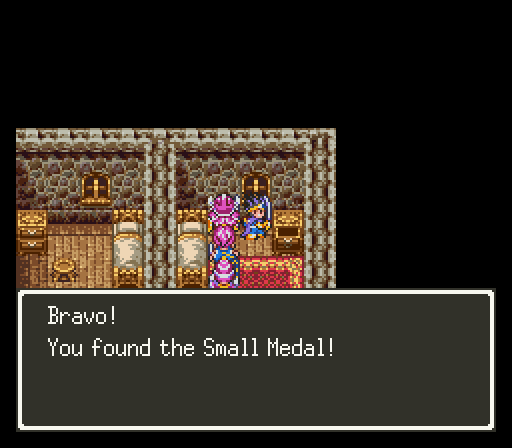 (Kidd) #14 - in the Inn at Baharata. But that's enough of this town for now. Let's go save Tania. Kidnapped women are usually in either fortresses or caves... there aren't any fortresses in the area...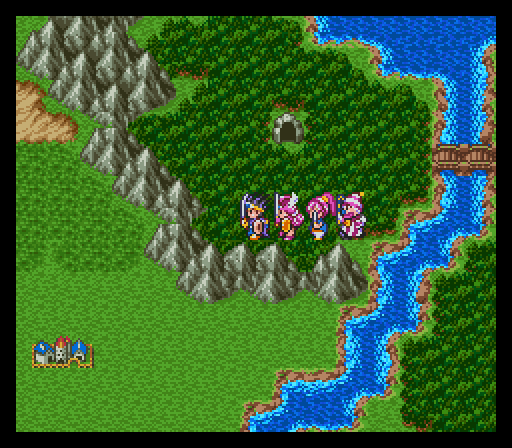 (Kidd) But there is a cave.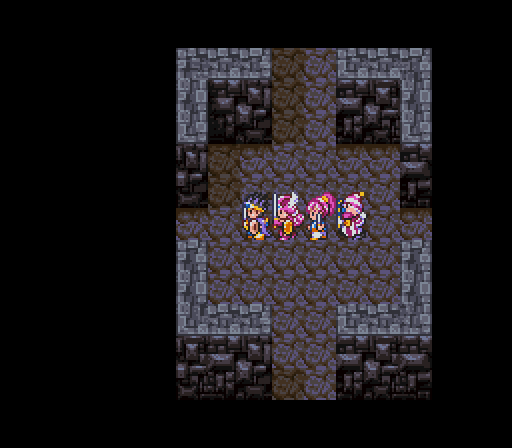 (JOKEBOT) ANALYZING...TWISTY MAZE OF PASSAGES ALL ALIKE... WEST 1 SOUTH 2 EAST 1.

(Kidd) What? Really? It's just hidden behind a dark area so you can't see the door? This huge maze is that easy to solve if you know it's little trick?
(JOKEBOT) YES.

(Kidd) Huh. Well, let's move on down and rescue Tania, shall we?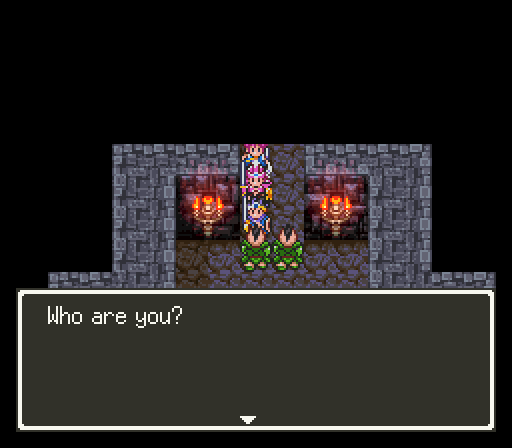 Are you thinking about joining us?

(Kidd) Hell no!

Well, we can't let you pass then!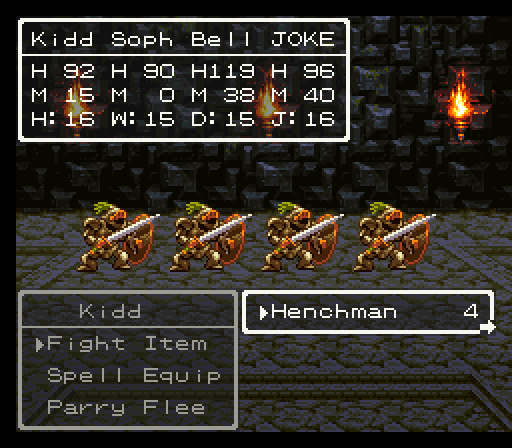 (Kidd) Hrm... four henchmen. They're not that tough, just being random henchmen and all. They're vulnerable to magic, but cast Defense from time to time, making their attacks extra dangerous. But soon...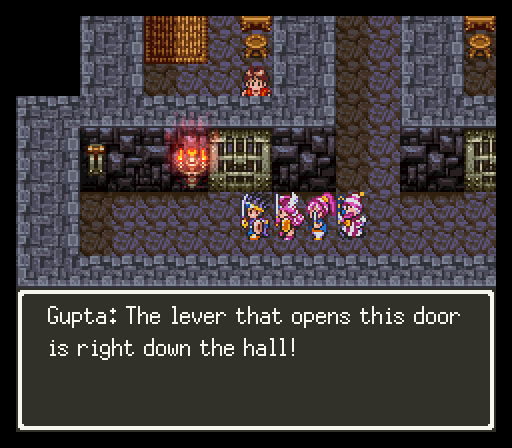 (Gupta) Please pull it and set us free!

(Kidd) Go and be free, star-crossed lovers!

(Gupta) Oh, Tania!

(Tania) Oh, Gupta! We can finally go home!

(Gupta) Let's go together!

(Tania) How can we ever thank you, Kidd!

(Bella) Now there's no impediment between us and the pepper!

(Sophia) And with the pepper, we can get the boat!
(JOKEBOT) AND WITH THE BOAT, WE CAN GET THE ORBS NECESSARY TO ENTER BARAMOS'S CASTLE.

(Kidd) Wait, what's this about Orbs?
(JOKEBOT) CONTINUITY ERROR. PLEASE REBOOT FROM START.

(Kidd) Whatever. Let's just leave.

(Kandar) Hahaha! I won't let you escape! Who are you guys anyway? I didn't kidnap your... No! Not you again!! You are such a pest! I'm going to finish you off for good this time!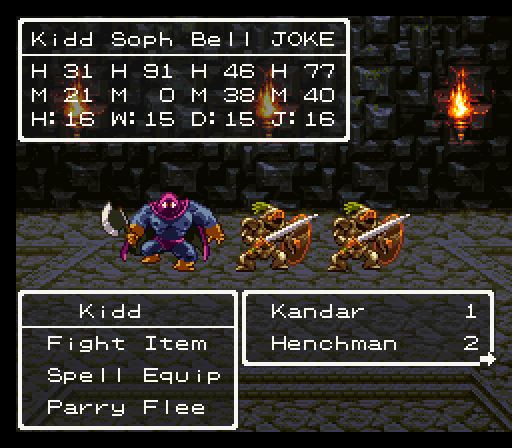 (Kidd) We should have killed you when we had the chance!

(Kandar) Well, you didn't, and now I'm the toughest fight you'll ever face!
In all seriousness, this is the first major hump of the game. After this, the world opens up and you can do things as you please, but here and now things are awful. Kandar hits incredibly hard, and his support henchmen can heal and strike nearly as hard as Kandar. So...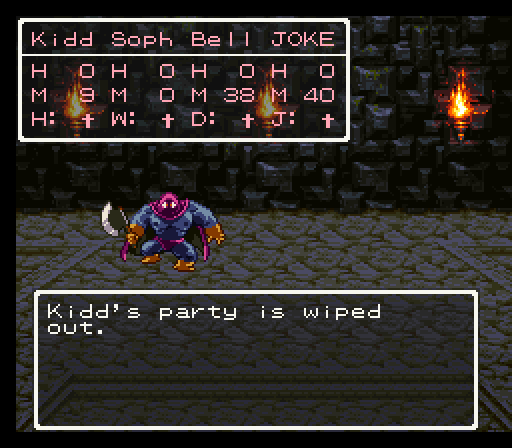 (Kidd) Okay, backup plan. Let's kill monsters until we feel like we can take this sucker out!
Some time later...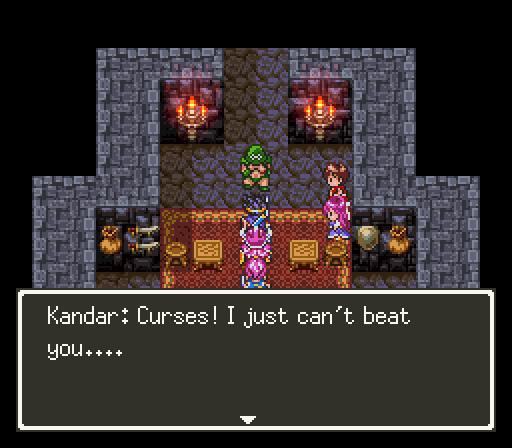 (Kandar) Well, except of course for all of those times that I did. Good times... Please, spare me! I'll change, I promise! I know what I did was wrong!

(Kidd) As I recall, you've said that before.

(Sophia) You were less than truthful.

(Bella) And fell through on your bribe money.

(Kidd) What?

(Bella) I have to make my overhead somehow.

(Kidd) Moving along... No! We won't spare you this time!

(Kandar) Don't be so cold-hearted! Please spare me!

(Kidd) No!

(Kandar) But thou must!

(Kidd) Ah hell. Off you go. But don't do it again!

(Kandar) Oh, thank you so much!

(Gupta) Oh, thank you very much! I'll never forget your kindness! Let's go home, Tania!

(Tania) Okay, Gupta!

(Gupta) Please drop by Baharata and visit us sometime.

(Kidd) If by sometime you mean immediately, then yes!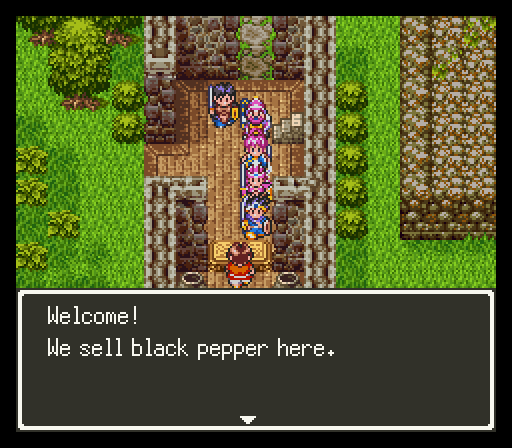 (Gupta) Oh, hey there! Thanks for saving me and my sweetheart! Are you in need of some pepper?

(Kidd) Yes. Yes we are.

(Gupta) Then it's yours! Don't worry about paying either, this one's on me!

(Kidd) Sweet! Well, spicy. But worth much more than it's weight in ship!

(Gupta) Have you visited the Shrine of Dharma yet? It's just north of here, through the mountains. You should really go check it out! Take care!

(Kidd) We'll worry about that when we're more powerful. First, ship time!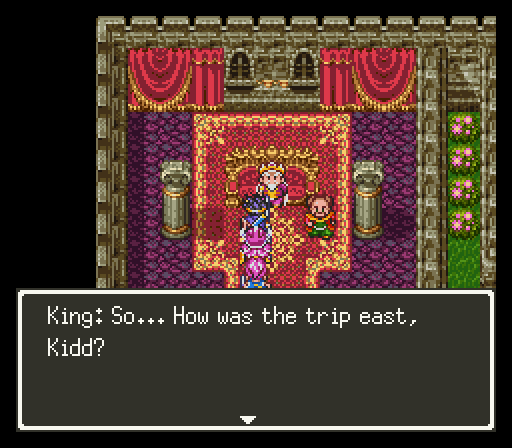 (Kidd) Took some time, but it went fairly well.

I suppose it didn't go well... W-Wait! Is that pepper!?!? Oh! It is indeed! I bow to you, Kidd! I'm sure it was a difficult trip! What bravery! Courageous, just like true heroes! As promised, my ship is yours! It's waiting outside!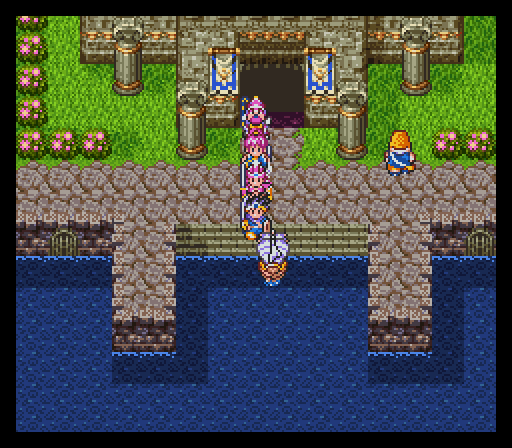 (Kidd) Hells yeah. High seas and further adventures!
Next time on Let's Play Dragon Warrior 3: More dungeons! New cities!
# of In-Game Days: 64
# of Small Medals: 14