Part 52: Update Fifty: The Dragoon's Trial
Update Fifty: The Dragoon's Trial
Welcome back! Last time, on Final Fantasy IV, we completed Goemon's Trial. We also dumped his ass into several holes. Today, we're doing probably the best of the Trials, so let's mosey.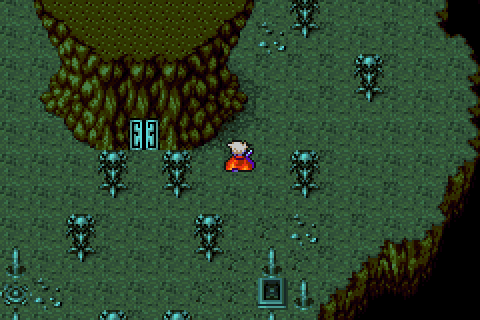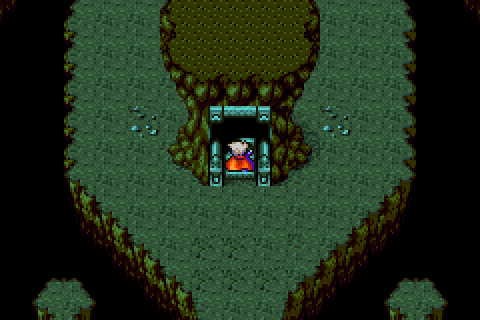 We've got a few interesting locales to hit before we do the Trial, so let's get those out of the way. This update is going to be a long one, folks.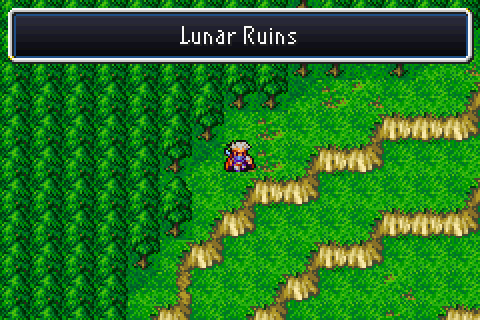 I mean, shit, it's going to be

-Ville while we're at it, too.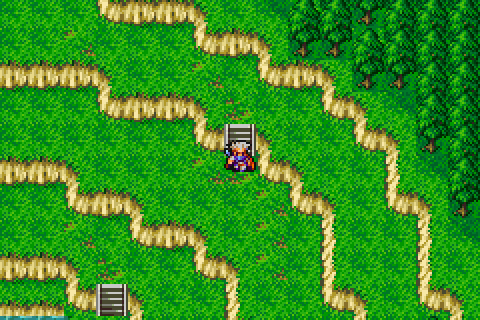 In here, we're working our way toward this center area.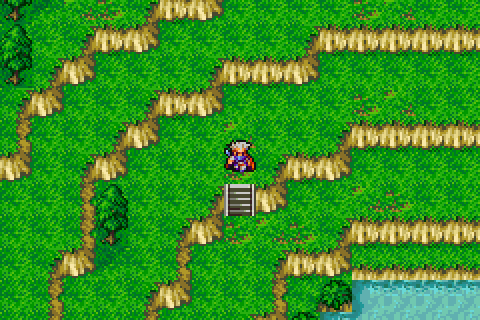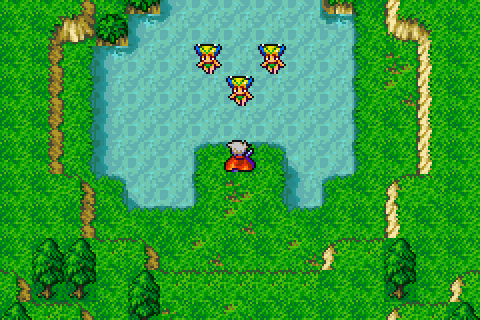 As there's a few of those wonderful Sylphs hovering around here.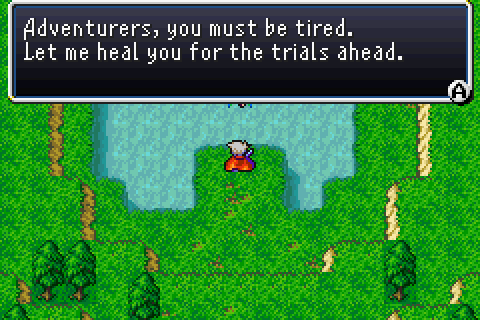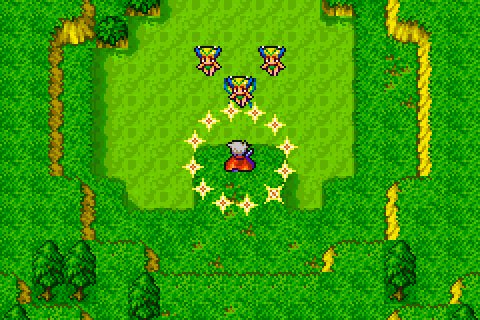 We get a full heal, even though we just finished resting in a Cottage.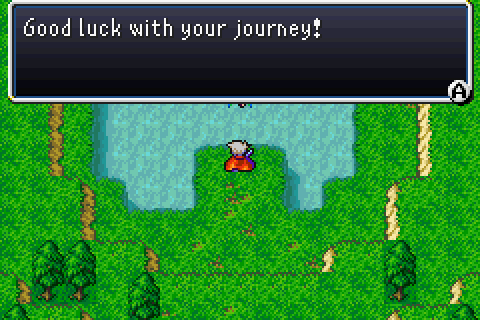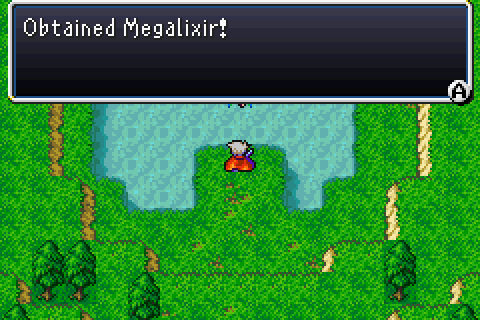 And a Megalixir, too. This'll be handy if shit ever goes real bad in a fight.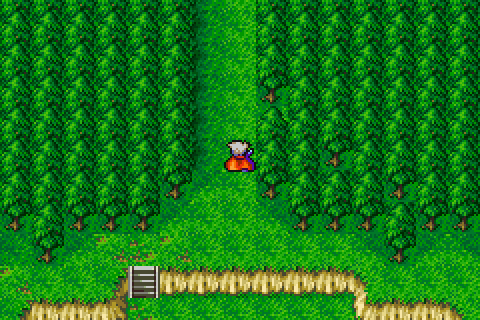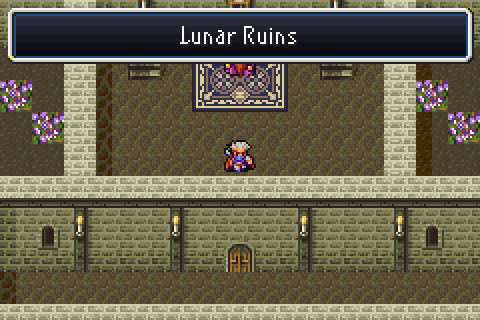 This next room is, to me, the most interesting one to me.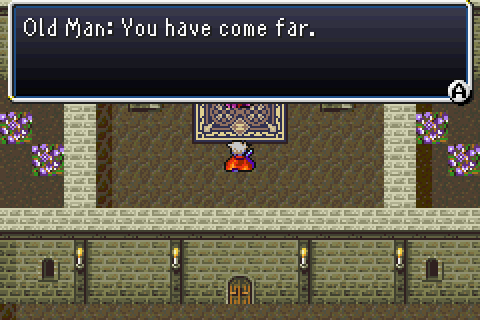 "I will now ask you some questions. Walk through the door that corresponds to your answer. All will be revealed by the choices you make..."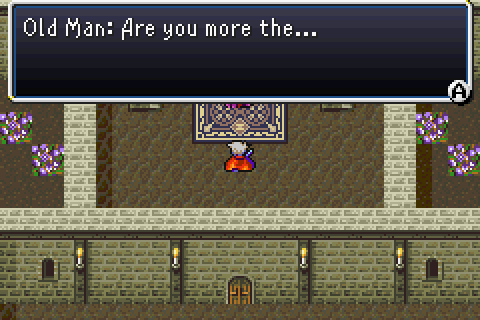 He asks a series of four questions and I answered how I normally would. I guess you all get a quick peek into the psyche of Leavemywife during this LP.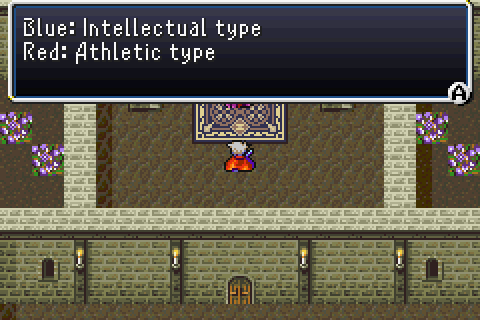 Well, considering I have a bum leg, athletics are out of the question. They were before, as I am stout and lazy, but it's just reinforced now.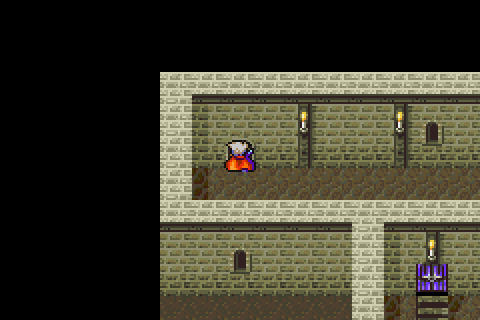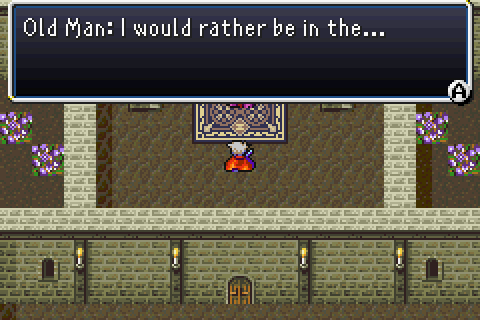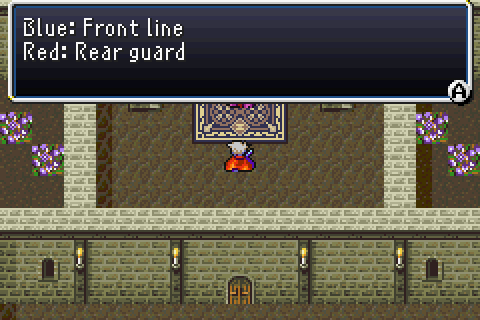 I'm also a hands on kind of guy. I'm one of those people who can't learn unless they see and then do it for themselves. Just gotta touch everything, y'know?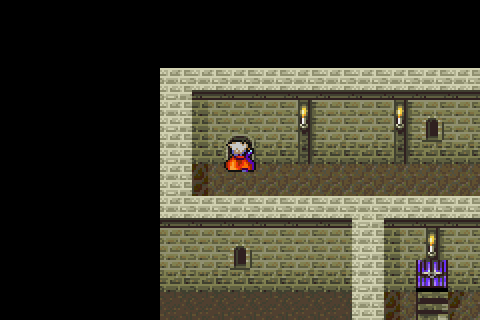 That also relates to why I'm no longer allowed to attend any Vagina Monologues.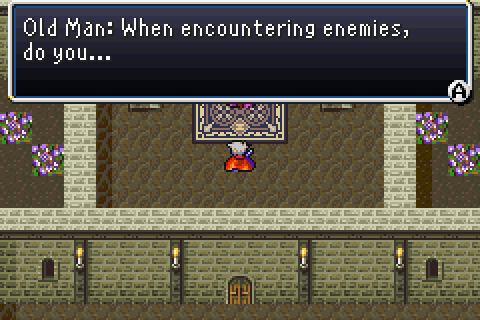 Beat them the fuck up?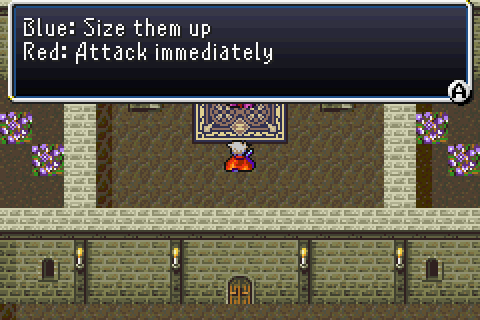 Oh, hey, Red is pretty close to that.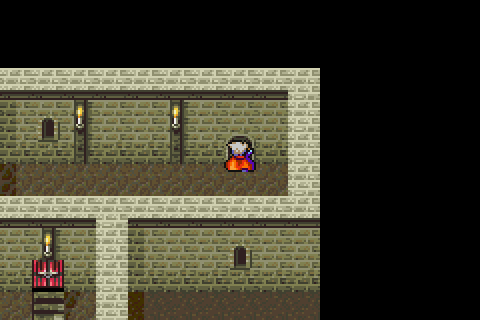 Plus it's the same color as the blood I'll spill before I think about the situation.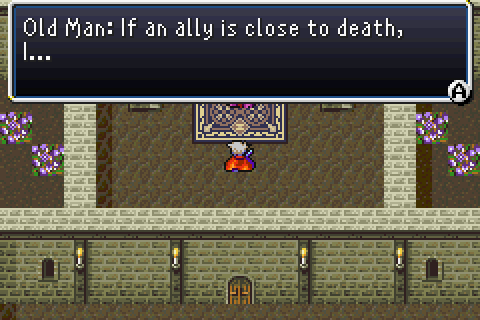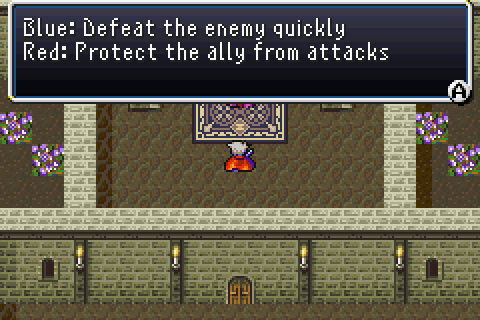 Well, I think you just gotta keep the downed guy healthy and alive. I mean, he's going to miss out on that delicious experience if he's dead.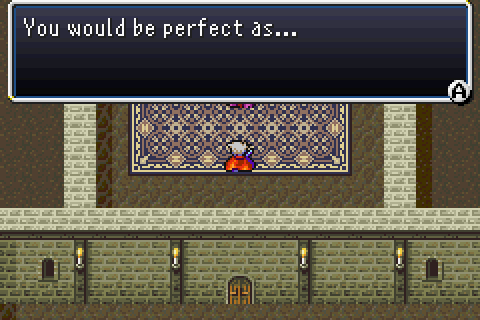 Please say astronaut. Or cowboy.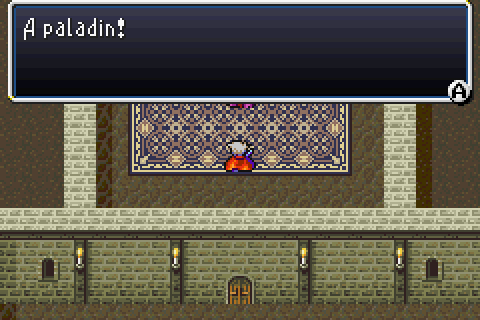 Aww, that's not an astronaut (or cowboy) at all! Though, I guess Dooky Dingo calling me a white knight all the time now has a small bit of credence to it...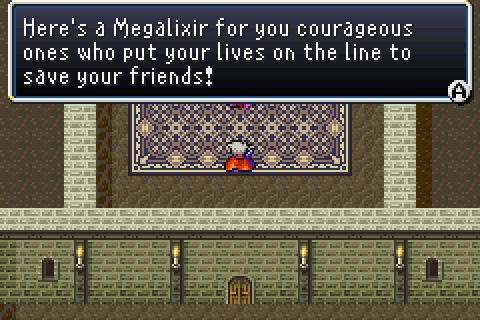 But we scored another Megalixir out of the deal, so I'm cool with that. Now I'm prepared for two shit situations.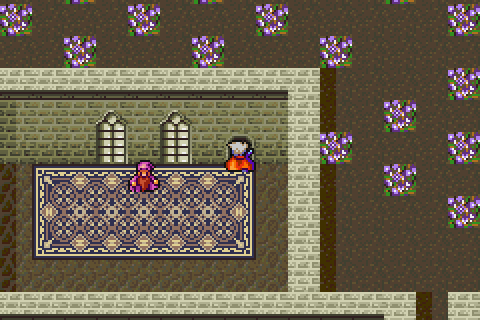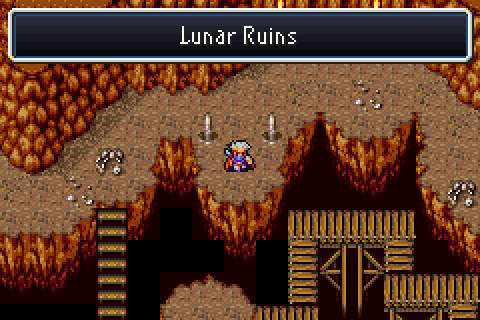 This room is vaguely interesting. It's got one worthwhile item in it.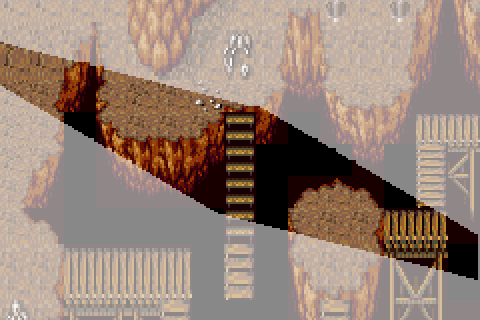 And, at least, one new enemy!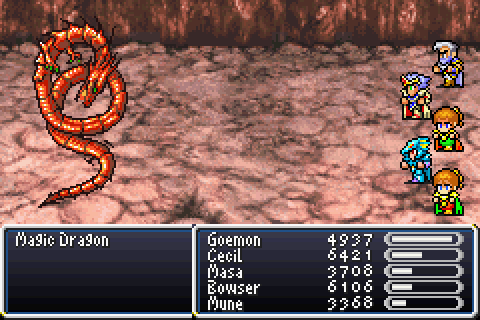 I'm honestly not 100% sure on what all this guy can do. He has 20,830 HP, though, so he's got some staying power.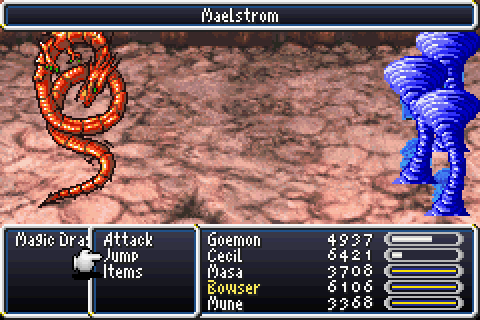 I don't know if he has any attacks that follow this, as he always died very quickly after casting it, making it more of a nuisance than an actual threat. I wish I had more to say about this guy, but I don't. So, uh, fuck him.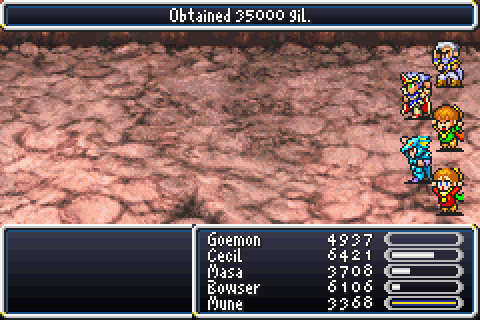 He also gives out 9,400 XP, so he's decently worthwhile.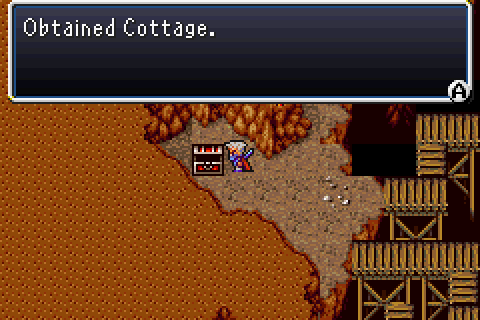 This isn't the worthwhile item in here.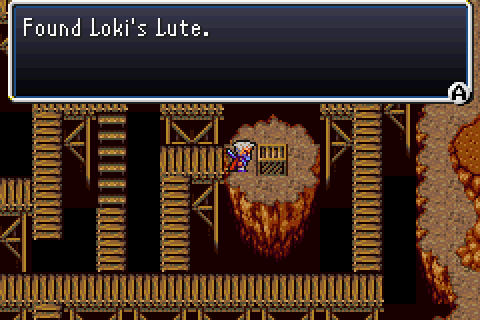 Ah, here it is. Champ's strongest weapon, just...Kinda tossed in a crate in the middle of nowhere.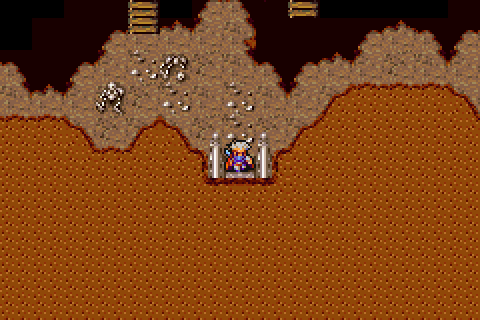 Anywho, let's skedaddle. I'm sure none of you are interested in seeing a bunch of connecting stairs and wooden paths.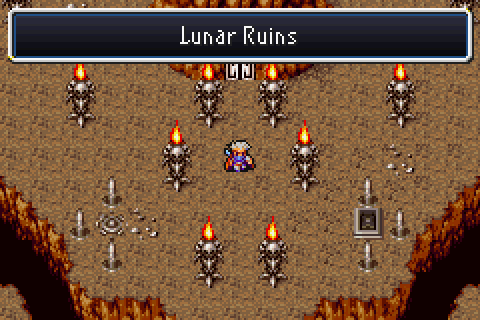 Because it's time for the next Trial!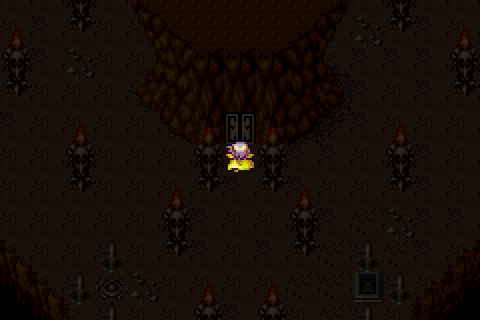 When you approach the door, Cecil becomes party leader again.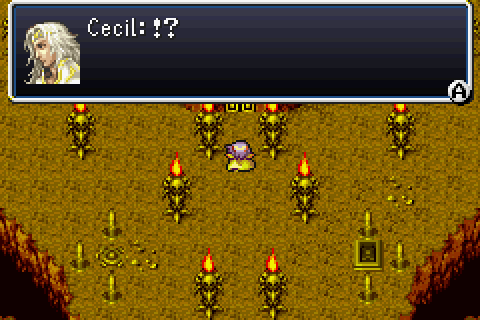 And is blasted back from the door. At first, I thought I had screwed up the order of the Trials and this was Cid's, not Bowser's, and that I was going to--Oh, fuck. I gotta go get Cid anyway to do his Trial (it's next), which means I gotta leave this shithole entirely, slog all the way back down here and--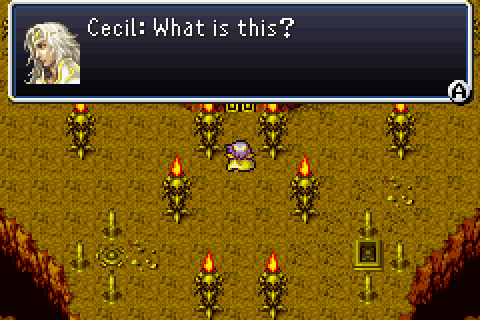 It's a fucking door, Cecil.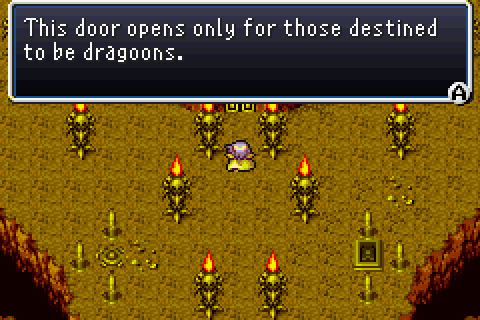 Oh, correction; it's a fucking
talking
door, Cecil.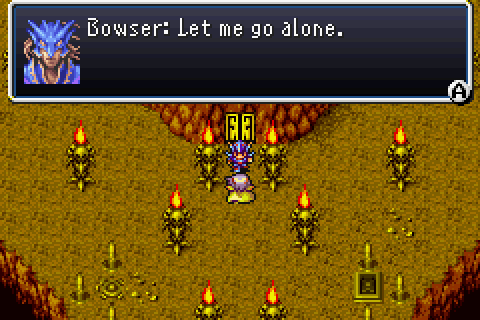 Bowser is special, so he gets to go alone. I'm not looking forward to facing one of those Lunar bastards, who have over 100,000 HP, with just one guy...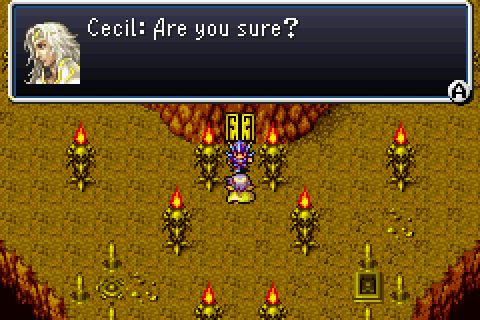 I'm not, but he is.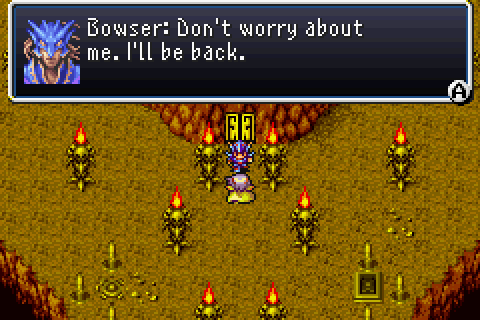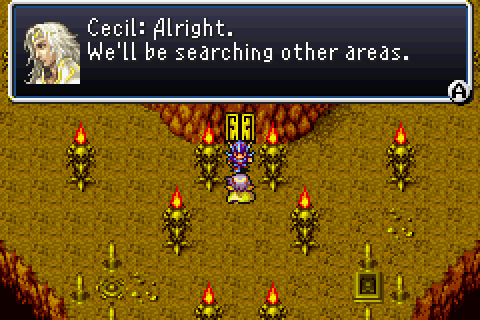 ...Cecil, you cock. If you leave this floor, you might go to an entirely different area than Bowser does when he leaves this floor. If you're trying to ditch your buddy, just fucking punt him off into the abyss surrounding you. Don't be a dick and leave him to horrifically slaughtered by the monsters in here.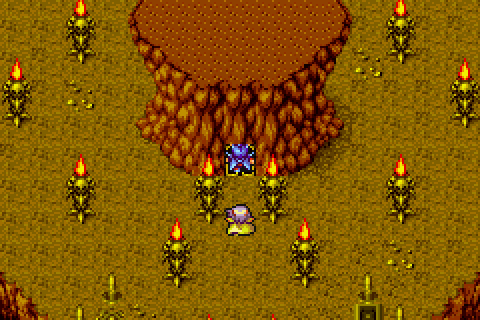 Let's get this over with.

...Oh, this is off to a great Goddamned start.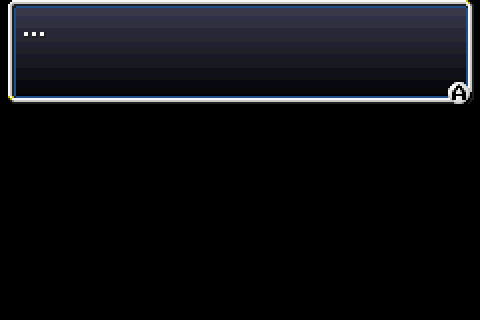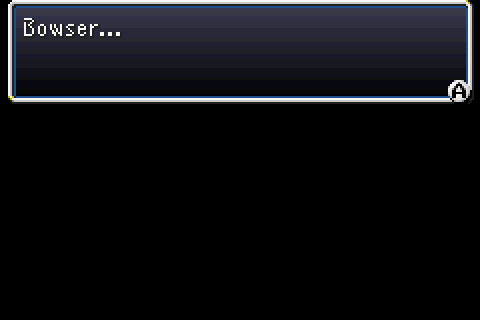 I swear to God, if someone says, "Good morning, Bowser!" I will shank the nearest living thing. Now is not the time to remind me of better games, Square.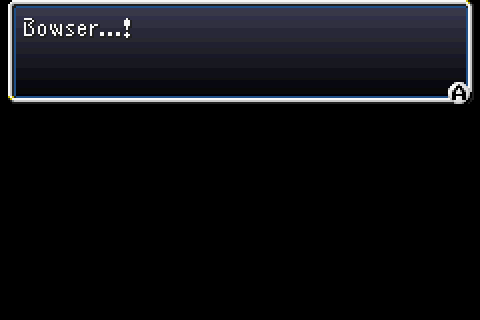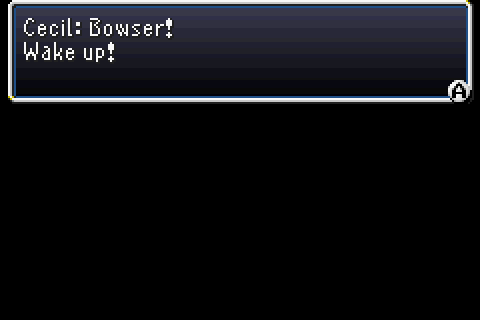 Eh, close, but no cigar. My dog is grateful.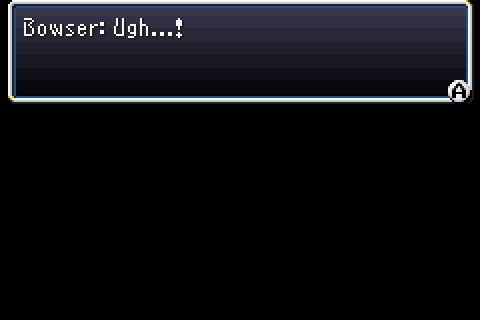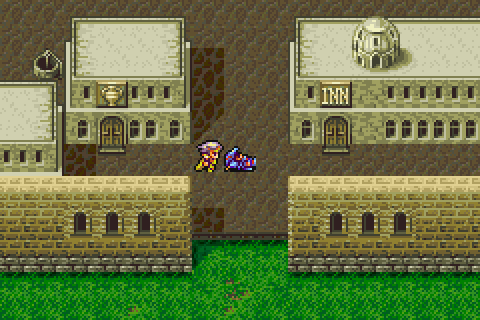 Bowser must have gone on one hell of a bender in his Trial, if he's waking up on an entirely different planet.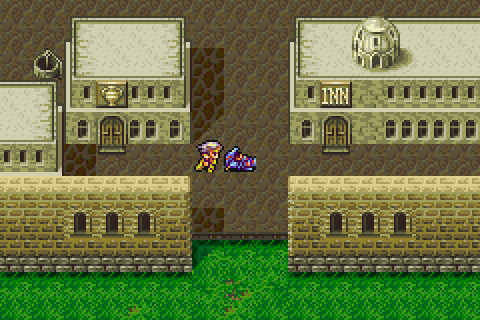 When I originally made this .gif, I recorded two of these wavy things. Then I realized that was stupid, cut the .gif and half and here you go. Don't ask why I tell you these things.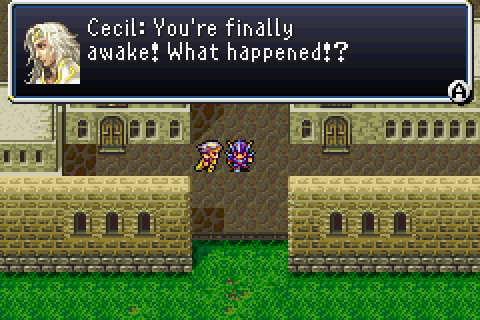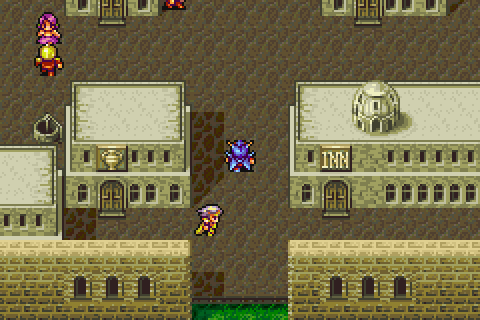 Bowser doesn't seem to believe where he is.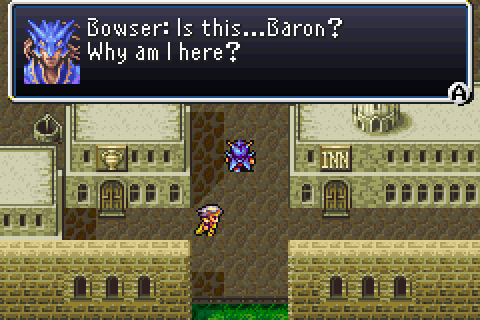 Valid question, Bowser!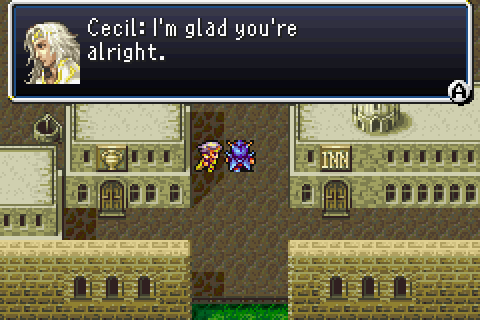 And what a dodge that was, Cecil.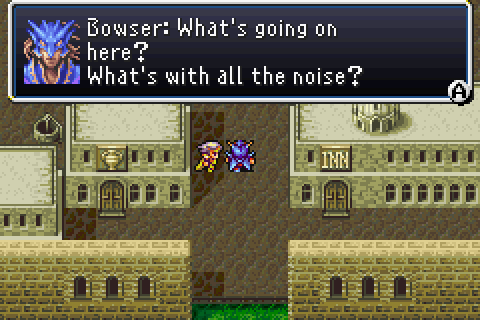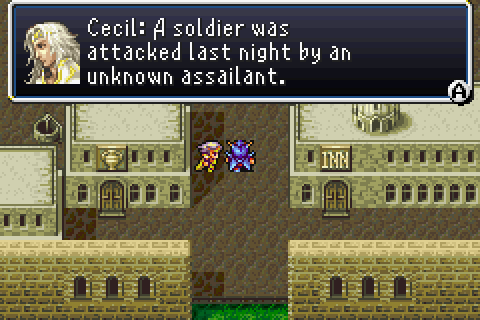 Oh, hell, we came back to Baron just as a murder occurred. What luck!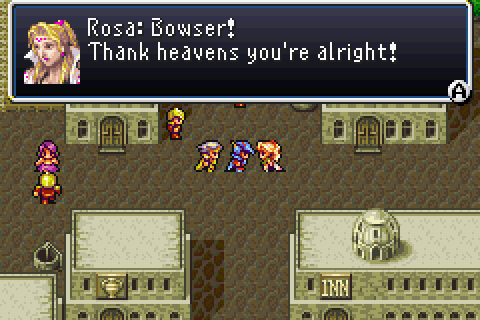 Hey, uh, Rosa, why don't you just revive that guy and he tells us who attacked him? I think that'd be simplest.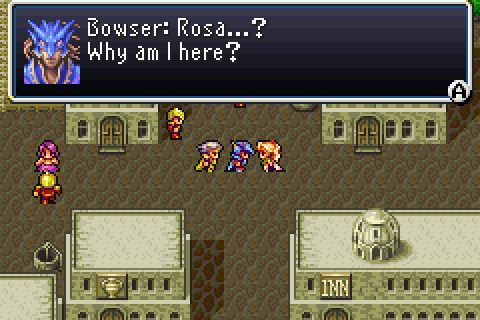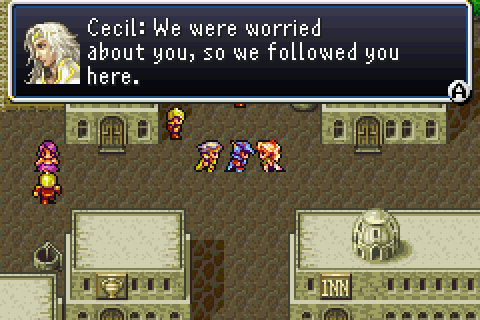 Cecil, that's horseshit. Rosa wasn't even in the party when Bowser left.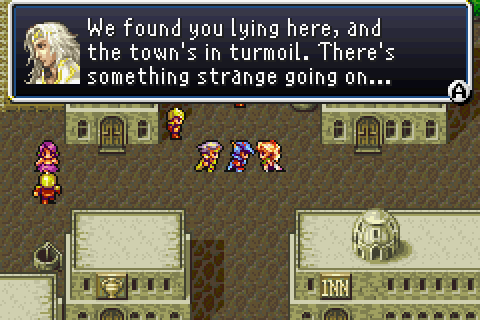 Oh, this is what you call strange? Not the Moon travel, the Trials tailor made for our party nor the fact we're fighting Lunar versions of our existing summons? That's all par for the course, Cecil?
But, hey, a guy gets shanked in Baron and that's
just fucked up.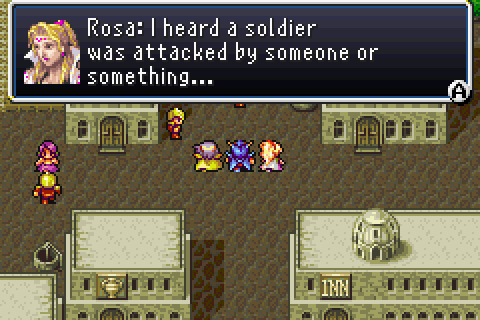 Or something? Huh, did anyone else just imagine Bahamut as Jack the Ripper?
But, oh wait, it's actually Dark Bahamut and regular Bahamut has to go all Sherlock Holmes on him to clear his name, with Leviathan as his Watson and they solve the crime, then go on to solve more capers, fight crime and have all sorts of rambunctious adventures.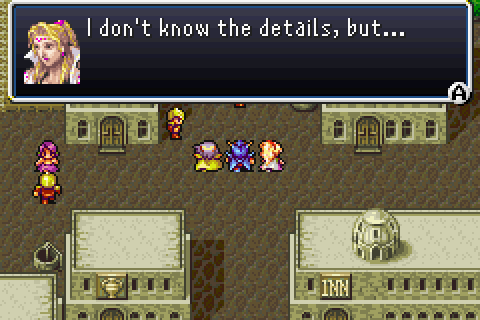 Most of that just comes from a desire to see Bahamut (or any of the summons, really) with a pipe.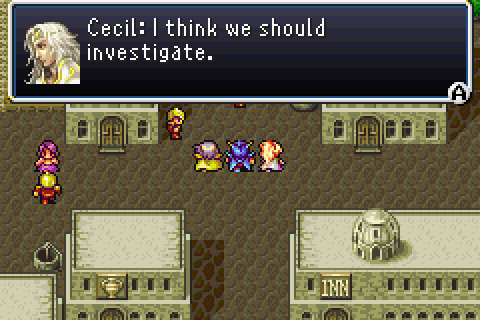 All the Sylphs could have bubble pipes (because they're small and cute) and it'd be all adorable and bubbly.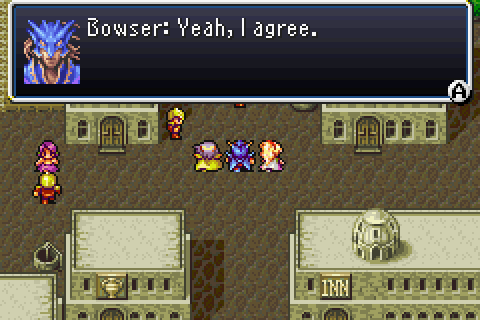 Meanwhile, Asura has like, four pipes and she's just a cloud of smoke.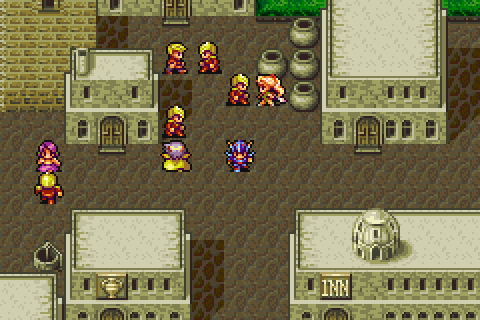 Of course, Chocobo--Oh, right! Murder afoot. We have Trials to be trial-ing.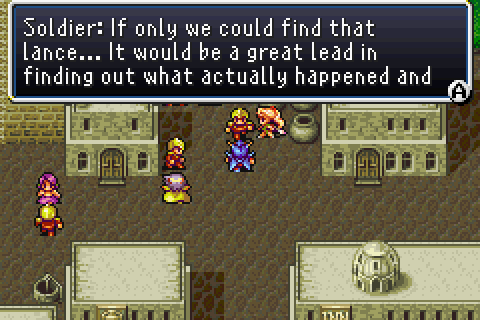 "who is behind all of this."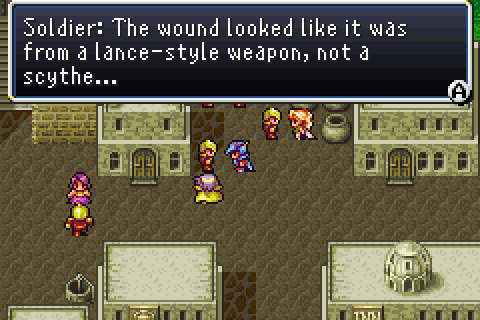 Who the fuck mentioned a scythe?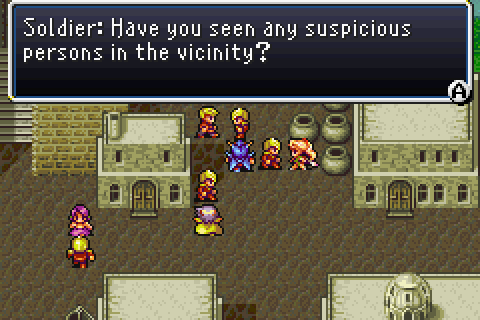 Initially, I thought this was directed at Bowser and I was ready to sass.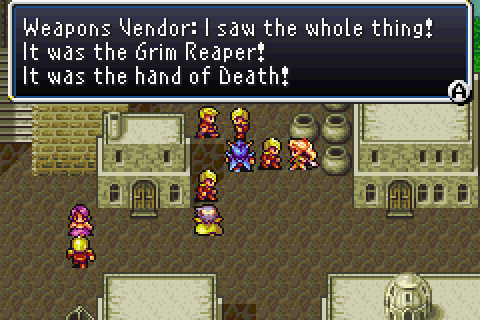 However, we're just eavesdropping on a solider questioning this man.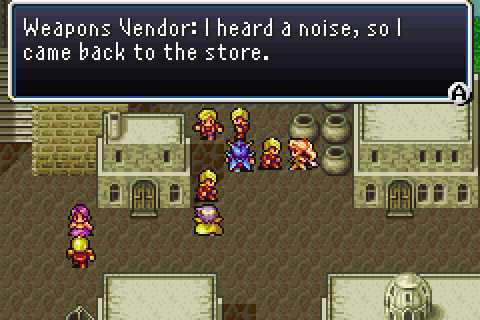 Well, okay. I suppose that's probable, what with curiosity killing the cat and all that.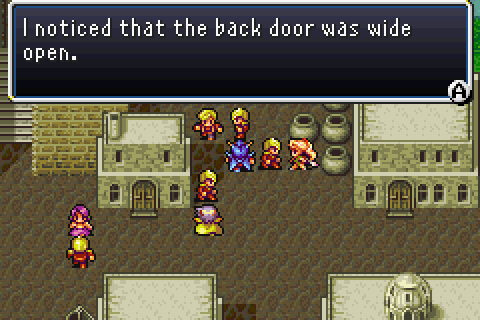 Alright.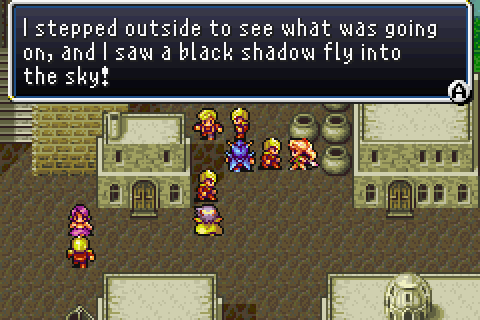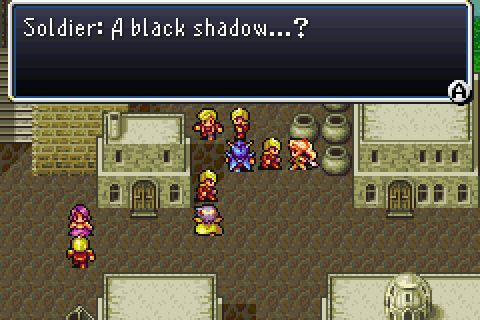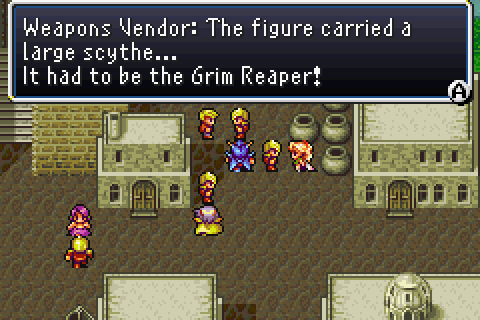 Oh, that's where the mention of a scythe came from. So, in Bowser's Trial, we're fighting the Reaper.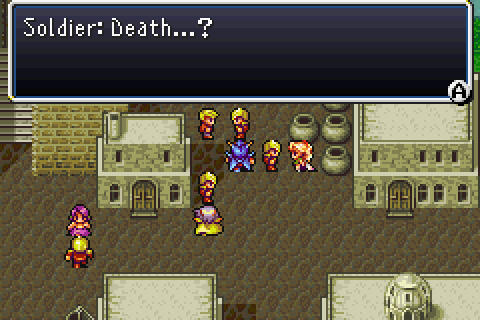 No wonder this is the best Trial.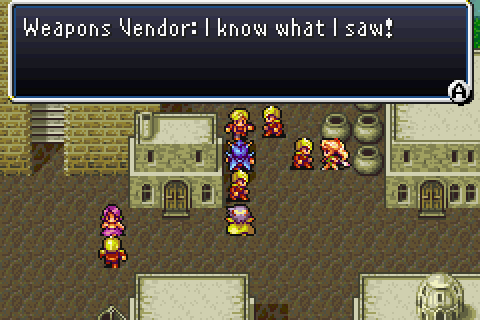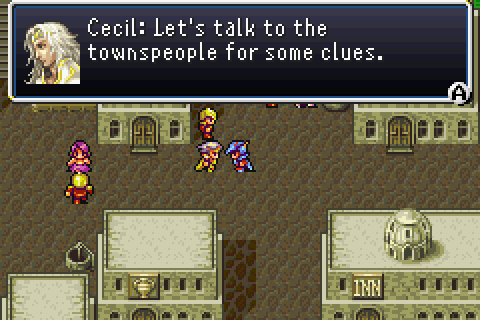 Solid plan, Cecil. Good thing you've got that one soldier covered.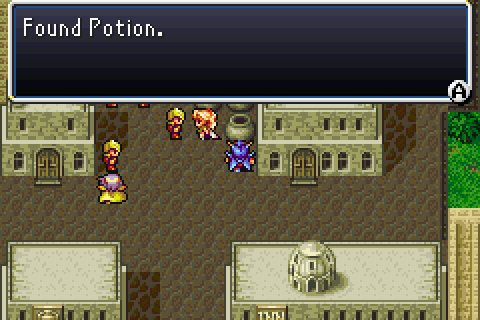 Not to break the tension here, but I found this on accident.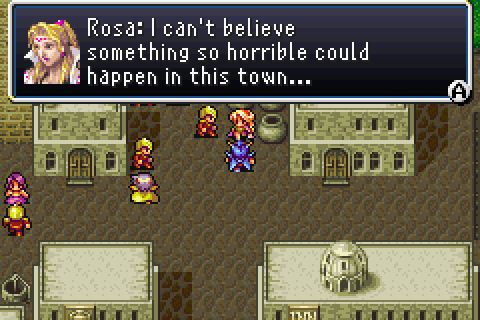 Did you fucking forget about what happened to the old king? Dude got skinned and was worn by an Elemental Lord for God knows how long, Rosa!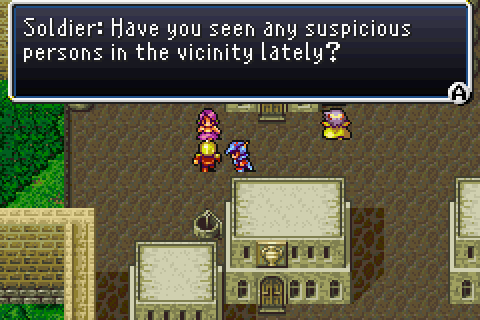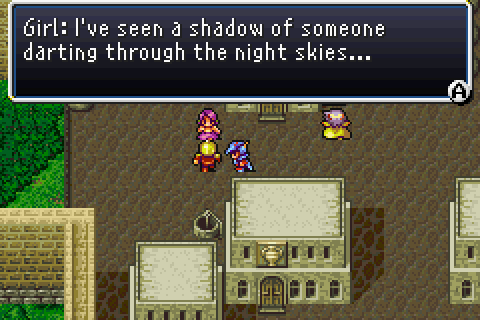 That could just be a kite.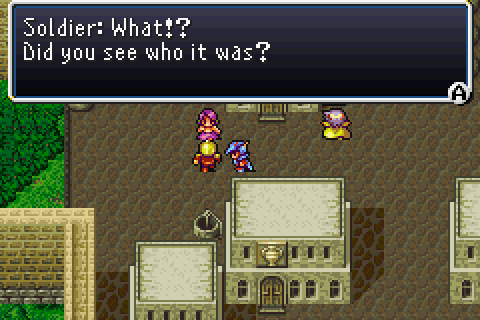 Ah, yes, soldier, seeing someone's shadow allows you to identify them. Especially when they've been darting around.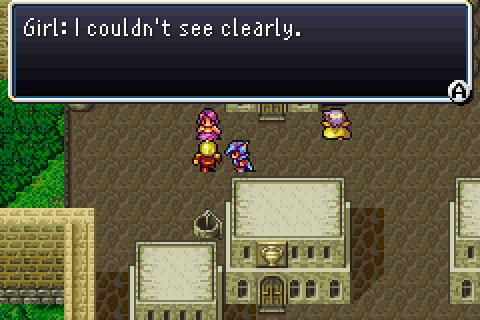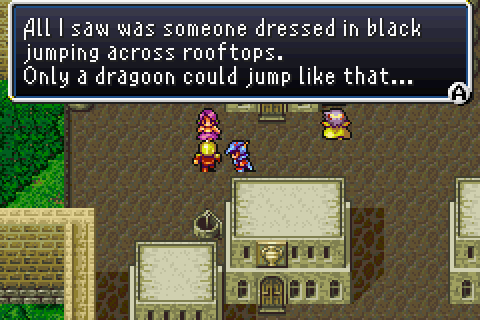 So, only dragoons can jump in this world. Interesting.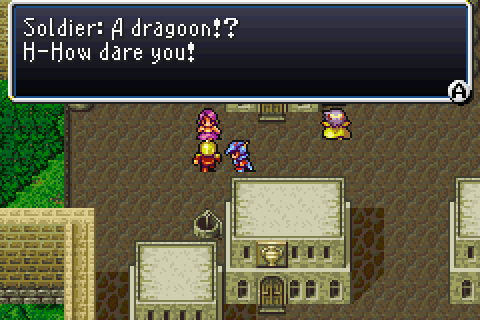 "The dragoons have been loyally serving this kingdom for ages!"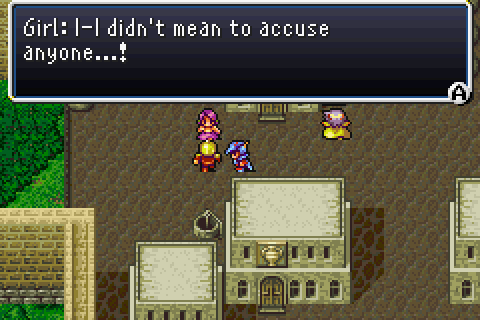 Girl, there is one
right there.
How the fuck did you miss the dude wandering around in blue, dragony looking armor?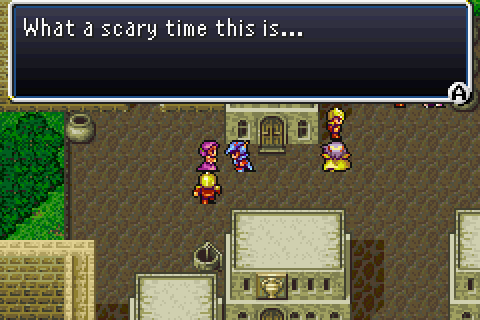 Scary indeed.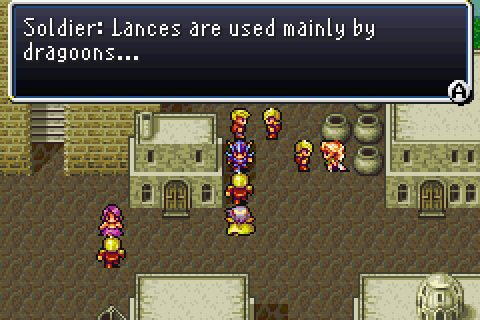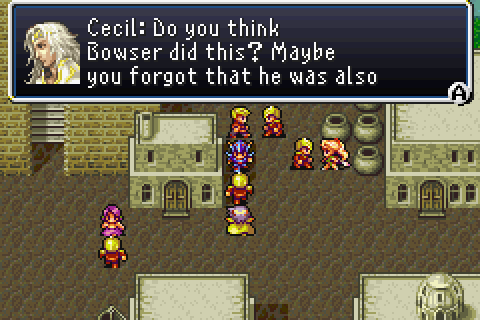 "attacked!"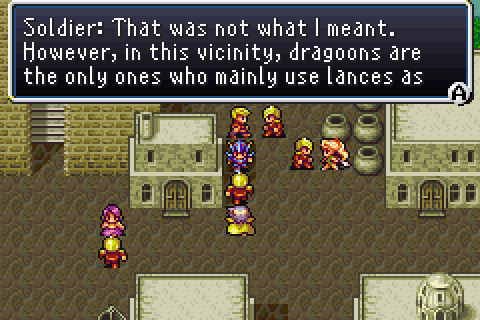 "weapons... I was just pointing out the facts."
He makes a good point. And he did say "mainly". I'm sure there are other people in this world who use lances. Or, Cecil, did you forget there's a very convenient road that connects to Mysidia?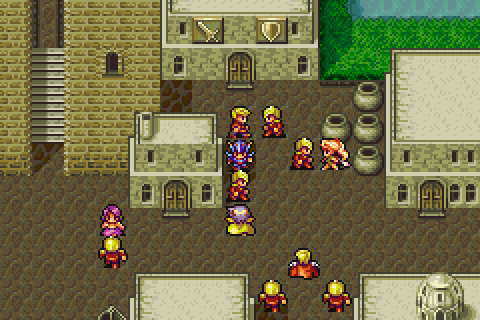 Just then, someone wanders up. He could possibly be described as "big pimpin'", based on that cape.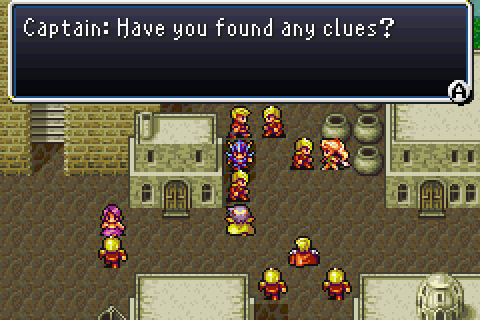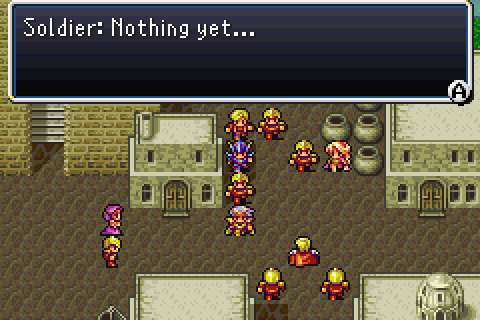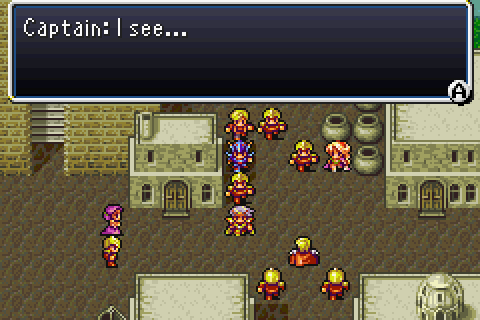 I can only imagine this in a tone of resigned disappointment, like he's used to this.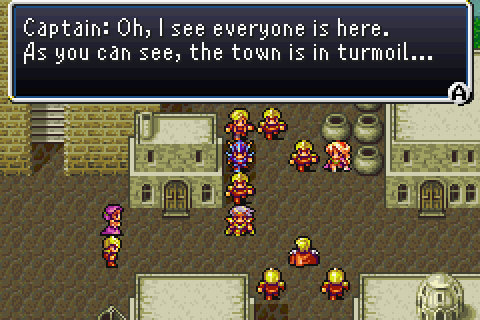 Eh, one dude got shanked. I wouldn't call that turmoil. Then again, I think there's only about fifteen people altogether in Baron, so killing one of them is kind of a big deal.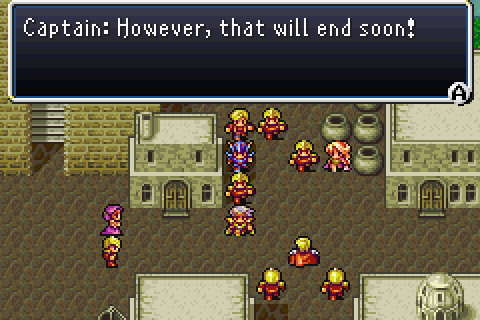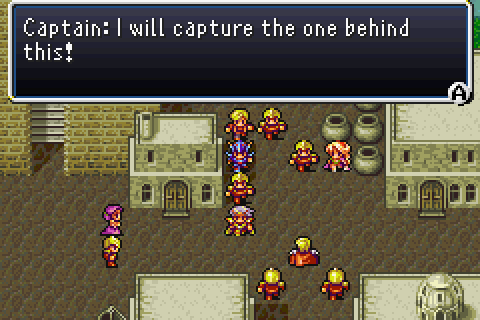 Oh, good to see this guy is on the case. Easy Trial, Bowser.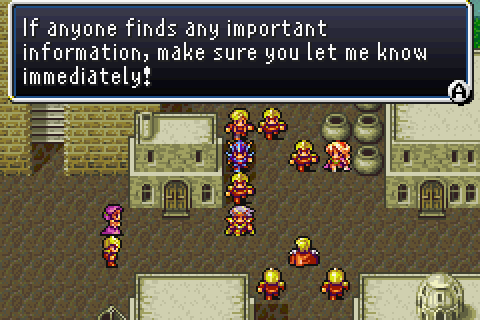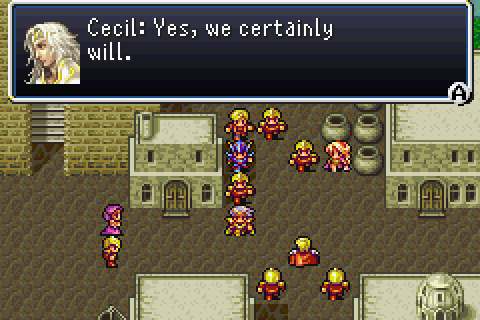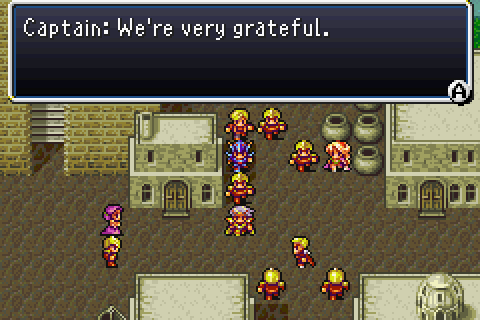 Ah, yes, depend on the chucklefuck who didn't notice his own king had been replaced and was his dark harbinger of death.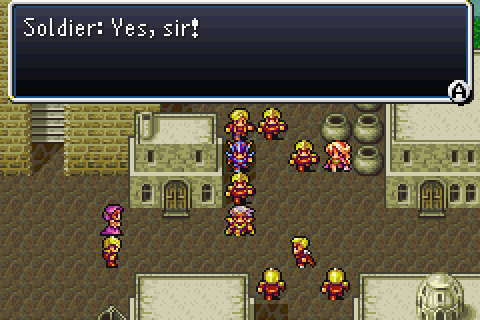 It was one murder, guys. Not like someone firebombed the entire town.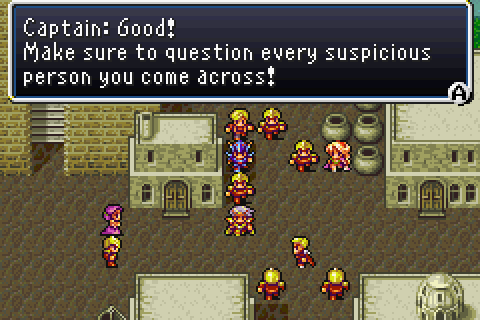 In a small town like this, that means to question every folk who ain't them. Especially them colored--Wait a minute, have we seen black people in FF4? Leave's the closest thing and I sure as shit wouldn't try any of that burning cross/dressing up as ghosts shenanigans on him.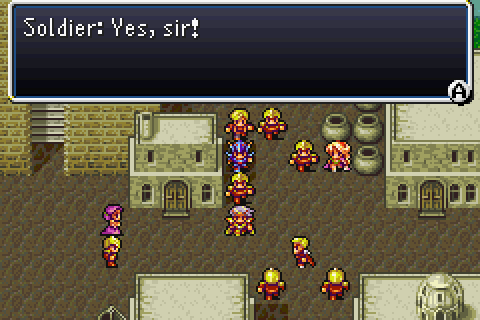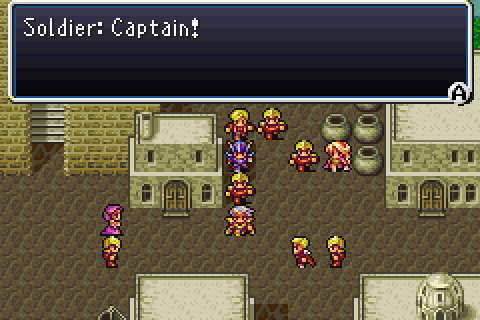 Compared to the other Trials, this one is a good bit more wordy. And we still have a buttload more to go through.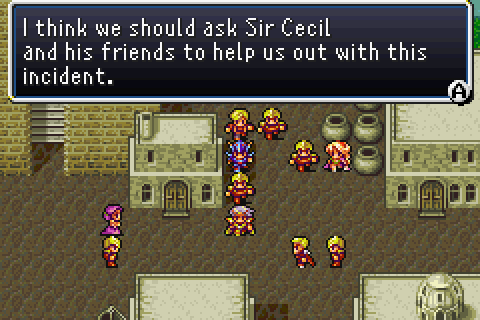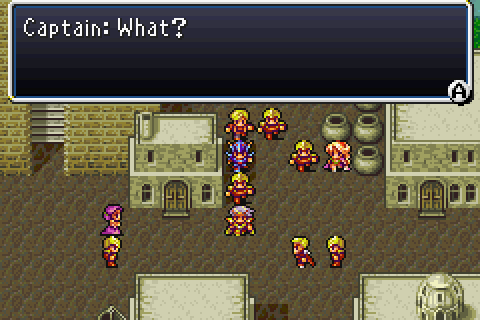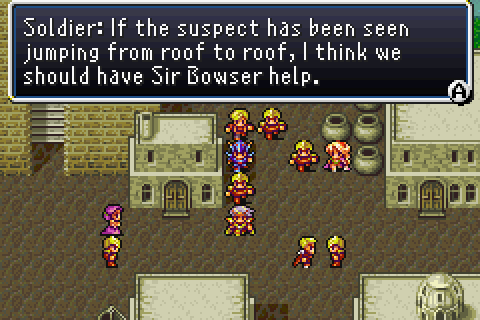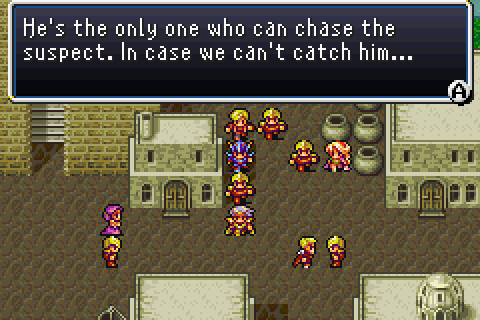 Don't you guys have archers? Or was Rosa just a fluke?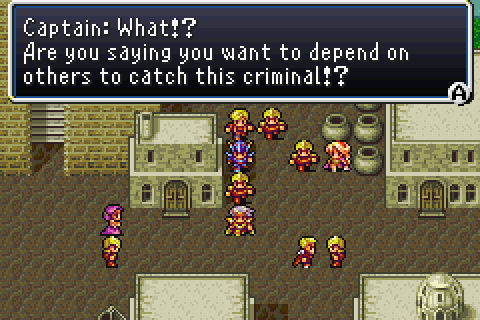 In all fairness, Captain, these three are probably the most competent folk around.
And this guy is just a big ol' pussy.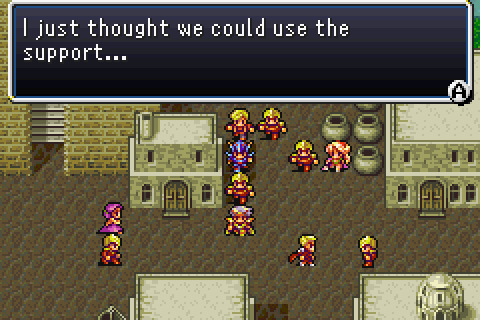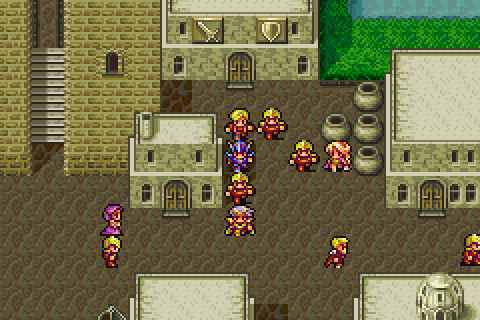 See, look at him flee.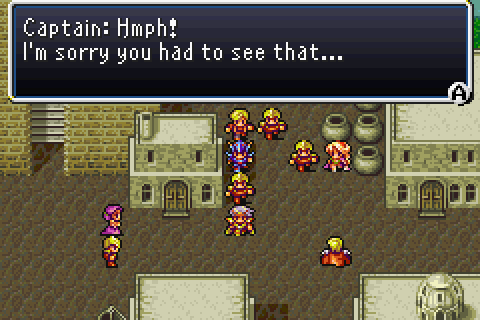 I dunno, Captain, seeing a man shit his pants and run in fear just from a look is actually mighty impressive.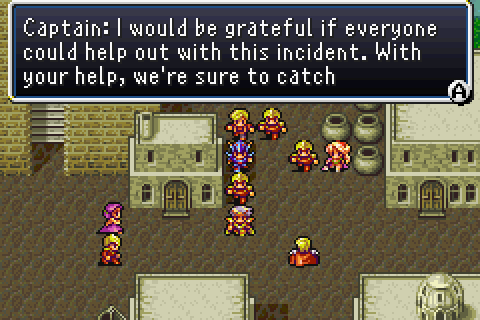 "whoever's behind this. What do you think? Will you lend us a hand?"
Well, this would hardly be a Trial if I just sat around with my thumb in my ass.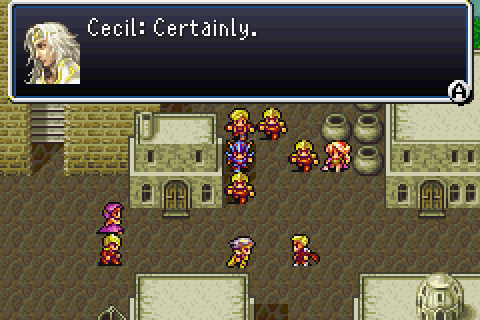 Cecil, for this being Bowser's Trial, you're taking the spotlight somethin' fierce.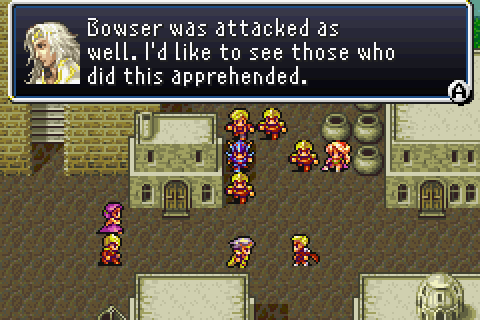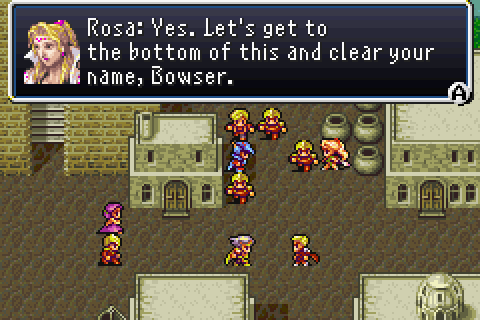 What? Clear his name? Christ, that guy only mentioned it was done with a lance and that the dragoons are the main lance users around here. I wasn't aware he was on fucking trial for it. What is this shit, Bowser needs his name cleared.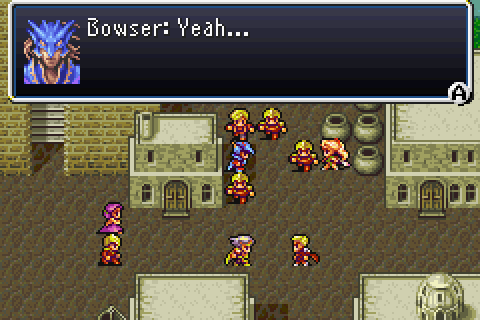 ...Apparently he does.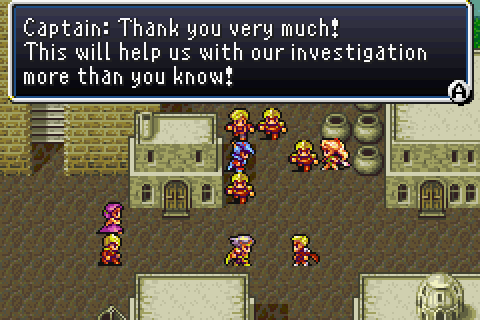 Yeah, yeah, it'll help you in the sense that we'll do all the work.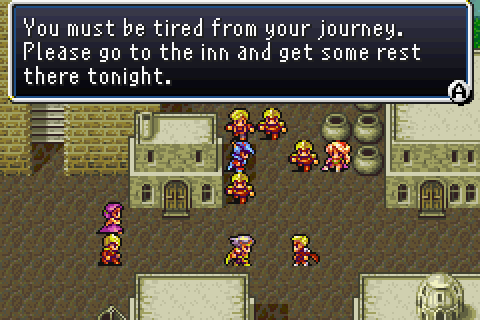 Didn't Bowser live in the castle before? Why can't he stay in his room there, if he's helping with the investigation and all.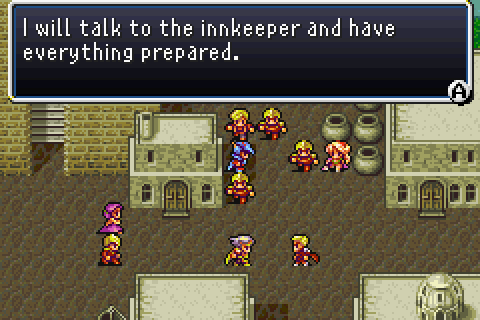 Oh, not even going to consider that one, are we?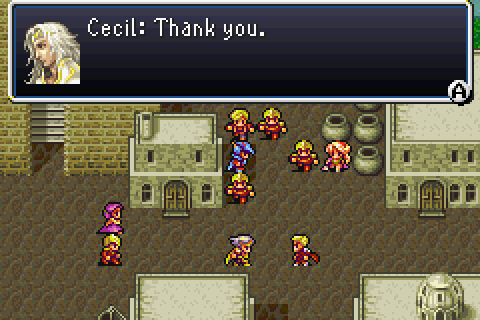 Shut the fuck up, Cecil. You're not staying at the Inn.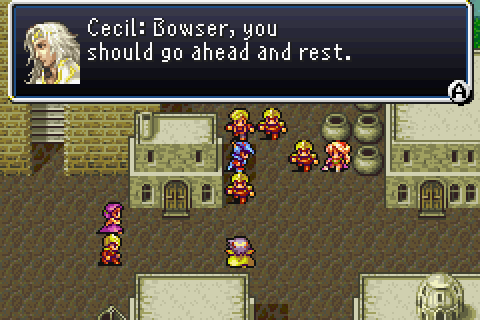 Rest? We haven't done anything!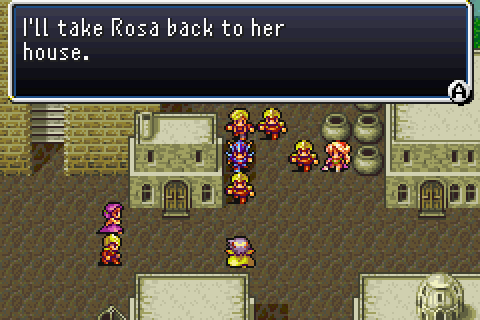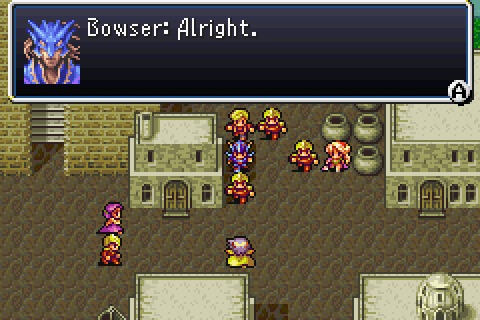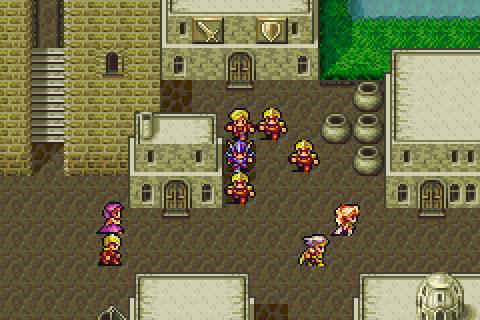 And so, those two go off to have a nooner while Bowser goes to rest.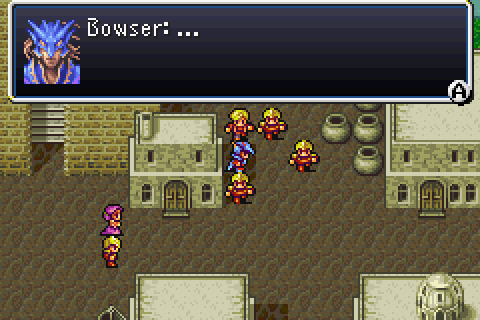 And he knows that is exactly what just happened.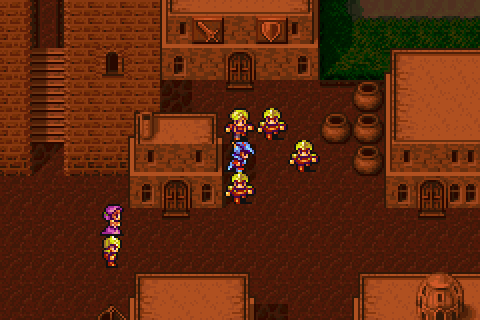 Usually, when the world turns funny colors, there is evil afoot. This time, however, it's just sunset.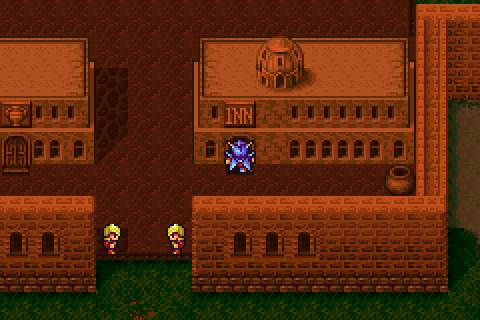 So let's hit the inn and get this Trial really started.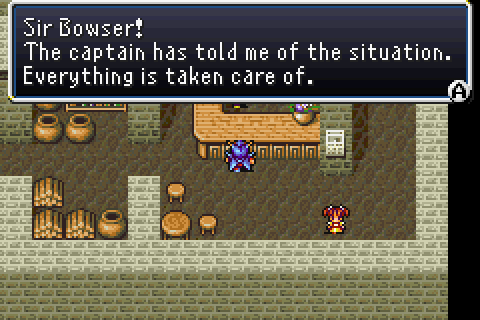 At least we get to stay for free. Not that I'm hurting for cash...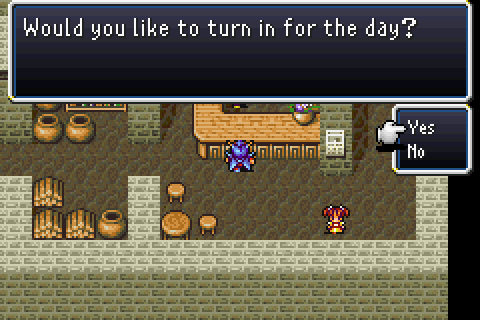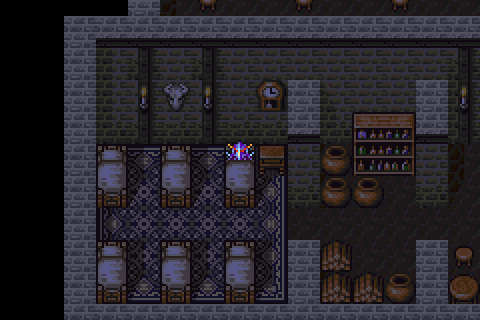 Bowser turns in and apparently falls asleep immediately. That armor cannot be comfortable to sleep in.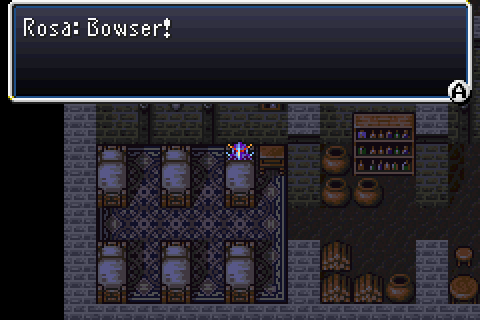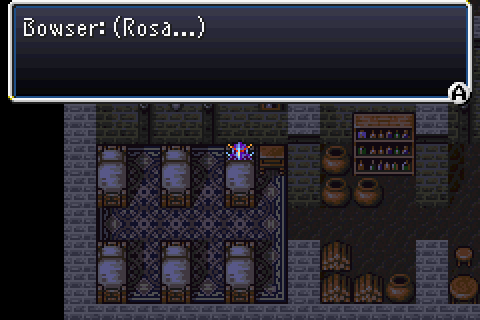 ...Oh, that's just gross, Bowser. Her house is only like, twenty feet away, you know.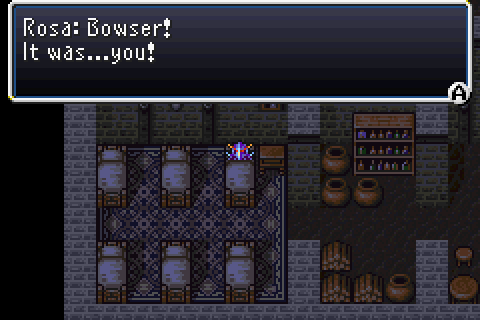 ...Eh, what's this?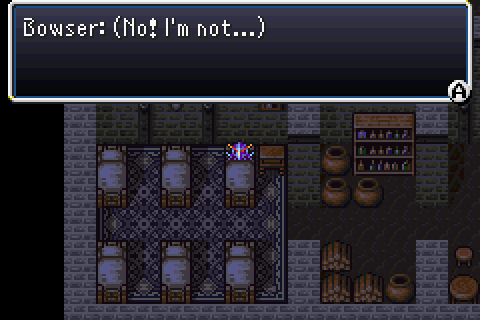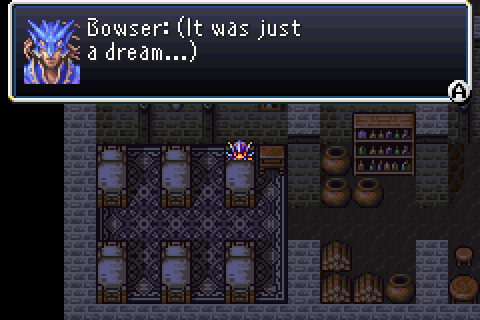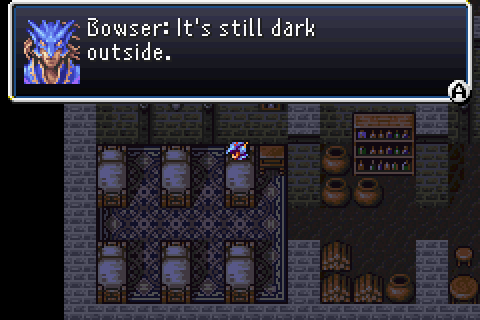 Astute observation, Bowser. No wonder you're helping with the investigation.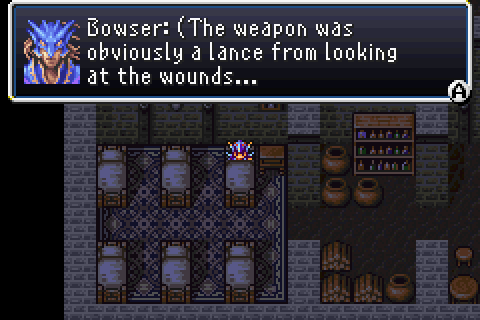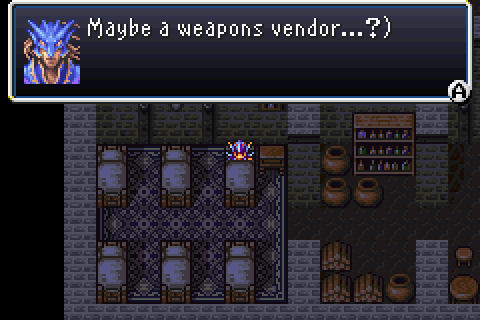 Well, he would have access to any sort of weapon to do this. Plus, he claimed to see nothing when we questioned him earlier...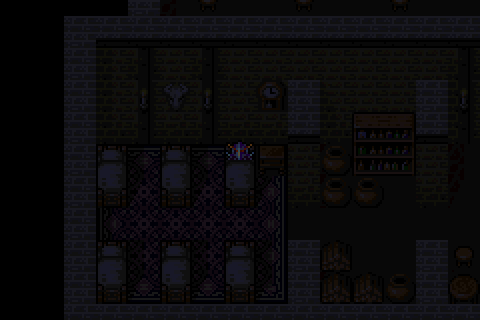 Bowser promptly passes out, apparently having thought too much on the subject.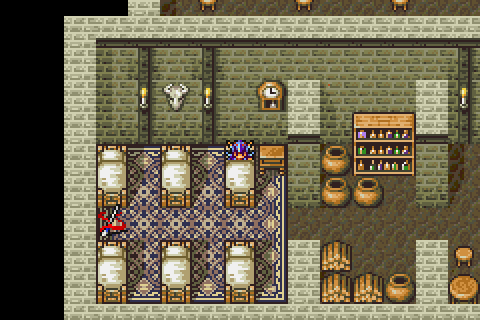 In the morning--The hell is that.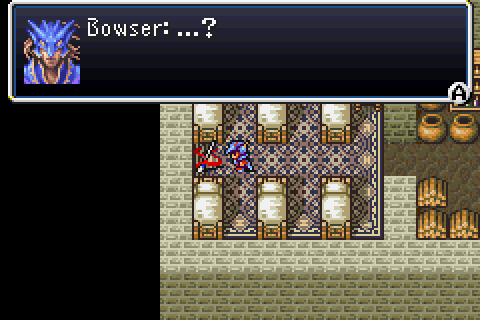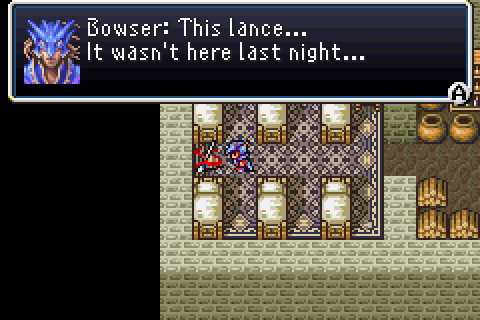 Welp, guess you're the murderer. Open and shut case. Weird Trial, though.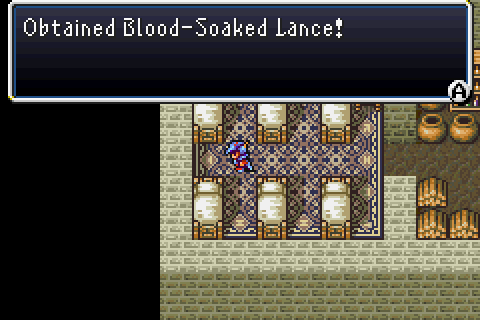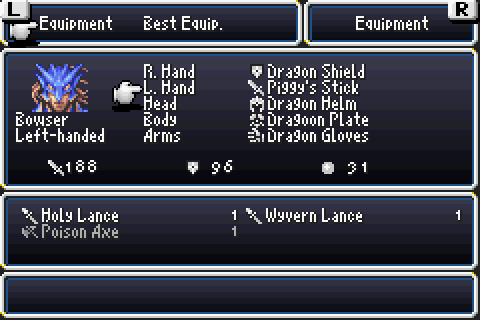 In case some of you were wondering, yes, Bowser is wielding the Piggy Stick. It's a stronger weapon than his Holy Lance.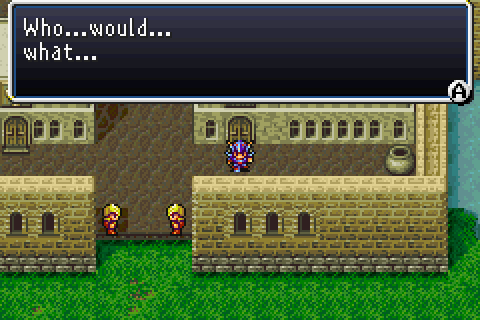 Outside, there is something going on.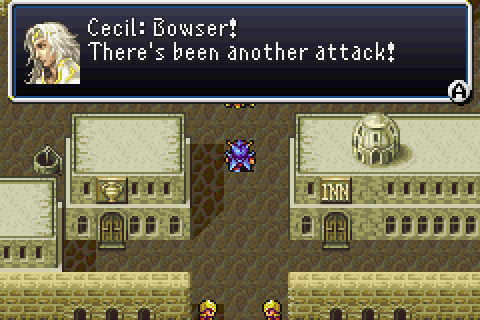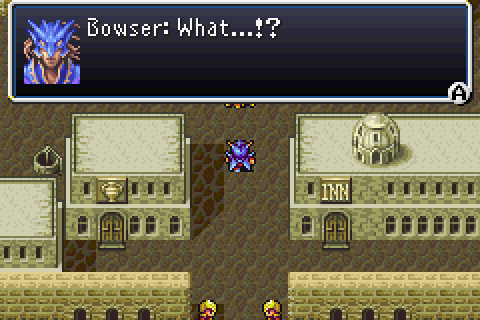 And it happened under the watchful eye of Bowser, who was mere feet away in the Inn.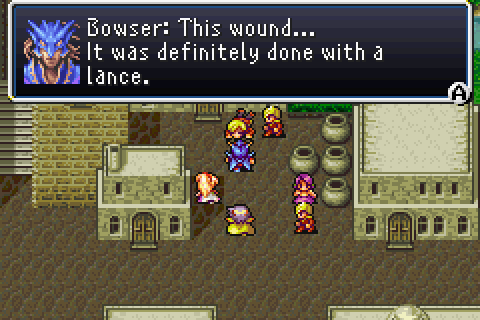 ...Well, so much for that idea about it being the weapons vendor.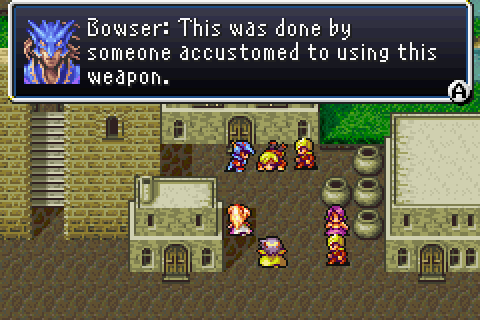 Hold on a second here, Bowser. Don't implicate yourself too heavily now.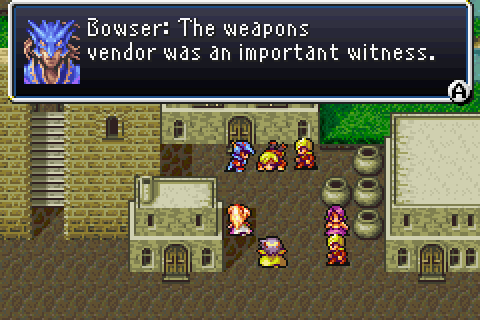 What? No he wasn't. He saw some dude jumping away and thought it was the Grim Reaper, remember?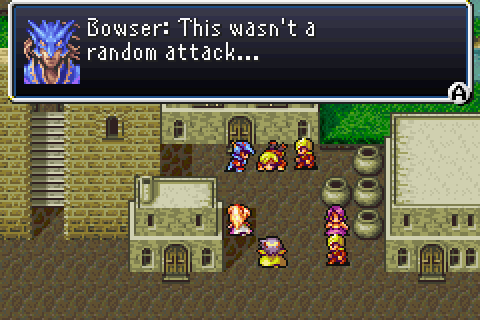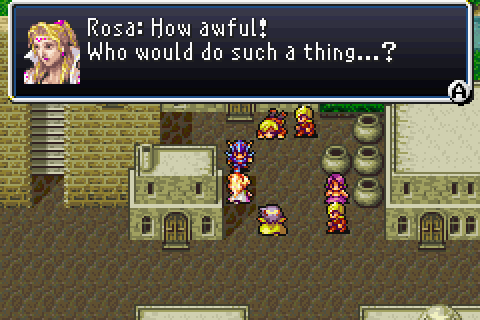 Come to think of it, Rosa, your house is within spitting distance of the weapon shop. You and Cecil were both in there; why the hell didn't you hear anything, either?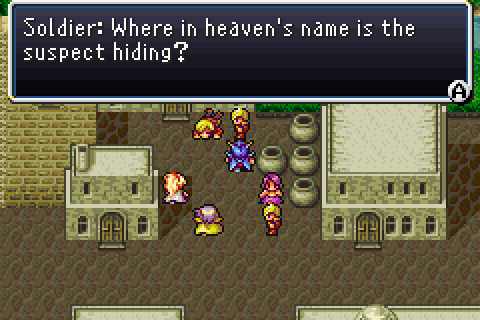 Perhaps in plain sight...Or I can, once again, point out that there is a fully functioning teleporter leading to Mysidia and the building housing said teleporter is also within spitting distance of the weapon shop.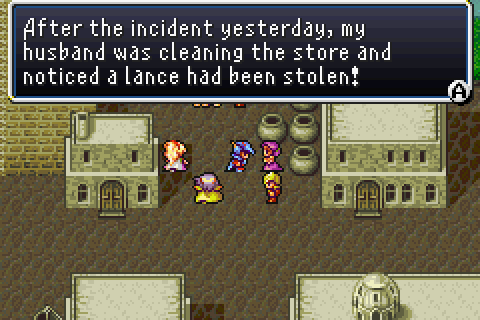 Well, it wasn't Bowser, then. He wouldn't need to steal a lance. He's got two perfectly fine ones in his inventory.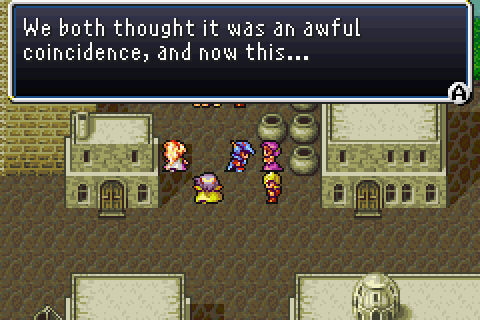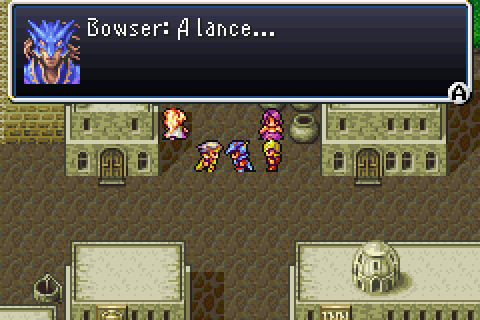 Don't be making any hasty decisions now, Bowser.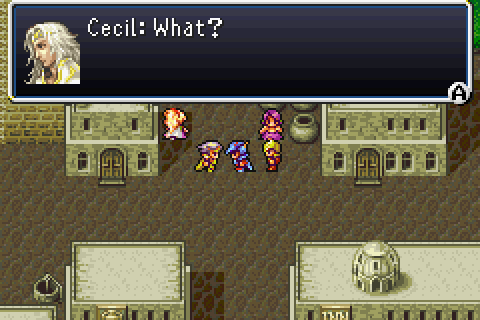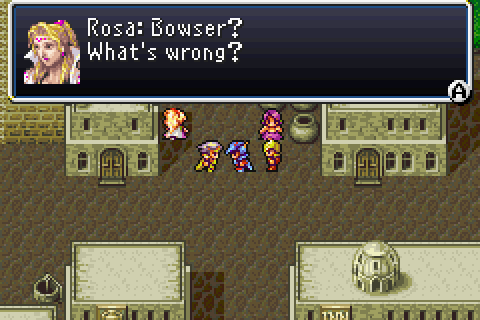 Just because a bloody lance shows up in your room after someone has been murdered by a lance (and you're the only one proficient with them around at the moment ((that we know of))) doesn't mean you did it.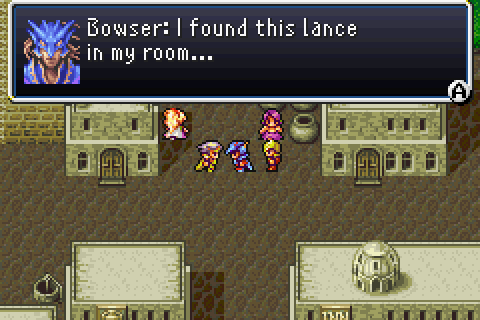 Ah, hell, we're not getting out of this without Bowser seemingly to be the killer, are we?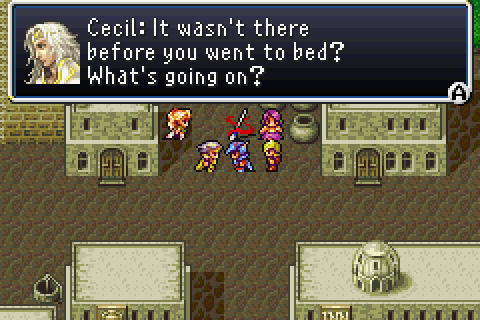 Well, hopefully, he didn't decide to practice his skills in the middle of the night with the weapons vendor.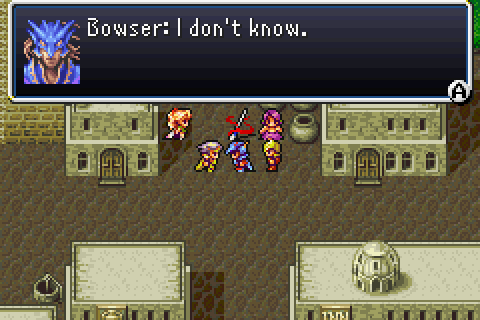 You're a man of few words, Bowser. I like that.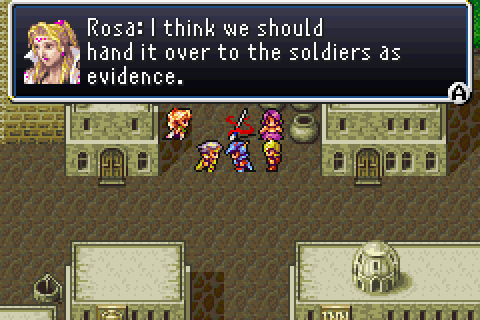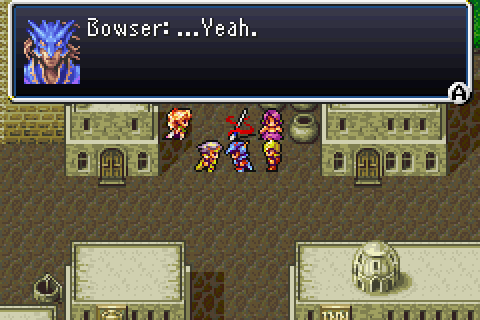 Bowser seems to have just realized how bad this is going to look for him.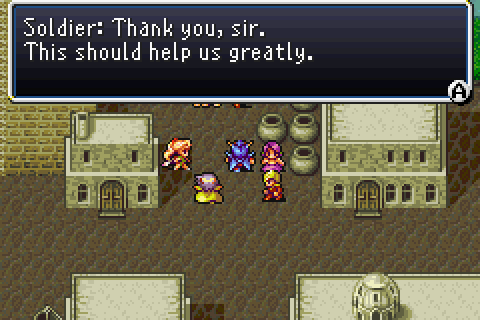 ...Oh, that went well.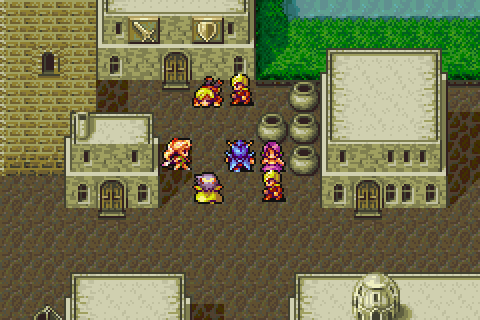 And...That's it? No accusations against Bowser?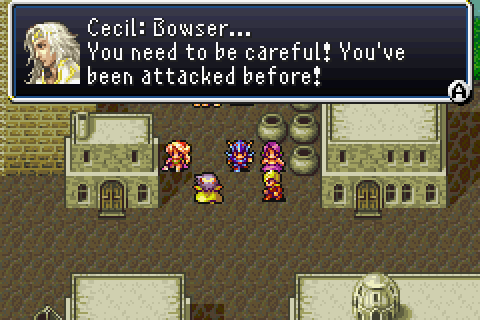 I'm sure Bowser will be fine, Cecil. He's pretty badass himself.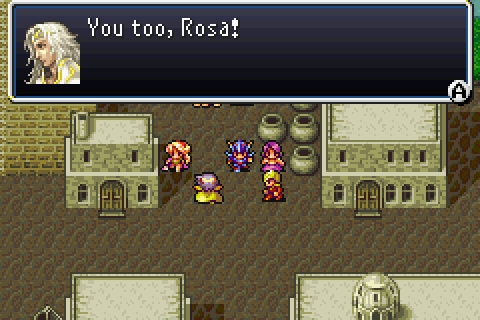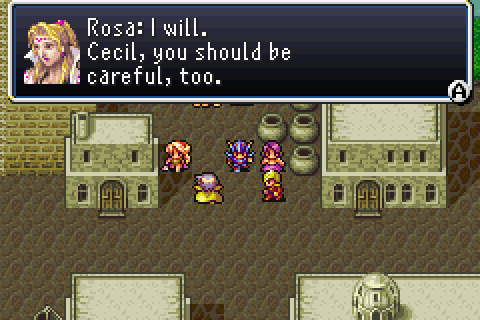 ...Rosa, the fuck? Not even a single word toward Bowser's well-being?
Well, I guess considering the creepy obsession with seems to have with you, maybe you wouldn't mind if Bowser got bumped off.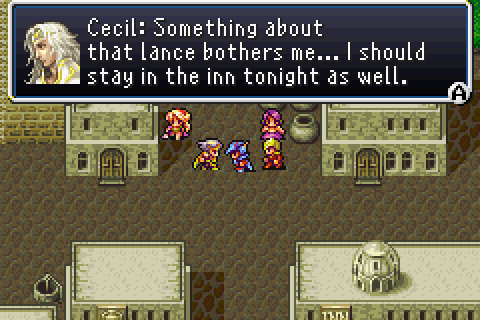 "Something"? Maybe it was the fact that it was
covered in blood,
you fucking ninny?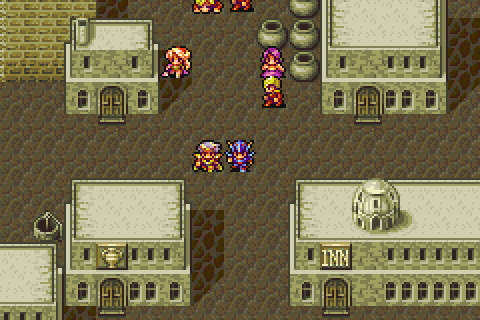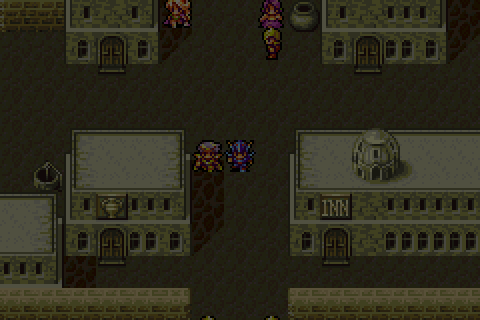 Maybe I'm being too harsh here. I almost feel like I'm channeling The Dark Id for some of this stuff.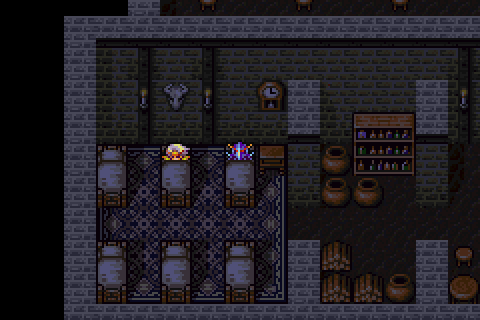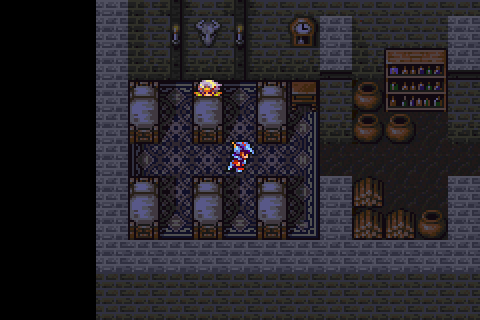 During the night, Bowser crawls from his bed and takes a quick look around.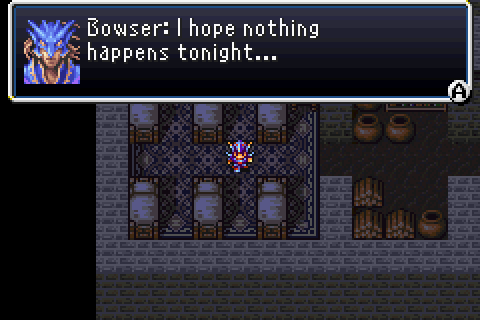 Why does it look like he's talking to me there?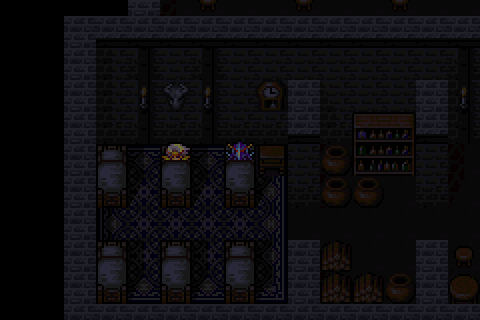 But he drifts back to sleep rather quickly.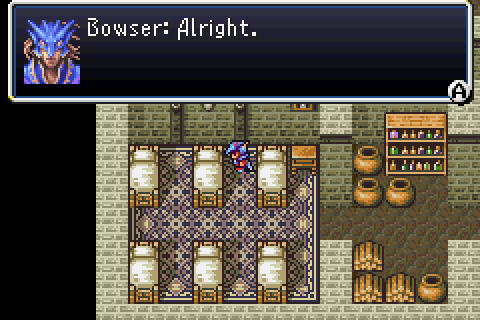 When he awakes in the morning, Cecil is gone and Bowser seems pretty okay with this.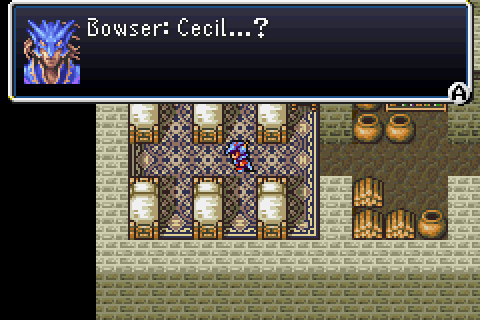 What, did you expect him to be in the corner, Bowser?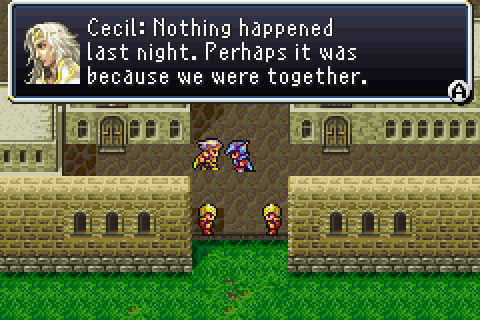 Outside the Inn, we find out that last night was quiet. Maybe the killer's bloodlust has been sated for now.
...Cecil, he woke up after you did. How in the blue hell is he supposed to know where your girlfriend is?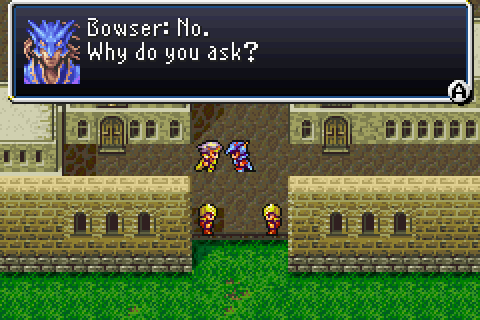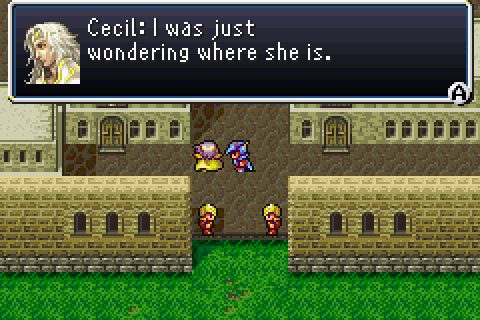 Her house is right there; just fucking walk over and find out.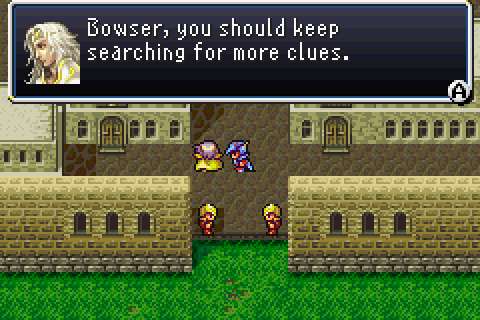 Maybe get one of those magnifying glasses and a nice hat while he's at it.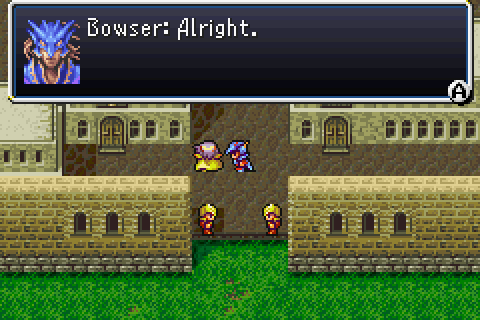 So, now, we've got to gather clues on what happened and where Rosa's gotten off to.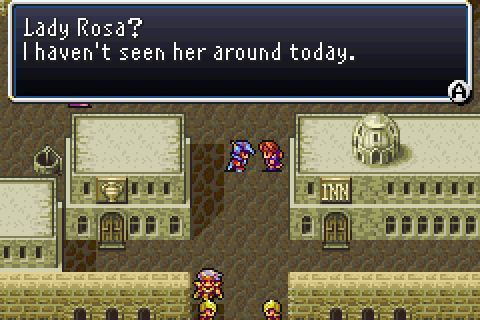 We start off with a smashing success.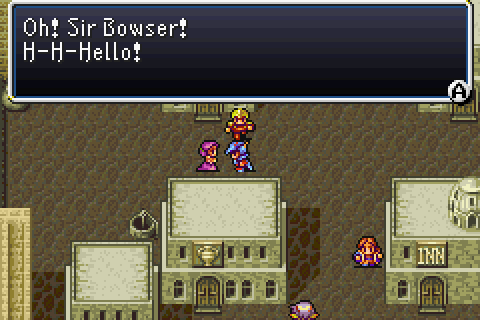 And then find out that random citizens are completely fucking terrified of Bowser.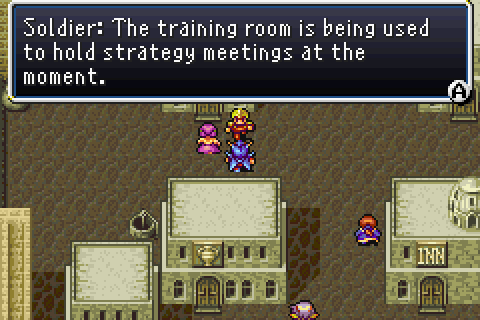 We'll crash that meeting in a bit.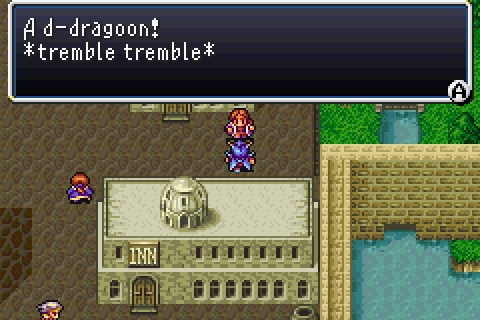 Right after scaring the pants off this guy.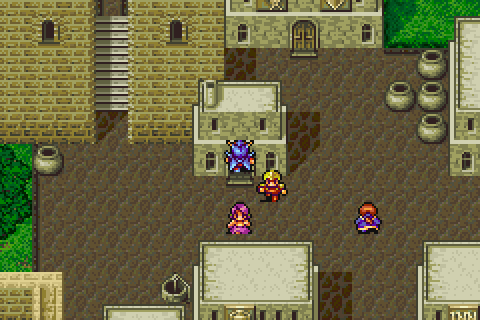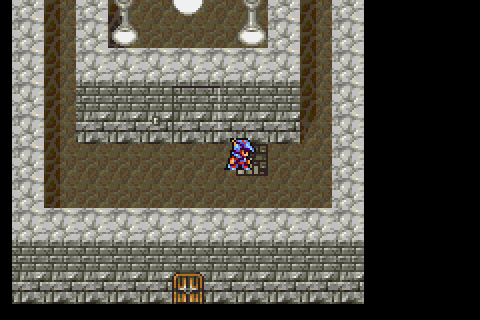 Oh, hey, there's that teleporter I've been talking about. Nobody thought to check this thing out?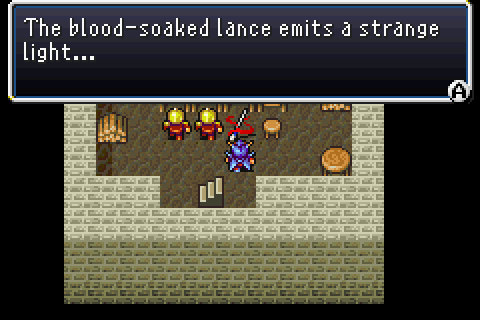 And, downstairs, we find that the bloody lance is glowing.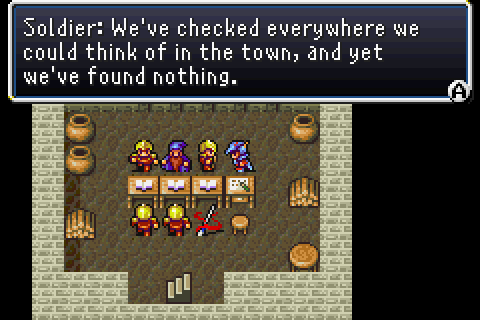 Considering the town is about as big as a large backyard, this couldn't have been hard.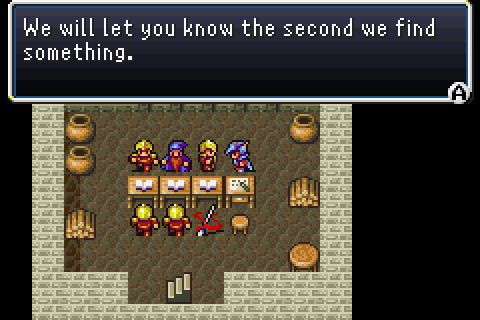 "It's getting late. Please rest at the inn tonight."
We'll do that in a bit. We need to have a smattering of dialog first.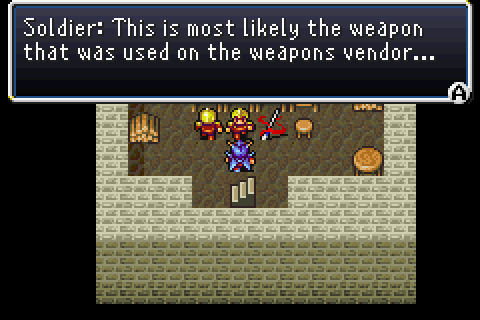 Unless there's been someone else who's gotten their shit stabbed by a lance, I'd say you're right on the money.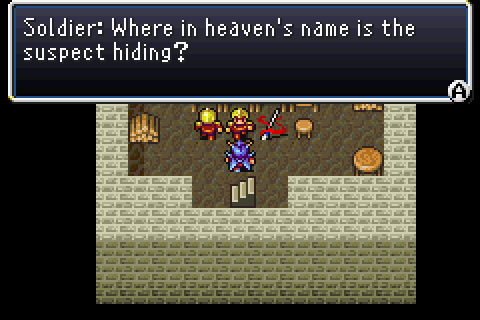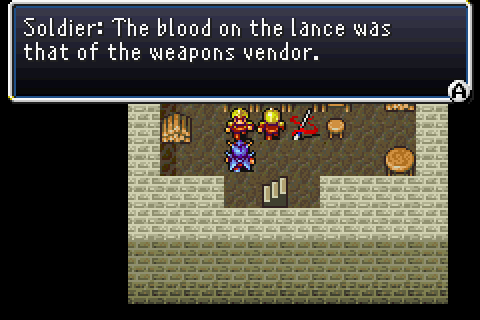 Why don't you report that to the chowderhead sitting next to you? He seems to have missed the memo.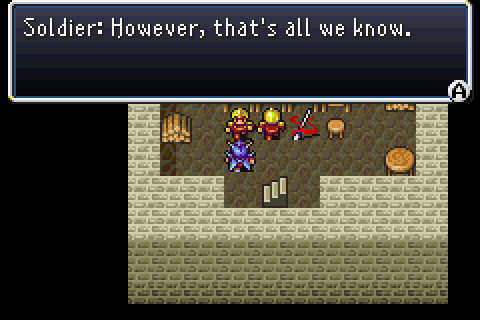 I'm curious how you know this to begin with, but I'm not going to question your CSI abilities.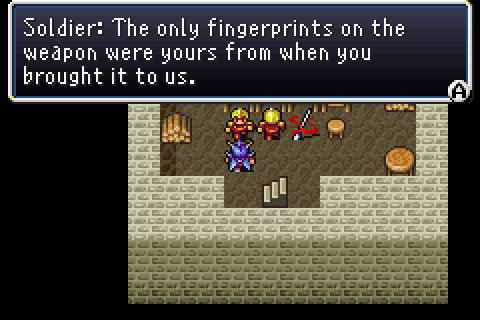 This I can believe a bit more easily.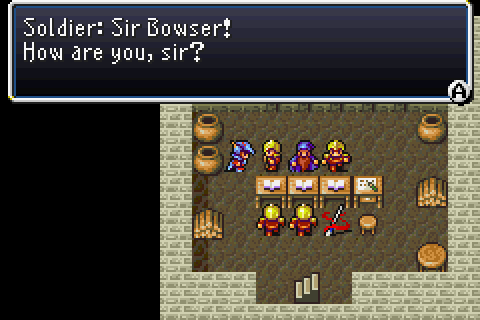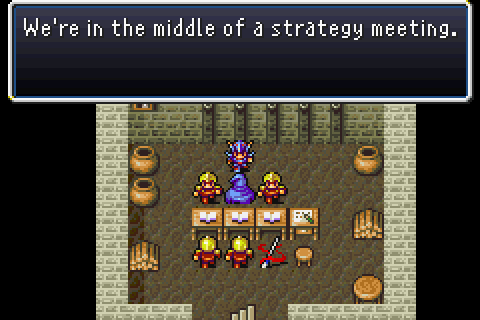 What a wonderful strategy it will be, I'm sure.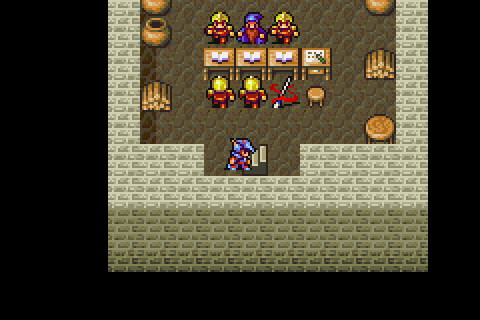 Alright, let's get out of here.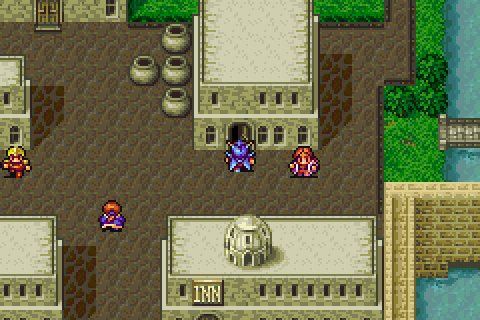 Maybe Rosa's mom knows where she's at.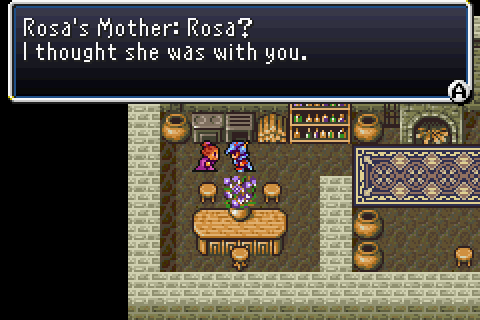 Well, there goes that theory.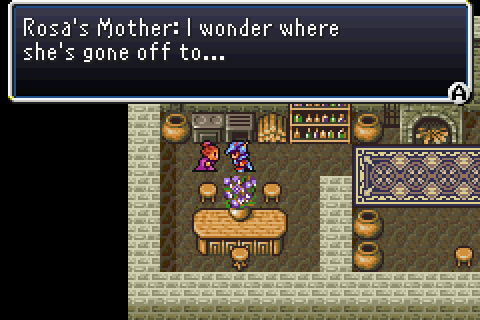 Last time she left suddenly, I think she nearly died of Desert Fever.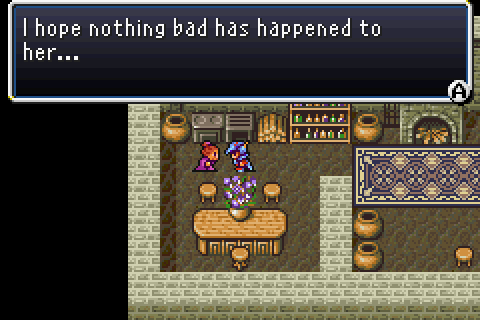 ...Ooh, I coulda picked a better time to mention that.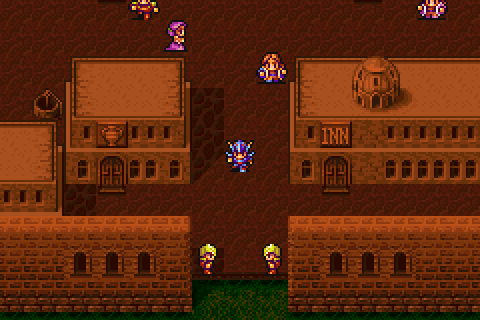 And since it's nearly dark, back to the inn we go.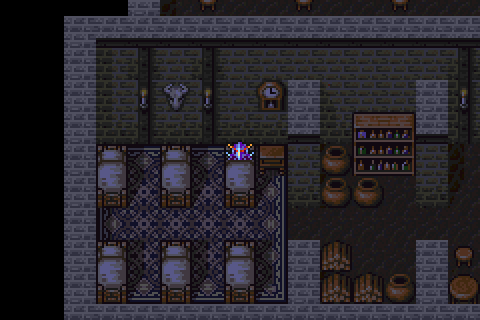 Man, Bowser's been in this Trial for a long damn time. I wonder what the others outside are thinking.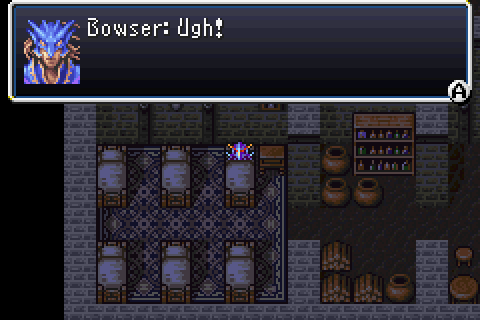 That's...Not usually a noise one should make while sleeping.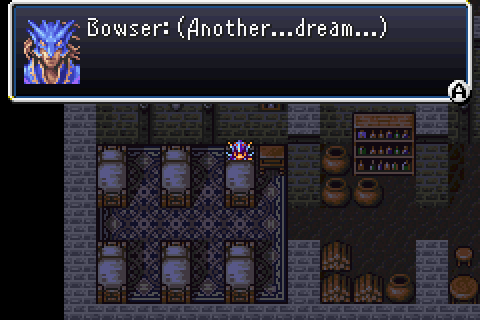 Oh, just a bad dream. Carry on then.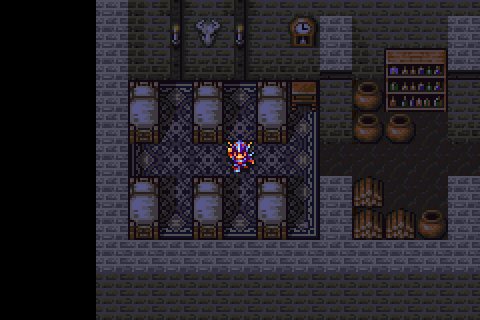 I just wanted to point out, whenever they get out of bed they will do this. It apparently doesn't matter that it's the middle of the night, he just had a bad dream and that there are murders afoot.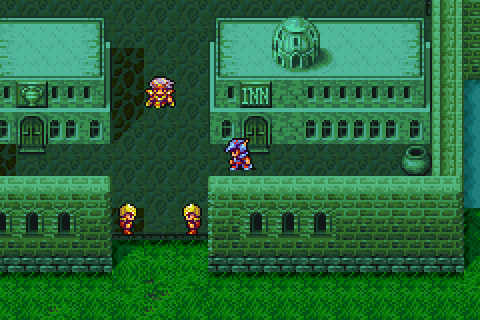 Apparently, there's been some sort of incident.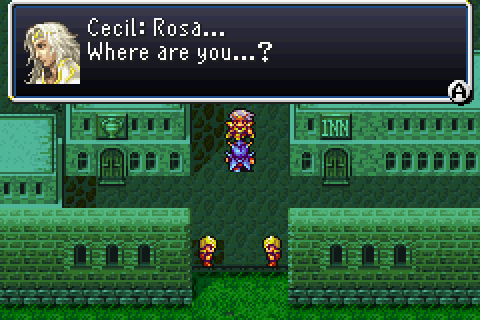 Oh, we still haven't found Rosa.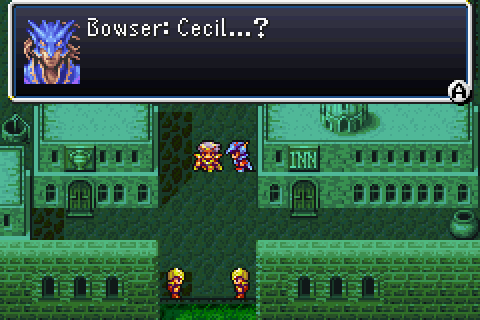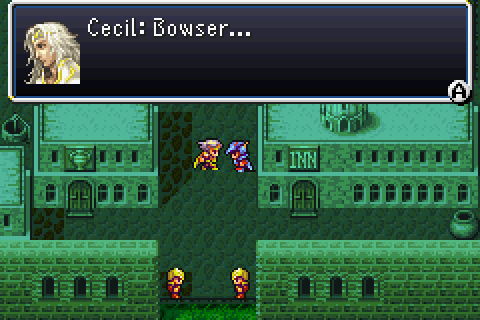 Rocky! Brad!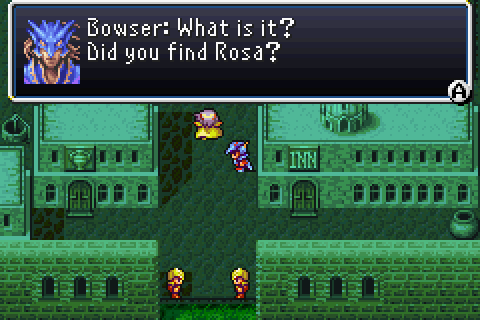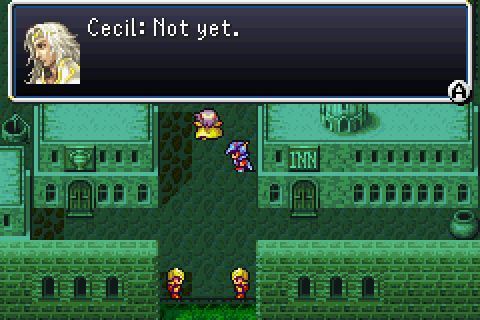 I'm not a fan of where this is going.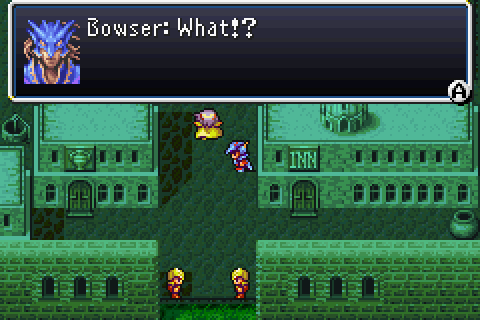 Neither is Bowser, apparently.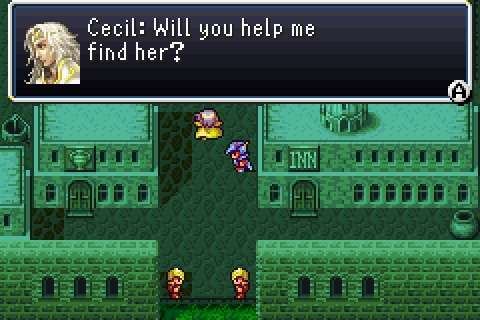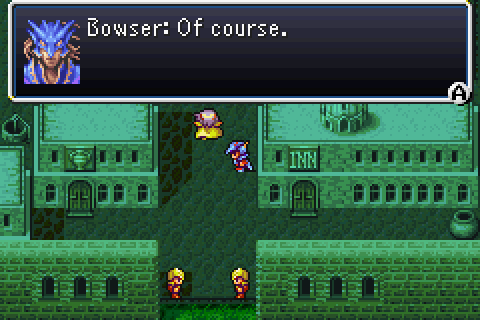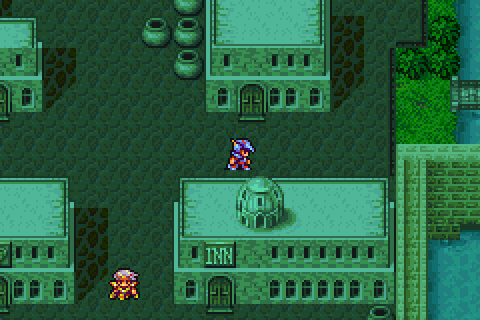 As could be expected, it's really easy to find Rosa.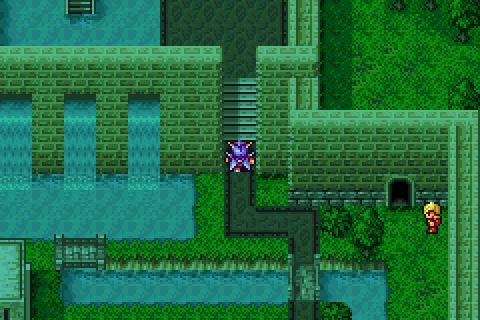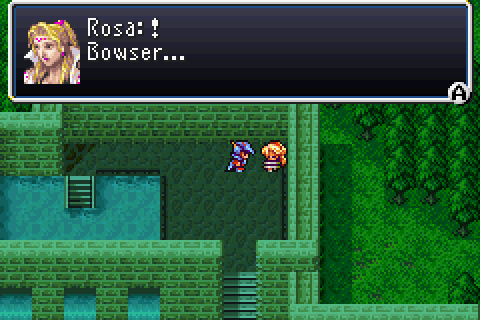 She's in the north end of town, where you may have never wandered over to.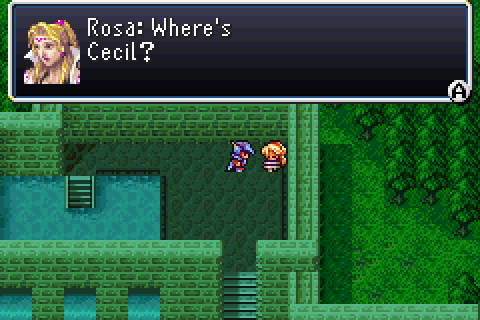 Well, you're welcome.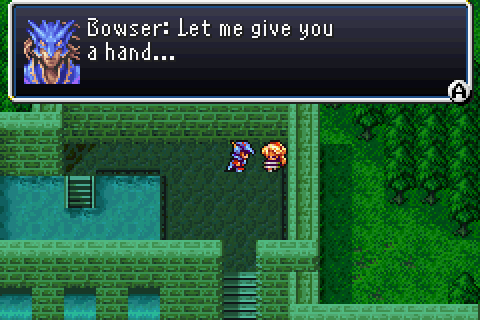 Bitch.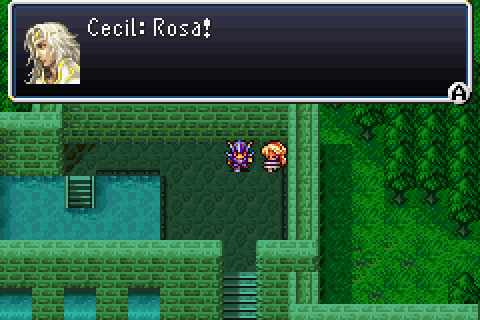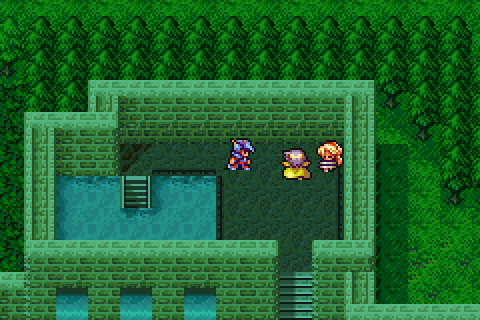 Cecil rushes up and Bowser is shoved aside. He still hasn't been thanked.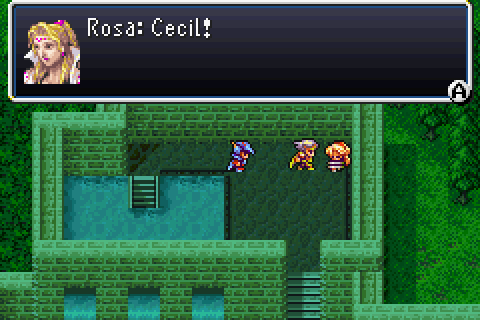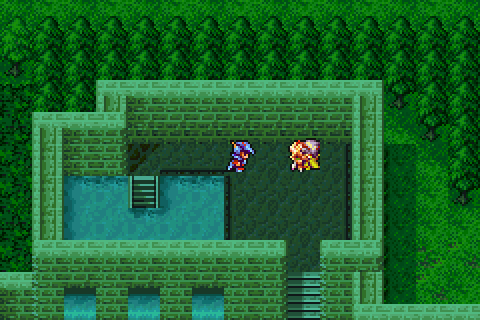 And immediately, they begin with the making out. Bowser, scale of 1-10, how awkward do you feel right now?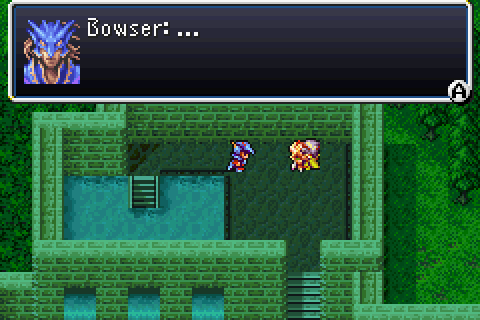 Yowch. That's pretty high.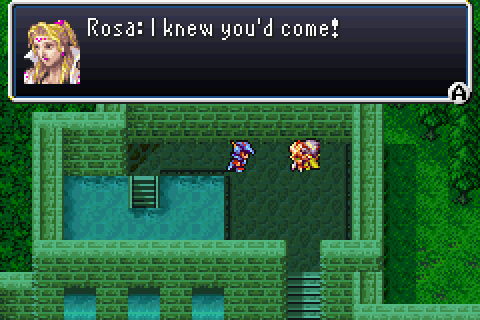 And Bowser is now chopped liver. I kind of feel bad for him at this point.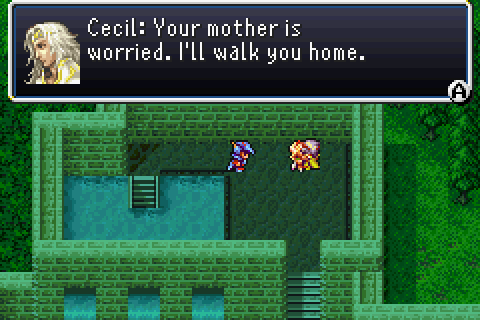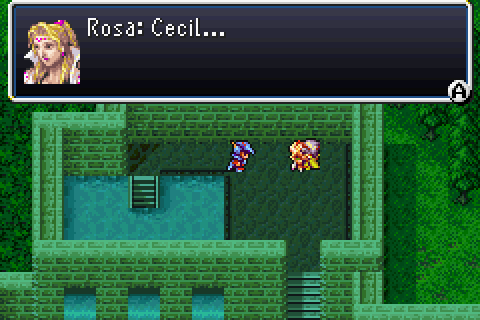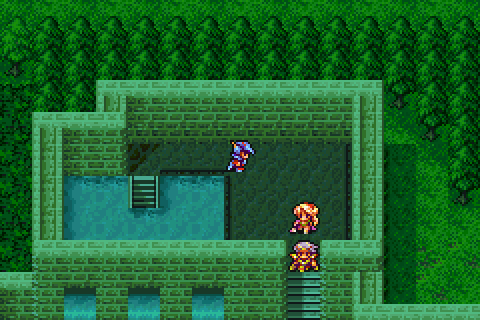 And so they walk off, presumably with Cecil giving Bowser the finger.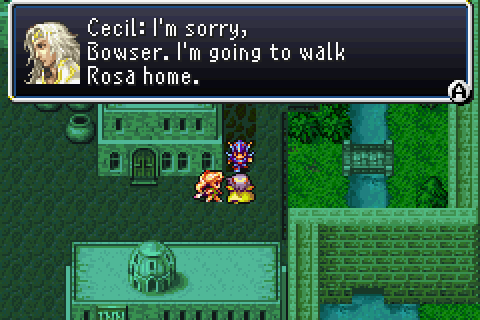 Asshole, she's two feet from her door!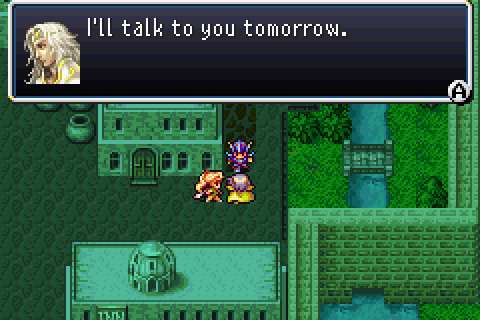 Ah, eat me, you holy marshmallow.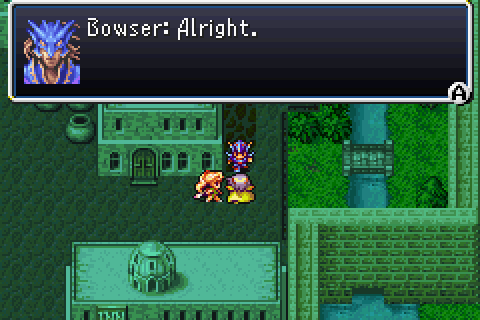 I'd tell you to kick his ass, Bowser, but I'm about 150% sure that Cecil could beat you like a drum.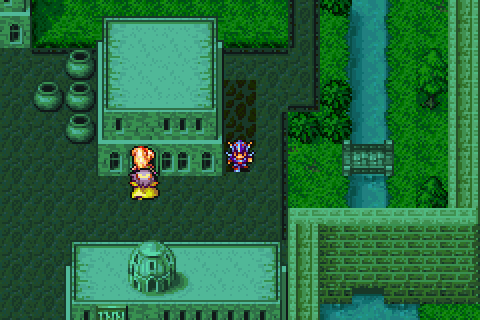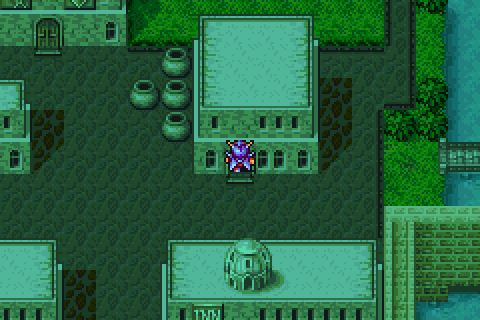 Bowser follows them inside, as apparently he never learned when he's not wanted.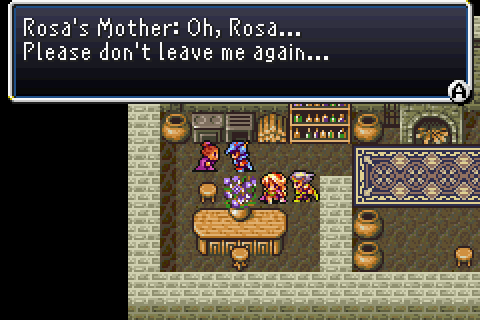 Definitely shouldn't have mentioned about her Desert Fever earlier.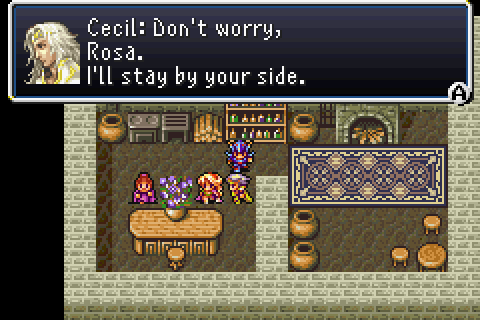 Oh, and Rosa literally has nothing to say to Bowser. You can't speak with her at all.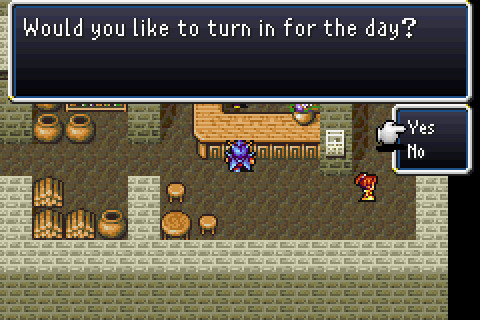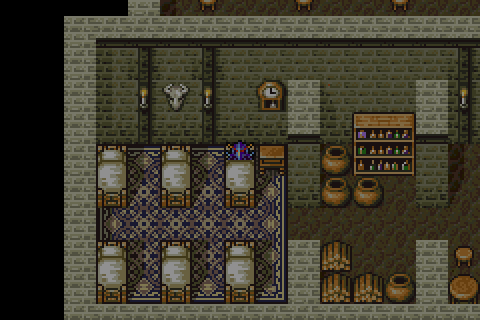 So, after being snubbed in a manner most harsh, Bowser just heads to bed.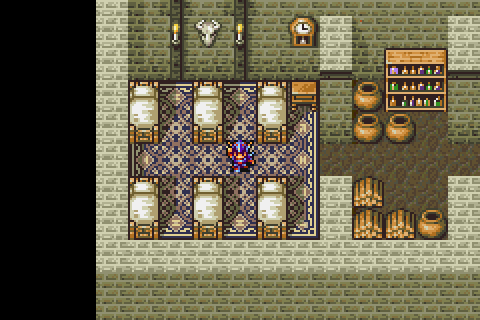 But in the morning, he's ready for the new day and seems most hopeful about it.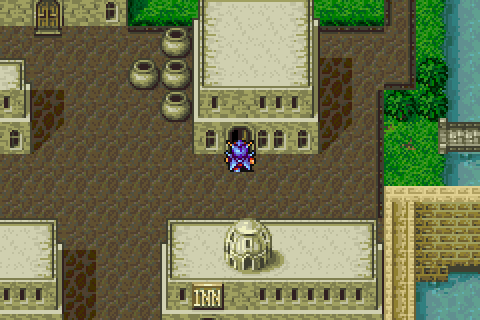 And he immediately heads to Rosa's house.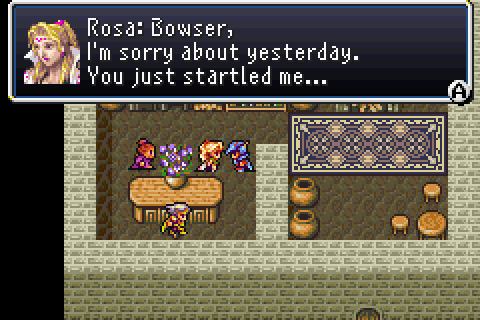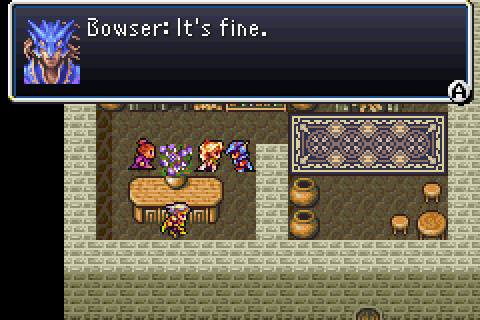 Bowser, you're better than this. The only competition that Kim has is Goemon and I don't think he's even part of the picture. Once you get past the whole "killed her mother and burned down her village" thing, I bet you two will be good together.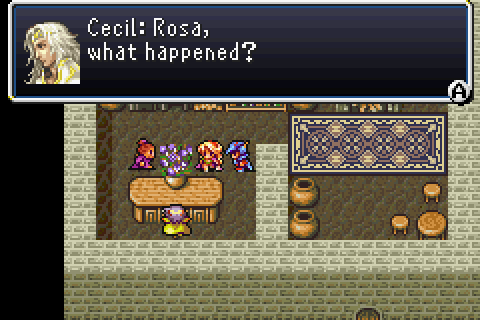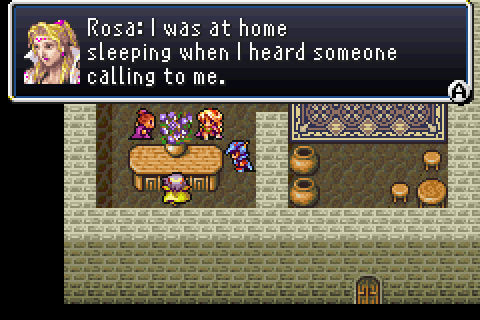 Cecil, weren't you at Rosa's house? How did you fucking miss that?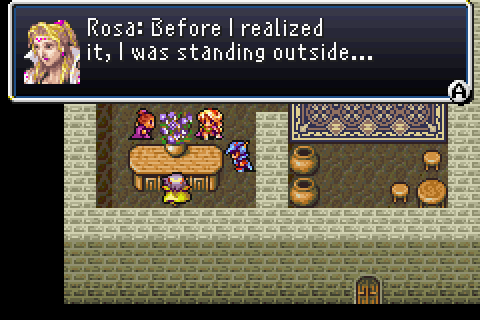 At least, I think he was there. I could be wrong.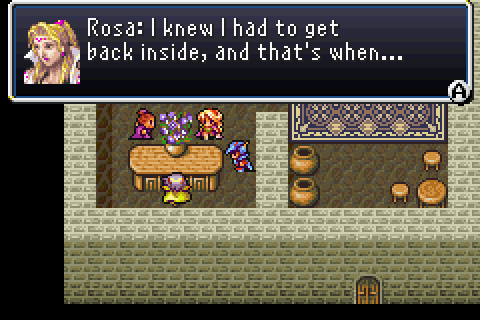 Why aren't there any windows you could look out of?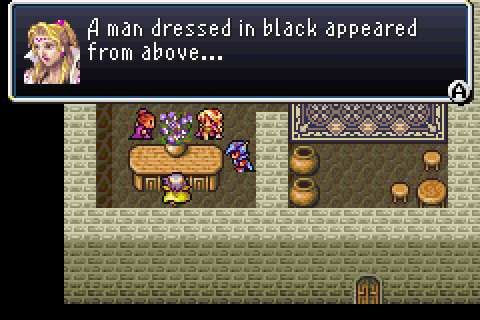 :
"When I came to, I found myself in the spot where you found me. And Bowser was standing right in front of me... I can't remember anything else. It felt like everything happened in a dream."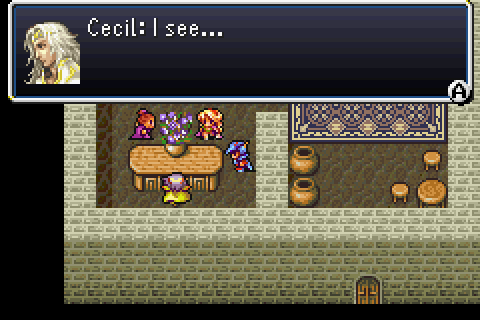 I'd say she was just sleep-walking, but that wouldn't account for her being tied up.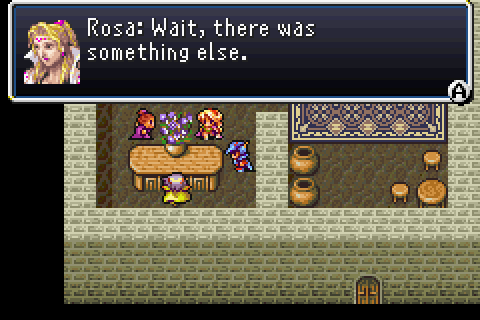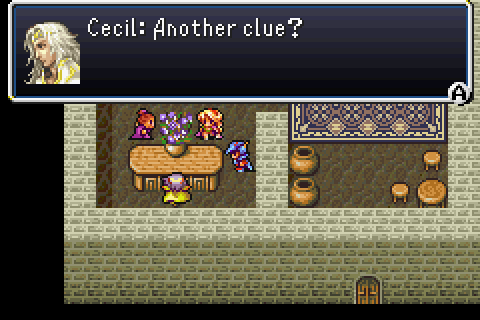 Oh, almost reminds me of an Ace Attorney game.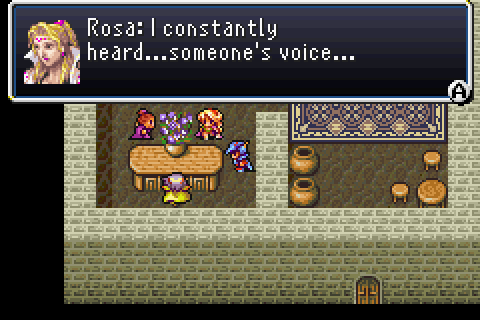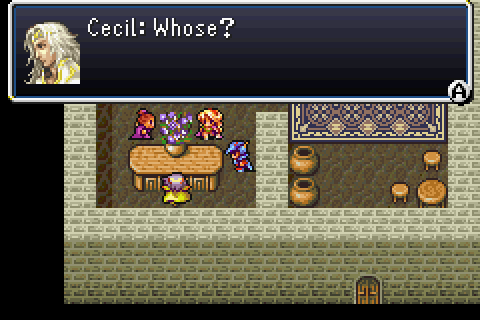 Gee, I wonder.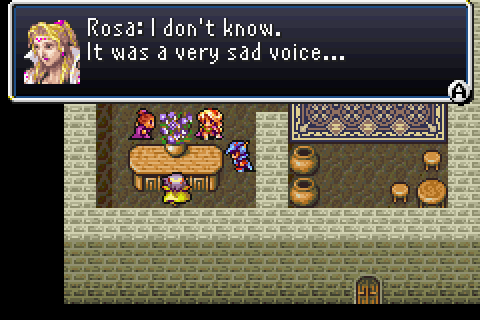 Who around here is most likely to speak and sound like a sad sack?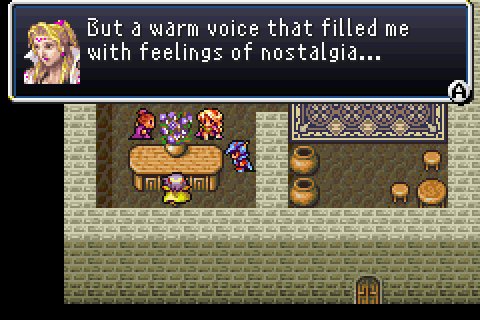 And that Rosa has known long enough to associate with warm feelings...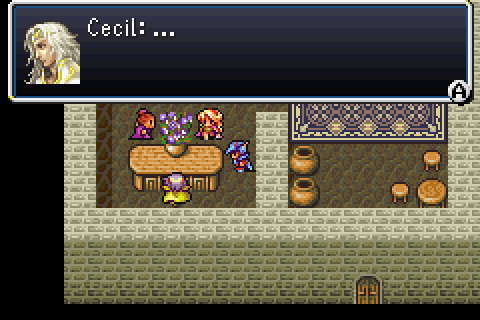 Cecil seems to have figured out whose voice it is.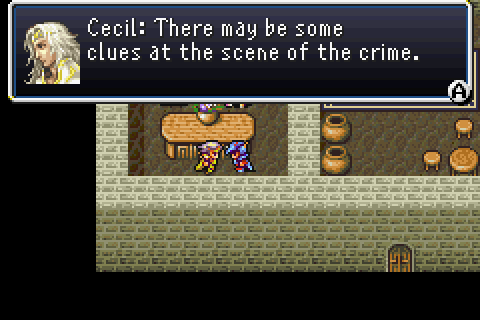 And we get to play detective again. So let's get to that crime scene, shall we?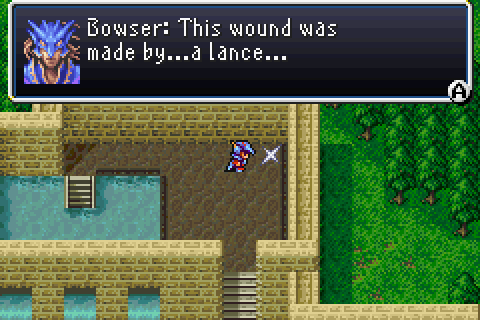 What wound? It's a piece of the ground, Bowser!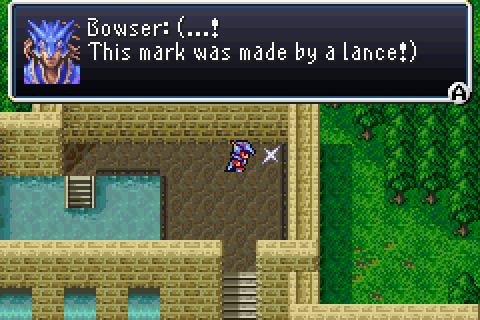 ...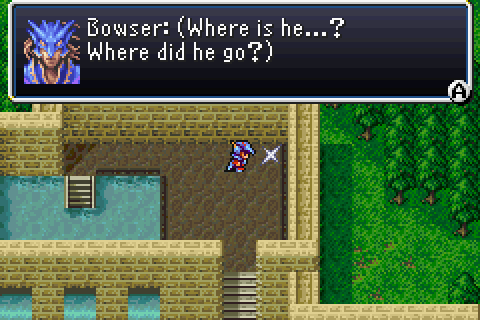 And that's all we get out of this. Let's get back to the Inn.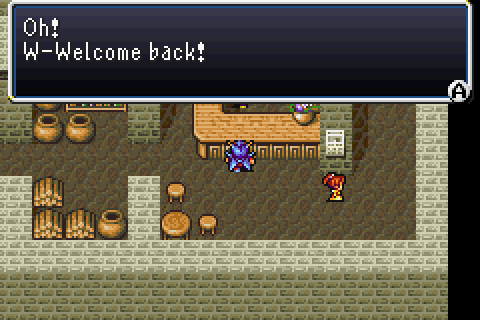 Why does the innkeeper seem hesitant to greet us?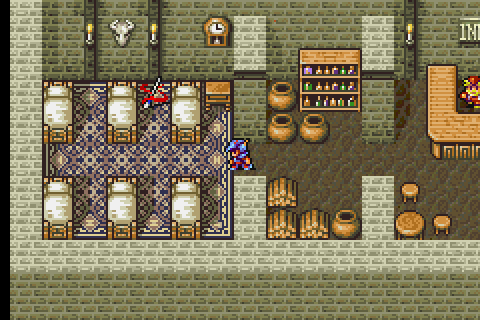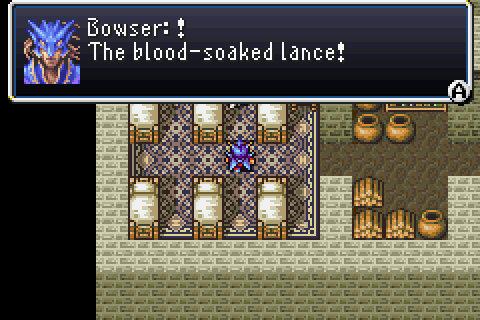 Well, that seems like a compelling reason.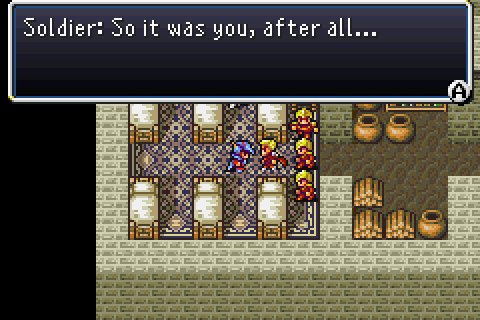 And these guys didn't waste any time pouncing.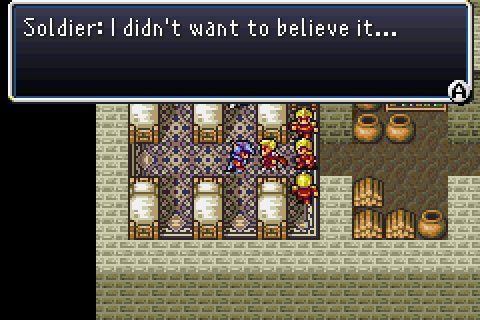 I'm sorry to disappoint you, Generic Soldiers #4325 and #4326.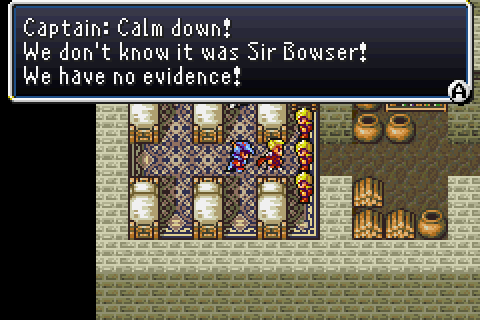 Exactly! Just because it was found next to the bed he's been sleeping in and has only his fingerprints on it doesn't mean anything.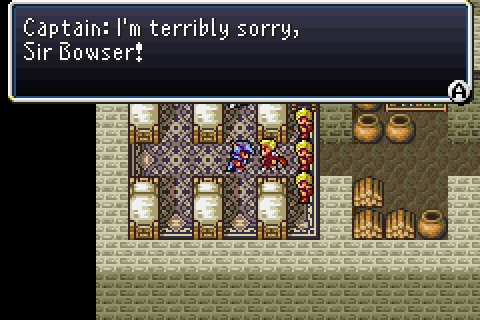 Finally, Bowser gets some respect. Now, if only it were from someone with a real name and portrait...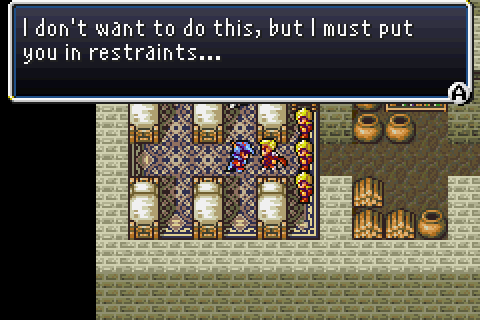 What? Oh, hell, I should have seen this coming.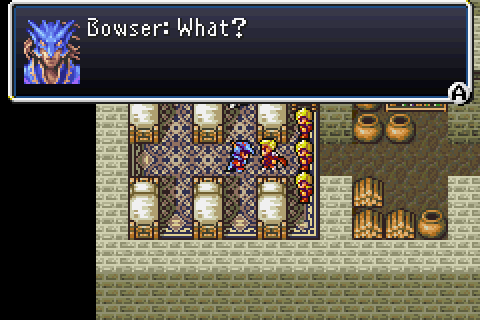 Man, not even Bowser can believe this shit is happening to him.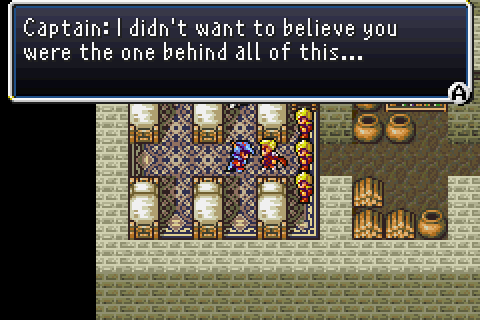 I don't like where this is going.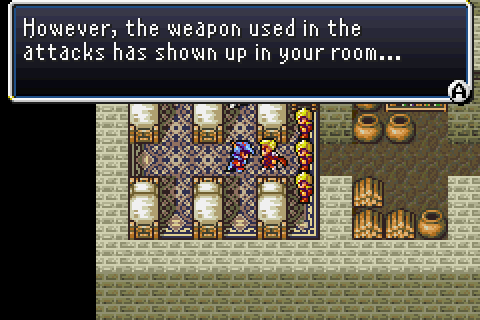 That's fairly damning.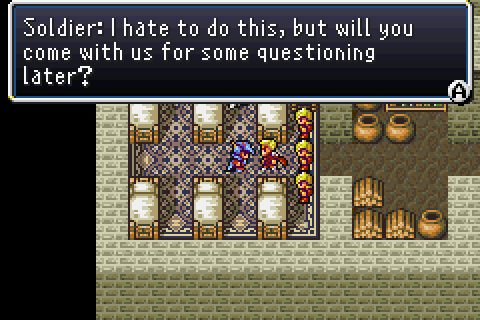 Though, this is better than these things usually go. In most games, I think Bowser would be facing the gallows now.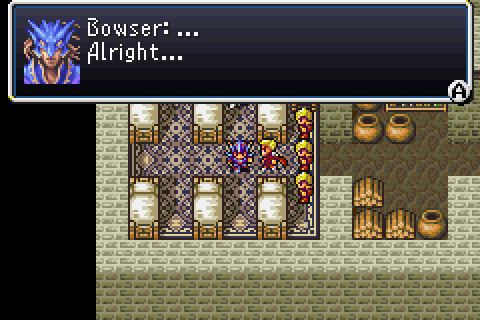 And Bowser just sort of rolls with it.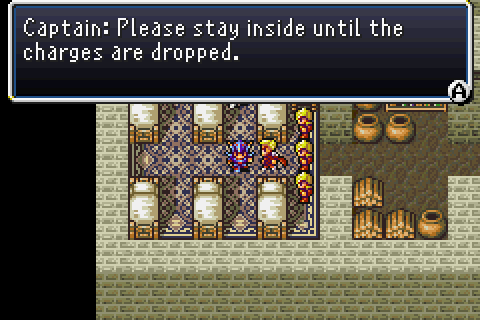 And, hey, now we're trapped in the Inn. How terrible.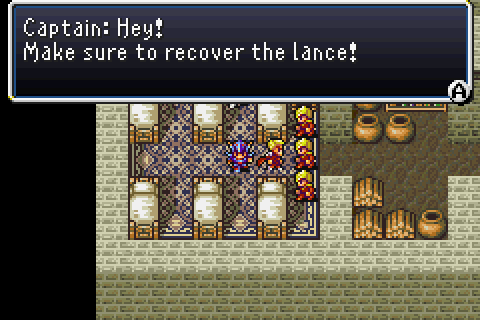 "But don't take any of his other weapons! He'll only kill with that one!"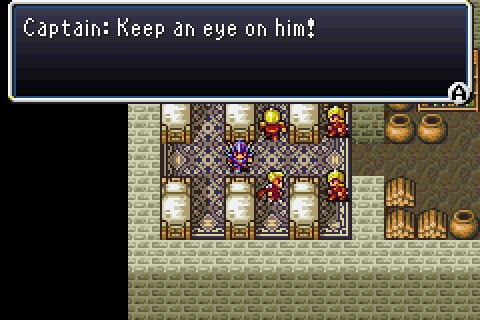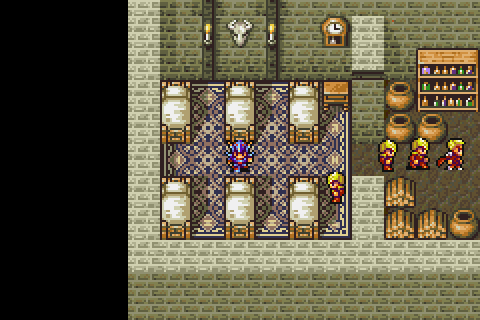 With that final order, they march on out of the Inn. That one soldier lags behind for a second.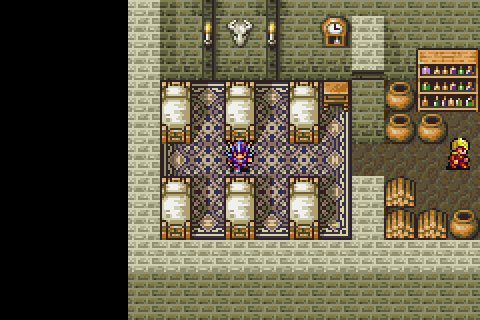 But he, too, leaves in the end.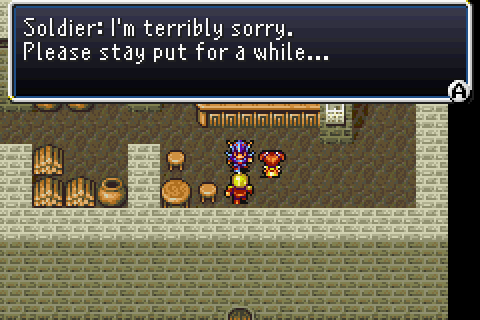 Well, at least he goes to guard the door.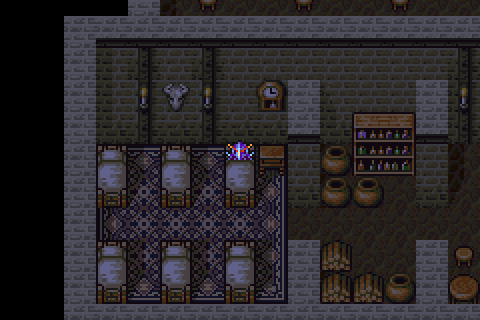 And so, Bowser heads back to bed.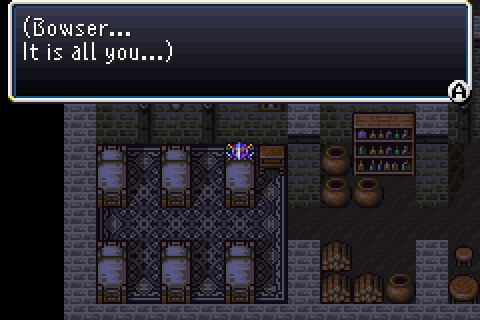 But, before long...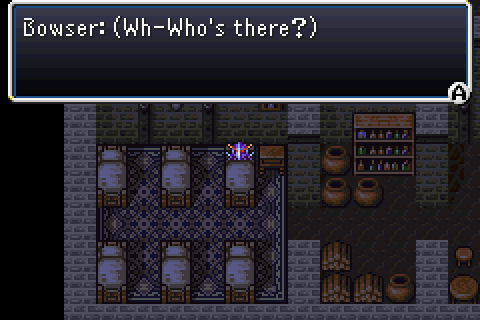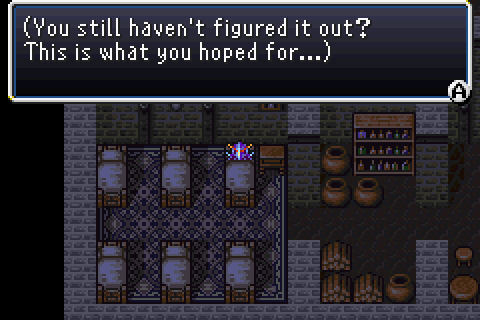 To be trapped in the Inn, suspected of multiple homicides? You have strange desires.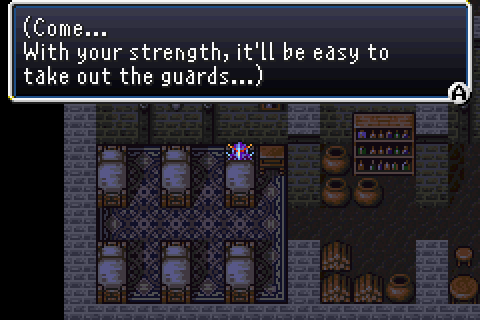 This is true.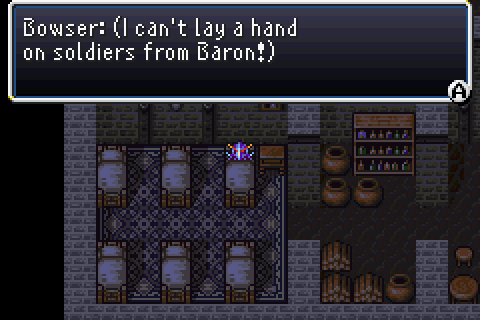 But given half a chance, he tried to murder the shit out of Cecil. I remember Fabul.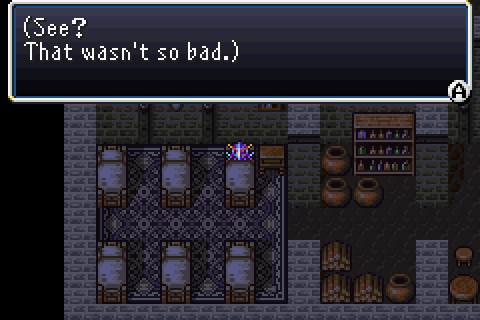 ...I feel like I missed a line of dialog somewhere.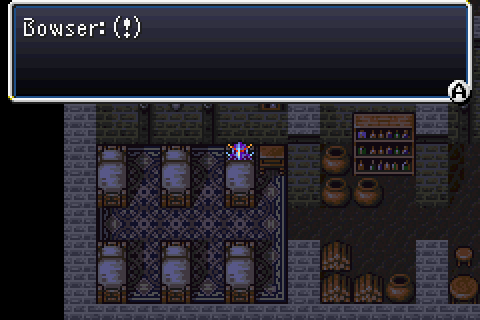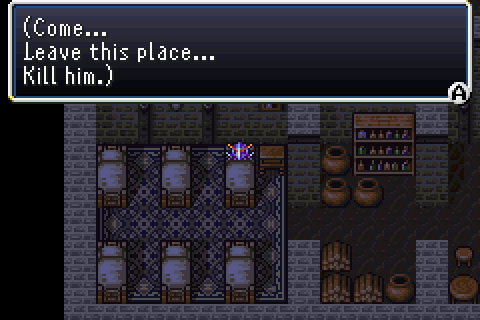 As if Bowser will be swayed by your--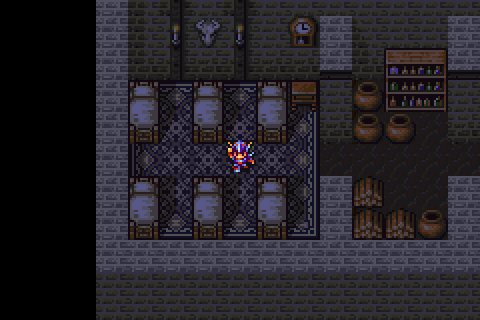 What the fuck are you doing, Bowser?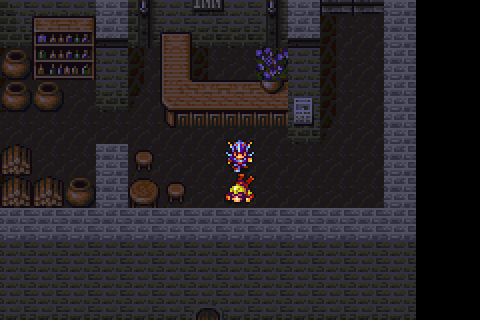 Well, I'm going to guess we didn't kill him. We found him like that.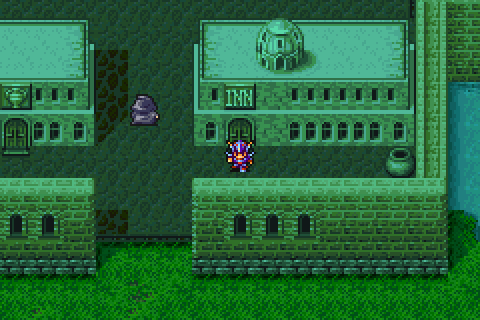 Y'know, maybe that thing about it being the Grim Reaper wasn't so far off...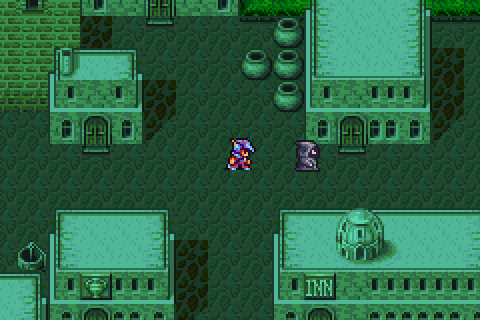 And he's running straight into Rosa's house!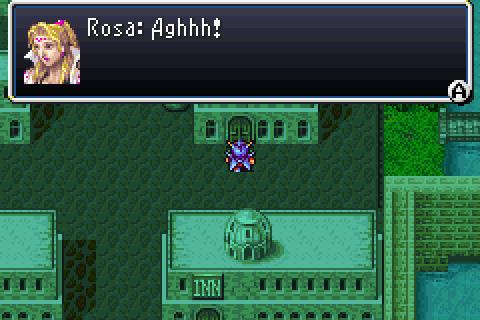 Jesus, he's quick with the murder!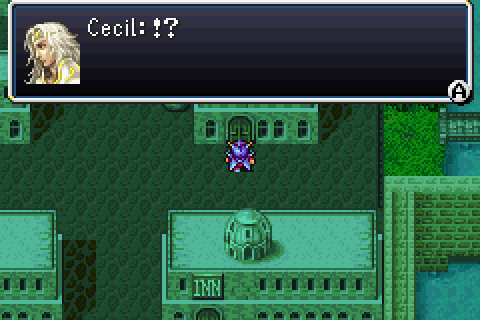 And...Cecil is apparently apt at doing shit to stop it.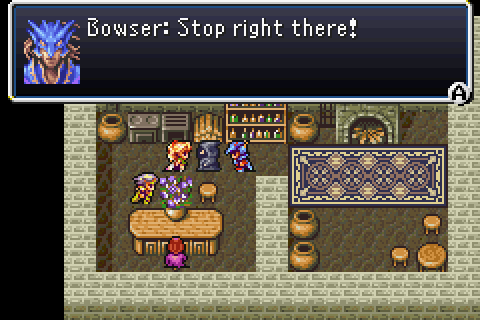 Or everything is fine and I was just a bit worked up.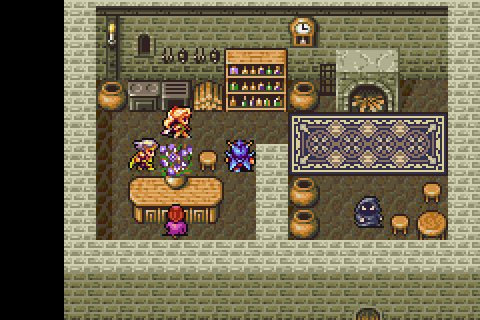 And then Bowser is shoved out of the way as the killer runs off. Bang up job.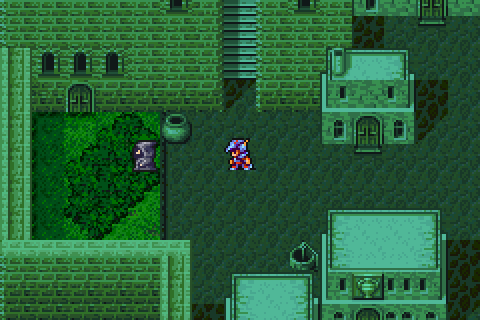 But, Bowser gives chase into the night, leading him to a corner. Almost.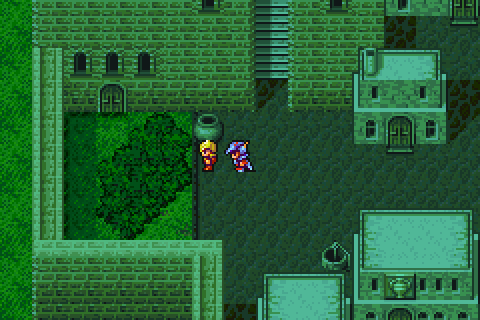 And then the killer is revealed to be a generic Baron soldier.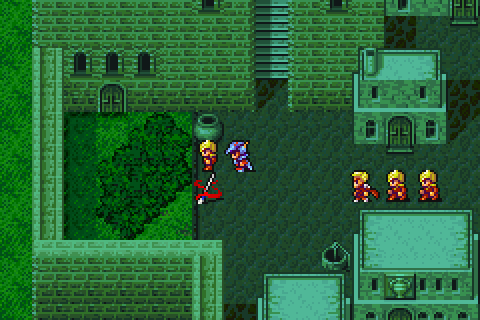 Who promptly spits out a lance as the Captain shows up.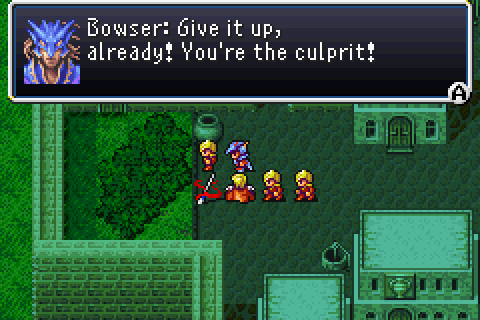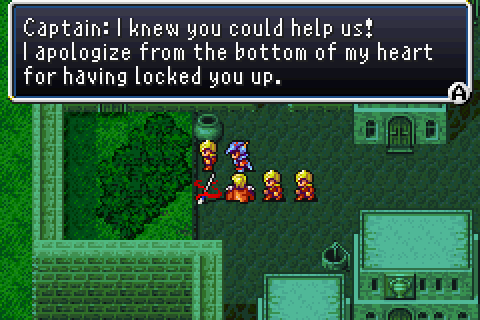 Captain, considering the evidence in your favor, I think we can let it slide.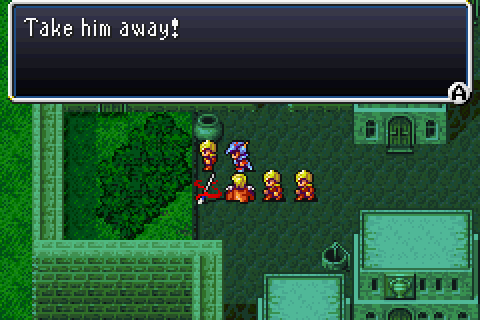 Book him, Danno!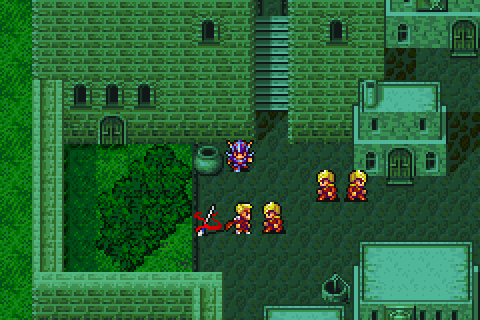 And so, the killer is dragged off.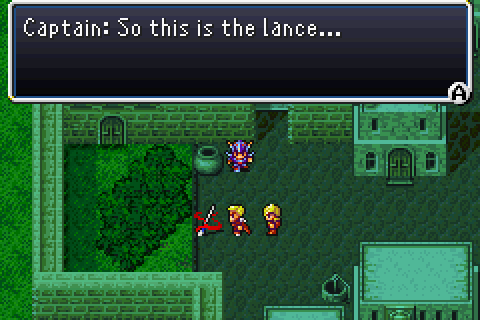 Yep. Same one that Bowser showed your men earlier.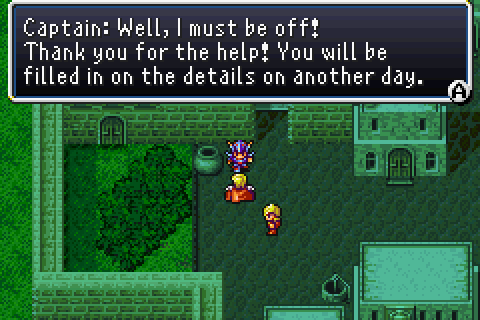 "Thank you again!"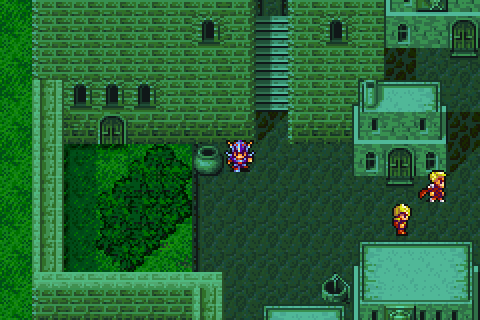 And that does it for that. Well, that Trial was oddly...Paced.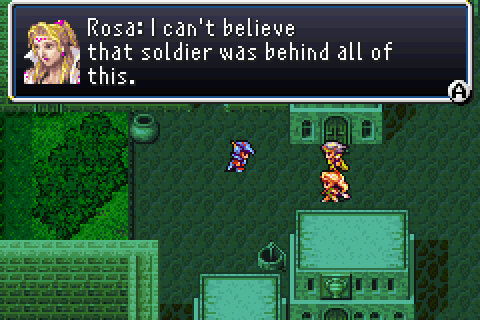 Yeah, kind of a disappointing finish, huh?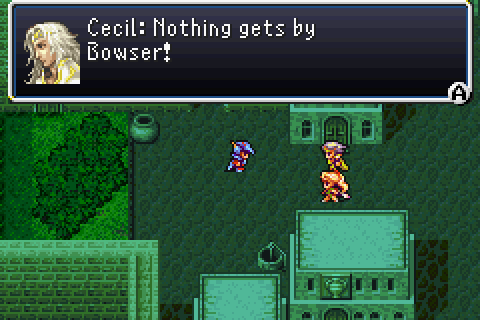 I can practically see this shit being spouted in a bullshit cartoon, with Bowser as their kooky companion and then everyone laughs as the credits roll.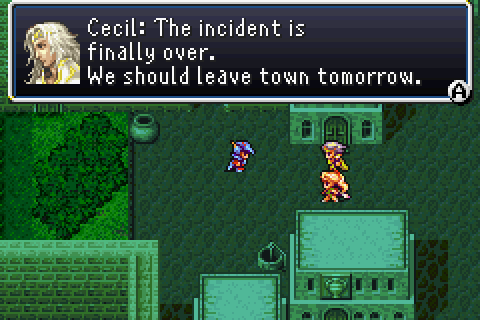 Yeah, I'm sure everyone else is wondering where the hell we are.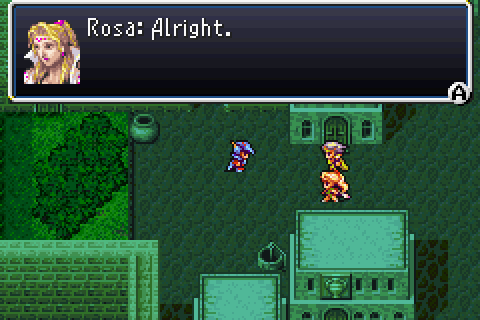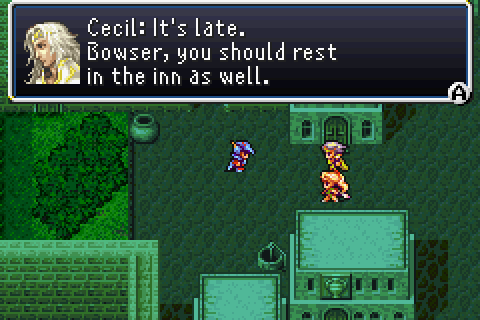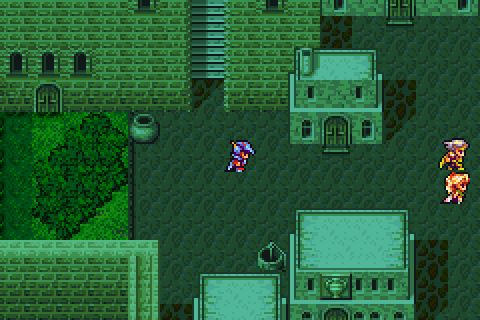 Ah, hell, we're not done yet, are we?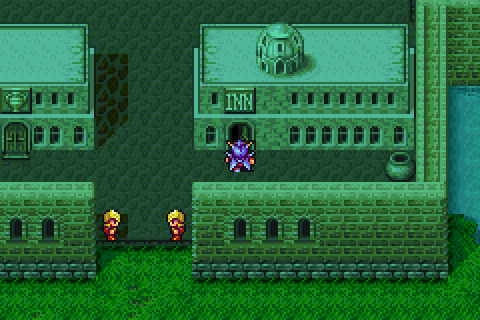 Y'know, honestly, this Trial seems long as balls, but when playing it, it's only about fifteen minutes, including the boss fight. Really, as far as the Trials go, this is the best one, I think. It's just got a few pacing issues and--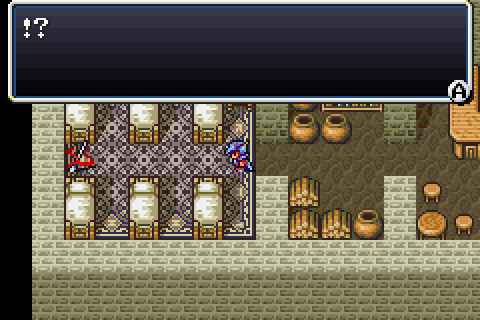 Well, shit just keeps happening.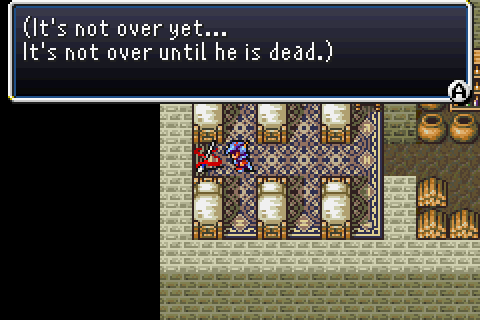 Then why the fuck didn't we kill him before? Wait, who are we--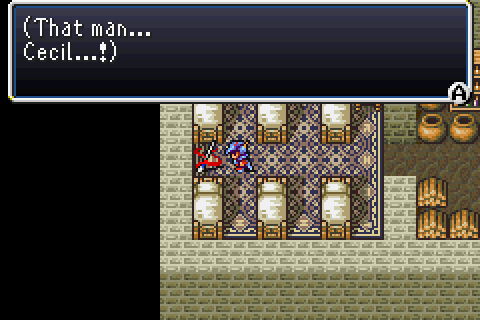 Of course.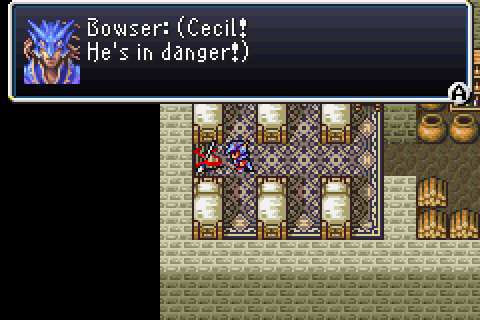 Yeah, nothin' gets by Bowser.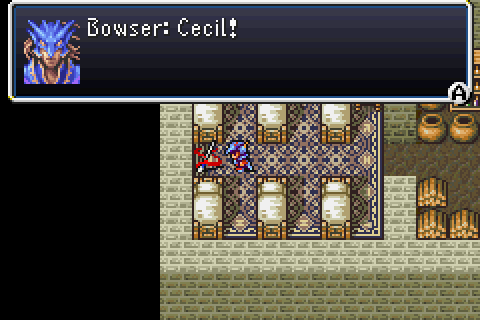 We could hear what you were thinking, Bowser. No need to repeat it for our benefit.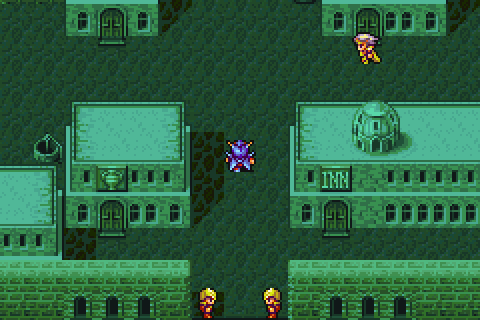 What the hell is Cecil doing?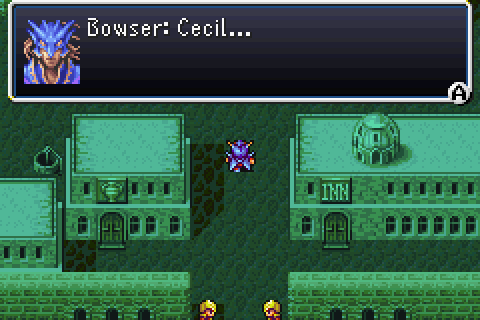 ...Doesn't appear to be in that much danger.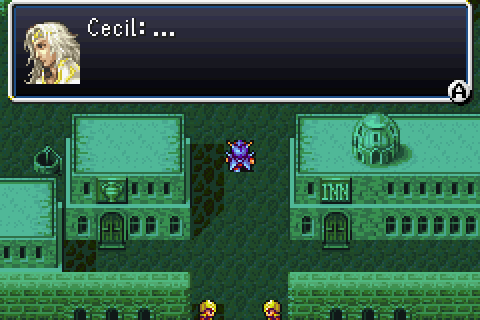 However, he might be zombified. Or something.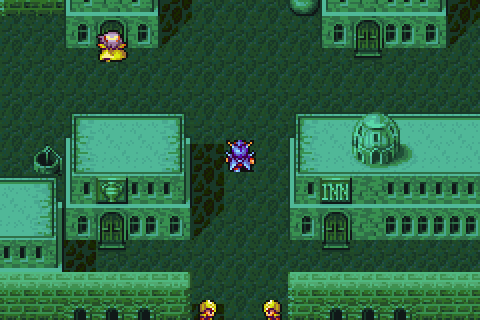 Wait, why is he going in there?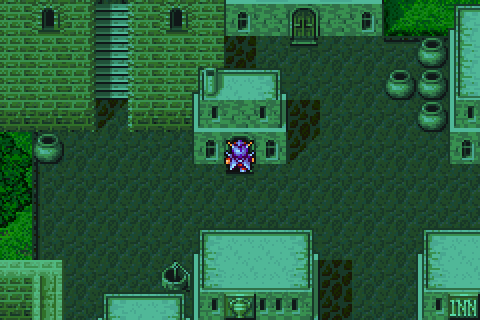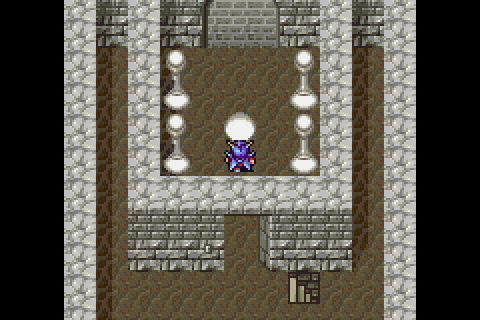 Stepping inside, we barely catch a glimpse of Cecil walking toward this thing. We've gotta finish this, so let's follow him in.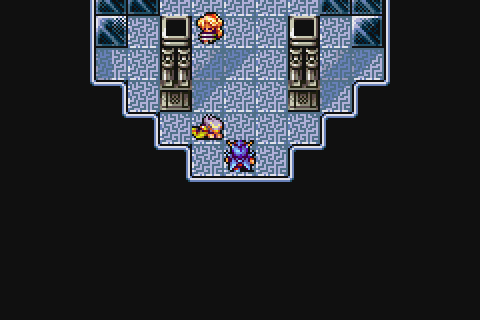 And this just gets better and better.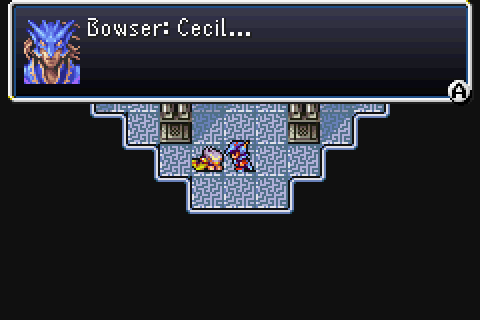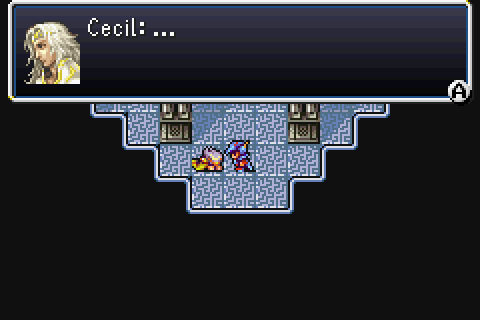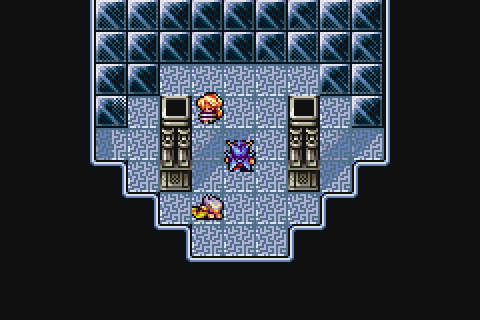 Bowser approaches the mirrored wall...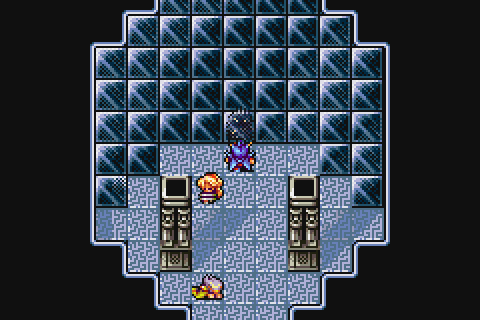 ...And the reflection is that of the killer. Or, at least, the facade the killer took.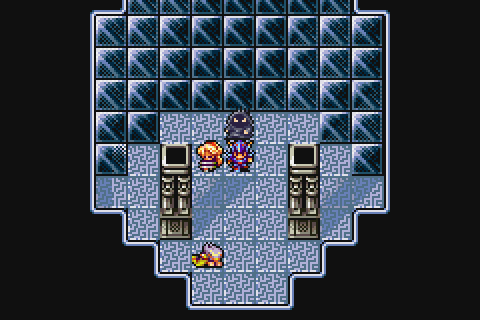 He's pushed back by the shadowy figure.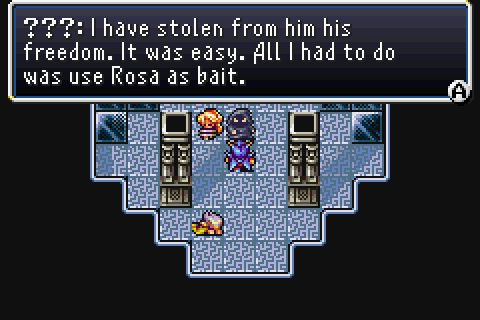 I liked this plan better when it was Golbez pulling it off. He just had some sort of pizzazz this guy doesn't.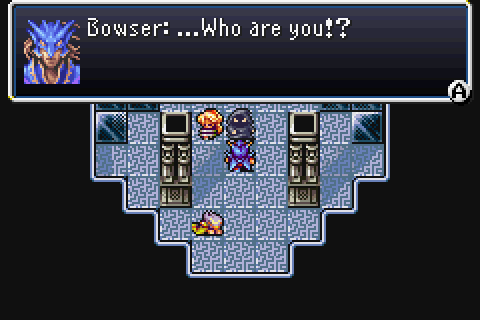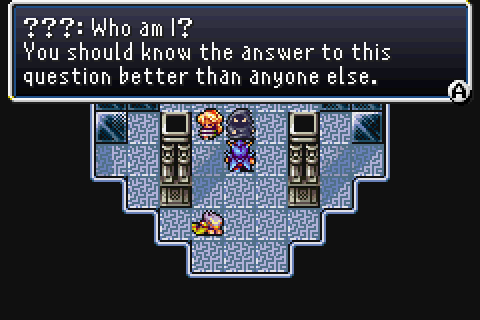 Yeah, I think we all see where this is going. Anyone playing this game saw it coming. But, since it's there, let's have a dramatic reveal.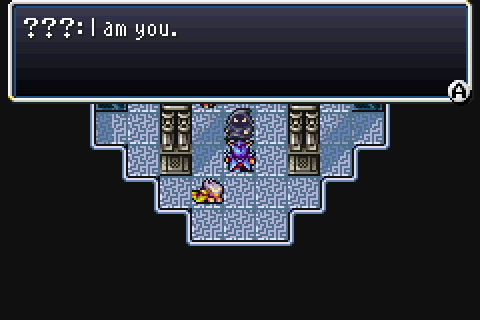 Well, dramatic to a point.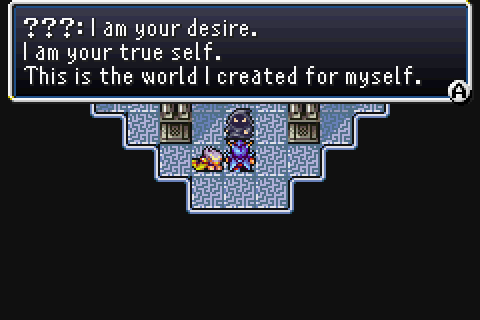 So, you can create worlds for yourself and you make a shitty town where people get murdered?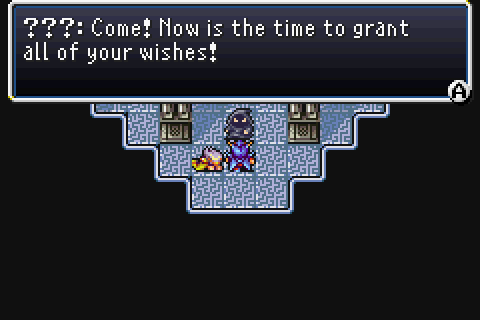 I'm really doubting your wish granting power.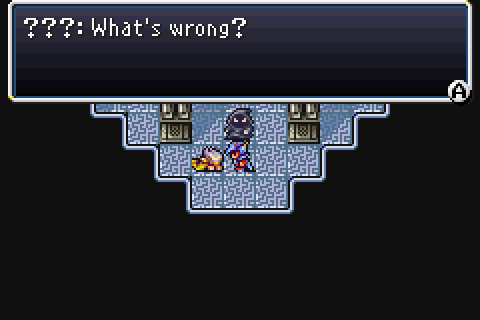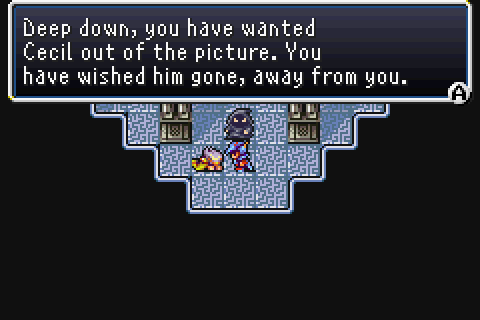 I don't think he wanted it like this.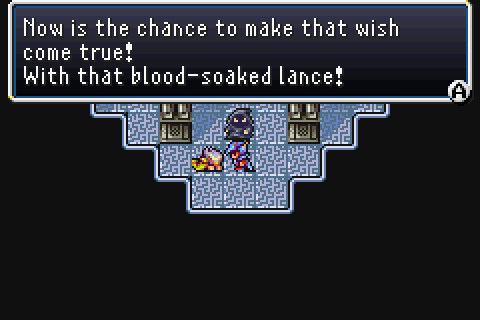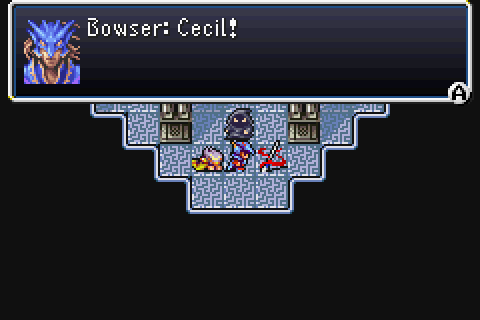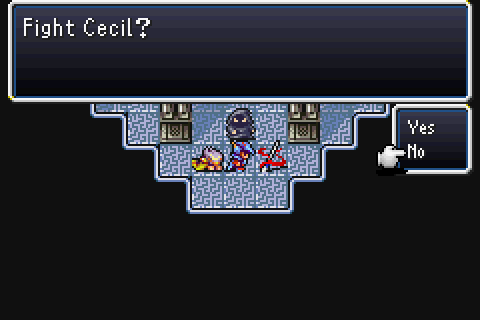 Now, we do actually have an option here. We can select "Yes" and then invalidate everything we did this update, so we won't be doing that. Besides, Bowser is better than that.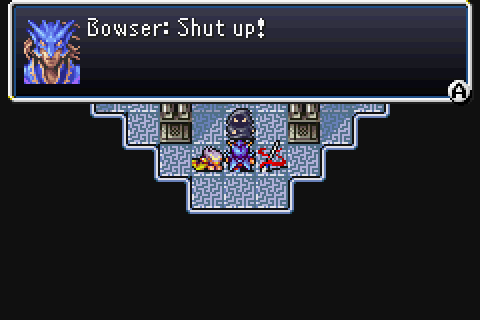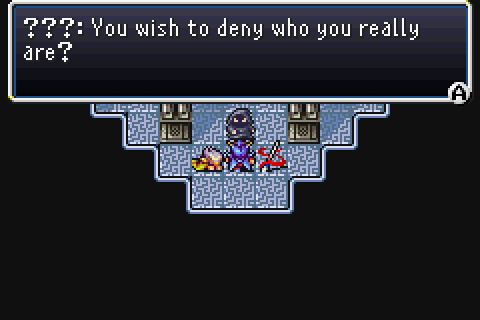 I don't think he's a man who's going to stab his friend while he's down just to steal his girlfriend, who is watching the entire event.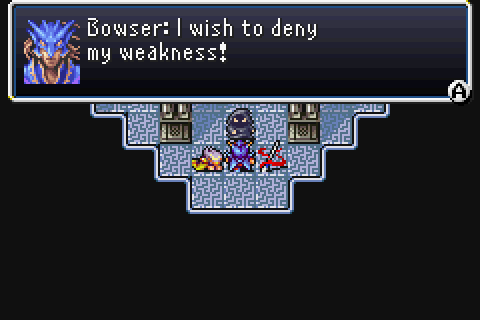 Well, that sounds properly heroic. Or something. Look, we're almost done here and I'm running out of things to say.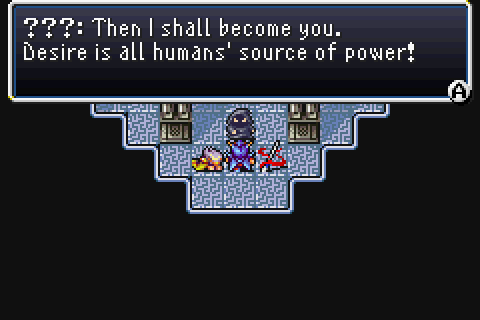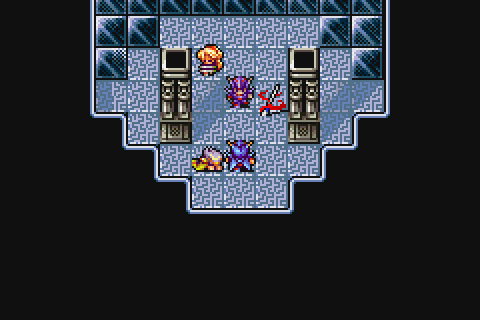 And so, the figure does become Bowser and takes up the Bloody Lance...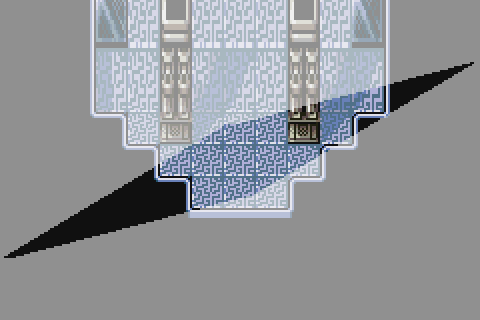 And so begins the fight.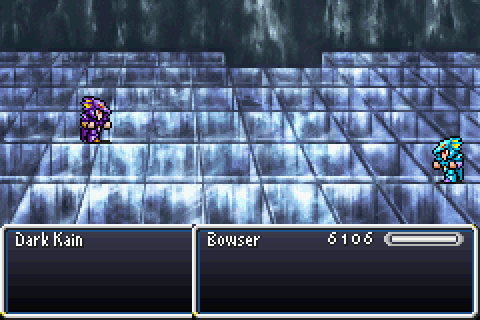 Against Dark...Kain? What the fuck, game? Why the hell would Bowser care to fight Dark Kain?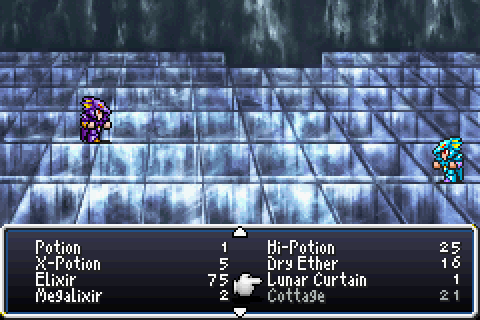 This is going to be handy in a second. As I'm sure everyone guessed the Lunar boss around here when we entered. Then again, I wouldn't have guessed Ifrit for Goemon's Trial, so I could be wrong.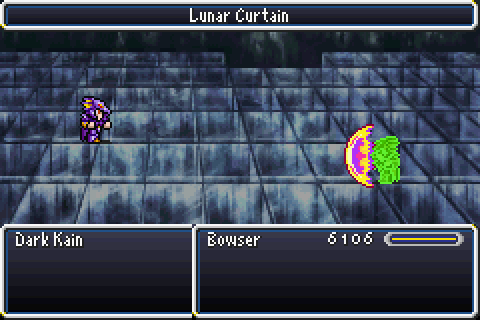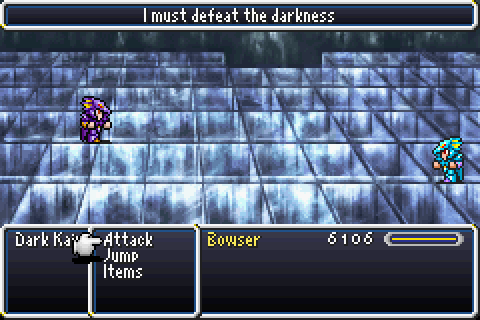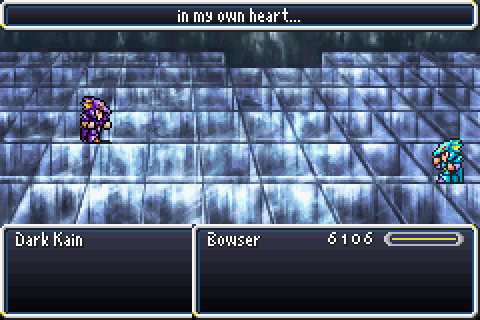 Huh, that sounds vaguely familiar...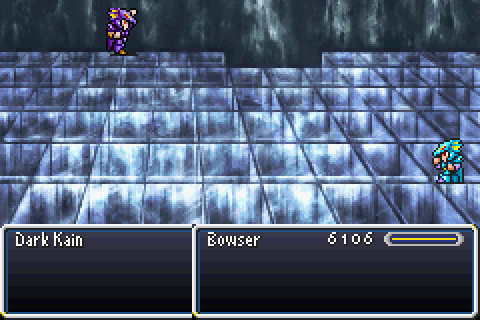 Dark
Kain
Bowser leaps off.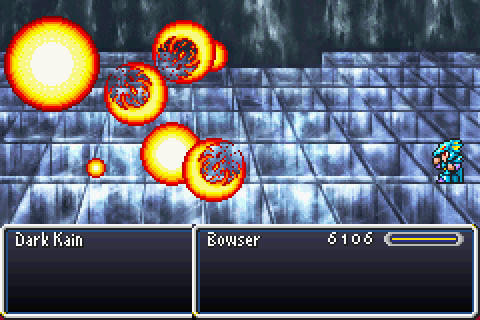 And leaves a trail of explosions in his wake.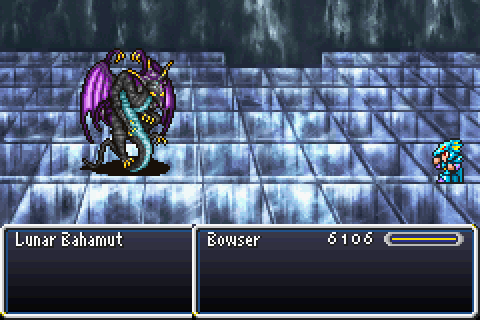 Seriously, is anyone surprised that Lunar Bahamut is the boss here? I mean, big dragon for the dragon man?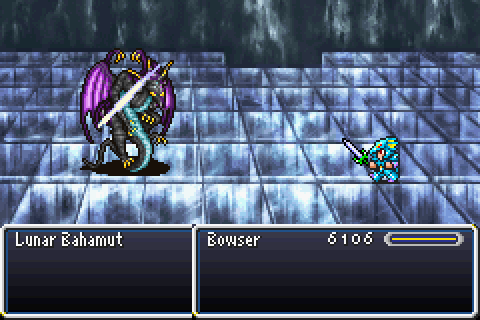 Say hello to the only use of the Piggy Stick you're going to see.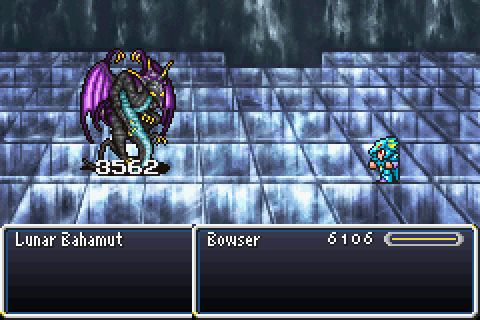 Thankfully, Lunar Bahamut only has 50,000 HP to his name.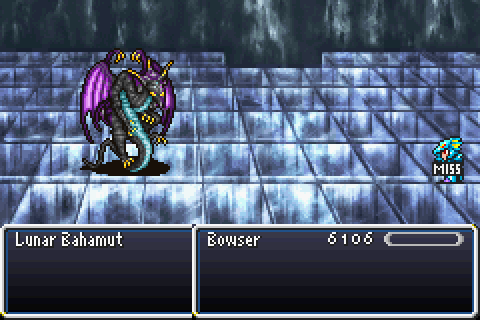 He'll also counter all attacks with this physical, but since the Lunar Curtain also raises this attack Barrier that makes all physicals worthless against whoever it's on, he doesn't land a single one.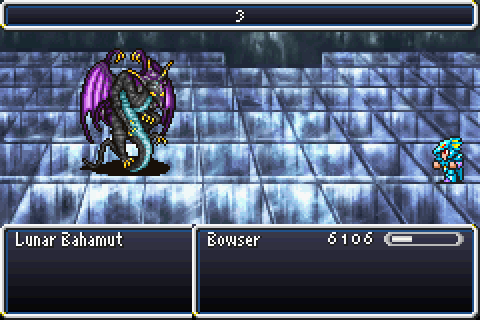 And would it really be a fight against Bahamut if he didn't have a countdown leading to a big ol' fuckoff attack?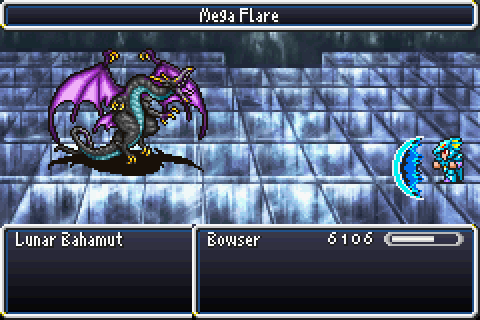 Your other options for surviving this are either timing your Jump right and being in the air while he blasts off his Mega Flare or simply tanking the 6,000 some-odd damage it deals. This is, by far, the easiest way to do it, as long as you have a proper amount of Light and Lunar Curtains.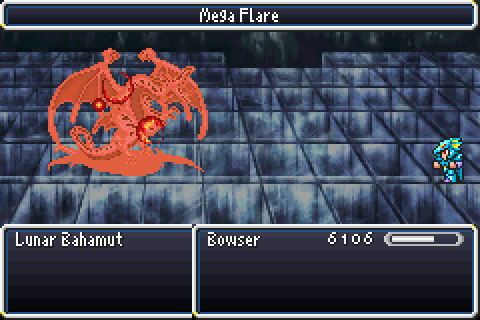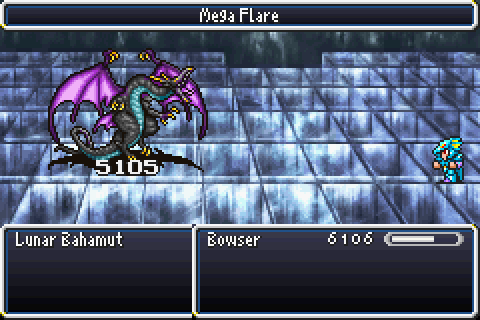 However, it doesn't deal the cool 9,999 it did when this happened to Bahamut.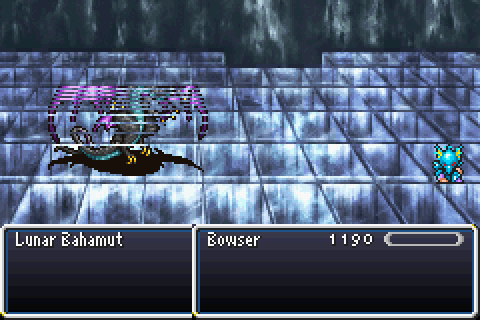 Either way, that's the fight. It's not very difficult, but it can be easy to get killed during it. Mega Flare also has a bit of an odd variance in its damage, it seems.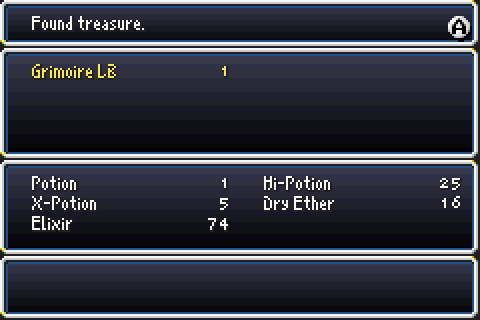 We get his Grimoire after the battle, as per usual.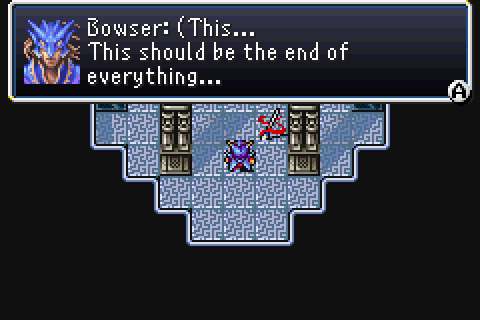 I hope so. This update is long enough as is.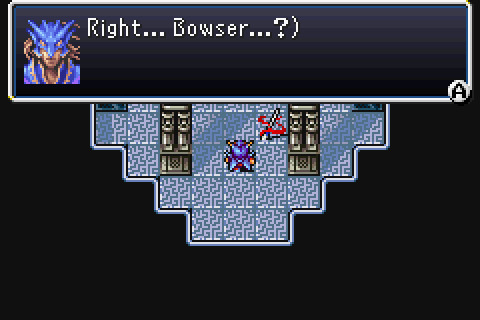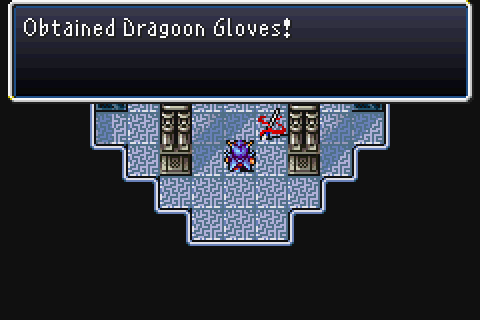 The Dragoon Gloves are pretty sweet for reasons I'll explain later.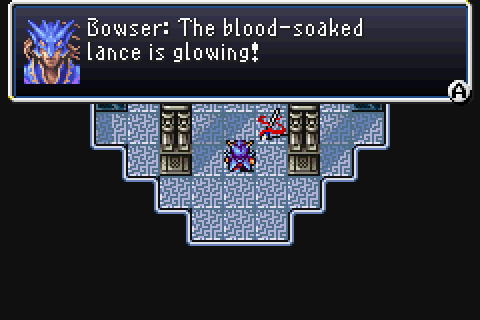 That doesn't seem like a good thing to me, but you're the expert on lances around here.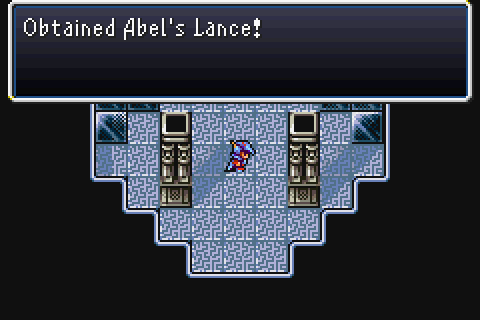 That's right, Bowser not only gets a sweet accessory, but a

new weapon.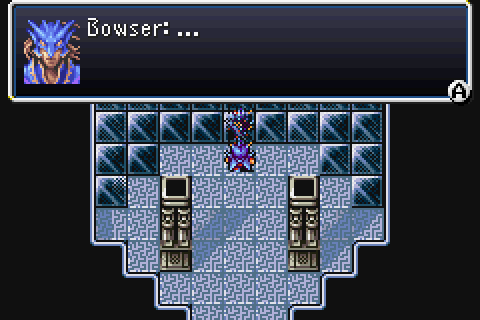 Bowser takes another look in the mirror, maybe to see if he's changed at all.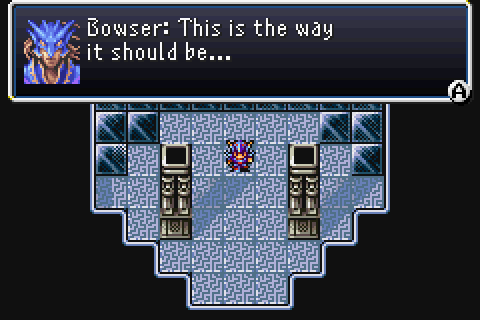 If you say so, chief.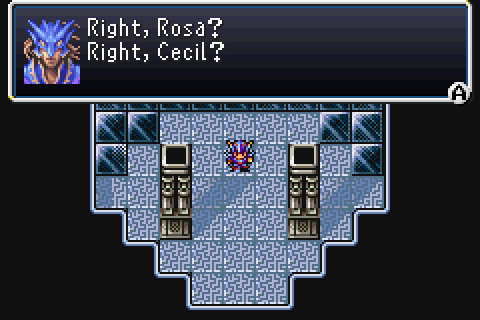 Jesus, this is such a

moment, it's not even funny.

The screen fades to black...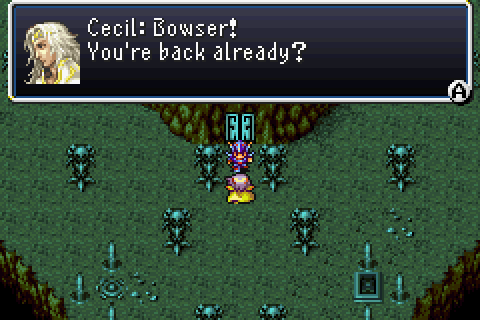 ...And we come to outside of the Trial.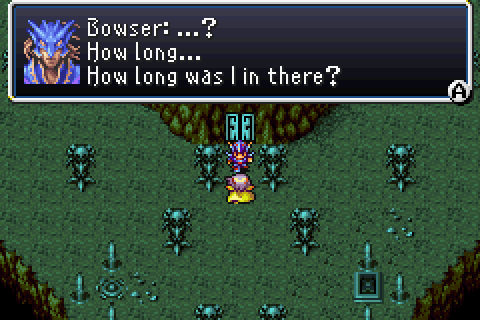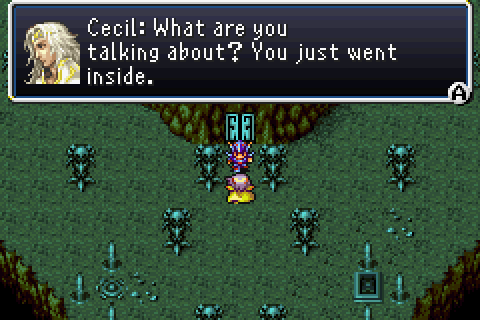 Oh, hell, that's trippy. We were in there for a few nights, at least, to Bowser...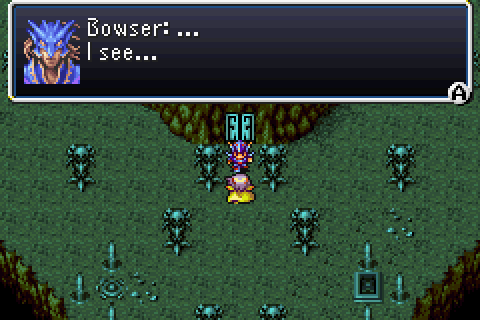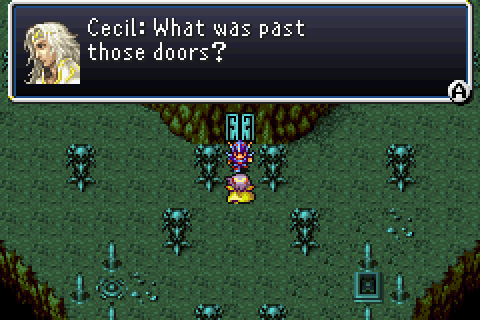 Well, I think you died, Cecil, as well as some other murder shenanigans.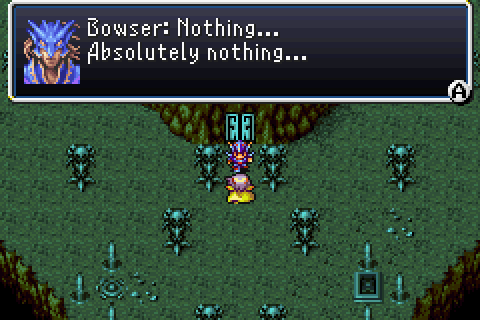 Or that. We'll go with that.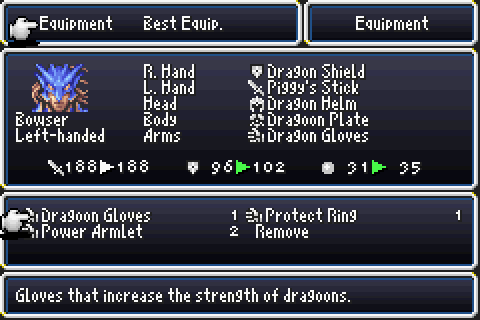 The Dragoon Gloves offer no stat boosts, but something better. We'll see what that is next update. Right now, we have a new lance for Bowser.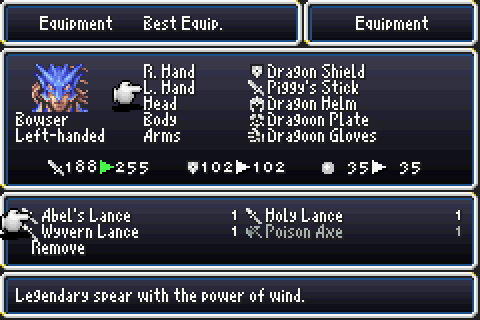 In addition to a fuckload of attack, it also gives a +15 Strength, Agility and Spirit boost, in addition to randomly casting Tornado when Bowser attacks an enemy. It's awesome.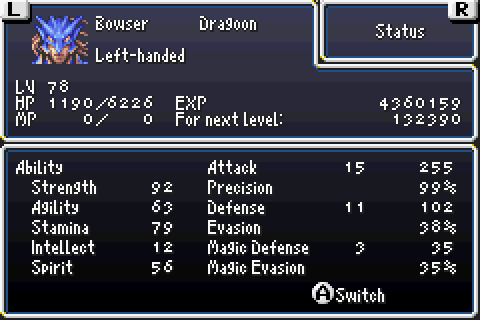 Bowser has now become a master of shit-wrecking, alongside Cecil and Leave. It's about time.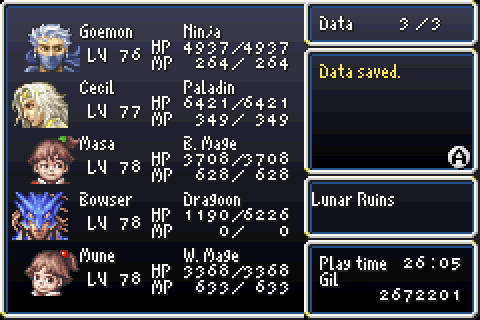 And now, we're done here.
Next time, we'll do another Trial. Stay tuned!