Part 15: Cowboy - Update # 6 - Sunset engages in a series of duels
When we last left Sunset he was educating some punk about the value of drinking your milk.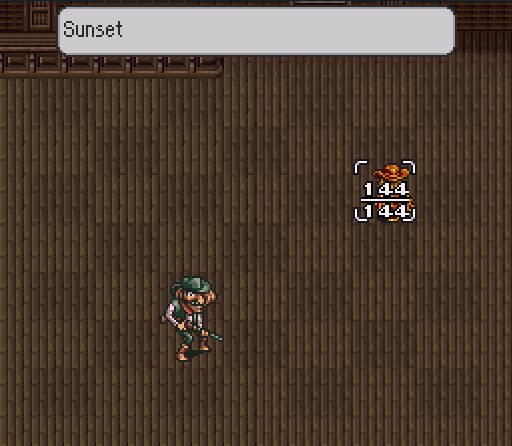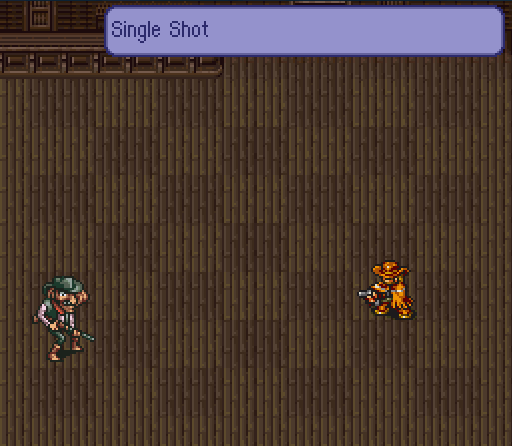 One shot. One kill Vash the Stampede style winging-shot.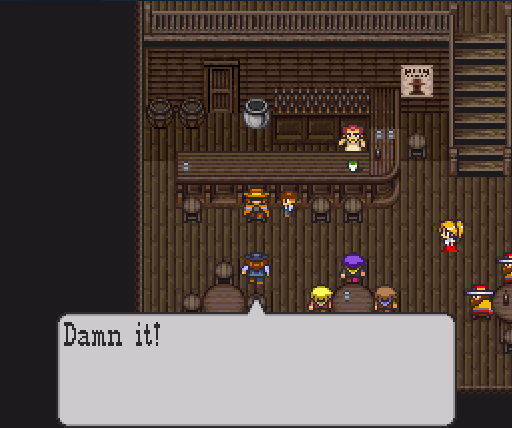 He runs off to wash out his trousers tattle to mommy.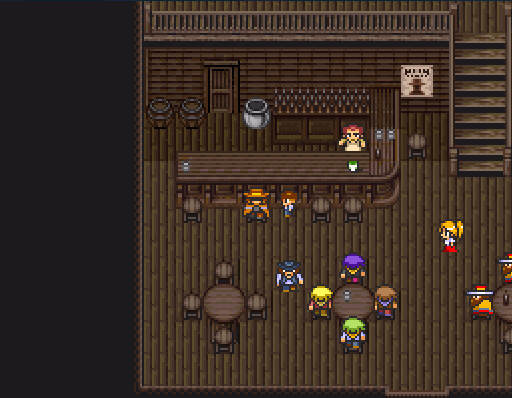 : You... So you ain't with the Crazy Bunch...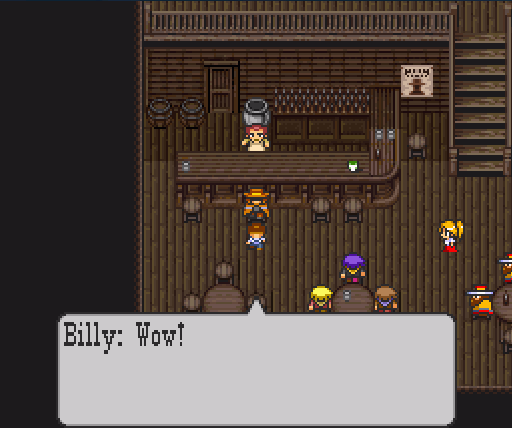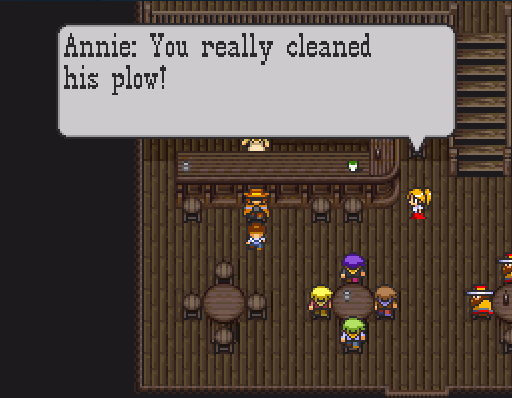 : You're a regular old curly wolf, ain't you...

: I heard a commotion. You boys havin' a bit o' difficulty in here?
Everyone turns to greet the new arrival.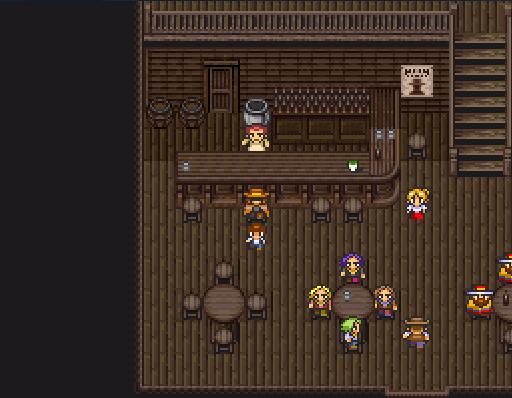 : Sheriff. This stranger's...
: You!
(It's really pretty neat the way the characters move around during conversations to emphasize things. Squaresoft was getting around to getting the most expression out of spirtes.)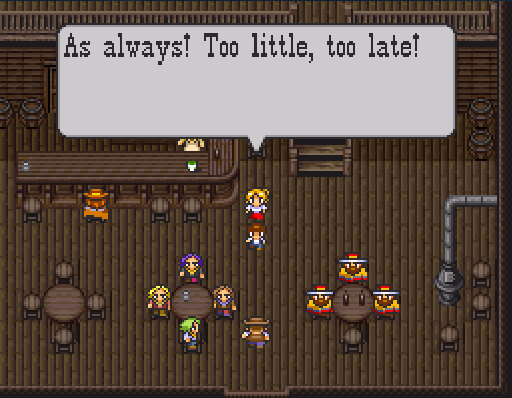 : Pa', you're... You're such a damned hard case!

:...
Billy...
(The whole town is afflicted with the "graphic adventure ellipsis" disease. The townspeople are used enough to the symptoms to engage in meaningful communication, but Sunset, due to being freshly afflicted is barely able to form a reply)

: As I was saying...
...
You know that if we stand up to 'em we'll just get their back up.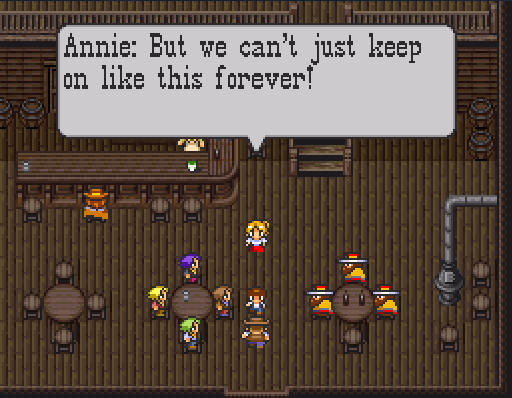 : Annie...

: Shut you hole!
:
Cowers in fear of Annie's pimp hand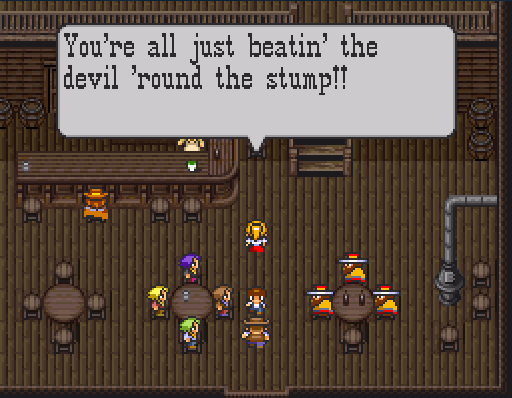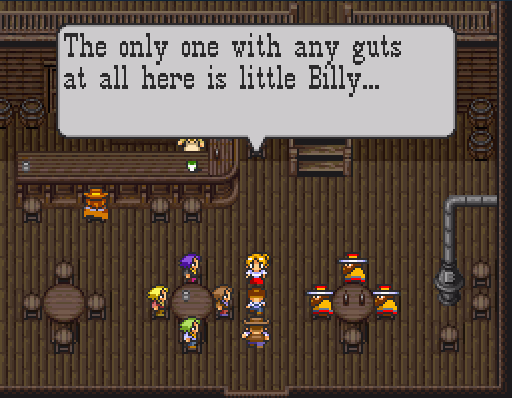 : But Sheriff! This here traveler...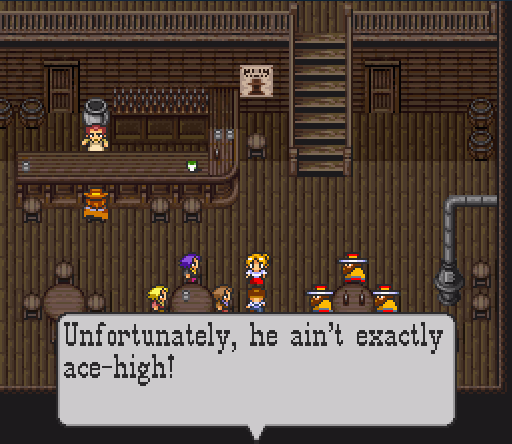 Everyone turns etc...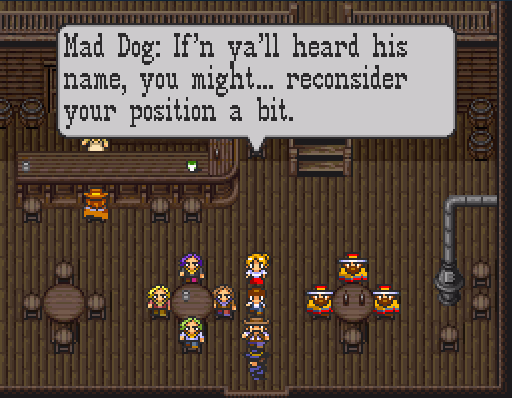 : He's...
Pushes hat up with his revolver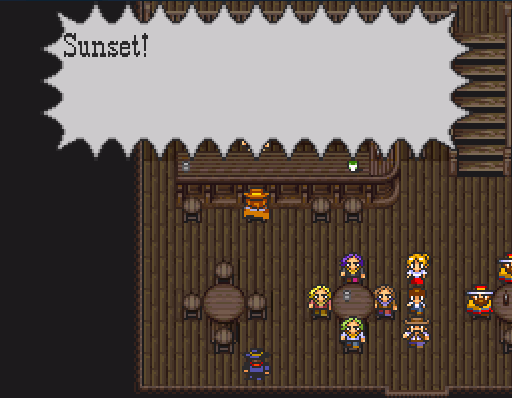 : The Sunset Kid!

: Sheriff!
: Come t'think of it..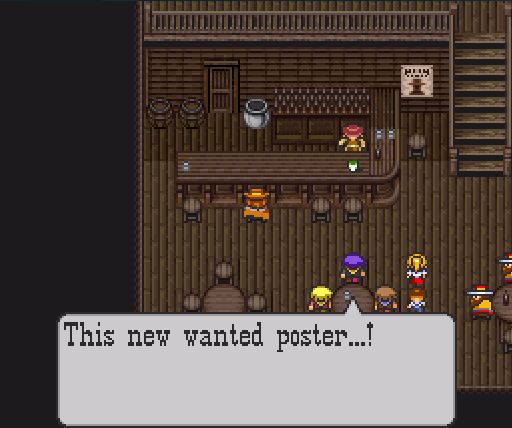 : There's a might big reward on this here feller's head... And I, Mad Dog, am fixin' to collect it!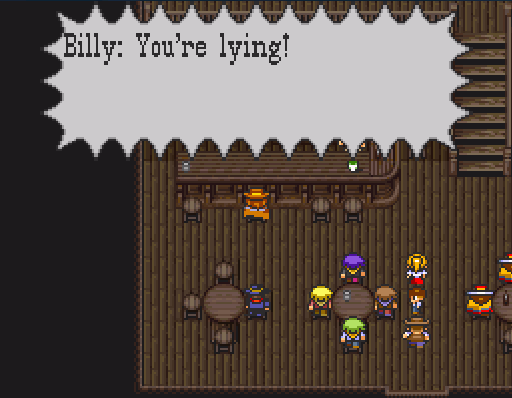 : Sorry kid, I ain't the lying type.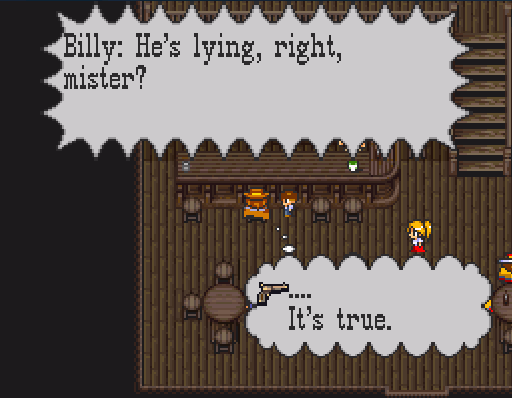 :...
: ...

:...
: ...

:...
: ...
: Their ellipsis syndrome is flaring up. Annie, you'll have to slap him out of it.

:... No... I mean, no need.
It's true.
: You're lying!
Little Billy has trust issues.

: Heheheh... So the Kid can't stand up to a kid.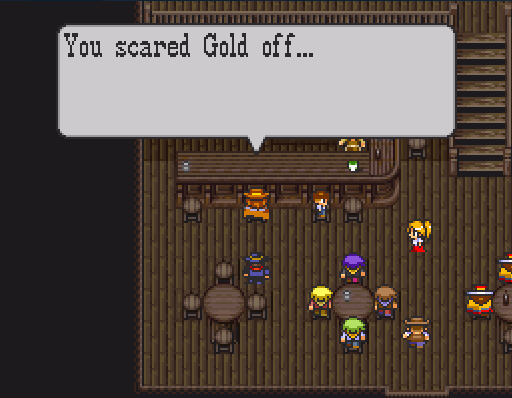 : I'm gonna run you through the mill!! Outside, now!

: I-It's a...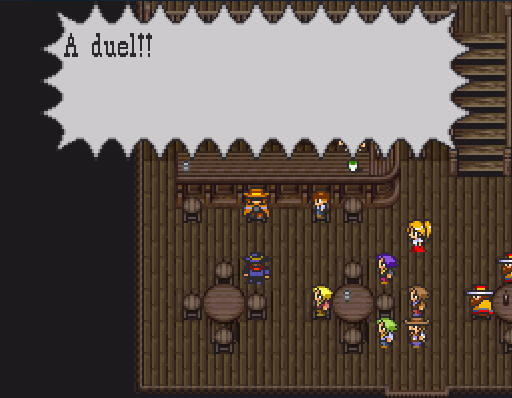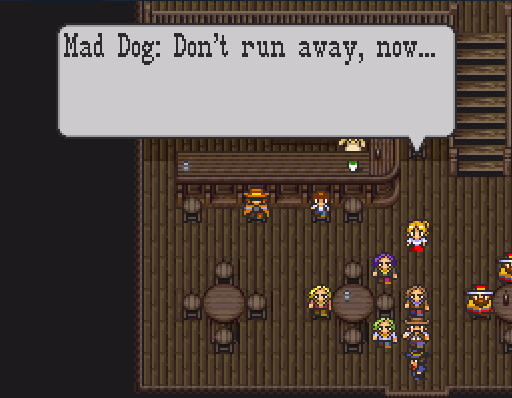 : You won't lose now, right?

: This town always seems to attract the wrong sort...



: W-we are amigos! That guy is strong... You going to win, yes?

: Can I help you?

: Umm...

:...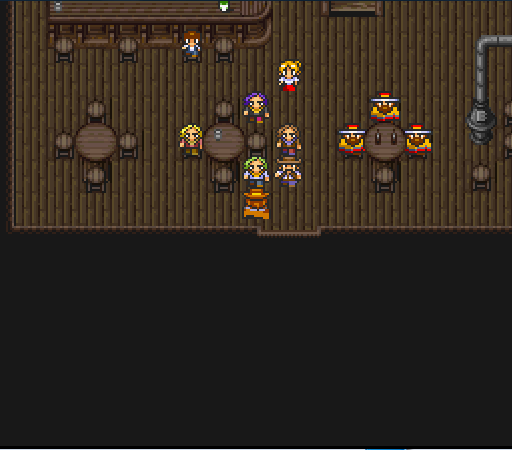 The progress of the elipsis disease has left Gibson incapable of articulating even that much, merely shaking in an epileptic fit in response to outside stimuli

: Go on...
So we do. It's time to rumble.
Viddler
/
Youtube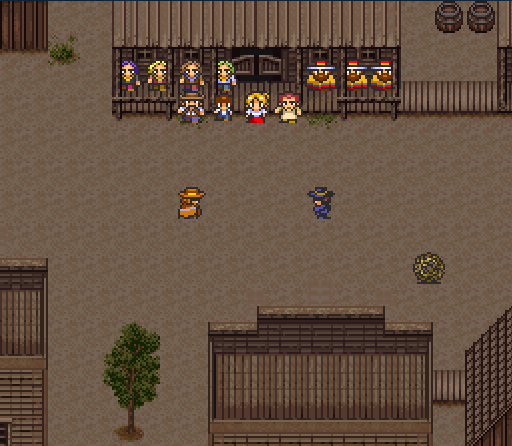 : Aw, why the long face? You sad that this'll be the last time we tangle? Ah well, I feel the same... But them's the breaks, Kid!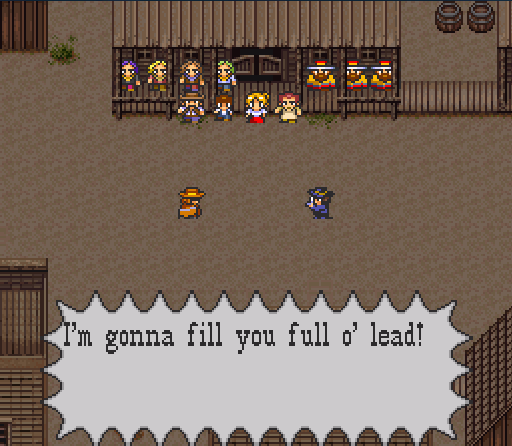 : You know how this works, right?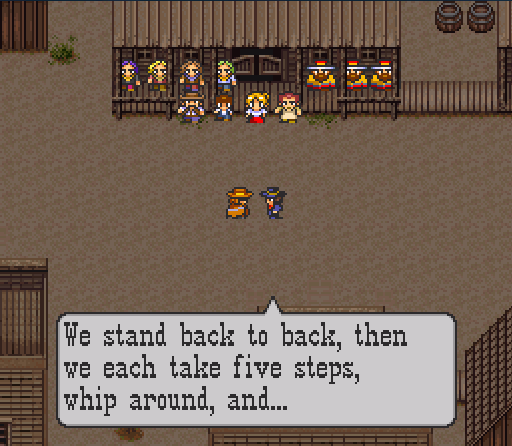 : ... see who's left standing.
...
One... Two... Three... Four...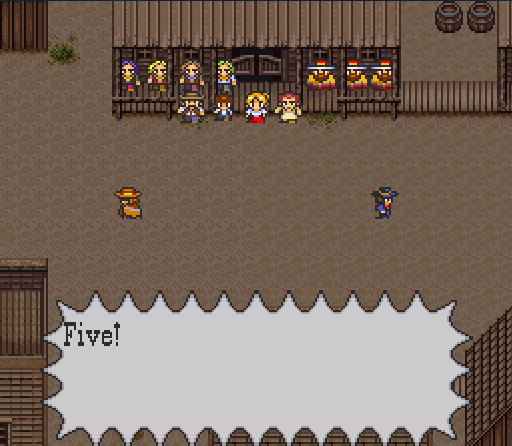 BANG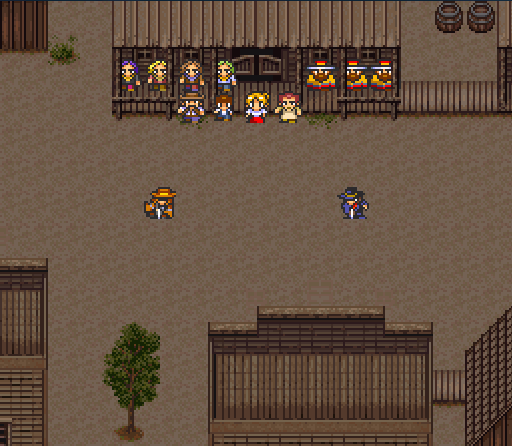 : Grafgthgh!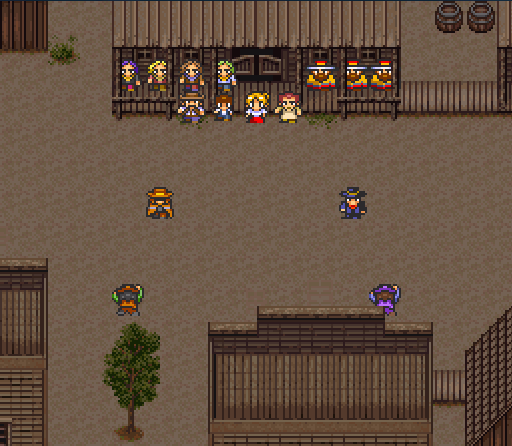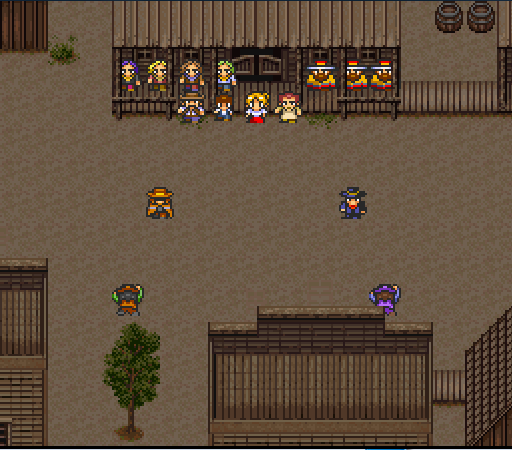 : The Crazy Bunch...

: Those two...

: They noticed 'em!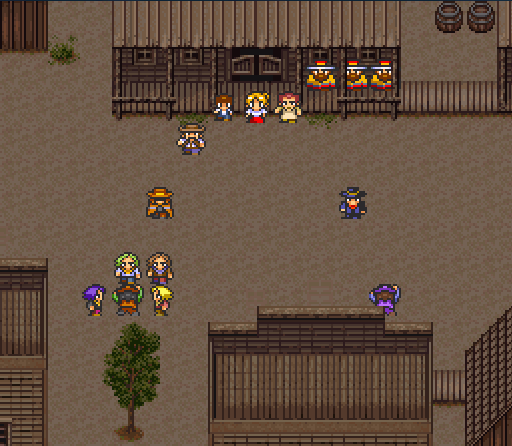 : How boring.
: Wow! You two are th' Simon pure!

: If they worked together, not even the Crazy Bunch could stand up to them...