Part 59: The Swordmaiden
Despite her grades picking up, Anna's been unhappy recently.
Video- "Anna 5"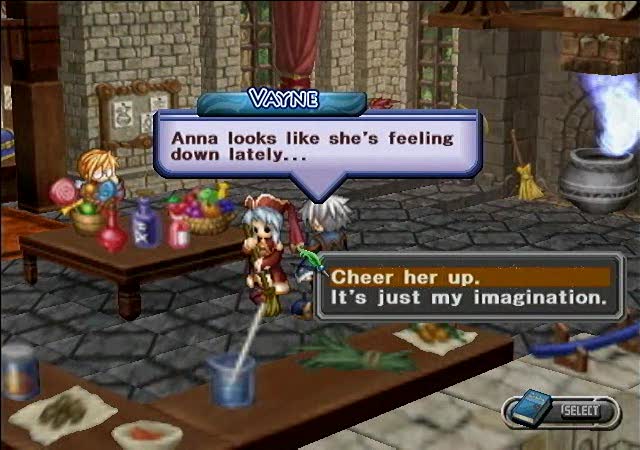 Watch the Scene
We went out and did some training, but if anything that was only making her more unhappy.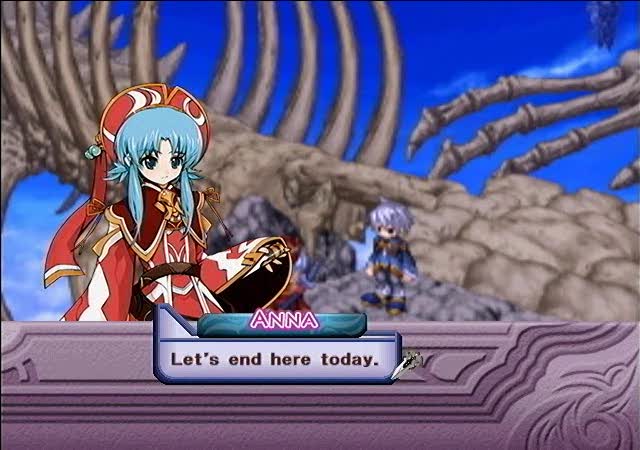 Okay. Good job.

You can easily keep up with my practice now.

I've been at it for a while now. It's all thanks to you, Anna.

No, my influence is a trivial matter.

You really mattered to me. But…it's almost over. When I graduate…

Yes…

You seem a little sad since the other day. Do you feel, lonely?

No! That's not it. It's just…

Okay, it's fine…

…Um, Vayne. Can I ask you a favor?

Hm, what?

Just once… Please fight me in a serious duel.

Serious, like… serious?

No going easy, just an earnest battle.

W-wait. I could never win against you, though…

Please!

…Well if you insist. But, can you go just a little easy…

No going easy.

Okay…

Then, when you're ready, you can take the first strike. Anytime.

…I guess there's no getting out of this… Hahhhh!
I was sure I'd lose, but somehow I won the duel. I'm sort of sorry I did, as it only made things worse.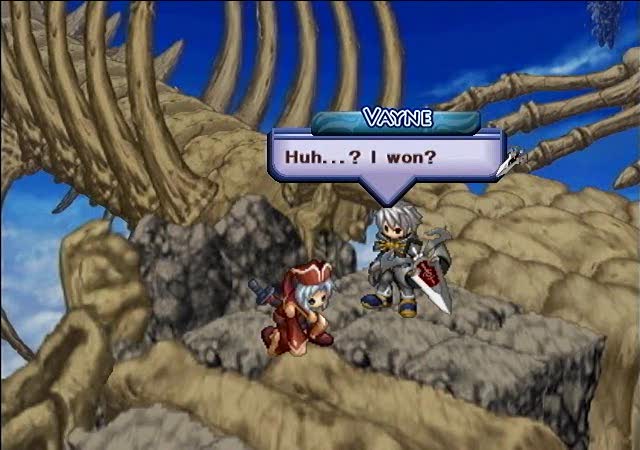 As I thought…

Ummm… You just weren't feeling good today, right? No way could I win…

Stop trying to console me!

S-sorry…

In the past two years… My sword skills have rusted, yet my alchemy…

Anna… Don't think too hard about this…

Er…waahhhh…

P-please don't cry! Um, so, like…

Er… *hic * I've, decided.

Decided, what?

I will seclude myself in the mountains.

…Uh, what?

Until I can bring myself back. I need my sharp edges back…

Wait, that's going too—

Stay out of this! Tell everyone I won't be back for a while. Good bye!

…Now what?
I tried a few times over the week that followed to get her to come back, but every time I never even managed to get close to her. I was beginning to give up when the others approached me.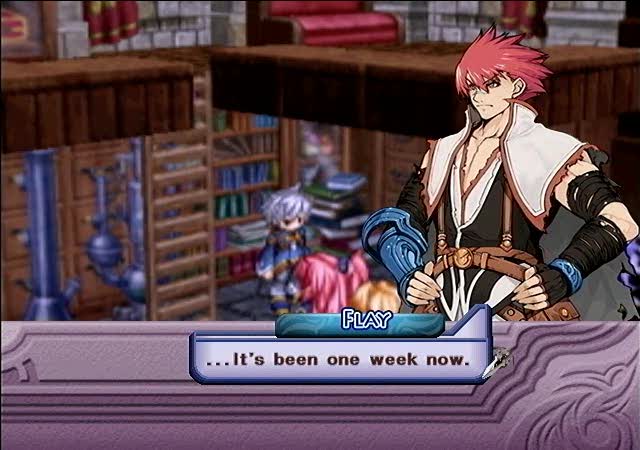 Yeah…

It's 'cause you bullied her… Poor Anna…

I didn't bully her. That just sounds so bad.

I hope she's not dead out there…

I would think she'd be fine… I hope…

As a man, how will you take responsibility?

How what…? I mean, it's not really my fault…

Don't make excuses! Can't you at least bring her back through force?

I went a few times, but rocks started to rain, and daggers were flying…

So you plan to abandon her?

Vayne, I'm disappointed in you!

Don't worry… In order to survive, certain things must be cast away…

Cast away…?
Everyone who wasn't Muppy didn't much appreciate his argument.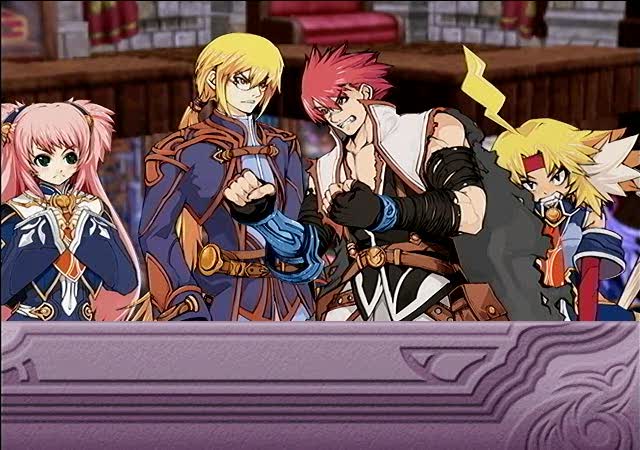 Okay, fine… I'll go get her…
I headed out to the Heights. Even though I couldn't see her yet I could hear her training from a ways away.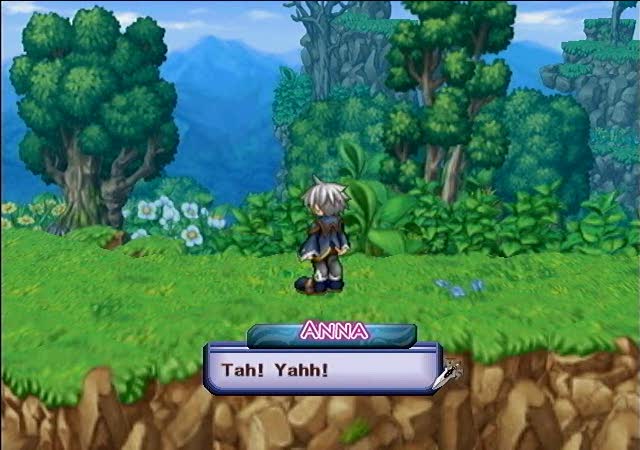 Anna's voice. She's training hard, I bet… I hope I can get there.
I managed to reach the summit, but saw no sign of Anna at first.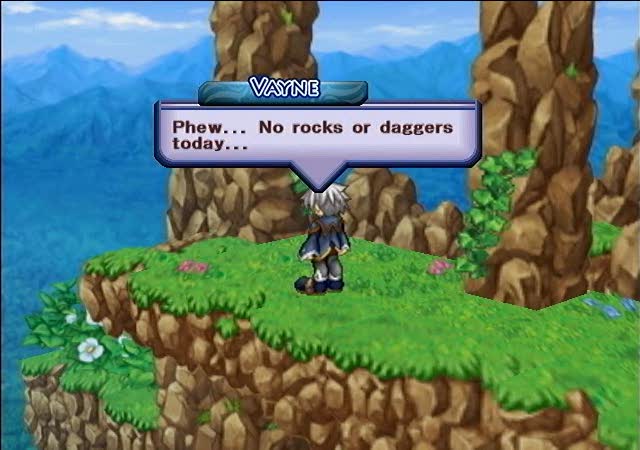 Vayne?

Wha! H-how did you…?

By living as one with the forest. I remembered how to erase my presence.
…I had to remember in order to survive.

That harsh of a life…?

So, what business do you have here? Please make it short.

I came to take you back. Everyone's really worried.

I can't return yet. If I go back as my immature self, I will…

But you're getting behind in school. Your grades were getting better, too.

Ur…well that…

You said you were insecure because you've grown up with swords all this time.
And that's why you came to this school…

You remembered? I told you that a long time ago.

Of course I didn't forget. So, please…
Anna's still a bit paranoid.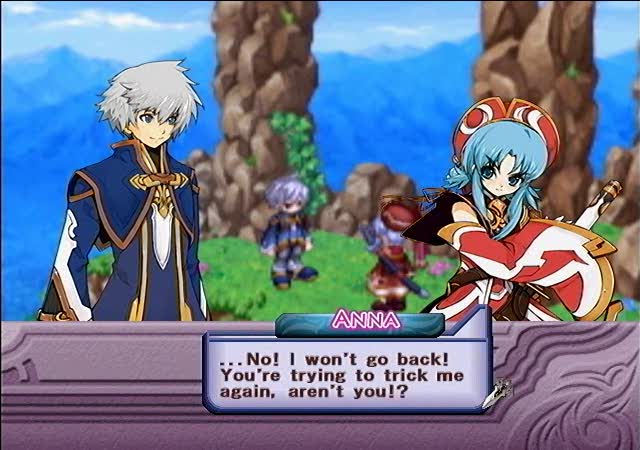 No, I'm not! I just…

It's because you won… Because you're stronger than me.
You don't want me becoming strong! That's why you interrupt my training…

Here it goes again… Anna, calm down and listen to me…

No more talking! Any enemy that interferes shall be removed!

And so we end up like this again…
I seemed to be doing well and thought I had won again, but she hadn't even taken a single one of my hits!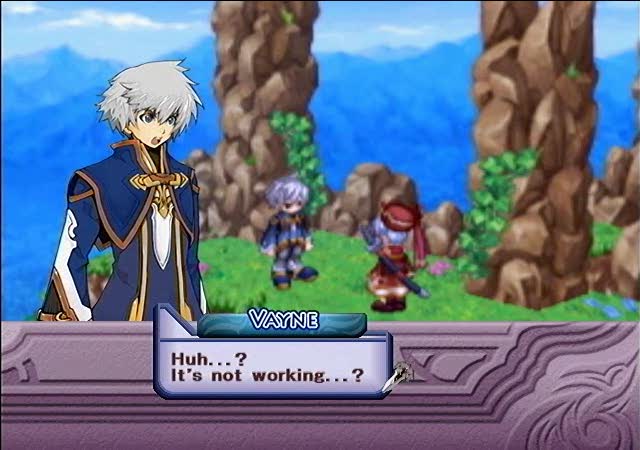 Right now, I can see your every move. You have no chance of victory.
Prepare for your defeat. If there's any last words, I shall hear them now.

Oh no, I'm done for… Huh?
I was sure she was going to take me out when a monster started sneaking up behind her. She was so focused on me she didn't even notice.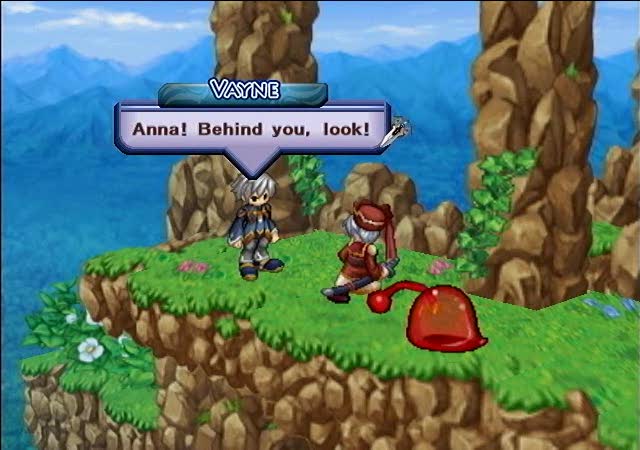 …You think I'll fall for such a lame trick?

No! Really, behind you… Look out!

How embarrassing. If you're a man, just admit—
Gah…!

Anna? Anna!
I managed to get her away from the monster, fortunately.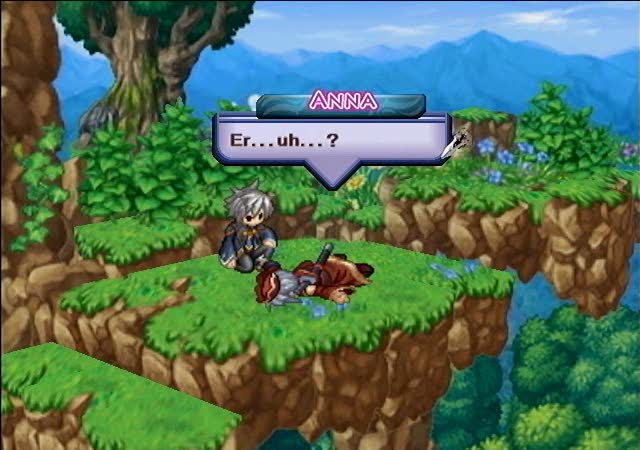 Oh, good. You're conscious.

I see, I've done it again. How could I lose composure in that situation?

So, you were aware?

Ow… Did you treat me?

I had some medicine on hand. I made them.

Medicine you made… I see.

You should rest a little more. It seemed like it hit you pretty hard.

I'm alright. About our conversation earlier…

Which one?

Swords or alchemy… Which I should pursue.

Oh?

This past week, I have dedicated all my waking time to swords.
It just felt so natural, and calming, I guess…

I see. So rather than alchemy…
And that's when she surprised me.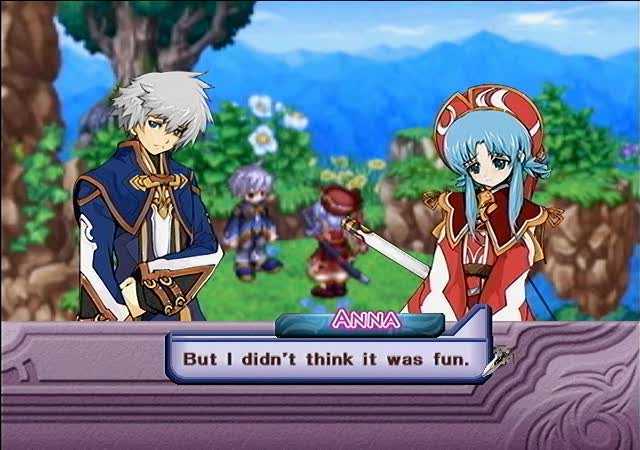 I didn't get the exciting feeling I get from doing alchemy…

…Huh? Then, which one do you prefer?

I don't know. I was going to stay in these mountains until I figured it out.
But how could I figure it out now if I couldn't for over two years?

…Maybe you're not supposed to pick one…

What?

You want both of them, and it's not like you have to give up on either…

But that would be… Halfhearted in both!

Well…you know… If you work harder…

…What you say is quite irresponsible.

Yeah…but if you can't decide now, then continue both until you can.

…Vayne, you've gotten a lot better at talking.

Huh, r-really?

I am kidding. But I will allow myself to be fooled by you for now.
I still have another year until I graduate…

Yeah. I think that would be the best.

Then I'll go back now. I really want to take a bath, too…
Anna had one request for me.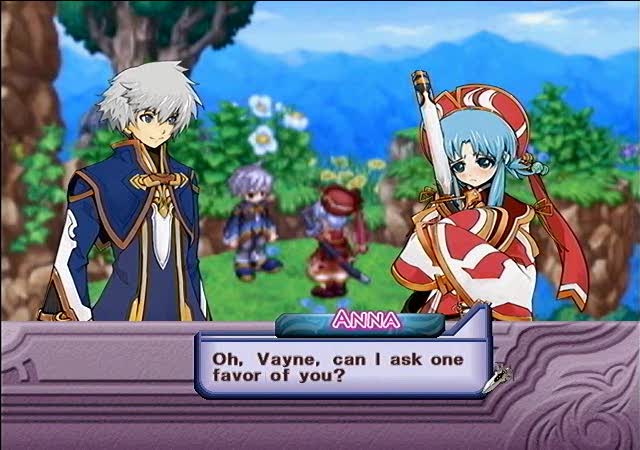 What is it?

When I graduate, I would like to meet you again.
I might have found my answer by then.

When you graduate? Okay. I want to meet you, too.

I might challenge you to a duel again, though.

Ehh? It'd be better if you didn't, but…

Hehe. Keep up with your practice, too. And don't be lazy.
I wonder what her answer will be…