Part 62: Battle Without End
Professor Feinne Presents: Roxis' Stuff
As always we've got the scene where Isolde kills Roxis. Anna gets his lines.
Video- "Roxis Dies"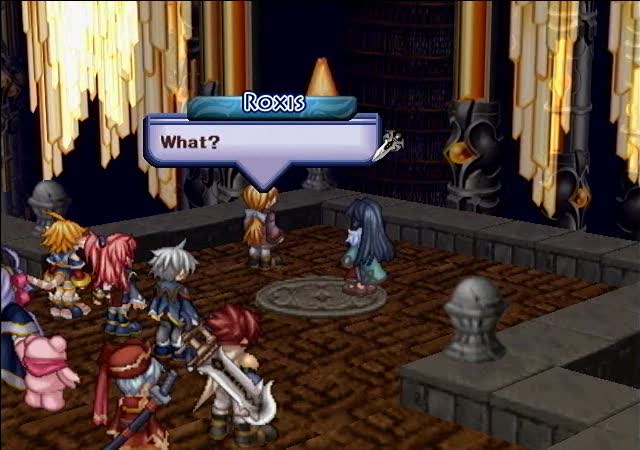 Bro Dies

It won't be long, you can bear this.

Grah…

…Huh?

Ma'am… What are you…?

You'll be fine. I'm confident.

Damn…this…

No… This is a joke, right?

I killed him. I'm sure of it.

What…? Why did--!?
???:
Just wish…

Again…! Who are you!?
???:
Make a wish and it'll come true… It's simple and understandable…

If I wish… Is that my…?
???:
Do you want to help him? Do you want to save him? Then wish…

That's… Of course… I want to save him… I want to save him…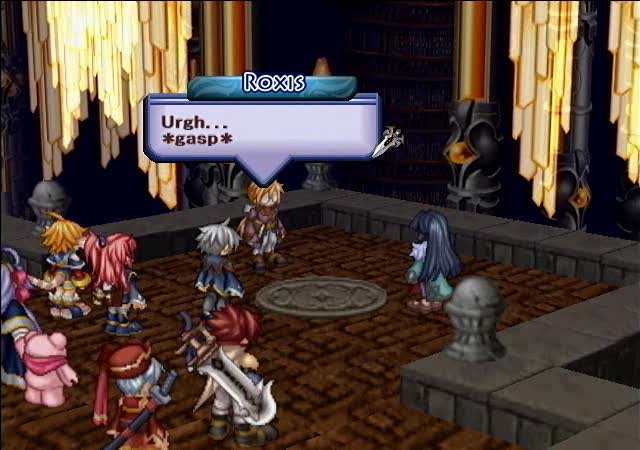 Ah, I'm so glad…

Vayne…you did this…?

Do you understand the truth about you now? What your power is?


You can fulfill your own… anybody's wishes.

But…you can't do that! It's like…murder!

I don't understand… What can you gain form such violence?

I thought if you lost your cat, your contract mater, then maybe…
But, that didn't work… Now there's only one way.

Please, answer me!

The power to restore life with just a wish can take it away just as easily.
Used inappropriately, it can conquer the world. I cannot overlook that…

The world…

That doesn't give you the right to…

It was all his fault. He caused all of this, by creating such a power.
But…I won't let anyone degrade his glorious name any further!

Ms. Isolde… You…

You and Dad were…

So that's the truth…

While your power is still maturing… Before it's full-fledged… Disappear!
Now on to the climactic scene.
Video- "Final Victory"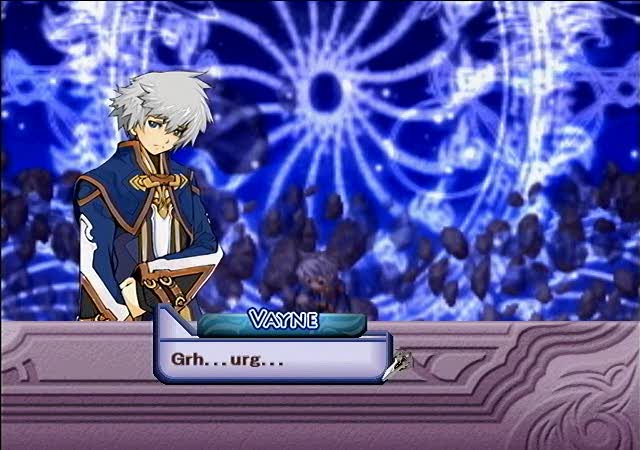 Roxis Wins Forever?

Vayne!

Are you okay!? Are you back to normal?

Back…? Ahh…I, hurt you…
Don't worry about it. Water under the bridge.

Are you hurt? Let me see.

No… Stay back!

Vayne…?

I'm sorry for getting you involved… I meant to disappear alone…
I didn't think… I would fight you… Try to kill you…
I said, don't worry about it. I don't normally allow people to kill my friends.

You can apologize later. Right now, we have to…

No… I can't… I have to disappear… Here, now…
I can't stay any longer…

Exactly. If that is your desire, no one can prevent it.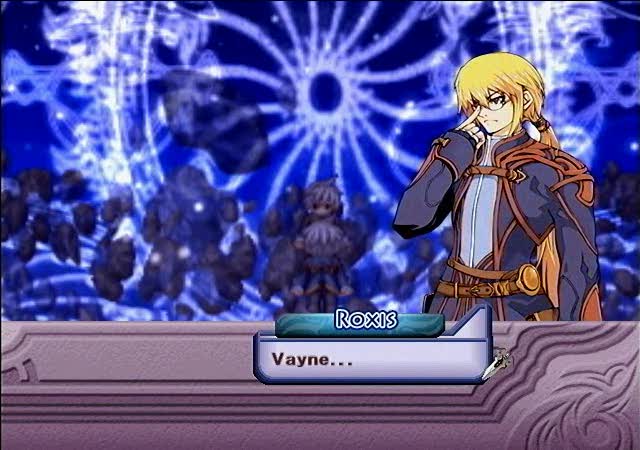 Roxis…

You're so selfish.

What…?

I said you're selfish. After all that, you just decide to disappear…


It's useless, you know? If he wants to disappear, he will. That's his—

If this is the last time I'll see him, I'm going to say whatever I want.

Ooh, scary. Talk all you want, but you don't have much time.

I doubt I have to tell you this, but I hate you. Now, I hate you even more.


You never try that hard, and yet your skills are far beyond others.
You're not assertive, rather nervously shy, yet you're still popular…


Knowing it was all due to that power. I feel like a clown for even competing.

That's not—I… I did try…

I'm sure it felt great, looking down on us from such advantageous heights.
I wish I could reach that position once in my life.

No… I didn't want…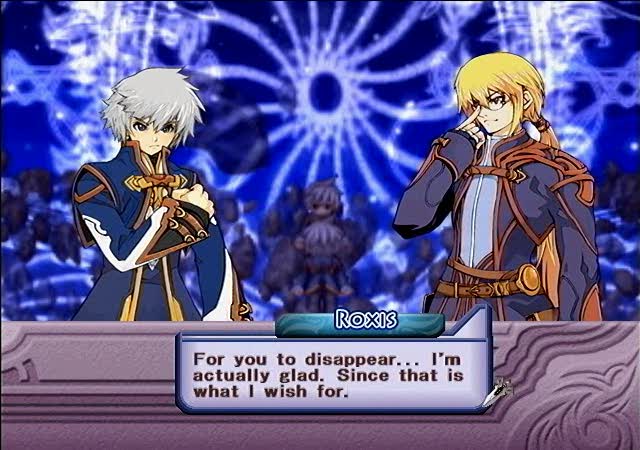 Roxis… You're horrible.

Horrible? Which one of us is more horrible?
How many students do you think have suffered, just because of you?

Well…

Do you get it? Then hurry up and disappear already. Oh… and one more thing.
As for this little battle between us… I win, for all eternity.

What!? Why?

You're running away, right? From this world, and from me. So…I win.
At least I'll have bragging rights.
That I was the one to defeat the son of the great Theofratus.

…Haha, hahaha…

…What's so funny?

That's the one thing I can't allow. To have lost to Roxis…

You don't want that, you don't want this. Tell me, what do you want?

I…

Heh. You have a twisted way of convincing people.
…Though I doubt it'll matter. Hey! Wait a minute.

Sorry… I… I want to stay with everyone.

Hmph…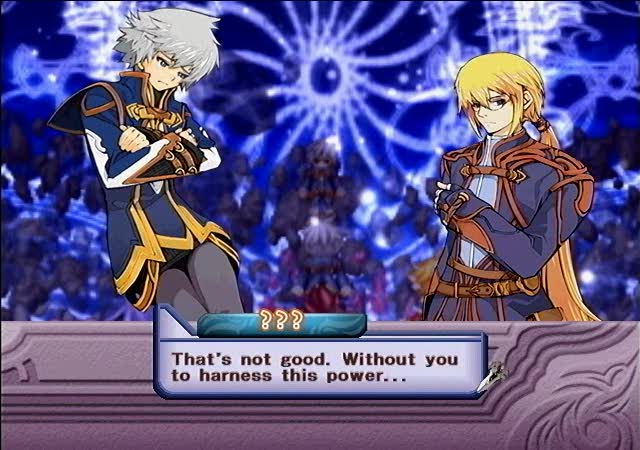 I'm sorry… But I don't want that power anymore. It's useless to me now…

Okay…as long as you know the consequences.
Without a harness, the power will be out of control…

Geez. So much trouble to the very end… Vayne, back away.

It'll be okay. I can at least do this…!

By yourself? Impossible.

Sulpher!

This is the last time I can help you.

…Okay!
And now it's time for the ending.
Video- "Roxis Ending"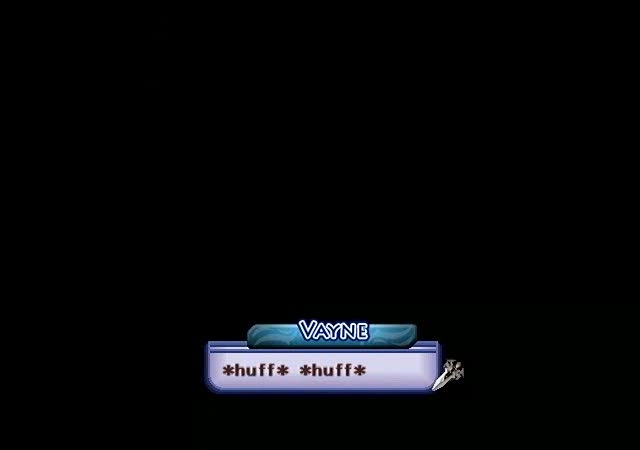 Okay…

Hmph… Not yet…

I'm going to win today…

If you can… Raahhh!

Haaahhh!!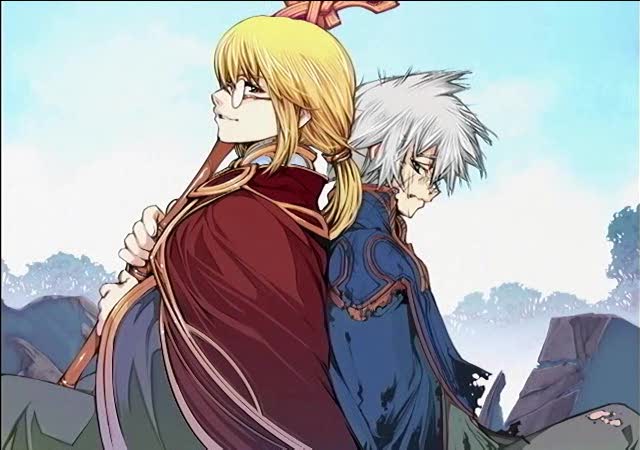 Damn it… I lost…

Hahaha! That's three wins in a row for me.

…I'm still way ahead of you in total wins.

I'll surpass you soon enough.
Anyway, you lost today, so as promised, you must help me with my research.

I know. But in return…

Hmm?

When we're done, you have to fight with me one more time.

Hmph, hahaha! You're on.