Part 68: The Greatest Enemy
Professor Feinne Presents:
Here it is. The last update, with Flay's stuff.
Video- "Flay Dies"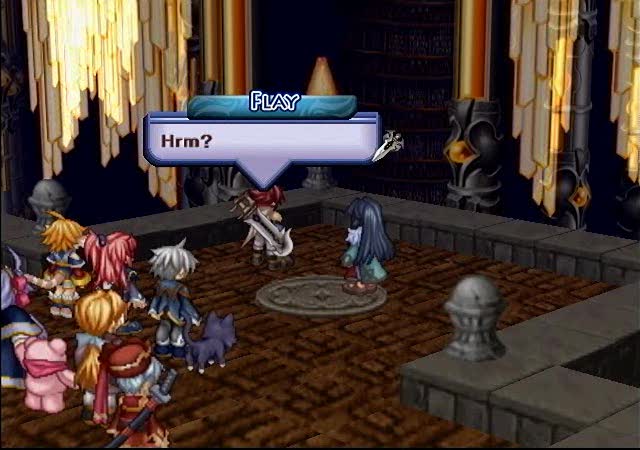 Watch the Video

It won't be long, you can bear this.

Nah…ah…!

…Huh?

No hesitation at all… Murder is…an interesting curriculum…

You'll be fine. I'm confident.

Grah…

No… This is a joke, right?

I killed him. I'm sure of it.

What…? Why did--!?
???:
Just wish…

Again…! Who are you!?
???:
Make a wish and it'll come true… It's simple and understandable…

If I wish… Is that my…?
???:
Do you want to help him? Do you want to save him? Then wish…

That's… Of course… I want to save him… I want to save him…

Unhh…

Ah, I'm so glad…

Vayne…I don't know if I should be happy or not. She manipulated us all…
Now the final battle thing.
Video- "Nemesis"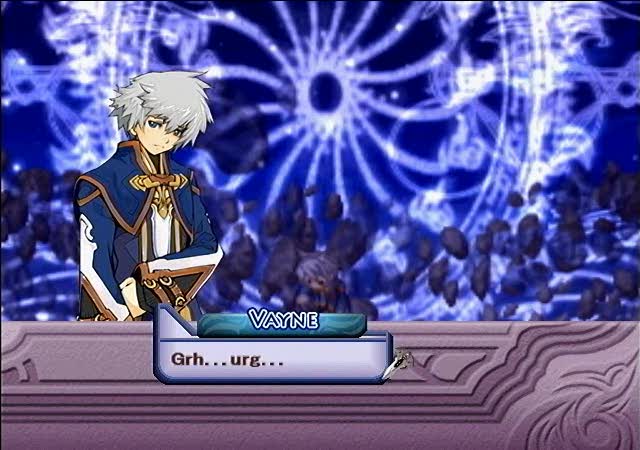 Watch the Video

Vayne!

Are you okay!? Are you back to normal?

Back…? Ahh…I, hurt you…

Don't worry about it. Water under the bridge.

Are you hurt? Let me see.

No… Stay back!

Vayne…?

I'm sorry for getting you involved… I meant to disappear alone…
I didn't think… I would fight you… Try to kill you…

I said, don't worry about it. I don't normally allow people to kill my friends.

You can apologize later. Right now, we have to…

No… I can't… I have to disappear… Here, now…
I can't stay any longer…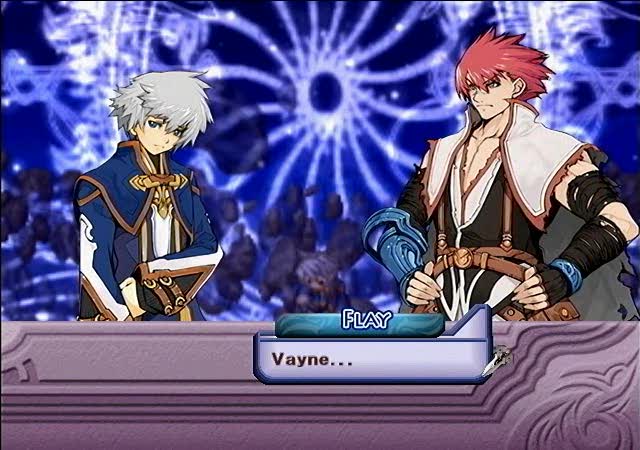 Flay…

So, that's what you keep locked up inside…

I'm sorry…



Hah…haha…hahaha! Haaaa-haahaahahaha!

Uh…Flay?

Ah, chum, you're finally beginning to understand!

Umm… What do I understand…?

That every great hero holds some darkness within…
And you have quite a darkness, indeed!

Oh no, it's not like I intended to be this way…

Honestly, I was getting worried about leaving our justice to you.

As I said…

But, you lost control. You couldn't even pull yourself together.

Well…yeah…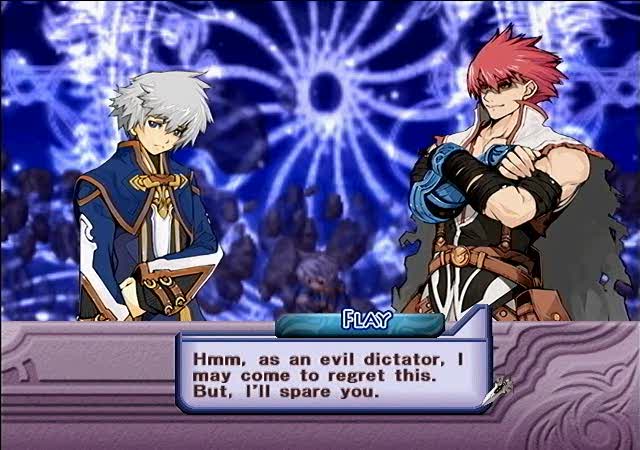 …Haha. I could never beat you. I feel stupid already…

Why are you laughing? I'm warning you, this is the last time I'll help you.

This isn't good. You can't just do that.

Who's gonna stop me. Now that the hero is saved, you can be destroyed.

Are you okay with this?

Yeah… I don't want to disappear. I still want to be with everyone.

But, without you to harness the power…

I'm sorry…but I don't want that power anymore. It's useless to me now…

Okay…as long as you know the consequences.

This is getting exciting! Vayne, are you ready!?

Yes! I can at least do this…!

By yourself!? Impossible.

Sulpher!

This is the last time I can help you.

…Okay!
And the ending.
Video- "Flay's Ending"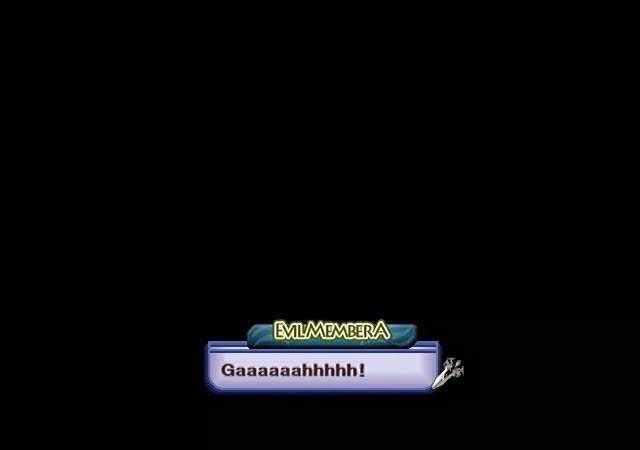 Watch the Video
Evil Member B:
Stop him! Do whatever it takes!
Evil Member C:
It's no use! He's…grh.

Heh…I knew you'd come for me, Vayne, no… Alchemy Man!

Flay…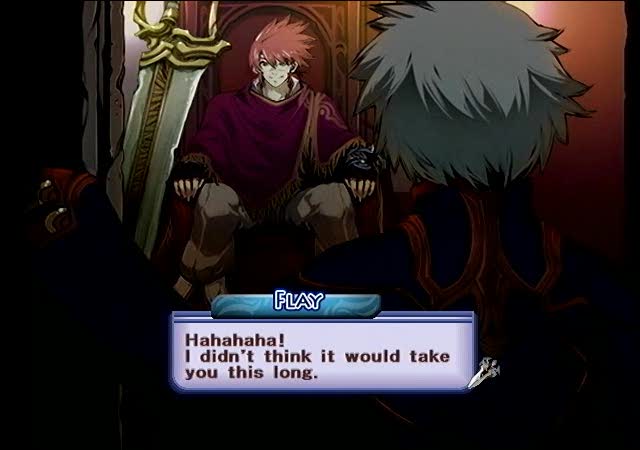 I didn't think you were serious about doing this.

Half the world is already under my control. It's fun being Flayvor of Evil.

…What were you going to do if I didn't come?

You really don't wanna know. Now, defeat me and save the world!

Uh, okay…fine. I'll play this out to the end.
I hope you're ready, Flay!

That's the spirit! But I wont' go easy on you. Now come!

Raaahhhhh!!