Part 32: The Prosperity of Deception
The Prosperity of Deception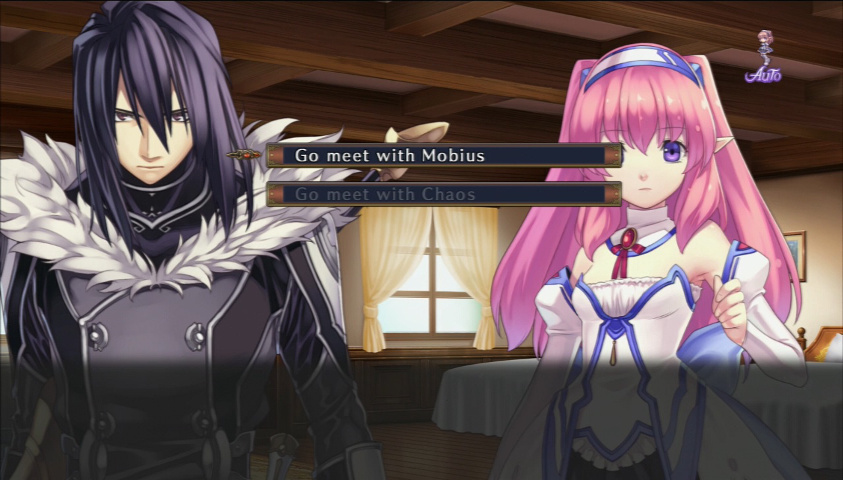 We fought for so long to save the world...before, it was told to us that Chaos' life was the key to the world's salvation, but Mobius fabricated that so that we would gather Chaos' power, and his own, into convenient vessels for his purposes.

But...the fact remains we were saving the world. Siding with Chaos would mean the end of the world. We must honor the sacrifices of Weiss, Aina, Felenne, Victoria, Schwarz, Vanessa, Yumil, Li Ra-Lua, and...Jainus. Although Mobius was the actor responsible for so much death, maybe he can explain himself...

I don't trust either of you, but at least he seems a little easier to deal with.

There are other things I wish to ask of you, but I doubt you'd have any intention of answering.

I have told you everything you need to know. What happens now is entirely up to you.

Then it's settled.

So it seems that the only difference is who is to be dealt with first...

We'll make our way to where you are eventually. Don't try to run away, okay?

Lord Chaos, do you plan on leaving immediately?

There is no reason for me to stay here any longer.

Then I, too, shall-

You have finally been released from the shackles that bound you. Go now with the ones you love. It is my desire to see that you live the life that you choose to. Understood?

...Yes.

I will wait for you all in the -Land of all Beginnings-.

Yeah, we'll definitely be seeing each other again.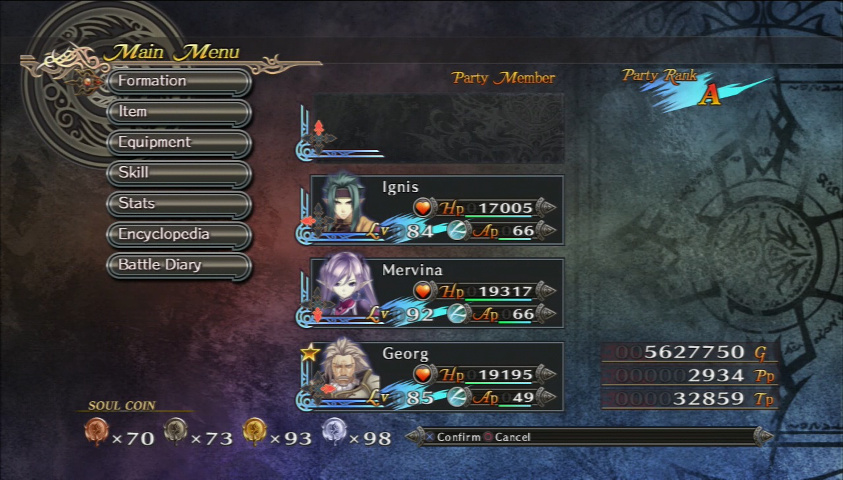 Regardless of who you choose to speak to, Grey will leave the party. If you're on the Bad End, he's not coming back. Now that we're locked into the Bad End from choosing to go speak with Mobius, we're very, very close to the end of the game.

Oh, something I should mention: whenever a character leaves your party, all the equipment they had on is instantly returned to you. So, no need to worry about packing awesome stuff on a dude and having it gone when and if they leave.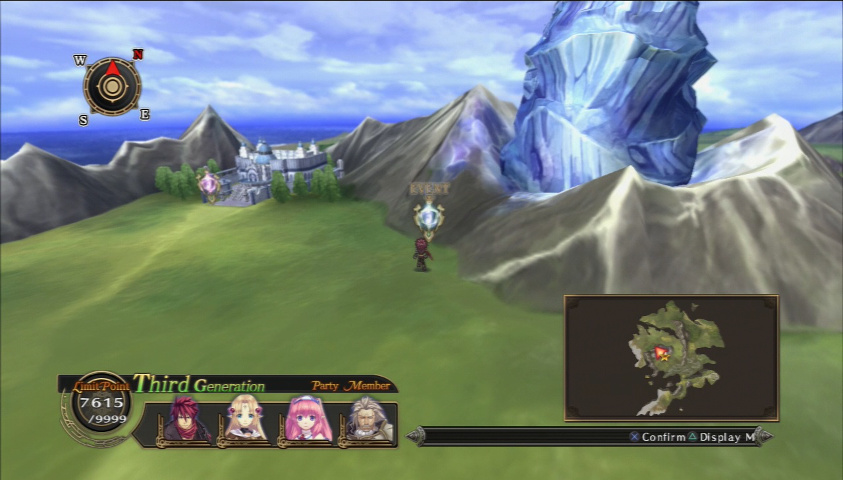 Also a change is that Jude has muscled his way into team leader status, up to, and including, taking Grey's place as the on-screen character in dungeons and the world map. Okay then. Let's see what Mobius has to say, now that he's been reunited with his body... A glorious new world

So now we see how you really are.

I've been masquerading in that other form for so long; I'd be lying if I said it wasn't a little unsettling. However, the sensations I can experience are comforting. It's almost like things are back to normal. Actually, it'd be far more accurate to say that I feel as if I've been reborn. And it's not all that bad to think a new world will soon come to pass.
About Mobius' other form...he and Mobius share the same voice actor. If you listen closely in this scene, you'll probably hear a lot of Faz's voice in Mobius, but I wouldn't expect anyone who hasn't played the other games to pick up on that spoiler-y voice actor connection.

Another note about Mobius is that fact his hair covers his right eye. Remember when we went to the Aldo Plains, and Faz said that his right eye didn't work? Although we can only see Mobius' left eye, it's not too much of a stretch to assume that he can't see out of his right eye, probably an injury he received in the divine war. That was another bit of foreshadowing Agarest War veterans might have picked up.

What do you want to do?

I simply wish to save the world, and you, of course.

You actually said that with a straight face. I'm impressed.

You were the one who tricked Schwarz's dad to remove the seal holding Chaos, right?

So many people lost their lives because of that...

Is that the reason you can't trust me? It is disheartening to know that you jump to conclusions so quickly.

Do you mean that sacrifices were necessary? Including Grey?

Exactly.

And so the truth is revealed! How the hell do you expect us to trust you after you killed all of those people for your own self-interest?!

I am a god. It is somewhat insulting to be judged by human standards, you know. I sacrificed a great many souls, which in the grand scheme of things, was somewhat unfortunate. It is for that reason alone that I must create a new world, no matter what the costs may be.

And what do you mean by -new world- exactly?

It'd be best for all involved if you took my statement at face value. A new world, free from the whims and constraints of the gods. Yes, a world for both you and me.

A world for us...and you?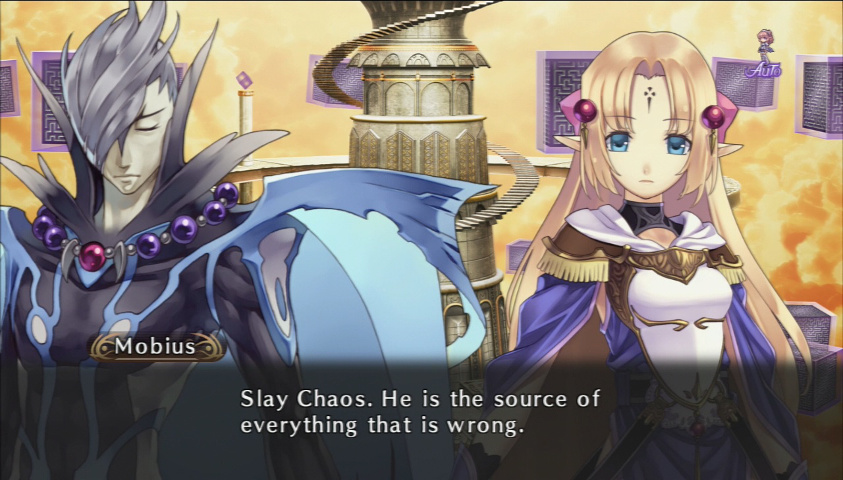 He exists only to destroy the world.

He is a god. An opponent such as him will not be easy to defeat.

Use that artifact.

The Werdefahrt?

Only a member of the Sera clan can wield that artifact.

While it's true that you won't be able to access its true power, any guardian can wield it. Since Chaos weakened himself by giving me half of his power, you should be able to kill him, Sera or not.

That is beyond idiocy. Telling us to slay Chaos in your stead; you are truly ignorant of your place.

I truly wonder. I will not deny that he still has great power. And were he not infatuated with a woman, he would've been a match for Lenion. Now, he is my slave. And if I were to help you, it'd be more than possible to kill Chaos.

What happens after that? It seems like you'll just be getting everything you wanted handed to you.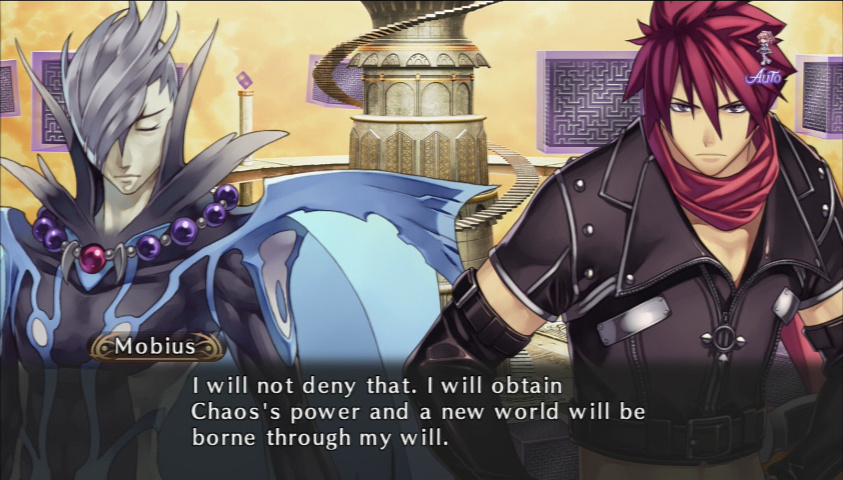 It will be a perfect world, free of hatred and suffering.

Such a grandiose dream. I cannot believe that such a world could actually be created or maintained.

But it is more than possible for me.

Do you honestly think that anyone would believe such rubbish?

If you don't believe me, so be it. But if you care about the world and its people, shouldn't you help me?

I wonder about that. What have you gods dont for any of us? You especially have no right to talk, treating humans like insects.

I completely understand your inability to forgive the actions I've taken. The pain of losing something precious to you is unbearable to anyone, even us gods. I fully admit to having designs of my own. However, do not think me to be oblivious, or a fool. I am completely aware of the consequences of everything that I have done up to now. I am also aware that my actions have negatively affected you. However, what I've done was necessary. And what difference is there between you fighting for what you believe in and me doing the same? Thinking of the victims of your actions, and their numbers, can become problematic. I have no problem repeating myself: What I do is for the good of all. You, woman of a guardian clan, you should know the truth of the world.

Sofia, what do the teachings passed on to you by Lady Ordine contain?

To speak the truth is often painful, is it not? It is like a dagger to my soul to think of the sacrifices demanded of you guardians.

If you had not removed Chaos' seal, the world would have continued on through this age and beyond.

Then let me ask you this: Do you guardians truly believe that you have the power to defeat a god?

...

I simply do not wish to see the world destroyed because of the asinine teachings of my fellow gods. Even if weakened a god will always be a god, and mere mortals could not hope to cross swords with them. The gods that entrusted their affairs to you guardians are no more. They can no longer interfere. I, however, am here. I am more than capable of giving you the strength you'll need. If we were to cooperate with each other, the world as we know it can be saved.

If we were to believe you, then we'd have to do something to keep the world from being destroyed. And in order to do that -something- we're going to need the power of a god, right? But with that, wouldn't Chaos be able to save the world as well?

Not in the realm of possibility. Or at least, Chaos could, but not in the way you mean it. The world can only be saved with Chaos' death. I don't really care if you hate me or threaten me with your weapons, but doing so will solve nothing. Also, how is focusing only on your own desires any different from when demons do the same?

...

I have shown you that I am reasonable and intelligent. In our conversation, I have shown a desire to help. If after all this, you are unwilling to fulfill my humble request... Then perhaps I am truly a fool for expecting anything from all of you. What I have told you is the truth. Whether you believe it or not is entirely up to you. I will give you this one chance. Turn your backs on me if you must, but I will never reach out to you again. Do not forget that.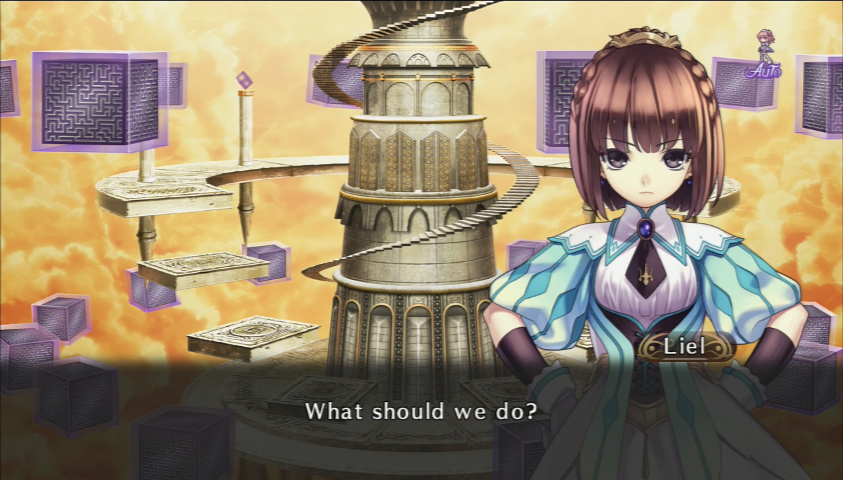 Even I do not know.

The true mission of the guardians is only told to each clan elder, and those who are to become one. Has he lied to us in any way that you know of?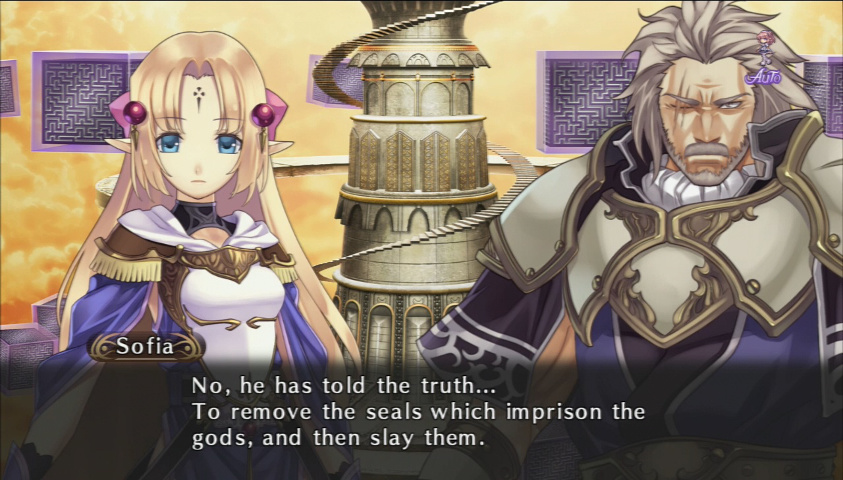 That is the responsibility given to us guardians.

You are all fools with no hope for salvation. Do you actually believe Mobius' words? Do you still think of him as an old friend even now?

No more than I'd trust Chaos. Neither of them are friends. Grey, however, was definitely my friend. And before you blow up, Chaos said Grey and the others were unique personalities, none of them his.

That's...but... You do realize that Mobius is also a god, and therefore needs to be killed as well?

Eva is right. We shouldn't believe everything that Mobius has told us.

Let's go talk with him one more time. Maybe we can wrestle Grey away from Chaos.

Fair enough. Let's go talk with Chaos one last time. You're okay with that, aren't you, Eva?

...

I highly recommend that you make your decision once you are there. If you return here without slaying Chaos... Something truly unfortunate and fatal would happen to you. You have my word on it. I will sincerely hope that you will accept the truth of the matter...

...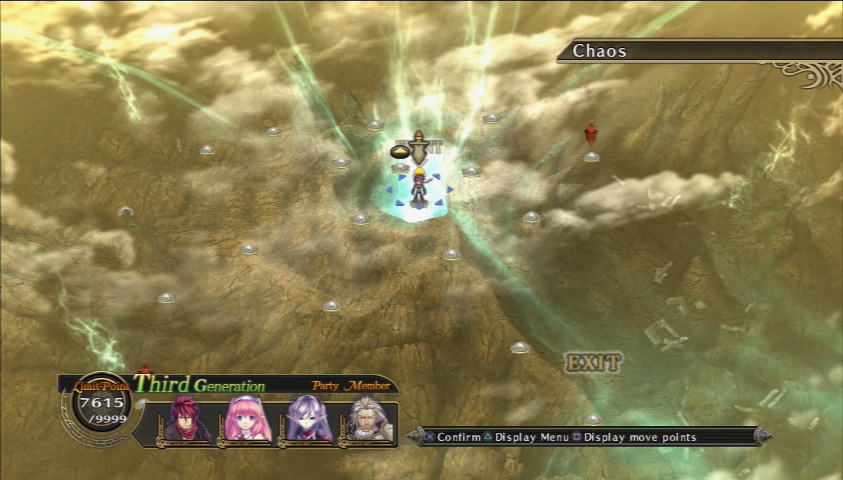 The truth, huh? Will we struggle between the gods of darkness forever, or does this story end here? Beyond the Veil of Darkness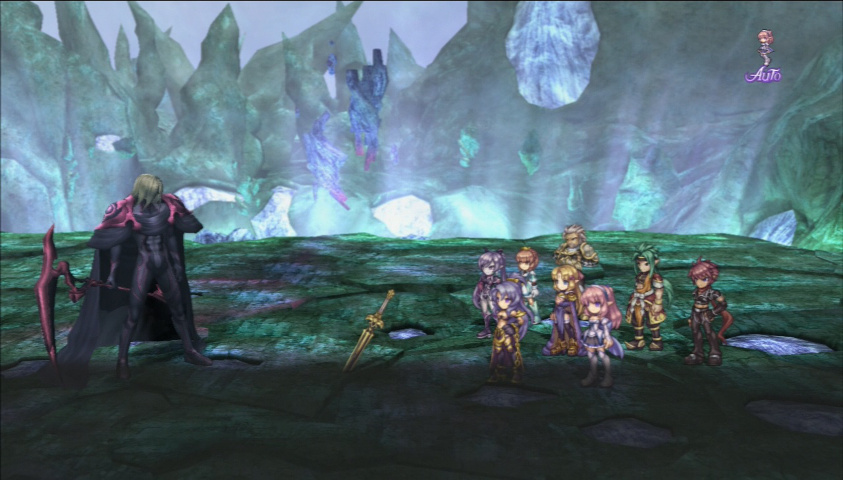 Grey's body is gone...his soul forever trapped. The true end of the Sera is at hand...

So that's your true form...

Is Grey...really gone now?

Grey is myself, as well as a -friend- that could be trusted.

No...

Is what Mobius told us true?

About having to slay the gods of darkness sealed in this world? Or that I am the one who will destroy the world? If you wish to know the answers to both questions... Yes, both of those are indeed true.

Going forward, hell awaits us. Going back, hell awaits us... Interesting dilemma; if either way leads to damnation, there's no need to worry about consequences.

I will return that sword to you. A god cannot wield the sole artifact capable of sending one of us to oblivion.

Lord Chaos, why?!

Use that sword as a guardian would. What you choose to believe matters not to me. Take the sword and use it to slay either me or Mobius. Kill one of us. Now, choose.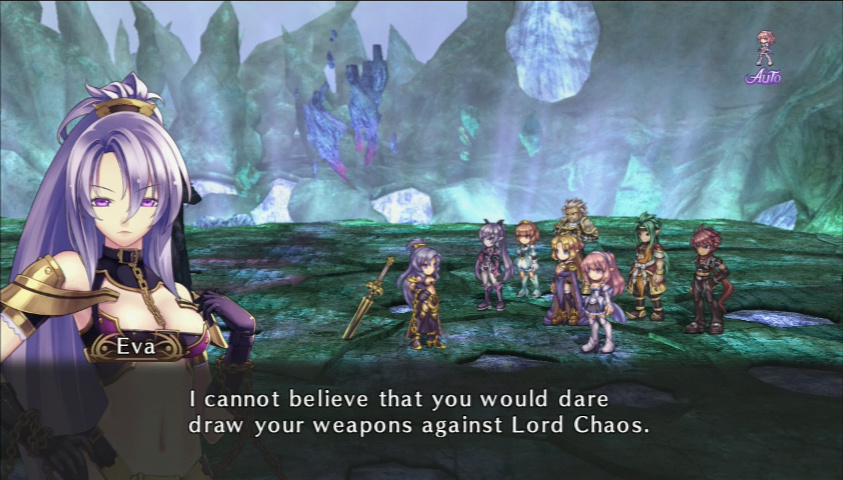 How... I mean, what the hell else am I supposed to do...?!

Mobius has proven himself untrustworthy. However, Chaos has said that we will destroy the world.

He has affirmed this fact several times, I believe.

But he's my brother!

No, he is no longer Grey, but Chaos.

Chaos...

And if we can't choose to do either, all that's left to us is to serve our own best interests.

What do you intend to do?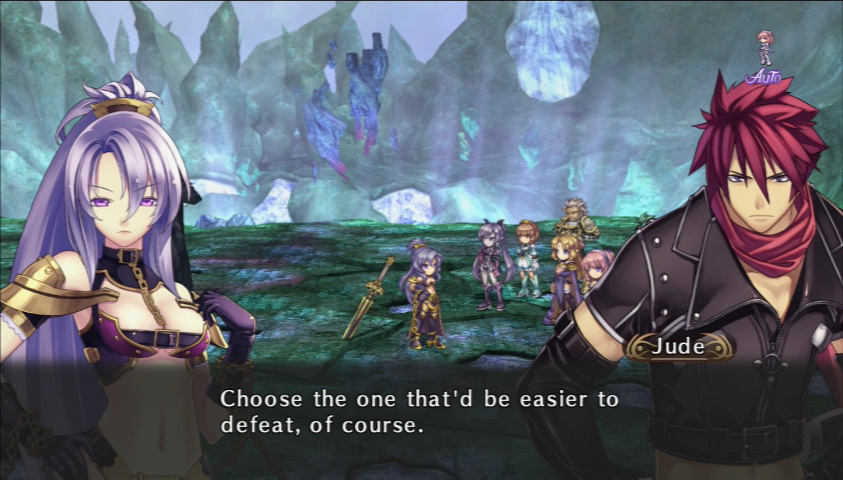 Then the answer to our dilemma is obvious.

That is only if our human standards can be applied to gods, though.

You have no intention of re-thinking your position on this matter?

We've already decided.

I...want to free Grey.

How do you intend to free someone who never existed to begin with?

By freeing him from Chaos' soul.

I see... Lord Chaos, I ask you to forgive my selfishness and grant me this one last request.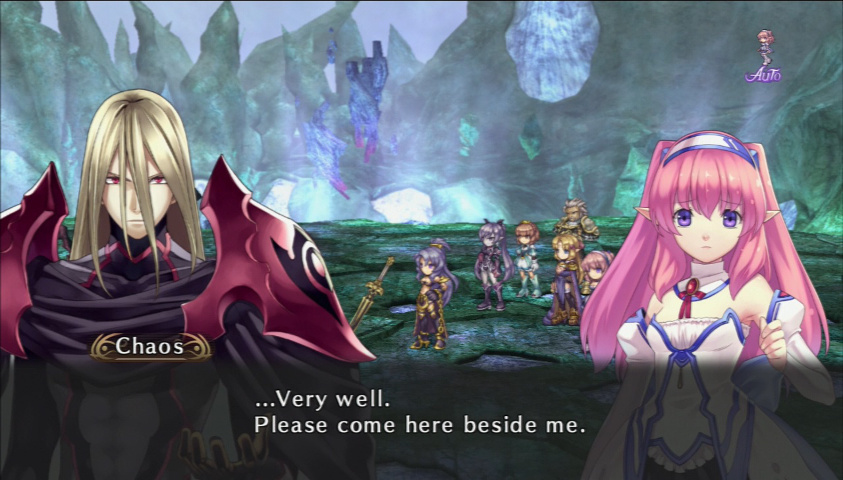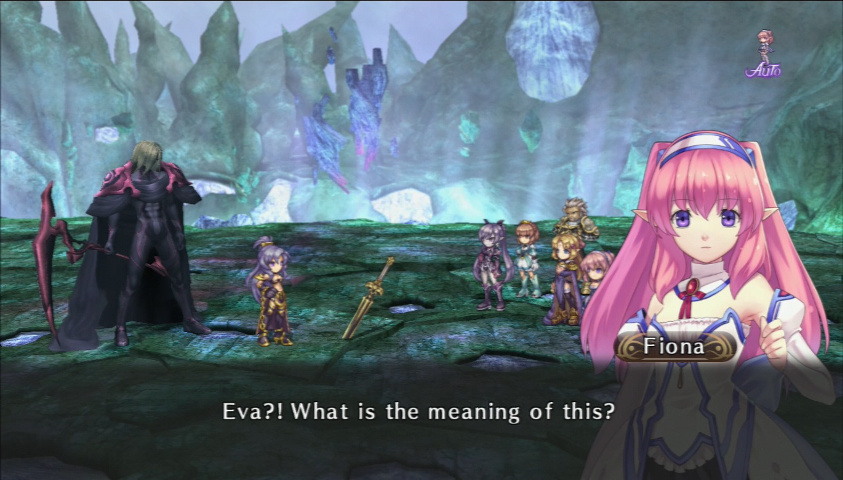 I cannot raise my weapon against Lord Chaos. From here on out, we are enemies.

If you plan on fighting us, we will not go easy on you.

But of course. And is this not a great opportunity for all of you? I have taken precious things from you all.

We have no intention of fighting you merely for revenge.

I see... Well, your motivations do not mean much to me. After we deal with all of you, it will be Mobius' turn to die. Do not worry, we will end this quickly.

Stop, Eva! I don't want to fight you!

Then...die.

Eva...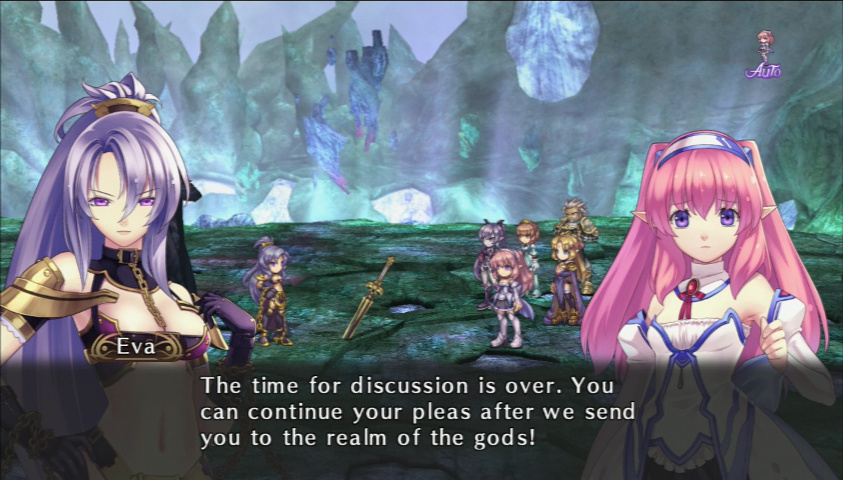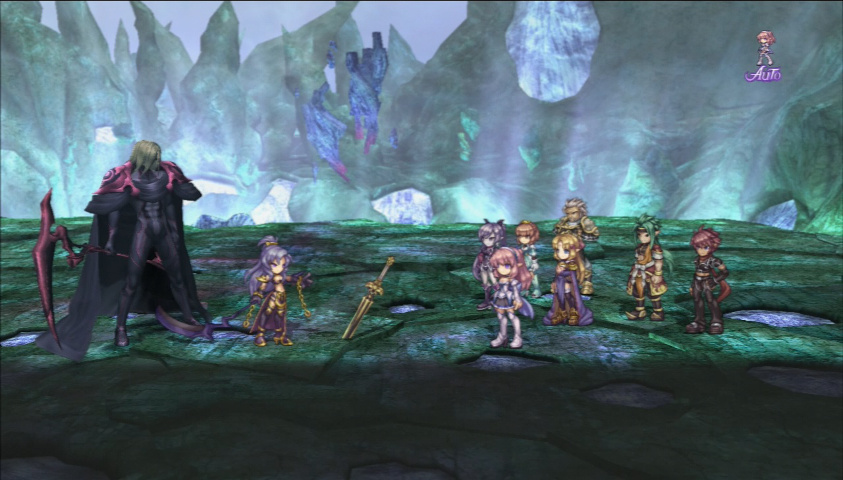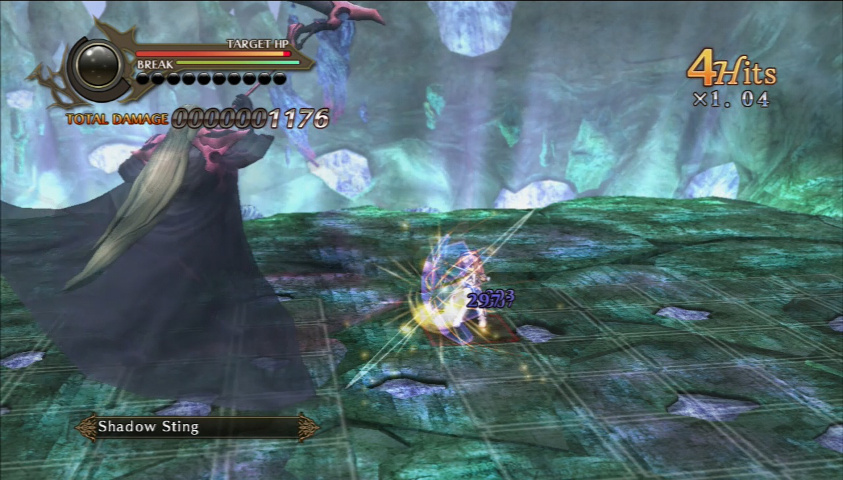 We've fought for so long together and supported each other, and this is how it ends? The trust we've built, the memories we've had, and the journey we went on ends with one foolish, irreversible decision? For the sake of the world...

Chaos and Eva make a pretty powerful pair. Chaos mostly focuses on physical attacks with his Soul Blaze scythe, while Eva backs him up with magic, from Deeth's Scythe of Destiny. Eva takes normal damage in all states of damage, but absorbs Wind damage, for unknown reasons. Chaos is definitely the bigger threat, but Eva is no slouch herself. She has extremely high intelligence, and about 200,000 HP. Chaos has a physical counterattack, and Eva a magical one. What you'll want to do is get someone with the EX Skill Panacea in this fight, because these two are going be throwing out status effects constantly, and in many cases I'd wish the enemy would kill a target instead of putting Sleep, Bind, Stun, or Paralysis on a target.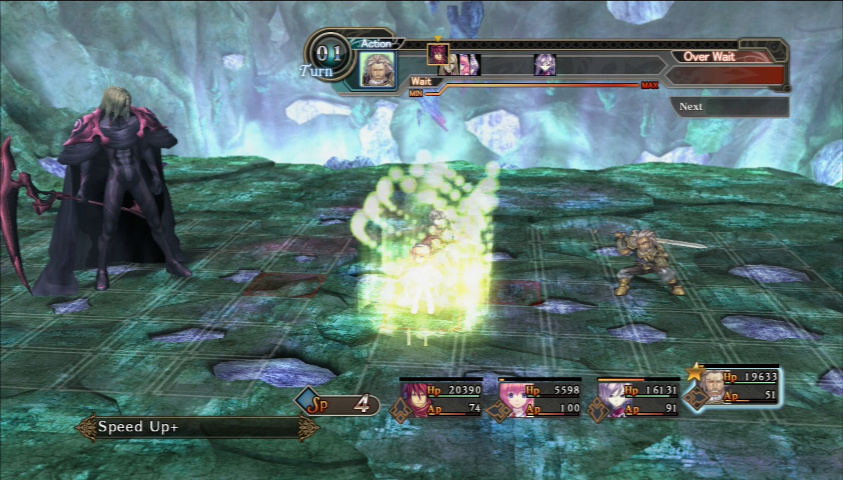 The thing with Georg's formation is that it's pretty bad. Your dudes are packed much, much too tight. The enemy gets a turn with an Original Skill that hits three squares in any direction, and your entire team is finished. However, it does provide a pretty potent ATK bonus, especially at Party Rank A, and it does allow you to use stuff like Speed Up+, or Power Up+, or Magic Up+, etc. So, what I'd advise doing is using Georg's formation, if he's in a fight, at the start, but when Original Skills start showing up, choose near anyone else's.

In this case, because Eva mostly fights with magic, she has an annoying tendency to hover in one of the enemy's yellow squares, meaning damage and accuracy is significantly reduced against her, and she already has really high evasion.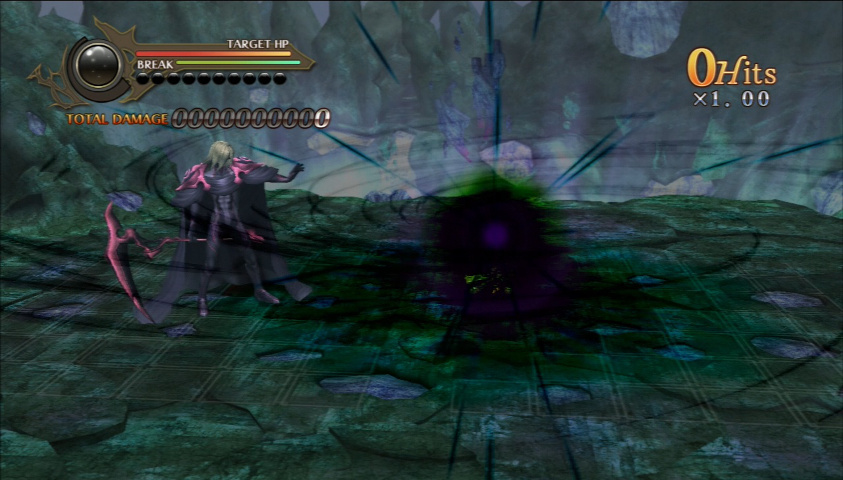 I wish I knew what Chaos was saying when he activates Eternal Domination. Regardless, as you might expect from the god of darkness, anyone in the blast radius is hosed. He did 61,000 damage to Jude with that one move, but, of course, my party is made up of more than Jude.

Just after he did that, Eva activated Regal Verite level 2, just narrowly killing Mervina. I didn't expect her to hold out so well, honestly.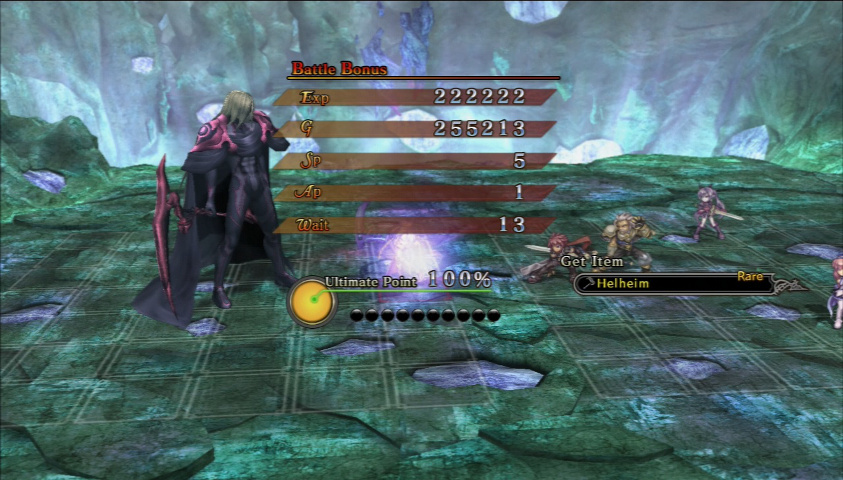 But Mervina returned the favor with a combo ending in a Nightmare Scream that defeated Eva.

Whether you want to believe it or not, you were a friend. Our skills should not have been used to defeat you. Now the only barrier between Mobius and his "perfect" world is Chaos...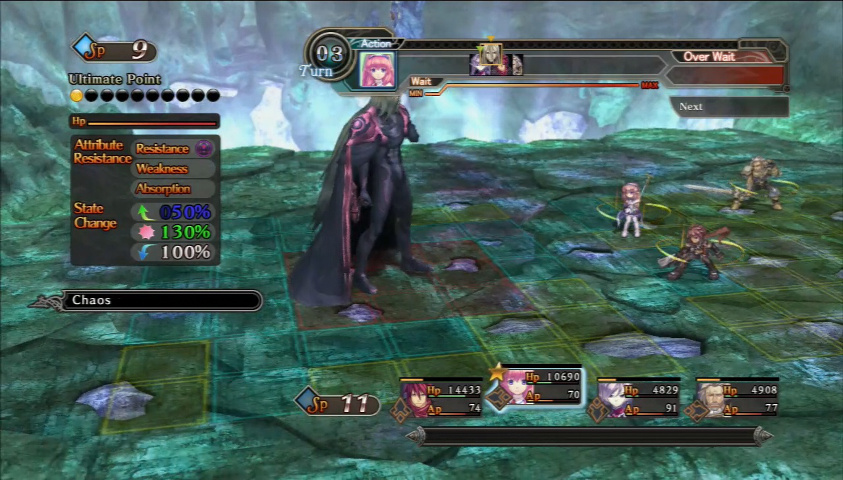 Chaos himself is pretty tough to kill, but there's no real trick to beating him once he's exhausted his Original Skills, and Eva is defeated. Fiona's No Fear can easily shrug off his physical counterattack, and while he is powerful, it's not like he's going to be doing crazy shit that'll destroy your team. Even so, though, it's a good idea to not have a formation where everyone is bunched together, on the off chance he uses his incredibly powerful Decimation Circle, so Mervina and Georg won't be leading the formation any time soon.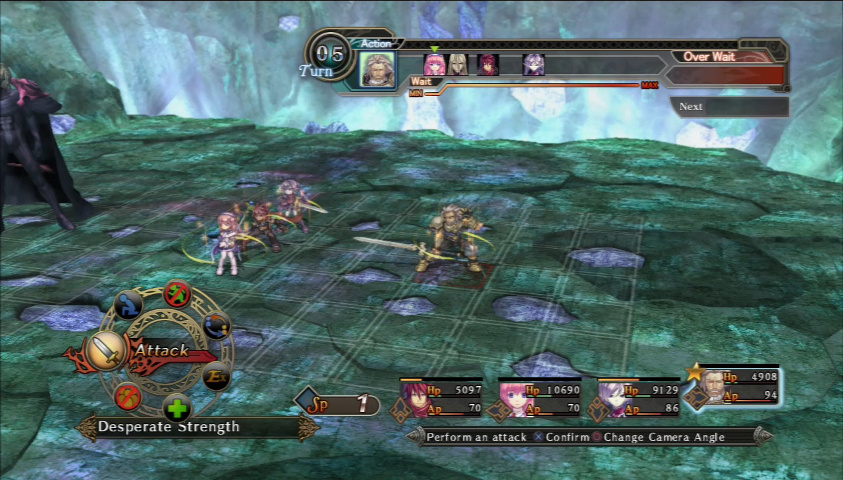 But now the time is right. Chaos is down about 70,000 HP, and Georg will be combining his formation bonus with Desperate Strength to strike down a God of Agarest.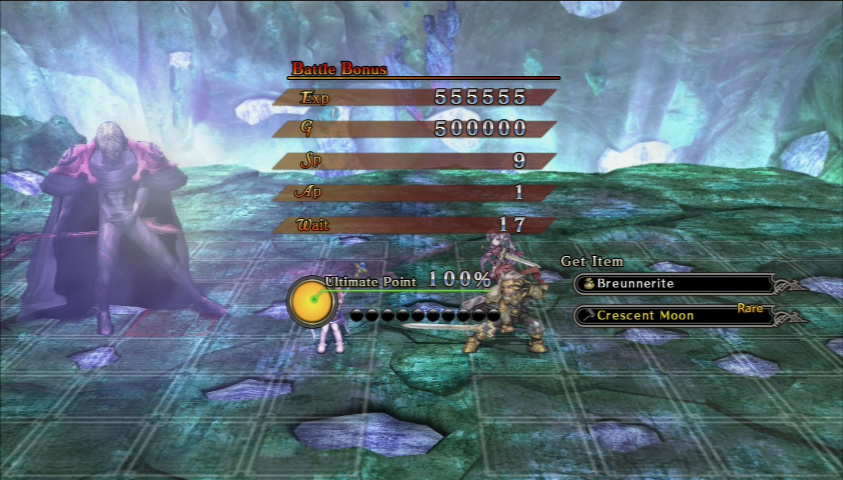 The battle is over...so why doesn't any of this feel right? Until the End of the World - Bad Ending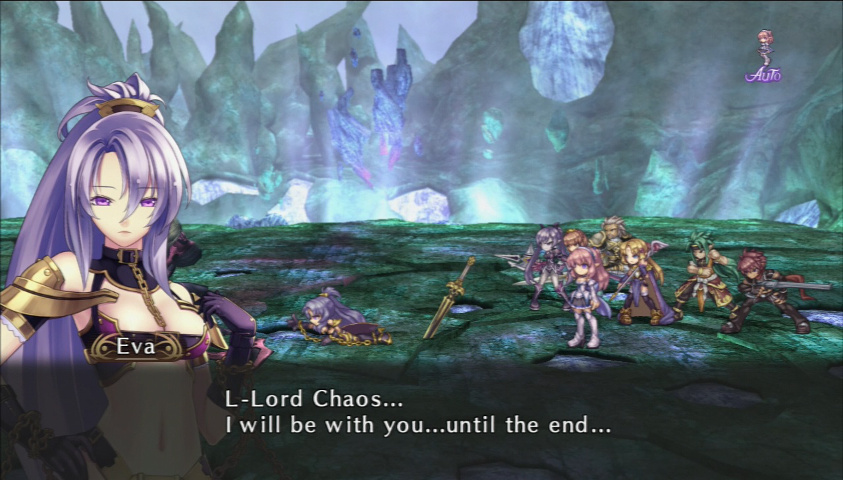 Eva!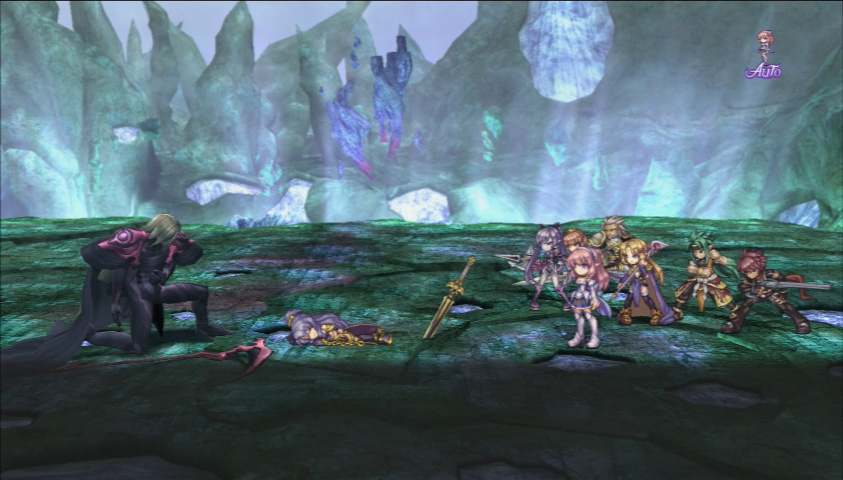 She's really dead... In the end, she couldn't let go of her patron god, and died for her loyalty. What kind of heroes are we that we couldn't show her a new future? This "victory" is meaningless if Eva couldn't share it with us. Although there was no room for her or Chaos in Mobius' world, things could...no, should have been different. Would the end of the world of lies really be so bad?

Because we could only put our faith in the world we see, and not the world of our dreams, we have lost yet another close friend... And this time, there is nothing more to say or do. We will have to accept Mobius' world, a world that he will rule forever.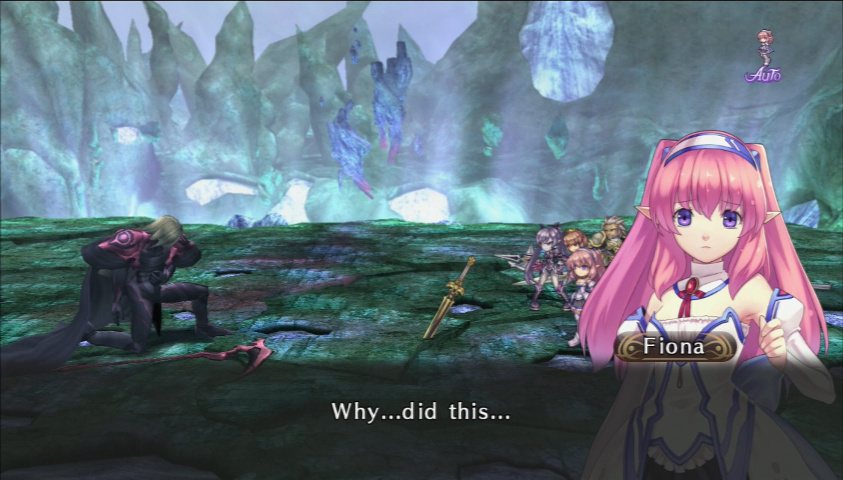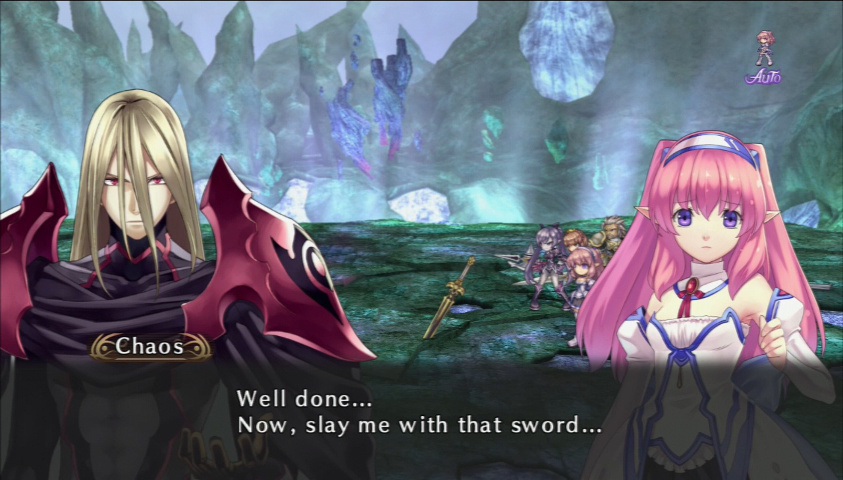 Will Grey be freed once I kill you?

Yes...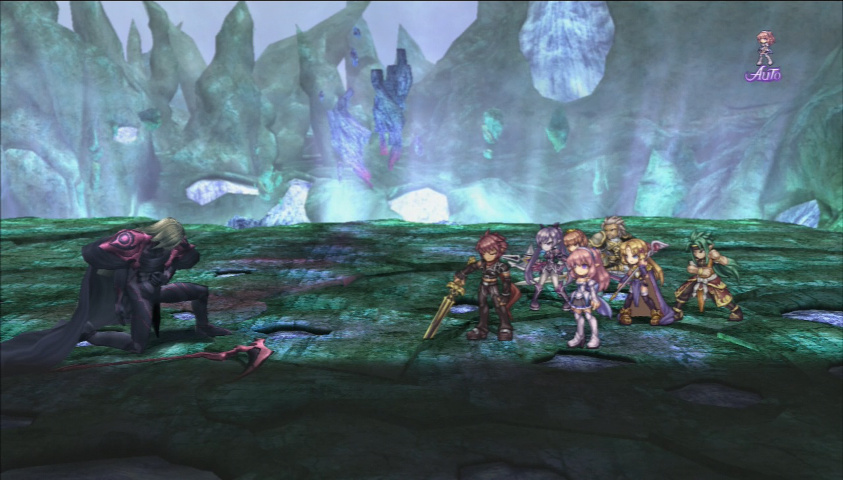 What are you going to do?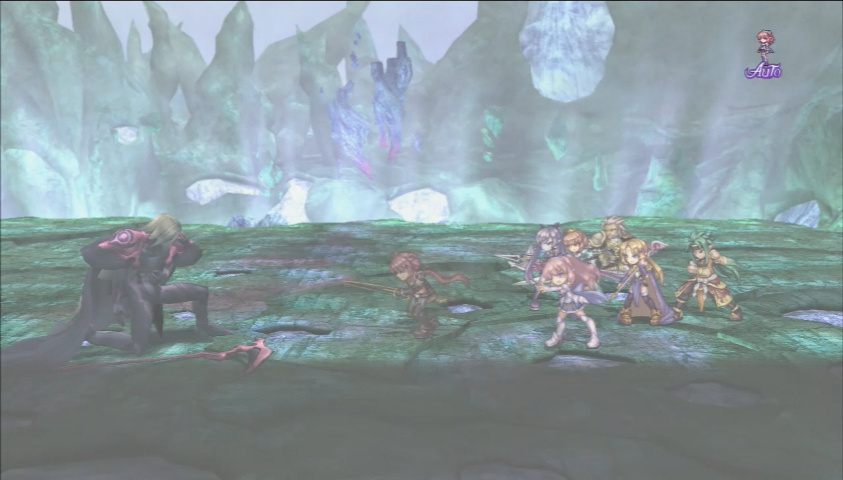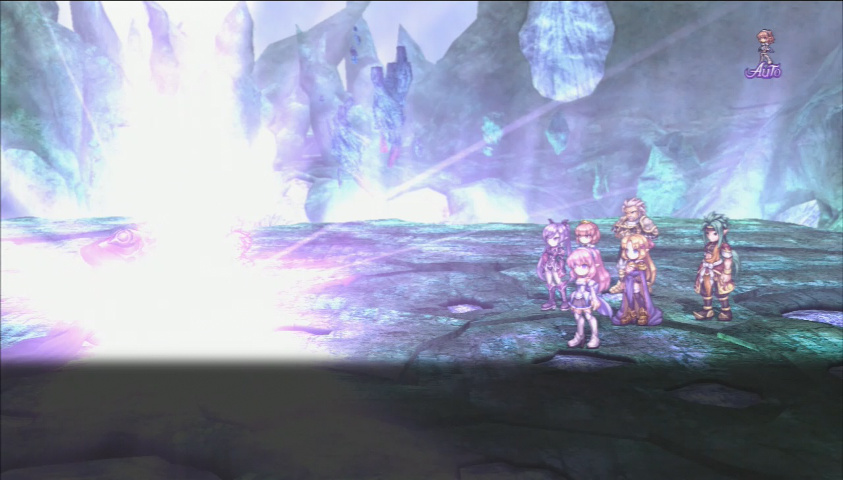 Jude... Thank you...

Huh?! Wait, no! Don't go!

Grey!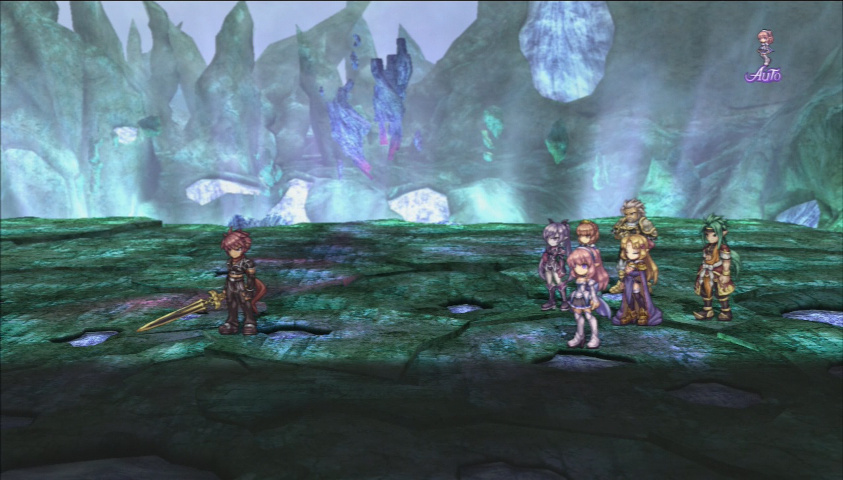 Grey...I'm sorry!

It's over, then.

I wonder about that. There's no way us -humans- will ever really know if it's over or not...

Indeed. Until we are elevated to godhood, we will never know the truth of things.

Why did he...?

Was that really the only way?

Don't blame Jude. If people were able to determine what was right, they would never repeat the mistakes of the past. Also... At the very least, Grey was freed. Hopefully he will find salvation.

Yes... And I hope for the same for Weiss and Schwarz, as well...

Now, it is time for us to pray not only for them, but for all of the lives that were lost...

Will we go inform Mobius of what has happened here?

No... Why waste the time and effort? I'm sure that another god would know immediately that Chaos was slain.

I wonder what will happen now...

Who can tell? One thing I know for sure is that we can't go back and relive the past.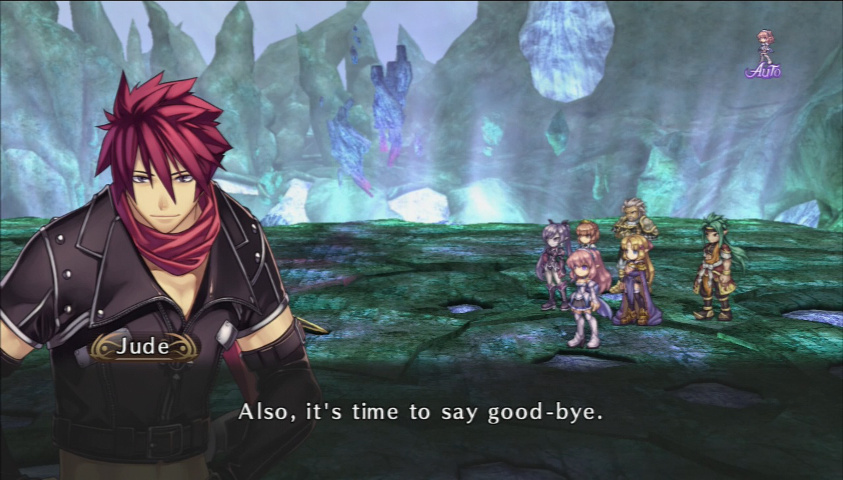 Why...?

I will be the last person to ever possess this sword. No one else will ever wield it again.

It is my opinion that I am far more suited for that role than you.

No, this duty is mine alone. You...you should find your own place to die.

Surprisingly, I enjoyed my time in your company. However, I find that living in solitude suits my nature better.

I...will fulfill my duty as a guardian. Although it might no longer be necessary... However, I know of no other way to live but as one.

Allow me to help you in any way I can.

Father... I'll also live as a guardian from now on.

What will you do, Fiona?

I... I will return to Frensberge, where we once all lived together, to wait... For everyone's return.

I see... It'd be nice...if the world became peaceful again.

Yeah...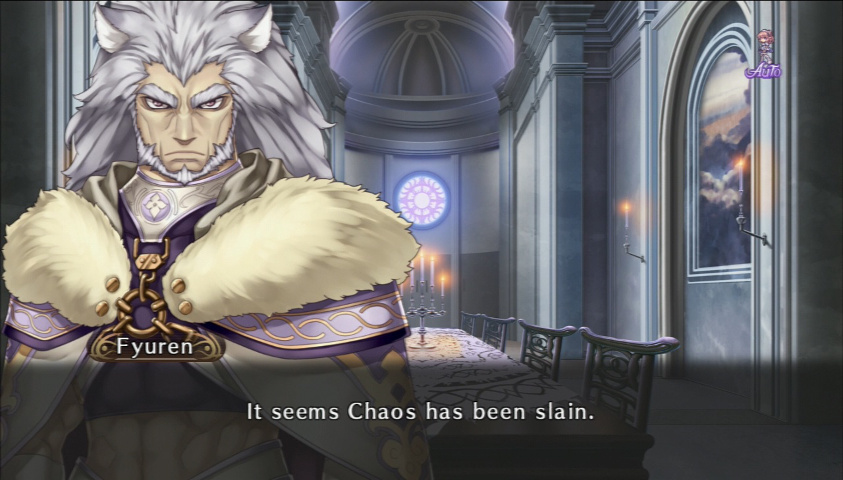 And the deed was done before the murder of the other gods...

Recriminations are pointless at this juncture; it is what it is.

We have no choice but to accept this reality.

Yes... Let us continue to watch over the fate of the world...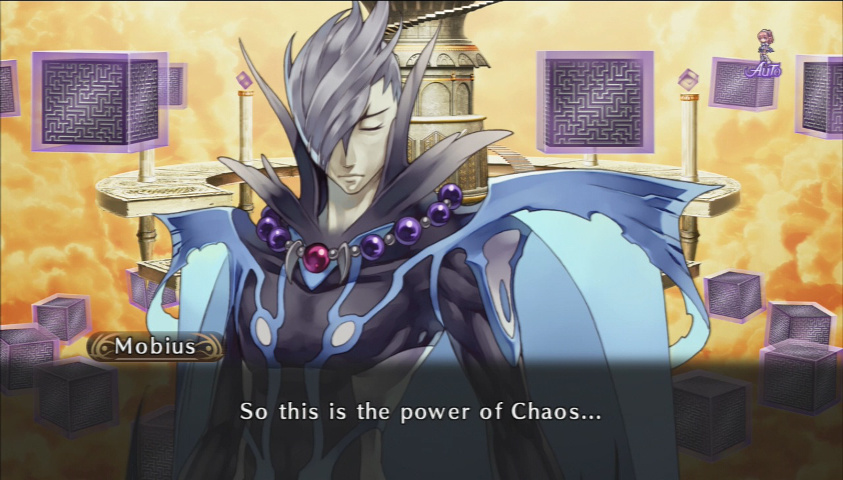 *Chuckle* Wonderful! Gathering the power of the others should be a simple enough task now. Once I have obtained all of the power dispersed through the world, I will become the one true god. I will control everything that lives in the new world I will create... My rule will be absolute. I have all the time that will ever be and will share that gift with -those who came before-. So, as I promised, until I finally acquire the power of the other gods, your lives will continue on.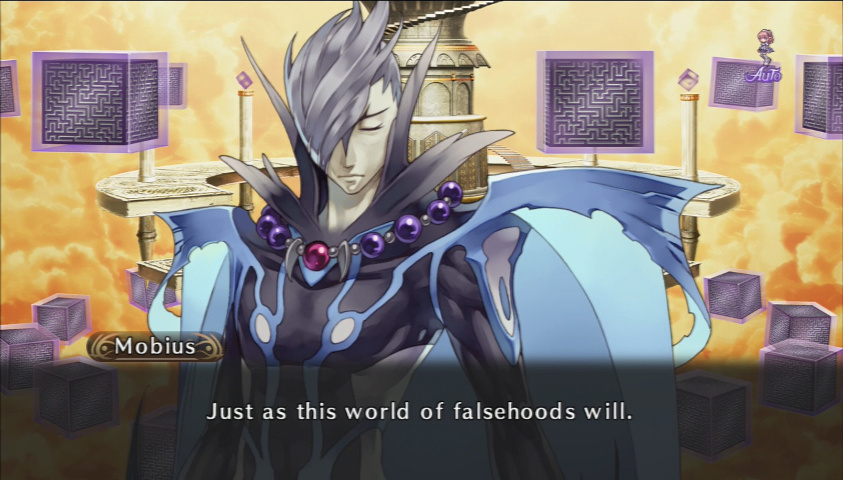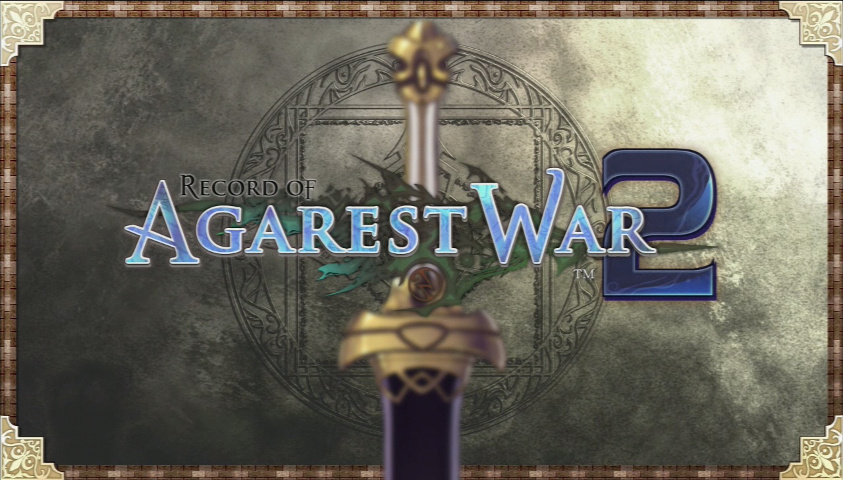 And all that remains...is war.