Part 13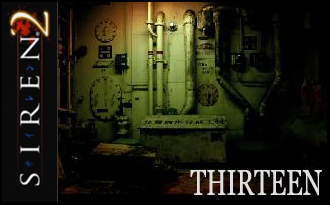 VIDEOS
024 +02:34 Nagai Yorito - Primary -
VIDDLER
/
GAMEVEE
(Archives: 45, 46, 47, 48)
ARCHIVES
045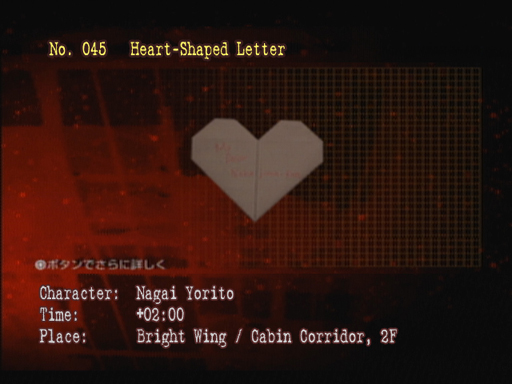 An intricately-folded letter of a kind that was popular with junior high school girls. Similar to origami, this letter is folded into the shape of a heart. Girls were known to create various shapes and use these letters to communicate with their friends.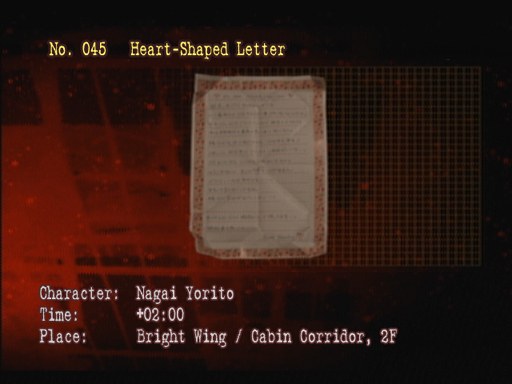 My Dear Nakajima,

That game was soooo cool! Your form on that last serve was the best ever! I think going to this tournament with you as the team manager is going to be my best memory of junior high. I've liked you so much for such a long time, so this trip made me really happy. I hope we can be together forever...
But, I think maybe we won't be able to. There's something I'm really worried about. I don't know what to do about it... I can't even tell Ichiko, and I'm terrified of telling you...
I'll be waiting in the stairwell so we won't be found... PLEASE come...

From Noriko
046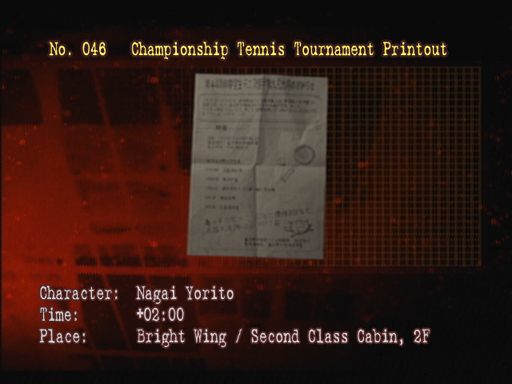 Notice for the 44th Annual Prefectural Junior High School Tennis Championship Tournament

The participants in the preliminaries for the July 31st All-Japan Junior High School Tennis Tournament have been decided, and we of the Kameishino Junior High School Tennis Club have made the cut. Let's not forget the strength we have built through our sweat and tears, as well as the help and support of our teammates, and fight our hardest at the tournament!

Date: July 29 (Tue.) - August 3 (Sat.)
Place: Kameishino Junior High School Campus
Time: 7:30am

Remember your strength!
Onward to victory!
Onward to the tournament!
Our dream is within reach!
(NOTE: In the final section the writer, presumably one of the team members, refers to their group as the "kamekko", or "turtle children/boys/girls". On the surface, this is because of the school's name "Kameishino", or "Turtle Stone Field").
047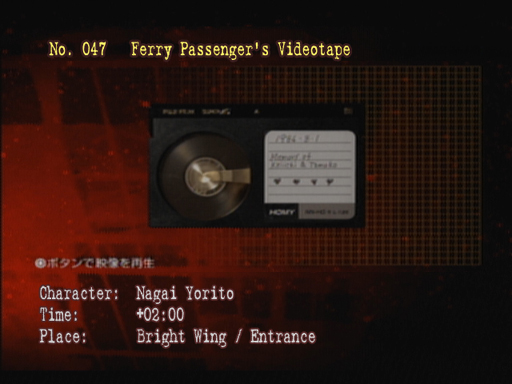 A videotape recorded by a passenger on the ferry.

August 1, 1986
Memory of Keiichi & Tomoko
Watch
.
048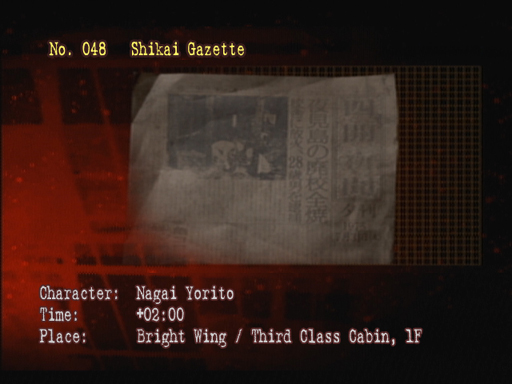 Shikai Gazette
July 31, 1975 (Showa 50) Evening Edition
Closed Yamijima School Burns to the Ground
28-year-old arson suspect arrested

Around 2am on the 31st, Yamijima Combined Elementary and Junior High School, on the distant island of Yamijima, burned down.
...[omission]...
Ushiro Masumi (28) was arrested by the prefectural police on suspicion of arson. The suspect is unemployed and has no permanent residence. According to police, he landed on Yamijima the previous day and is accused of breaking into the school. There, Ushiro allegedly set fire to the curtains in the classrooms, causing a blaze that burned the abandoned building to the ground.
"I was sleeping in one of the classrooms that night. Suddenly, red and black beings descended on me, so I flung my lighter at them," Ushiro said in his statement to police, among other incoherent things. Investigation into the suspect's claims as well as his mental health are under way.
(NOTE: Yamijima is located in the fictional region of Shikai, hence the name of this newspaper. A "region" is a group of prefectures, such as Kanto (Tokyo, Chiba, Saitama, etc), Tohoku (Yamagata, Iwate, Aomori, etc), and so on.)