Part 15: Bonus 5. The Burn Ward
Bonus 5. The Burn Ward
Every year at Snow Bird Mountain, ESPN-4 hosts "The Women's Ski Lodge Insult Competition" Being that I'm very quick witted, of course I decided to compete.
The reigning champion was Alex. It was time to take her down.
Danny - being the only person here who claimed to be funny - officiated.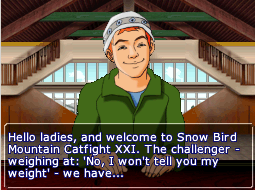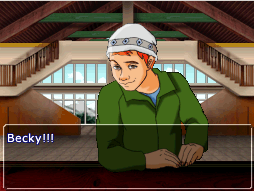 I won't tell people my weight!
BECAUSE I AM A GIRL WITH A VAGINA.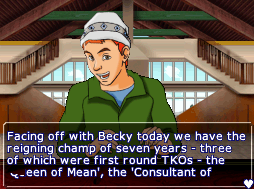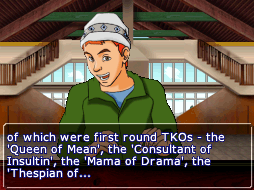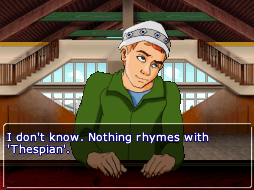 What about Bespian? Like people from Bespin? What an asshole!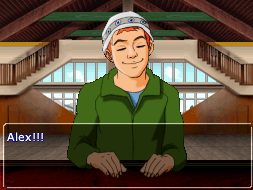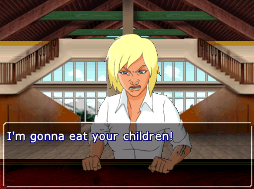 I'm gonna fuck you til you love me.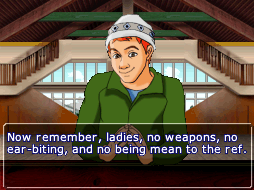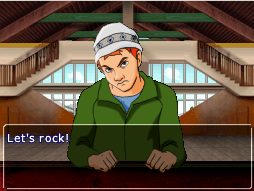 Round 1. Fight!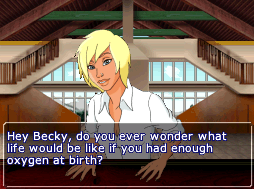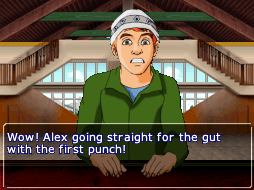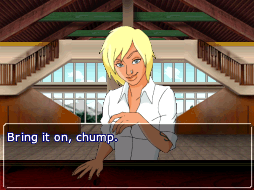 Dag. What to respond with...
Pepper spr-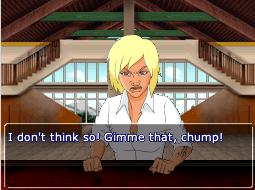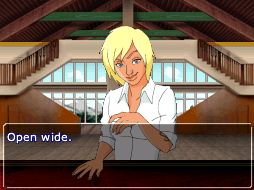 What the fu-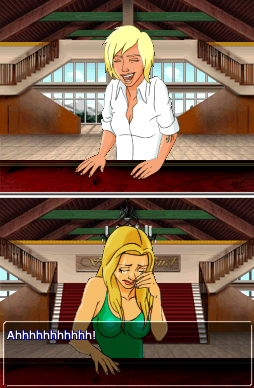 Here you go, baby.
At least she gave it back. It looks like this would have to be won with words.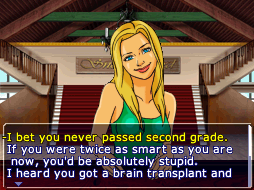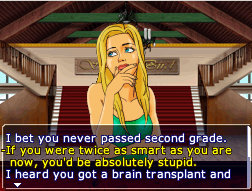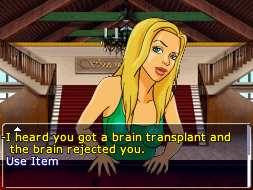 I heard you got a brain transplant and the brain rejected you.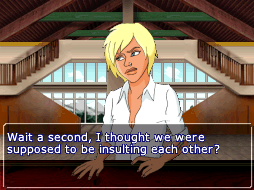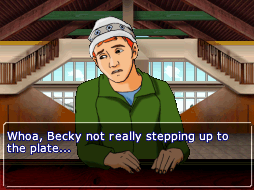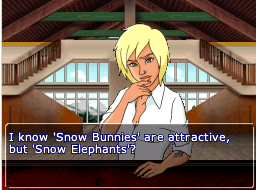 Zinger!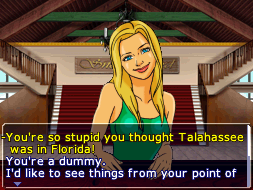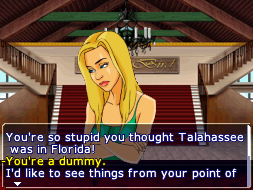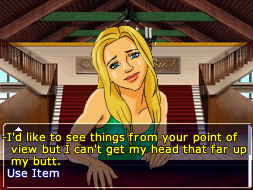 I went with Brett's favorite rejoinder.

I'd like to see things from your point of view, but I can't put my head that far up my own butt!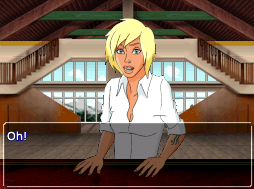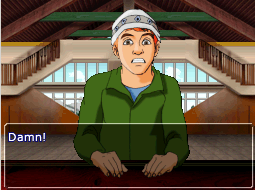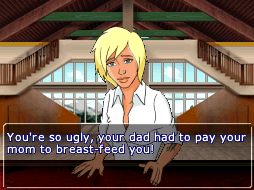 Becky, is that true?

Whatcha got?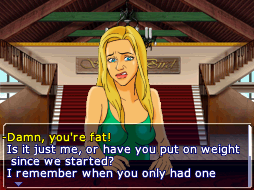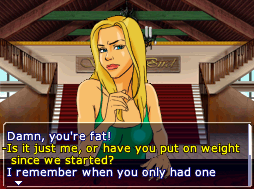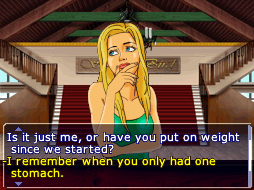 Is it just me or have you gained weight since we started?

I'm not fat!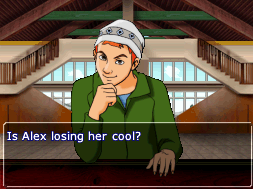 Oh yeah?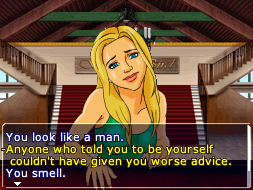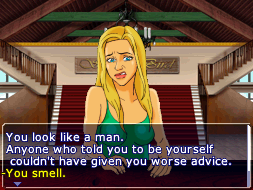 You look like a man!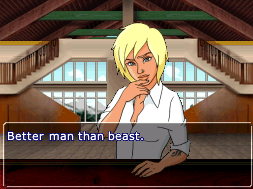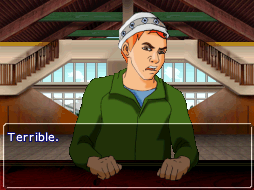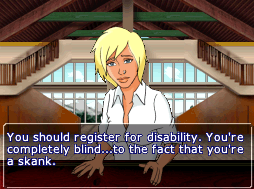 Bwahahahahaha!

Bring it!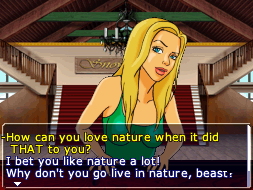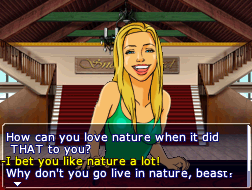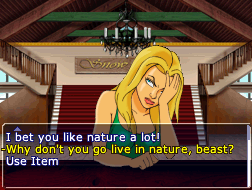 Patware posted:

File her nails and make her pretty. I will not rest until nails are filed.


No, thanks, I don't need that.

I bet you like nature a lot!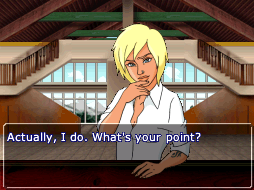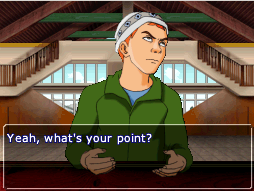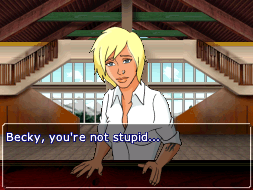 Aw, that was nice of her to say-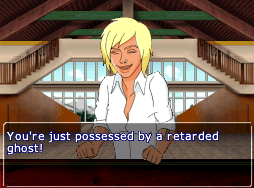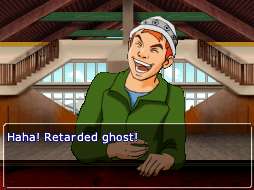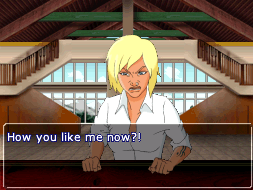 I'll show her!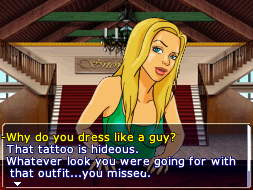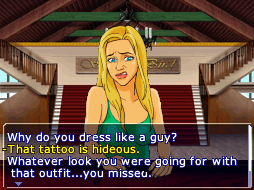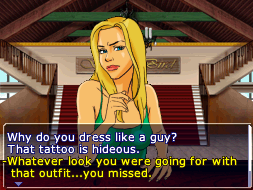 Whatever look you were going for with that outfit... you missed.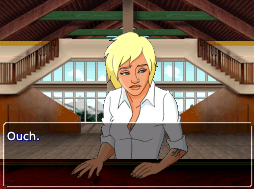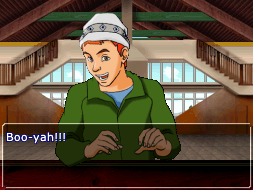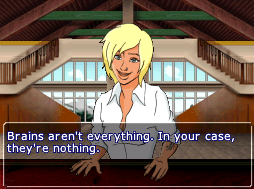 Oh yeah?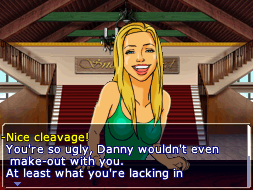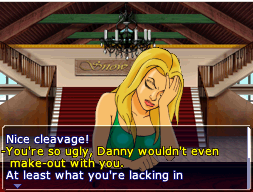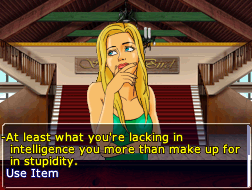 You're so ugly, even Danny wouldn't make out with you.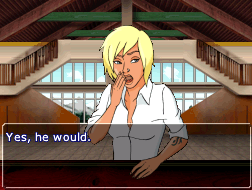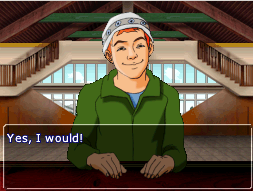 Shit. Shoulda seen that coming.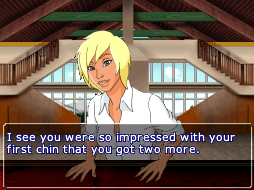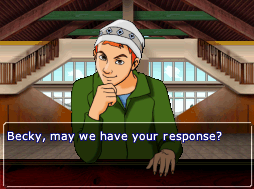 Well?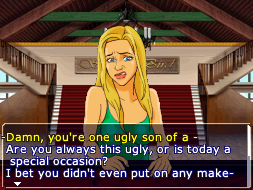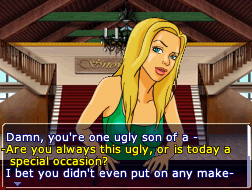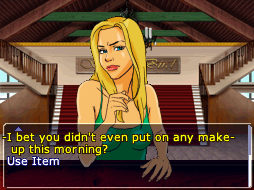 Are you always this ugly or is today a special occasion?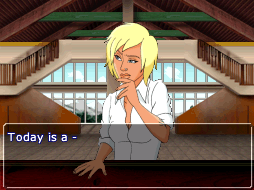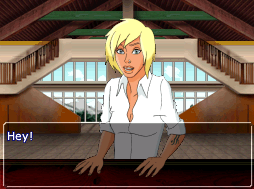 Ha!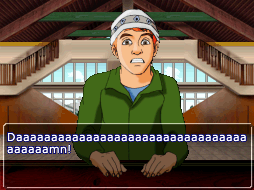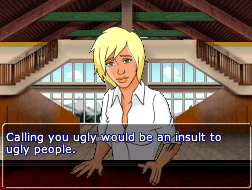 How much more of this was there?!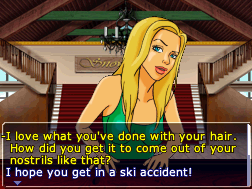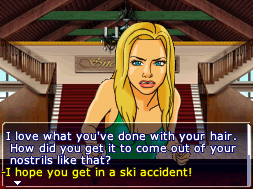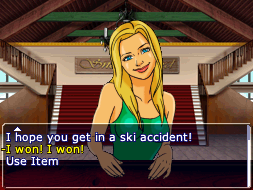 I love what you've done with your hair. How did you get it to come out of your nostrils like that?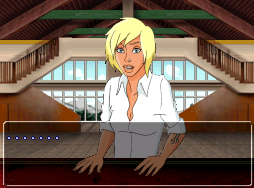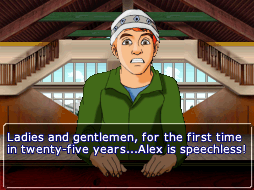 Twenty-five years? Oh yeah. Alex is at least in her early 40s. Forgot to mention that.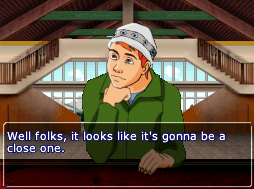 Are you both ready?

Yes.

Yes.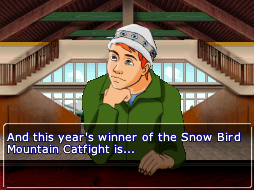 Alex!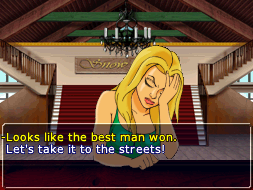 Well, if I said:

May the best man win.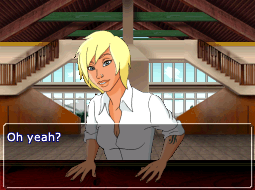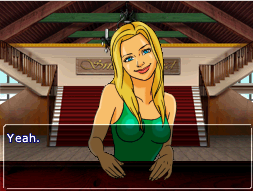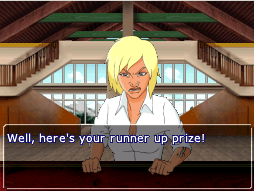 Gasp! ...Then she wouldn't do anything.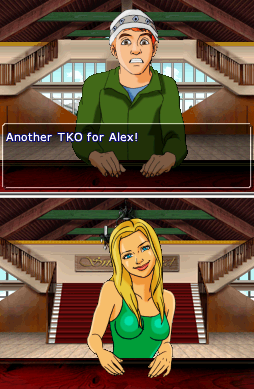 I couldn't let that happen. It was time to take it to the streets!
And by streets, since there were no roads in Colorado, I meant nature trail!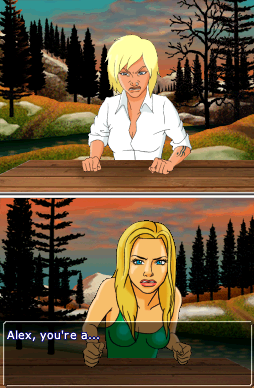 I had to pick a bunch of adjectives and a noun for this!

Disgusting

Somewhat humorous

Filthy

Kind-hearted

Not-so-nice

Irritating

Turd-faced

Butt-wrangling

Fat-faced

Fat-eyed

Fat-eared

Fat-headed

People-loving

Dog-faced

Camel-touching

Violin-playing

Snot-molesting

Parrot-fondling

Asparagus-eating

Job-having

Bastard!

Patron!

Nurse!

Jackass!
I got it on the first try!

Alex, you're a disgusting, irritating, fat-faced, dog-faced, snot-molesting jackass!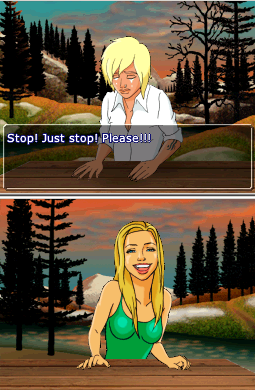 Yeah! Straight from the fridge!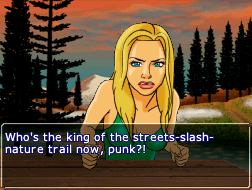 You are.

Who's your daddy?

You are!

Damn straight.
Then I walked back in to receive my prize from Danny.
I could open a fucking zoo at this rate!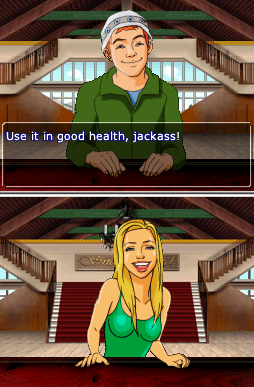 Huh?
How this scenario plays out:

- To win the dove, you have to clean sweep it. Alex runs off in that case. Get 1 wrong and you still win and Alex challenges you to take it to "the streets". Get more than 1 wrong and you lose, but you can challenge Alex out to the streets.

Winning on the streets actually gets you nothing. I just presented this scenario to explain why our inventory now has a magic dove.

Incidentally, you can nullify one wrong guess in this scenario by kissing Danny - and do the opposite by punching him.

Either way, win the dove and he calls you a jackass.