Part 47: A Little more recruitin' (And apparently some plot development since the update got delayed)
Chapter 45 - A Little more recruitin'
(And apparently some plot development since the update got delayed)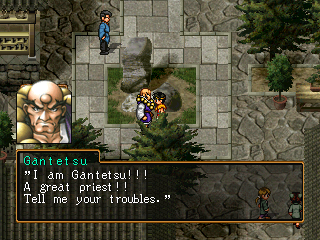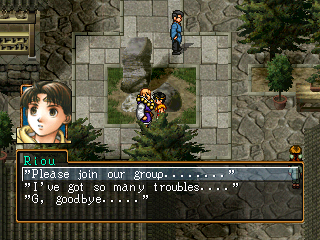 "Hmm... in that case we'll have a contest. Your strength against my strength. If you win, I'll join you. Now fight!!!!"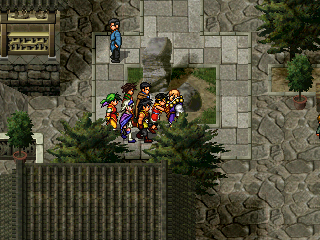 "Wah!! Amazing!!! I didn't think you could defeat Gantetsu!!! I will join you as promised."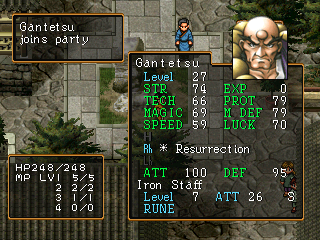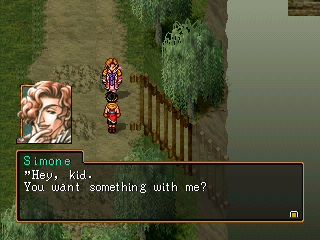 "Well, I'm sorry kid. I've had nothing but bad luck in life. Bad luck and more bad luck... I lost my 'rose brooch' that my dear friend gave me."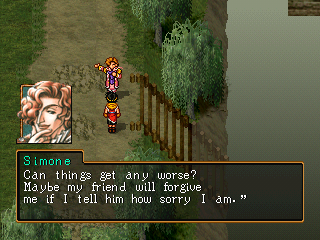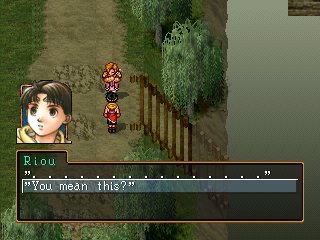 "What's that!!! K... kid where'd you get that? Do you... do you think you could give that to me? Gold... no, it's not something I can buy with gold. If there's anything that I can do for you, tell me and I'll do it."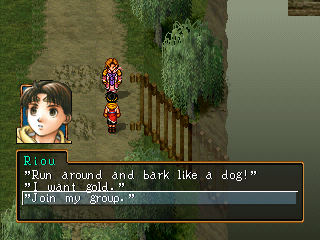 If you choose the other option he indeed barks like a dog, but then you can't recruit him.


"Join? Join your group? Of course, of course. I'd be happy to call you my friend. Of course I'll do it. I, Simone, will do anything to pay you back. Take me with you."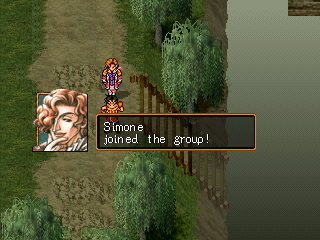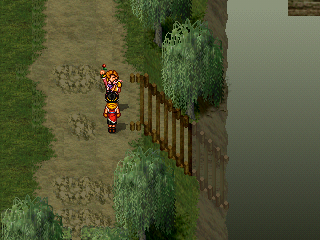 Awesome.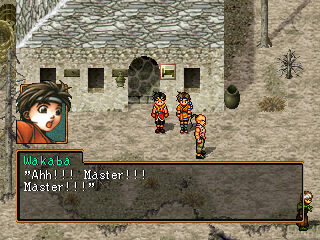 "Hm? Wakaba? You're not neglecting your training, are you?"
"No, SIR!!! Uh... Um... ...M... Master ran away..."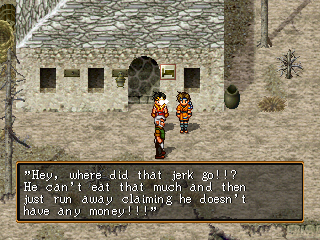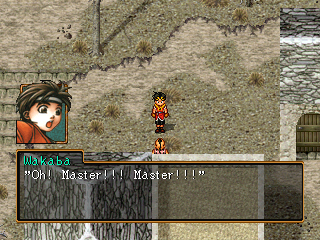 " Wakaba, I see your training has progressed."
"Yes sir! As you said, Master, I learn something new every day. By the way, Master, just before you were..."

"Well, the legs are the base of the body and the basis of unarmed combat. Strengthen them and you strengthen your base."
"Wow!! That's great!!! Amazing!!!"

"Be silent, Wakaba!!"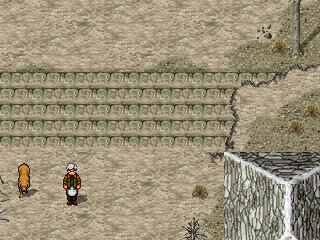 "Quiet your mind and body while you train, Wakaba. Who is that with you?"
"I'll introduce you."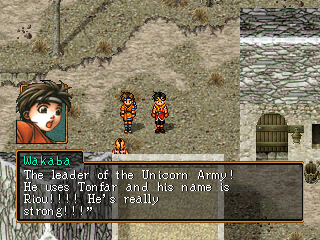 Tonfar...?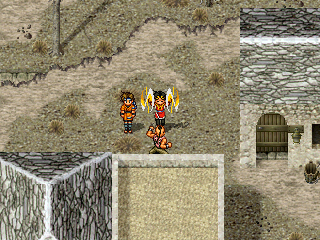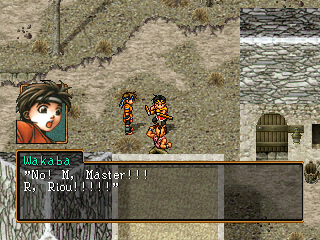 "Whew......... Even I, the great Long Chan-Chan could not get past your guard... You have found a worthy teacher, Wakaba!!!!!! Who is this man!!!!"
"I told you before!!! The leader of the Unicorn Army, Lord Riou!!!!"

"What!!!! Did you say the Unicorn Army!!! I see. Lord Riou, Long Chan-Chan will lend you his strength until this is all over. "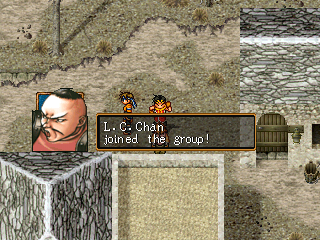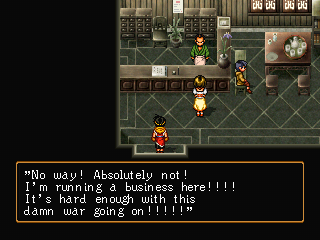 "I, I'm sorry.................... But I don't have any money........ And I'm not strong enough to do manual labor.......... Perhaps.... perhaps a song......"

"Ever since Muse fell, they're all over the place!!! Those refugees should just be glad we let 'em in here!!! Besides, who wants to hear a song these days!!!"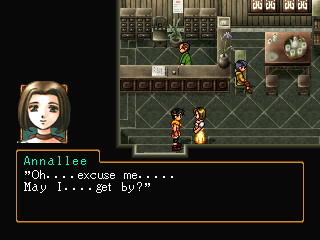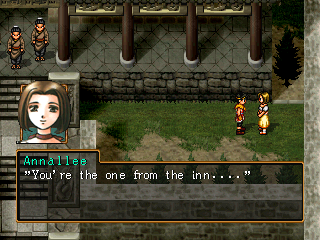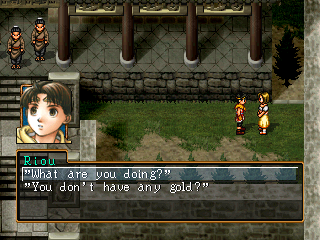 "Yes............I................ I don't want to talk.... but... you overheard me, eh.... I was... working as a musician in Muse.... along with Pico and Alberto....But.... then the war came.... everyone got split up......I.... I ... it's true... I'm worthless all by myself... and I don't have any gold left... But after talking to you, I feel just a tiny bit better...Would you... Would you like to hear my song?"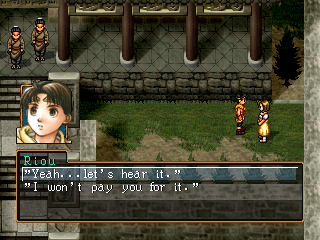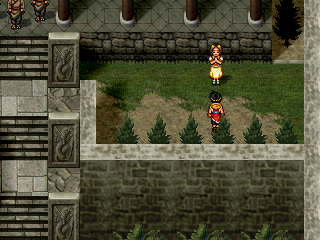 Annallee's Song, La Mia Tristezza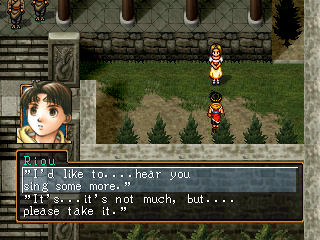 "Thank you...... I.... I........"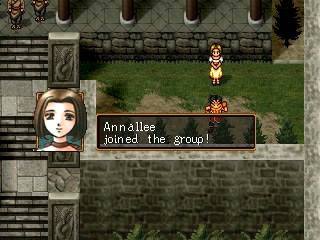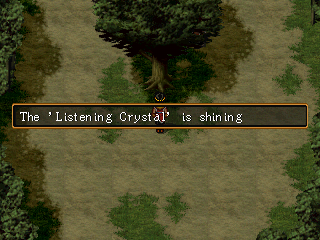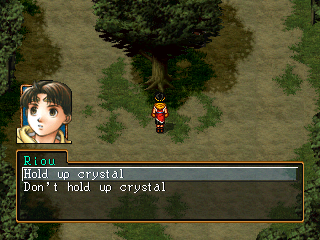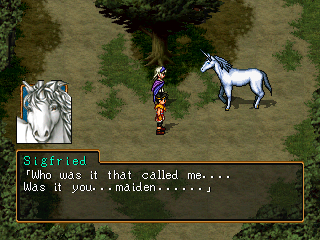 "A.... a maiden? Me...? Well.... Yes... Yes, I am a maiden."

"In that case, in the name of the Gods of the Forest, I betroth myself to you......."

"Hmm... what should I do, Riou?"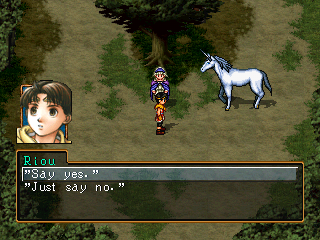 "Are you certain? I suppose I shall comply. You have my permission, then."

"Very well.... By my ancient oath as a member of the White Circle... through the vessel of a maiden...."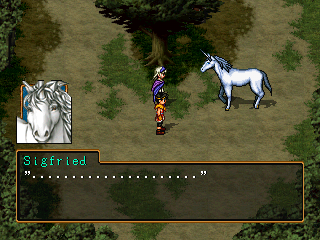 "What happened....?"

"I apologize... The mistake was mine. Fare thee well..."

"What? What the hell did that mean? What a rude creature.... Next time we won't let him get away so easily!"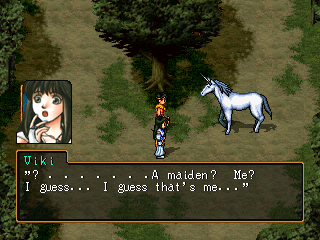 "Wha... what??? What should I do, Sir Riou?"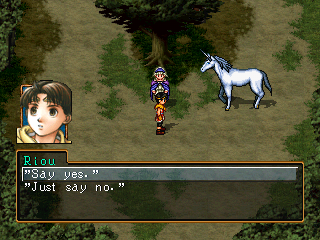 "I should? Okay... Let's do it, then."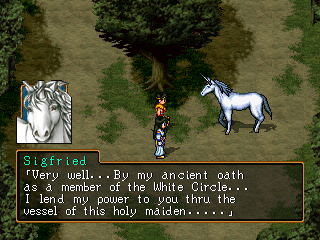 "My power.............. I grant it to you.........."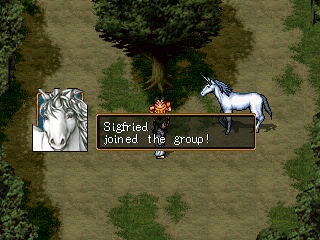 "Huh? What? He disappreared????? Did I screw up again?"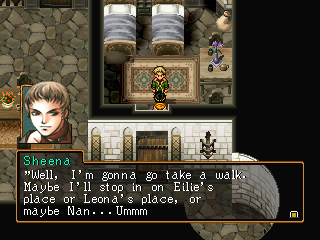 "Well anyway, see ya. Don't stay up too late."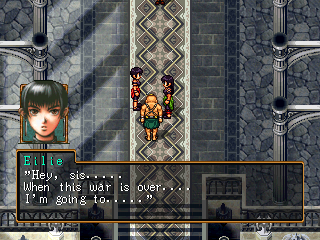 "I know, I know. You want to go back to our life of travelling. Gypsies like us can't stay in one spot for long, eh."

"Yeah, that's right......."

"It's okay. It's okay. Riou could become a gypsy and travel with us too. We'll do the knife-throwing act. We'll all be happy together!"

"Hey!!! Bolgan!!! What are you saying!!!!"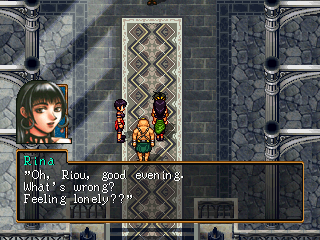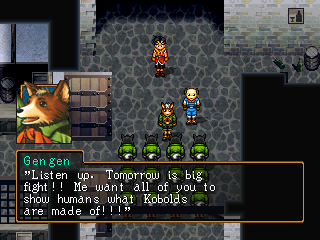 "Yes, Captain Gengen!!!"

"Everybody stay close to Gengen!!! If you get in trouble, Gengen will protect you!!!"

"Captain Gengen........"

"Gengen is a great soldier!! Great soldiers take care of themselves!!! Everyone wake up early tomorrow!"

"YESSIR!!!"

"Okay, Gengen sleep soon too!!! Gengen protect everybody!!! Go to sleep soon!!! Protect everybody tomorrow!!!"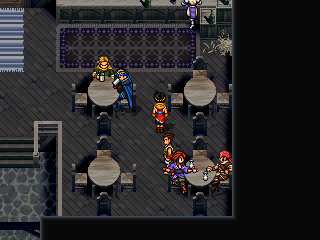 Drunkards.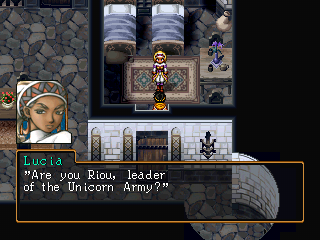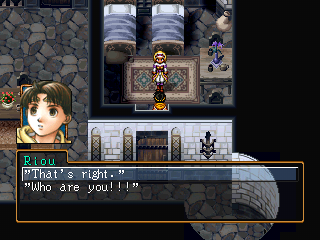 "Prepare to die!!"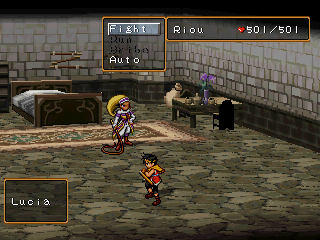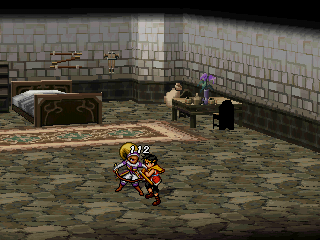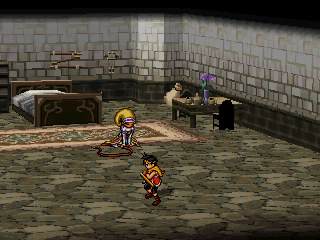 Yeah, whatever.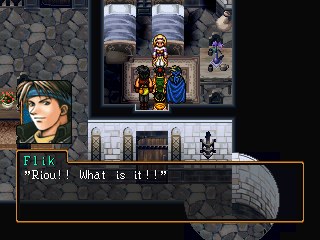 "Cough... I thought... you were just a child... I was wrong... Now I'm caught... damn!"

"Of course! Do you realize what a racket you were making?!"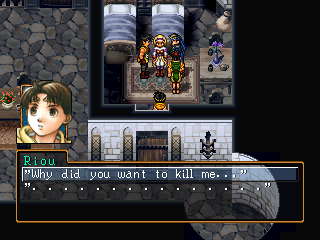 "If only you were dead, this damn war would end too..."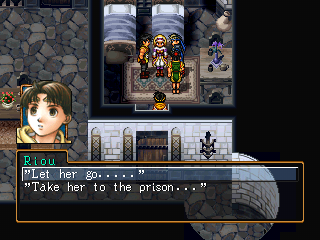 "Riou........................"

"Bah, lucky little sneak....."

"You will receive no thanks from me. My only goal... is your head."

"Whew... are you okay, Riou...?"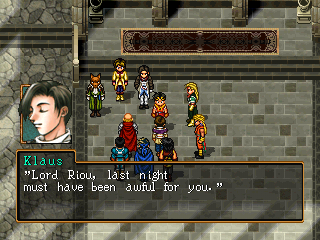 "We can't have such laxity! Tighten our security!! Lord Riou Riou, we've finished preparations for the liberation of Greenhill. I've divided our forces in half. General Hauser, Viktor and Flik will go to the Muse-Greenhill border to slow down any enemy forces coming from Muse. Meanwhile, General Kiba and his son, Klaus, will attack and liberate Greenhill. Apple will stay here and coordinate communications between the two armies. Please select the army you wish to accompany."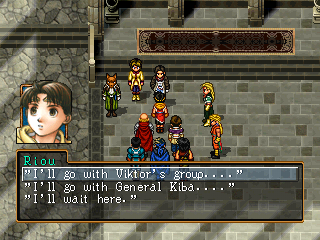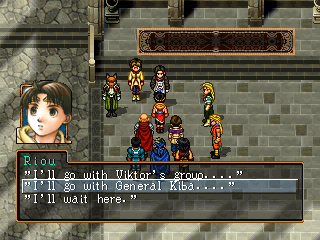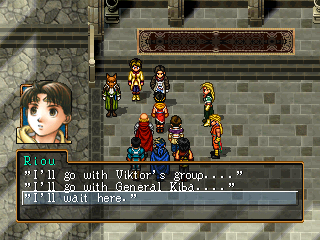 (Click the pictures!)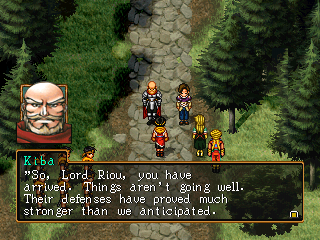 "We've tried to ram the Greenhill gate, but...."

"This city's incredibly hard to attack head-on, because of its gate. That must be why Jowy used the tactics he did... However, we don't have time for a leisurely siege."

"Lord Riou, there are many secret passages into and out of Greenhill left over from wars of old. The passage you used when you rescued me is one of those passages. A small group should be able to sneak inside the city, avoid detection, and open the gate from the inside. I will show you the way."

"My lady, that's too dangerous...!!"

"Shin, I am acting mayor of Greenhill. If I don't fight for my people, who will?"

"Lord Riou, please allow me to come with you."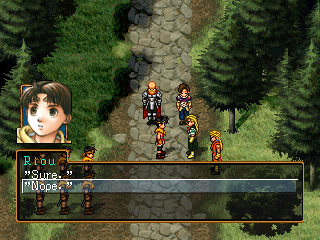 I don't like you.

"Shin, please wait here... and believe in Riou and I!"

"I.... I understand. Please take care."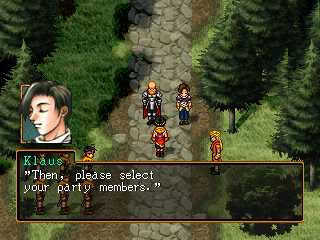 Choose 5 fighters! Please try and limit it to three S-rank fighters. Monsters take up two party slots.
S-Rank Fighters
Shin (Yes you can take him anyway even though you told him to fuck off)
Bolgan
Freed
Anita
Hai Yo
Gengen
Flik
Viktor
Georg
Hauser
Badeaux
L.C. Chan
Gantetsu
M-Rank Fighters
Rikimaru
Chaco
Amada
Yoshino
Futch
Lorelai
Karen
Kahn
Killey
Gijimu
Koyu
Hoi
L-Rank Fighters
Rina
Tuta
Millie
Gabocha
Mukumuku
Sierra
Lo Wen
Monsters
Feather
Sigfried
Next Time: Chapter 46 - Greenhill again