Part 13: 1/2 - Preparing For The Storm
Chapter 10 1/2 - Preparing For The Storm
"Commanders Log: Situation report, April 25
th
0900 hours."
In the two days since the capture of the cultist cleric a lot of research has been completed, and not all of about the cult alone. While the cleric has yet to give us any tactical information about the cults positions, their fortifications, and so on, he has been a great help in understanding their motives and beliefs. It seems with the defeat of the Reticulans that the cult has gone in another direction... Personally I think they're all crazy and will believe what ever they want.
With the aid of the cleric, our researchers have put together a basic understanding of the cultists society. The results of which aren't unexpected for a doomsday cult, but there are important differences in the Cult of Sirius' beliefs now versus before The Fall. I don't care what they believe, I just want them out of our way. Our resources are getting tight and North America could be a very nice solution to that problem. The researchers continue to study the cult, saying understanding them will give us an advantage in dealing with them.
Well whatever the case Tasuki has prepare a short summery of their findings.
>>File Attached
.
.
>>
Tasuki's Report on The Cult Of Sirius
Cult business aside, we have two other major concerns. Our resource shortage, and in less then three hours the unknown alien ship is going to pull into orbit with Earth.
The first problem is a matter of exploration and expansion. We need to find more areas that contain elerium and salvage every last ounce of it. At current rate we're likely to run out it in the next 48 hours. The biggest consumer of E-115 are the tracks that link our bases together. They also eat up plenty of raw materials and high tech components too, but those are not in such short supply. Estimates come in that we're generating 75 units an hour, while our labs consume 20 and our tracks consume 145 units to power. The frustrating part is we have more then enough to run our labs, but the tracks just eat so much power. We've deactivated several sections of track for now, but this means cutting off bases. So far we've only cut off bases that were not building anything, but the per hour cost of our tracks is still 108 units of E-115 a hour. To add to our troubles it is doubtful we can request aid from Redeker and the psionics again, having used up our good relations with them the last time we asked for materials.
There is little we can do with the alien ship for now. We lack any interceptors to launch at it or to investigate it further. All we can do is continue to wait here at Earth and see what it does when it shows up. In preparation all of Phoenix Company has been rested for the last 24 hours and everyone is combat ready except Dr. Leaf, who took a Muckstar to the face somewhere in the middle east. Haggis also has a load of new weapons and armor for the troops. The unfortunate part is that we obviously haven't had much time to produce all of the new equipment we have come up with. So things such as rocket launchers and the more advanced armors will have to wait until we can build facilities designed to handle high tech armor and weapons.
Now to cover our overall situation. Our territory continues to expand to the east, bringing much of the middle east under our control. The problems with expansion I touched on earlier but again let me restate them; each territory we much cover with tracks to provide and gather resources with costs considerable amount in upkeep, something in the area of 12 units of raw materials, 10 units of high tech components and 8 units of elerium per section. Given that most bases are only pulling in 50 to 60 units of any combination of given materials it becomes clear that building two sections of track to connect a base will in most cases offset any materials gathered by the bases outlaying territories. We can still use the base for factories and laboratories of course, but the lack of generated resources is a concern.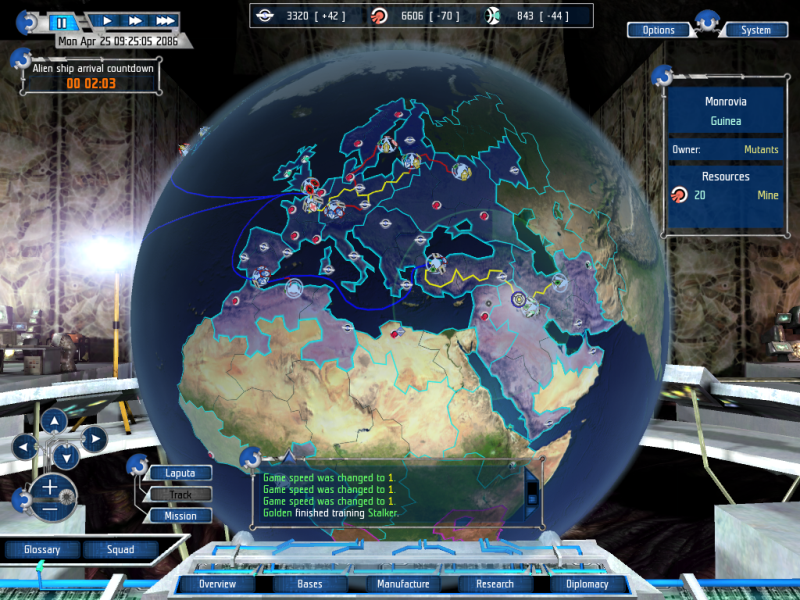 The idea of expansion with out excessive track cost shows another benefit of taking North America away from the cult. Not only does it contain plenty of land for materials, but several idea locations for bases that are in close proximity to each other. Of course these places are under cultist control and most likely heavily fortified. However the possibility of solving our resource problems by dealing the cult a serious blow is a tempting prospect.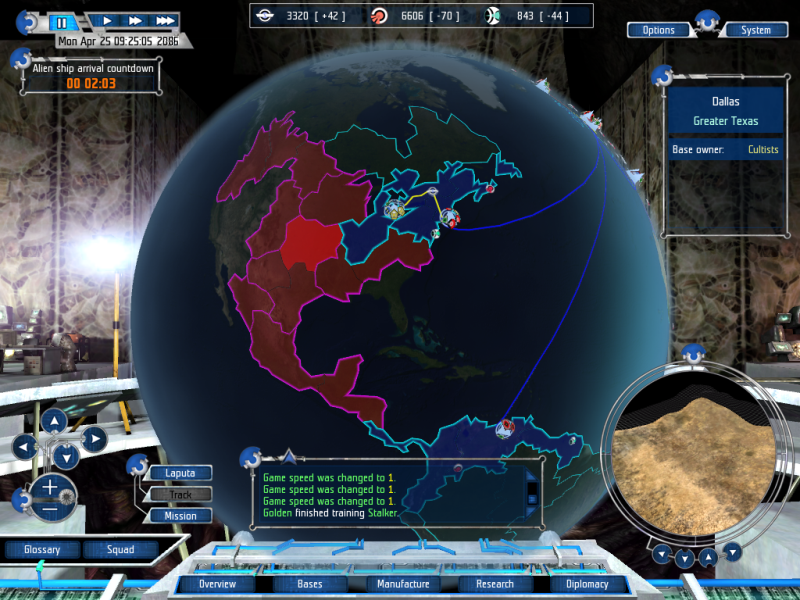 A large disappointment came from our survey teams who were tasked farther north to Canada. Eager to find some of our old bases still hopefully intact they returned with disheartening news. Through either conventional weapons and a year of factional warfare or perhaps from the cults attempts at transplanting the biomass most of Canada is barren or wasteland. Though from what I gather it wasn't much better then this even before Nightfall. Even if we did re-establish our bases in Canada there would be little to no resources to acquire there. Given our current resource crunch, I've called off any plans or notions for retaking Canada.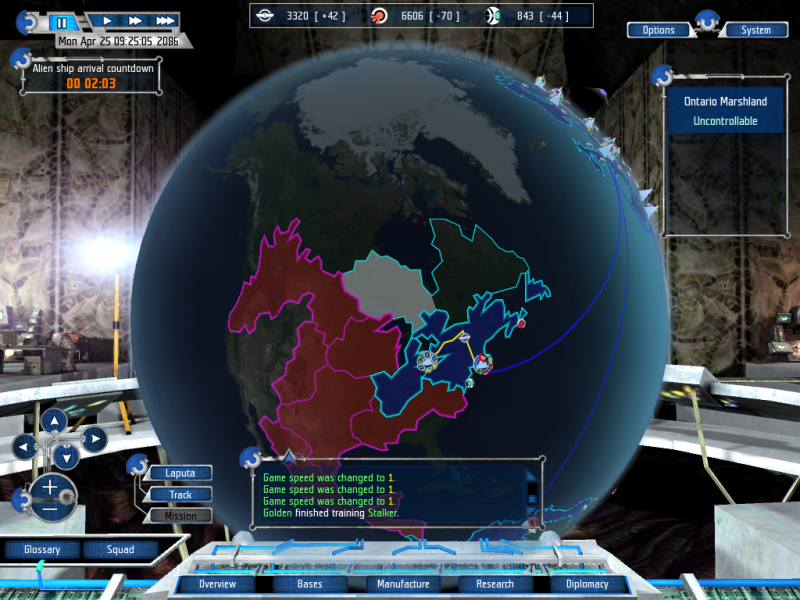 We still have a base in Venezuela, sitting there not doing much other then gathering trace amounts of elerium. We need every bit we can get. We also have two bases in Africa, one on the Ivory Coast, the other in Algeria. They just sit there, holding the territory and waiting for the day to come when the track upkeep cost does not prohibit them from joining the supply chain.
Also of possible note to the observant viewer is the screens taken from the geosphere show a large stockpile of high tech materials but an alarming rate of consumption over intake. This is actually not nearly as bad as it may first look. To preserve what E-115 we have several sections of track were shut down and bases were cut off. The two bases no longer joined to the supply chain were the two biggest producers of high tech materials. Should we run low on those materials we can simply re-power the tracks to resume collection. In the meantime we have plenty stockpiled and need to save as much elerium as possible.
That is about all for now. I imagine I will have a lot to do and report on in the next few hours when that ship arrives at earth. I will end this entry with a report on the whole of Phoenix Company's soldiers and their career records so far.
>>File Attached
.
.
>>Warning, Large Personnel File Detected Ahead!
.
>>All Disinterested Parties Are Recommended To Terminate Entry Playback Now!
.
.
.
.
>>CoE Personnel Report - Phoenix Company
Major Booya
Combat Skills
Long Range: Good
Rifles: Average
Close Range: Good
Throwing: Average
Mechanical: Good
Dodge: Average
Hit Points: Very good (1,562)
Speed: Average
Stealth:Good
Observation: good
Medical: Very Good
Psi Power: Very Good
Career Stats
Missions: 22
Enemies Killed: 32
Hit Ratio: 63%
Shots Fired: 511
Total Injuries: 2,590 hp
Time In Sickbay: 12 days, 8 hours
Time In Service: 20 days, 20 hours
Training Completed: Leader level 2, Gunman level 1
Current Equipment
Medium Armor and Helmet
HK53 SMG
Grenade
Medkit
Captain Hero
Combat Skills
Long Range: Good
Rifles: Average
Close Range: Good
Throwing: Average
Mechanical: Good
Dodge: Average
Hit Points: Very Good (1,406)
Speed: Average
Stealth: Good
Observation: Very Good
Medical: Very Good
Psi Power: Very Good
Career Stats
Missions: 28
Enemies Killed: 28
Hit Ratio: 68%
Shots Fired: 472
Total Injuries: 751 hp
Time In Sickbay: 4 days, 2 hours
Time In Service:20 days, 20 hours
Training Completed: Leader level 2, Gunman level 1
Current Equipment
Medium Armor and Helmet
HK53 SMG
Grenade
Medkit
Sergeant Golden
Combat Skills
Long Range: Good
Rifles: Good
Close Range: Average
Throwing: Excellent
Mechanical: Good
Dodge: Very Good
Hit Points: Poor (800)
Speed: Good
Stealth: Excellent
Observation: Heroic
Medical: Very Good
Psi Power: Average
Career Stats
Missions: 18
Enemies Killed: 21
Hit Ratio: 67%
Shots Fired: 393
Total Injuries: 1,088 hp
Time In Sickbay: 7 days, 14 hours
Time In Service: 20 days, 20 hours
Training Completed: Scout level 2, Stalker level 2
Current Equipment
Light Armor & Helmet
HK 33 Assault Rifle with Gyro
Grenade
Medkit
Sergeant FC Vallhallan
Combat Skills
Long Range: Good
Rifles: Excellent
Close Range: Good
Throwing: Excellent
Mechanical: Good
Dodge: Good
Hit Points: Good (1,250)
Speed: Very Good
Stealth: Average
Observation: Average
Medical: Good
Psi Power: Average
Career Stats
Missions: 18
Enemies Killed: 21
Hit Ratio: 68%
Shots Fired: 506
Total Injuries: 1,615 hp
Time In Sickbay: 7 days, 7 hours
Time In Service: 20 days, 20 hours
Training Completed: Trooper level 2
Current Equipment
Plasteel Light Armor & Light Helmet
Reticulan Missile Launcher
Beretta 92FS pistol side arm
Medkit
Sergeant Rabbit
Combat Skills
Long Range: Good
Rifles: Good
Close Range: Very Good
Throwing: Good
Mechanical: Good
Dodge: Good
Hit Points: Very Good (1,406)
Speed: Good
Stealth: Average
Observation: Average
Medical: Average
Psi Power: Good
Career Stats
Missions: 21
Enemies Killed: 22
Hit Ratio: 72%
Shots Fired: 427
Total Injuries: 449
Time In Sickbay: 2 days, 10 hours
Time In Service:20 days, 10 hours
Training Completed: Gunman level 1
Current Equipment
Medium Armor & Helmet
AA12 Combat Shotgun
Beretta 92FS pistol sidearm
Grenade
Medkit
Specialist Fastball
Combat Skills
Long Range: Very Good
Rifles: Heroic
Close Range: Good
Throwing: Excellent
Mechanical: Good
Dodge: Good
Hit Points: Good (1,250)
Speed: Good
Stealth: Average
Observation: Poor
Medical: Good
Psi Power: Good
Career Stats
Missions: 17
Enemies Killed: 18
Hit Ratio: 65%
Shots Fired: 305
Total Injuries: 1,885 hp
Time In Sickbay: 10 days, 20 hours
Time In Service:18 days, 11 hours
Training Completed: Trooper level 2
Current Equipment
Light Armor & Helmet
M4 Carbine
Laser Pistol side arm
Currently waiting for next available missile launcher
Corporal / Rav-Turai Ackbar
Combat Skills
Long Range: Very Good
Rifles: Very Good
Close Range: Average
Throwing: Very Good
Mechanical: Good
Dodge: Good
Hit Points: Good (1,250)
Speed: Average
Stealth: Average
Observation: Good
Medical: Good
Psi Power: Good
Career Stats
Missions: 19
Enemies Killed: 20
Hit Ratio: 76%
Shots Fired: 265
Total Injuries: 1,410 hp
Time In Sickbay: 6 days, 14 hours
Time In Service:18 days
Training Completed: Sniper level 2
Specialist Leaf, MD
Combat Skills
Long Range: Average
Rifles: Good
Close Range: Very Good
Throwing: Good
Mechanical: Very Good
Dodge: Average
Hit Points: Good (1,250)
Speed: good
Stealth: Average
Observation: Average
Medical: Very Good
Psi Power: Average
Career Stats
Missions: 12
Enemies Killed: 12
Hit Ratio: 43%
Shots Fired: 225
Total Injuries: 2,046 hp
Time In Sickbay: 7 days, 21 hours
Time In Service: 17 days, 3 hours
Training Completed: Medic level 1
Current Equipment
Light Armor & Helmet
AK 47 Assault Rifle
Grenade
Advanced medkit
Private Pumpkin
Combat Skills
Long Range: Very Good
Rifles: Good
Close Range: Average
Throwing: Good
Mechanical: Average
Dodge: Good
Hit Points: Good (1,000)
Speed: Average
Stealth: Average
Observation: Good
Medical: Good
Psi Power: Very Good
Career Stats
Missions: 12
Enemies Killed: 3
Hit Ratio: 51%
Shots Fired: 172
Total Injuries: 1,271 hp
Time In Sickbay: 7 days, 12 hours
Time In Service: 17 days, 23 hours
Training Completed: Psionic level 2
Current Equipment
Paraltsis Projector
Laser Pistol
Grenade
Medkit
Private Gillian
Combat Skills
Long Range: Good
Rifles: Very Good
Close Range: Very Good
Throwing: Very Good
Mechanical: Good
Dodge: Good
Hit Points: Good (1,125)
Speed: Very Good
Stealth: Average
Observation: Average
Medical: Good
Psi Power: Average
Career Stats
Missions: 12
Enemies Killed: 8
Hit Ratio: 50%
Shots Fired: 200
Total Injuries: 1,451 hp
Time In Sickbay: 8 days, 18 hours
Time In Service: 17 days, 23 hour
Training Completed: Trooper level 1, Command level 1
Current Equipment
Light Armor & Helmet
HK 33 Assault Rifle
Grenade
Medkit
Private FC Andrew Cheese
Combat Skills
Long Range: Good
Rifles: Good
Close Range: Very Good
Throwing: Good
Mechanical: Very Good
Dodge: Average
Hit Points: Very Good (1,953)
Speed: Good
Stealth: Average
Observation: Poor
Medical: Good
Psi Power: Good
Career Stats
Missions: 19
Enemies Killed: 24
Hit Ratio: 48%
Shots Fired: 374
Total Injuries: 860 hp
Time In Sickbay: 2 days, 23 hours
Time In Service: 17 days, 23 hours
Training Completed: Cyborg level 2, Gunman level 1
Current Equipment
Basic Cyborg Body Implant
M60E3 Machinegun
Medkit
Private FC Quicksilver
Combat Skills
Long Range: Very Good
Rifles: Average
Close Range: Good
Throwing: Average
Mechanical: Good
Dodge: Good
Hit Points: Very Good (1,562)
Speed: Average
Stealth: Good
Observation: Very Good
Medical: Average
Psi Power: Very Good
Career Stats
Missions: 24
Enemies Killed: 21
Hit Ratio: 64%
Shots Fired: 234
Total Injuries: 1,627 hp
Time In Sickbay: 5 days, 21 hours
Time In Service: 17 days, 23 hours
Training Completed: Sniper level 1
Current Equipment
Light Armor & Helmet
MSG90 Sniper Rifle
Phosphorus grenade
Medkit
Private Nayo Lus
Combat Skills
Long Range: Good
Rifles: Good
Close Range: Average
Throwing: Good
Mechanical: Good
Dodge: Very Good
Hit Points: Average (1,000)
Speed: Good
Stealth: Excellent
Observation: Very Good
Medical: Good
Psi Power: Average
Career Stats
Missions: 16
Enemies Killed: 10
Hit Ratio: 67%
Shots Fired: 294
Total Injuries: 1,190
Time In Sickbay: 7 days, 3 hours
Time In Service: 14 days, 9 hours
Training Completed: Stalker level 1
Current Equipment
Light Armor & Helmet
HK 33 Assault Rifle
Grenade
Medkit
Private Ian
Combat Skills
Long Range: Good
Rifles: Very Good
Close Range: Good
Throwing: Good
Mechanical: Very Good
Dodge: Average
Hit Points: Good (1,250)
Speed: Average
Stealth: Good
Observation: Average
Medical: Very Good
Psi Power: Good
Career Stats
Missions: 20
Enemies Killed: 21
Hit Ratio: 61%
Shots Fired: 402
Total Injuries: 1,474 hp
Time In Sickbay: 6 days, 21 hours
Time In Service: 14 days, 9 hours
Training Completed: Technician level 1
Current Equipment
Light Armor & Helmet
Laser Rifle
Grenade
Land Mine
Medkit